With thousands of photo apps for iPhone available on the App Store, it can be difficult to know which ones to use, especially if you're new to iPhone photography. In this article, you'll discover the twelve best photo apps that many iPhone photographers recommend. These include camera apps for taking photos, editing photos and sharing your images with others. Click here for our updated 2018 version: 10 Best Photo Apps For iPhone Photography. And check out our article on the best photoshop app for iPhone!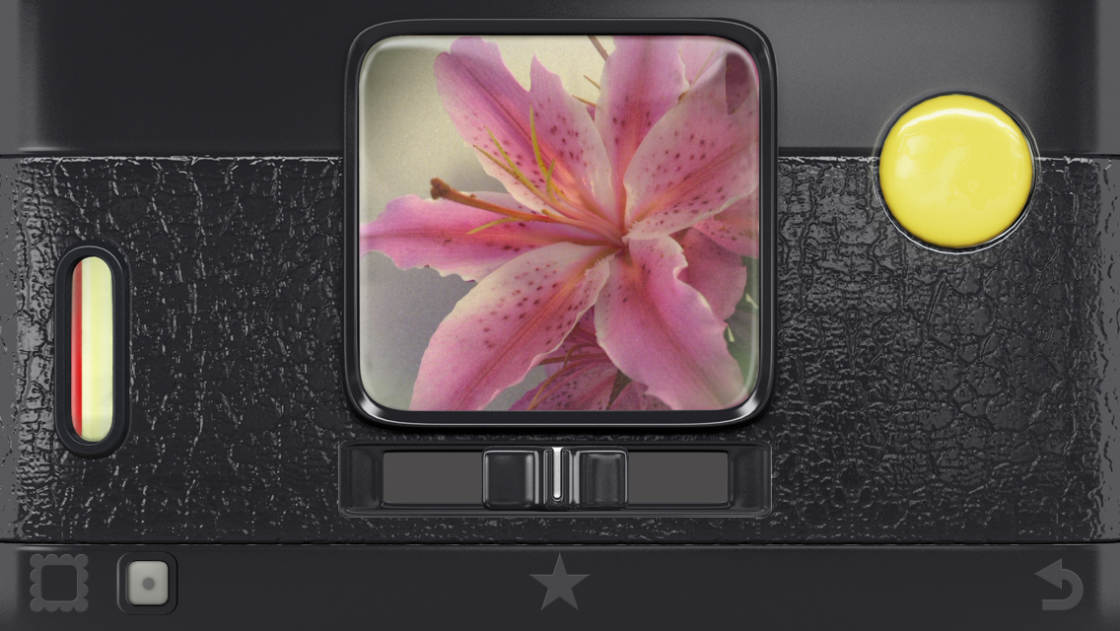 All of the apps below are well-regarded in the mobile photography community, and for good reason. They all perform their specific tasks well and are relatively easy to use.
You certainly don't need to use all of the apps below on a regular basis. Many iPhone photographers (myself included) only use a small handful of apps for most of their work, and use others only sparingly.
I would recommend you try all of the apps below and then pick your favorites. You will likely find that your favorite apps evolve over time, along with your photography.
It should also be noted that many of the best apps are even free to download from the App Store! Any prices listed below are correct at the time of writing, but they can fluctuate so always double check the latest price on the App Store before downloading.
1. ProCamera 8
While the native camera in all iPhone models is fantastic, many photographers like to use a camera replacement app such as Pro Camera 8 to gain a bit more control over their images.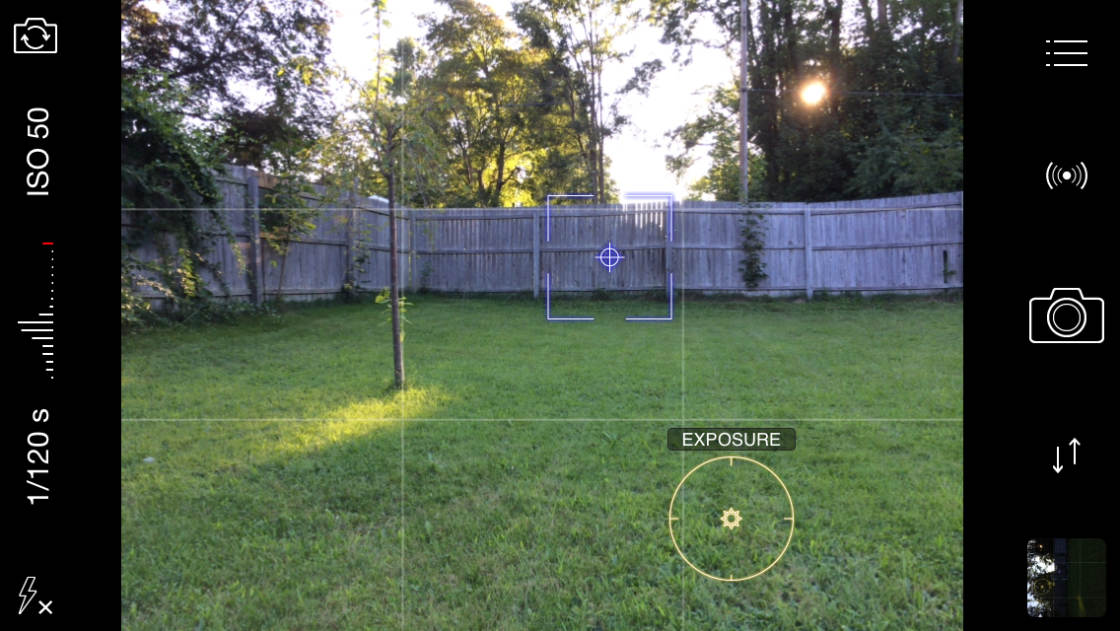 ProCamera 8 offers all of the features of the native camera app plus a wide range of additional tools that offer users even more control.
Such features include (but are not limited to) fully-manual exposure control, adjustable shooting grids, an innovative HDR photo mode and image stabilization.
ProCamera 8 even offers a substantial set of editing tools for processing your images afterwards. You can also import images from your camera roll to edit in ProCamera 8.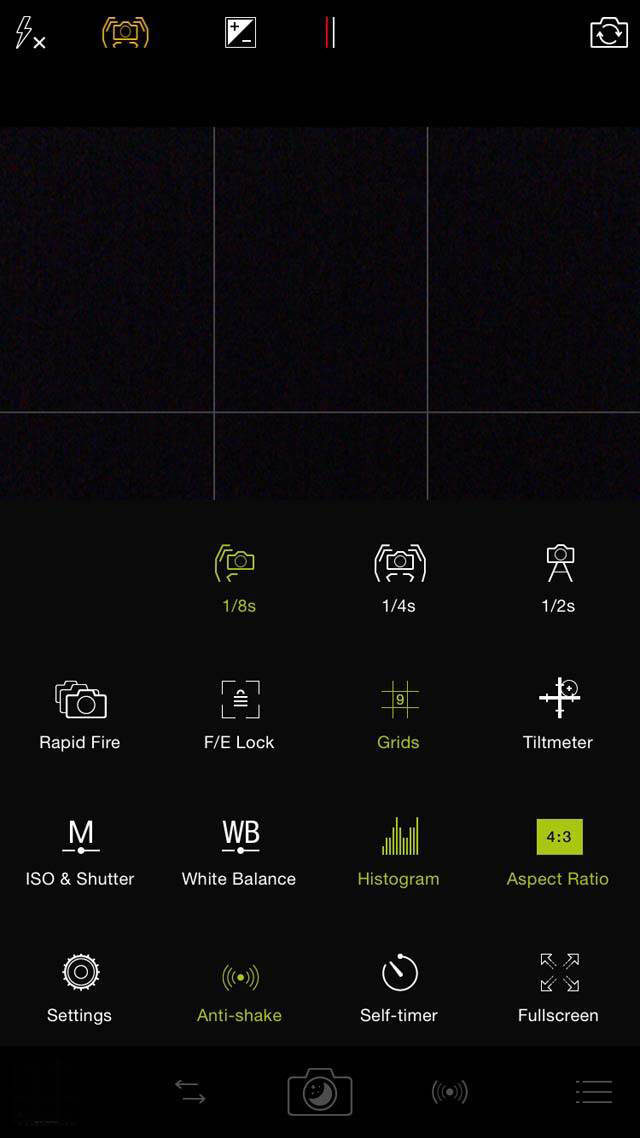 However, one of the best features of ProCamera 8 is that it allows the user to control the quality/size of the photos taken. While the native camera takes very good quality photos (in JPEG format), ProCamera 8 allows for an even higher quality JPEG setting as well as the ability to save photos in TIFF format.
TIFF, while certainly better than any JPEG option, comes at a cost of much larger file sizes, which affect storage space and may be more than most users need anyway. But the option is good to have just in case you need super high-quality images for printing.
ProCamera 8 sells for $4.99 on the App Store.

2. Hipstamatic
The Hipstamatic app is almost as popular as the iPhone itself, and for good reason – it offers photographers a simple, yet powerful way to create stunning images in a wide variety of styles.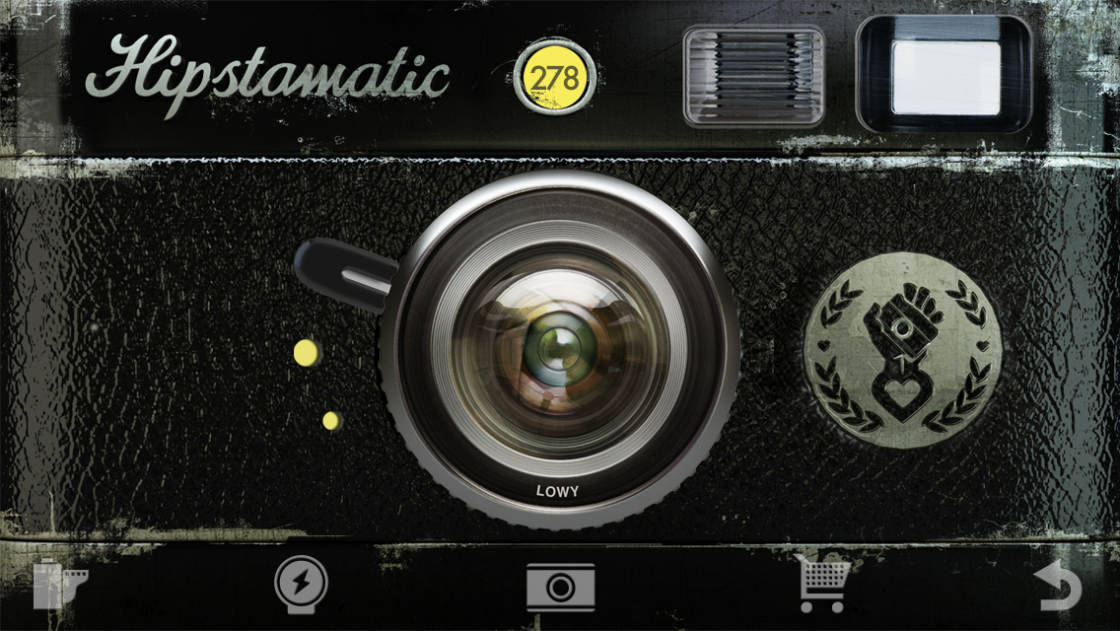 Hipstamatic is essentially a camera app designed to mimic the effect of different types of vintage and modern films, lenses and flash. By using different combinations, or "combos" as they are known, you can achieve a huge range of different photographic effects.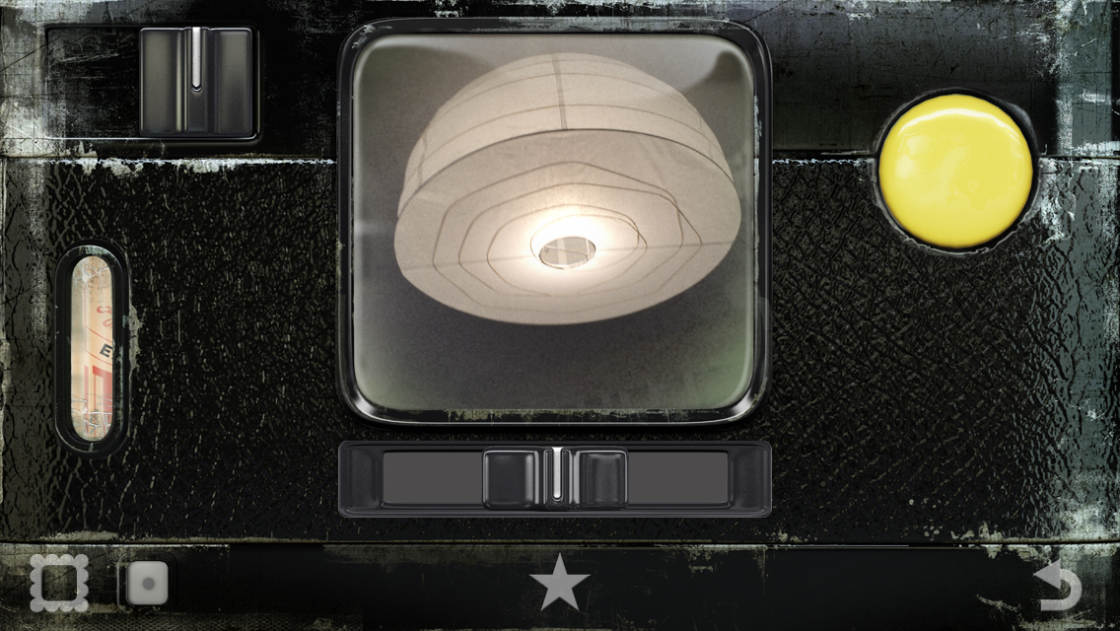 While Hipstamatic used to apply the effects at the time of taking the photo, with no option to change your mind later, the new version of the Hipstamatic app allows you to change your chosen combos after you've taken the shot.
Hipstamatic comes with a basic collection of film, lens and flash options, and costs $2.99 on the App Store. You then have the option to purchase dozens of additional films, lenses and flashes as in-app purchases.
Check out our in-depth tutorial with step-by-step instructions on shooting and editing with Hipstamatic.
3. Oggl
Oggl is another app by Hipstamatic. It offers the same film and lens options as the Hipstamatic app (and you can even import any that you already paid for in Hipstamatic).
Oggl offers the ability to change the film and lens settings for a photo after you've taken it. Before Hipstamatic was updated, this is what set Oggl apart, but now it functions in a similar way to the new Hipstamatic app.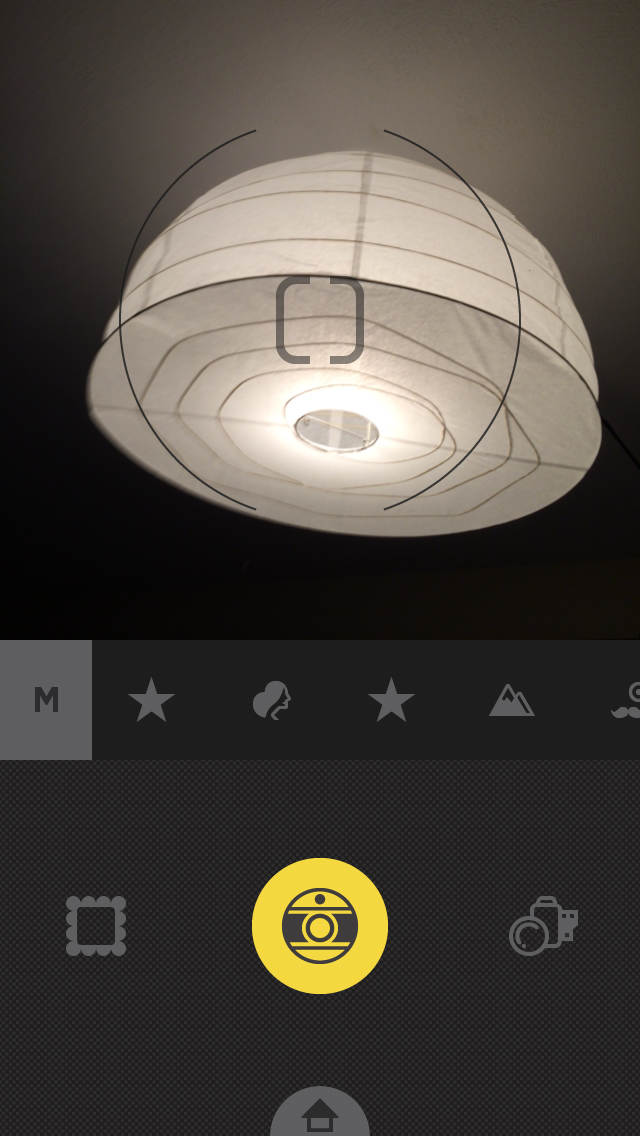 Unlike Hipstamatic, Oggl has its own online photo sharing community where you can share your images and interact with other Oggl users.
Oggl is free to download from the App Store, and then there are additional in-app purchases to expand on the basic collection of films and lenses. The app offers an annual subscription option whereby you gain access to all available films and lenses.
4. Camera+
Camera+ is another combined camera and photo editing app like ProCamera 8. However, Camera+ offers many unique features that allows it to stand apart from the crowd.
The camera section of the app is great for easily separating the focus and exposure points, and gives you full manual control of exposure settings.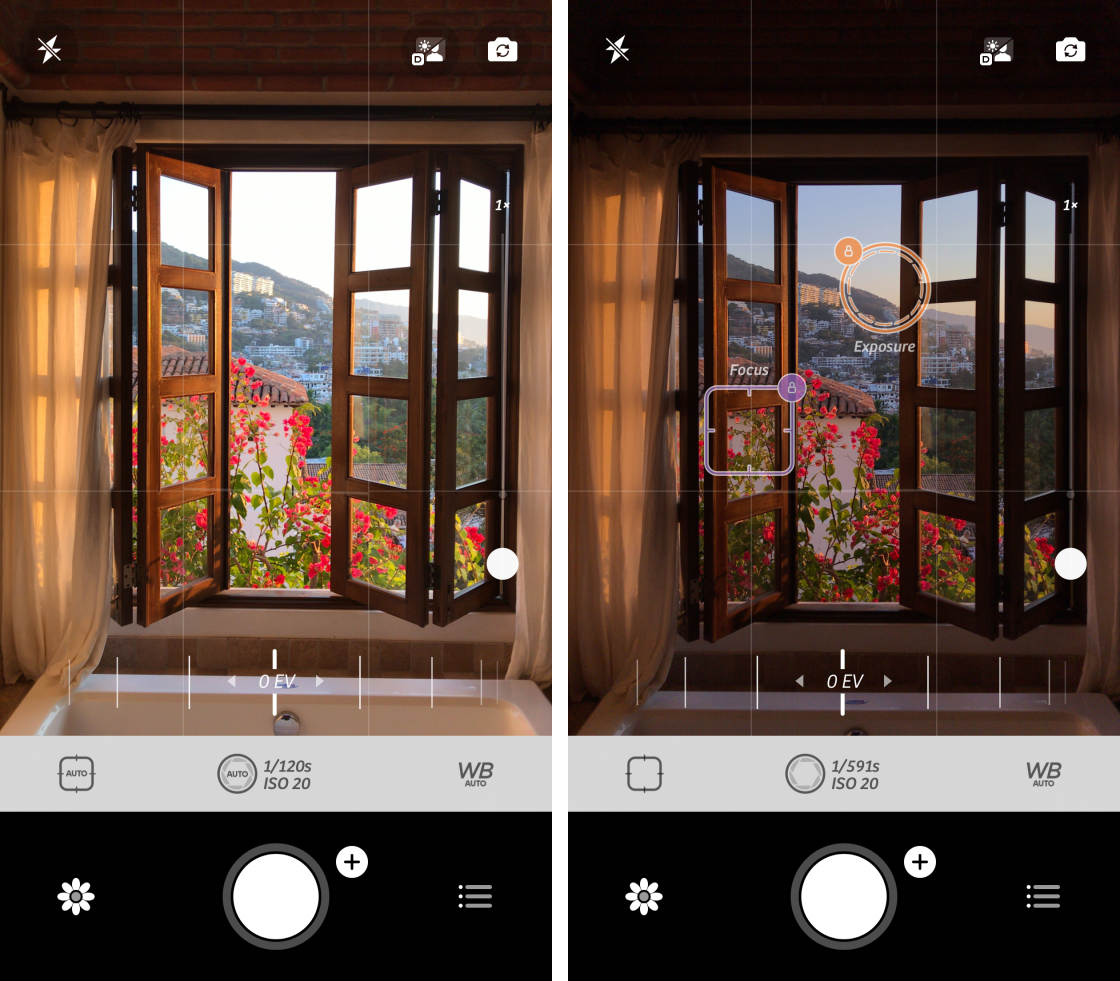 It also features a built-in "macro" mode which uses digital zoom to create a macro effect. While not quite the same as using a true macro lens (such as the Olloclip), it does a respectable job of simulating the extreme close-up effect of macro photography.
Camera+ has a huge range of tools for editing and enhancing your images. There are automatic preset adjustments, as well as an excellent range of manual slider adjustments for exposure, color and sharpness as well options for rotating, straightening and applying a vignette.
Another great feature of Camera+ is the extensive and varied set of filters that it offers for editing.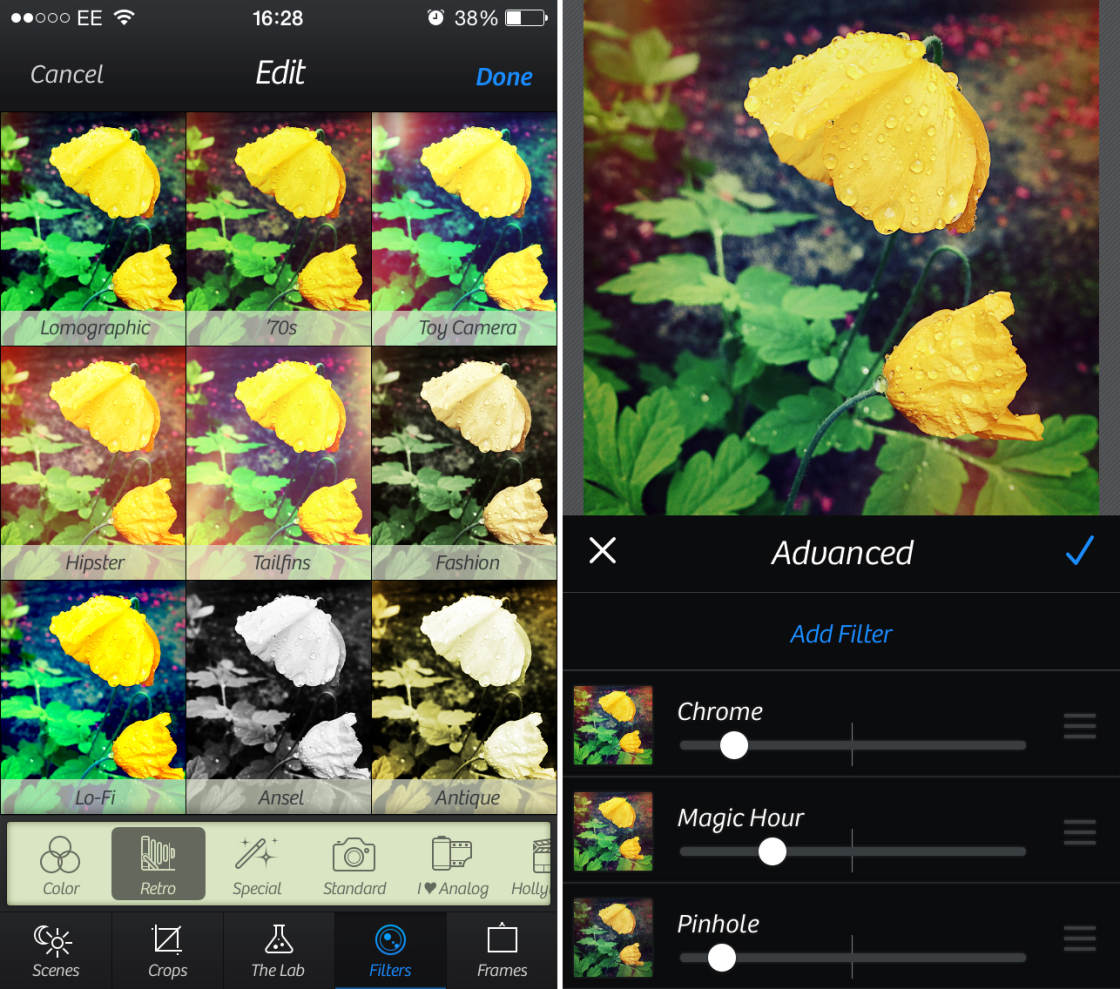 The app also has a handy way of previewing how each filter effect will appear on your image before you apply it. You can easily layer up multiple filters and adjust their intensity.
While very easy to use, this is an app that you can spend a long time with and still not use every option. Camera+ sells for $2.99 on the App Store.
5. Snapseed
If you ask ten iPhone photographers what their top five "go to" apps for editing photos are, I would wager that at least eight of them include Snapseed in their list. Snapseed is not only a powerful image editing app, but it's also free to download and use.
The app offers a wide range of standard editing tools for adjusting color and exposure, along with some special effect filters including grunge and vintage effects.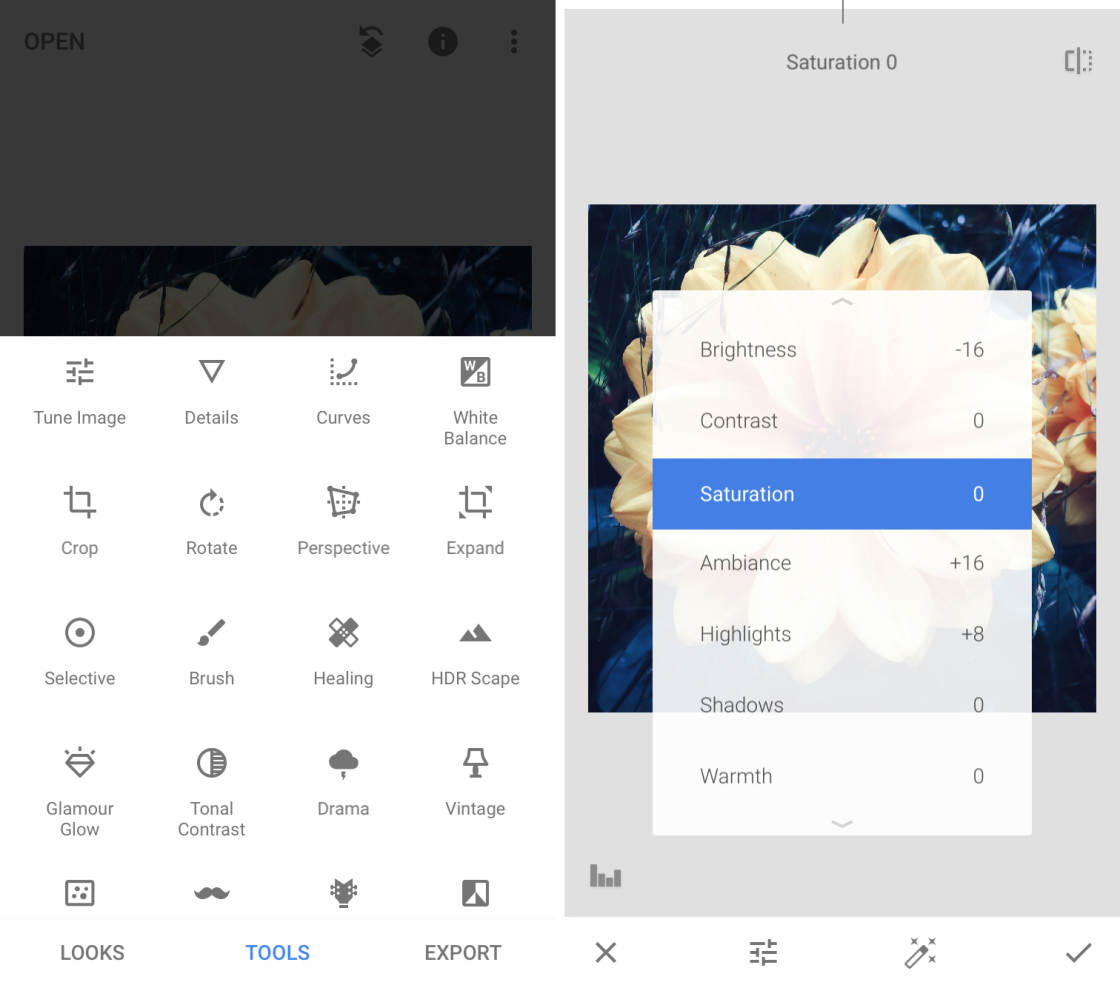 It also includes a unique Selective Adjustment tool, which allows you to change the brightness, contrast and color saturation of only select portions of an image.
While there are dozens of apps available that offer many of the same tools as SnapSeed, what really sets it apart from the crowd is how easy it is to use.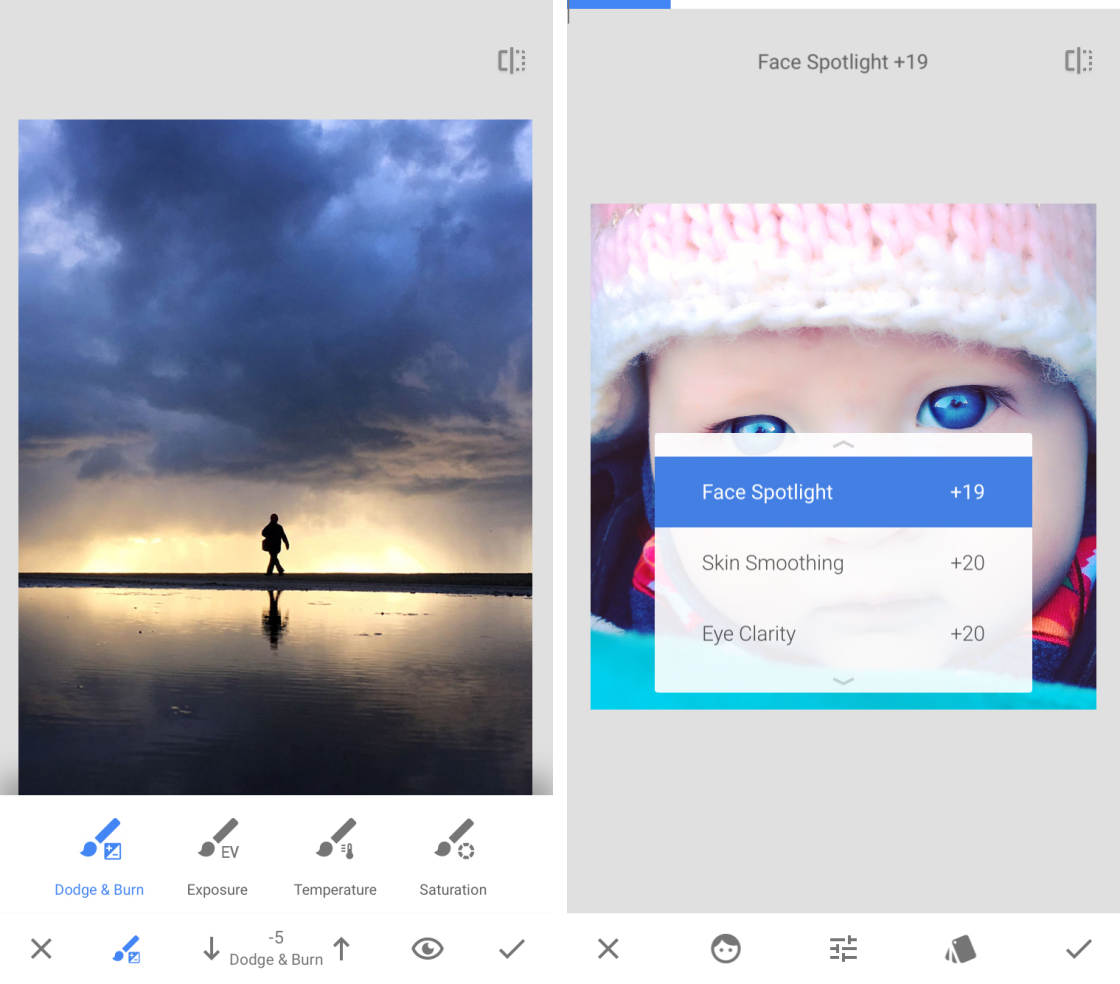 The user interface is highly intuitive, and most adjustments can be done by simply sliding your finger up and down to select an option, and then sliding left and right to adjust the level.
Click here for a complete guide on how to use the Snapseed photo editing app.
6. VSCO
Another popular photo editing app is VSCO (previously called VSCO Cam). While this app also works as a camera app, it's one of the best photo filter apps for iPhone.
VSCO stands for the Visual Supply Company, and they built their reputation in the photo world by creating unique film emulation presets that can be used with the desktop software Adobe Lightroom. Luckily for mobile photographers, they've packed much of that editing power into this great app.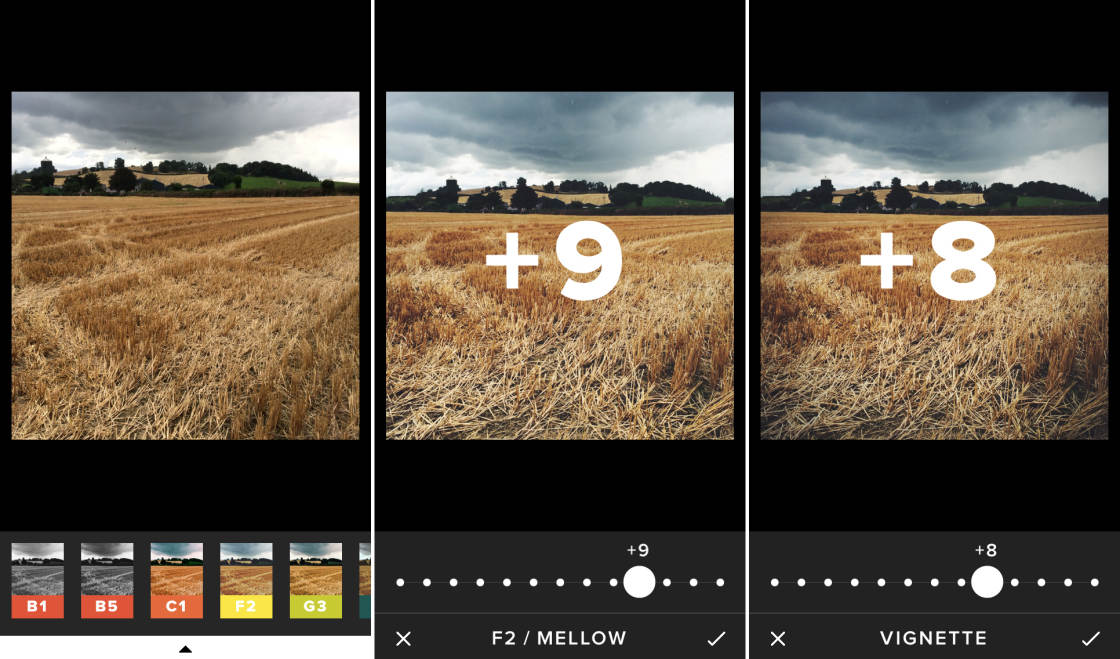 Unlike other apps where the filters can be a little harsh, VSCO Cam filters are generally designed to emulate classic and modern analog films. Many of the filters feature a soft, slightly faded look that has quickly become very popular amongst mobile photographers.
The strength of every filter can be adjusted to suit your taste, and the app also features a number of highly-effective editing tools for adjusting exposure, color and more.
I'm particularly fond of the sharpening tool in VSCO as it does a good job of sharpening an image without adding too much noise (grain), which can often happen in other apps. As always though, it's best to keep image sharpening to a minimum to preserve image quality.
VSCO is free to download and comes with a basic collection of filters to get you started. You can then download additional bundles of filters from within the app if you wish. Some can be downloaded for free but others have to be purchased (between $0.99 and $5.99 per bundle).
For a complete guide on how to use this app, check out our in-depth VSCO tutorial.
7. Filterstorm Neue
Filterstorm Neue offers many of the features and editing control of more powerful desktop applications like Lightroom and Photoshop, but in a mobile-friendly format. I'm a huge fan of this app and use it a lot in my basic editing workflow.
If you're interested in learning more advanced editing techniques and taking your iPhone photography to another level, it's definitely worth investing some time in learning how to use this app.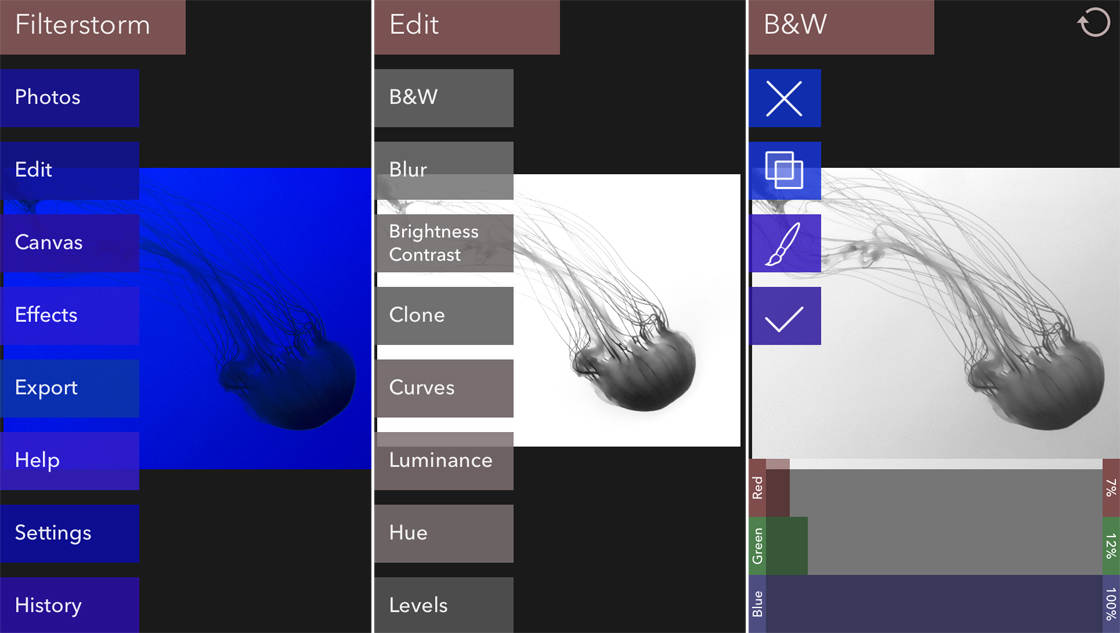 In addition to all of the usual suspects when it comes to iPhone photo editing, Filterstorm Neue includes a powerful Curves control for fine tuning brightness and contrast. It takes a bit of time to learn how to use a Curves tool effectively, but once you do, you may never want to use adjustment sliders again.
One feature that really sets Filterstorm Neue apart from the rest is that for many of its adjustment features it allows you to selectively apply those effects through a number of tools, including a powerful masking brush as well as radial and linear gradient filters.
Filterstorm Neue sells for $3.99 on the App Store.
8. TouchRetouch
Many apps now offer the ability to remove unwanted elements from a photo, but TouchRetouch is still one of the easiest and most effective apps for this purpose.
You simply use your finger to highlight the objects (or parts of objects) that you want to remove (shown in red below). Then just tap Start and the app does the rest by removing the unwanted objects and replacing them with pixels from the surrounding area.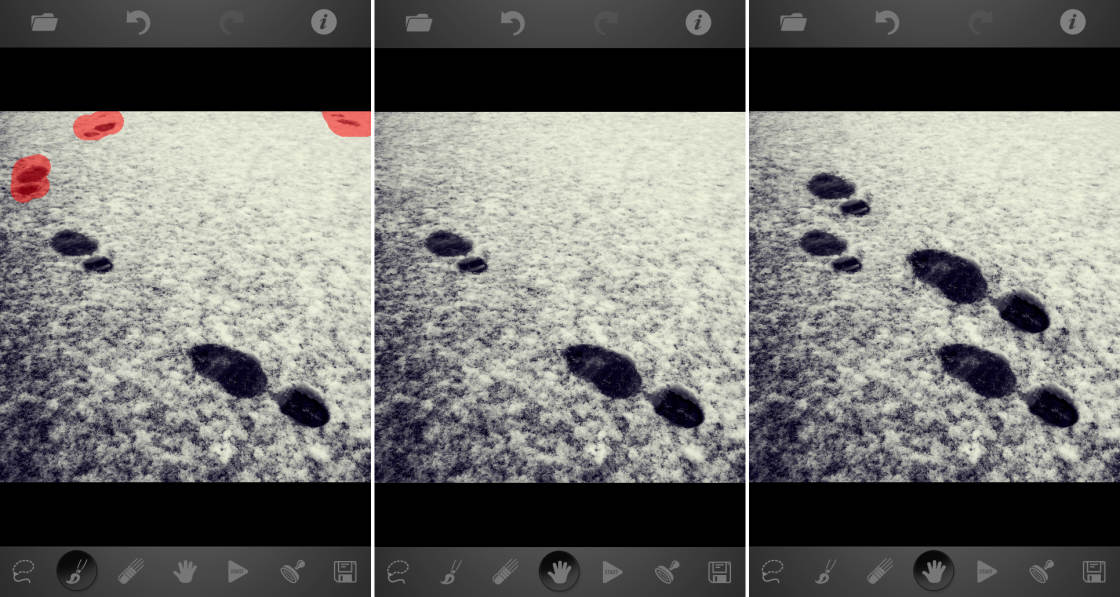 Removing more complicated elements may take a few tries to get it perfect, but TouchRetouch makes it easy to start over if you aren't happy with the results the first time. You can also duplicate objects by cloning them to another area of the image.
TouchRetouch sells for $1.99 on the App Store.
For a step-by-step guide on how to use this app, check out our tutorial on How To Remove Unwanted Objects In Your iPhone Photos.
9. AfterFocus
AfterFocus is another specialty app (like TouchRetouch) in that it really only does one key thing, but it does it very well. This app allows you to imitate the shallow depth of field effect that can typically only be achieved with a larger camera and a multi-element lens.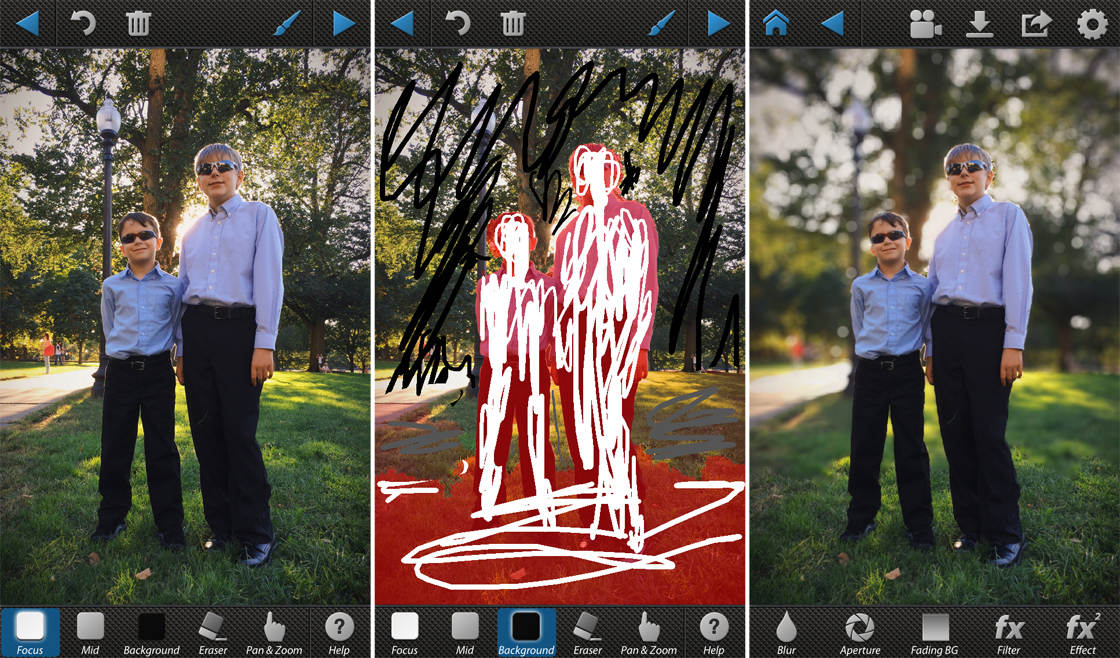 Shallow depth of field is when only your main subject is in focus and the background is blurred. AfterFocus provides a very user-friendly way of achieving this effect by simply marking your image as to where the foreground and background are.
You can even add a natural-looking bokeh effect where the background highlights are rendered as soft circles or hexagons. AfterFocus sells for $0.99 on the App Store.
Click here to learn how to use the Afterfocus app to blur background in your iPhone photos.
10. Mextures
Mextures is a fantastic and easy-to-use app for applying textures, light leaks and more to your photos. It also includes a solid collection of basic photo editing tools, but it's better known for its ability to layer textures and other effects. You can even save your specific editing "formulas" and share them with other users of Mextures.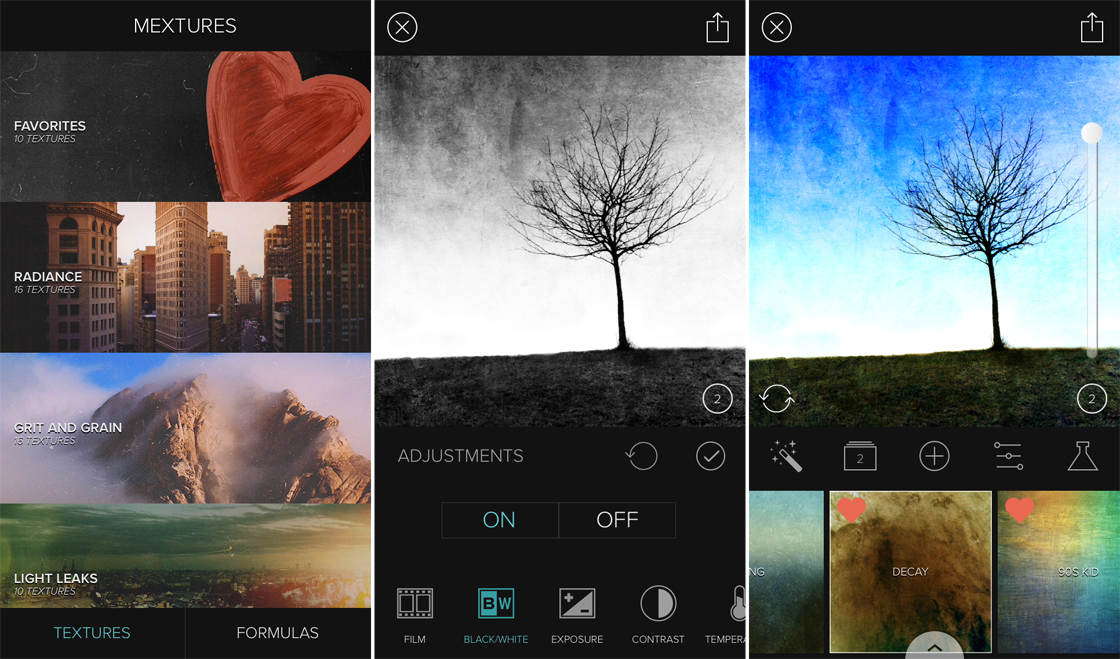 When adding a texture, you can control the opacity as well as the rotation of the effect, thereby offering you an almost unlimited number of editing options.
In addition, while editing a photo and adding layered effects, you can also remove any particular layers before saving. This gives you a greater range of control over the editing process.
Mextures sells for $0.99 on the App Store. Watch our in-depth Mextures video tutorial to learn more about using this app.
11. Instagram
Instagram is likely the #1 app that has helped to raise the popularity of mobile photography. After all, this is the community where most of us share our iPhone photos.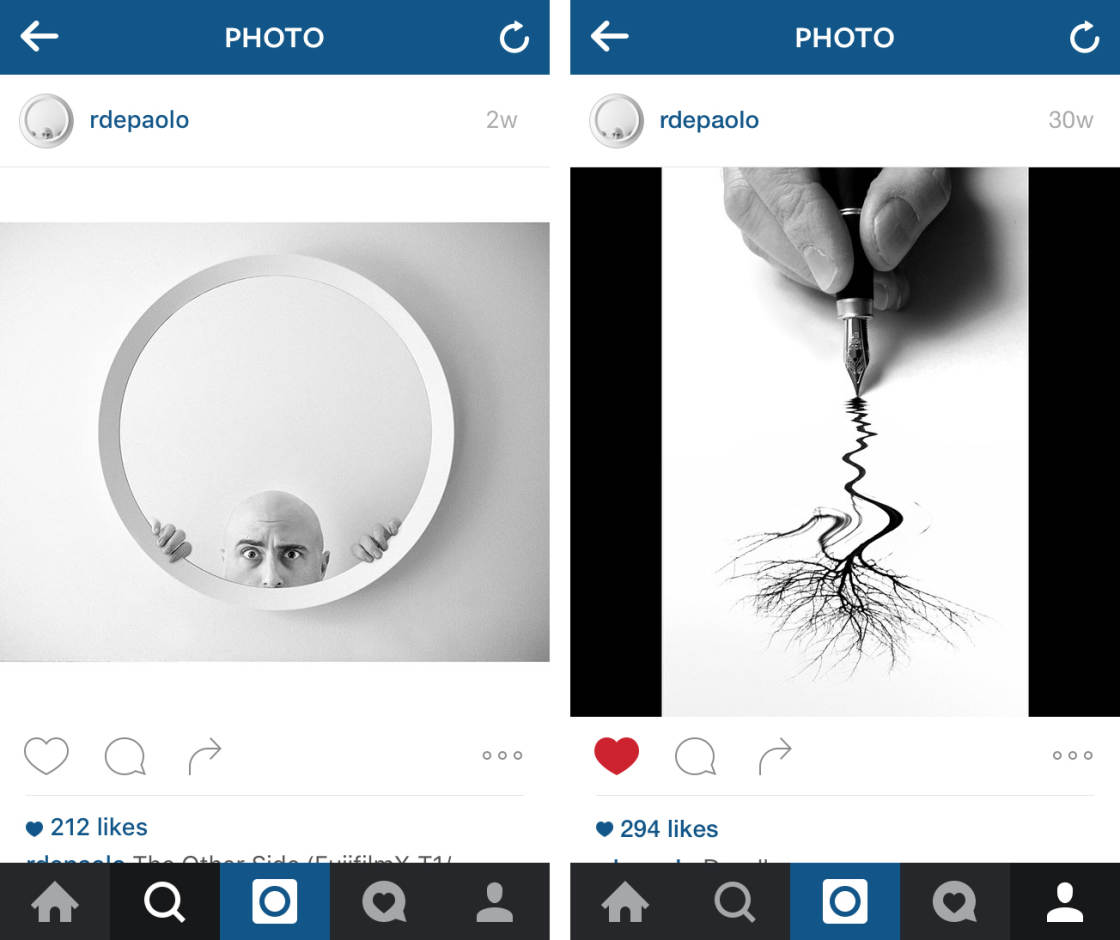 Instagram is not just a photo-sharing community though. The app also features a basic, yet solid suite of editing filters and tools. The user-friendly interface has a similar feel to that of the VSCO app, although the collection of filters and tools is not as extensive.
If you choose to join the Instagram community, you can start to explore the vast world of contemporary mobile (and other) photographers. As you find people to follow, you'll slowly build your feed to the point where new inspiration may be found every time you open the app.
And by following a few basic guidelines you'll start to get your iPhone photos noticed by other Instagramers, and gradually gain more followers. You can follow iPhone Photography School on Instagram by adding @iPhone_Photography_School.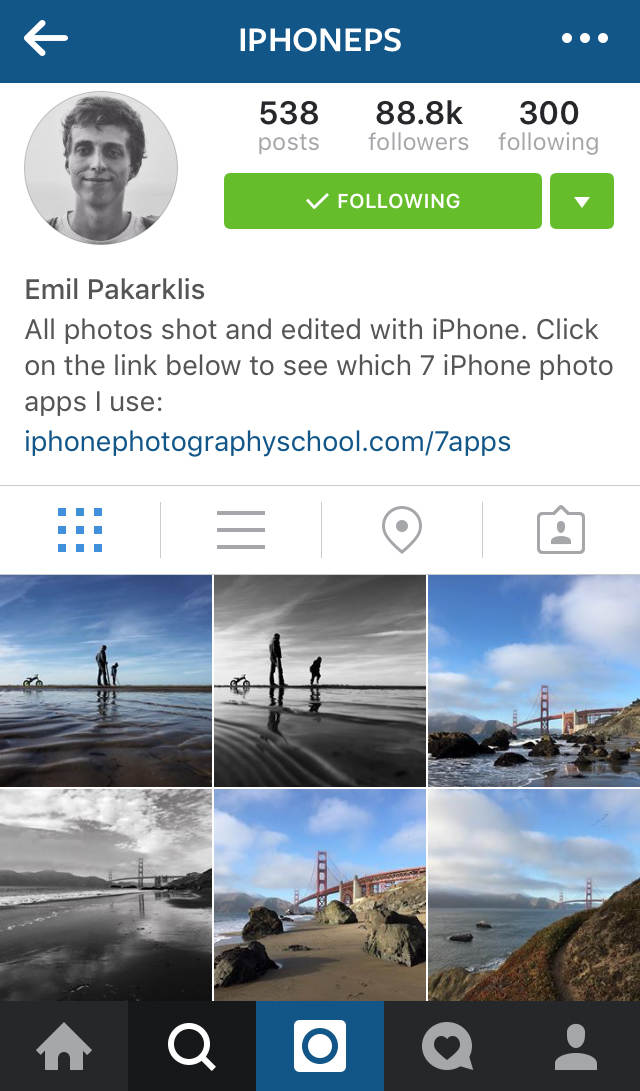 Instagram is free to download from the App Store.
12. EyeEm
EyeEm is another app based around an online photo-sharing community, and while not yet as large as the Instagram community, it's growing rapidly and works a bit differently.
This is also the community where you can share your photos with us here at iPhone Photography School and participate in our weekly photo contest.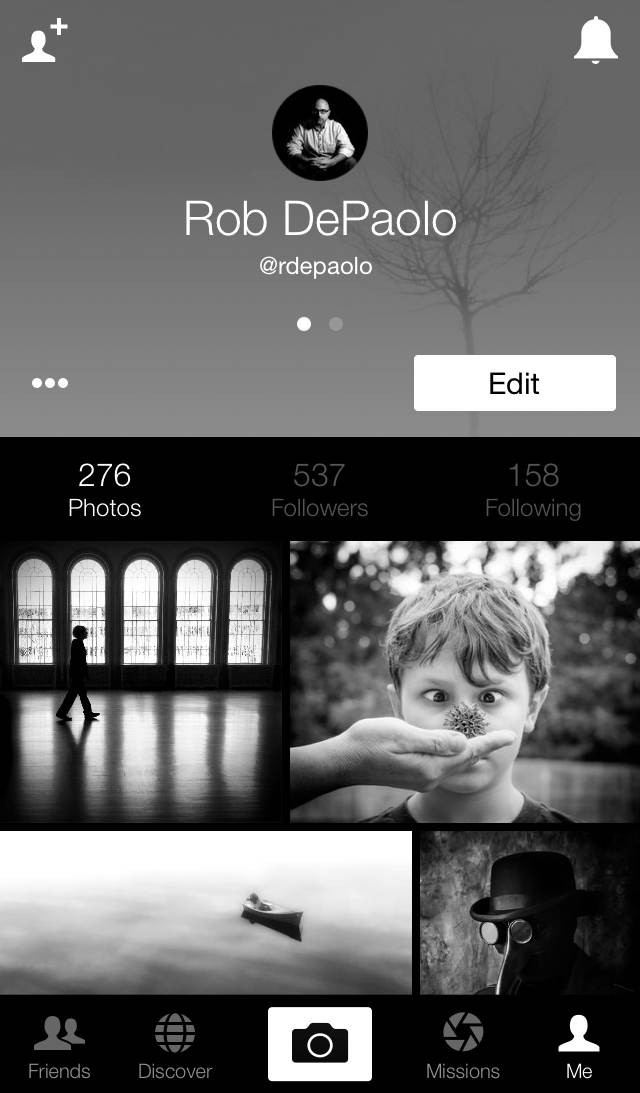 Just like Instagram, EyeEm also features a set of basic editing tools and filters that you can apply to photos taken with the app itself, or imported from your camera roll. In particular, one exciting new feature that EyeEm offers is called "Open Edit."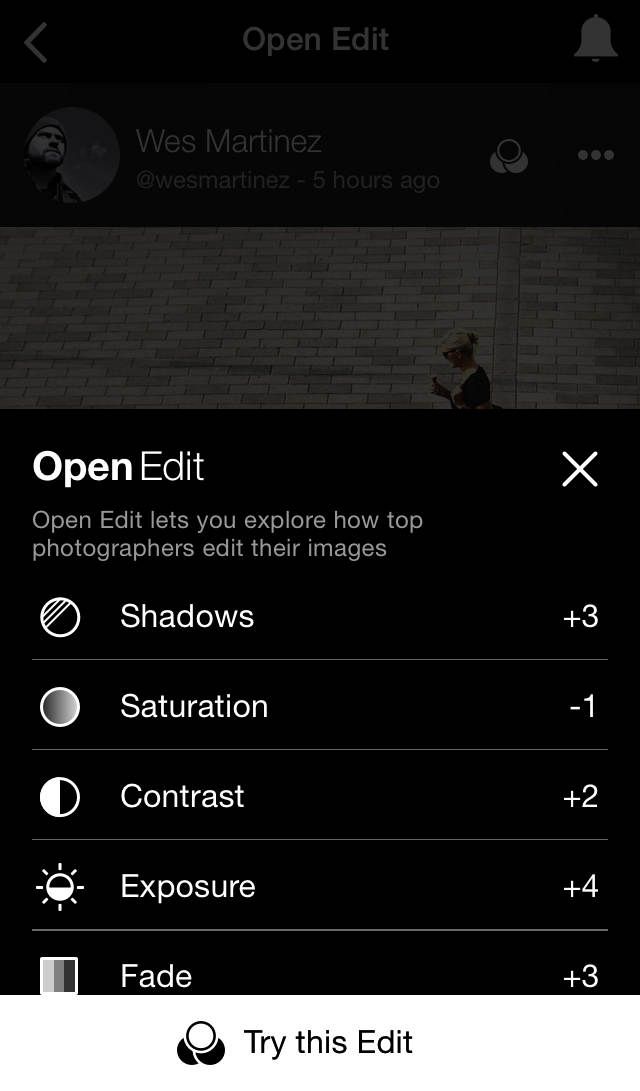 This allows you to see how other photographers used the EyeEm app to edit their images (when applicable). This can be a great way to learn about the editing workflows of other photographers and apply some of the same techniques to your own images.
EyeEm is free to download from the App Store.