What is the best photoshop app for iPhone? While there are hundreds of iPhone photo editing apps, a few rise above the rest. In this article, you'll discover the top 10 photoshop apps. And we'll announce the best photoshop app out there for producing stunning photo edits.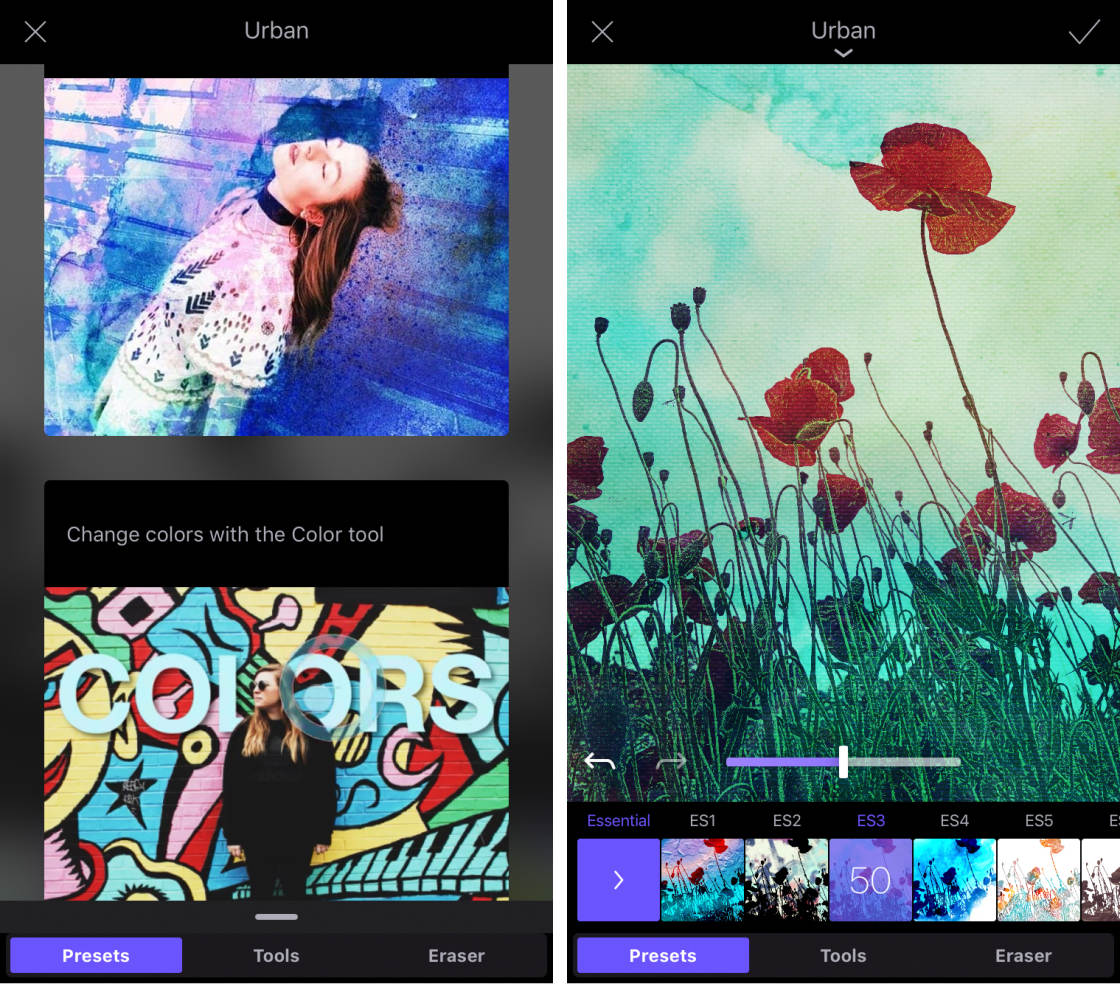 1. Snapseed
A comprehensive editing app packaged in a beginner-friendly way:
One-tap Looks for quick editing
Basic editing features: exposure and color adjustments
Advanced editing features: curves, perspective correction, and tonal contrast adjustments
Brushes and a Selective tool for fine-tuned editing
Custom Looks for quick 'copy-paste' editing
Collection of filter tools, including Vintage, Drama, and Grunge
Price: FREE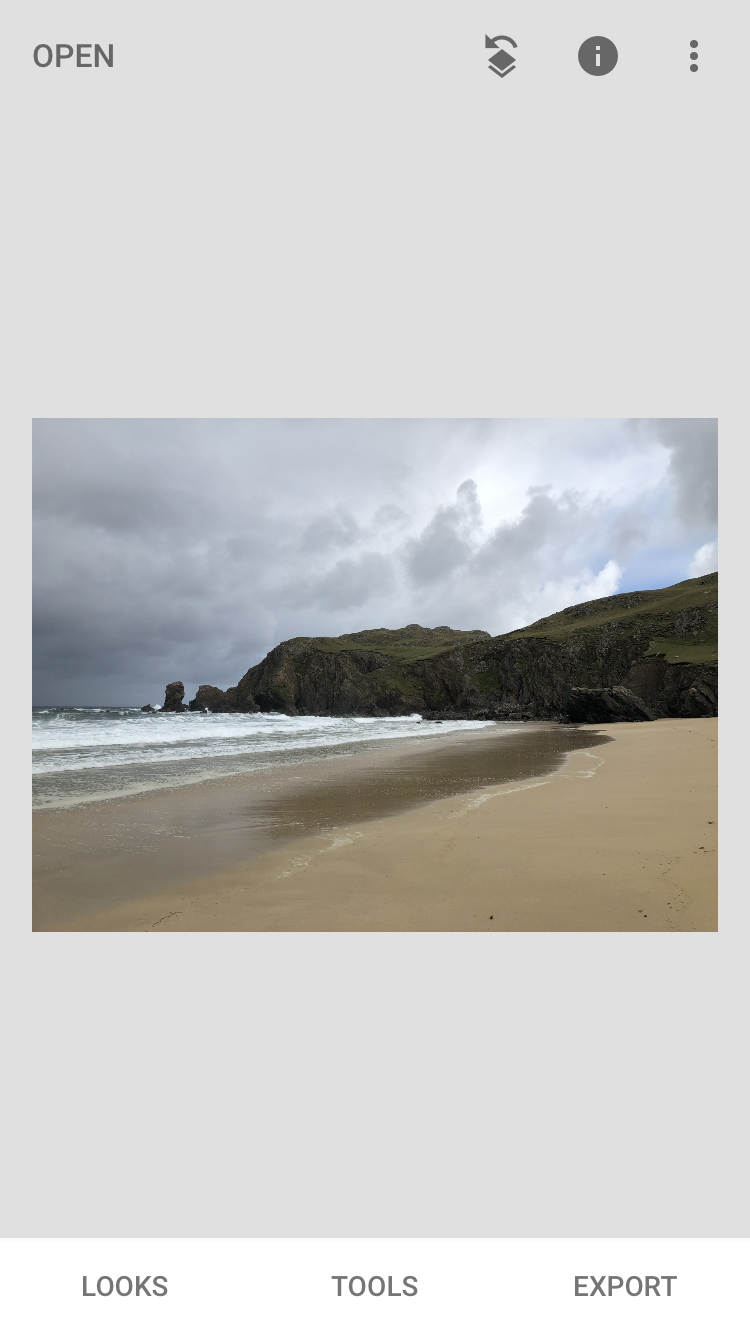 Want an easy-to-navigate photoshop app for iPhone? Snapseed's interface is unbelievably simple to use. You can move smoothly through the tools while editing your images.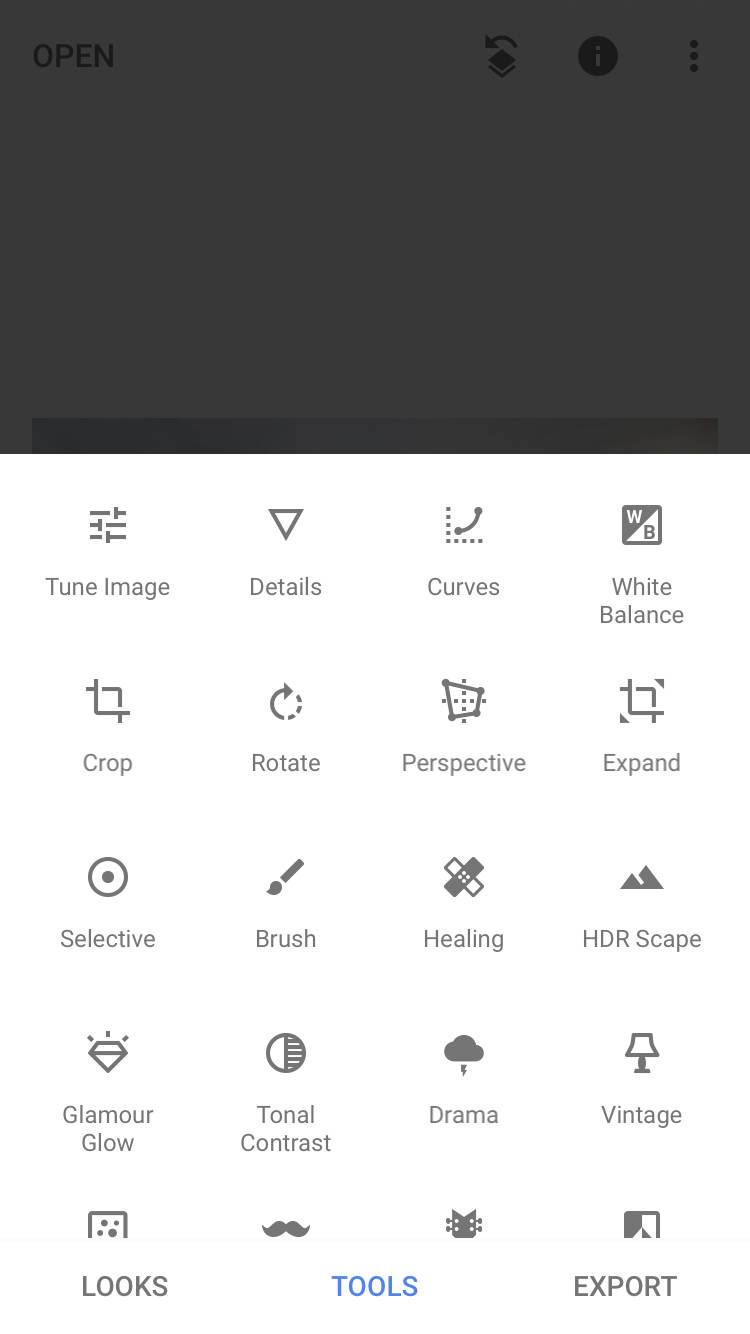 The Crop, Rotate, and Perspective tools are great for enhancing your compositions. And the Tune Image tool allows for quick adjustments to image brightness, color, and more. The Grunge, Vintage, and Drama filters are great ways to enhance the mood.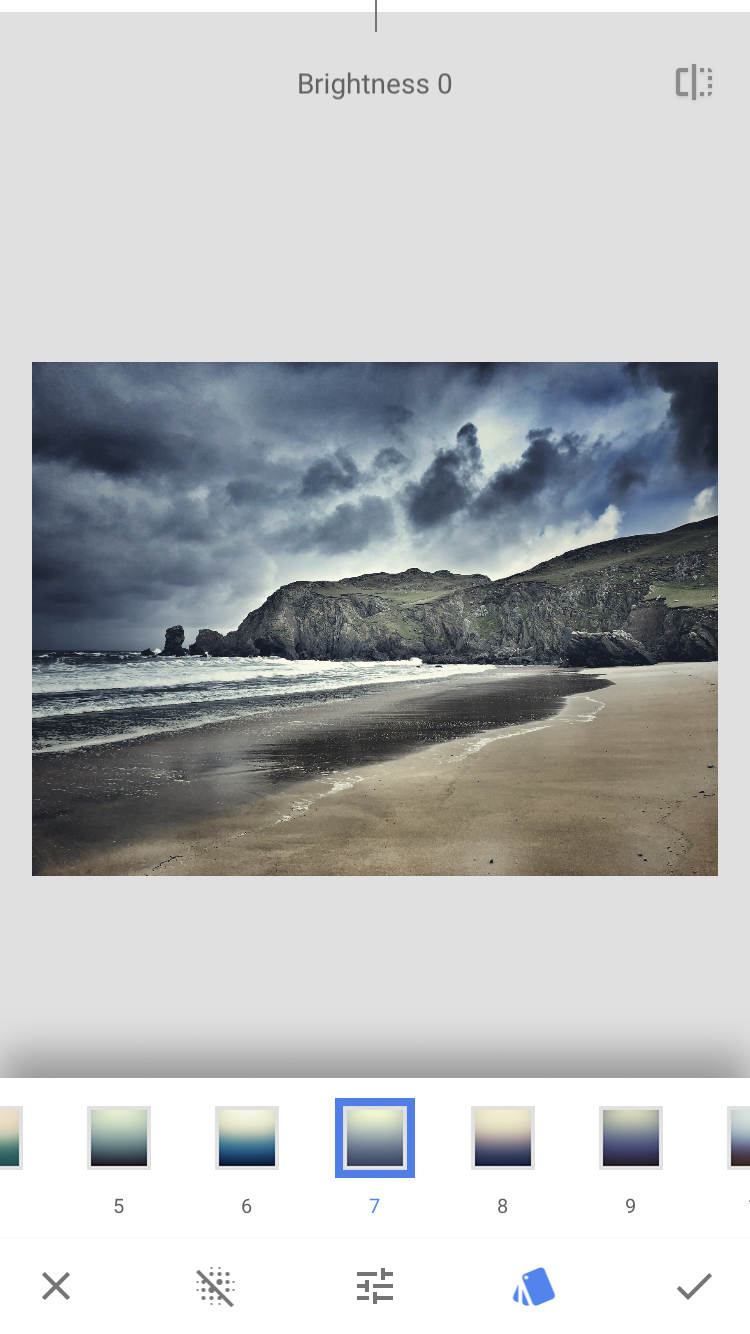 For even more fine-tuned control, you can turn to the Brush and Selective tools. With these, you can restrict edits to a specific part of your image.
Finally, Snapseed provides a range of presets, called Looks. These allow you to improve your photos with a single tap. And you can even create custom Looks. This useful feature allows you to apply your own Looks to photos.
If you're new to editing, Snapseed is an excellent option. Even among a group of the best photoshopping apps, Snapseed manages to stand out.
Snapseed is available for FREE from the app store. There are no ads or in-app purchases.
Click here for a complete guide to using the Snapseed photo editing app.
2. Adobe Photoshop Express (PS Express)
A full-featured photo editor, great for finishing touches:
Borders and text overlays for image presentation
Collages for single and multiple images
Collection of one-tap Looks for quick enhancements
Light, color, and detail adjustments for fine-tuning
Fun features such as stickers
Price: FREE (with in-app purchases and a subscription option)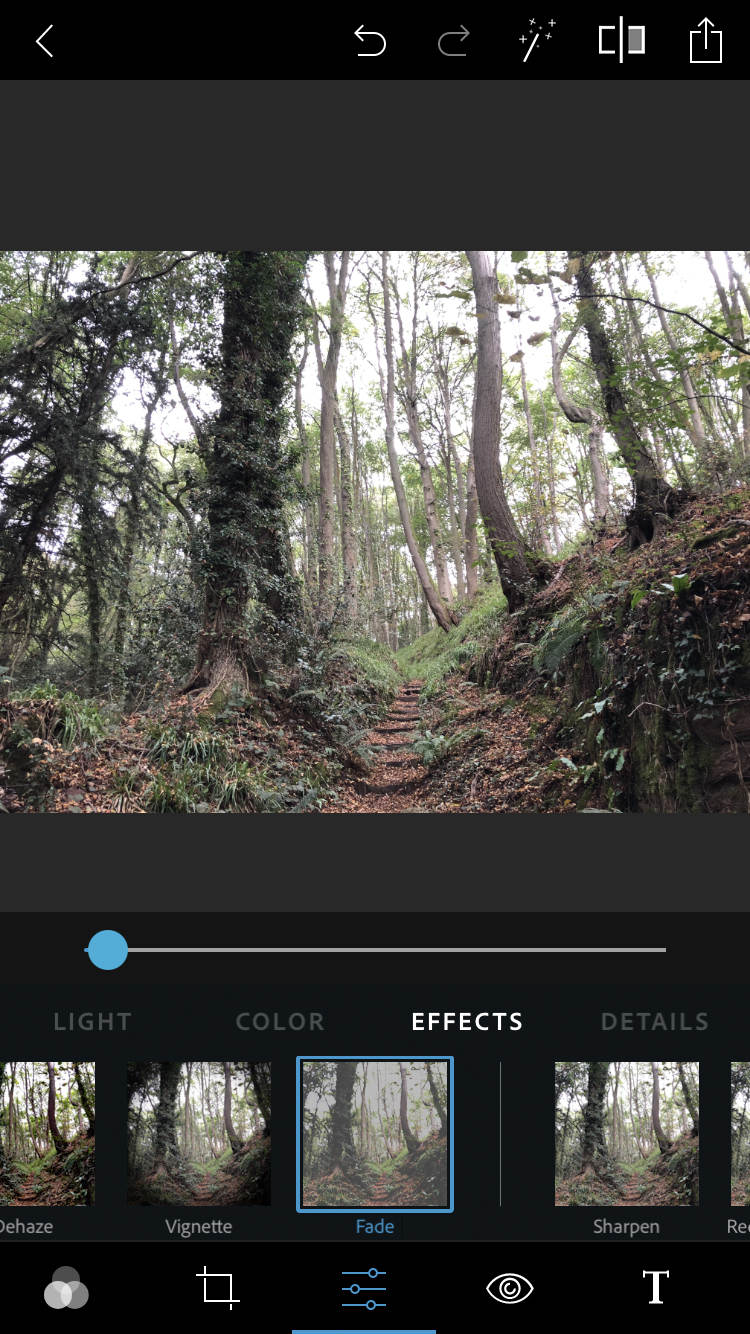 Are you looking to add finishing touches to your images? Then you'll love Adobe Photoshop Express.
From borders to vignettes, PS Express has the tools you need to present your images. PS Express also offers overlays. These are elements (e.g., text, borders, and shapes) that are applied on top of your original photos.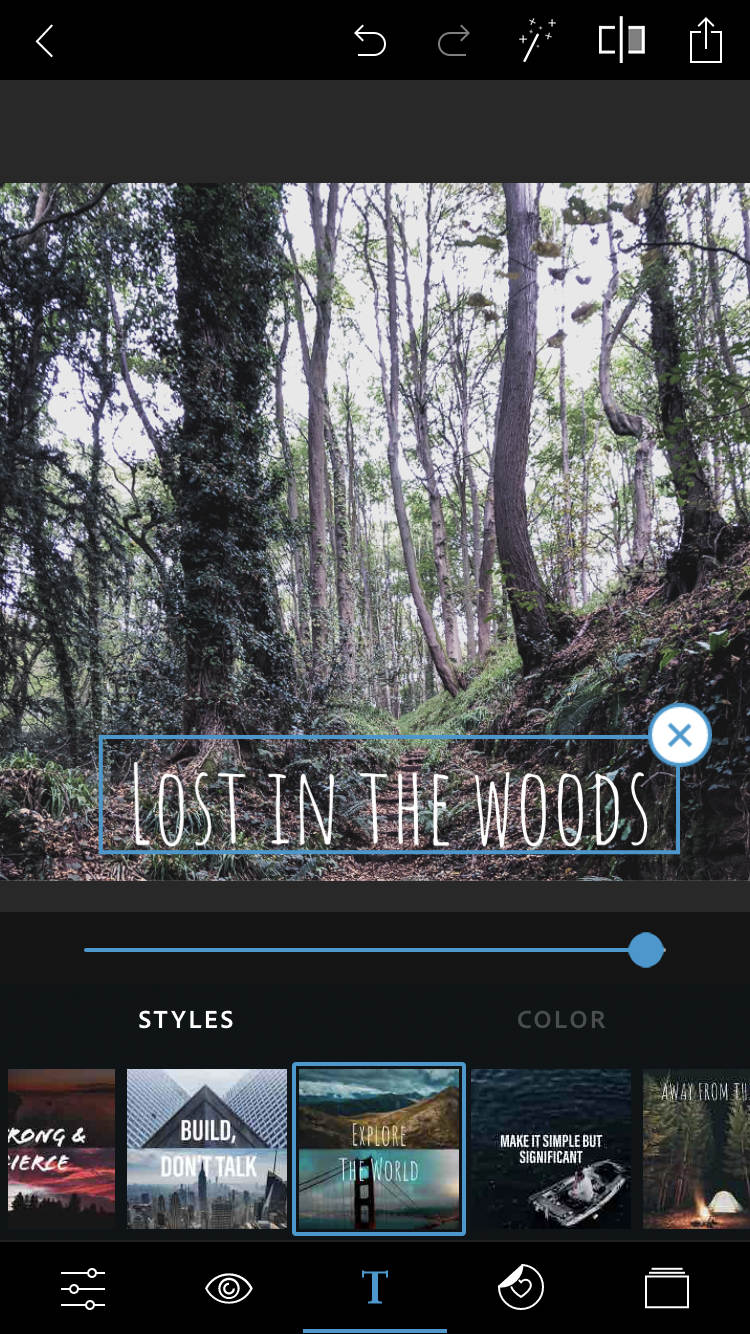 For instance, the text overlay option places text onto your photos. This allows you to create memes and add captions. You can also use the text overlay option to add watermarks.
Plus, the app has its share of basic editing tools. You can quickly change exposure and contrast. You can modify temperature and saturation to make your images pop.
And for quick edits, PS Express has an excellent collection of Looks. These are filters that can be easily applied to your photos to enhance the mood. They range from Basic and B&W to Nature and Duo Tone.
The collage section of the app is another fun option. Use the collage templates on a single image for a creative effect. Or select more than one image for inclusion into one of the template layouts. You can even adjust the size and positioning of each image within a collage.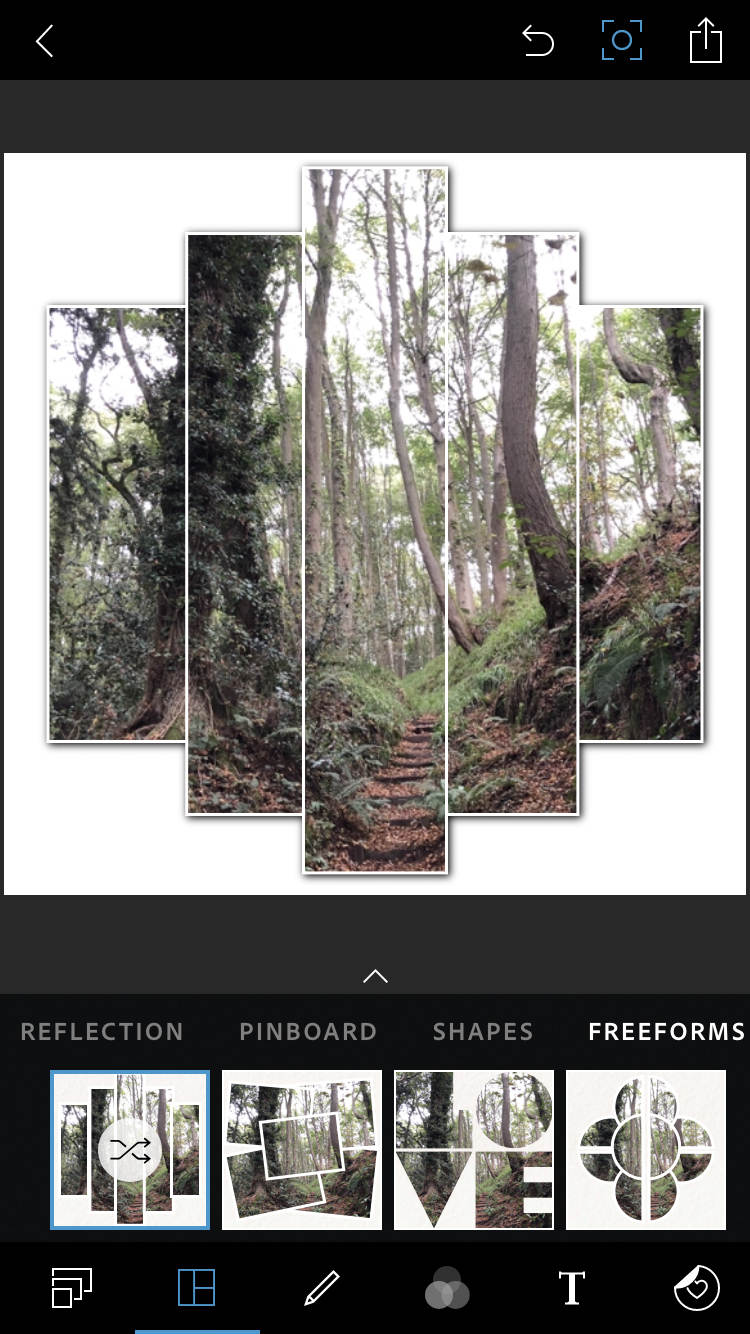 If you're looking to add finishing touches to your images, then PS Express is an excellent choice.
Adobe Photoshop Express is available for FREE from the App Store. Complete access requires a subscription.
Click here to learn how to use Adobe Photoshop Express to create stunning edits.
3. Enlight Photofox
A powerful yet fun app, chock-full of features:
Great selection of editing tools
Artistic sketching and painting filters
Add fun stickers, shapes and text to your images
Basic editing features: exposure and color adjustments, cropping
Excellent in-app tutorials
Price: FREE (with subscription for access to all tools)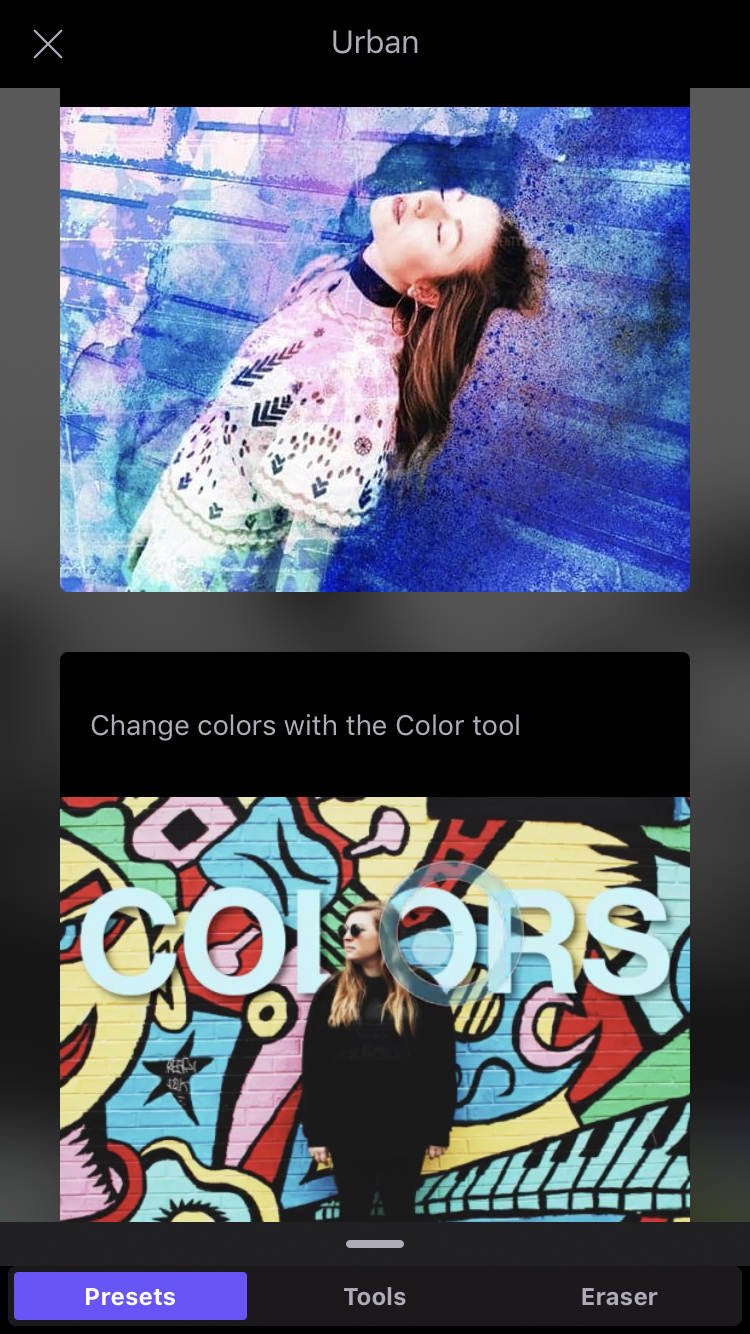 Enlight Photofox is a photoshop app with an impressive set of editing tools. Photofox offers standard features, such as exposure and color adjustments. But Photofox also offers fun edits: stickers, shapes, and more.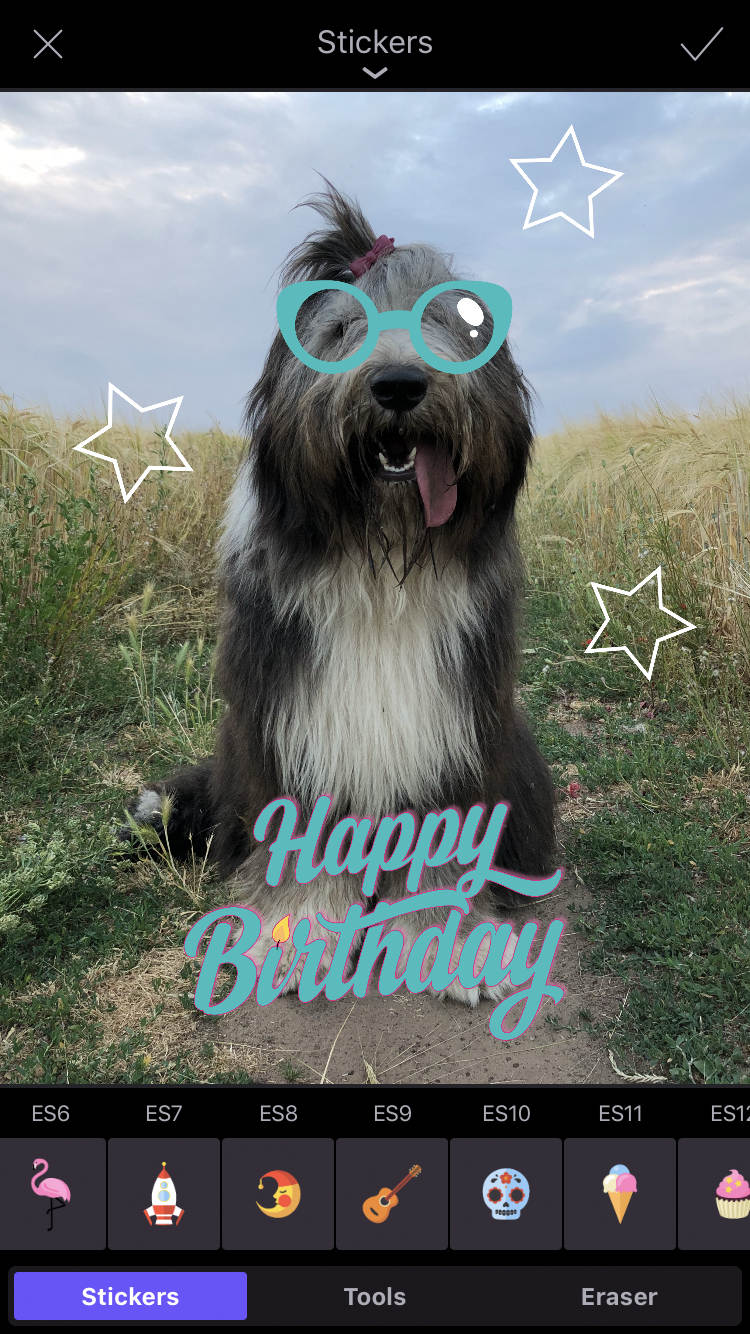 Do you want to apply painting and drawing effects to your images? Enlight Photofox is an excellent choice. You can turn your photos into watercolors and pencil sketches with a single tap. And there are plenty of other artistic filters to try out.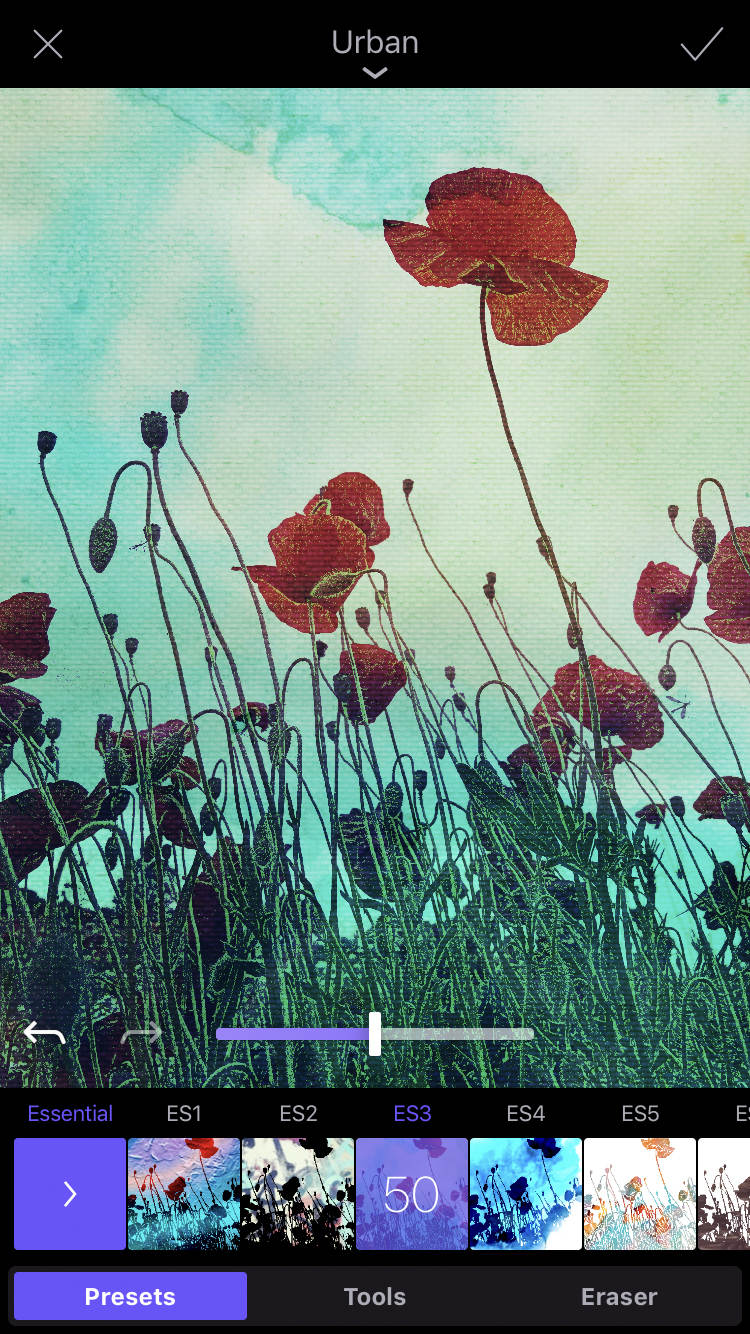 Plus, if you want to quickly learn how to photoshop on iPhone, Photofox has got you covered. The app's interface is somewhat overwhelming. But tutorial information is conveniently placed within each tool selection. This way, you can work and learn in the same area!
If you're looking to use creative editing tools, Enlight Photofox might be the best photoshop app for you.
Enlight Photofox is available for FREE from the app store. To get access to all features, a subscription is required.
4. TouchRetouch
An app dedicated to smoothly removing objects from your iPhone photos:
Easy removal of unwanted objects
Advanced line removal feature
Brush and lasso tools for precise object removal
Easy-to-use, touch-based process
Enhance portraits with blemish removal
Price: $1.99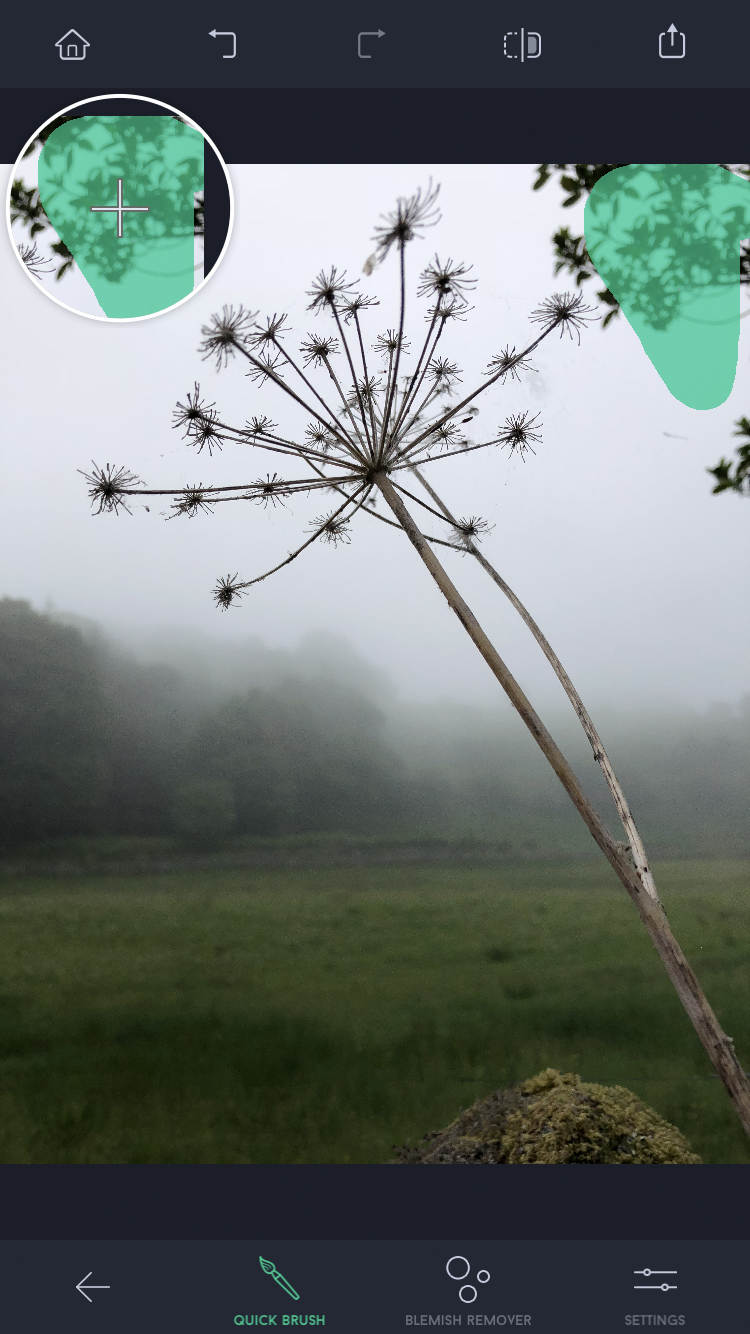 TouchRetouch is an app dedicated to one thing: removing objects from photos. In this, it excels.
The object removal tool is one of the most powerful features of this app. With a single tap, you can highlight distracting objects in your image. Then watch as—poof!—the object vanishes with the press of a button.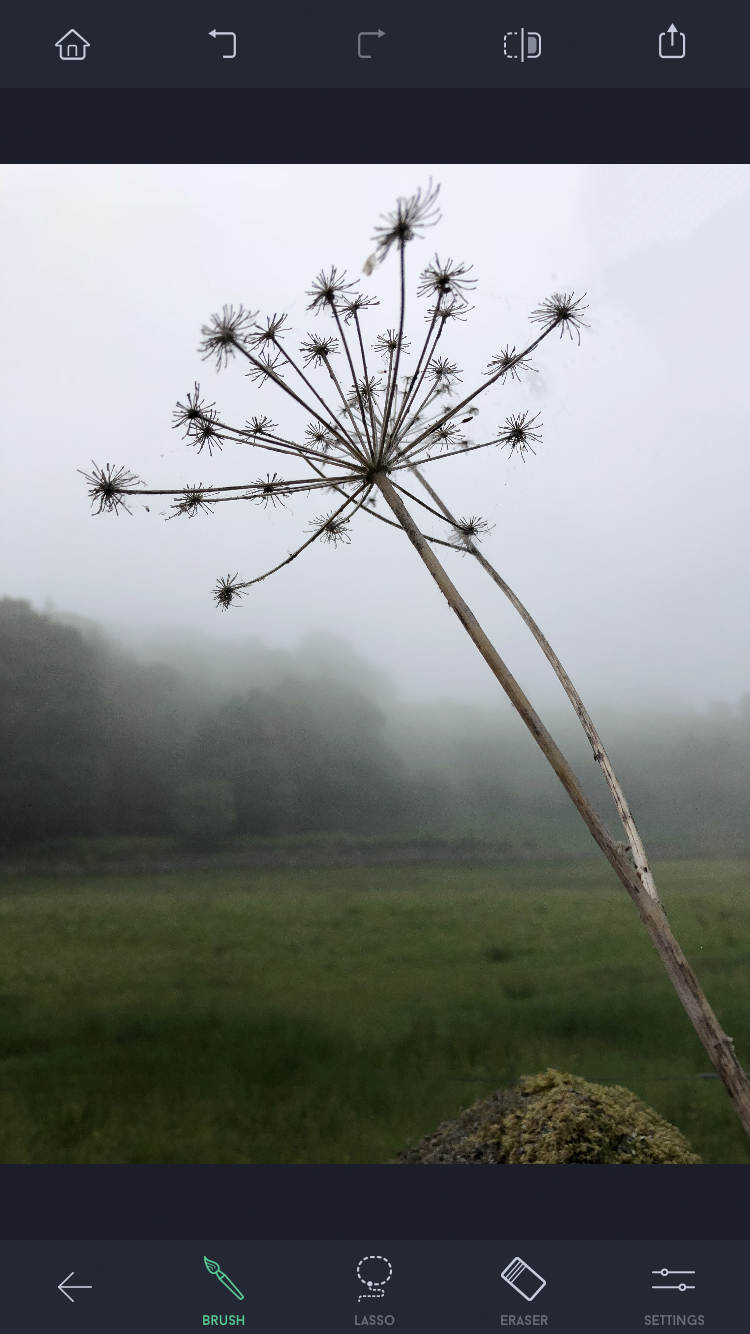 But that's not all. Are you looking to do more precise retouching? TouchRetouch lets you adjust the size of your object removal brush. Or you can use the app's lasso tool to highlight unwanted objects.
The app's innovative line removal feature does a great job of erasing line-shaped objects. This is fantastic for getting rid of distracting wires, poles, and power lines.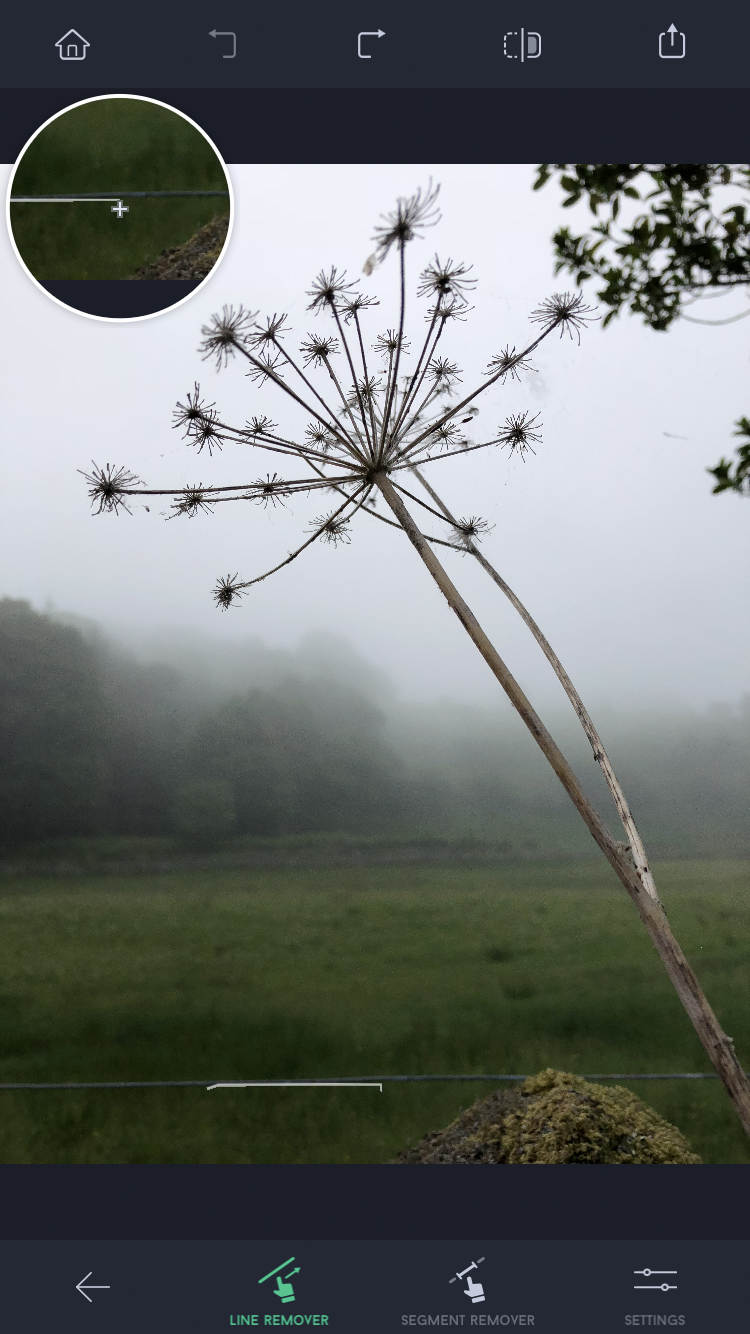 TouchRetouch is also useful for editing portraits. Use the blemish remover tool to erase minor imperfections. This will leave your portraits looking clean and professional.
And if you're unhappy with the result, each step of editing can be undone with a single tap.
If you want to remove elements from your photos, then you won't be disappointed with TouchRetouch! It's an excellent photo retouch app.
TouchRetouch is available for $1.99 from the app store. 
Click here to discover how to use TouchRetouch to easily remove unwanted objects from your photos.
5. Adobe Lightroom CC
A popular all-in-one editing app:
Good for both amateurs and professionals
Create or import presets for one-tap alteration of photos
Basic editing adjustments to exposure and color
Advanced tools to fine-tune images
Syncs with Adobe Creative Cloud for editing between devices
FREE (with subscription for access to all tools)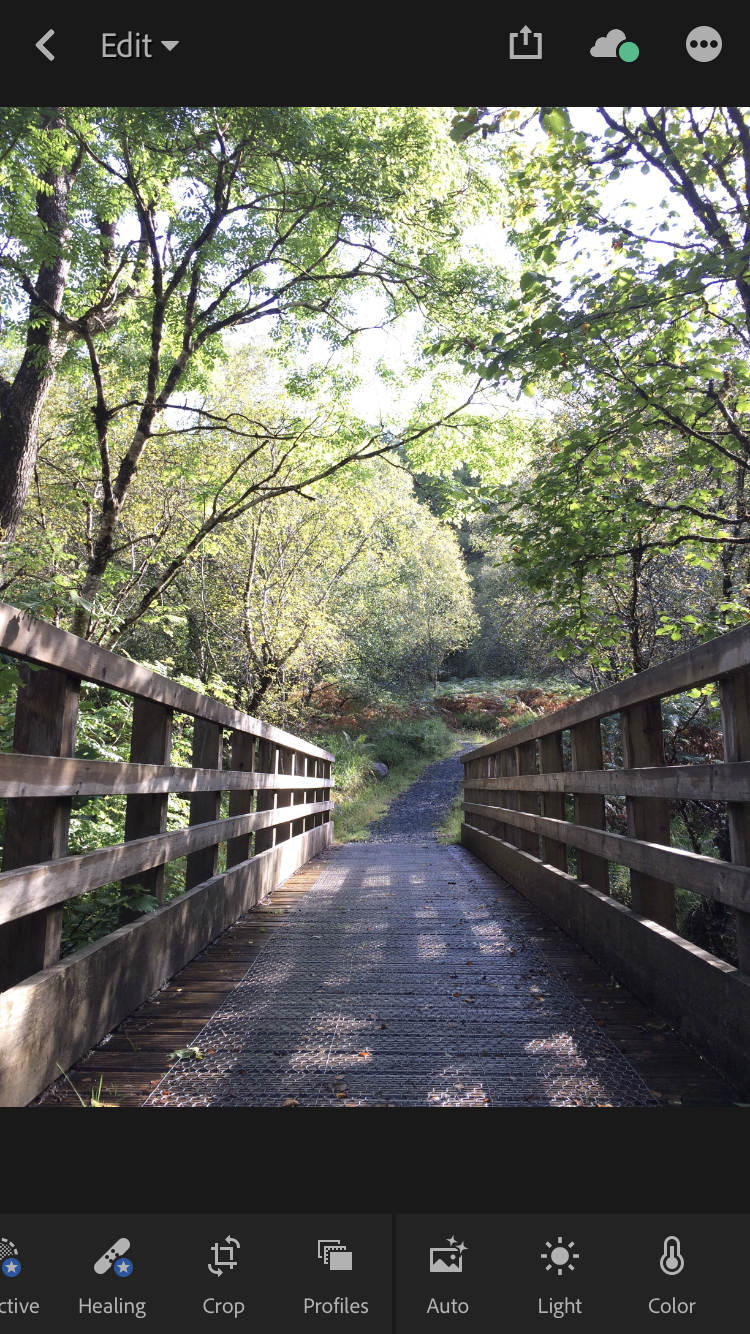 Adobe Lightroom CC is used by professionals and amateurs alike. The reason for this is clear: the app is simple, intuitive, and very, very powerful.
Lightroom CC is well known for its presets. These are customizable filters that can be shared among users. The app doesn't disappoint, offering over 40 ready-to-use presets.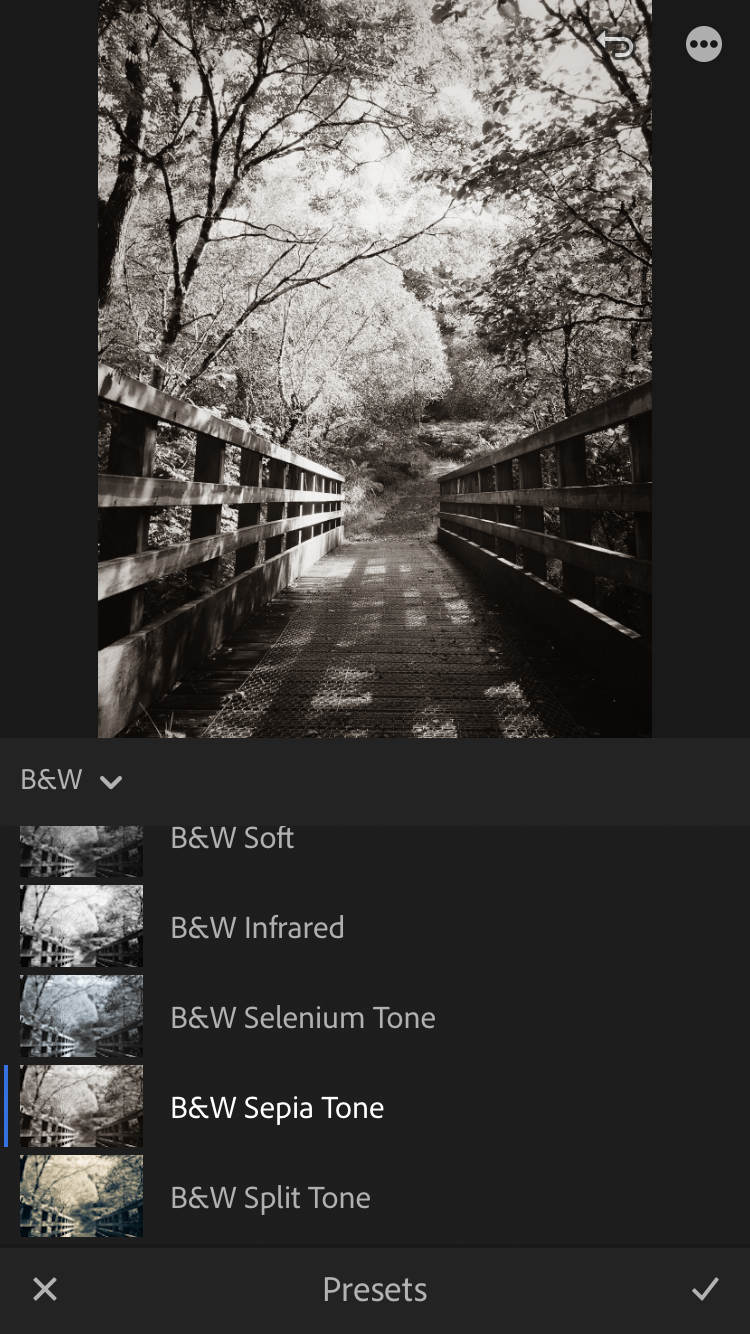 Lightroom even allows you to create your own presets—and then apply them to other photos. This allows you to develop your own unique style. And you can apply it consistently across photoshoots.
Lightroom also has more advanced tools for image editing. Its editing modules allow for careful exposure and color adjustments. And you can use the curves and color options for even more precise corrections. This allows for great flexibility in enhancing your photos.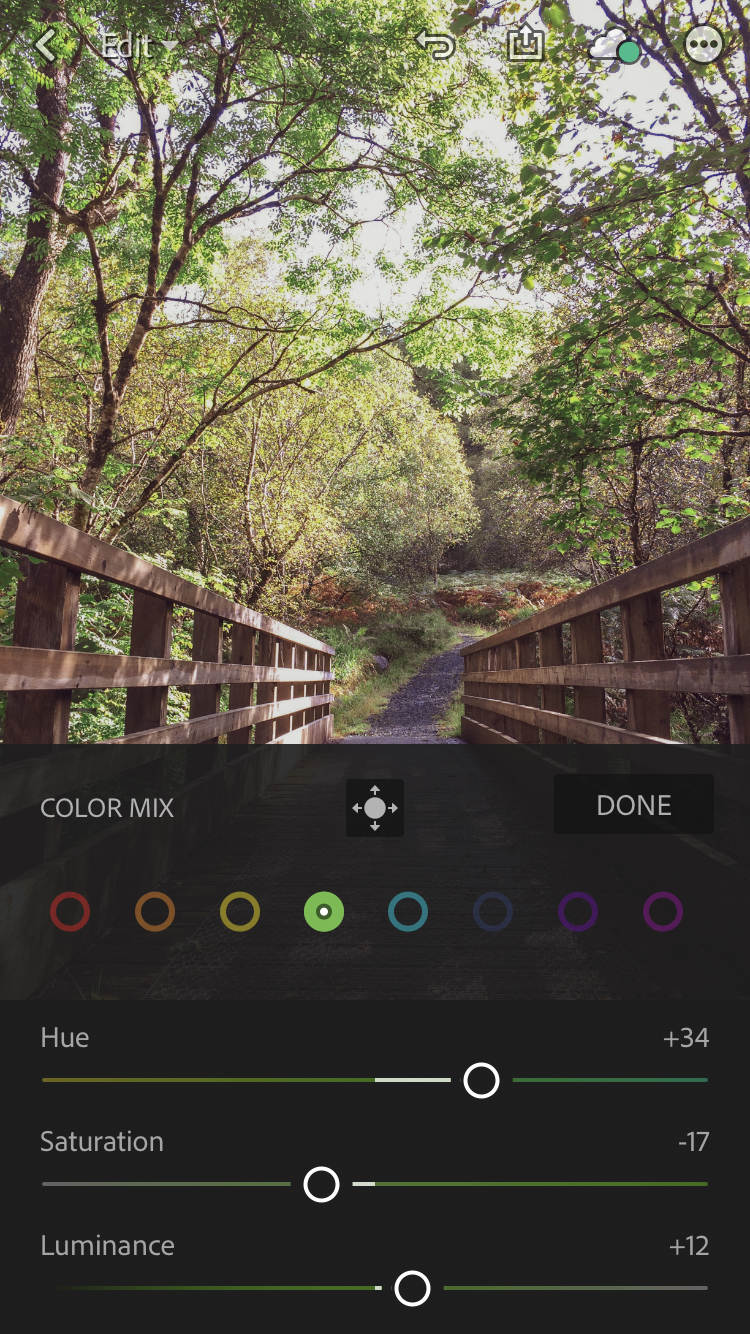 Are you looking to edit your photos while emphasizing your own unique style? If so, Lightroom CC would be a fantastic choice.
Lightroom CC is available for FREE from the app store. For access to all editing tools, a monthly subscription is required.
6. Adobe Photoshop Fix
Powerful photoshop for iPhone with impressive portrait enhancing tools:
Intuitive, simple interface with advanced editing features
Cropping, exposure, and color adjustments
Powerful portrait tools to change facial proportions and smooth faces
Paint tools for more creative adjustments
Heal and patch tools to wipe away imperfections
Price: FREE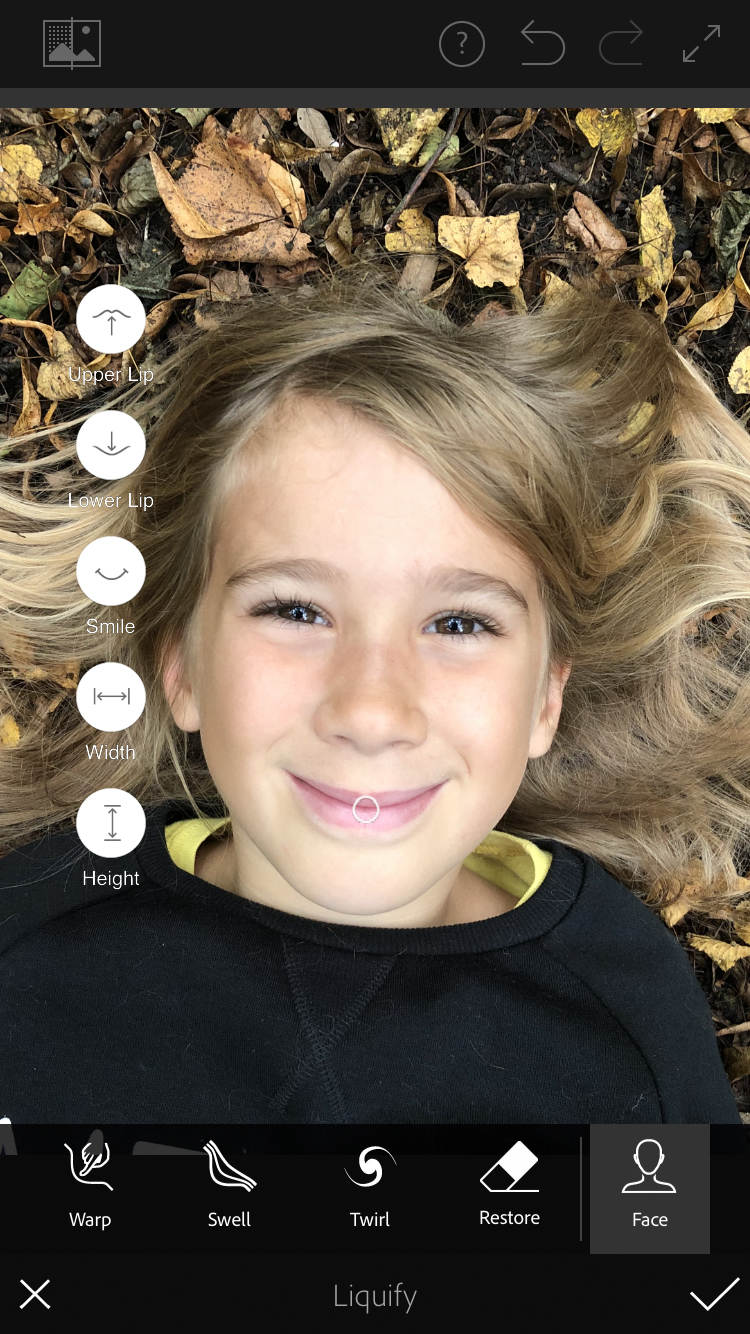 Photoshop Fix is a powerful photoshop app. But it has the added bonus of being extremely easy to use. Editing is fast and intuitive.
The more basic features offer cropping, color, and exposure adjustments.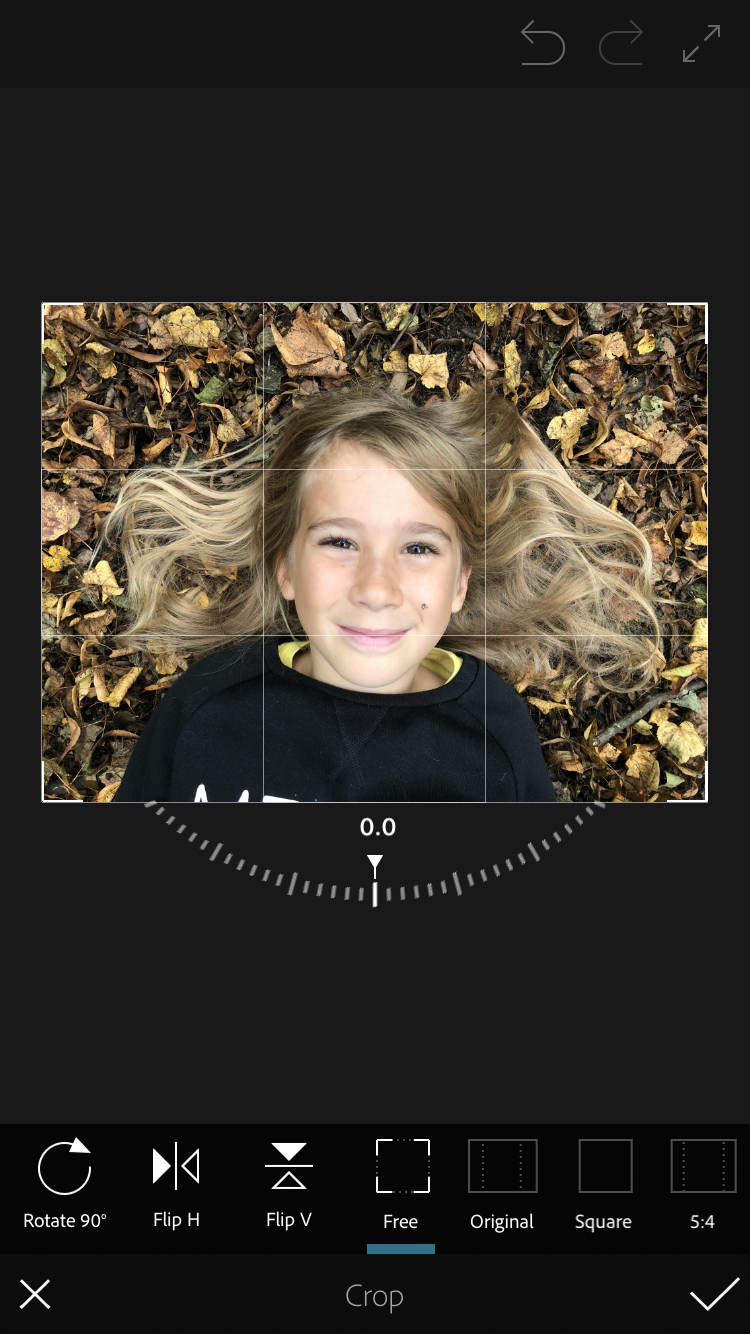 More advanced features allow for selective light and color adjustments. You can use these to make your photos pop off the page.
Yet the portrait editing tools are where the app really shines.
Photoshop Fix recognizes faces in photos. This allows you to adjust facial features. You can widen a smile—or shrink a subject's nose while raising their cheekbones.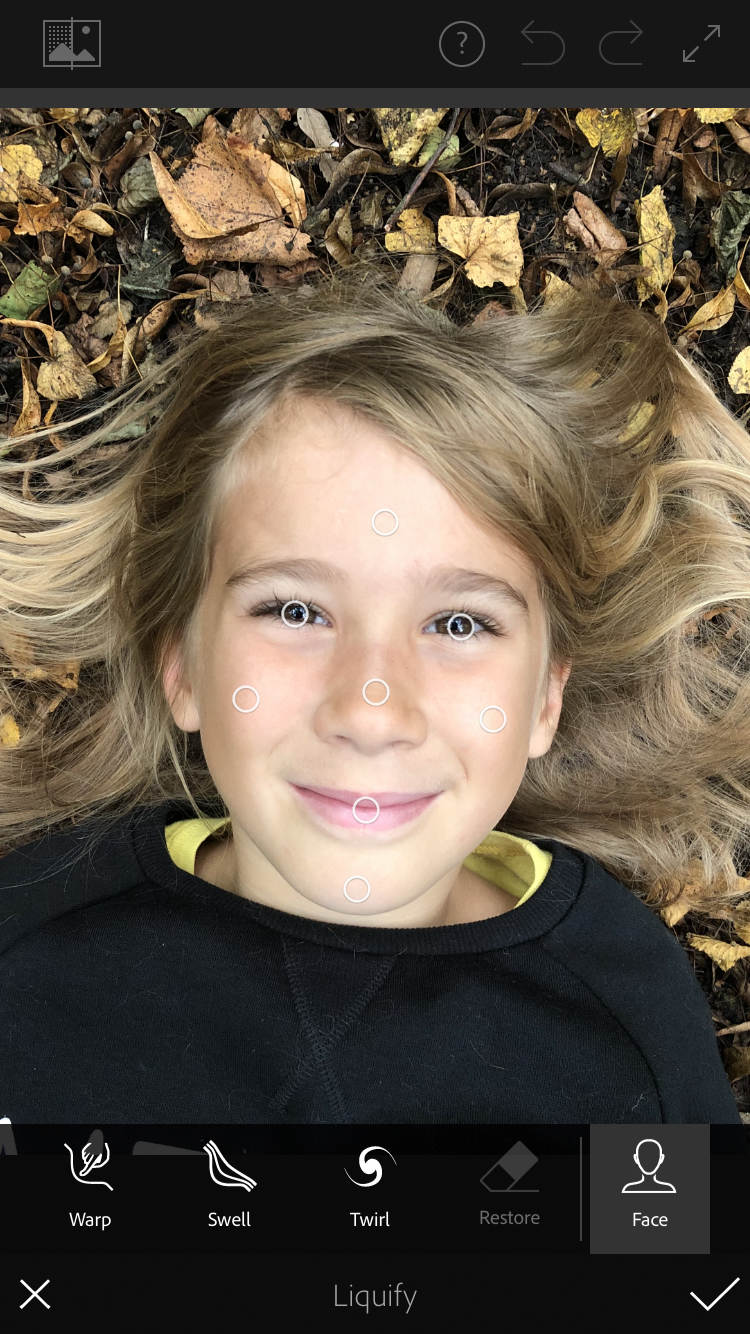 The one-tap face smoothing tool will deal with minor blemishes. And the powerful healing tool allows you to effortlessly remove imperfections.
In Photoshop Fix, your portraits will go from 'good' to 'stunning' in a matter of taps.
Are you looking for a multipurpose editor with powerful portrait enhancing tools? Then Photoshop Fix is one of the best photoshop apps for you.
Photoshop Fix is available for FREE from the app store.
Click here to learn how to make your portraits pop with Photoshop Fix. 
7. Adobe Photoshop Mix
A beginner-friendly photoshop app for blending photos:
Combine multiple photos into a single image
Different blending modes for creative combinations
Auto cut-out tool to remove backgrounds from a photo
Collection of Looks for one-tap editing
Basic editing adjustments: color, exposure, cropping
Works alongside Photoshop Fix
Price: FREE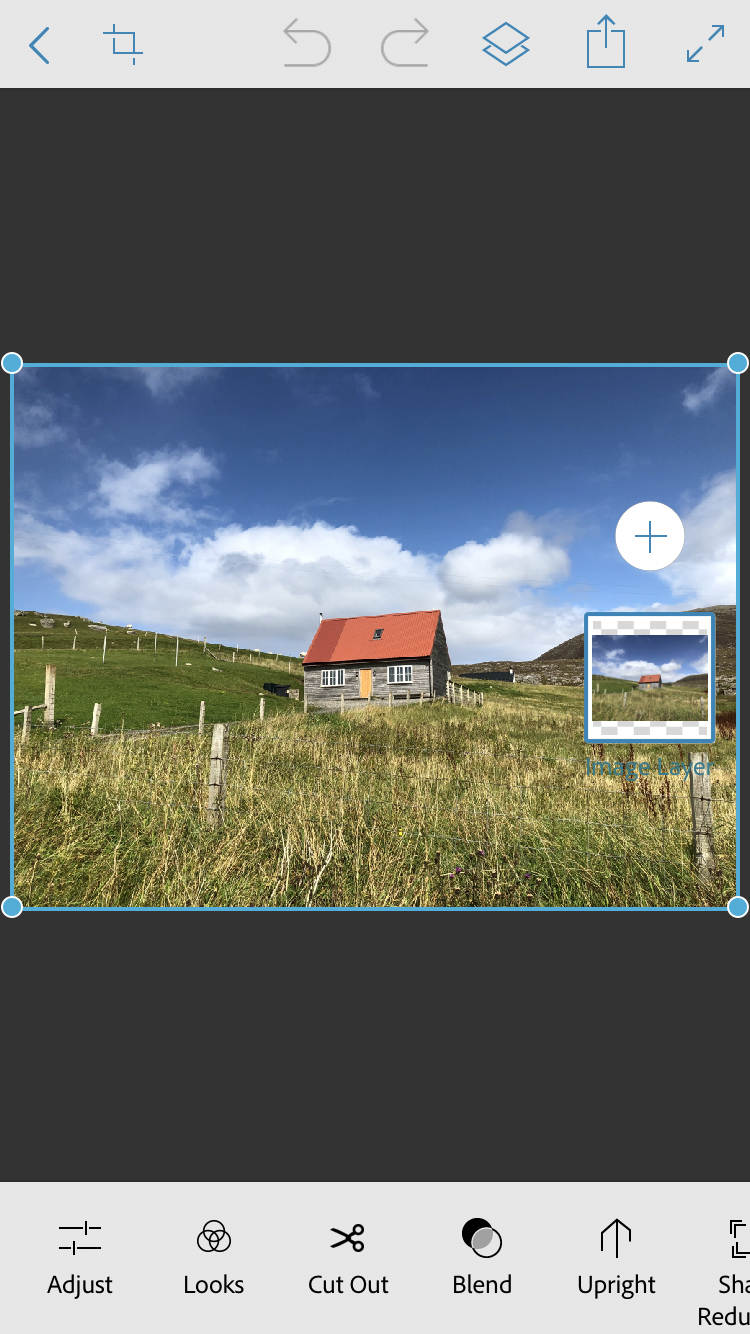 If you want to blend your images, then you need to try Photoshop Mix.
Photoshop Mix is intuitive—and it's also very powerful. The app comes with 10 different blend modes. Each of these will merge your images in a different way. You can use these to produce unbelievably creative photos.
The auto cut-out tool makes altering photo backgrounds easy. This tool cuts out the key features of a photo with a single tap.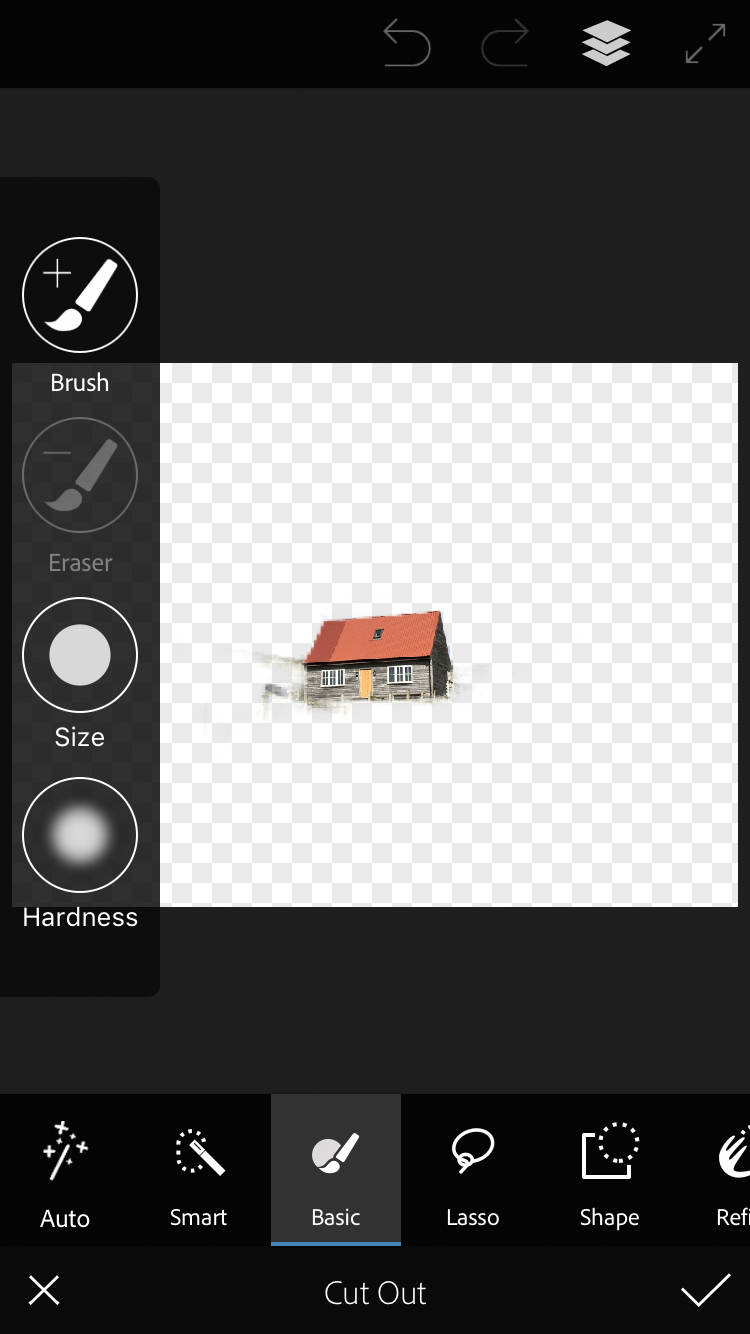 Then you can easily paste them onto another image!
Photoshop Mix also offers a great array of presets, called Looks. You can apply these to individual photos within a project. This gives you tons of creative options. You'll be able to enhance your photos with a single tap.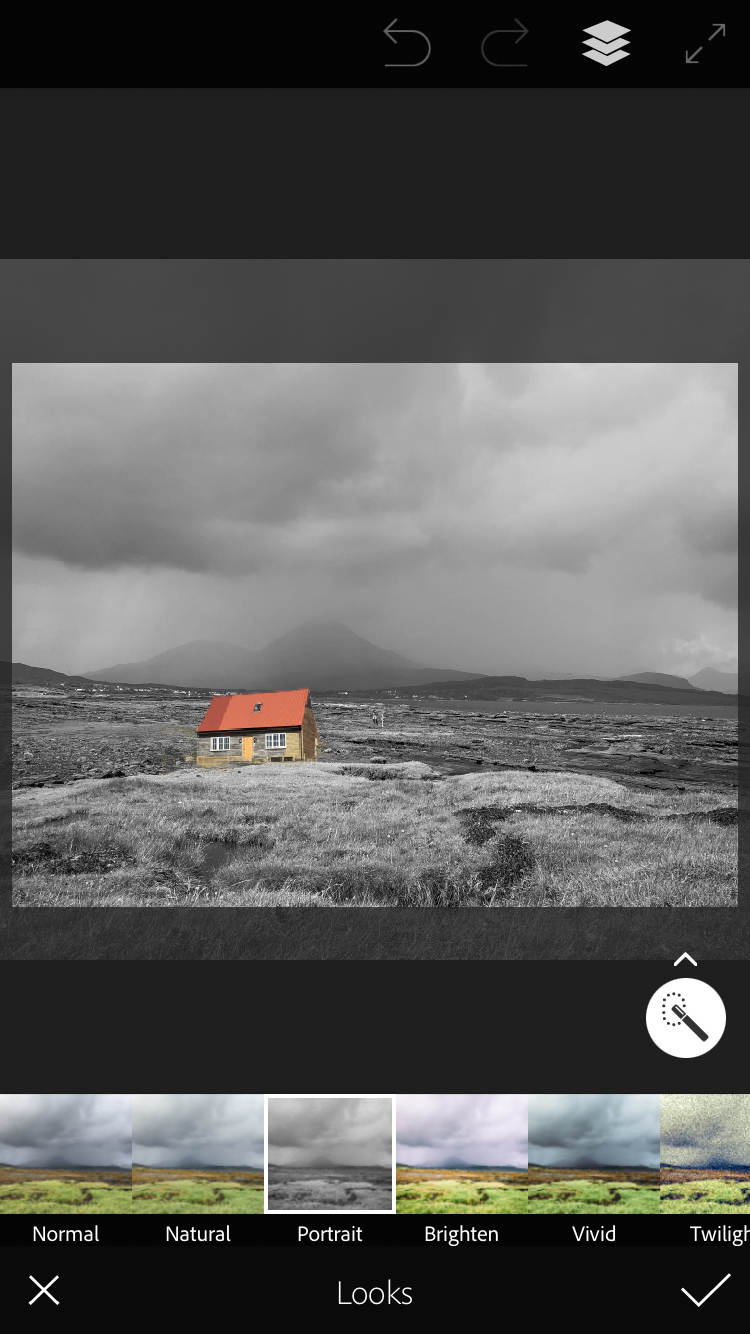 And for those of you looking for standard editing features, Photoshop Mix doesn't disappoint. You'll find editing tools for adjusting exposure, color, and more.
Photoshop Mix even works in partnership with Photoshop Fix. This means that you can move projects between the apps. While working on a project in Photoshop Mix, you'll have easy access to several tools in Photoshop Fix. This allows for even more flexibility while editing.
Are you new to blending images? A straightforward approach makes Photoshop Mix an excellent choice.
Photoshop Mix is available for FREE from the app store.
8. AirBrush
A full-featured portrait editing app:
Designed to edit faces
Correct bad lighting with basic exposure and color adjustment tools
Alter facial features with reshaping, resizing, and teeth whitening tools
Add different makeup effects
Impressive selection of filters
Price: FREE (with in-app purchases)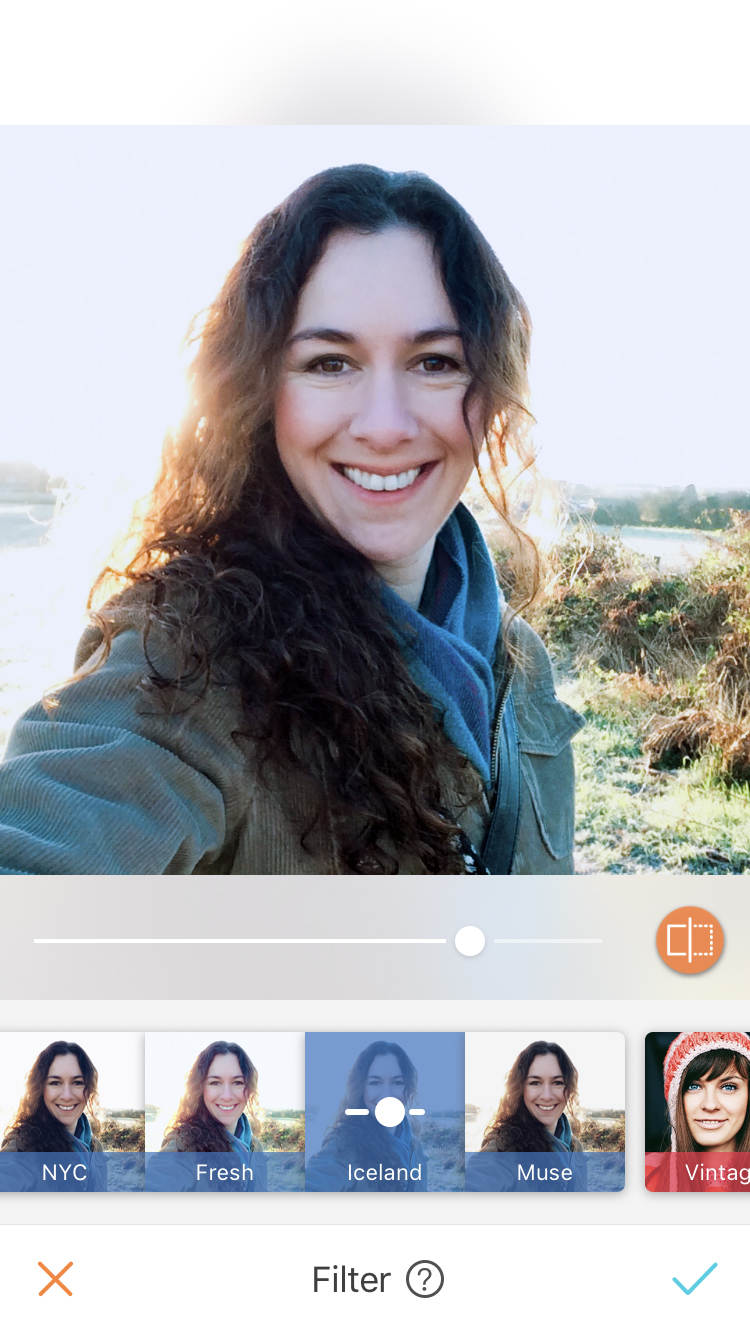 Do you like to edit portraits? Then you're going to love AirBrush.
AirBrush is a powerful portrait editing app—with an emphasis on powerful. The app offers every portrait retouching tool you could imagine.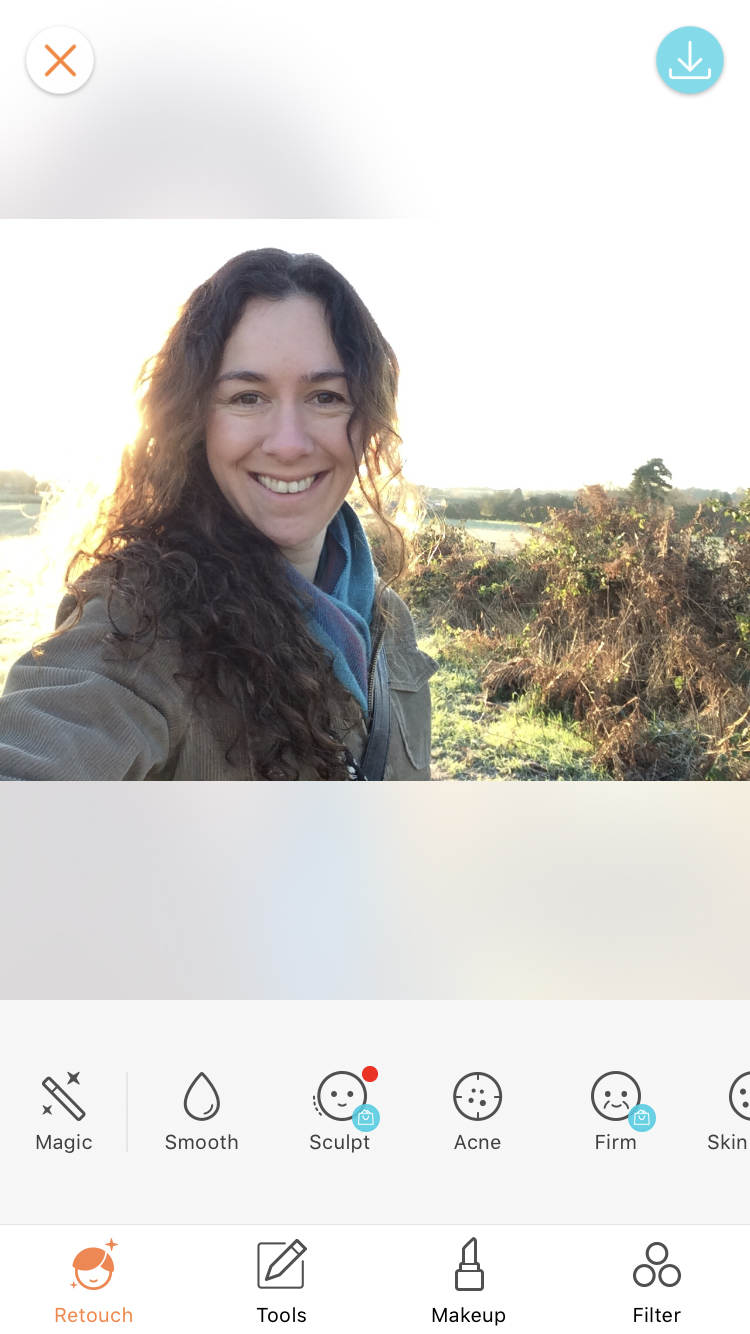 Wrinkle removal? Check. Teeth whitening? Check. Skin tone alterations? Check. There's even an acne tool for removing pimples.
The app also offers more inventive portrait enhancement tools. For instance, have you ever wanted to apply makeup to your portrait subjects? AirBrush has got you covered.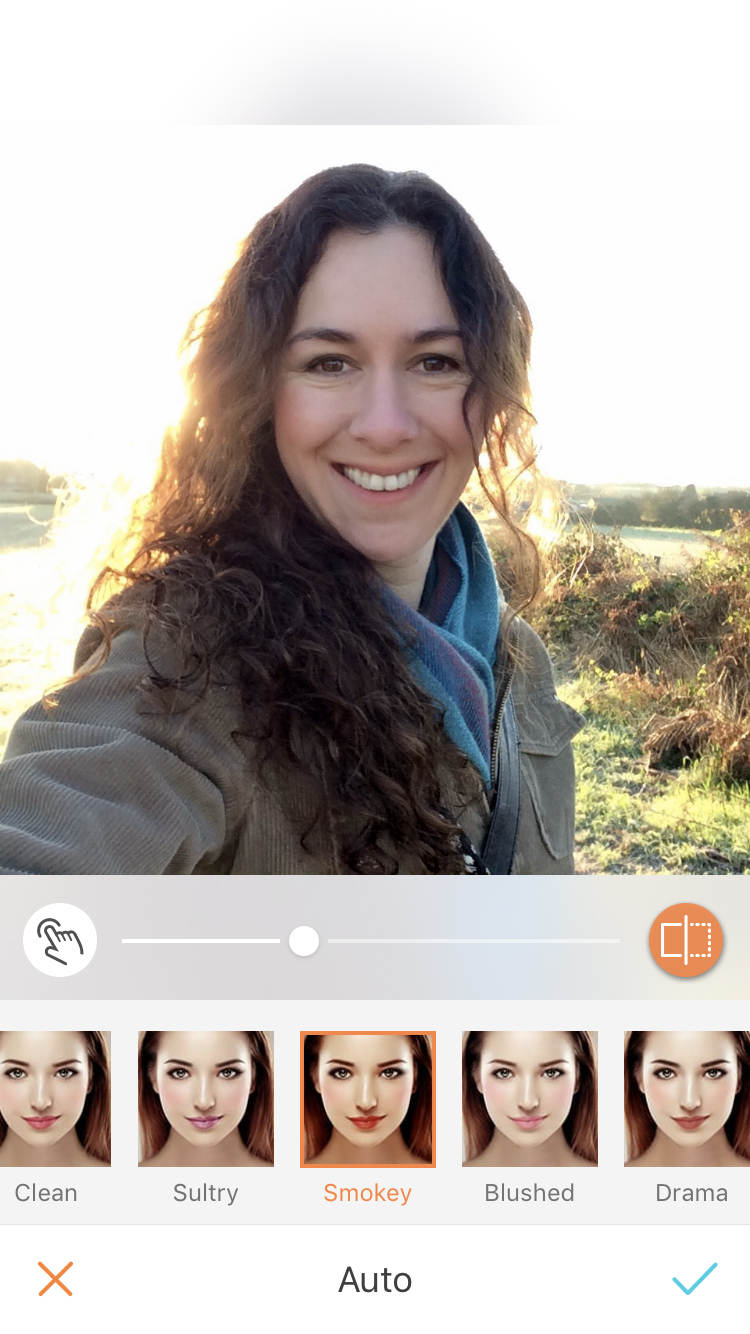 You can choose between a variety of makeup looks including Subtle, Rosy, Sultry and Smokey. There's even an option to add freckles. Use the adjustable tools to create natural looking or dramatic makeup effects.
AirBrush also offers facial adjustment tools. These allow you to adjust the proportions of your subject's face. You can stretch, sculpt, and otherwise reshape facial features. Use these to make your subjects look even more stunning.
If you want to go beyond basic portrait enhancement, then AirBrush is a great choice!
AirBrush is available for FREE from the app store (with in-app purchases).
9. Superimpose X
The best photoshop app for combining multiple images:
Layer and masking tools for blending multiple photos
Change backgrounds, create overlays
Create double exposures
Plenty of standard editing tools
Selection of fun overlay effects to add stars, butterflies, hearts and more to your images
Price: $4.99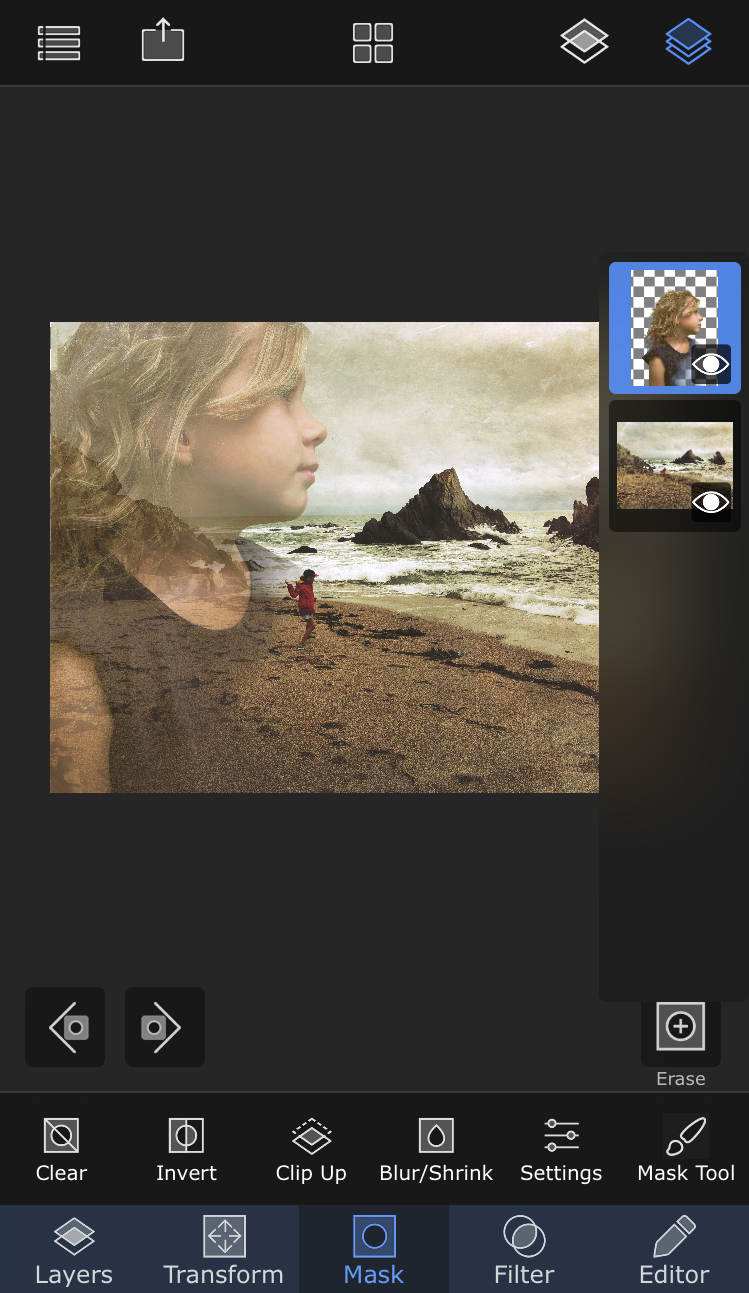 Good photoshopping apps for combining photos are tough to find. Yet when it comes to blending multiple images, Superimpose X pulls out all the stops.
What makes the app so great? With Superimpose X, you have full control of the image blending process.
Unfortunately, the app's layout can be a bit overwhelming. So Superimpose X is best suited to more experienced editors.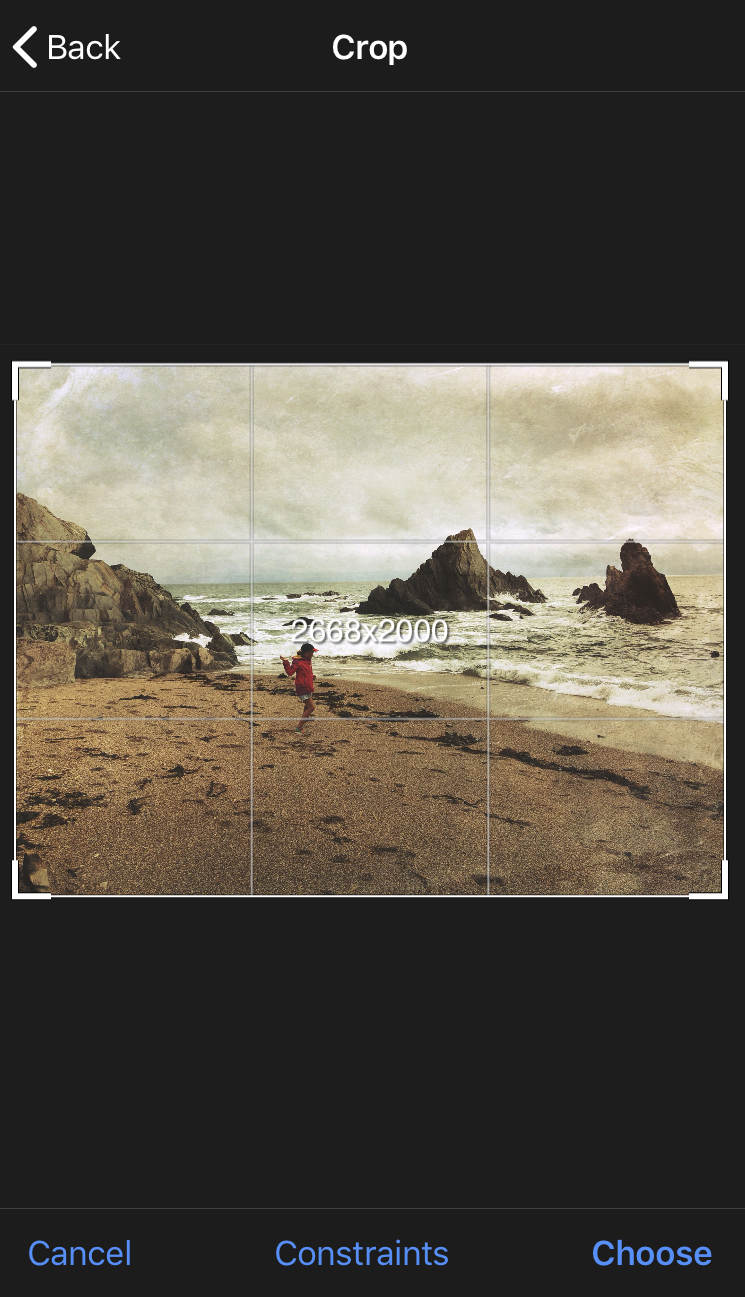 You can use Superimpose X to combine different elements of photos. And you can further edit photos with brush tools and filters.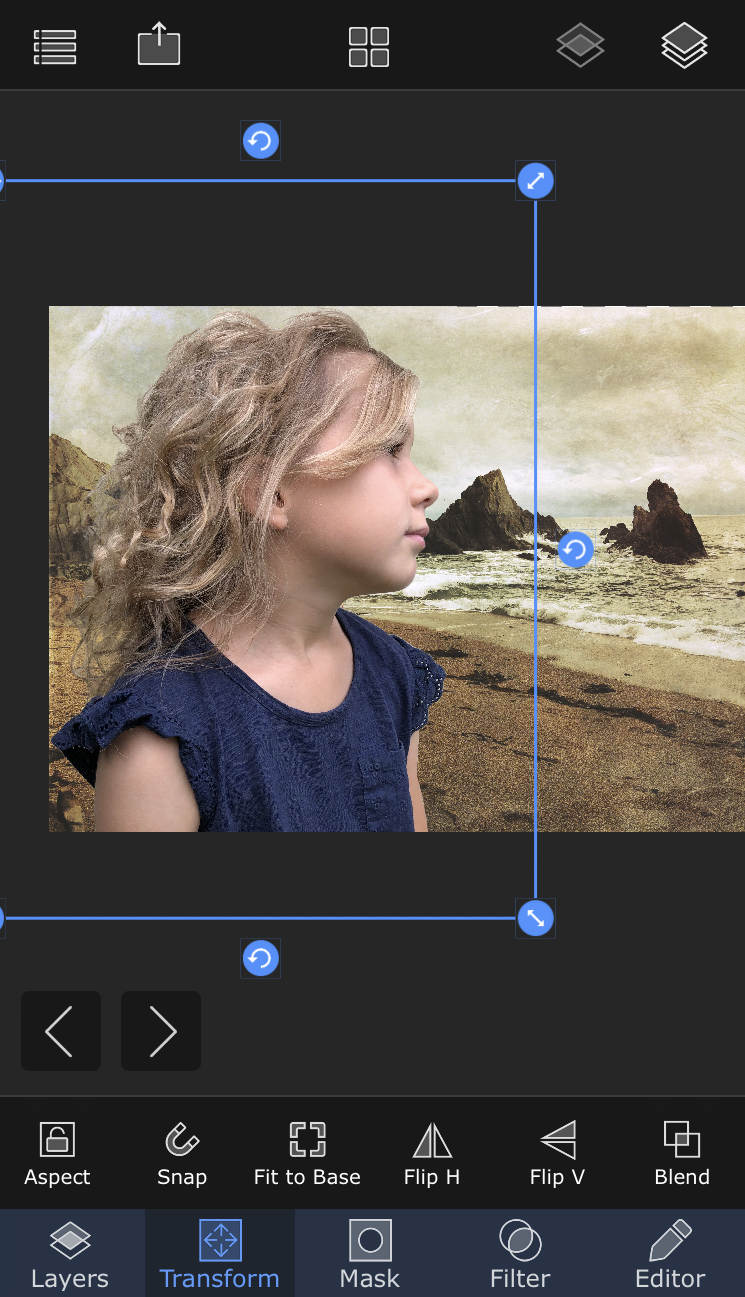 For example, Superimpose X allows you to mix and match foregrounds and backgrounds. You can also transport objects between images. This allows you to create endless combinations of stunning images.
If you want to create stunning artistic edits, Superimpose X would be an excellent choice.
Superimpose X is available for $4.99 from the app store.
To discover how to create incredible images with Superimpose X, click here to view our tutorial!
10. Polarr
A full-featured editor offering a customizable workspace:
Customizable workspace options for beginners and more experienced photographers
Dozens of adjustable filters
Tools for enhancing portraits
Overlays offering a range of weather and light effects
Plenty of in-app tutorials to help you get the best from the tools
Price: FREE with in-app purchases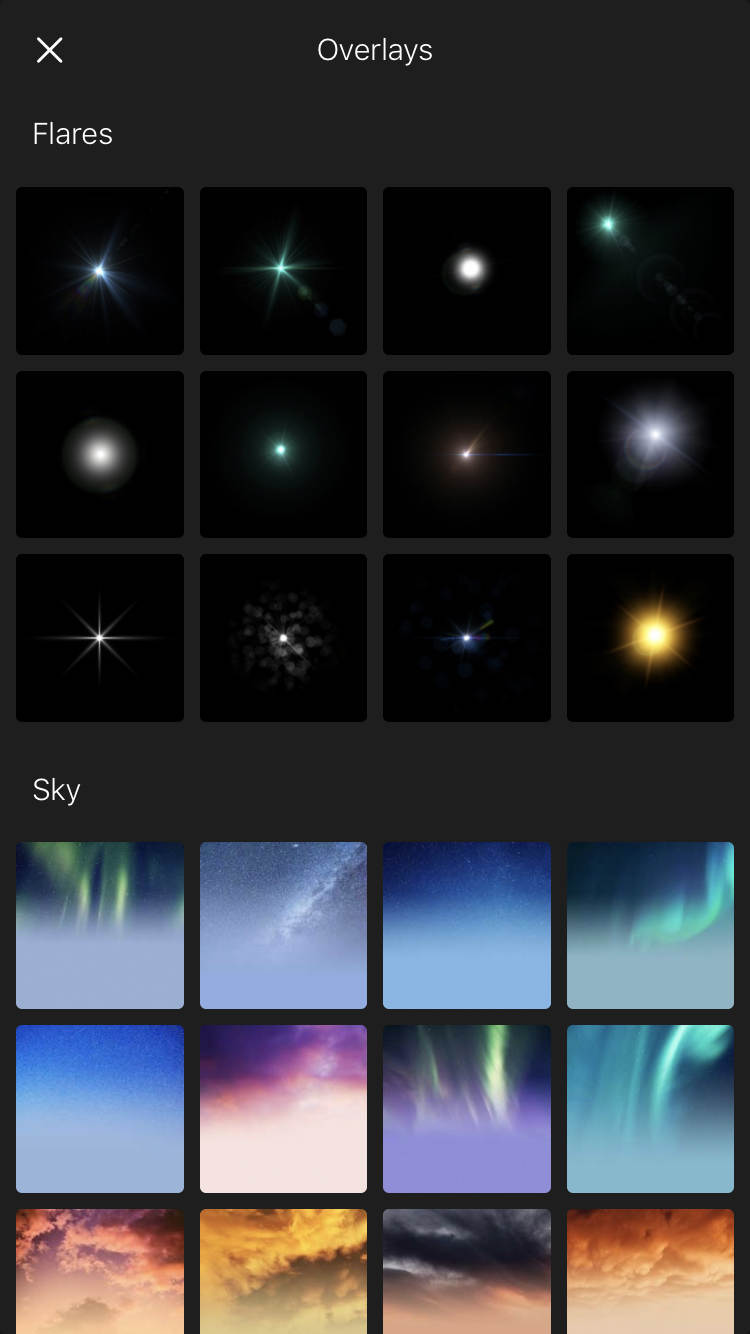 Powerful editing apps often have an overwhelming number of editing icons. But Polarr solves this problem: it lets you tailor the app interface to only show the tools you want to use.
There are 25 editing tools available in total. These include standard options, such as exposure and color adjustments. But Polarr also offers more advanced features.
For example, the app allows for precise exposure adjustments with the Curves tool. You can use this to really make your photos stand out.
The app also has a great selection of beginner-friendly overlays.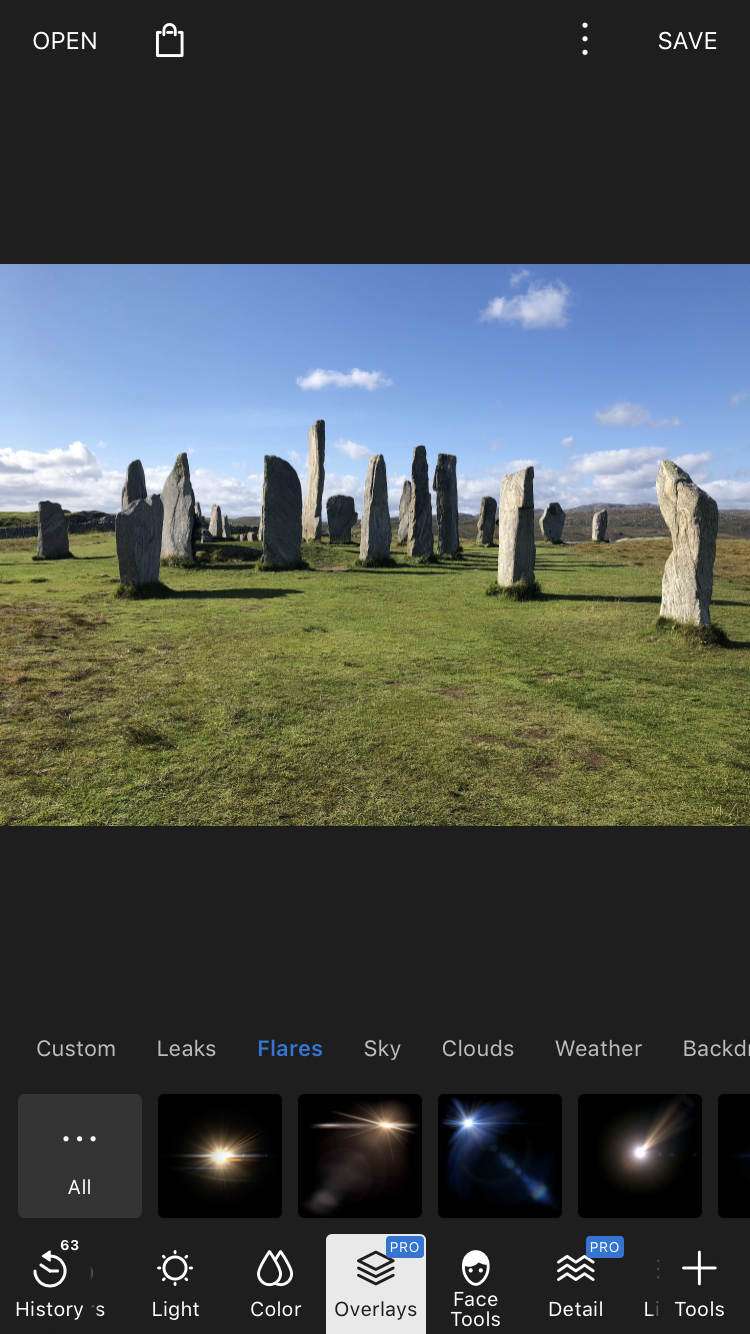 For example, you can apply a range of weather effects with one tap. Overlays of snow, rain, clouds, and more allow you to turn an ordinary photo into something special.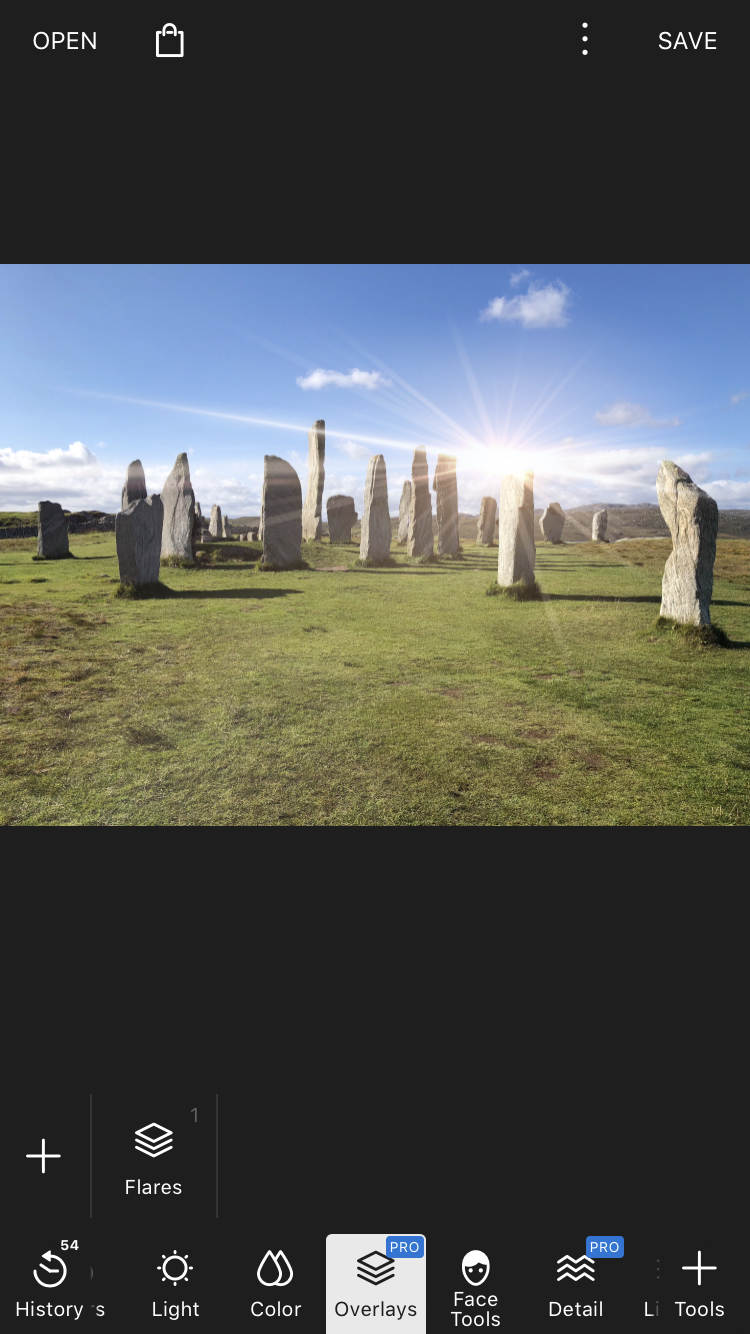 If you want a multipurpose editor with overlays, then give Polarr a try.
Polarr is available for FREE from the app store. For access to all editing tools, purchase a subscription.
Which Photoshop App Is Best?
In this article, you discovered a number of fantastic photoshop apps. Yet which app claims the prize?
One photoshop app has it all: a beginner-friendly interface, a smooth editing experience, and both basic and advanced editing tools.
So the title of Best Photoshop App goes to…
If you're a beginner, you have to get this app. And if you're more advanced, then you should get it, too. Snapseed packs a lot of punch!