Do you want to know the best photo retouch app? While there are many powerful retouching options, a few stand out from the crowd. In this article, you'll discover the 5 best photo retouch apps for iPhone. And you'll learn which is the best retouch app for you!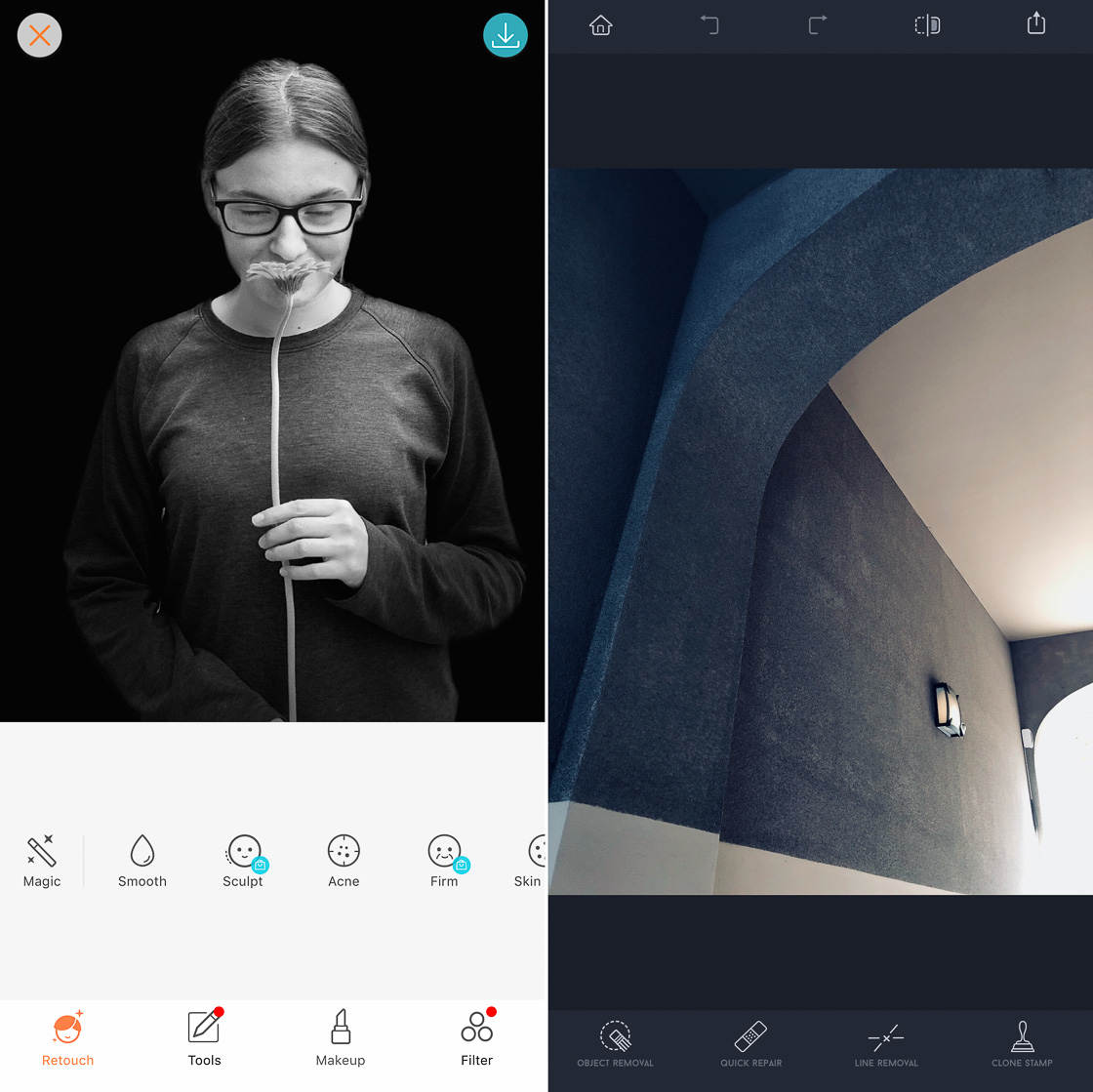 1. TouchRetouch
Best For: Lightning-fast object removal
Includes four categories of retouching tools
One-tap spot removal for quick edits
Easy paint tool for object removal
Innovative line-removal tool
Realistic edits
Price: $1.99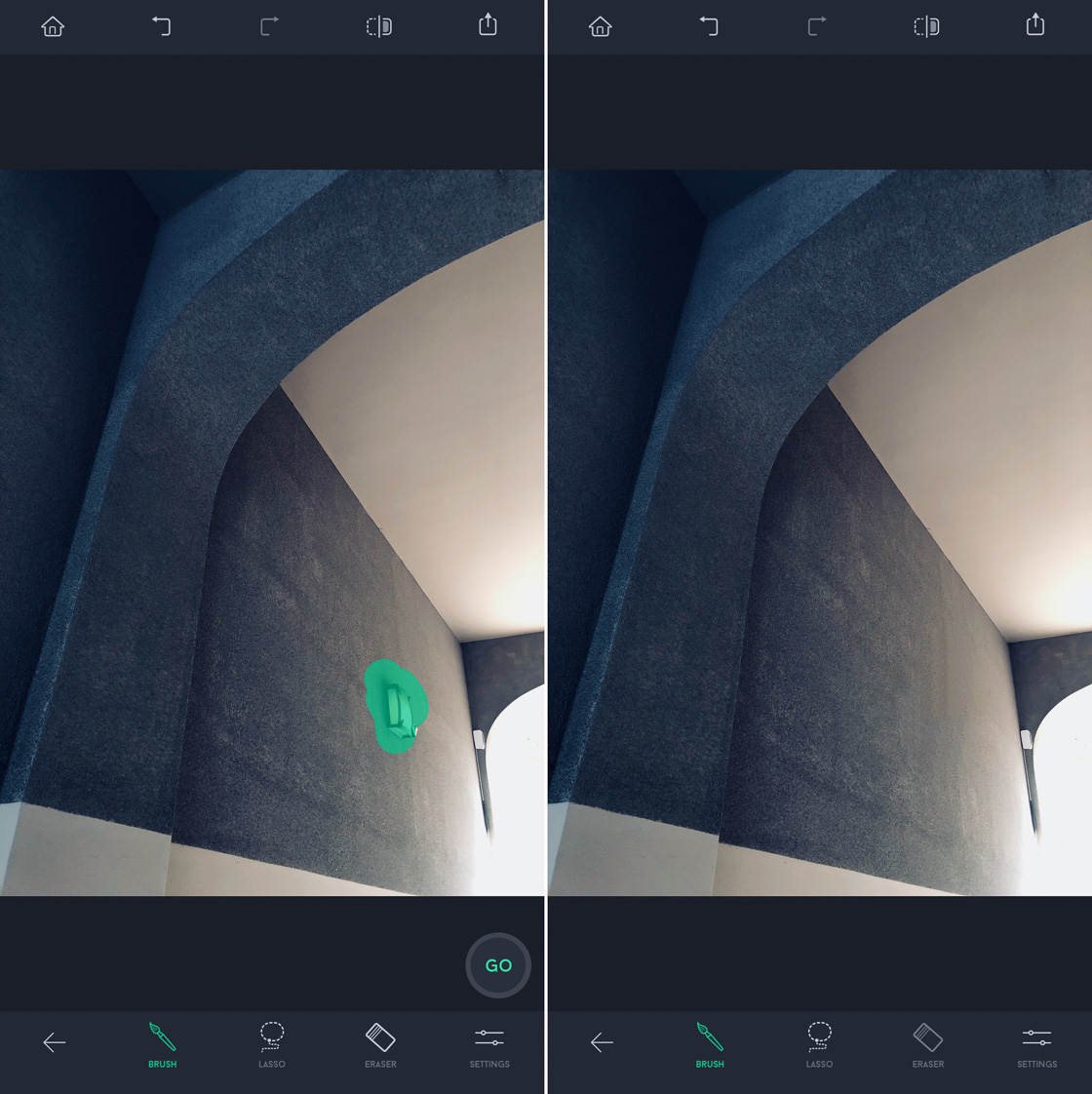 If you're looking for a quick and easy way to remove objects from your photos, look no further than TouchRetouch.
Because this simple app packs a big punch.
With TouchRetouch, you can instantly remove any unwanted objects from your photos. Just give a single tap to the offending object, and–voila!–it will disappear.
Look at how the rock disappears in the photo below: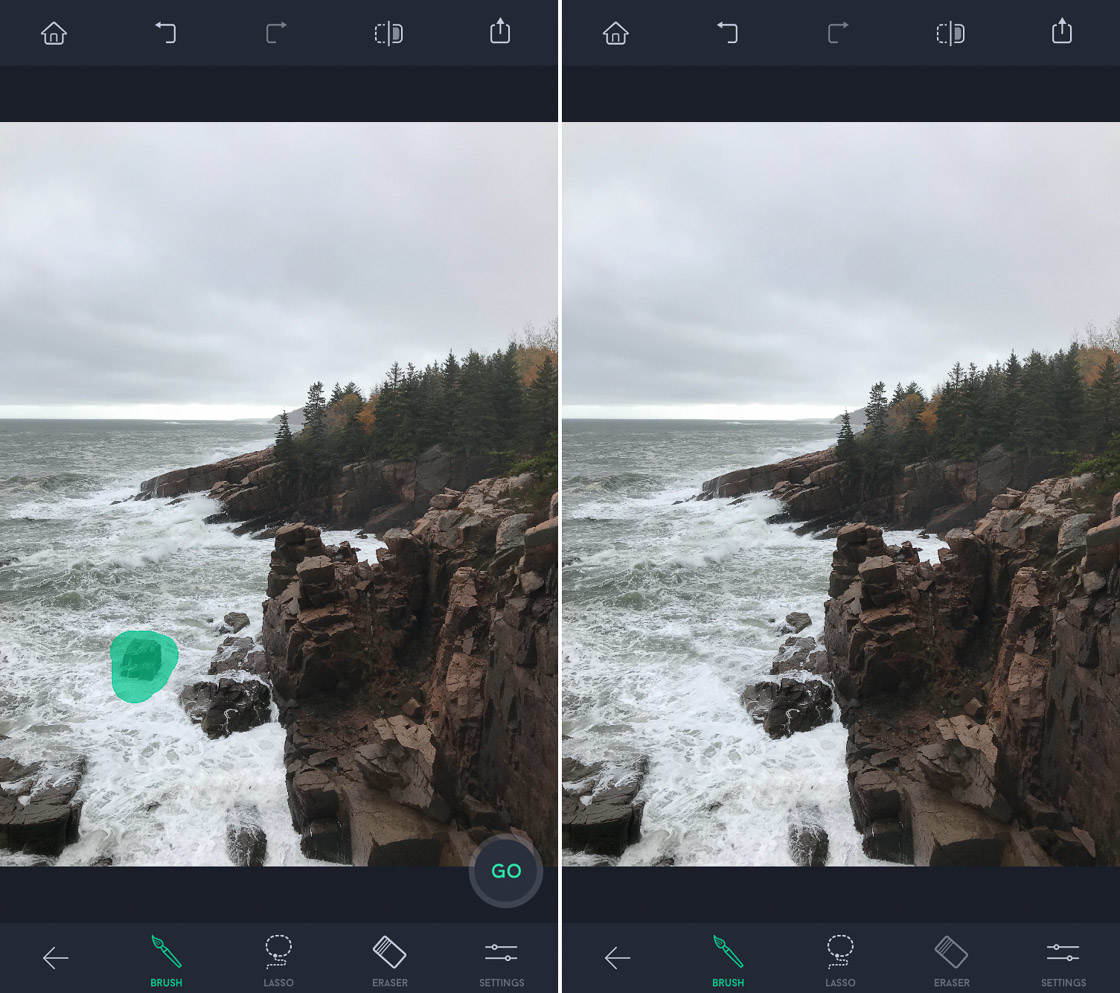 This feature is fantastic for getting rid of distracting elements in your photos.
But TouchRetouch doesn't stop there. It also offers additional retouching options!
For instance, TouchRetouch offers a fantastic line-removal tool. Do you have any pesky power lines in your photos? Simply paint over these lines and watch them disappear.
It's worth noting that the app is extremely precise. With TouchRetouch, you'll rarely make a mistake.
And if you do, there's always the Undo option!
TouchRetouch is simple to use, cheap, and a powerful photo retouch app.
So if you're looking for a quick retouching solution for your iPhone photos, get TouchRetouch. You won't regret it.
TouchRetouch is available for $1.99 from the App Store.
Check out our in-depth guide to removing objects from your photos with TouchRetouch.
2. Photoshop Fix
Best For: All-around retouching, including object removal and portrait retouching
Adjustable object removal tools
Simple, one-touch object removal
Additional portrait retouching tools
Red-eye removal tool
Price: FREE (with in-app purchases)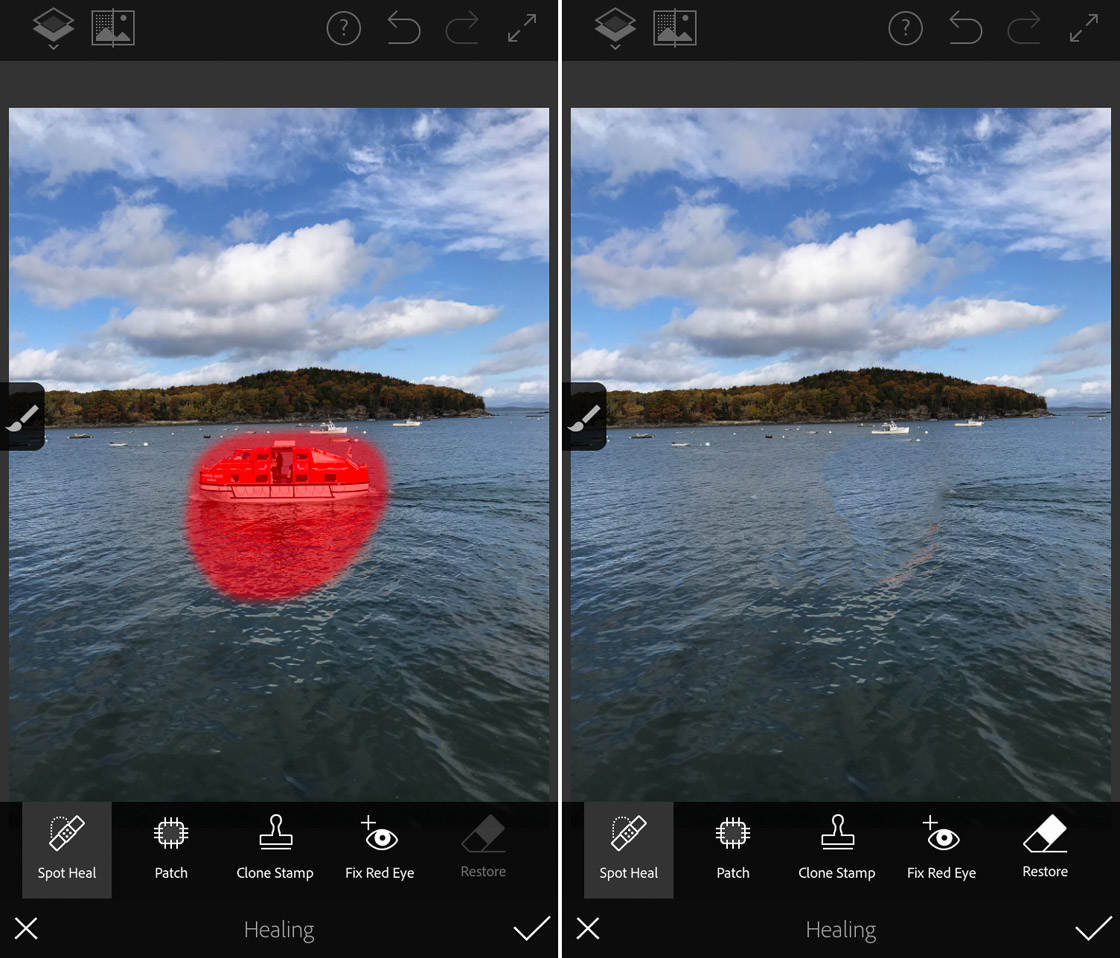 Photoshop Fix is a fantastic photo retouching option–especially if you're looking to do all your retouching in a single app.
Photoshop Fix offers several retouching app tools. There's the simple, one-tap object removal…but there's also portrait retouching features, such as skin smoothening and more complex facial adjustments.
The one-tap object removal tool is easy to work with and gives good results. Simply paint over an object in your photo, then watch it disappear.
For the photo below, I used object removal on the distracting line on the window. Photoshop Fix got rid of it instantly!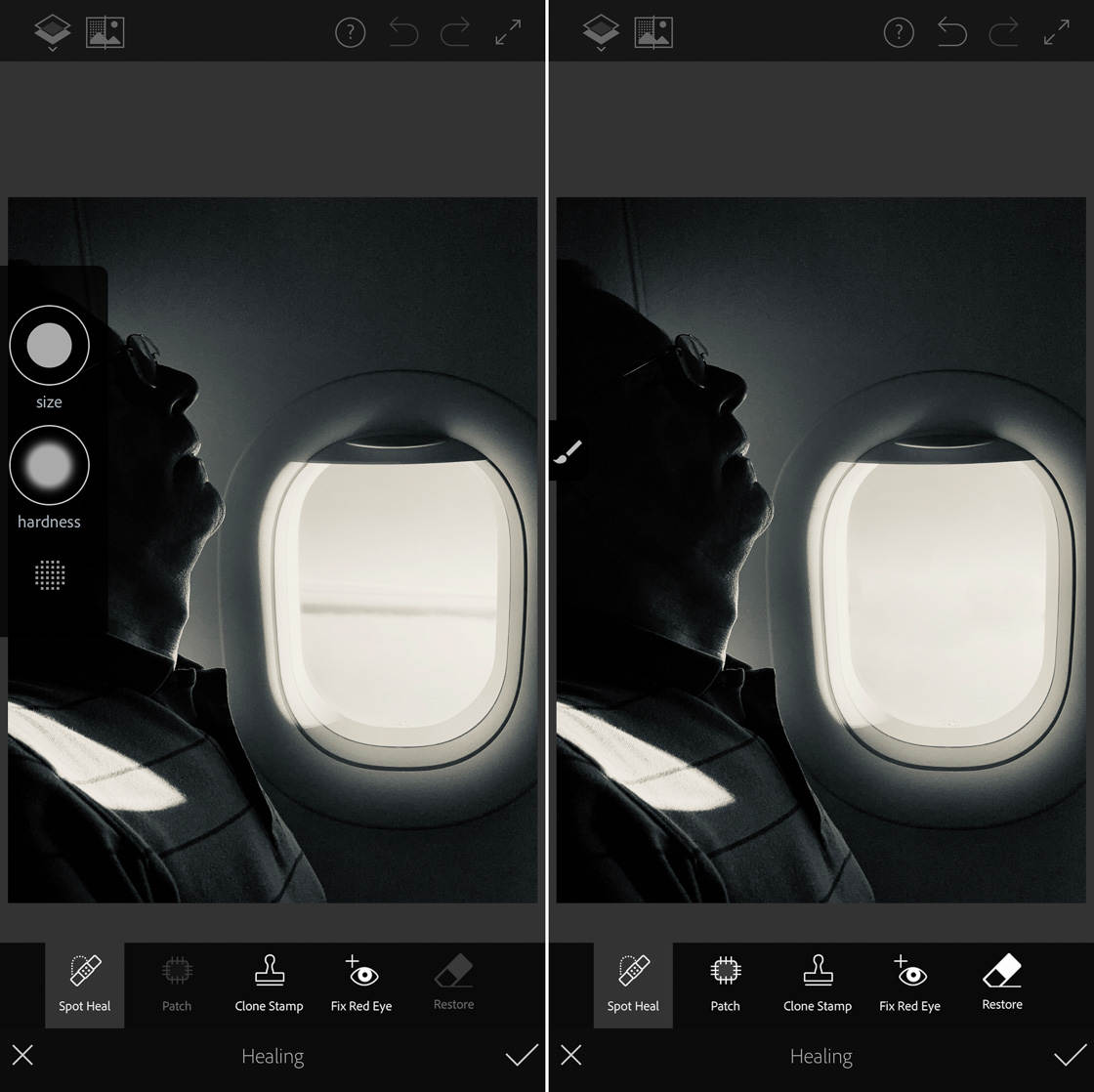 And Photoshop Fix also gives you the ability to change the size of the removal brush. This allows for greater control over all of your object removal.
The portrait retouching tools, on the other hand, are a bit more complex. Yet they're worth taking the time to learn–because they allow you to do some incredible things.
For instance, you can alter the proportions of a face. You can even change the placement of a person's eyes!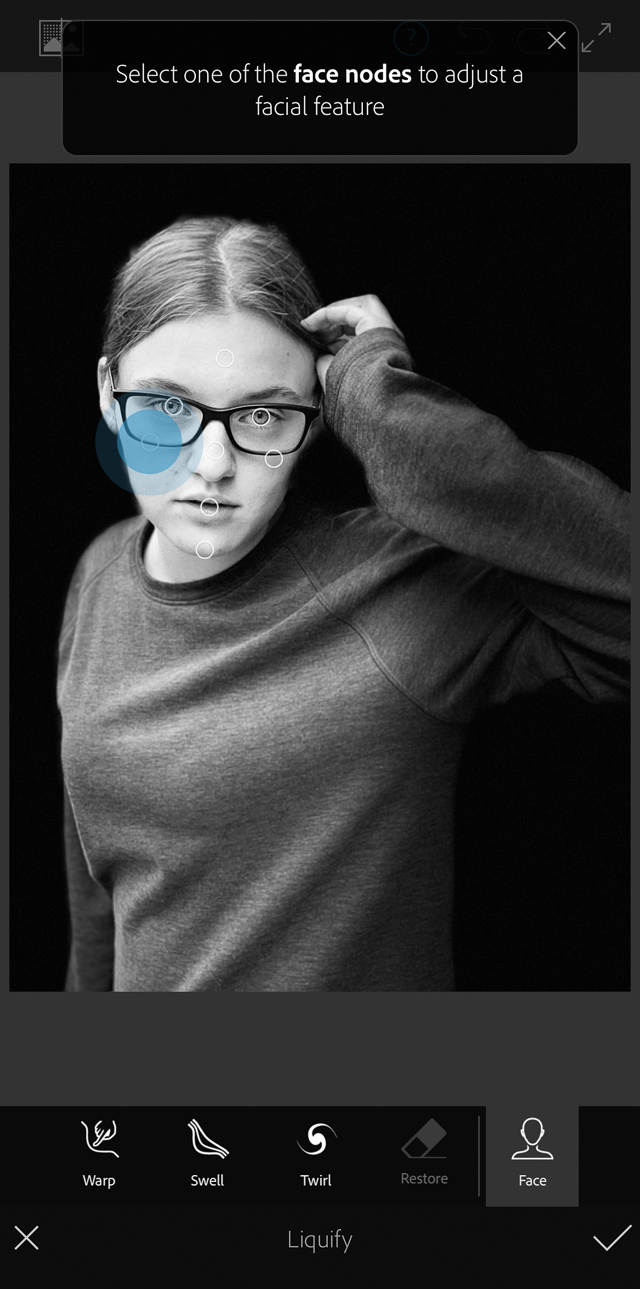 Here's the bottom line: With Photoshop Fix at your fingertips, you can retouch any photo to perfection.
Photoshop Fix is available for FREE from the App Store (with in-app purchases).
3. AirBrush
Best For: Serious portrait retouching
Includes a suite of retouching tools
Geared toward portrait retouching
Perfect for removing blemishes and acne
Simple teeth-whitening tool
Tools to reshape features and adjust skin tone
Price: FREE (with in-app purchases)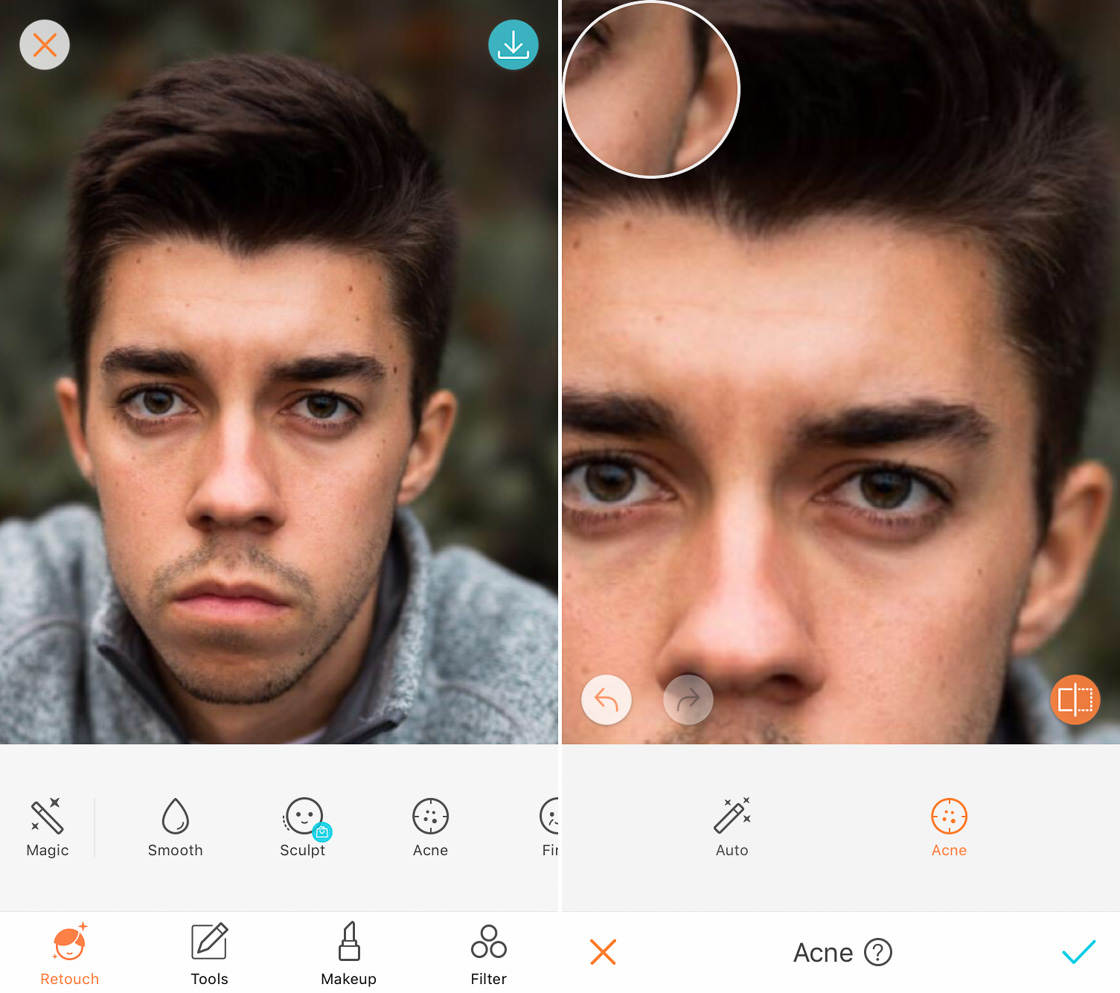 Do you want one of the most sophisticated portrait-retouching tools on the market? Then look no further than AirBrush.
AirBrush offers a whole suite of retouching tools–from skin smoothing and sculpting to face stretching and teeth whitening.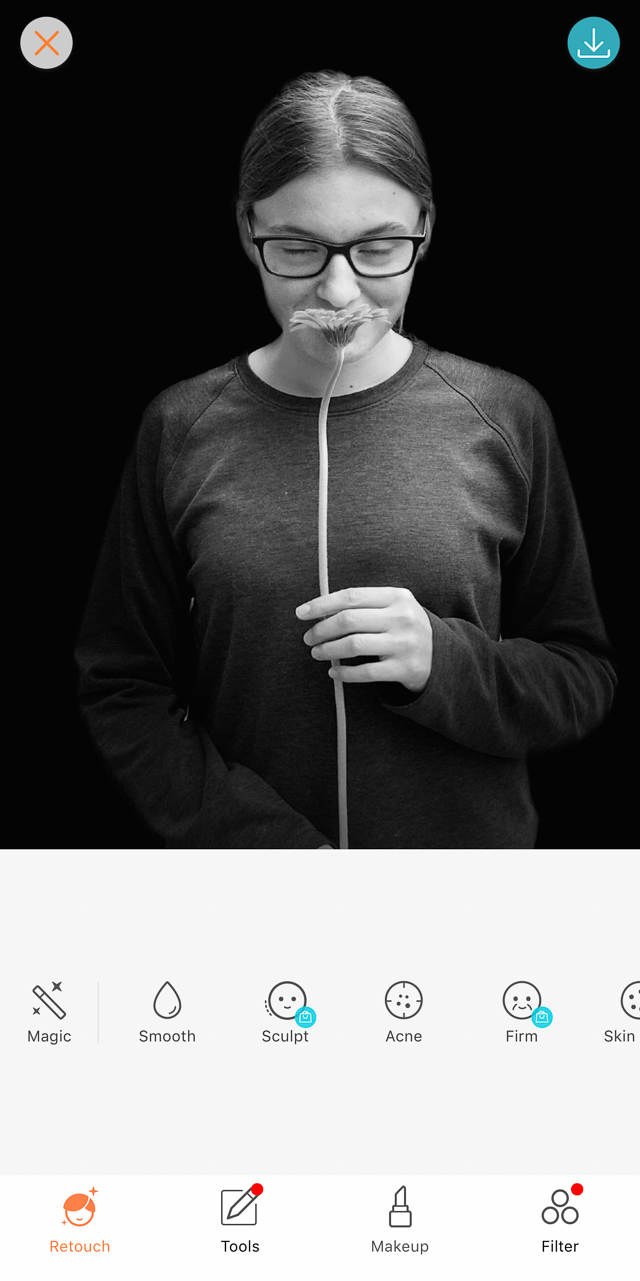 Some of the features are simple and easy to master. For instance, with a few taps, you can remove acne from a portrait. And with a swipe of your finger, you can remove dark circles from under your subject's eyes.
Among the more complex tools are the facial reshaping options–which allow you to "reshape" your subject's face.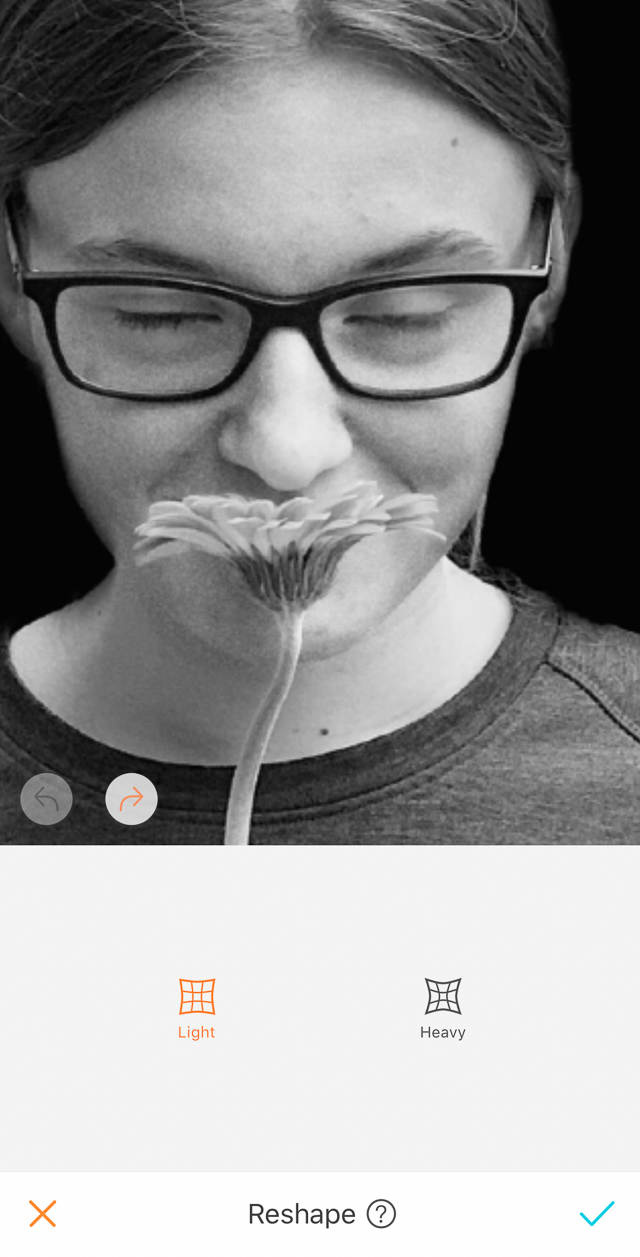 In essence, AirBrush offers almost every portrait retouching tool you can imagine.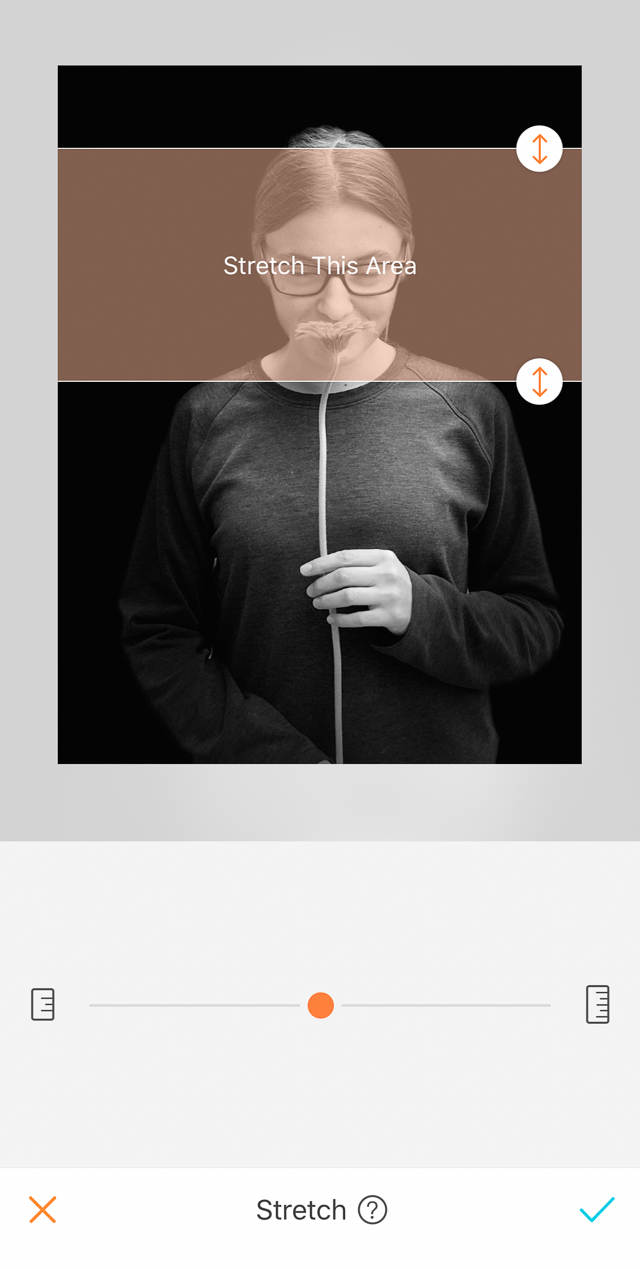 And here's another benefit of AirBrush: it's extremely precise. You can zoom in on your subject's face–and then remove all their blemishes.
Using these tools will allow you to take your portrait editing to the next level.
AirBrush is available for FREE from the App Store (with in-app purchases).
4. FaceTune 2
Best For: Precise portrait retouching
Designated portrait retouching app
Blemish, acne, and wrinkle removing tools
Skin smoothing and eye corrections
Tools to modify smile, lips, noses, and more!
Price: FREE (with in-app purchases)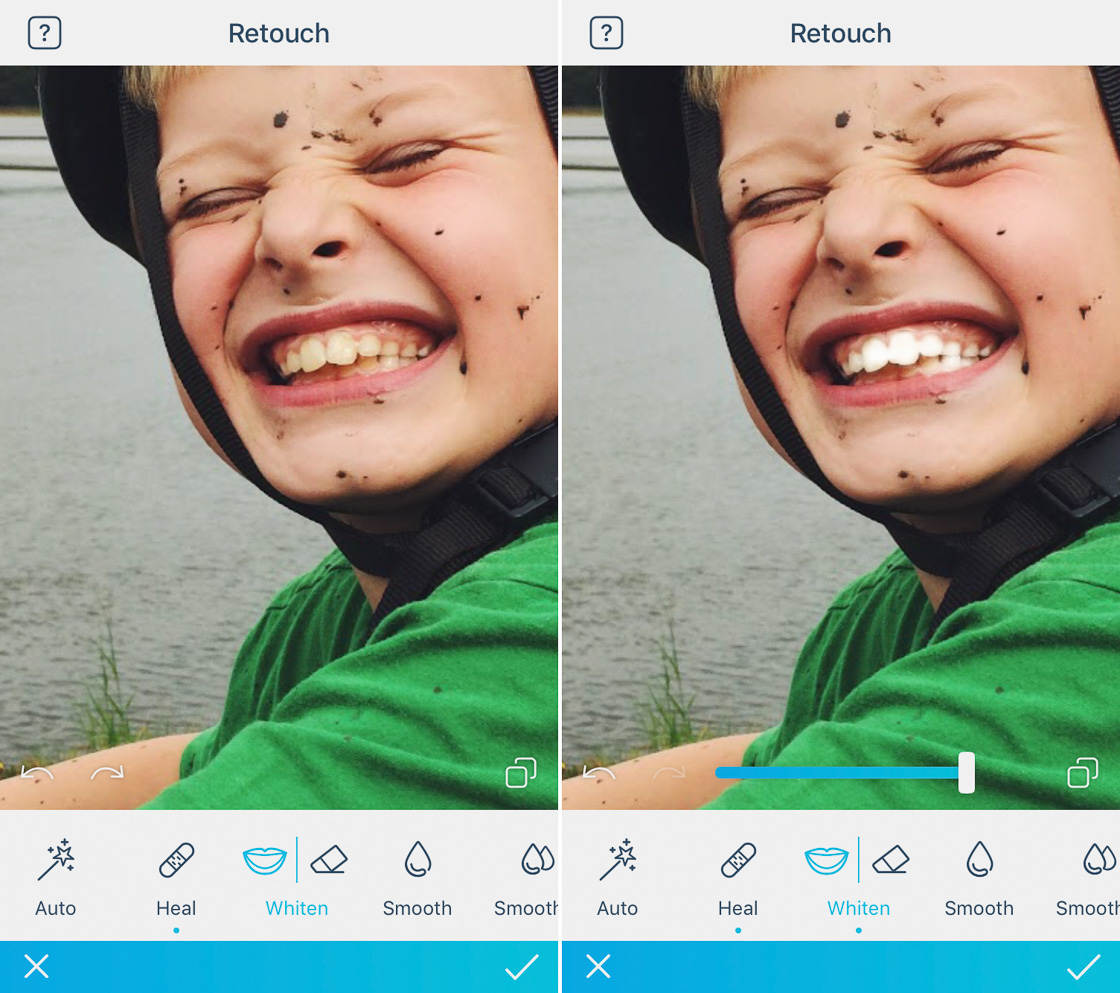 FaceTune 2 is a full-featured portrait retouching app–with an emphasis on "full-featured."
Because FaceTune 2 has it all.
First, it offers basic photo retouching app tools. You can smooth skin, whiten teeth, and remove spots–all with just a few simple taps.
But then it goes deeper.
For instance, if you're interested in reshaping your subject's face, FaceTune has an option for that.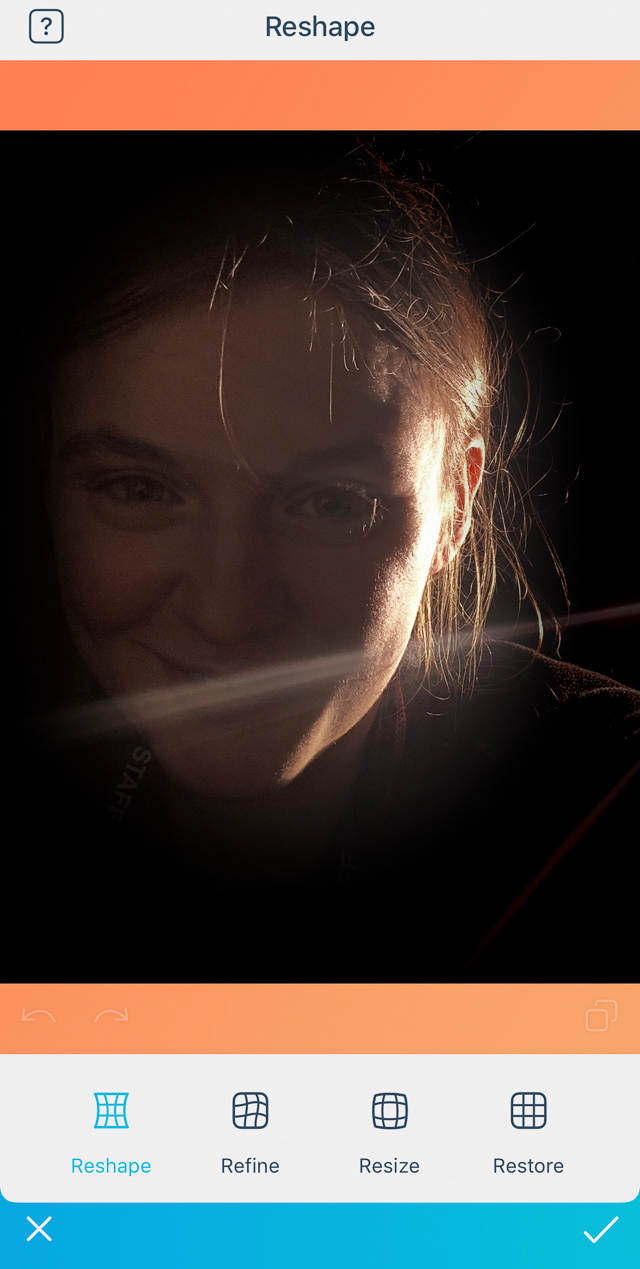 And if you're interested in giving your subject a smile, FaceTune has an option for that, too!
With FaceTune, you'll be able to do some serious portrait retouching–because this app packs a lot of power.
FaceTune 2 is a one-stop shop for all your portrait editing needs.
If you want to do some high-level portrait retouching, then get this app.
FaceTune 2 is available for FREE from the App Store (with in-app purchases).
5. Pixelmator
Best For: Sophisticated retouching and object removal (as part of a full editing suite)
Comprehensive photo editor with powerful retouching tools
Has a repair tool for quick edits
Realistic object removal
Natural blemish corrections
Price: $4.99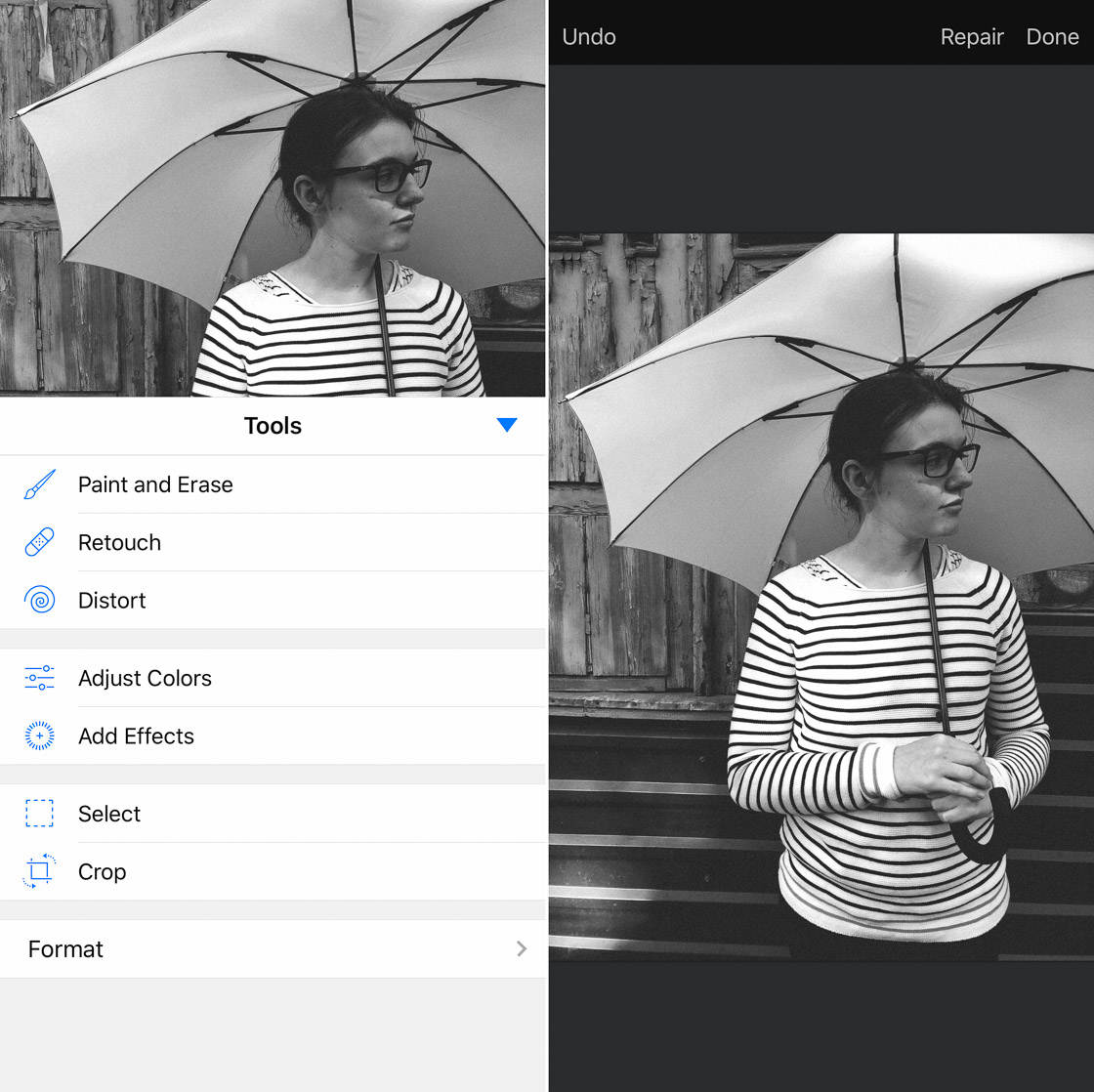 If you're looking for a full-featured photo editing app that also happens to have incredible photo retouching tools, then you should check out Pixelmator.
This app comes with sophisticated editing tools for any occasion–including cropping, color adjustments, and filters.
But the app also has a fantastic set of retouching tools.
For instance, the Clone tool allows you to move objects from one part of your photo to another. And the Repair tool quickly removes unwanted objects from your photos.
I used the Repair tool for the photo below. I painted over a distracting piece of wood above and to the left of my subject–and then watched as it disappeared!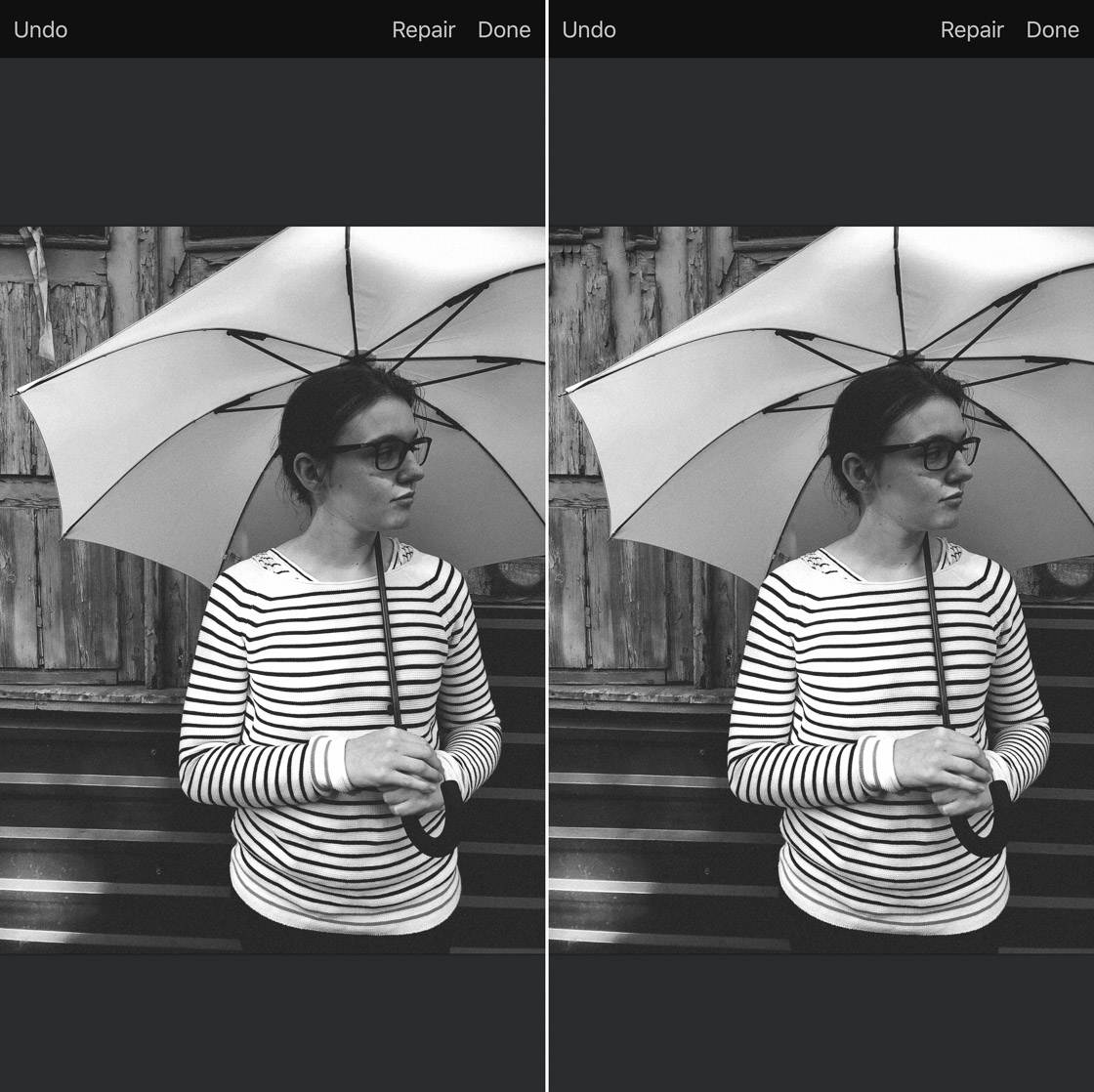 But that's not all. Because with Pixelmator, you can also do portrait retouching.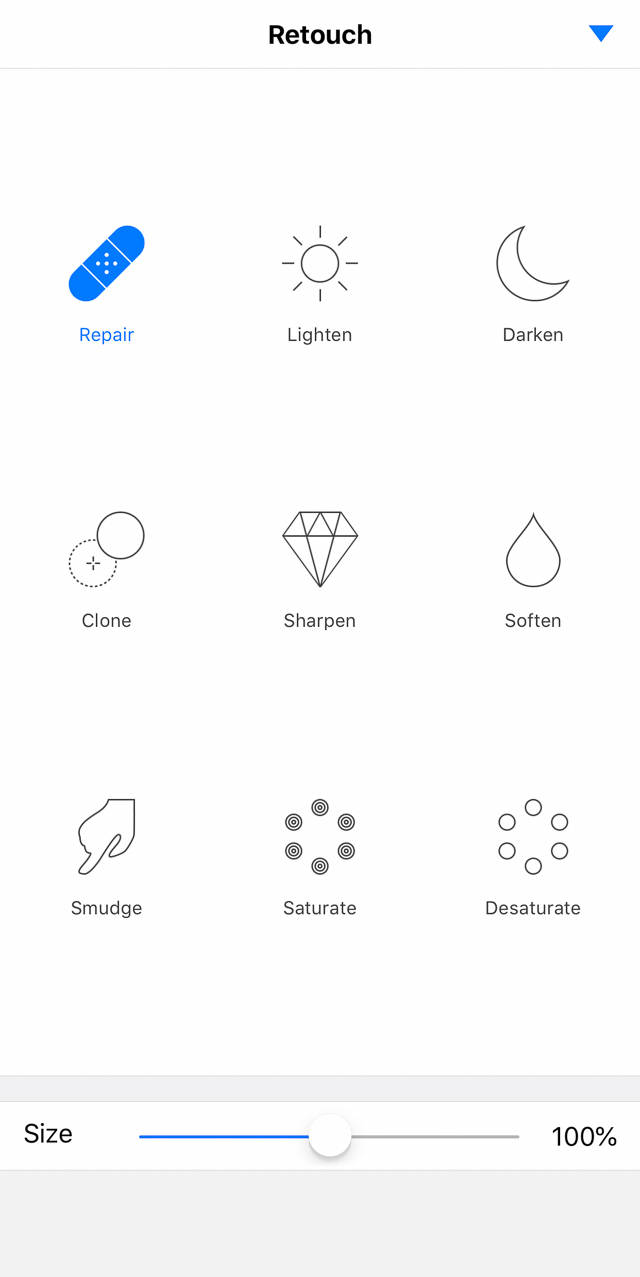 The Soften tool allows you to smooth out the features on any face. You can also sharpen your subject's eyes for a more dramatic look.
Pixelmator is a wonderful all-around editing app. It's also great for photo retouching!
Pixelmator is available for $4.99 from the App Store.
6. Choosing The Best Photo Retouch App For You
With so many great photo retouch apps, how do you choose the best one for your needs? Do you go with the simplicity of TouchRetouch, the sophistication of FaceTune 2, or the broadness of Pixelmator?
If you're looking for easy, accurate object removal, TouchRetouch is the app for you.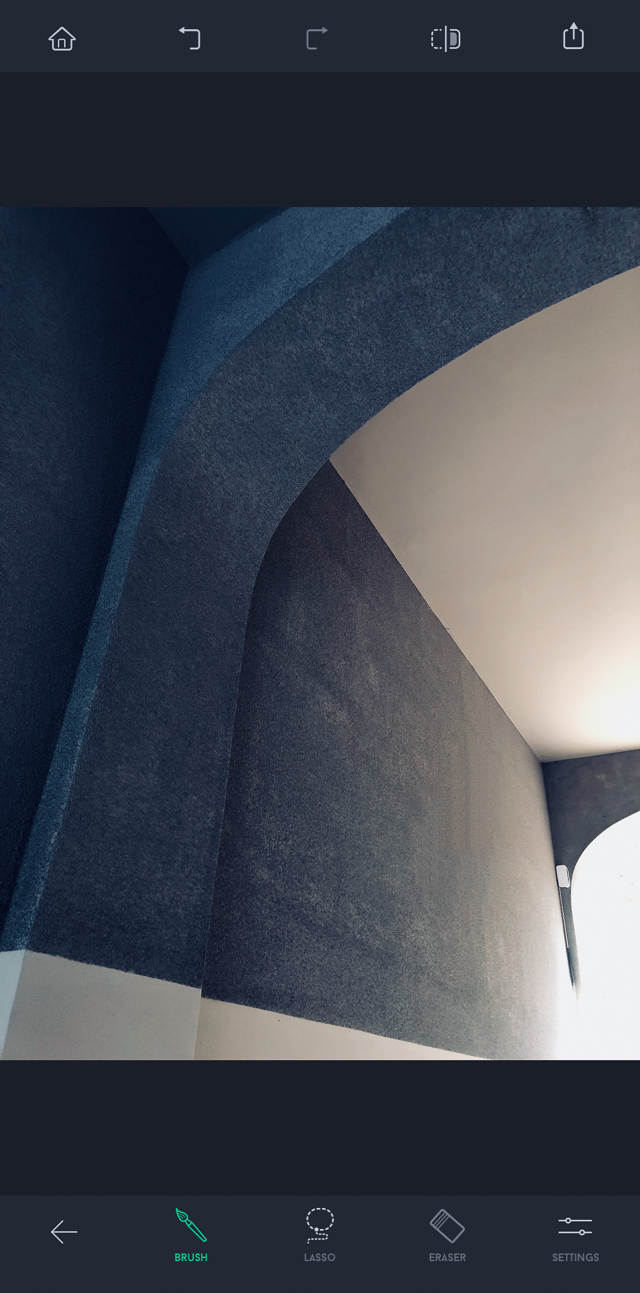 If you're looking for customizable object removal and some quick portrait retouching, check out Photoshop Fix.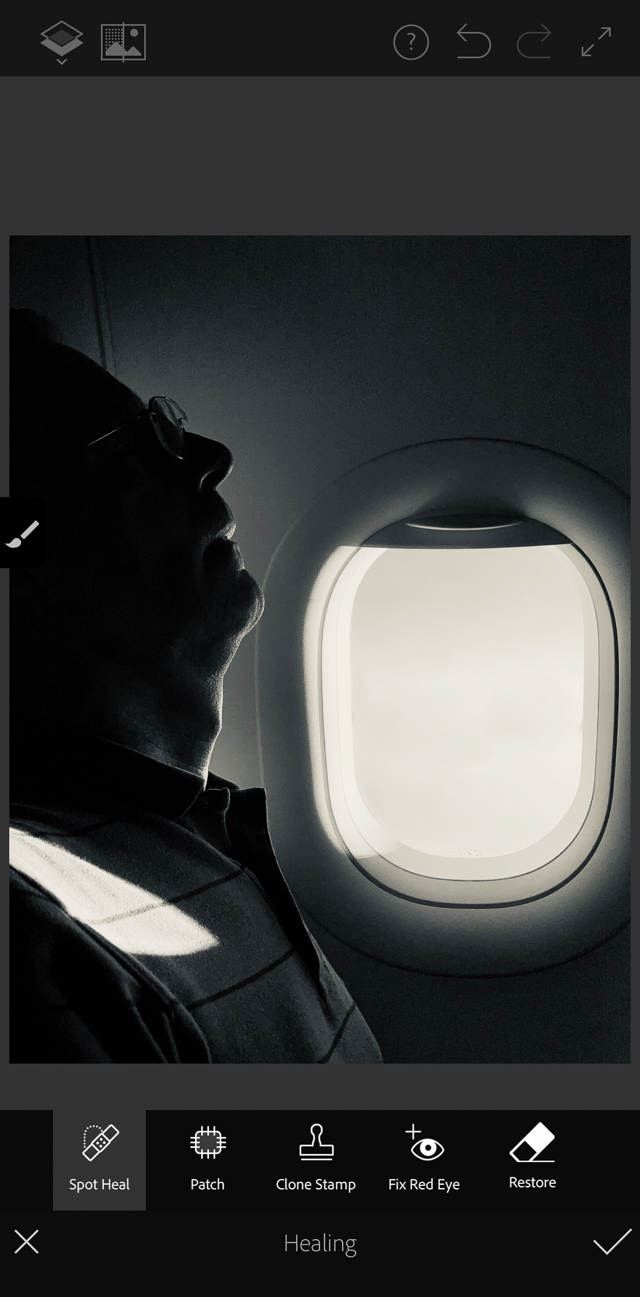 Would you like a complex photo retouching app? Then go with AirBrush.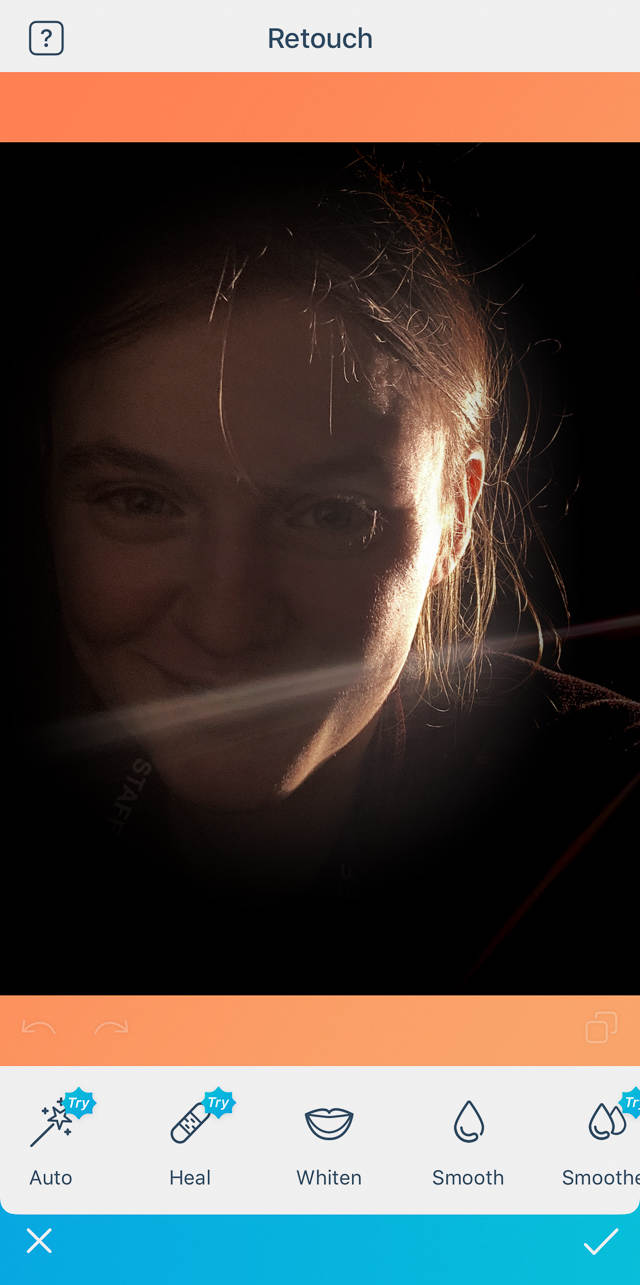 If you want to create professional-quality portrait photos, stick with FaceTune 2.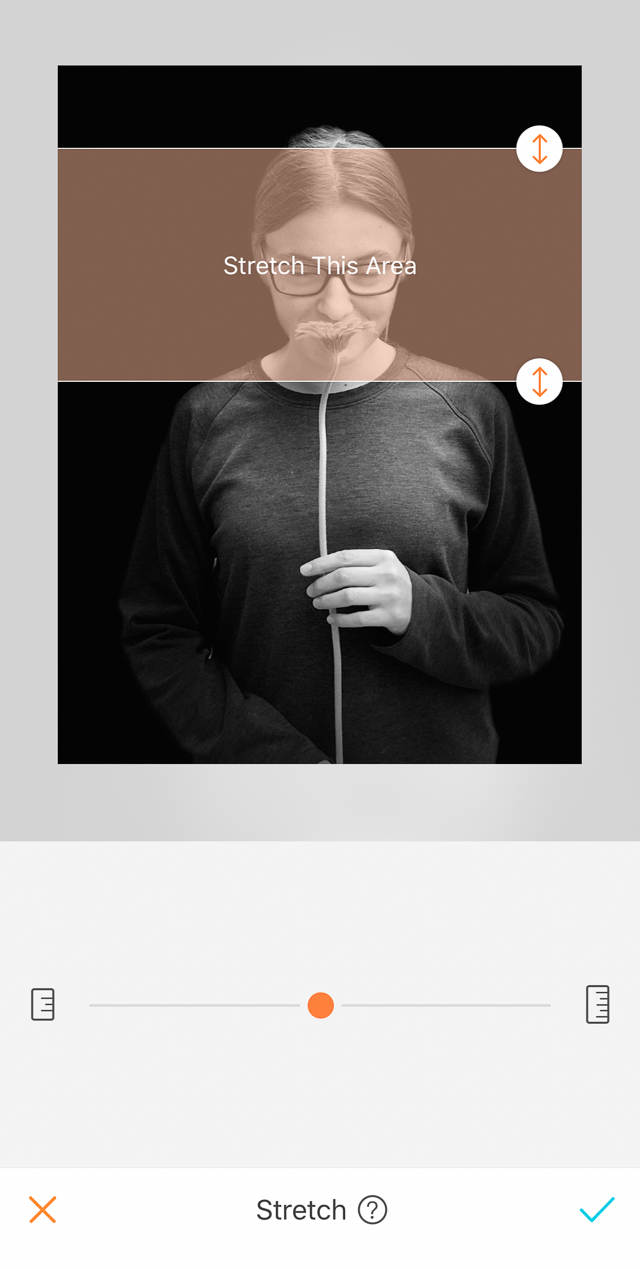 And if you want retouching alongside an amazing editing suite, go with Pixelmator!