I'm really excited to share this interview with Jaap Erkelens, a talented iPhone photographer from the Netherlands. Jaap is famous for his "puddlegrams" which show beautiful and interesting scenes reflected in puddles. In this article, you'll discover more about Jaap and how he creates these captivating symmetrical compositions.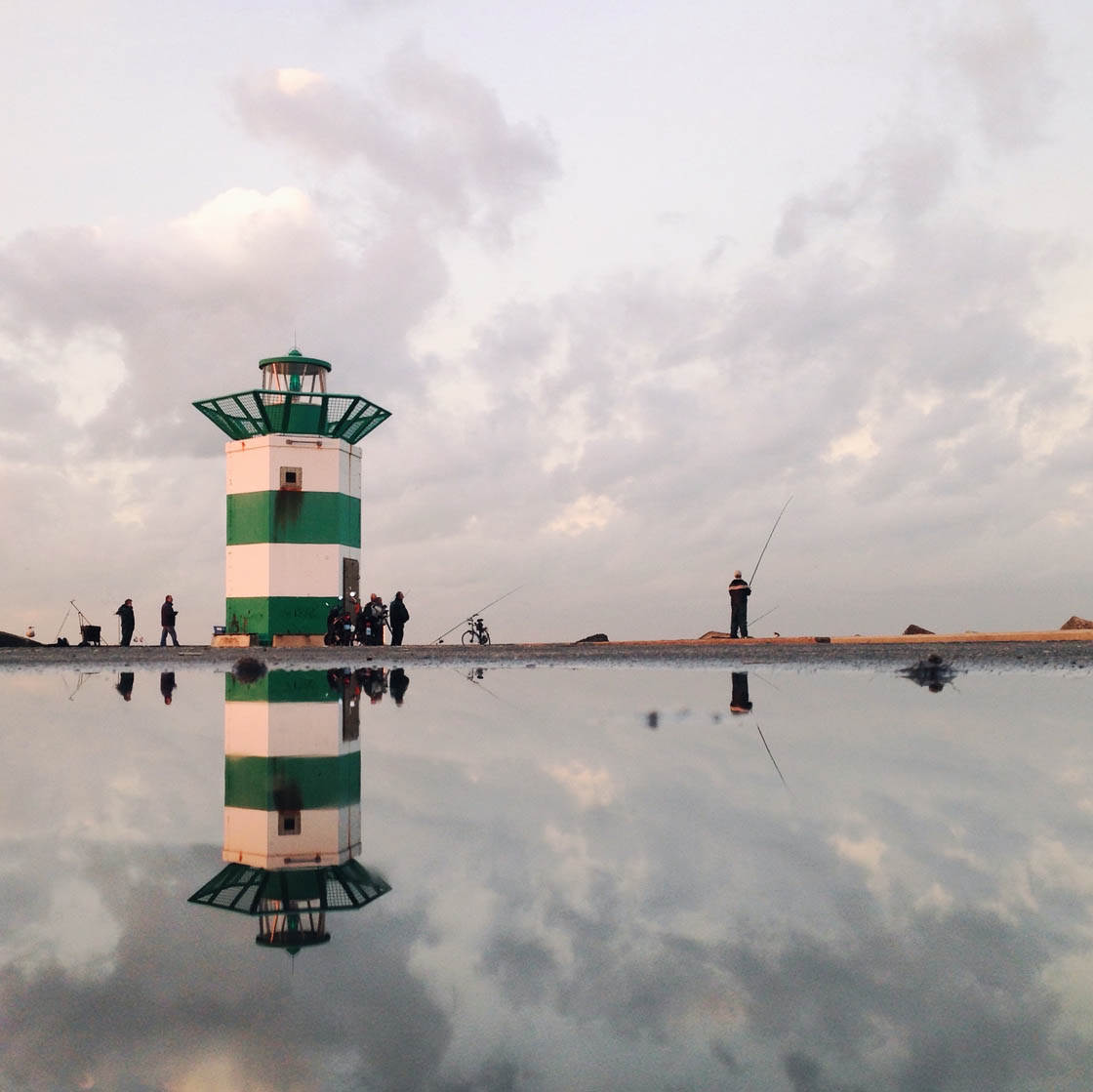 Tell us a little bit about yourself.
I'm 36 years old and live with my girlfriend in The Hague, The Netherlands. I work as a Corporate Social Responsibility consultant at a large Dutch engineering and consultancy firm, advising organizations on how to become more sustainable.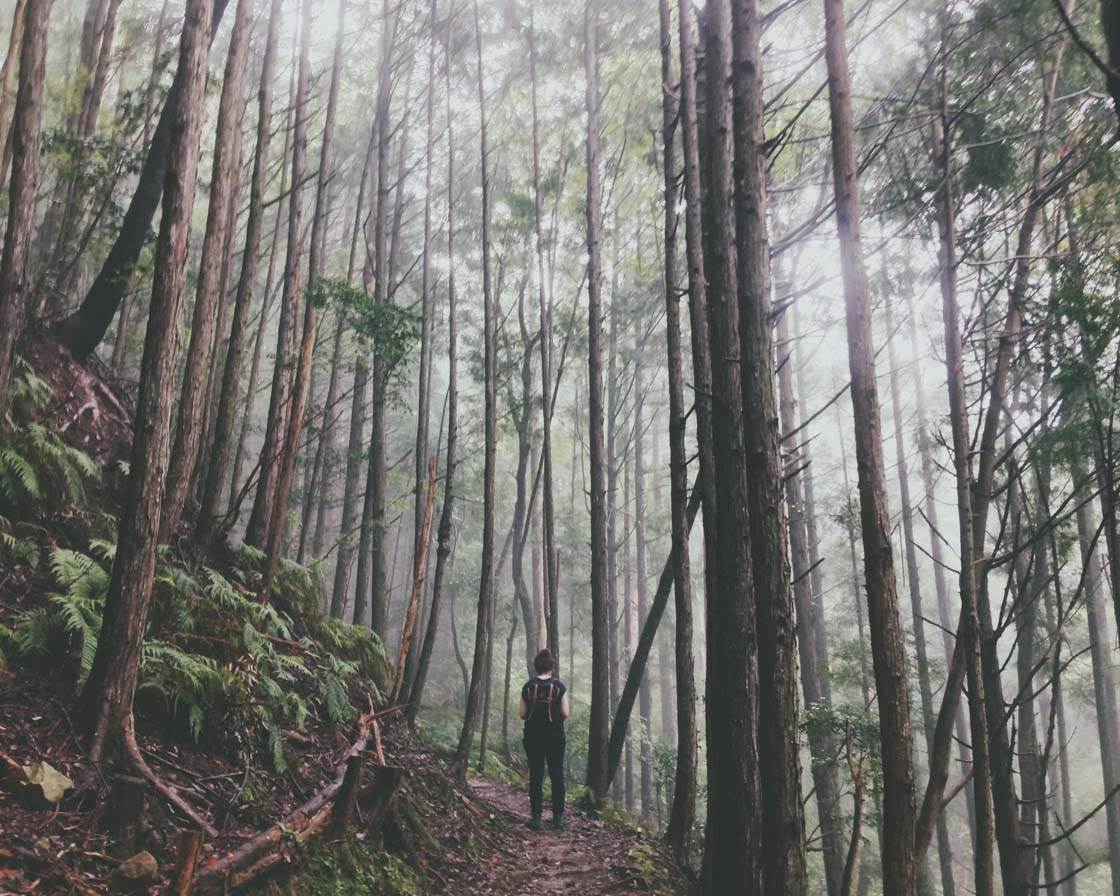 How did your iPhone photography journey begin?
I first installed the Instagram app on my old iPhone 3G back in May 2012. At that time I was used to carrying around a backpack full of Canon lenses and thought iPhone photography was something for "people who don't know anything about photography."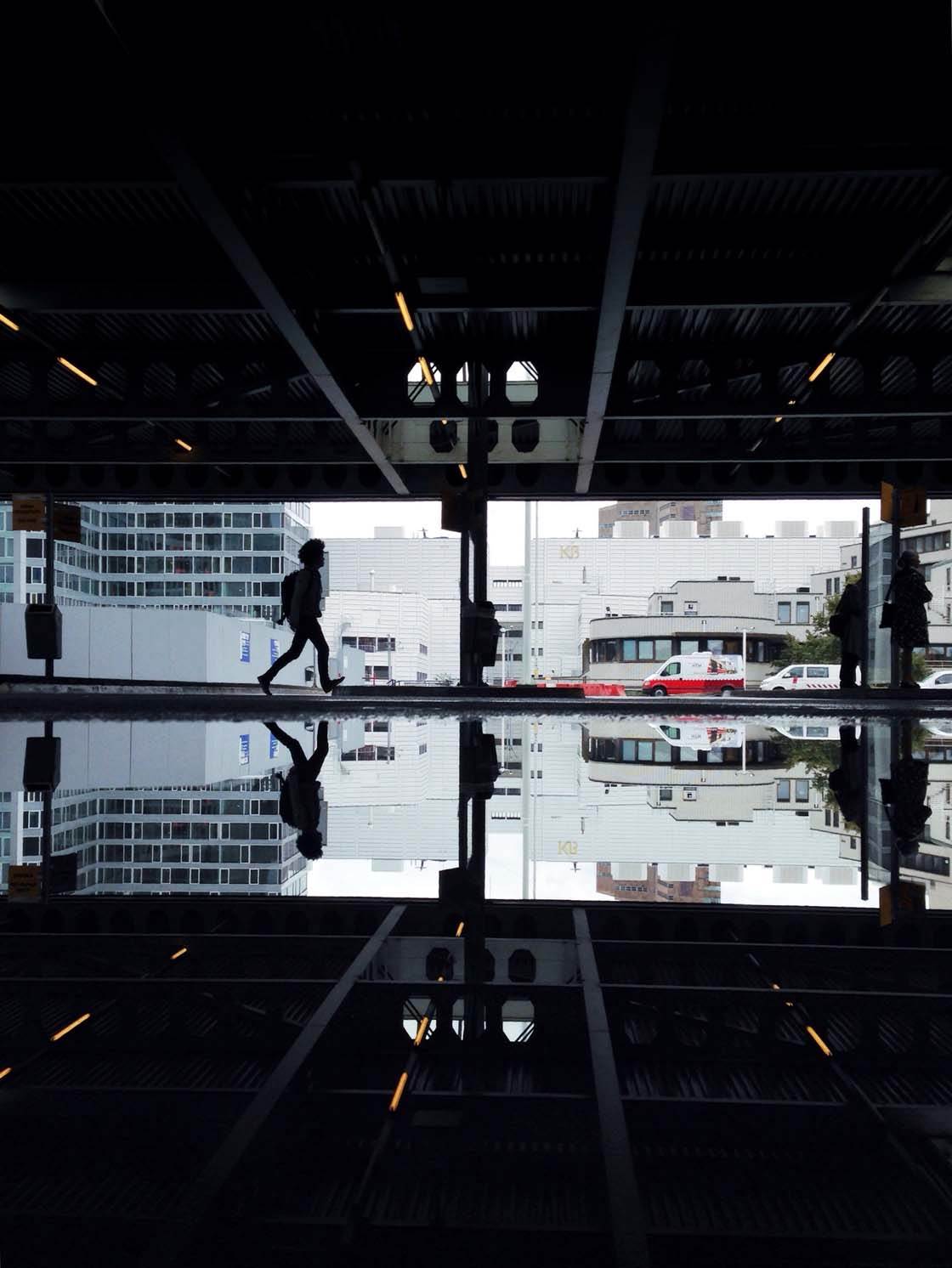 However, it didn't take long for me to get hooked on the instant gratification of seeing your shots turn into something special with a simple filter and tilt-shift effect.
What inspires you to take photos with the iPhone?
From a technical perspective, I love the lack of options you have when shooting with your phone. I used to be focused on always using the best lens with the perfect camera settings for a specific scene. Ultimately, this completely killed my creativity.
Using my iPhone's camera (and learning to respect its limits) enabled me to become creative again. Because I always had my phone with me, I started to take pictures of (almost) everything.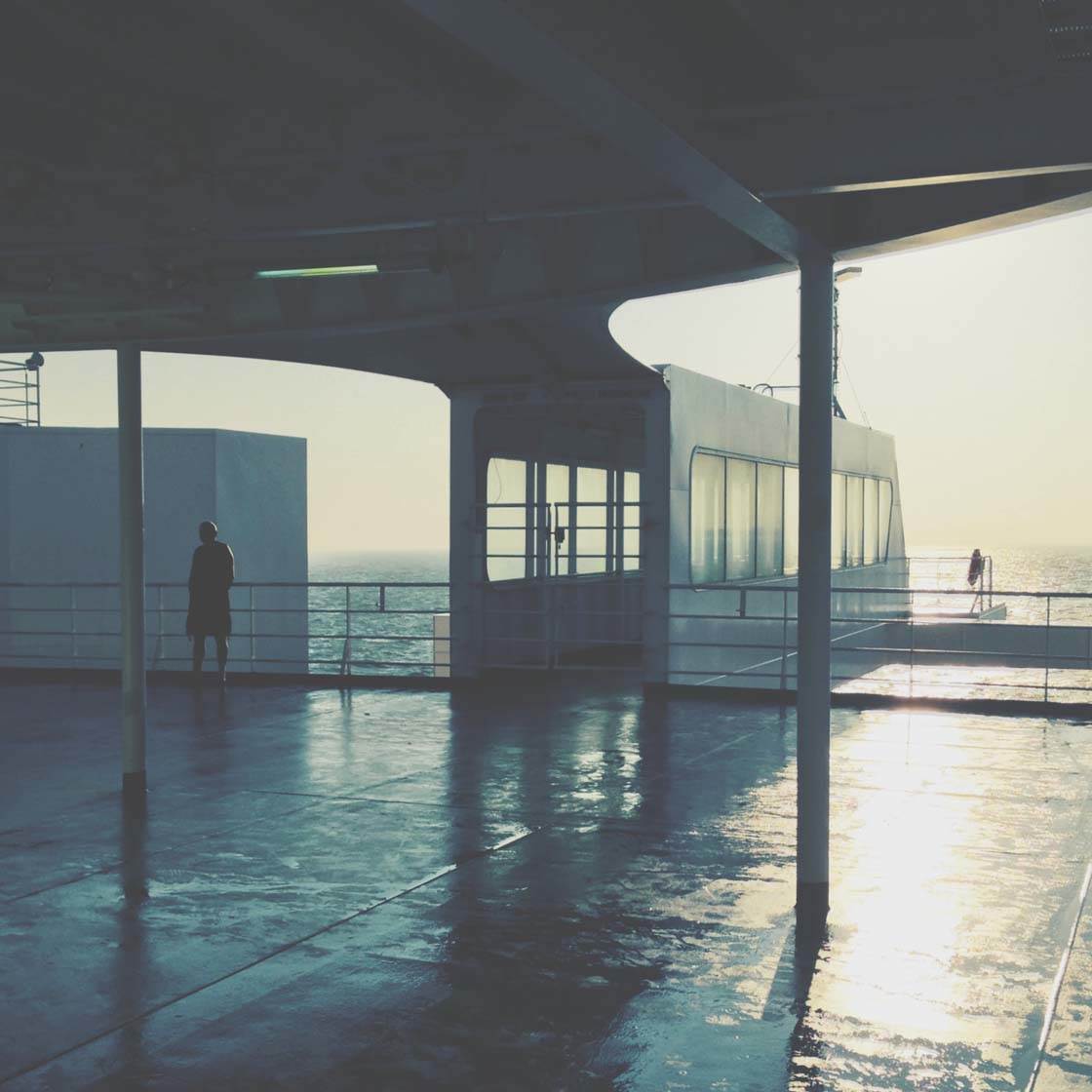 This might sound strange, but doing this really changed the way I look at my surroundings. If you know where to look you can find beauty in the most mundane things. This is what keeps on inspiring me to shoot with my iPhone.
Do you have a preferred photography genre, or do you like to experiment and try new things?
I really like experimenting with all kinds of photographic genres, although the "puddlegram" has become my speciality over time. Switching between genres is my way of keeping photography interesting for myself.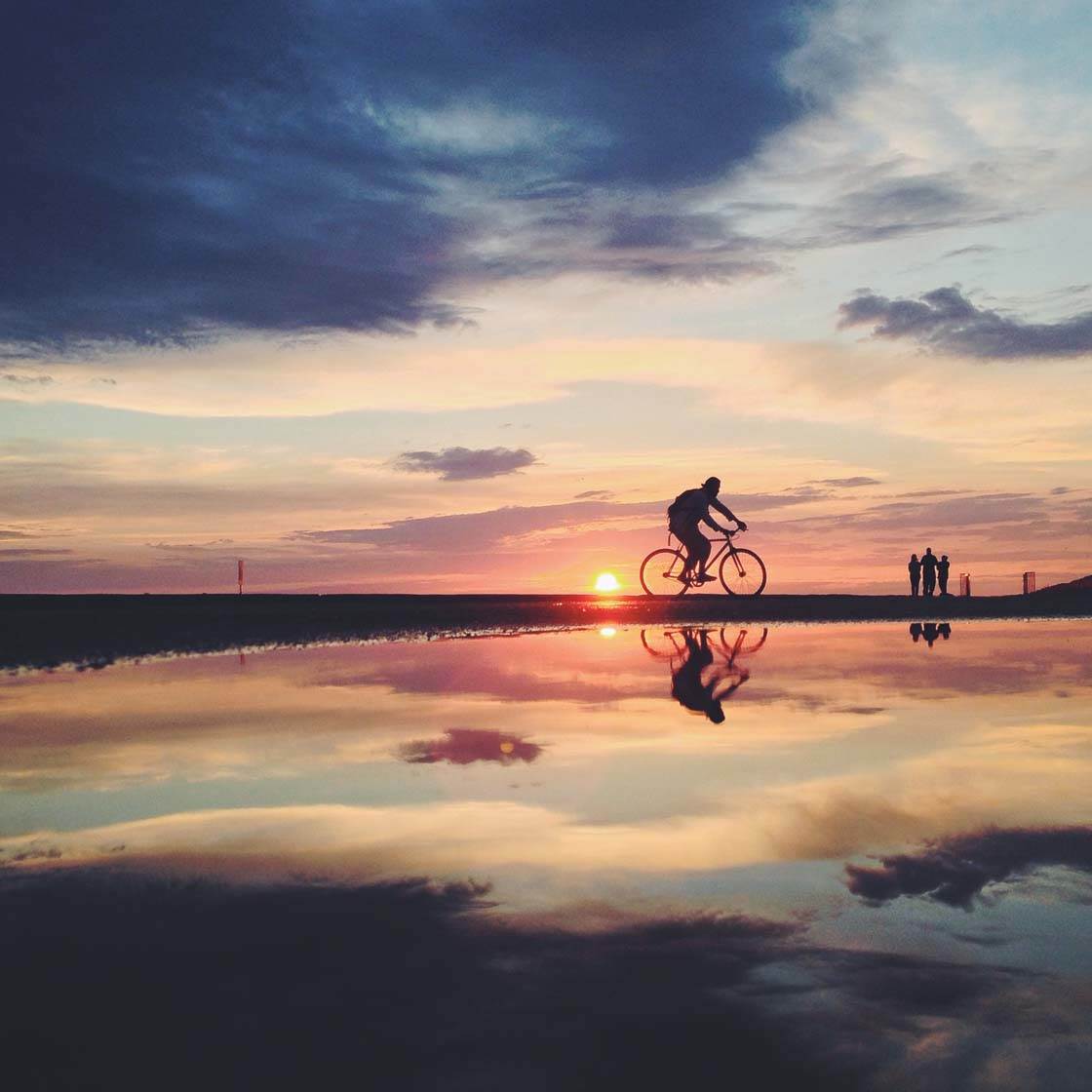 You create stunning symmetrical compositions by photographing reflections in water. Tell us about your inspiration for this.
As I mentioned earlier, trying to find beauty in the mundane is my main inspiration for shooting with my iPhone. For me, puddlegrams are the conclusive evidence that this is possible!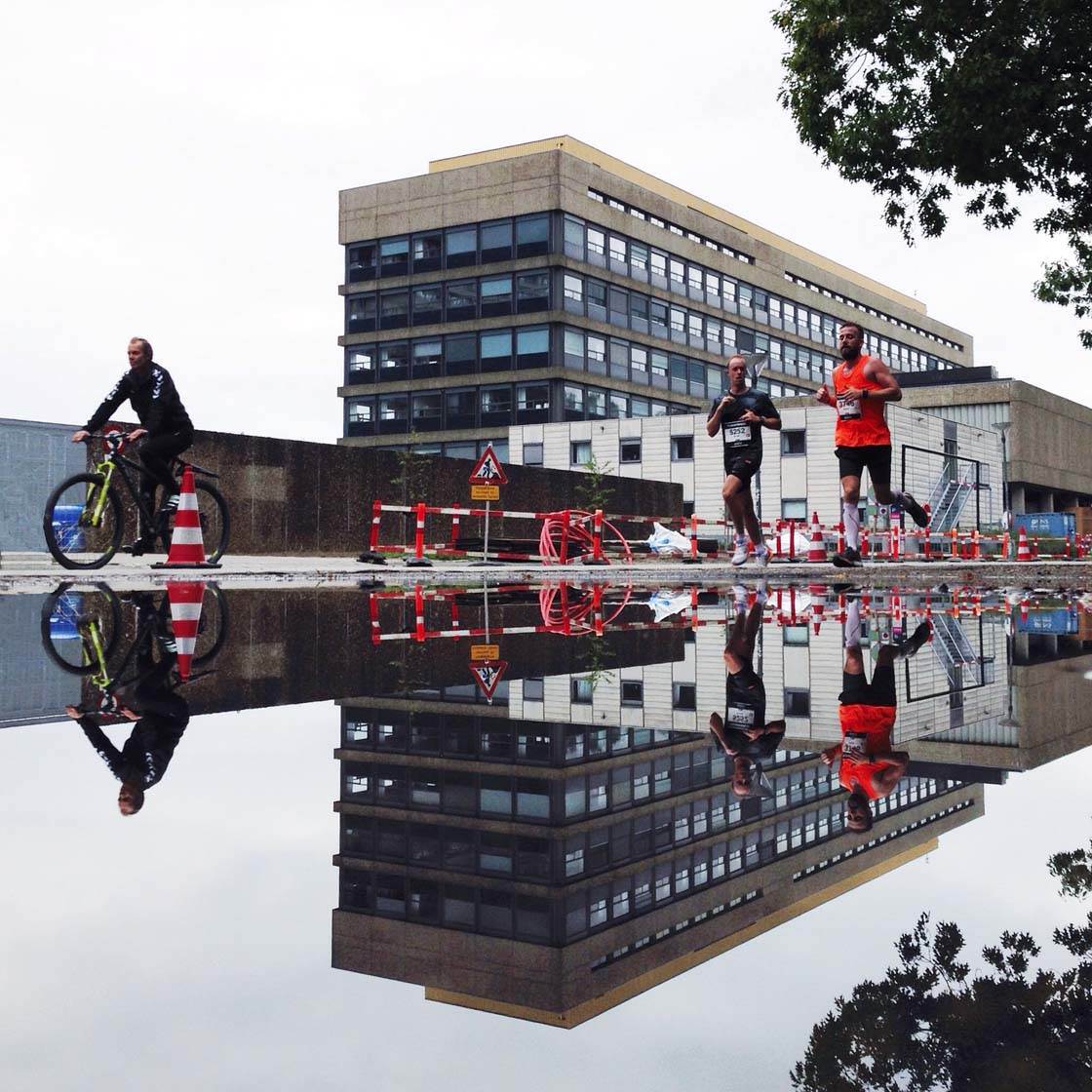 Puddles are a nuisance to most people. However, I can't wait to go outside after a rain shower and discover all those mirror universes hiding in plain sight.
What tips do you have for taking amazing reflection photos with your iPhone?
Don't be ashamed to kneel besides a promising puddle, even on a busy street! People will definitely think you're crazy, but having their look of surprise reflected in your puddle makes the shot all the better for it.
Another essential is to shoot from a really low angle. Flip your phone and bring the lens as close to the water surface as possible, as demonstrated in the photo below.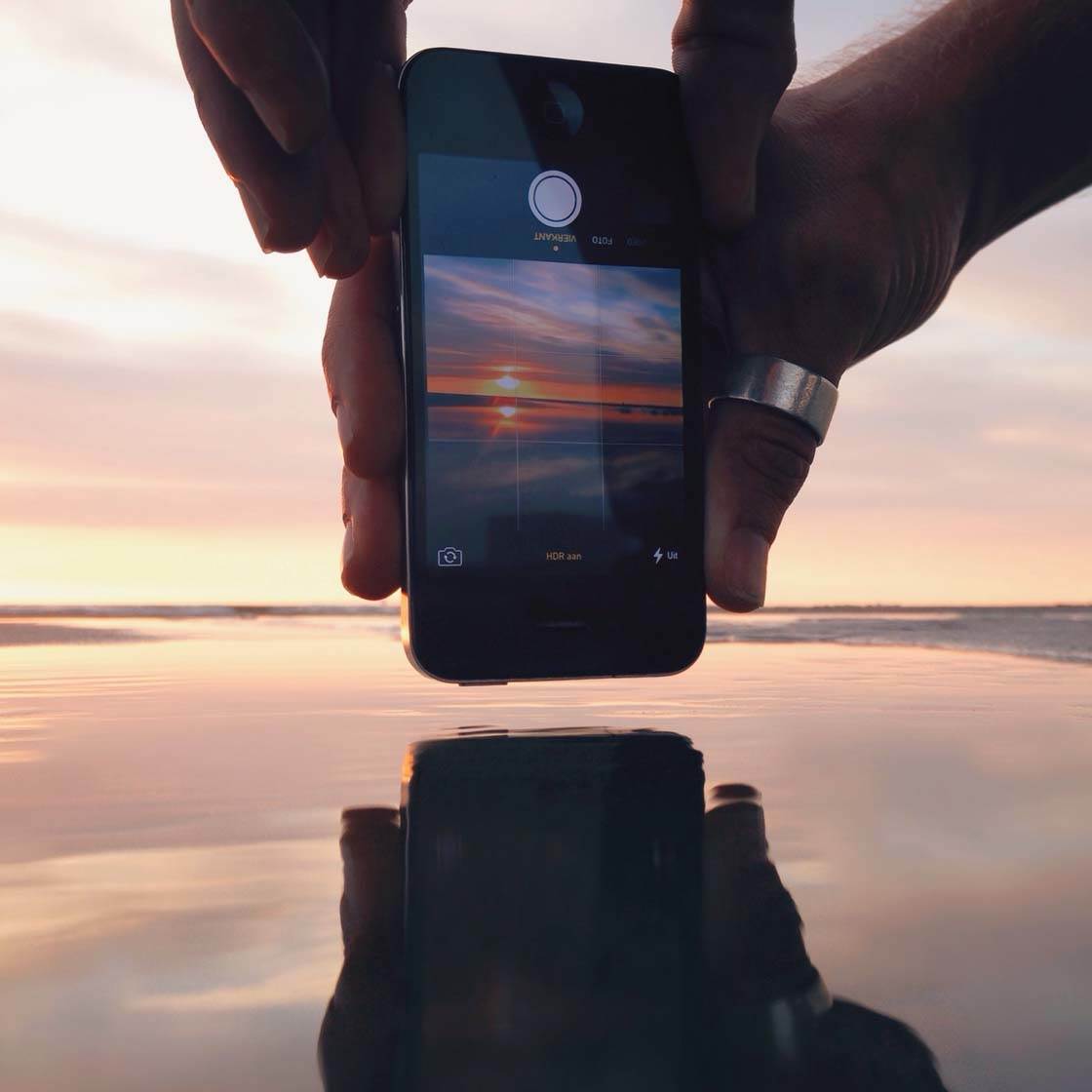 Don't worry if your phone gets a bit wet, mine still works after many accidental dips! Also, hold your phone with both hands and use the volume button to release your iPhone's shutter. This significantly reduces the risk of blurred images.
Do you have a favorite time of day for taking photos, and are there any types of light that you don't like shooting in?
My favorite time of day to go out shooting is definitely around sunset. I live just a couple of minutes from the beach, so I try to go there daily.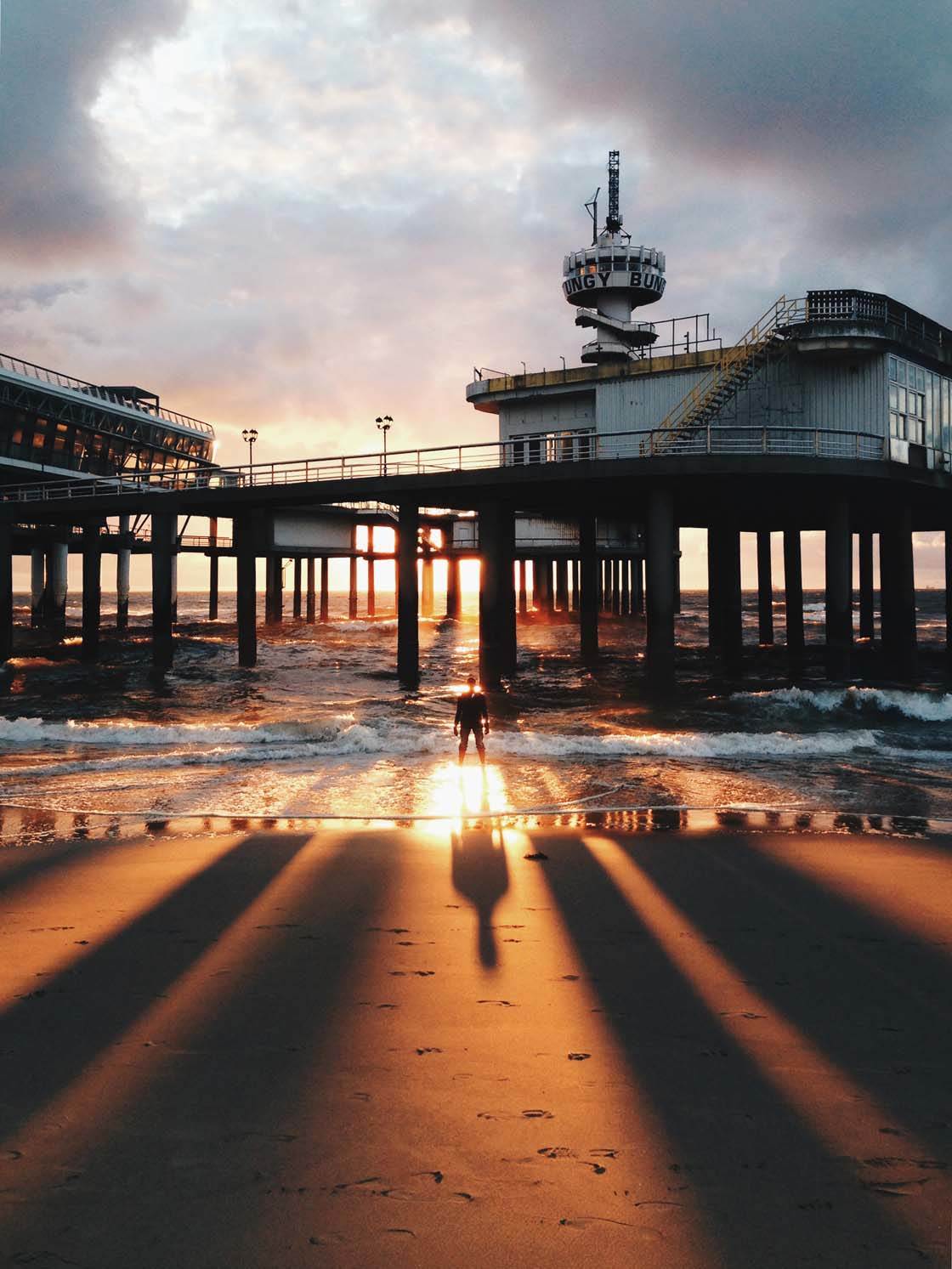 I'm not a fan of the harsh noon light and try to avoid shooting around that time to spare myself the frustration of ending up with (technically) disappointing iPhone shots.
Let's talk about photo apps. Are there any apps that you use for taking photos besides the native camera app?
I primarily use the native camera app with the HDR setting switched on. I make sure it's set to keep the normal photo too, so that I can choose which one to use. HDR doesn't always result in the best quality shot, so I like to save the original as a backup.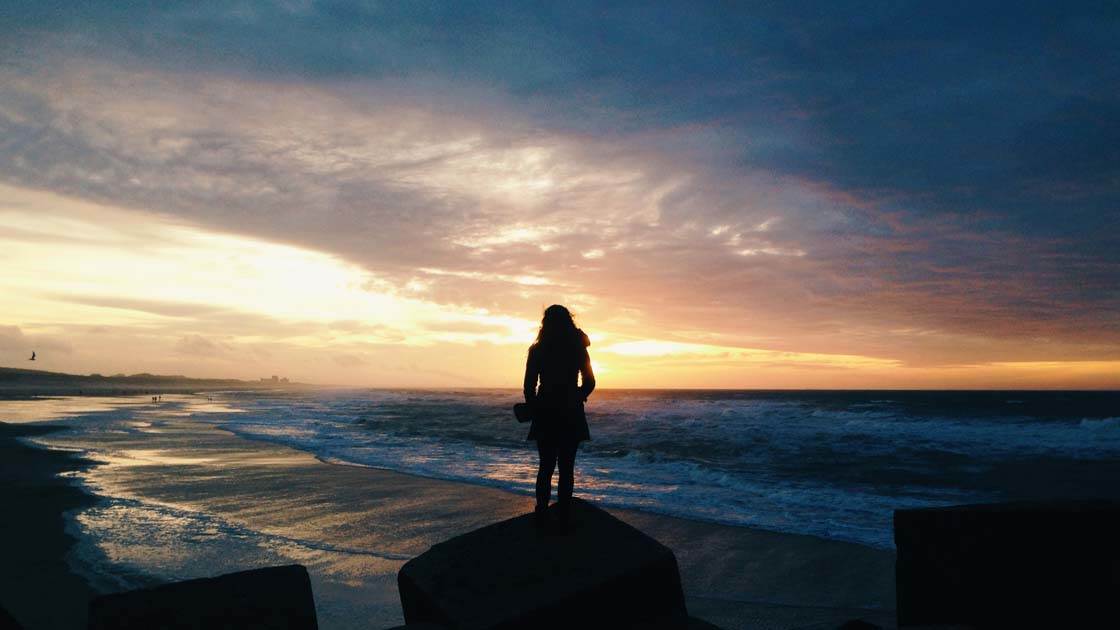 For low-light conditions I use Cortex Camera. This app (almost) instantaneously combines dozens of shots into one high-resolution image with relatively low noise levels. You don't need a tripod to use it and the end result is very crisp, especially when there is no movement in your shot.
I'm currently experimenting a bit with VSCO Cam which also seems to result in higher quality images than the native camera. So far I'm really liking it!
What are your favorite apps for post-processing and artistic creations?
I use quite a few apps on a daily basis. My workflow usually begins with the SKRWT app. I've been using this app since the first beta-release and it is, in my humble opinion, by far the best app available for correcting lens distortion and perspective.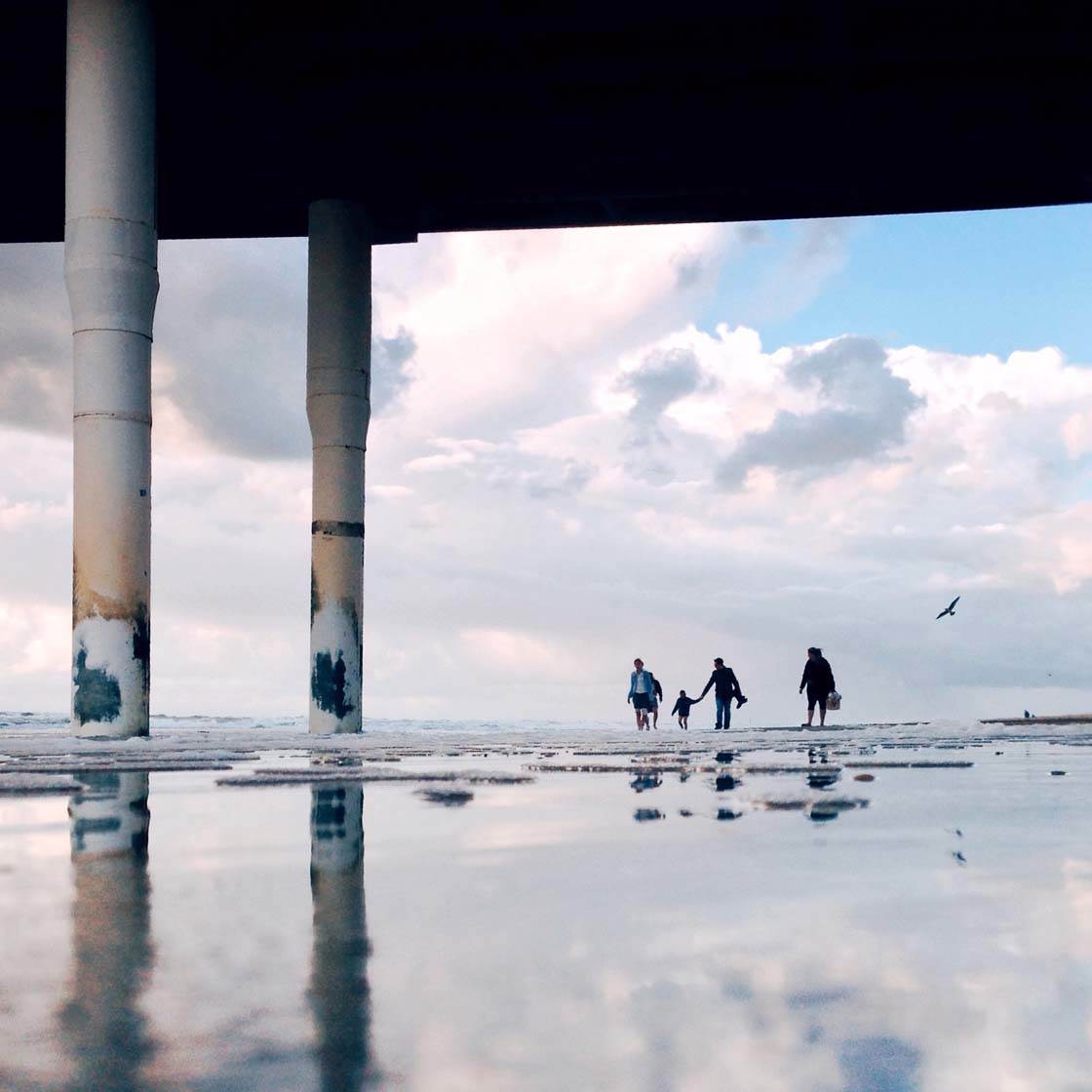 I then move on to the VSCO app for basic editing and applying artistic presets. Lastly, I usually use Mextures to finalize my images. Mextures might look overly complex at first, but its gradient "Landscape Enhance" textures and the excellent sharpening tool have become an essential part of my editing process.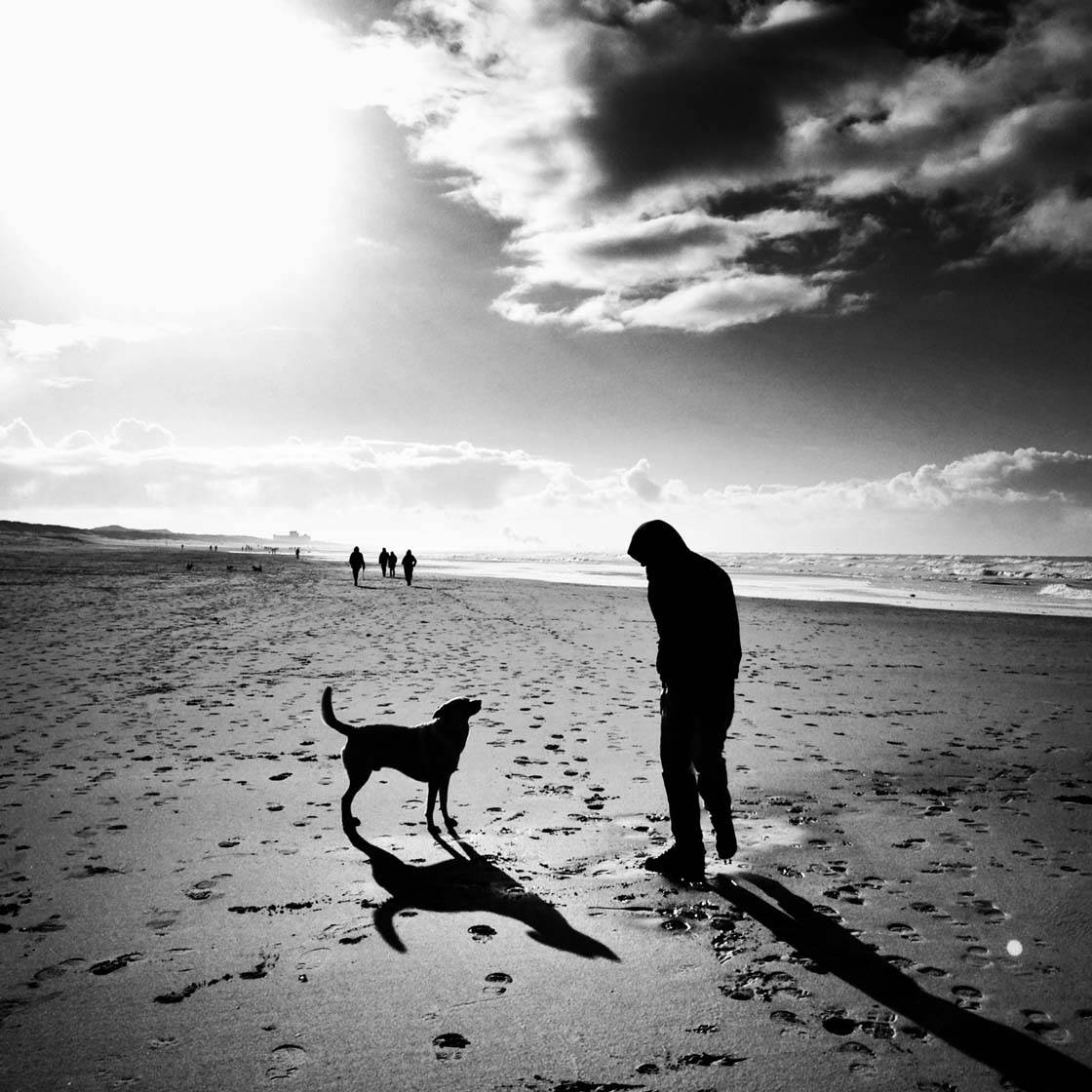 Some other favorites are Noir for creating dramatic black and white shots, TouchRetouch for getting rid of unwanted details and Squaready Pro for cropping my 16×9 shots ready for Instagram.
Do you use any iPhone photography accessories?
I've never used any accessories, but I'm thinking of buying a tripod for iPhone to experiment with long-exposure shots.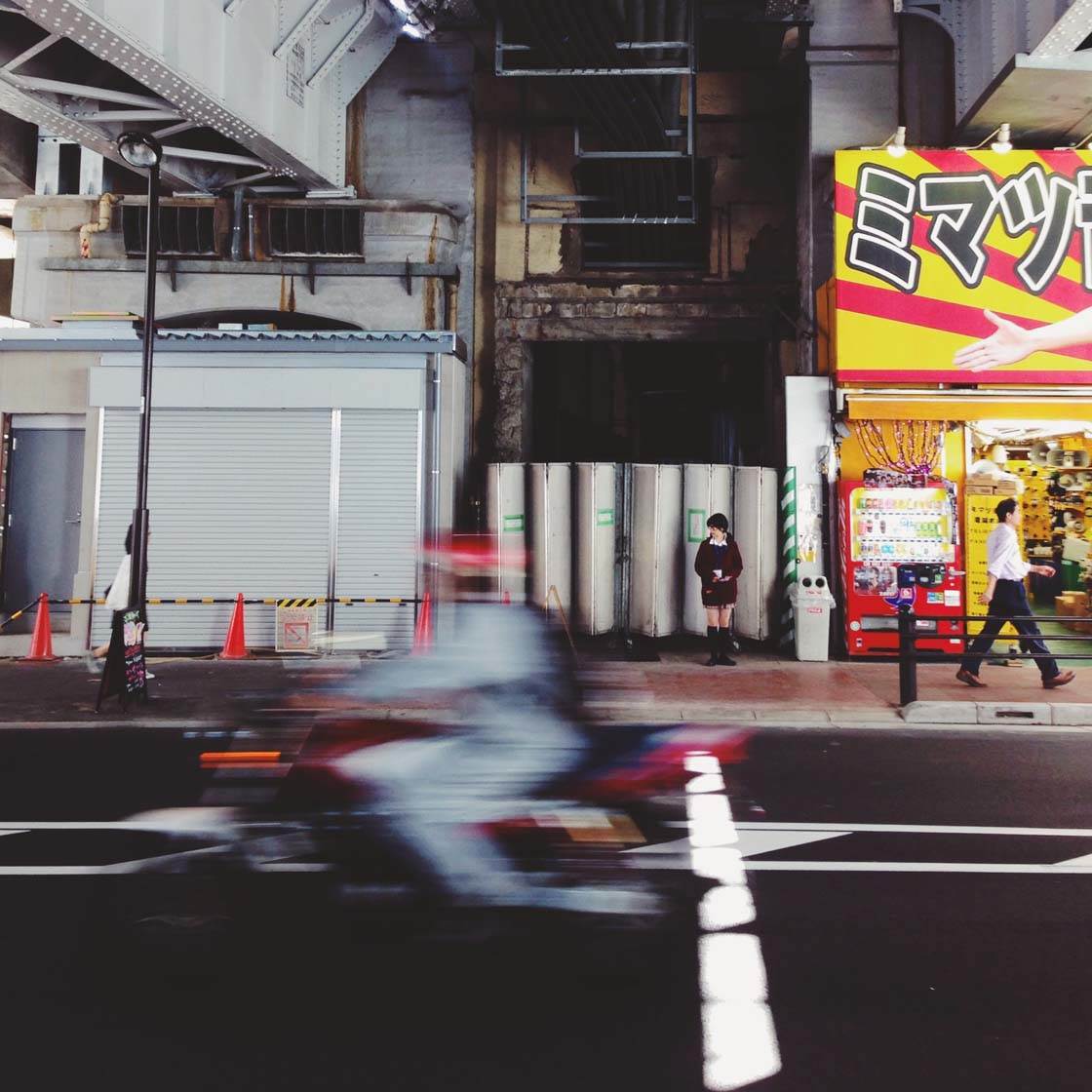 Regarding clip-on lenses, I don't see the added value of using one as the image quality is usually significantly reduced. If I want something different I just use my regular camera.
Can you briefly explain the story and editing behind your three favorite iPhone photos?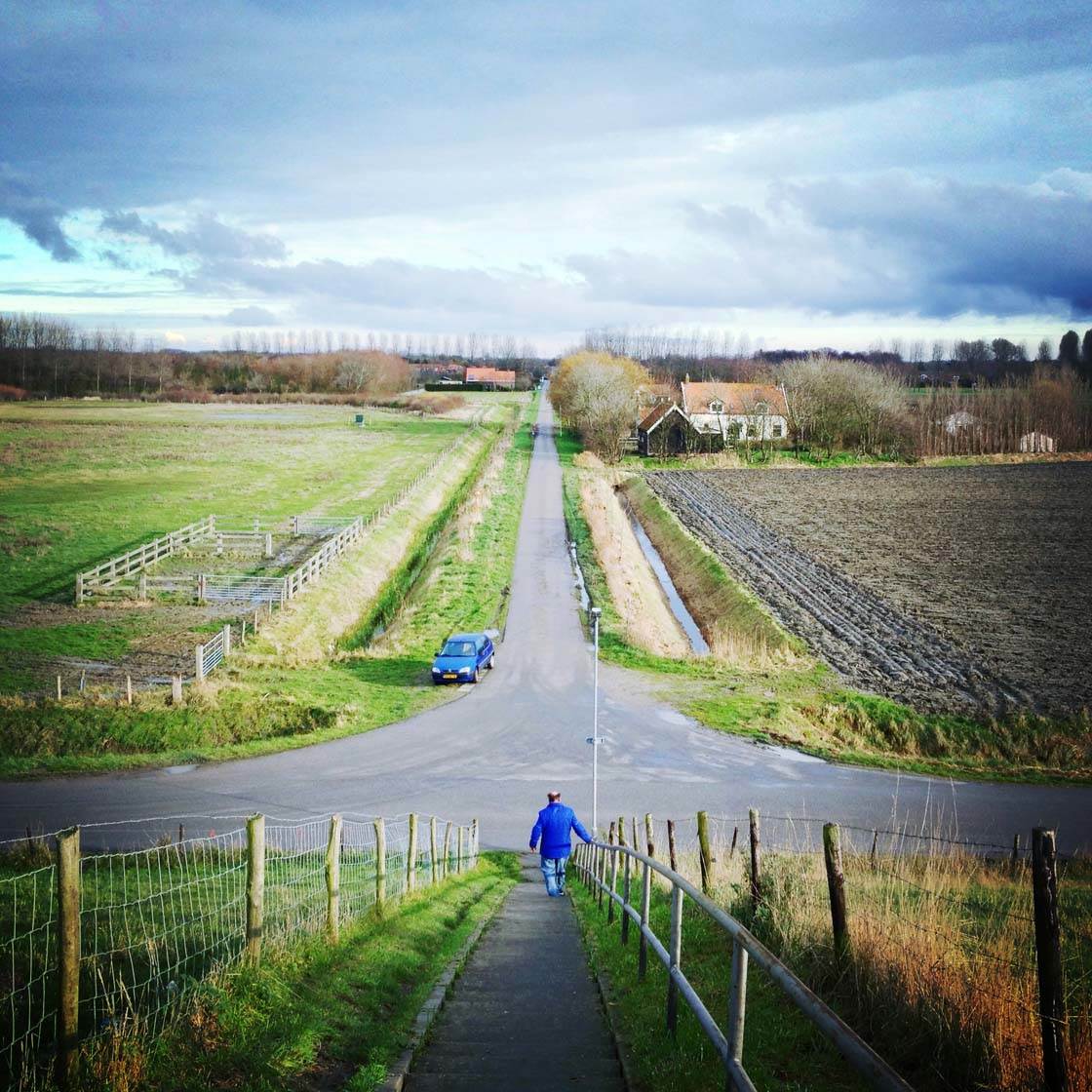 I shot this photo when I'd just got my iPhone 5, back in the autumn of 2012, and it's still one of my favorites. This photo was taken in the Dutch province of Zeeland ("Sealand").
Everything just feels right in this shot – the blue car and jacket of the passer-by in combination with the converging of all those lines in the center of the shot.
I probably edited this shot in the Snapseed app, which was my preferred app in those times, but I can't remember the exact details.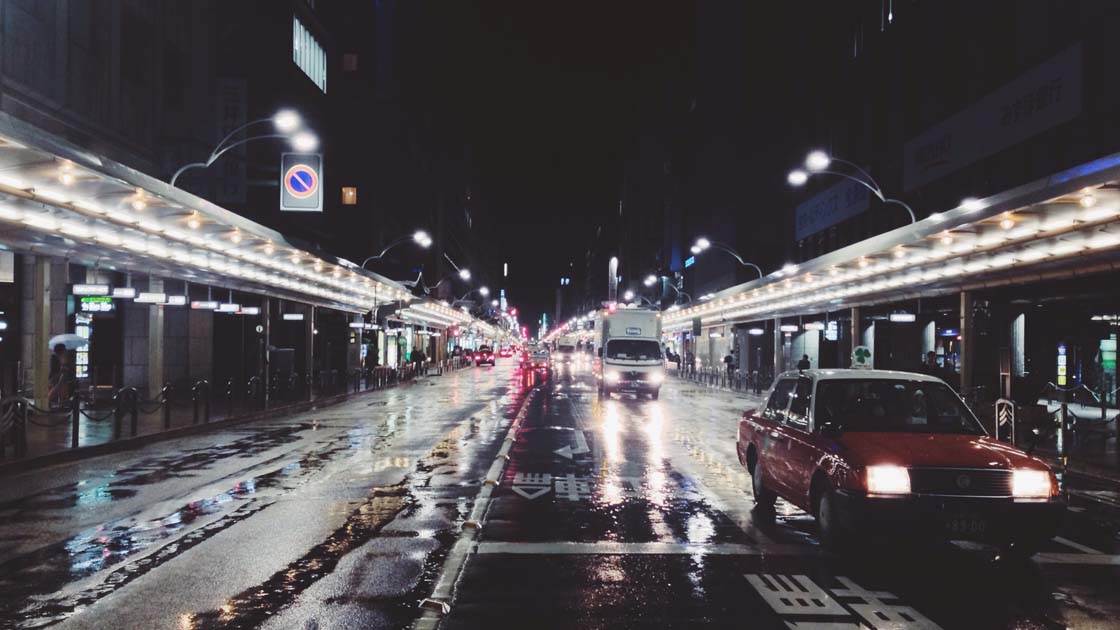 I love the "movie-still" feel of widescreen shots, but find it very difficult to instill this feeling in my own photographs. This shot I took in Kyoto (Japan) last October is one that, for me, has that movie-like quality.
I did all the basic editing in VSCO Cam and applied the F3 preset. Cropping and applying the white borders for Instagram were done in Squaready Pro.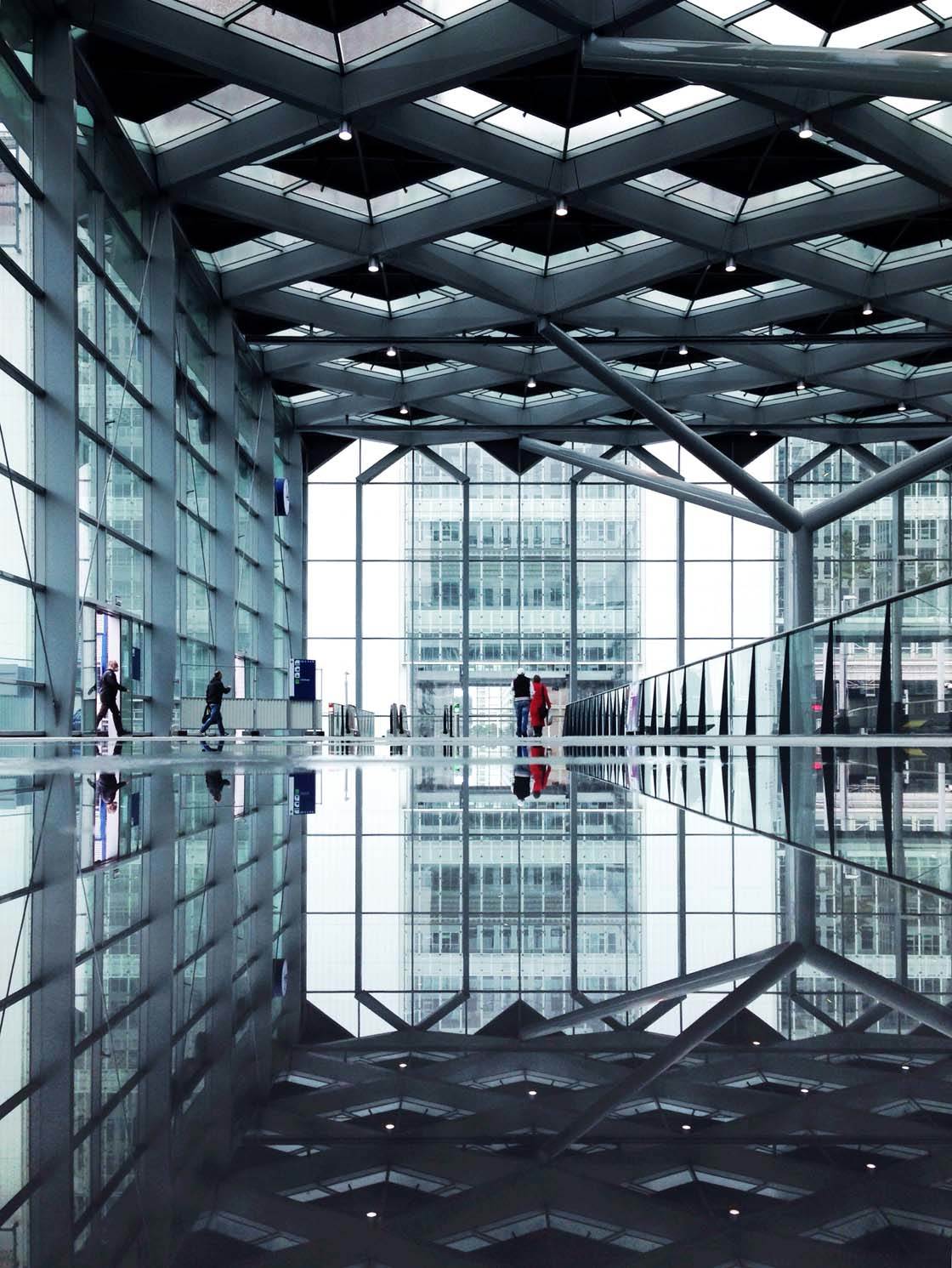 It should be clear by now that I'm a big fan of the puddlegram. I feel like a kid again when I "discover" a puddle at a special location, like here in the brand new Central Station of The Hague.
The roof had leaked after some heavy showers that day, which had resulted in a huge indoor puddle. I took many shots at this spot and was lucky to catch the reflection of the woman with the red coat in this one.
For this shot I first corrected the perspective and lens distortion in SKRWT. Basic editing was done in VSCO Cam in which I also applied the N1 preset. I finalized my editing in Mextures, applying the "Winter Skies" Landscape Enhance texture and added some sharpening (~+50).
You share your photos with a loyal fan-base on Instagram. What does the Instagram community mean to you, and what effect has it had on your iPhone photography?
I think I can safely say that I wouldn't be at this point without all the positive feedback I received from my followers and the inspiring and fun people I've met through Instagram in real-life.
Instagram wouldn't be Instagram without follower-involvement, so I really try my best to give every comment I receive a personal reply and also give honest comments on shots of others I like.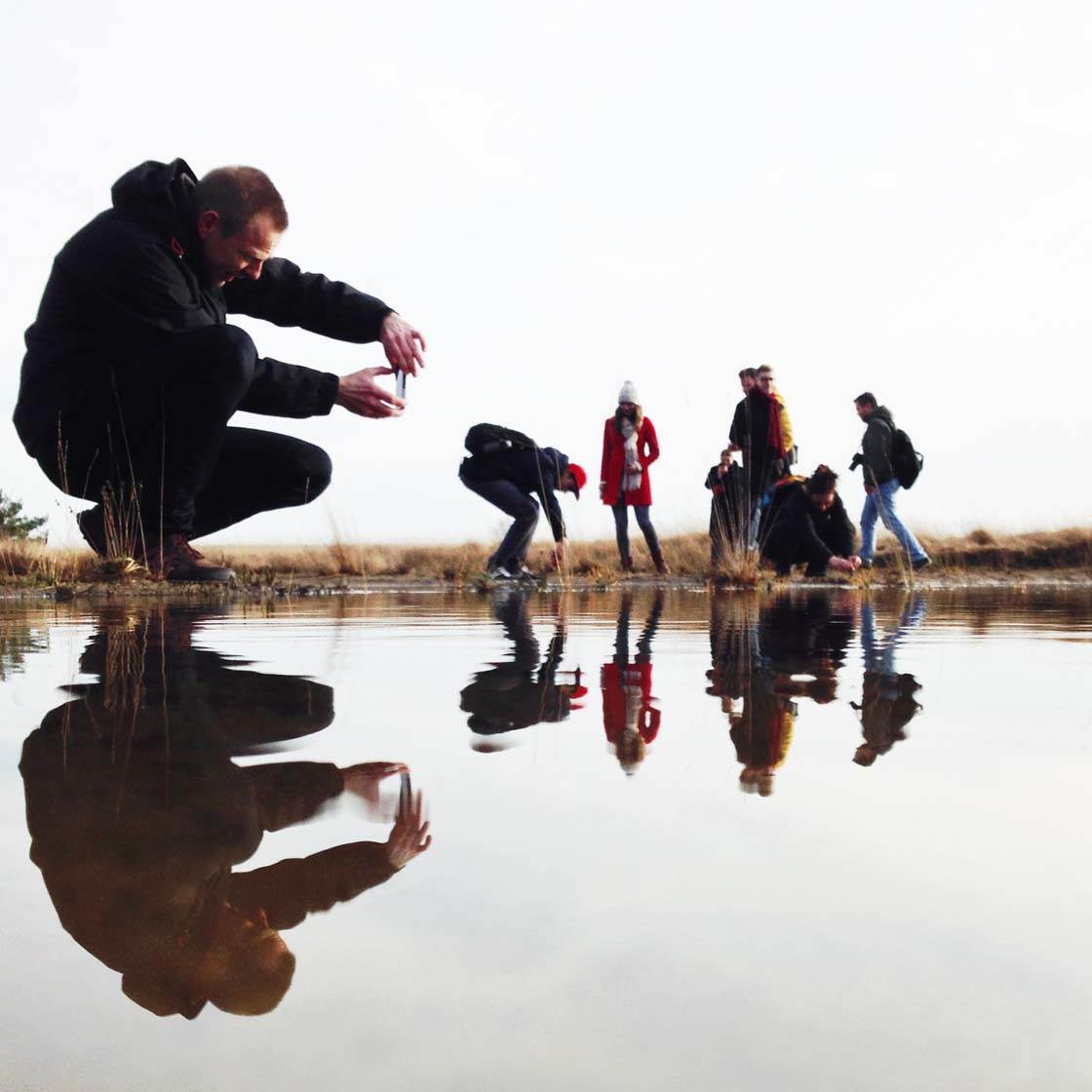 Instagram has changed a lot in my opinion since I started using the app, and not always for the best. I think the rise of influence-based marketing has had a negative effect on the way many people behave on Instagram, choosing their individual popularity above creativity and/or unbiased community involvement.
I do my best to ignore these changes and just do what I like best – shooting, editing and posting a wide variety of images and videos. However, I've noticed that I can be quite susceptible to social media stress which sometimes results in a love-hate relationship with Instagram. The love-side is still dominant though, so I won't be gone anytime soon.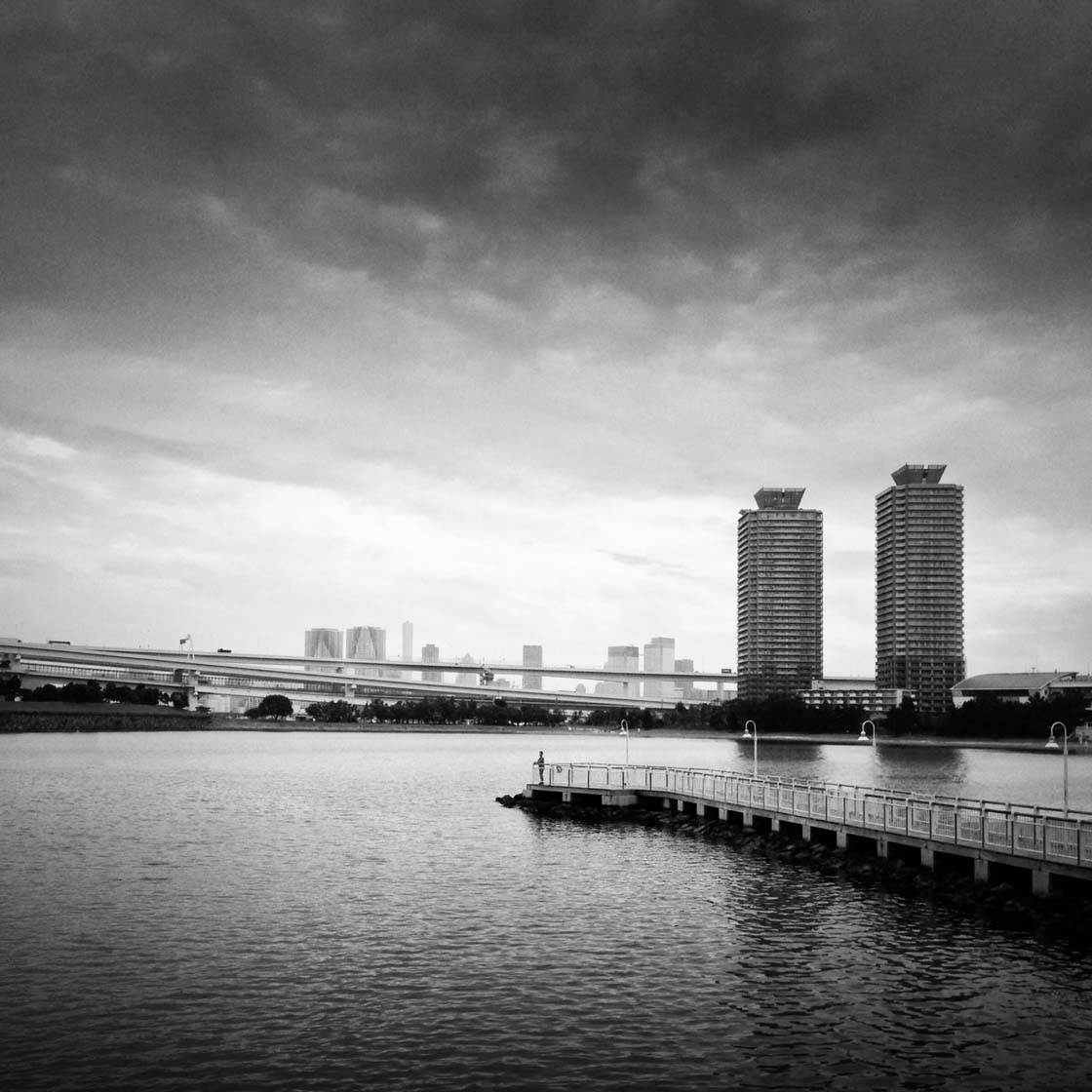 Which iPhone photographers do you admire the most?
There are many photographers who inspire me, but here are a few that come to mind:
@herbertschroer and @claireonline for their amazing iPhone editing skills. My friend @ruu_da who keeps on surprising with his unique view of Amsterdam. Also @monaris_ and @stevesweatpants for their urban photography.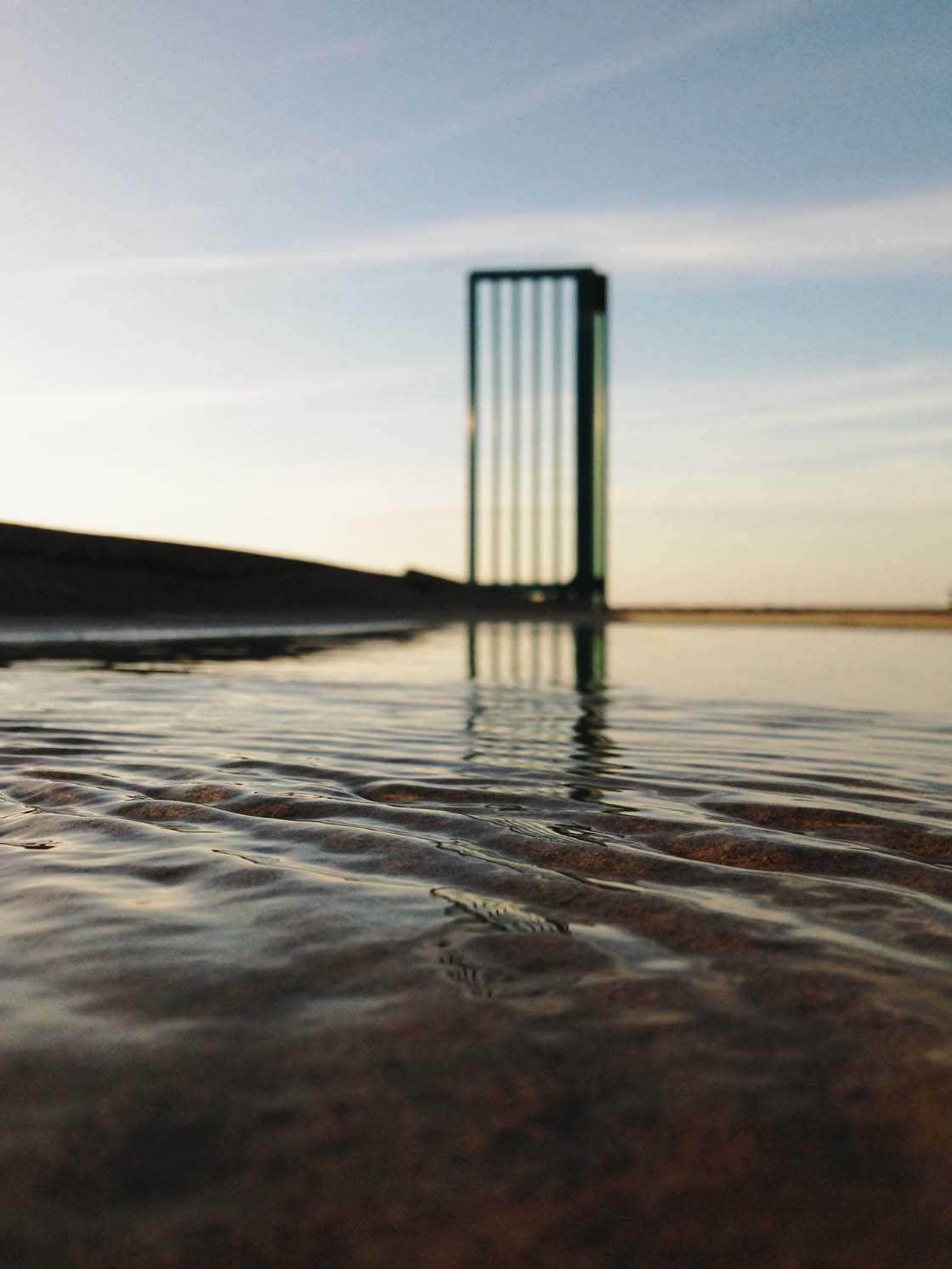 Where can we see your iPhone photography?
You can find me on Instagram and also on my VSCO Grid.