It's well known that the iPhone is a really great camera phone, but one thing it lacks is an optical zoom or extra wide-angle facility. Luckily iPhones have always been well supported with third-party lenses which overcome this limitation. However, with the release of the new iPhone 6 and 6 Plus, these lenses need to be redesigned to fit the new phone profiles. In this article we'll take a look at a couple of different lens systems which are now compatible with the iPhone 6 and 6 Plus.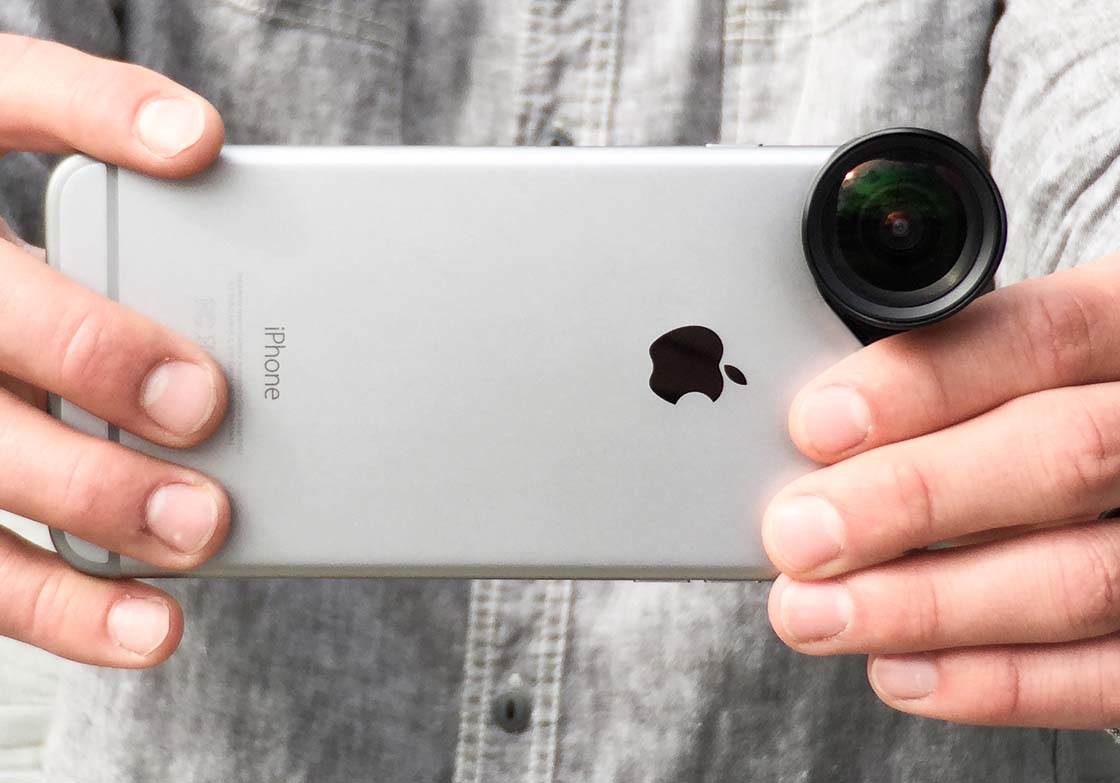 With the introduction of the iPhone 6 and 6 Plus, Apple have proved they weren't prepared to sacrifice imaging quality by shrinking the camera components to fit inside the new slimmer body.
This would have resulted in poorer quality photos as the sensor would have had to be smaller and/or the lens even more wide-angle. Consequently the camera's lens on the iPhone 6 and 6 Plus stands proud of the body by a few millimeters.
This is a brave move from a company that loves clean, uninterrupted lines in their designs – but a sensible move to keep us iPhone photographers happy.
Interestingly the protruding lens may help manufacturers of third-party lenses as it should be simpler to make lenses which attach magnetically to the lens ring.
What To Consider When Buying iPhone Lenses
The most important aspect to consider when choosing a third-party lens is the quality of the glass. Cheaper lenses will use inferior untreated glass, or worse, be made of plastic! There is no escaping the fact that poor quality lenses result in poor quality images.
Next you'll want to think about what kind of photography you're trying to achieve. Do you need to bring far away subjects closer? Then pick a telephoto (tele) lens.
Do you want to make small close-up subjects appear larger? Then go for a macro lens. Do you want to cram all your family and friends into one shot or photograph a wide landscape? If so, it's got to be a wide-angle lens.
Another important consideration when choosing a third-party lens is how the lens attaches to your iPhone. Lens manufacturers employ different techniques for attaching their lenses to the iPhone.
Some require you to attach a metal ring with a sticky back around the lens, and the lens then attaches magnetically. Others require a special purpose-built case (full or partial) which has a locking mechanism for the lens to fit into.
Lastly, the size of the lens is important. If it's too bulky you might not bother to carry it with you everywhere you go. If it's too small, you might lose it.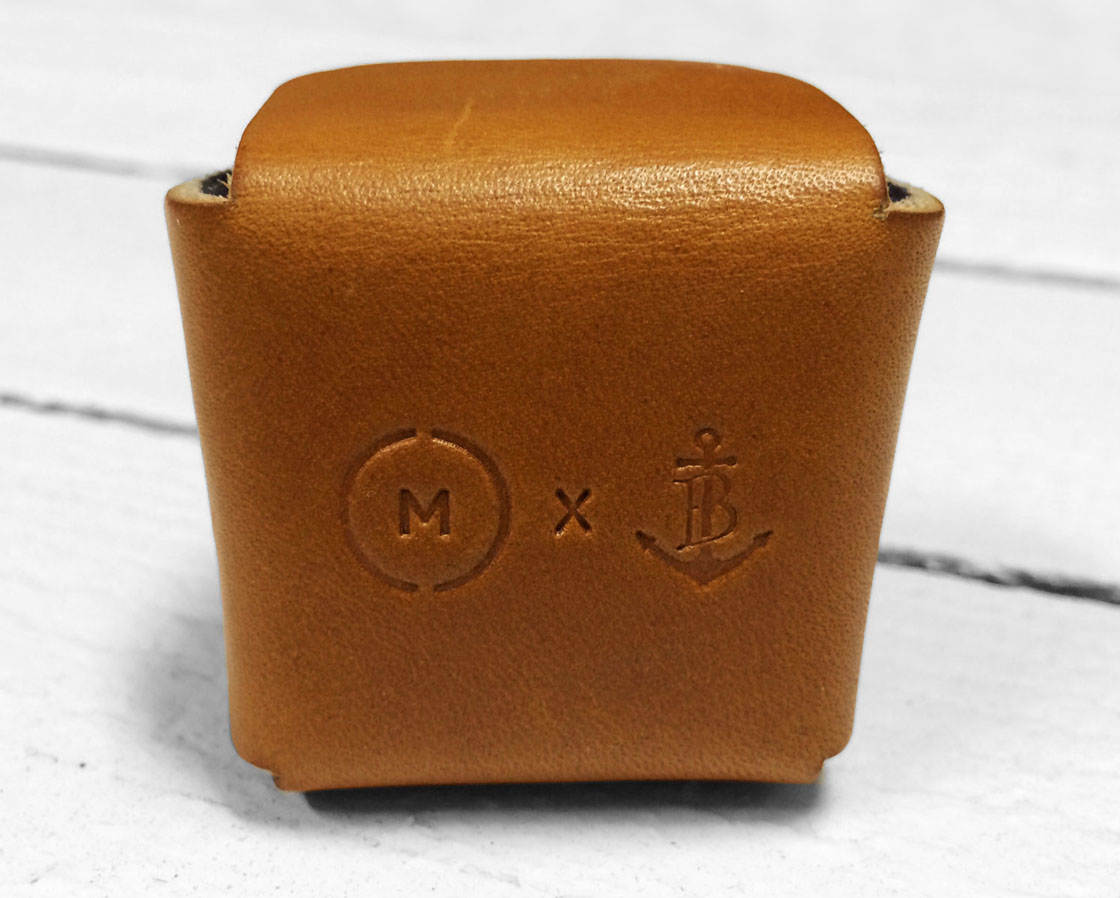 Some kind of carry-case should be considered in order to keep the lens free of dust and scratches. This leather case from Moment is stylish and practical.
So, let's take a look at two different lens systems compatible with the iPhone 6 and 6 Plus.
Moment Lenses
Moment are the first to market lenses that are compatible with the iPhone 6 and 6 Plus. They offer two lenses – Moment Wide and Moment Tele. Both cost $99.99 each and come with a mounting plate (also available separately for $9.99 if you want a spare).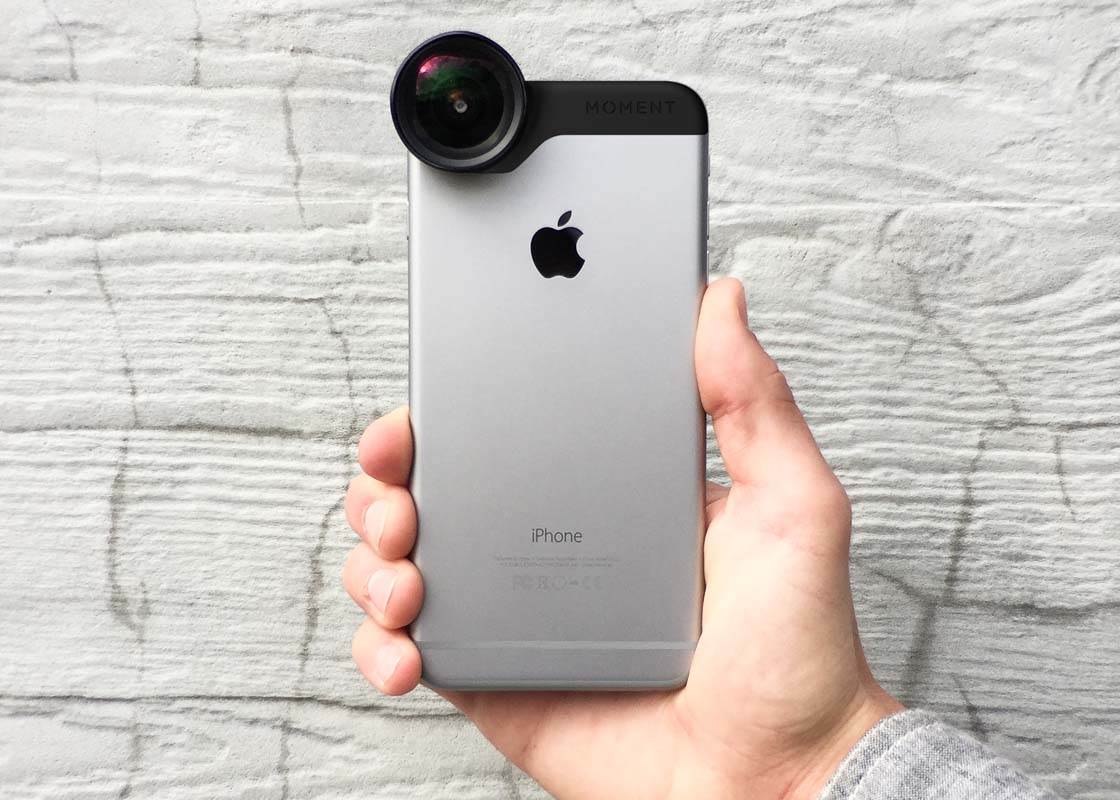 Each lens weighs 275g and claims "edge-to-edge clarity." The lenses come with a lens mount of your choice (to suit your iPhone 6 or 6 Plus), a cloth carry-case, extra adhesive for the lens mount and 12 months warranty in the US (24 months in the EU).
The Moment Wide has a 0.63x magnification, effectively meaning you get 37% more of your subject into the frame. This is comparable to an 18mm lens in conventional cameras. The lens has 5 glass elements in 4 groups.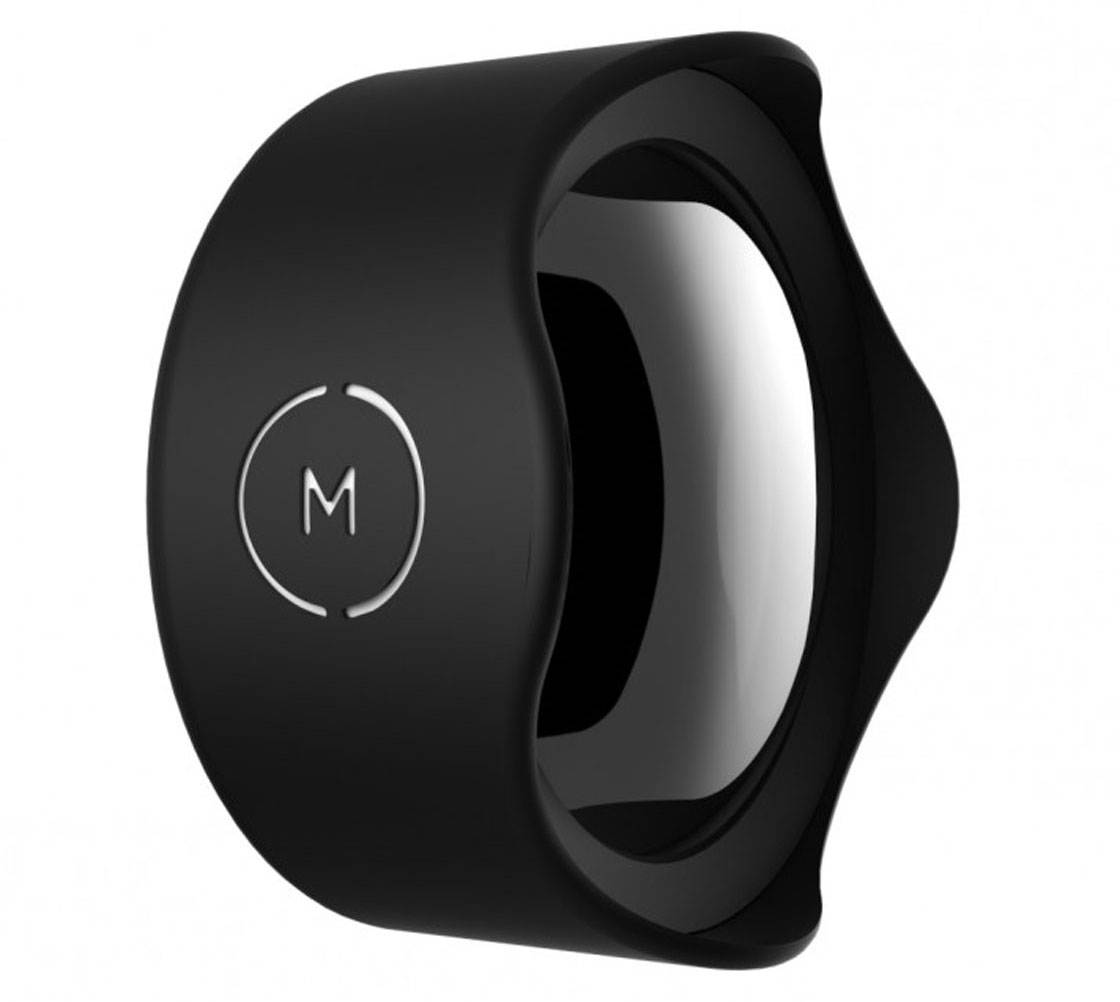 The Moment Tele has a 2x magnification, making your subject seem twice as close. It has 4 glass elements in 4 groups and claims to have zero pin-cushion distortion.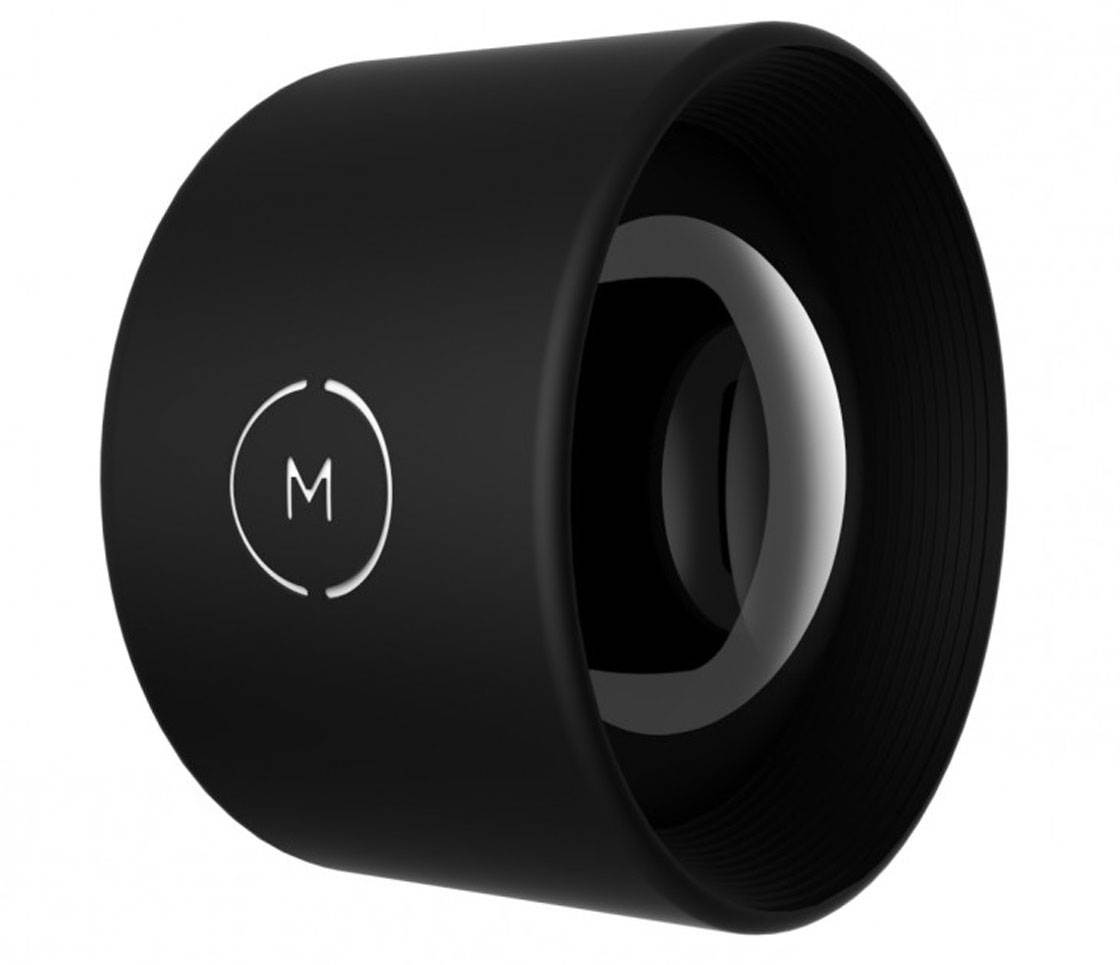 All Moment lenses are attached with a Moment mounting plate. Each lens comes with your choice of mounting plate, so make sure you order the correct one.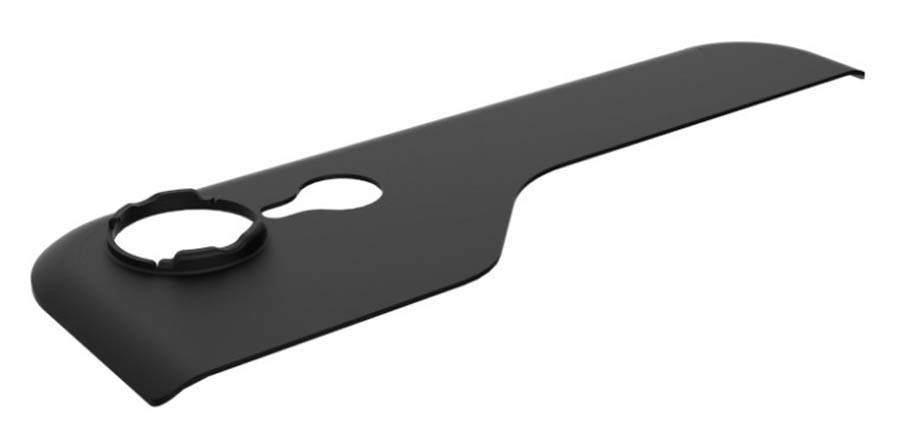 The mounting plate features a bayonet connection which allows you to rotate the lens, locking it into place securely. You can find out more and order your lenses on the Moment website.

Olloclip 4-in-1 Lens
Olloclip have been producing lenses for iPhones for a good while now. They were a bit slow off the mark with releasing lenses for the iPhone 6 and 6 Plus, but they now have several options available.
The most popular Olloclip lens system is the 4-in-1 lens, It's an innovative design that allows the lenses to be used on either the front or back camera of your iPhone. The lens module can be easily clipped on and off the iPhone.
The lenses are offset and mounted on a special wrap-around partial casing. Each side of the case has a built in lens to which an additional (included) lens can be attached to produce a different effect.
Unscrewing the included wide-angle lens reveals the integrated 10x macro lens built into the case. Unscrewing the included fisheye lens reveals the integrated 15x macro lens, also built into the case.
The 4-in-1 lens is priced at $79.99 and is available in a range of color combinations. You can purchase it from the Olloclip website as well as other retailers.
In addition to the 4-in-1 lens, Olloclip also have two other lens options available for the iPhone 6 and 6 Plus.
There is the Telephoto + CPL Lens module which costs $99.99. The telephoto lens delivers a 2x optical magnification, allowing you to get twice as close to your subject, while the removable CPL (circular polarizing lens) reduces glare and reflections and makes colors look rich and true to life.
And finally there is the Macro 3-in-1 Lens module which costs $69.99. It offers three different magnifications (7x, 14x and 21x) to choose from, and is a must-have for anyone who wants to take close-up photos of small subjects such as flowers and insects. Olloclip claim that these Macro lenses have edge-to-edge clarity, designed to easily capture crisp and clean close-up shots.
Please note, while Moment and Olloclip are two of the most popular brands of iPhone lens, there are also other lenses on the market which are likely to be upgraded for the iPhone 6 and 6 Plus over the coming months.