Do you want to get more creative with your iPhone street photography? This might sound challenging! But it's actually easy… once you learn how to see the streets from new and unusual perspectives. Read on to discover 8 ways to shoot more unique and creative street photography with iPhone.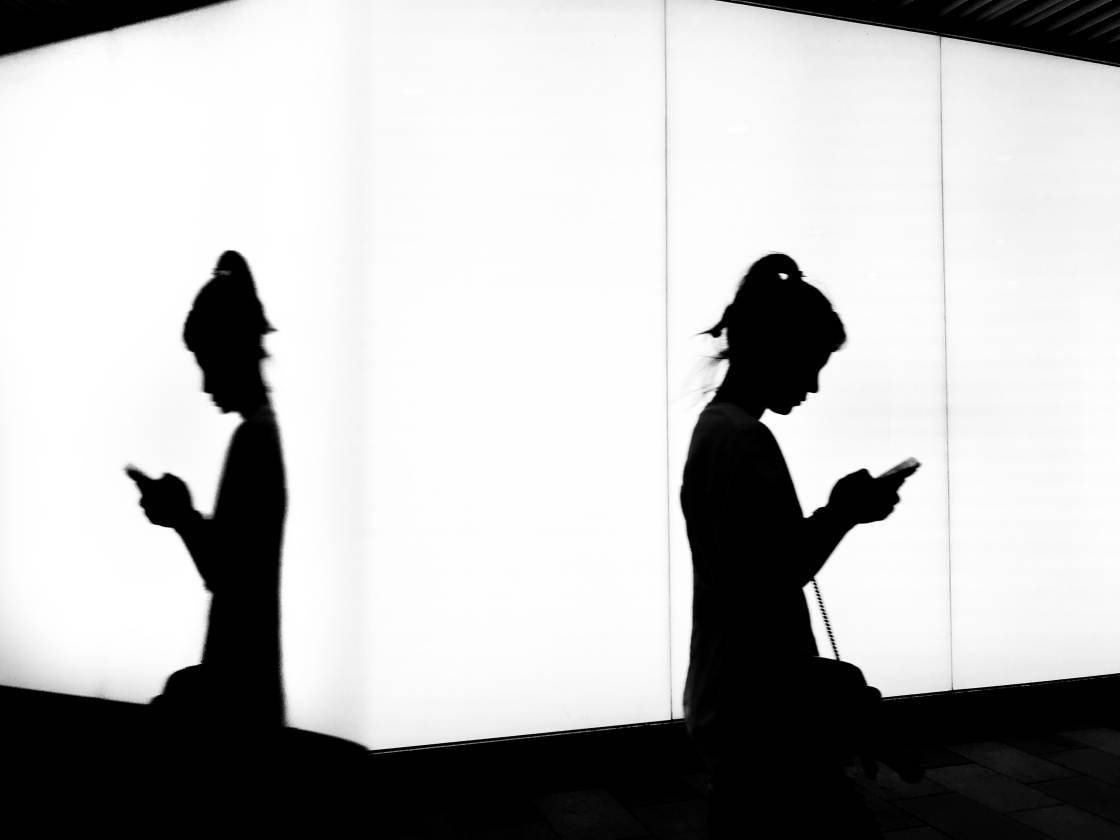 1. Capture Window Reflections For Unique Multi-Layered Images
For more creative street photography, you have to shoot from interesting perspectives.
Ask yourself: "How can I present this ordinary street scene in a different or unique way?"
One very effective way to do this is to capture the street in a window reflection.
But to make your photo even more interesting, you'll want to have a person behind the glass as well.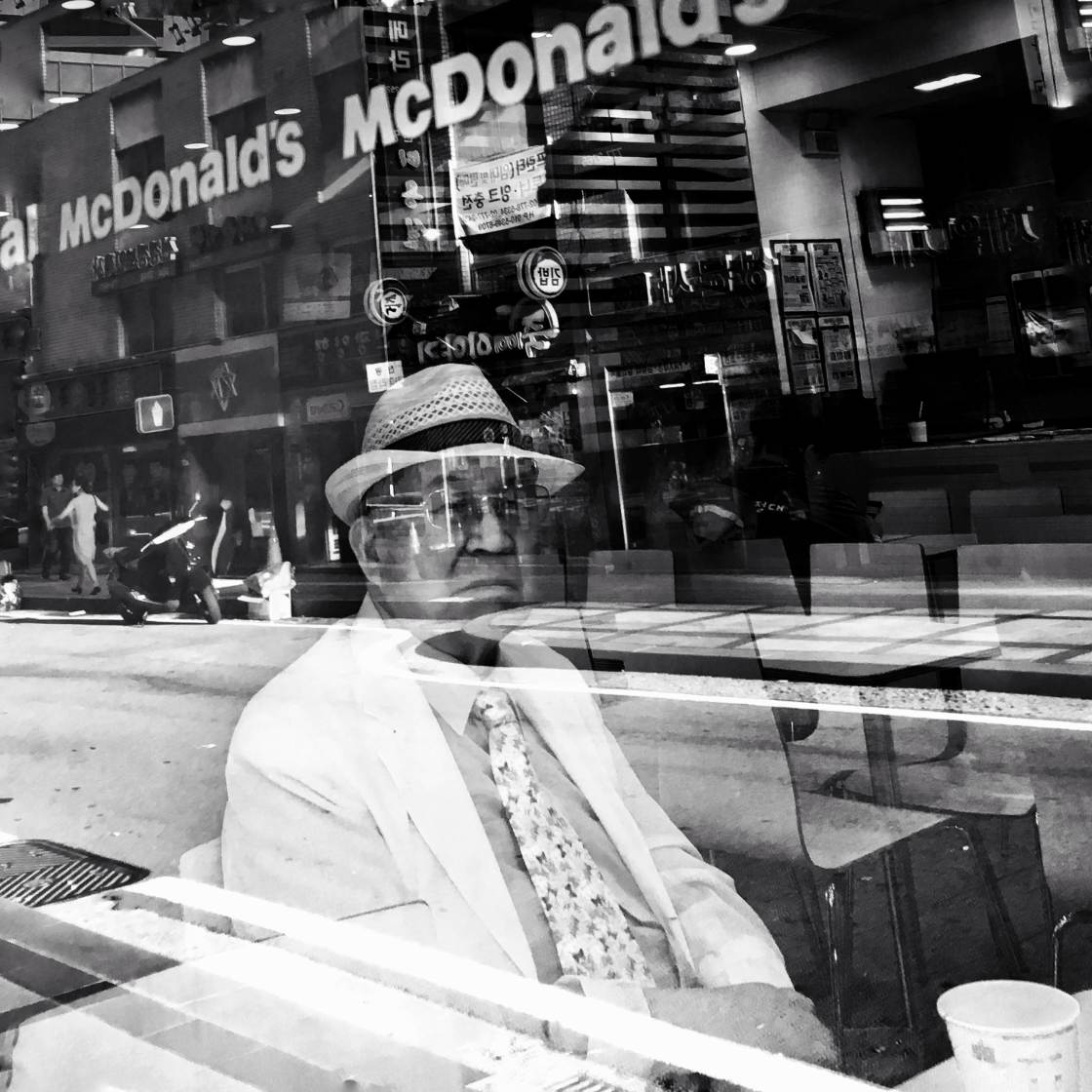 Combine these two elements will create an intriguing multi-layered image.
The reflections of the street will blend into the person you're photographing. The image will captivate the viewer as they try to work out what's going on in the photo.
To create these reflection photos, simply find a cafe or bar with people sat in the windows.
Stationary buses and trains are also great places for window reflection photography.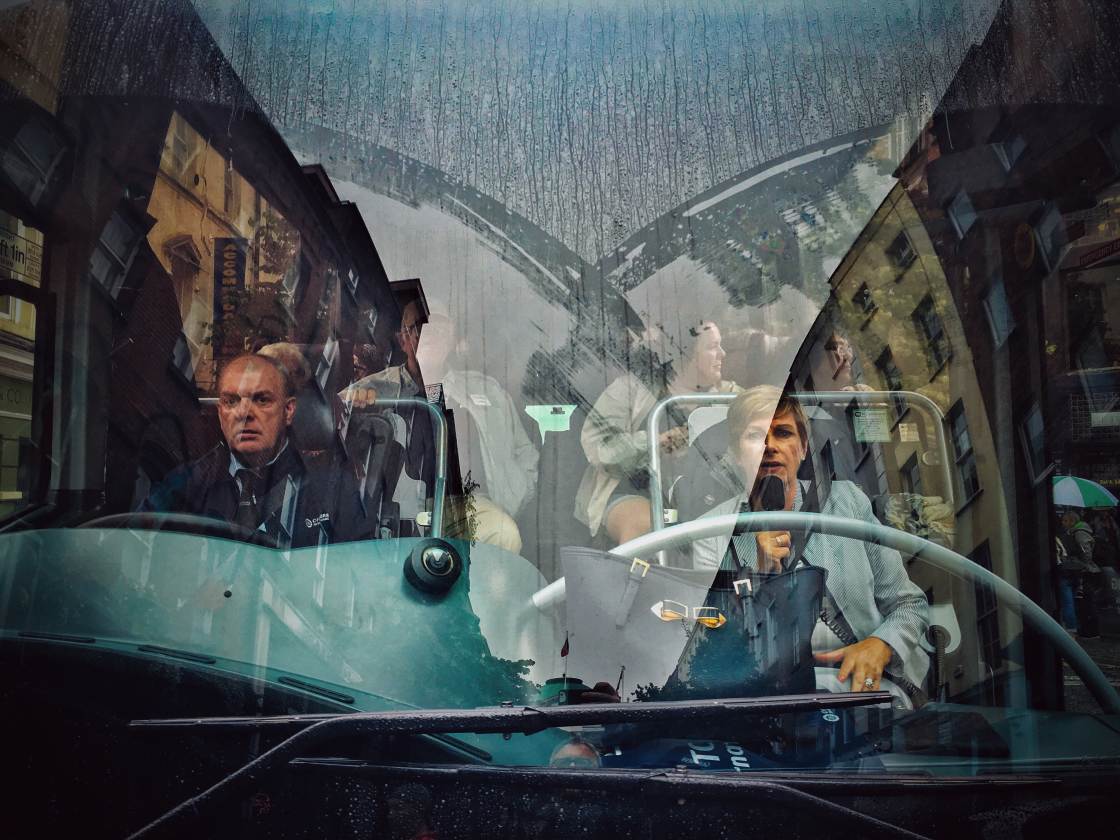 When you've found a suitable window with a person behind it, look at the reflections in the glass.
What do you see in those reflections?
Buildings? Vehicles? People walking by?
At night, you'll even see reflections of street lights and neon signs.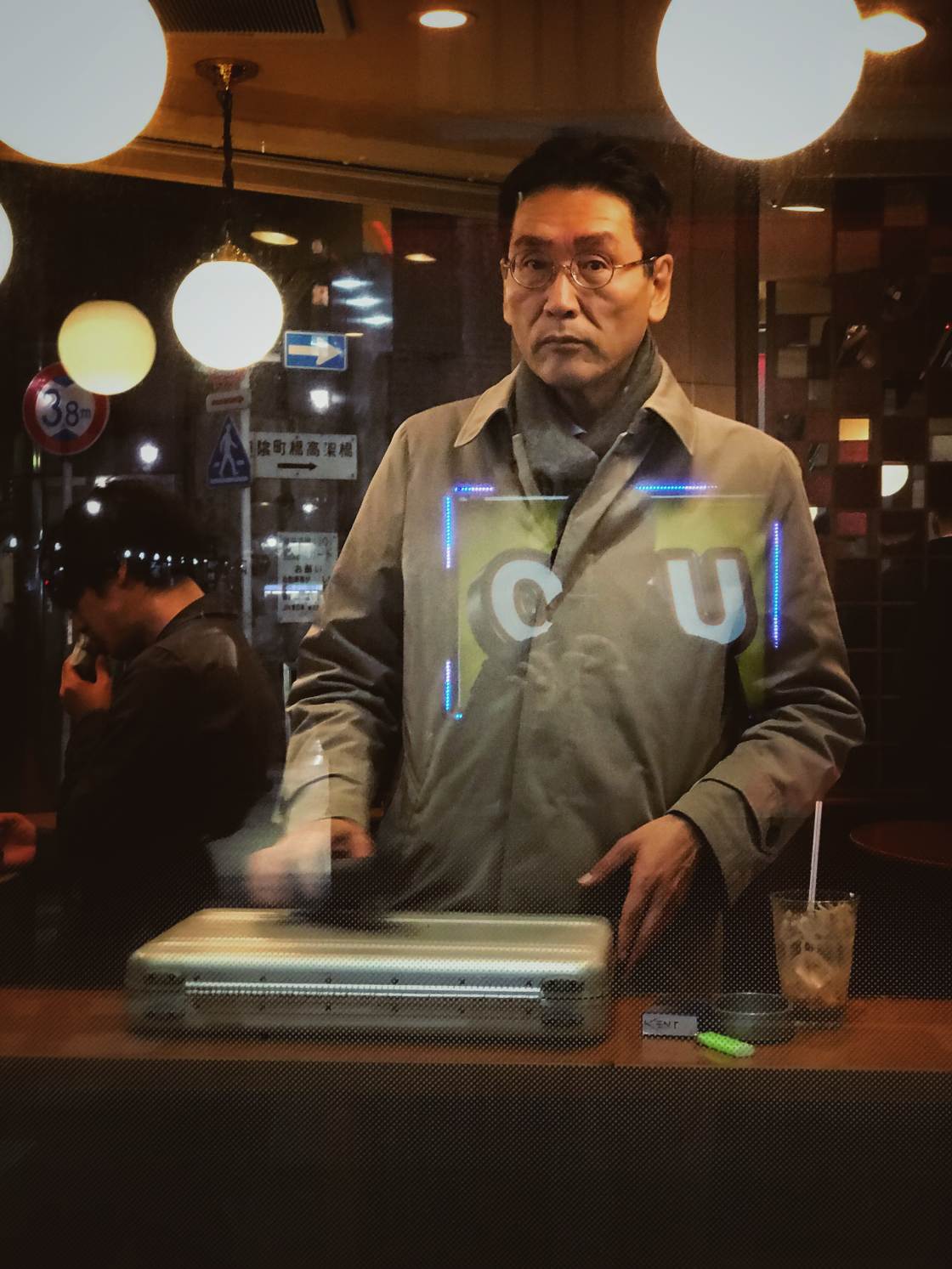 All these reflected elements will add incredible visual interest to your photos.
And when the reflection blends into the person behind the glass, you can create a really unique image.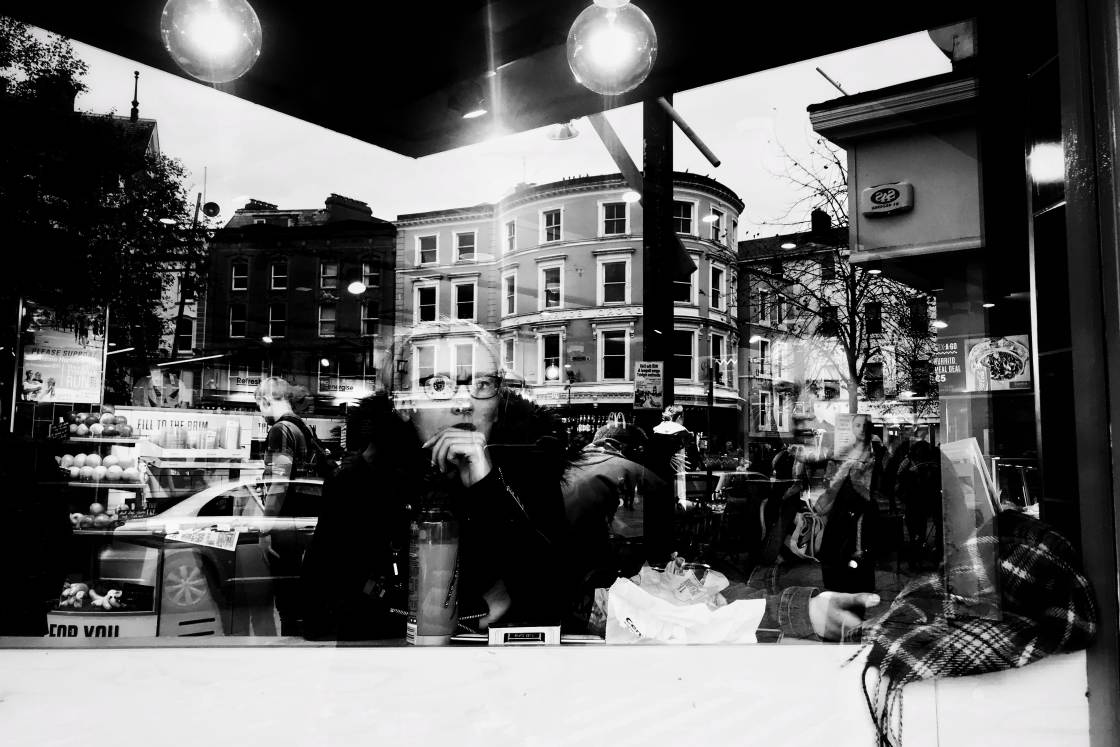 If you're shooting straight on at the window, you'll even see your own reflection in the glass. This can add an extra layer and another point of interest to your photo.
Don't be afraid to get up close to the window. Try to capture the facial expressions of the people behind the glass.
Capturing emotions helps you tell more compelling stories through your street photography.
If you don't want the person to notice you, you'll need to take the shot quickly and move on.
But it's not always a bad thing if the person sees you taking their photo.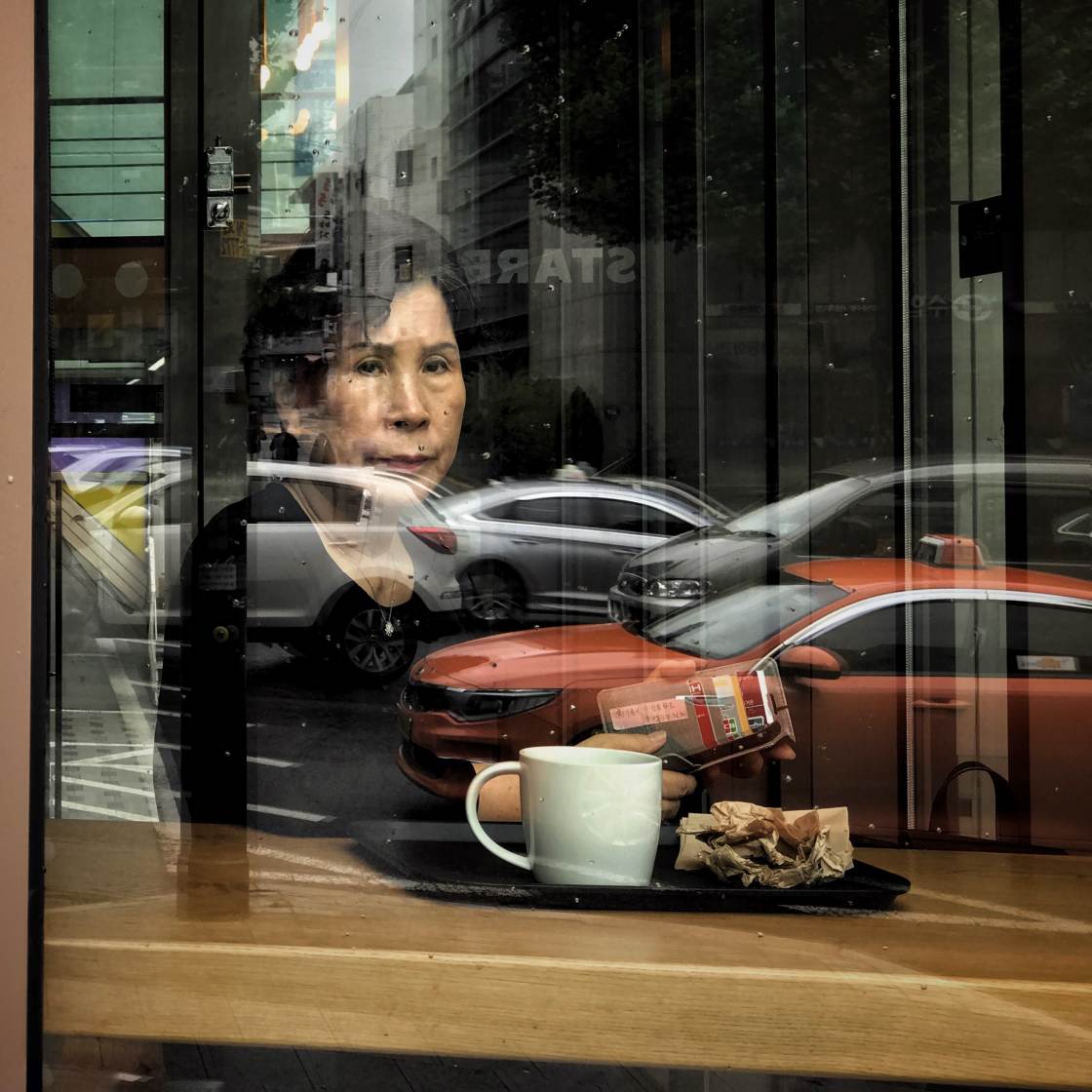 If they notice you, they'll often look directly into the lens of your iPhone. And this can create a very powerful street photo.
You might find this daunting at first – especially if you're new to street photography.
To improve your confidence, just believe that you have the right to capture what interests you.

There's no need to be sneaky when photographing strangers. In fact, trying to go unnoticed can make you nervous. And this will actually draw more attention to yourself.
So walk up to that window. And start shooting stunning reflection photos with your iPhone!
2. Shoot A Street Scene Through Raindrops On Glass
Do you want to know another creative way to use windows in your street photography?
Shoot through raindrops on glass!

The water droplets will distort the scene, creating an abstract quality to your image.
Shooting through raindrops adds an extra foreground layer to an image. And this helps to create more visual interest in your photo.
Rain also adds context and story to your photo. It gives the viewer more information about what you were experiencing.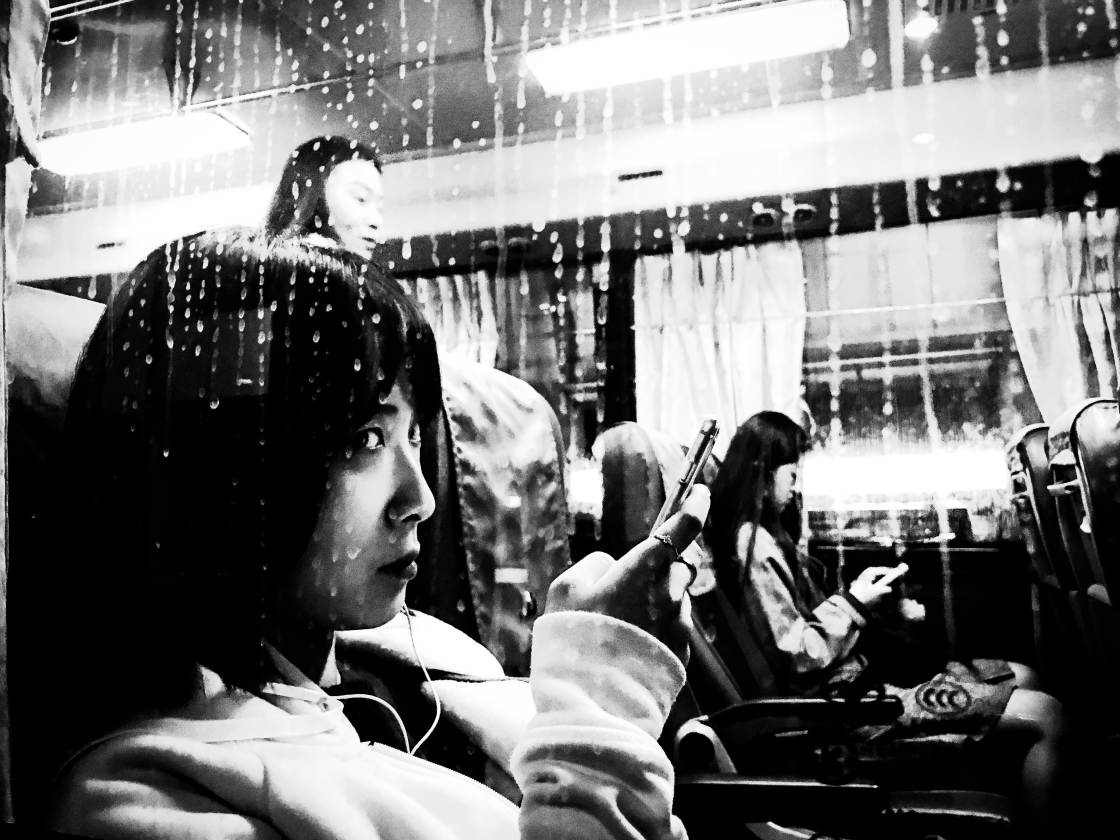 During or after the rain, look out for windows covered in raindrops.
You could shoot from the outside to capture a person in a cafe, shop, or vehicle.
Or you could shoot from inside. For example, you could sit inside a cafe and photograph the street through the window.
You could also take photos from inside a vehicle when you're stopped in traffic. You could even shoot through raindrops at a glass bus stop.

Do you want the raindrops in sharp focus and the background blurred?
If so, start by holding your iPhone a few inches from the glass.
Now, you need to get the camera to focus on the raindrops.
The iPhone camera lets you set focus by tapping on the screen. But because the raindrops are small, it can be tricky to tap on a single droplet to get it in focus.
So here's the key to getting perfectly focused raindrops:
Zoom in by pinching outwards on the screen. As you zoom in, the magnification number at the bottom of the viewfinder will increase.
Don't worry that the image quality looks bad. You won't actually be taking the photo zoomed in like this!
Now that the raindrops appear bigger, it's much easier to set focus on a single droplet.
Tap and hold to lock focus on one of the raindrops. You'll see AE/AF Lock at the top of the screen when the focus is locked.
When the droplet is in focus, zoom back out by pinching inwards.
Ensure you zoom out to either 1x or 2x magnification. If you zoom to any other number, the image quality will be reduced.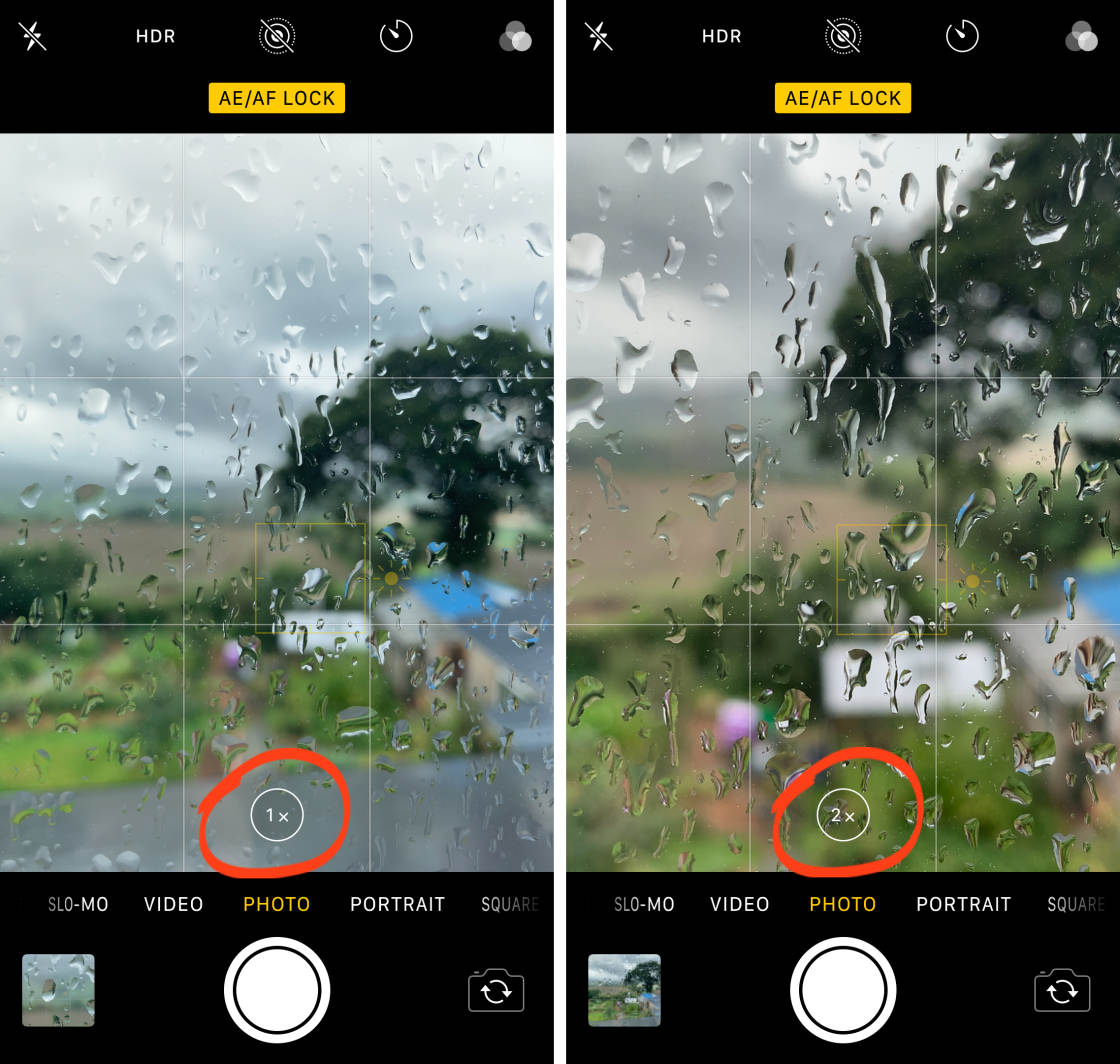 If necessary, adjust exposure (brightness) by swiping up or down on the screen.
When you're ready, press the shutter button to take your shot.
Your photo should have perfectly focused raindrops. And the street in the background will appear blurred.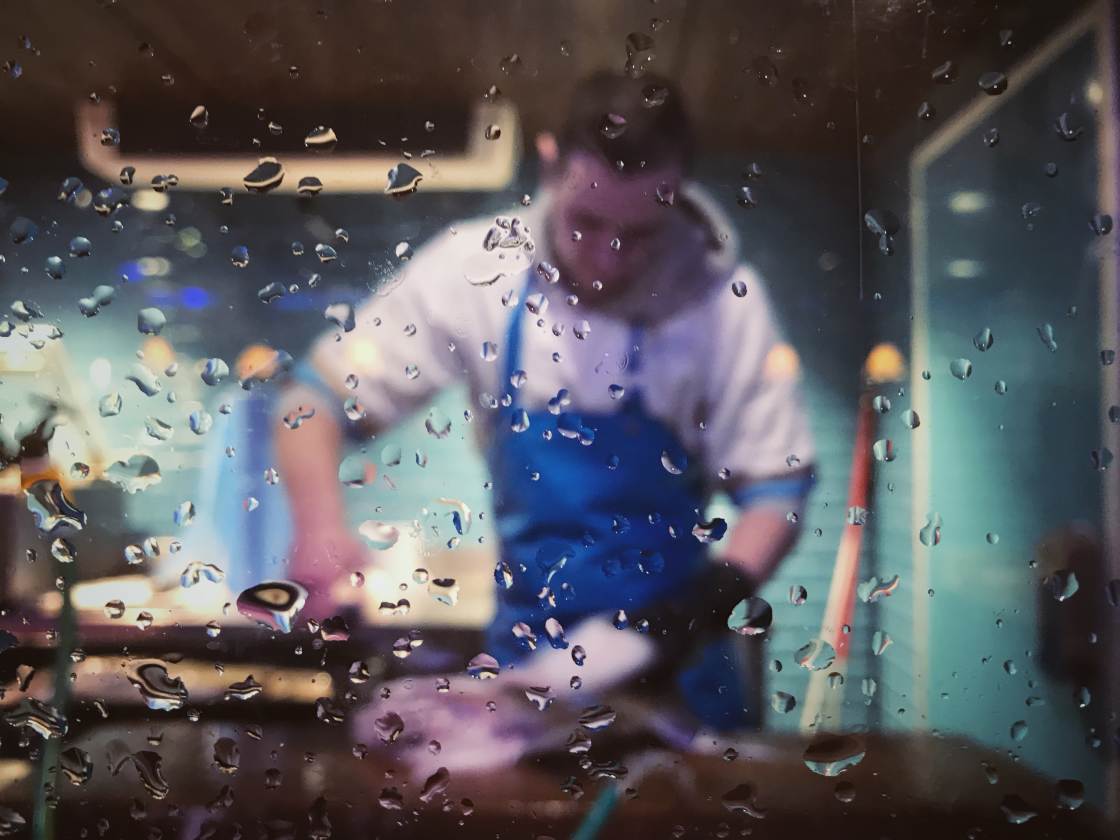 Of course, you could also try focusing on the street and having the raindrops blurred.
Or you could shoot from further away to ensure everything is sharply focused.

As you can see, rainy weather is great for iPhone street photography.
So next time it rains, get out on the streets and shoot some amazing water droplet photos!
3. Blur Your Photo For Wonderfully Creative Street Photography
Normally, we strive to shoot perfectly sharp photos.
We want our subjects to be in sharp focus. And we want to capture every detail in the scene.
But for the most creative photography, you often need to break the rules!

One of my favorite shooting techniques is to create intentionally blurry photos.
Why?
Because blur can make something very ordinary look extraordinary. And it helps to spark curiosity in the viewer.
Blur works particularly well for street photography. The distortion emphasizes the movement and anonymity of your subjects.

So, how do you create beautifully blurred street photography with your iPhone?
First, I'd recommend creating blur at the time of shooting – rather than using an app to blur your photo in post-processing.
I think the results always look better if you create the blur while taking the photo.
One simple technique for creating blur is to use intentional camera movement.
Rather than trying to keep your camera perfectly still, move your iPhone as you take the shot.
Try moving it horizontally, vertically, or diagonally. You could even rotate it on its axis.
Intentional camera movement works better in low light as the camera uses a slower shutter speed. The longer exposure time means you'll be able to capture more blur in your image.
Keep experimenting until you achieve an effect that you like. Your aim is to create a blurred and distorted image that conveys a sense of movement.

When you take your shot, use burst mode to capture a sequence of images as you move the camera.
To activate burst mode, simply hold down the shutter button while you shoot. You can then choose the best shots from the burst and discard the rest.
Another interesting technique is to defocus the camera before you take the picture.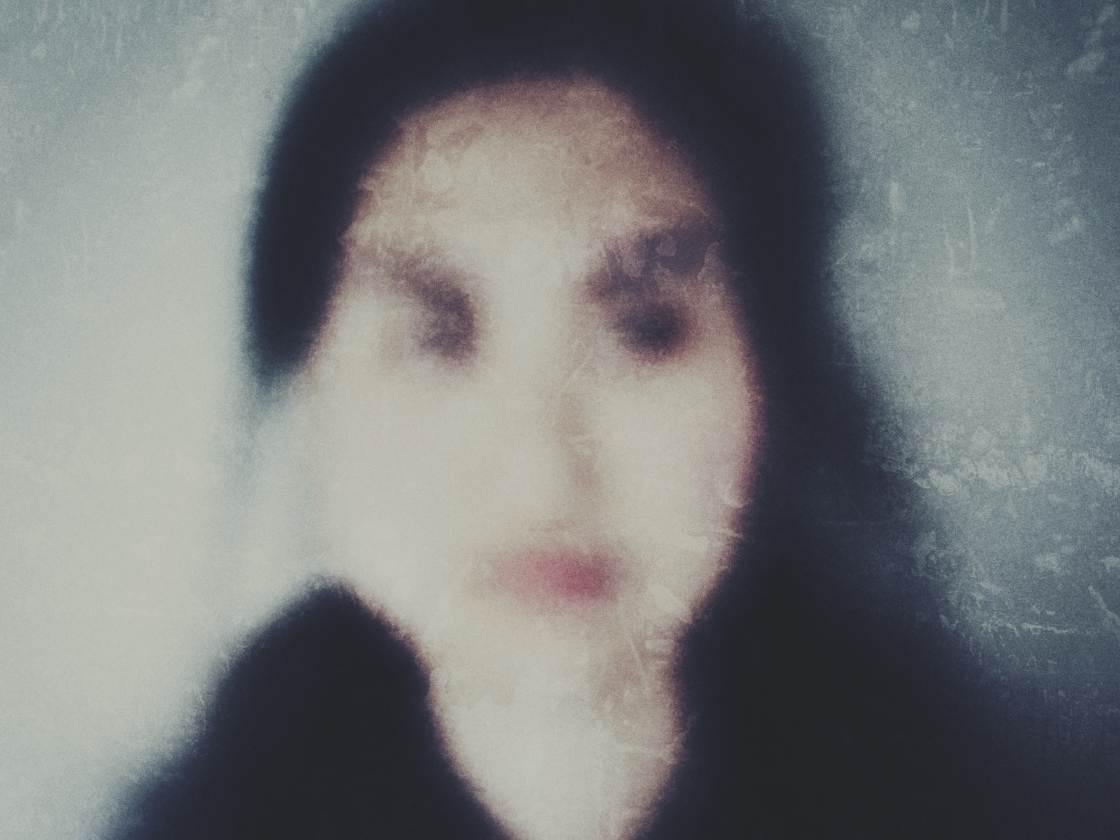 This throws everything out of focus, creating a wonderful sense of mystery in your photos.
To create this effect, you'll need to use a third-party iPhone camera app with a manual focus feature. VSCO, Manual, and Camera+ 2 all allow you to shoot with manual focus.
Whichever app you use, drag the manual focus slider until everything appears blurred.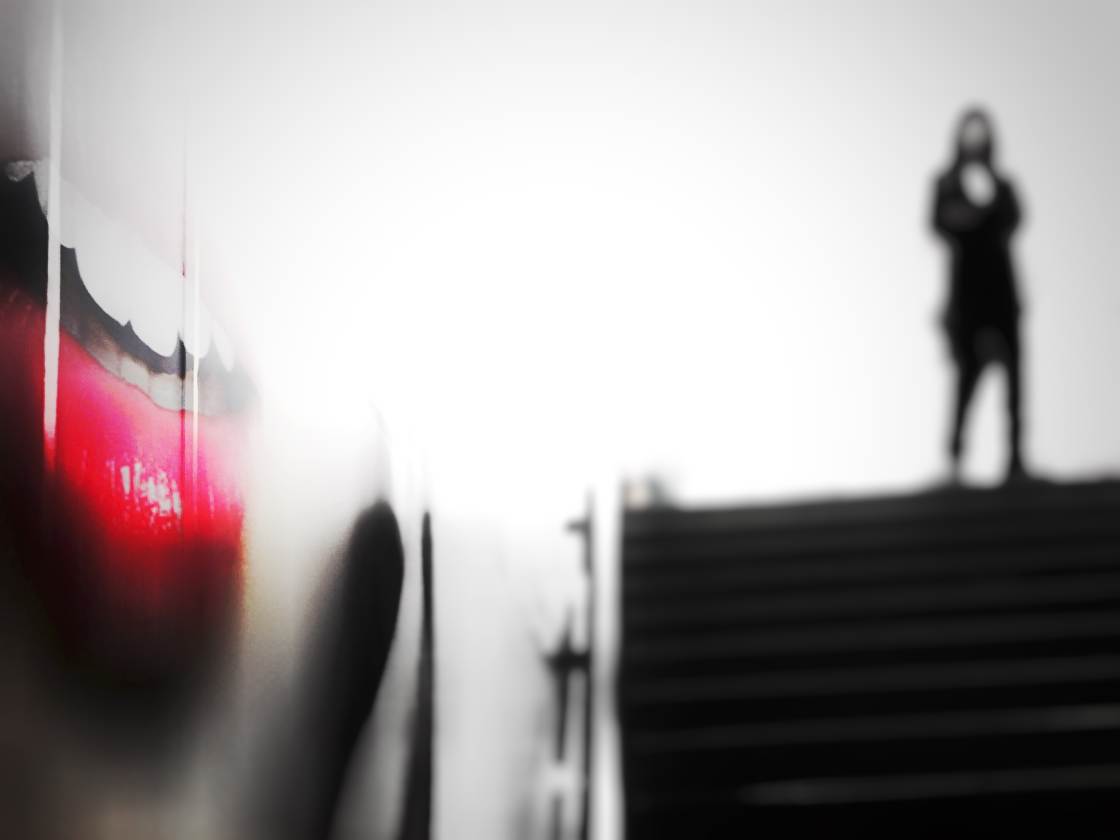 The effect is different from the blur you get with intentional camera movement. But it's equally as effective!
Blur photography is beautiful. It's rebellious. And it allows for more creativity when you're shooting.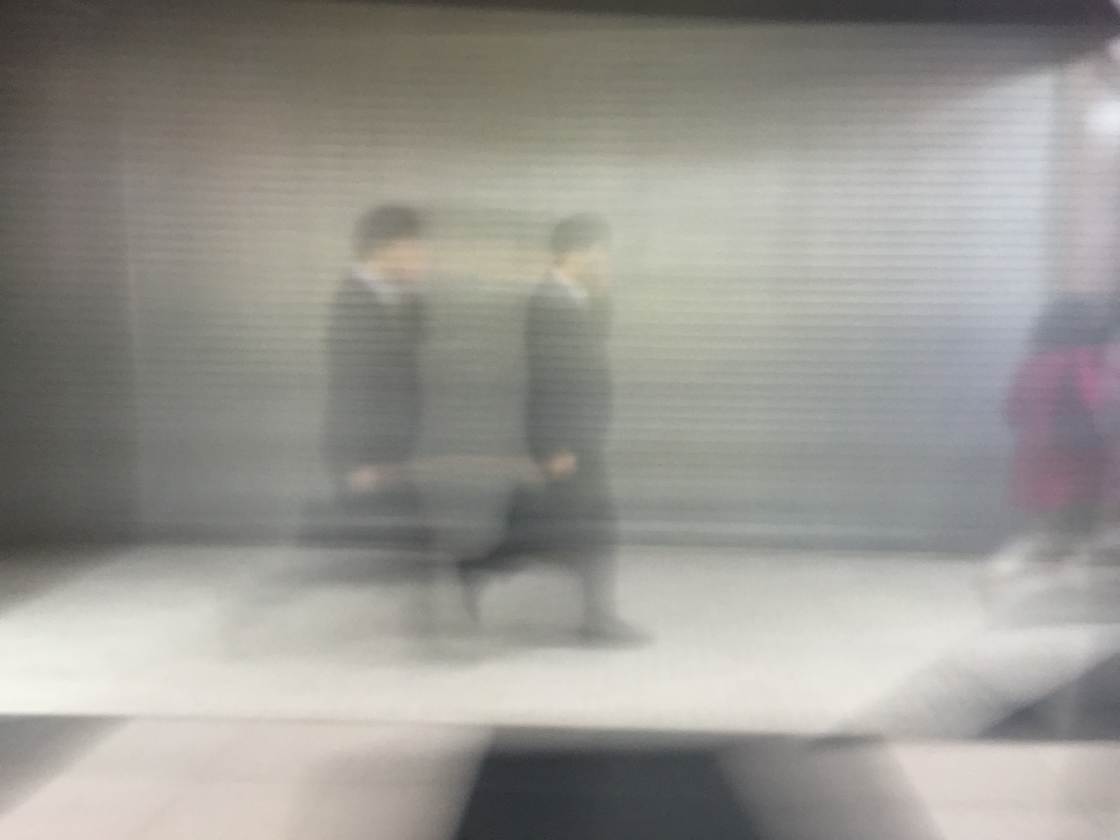 So try it out for yourself. You'll be amazed at the results!
4. Shoot In Harsh Light To Capture Spectacular Shadows
Most people avoid taking photos in harsh light.
But bright sunlight is fantastic for shooting more creative street photography.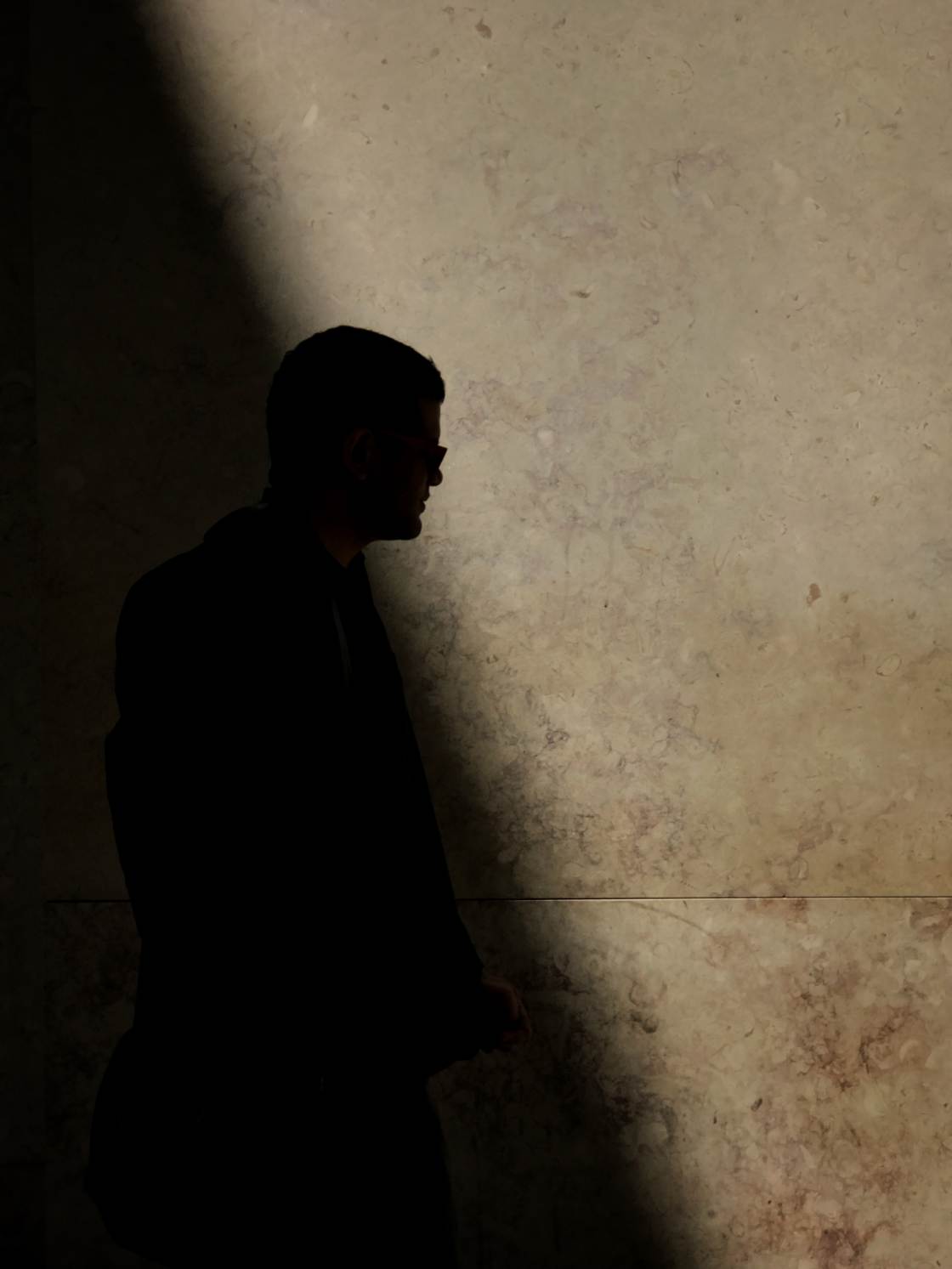 Why?
Because harsh light creates dramatic shadows.
And shadows allow you to shoot moody and mysterious street photos.

Creating a sense of mystery is key to telling compelling stories in your iPhone street photography.
So when you're walking the streets on a sunny day, look for areas with interesting light and shadow play.
Find a wall or sidewalk that's partly lit and partly in shadow.

You can use the contrast between light and shade to create intriguing compositions.
Frame your shot to include both the light and shadow in the frame.
Then tap and hold the screen to lock focus on the bright area. If necessary, swipe down to darken the shadows further.
Now, wait for a person to enter the scene. Then hold down the shutter button to capture a burst of images as they walk by.

You could photograph a person walking from darkness into the light. Or capture them as they disappear into the shadows.
You could obscure most of their body or face in the shadows. Or have them fully illuminated while surrounded by the shadows.
Remember that you can darken shadows further using an editing app such as Snapseed.
And high-contrast images with shadows often look great when converted to black and white.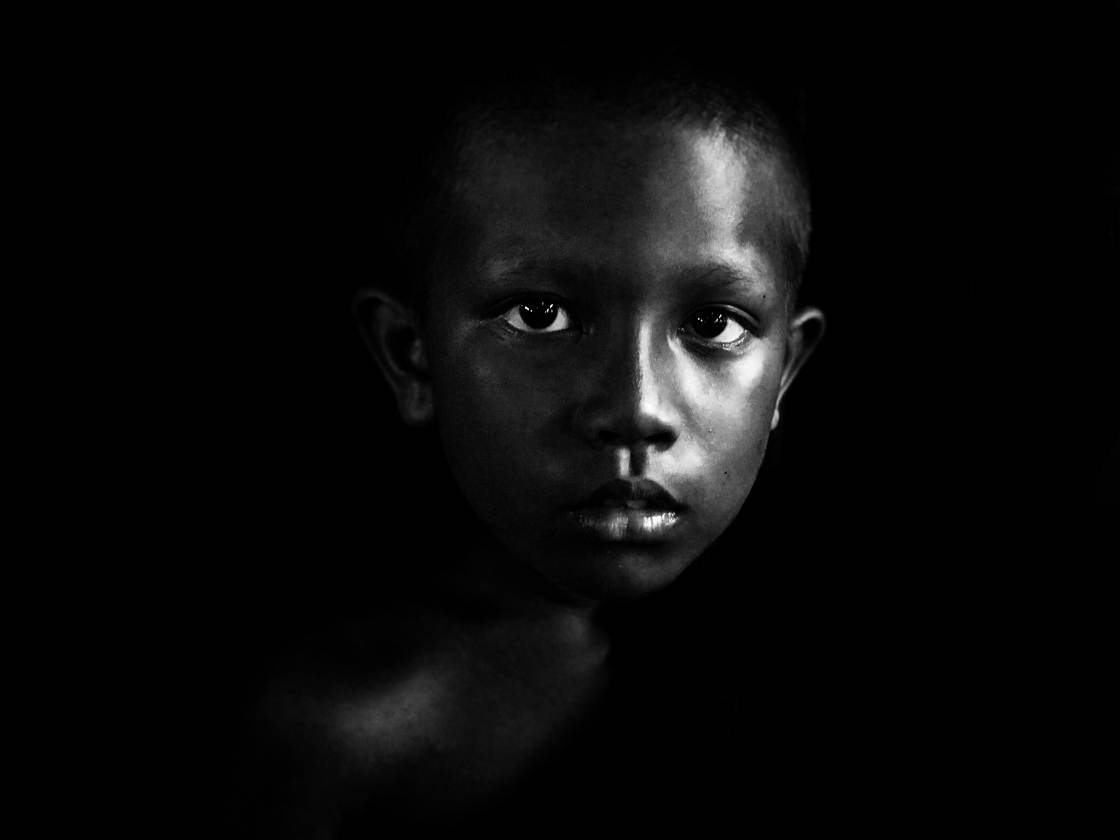 5. Capture Silhouettes For Jaw-Dropping iPhone Street Photography
Silhouettes are dramatic.
They allow you to isolate the subject. And they grab the viewer's attention.
They're also wonderfully mysterious. The lack of color and detail allows the viewer to create their own narrative about the subject.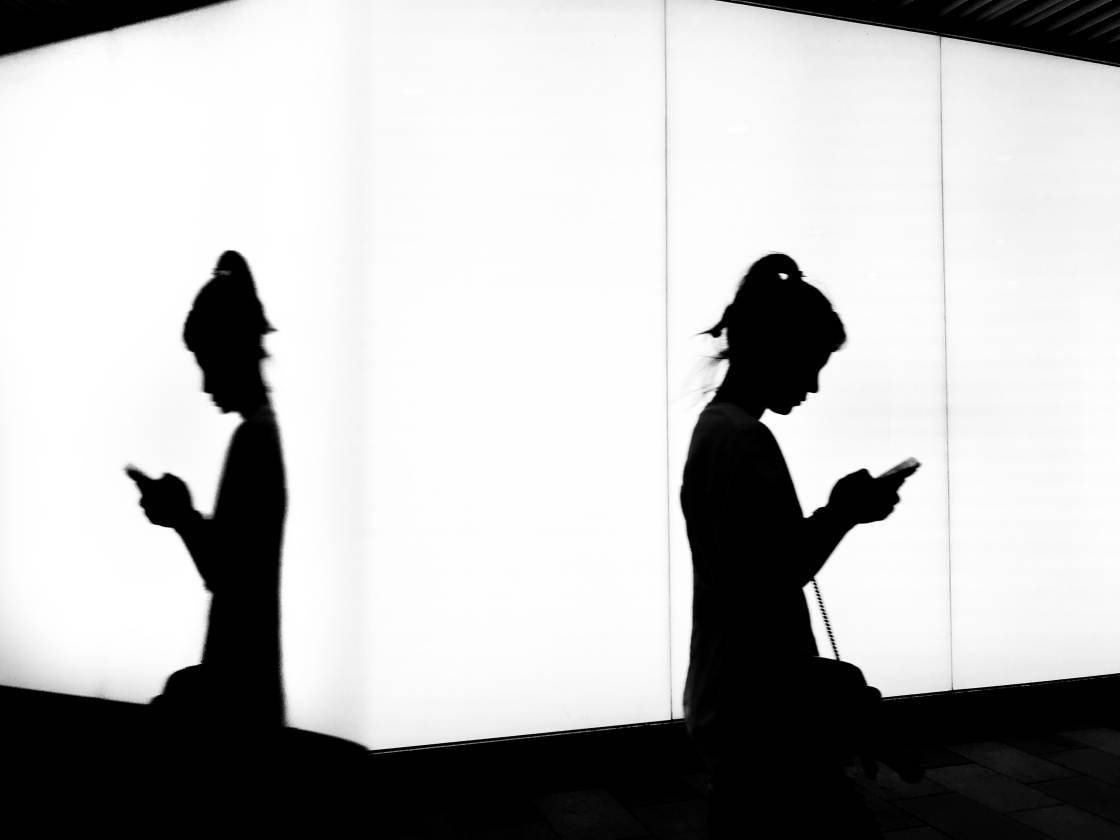 So how do you create magnificent silhouette street photography?
It's actually very easy!
First, you need a bright background.
If the sun is setting behind your subject, you can shoot towards the light.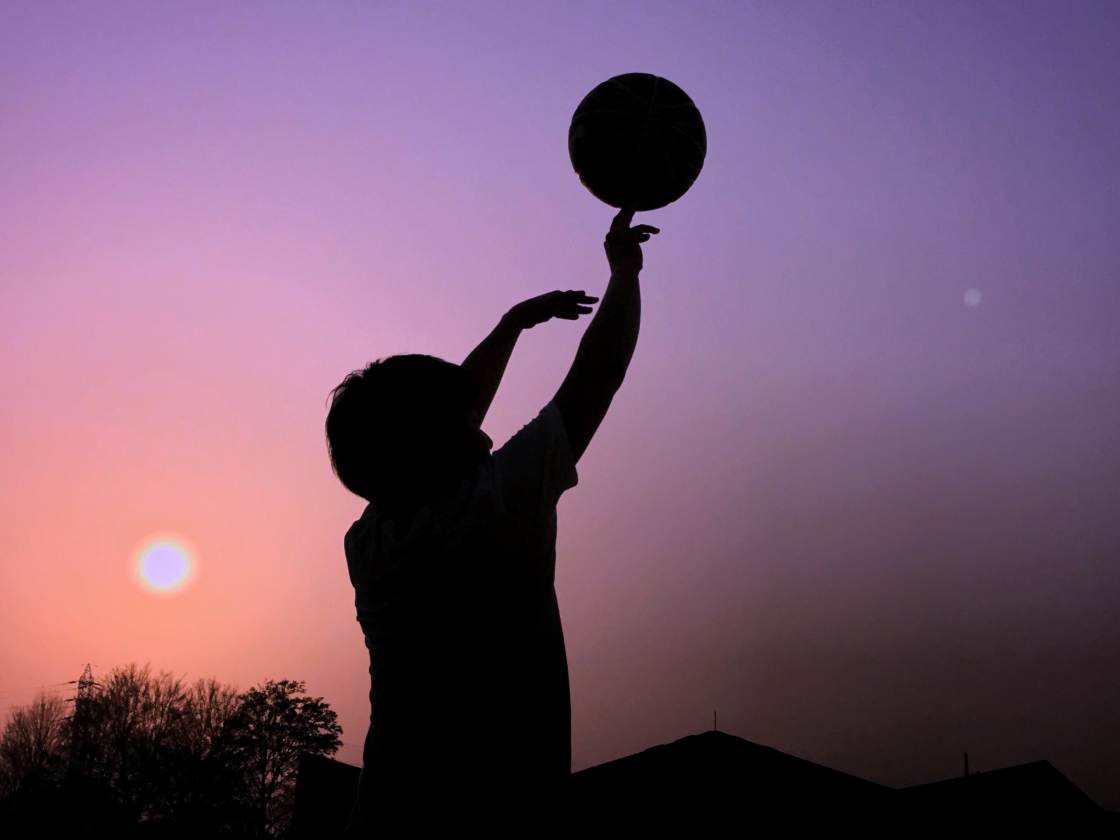 But in most urban locations, you won't be able to see the sunset like this. And what if you're shooting in the middle of the day?
Here are some easy ways to find a bright background for urban silhouette photography:
Look for a wall that's illuminated by the sun. Then just wait for someone to walk between you and the wall.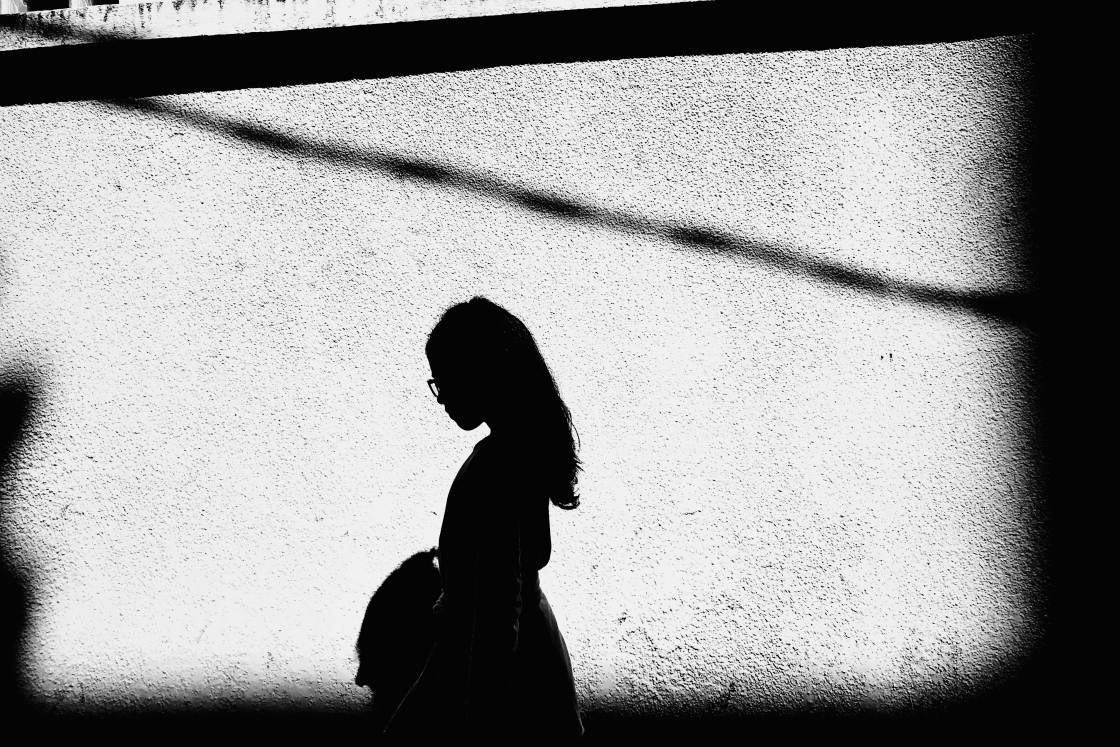 If you're shooting indoors, shoot towards a window. Your subject will be silhouetted against the bright background.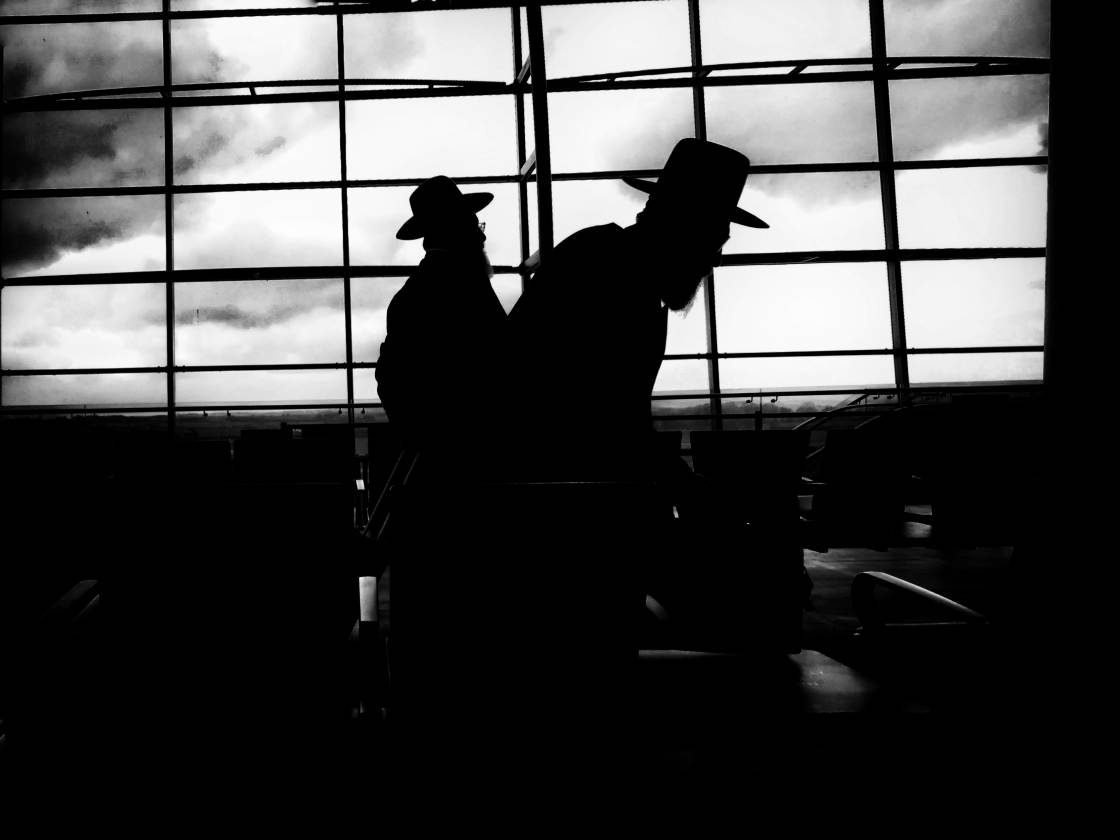 You can even create silhouette photos at night. Just find an illuminated storefront or billboard, and shoot towards the light.

Once you've found a bright background, compose your shot. Then tap and hold on a bright area to lock focus and exposure on that part of the scene.
Next, swipe down to darken the exposure. You want the shadows to appear really dark.
Now, all you need to do is wait for someone to walk into the frame. Shoot using burst mode to ensure you have lots of shots to choose from.

Silhouettes usually look better when you can see the side profile of the subject's face.
You also want to be able to see the subject's limbs. So try to catch a moment when the subject is in full stride.
Once you've taken a silhouette photo, you can usually improve it in post-processing.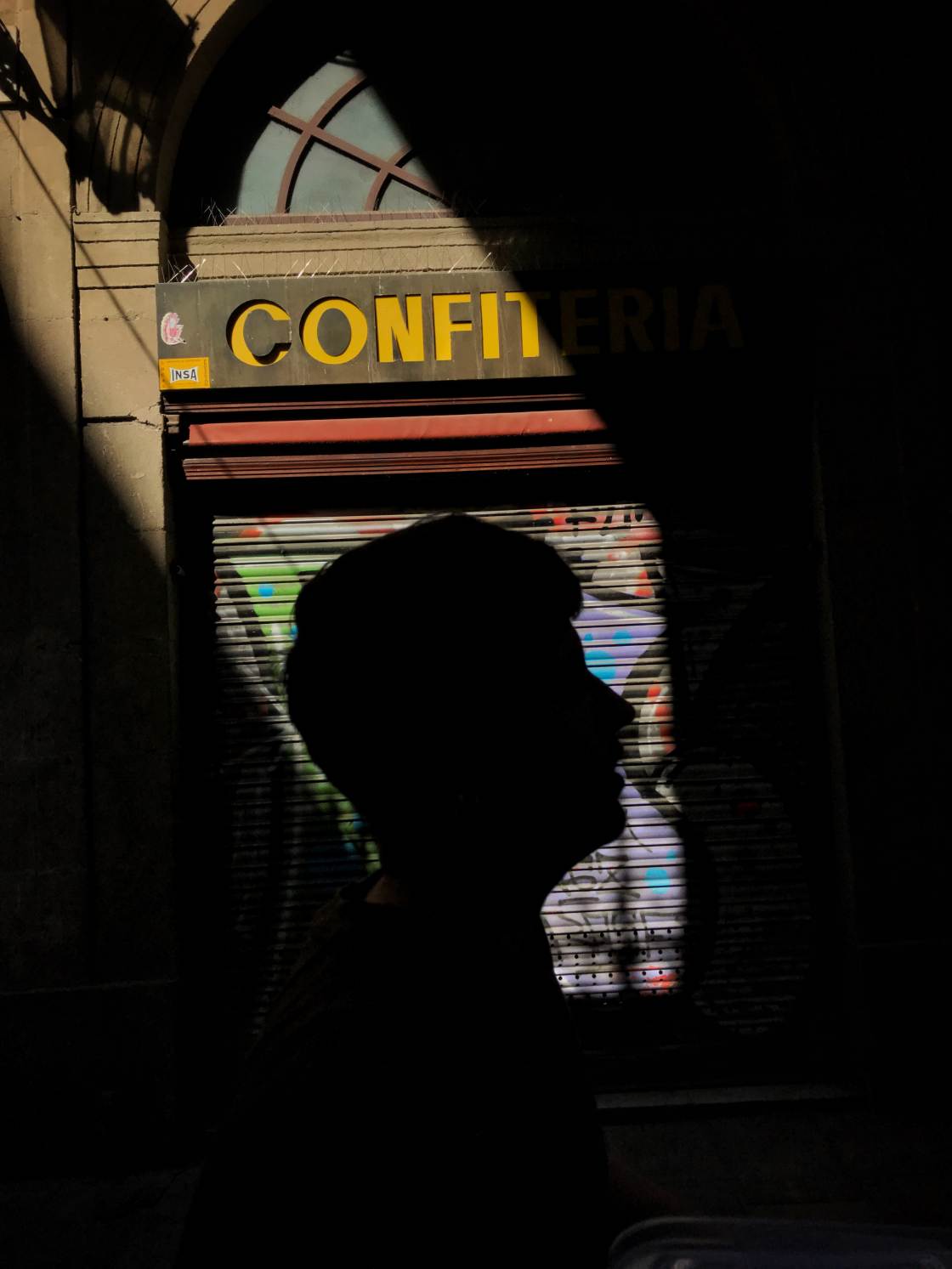 For example, you could use an app like Snapseed to darken the shadows or increase contrast.
Silhouette photos also look great black and white. The contrast between the dark subject and bright background really lends itself to this style of editing.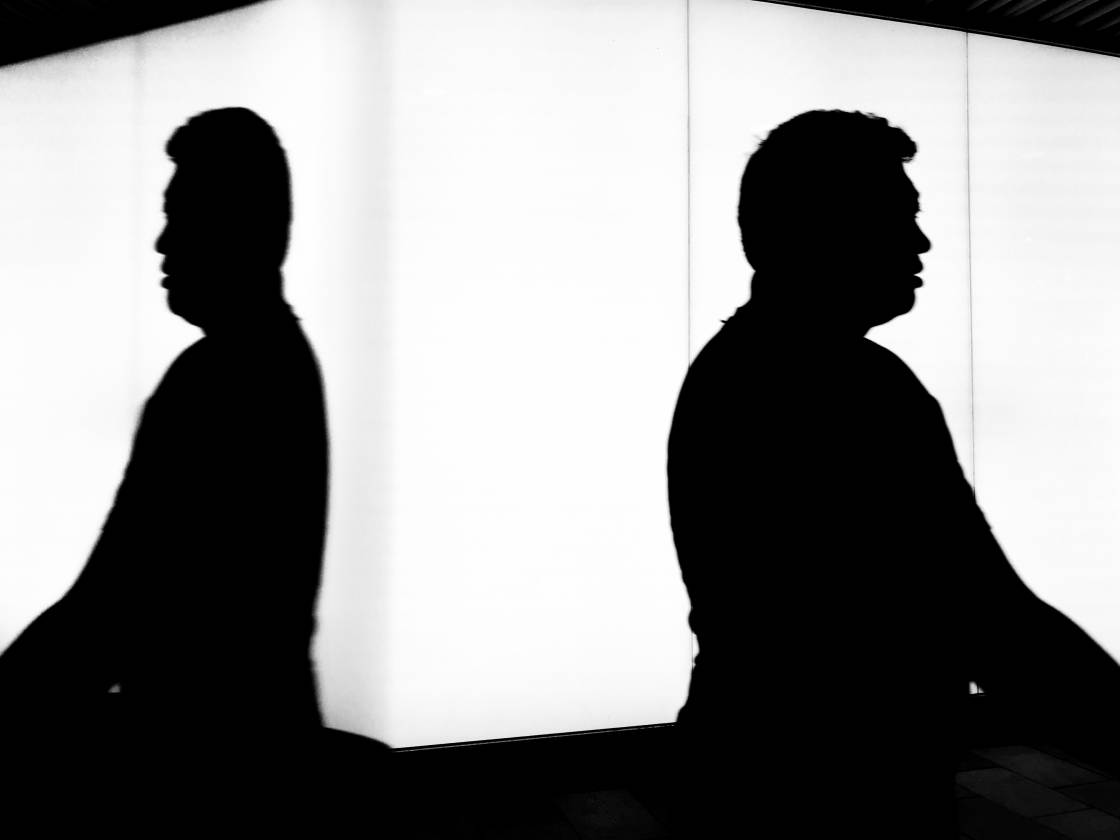 6. Explore Different Shooting Angles & Perspectives
Most people shoot straight on at the subject from the height of a standing adult. But this can result in very ordinary images.
For more creative photography, you need to explore different shooting angles.
Before you take a photo, ask yourself: "Is there a more interesting or unique perspective that I could shoot from?"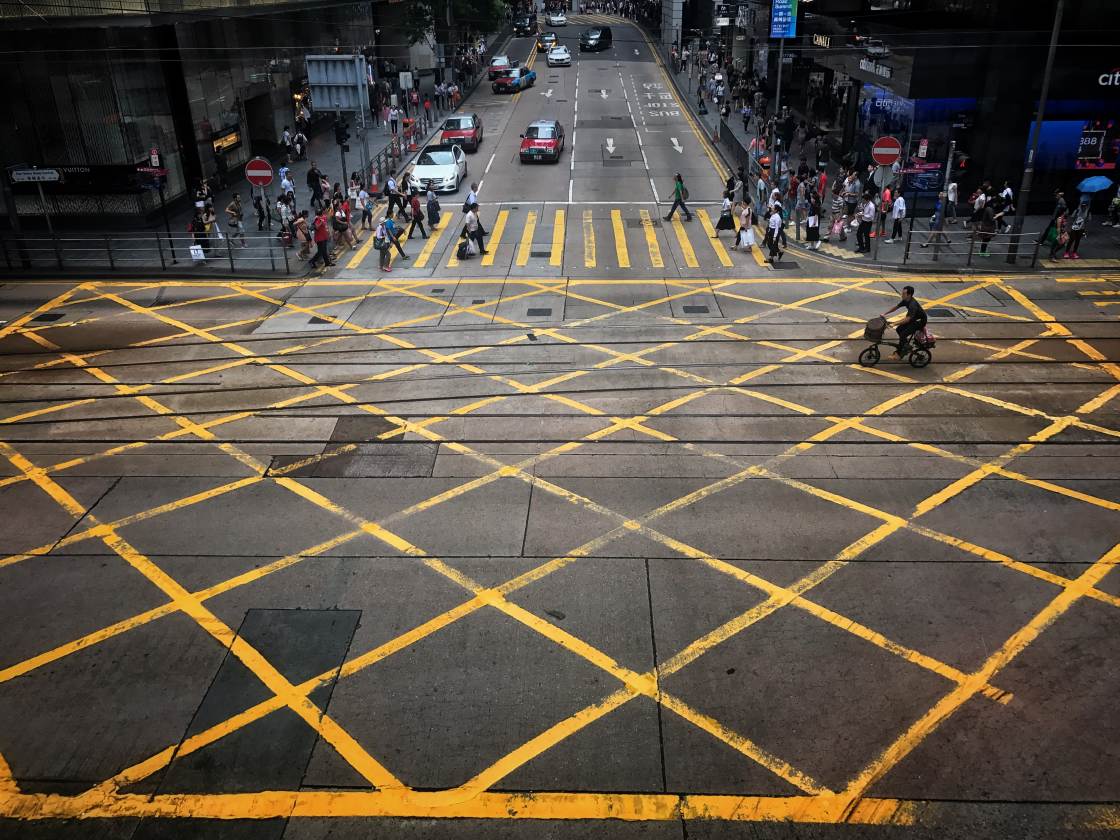 Maybe you could take the picture from a higher perspective.
Try standing on a bridge or shooting from an upstairs window or balcony.
Perhaps you could shoot from a lower angle.
Try crouching down. Or hold your iPhone at hip level and point it upwards.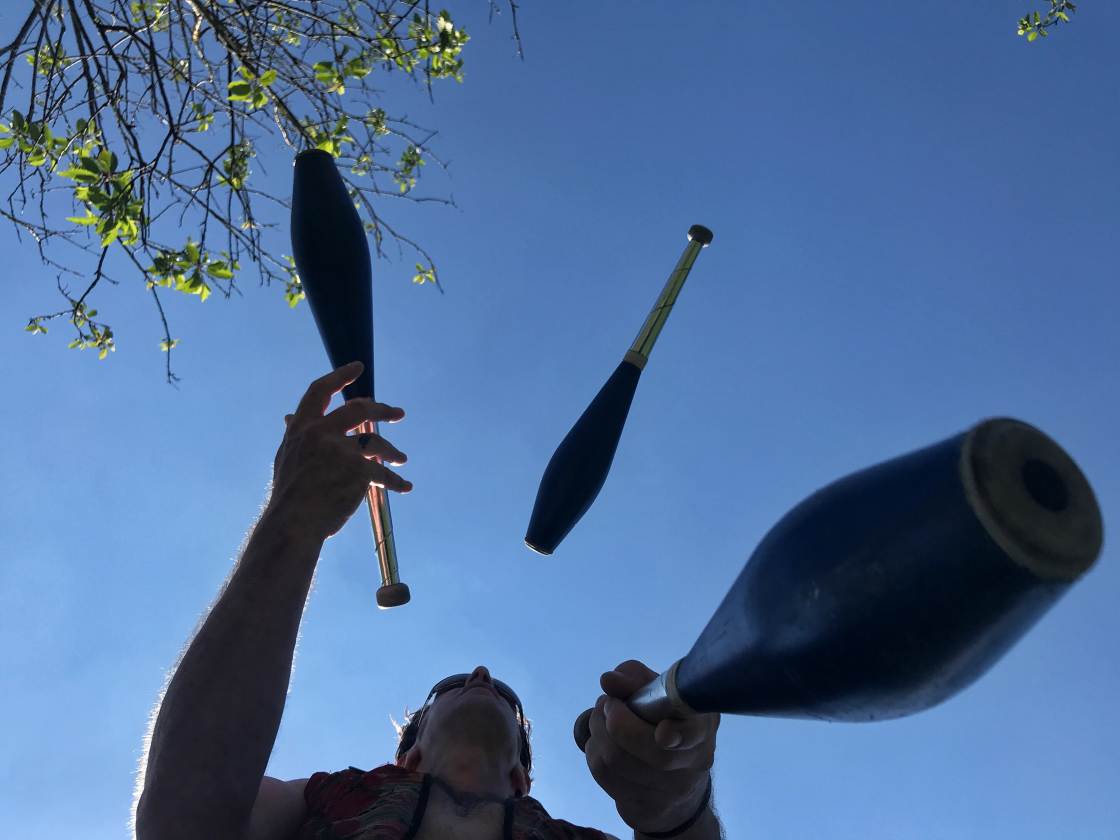 Think about which angle you'd like to photograph the person from.
If you're new to street photography, shooting from behind is a great option.
It allows you to remain discreet as the person won't see you taking their photo.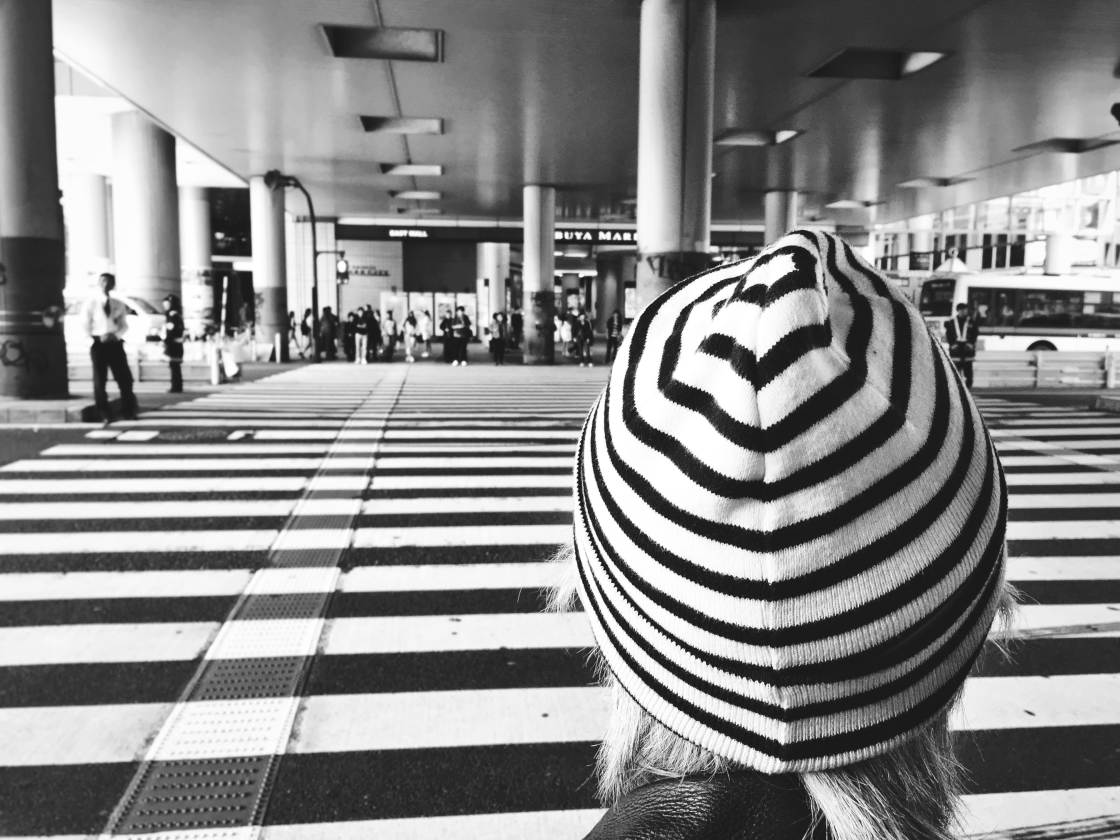 Shooting from behind also shows the viewer what your subject was looking at.
And obscuring the subject's face is an easy way to create a sense of mystery in your street photography.
Once you become more confident, try shooting a side-on view of the subject.

Next, you could photograph the subject from the front to capture their facial expressions.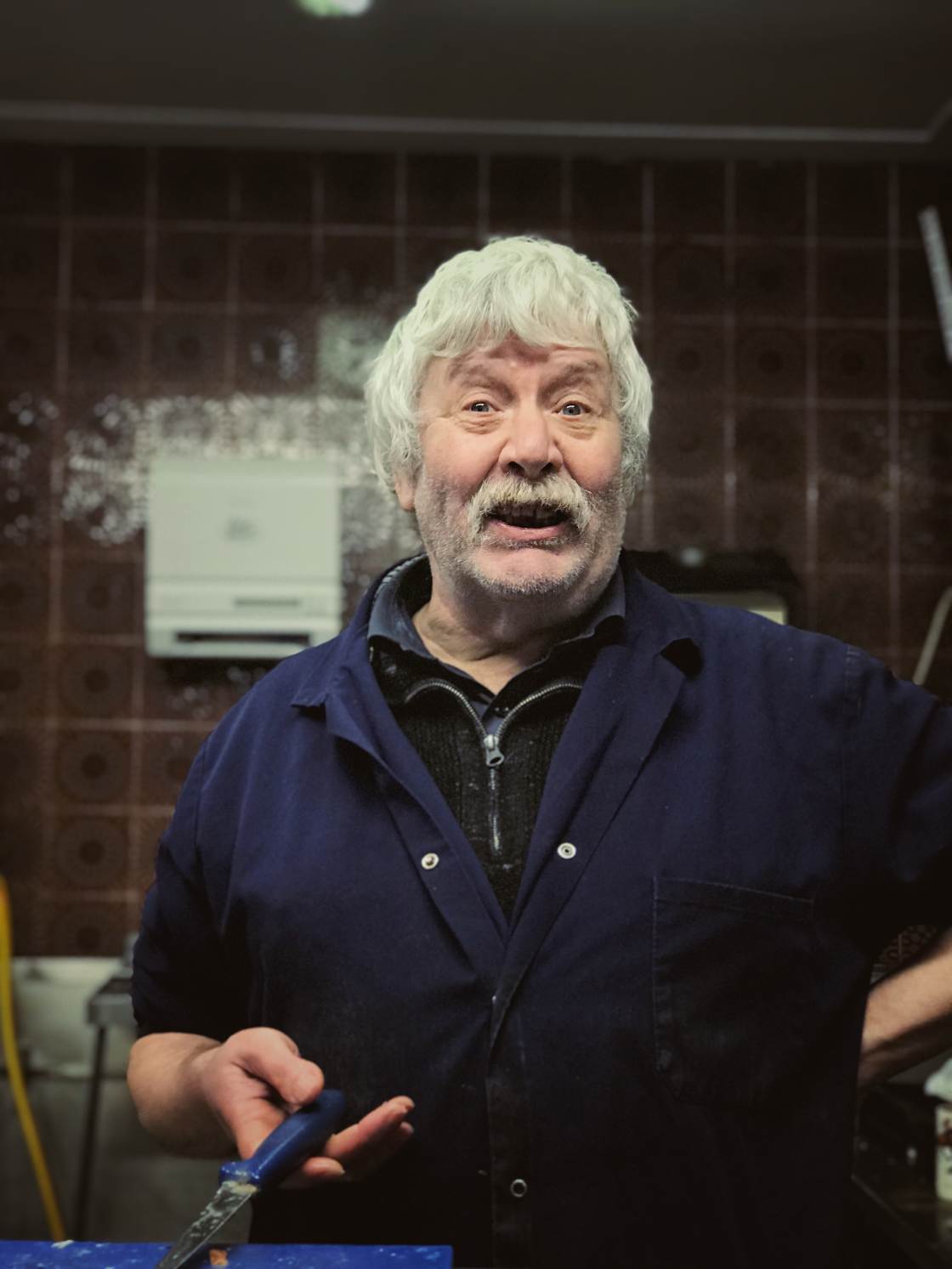 Don't be afraid to approach people and ask if you can shoot their portrait. Often, they'll be happy to let you take their photo, especially if you offer to send it to them.
Talk to them as you take a few shots. Engaging with them ensures they don't become too guarded as they pose for your photo.
When you're really confident, try getting up close to the subject for a headshot photo.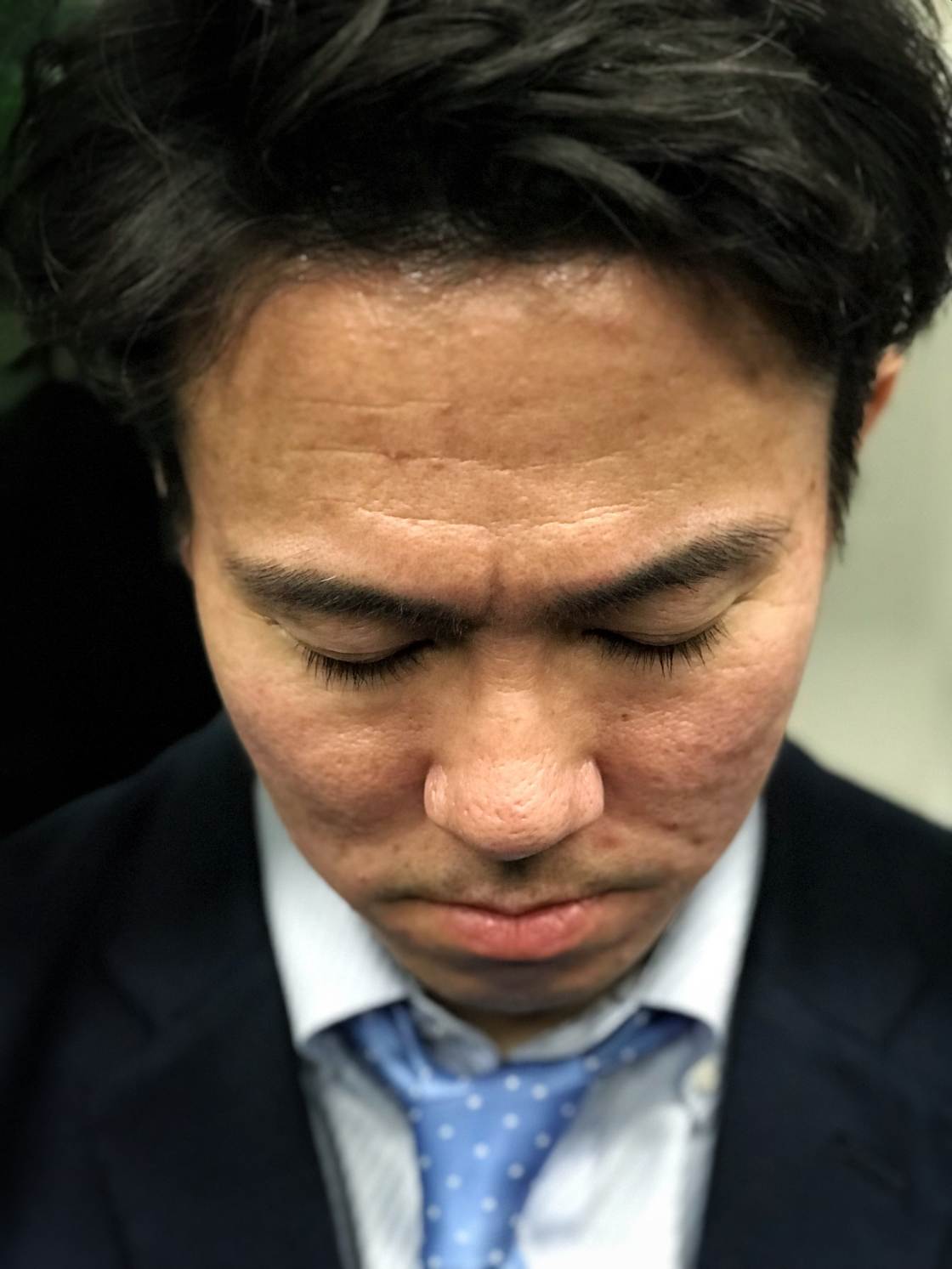 A great place for close-up portraits is on the subway.
It's easy to get this kind of shot when you're in close proximity to other passengers.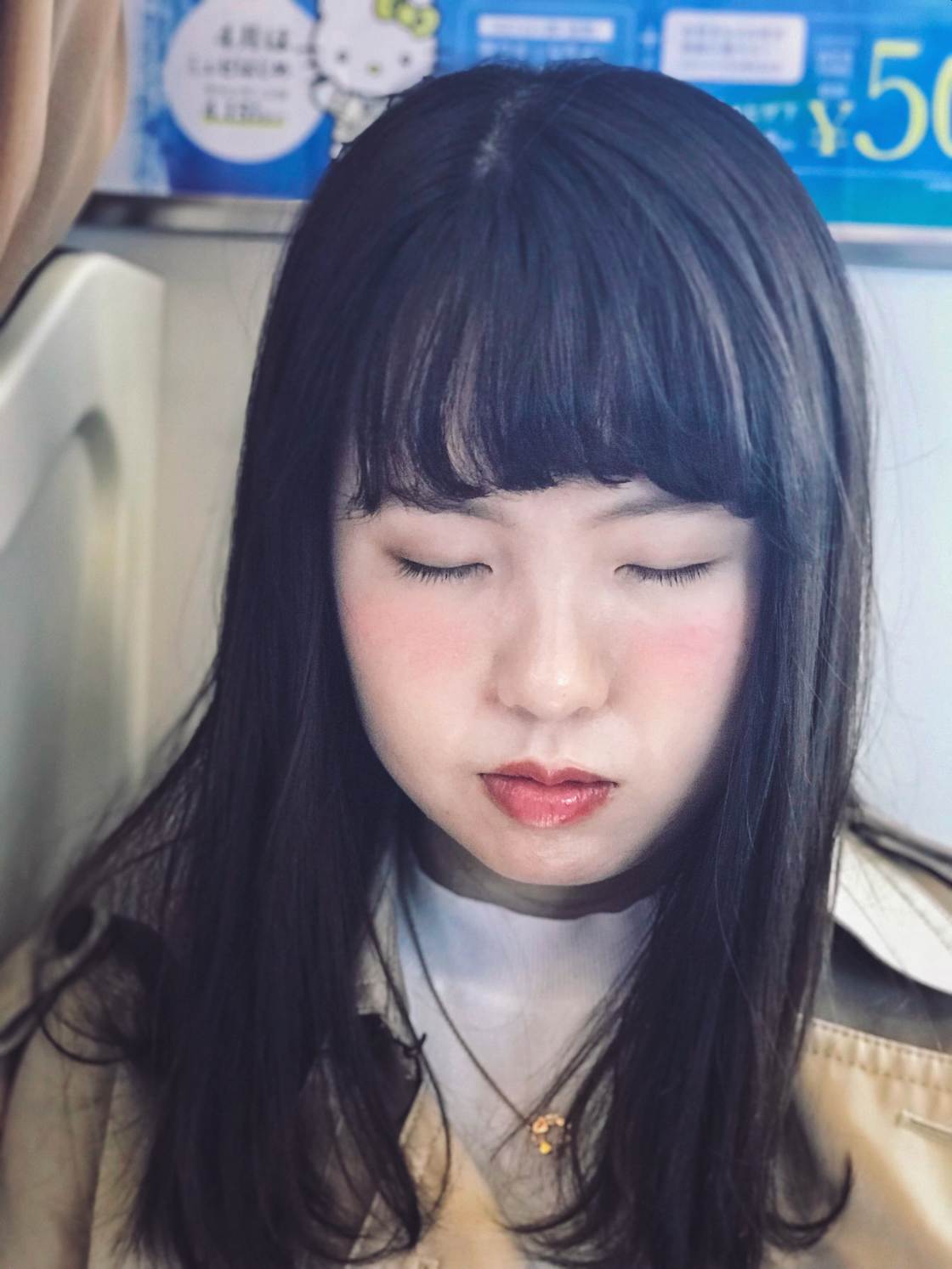 Close-up street photos don't always have to include the subject's face though.
How about getting a close-up shot of a person's hands?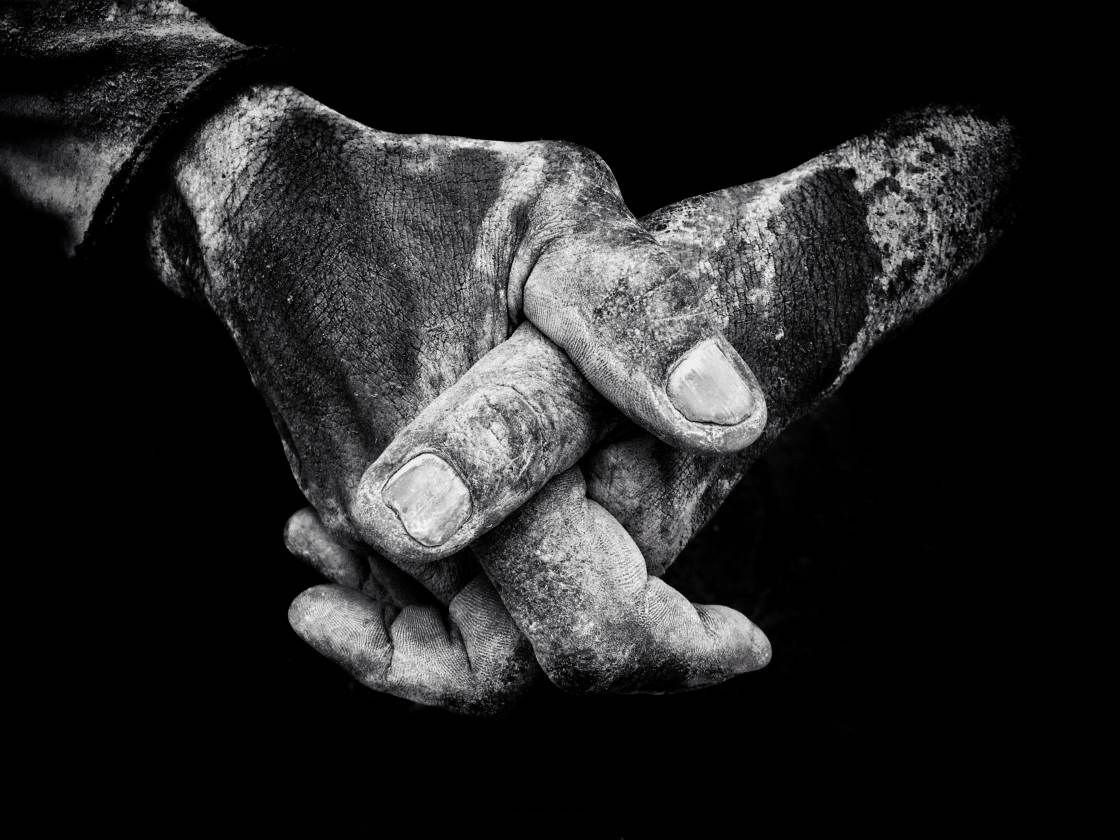 Or compose your picture to capture just the legs of your subject.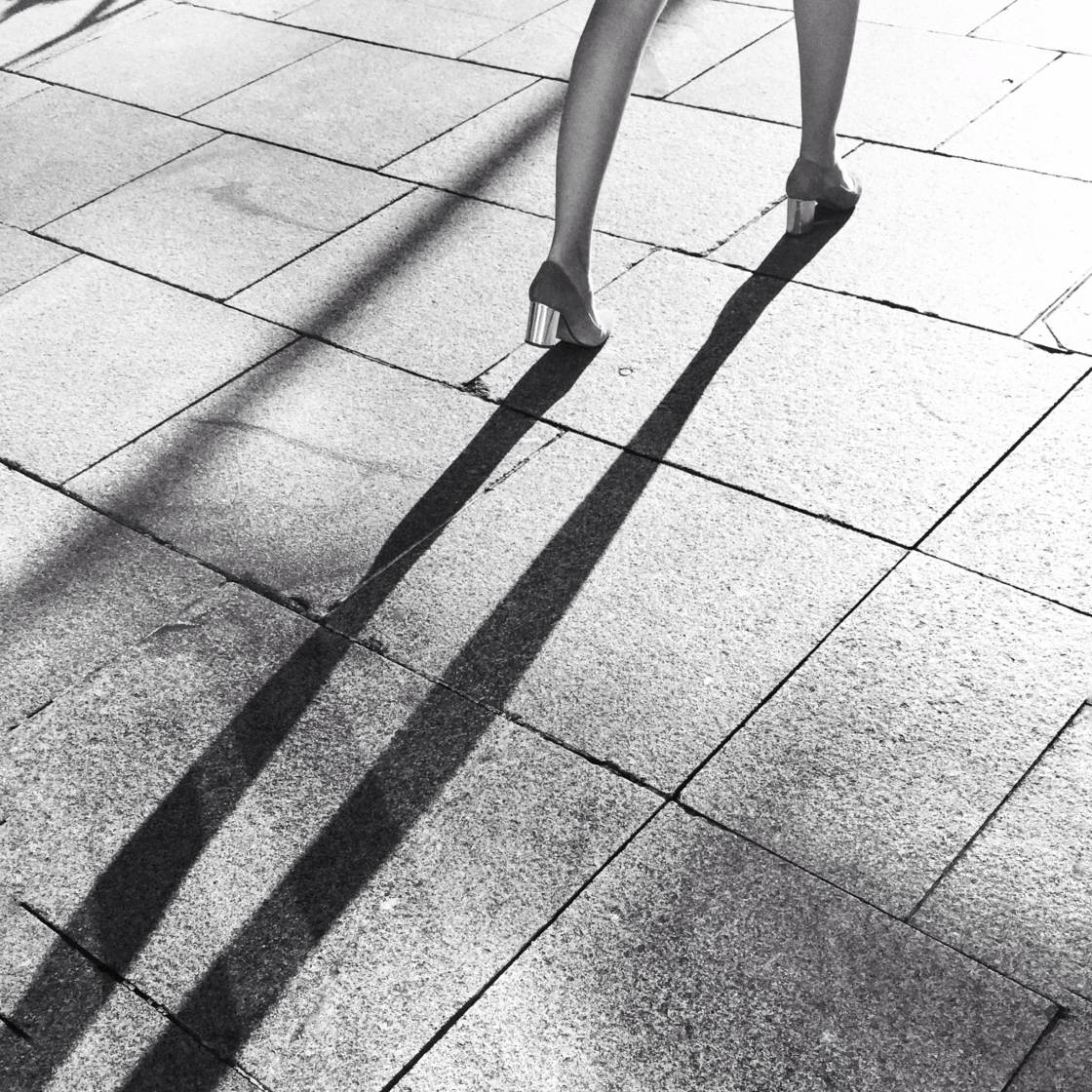 Don't be afraid to exclude parts of a subject or scene from your photo. When it comes to street photography storytelling, what you don't see can be just as important as what you do see.
Perspective in photography is an important skill to master. So make sure you start exploring more unique angles to shoot from.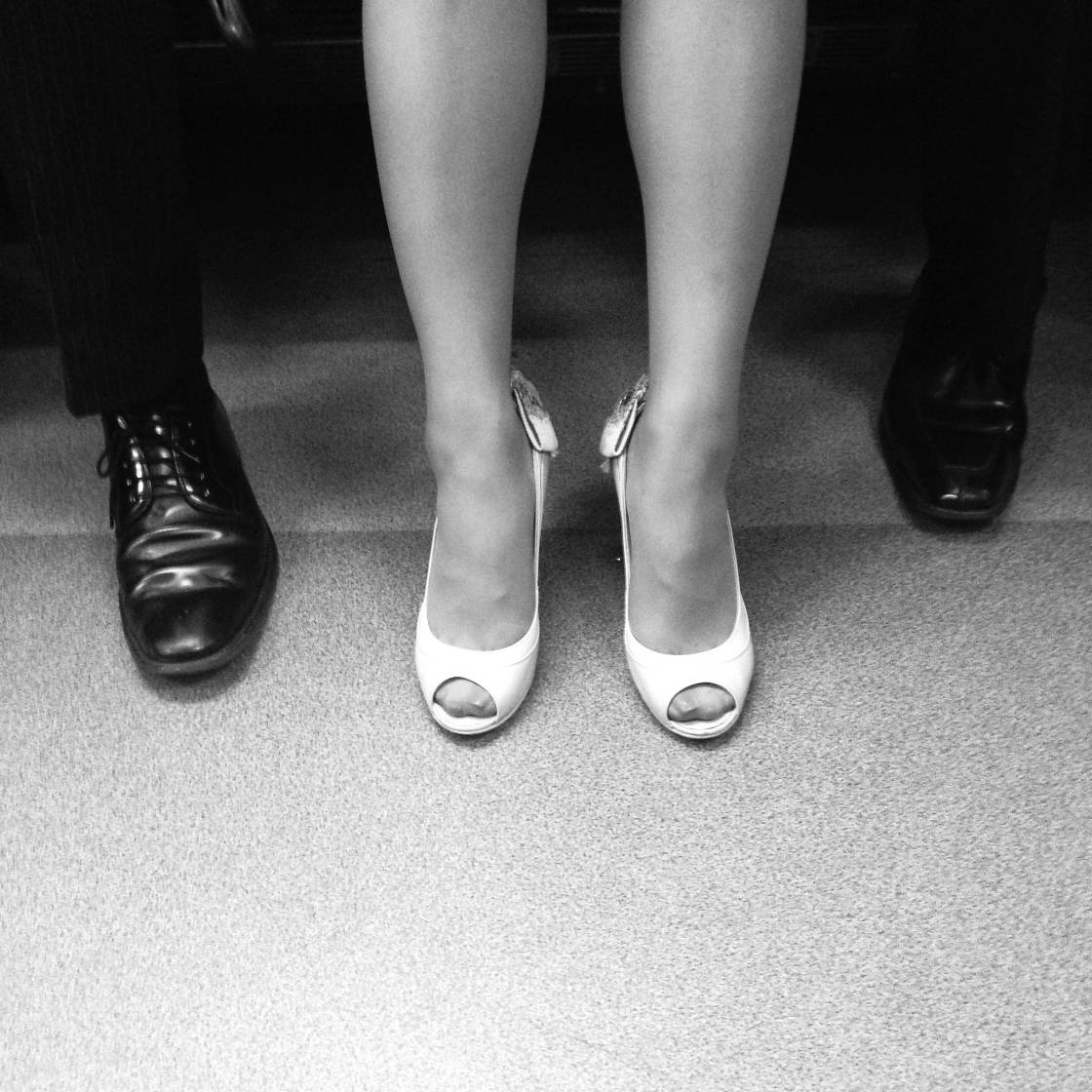 Your photos will become more compelling, simply because you found a more interesting perspective.
7. Use Reflections For More Creative Street Photography Compositions
Reflections are a great way to create extraordinary compositions from an ordinary scene.
You've already learned about capturing multi-layered images in window reflections.
But how else can you use reflections for more creative street photography?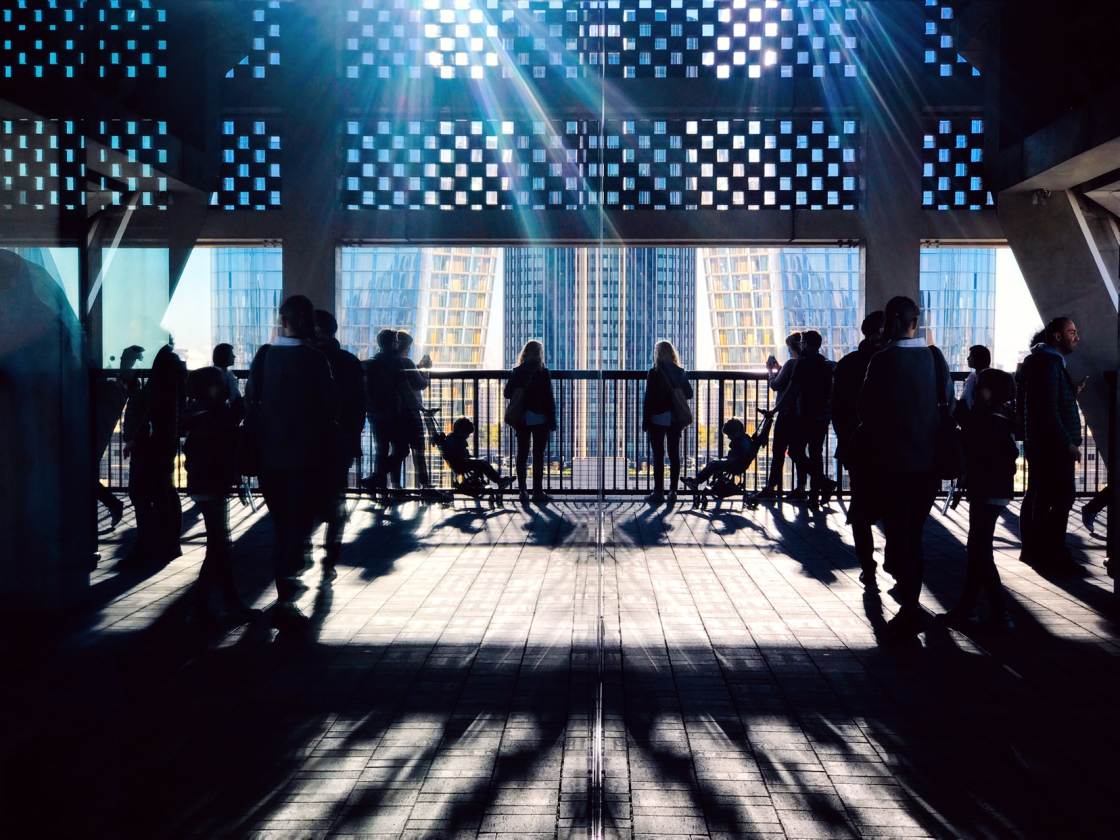 A really powerful technique is to use reflections to create striking symmetrical compositions.
Find a vertical reflective surface, such as a shop window or a building with a reflective facade.
Now, hold your iPhone against the surface. Compose the shot so that approximately half of the frame is filled with the street and the other half with the reflection.
You can use the camera's gridlines to help you get the line of symmetry perfectly central. (To switch on the grid, go to Settings > Camera > Grid).
You could also experiment with placing the line of symmetry slightly off-center, as I did in the photo below.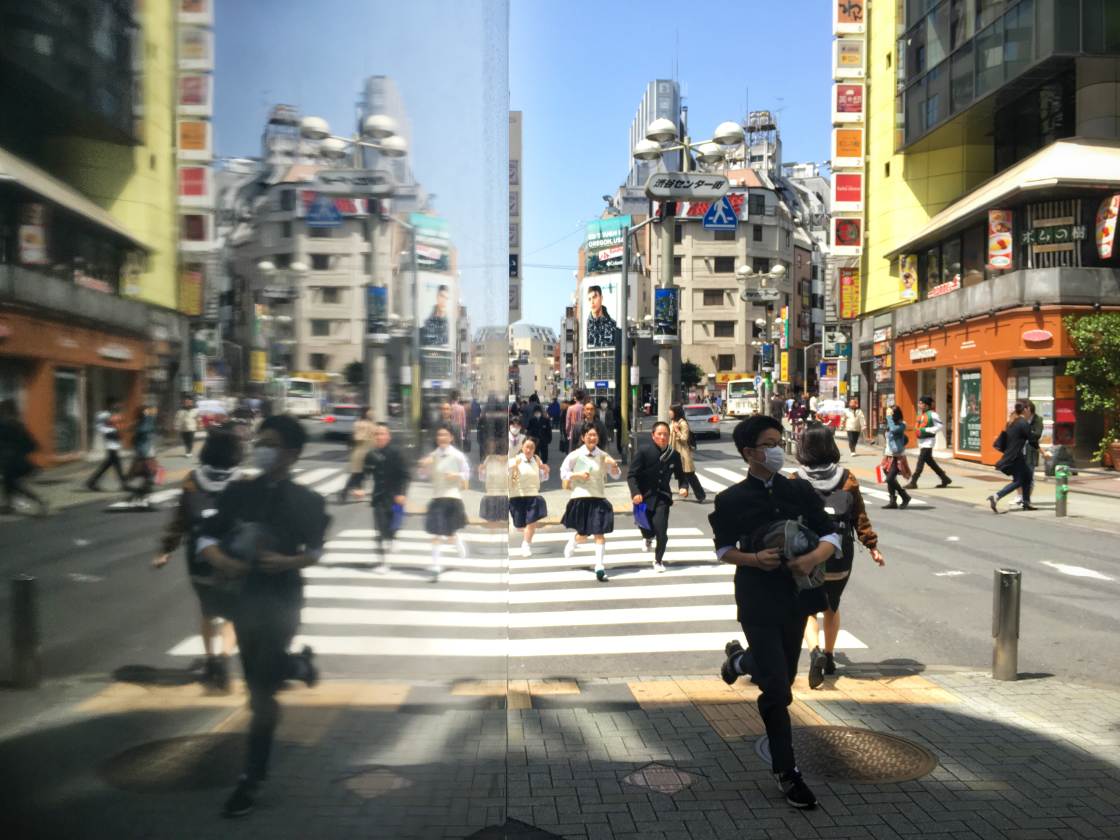 Shiny floors inside buildings are another great place to capture reflections.
Look for areas where you have a lot of window light illuminating the floor. Then frame your shot to capture the people and their reflections.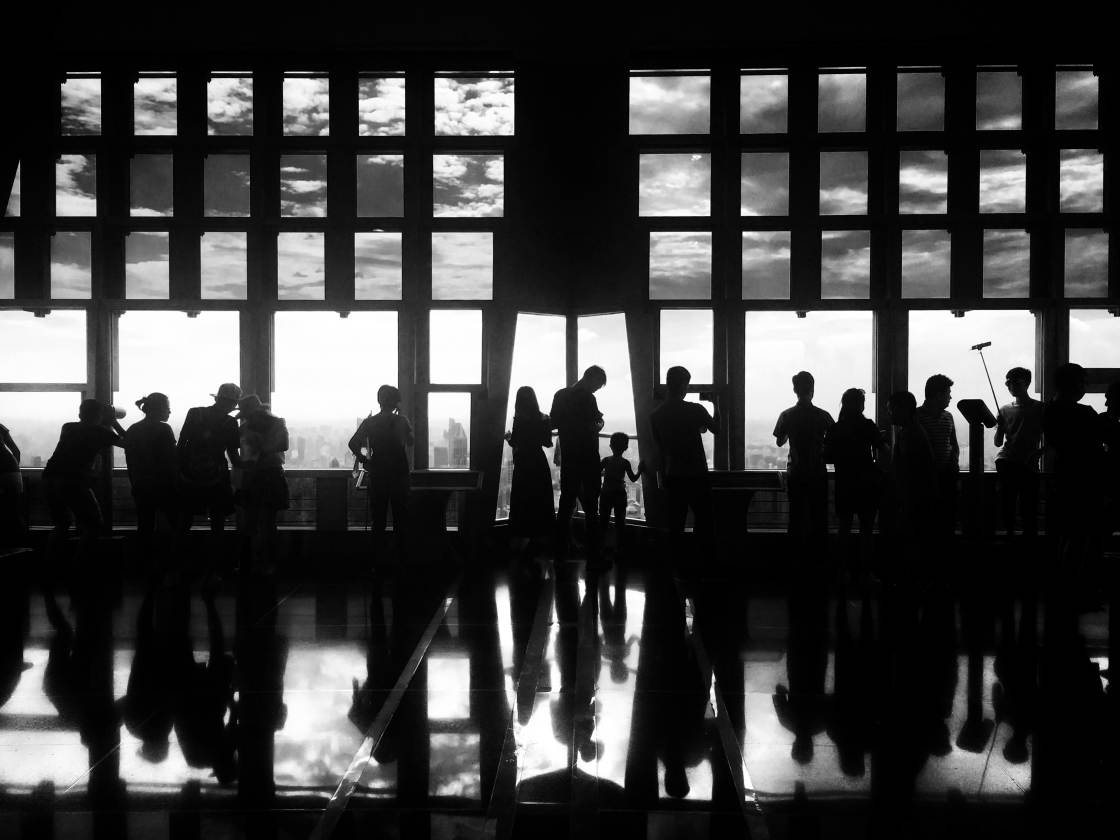 You can even use cars to create amazing reflection street photography.
As you're walking down the street, notice how the surrounding buildings are reflected in parked cars.
In the photo below, I captured the reflection of the colorful doors in a car roof.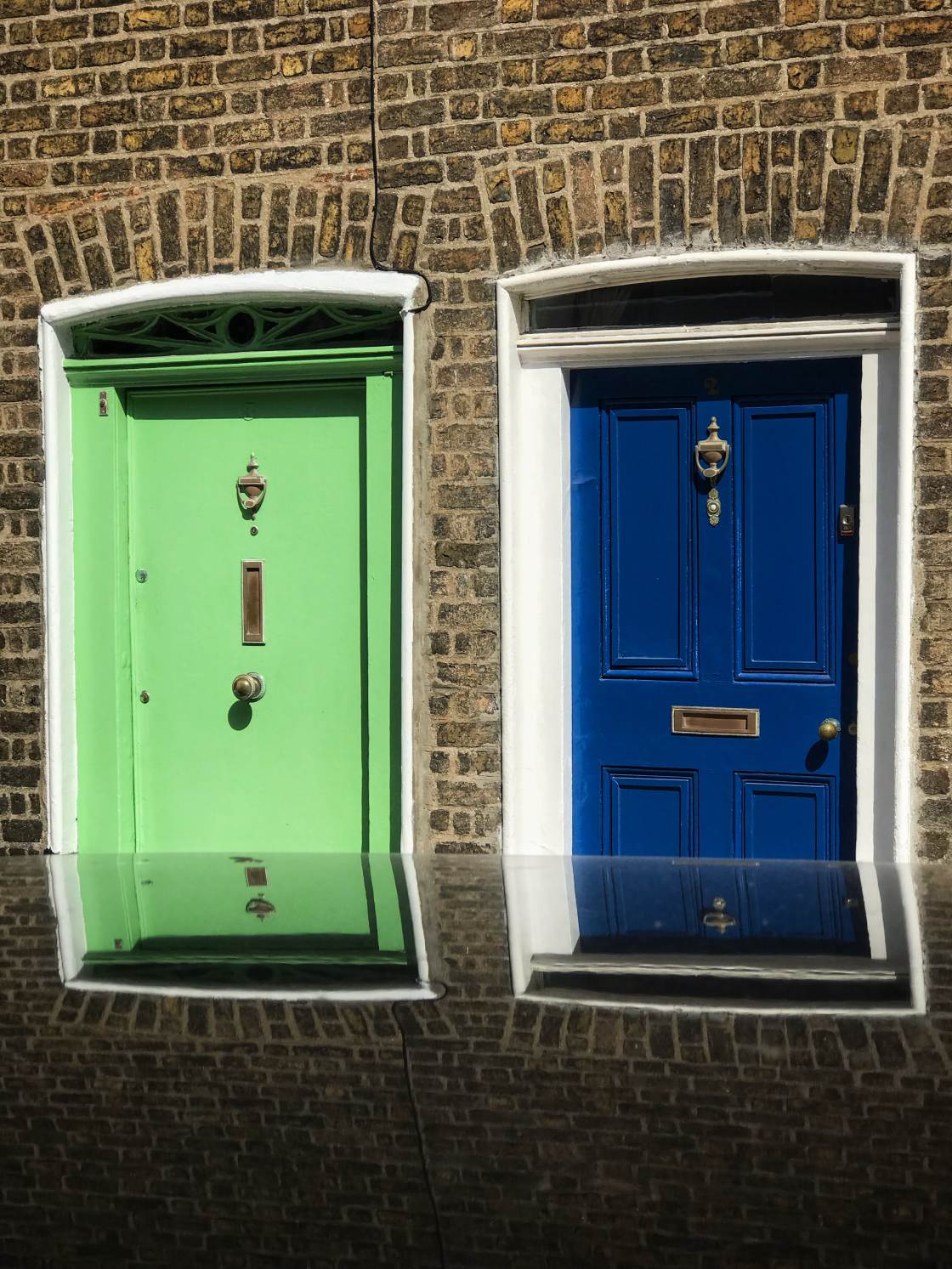 At night, you can create magnificent reflection photos using cars.
Look for neon signs and illuminated billboards. Then notice how the light is reflected in nearby cars.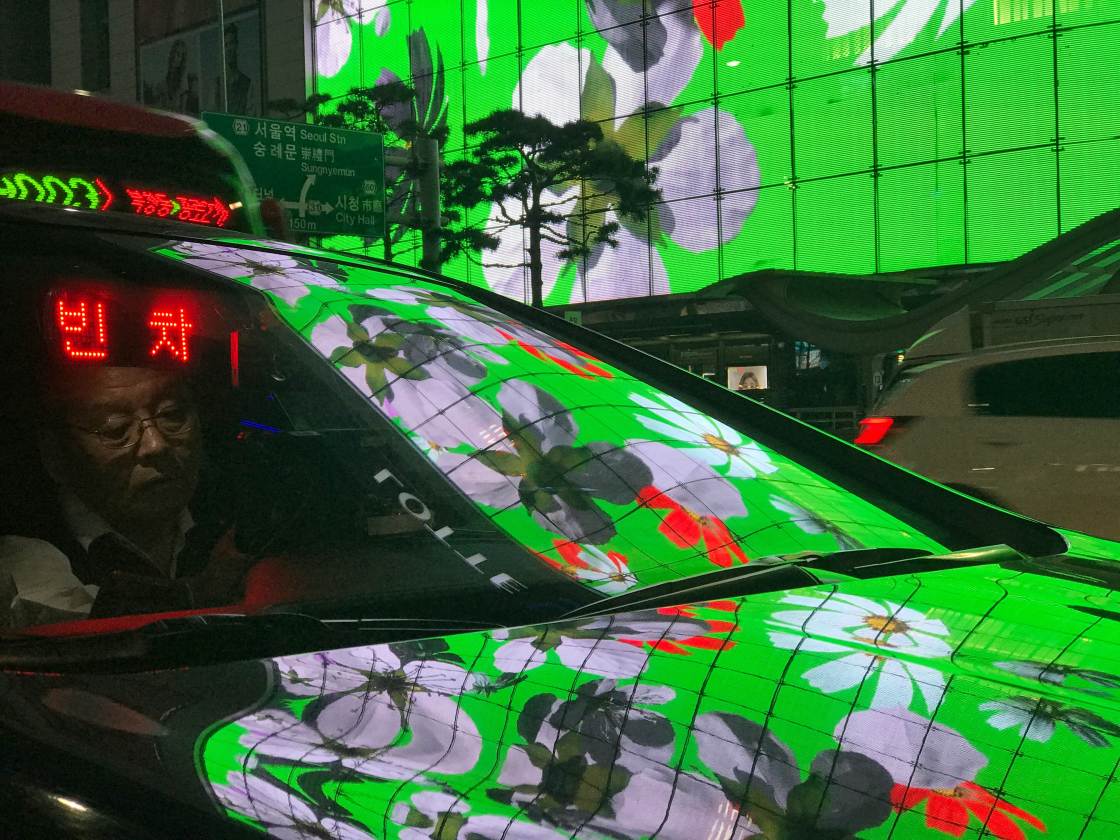 The shape of the car will create wonderfully distorted reflection photos with an abstract quality.
8. Shoot Through Foreground Objects For More Interesting Street Photography
Creating a composition with multiple layers will make your street photos more interesting.
And one of the easiest ways to add an extra layer is to shoot through something in the foreground.

Read on to discover some great street photography tips for shooting through foreground objects.
An easy way to get started is to use a piece of architecture to frame your subject.
For example, you could find an archway and then wait for someone to walk or cycle through it.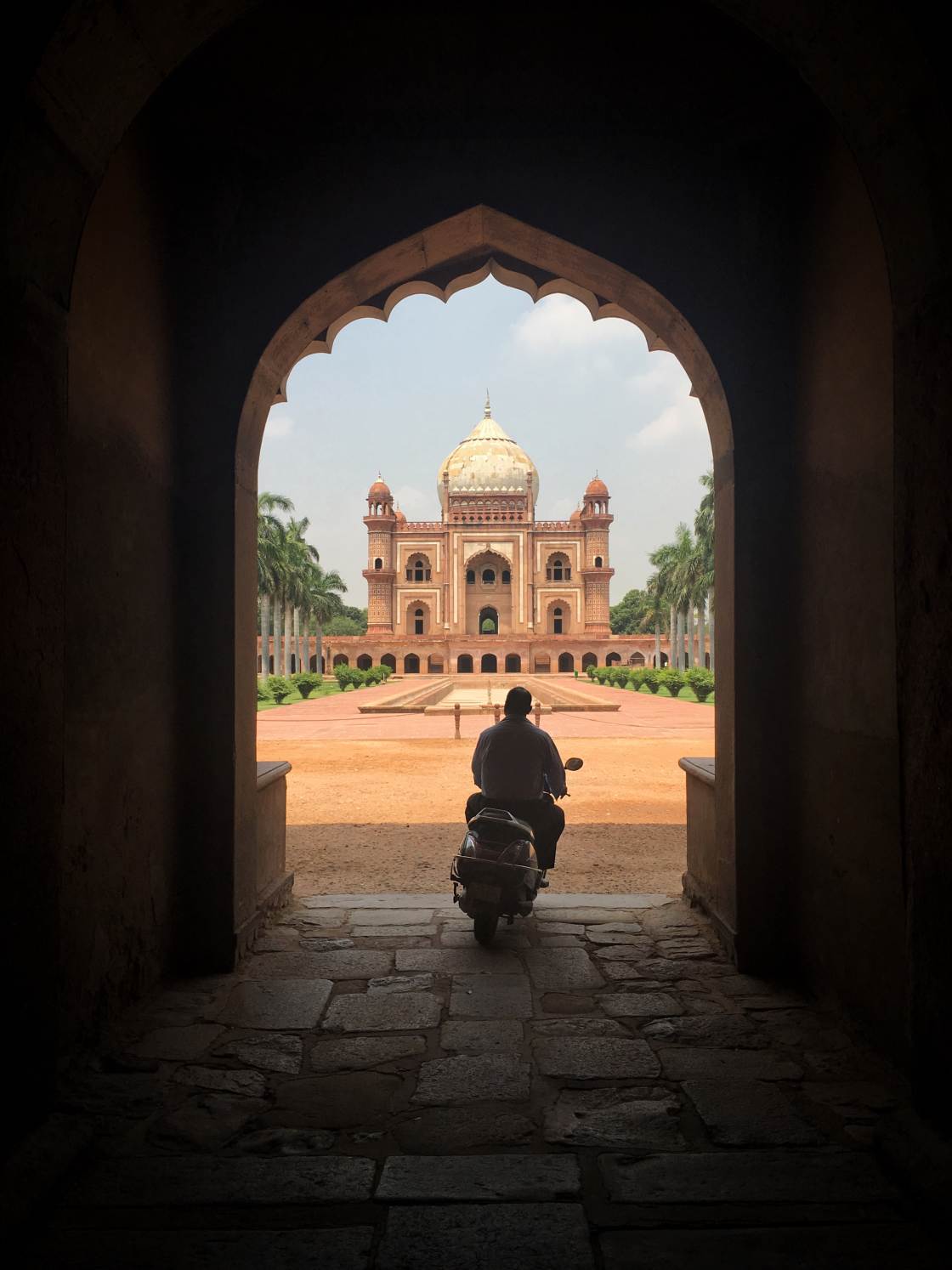 A framing element serves several purposes in your composition.
It's great for drawing the viewer's eye towards the subject within the frame. And having something in the foreground adds a sense of depth to the photo.
Framing elements also add context to your image. They give the viewer a bit more information about the location.
When you spot a good "frame" in the urban environment, compose your shot to include the frame and the scene beyond it.
Next, set focus and exposure. That way, you'll be ready to take the shot as soon as someone enters the scene.
Try to set focus on the area where you think the person will appear, e.g. on the sidewalk.
Lock the focus by tapping and holding for a couple of seconds until you see AE/AF Lock. Then swipe up or down to adjust exposure if you wish.
Locking focus allows you to take lots of photos of the scene without having to set focus and exposure for each new shot.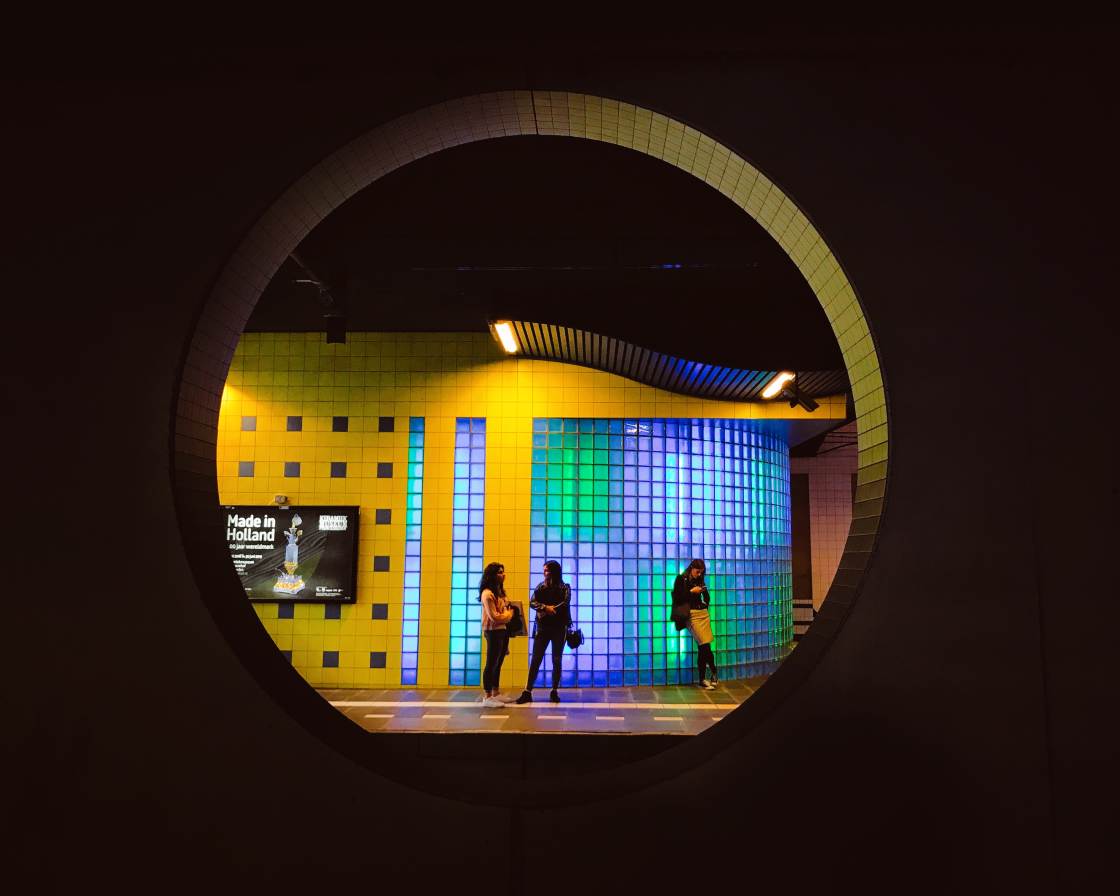 Once you start looking, you'll spot interesting framing elements all around you.
And you can use them to create eye-catching compositions where your subject appears within the frame.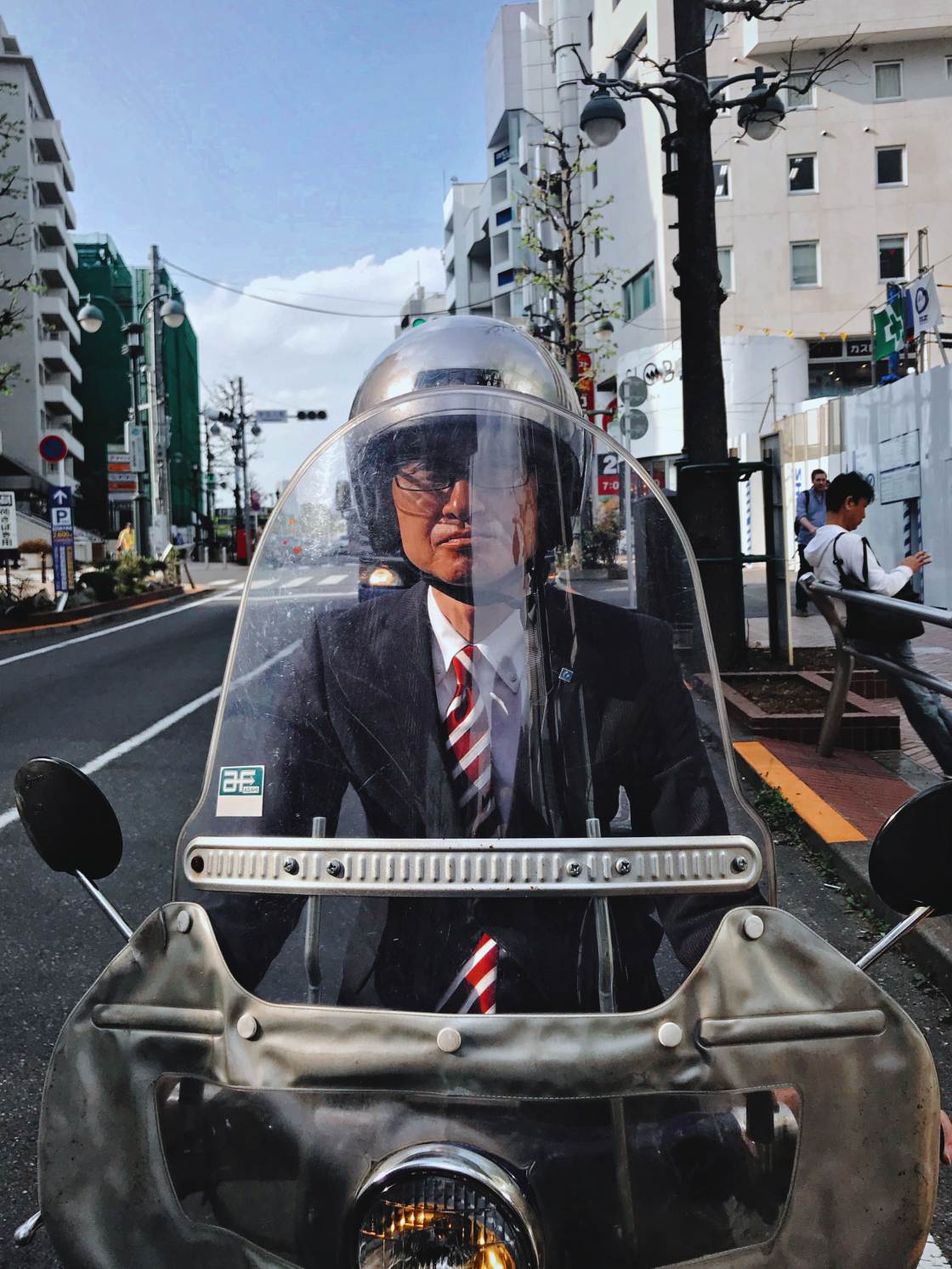 Another way to use foreground objects is to shoot through something that distorts or blurs the subject behind it.
In the example below, I shot through a steamed-up window of a train.

This creates a gorgeous natural filter that blurs the detail of the subject's face.
Shooting through rippled glass is another way to create amazing distortion in your photos.

Keep your eyes peeled for anything in the foreground that you could shoot through.
It could be a framing object. Or it could be something that blurs or distorts your photo.

Don't be afraid to experiment. That's how you'll produce the most creative street photography!
About The Author
Brendan Ó Sé is a multi-award winning mobile photographer from Cork, Ireland. He teaches mobile photography workshops. And his images have been exhibited across the globe. Brendan uses his iPhone camera to see and create in unusual ways. And this results in some unique imagery and striking street photography. Check out Brendan's Instagram to discover more of his fascinating street photos.