Do you want to shoot incredible black and white urban photography with your iPhone? Black and white street photos can be striking. But not all city scenes look good in black and white. You have to know what to look for. In this tutorial, you'll discover 9 secrets for capturing stunning black and white pictures in urban locations.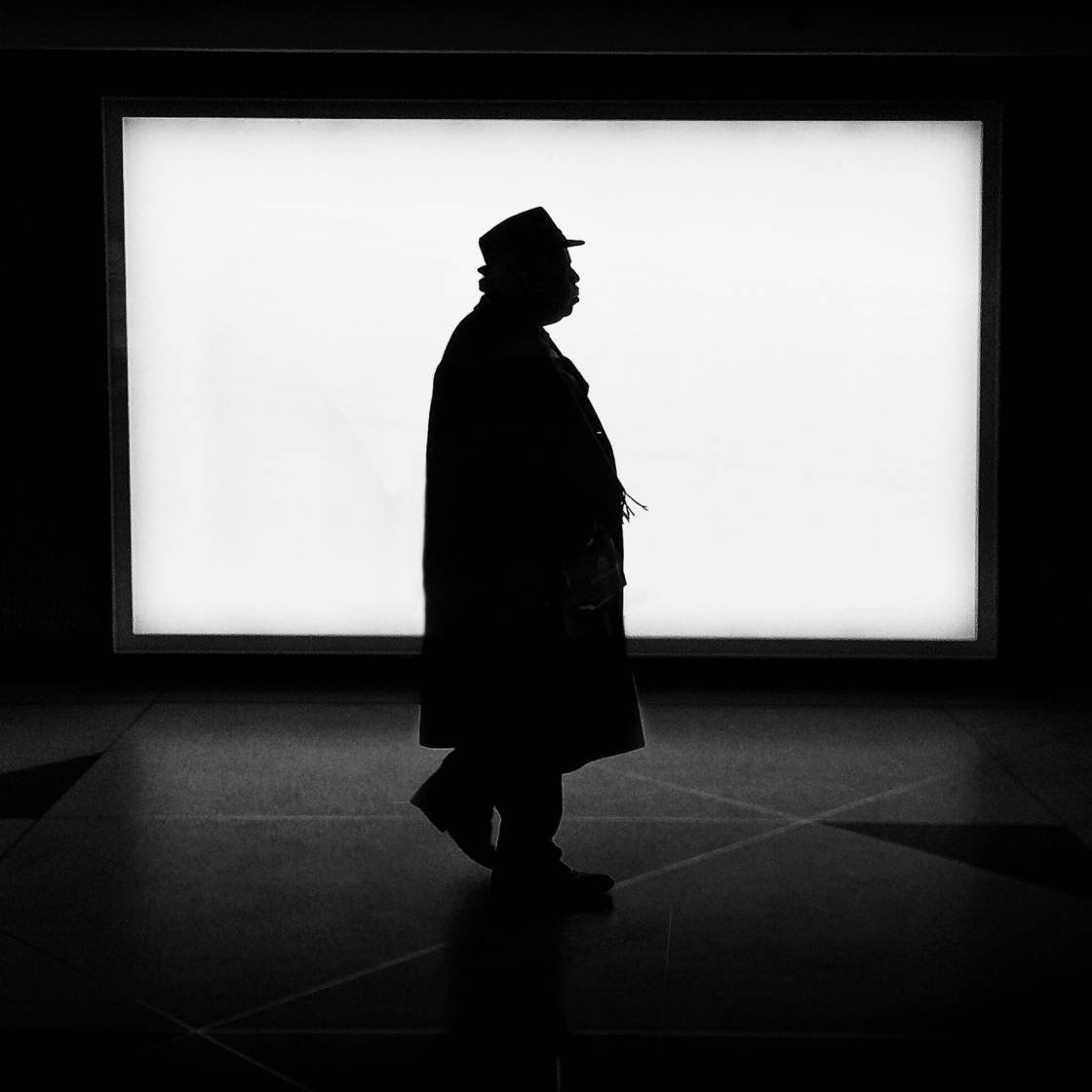 1. Shoot In Black & White To Envisage The Final Image
Many people shoot in color and then convert to black and white in post-processing.
But I recommend shooting in black and white.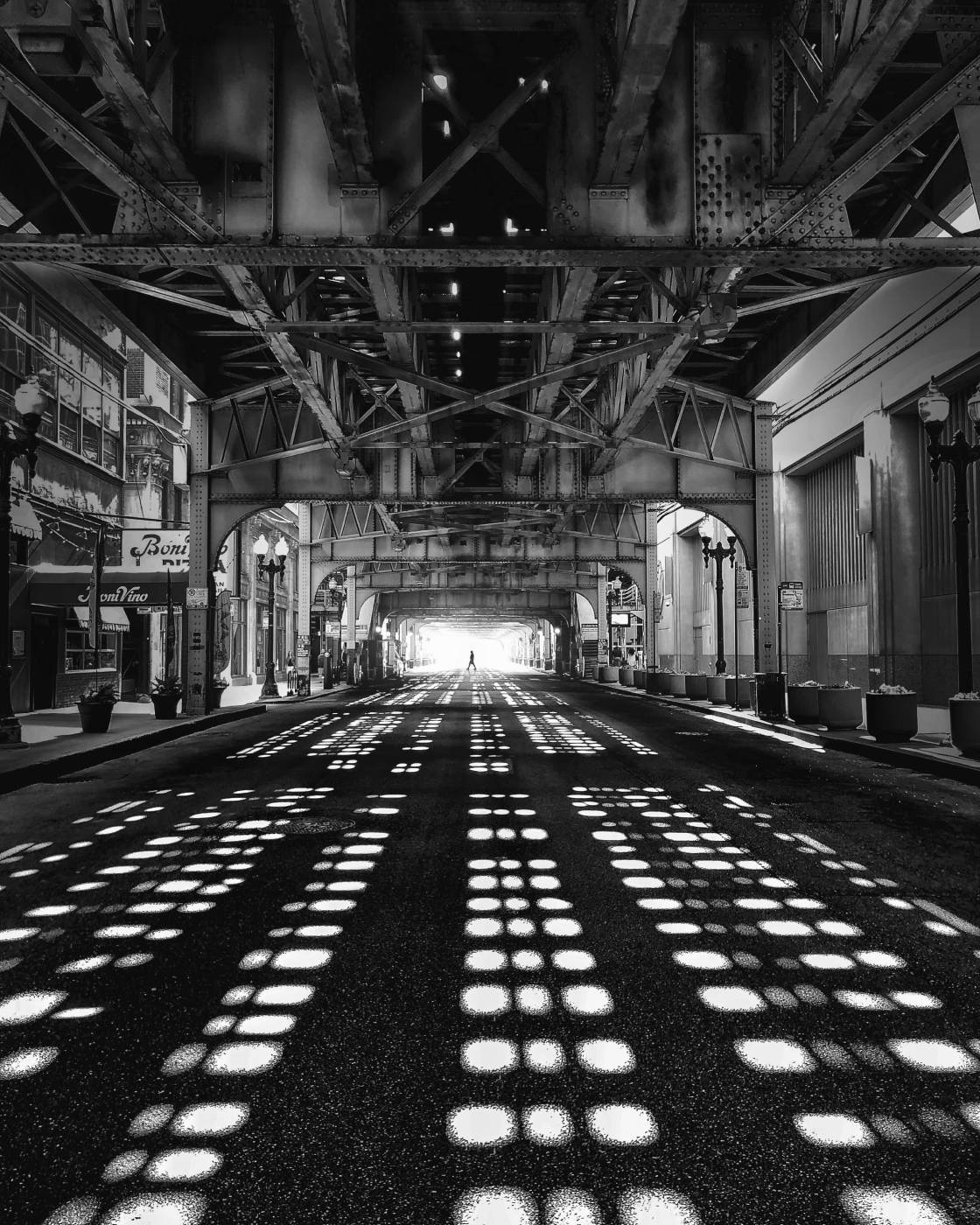 Why?
Because it allows you to see the scene in black and white before you even take the picture.
It helps you visualize whether a scene will work as a black and white photo.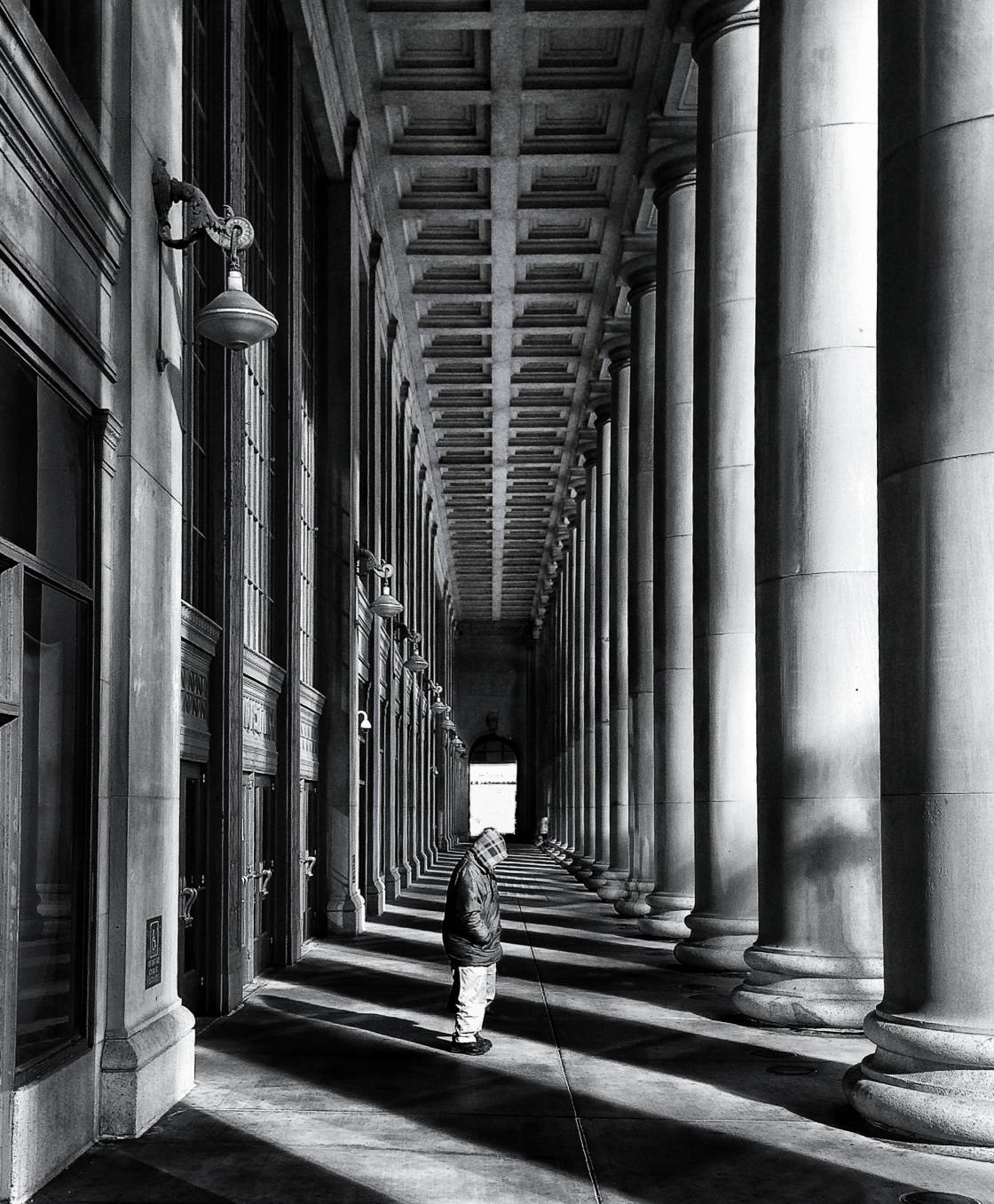 There are many third-party camera apps that let you shoot in black and white.
But I always use the built-in iPhone Camera app. With this app, you can use an in-camera black and white filter while you're shooting.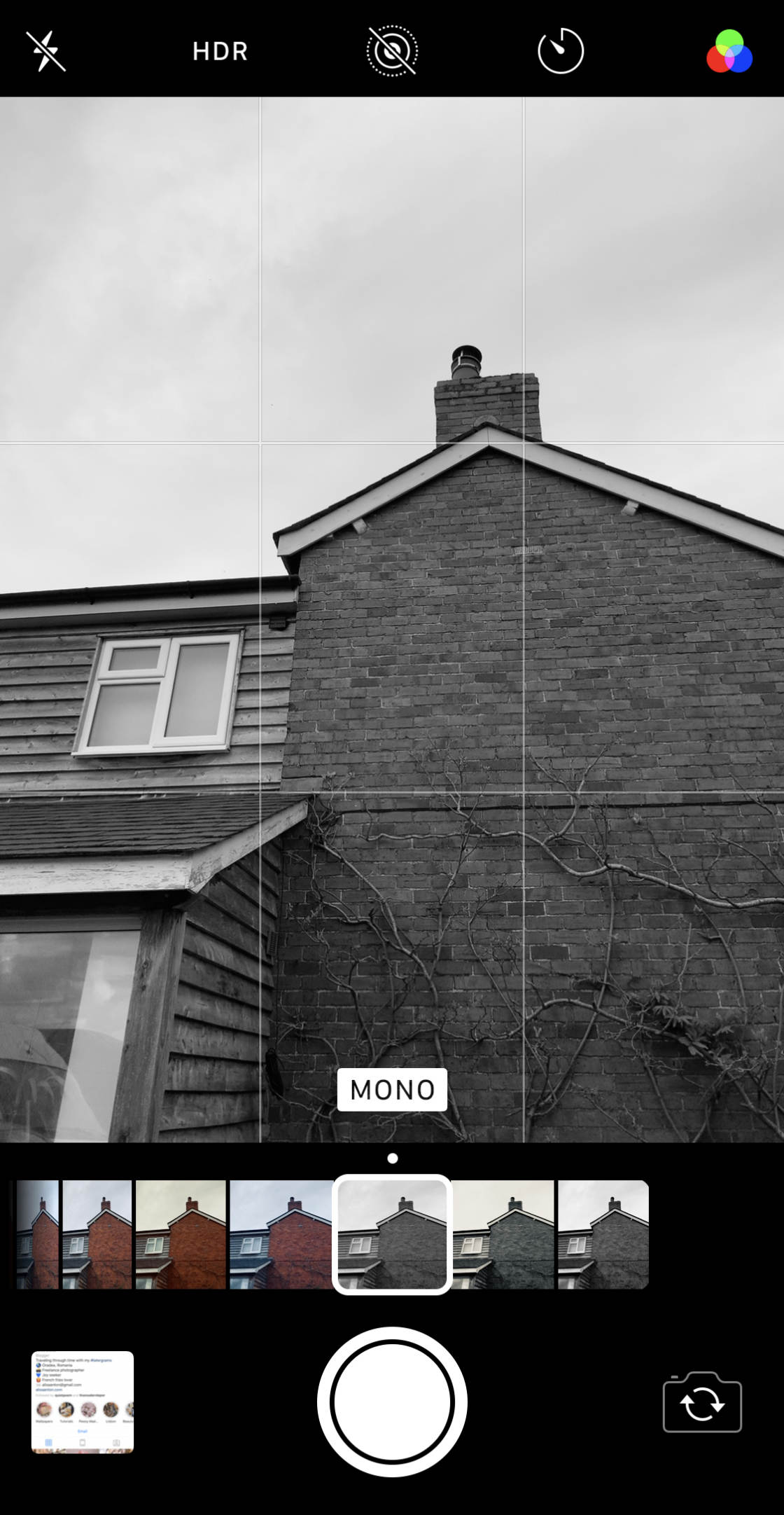 This technique lets you view and capture the scene in black and white.
To shoot black and white photos with the Camera app, tap the Filters icon (three circles) at the top right. Swipe across the filters at the bottom of the screen and select Mono.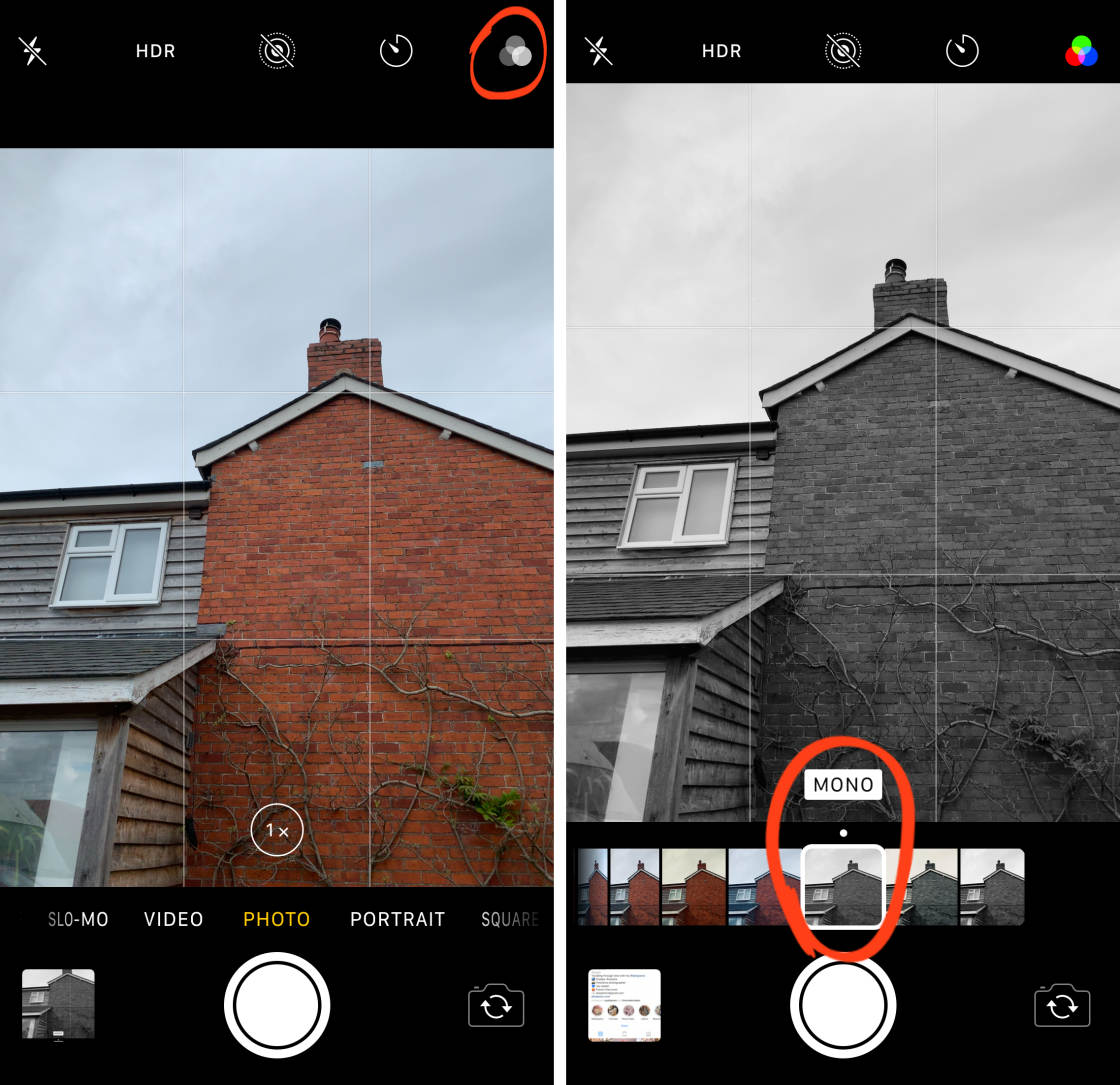 Now everything in the viewfinder will be black and white.
You can hide the filters by tapping the Filter icon at the top right of the screen. (To return to shooting in color, select the Original filter.)
The great thing about the Camera app filters is that you can remove them after you've taken the shot.
So, if you decide the image would look better in color, you can simply remove the black and white filter.
You can also use the color version of the image in editing – converting it to black and white yourself using an editing app. (More on editing later!)
This will give you more control over the final look of your black and white photo.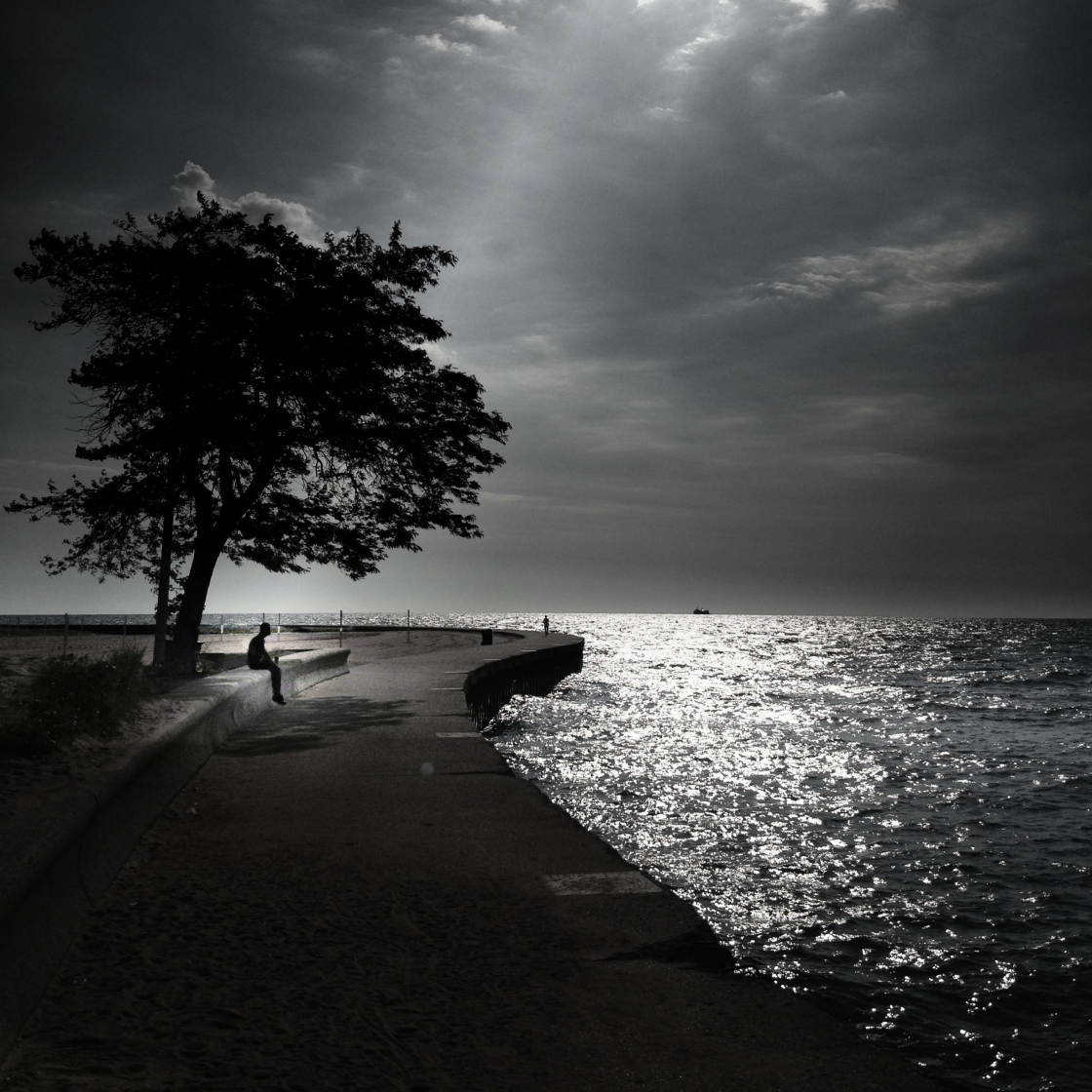 If you want to convert a photo back to full color, open the image in the Photos app. Then tap Edit at the top right.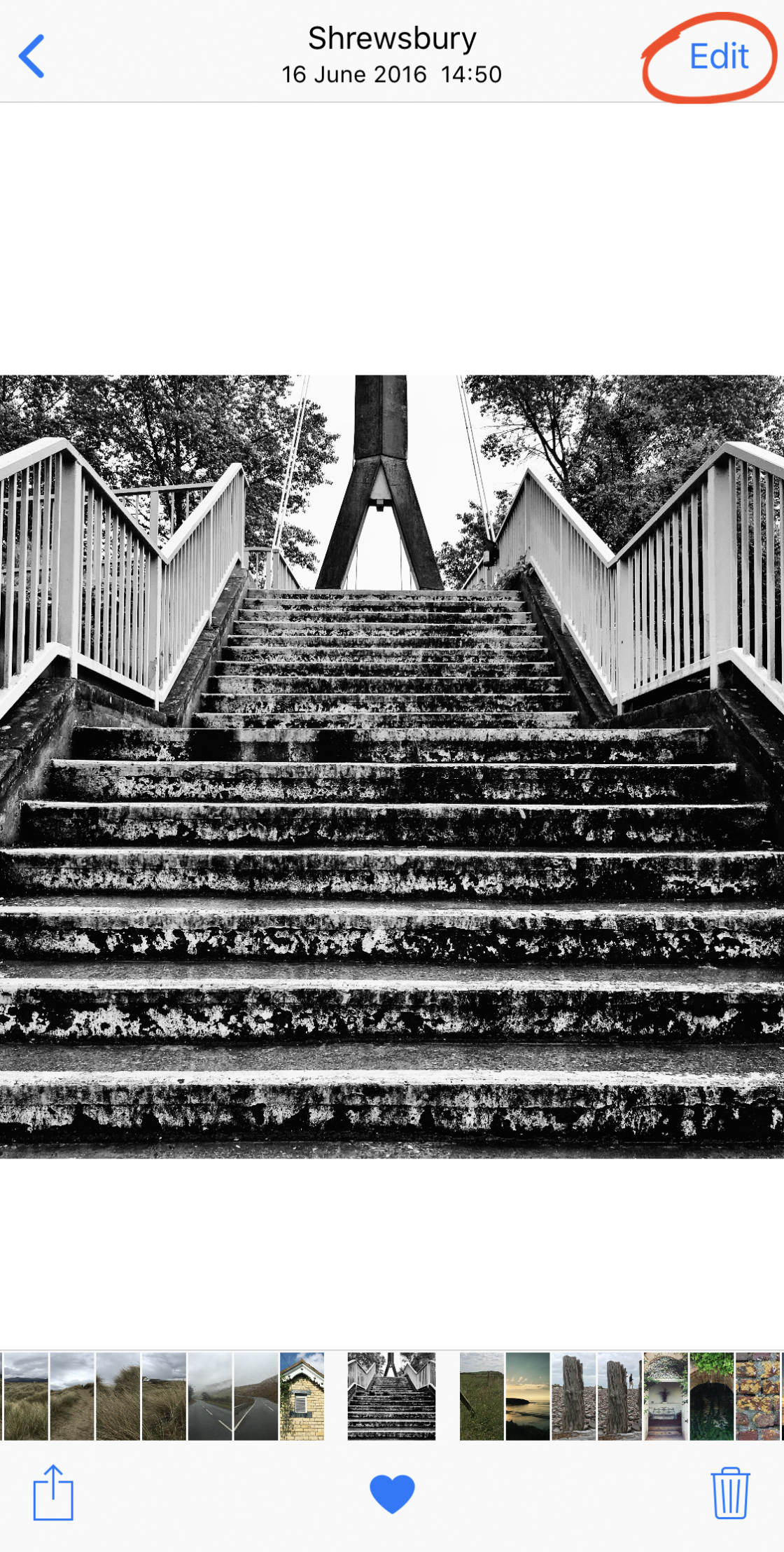 Tap the Filters icon (three circles) at the bottom of the screen. Swipe across the filters beneath the image and select Original. Tap Done to save the changes.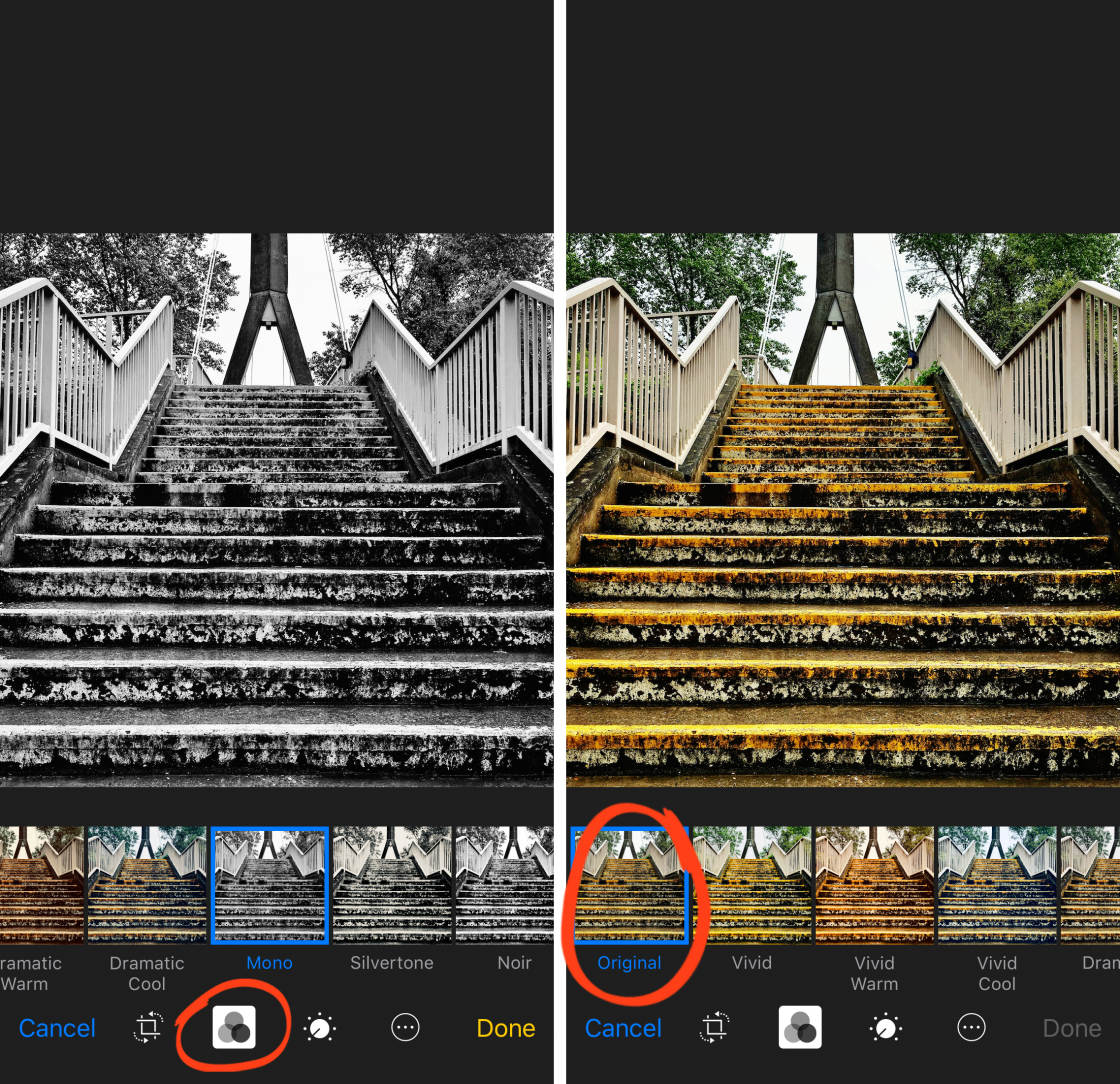 2. Seek Out Contrast For Incredible Black & White Urban Photography
Not all photos look good in black and white.
So what makes a great black and white image?
First, you need plenty of contrast.
In other words, you want to find an urban scene that has both bright and dark areas.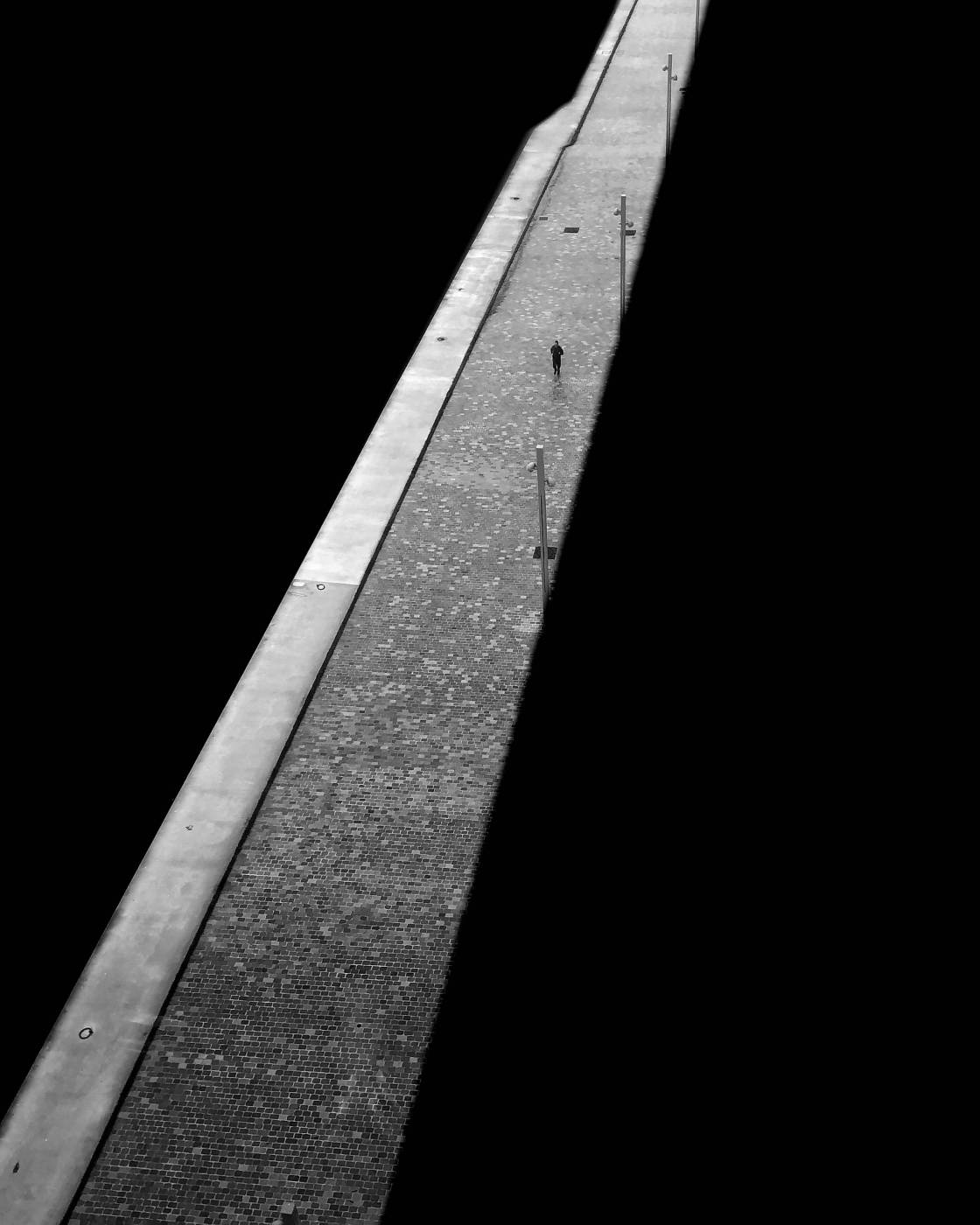 The contrast between dark and light is what makes a black and white photo so powerful.
For incredible black and white city photography, seek out dark shadows and beams of bright light.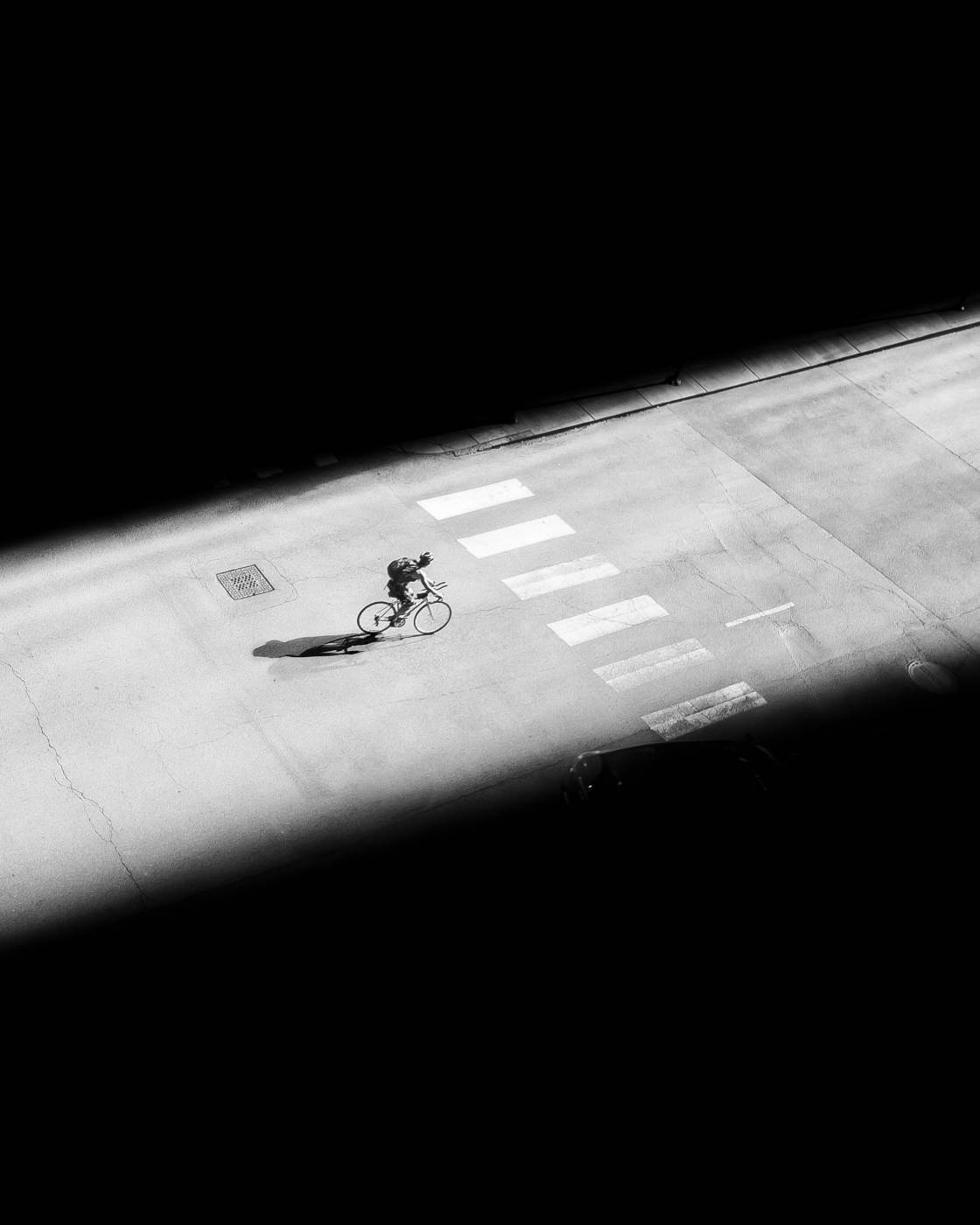 Where can you find this kind of light and contrast in a city?
Tall buildings are perfect for casting large shadows on roads and sidewalks. Look out for areas of bright light surrounded by dark shadows.
Alleyways, underground staircases, and tunnels are also perfect locations. Position yourself in the darkness, facing towards the light.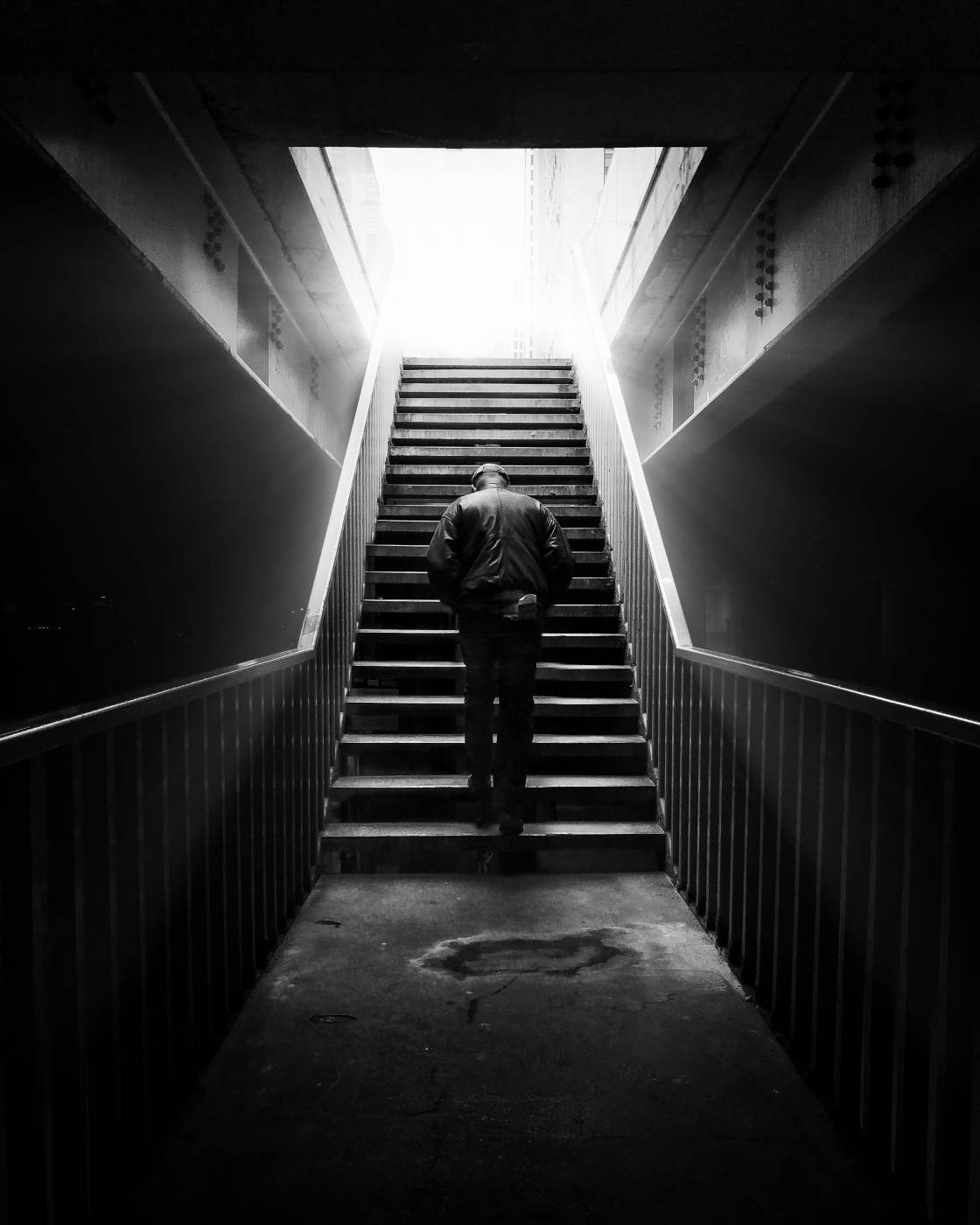 Remember, you can always increase the contrast in post-processing – making the shadows darker and the highlights brighter.
3. Shoot In Harsh Light For Amazing Contrast & Shadows
One of the best ways to capture high-contrast black and white pictures is to shoot in harsh light.
This means taking photos in bright sunlight.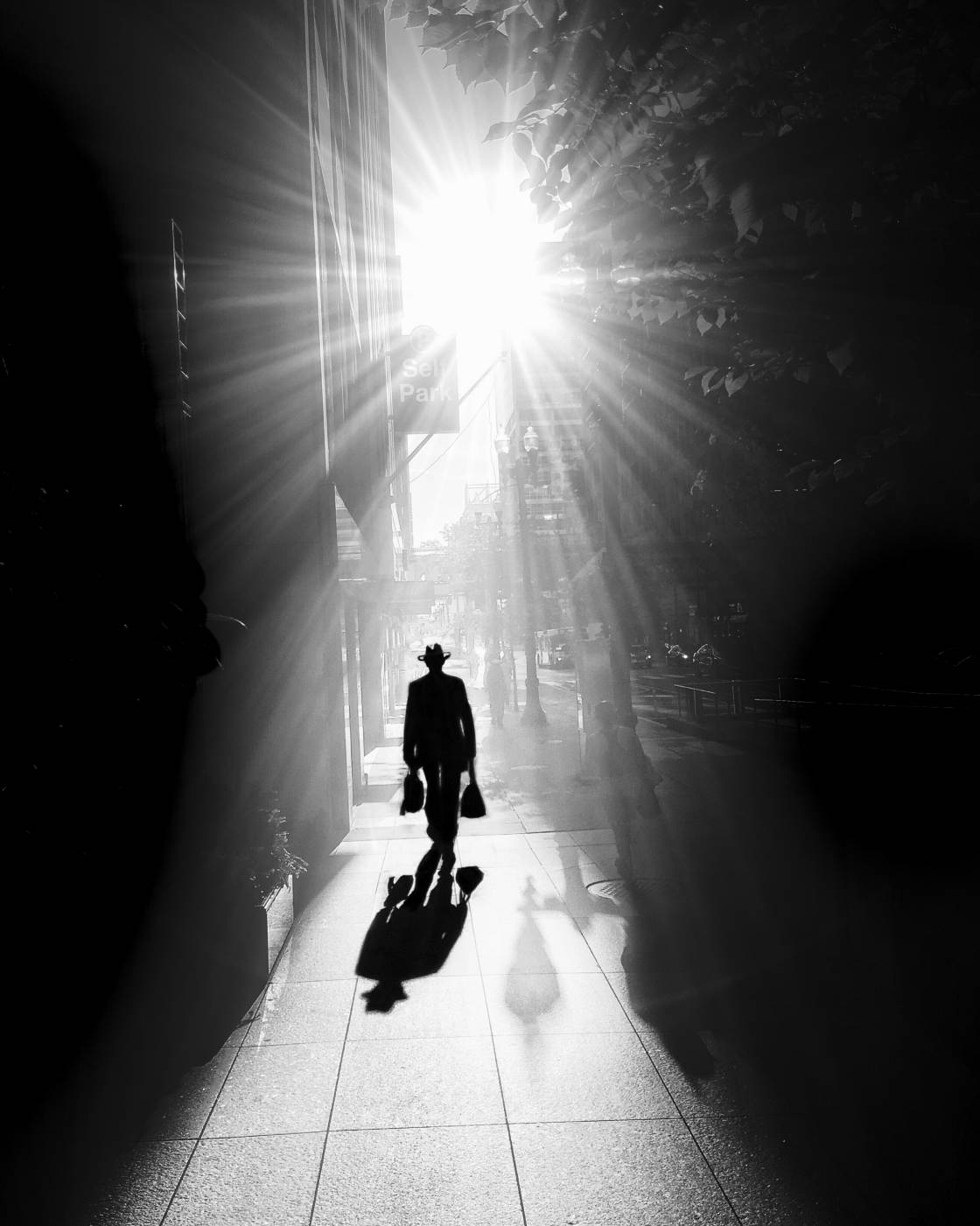 A cloudy day isn't good as the clouds will diffuse and soften the light. This means you won't get those hard shadows that work so well in black and white photography.
For the sharpest contrast, shoot in the middle of the day when the sun is high in the sky.
Look out for bright beams of light and dark shadows. Then use this contrast to create a striking black and white photo.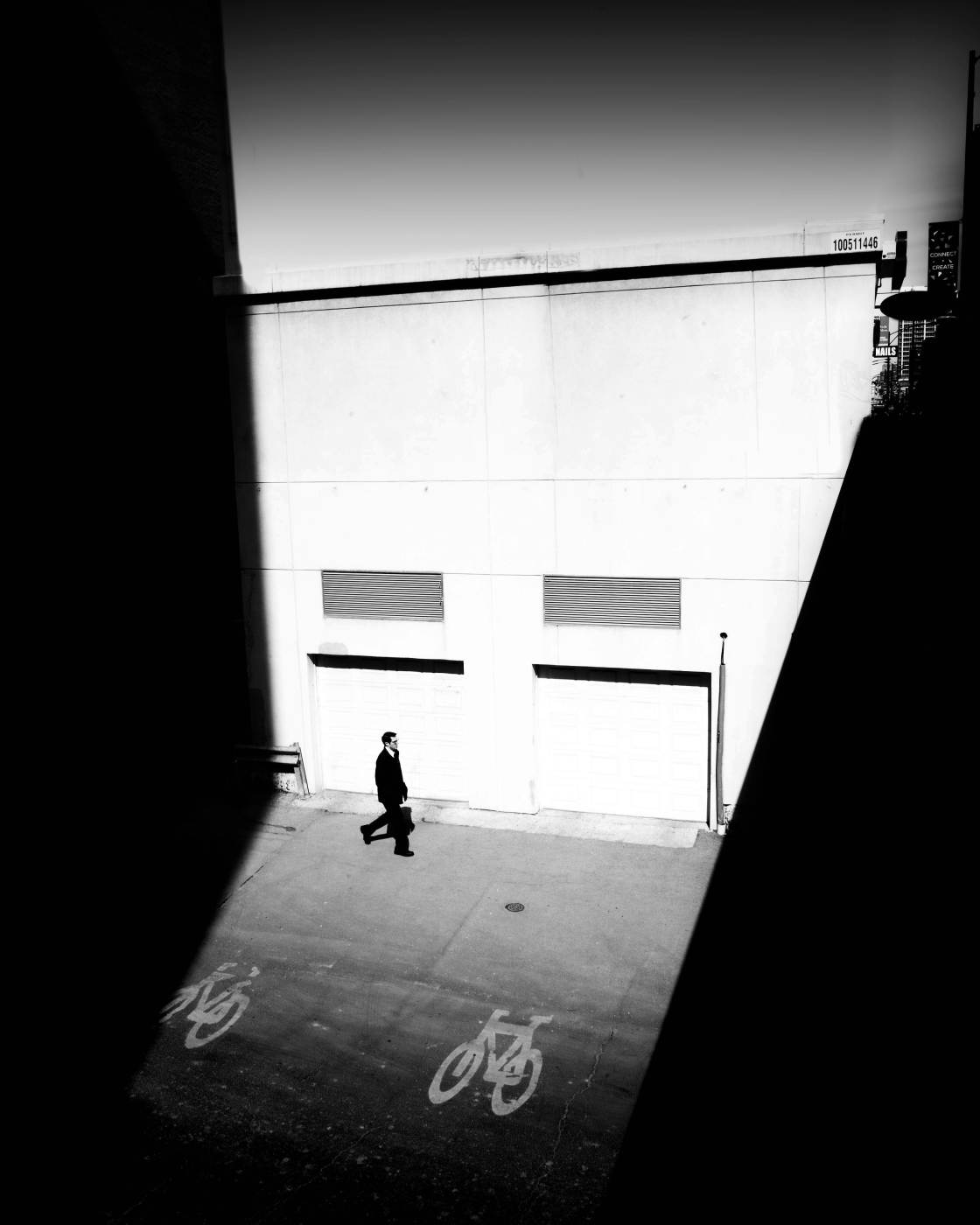 The dark shadows can act as a frame around the brighter area, drawing the eye to the illuminated part of the scene.
Another great time to shoot is in the late afternoon (around 5pm).
When the sun is very low in sky, it casts amazing long shadows.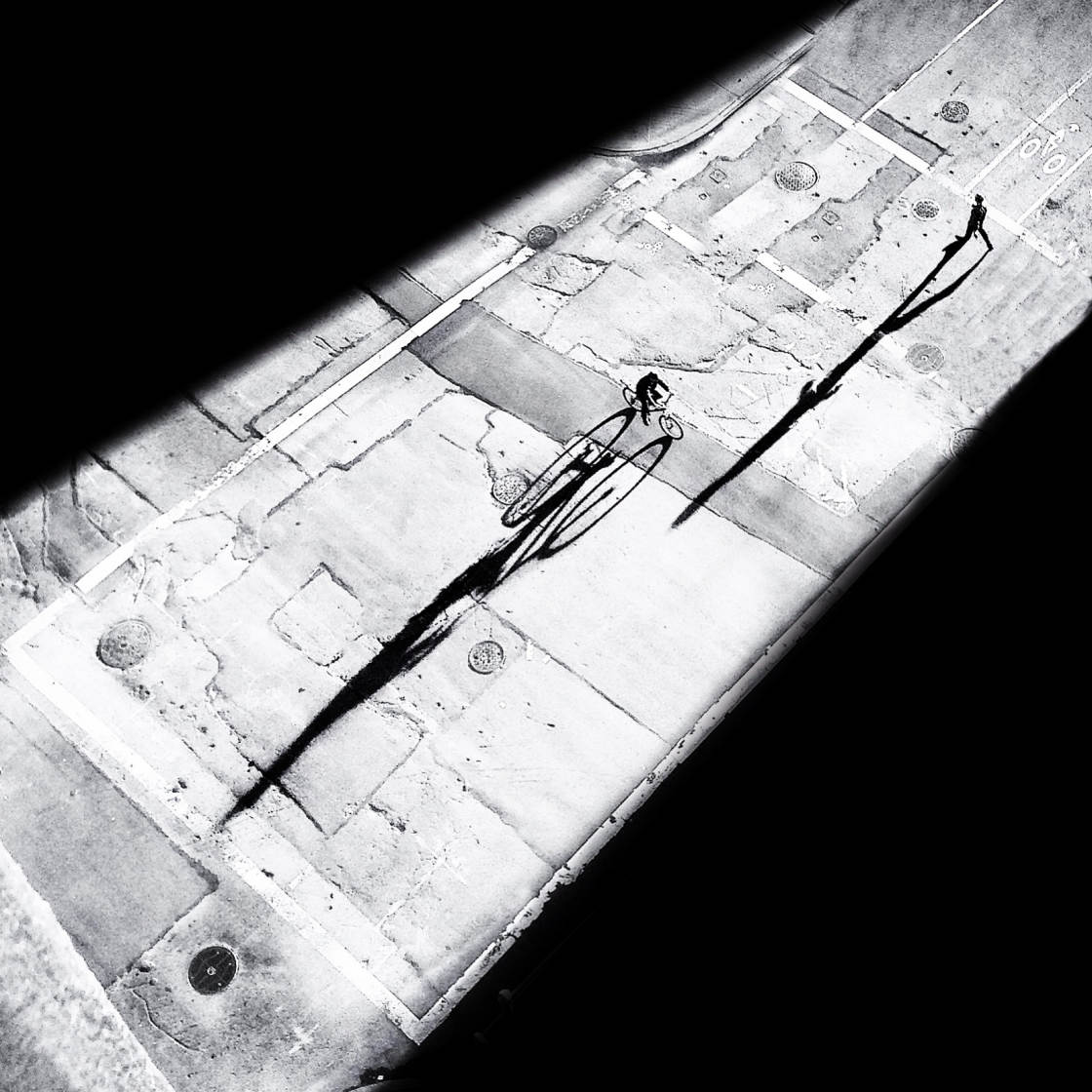 And you can use these shadows to create intriguing and mysterious street photography.
When the light is behind your subject, you can also capture dramatic silhouettes.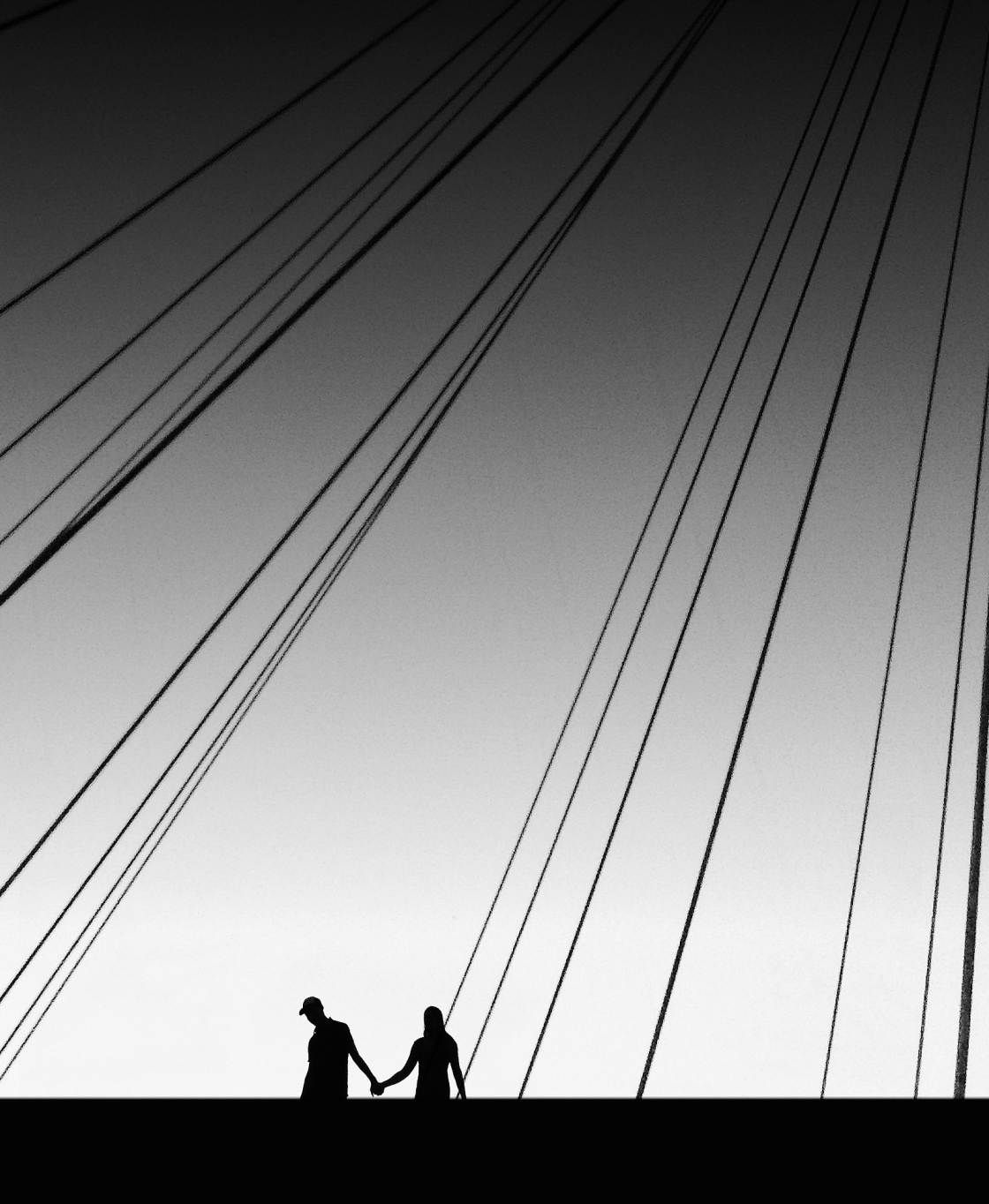 A dark silhouetted figure against a bright background is an amazing way to create contrast in an image.
And just like shadows, silhouettes add an air of mystery to your photos.
4. Look For Lines, Patterns, And Shapes
Other elements that work well in black and white photography include lines, patterns, and geometric shapes.
These add a graphic quality to your image. And they create natural contrast without the need for light and shade.
Urban environments are perfect for finding lines, shapes, and patterns.
Crosswalks offer a great opportunity for creating striking black and white photos.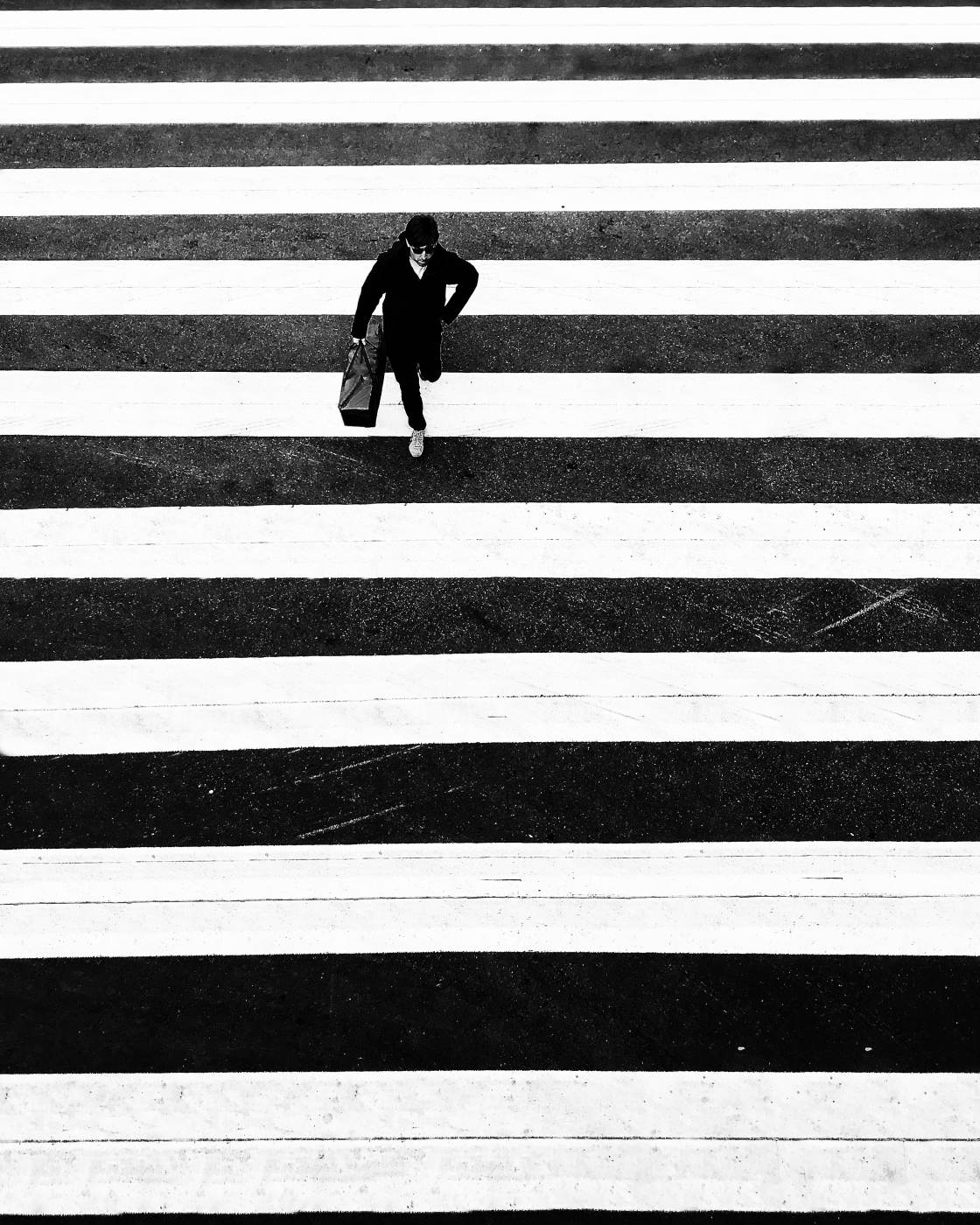 Try getting up high and shooting down on them. Fill the entire frame with the crosswalk for maximum impact.
Or shoot from the sidewalk and use the crosswalk as a leading line – drawing the eye from the foreground into the distance.
Windows on buildings and trains provide bold shapes that look great in black and white pictures.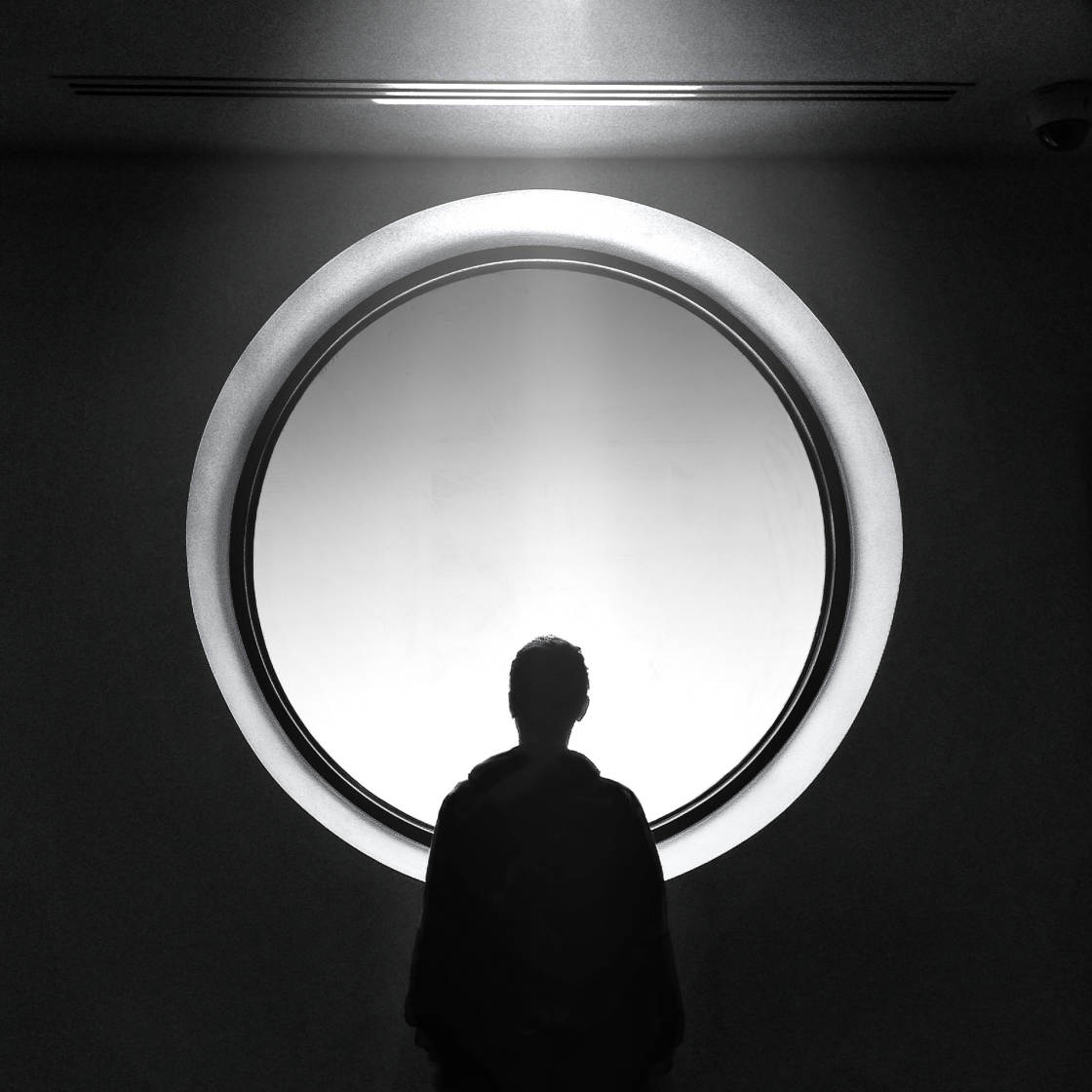 If you include a person in the shot, the window will act as a frame. This helps to draw the viewer's eye towards the person in the window.
Repetitive patterns are a great way to create an abstract quality in your black and white photos.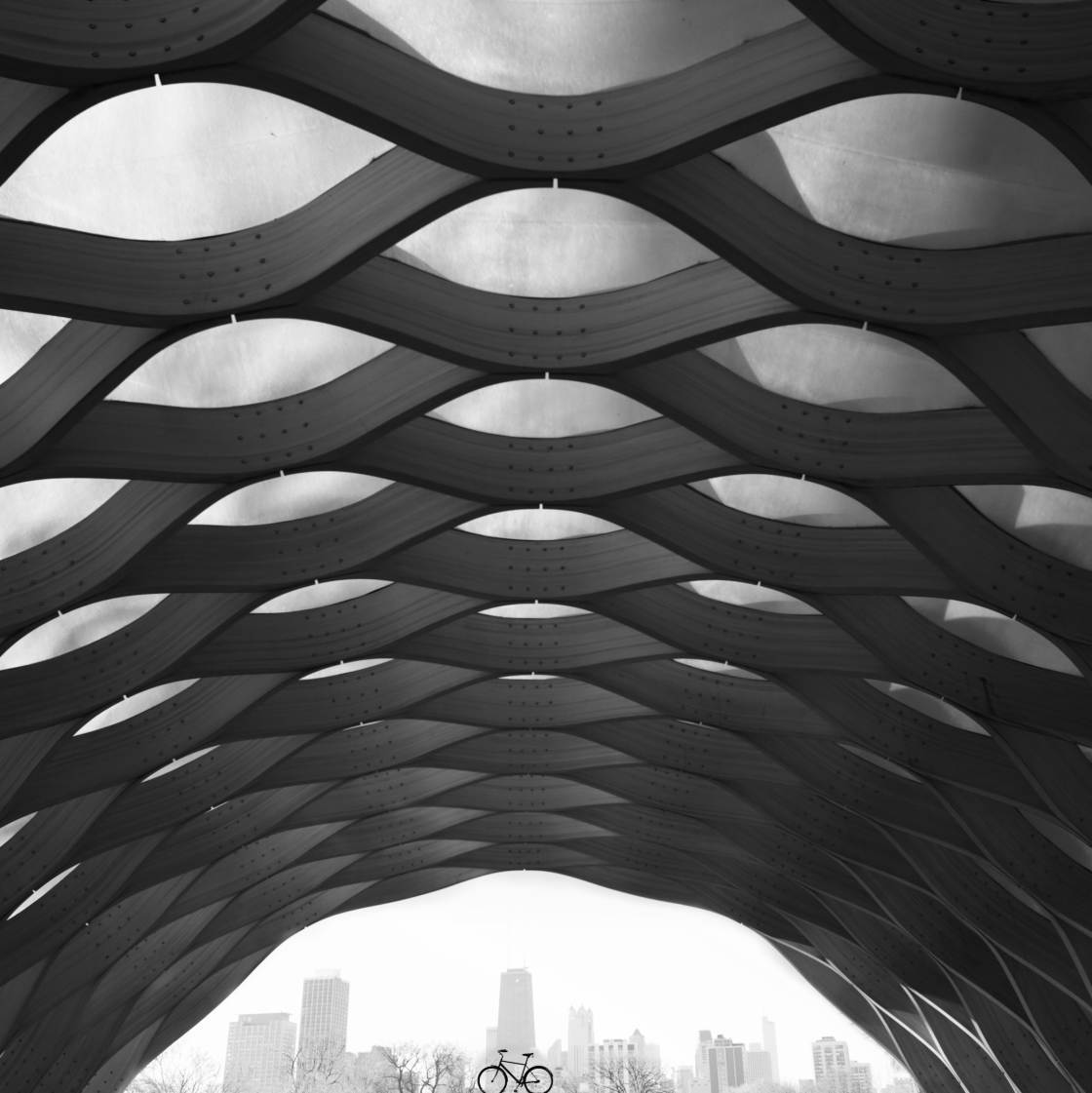 And the city is the perfect place to find patterns. Once you look closely at architecture and other urban design elements, you'll notice repetitive patterns all around you.
Train your eye to notice lines, shapes, and patterns… and your black and white urban photography will instantly improve.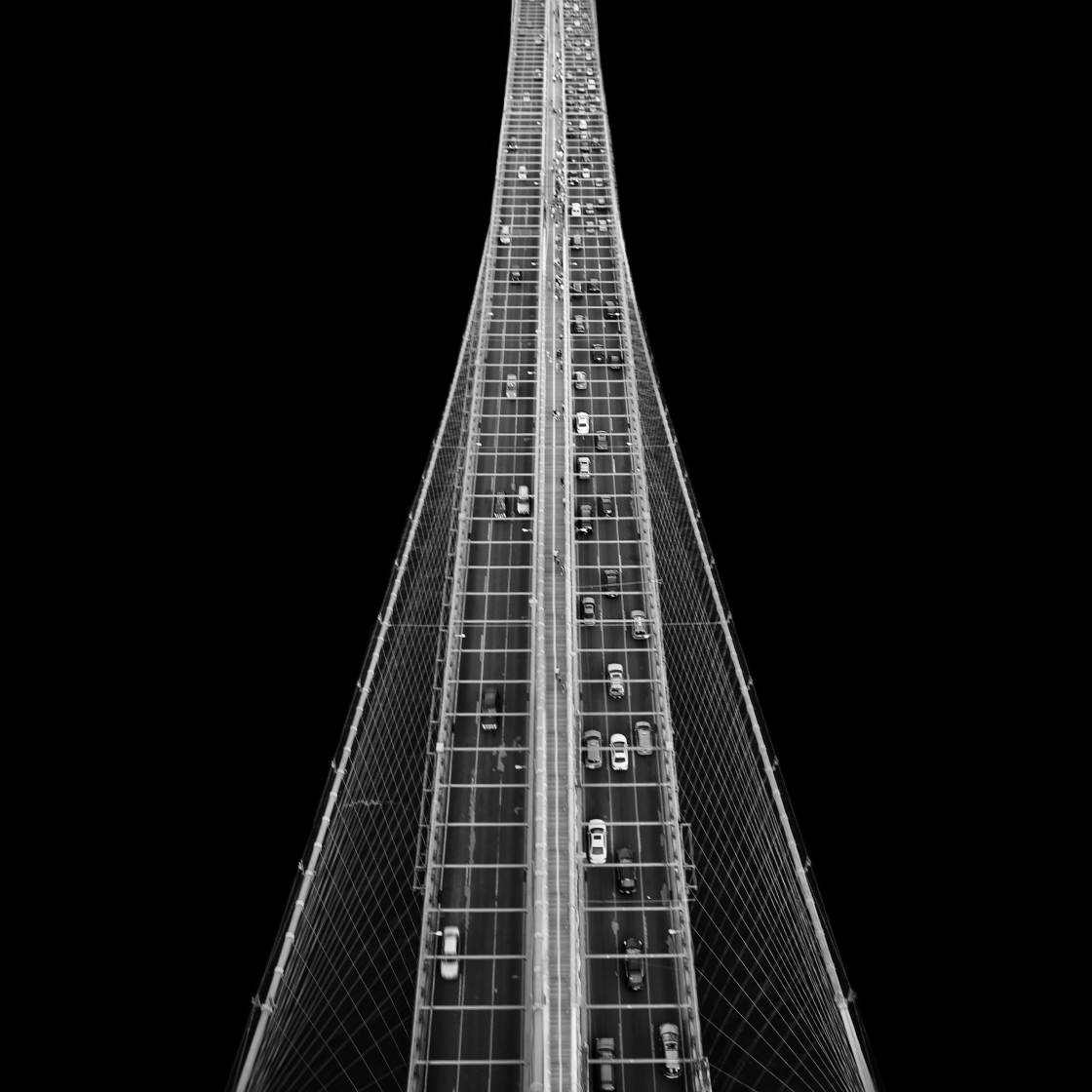 5. Use Street Lights For Black And White Night Urban Photography
Cities provide fantastic opportunities for shooting at night.
The contrast between bright street lights and dark shadows is perfect for black and white photography.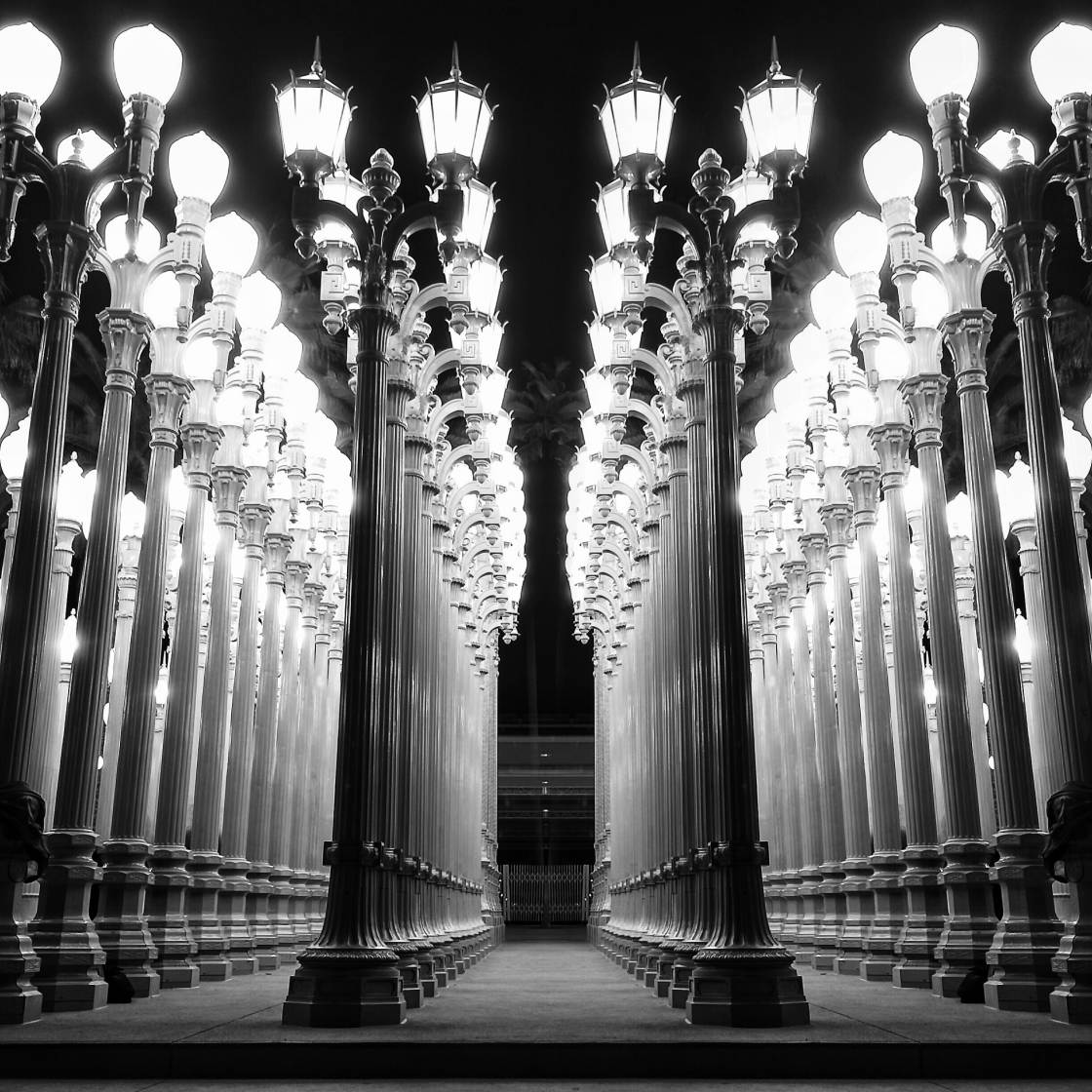 The key to great black and white night photography is to seek out some kind of light source.
In urban locations, you'll find street lights, neon signs, and illuminated storefronts.
All of these light sources will create contrast with the darker surroundings.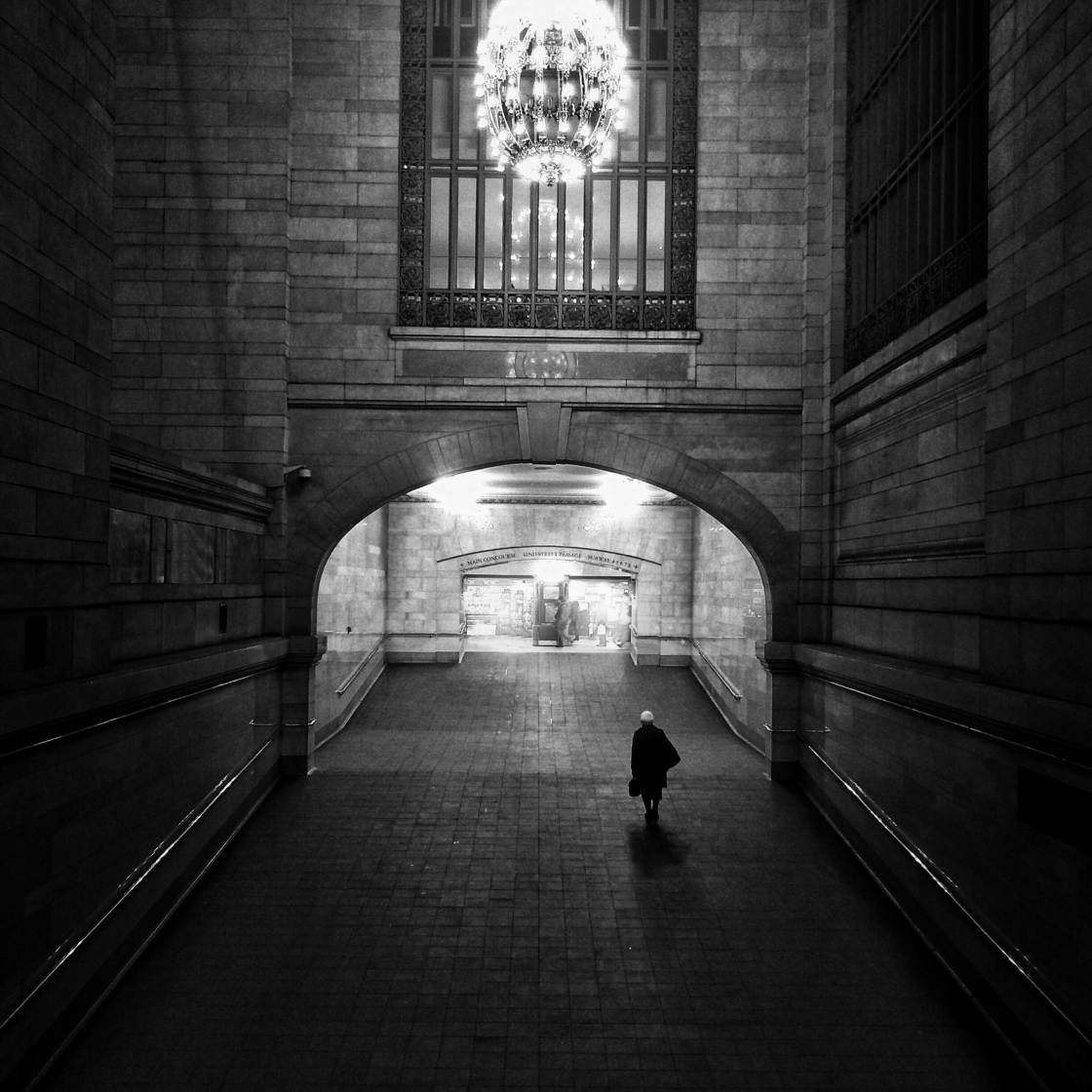 When shooting in low light, you need to watch out for exposure problems.
The dark conditions can trick the camera into making the scene brighter. The image will be over-exposed, making everything appear too bright.
If this happens, simply tap on the screen to set focus, then swipe down to reduce exposure and darken the image.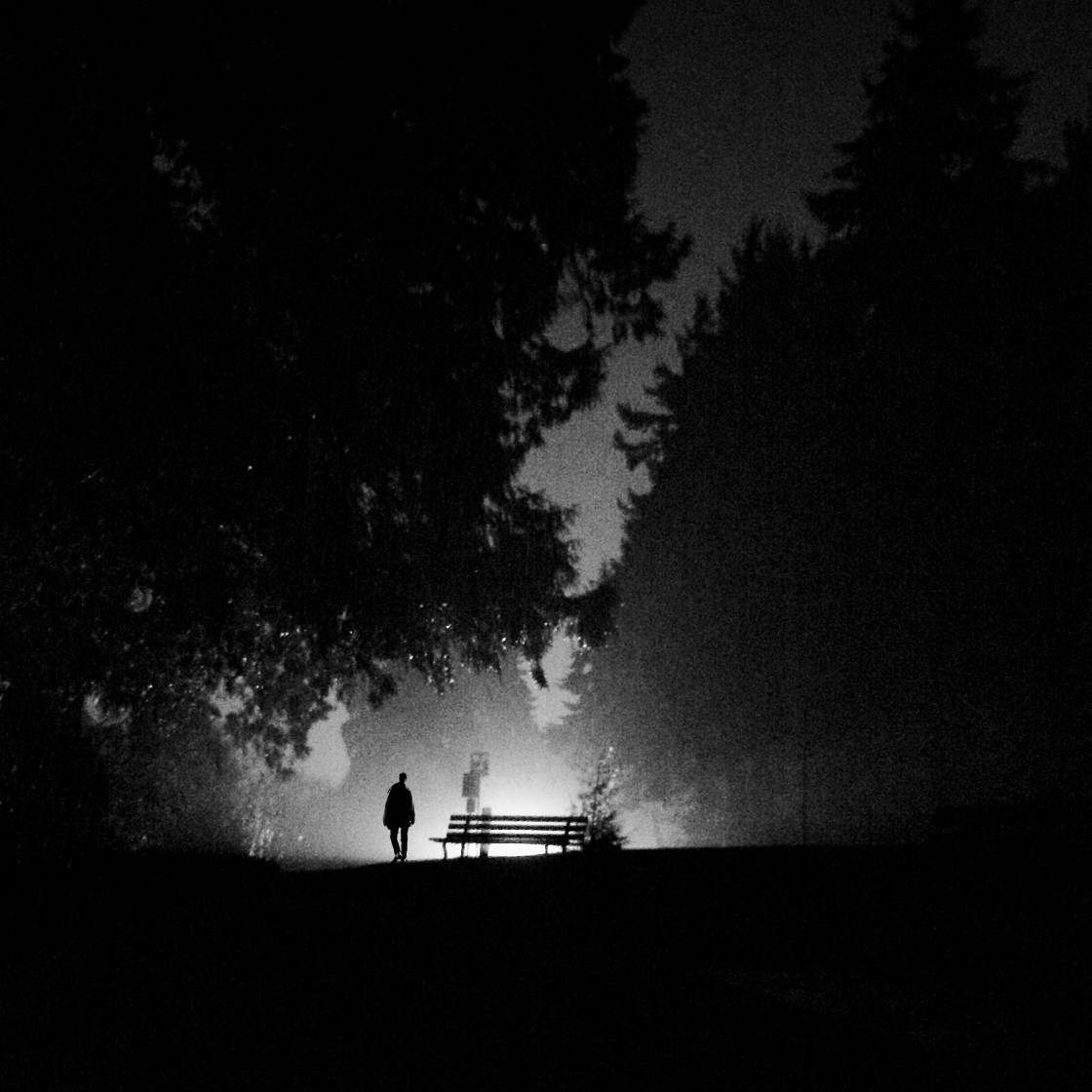 iPhone night photography might sound challenging if you haven't done it before.
But if you look for contrast between light and shade, you'll be able to create incredible night photos in the city.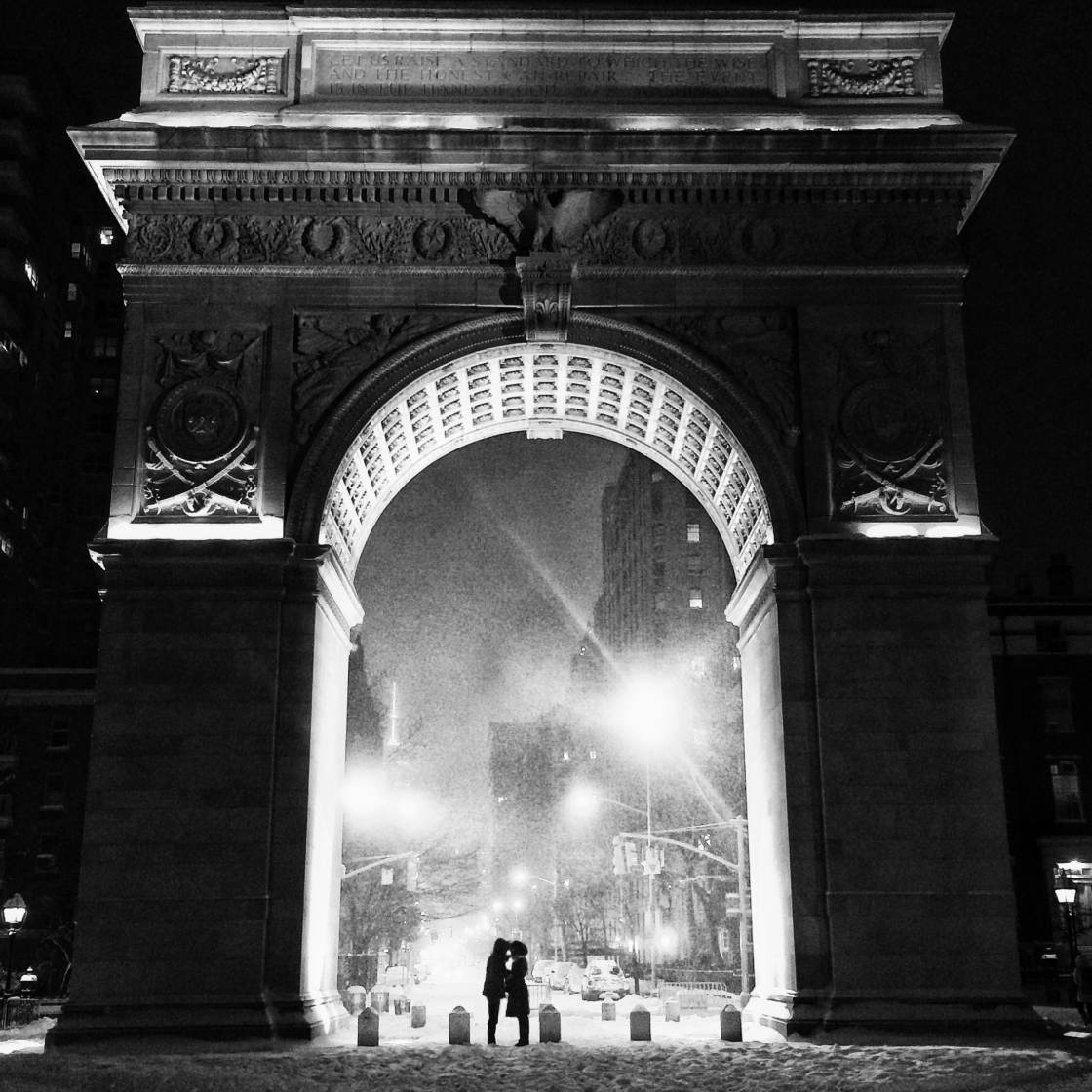 7 Hidden iPhone Camera Features
As it turns out, the most important iPhone camera features are completely hidden from regular iPhone users. That's why we created this free video revealing 7 hidden iPhone camera features that every photographer should use. Click here to watch this video.
6. Include A Person In Your Black & White Urban Photography
For truly captivating black and white city photography, you need to convey some kind of emotion.
And the best way to do that is to include people in your pictures.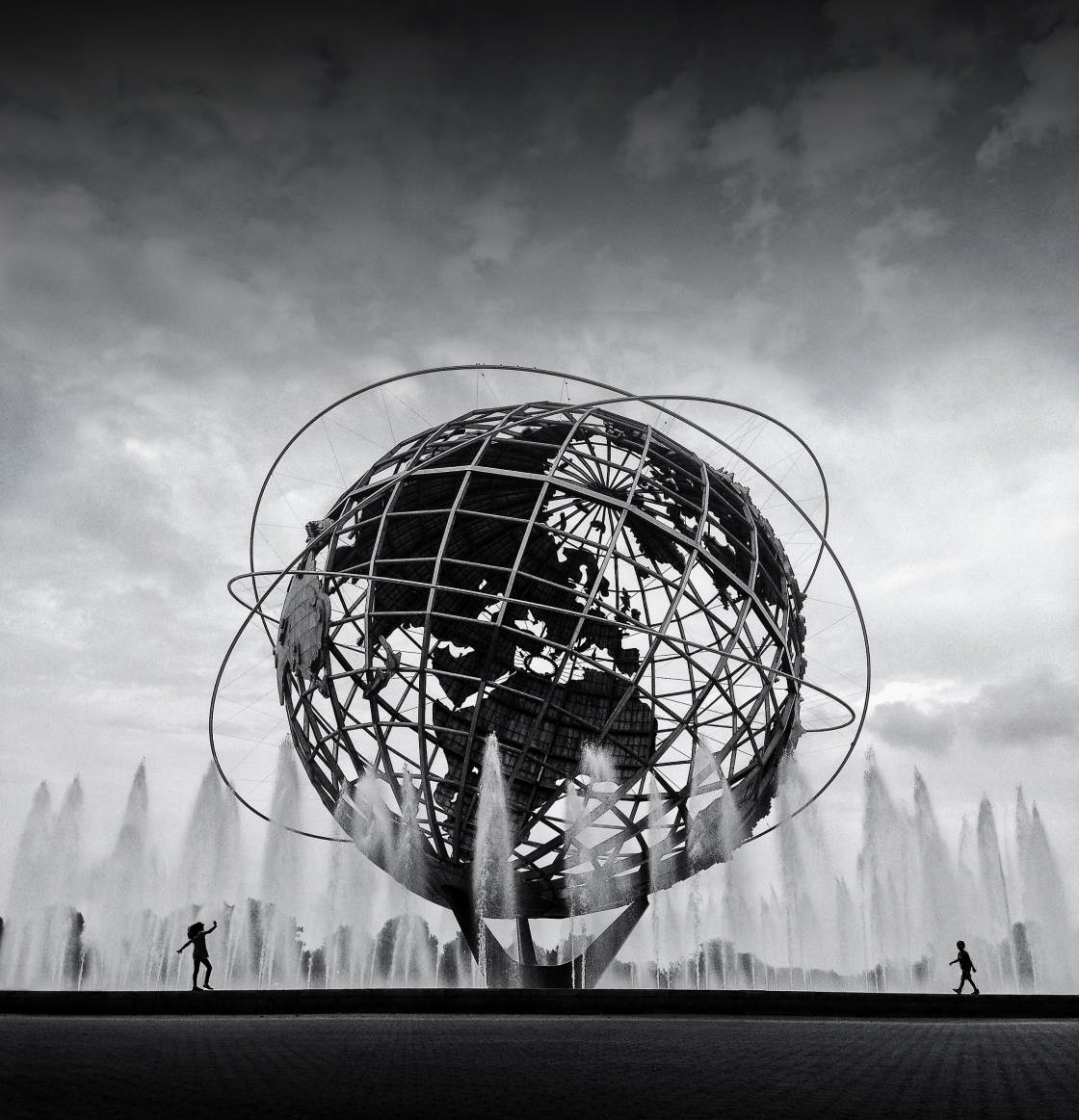 Adding a human element helps you tell more compelling stories in your iPhone street photography.
People make your photos more intriguing. They encourage the viewer to ask questions about the image.
"Who is that person?" "What are they doing?" "What are they thinking?"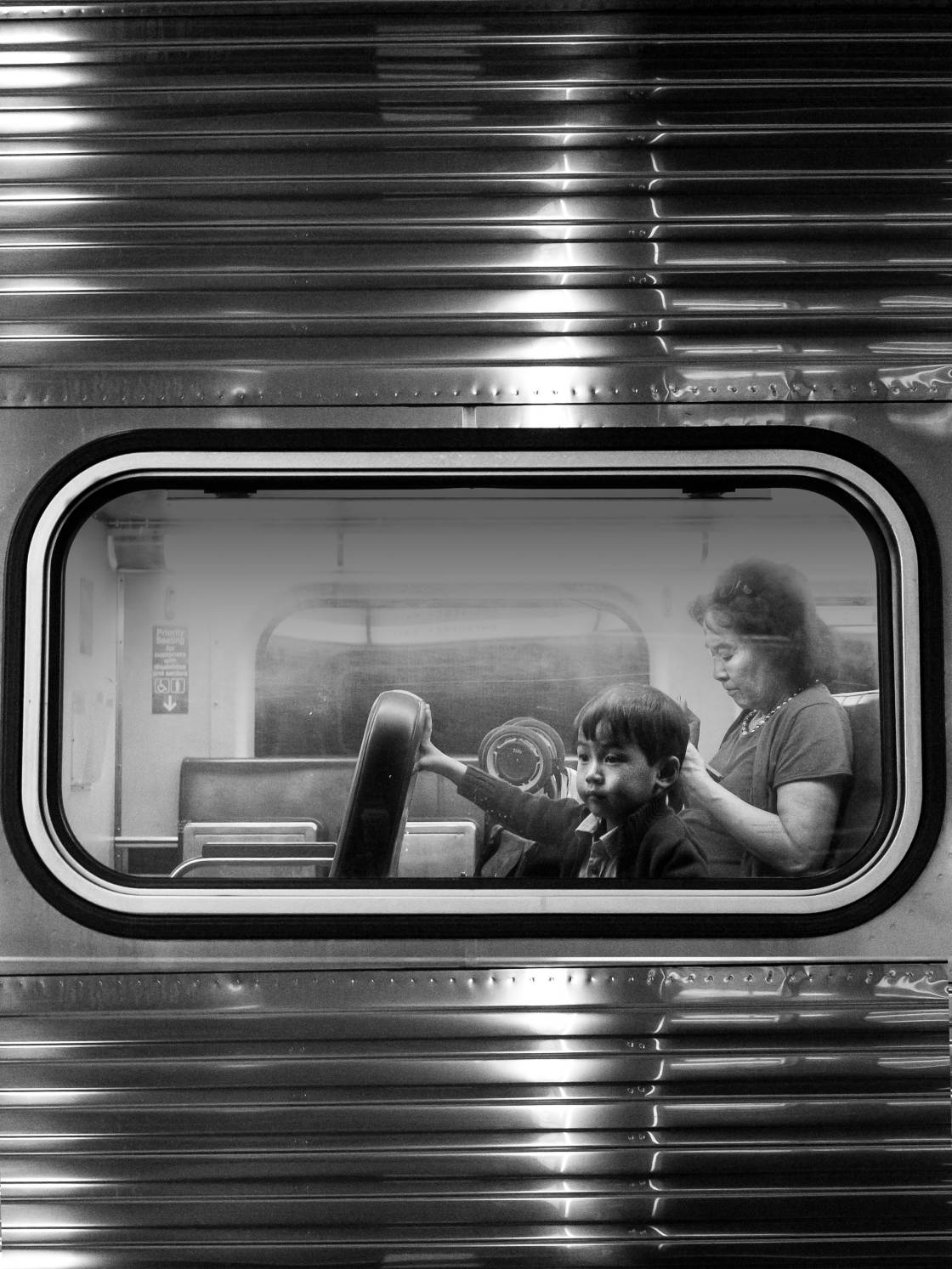 Including a person in the photo is a great way to break the pattern of an otherwise static scene.
A person also adds a sense of scale to the image. It gives the viewer a sense of the size of the surroundings.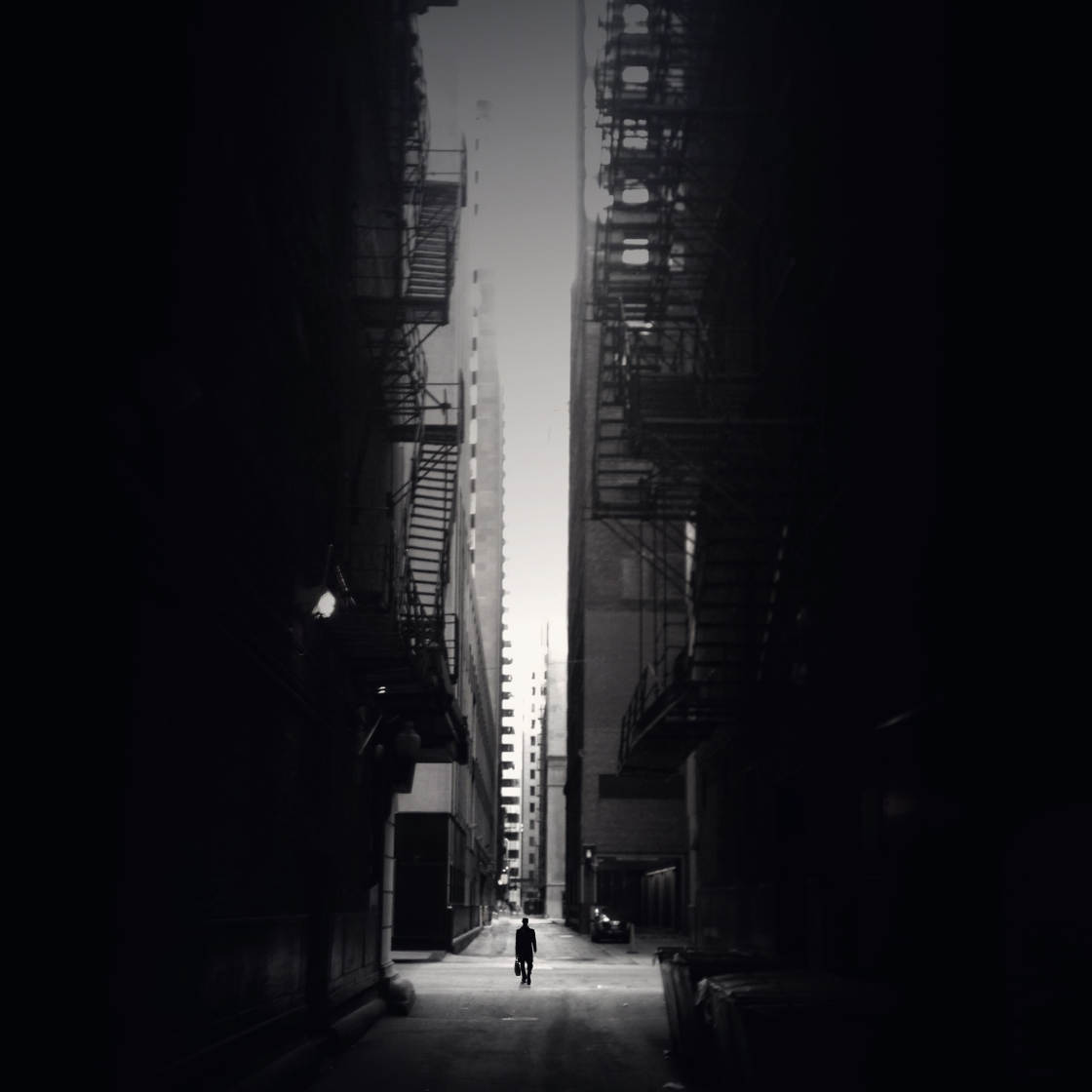 A great trick is to shoot from a distance so that the person appears tiny compared to the buildings towering above them.
When you're out shooting street photos, keep your eyes peeled for interesting looking people.
I love to photograph people wearing hats or trench coats. They create bold shapes that are perfect for black and white photos.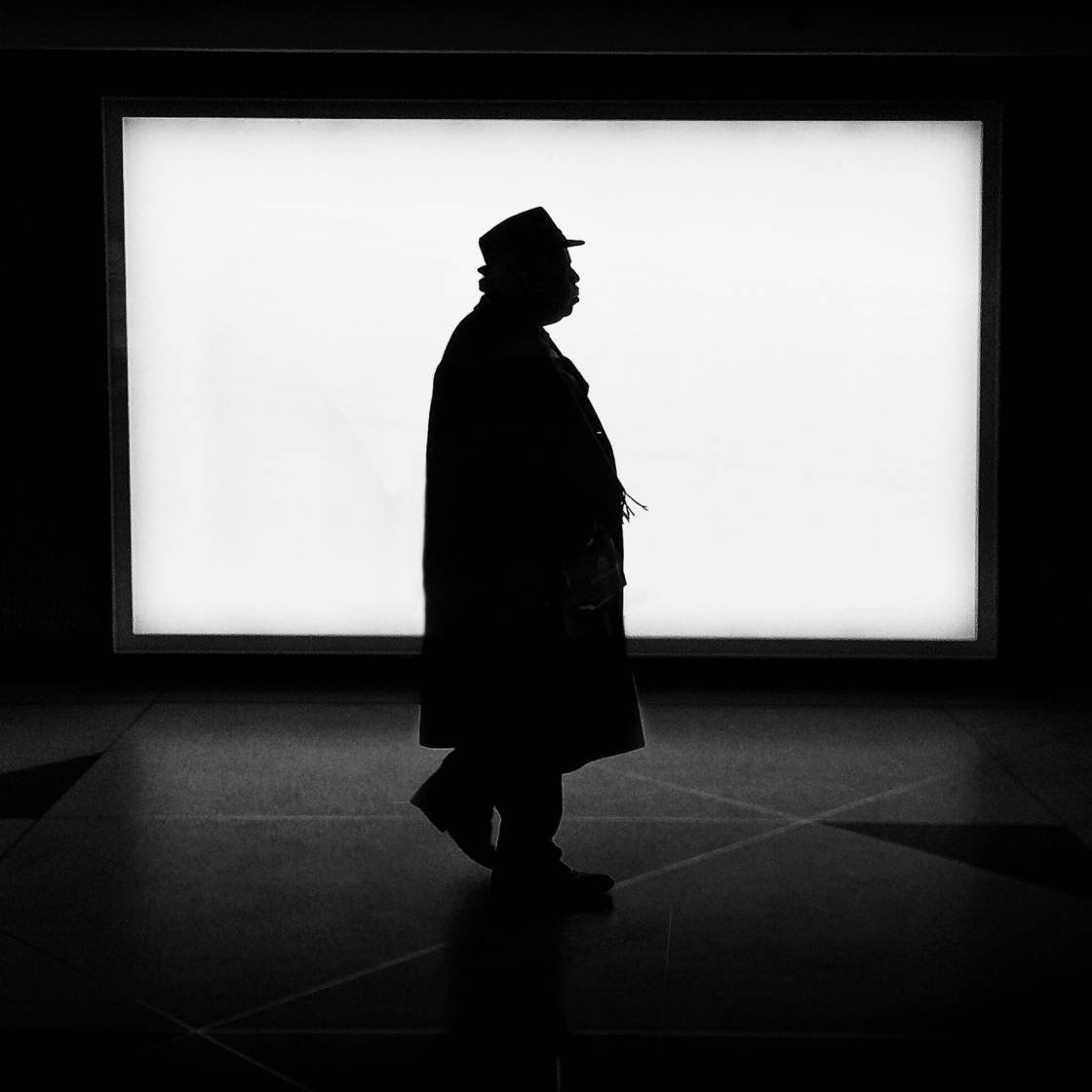 People with umbrellas make great subjects too. The shape of the umbrella will add a strong focal point to your image.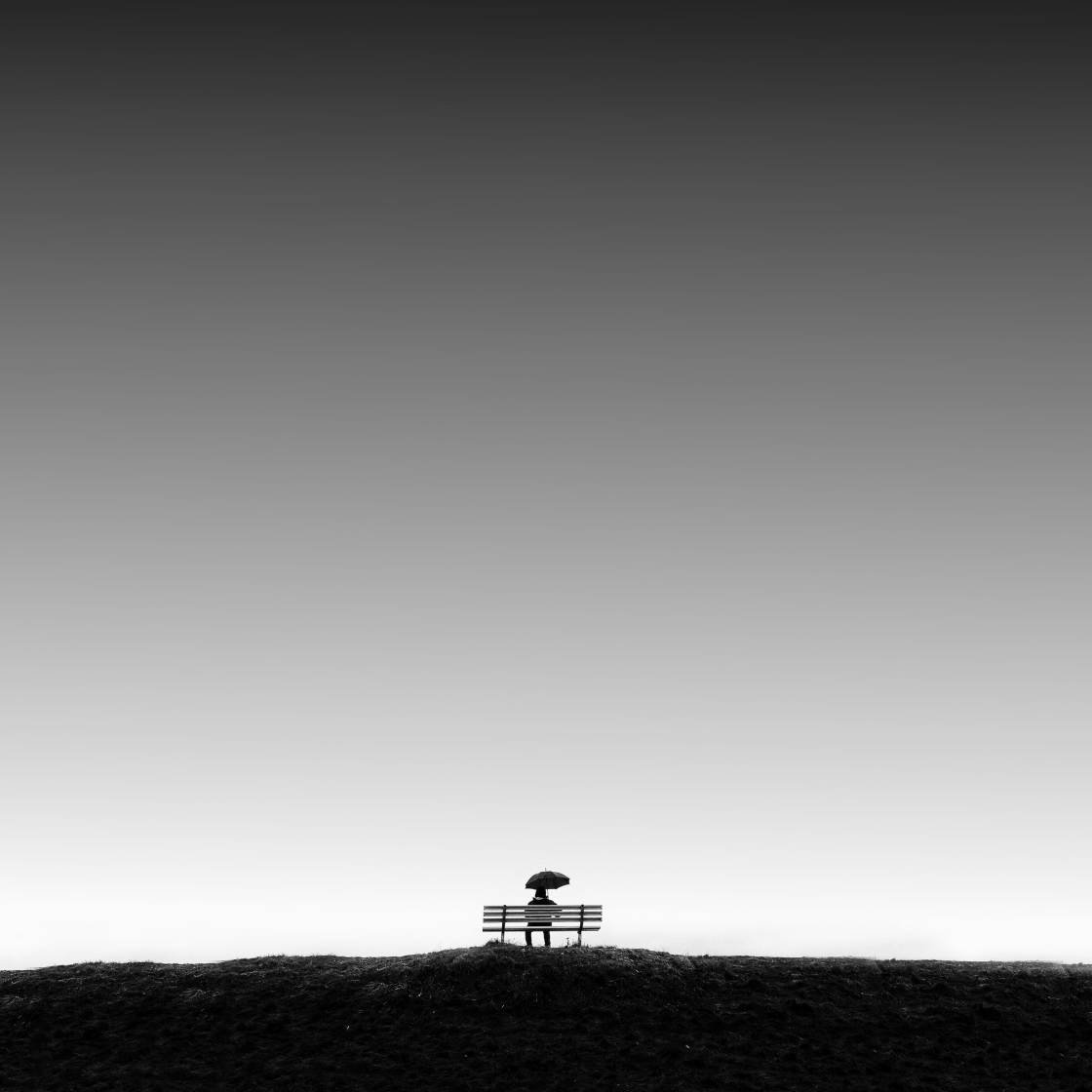 I also like to photograph people on bikes, especially when they cast a long shadow on the ground.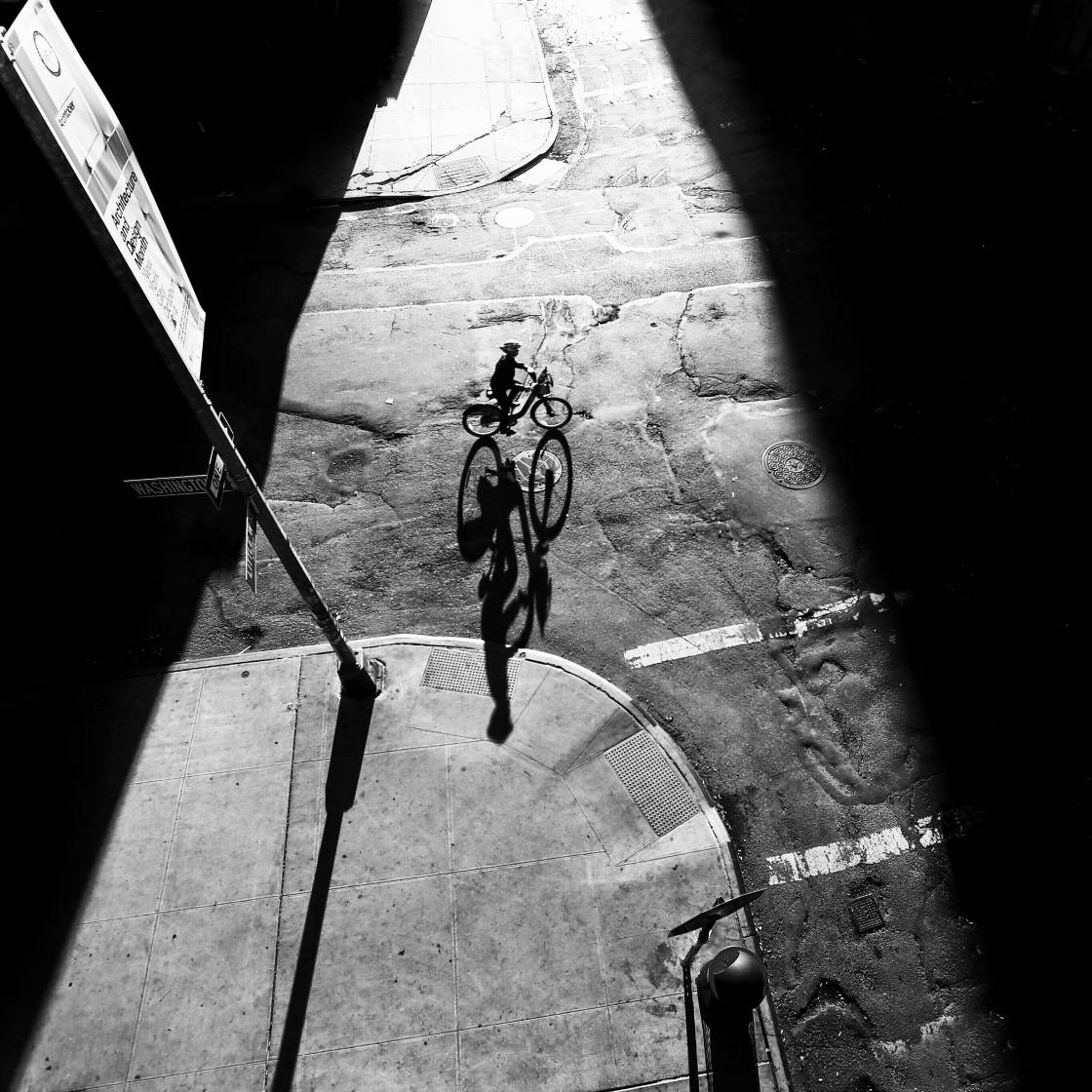 If you're worried about photographing strangers in the street, start by shooting from afar.
Or photograph a person from behind so that they don't notice you.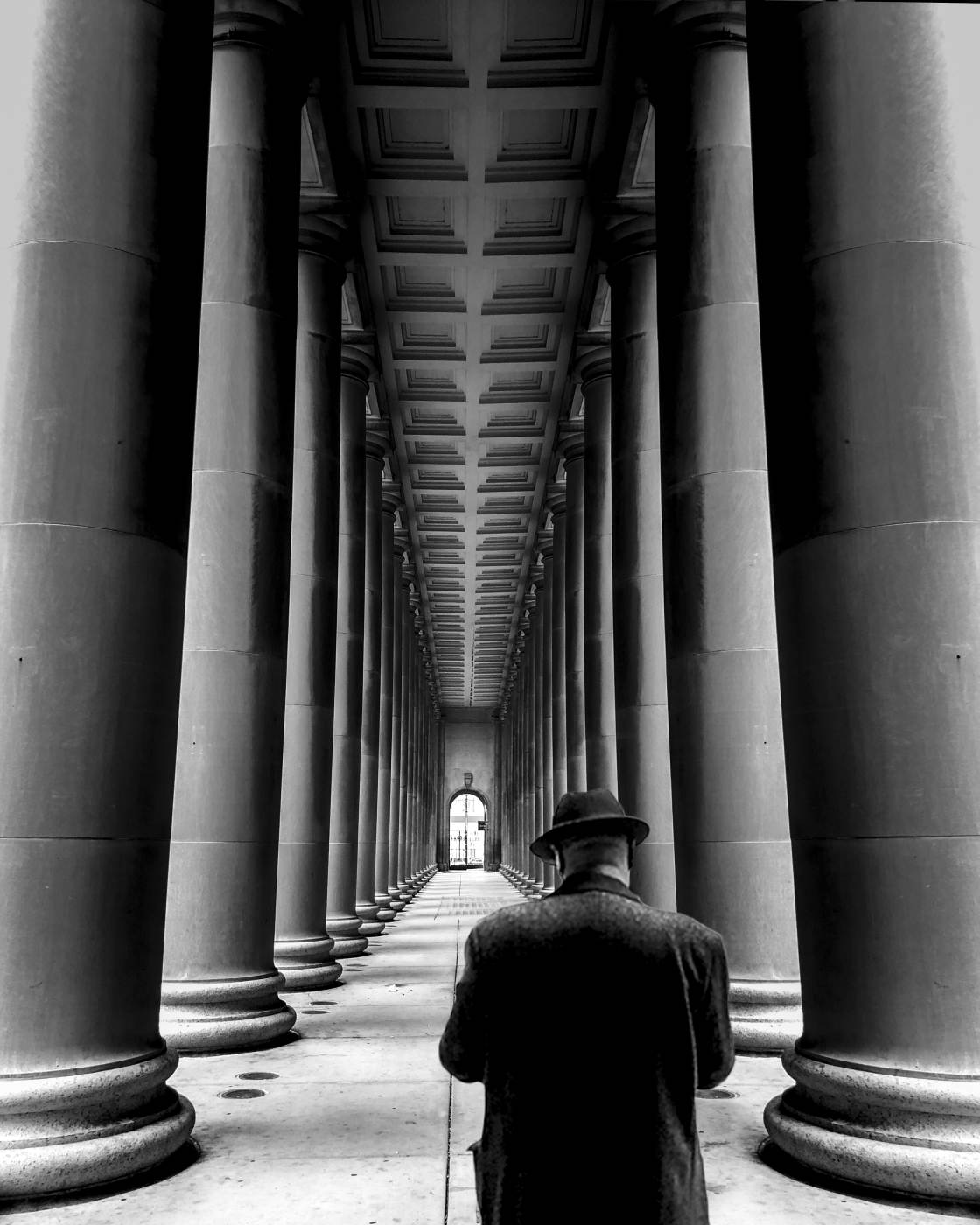 The iPhone is the perfect camera for street photography because it's so discreet.
People won't even realize you're taking a photo. And this means you can capture natural poses and expressions as people go about their business.
7. Compose Your Street Photography Shot In Advance
To shoot the most compelling black and white street photography, you need to be patient.
Once you've found the perfect location with great light and contrast, don't just take a shot and move on.
You might need to wait a while for the perfect moment when a single person walks through the scene.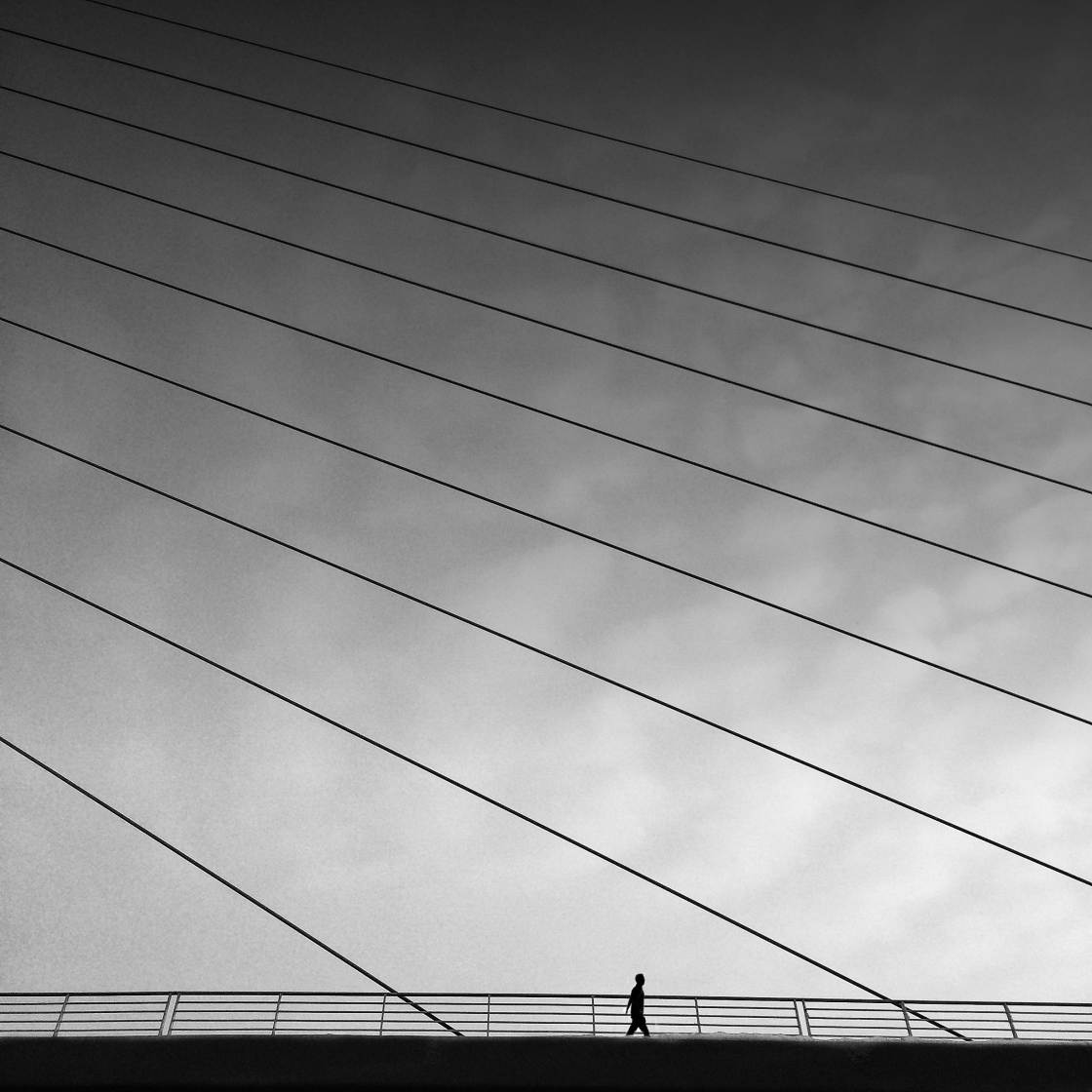 And when that moment arrives, you need to be ready to take the shot.
That's why it's important to compose your photo in advance.
Take a few minutes to explore different angles and shooting perspectives.
Would a low angle work well? Or would it be better to find a high vantage point and shoot down on the scene?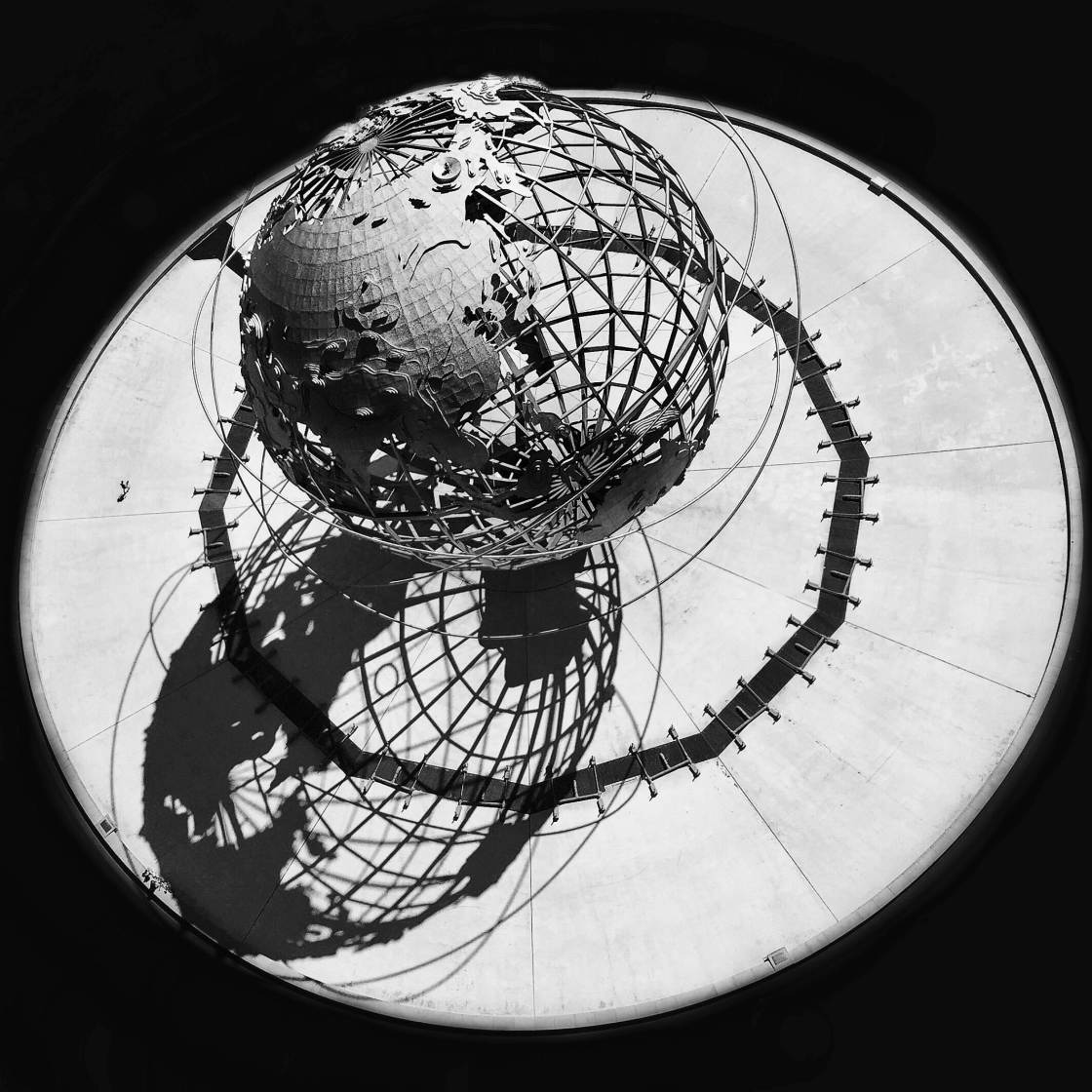 Think about how you can isolate a person from the background. For example, you could ensure the person will be positioned against a bright part of the scene.
Are there any leading lines that you could use to draw the viewer's eye into the image? If so, compose your shot so the lines lead from foreground to background.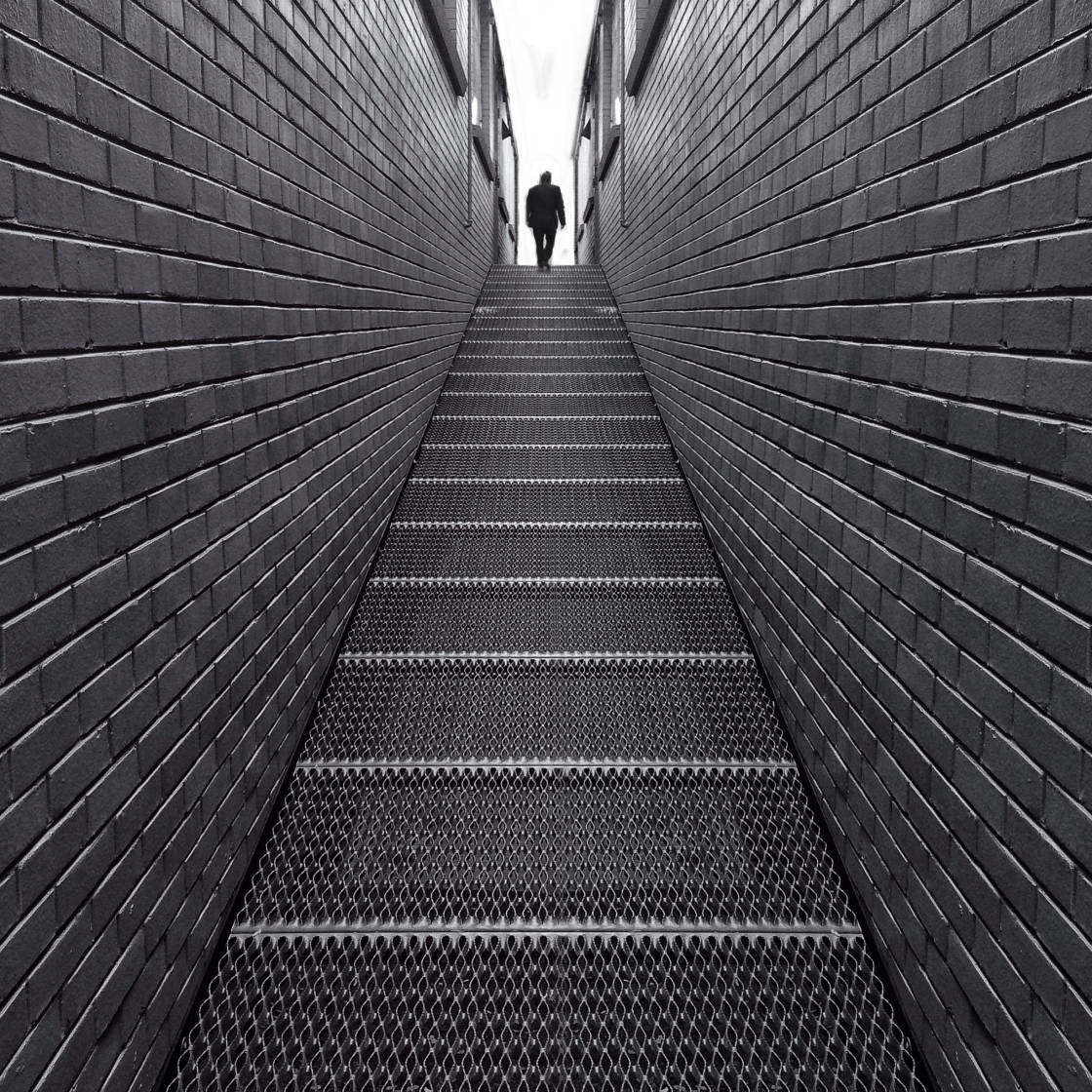 Can you find any symmetry in the chaos of the busy city? If so, take a few moments to line up your composition for a perfectly symmetrical image.
Once you're happy with the composition of your photo, you can set focus and exposure.
Setting focus and exposure in advance means you'll be ready to press the shutter as soon as a person walks into the scene.
It's a good idea to lock the focus and exposure using the AE/AF Lock camera feature. That way, you can take multiple shots with the same focus and exposure settings.
How do you lock focus and exposure in the Camera app?
Simply tap and hold until you see AE/AF Lock at the top of the screen. Just make sure you tap to set focus at the point where you think a person will walk through. A yellow box with a sun indicates the focus point.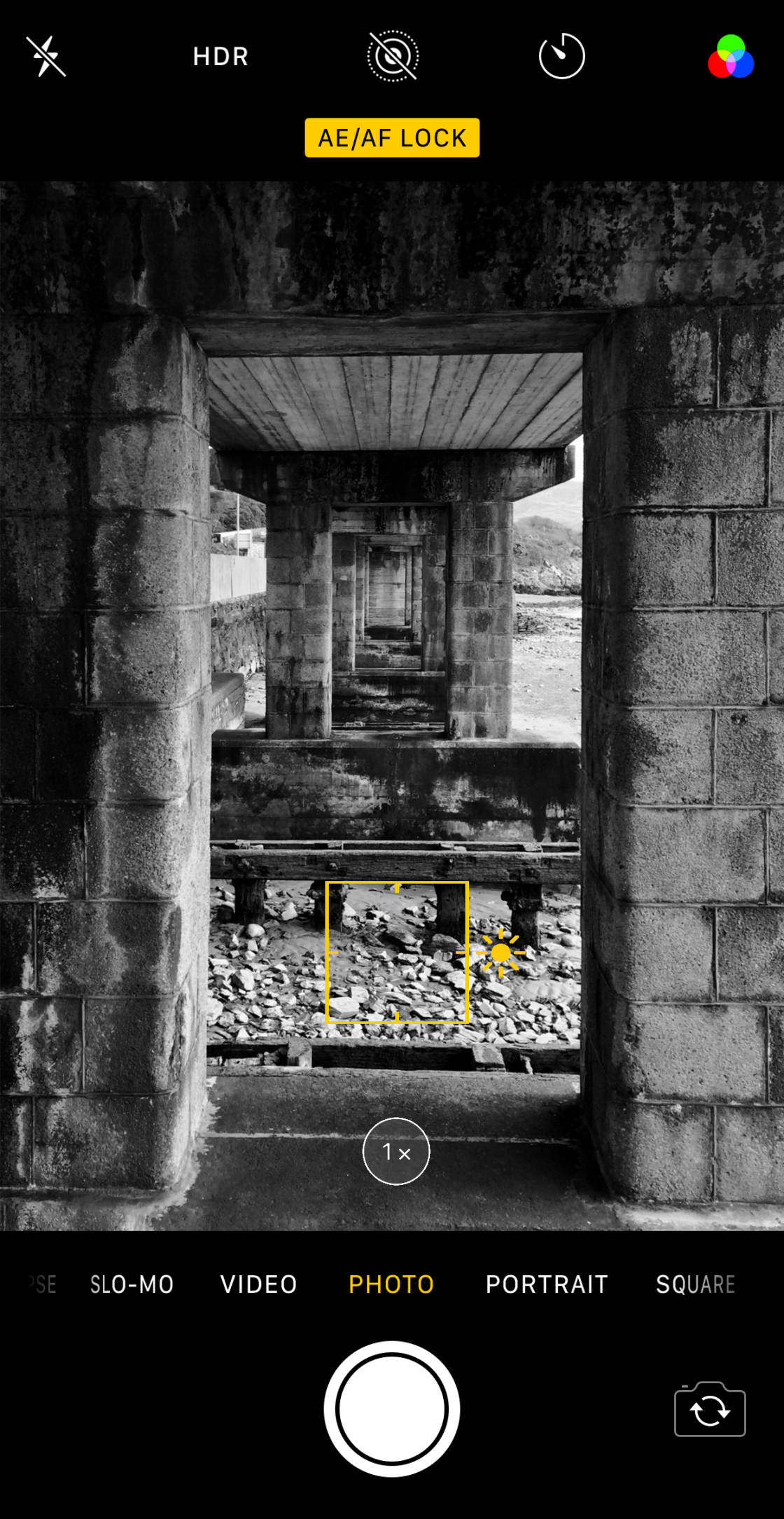 You can now adjust exposure (brightness) by swiping up or down on the screen.
To create high contrast black and white photos, I often swipe up to brighten the exposure. This is because I want the highlights (bright areas) to blow out.
This means that the brighter areas will appear completely white – which looks amazing in high-contrast black and white urban photography.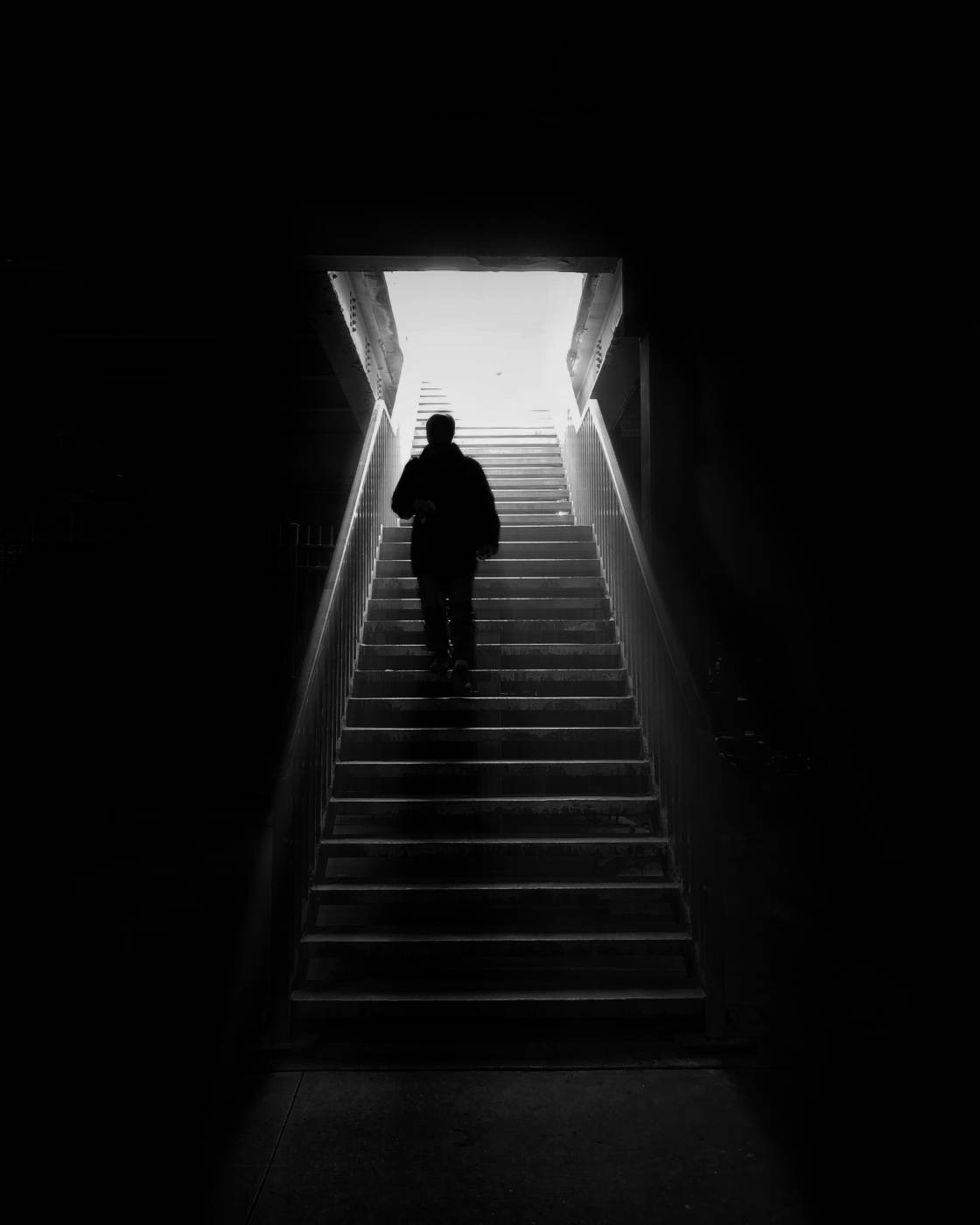 When you're editing your photo, you can then darken the shadows to make them black or very dark.
8. Use Burst Mode To Capture The Perfect Moment
When you've composed your photo and someone enters the scene, you only have a few moments to take the shot.
So, how do you ensure you capture the person in the perfect position? How do you capture the perfect pose or stride?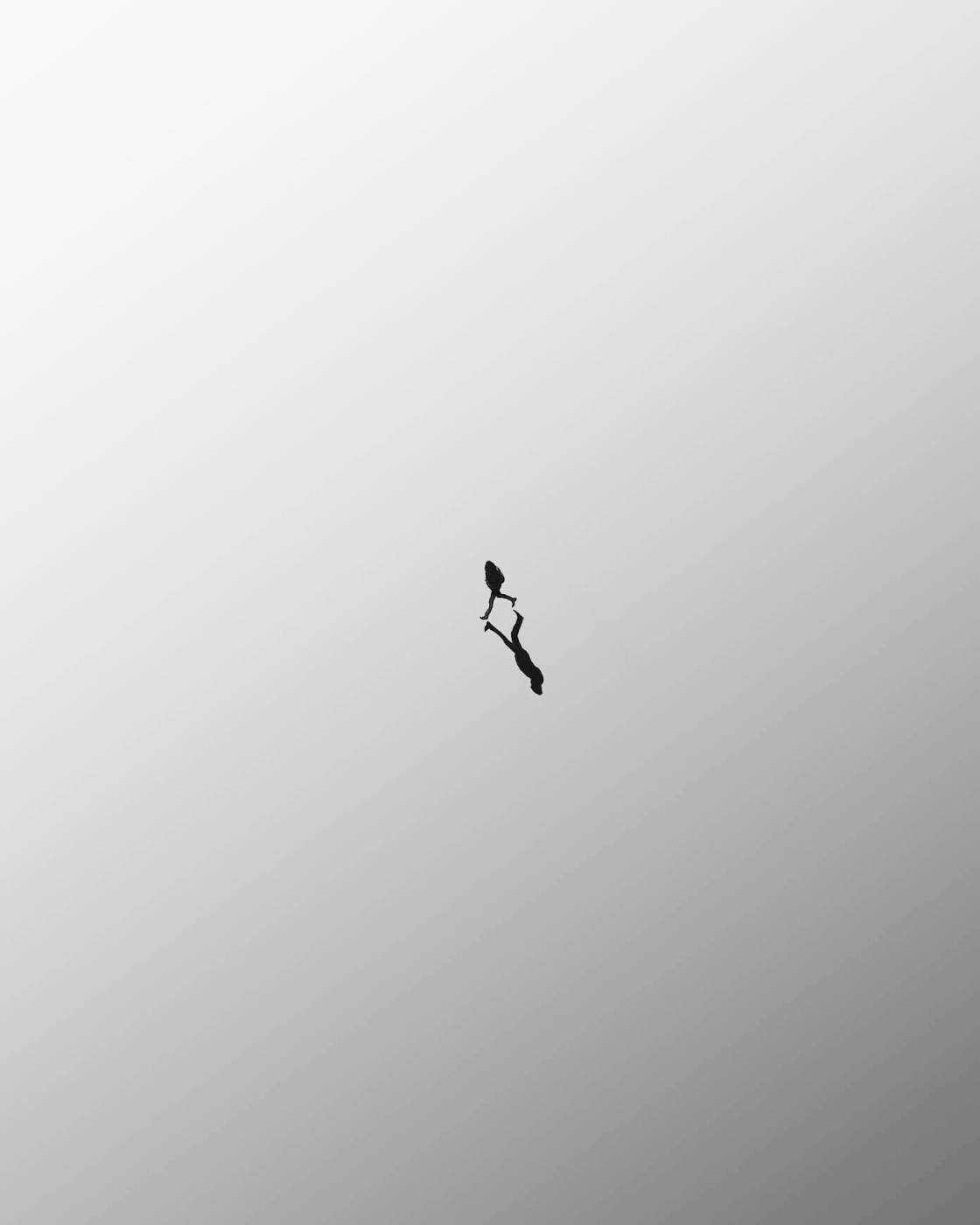 The answer:
Burst mode is an iPhone camera feature that lets you take a series of photos in quick succession.
You can then select the best photos from the burst and discard the rest.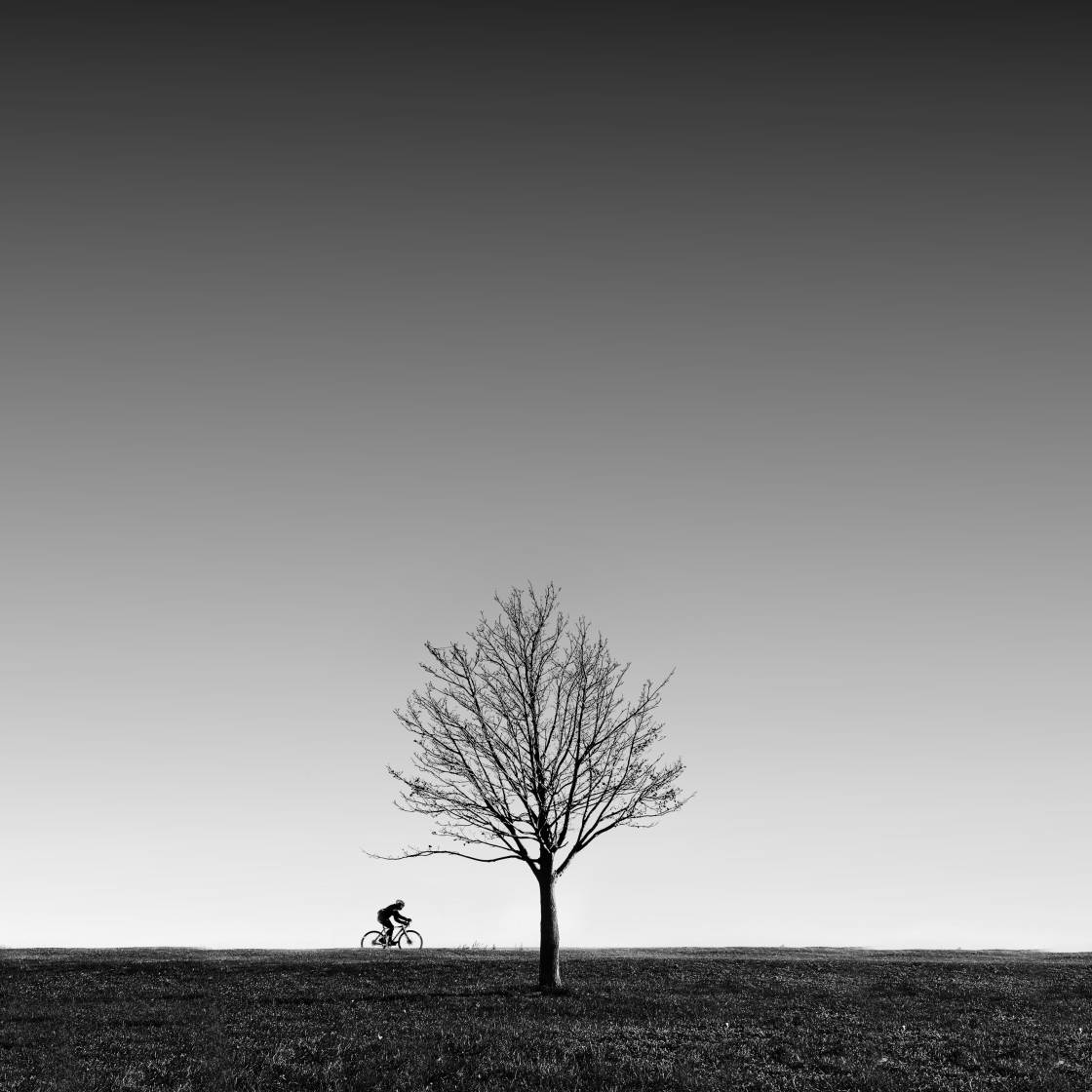 To activate burst mode, simply hold down the shutter button in the Camera app.
The camera will keep taking photos until you release your finger.
To select the images you want to keep, open the Photos app. Open the burst that you captured (the image thumbnail will appear as a stack of images). Then tap Select at the bottom of the screen.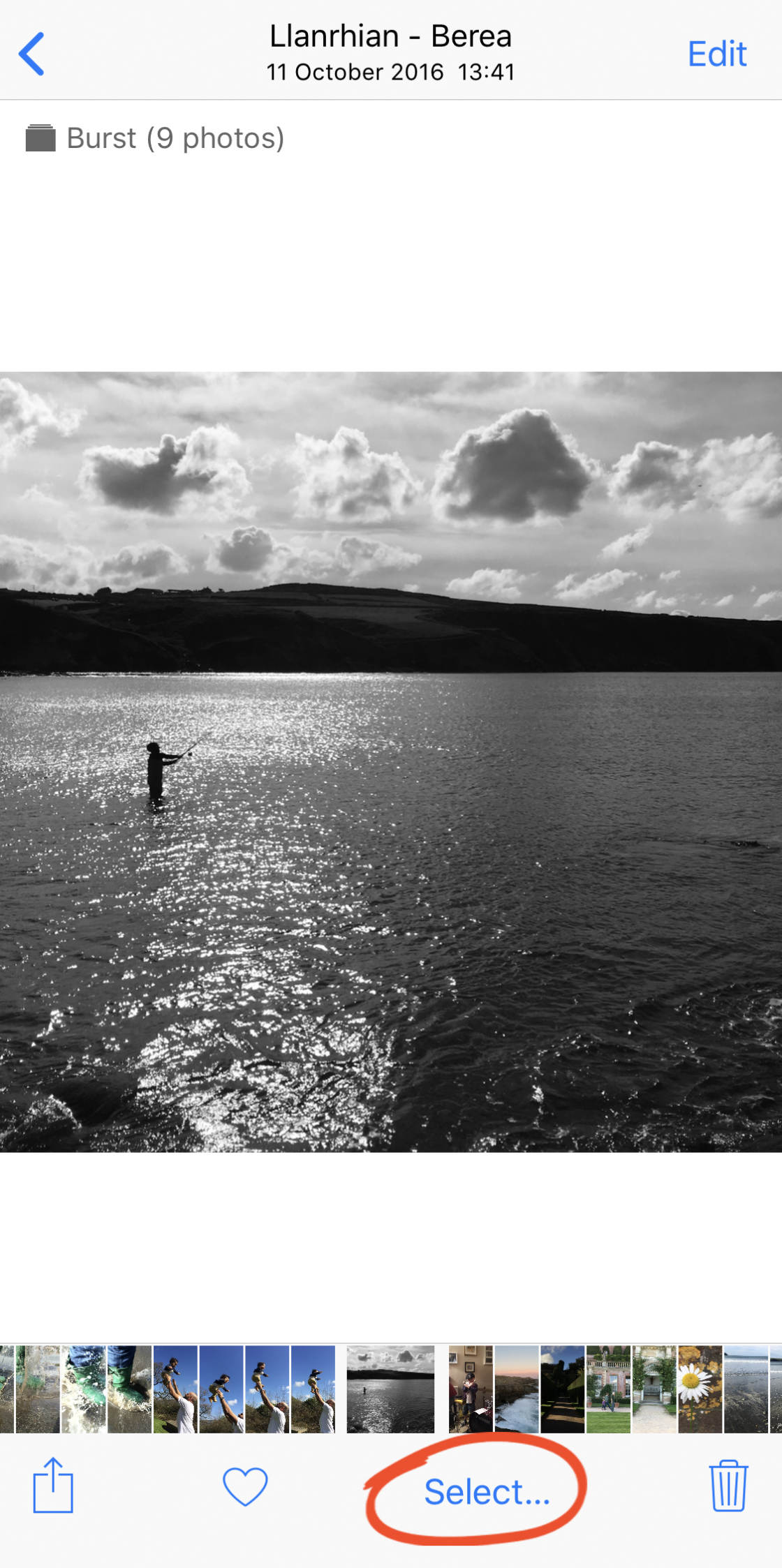 Scroll across and select the images you want to keep. Tap Done, then choose to Keep Only Favorites.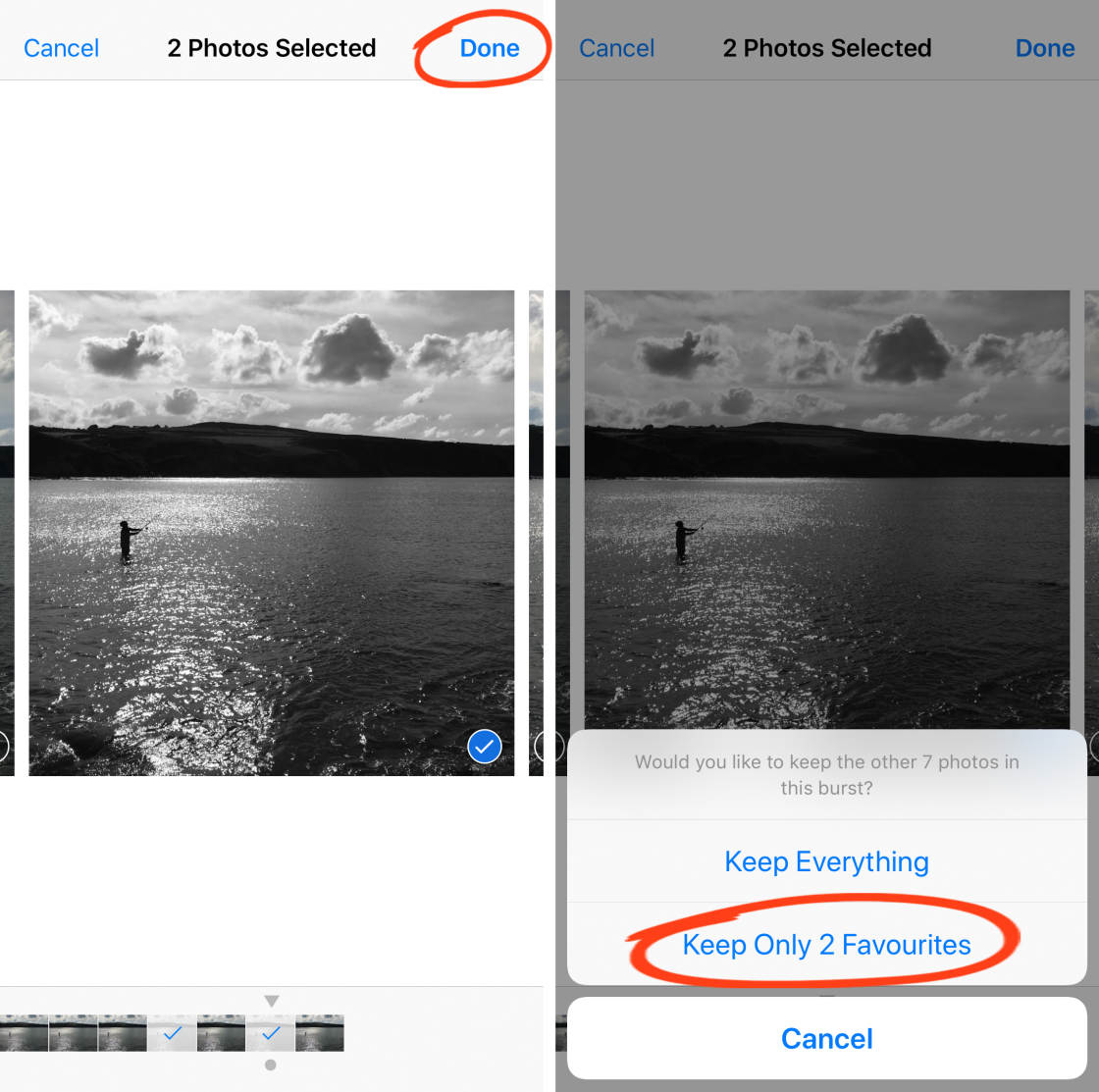 The photos you selected will appear as individual images in your photo library. The rest of the burst photos will be deleted.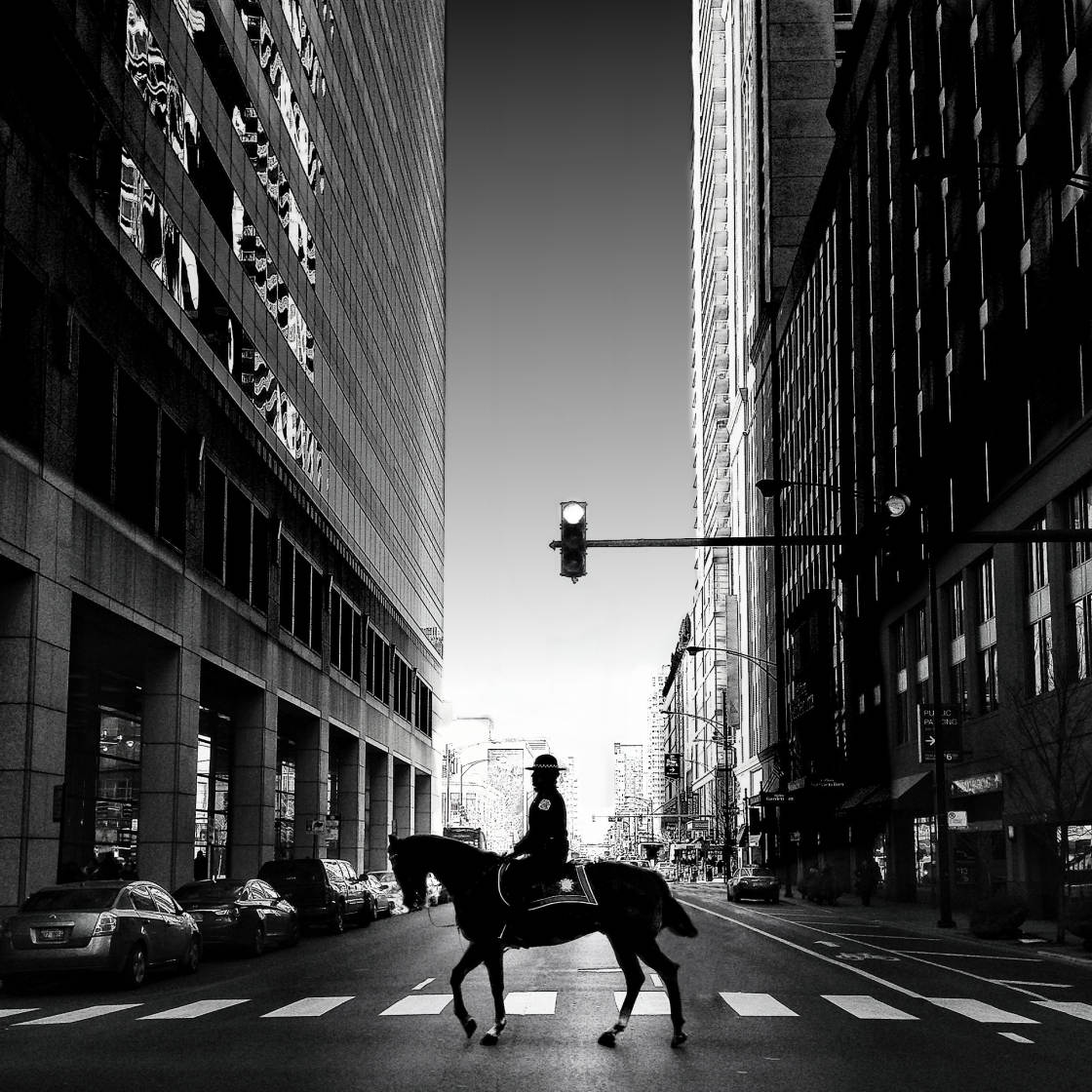 Burst mode is perfect for photographing moving subjects.
So don't forget to use it to increase your chances of capturing the perfect moment.
9. Boost The Contrast When Editing In Black & White
One of the biggest mistakes people make with black and white photography is not adding enough contrast when editing.
Even if you shot the photo in black and white, you'll still need to edit it to create an eye-catching final image.
If you don't add enough contrast in editing, the photo will look flat and lifeless.
Below is a simple editing workflow for converting a photo to black and white in post-processing.
We'll be converting this color image…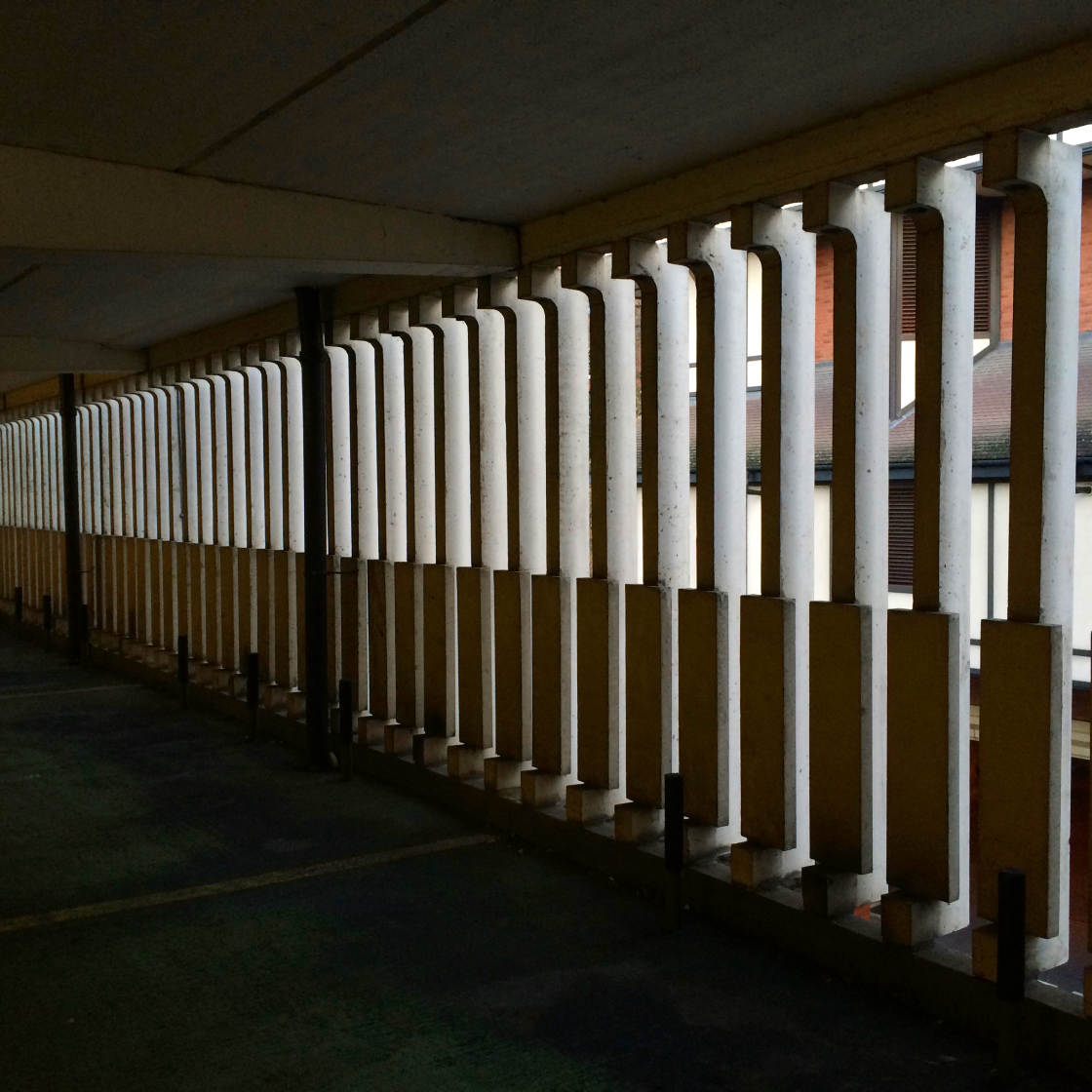 … into the high-contrast black and white photo below.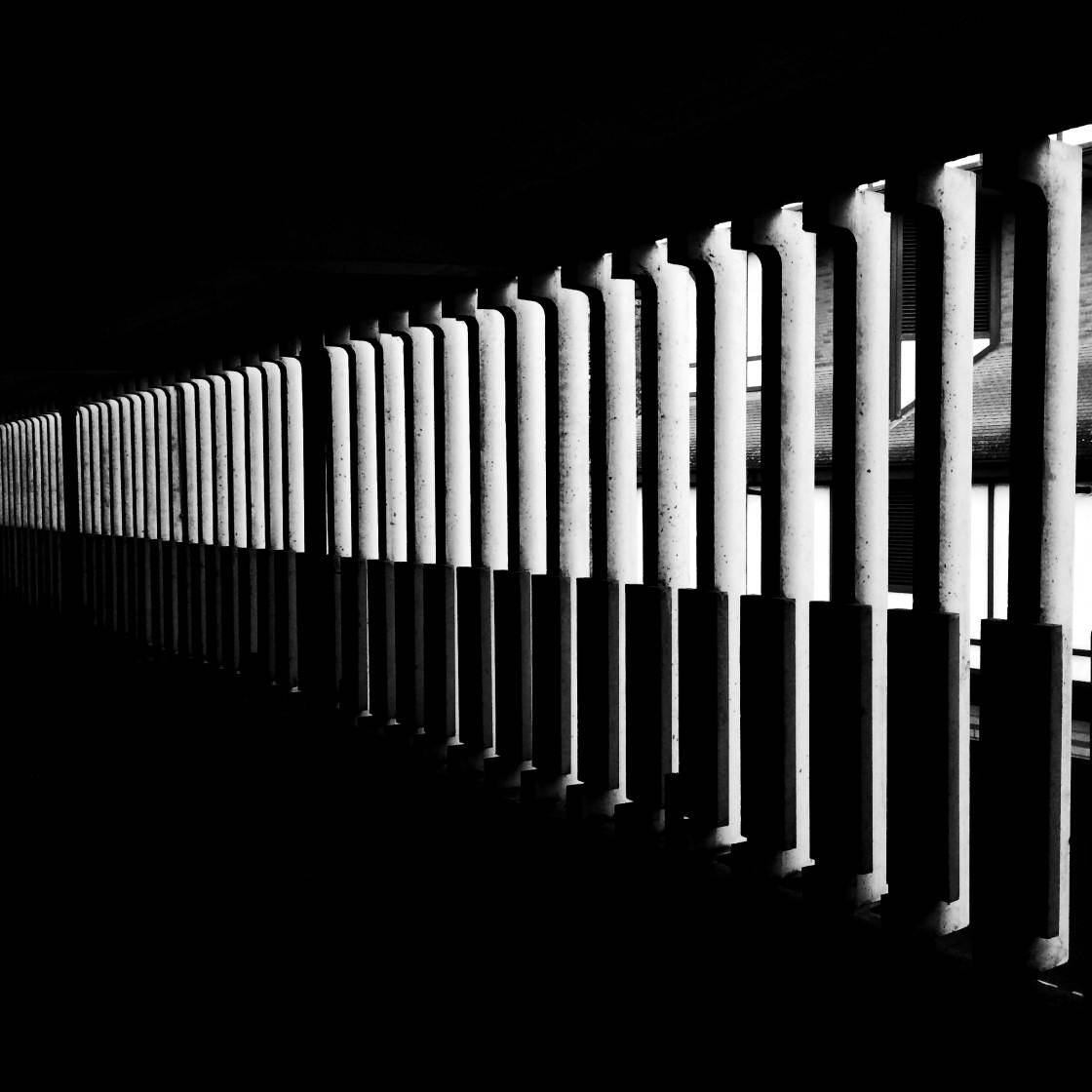 In this example, we'll use the fantastic free Snapseed app. But you can use a different photo editing app if you prefer.
Open your image in Snapseed. Tap Tools, then select Tune Image.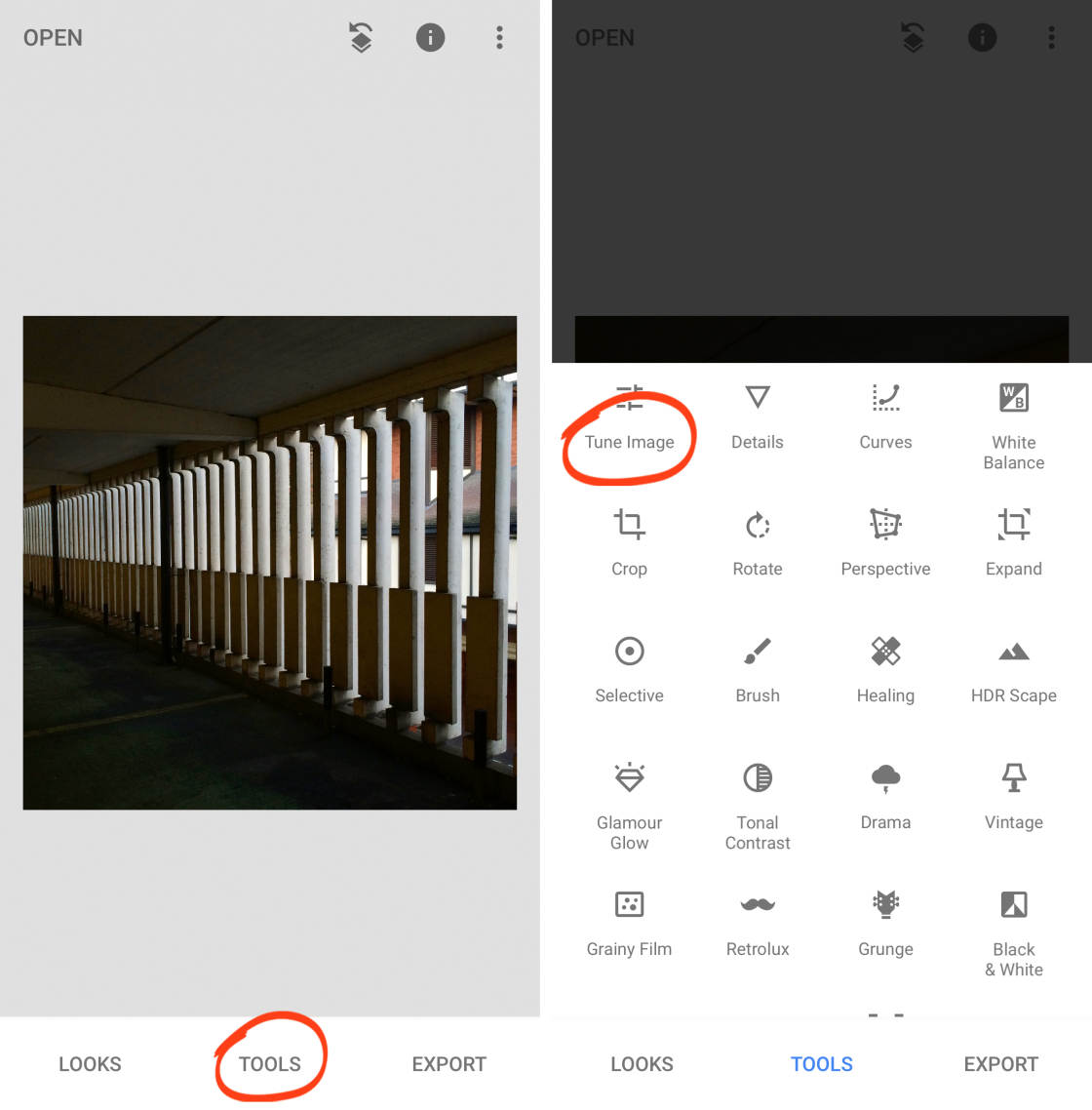 Swipe up or down on the screen to access the list of adjustments.
If your photo is in color, you'll need to convert it to black and white. Select Saturation, then swipe left to set the value to -100. This removes all of the color from your picture.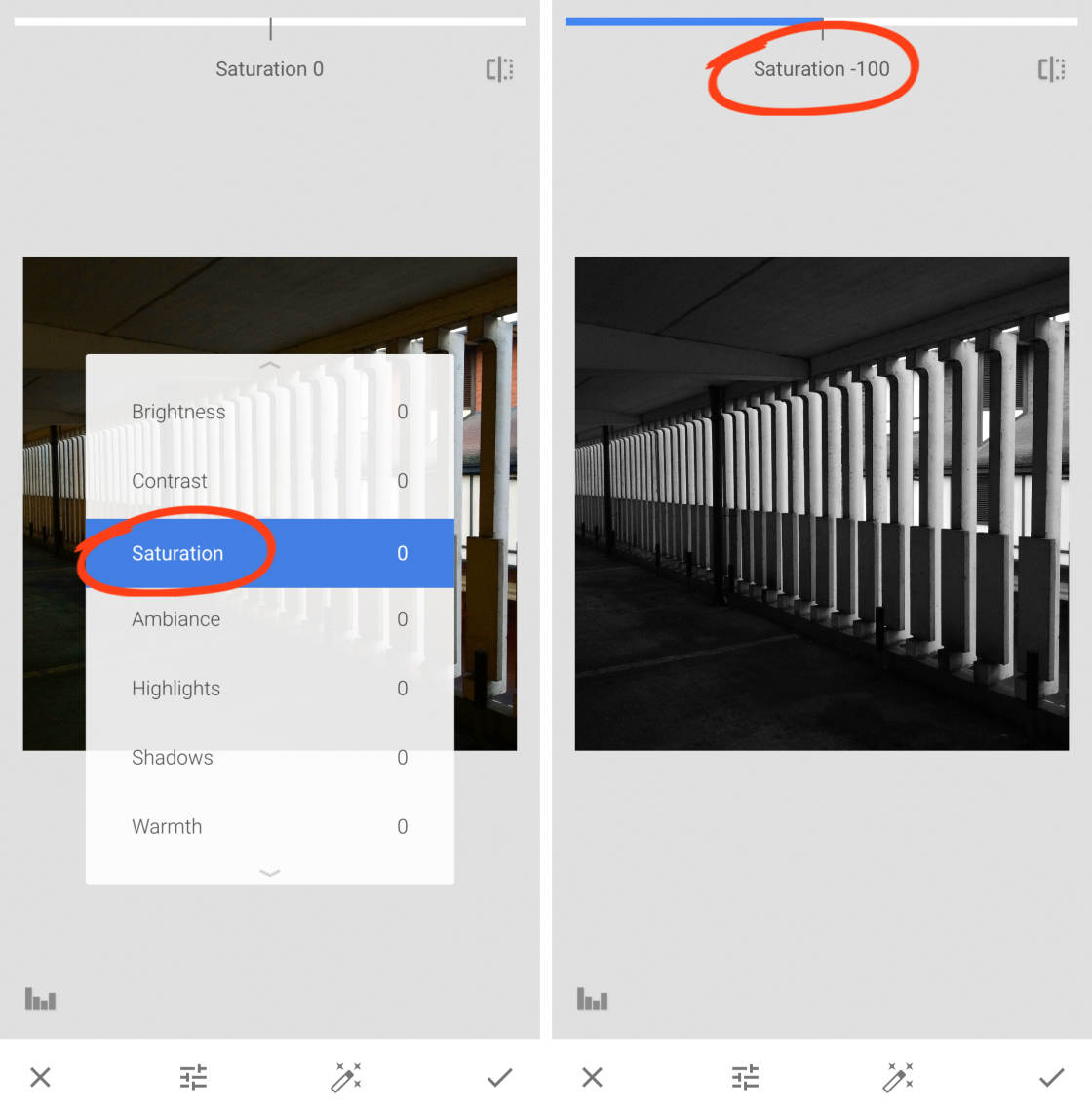 At this point, your black and white photo probably won't look great. This is because it lacks contrast between the dark and bright areas.
So the next step is to boost contrast – making the highlights brighter and the shadows darker.
Swipe up or down to access the list of adjustments. Then select Contrast. Swipe right to increase the contrast.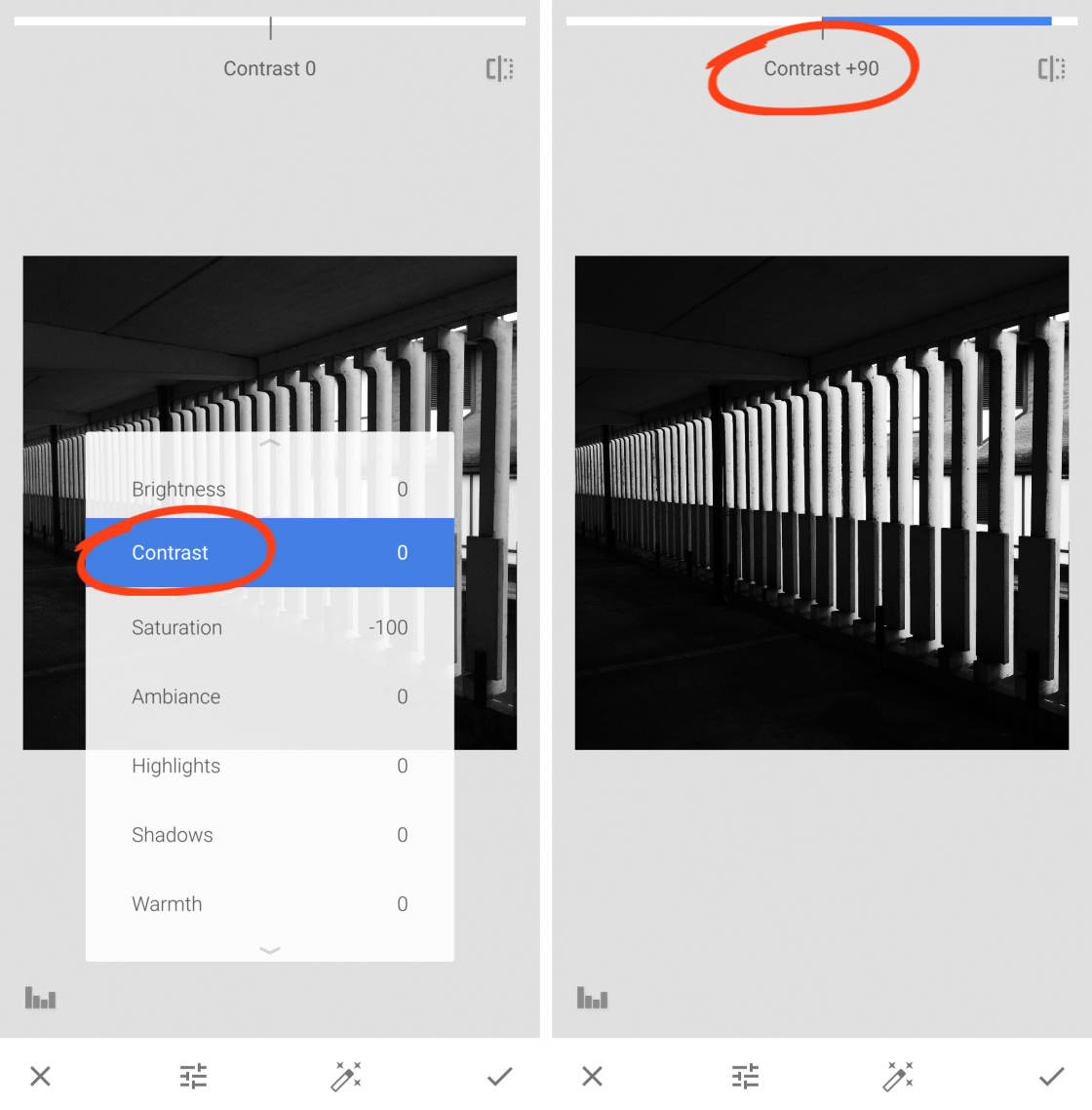 Notice how the highlights become much brighter and the shadows become much darker.
Most people are afraid of adding too much contrast, preferring to keep some detail in the shadows and highlights.
But for striking black and white urban photography, high-contrast is exactly what you want.
Don't be afraid to make the shadows pure black and the highlights pure white.
If you want to make the shadows even darker, swipe up or down and select Shadows. Then take the shadows down to pure black.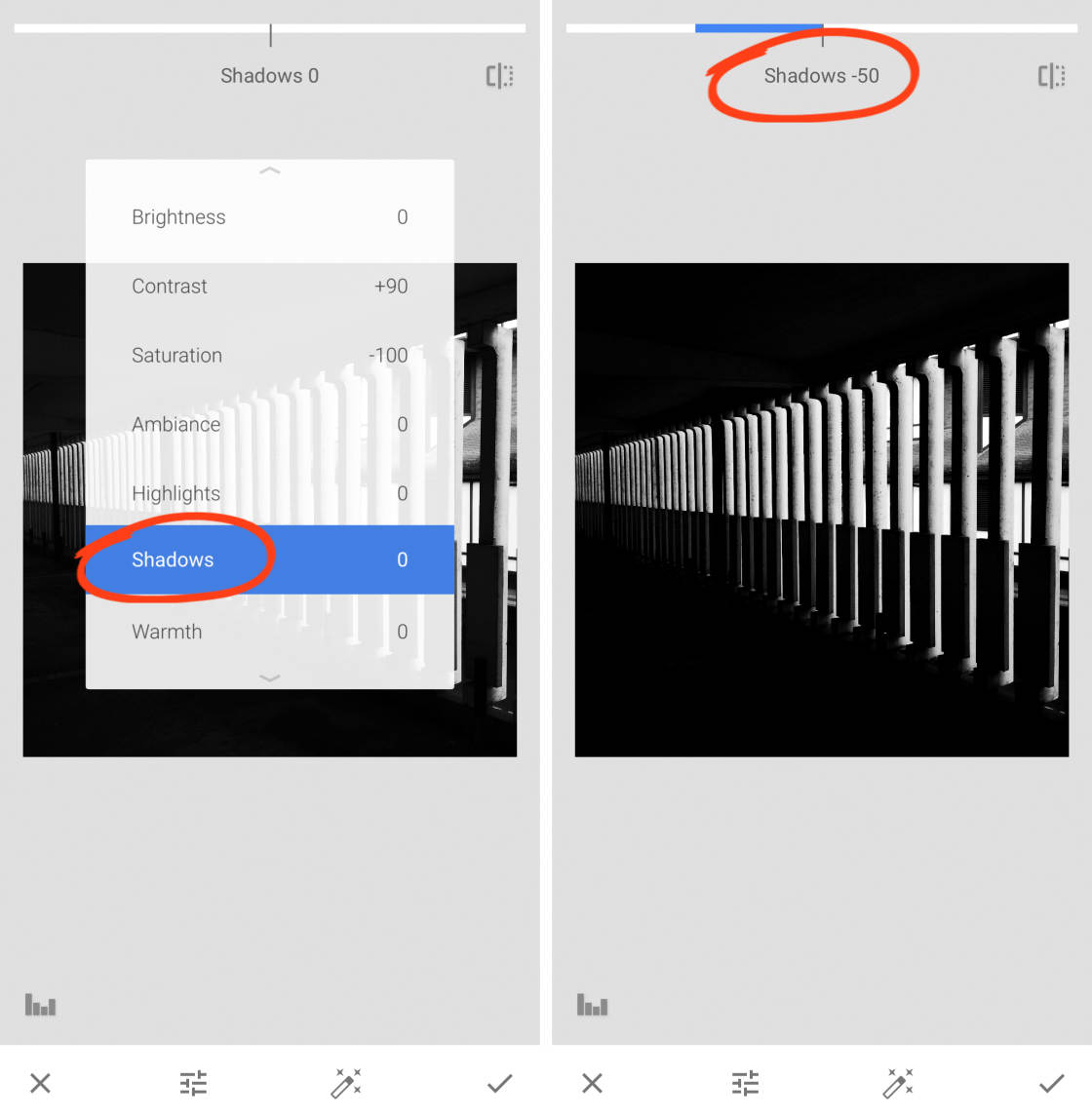 To brighten the highlights even more, swipe up or down and select Highlights. Then increase the brightness so the highlights become pure white.
When you're happy with your edit, tap the checkmark at the bottom right.
Of course, you can tweak your image further using other editing tools within the app. But the workflow above is all you need to get started with creating high-contrast black and white edits.
To save your Snapseed edit, tap Export > Save A Copy.