The joy of street photography is telling a story by capturing a moment in the lives of strangers. But taking pictures of people you don't know can be extremely intimidating, especially when you're just starting out. If you're avoiding street photography because of the fear of photographing strangers, or because you think you won't capture anything interesting, I'm here to help you! In this tutorial you'll discover 11 achievable ways to overcome your fears and become a more confident iPhone street photographer.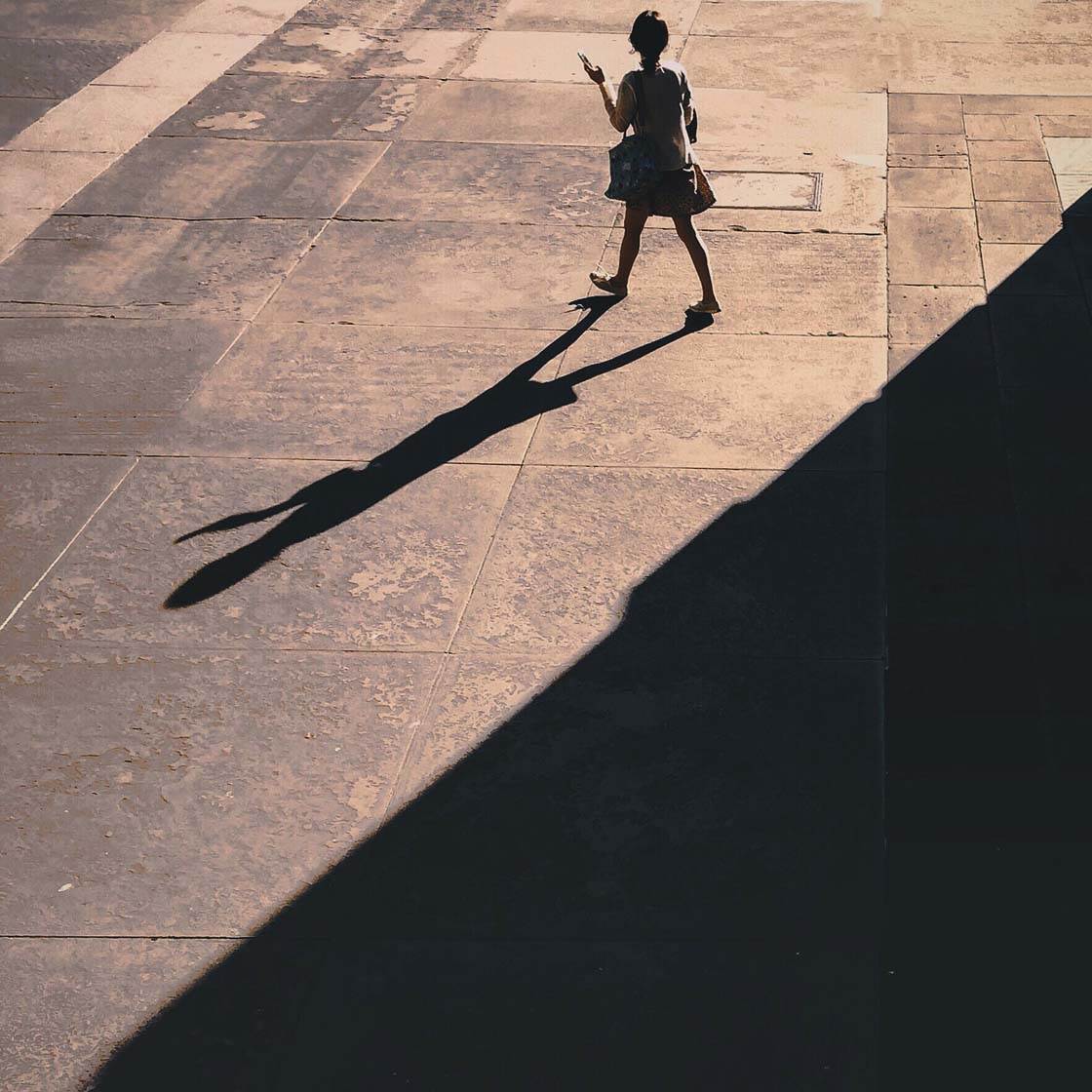 1. Shoot In Crowded Places
The most difficult thing about pointing your iPhone camera at a stranger is that they might spot you. So a good trick is to find a busy location where you can blend in with the surroundings.
Markets, shopping malls, train stations, intersections, and even shops and cafes provide great settings for capturing busy street life.
Any place where people are too busy going about their daily lives to notice you with your iPhone will make an excellent starting point for capturing subjects without being noticed.
2. Be Discreet
No matter where you're shooting, try to be as discreet as possible. Once people realize they're being photographed, they change their behavior and you don't get the natural, candid shots that work so well in street photography.
Natural behavior attracts less attention, so don't stand in the middle of the street with your iPhone out in front of you taking pictures. Stand or sit somewhere out of the way so that people don't notice you.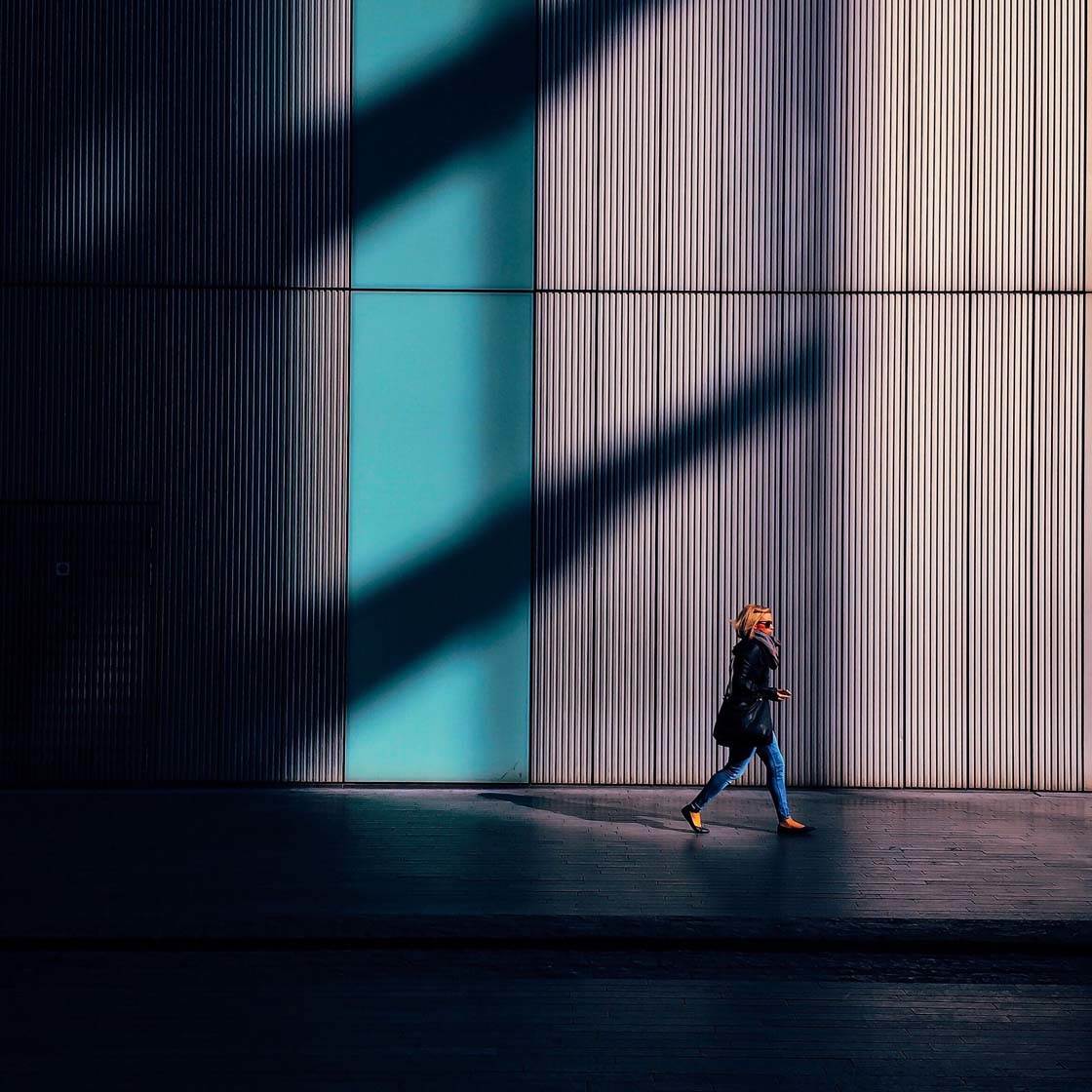 If you're out on your own, a good strategy for taking the attention away from yourself is to listen to music through your Apple earbuds. This can make you feel more like an observer and helps to distance you from unwanted reactions.
Another top tip is to use your Apple earbuds as a shutter release when taking a photo. This makes it less obvious that you're actually taking a picture as you're not touching the iPhone's screen.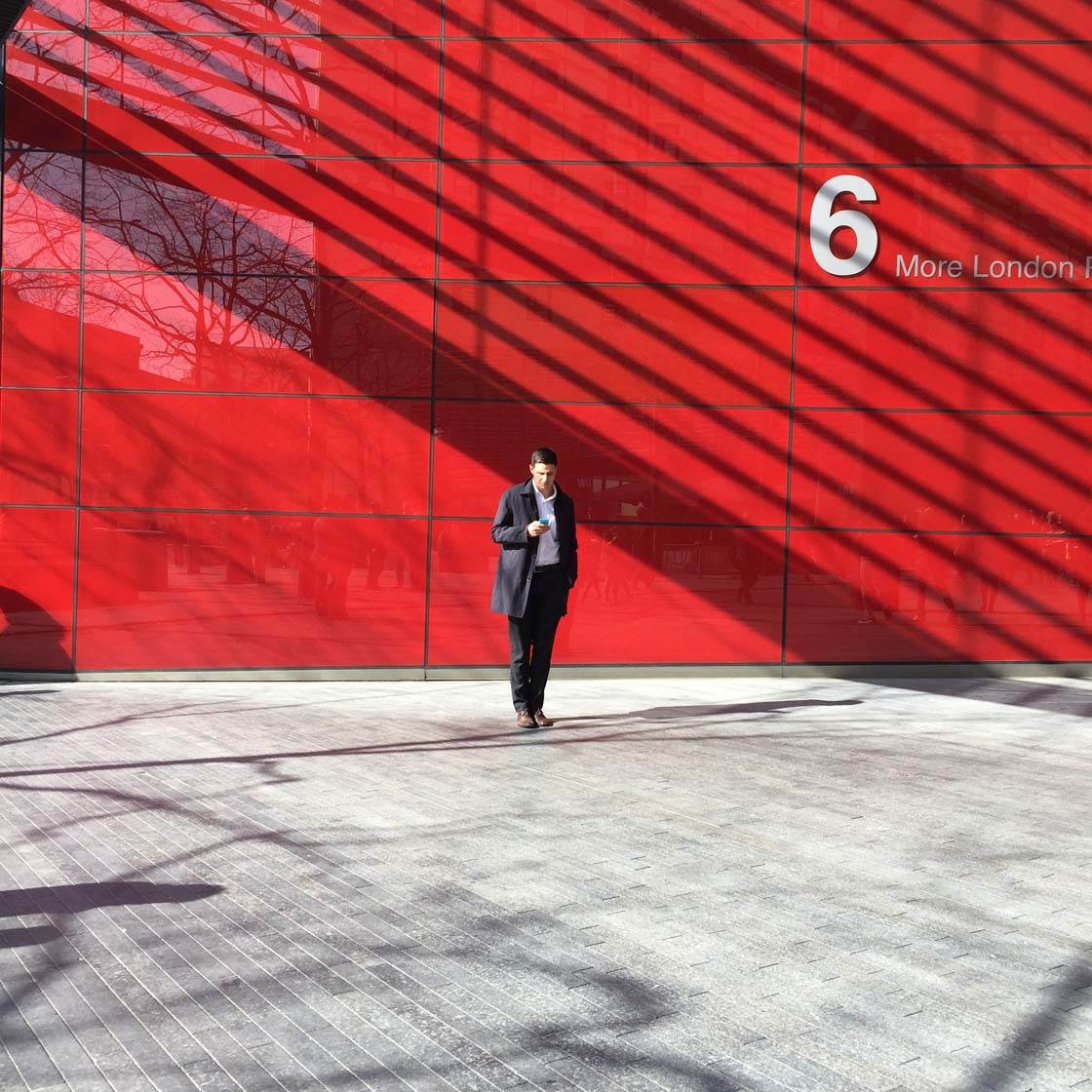 If you see a moment that you want to capture, but you're feeling hesitant that your subject is going to notice you, just continue to move your iPhone around pretending to take pictures. Try not to give away the fact that you've taken someone's photo.
3. Explore New Places
Exploring new places or different cities often makes it easier to shoot with confidence. If you feel like a visitor, it's easier to take yourself out of the situation and you're more inclined to feel comfortable.
As a tourist you're more open to taking photos of anything and everything, so you tend to become braver, especially when photographing strangers.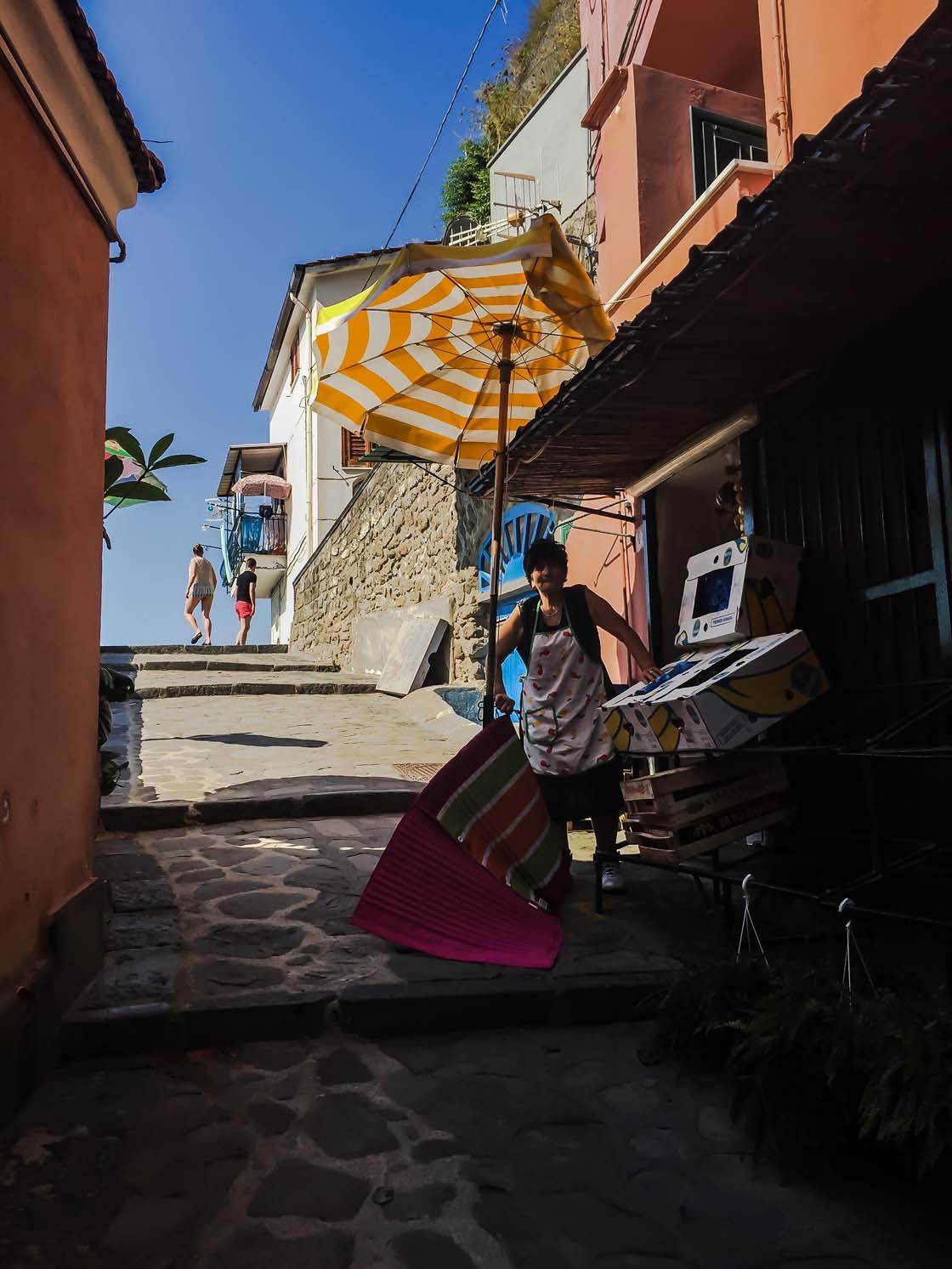 You don't have to go on vacation to be a tourist though. Just visiting a new area of your city, or a nearby town that you've never been to before, will give you the anonymity that you need.
4. Tell A Story
It's a real art to tell a story with a single photo and with people you meet in the street. Whenever you see something that you wish to share with the rest of the world, think about how you could best tell that story in your photo.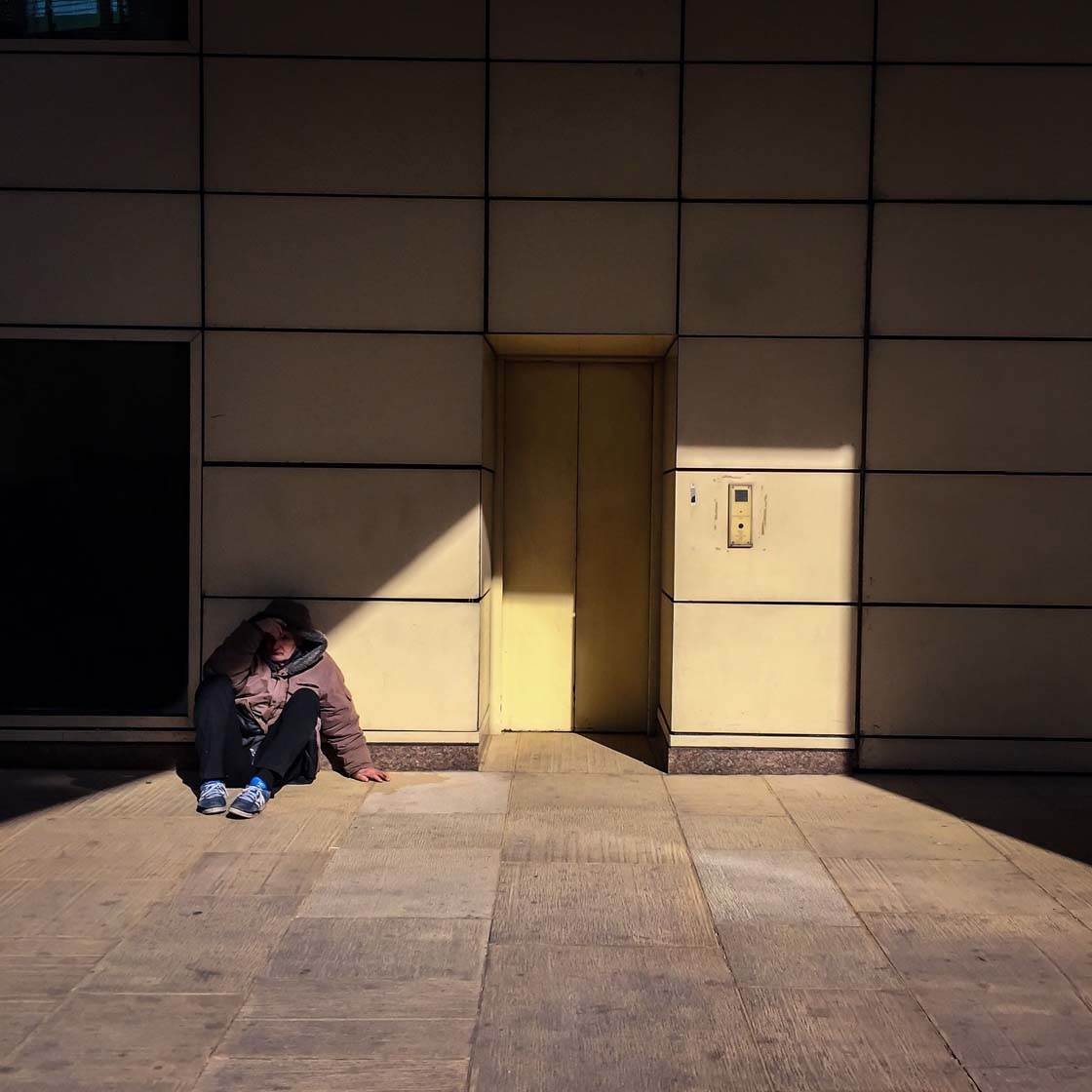 What mood are you trying to convey in your story? Is it something funny, mysterious, sad, happy, or a quality that's close to your heart.
Try to capture a subject's body language and facial expressions. This allows you to express emotion in your photos, which in turn helps you tell a more powerful story. The aim is to draw the viewer in and leave them wondering.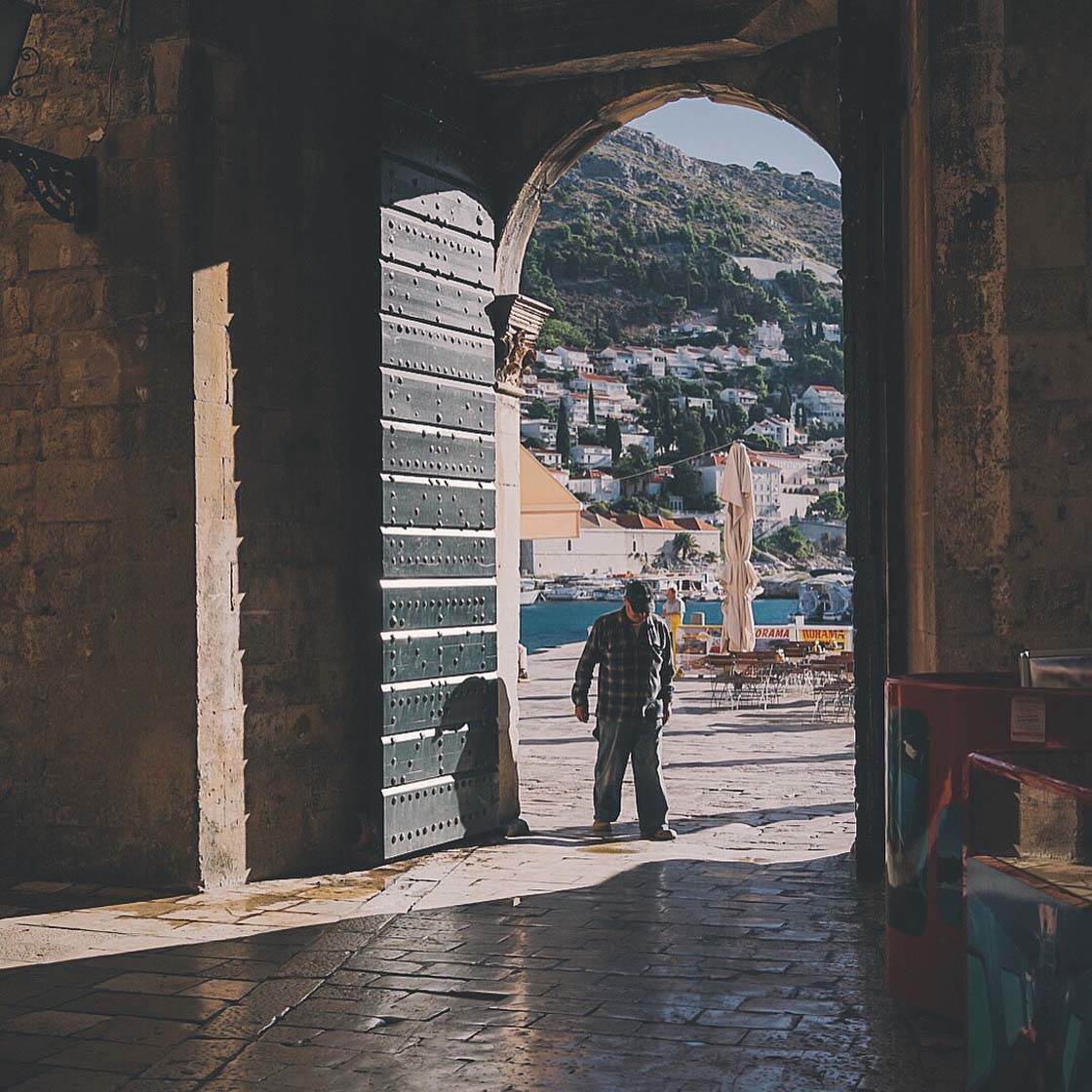 If you don't capture emotion or tell a story in your pictures, they won't have the impact you'd hoped for.
But if you can tell a great story by choosing an interesting subject and pressing the shutter at just the right time, it will give you the confidence and motivation to photograph more strangers in the street.
5. Follow Human Interaction
Before you start shooting, it's a good idea to just watch the people around you. Stay in one spot for 30 minutes, and watch everything that's happening. Look at what people are doing, where they're going, and who they're with.
Streets are busy places full of people going about their daily lives, so walk around, explore places, and look around for interesting photo opportunities.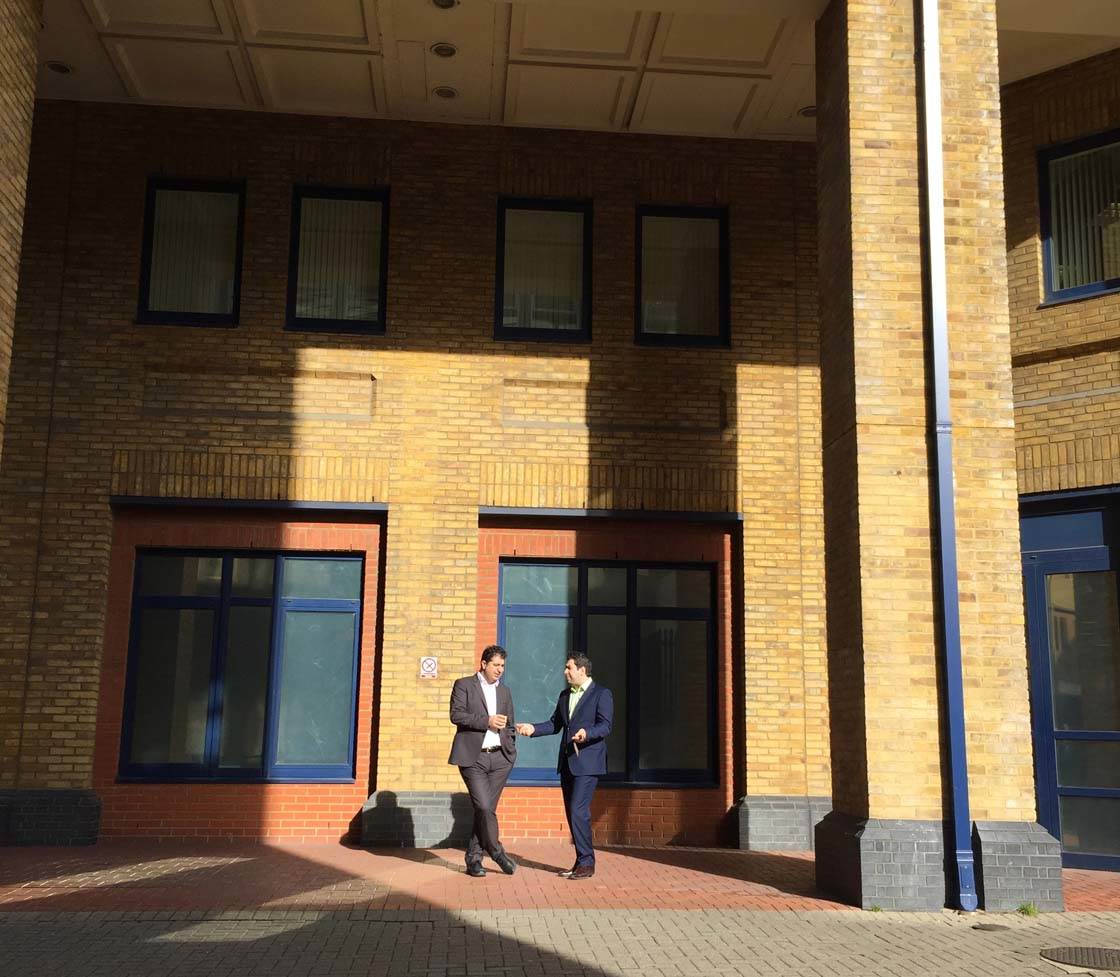 Once you see a story about to unfold, all that's left for you to do is press the shutter at just the right moment.
Try to anticipate moments before they happen, such as a couple about to kiss, a child about to pull a funny face, or someone about to get their hat blown off in a gust of wind.
As soon as you spot an interesting subject, start shooting in burst mode (just hold the shutter button down), so that you capture a sequence of shots. Street photography is something that requires fast reaction and fast shooting.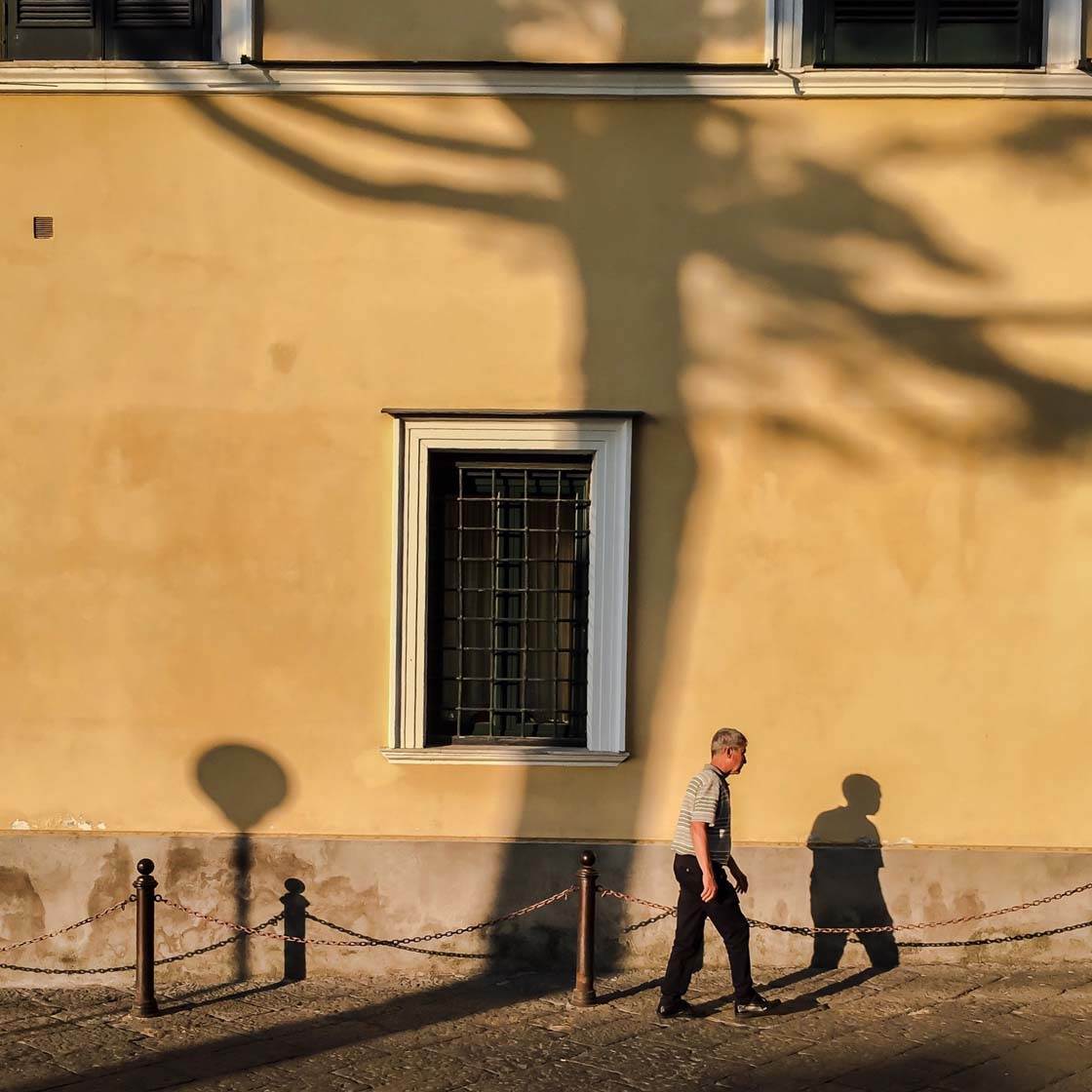 If you spot a good location, frame your shot then wait for someone to walk into the scene before pressing the shutter. I shot this image on holiday in Sorrento – I loved the light and shadows, so I just waited for the right person to walk past.
If you're always ready to take the shot at just the right moment, you'll quickly gain the confidence to lift up your iPhone and capture the interactions going on around all you.
6. Be Daring
As you become more confident at taking photos of strangers in the street, challenge yourself by trying to take shots of people from a closer perspective.
A good starting location is on a busy train or bus – try capturing the person sitting or standing in front of you.
You may not find anyone worth shooting, but it's an easy way to get started. It shouldn't be very scary, and you'll find that while standing close to your subjects you can take their photo without arousing suspicion.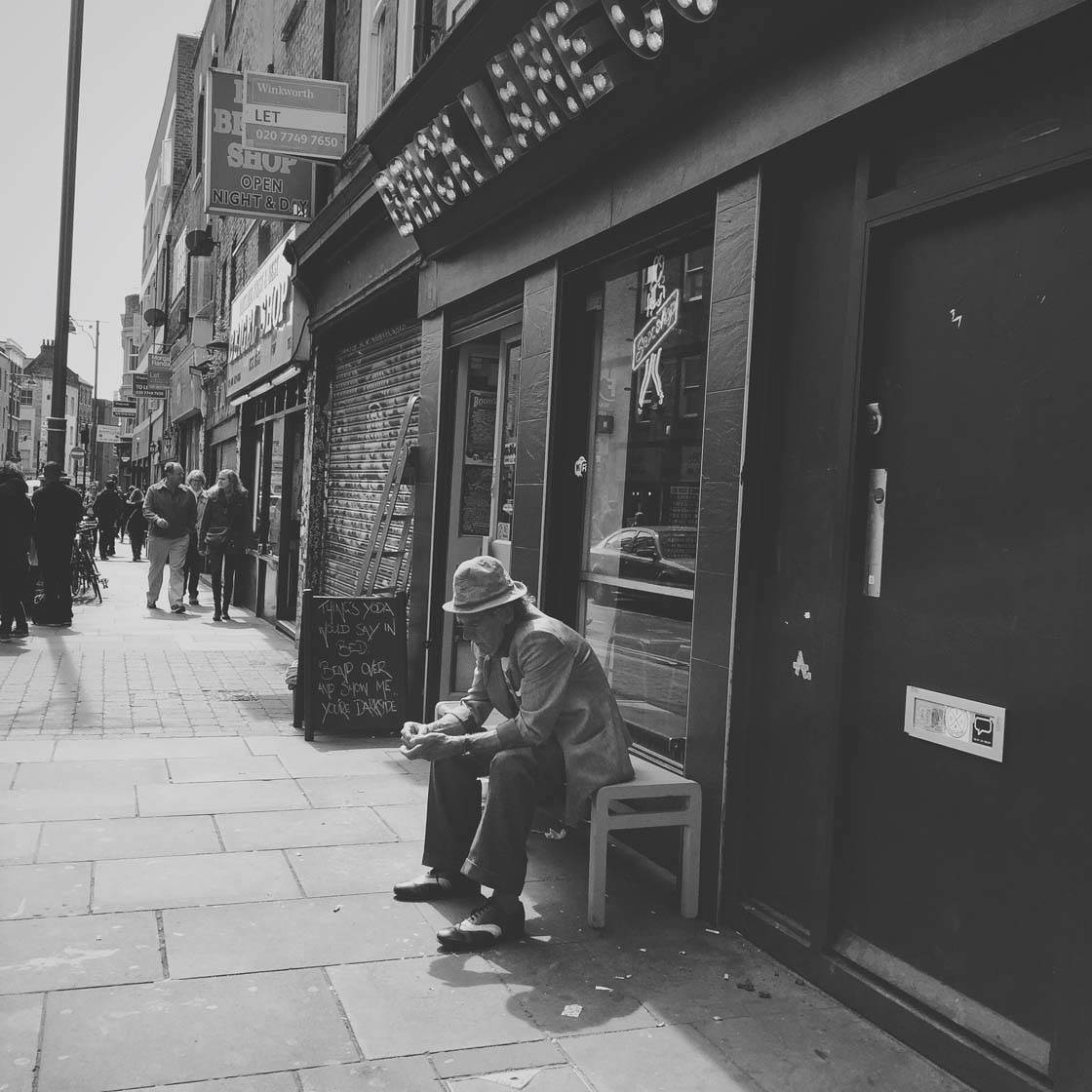 Alternatively, look out for interesting characters sat out on the street. It's often easier to get these close up shots when the subject is sitting or standing still.
7. Be Respectful
With street photography, you have to accept that you're invading the privacy of your intended subject.
You may have the best intentions in the world, however once you decide to point your lens at someone without their permission, you're essentially invading their space.
It's inevitable that sometimes your subject will notice you taking their photo. So what should you do in this situation?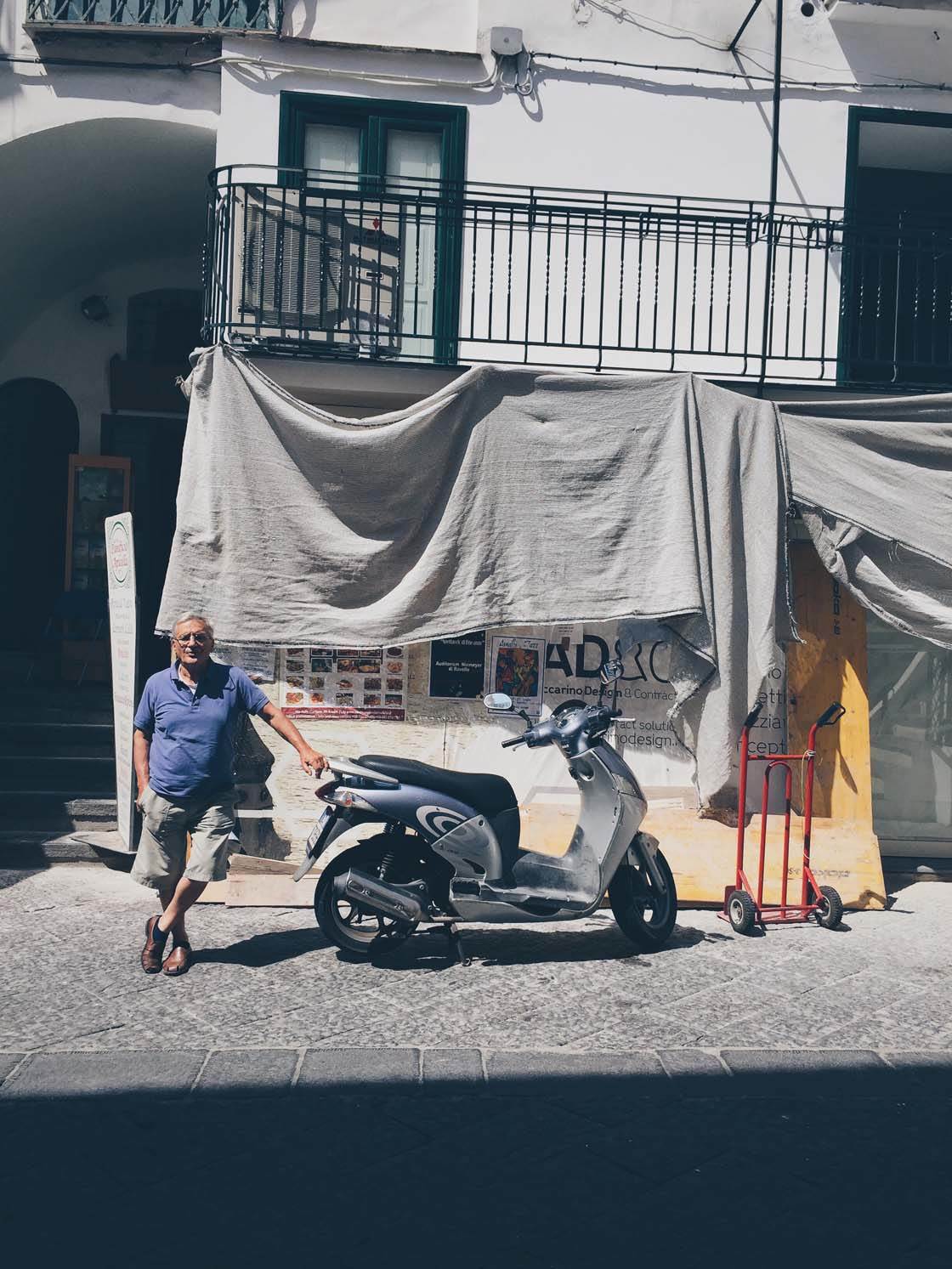 The trick is to read their emotions and body language. That moment of them first catching you is quite telling and extremely real.
There's no reason why anyone should be angry at you for taking their photo, but it's sometimes a simple case of the person not wanting to be photographed.
It's important to know how to behave in a friendly manner. Remember that no matter what technique you use, you're still invading someone else's privacy.
If it looks like they don't want to have their photo taken, respect their wishes and put your iPhone down.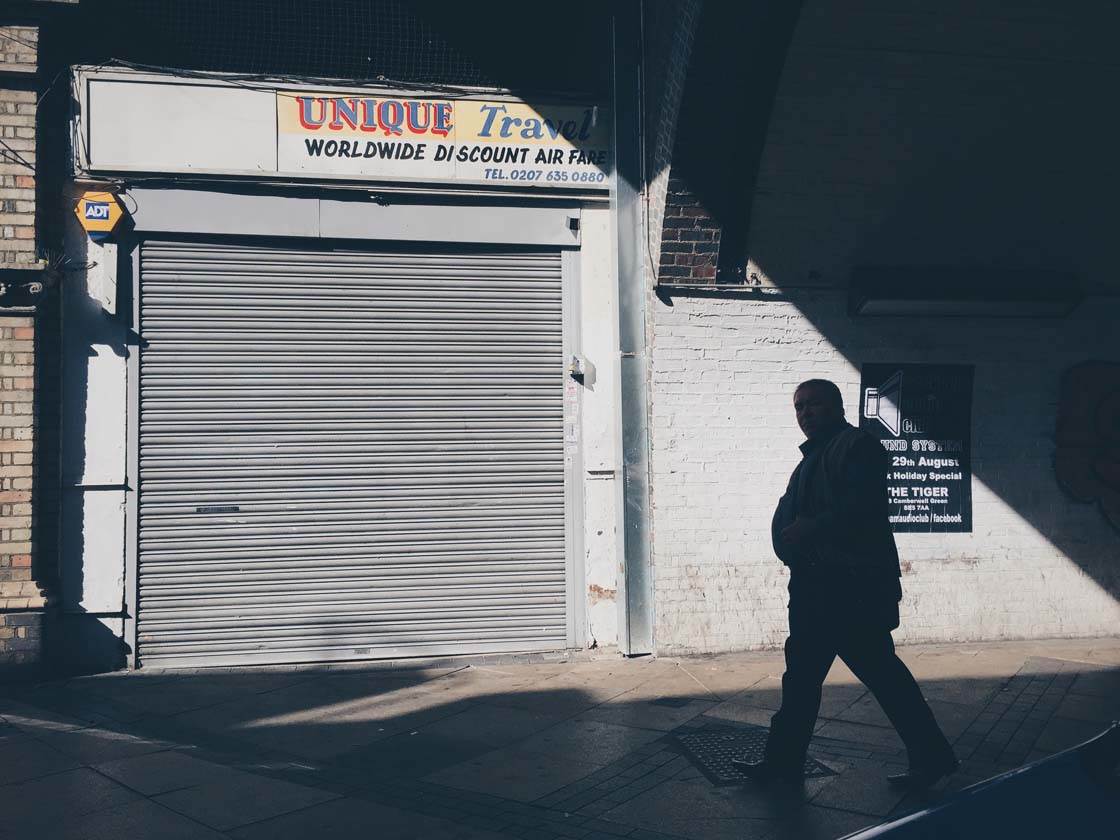 If they approach you and ask what you're doing, explain that you're a street photographer and show them the photo you just took.
But if they're not happy and they ask you to get rid of the picture, be respectful and delete the photo from your phone.
8. Smile
It's funny how far a smile can go. If you snap a photo of someone on your iPhone and they give you a weird look, simply smile back and say hello. Even some unapproachable people will smile back.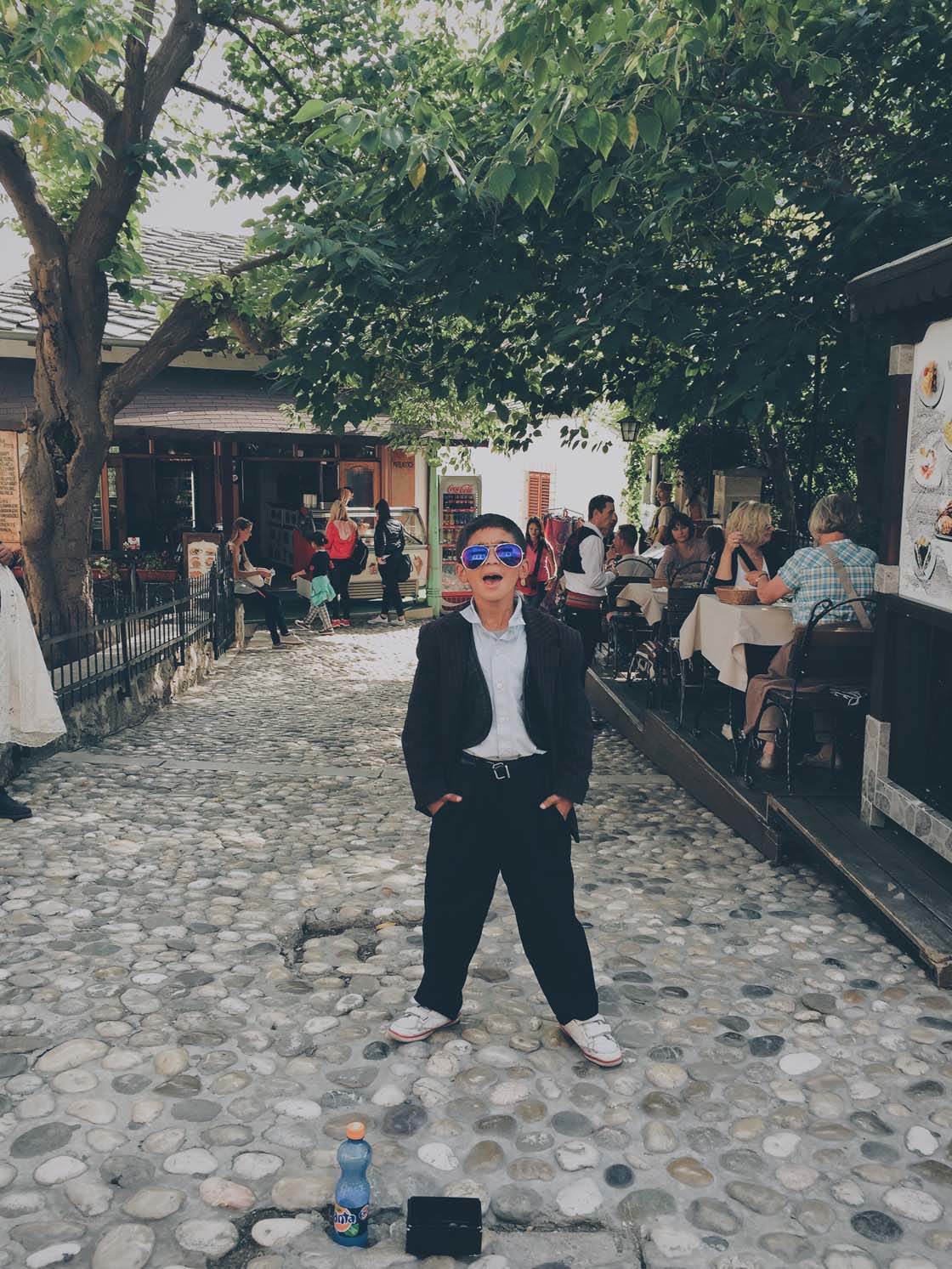 Try to look friendly and interested. If you're being obviously secretive, it can lead to suspicion. A friendly smile, a nod or hello will help to relax and lighten the mood.
They might even ask to see what you've taken. They may be flattered, and if you offer to email them the photo this can help to lighten the situation. Or they might be annoyed, and then you may just have to delete it for them.
9. Ask For Permission
Asking someone if you can take their photo changes the natural candid approach. However, some people make interesting subjects, even when deliberately posing for a shot.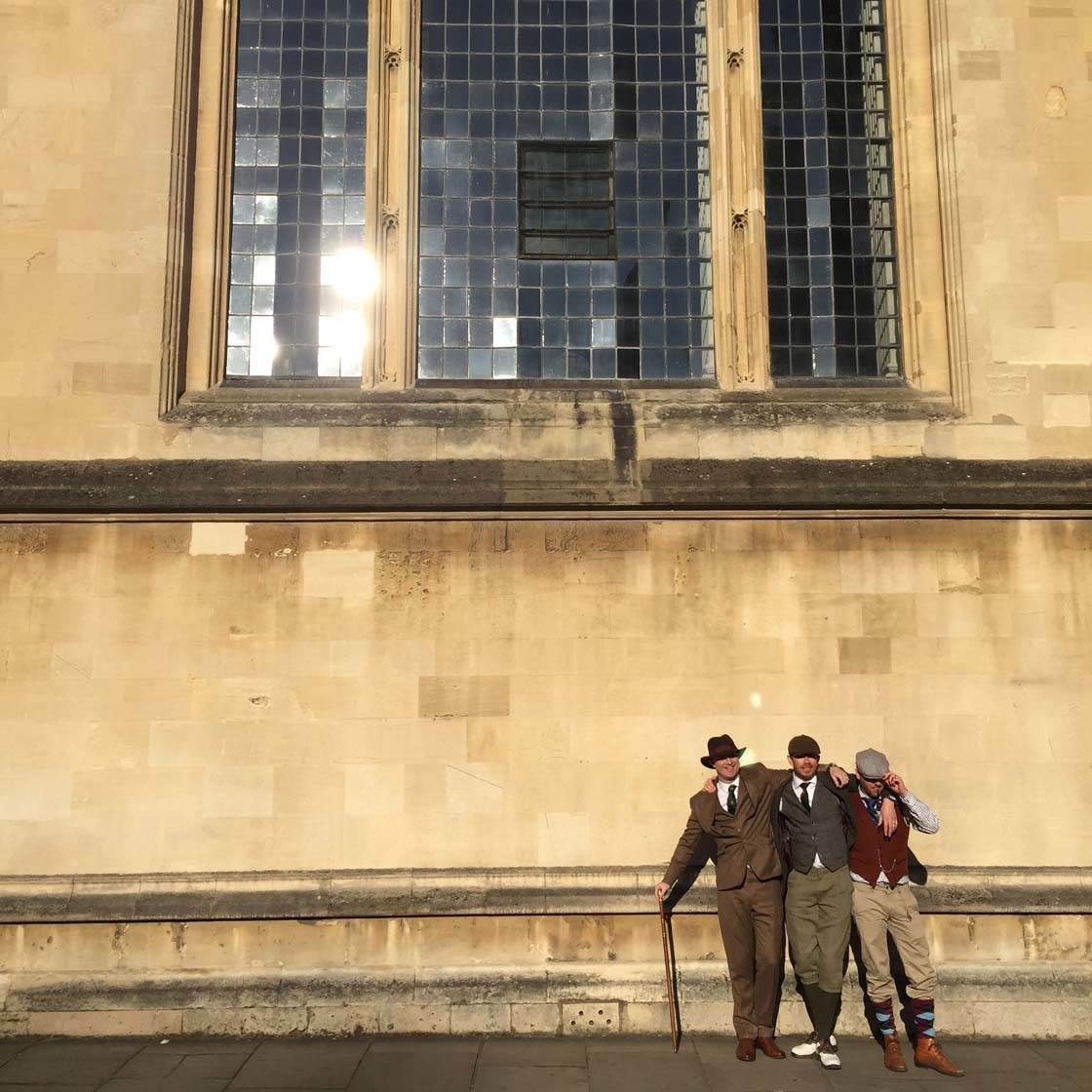 There are plenty of people who love getting their photos taken and will be happy to do so. You might even learn a bit about the subject, and this too will make for an interesting story.
The worst thing that can happen if you ask is that they say no. So don't be afraid to approach people – the more you do it, the easier it will become.
10. Don't Give Up
When you first start out in street photography, no matter how hard you try or how good your technique is, the majority of your shots will be ordinary and you may feel non-productive.
You might return home after a day of being on the streets with nothing to show. But the entire experience of getting up early, walking around and observing people isn't non-productive – it all helps to build your confidence in photographing strangers.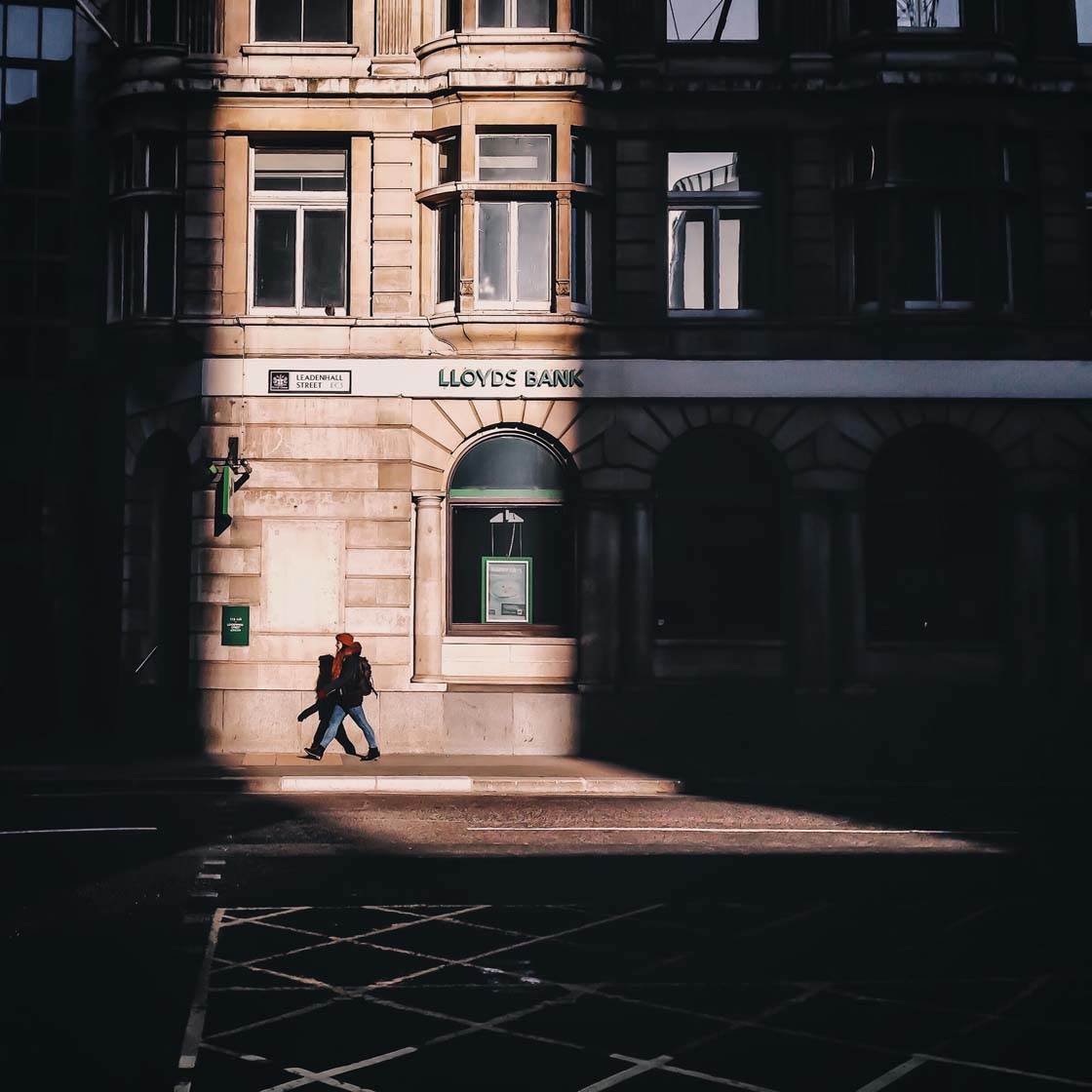 Sometimes you can't always tell if you've caught a great shot, and many photographers will let their street captures sit for a while before looking at them.
So don't give up if you feel like you didn't get any good shots. You might find that looking back through your photos the next day will give you a fresh perspective.
And there's always tomorrow to give it another go. Just keep shooting as often as you can, and you'll soon start to know what works and what doesn't.
11. Edit Your Photos
After your photo shoot, go back home and look carefully through your photos. But don't be too quick to delete the ones you're not happy with. Often a bit of post-processing in an editing app can completely change the look and feel of an image.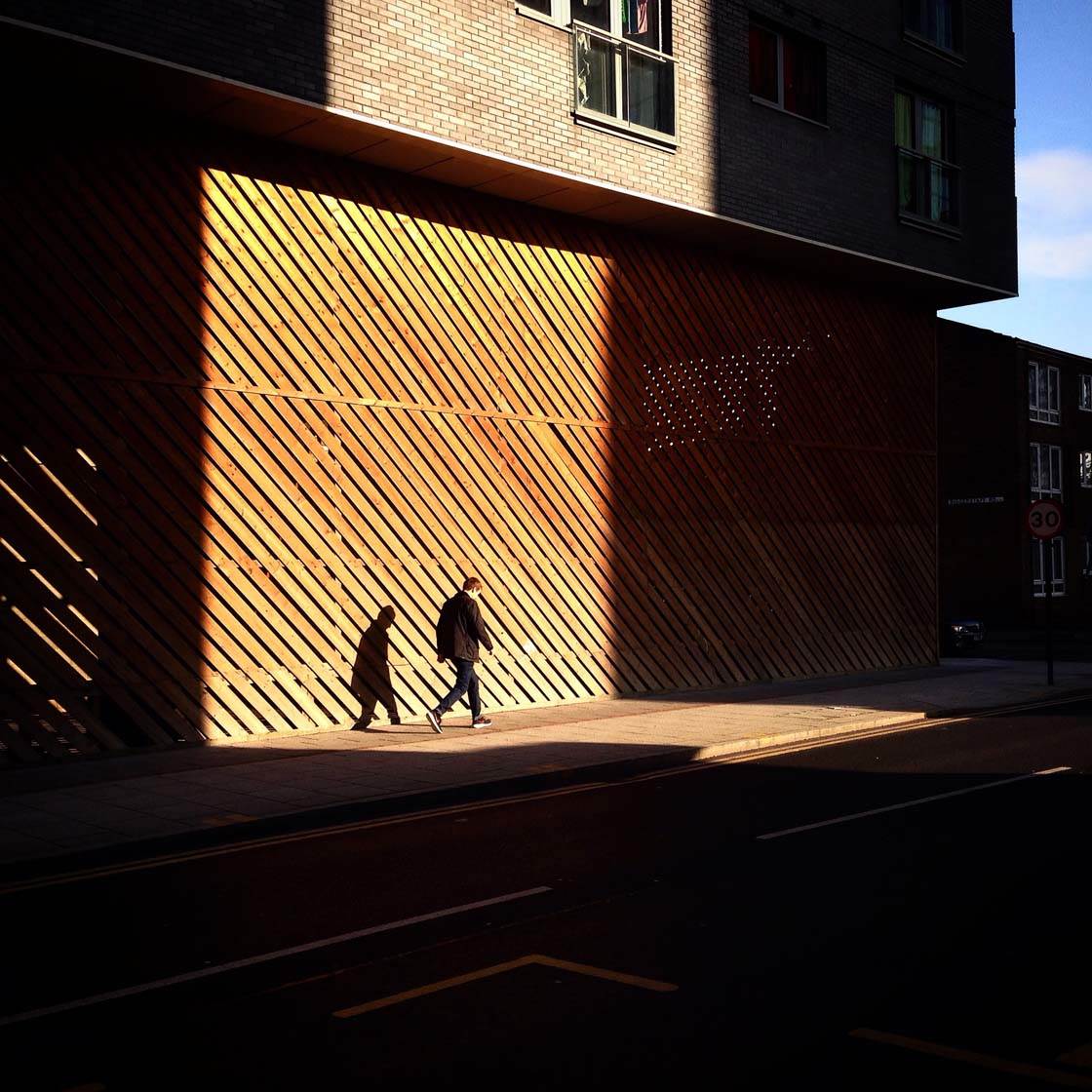 When it comes to editing your street photography, try to simplify your photos to place more focus on the subject.
This might involve cropping the photo to remove distractions or improve the composition. You can remove small unwanted objects using an app like TouchRetouch. And darkening shadows will help draw attention to the brighter areas of the scene.
Think about the colors in your photo too. Would they look better if you increased the saturation to make them more vibrant, or would the image look better with the color removed completely?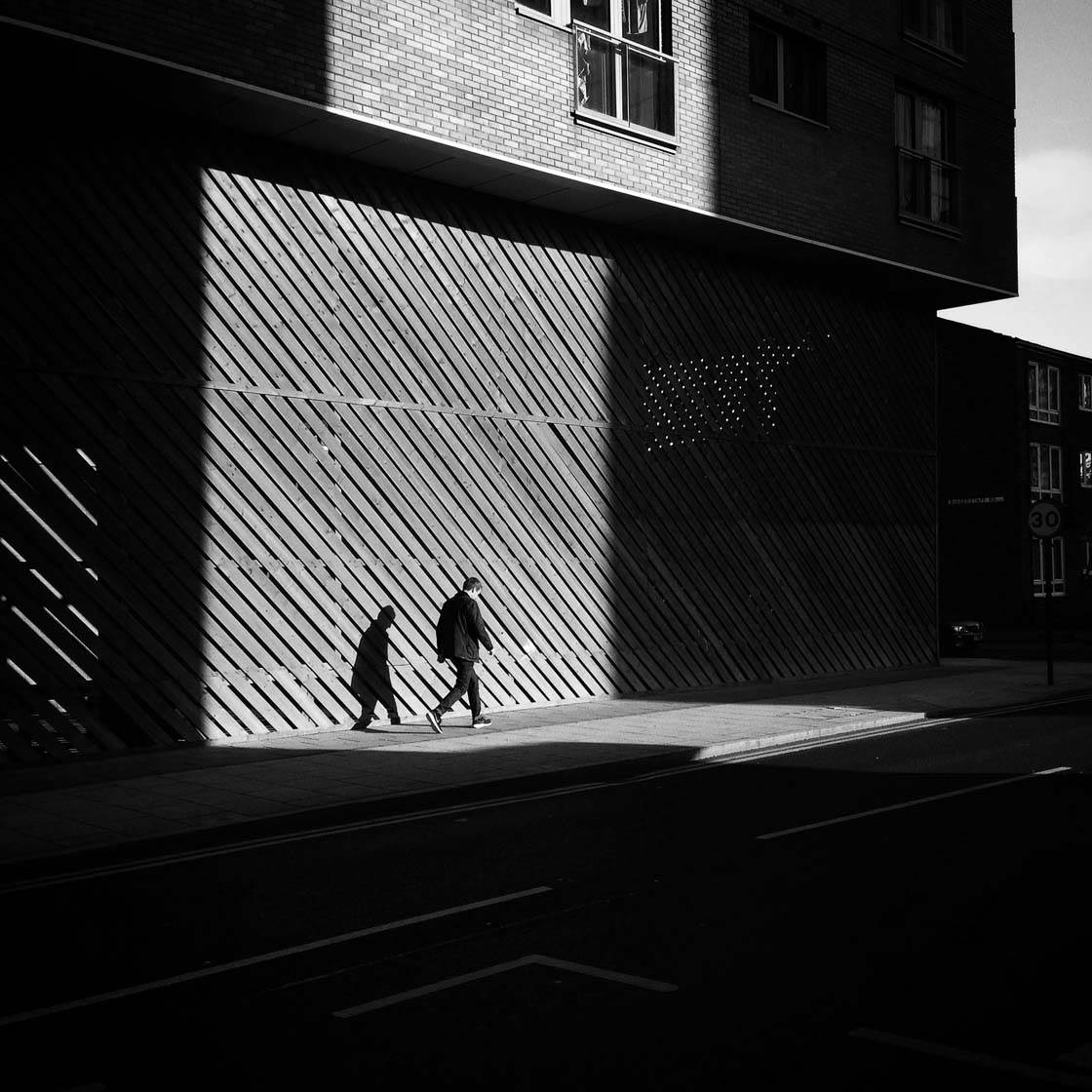 Black and white edits can often create a cleaner image, especially if there are distractions in the background. It also brings out the mood and atmosphere of a place and person.
Black and white street photography can be incredibly powerful. It really catches the viewer's eye.
If you're unsure, try a color edit as well as a black and white one, then see which one best suits the mood. You'll be surprised at how different the two variations will make you feel.
After editing, you should have a lot more photos that you're happy with. And this will inspire you to go out and take more great street photos with your iPhone.
Conclusion
The main things to remember with street photography are to be respectful to the people you're photographing, and give yourself time to get used to the experience.
By exploring your local area and walking the streets in all types of weather, you're guaranteed to find that special moment or person that you would have once walked past.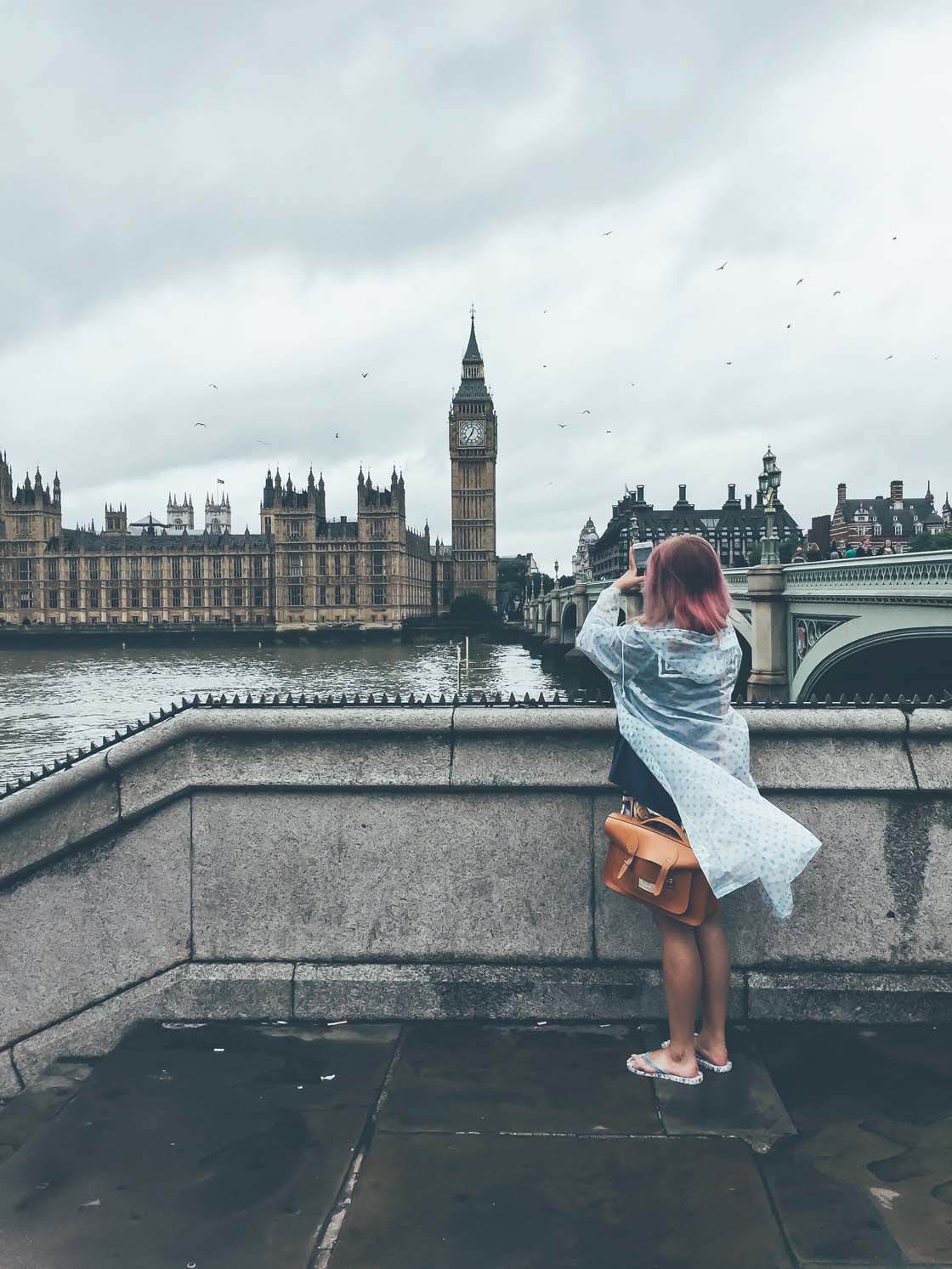 Expect to be nervous at the beginning, but remember that your confidence will grow the more you get out and take photos.
If you're feeling uneasy about shooting street photography on your own, invite a friend along to act as a decoy or just for company.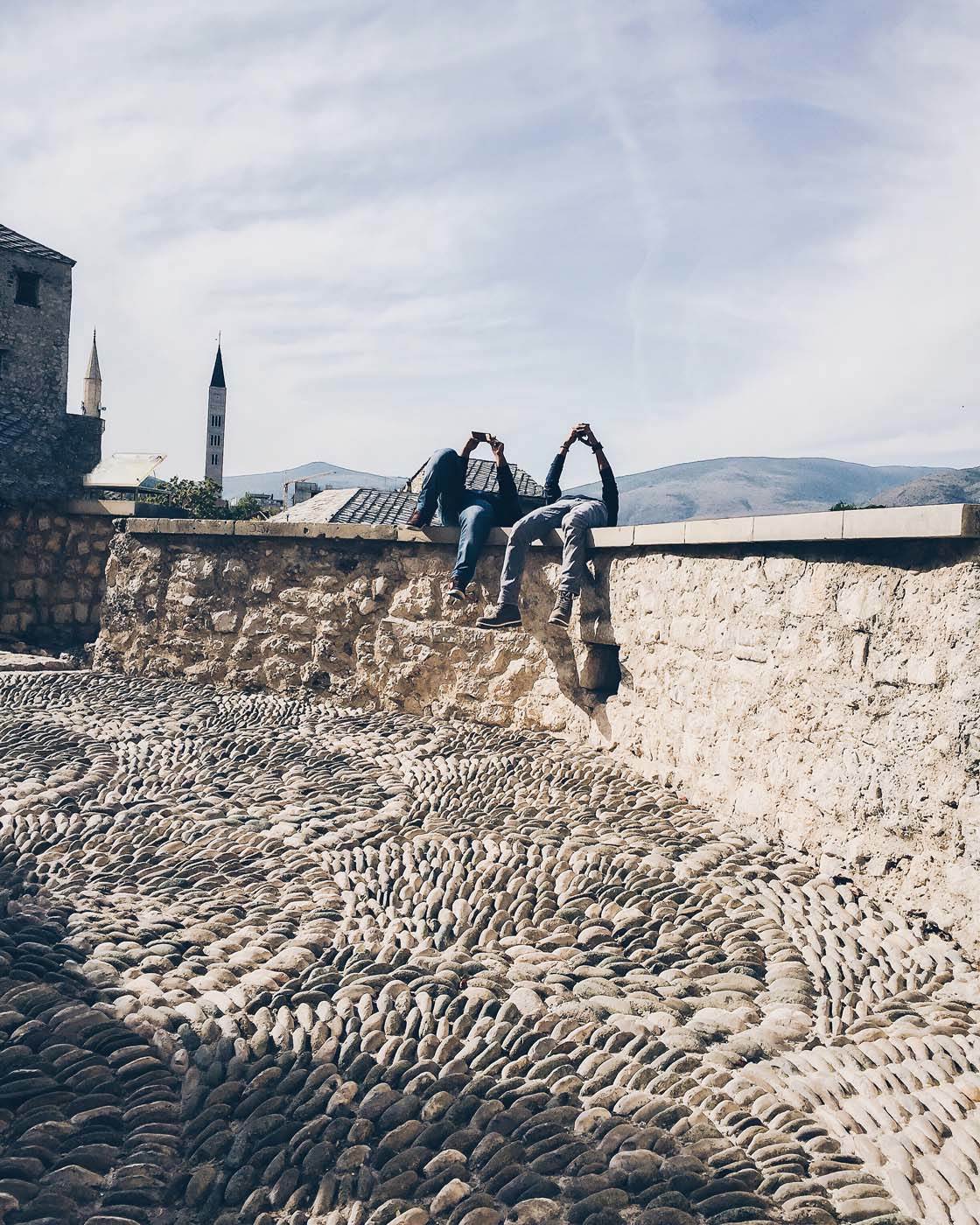 And the next time you're taking photos on the street, ask yourself the following questions…
What kind of emotion or mood (happy, sad, mystery, curious, romantic or whimsical) am I trying to convey?
Does my photo captivate the viewer, making them wonder what's happening in the story? Or will they simply move on because there's nothing interesting happening in the scene?
It's important to "feel" what you photograph, and asking yourself these questions will give you more confidence to capture interesting moments and interactions with your iPhone.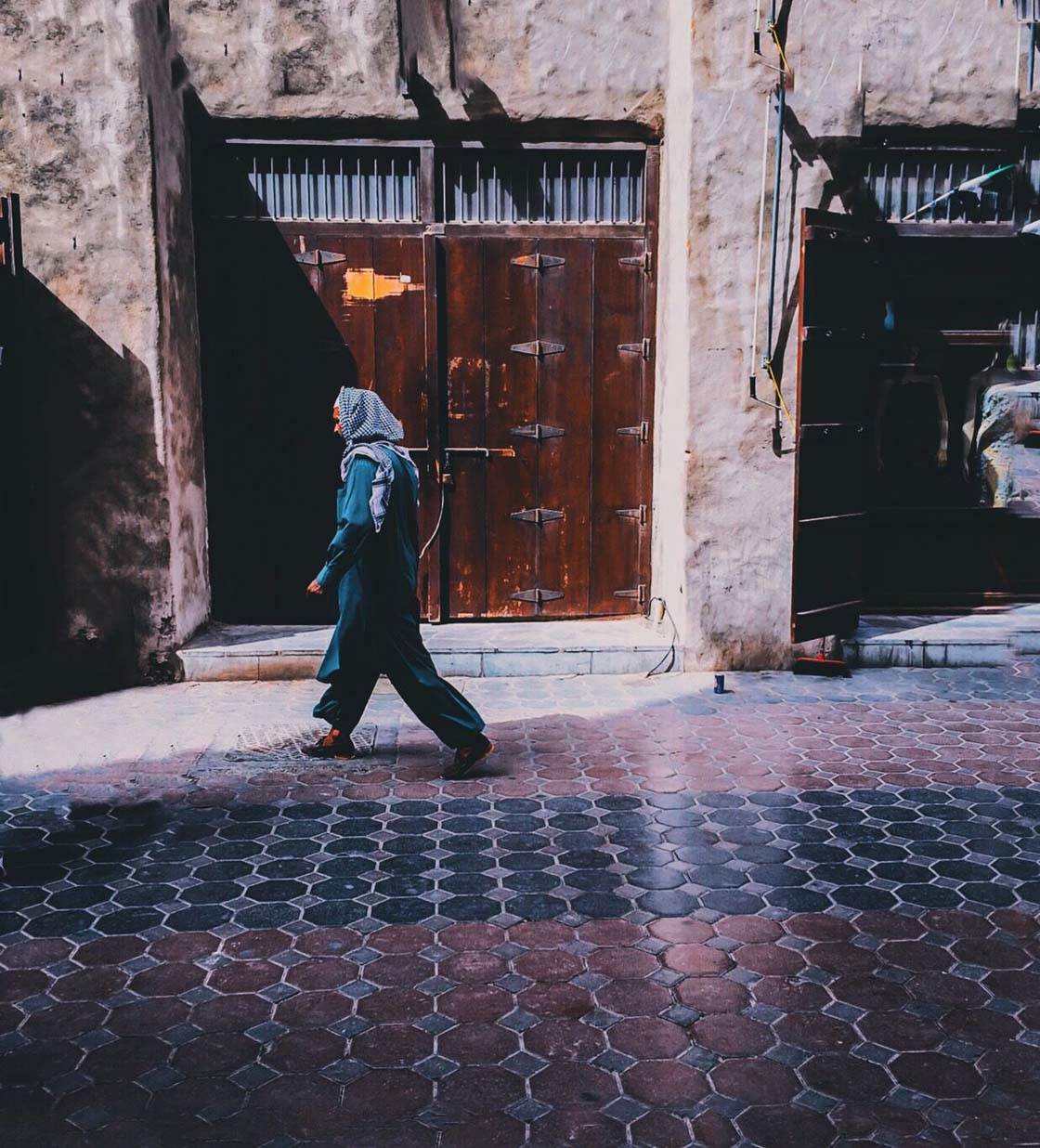 With practice, you can overcome your reluctance to photograph strangers, and in time you'll become a much more confident street photographer.
The more you shoot, the less intimidating it will be. Once you do overcome this fear, you'll find it pretty addictive and you'll be constantly looking around for interesting moments to capture with your iPhone.