You're probably familiar with at least one full-featured multi-purpose iPhone photo editing app, such as Snapseed or VSCO. But did you know there's a wide range of specialty editing apps that are designed to fulfill a single editing function? In this article you'll discover ten of the best single-function photo editing apps that offer powerful tools for performing specific edits on your iPhone photos.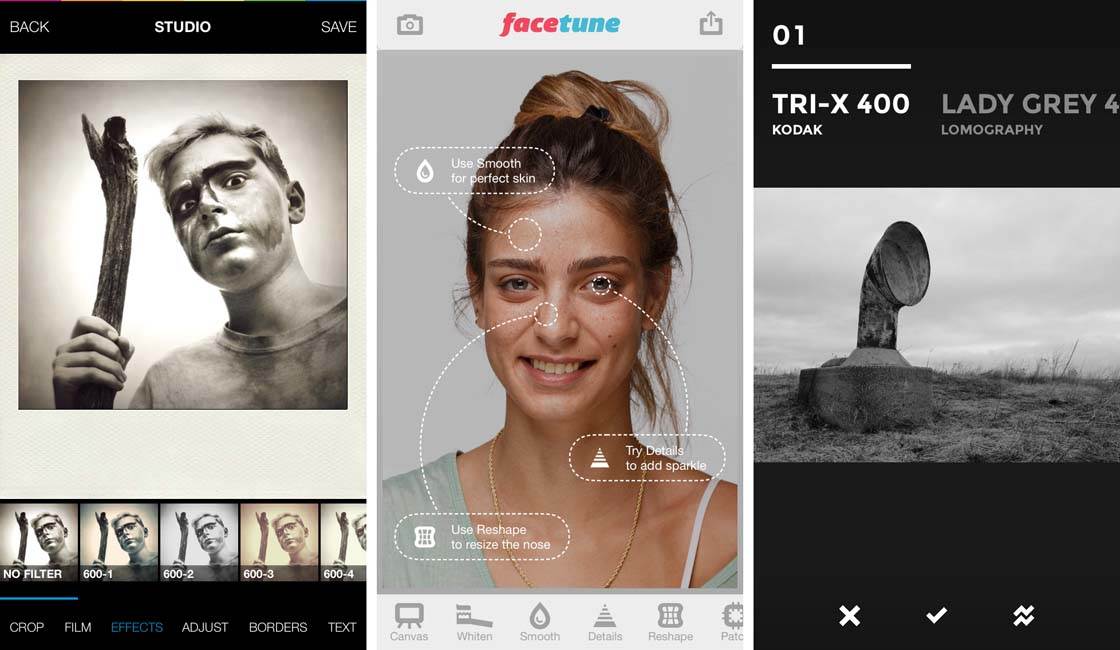 1. TouchRetouch
TouchRetouch is one of the most popular photo apps on the App Store, and for good reason. It makes removing unwanted elements from your photos incredibly easy. Honestly, I can say that this app works better for this purpose than many desktop applications like Lightroom.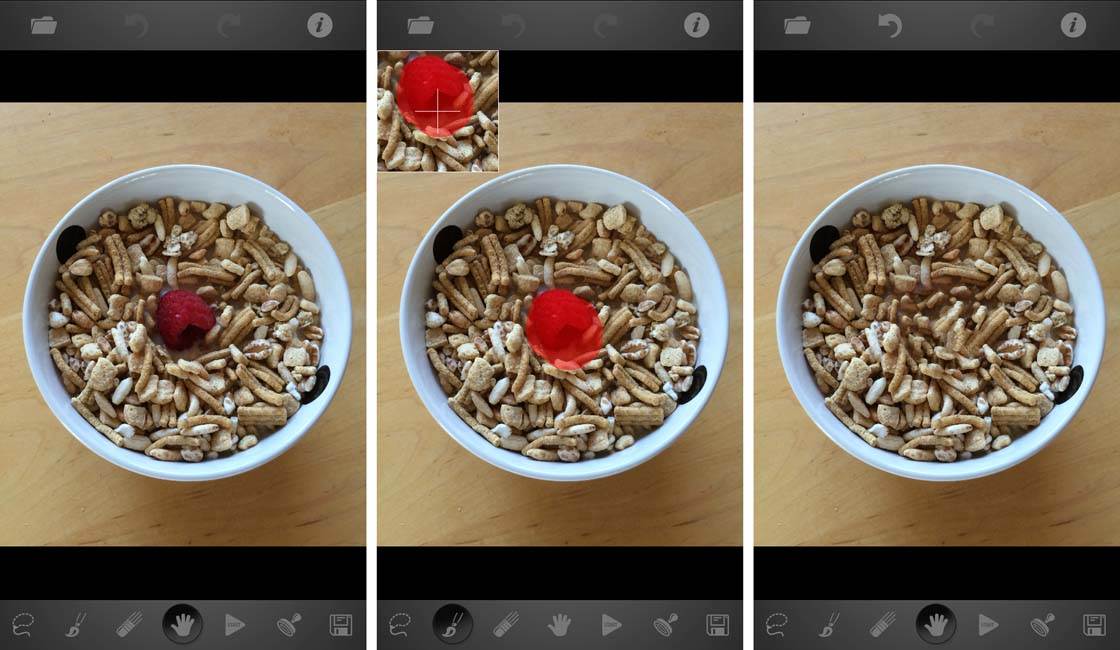 Simply paint on the area of your photo that you wish to remove, and the app's powerful algorithm goes to work removing the spot and rebuilding the image behind it.
Occasionally the end result isn't exactly what you're looking for, but it only takes a small bit of tweaking to fix it. With a bit of patience (and possibly a stylus pen) it even works well for removing annoying power lines from landscape photos.
This is one of the best photo retouching apps out there. I highly recommend it!
TouchRetouch: $1.99 on the App Store
2. SKRWT
When you need to correct the perspective of a photo beyond just straightening it, SKRWT is the app to turn to. It's great for fixing perspective problems that occur when shooting tall buildings from ground level.
Not only does SKRWT correct all types of lens distortion effects, but it can be used to create extreme perspective effects as well.
For something different, try taking an image with a relatively "normal" perspective and warping it to one extreme or another. You may just find that a unique and interesting image is only a tap or two away.
3. AfterFocus
One of the limitations of iPhone photography is the limited control over depth of field (focus range). On a DSLR camera you can adjust the aperture of the lens to create a shallow depth of field which results in lovely blurred backgrounds.
To simulate this effect on the iPhone, you can use the AfterFocus app which provides the most natural-looking shallow depth of field.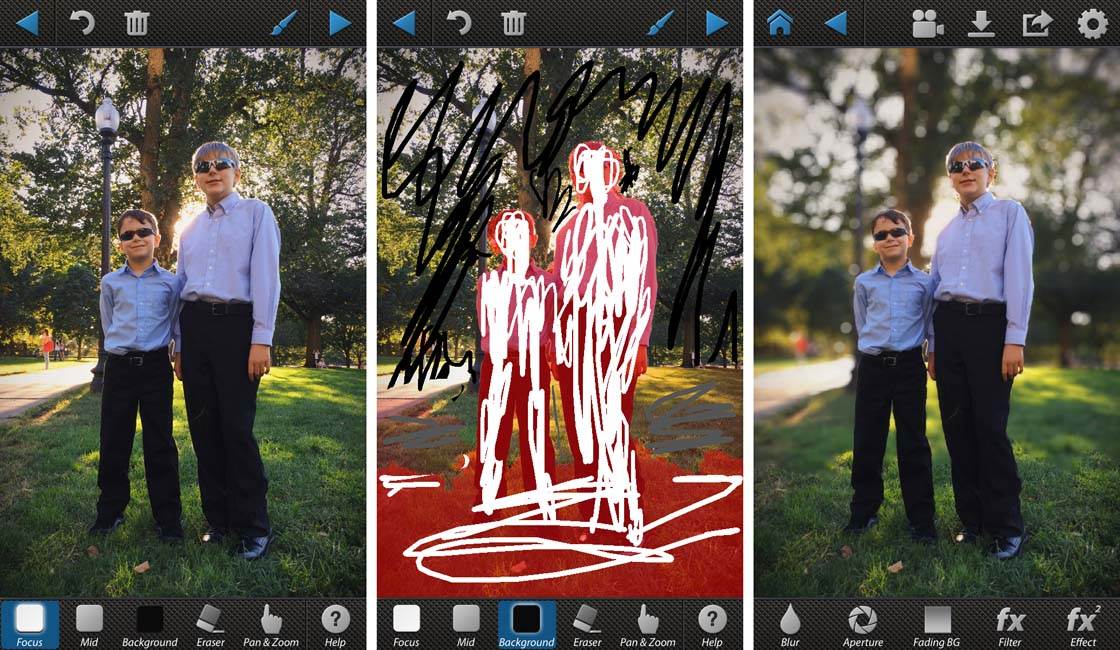 The app is very easy to use. Simply paint on the areas that you want in focus and out of focus, then set the level of blur. You can even adjust the type of blur using a number of aperture-like simulations.
AfterFocus: $0.99 on the App Store
4. BLACK
The BLACK app is designed primarily to replicate specific black and white film styles of the past. It does offer additional editing tools via an in-app purchase, but the free version essentially does one thing (and does it quite well).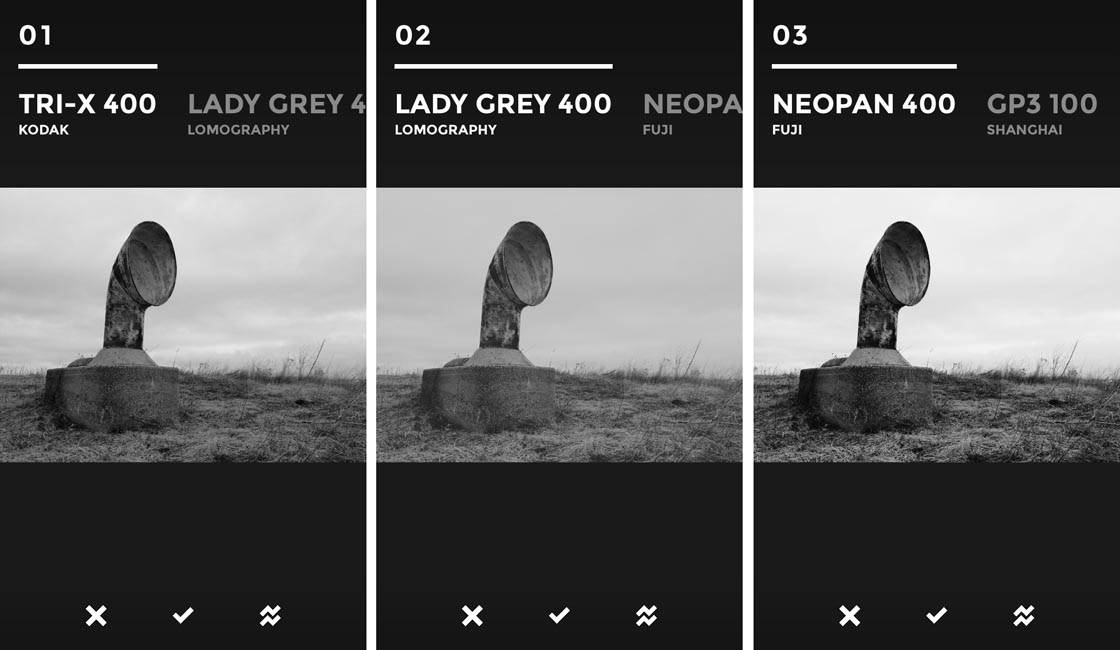 Unlike VSCO Cam, which also offers great black and white film emulation filters, BLACK actually emulates specific traditional black and white film types and refers to them by name (as opposed to just a letter/number combo).
A personal favorite style is Kodak Tri-X as that's what I used to shoot all the time back in high school and college. This style offers a slightly high-contrast look while still retaining good highlight and shadow detail. Other personal favorites are Fuji Neopan 400 and Lomography Lady Grey 400.
5. Perfectly Clear
Perfectly Clear doesn't offer filters or other standard photo editing tools. Instead, it has an excellent selection of one-tap automatic correction tools to give you professional-looking photos in seconds.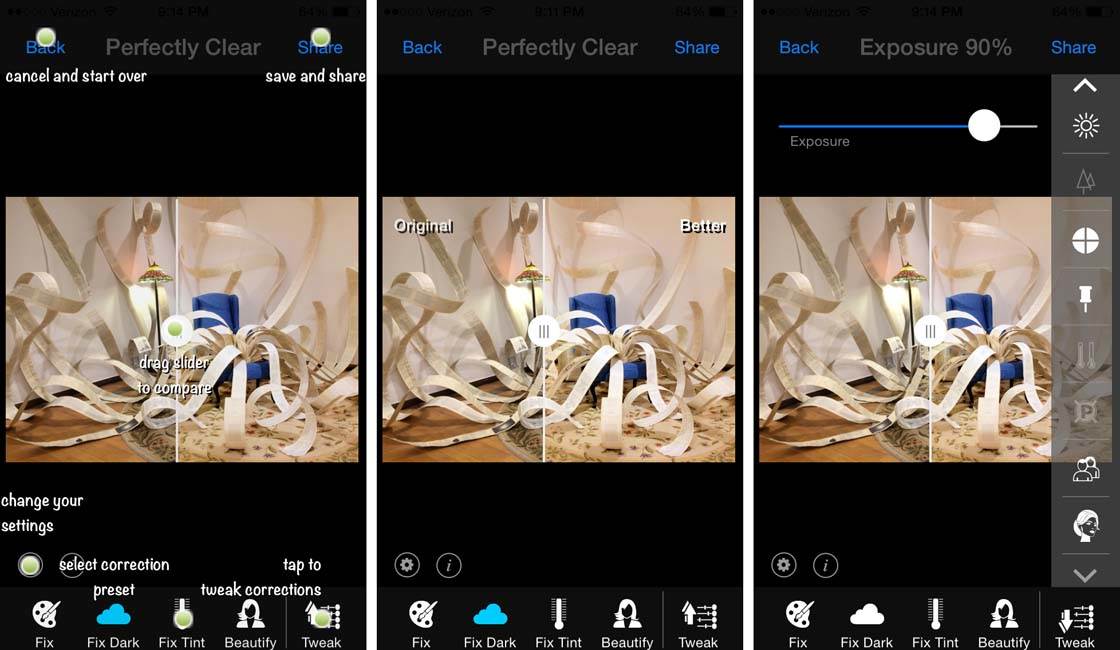 You can further refine each of those corrections using an on-screen slider. So it sort of functions like a general editing app, but it's much better for quick corrections (leave the heavy editing for more extensive apps).
One of the best parts of this app is the unique slider that allows you to compare the original photo with the edited version. You simply drag the slider back and forth over the photo to switch between images.
Perfectly Clear: $2.99 on the App Store

6. Facetune
The Facetune app allows you to quickly retouch portrait photos with easy-to-use tools and settings. While it's very powerful, the interface is designed to be intuitive and user-friendly, so you should find it easy to use regardless of your skill level.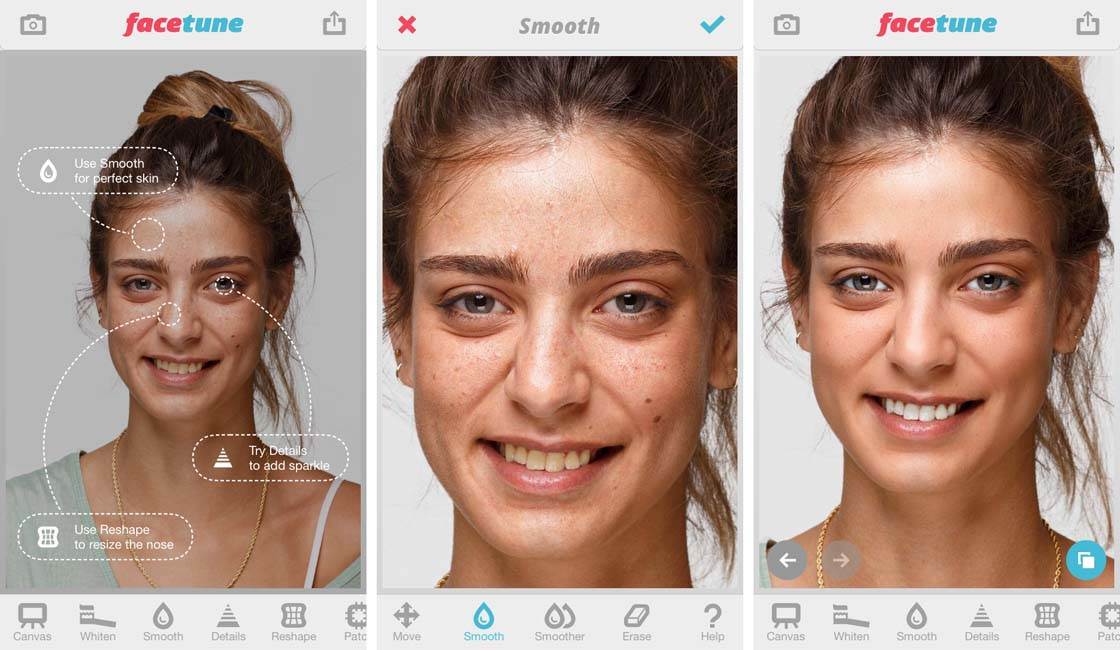 Facetune allows you to smooth out skin imperfections, whiten teeth, add sparkle to the eyes, and even resize and reshape facial features!
Facetune: $0.99 on the App Store
7. Mira
While Facetune is great for casual photography use, if you really want to achieve professional retouching results with a mobile app, Mira is second only to its bigger desktop sibling – Portrait Professional Pro software.
Compared to Facetune and other similar apps, Mira offers even more creative control over the quality of skin, eyes, teeth, mouth, lighting, shading and more.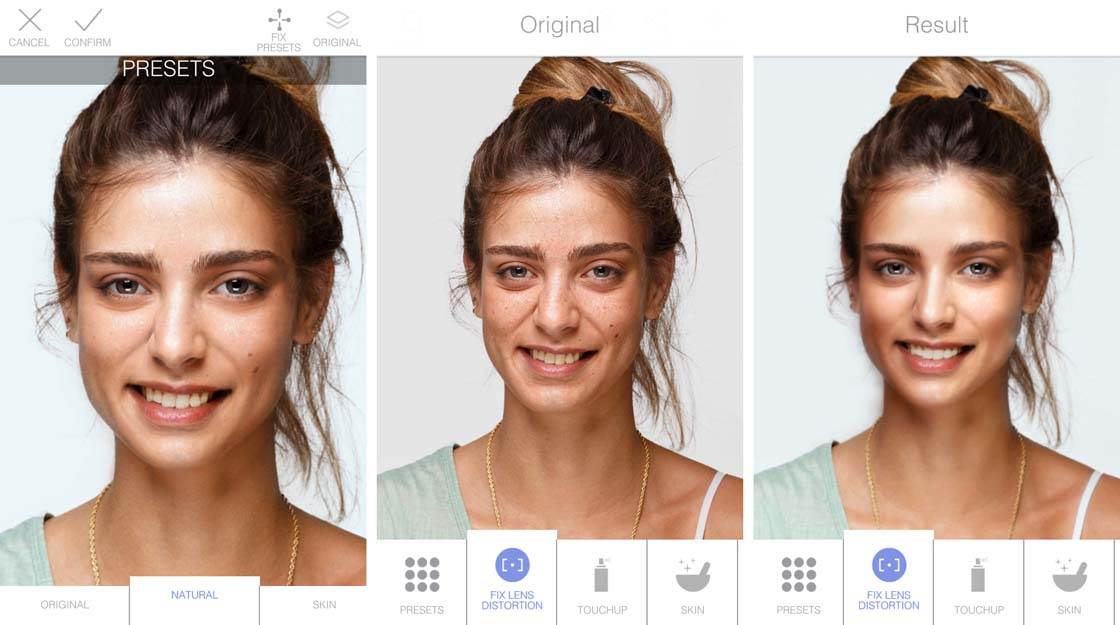 The above examples show how Mira can take your portraits to the extreme of professional retouching. But you always have full control over just how subtle or extreme you set each adjustment option.
Mira is an iOS app that offers Photoshop-like retouching quality packed into a $3.99 app. How can you go wrong?!
8. Polamatic
The Polamatic app by Polaroid allows you to apply the nostalgia of Polaroid pictures to all of your favorite iPhone photos. Take or import a photo, then watch it develop just like a real Polaroid picture.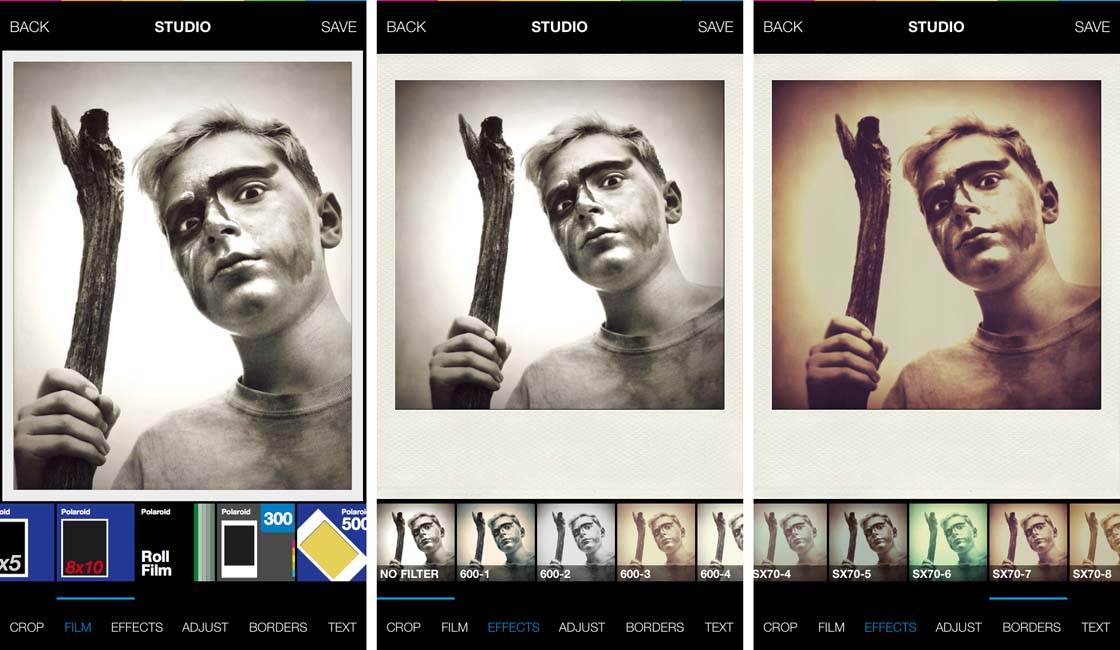 You can select from a number of classic Polaroid film styles, apply specialized effect presets, and further tweak them if you desire. No matter what you choose, the end result is a classic-styled Polaroid-like image.
Polamatic: $0.99 on the App Store
9. Color Thief
Color Thief is a truly unique editing app that you can use  to "steal" the color palette from one image and apply it to another. This allows you to use your own images as "filters" for applying to other images.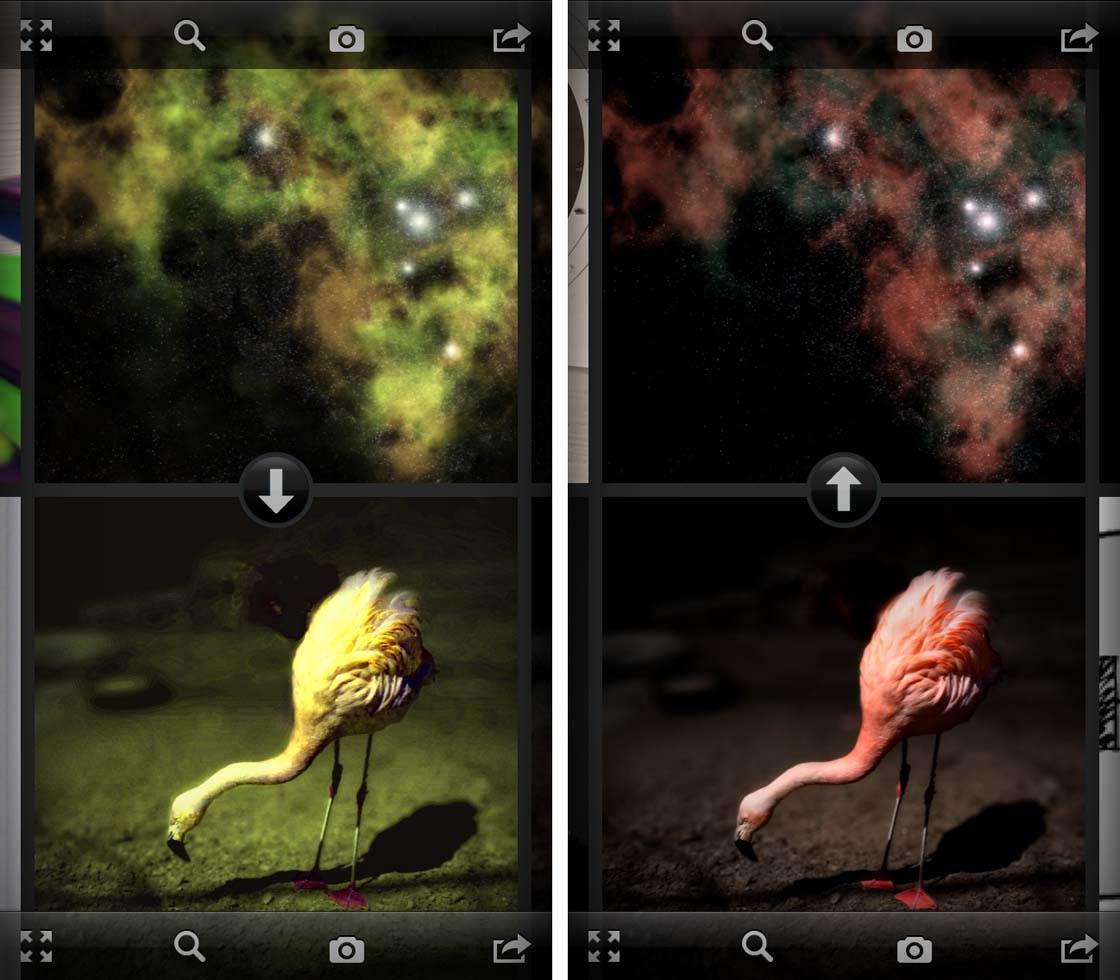 Simply pick two photos to work with – one is the "source" image and one is the "destination" image for the color template. You can either scroll through your photos right on the main screen (top or bottom), or you can open up your full Photo library for easy browsing.
You can also quickly switch which image is the source photo to reverse the process. This makes comparing options even easier and can help spark new creative ideas that you might not have thought of in the first place.
Color Thief: $1.99 on the App Store
10. Layout From Instagram
Layout from Instagram provides an excellent set of tools for creating wonderful photo collages, and it integrates very well with Instagram.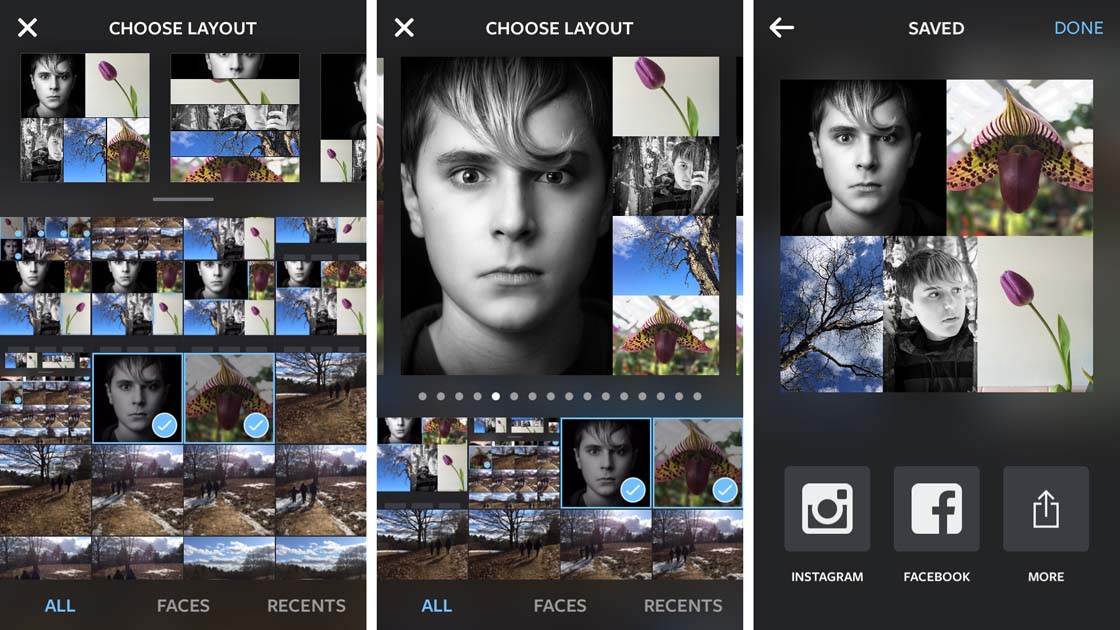 Simply select your photos, choose a layout style, then apply your photos to the available frames in the grid. You can then adjust the size/crop and rotation of each photo within the collage grid. Once you have the collage the way you like it, save it to your Photos library or share it directly to Instagram.
Layout From Instagram: FREE on the App Store
Conclusion
The apps listed above are only a handful of specialty iPhone photo apps that focus on one particular editing technique.
They're a great selection to get started with if you're looking to move beyond the more general-purpose editing apps, or if you have a particular issue with a photo that you just didn't know how to correct.
Depending on your personal style and approach, you may want to try some or all of these apps. Either way, take your time to learn how each one works and you'll likely end up with a few new favorites in the process!
If you'd like to discover more iPhone photo apps, including manual camera apps, check out our guide to the 10 best photo apps for iPhone photography.
And if you're looking for photoshop apps, check out our article on the best photoshop app for iPhone!