Black and white iPhone photography is all about attempting to emulate the classic look and feel of black and white film. There are a number of great apps for creating black and white iPhone photos, and a recent addition to the ranks is the free BLACK app. In this article you'll learn just what BLACK has to offer, including a seriously good collection of presets based on actual black and white film styles.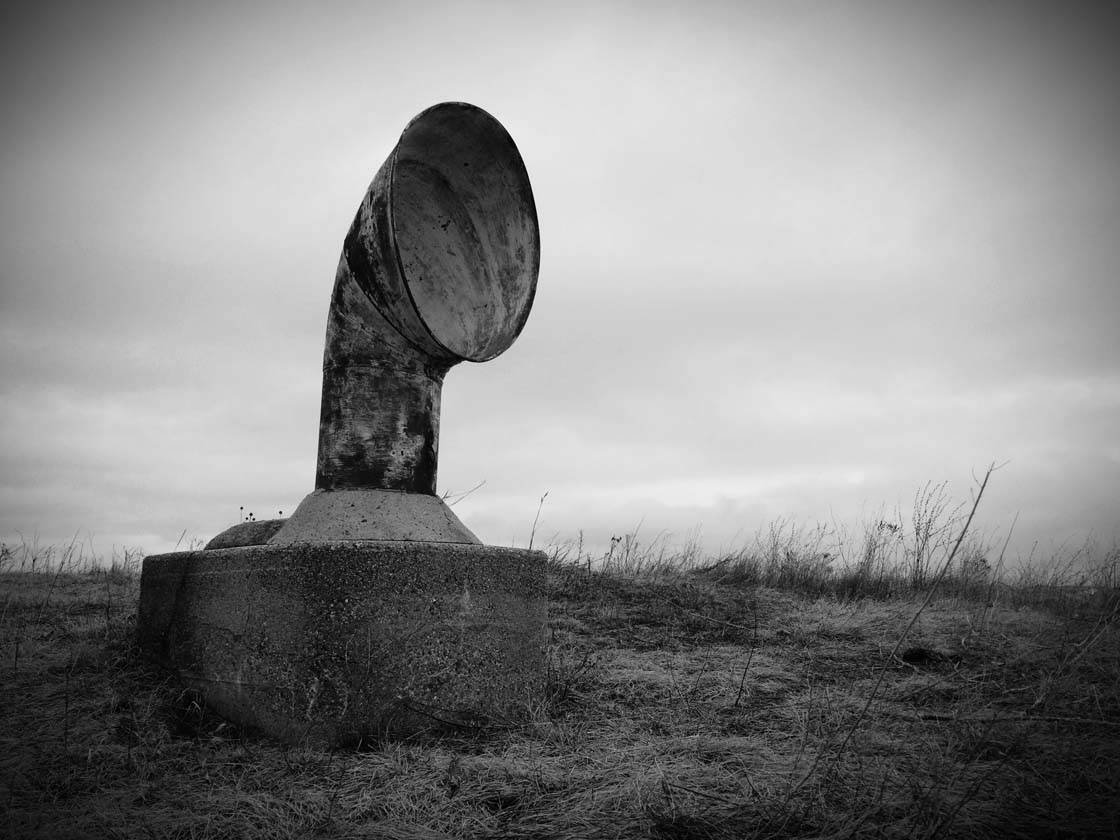 A Simple Approach
Black and white film is a true classic in the world of photography. Even in today's digital age, many photographers still choose to process their images in a way that mimics the look of film, whether vintage or contemporary. The BLACK app makes this task very easy.
It should be mentioned here that BLACK is not a full-featured photo editing app. It offers very little in the way of adjustment tools. What it does offer is a simple, straightforward user interface and a potent collection of black and white presets that you can apply to your photos.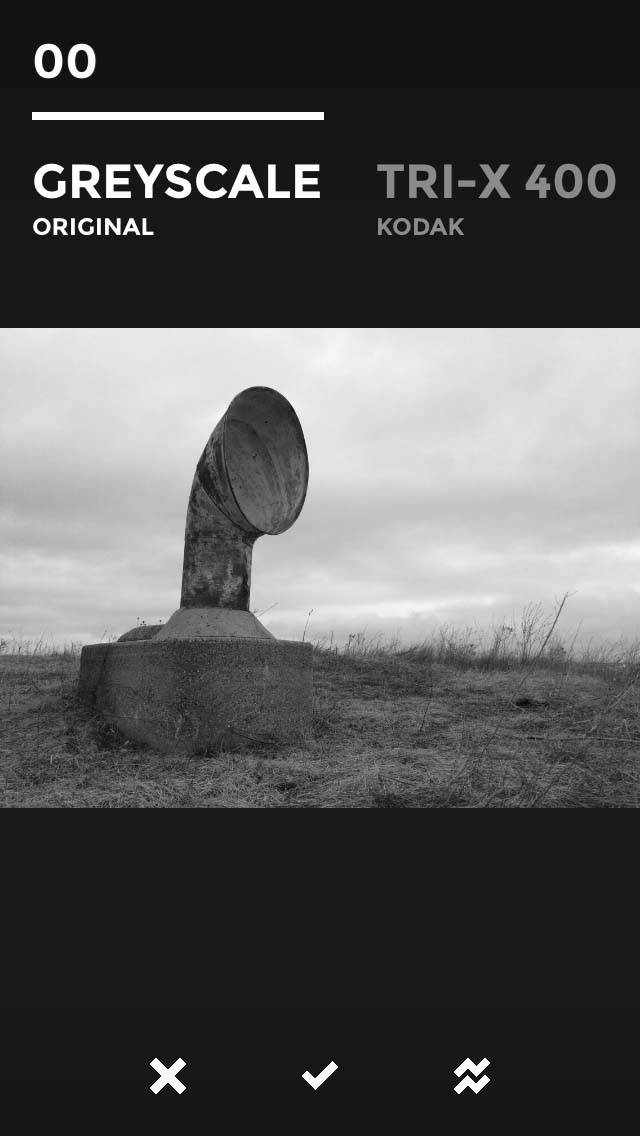 There are certainly other popular apps like VSCO that offer black and white filters that are also derived (at least indirectly) from classic film looks.
However, the black and white presets of VSCO don't strictly match any particular film styles like their desktop software counterparts do. In VSCO, all of the presets are simply named with a letter/number identifier.
BLACK, on the other hand, does strive to emulate specific film styles, and each preset is named after the classic film stock that it emulates.
Diverse Collection Of Classic B&W Film Presets
Film stock presets in BLACK include: Greyscale (standard B&W conversion, not a film stock), Kodak TX (Tri-X) 400, Lomography Lady Grey 400, Fuji Neopan 400, Shanghai GP3 100, Ilford HP5 400, Agfa APX 400, Tura 400, Paterson Acupan 800, Fujifilm FP-3000B and Orwo N15.
If you've ever shot black and white film, then at least one or more of the above films should be familiar to you. If you're not familiar with these film types, you soon will be once you start using BLACK!
Two of the most popular are Kodak Tri-X 400 and Ilford HP5. The Fuji and Agfa are also widely used in the world of film. The others, while somewhat less popular, have clearly been included to offer a well-rounded collection of film looks.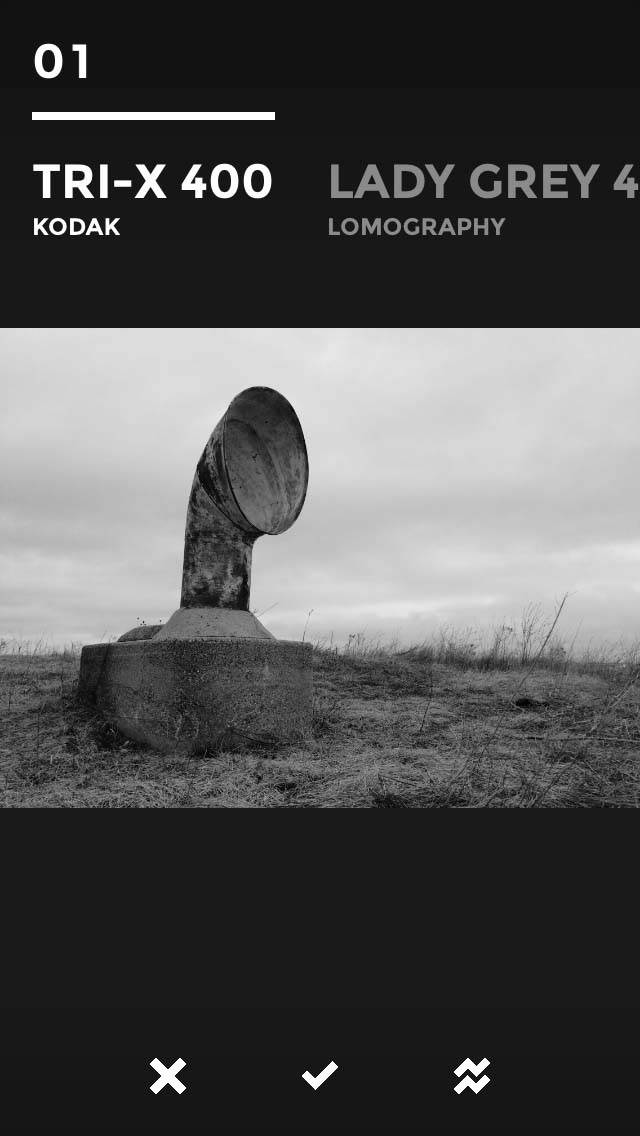 My personal favorite is the Kodak Tri-X as that's what I used to shoot all the time back in high school and college. I love the slightly high-contrast look that it offers while still retaining good highlight and shadow detail.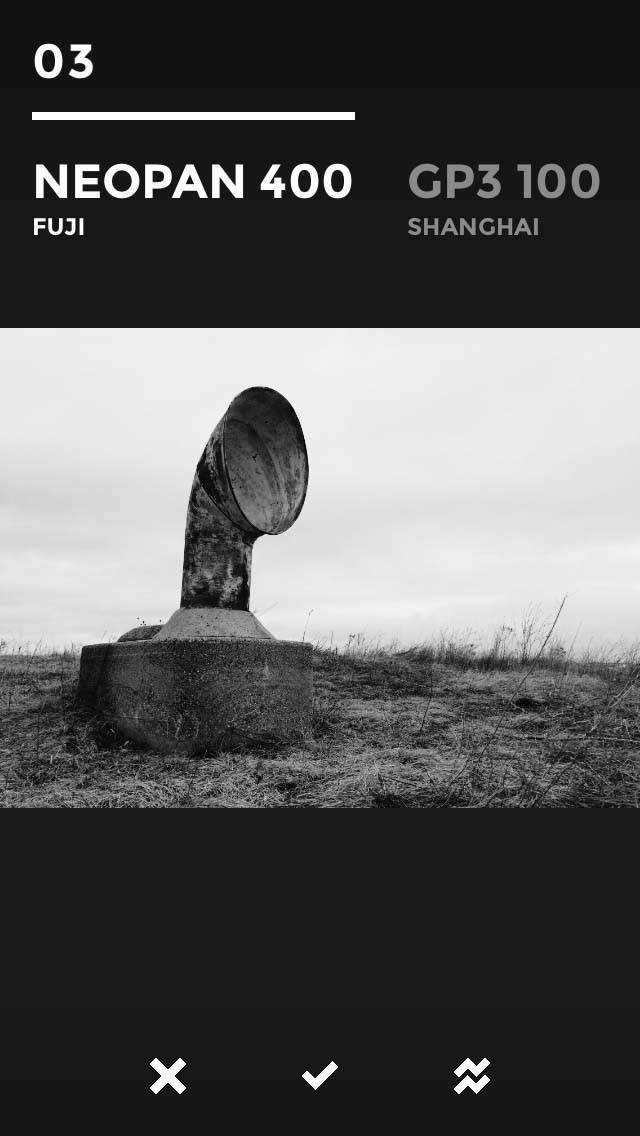 A close second for me is the Fuji Neopan 400. This film preset offers a bit more contrast than the Kodak.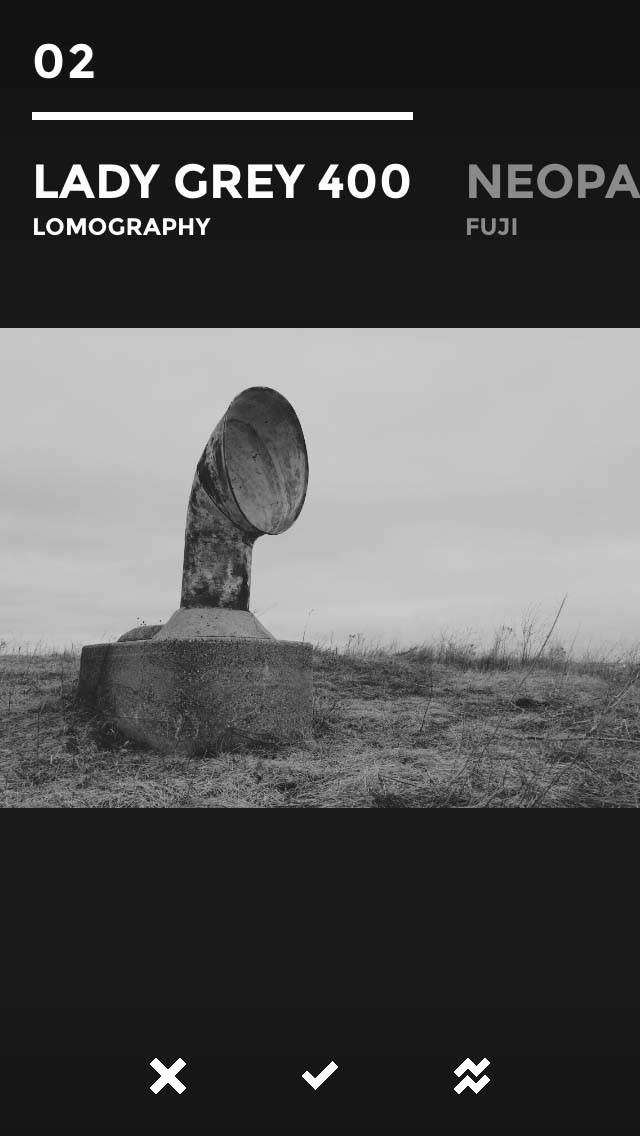 I've never shot with the Lomography Lady Grey 400 film before, but I really like the slightly faded look that it offers without being too washed out.
Intuitive, Easy-to-Use Interface
Like most photo-editing apps, your experience with BLACK starts with a built-in photo library where you can import photos, either one at a time or in bulk, from your Camera Roll. Once you've uploaded at least one image to BLACK's internal library, you can get to work editing your photos.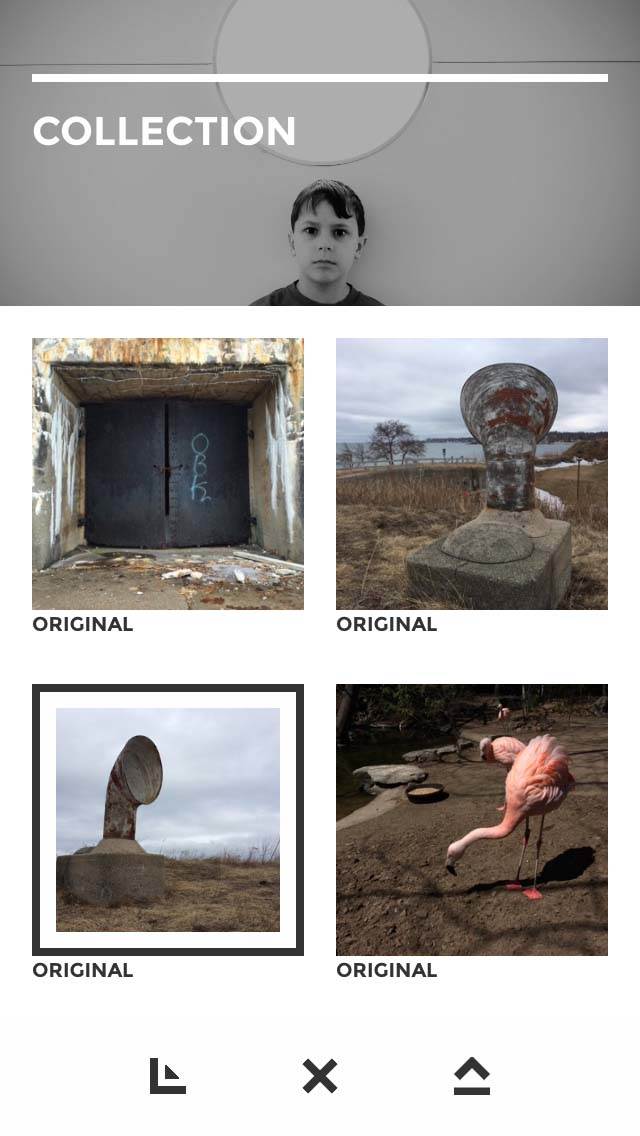 To be honest, this was the one point where I experienced a bit of a snag. The issue was due to the fact that BLACK uses some unique icons at the bottom of the library screen, so it can be hard to know which one to tap to edit a selected image (hint: it's the one on the far left).
Manual Adjustment Tools To Refine Your Edits
After selecting a film preset, you can tap the checkmark and simply move on to saving your image. Or if you want to tweak the look a bit more to your liking, you can tap the two wavy lines at the bottom right to go to the manual adjustment tools.
It must be noted that while BLACK is a free app, it will cost you $1.99 to access the manual adjustment tools via an in-app purchase.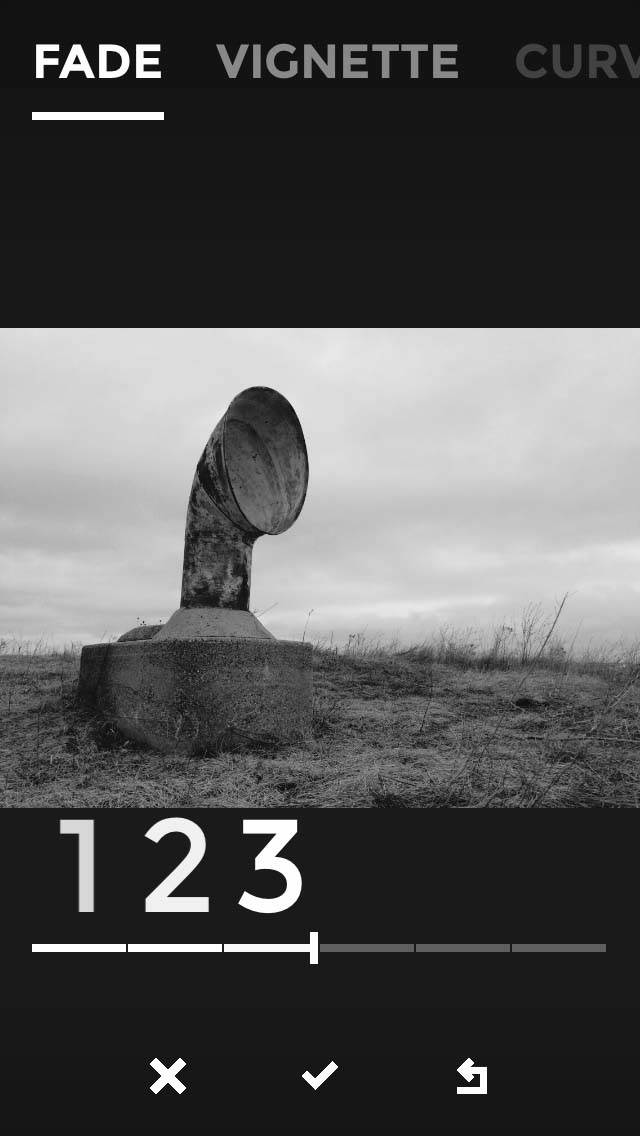 BLACK offers a sliding Fade adjustment tool that functions just as you'd expect it to. The higher you set it, the greater the fade effect.
In case you have any doubt what setting you've selected, BLACK offers a very stylized way of displaying the setting number for the Fade tool. You have to try it first-hand to see just how dynamic it is.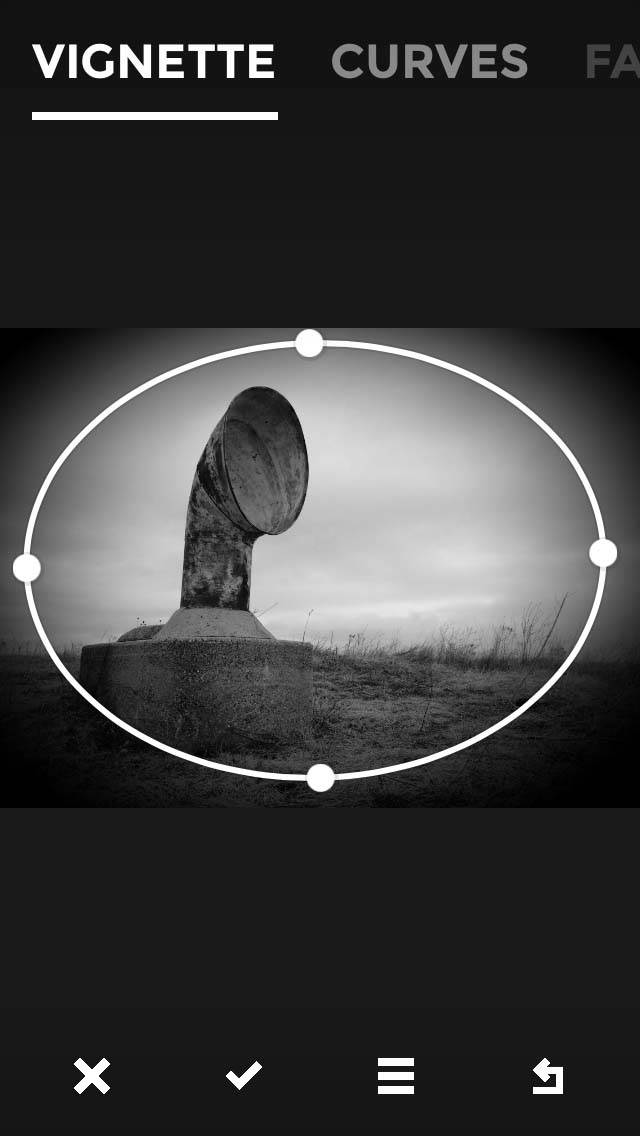 Also included is a highly customizable vignette tool that allows you to adjust the shape, position and strength of the vignette around the edge of your image.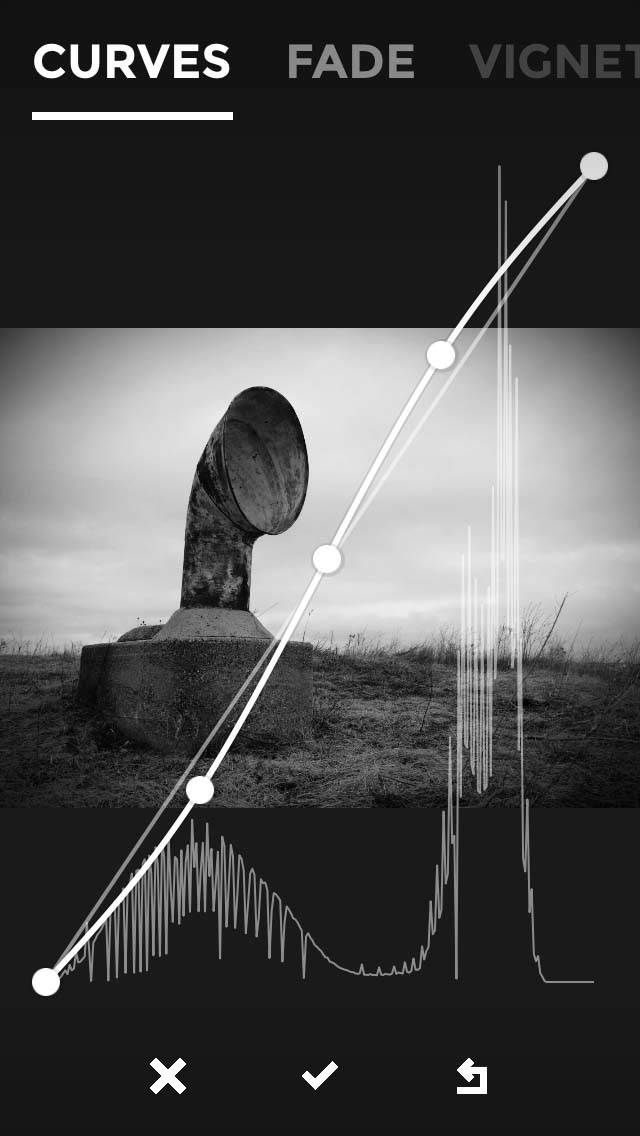 Finally, BLACK also includes a very effective Curves tool. This feature also has an overlaid histogram that gives you a graphical representation of the exposure range of your photo. The higher the peak in a given spot (shadows, highlights, mid tones, etc.) the stronger the exposure in that tonal range.
If you've never used a histogram before, don't be intimidated. In fact, the Curves tool in BLACK is a great way to learn how using a histogram can help you edit your photos to perfection.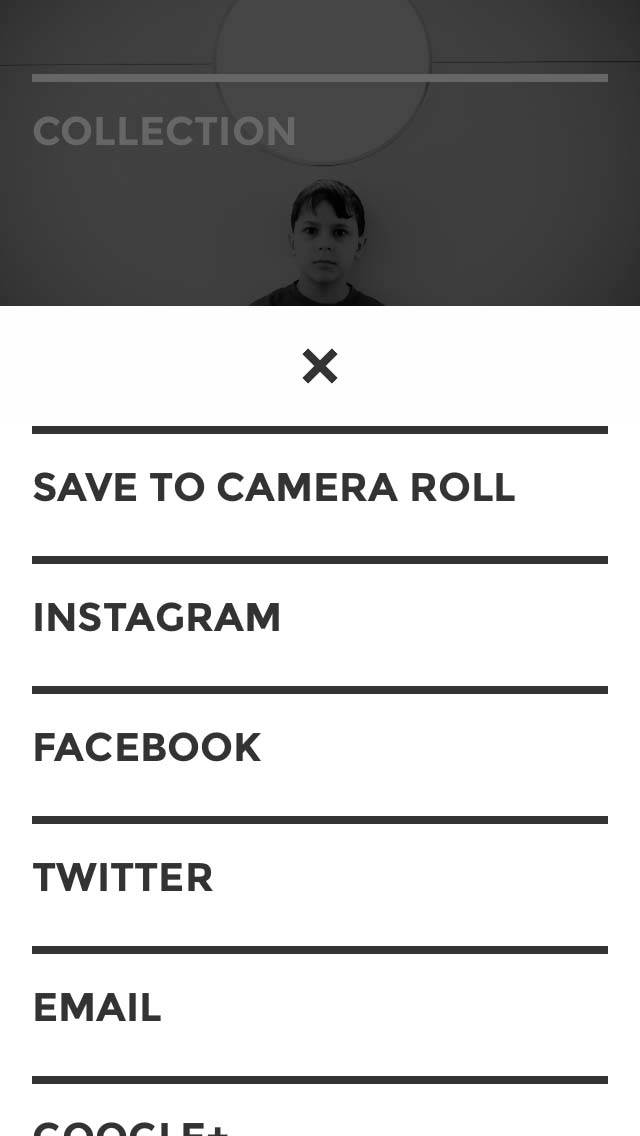 Once you finish your adjustments, tapping on the checkmark brings you back to the BLACK photo library where you can move on to another photo and/or save the one you just edited to your Camera Roll.
Conclusion
For a relatively new app, BLACK is quite promising. Other than the aforementioned icon issue, I can't find much fault with how the app functions.
Again, BLACK isn't meant to be a full-featured editing app, but having a few more controls (especially a Grain tool) would help with the film emulation experience in my opinion.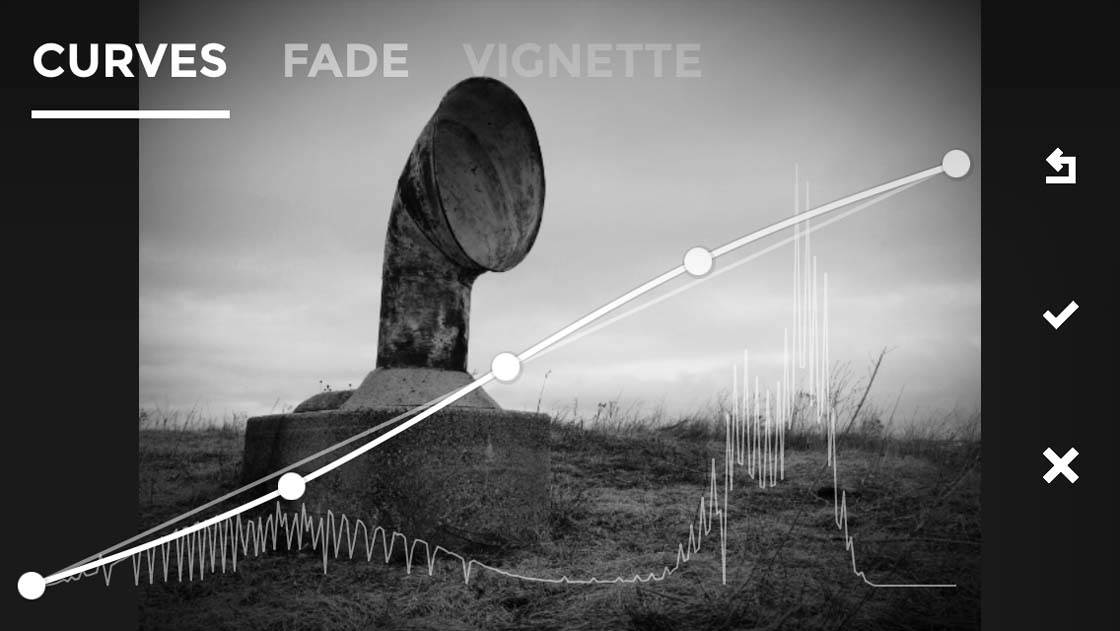 Pros
Excellent collection of film emulation presets (seriously good!)
Simple interface designed solely for applying film looks to your images and not much else
Fast and responsive user experience
Works in portrait or landscape orientation
Cons
A few cryptic icons that take some getting used to, but this isn't all that different from other popular apps such as VSCO that have a bit of a learning curve as well
Not a full-featured editing app (but this can be a good thing depending on your perspective)
Additional cost (reasonable though) for access to manual adjustment tools via in-app purchase
Even with the few shortcomings mentioned, BLACK offers one of the best collections of black and white film presets I have ever used (even compared to desktop applications). This app has definitely found a permanent home on my iPhone.
BLACK is available to download for FREE in the App Store. The only cost comes if you want access to the manual controls, which are available via an in-app purchase for $1.99.