I'm really pleased to share this interview with Shaz Sharif, wife of the talented Ahady Rezan (@huxsterized) who we recently interviewed. Shaz shares her husband's passion for minimalist photography, and her background as a graphic designer is evident in her stunning images. In this interview you'll discover more about Shaz and how she creates such simple yet powerful compositions with her iPhone.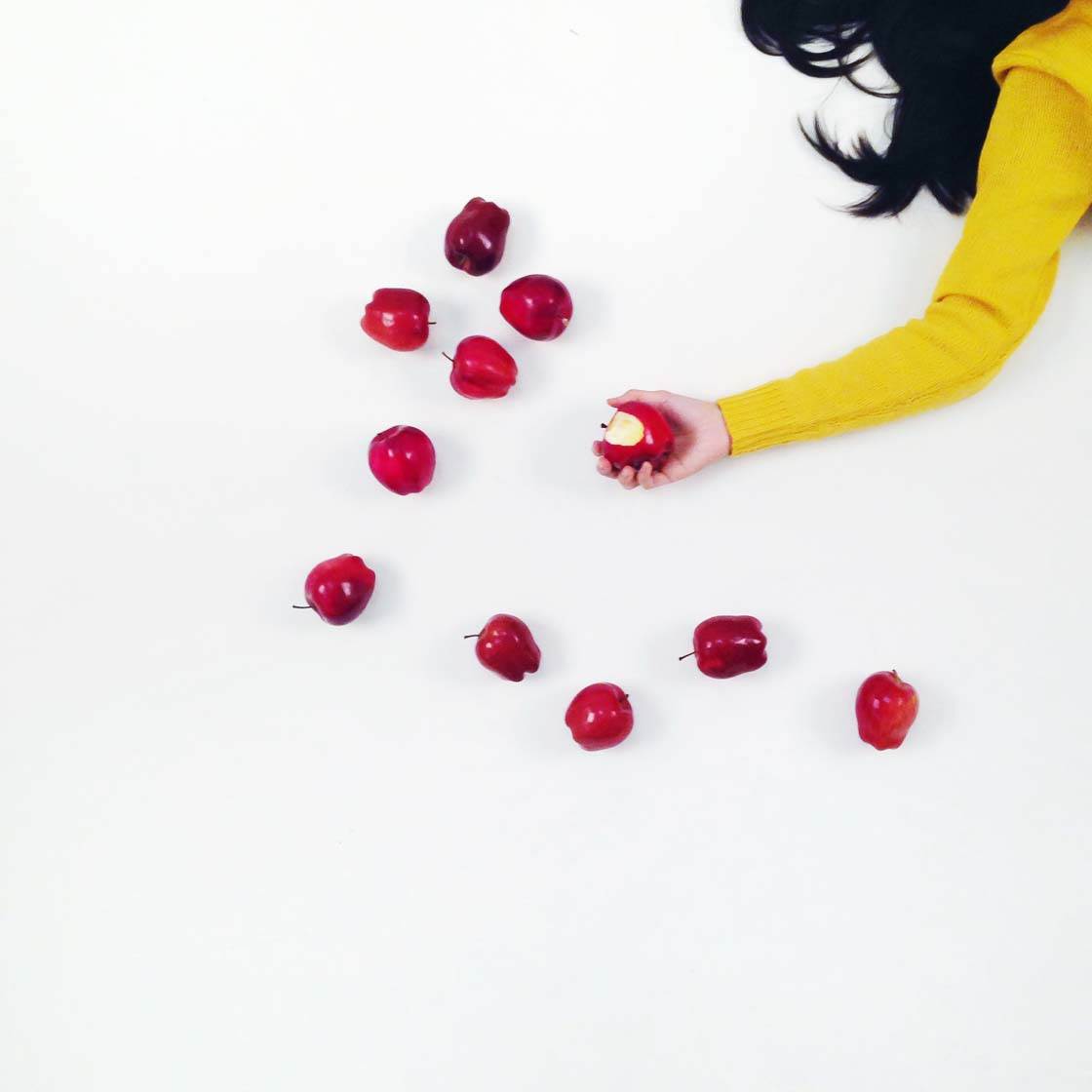 Tell us a little bit about yourself.
I'm a 32 year old wife to @huxsterized (Ahady Rezan) and a mother from Malaysia. I studied Multimedia Design in college, worked in the advertising field, and finally decided to become a full-time housewife after I gave birth to my son. I do freelance graphic design occasionally.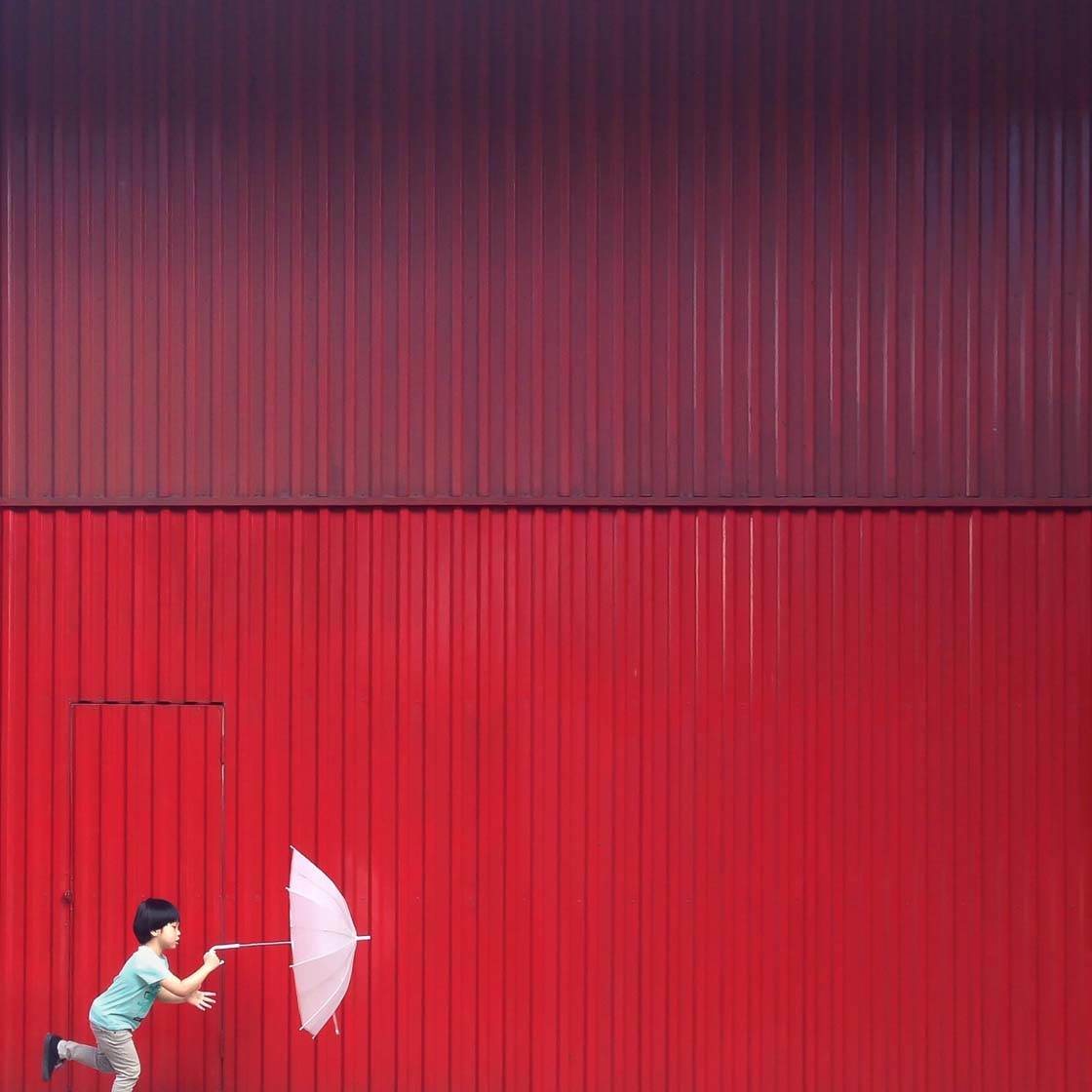 I've always been a creative person, but I didn't fully realize it until I was studying Accounting – I just couldn't imagine myself dealing with numbers for the rest of my life.
I also have my husband to thank because he's influenced and encouraged me to explore my creative side.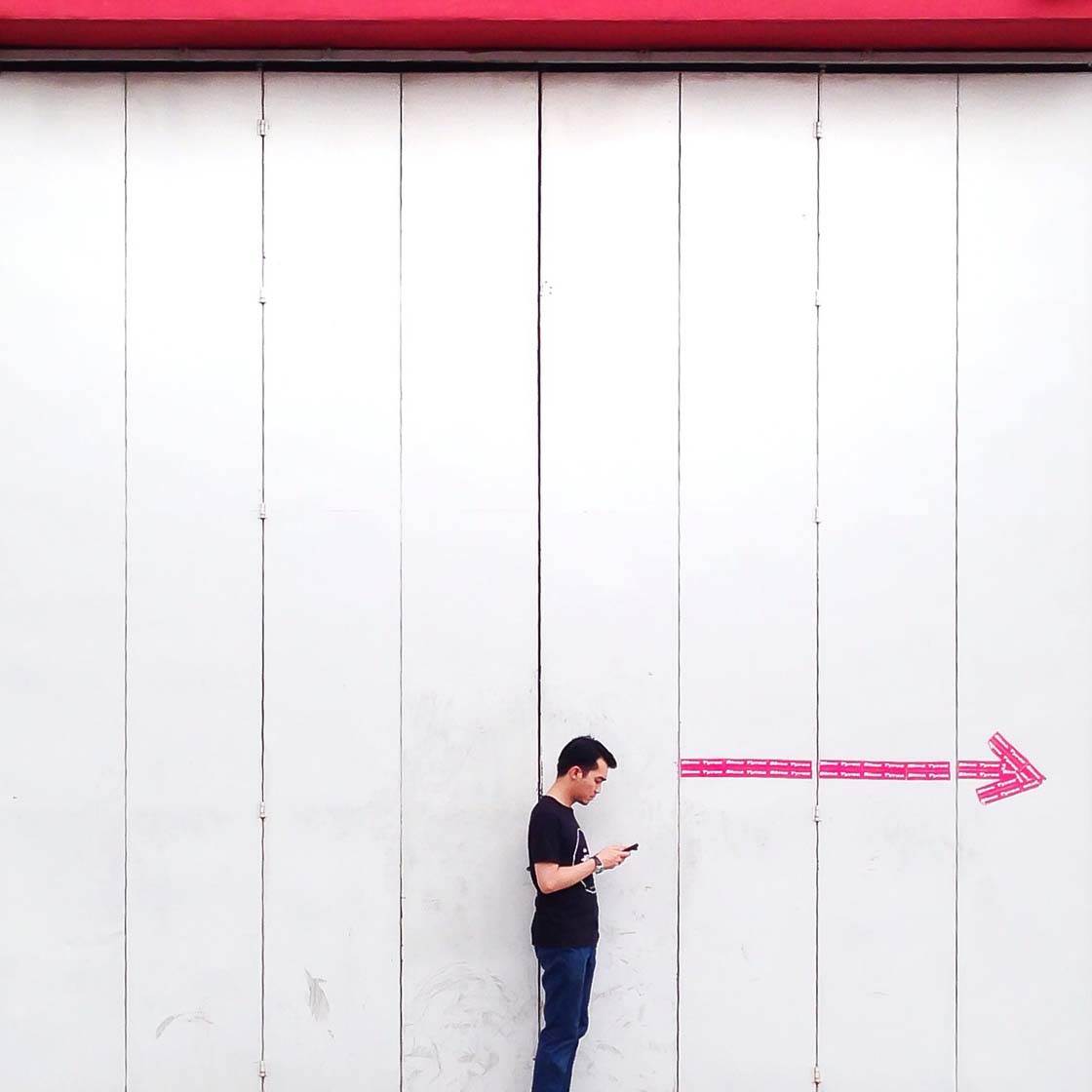 How did your iPhone photography journey begin?
I've been on Instagram with my personal account since the app first came out (I was using iPod Touch back then). I was posting mostly personal photos, like my family, work, daily activities, etc.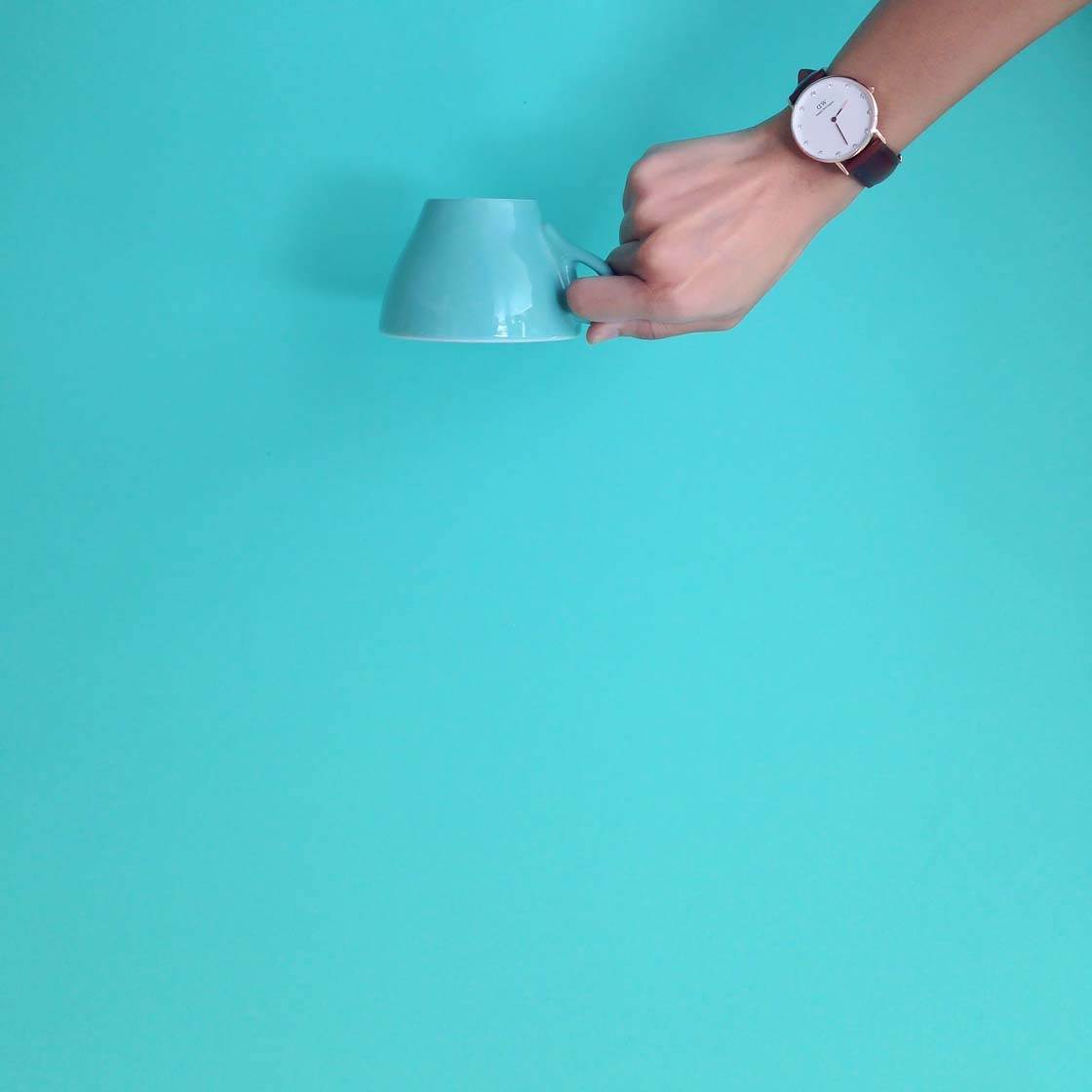 Then I began taking more artistic and conceptual photos, but I wasn't getting much feedback on my personal account.
So I decided to create another account with the intention of sharing my creative shots with other Instagramers who might appreciate them – and the feedback I received was very encouraging!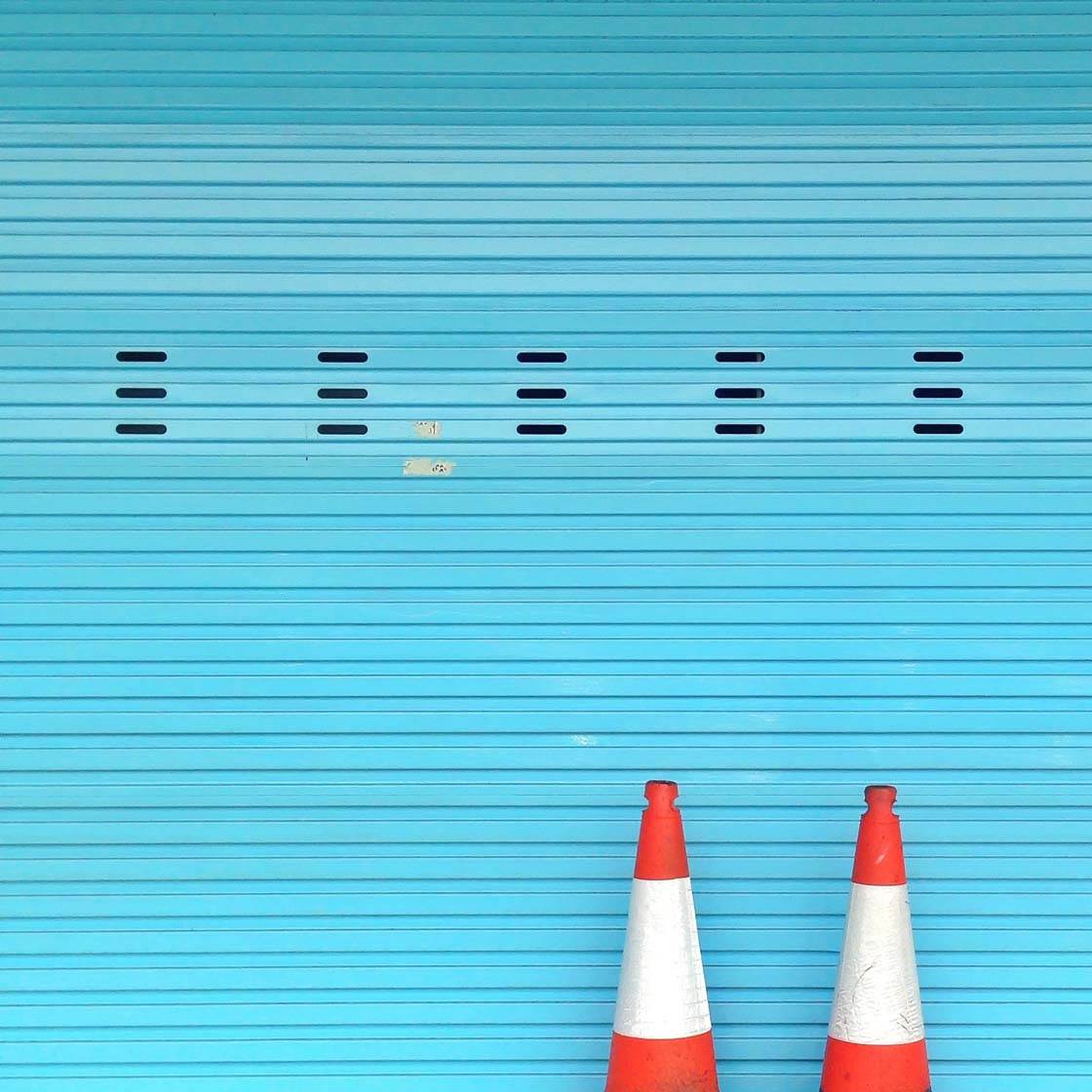 I also began making new friends around the world (some of whom I've had the pleasure of meeting personally) and they've been really supportive.
I discovered a lot of truly inspiring Instagramers, and that kept me driven to continue contributing to the Instagram community.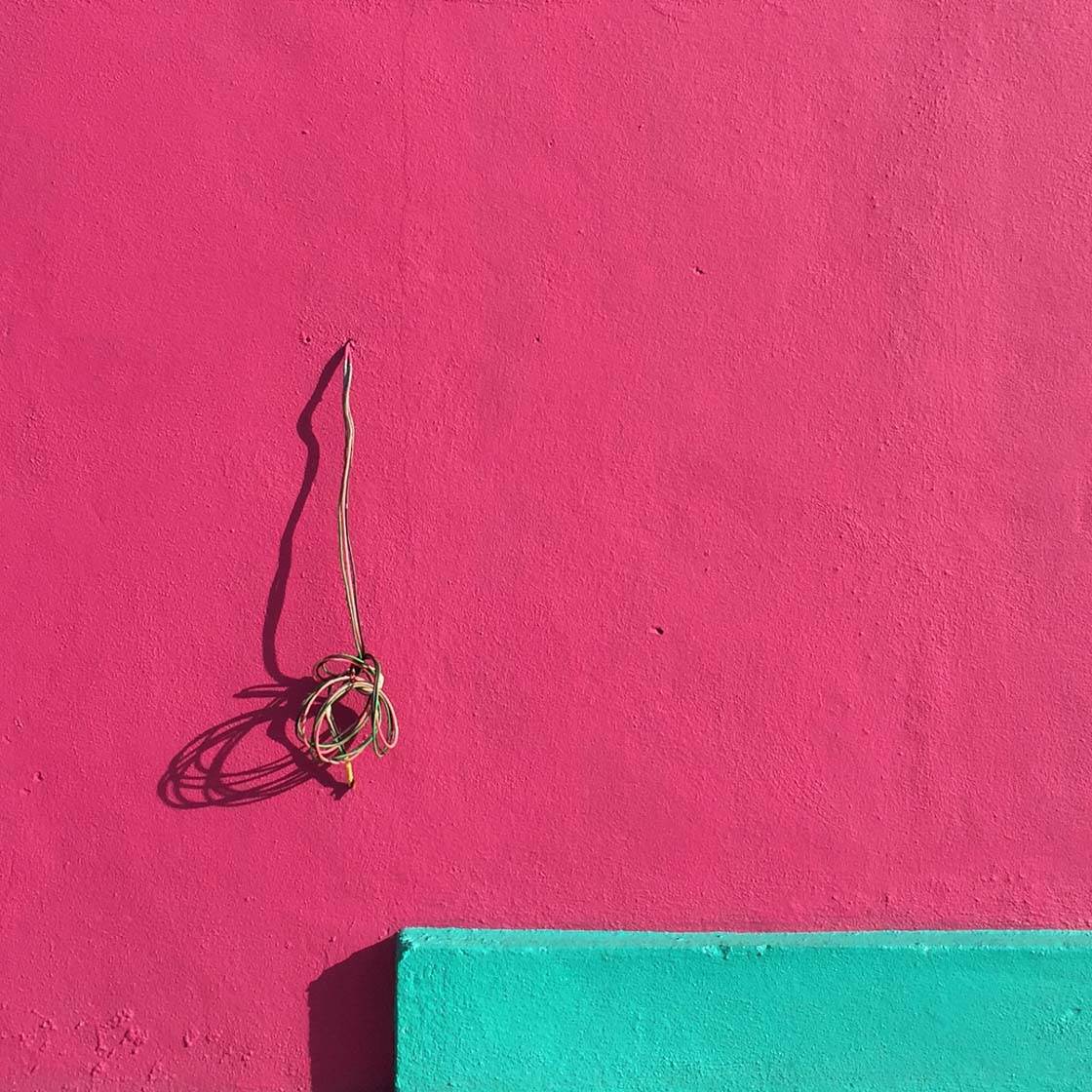 What inspires you to take photos with the iPhone?
Mostly the accessibility of the iPhone. It's with me all the time, making it easy for me to capture, edit, and post anything at any time.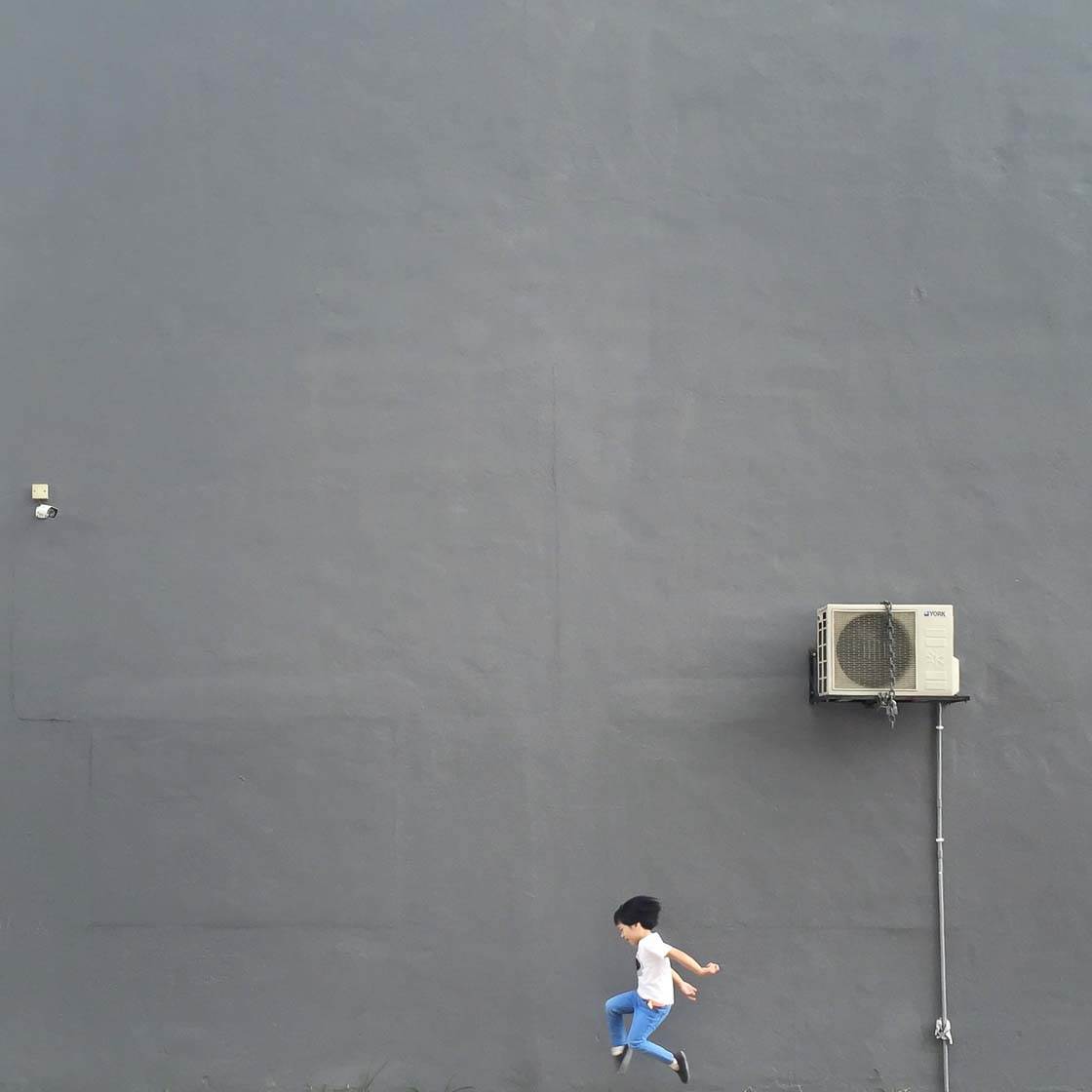 I've always been an Apple person. When I first started posting on Instagram as @moksva, I was using the iPhone 5. I've recently upgraded to an iPhone 6 and I'm really happy with the camera quality.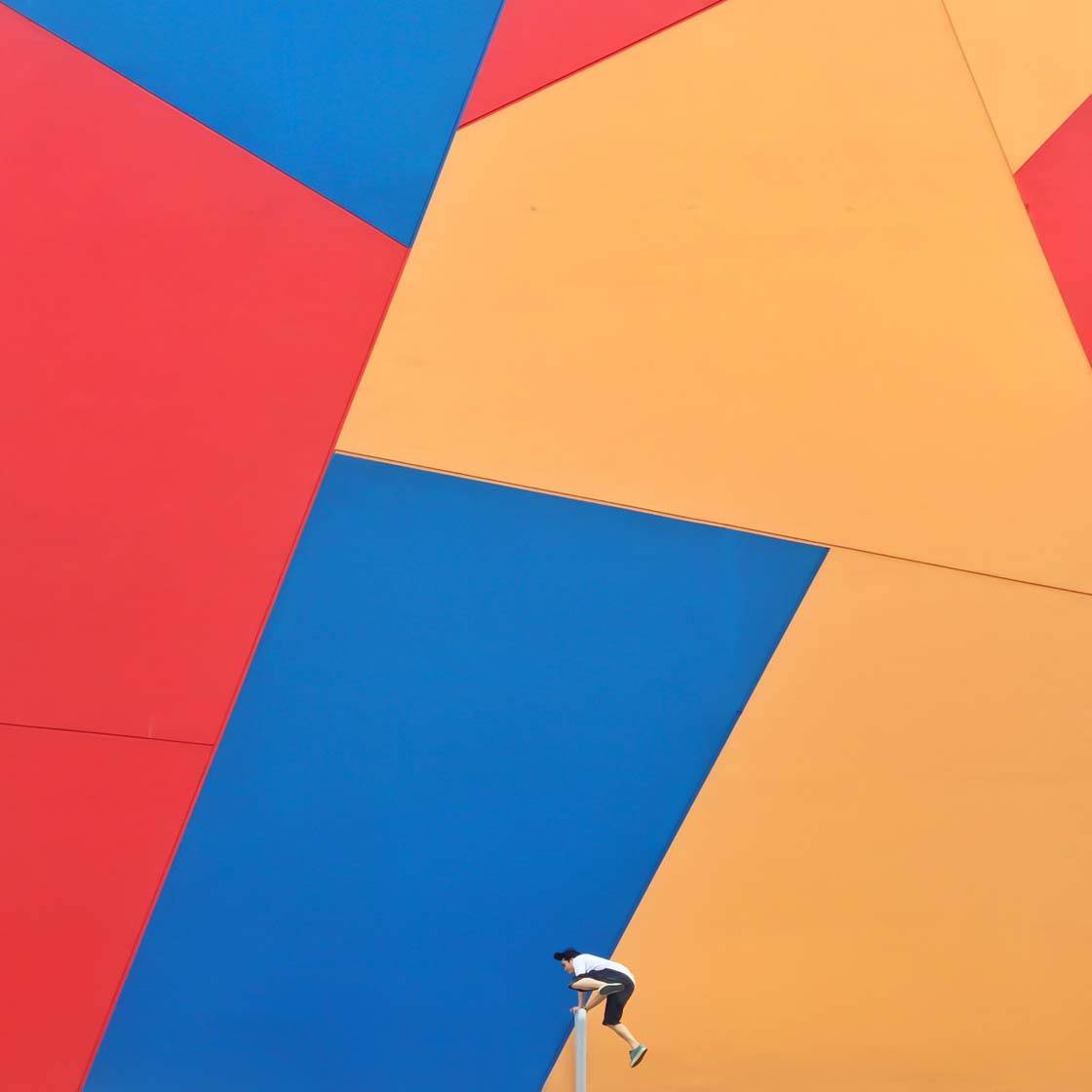 Your Instagram feed is a wonderful collection of brightly colored images with minimalist and abstract composition. What draws you to this genre of photography?
Being a graphic designer, I'm always drawn to colors and I love the use of negative space. These elements can add so much value to a photo.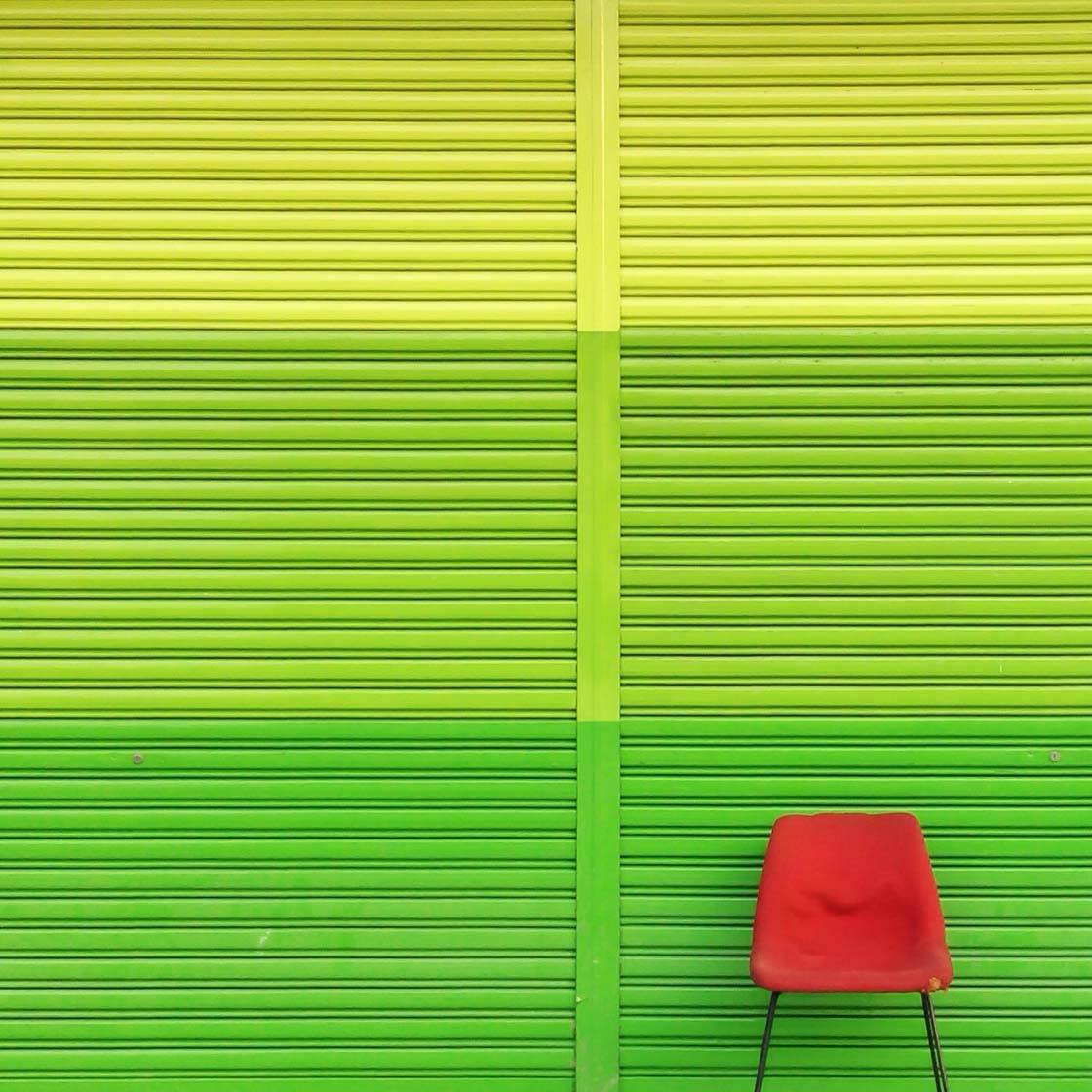 I'm a simple person, which is why I appreciate this genre of photography so much. I find it amazing how a simple photo combined with colors and negative space can create emotions and make an impact on the viewers.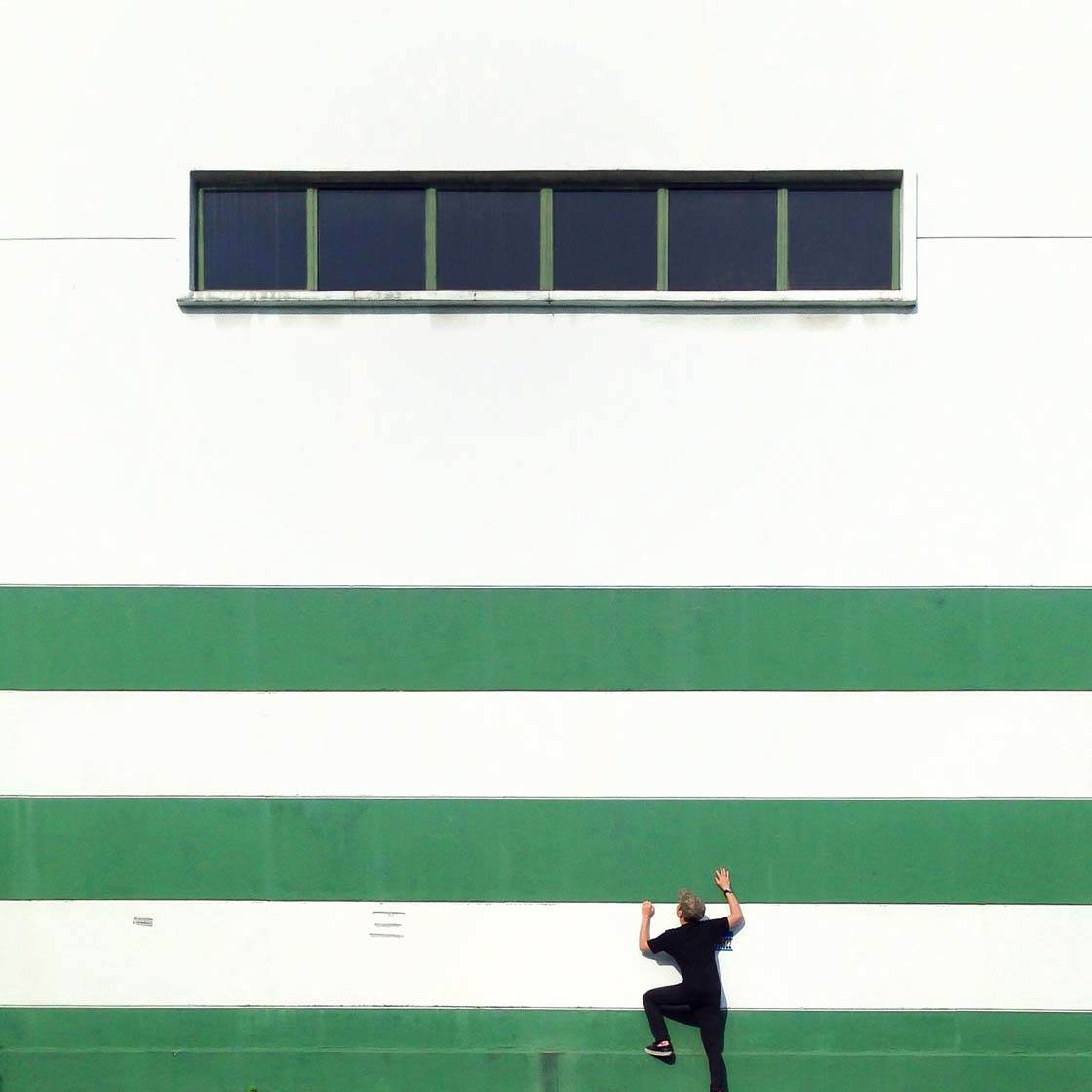 What are your favorite subjects for minimalist photography?
My favorite subjects would definitely be bright colorful walls and roller-shutters, especially when there are design elements like objects, shapes, patterns, lines and shadows.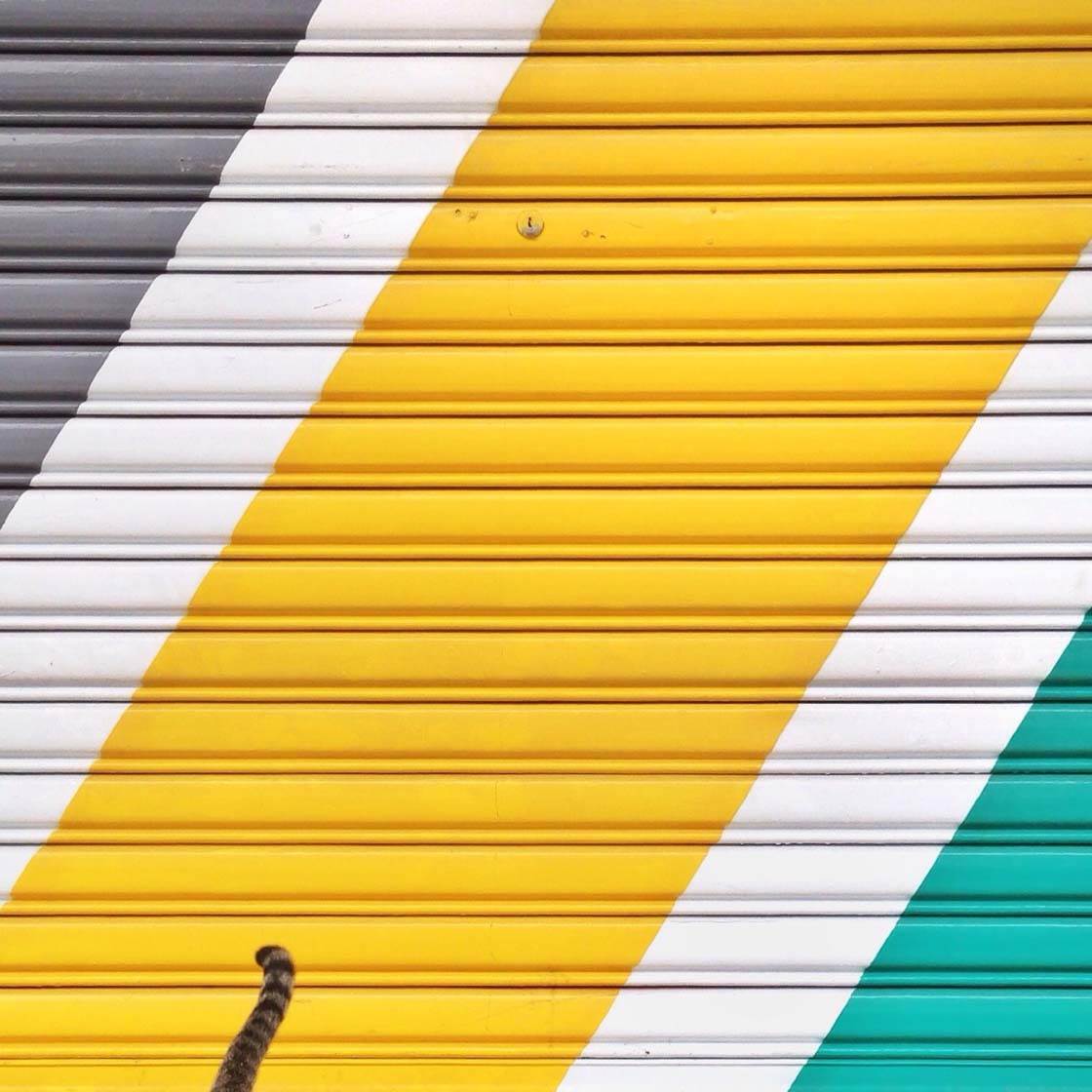 Your young son features a lot in your photos, and he seems like a very willing subject! What tips do you have for taking great iPhone photos of children?
He started off as a very annoyed subject, rather than a willing one! But after a while he began enjoying our photography sessions and even gave ideas on how he could pose for us.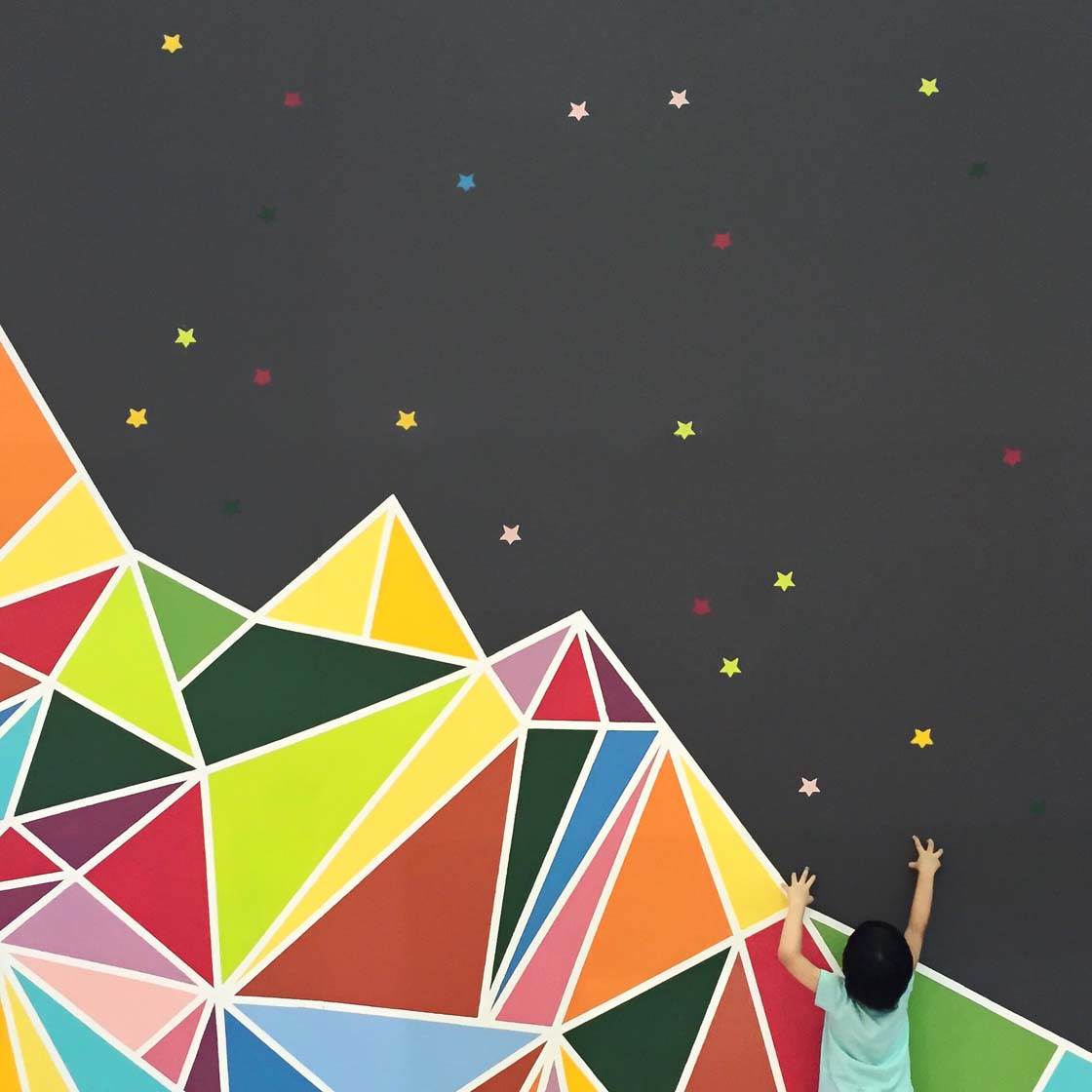 When photographing children, the most important tip is to be patient because they may or may not co-operate. We have to keep in mind that this is supposed to be a fun process for them as well as for us.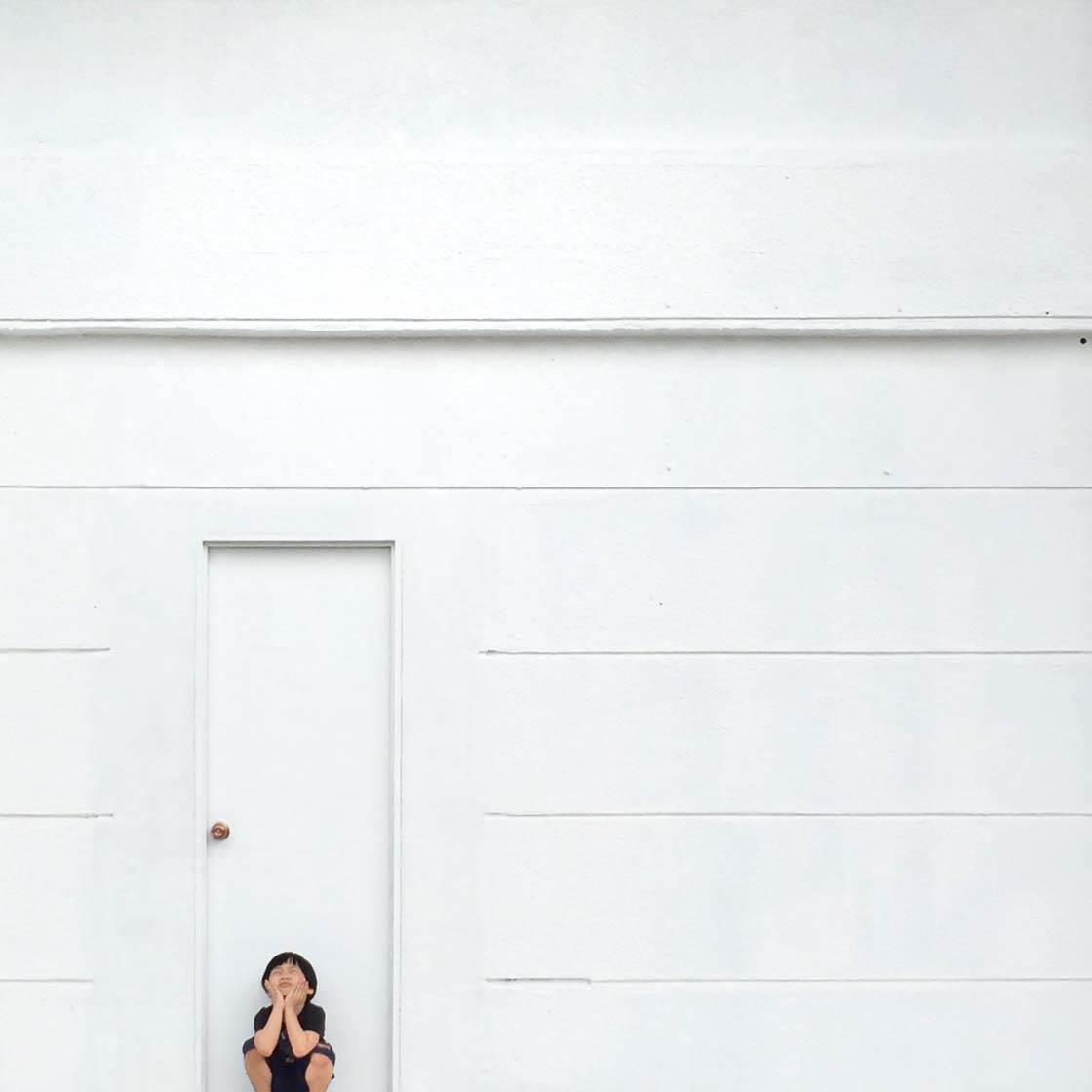 So we shouldn't push them to the point where everyone becomes stressed out. Another tip is to reward them with candies or ice-cream!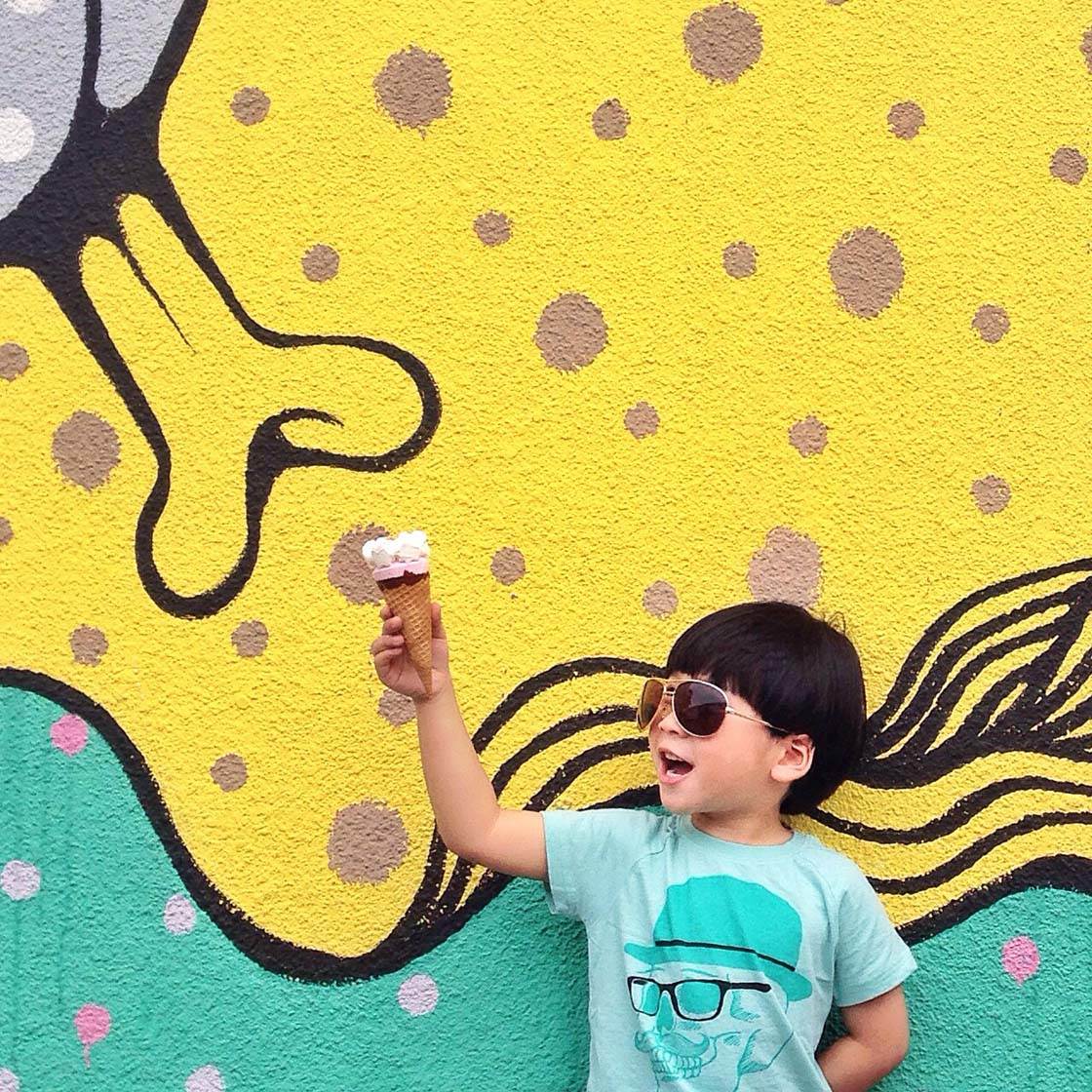 Despite having very few elements in the scene, many people find it difficult to create a pleasing composition with this kind of photography. What advice would you give to beginners who want to start composing better minimalist photos with their iPhone?
Composition is very important, especially in minimal photography. For me the first important step in the process is how you see a certain subject.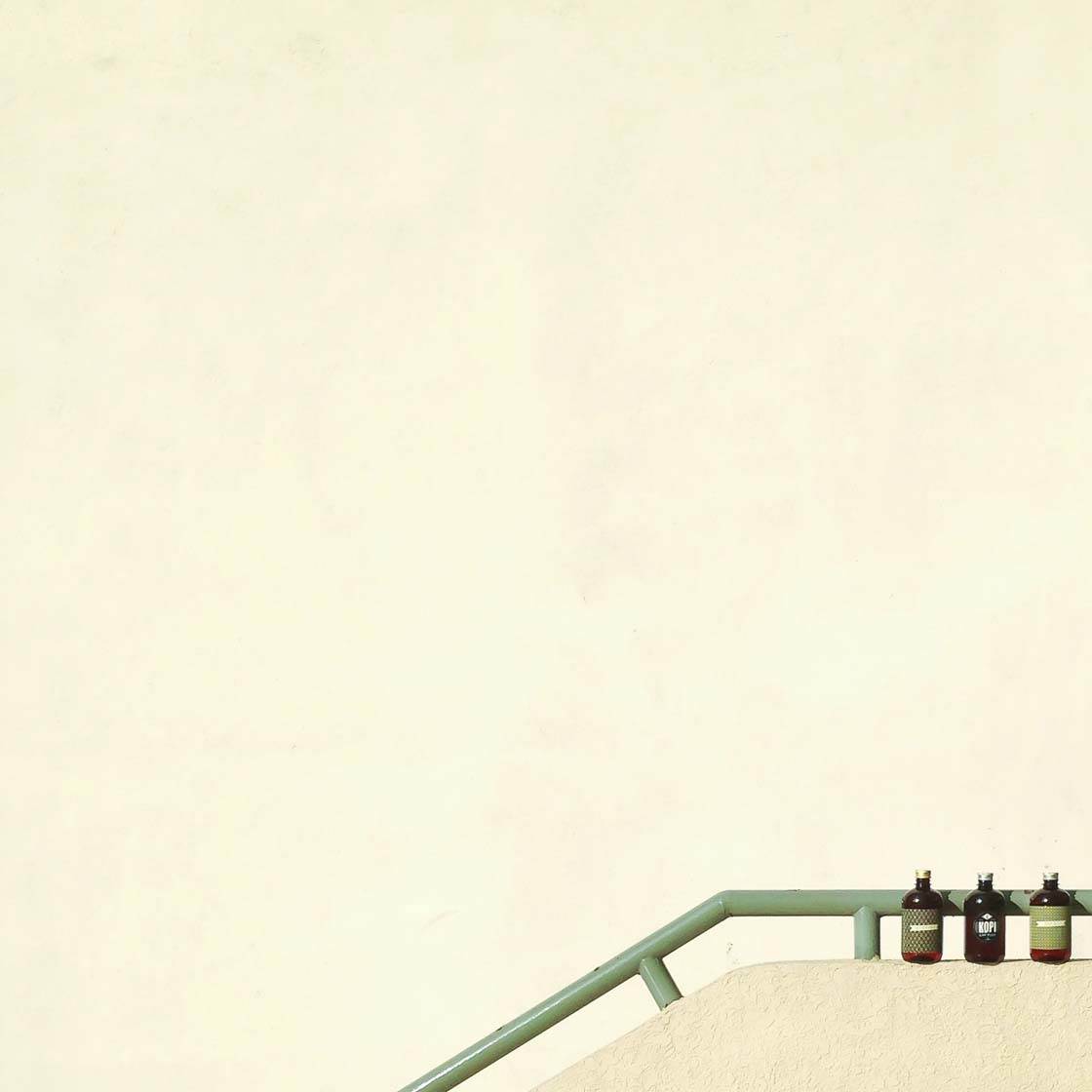 You can learn by playing with square cropping during post-processing. Move your square until you're happy with how it looks. Sometimes I end up with a few selections of the same image after I'm done with the cropping.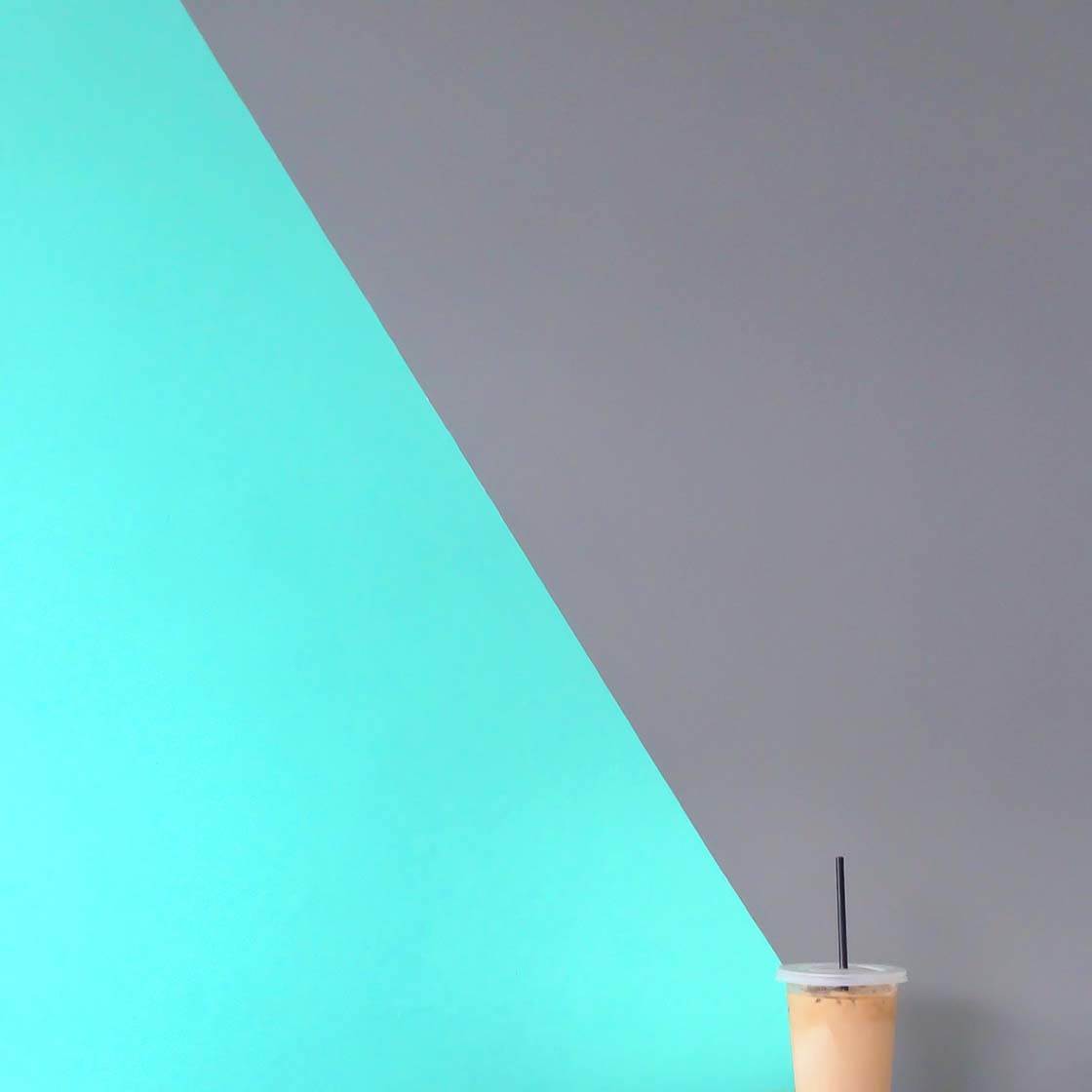 Your husband is also a fantastic minimalist iPhone photographer who we've interviewed recently. Do you shoot a lot together, and if so, how do you make your photos unique when photographing the same subject?
We shoot together 99% of the time. We love to drive around to look for subjects to photograph. The tricky part of always photo-hunting together is deciding who gets to shoot what, so one of us needs to call shotgun when we see something that we like!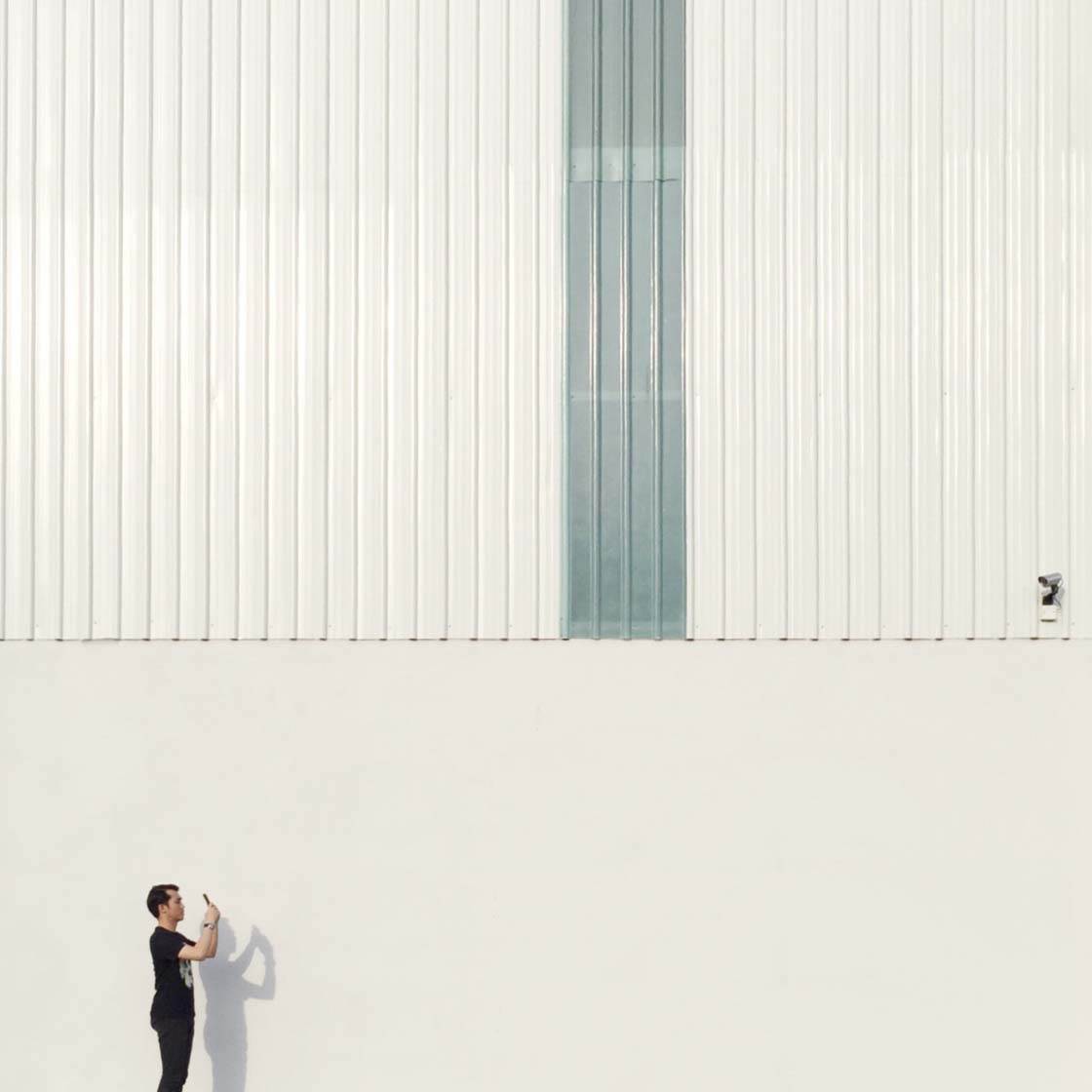 Even though we see the same subject, each of us has different ideas on how to capture and compose it. I guess you can see it as teamwork because we're always exchanging thoughts and opinions on how both of us can try to make our photos interesting.
Let's talk about photo apps. Are there any apps that you use for taking photos besides the native Camera app?
I only use the native Camera app.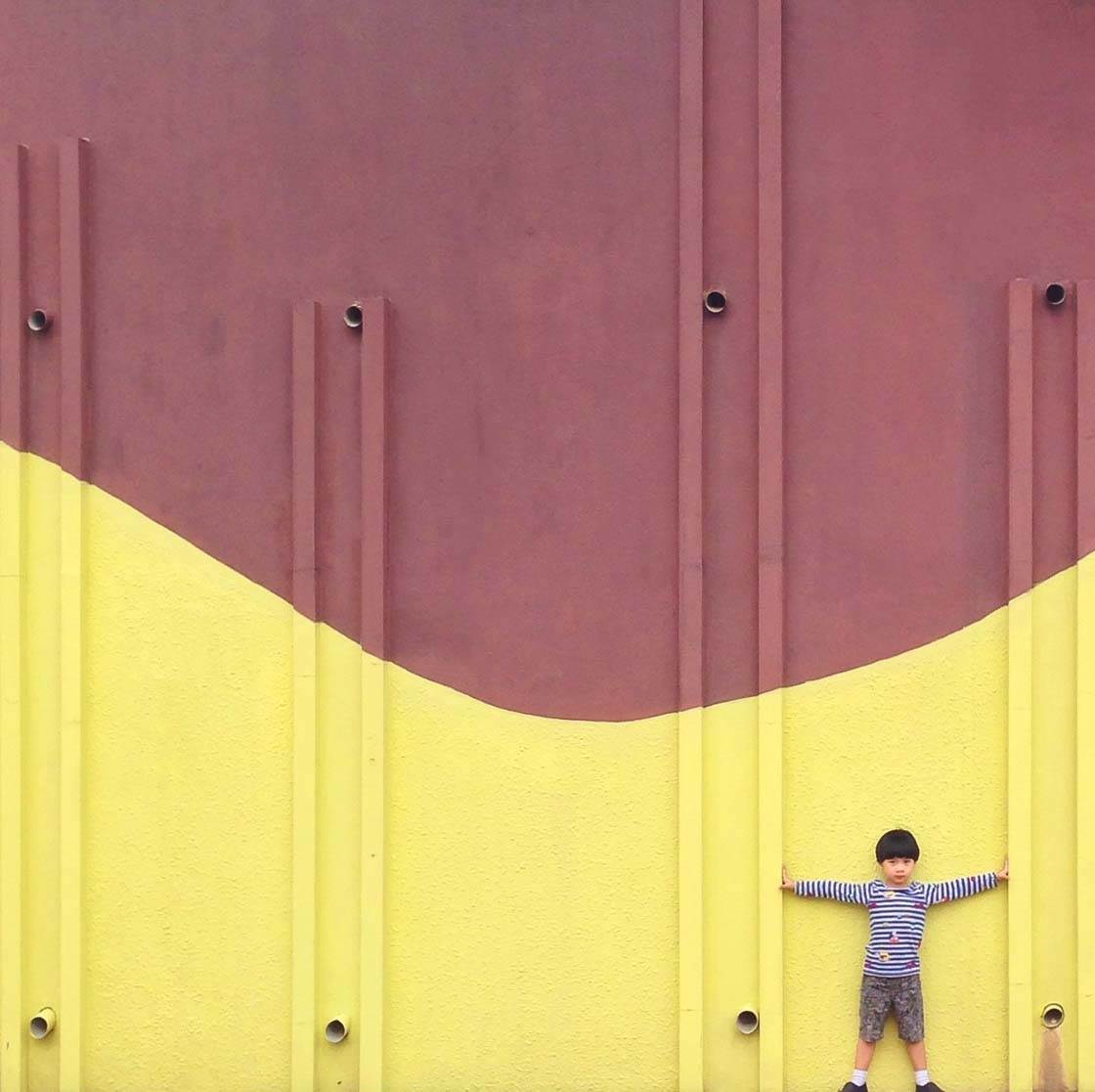 What are your favorite apps for post-processing?
I love Snapseed and SKRWT. Occasionally I'll use PS Express for its Reduce Noise tool. I don't do much editing because I want my photographs to be as real as possible.
Do you use any iPhone photography accessories?
No, I don't use any accessories.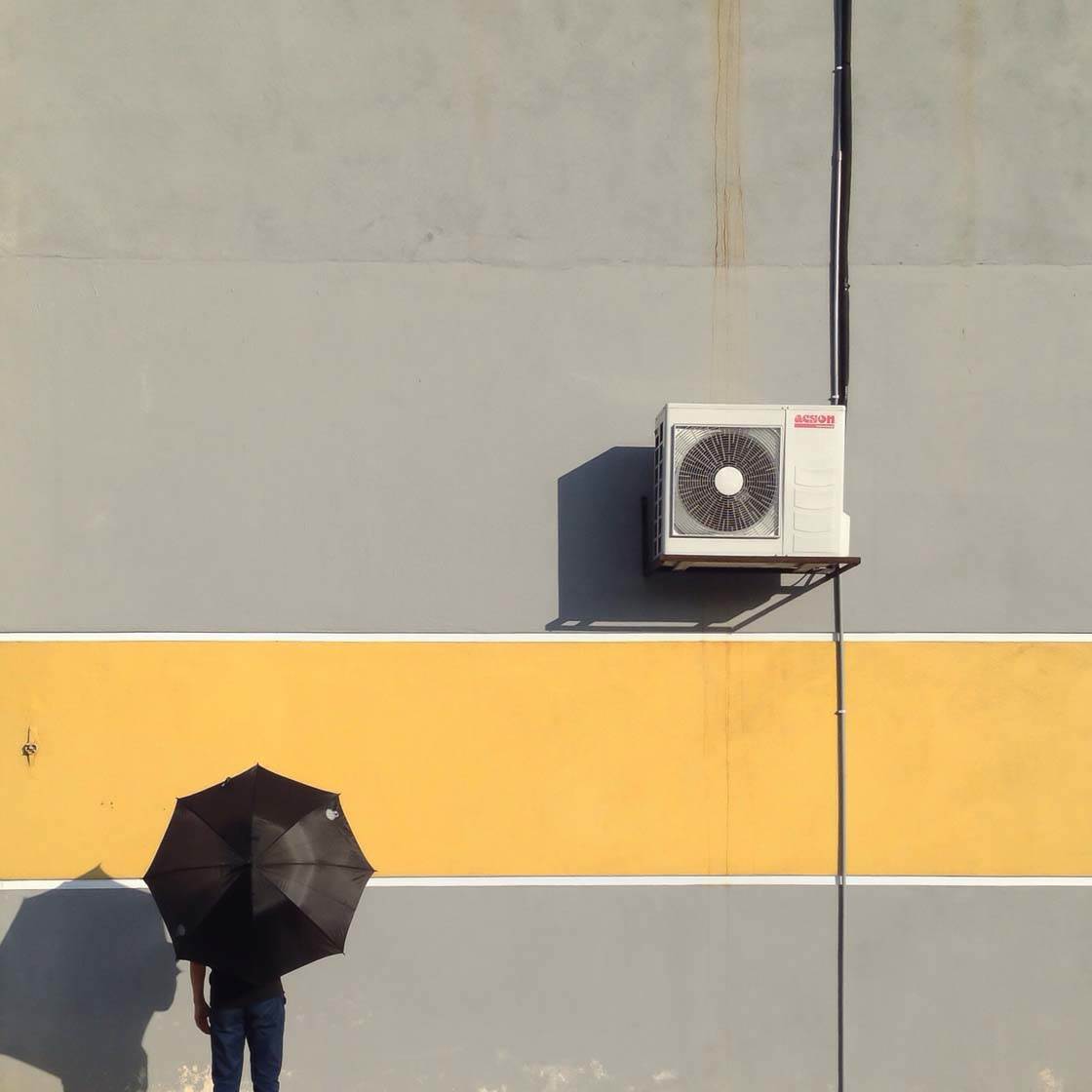 Can you briefly explain the story and editing process behind your three favorite iPhone photos?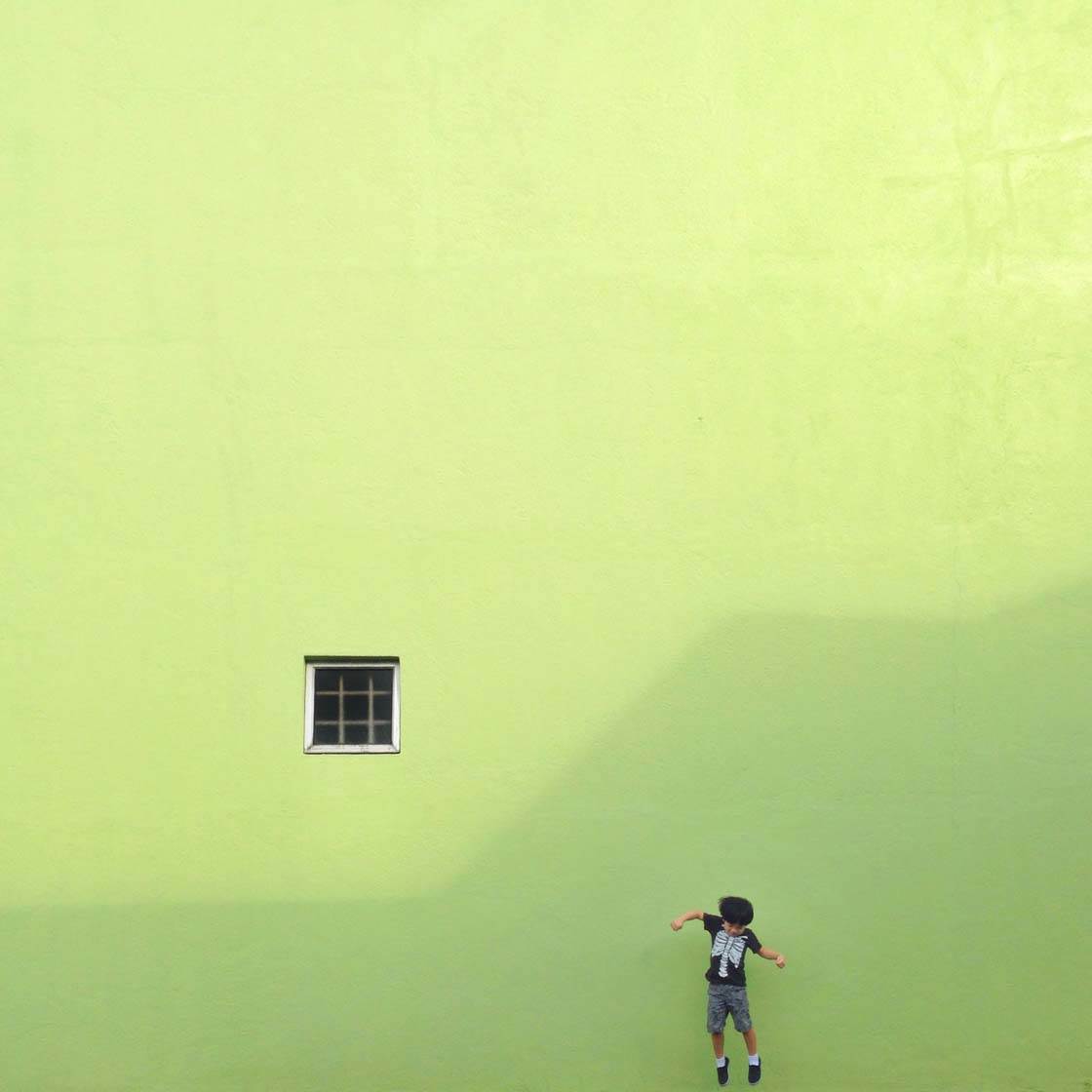 This shot was taken at a car workshop area. It's one of my favorite areas to photo-hunt because of its colorful walls and roller-shutters. I saw this big pastel green wall with a tiny window and subtle shadow on it, and I immediately knew I had to shoot it.
I asked my son to jump because I wanted to have a fun post to welcome 2015. I didn't do much editing on this one. I cropped, edited the color slightly in Snapseed and reduced a bit of noise in PS Express.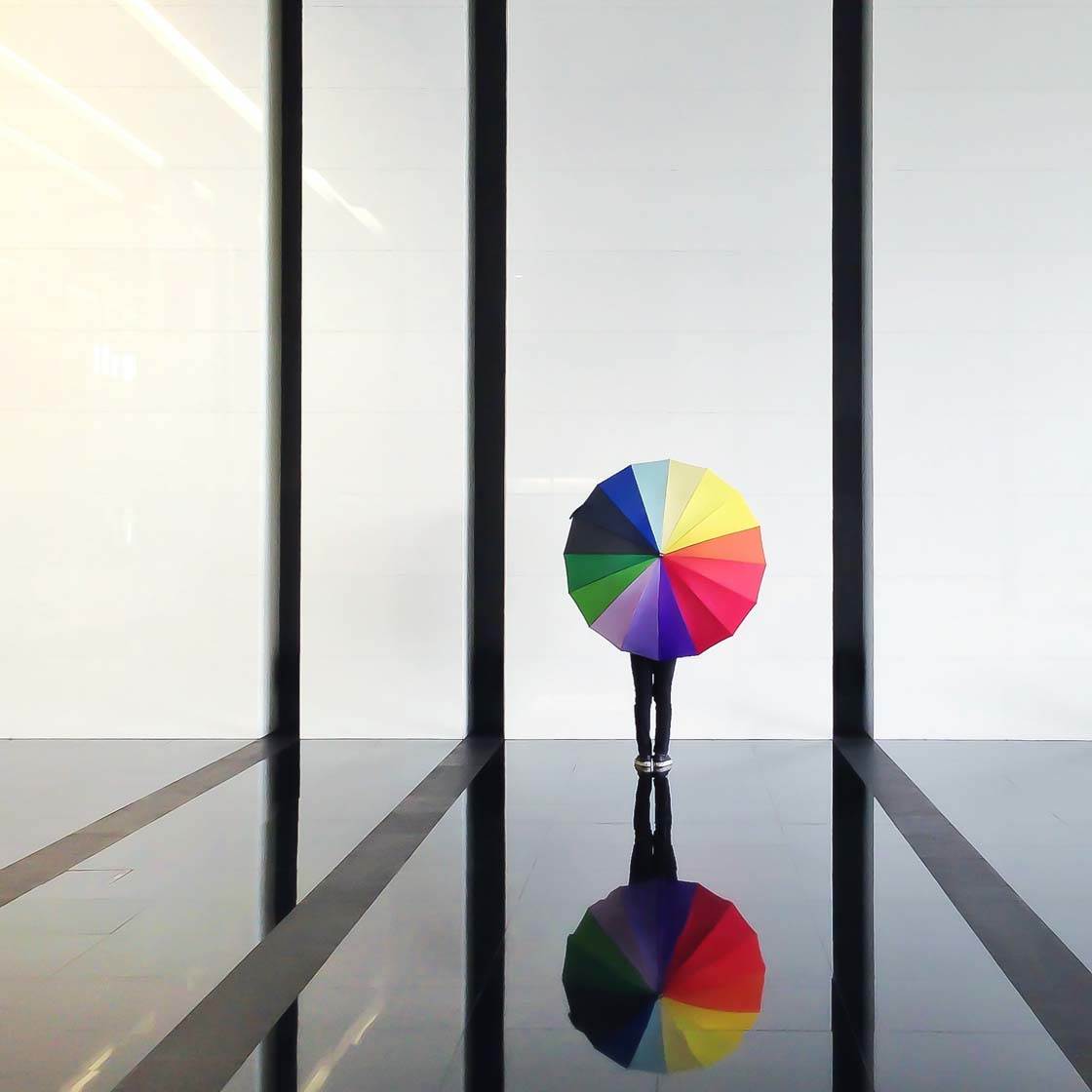 @huxsterized and I were so excited to get the opportunity to be a part of Jill Emmer's (@shineonyoucraydiamond) traveling umbrella project.
I took this shot inside an office building lobby. Since the umbrella is bright and colorful, I wanted to have a clean background so that the colors would pop against it.
During post-processing, I used SKRWT to crop and straighten the perspective, then Snapseed to brighten and enhance the colors. The last step was to reduce noise in PS Express.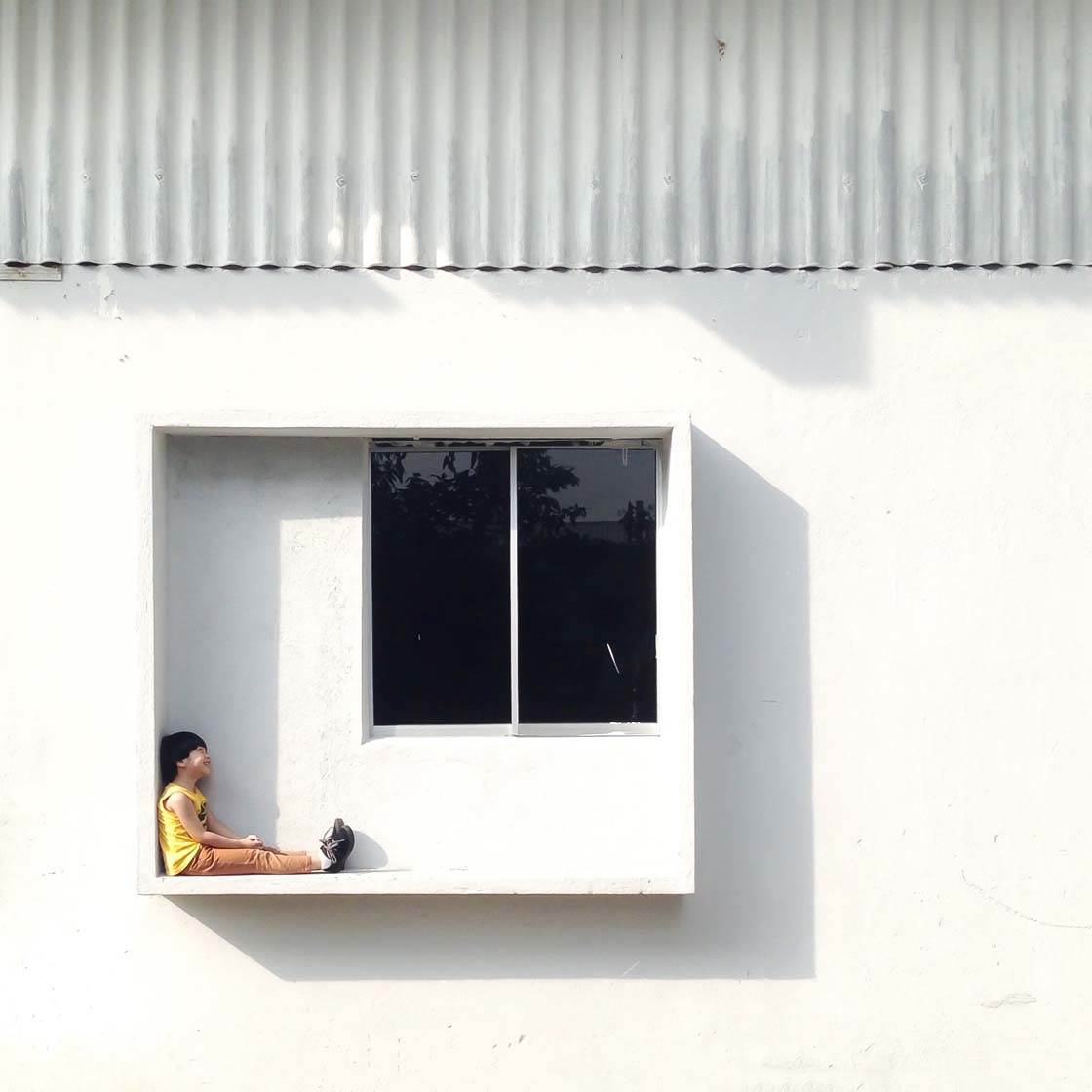 I try to take part in Instagram's Weekend Hashtag Project whenever I can. This particular shot was for #WHPmydailyroute.
I thought of being conceptual rather than literal. My son is my sunshine – my daily dose of happiness. Therefore I decided to take a shot of him and use the caption "My daily route to happiness."
The photo was taken at an abandoned one-story building. I saw a window with a ledge large enough for my son to sit on, and the shadows on the wall were just amazing. @huxsterized was just outside of the frame since he helped to lift our son up and down from the window ledge!
My editing process for this one was pretty much the same as my other photographs – I cropped, brightened the image slightly and reduced a bit of noise.
You're head moderator of the fantastic @_rsa_minimal Instagram group. Can you tell us how you came to moderate this group, and what it has to offer aspiring iPhone photographers?
I was already a member of the @_rsa_minimal family when the admin of @_rsa_minimal (@ana_gil_) approached both @huxsterized and I to become a part of their moderating team.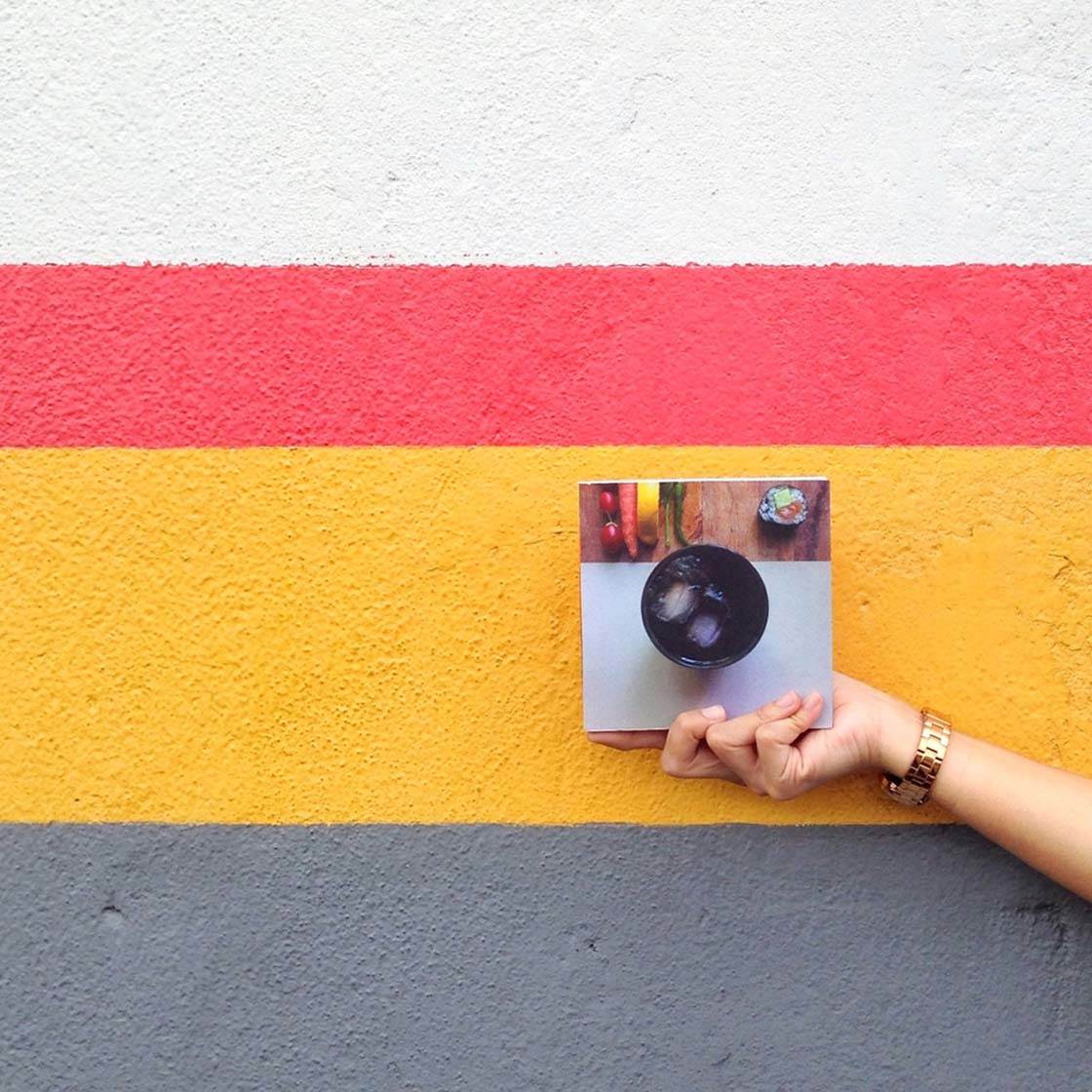 And a few months down the road, I was given the opportunity to become the Head Moderator, which is truly a huge honor for me.
@_rsa_minimal is the largest minimal community on Instagram, and we're growing bigger each day. We have a lot of talented minimalists as our members, so it's a great platform for aspiring iPhone photographers to get inspiration and guidance.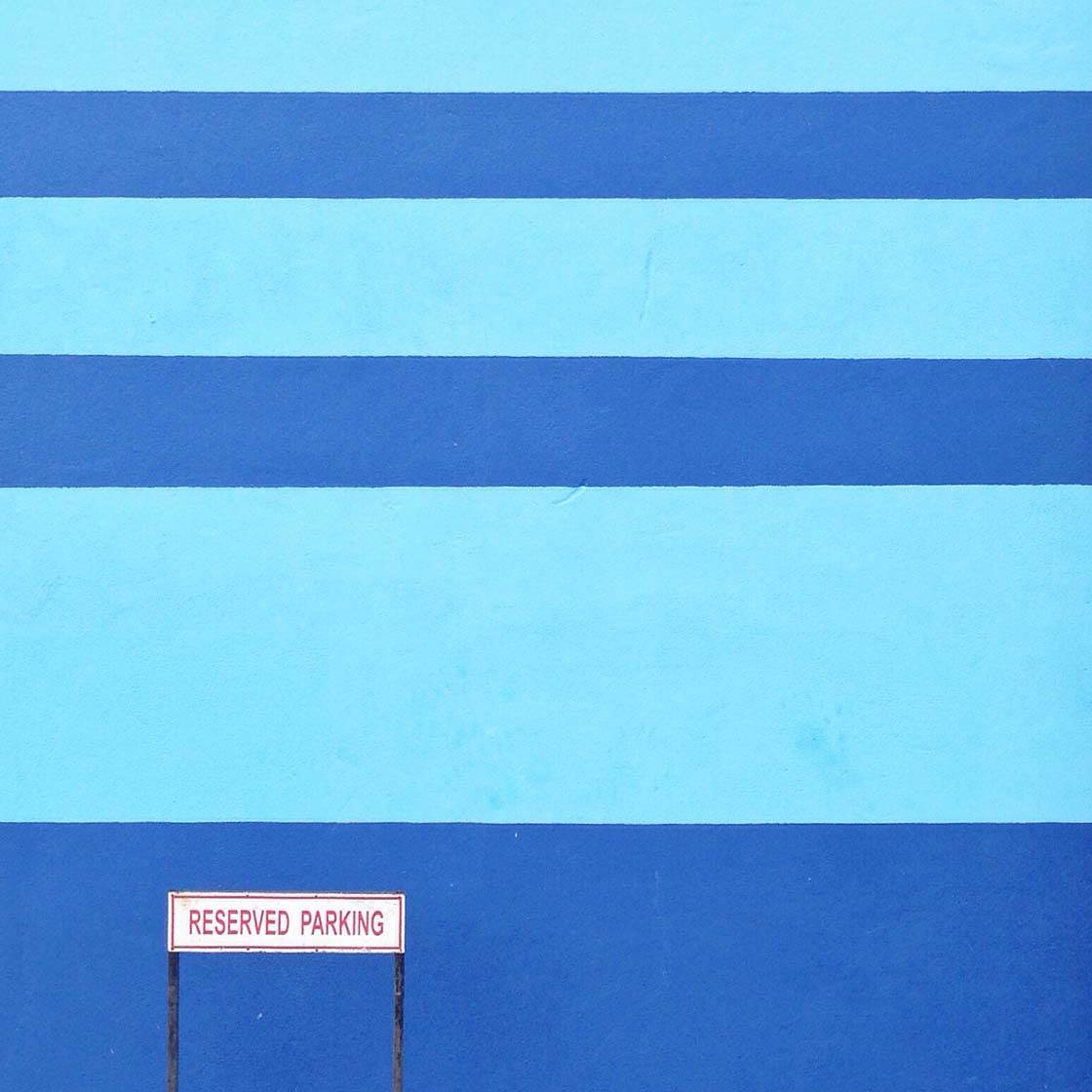 Our team is always on the hunt for new members and great minimal shots within our hashtags to feature on our feed. We also occasionally do stand-alone challenges or collaboration challenges with other communities.
What tips do you have for beginner iPhone photographers who want to start taking more creative photos with their iPhone?
Just go for it. Don't second guess yourself. Don't be afraid to get out of the box. And don't feel like you have to post to please others rather than yourself.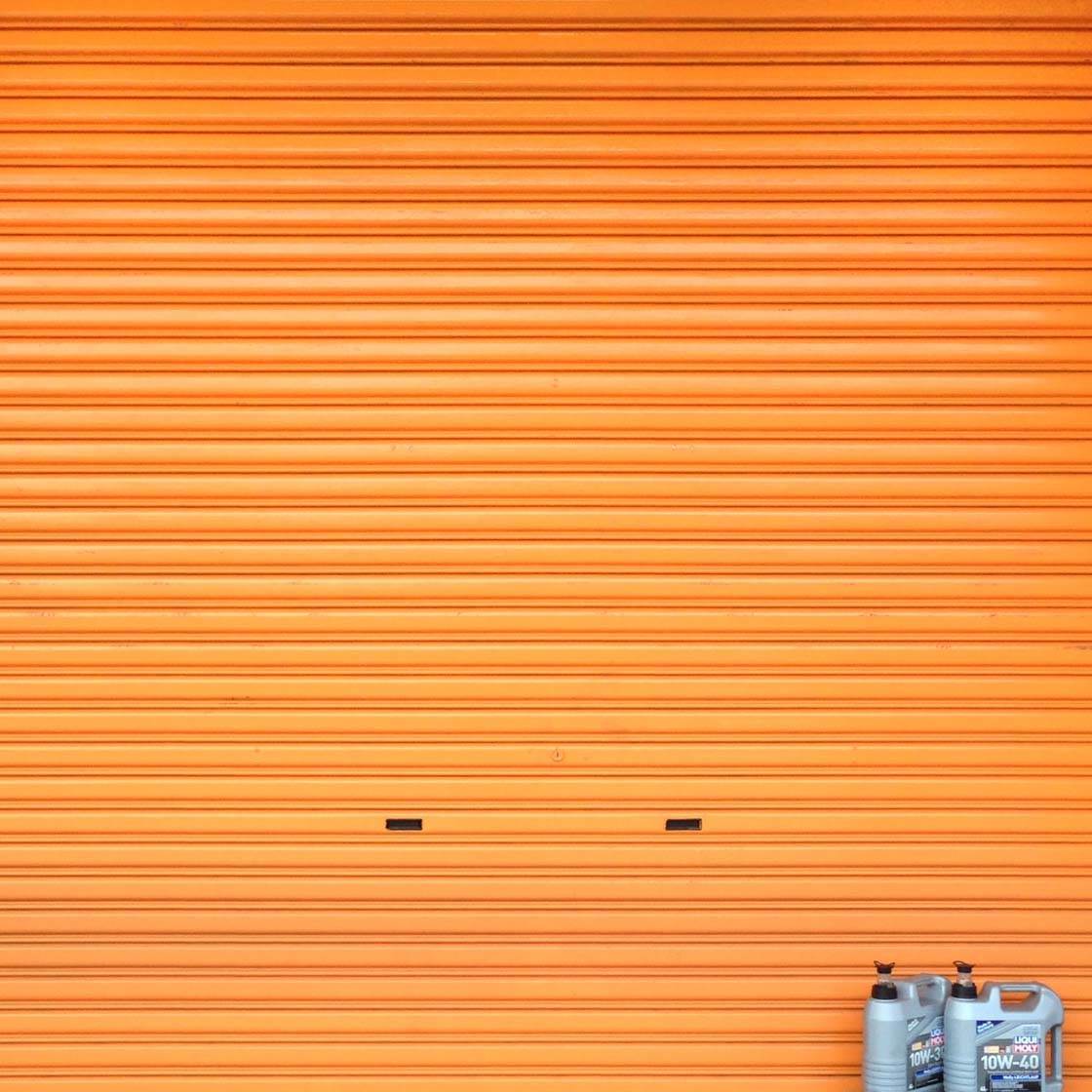 Get inspiration from other Instagramers – there are a bunch of talents out there. Stay true to your style. And don't forget to have fun while you're at it!
Which iPhone photographers do you admire the most?
Gosh, that's a tough question to answer because there are so many of them!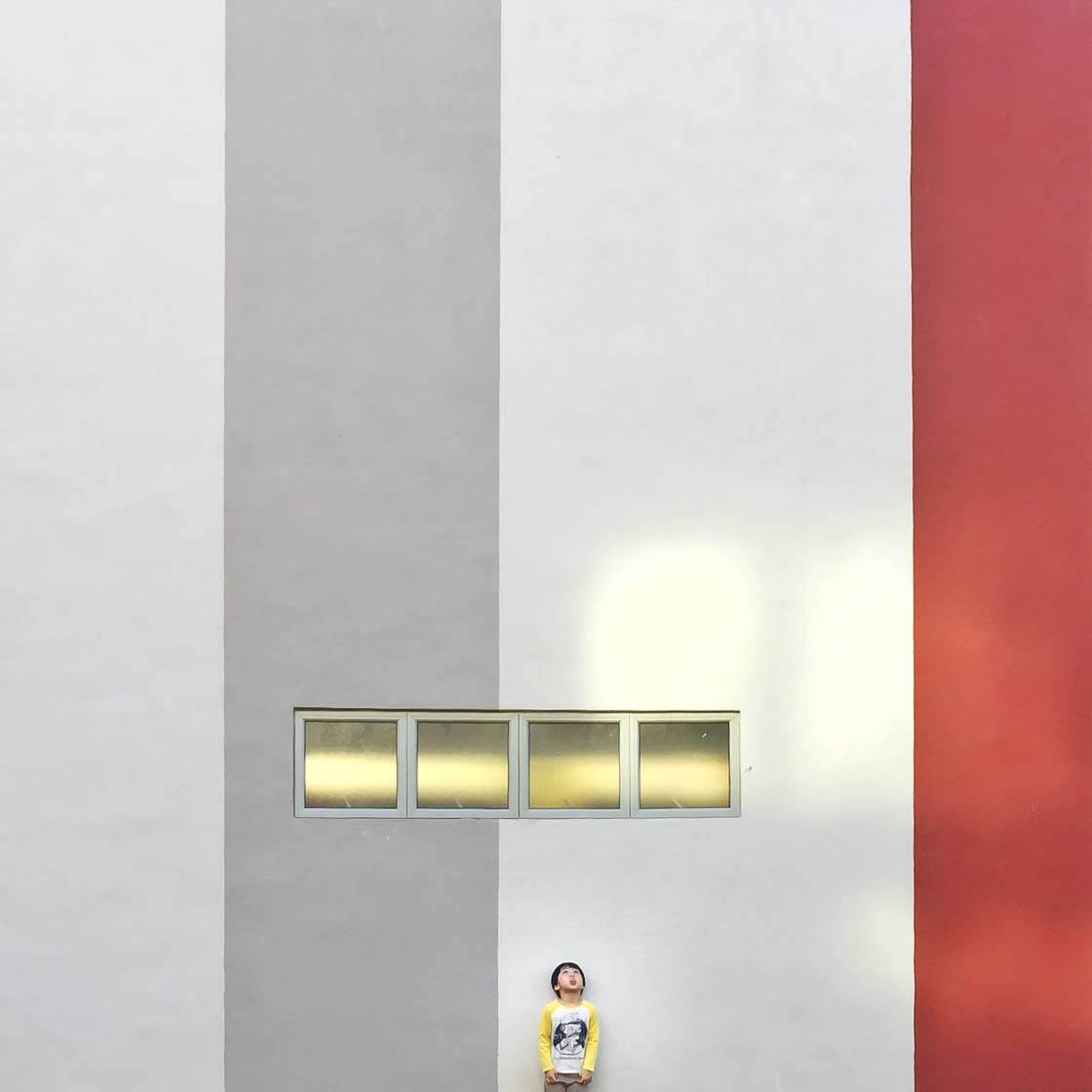 But if I were to name a few, I would have to say the following people:
@kristinenor for the wonderful serenity of her photographs (read our interview with Kristine Norlander), @v14zco for his brilliant architecture captures, and @marcuscederberg for his excellent minimal work (check out our interview with Marcus Cederberg).
And of course my husband @huxsterized for his sharp eye in seeing things creatively all the time.
Where can we see your iPhone photography?
You can see my photographs on Instagram @moksva