If you're a fan of minimalist photography, you're going to love this interview with Ahady Rezan, more commonly known as Hux or Huxster to his Instagram friends. Not only will you learn more about Hux and how he takes such incredibly eye-catching photos with his iPhone, but you're also in for a visual treat of carefully crafted minimalist and vibrant colored images!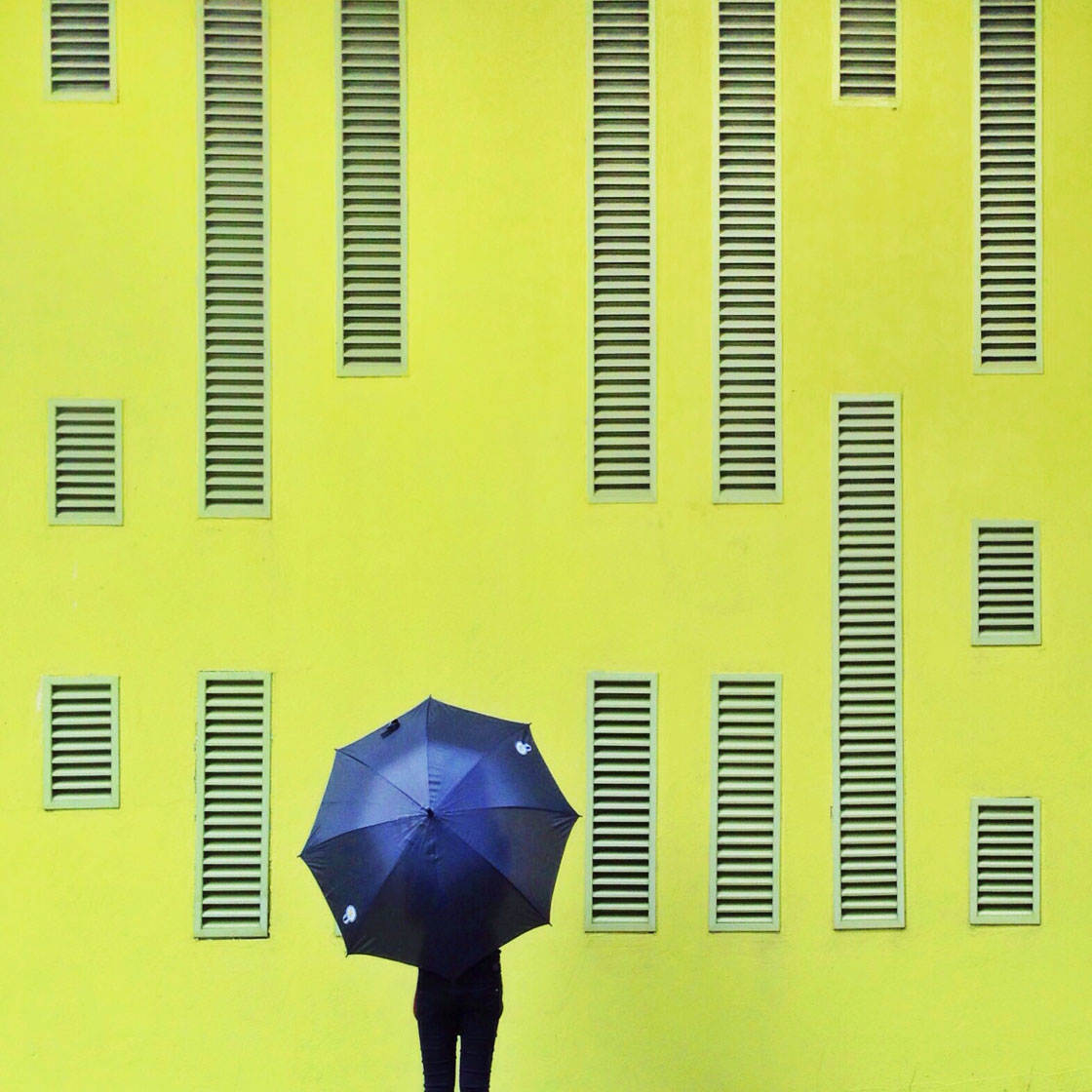 Tell us a little bit about yourself. 
My real name is Ahady Rezan, but my Instagram name is @huxsterized, hence friends at Instagram call me Hux. I'm 32 years old, married to @moksva and we have a son.
I live in Selangor, Malaysia. I studied Computer Graphic Design and have been working as a Graphic Designer for ten years now. I also work as a Real Estate Agent.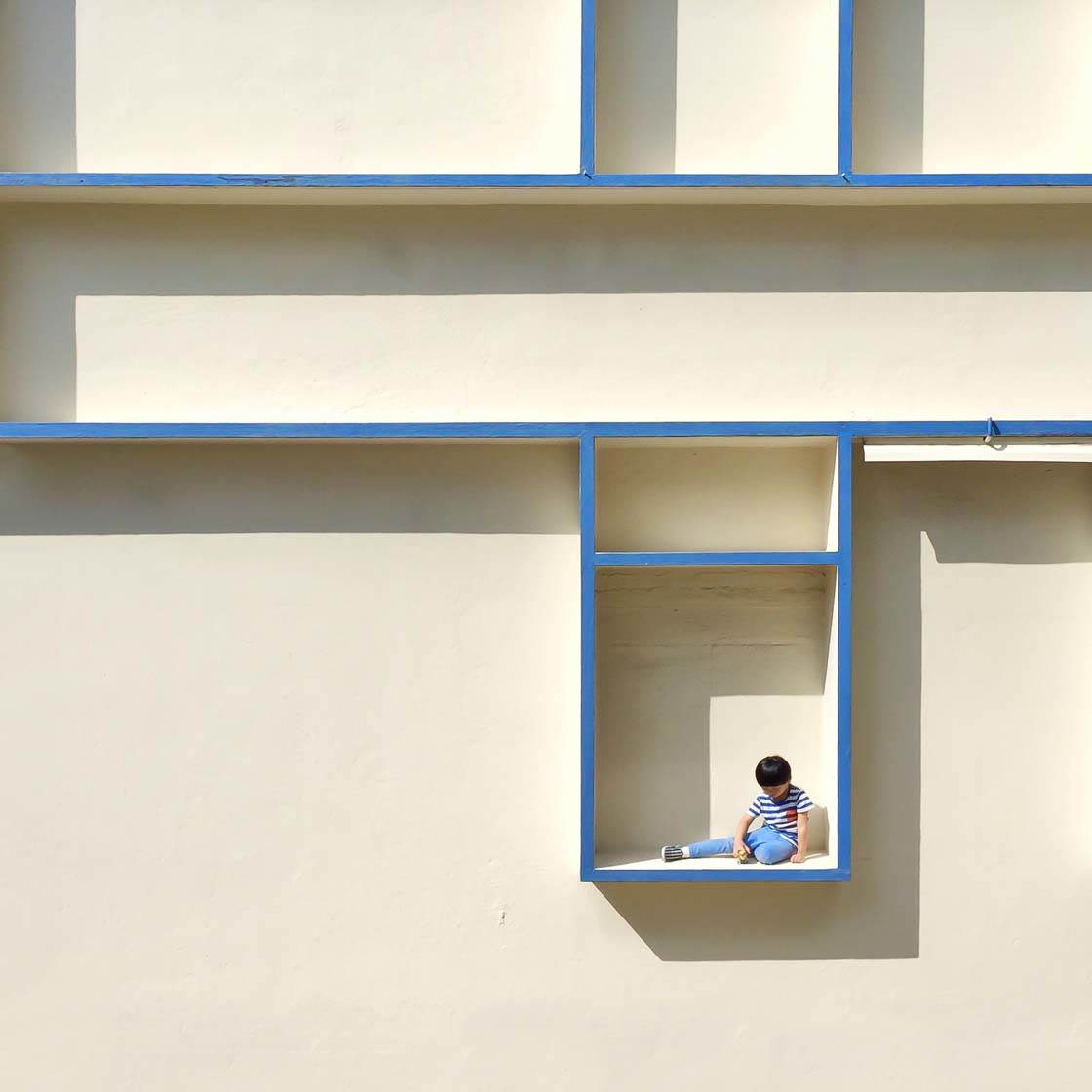 I'm a family man. The three of us are always together, hence my wife and my son are my favorite models and they appear a lot on my Instagram feed.
How did your iPhone photography journey begin?
One day I started to take photos of power cable lines. I imported the picture into the VSCO Cam app and started to play around with cropping. I got hooked by how one single shot can create many different impacts by just playing with cropping.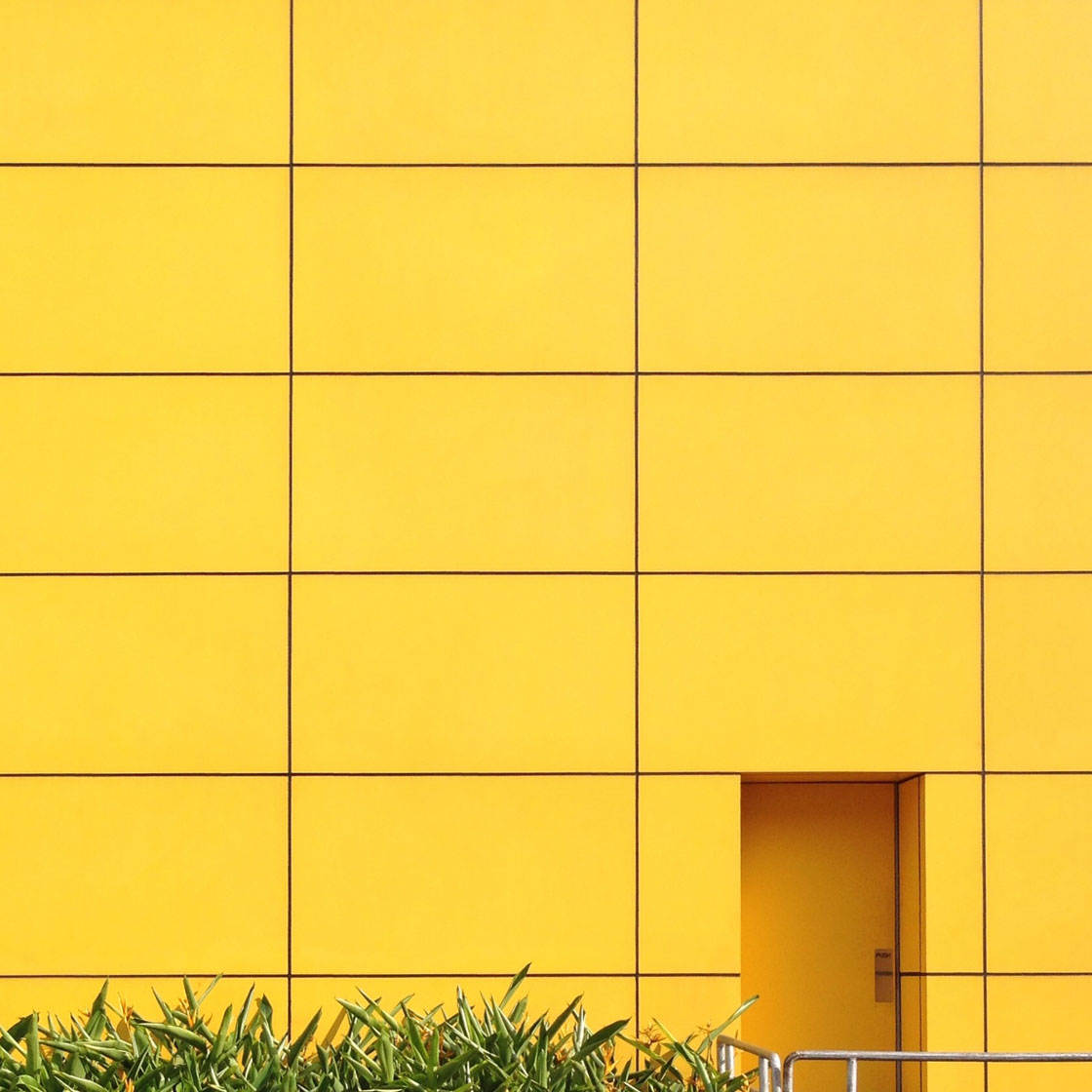 I started to go out and look for more subjects, and it went from there. My eyes started to look at everything around me. I became more observant and fascinated by colorful walls, buildings, stripes, lines, etc.
Then I thought of posting my images on Instagram. The idea was just to share how I see things and to find out if anyone out there would appreciate it.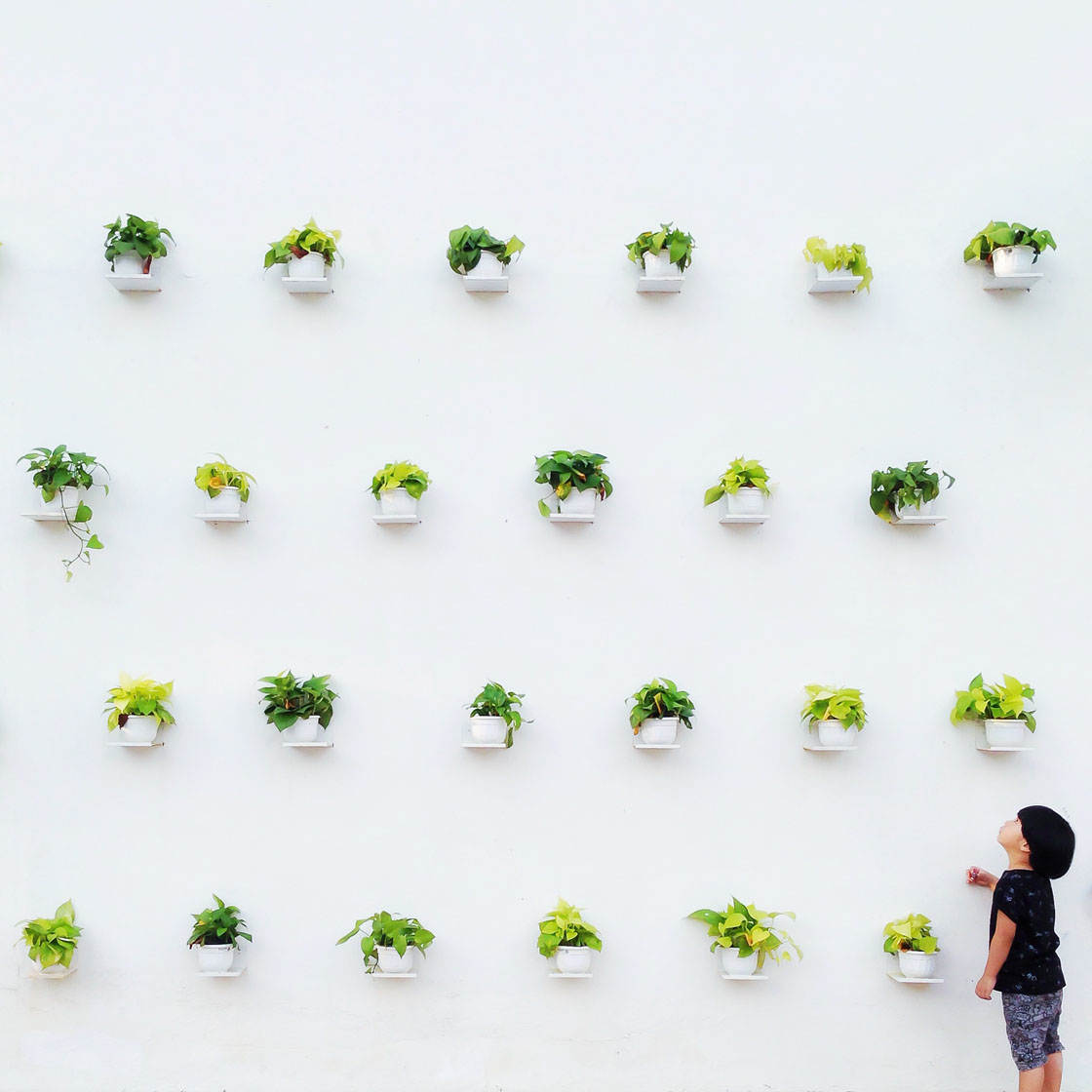 I posted my first photo of the cable lines – without knowing that my kind of style is minimal! I got excited when I received likes and comments. I still remember that excitement.
I was an Instagram newbie back then. I didn't even know about hashtags and how to use them – I just browsed and learned from others. Day by day I began to follow more inspiring Instagramers and I learned a lot from them.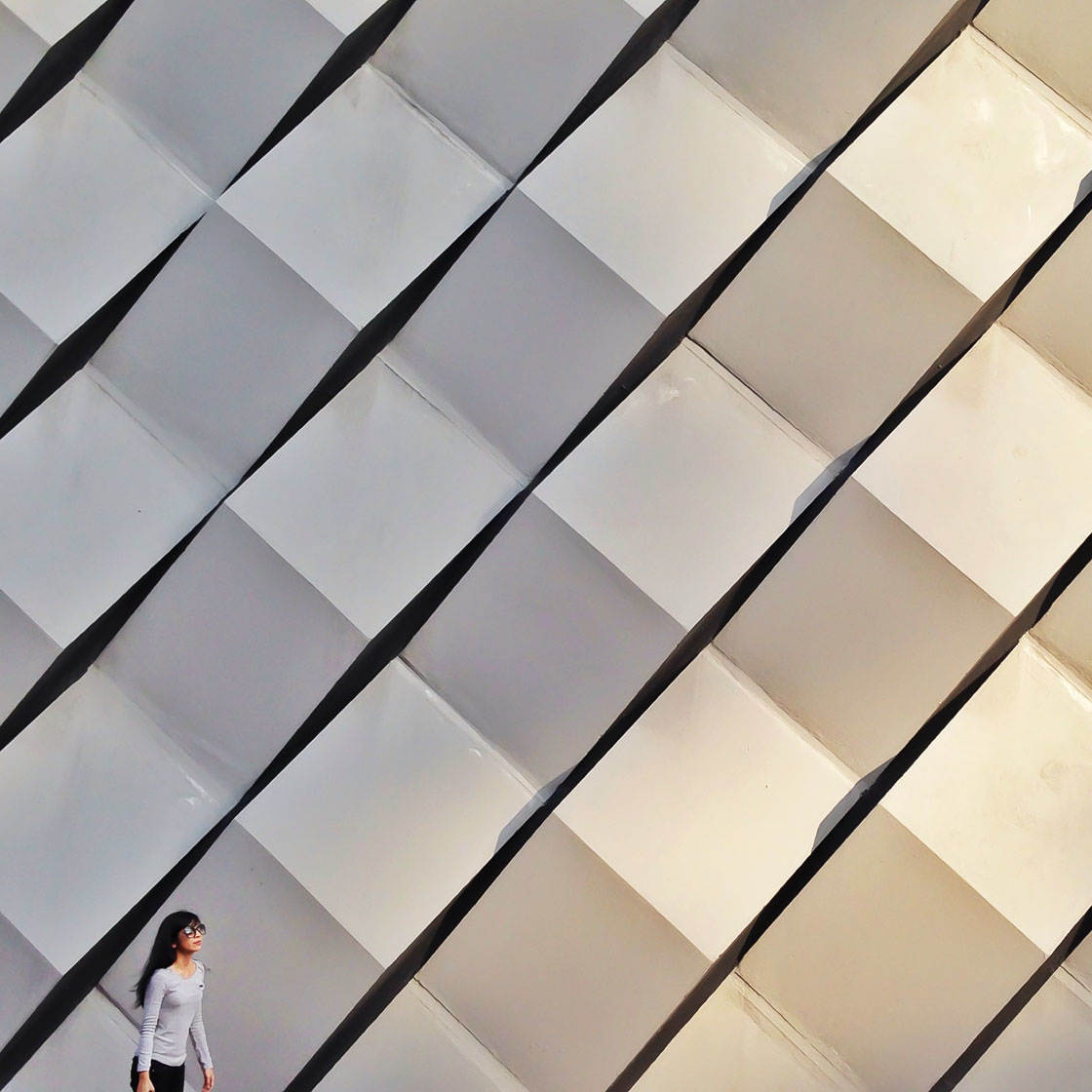 Then I discovered there are many minimal Instagram feeds out there. So I started tagging my photos, contributing and sharing with the community. From day one until now, I make new friends everyday on Instagram!
What inspires you to take photos with the iPhone?
I always have my iPhone with me so I can shoot whatever I see. And it comes in handy with all the editing apps that I have on it.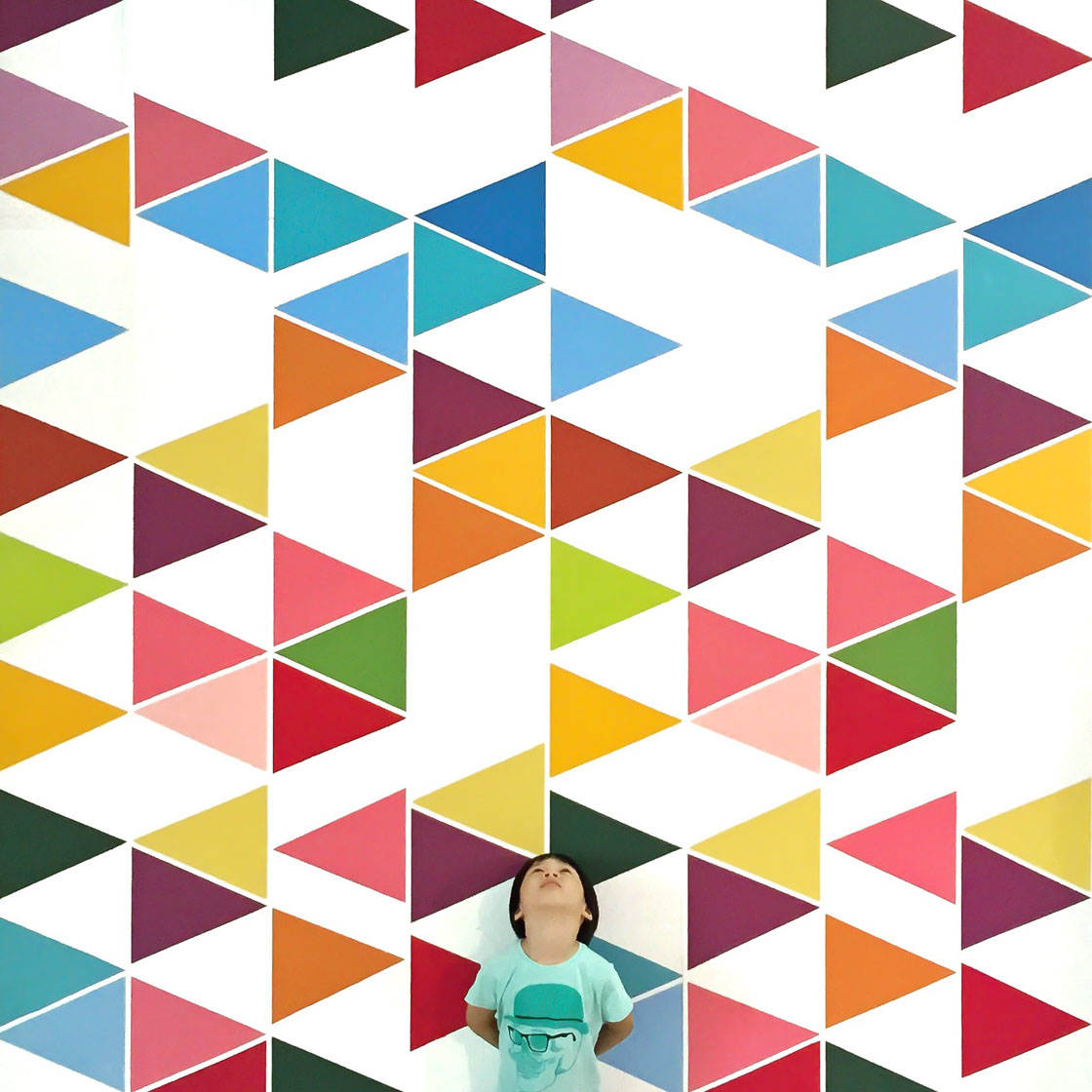 I don't own a DSLR. I only have a point and shoot camera – the Lumix LX-3 which was a gift from my wife. I only use that camera for casual family shoots and when we go traveling.
Your Instagram feed is a fabulous array of brightly colored images with minimalist and abstract composition. What draws you to this kind of photography?
I love finding the beauty in ordinary things during everyday life. Buildings and architecture which are modern or minimalistic always fascinate me. My photos are all about them.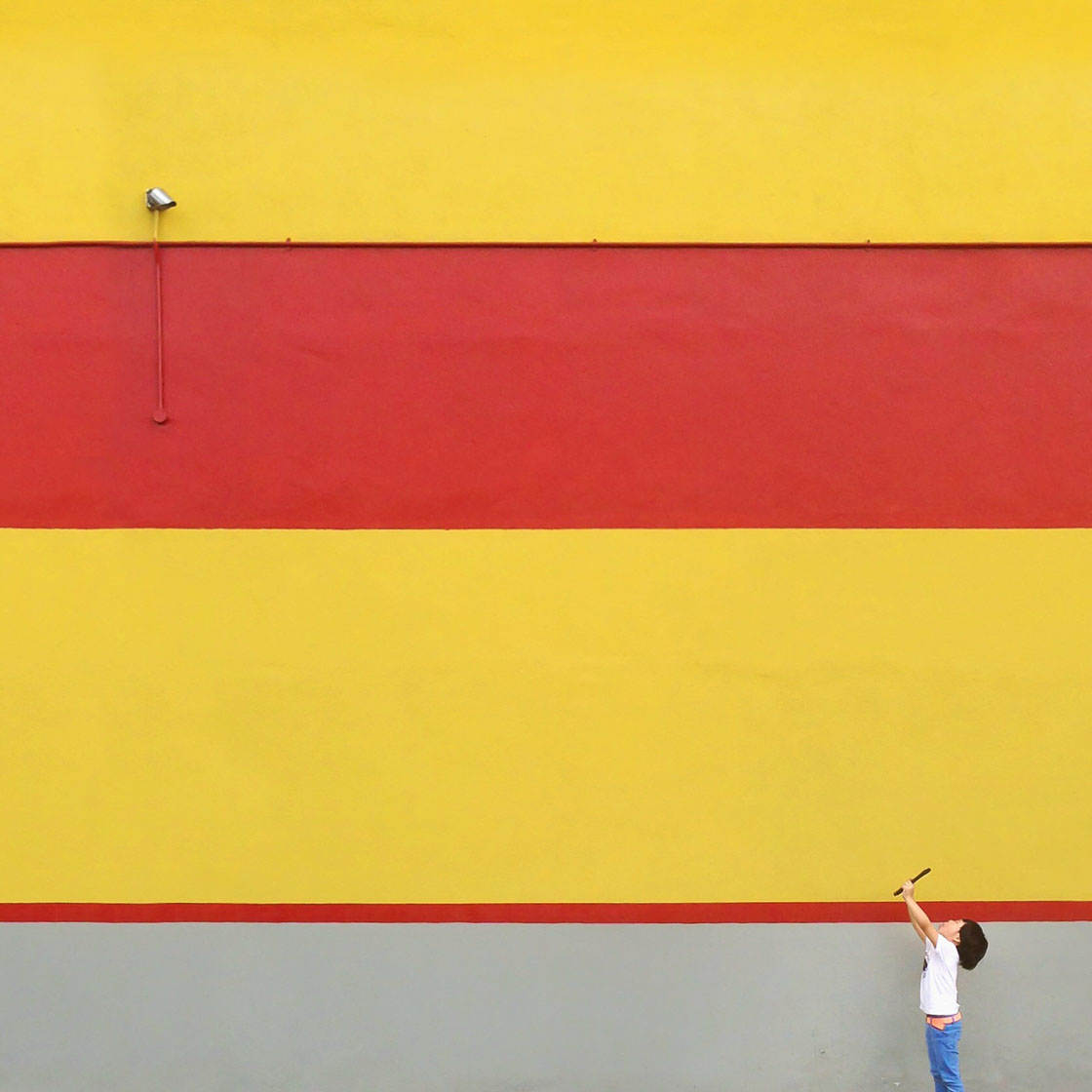 I love colors, lines, shapes and playing with negative space. My eyes are drawn to these elements. With the right composition these simple elements can be turned into a great piece of art.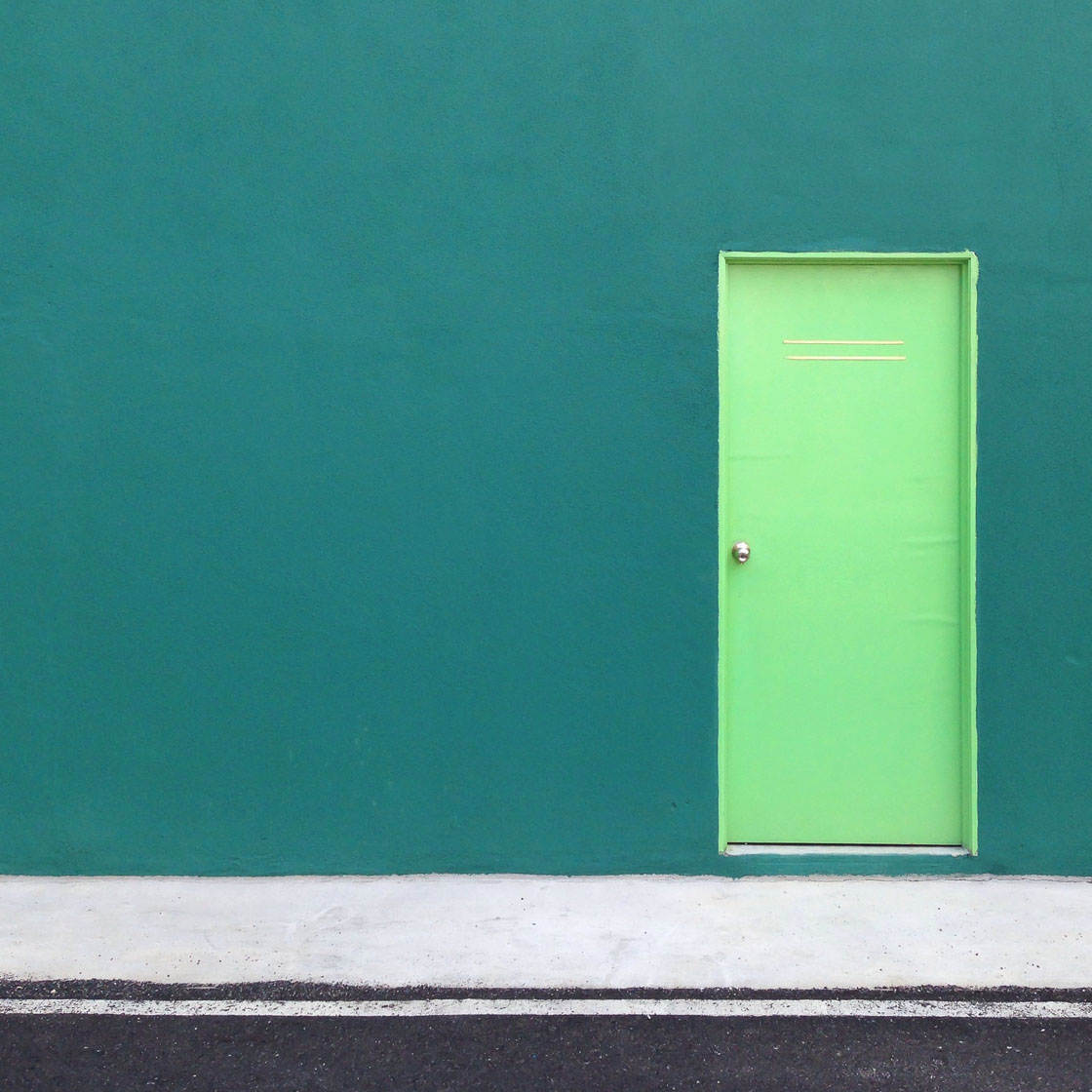 While I appreciate all kinds of photography, minimalist and abstract composition is my cup of tea. It's soothing to my eyes and I love that feeling of joy when I share them with awesome friends on Instagram.
Most of your subjects are buildings. Why do you think architecture works so well for minimalist and abstract photography?
I think it depends on your way of looking and how you appreciate your surroundings. For me, buildings and architecture (or walls to be precise) are where I always start. I especially go for those with colors, lines and geometry that catch my attention.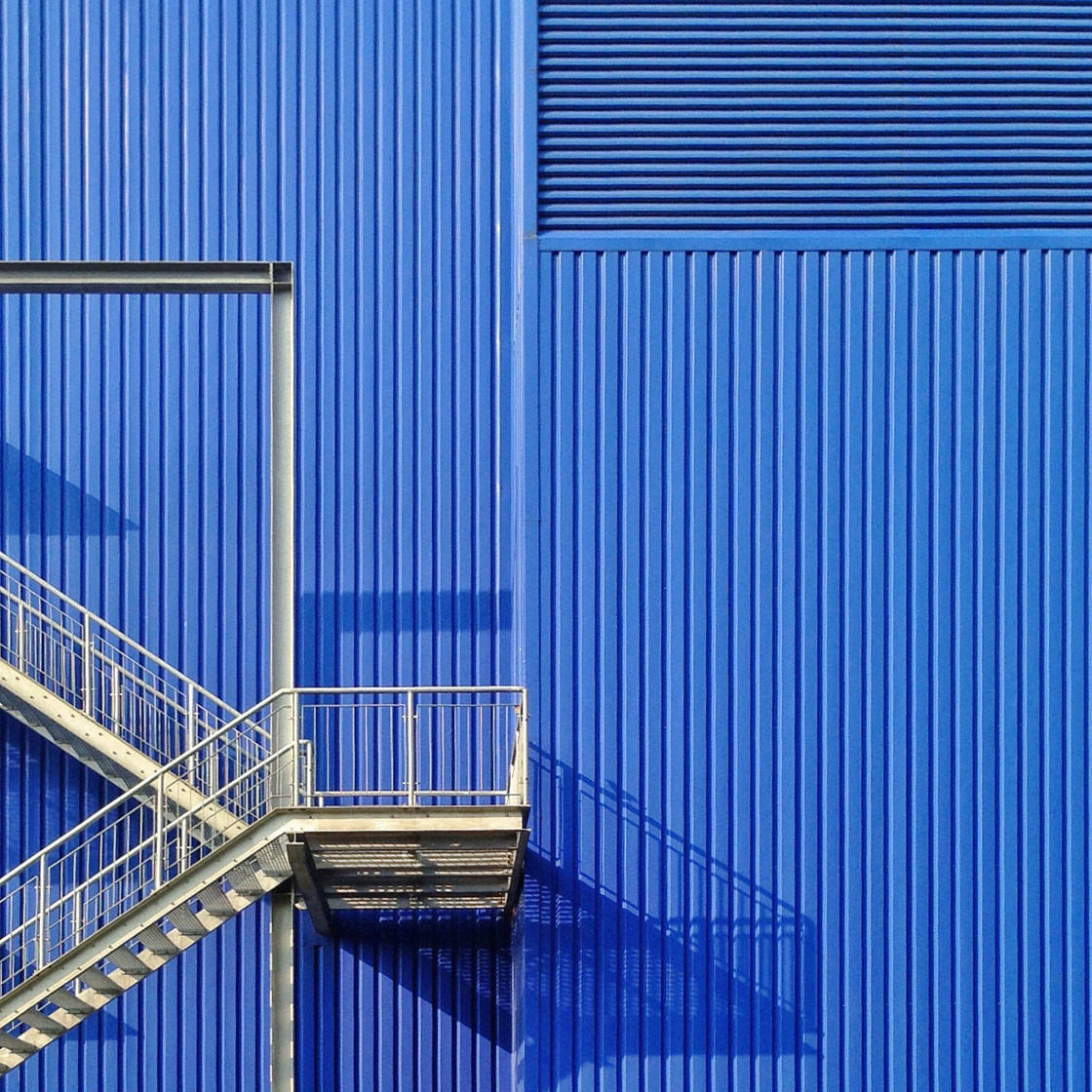 Shadows and light play are an important part too. I often come back to the same spot just to get a perfect shadow. This involves patience as well as perfect timing!
What other subjects work well for this genre of photography?
Oh, many kinds definitely. Minimalism is a wide genre and different people will have a different understanding of it. For me it's all about composition, regardless of the subject you choose. It could be fashion minimalism, food minimalism, etc.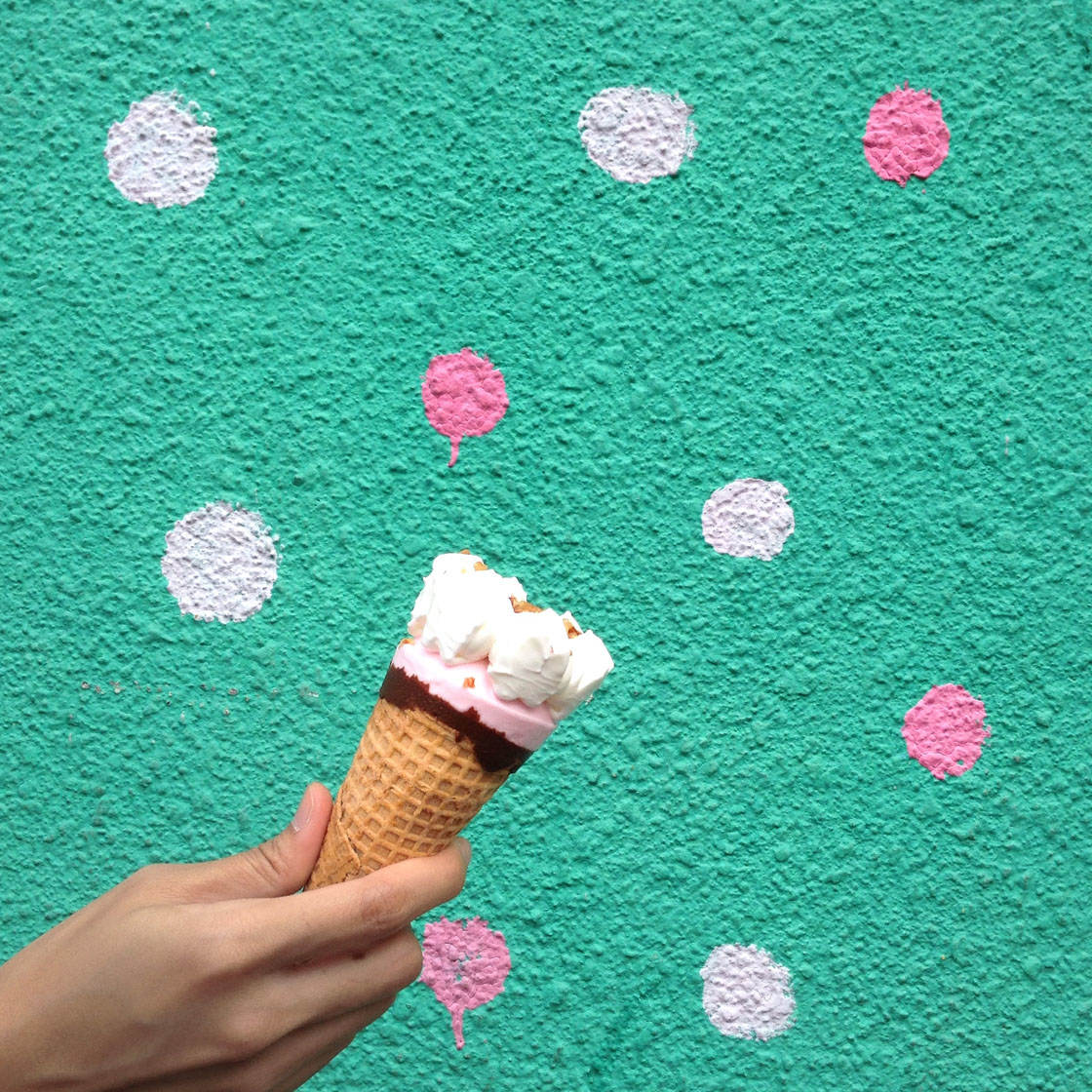 You often include a person in your photos. What does this add to the overall image?
For me, a human presence creates emotion. It helps to tell a story and connect the viewer with the image.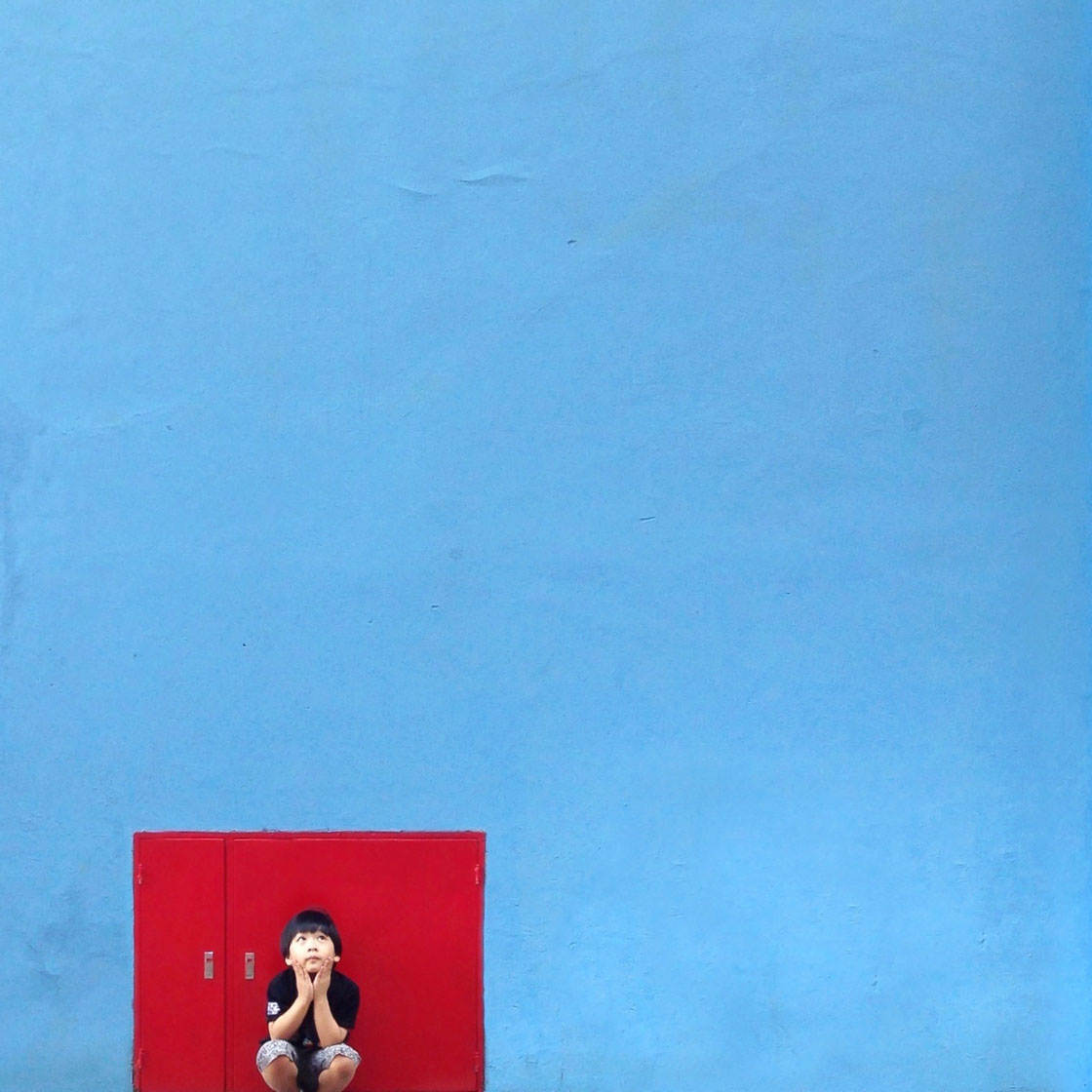 If I'm alone and there's no stranger to capture with my background, I'll add things like a bicycle, trash bin, umbrella, etc. Basically just whatever I can find around me to compliment the wall or background.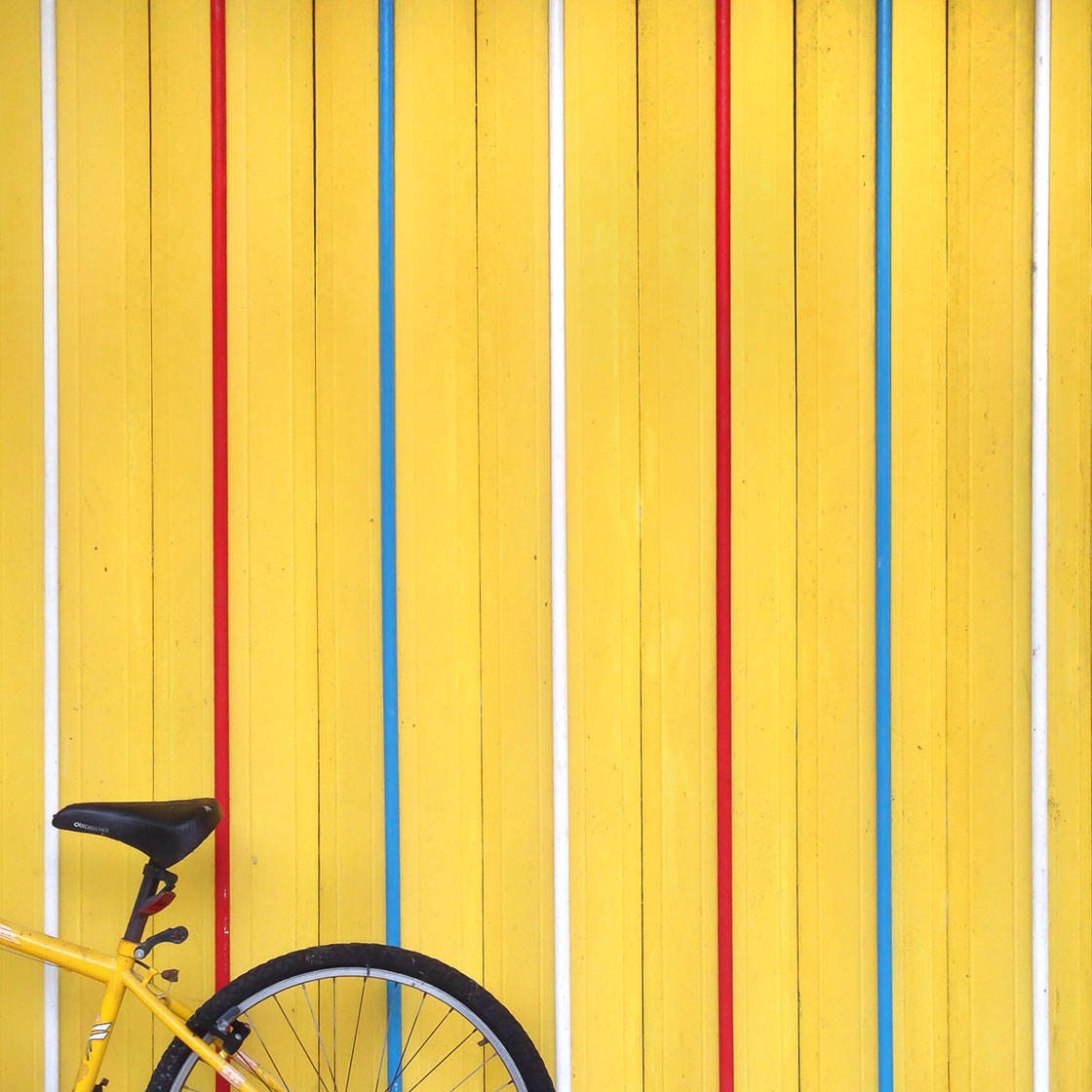 What are your top tips for taking amazing minimalist and abstract photos with the iPhone?
I always look for an awesome wall to start with. A big wall with colors, simple stripes or texture would be great.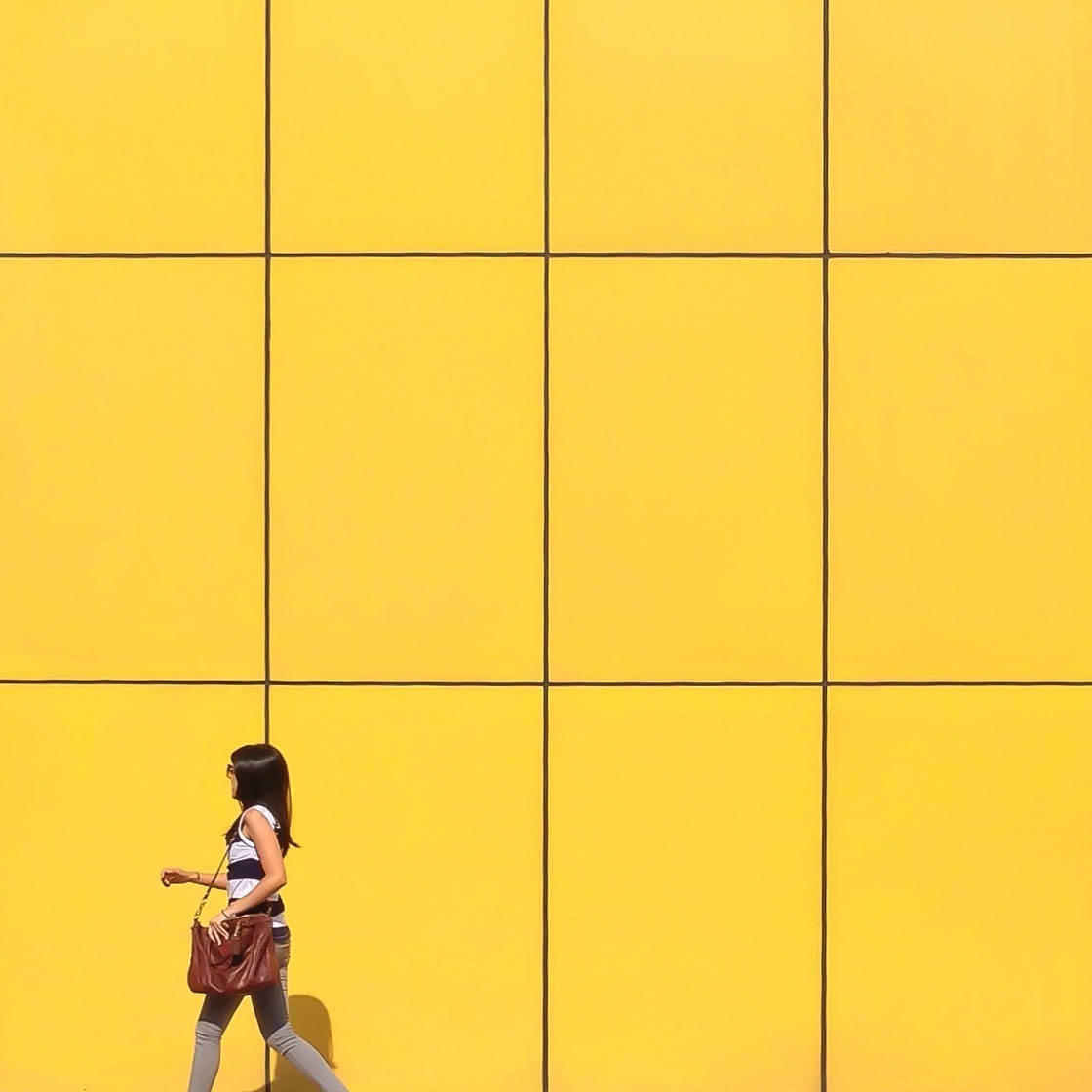 Achieving a strong compositional element with excellent use of negative space and a minimum amount of components such as color, line, shadow or texture is important.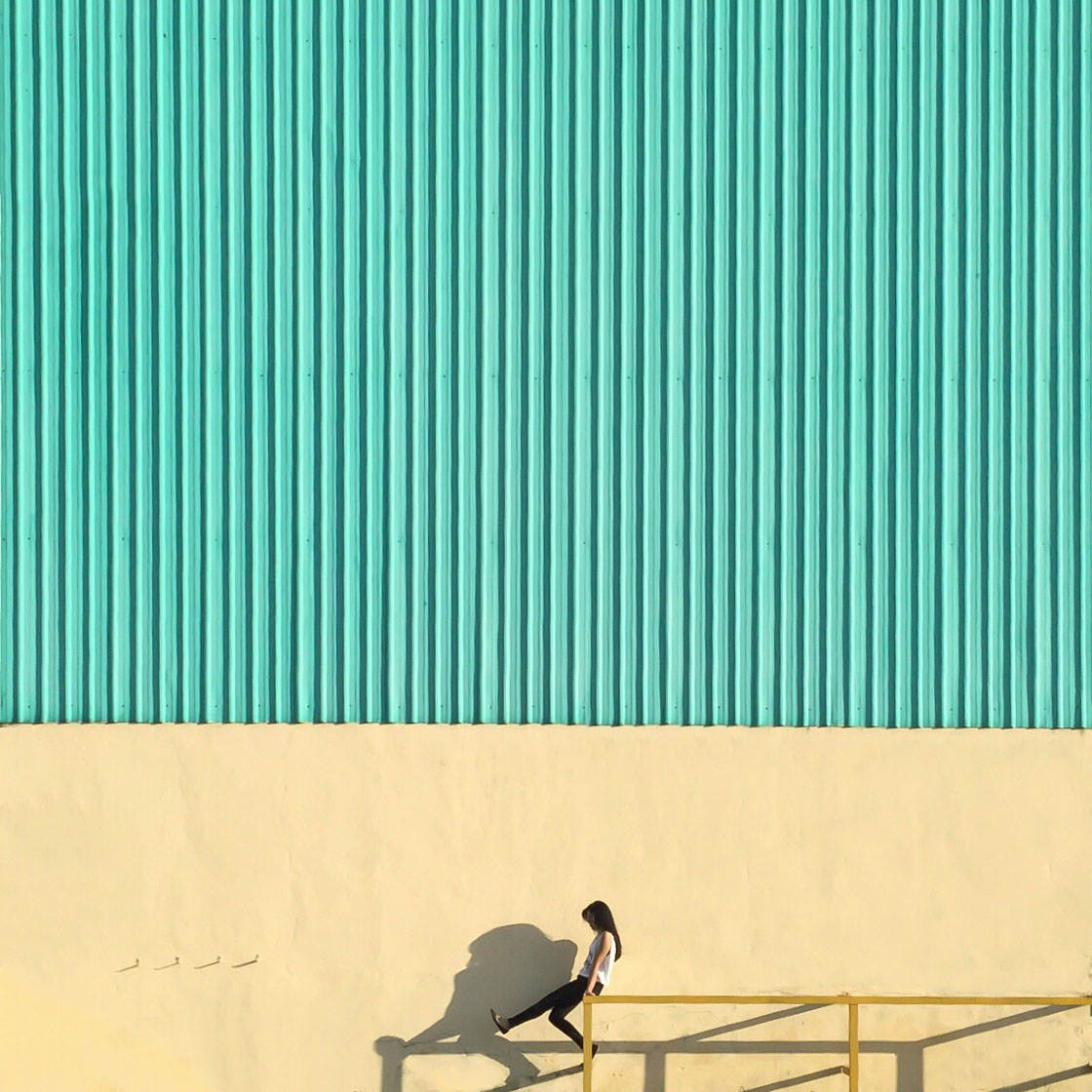 Try lots of angles. Go wild and snap away! You need to have patience, especially if you want to capture your scene with nice light or shadows.
Let's talk about photo apps. Are there any apps that you use for taking photos besides the native Camera app?
I almost always use the native Camera app. Occasionally I'll use Cortex Cam when shooting in low light.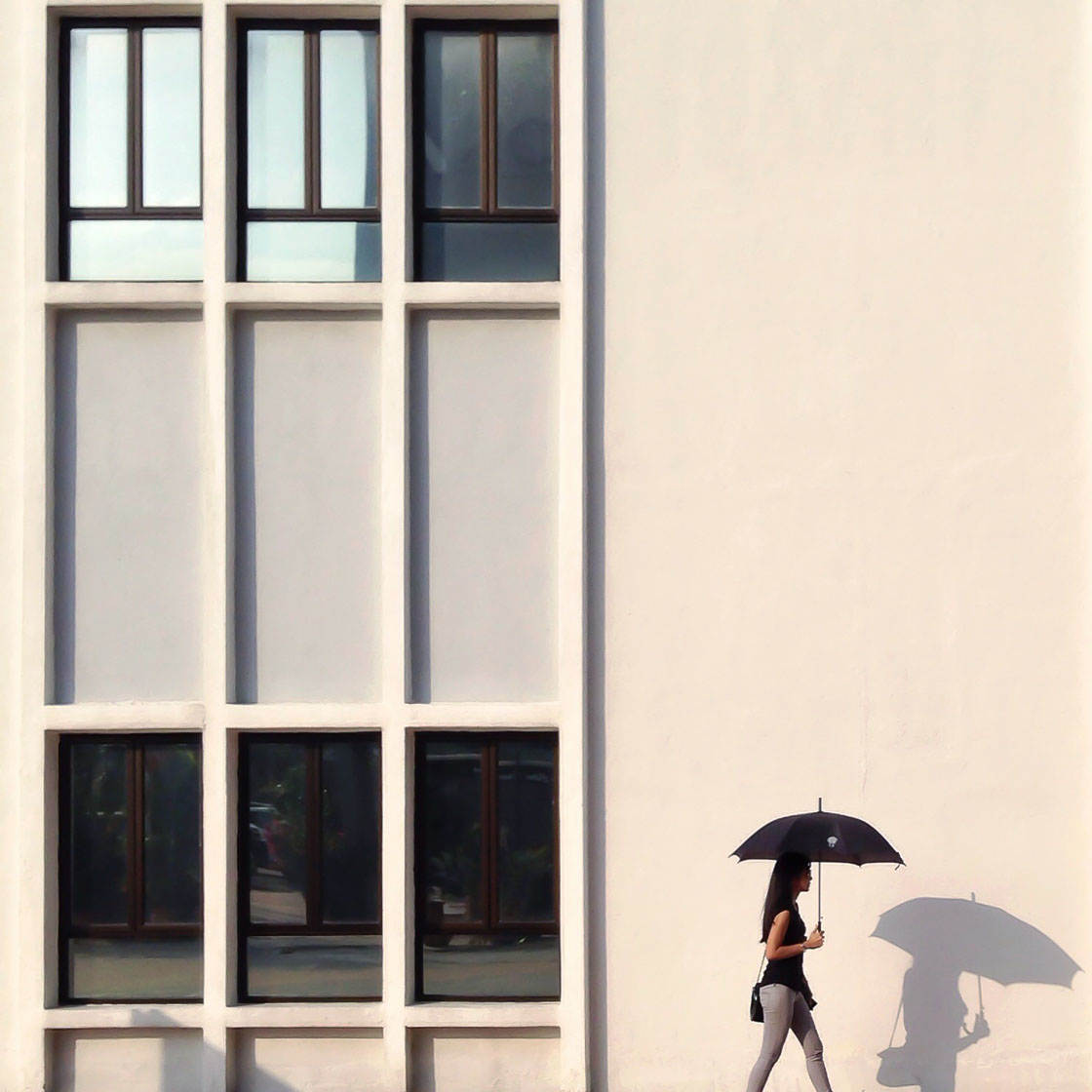 What are your favorite apps for post-processing?
I use SKRWT for correcting perspective and lens distortions. Snapseed is my app for editing – the Selective Adjust feature helps a lot! I also use PS Express to reduce noise.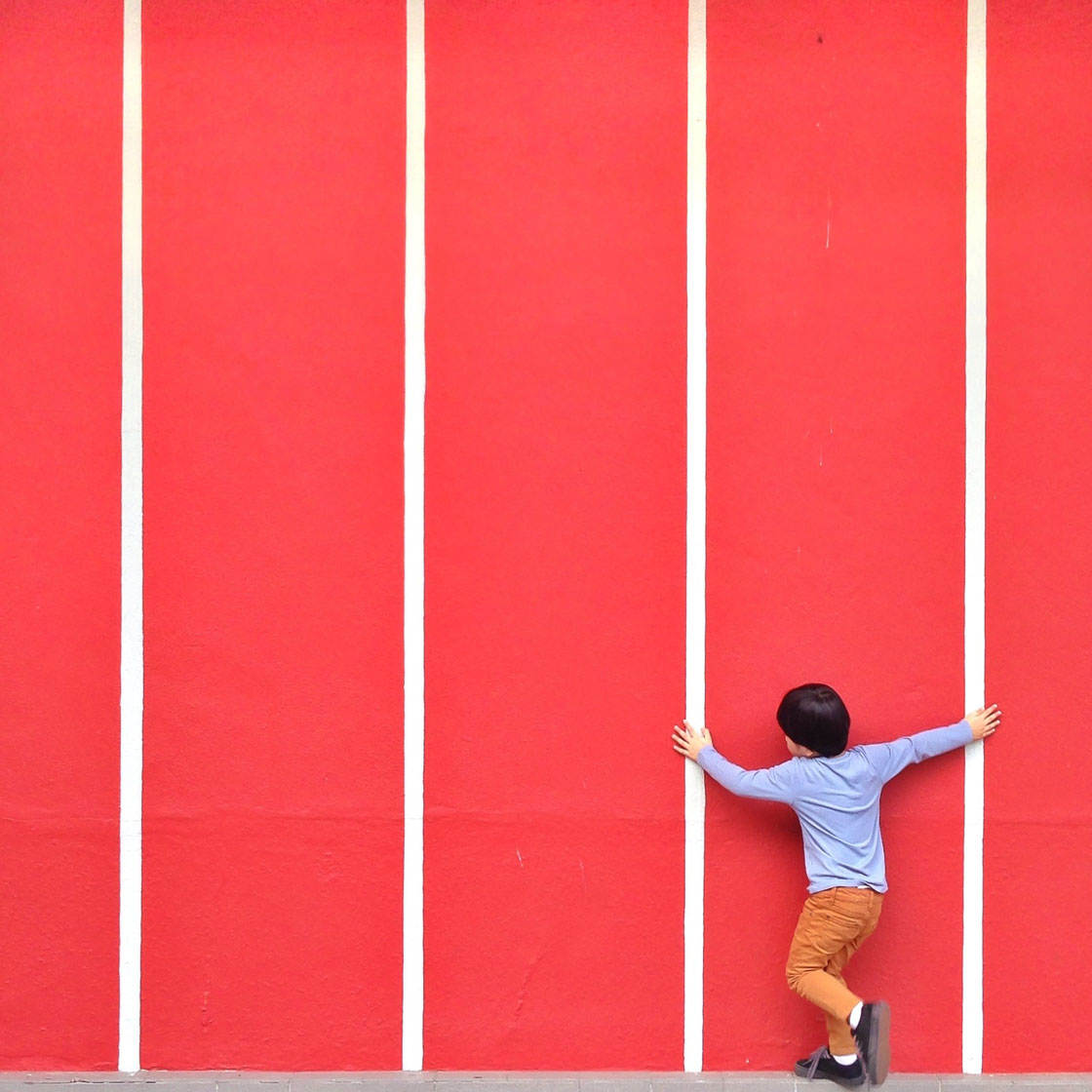 I don't do much editing on my photos because I like to keep it real. I spend a lot of time on cropping and then depending on the photo I might enhance the colors, brightness, contrast, saturation, sharpening or reduce noise.
Do you use any iPhone photography accessories?
No, I don't use any accessories at all. I've only used my iPhone 5 all this time, and recently I've upgraded to the iPhone 6.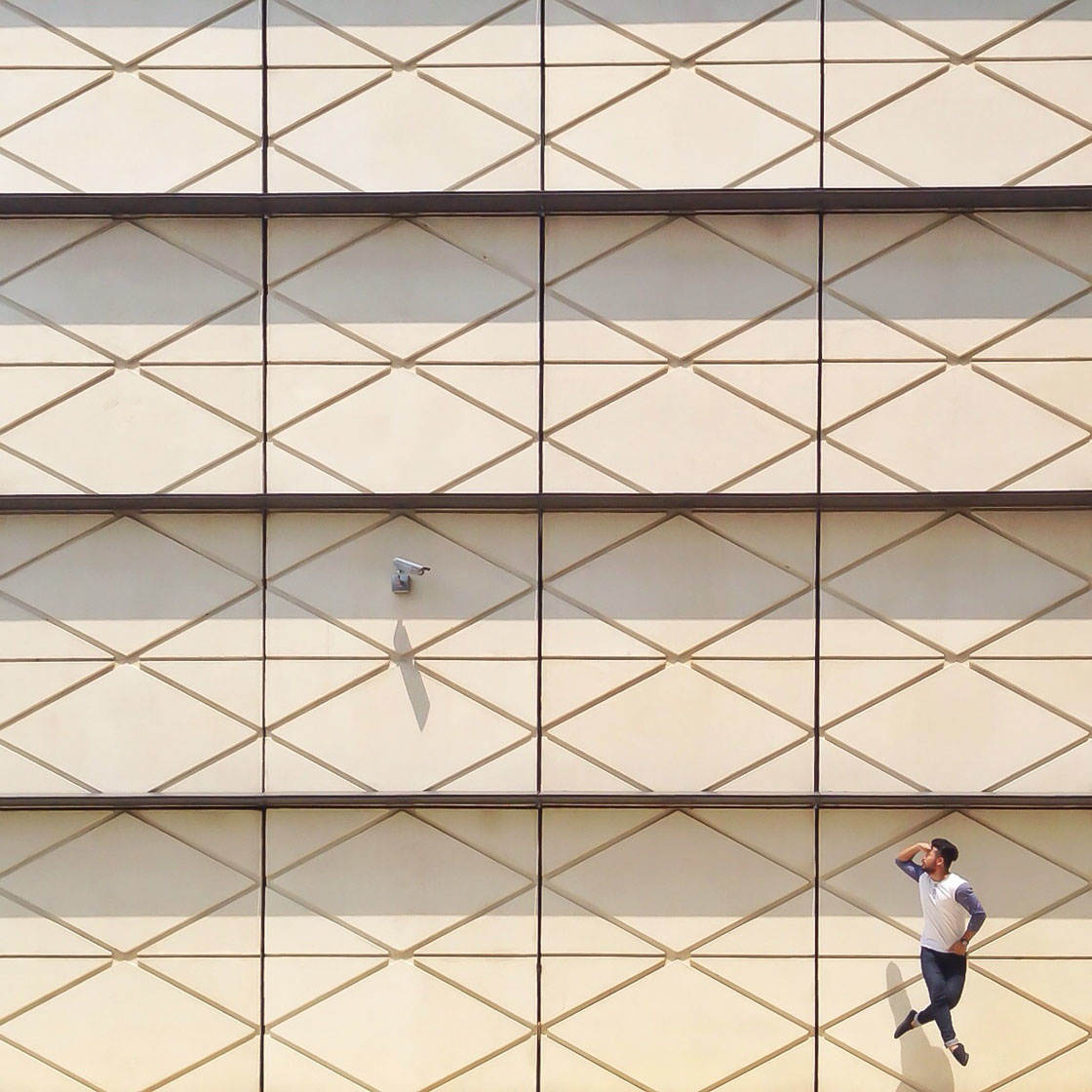 Can you briefly explain the story and editing process behind your three favorite iPhone photos?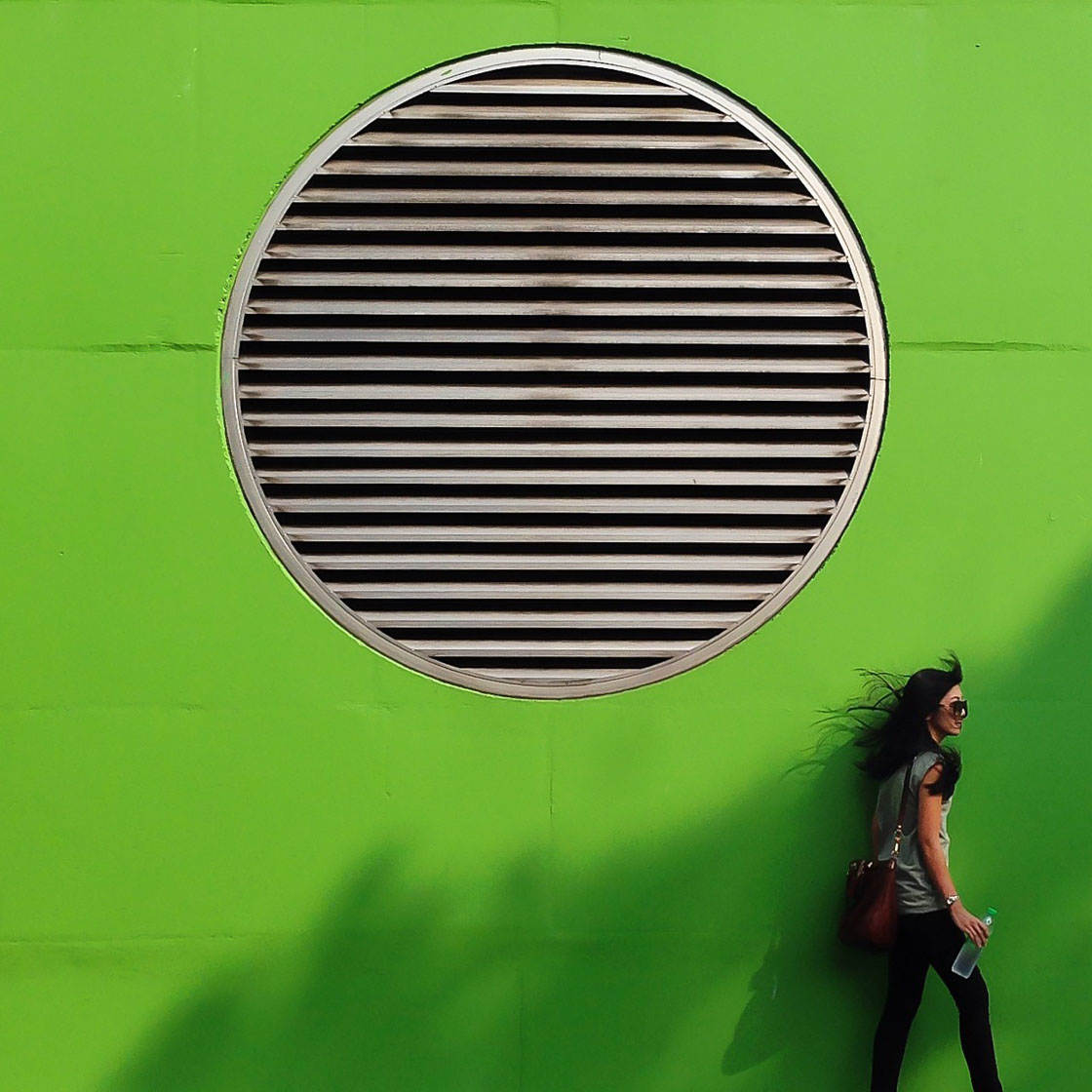 This shot was taken last year at one of my favorite playgrounds – Ikea! That big round vent with the green wall instantly caught my eye. I asked @moksva to walk past the wall and I snapped away.
The trick is to take multiple shots using burst mode so that you have plenty of options to choose from later. As she was walking along the wind blew her hair, and to me that adds so much value to this shot!
The photo was taken with the iPhone 5 native Camera app and edited with the Snapseed app.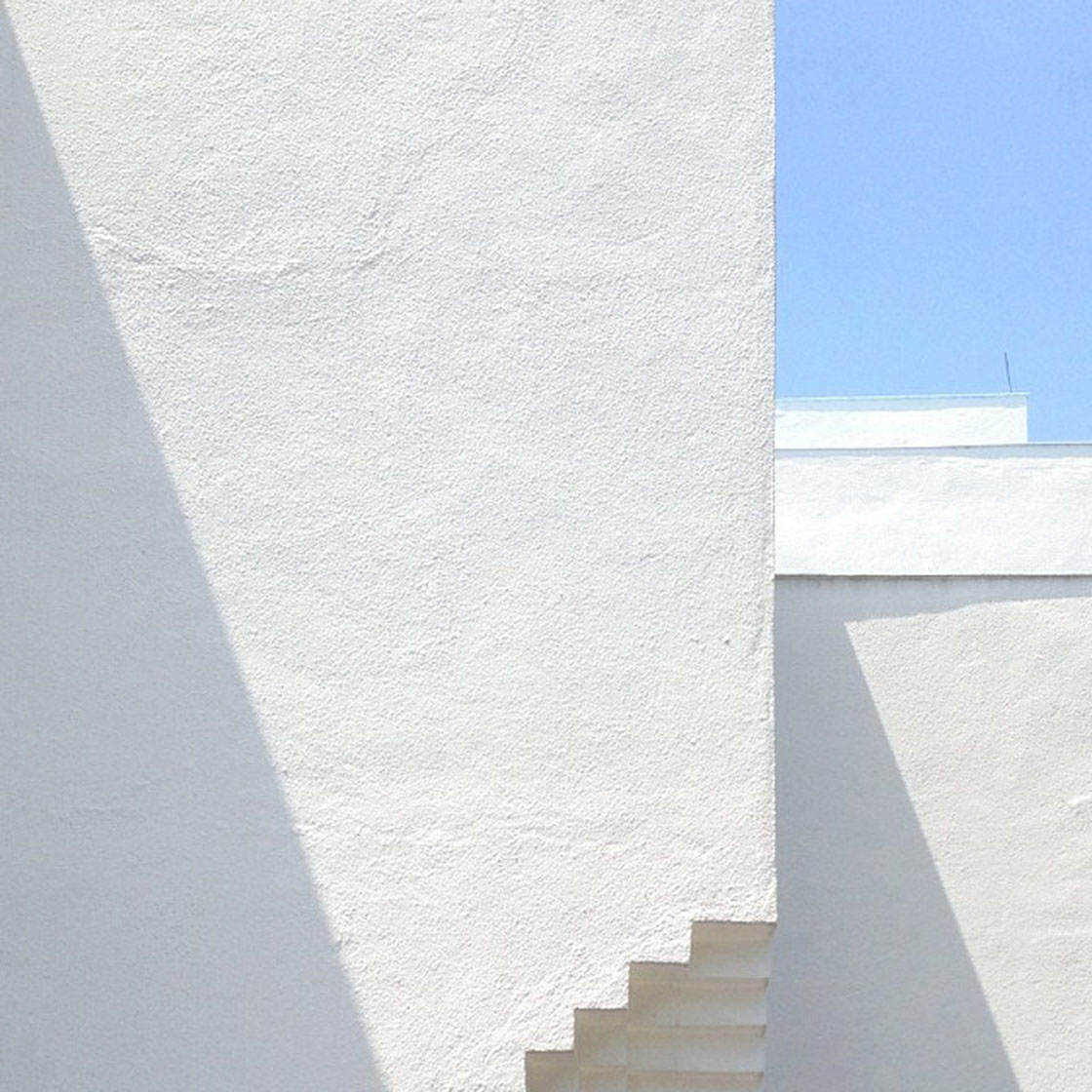 This one is my personal favorites! I took the photo when I visited our National Planetarium building. I simply loved the light and shadow so began to snap a few angles before I settled with this crop.
Some comments on Instagram asked "Are you in Greece?!" I guess the white building with that blue sky does indeed resemble Greece.
I took the shot with the iPhone 5 native Camera app and performed only a very light edit in Snapseed.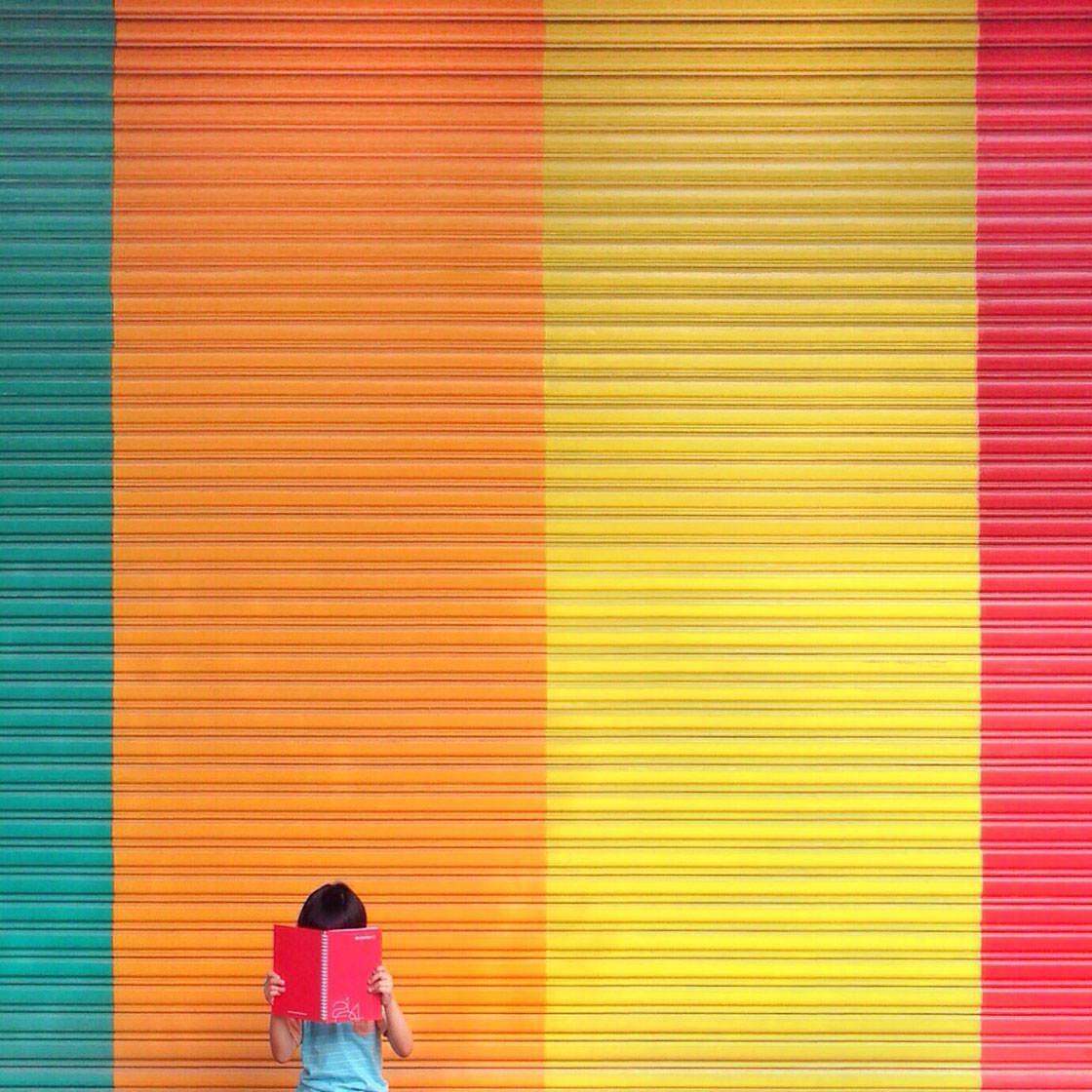 I like to wander around workshop areas during the weekend. Here in Malaysia they have big, colorful and interesting walls at workshops and industrial areas. When I spotted this huge colorful roller shutter I was stoked, so I pulled over to take some pictures.
I asked my son to pose for me. We tried a few poses with him holding an iPad, jumping, looking up, etc. But I like this pose of him reading a book.
Again, it was shot with the iPhone 5 native Camera app. I used SKRWT for lens correction and cropping, then Snapseed to enhance the colors, contrast and brightness.
You've taken part in the wonderful "traveling umbrella" project which was started by the very talented Jill Emmer. Can you tell us a bit about the umbrella project and what you did with this fantastic globe-trotting prop?
This is why Instagram is such a wonderful app – it connects people around the world! I make new friends and am inspired every day by amazing people on Instagram.
One of them, of course, is the lovely Jill Emmer @shineonyoucraydiamond who writes tutorials for iPhone Photography School!
Jill is an amazing photographer and a kind-hearted person. We followed each other and I was stoked when she launched her traveling umbrella project and hoped to be a part of this great movement.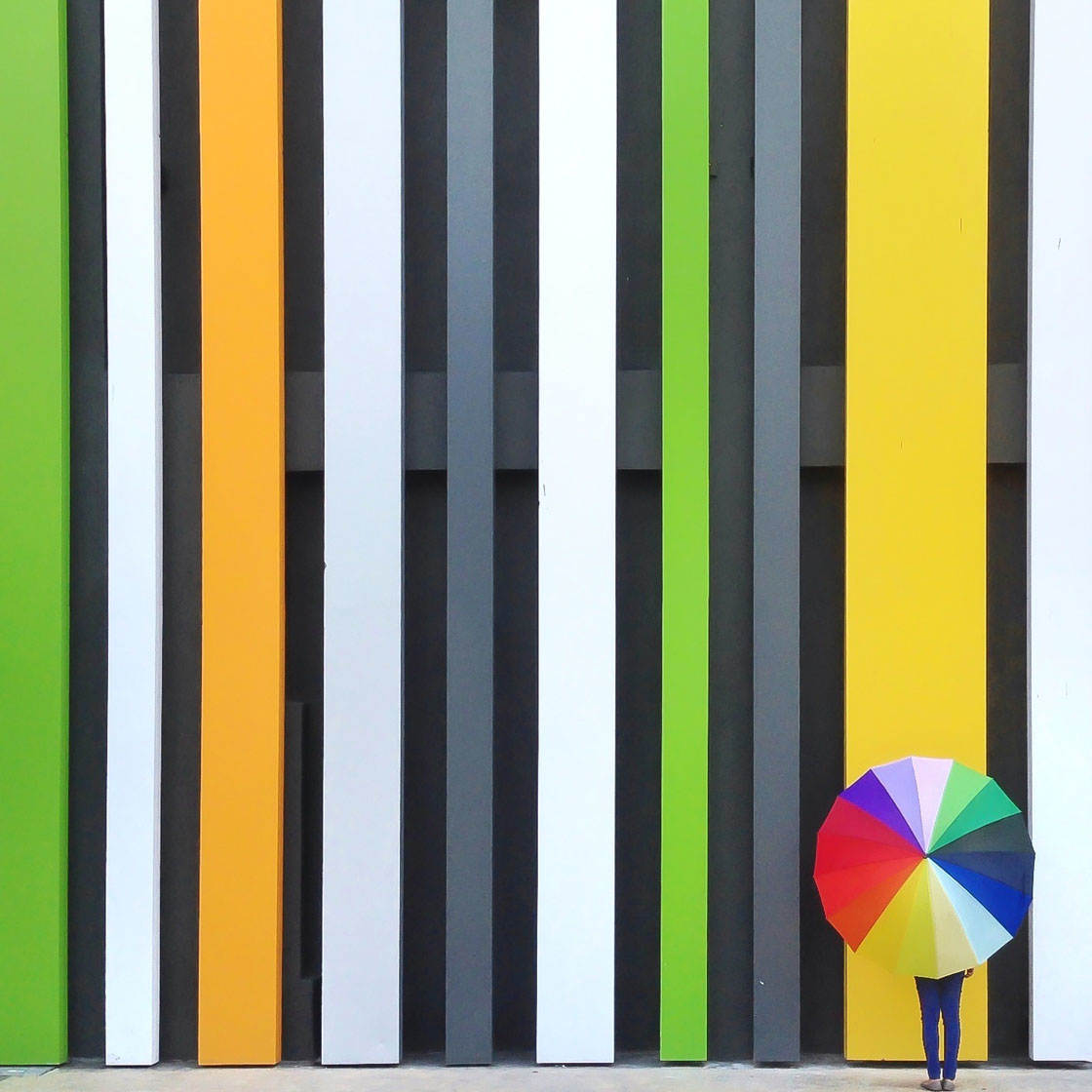 Well, indeed I was so happy to receive her umbrella. This colorful umbrella called for a colorful background! So I wandered around to find a suitable wall for it.
I end up posting two images with Jill's umbrella. One with a colorful striped wall as shown above, and the other one with a gray and white wall.
You're a member of several great Instagram photography groups. Can you tell us a bit about these communities and what they have to offer aspiring iPhone photographers?
I'm currently Moderator for @_rsa_minimal, Minimal Ambassador for @ink361 and Walls Editor for @huntgram. It's always fun to be involved with creative people and I'm honored to have been given the opportunity to moderate these awesome accounts.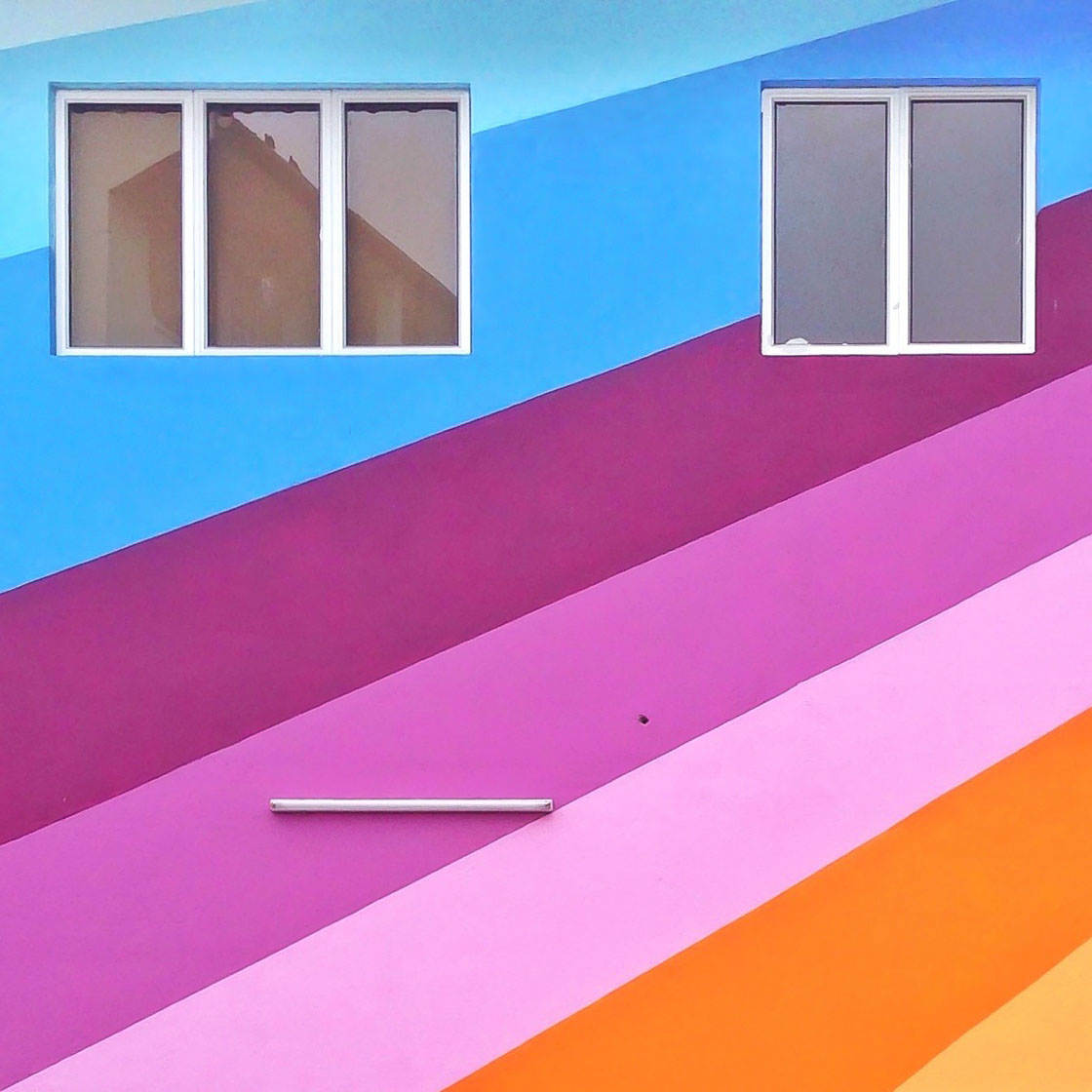 @_rsa_minimal will always have a sentimental value to me. It's one of the first minimal accounts I encountered when I started my @huxsterized Instagram account in January 2014.
I always wanted to become a member and after a few months of "keep tagging, keep minimal" I was so excited to be invited by one of the moderators, who at that time was @koraygelmez. As a new kid on the block to Instagram, it meant a lot and still does now. I appreciate it so much.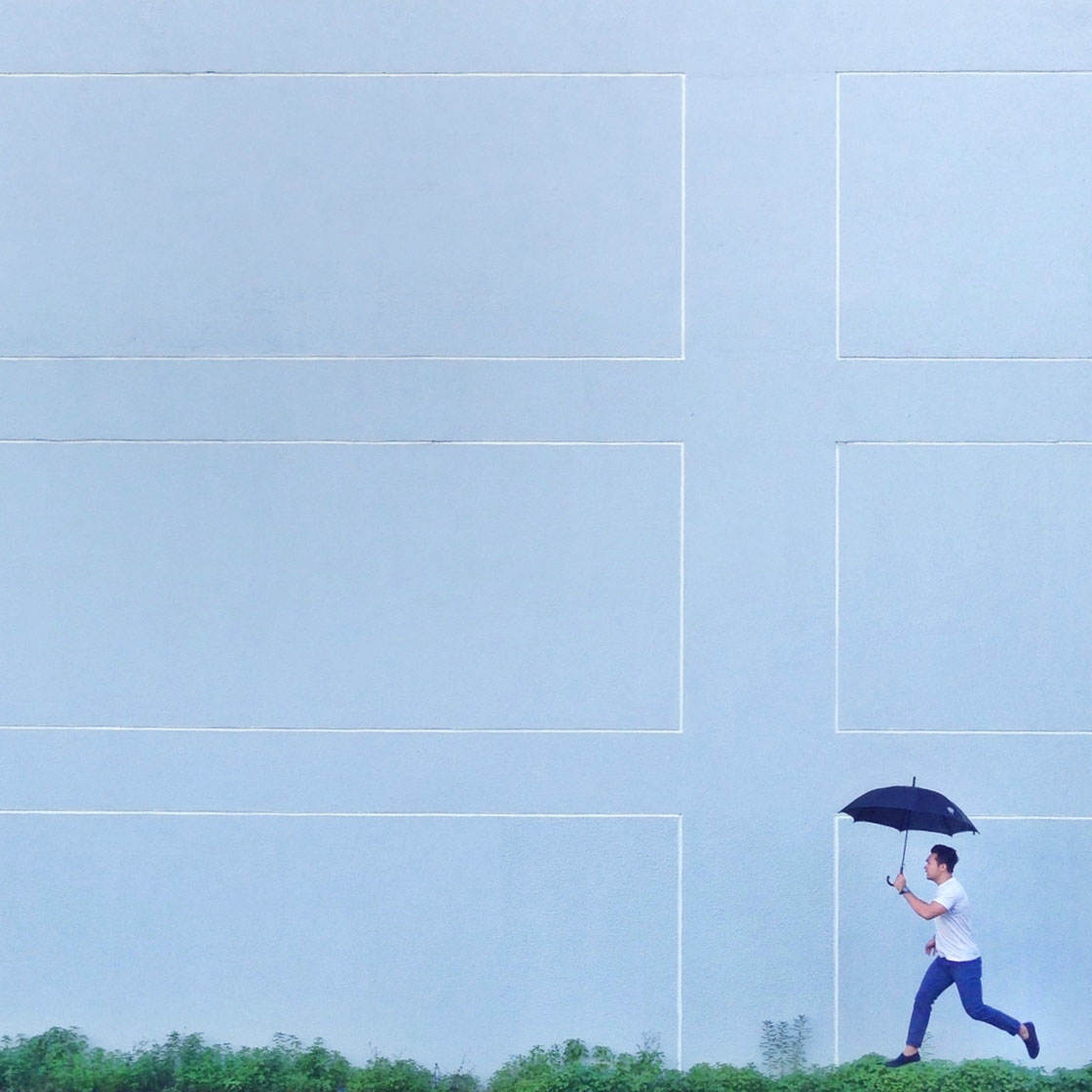 Then I was stoked when the lovely @ana_gil_ invited @moksva and I to become moderators for @_rsa_minimal. It means a lot to both of us.
Since then, we at @_rsa_minimal are constantly searching for photos to feature within our hashtag #rsa_minimal. Our aim is to showcase the best minimal photography in our feed every day!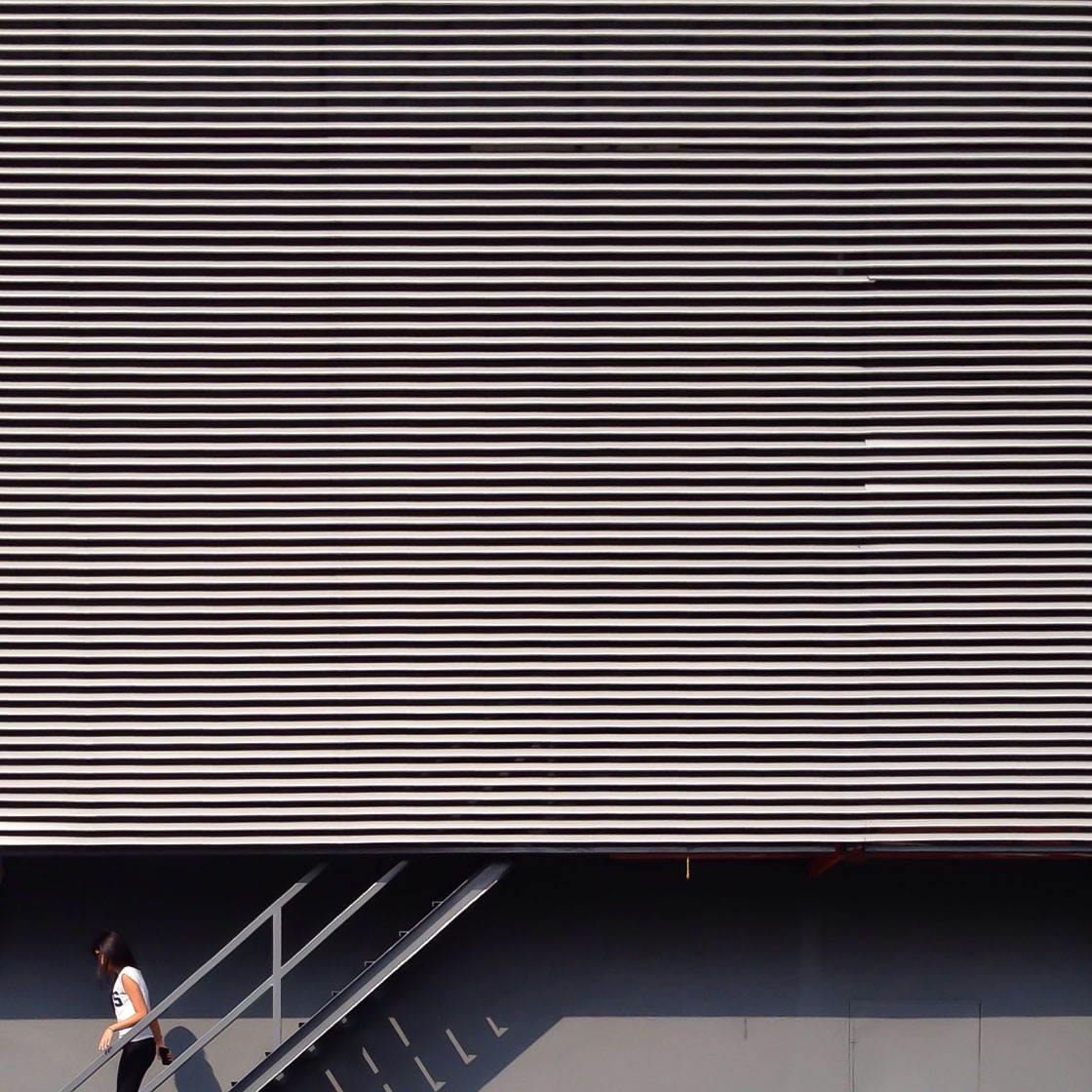 As for @ink361, they feature many genres of photography and have different ambassadors to handle each genre, for example, portrait, fashion, etc. That's what I like about @ink361. You can get lots of inspiration from their ambassador selections.
I became involved after seeing a question by @ink361 asking what we would like to see there. I suggested that a minimal feature would be good since they didn't have a section on that yet.
Then @kaecreative contacted me with an offer to join them as ambassador to handle the minimal section. I said yes, and the rest is history!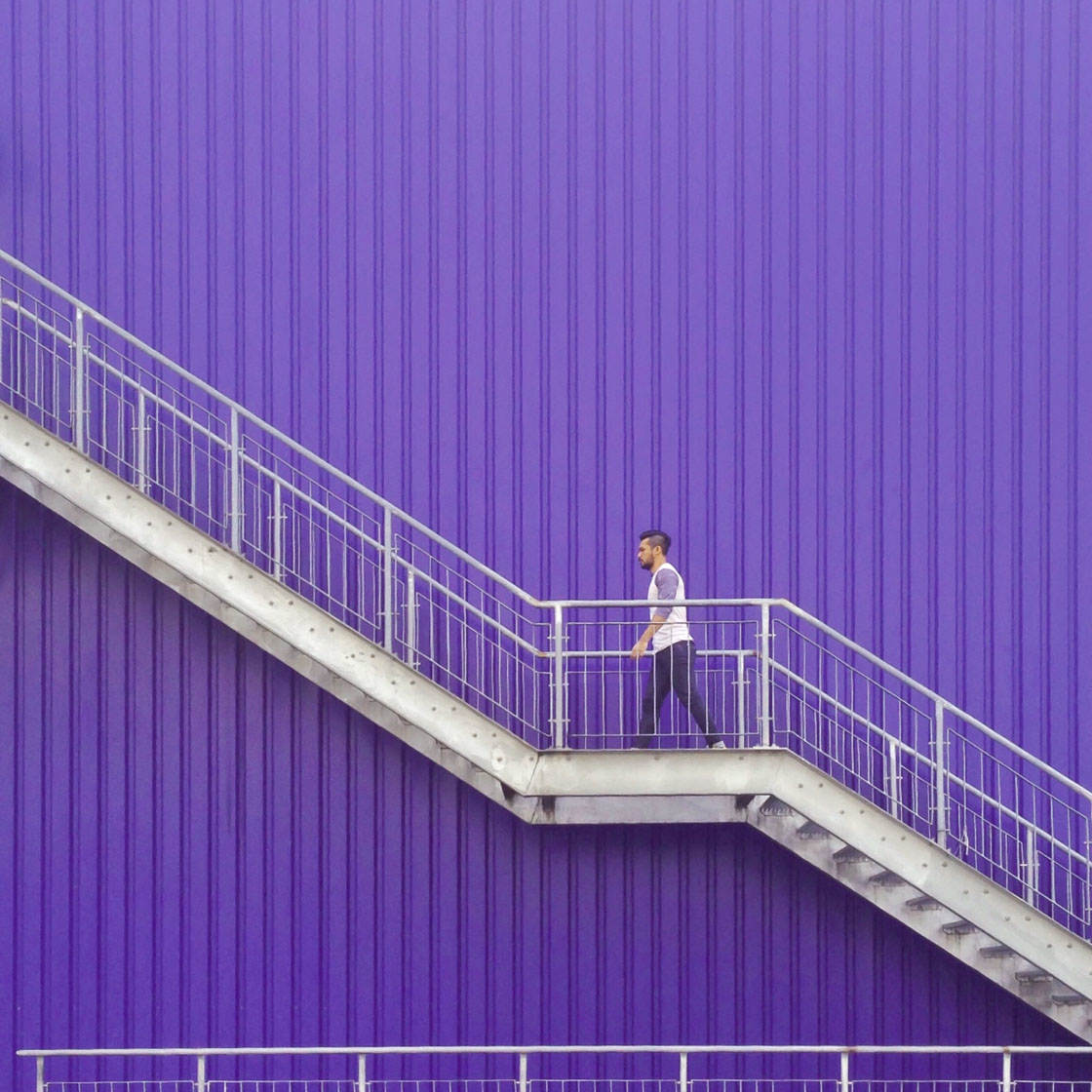 Huntgram is an awesome app that was started by @lakxs and @gotlib. It highlights the best content on Instagram, filtered by category and nation. It's a place where we can be inspired, connect with others, and highlight creativity, human expression and beauty.
There are many categories in the Huntgram app, for example, animals, fashion, minimalism, walls, black and white, etc. Each category has its own editor.
@lakxs contacted me to offer to ask if I'd like the job of editor for the walls section. I'm honored to be part of the awesome community, so of course I said "Yes!"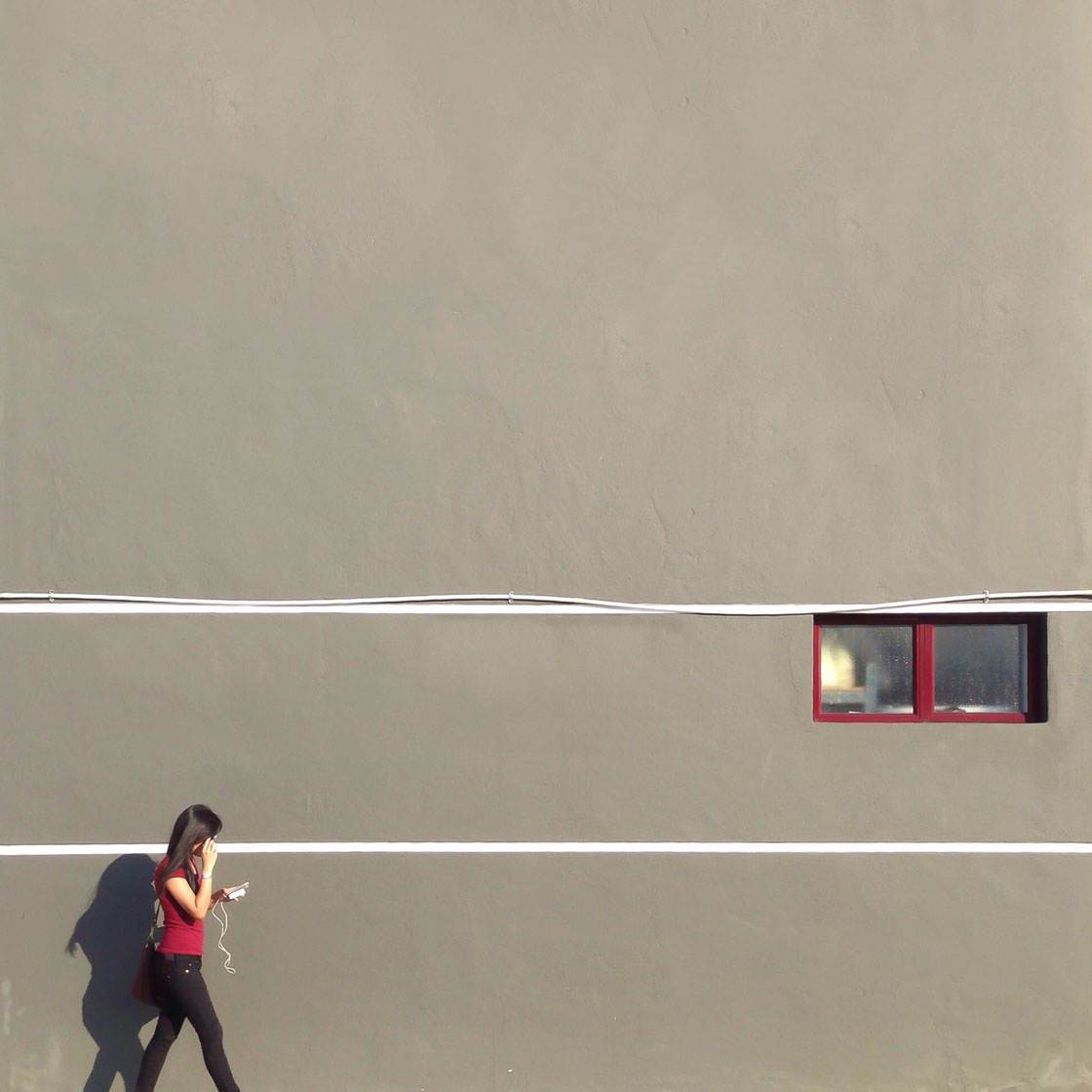 What tips do you have for beginner iPhone Photographers who want to start taking more creative photos with their iPhone?
Don't be afraid to try! Give it a go and don't think too much, especially about what other people think. Most people like to see a new idea.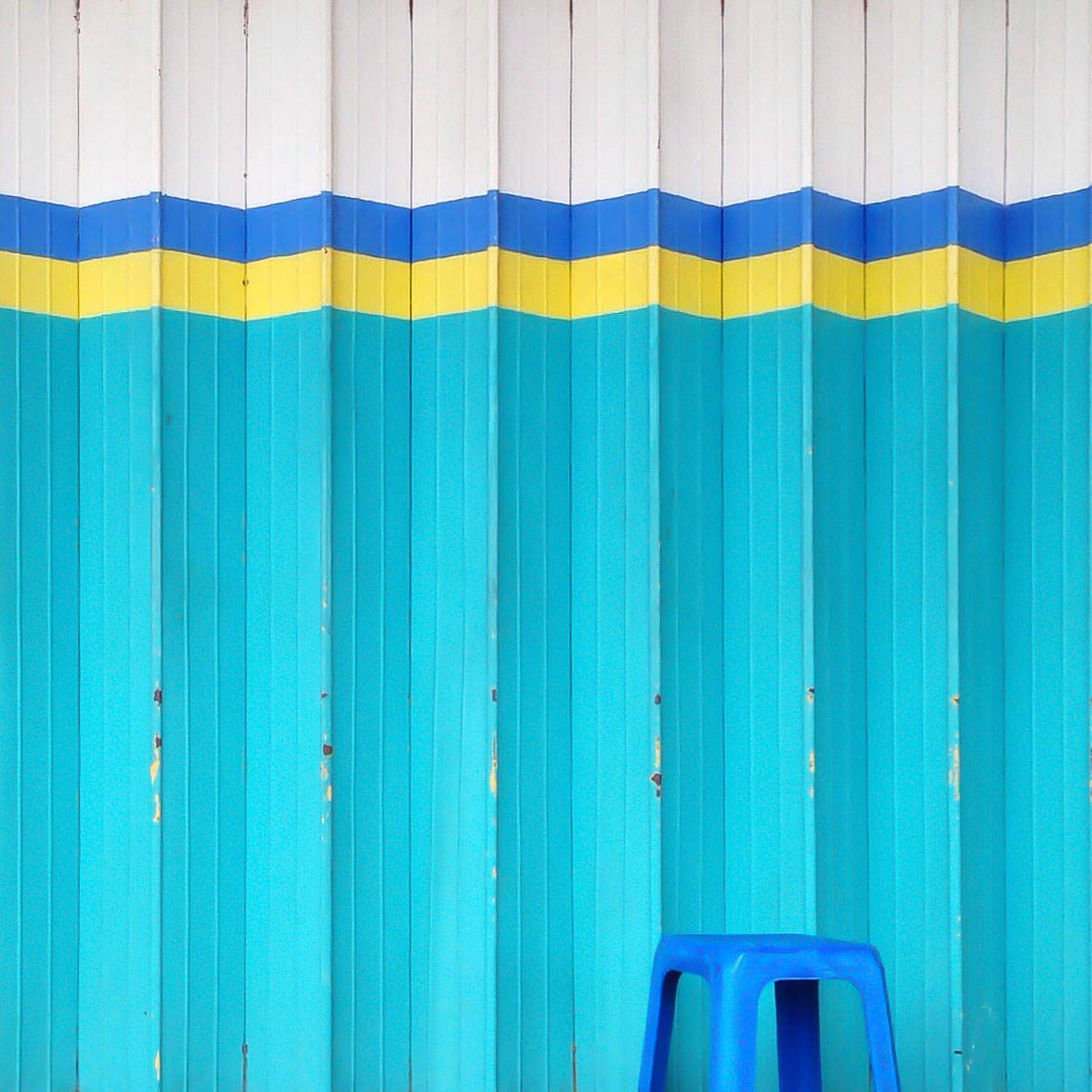 Get lots of inspiration from other Instagramers, learn from them, and most importantly – be original! Be an influencer!
Which iPhone photographers do you admire the most?
This is a tough question. I get inspired by a lot from people I follow on Instagram and I appreciate all kinds of photography. My number one inspirations would be my wife @moksva and my son.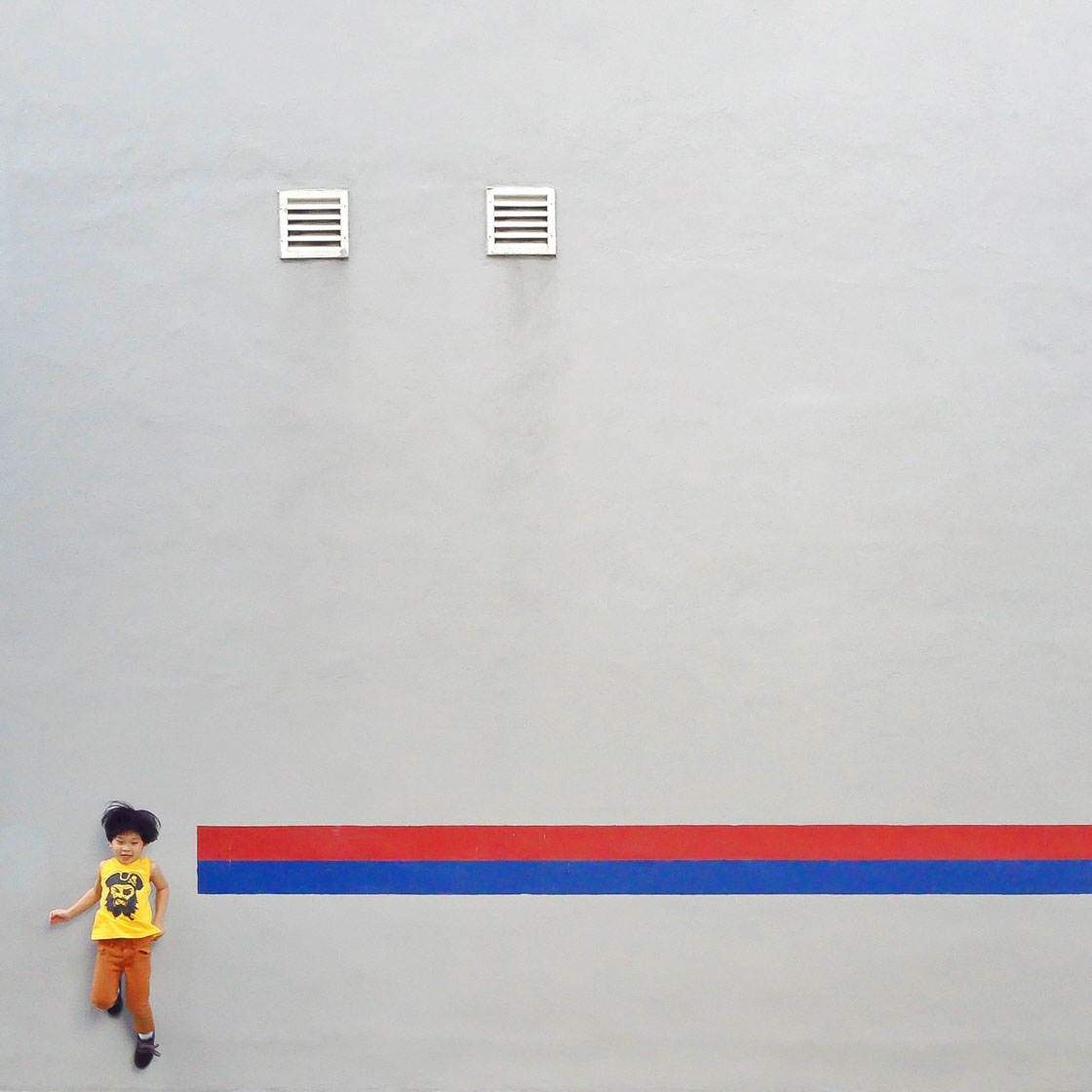 To name just a few people that have had a big impact on me and that I admire most would be difficult, but here goes!
@serjios creates images with mind-blowing composition and excellent execution of scale. His work is always about the interaction between people and architecture.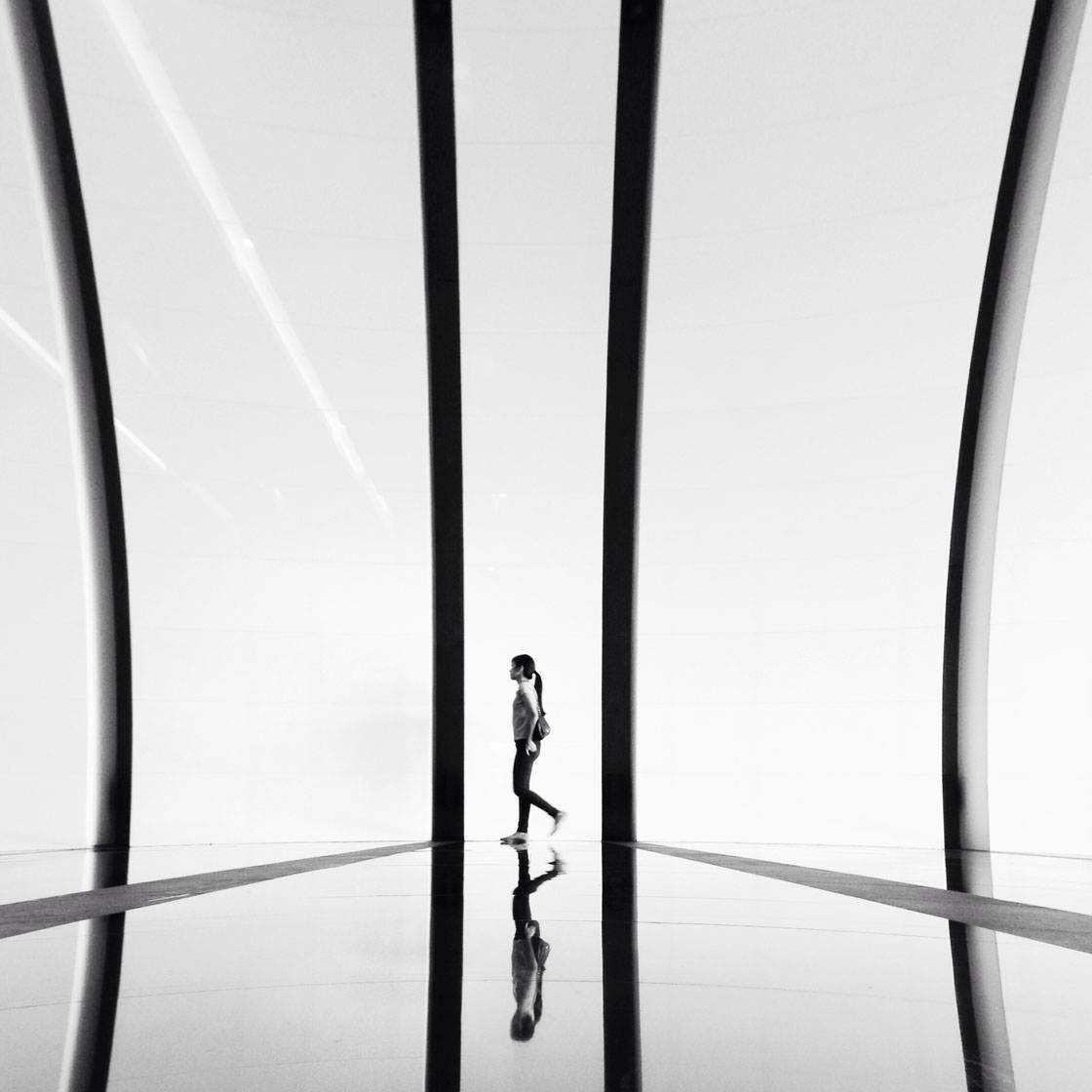 @thatsval is a simply amazing minimalist, creating brilliant work – always! @pchyburrs is a creative genius – Peechaya is full of brilliant ideas and has amazing skills to execute them into photographs.
Seriously – the list goes on and on. They are all so talented in their own way!
Where can we see your iPhone photography?
You can see my images on Instagram @huxsterized.