I'm really pleased to share this interview with Kwe Bentum, a talented iPhone photographer who ventures out in all kinds of weather to capture wonderful photos of urban architecture and street scenes in Chicago. In this interview you'll discover more about Kwe, and how he goes about documenting the city with his iPhone.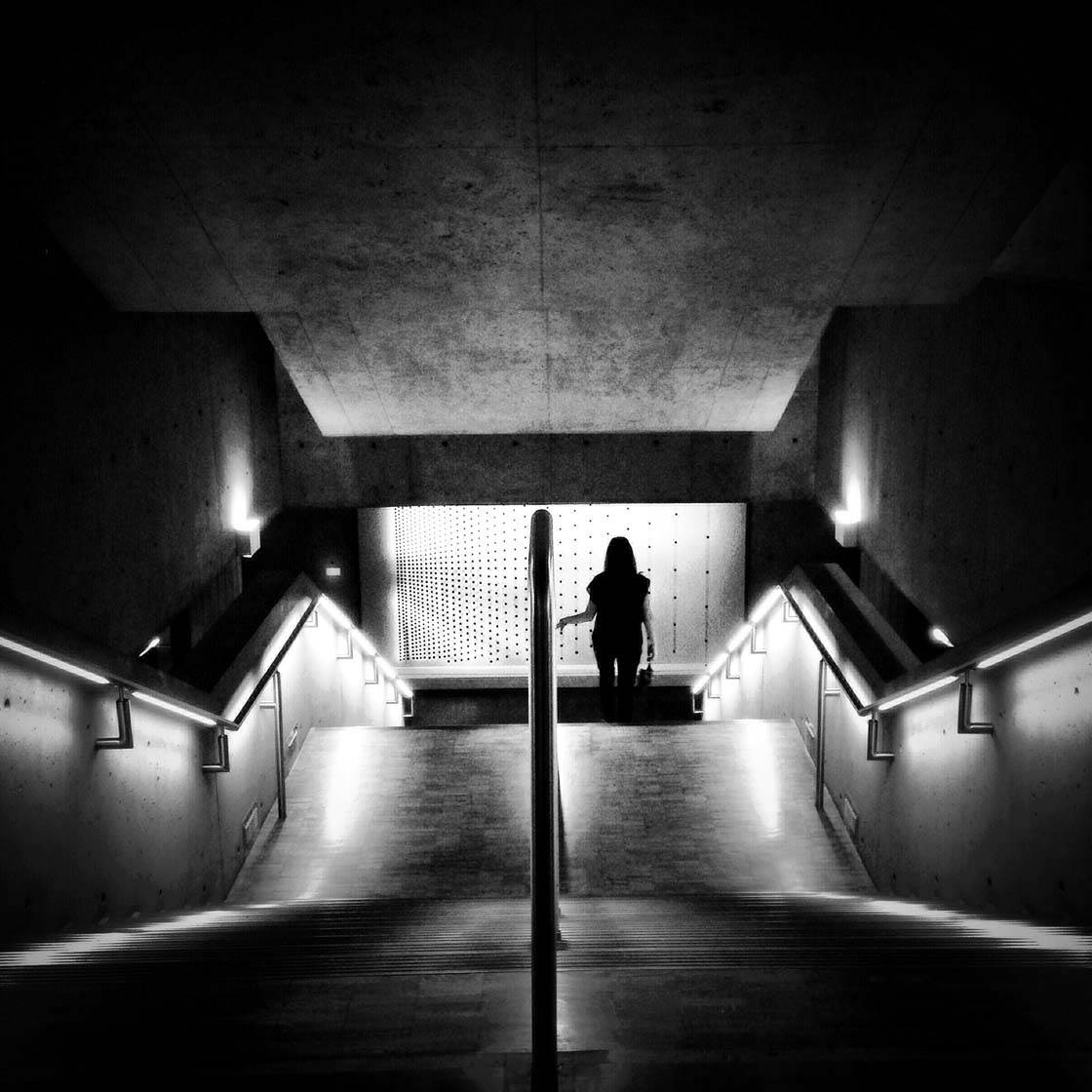 Tell us a little bit about yourself.
I'm 24 years old and live in the Northwest suburbs of Chicago. My current food weaknesses are chicken and waffles from Chicken Shop Chicago, Legend's crispy chicken wrap, and fried plantains. Other than photography, I love to draw and go running outside.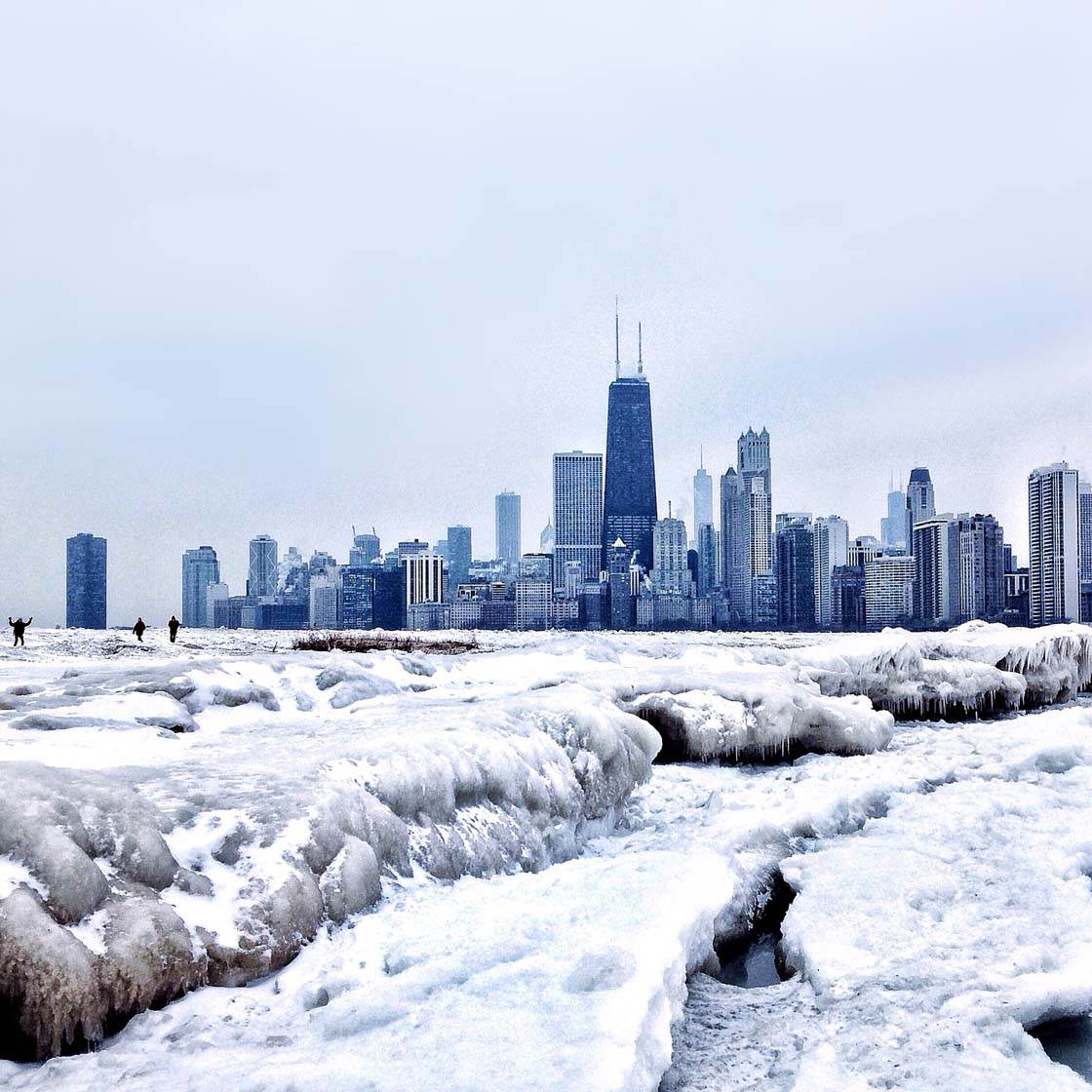 How did your iPhone photography journey begin?
Before the iPhone era, I always had a film camera that I would use to take photos on a school trip or vacation. I would randomly shoot cityscapes or anything of interest to me, in addition to personal photos, without necessarily following the rules of photography.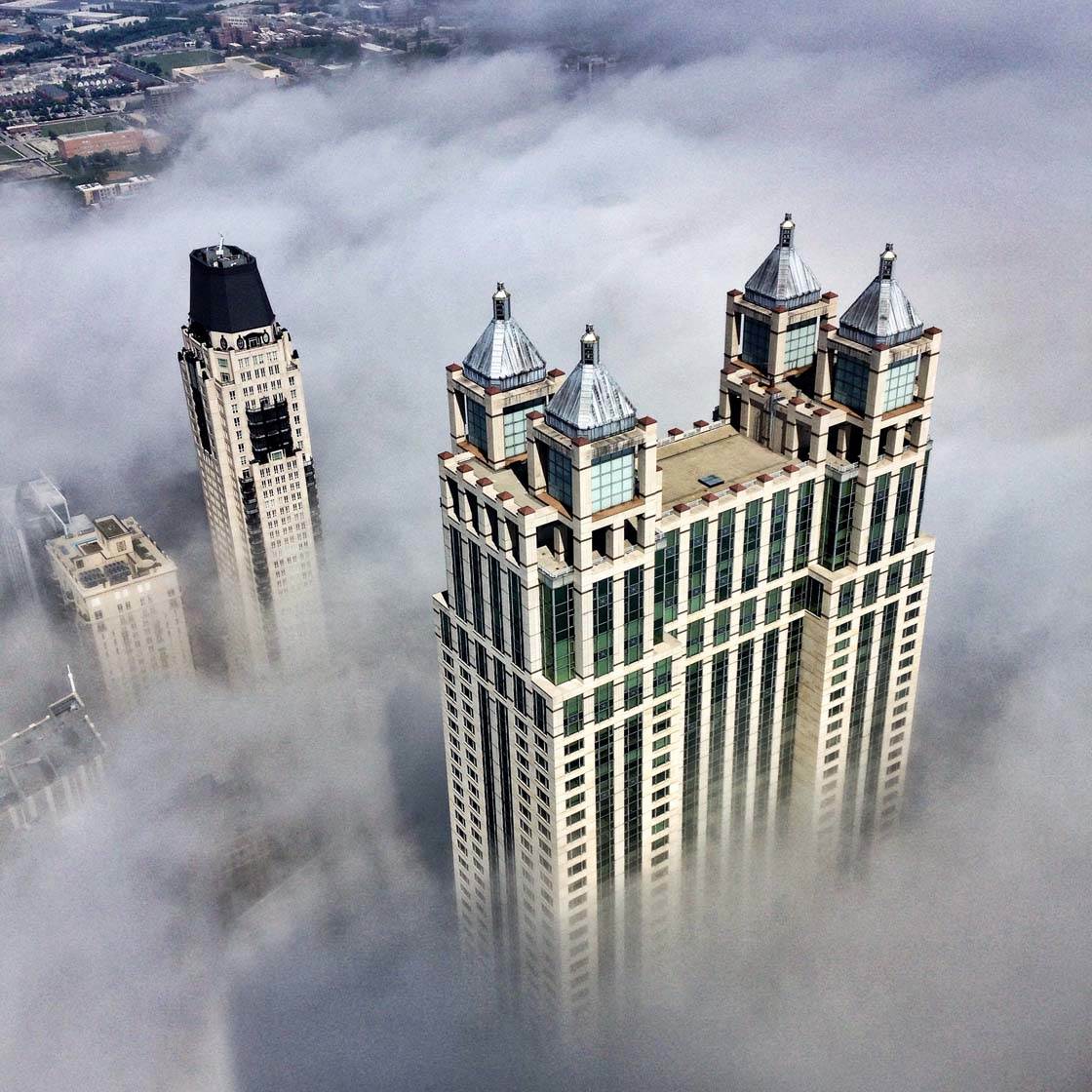 That passion was rekindled when I started using my 4th generation iPod touch in 2011 to take photos. In early 2012, I was so impressed with Vutheara Kham's photos (@vutheara) that I asked him about apps for editing since we were both iPhone 4 users at the time.
I then downloaded the Snapseed app and it felt like a new gateway of photography inspiration had opened.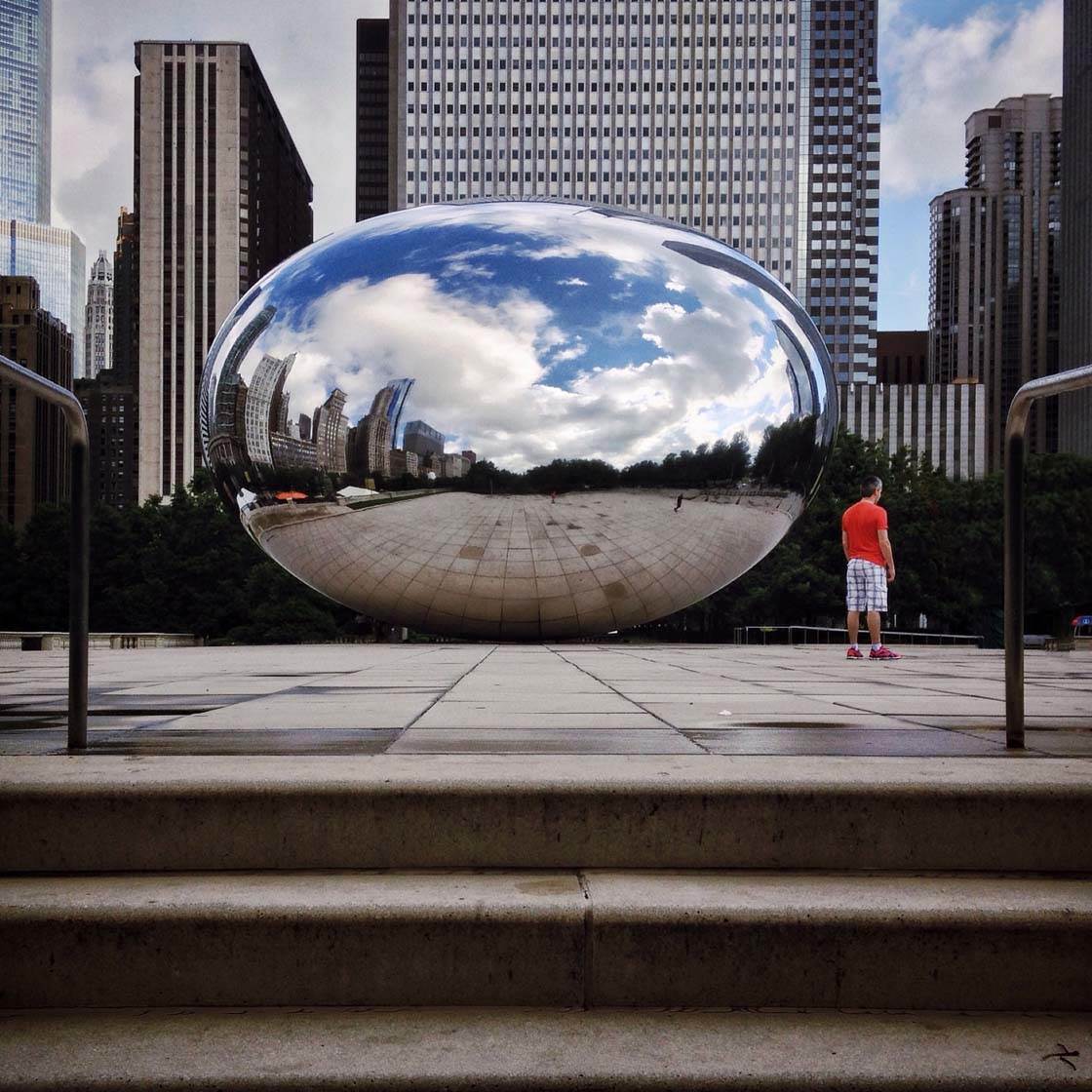 What inspires you to take photos with the iPhone?
I love the convenience of the iPhone. Some of my favorite photos have been "on-the-go" type of shots. These unplanned moments inspire me the most. I love when the moment comes to my doorstep without actively seeking out a photo.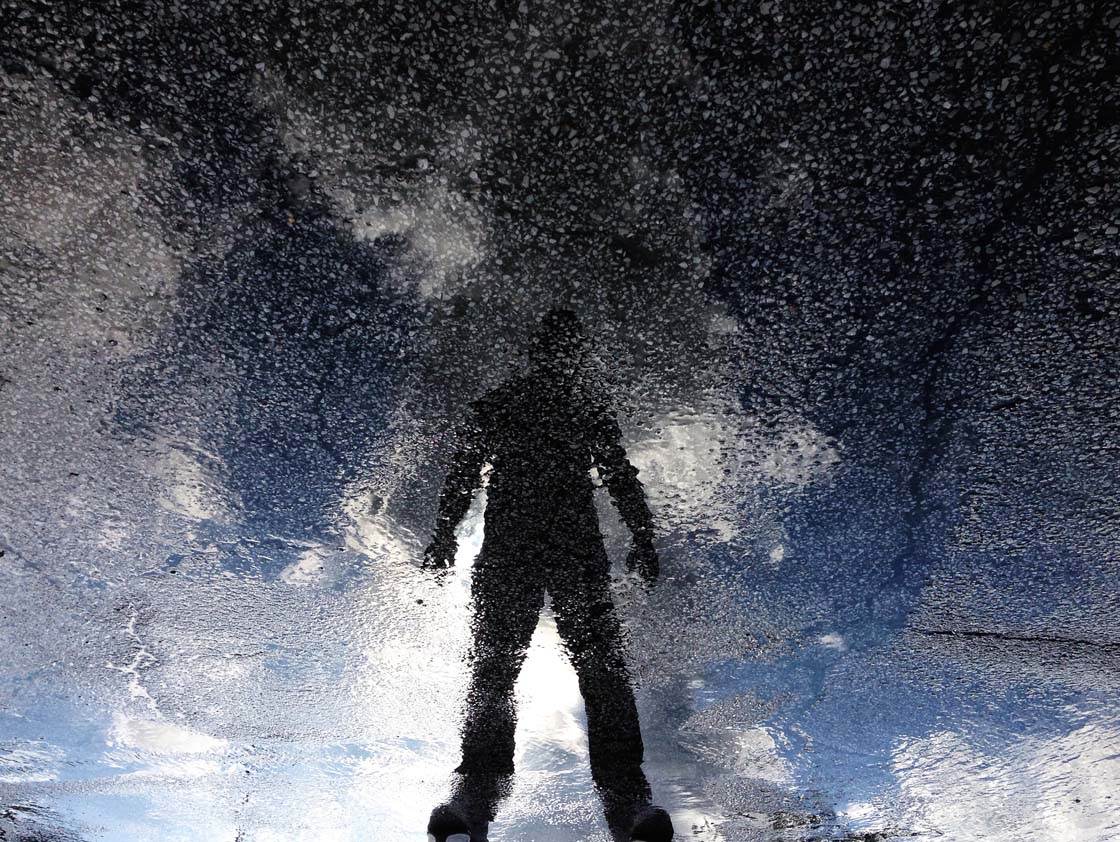 There was this one time I was walking with my older brother to a Chinese restaurant. While we were in the parking lot, I noticed a puddle with a cloudy reflection. I immediately interrupted the conversation and told him to stand right there so that I could take a picture.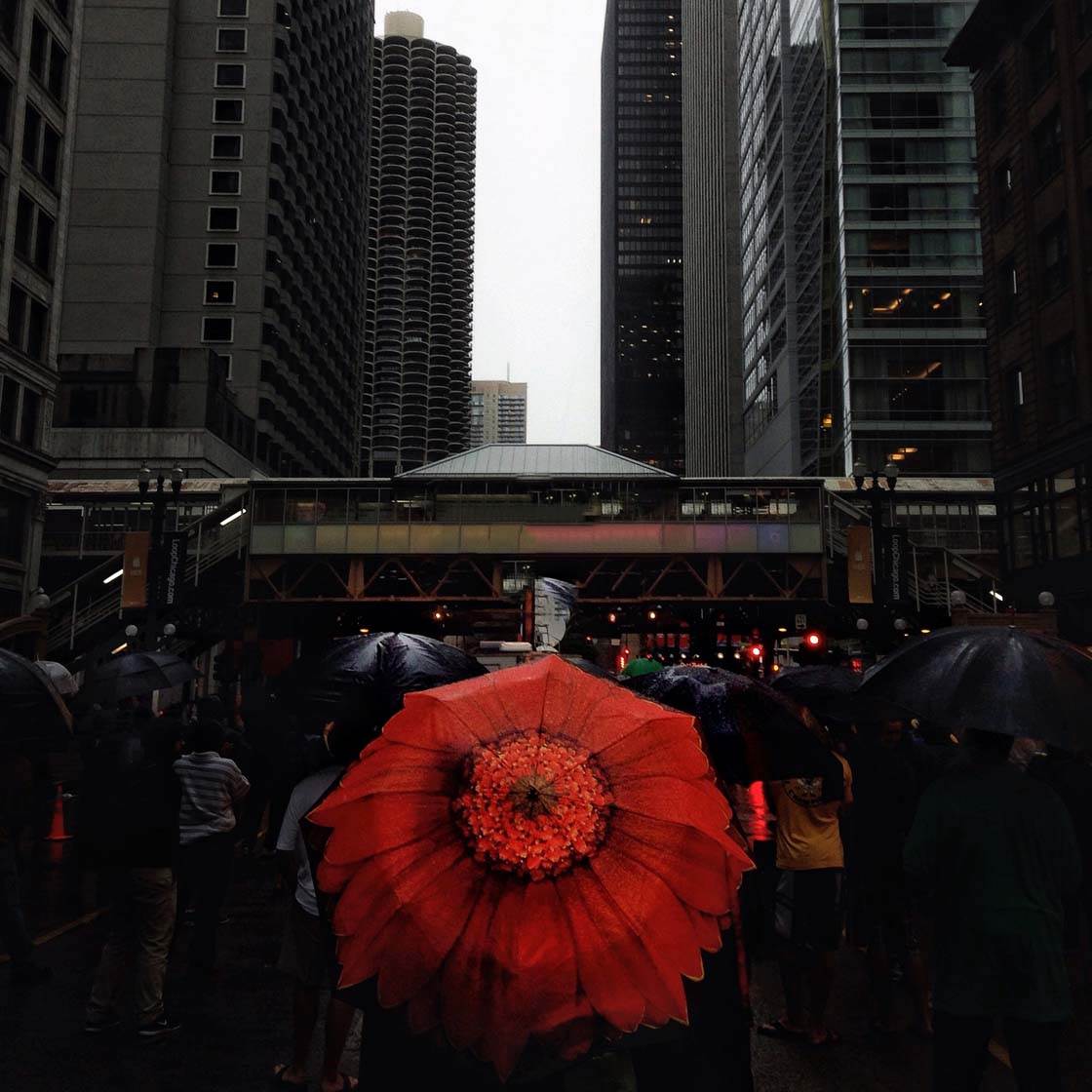 Moments like those inspire me so much. In addition, rain, snow, and light inspire me a lot. I'm a huge fan of the abstract possibilities rain and snow creates.
You mainly shoot urban street scenes with your iPhone. What draws you to this kind of photography?
I'm fortunate to live in one of the best cities in the world, in my opinion. The architecture is in its own league. The skyline is truly impeccable. I love shooting people in urban settings because there's no telling the nature of the final image.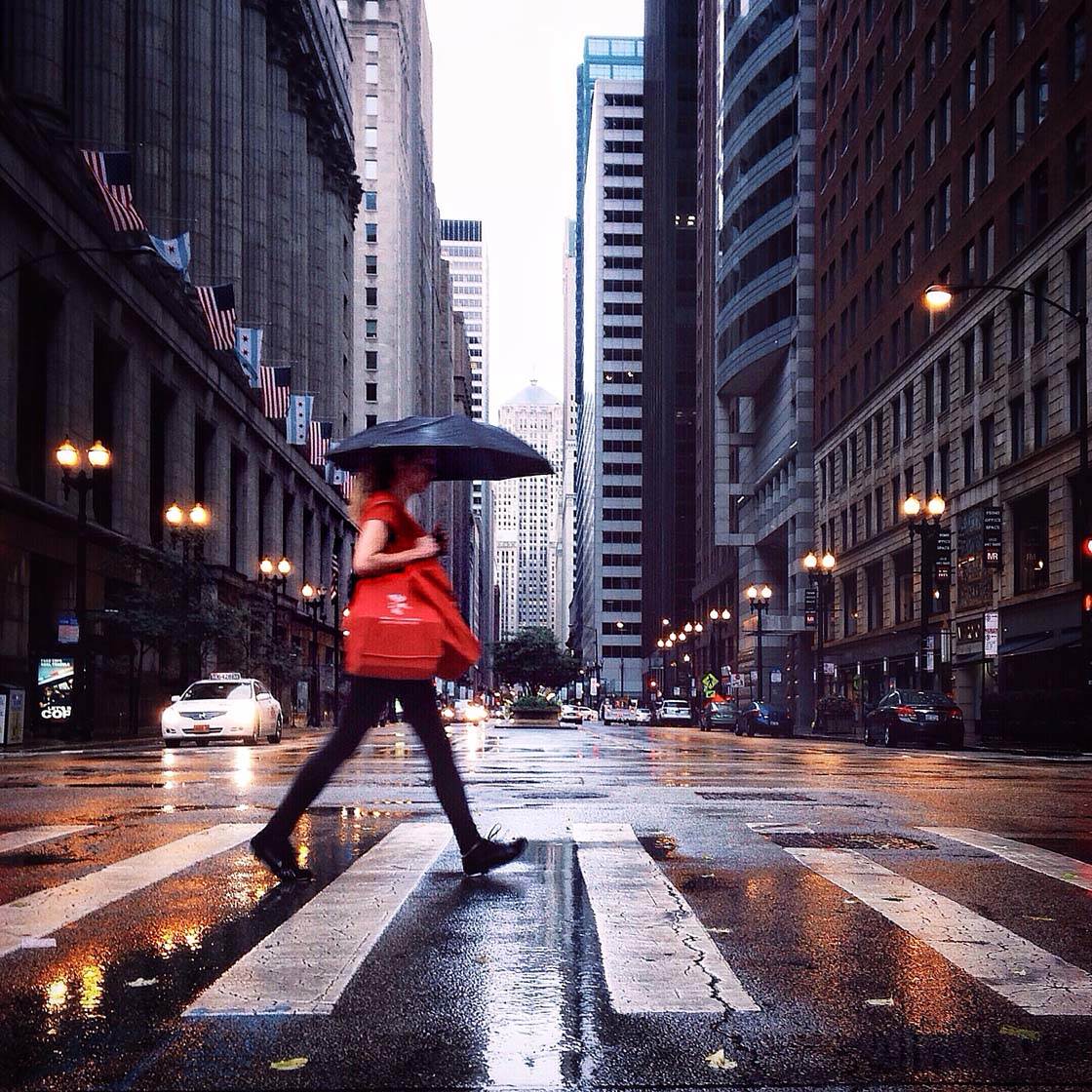 I love it because there are endless possibilities to be encountered – an engagement shoot, a proposal, the homeless, the lady on her phone in gorgeous light, the confident looking businessman brisk walking in shades, etc. The anticipation of the final image feels like opening up presents during Christmas.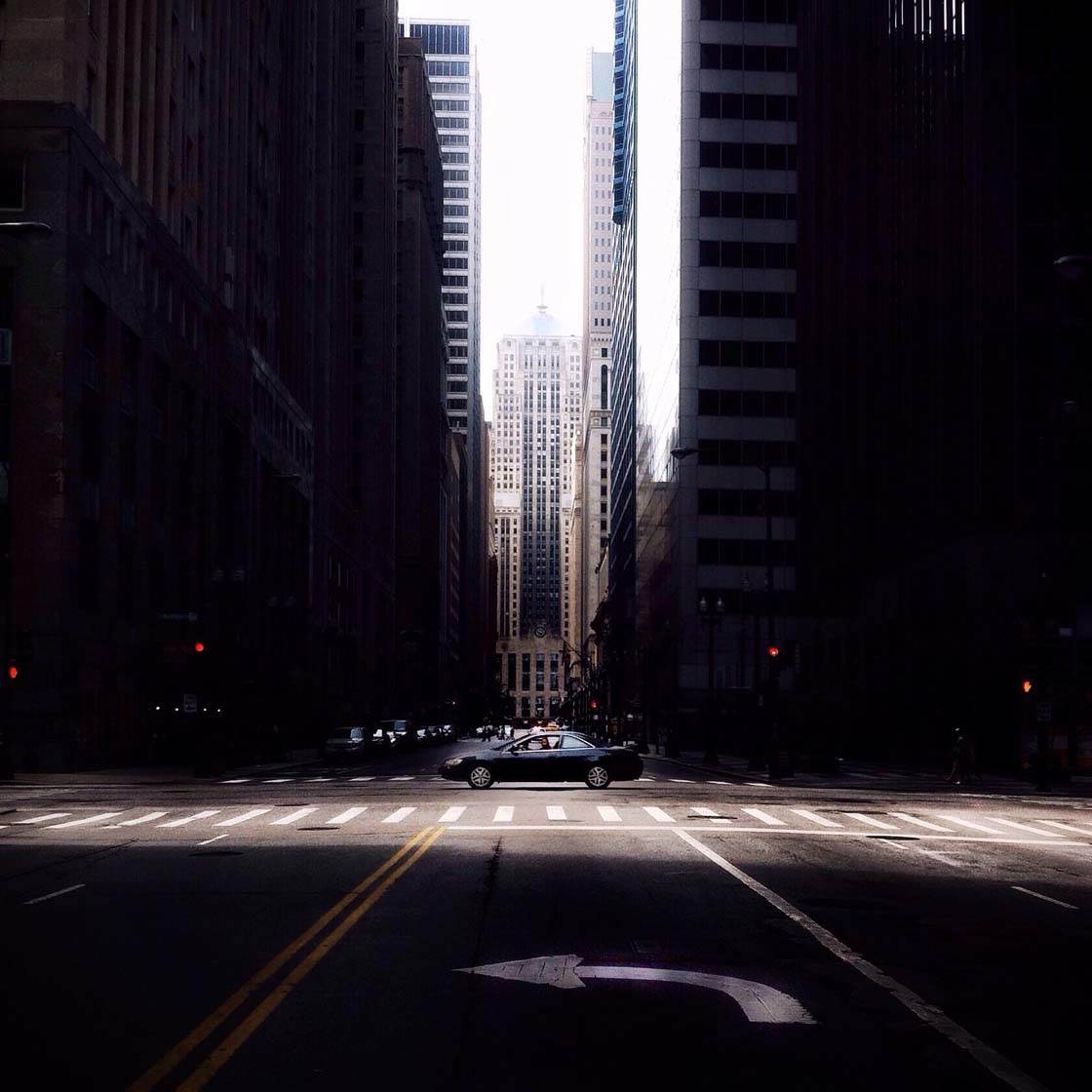 Street photography is all about storytelling. What tips do you have for telling stories through photography?
That's a tough question! I would say, "go with the flow." Don't be afraid to take photos of strangers. Everyone has a story and people's actions can convey a powerful or inspiring message in a photo.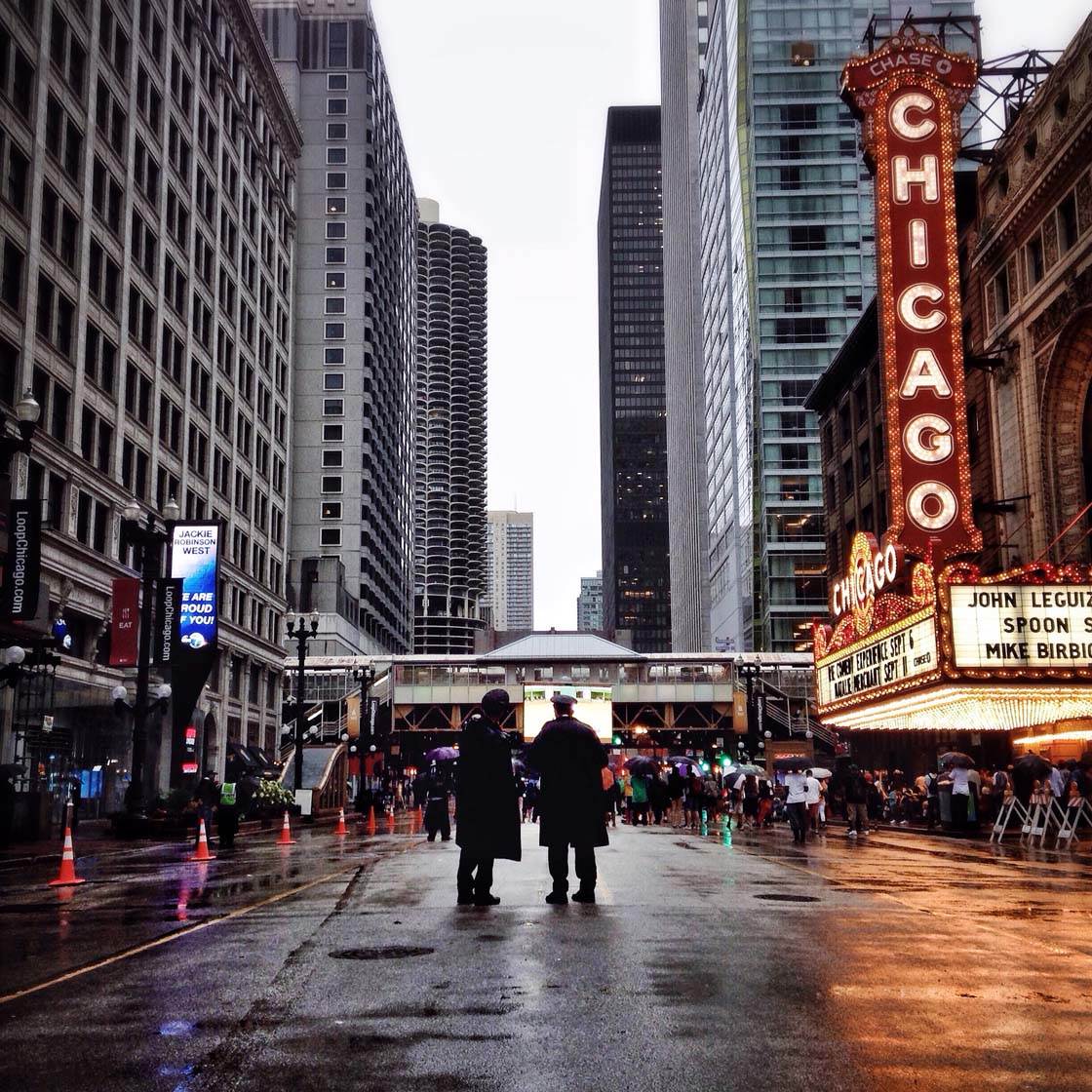 You also take great photos of buildings and architecture. Buildings are all around us, but many people struggle to take good photos of them. How do you go about capturing interesting photos of architecture?
Looking-up perspectives are my favorite type of architecture shots. In Chicago, my favorite buildings are Aon Center, Aqua, Chase Tower and the John Hancock building. Aon provides so many angles to shoot. Whenever it's foggy outside, I'll take a photo of my favorite buildings if convenient.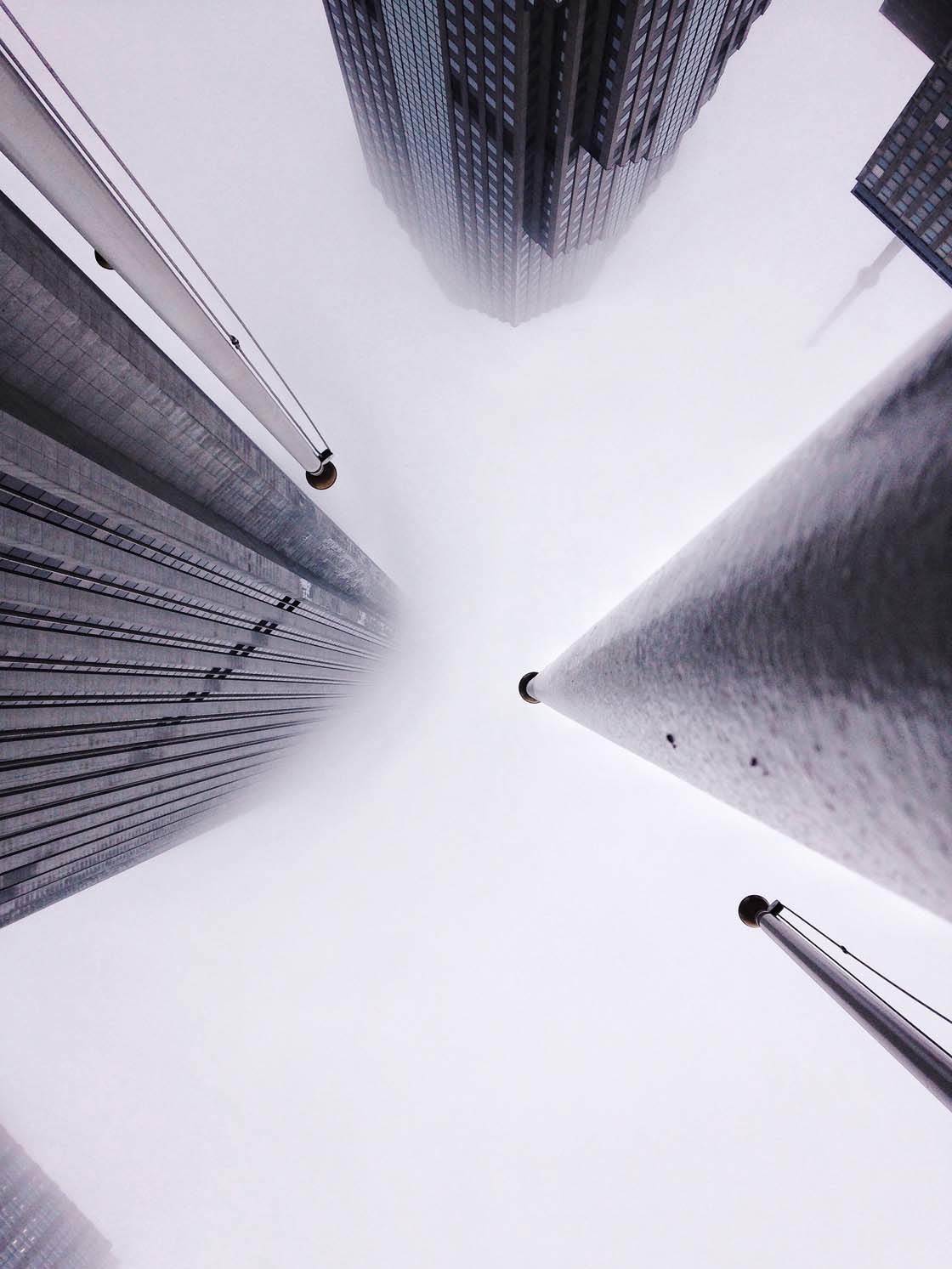 I've taken multiple shots of Aon Center in foggy conditions and I challenge myself to find a new or interesting angle. It rekindles inspiration to go back to favorite spots when the weather is different.
I'll take photos of buildings with reflections on a cloudy day. If it's a flat blue sky with no clouds, I won't take look-up architectural shots because I end up disliking the image.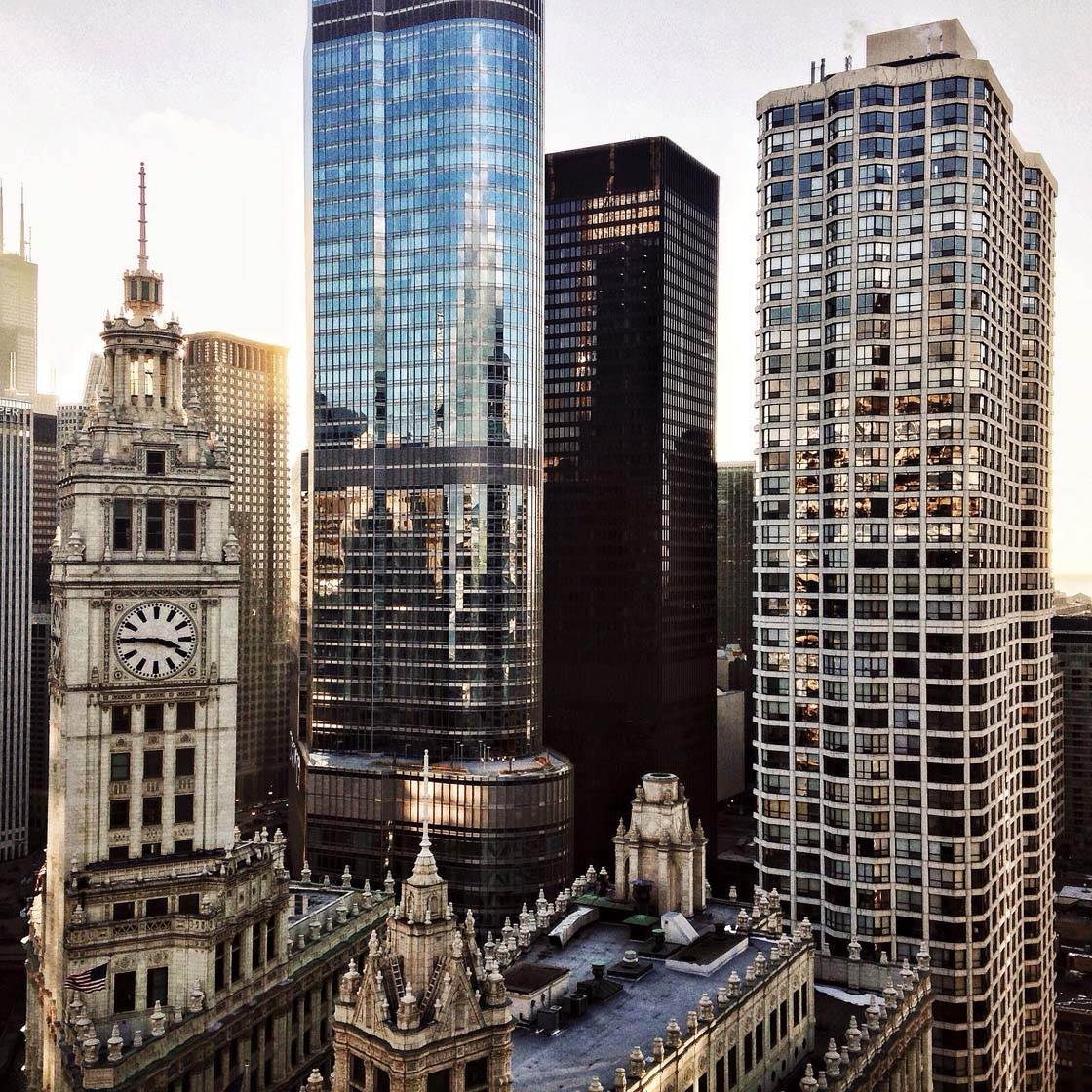 Your Instagram feed demonstrates that you have an excellent eye for strong composition. Which composition techniques would you say are the most important in urban landscape photography?
Strong lines and graphic detail describe my style. I prefer to have a solo subject such as a person in my photos. It helps to create a sense of scale and makes the shot more powerful.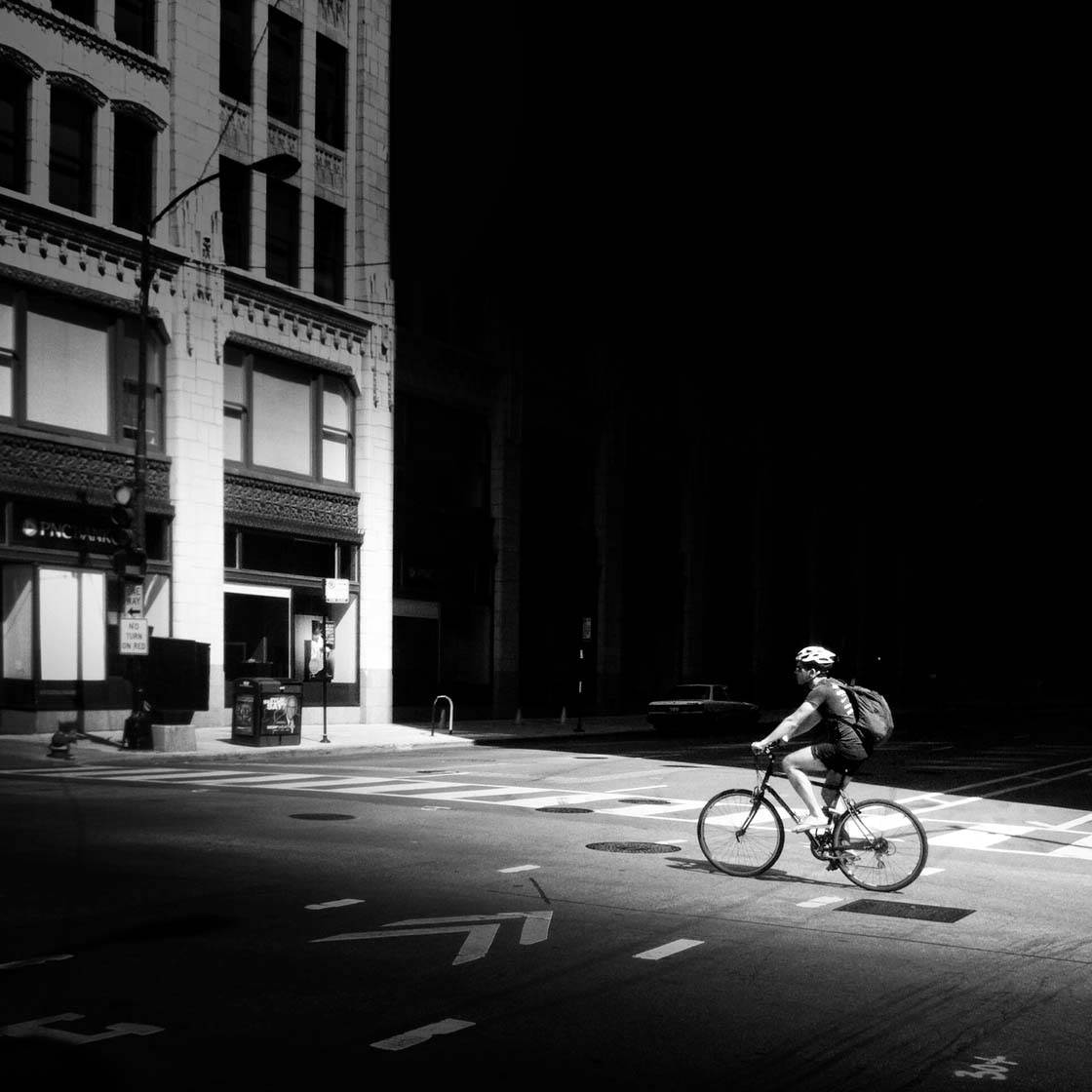 Let's talk about photo apps. Are there any apps that you use for taking photos besides the native camera app?
I mostly use the native camera app for taking photos because I love the control over exposure. The new iOS 8 update on Auto-Lock Exposure settings helps with capturing the perfect shot with the most dramatic light and shadow-play. I use Cortex Cam for taking night shots.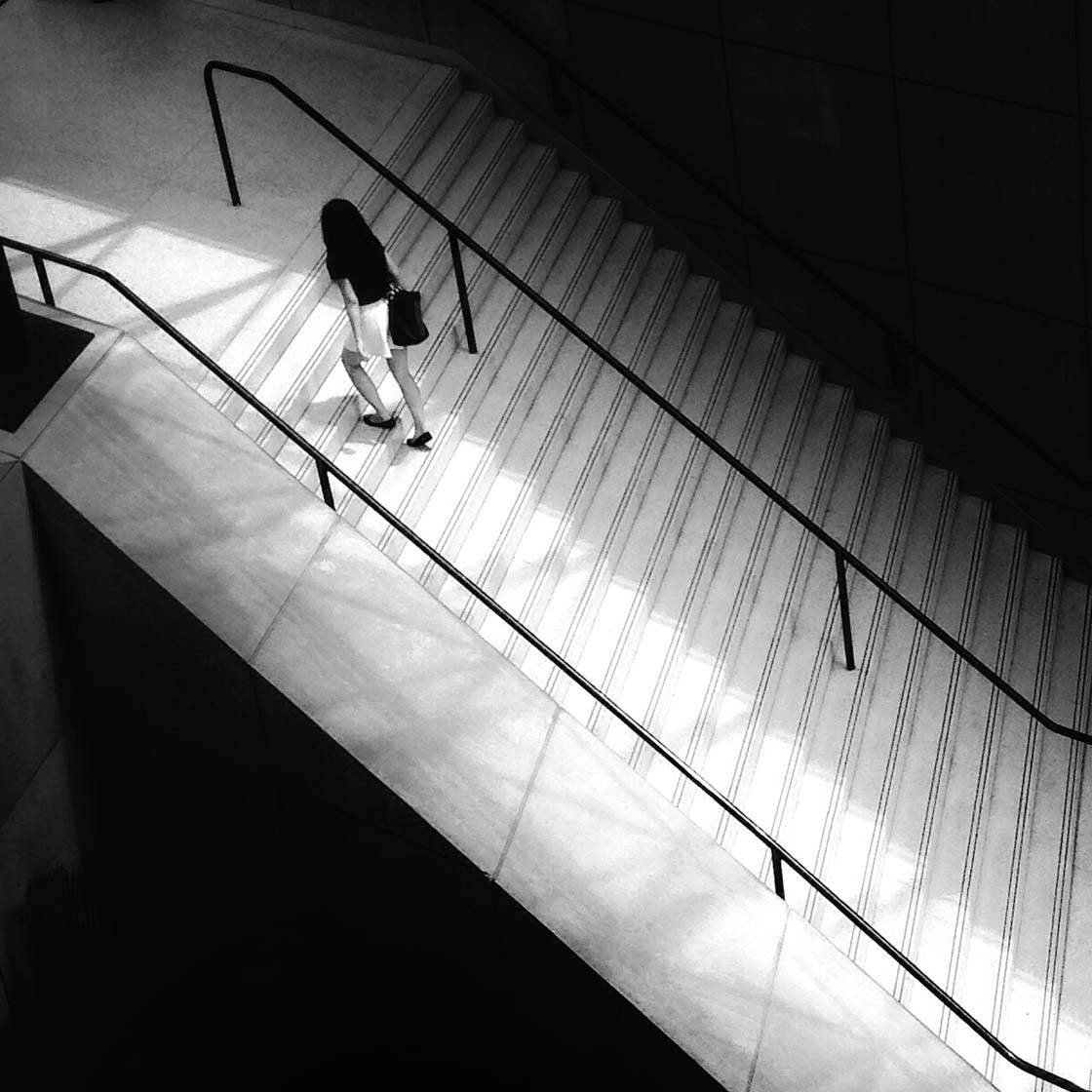 What are your favorite apps for post-processing?
My primary editing apps are Snapseed, VSCO Cam and Afterlight. TouchRetouch is also convenient for removing unwanted objects from an image (check out our tutorial on how to use the TouchRetouch app).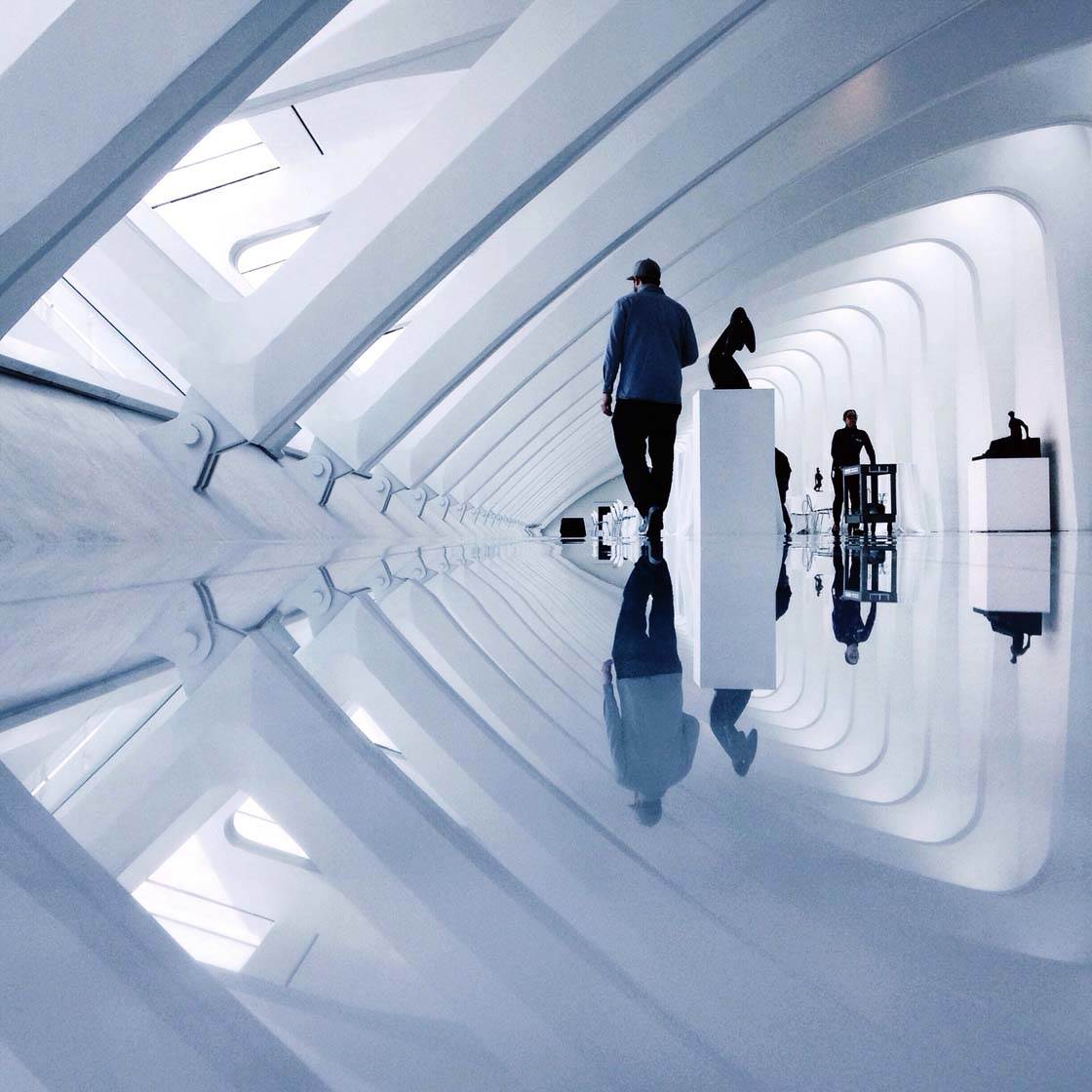 I also love Image Blender because sometimes I'll have two imperfect photos that have elements I would like to incorporate into a single image. Image Blender enables me to combine the best of those elements into a fine piece.
Do you use any iPhone photography accessories?
I recently purchased a Joby GorillaPod, but I've never used it except as a stand for FaceTime! I have a macro and wide angle lens, but I've only used the macro lens once. It's mostly inconvenient removing and attaching the lens.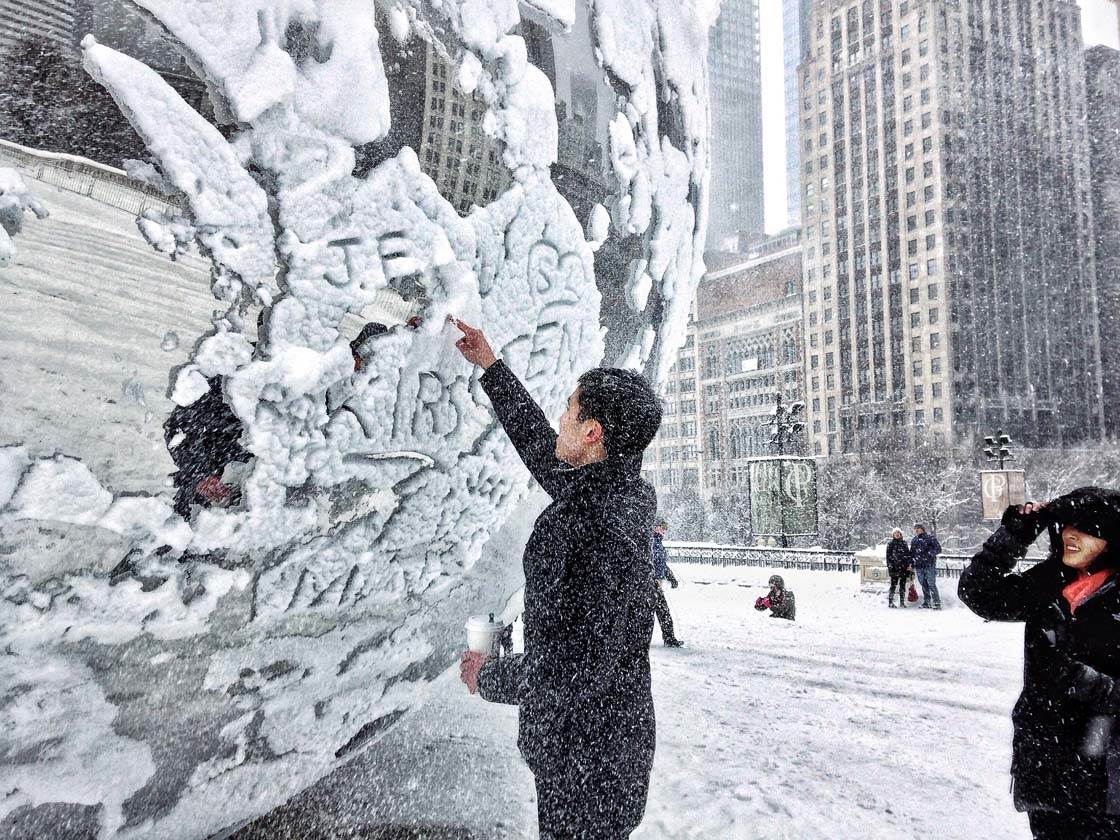 Once in a while, I will definitely take advantage of the lens kit but not for daily/weekly shooting inspiration. I do, however, have interest in underwater photography and plan on purchasing a waterproof/water resistant phone case.
Can you briefly explain the story and editing process behind your three favorite iPhone photos?
Honestly, it's almost impossible to choose three favorite photos, but here's my selection: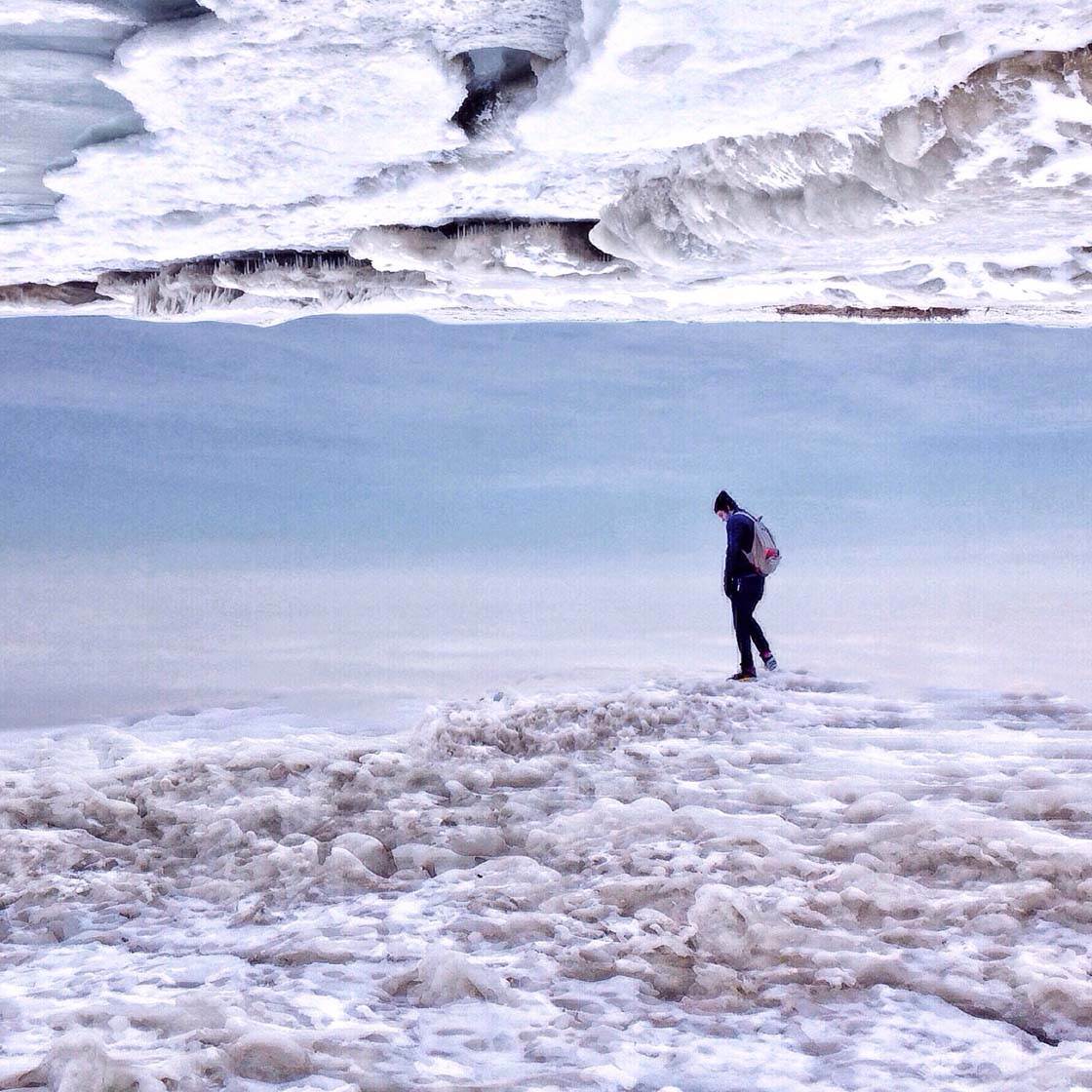 This is a recent favorite for sure. I had the idea after watching Interstellar. This reminds me of Mann's planet. I used Chicago's frozen lakefront to produce the final image.
This is a combination of three images edited with the Juxtaposer app. You'll notice I used the ice from one of the skyline photos with three tiny people as the top part of this image. Snapseed was used as a final touch.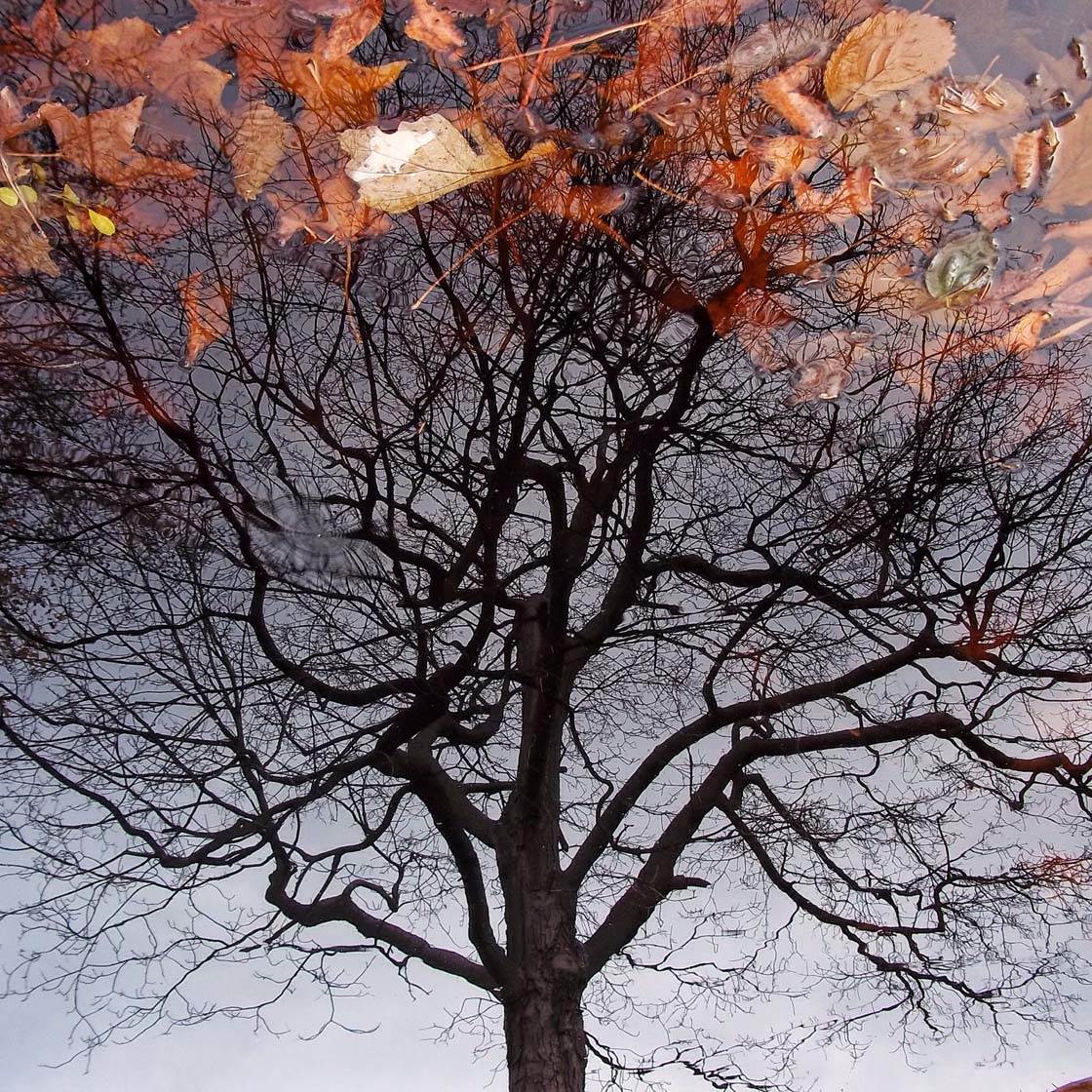 I took this shot of a tree reflected in a puddle during the fall. After flipping the image, it reminded me of a tree on fire. I just used Snapseed to sharpen the image and adjusted contrast.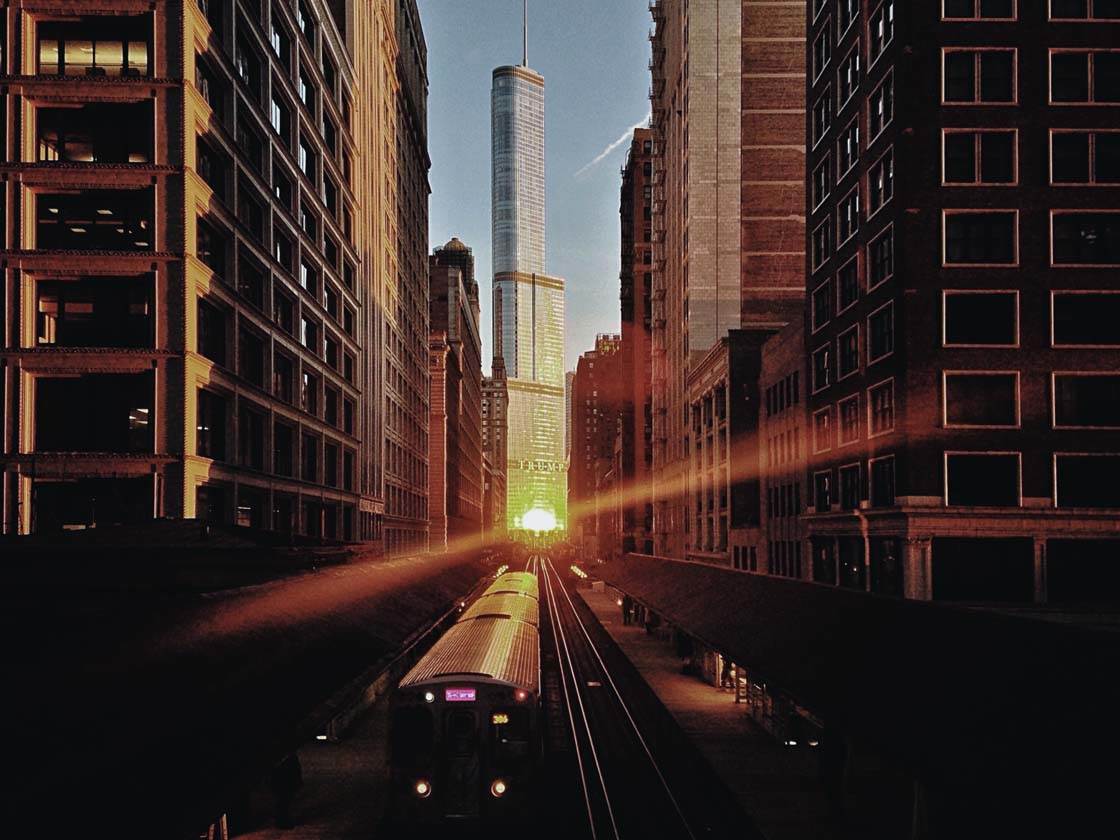 Great memories behind this one. I took the shot from the CTA Madison/Wabash stop shortly before the station was closed down. It was a beautiful sunrise that led to a really great start to the day.
I took this photo with the native camera app (HDR mode on), adjusted contrast, slightly desaturated the image in Snapseed, and added a G3 VSCO Cam filter as the final step.
You take a lot of photos of Cloud Gate (The Bean) in Chicago. What is it about this work of art that makes you want to photograph it so often?
I love seeing the world in a unique dimension, and reflections from the bean make this a reality. The weather transforms the bean and gives it a whole new look.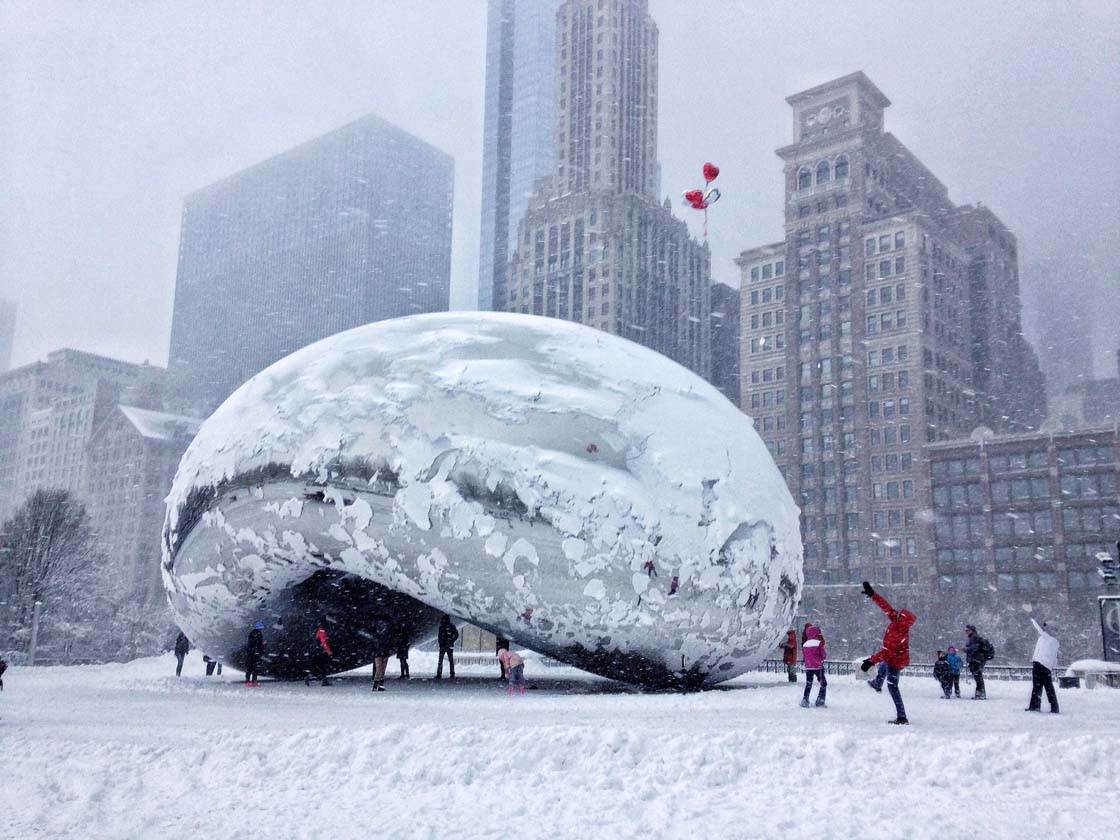 Most of my favorite photos from the bean are random moments from strangers. There are so many interesting angles to photograph this sculpture.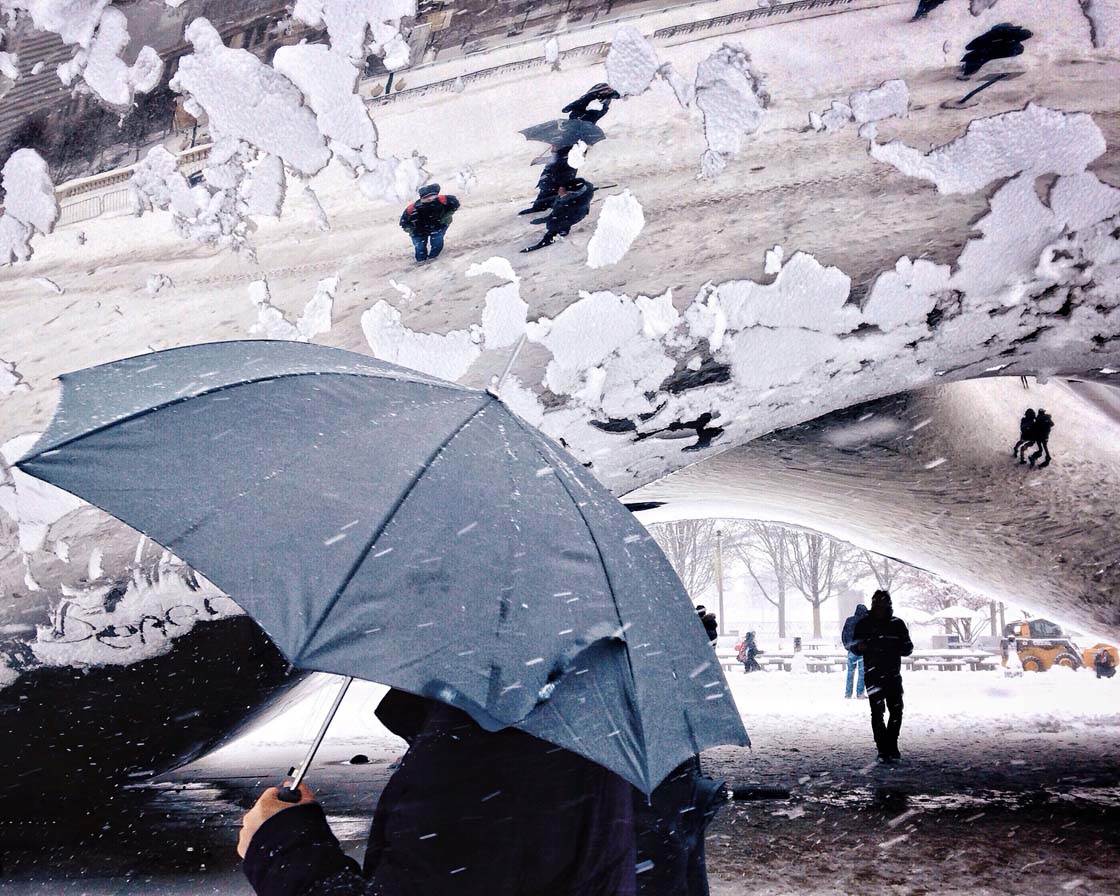 You share your photos on Instagram with a large number of followers. What does the mobile photography community mean to you, and what effect has it had on your iPhone photography?
I love the AMPt community. I remember they would feature a mobile photographer who would share a step-by-step editing process and it eventually helped me develop my editing style. I believe editing should be shared and can always be taught. Everyone has a unique eye.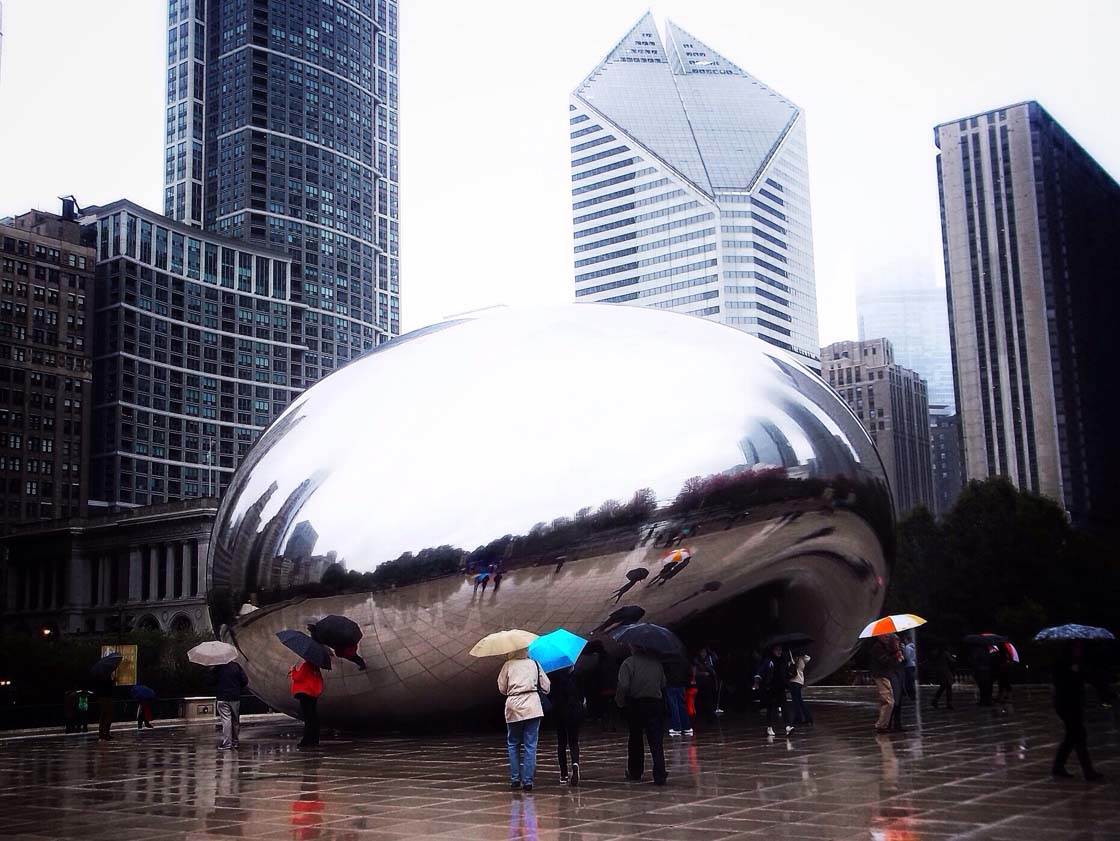 There's so much inspiration everywhere. I'm surrounded by friends who inspire me to keep posting my best photos. The ultimate approval is when my trusted friends and family approve of my photos I also love. That's what matters to me the most.
What tips do you have for beginner iPhone Photographers who want to start taking more creative photos with their iPhone?
Study photos of your favorite photographers and try to find your own style. Only post your best images.
When taking a shot, ask yourself the purpose and whether it can be easily replicated by anyone. If people cannot easily replicate the shot (the moment, the angle, the people, various elements that make the image unique, etc.), then it means you're leaving your trademark.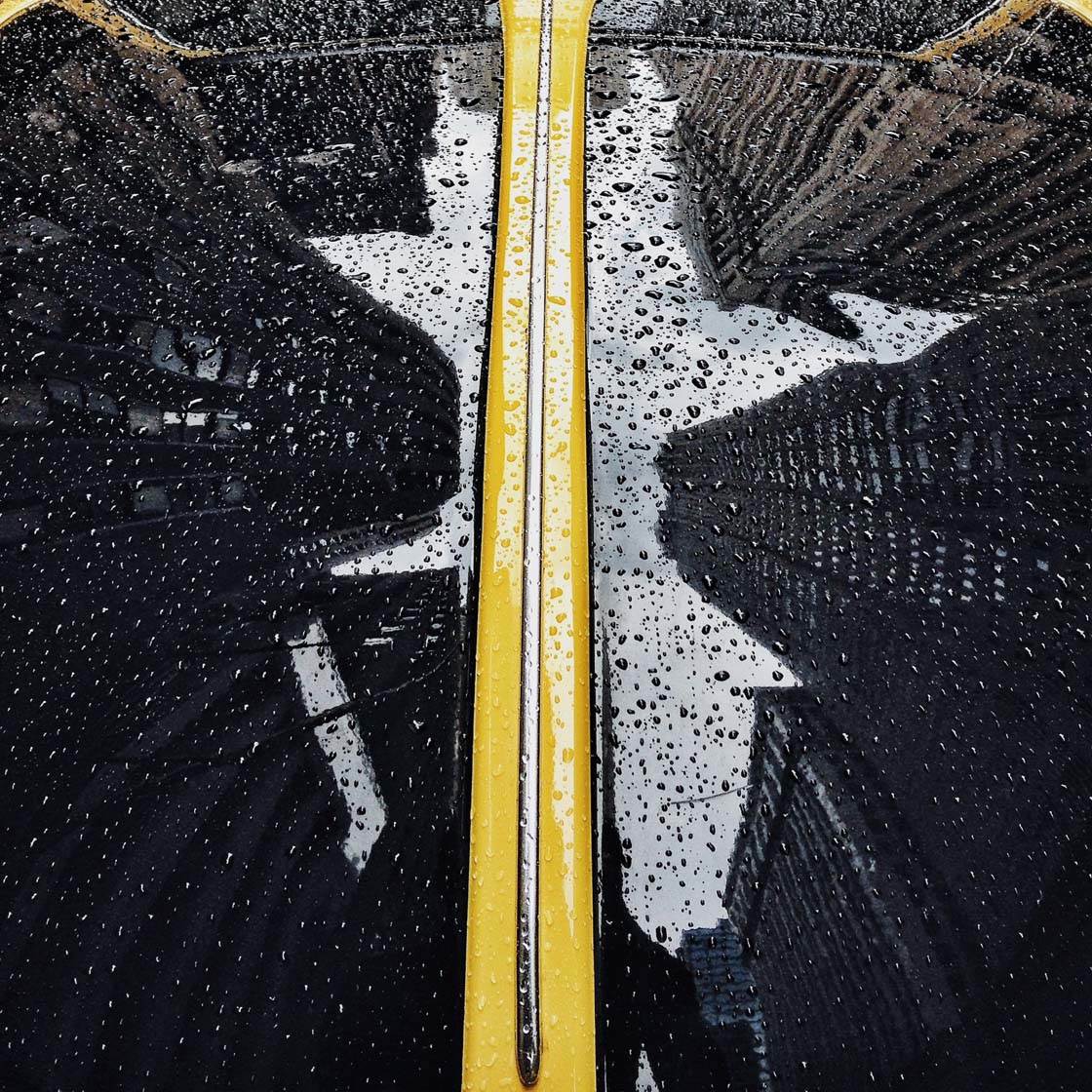 Try not to abuse photography concepts. Don't get too comfortable, and always try something new. Rather than revolving around the usual themes, strive to always be better and evolve.
Look back at older photos to see if you've improved. Taking photos of played-out spots are fine, but try to add your own spin. Most importantly, post photos of what you love.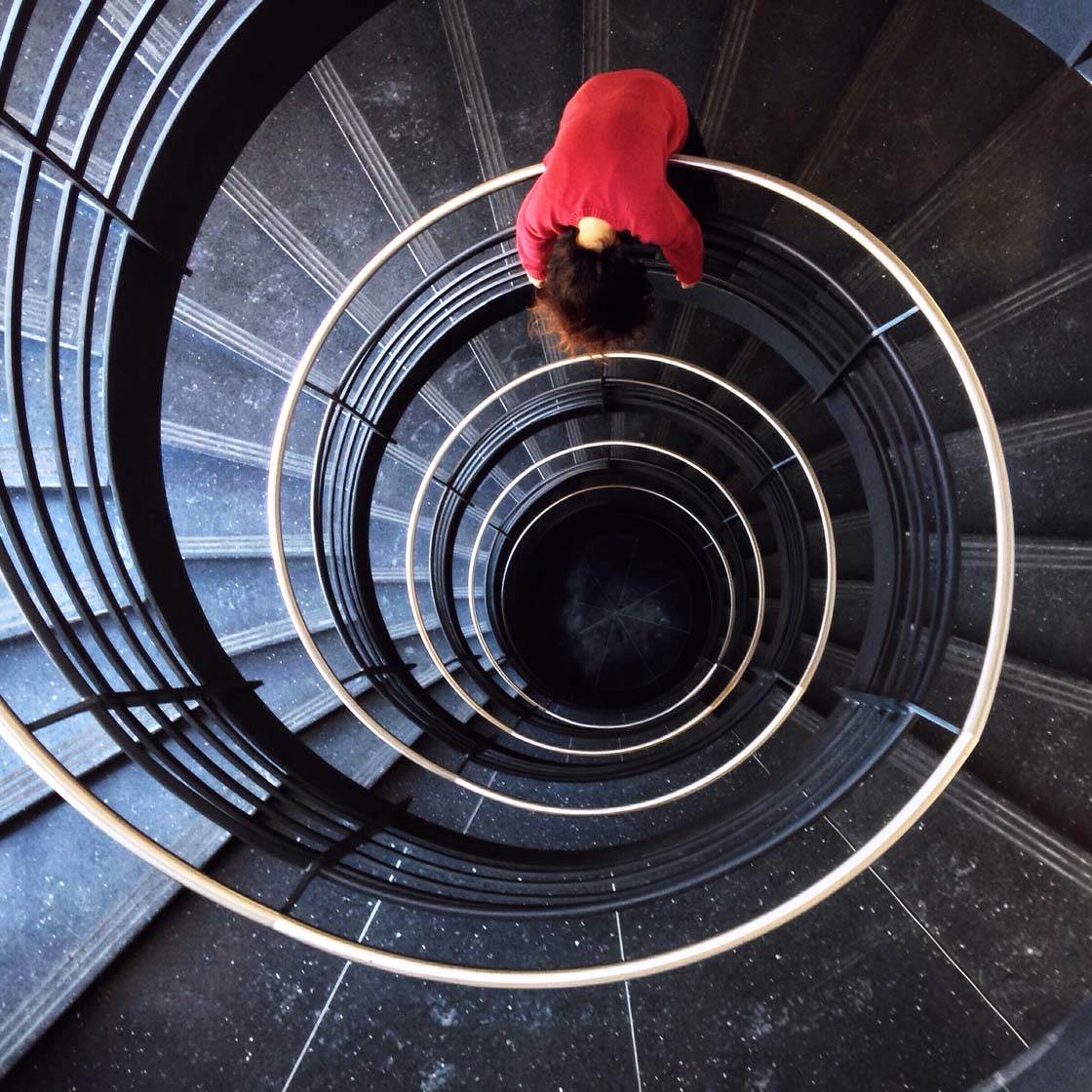 Which iPhone photographers do you admire the most?
I'm influenced by many photographers that use equipment other than, or in addition to, the iPhone. But for strictly iPhone I'll go with @nazaret, @golden2dew, @patrick_sexton, @gonso_madrid, @eskimo, @manciniv, @carlaeez and @alijardine.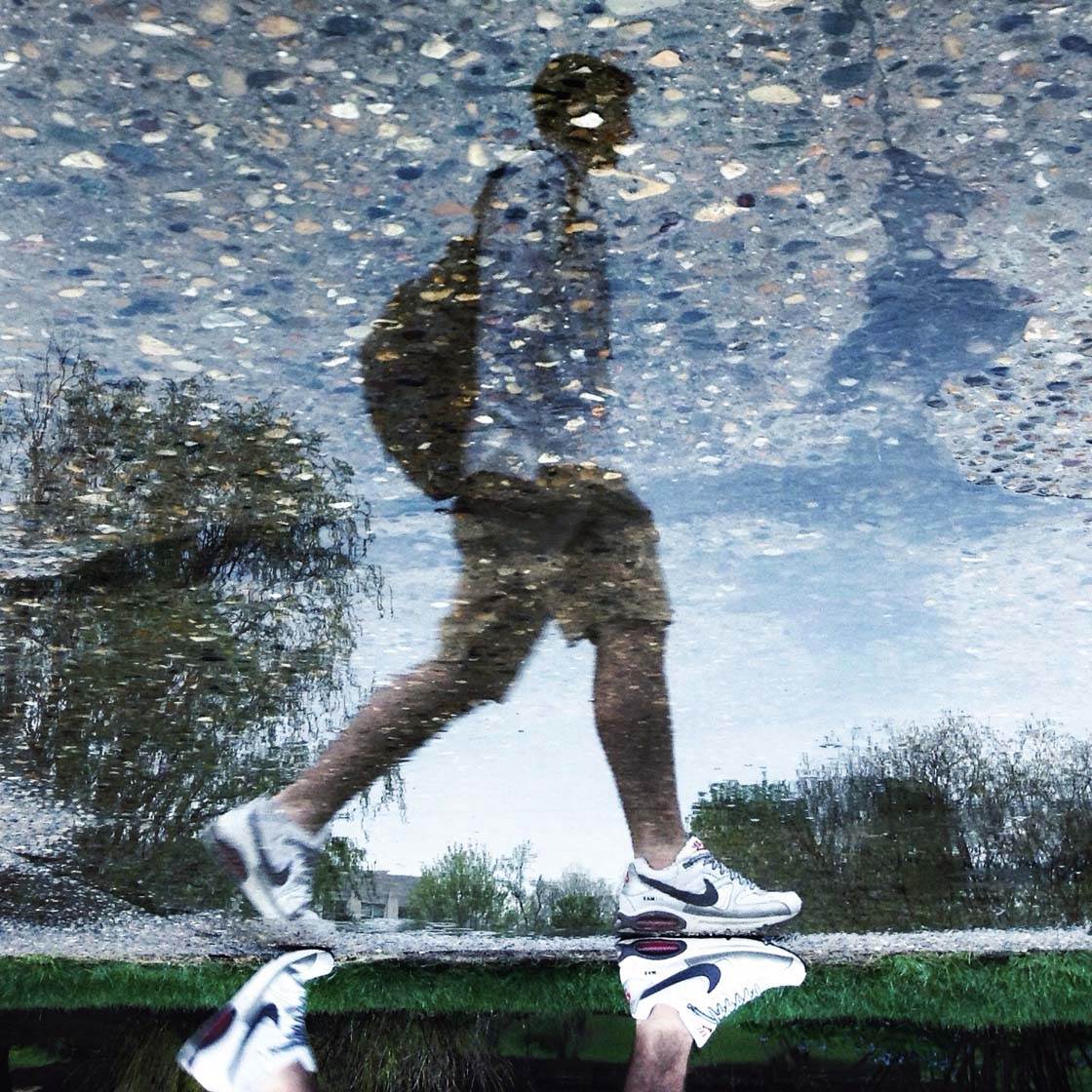 Where can we see your iPhone photography?
You can see my photos on Instagram @quake18 and on my VSCO Grid.