If you're after a great quality lens system for your iPhone, the new Z-Prime Lens Kit from Ztylus might be just what you're looking for. As well as a Super Wide Angle Lens and 2x Telephoto Lens, the kit also includes a new protective case to fit the iPhone 6 and 6s models, along with a unique lens carrier device. In this article you'll discover what the lens kit has to offer, how it performed when I tested it out, and how you can get a 25% discount on all Ztylus products.

Super Wide Angle Lens
The built-in camera of the iPhone is already considered to be a wide-angle lens by most standards, so the Ztylus Super Wide Angle Lens takes that wide field of view to a whole new level.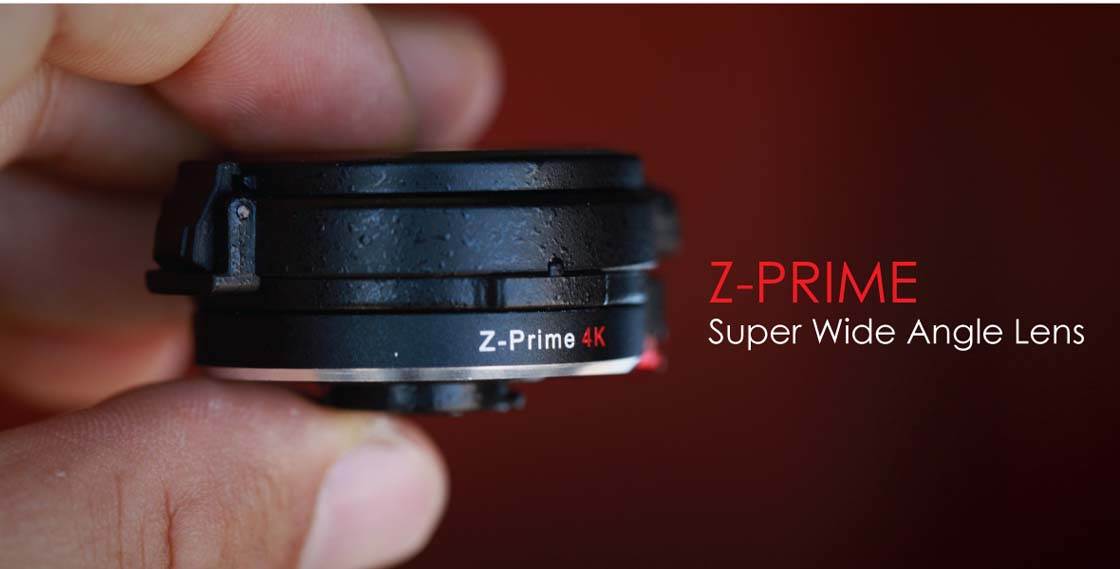 You can include so much more of the scene in front of you when using a wide angle lens such as this one. The .63x lens gives you a 100 degree field of view with very little distortion.
This lens is particularly well-suited for landscape and architectural photography as it allows you to fit much more of the scene into your frame.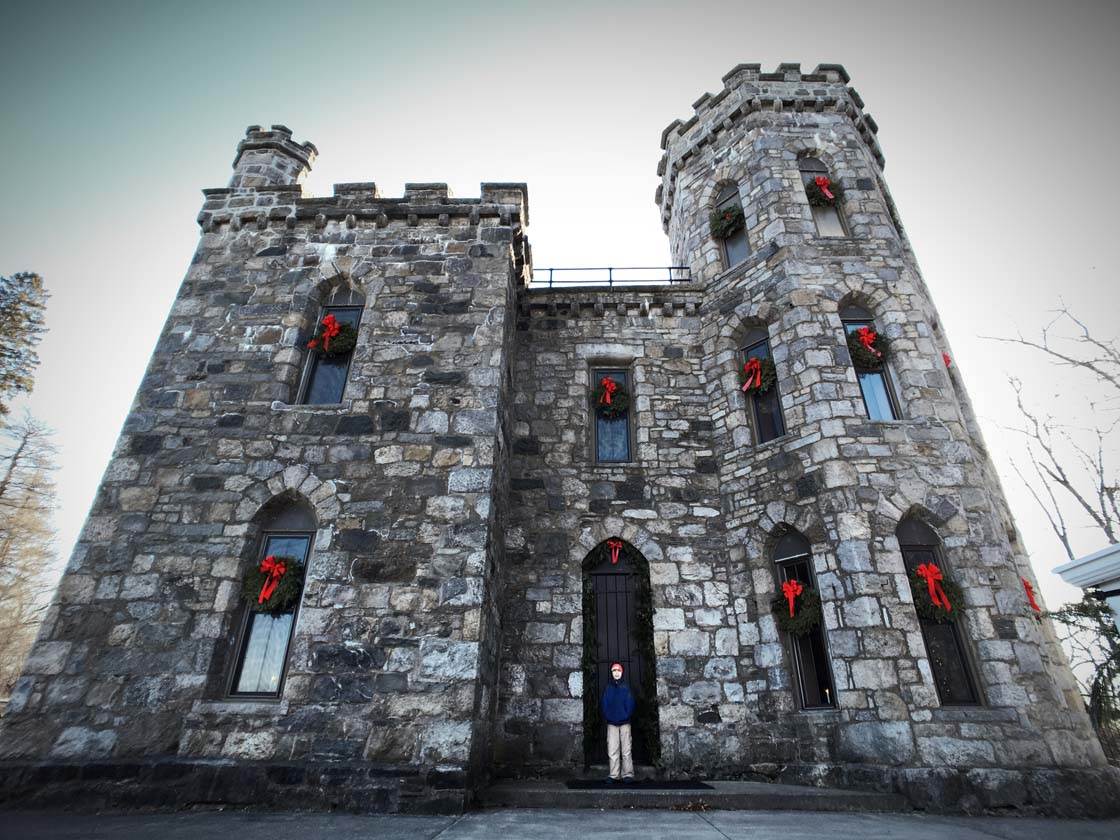 2x Telephoto Lens
The Ztylus 2x Telephoto Lens gets you twice as close to your subject as the iPhone's built-in camera lens.
This can be great for simply getting closer to the action, but it also has significant benefits for portrait photography, which we'll take a look at in more detail later.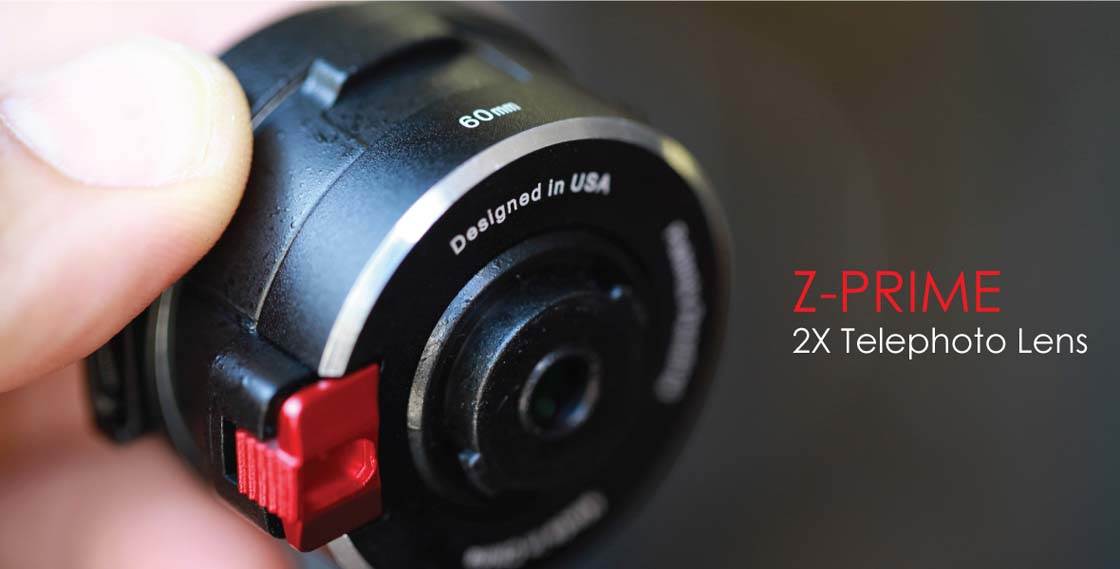 High Quality Case
The case for this Z-Prime Lens Kit is very similar to the one for the iPhone 5/5s Ztylus Revolving Lens Kit that we previously reviewed.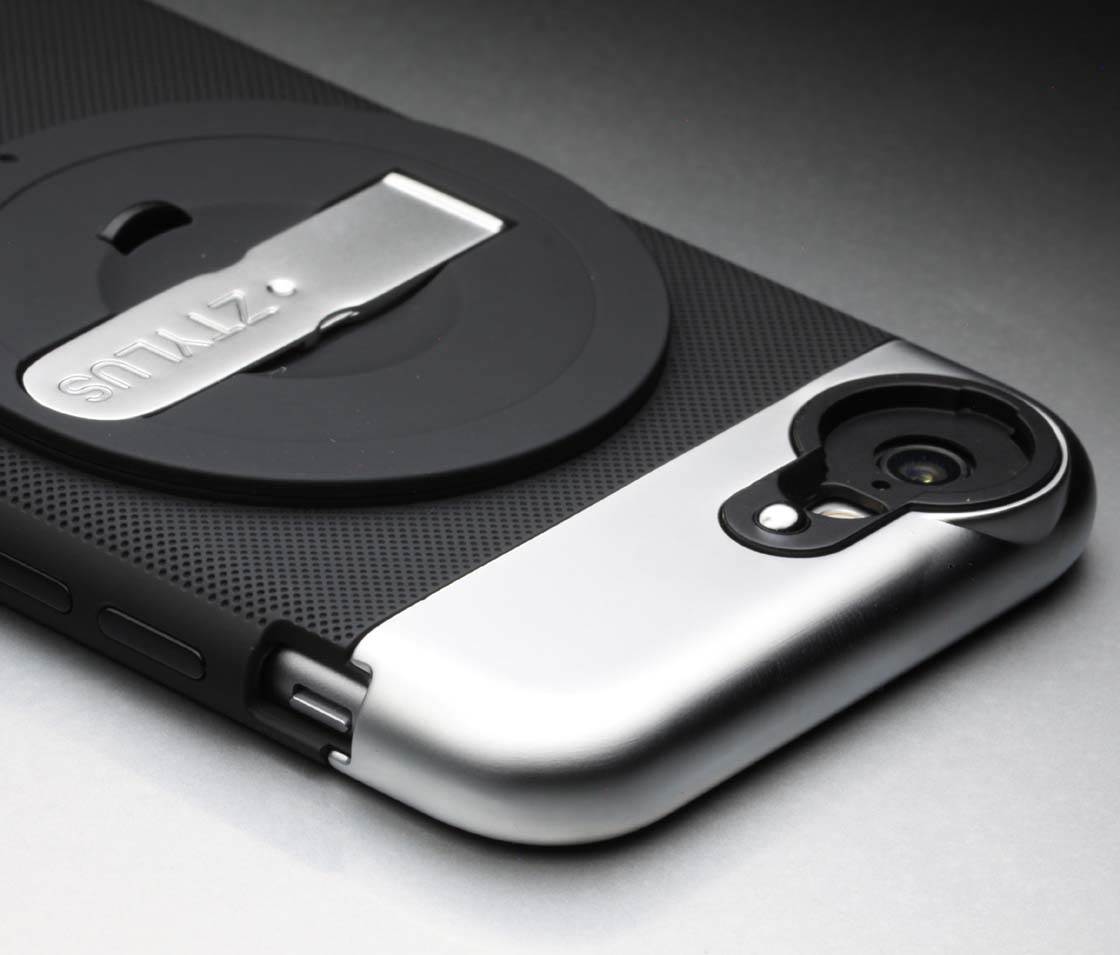 It's solidly built and would easily work as a highly protective, daily use case if so desired. The case can also be used with the aforementioned Revolving Lens Kit (available separately).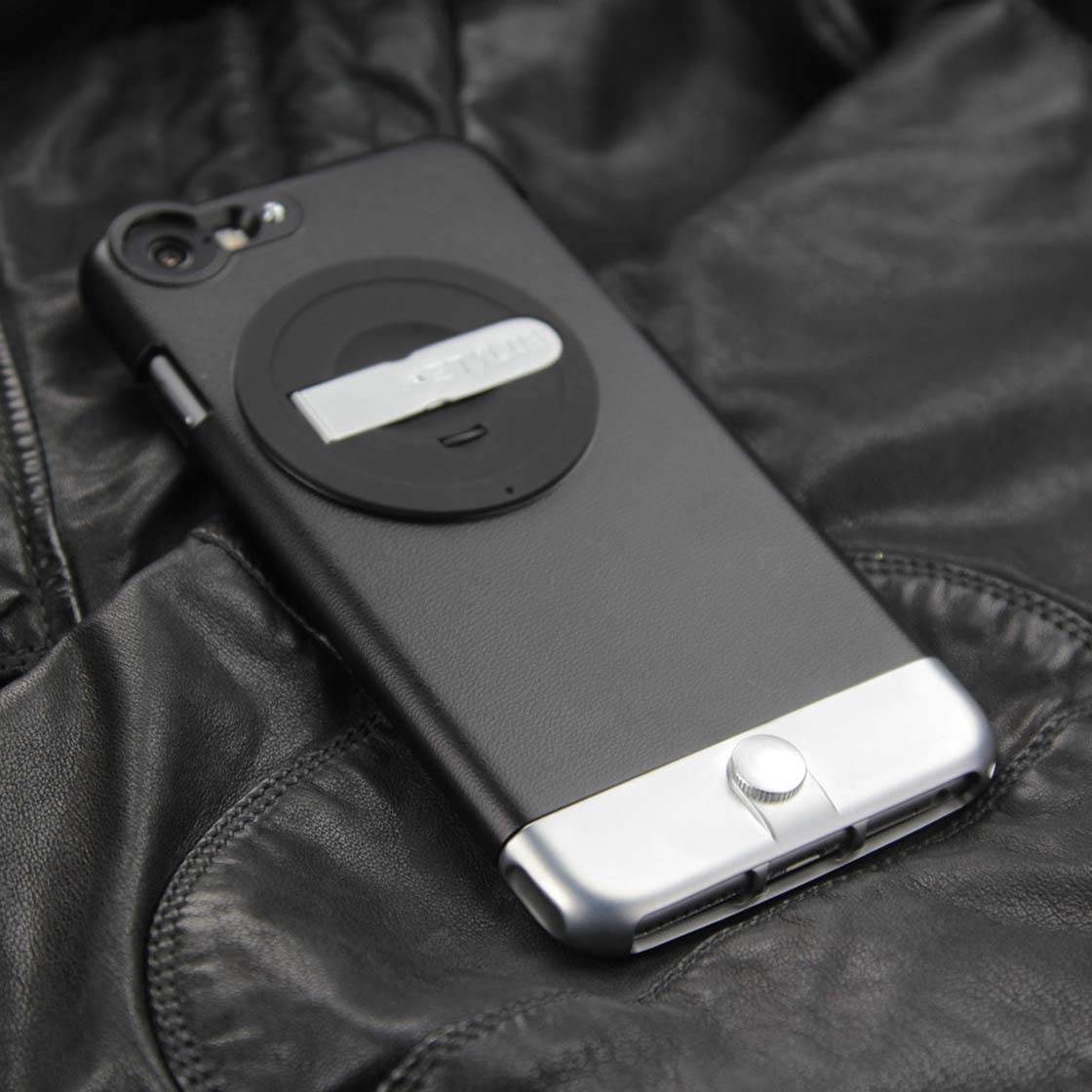 Your iPhone slides into the case from the bottom, and it's secured by attaching the bottom plate to the rest of the case with the included thumb screw.
This may seem very different to how most cases simply snap on, but it provides a very secure shell for your iPhone due to the case's rigidity.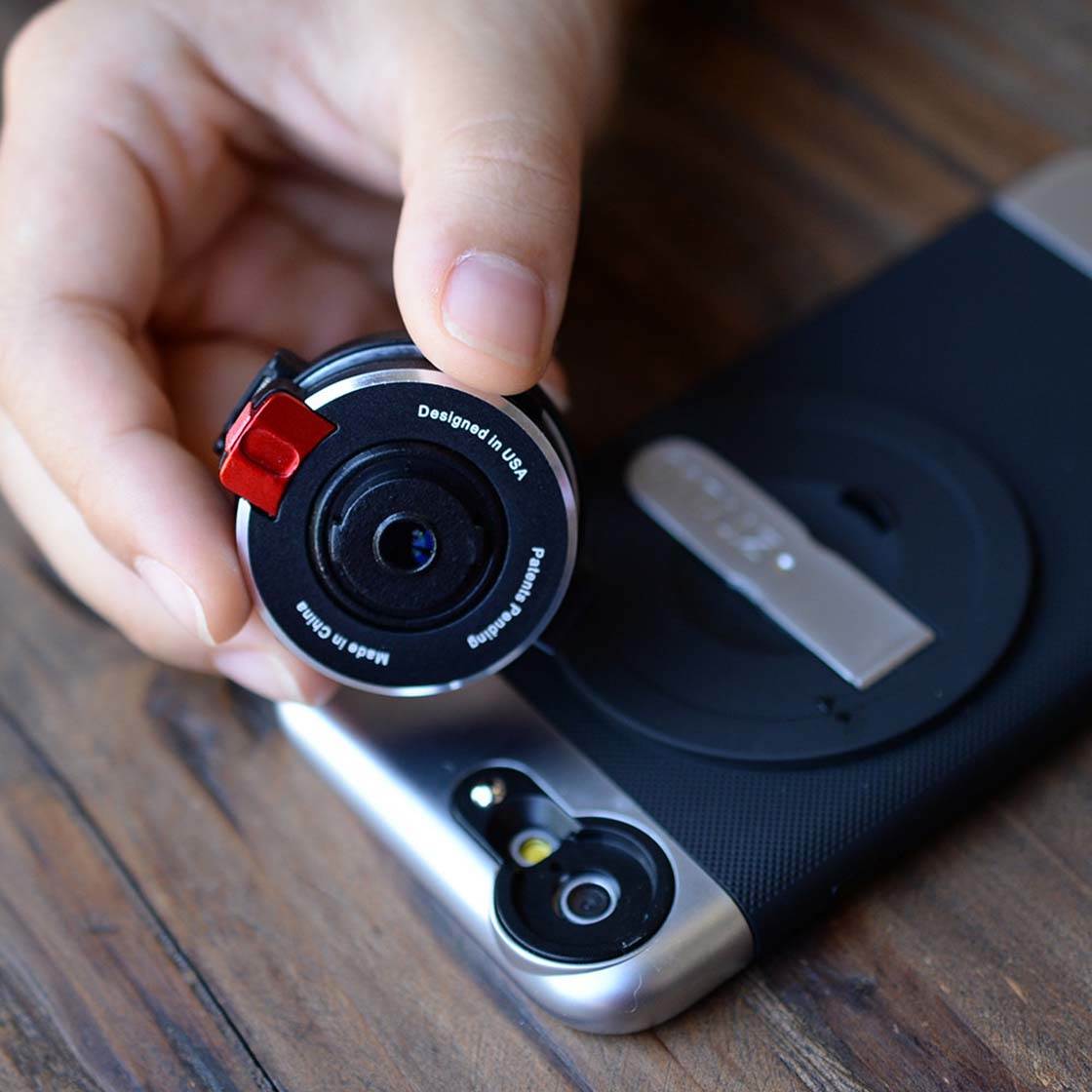 The Z-Prime lenses attach directly to the Ztylus case using a bayonet twist mount, just like many other camera lens systems.
Each lens easily locks into place for a secure connection. A spring loaded locking tab prevents the lens from accidentally detaching from the case while in use.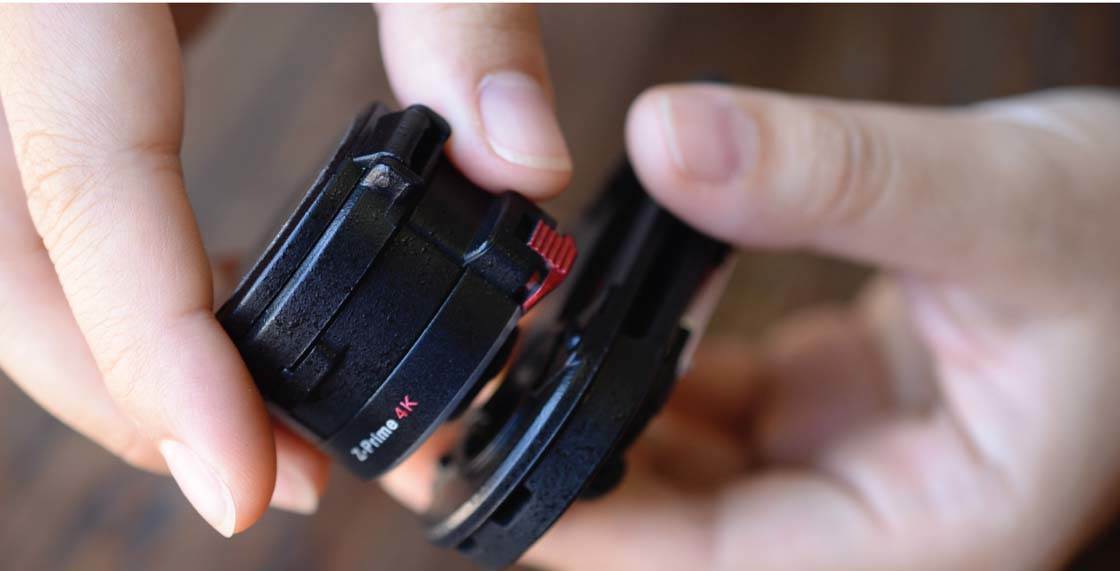 I never had any problems with the lenses becoming loose while attached to the case. I even placed my phone in my jacket pocket with a lens attached many times and never had a problem.
Handy Lens Carrier
The new innovative lens carrier holds two Z-Prime lenses and clips to most bag straps, belts and backpacks.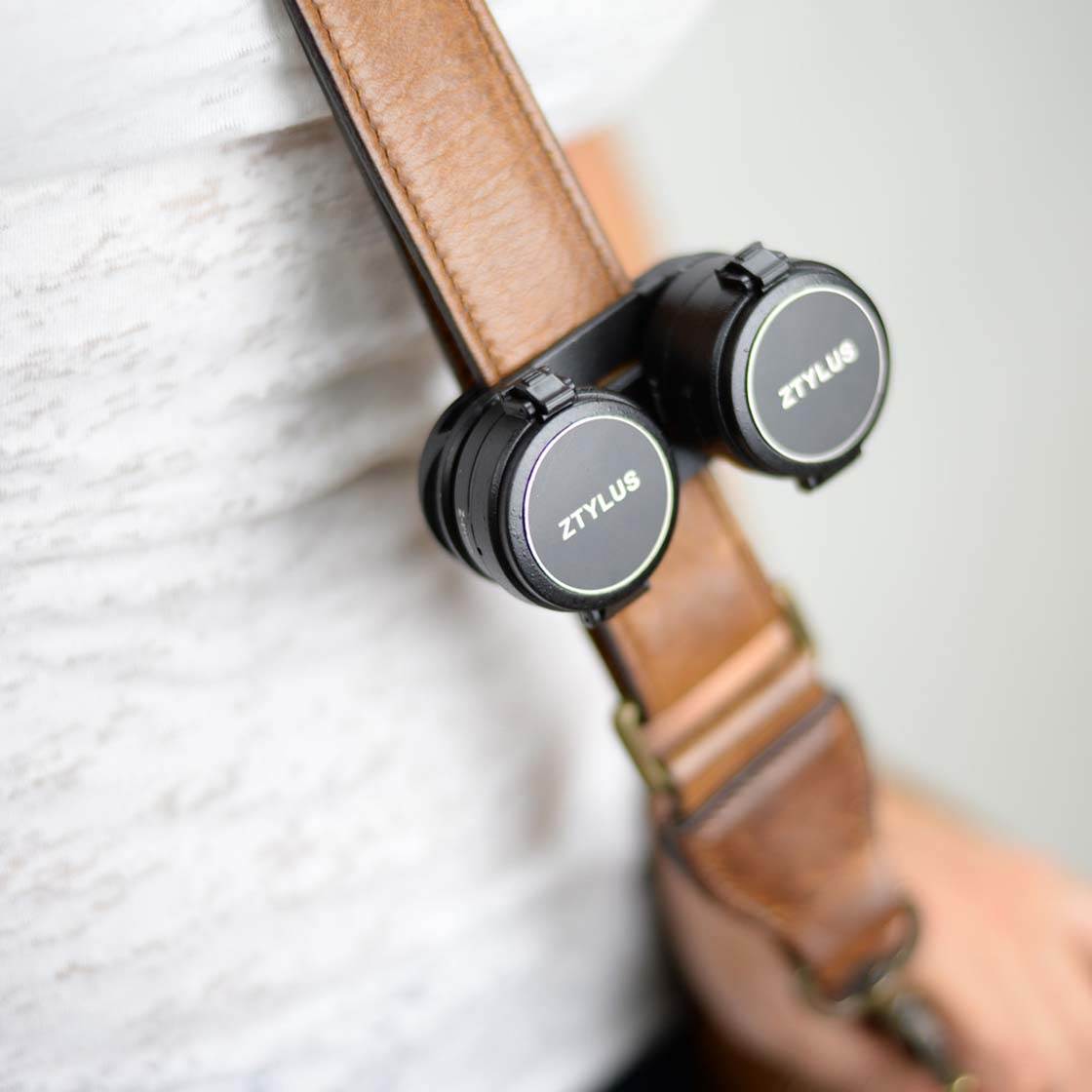 A built-in carabiner also offers more attachment options. I used it by clipping the carabiner to either my camera bag or my jacket's zipper pull.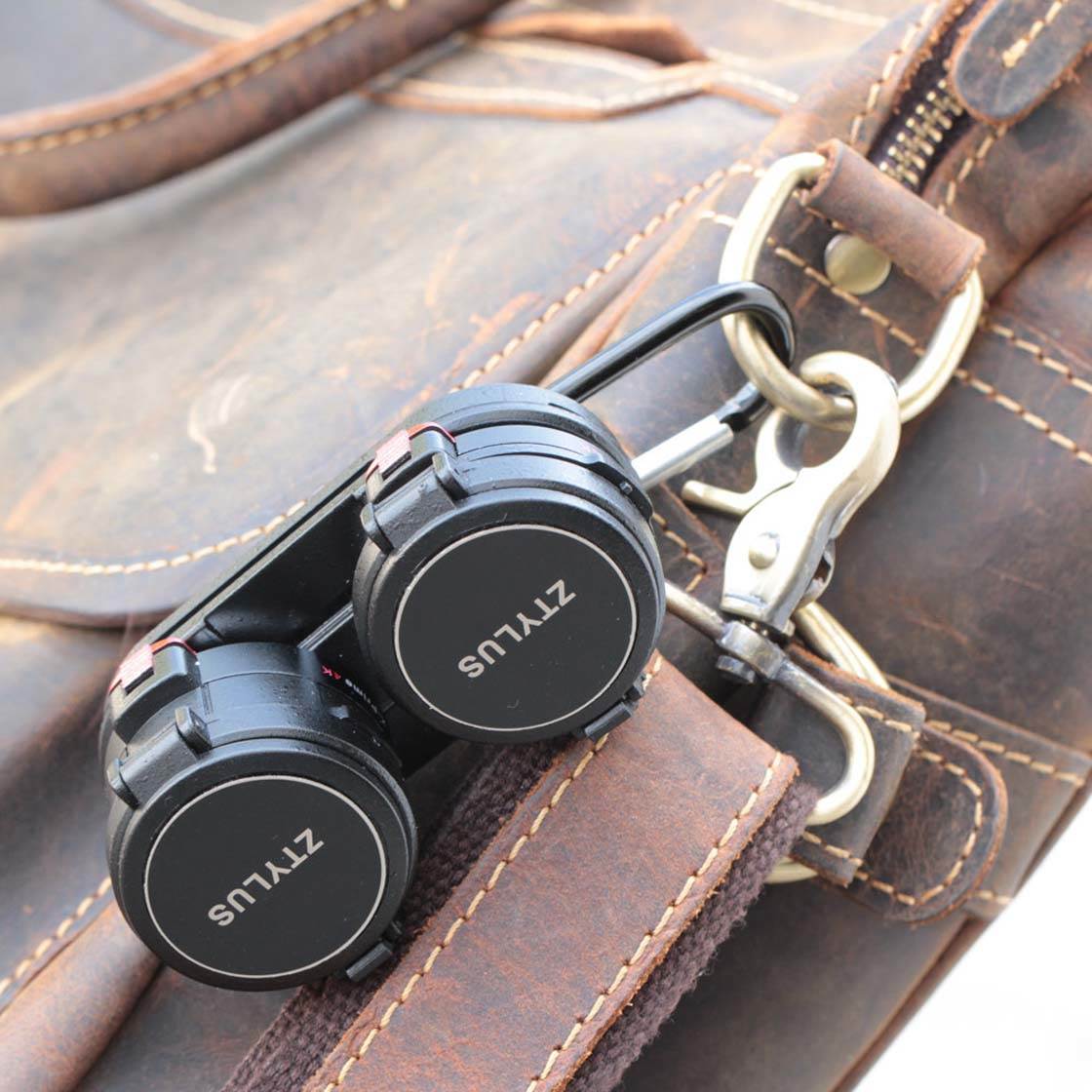 I personally found the lens carrier a bit awkward to get used to at first, as I'm not accustomed to having anything dangling off my jacket or camera bag.
However, I quickly found it to be quite handy as it makes for very easy access to the lenses when I need them.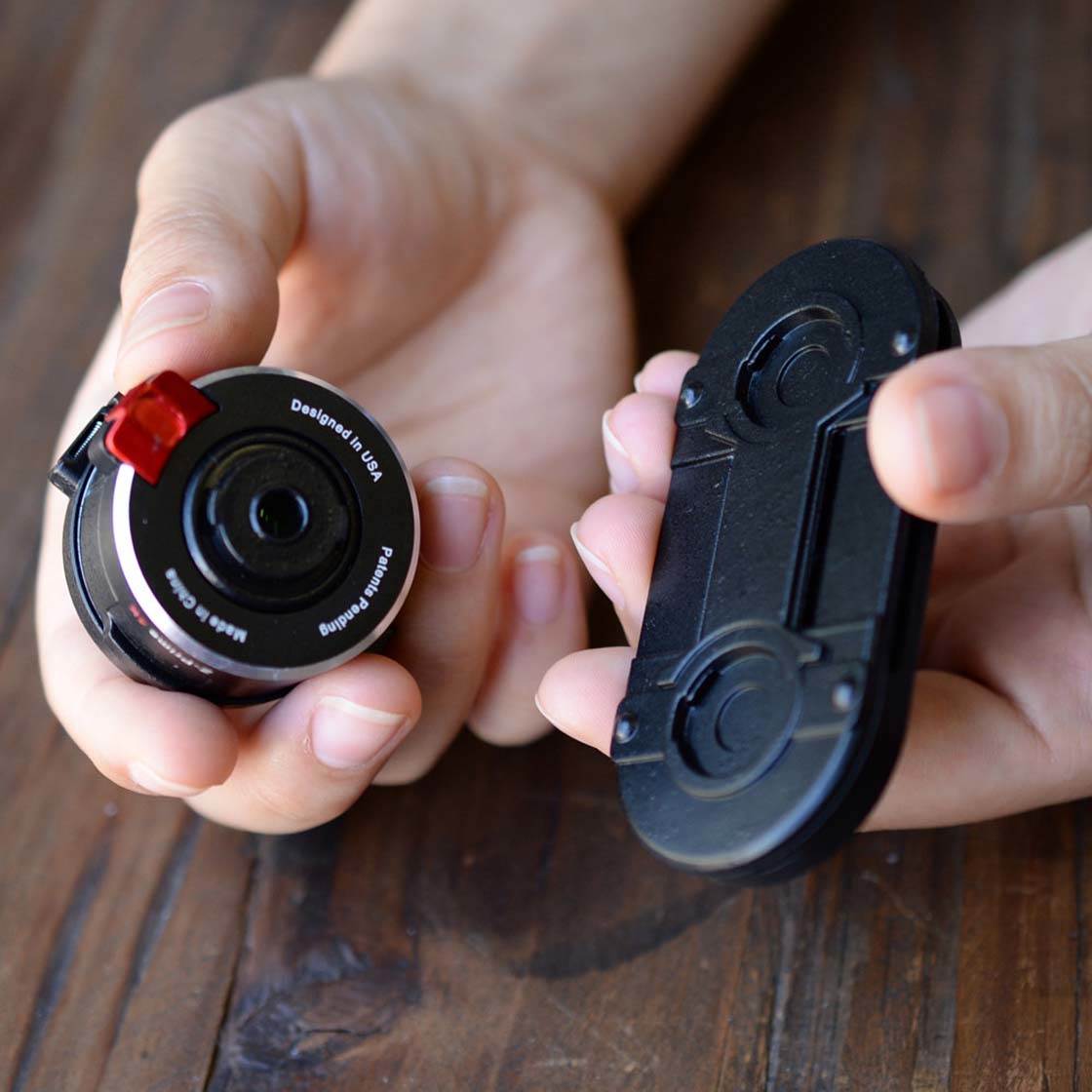 The lenses are secured to the carrier using the same bayonet mount found on the phone case. The only drawback I found was that the lenses can become disconnected if they bump or rub into other objects in just the right way.
They don't seem to attach to the carrier quite as securely as they do to the iPhone case. This didn't happen all the time, but be sure to keep an eye on the lenses if you use the carrier in this manner.
Built-In Lens Caps
Lens caps are important for protecting our lenses when not in use. They help prevent scratches on the glass and also reduce dust build-up so that you don't have to clean them as often.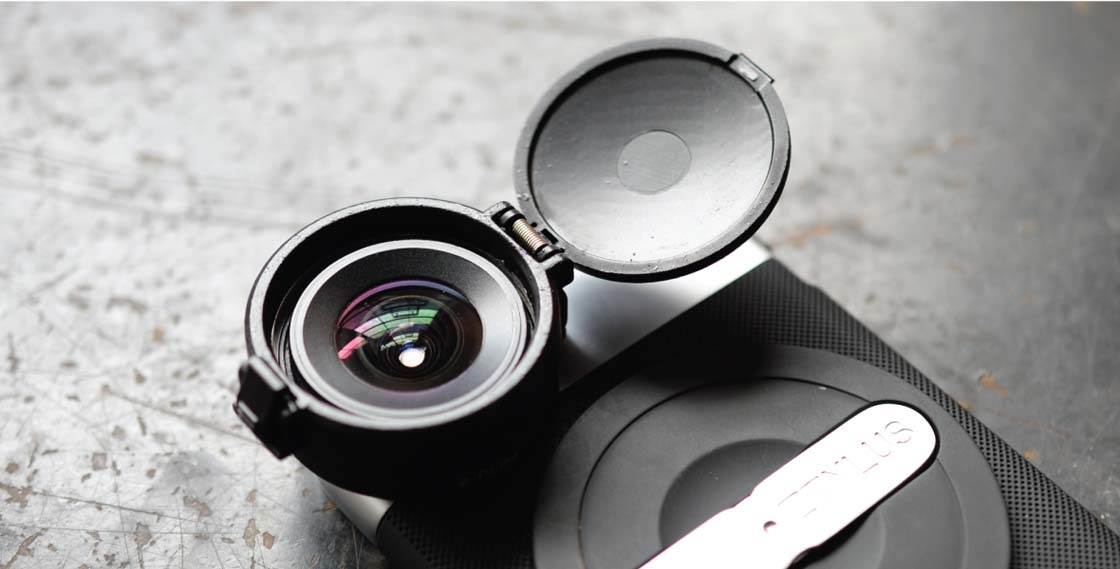 The Ztylus Z-Prime lenses each include a built-in, spring loaded lens cap that quickly flips out of your way with the press of a button.
Additionally, the lens caps are magnetically attached to the lenses, so they can easily be removed altogether if you prefer to shoot without a lens cap.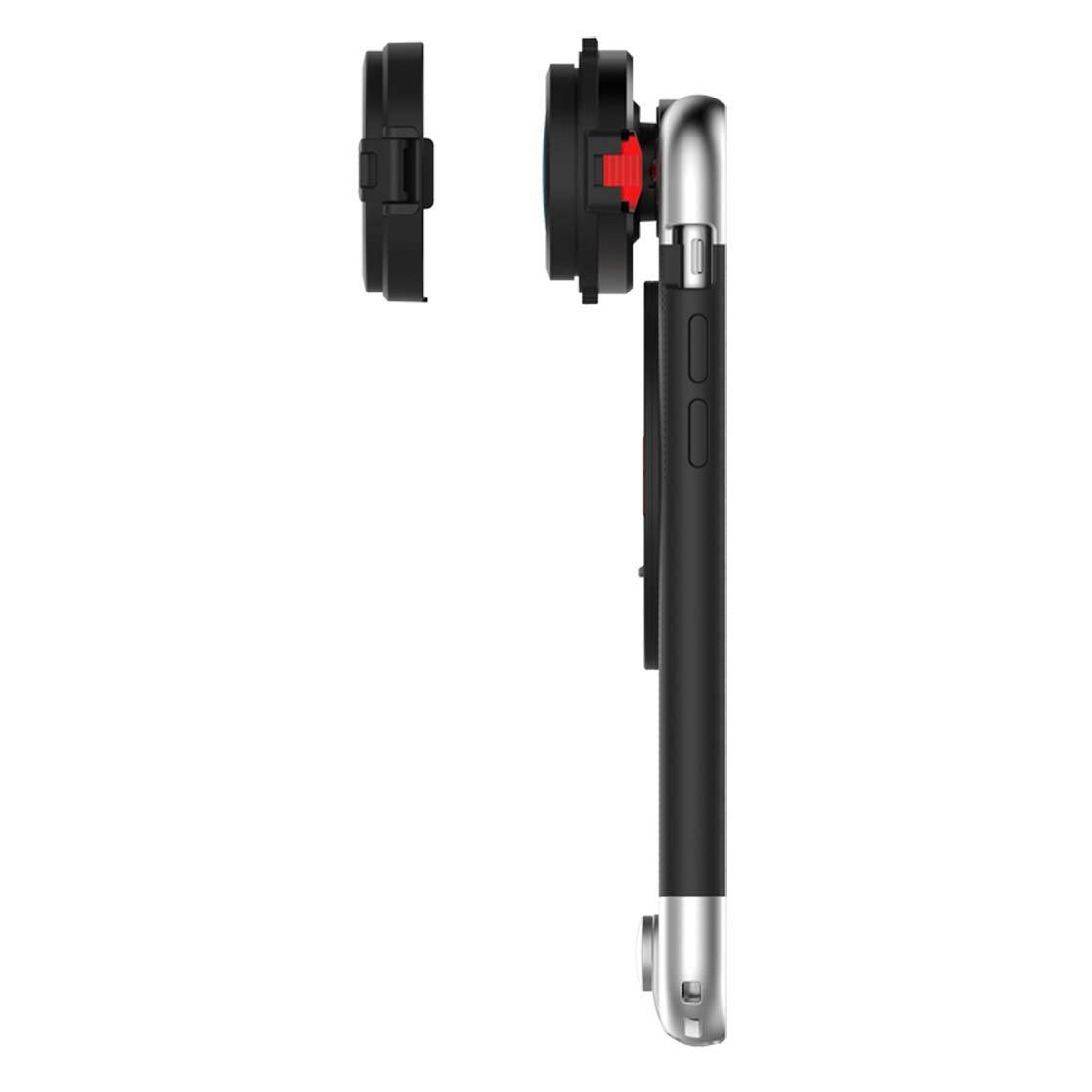 I didn't find the lens caps to be in my way when shooting, so I never saw a need for removing them completely from the lenses.
However, I did occasionally have issues with them opening while in my bag or in my pocket. It might help to have a slightly stronger release tab to hold them closed when not in use, but this is in no way a deal-breaker.
Multi-Element Lens Design
According to the manufacturer, each lens has five glass elements in four groups that enable corner to corner sharpness with ultra low distortion.
Generally-speaking, I found this to be true, although I occasionally found that the lenses would lose a bit of sharpness at the edges.
This is a very common problem with iPhone lenses, and with a small amount of cropping you can usually remove any blurring from the edges.
Multi-Layer Coating
Multiple layers of anti-reflective coatings are applied to the lens elements to reduce surface reflections and increase light transmission.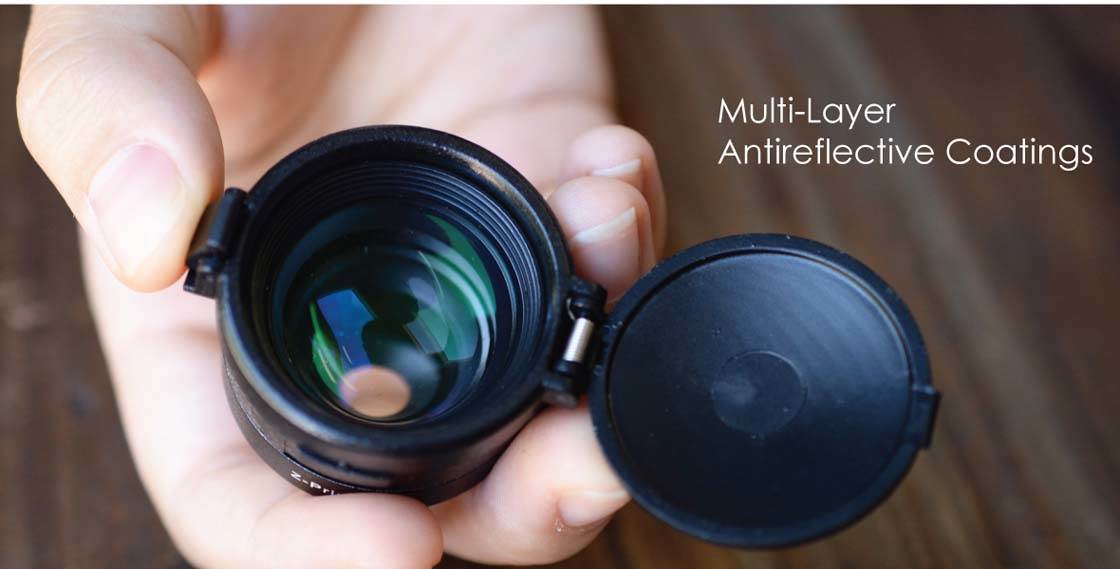 I found that the lenses don't affect the quality of light entering the iPhone's camera in a negative manner. Colors and shading/tonality are captured just as well as they would be without the use of the Ztylus lenses.
Wide vs. Telephoto Comparison
Below is a quick comparison of the differences between the Super Wide Angle Lens (left image), the normal iPhone 6s camera (middle image), and the Telephoto Lens (right image).

As you can see from these examples, the wide angle lens really does capture an amazingly wide field of view. Conversely, the telephoto brings your subject much closer and eliminates the need for extensive cropping in post-processing.
A telephoto lens also eliminates much of the need for using the iPhone camera's digital zoom feature, which should be avoided in most cases anyway as all it really does is crop your image by removing the outer rows and columns of pixels.
The Ztylus Telephoto Lens can easily bring you closer to your subject without losing any precious pixels/resolution.
Below are the larger versions of the photos taken with the Ztylus lenses so that you can get a better idea of the image quality.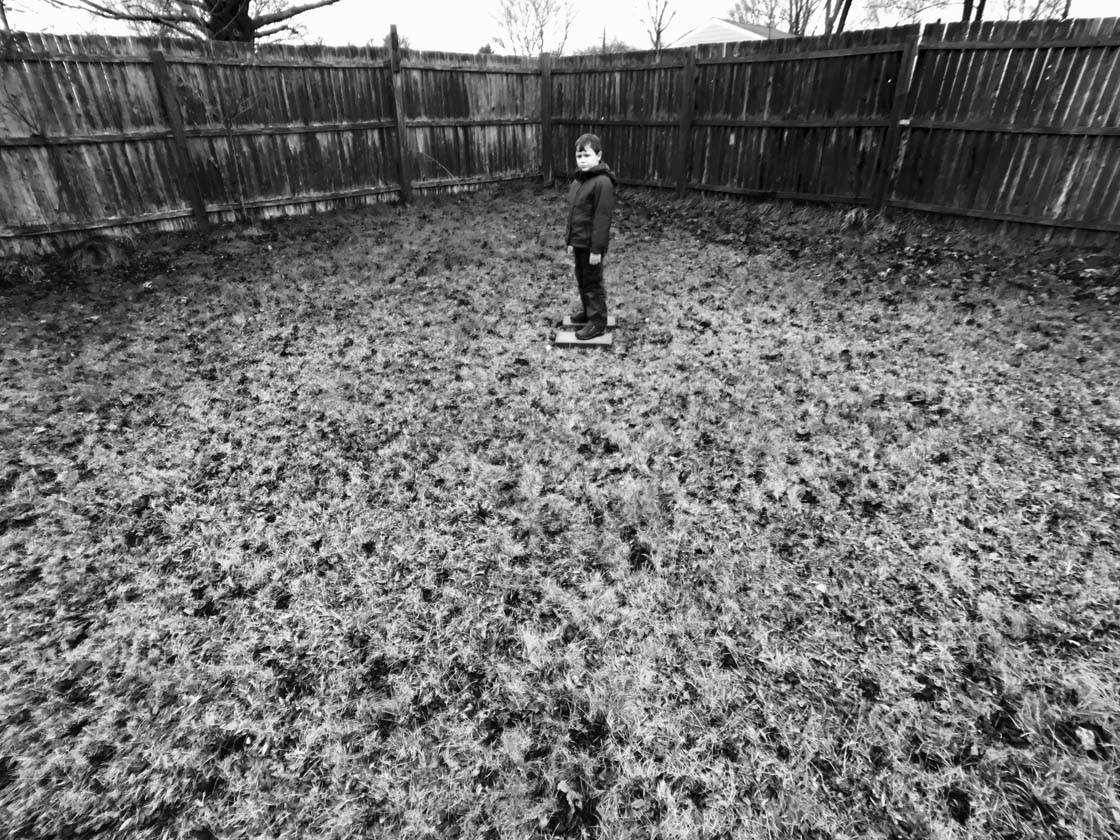 Shot with Ztylus Super Wide Angle Lens
In the photo below, taken with the Telephoto Lens, you'll notice that while the image is very sharp in the center, there is some slight blurring at the edges of the frame. As mentioned earlier, this is quite common with add-on iPhone lenses.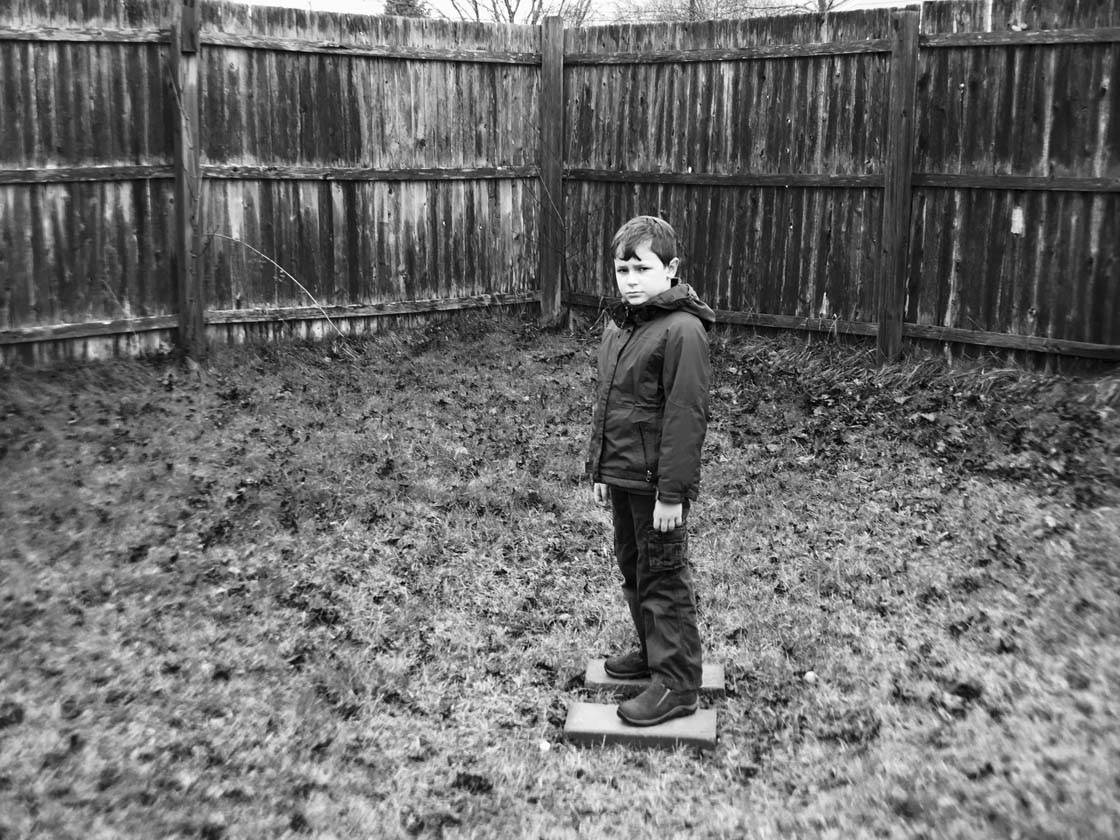 Shot with Ztylus Telephoto Lens
Telephoto Lens For Improved Portraits
In addition to using a telephoto lens to simply bring you closer to your subject, this kind of lens offers a key benefit when shooting portraits.
Wide angle lenses are generally terrible for shooting portraits as they severely distort your subject's face. Just look at how the Ztylus Super Wide Angle Lens "bends" the face in the following photo: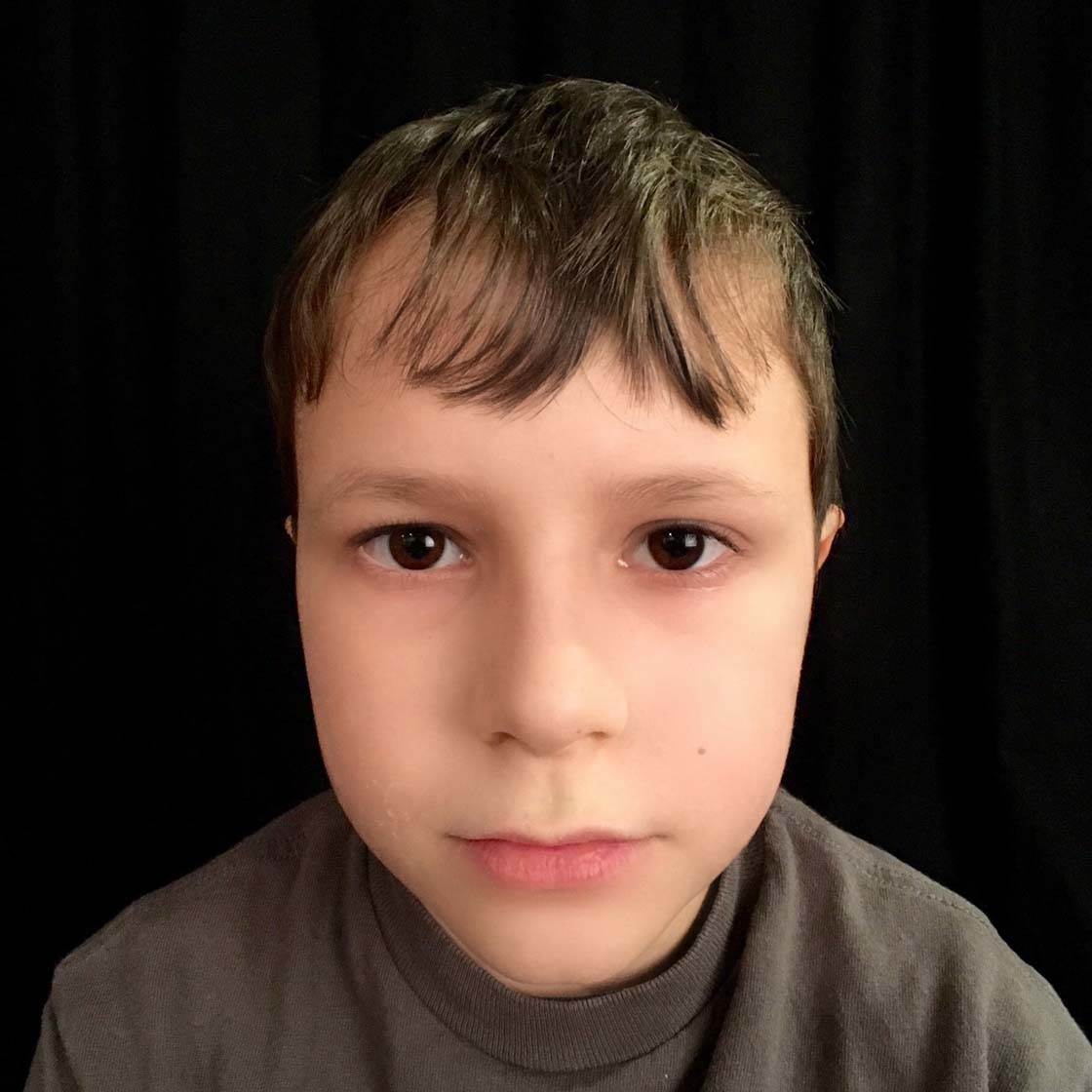 Shot with Ztylus Super Wide Angle Lens
This isn't meant to dismiss the Ztylus Wide Angle Lens in any way. All wide angle lenses (even on DSLRs) have the same effect.
Even the built-in camera lens of the iPhone is on the wide side of the lens spectrum, and still distorts faces slightly when used at a fairly close proximity (as you would when shooting a headshot):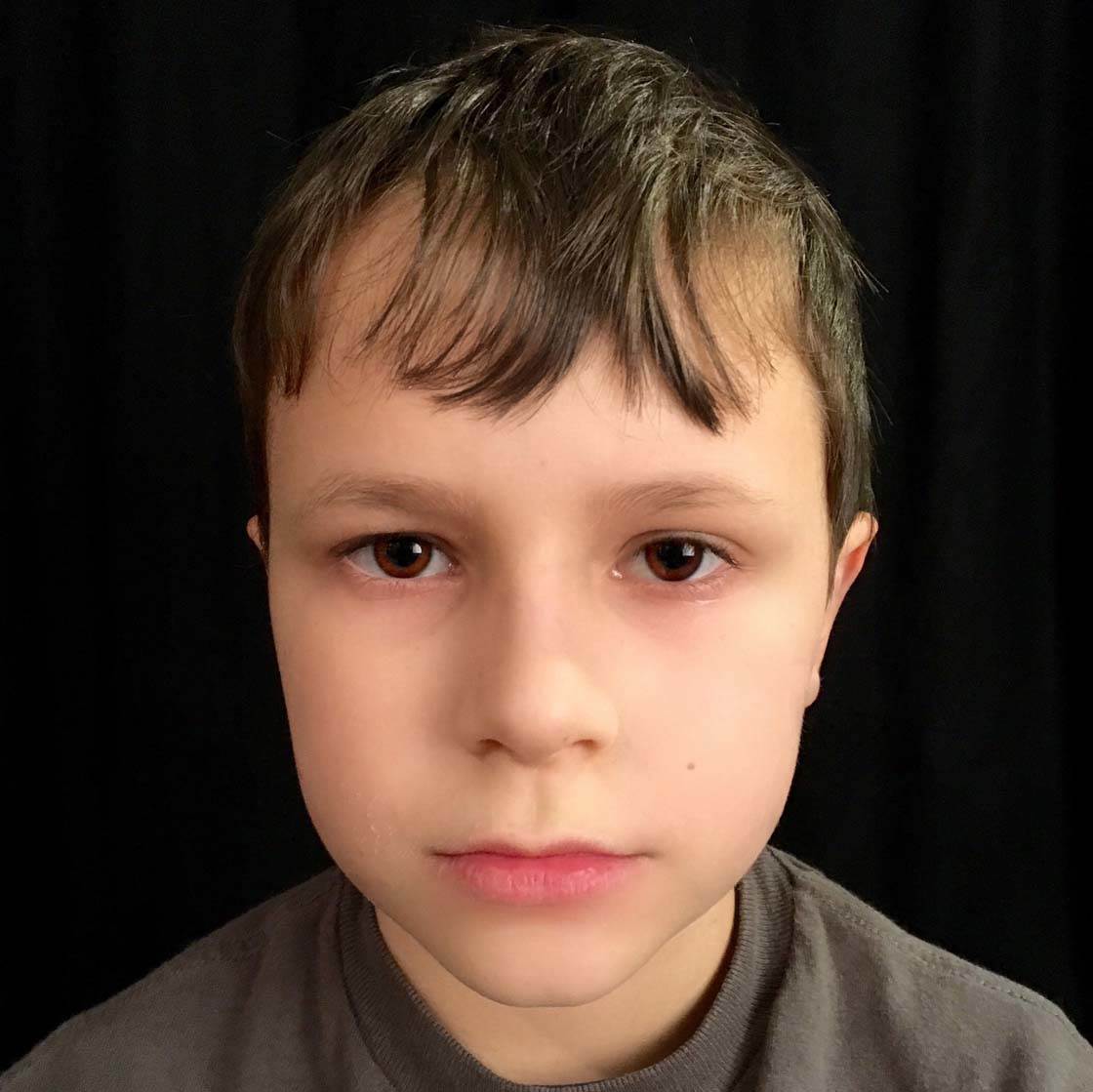 Shot with iPhone's built-in lens
This is why most professional portrait photographers shoot with longer focal length (i.e. telephoto) lenses.
Without getting too technical, longer lenses tend to "flatten" your image so that things in the foreground and background appear closer to one another.
This effect is intensified in direct proportion to the length of the lens used. Conversely, a wide angle lens makes your foreground and background elements appear farther away.
Using a longer lens like the 2x Ztylus Telephoto Lens helps to render the human face in a more natural manner.
Compare the following portrait photo, shot with the 2x Telephoto Lens, with the previous two images and you'll see what I'm talking about: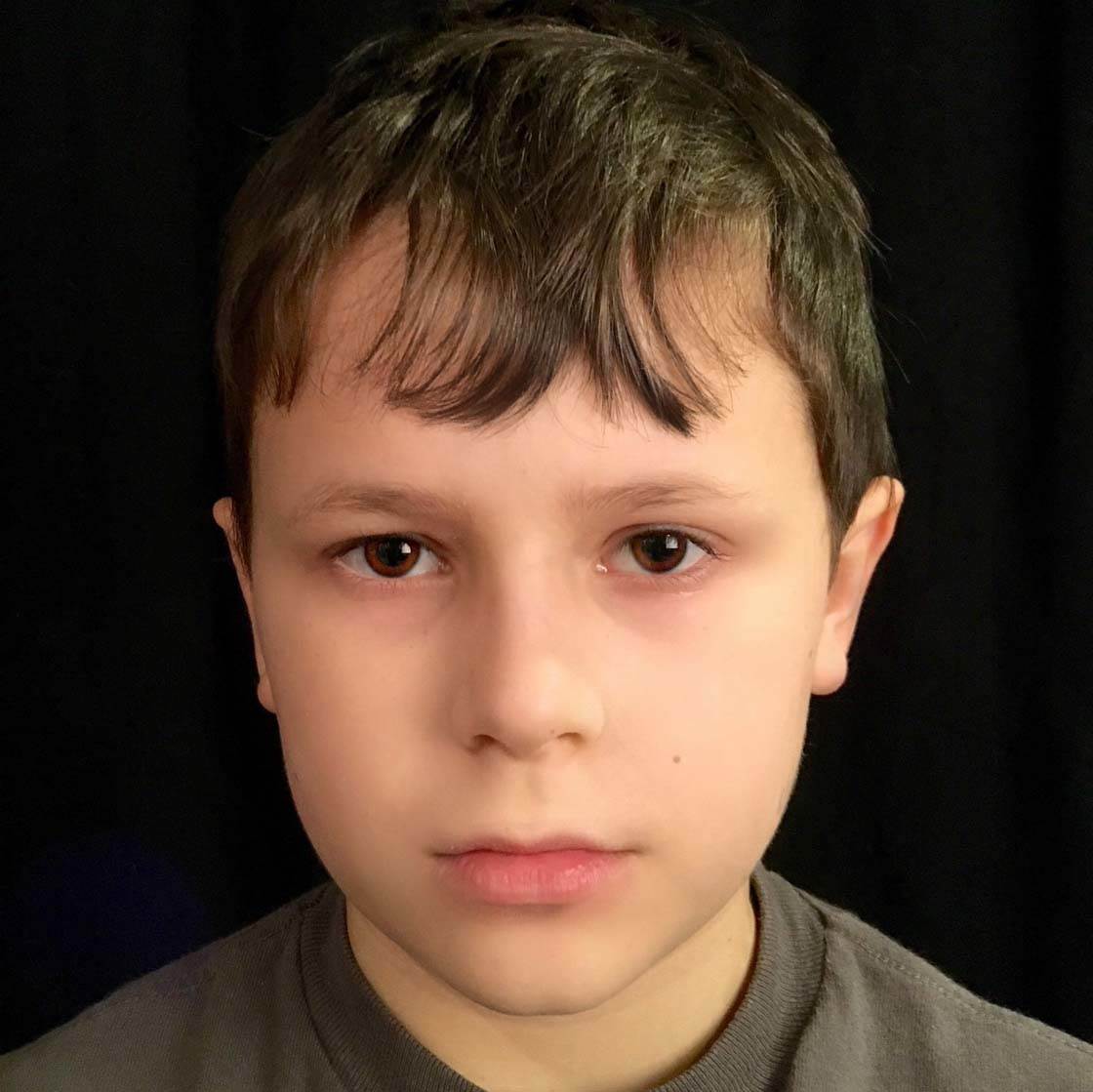 Shot with Ztylus Telephoto Lens
To make it easier to compare, below are the three shots taken with the Wide Angle Lens (left image), the iPhone's built-in lens (middle image), and the Telephoto Lens (right image).

In particular, pay close attention to the shape of my subject's face, including the cheeks. Also notice the apparent position of the ears.
In the telephoto image on the right, the ears appear as they should – on the side of his head. In the wide angle image on the left, his ears appear to be wrapped around behind his cheeks.
Your tastes may vary, but I definitely prefer to shoot portraits with a longer lens, and the new telephoto lens that comes with the Ztylus kit is perfect for this sort of application.
Final Thoughts
Add-on lenses are a great way to extend the range of your iPhone's built-in camera, and with the growing number of lenses and lens systems to choose from, it's important to take your time and consider what features are most important to you.
If you like the fun perspective that wide angle lenses offer, you're in luck as the vast majority of add-on lenses seem to fall into this category.
Even with all of the available choices, the Super Wide Angle Lens included with the new Ztylus Z-Prime kit is likely just what you're looking for.
It combines a broad field of view with a larger, brighter, and higher-quality build that surpasses many of the other, smaller add-on lenses available today.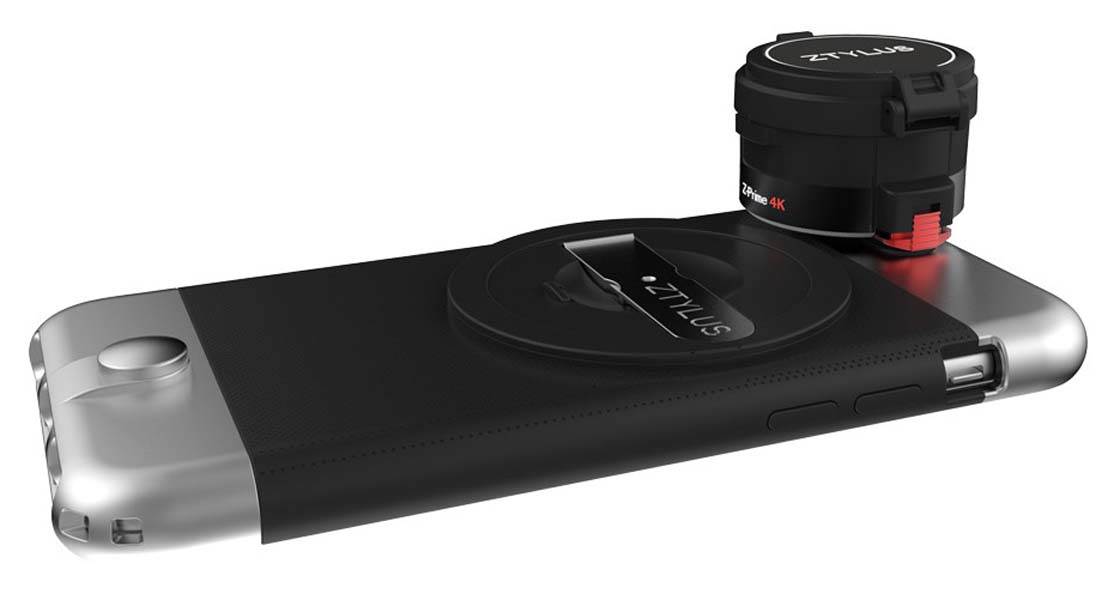 Good telephoto lenses for the iPhone aren't as readily available, and since the native camera lens already offers a wide angle perspective, I'm always on the lookout for a solid telephoto lens.
The Z-Prime Telephoto is just the lens I've been looking for, especially with regard to shooting portraits.
At only 2x magnification, you don't need to get too far from your subject to use it in this manner, but as mentioned above, it makes a world of difference in the relative perspective of your subject's facial features.
I would buy this kit mainly for the telephoto lens, and the kit is worth the cost for that alone.
If you've already used a simpler add-on lens system and are looking to upgrade, or if you're buying your first set of lenses and want to start at a more advanced level, you really can't go wrong with the Ztylus Z-Prime Kit as it offers a balanced system for most photo applications.
The Ztylus Z-Prime Lens Kit is available for $199.95 for the iPhone 6/6s, but if you follow this link you'll get a voucher code giving you a fantastic 25% off this price.