One of the easiest ways to increase your creative options when it comes to iPhone photography is to utilize add-on lenses and other accessories. I recently had the opportunity to test a number of iPhone accessories developed by Ztylus, including a revolving 4-in-1 lens attachment and an LED ring light. In this article, you'll discover what each accessory has to offer and how you can receive a 25% discount on the purchase of all Ztylus products.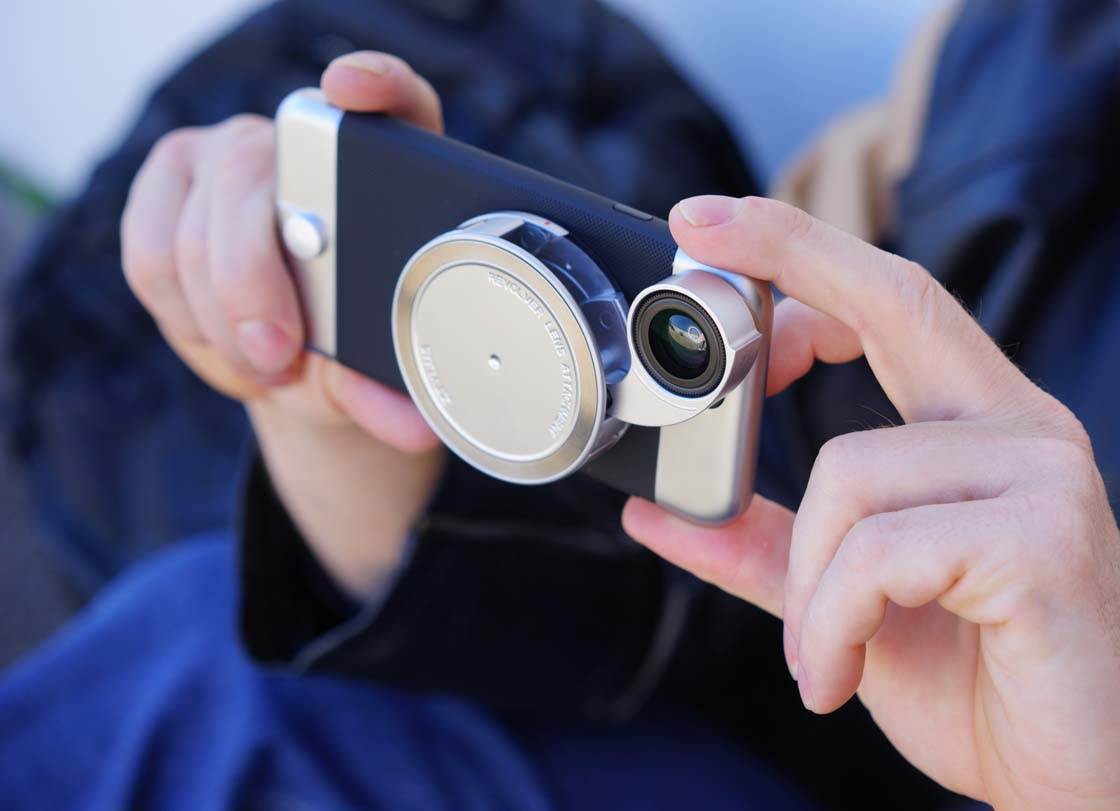 Unique and Modular Design
The first thing that you notice with the Ztylus system is the unique approach they they've taken in their modular design. The system starts with a case for your iPhone (5, 5s, 6, and 6 Plus are currently supported).
This case forms the foundation of the entire kit as both the revolving lens attachment and the LED ring light attach to the case through an innovative modular design.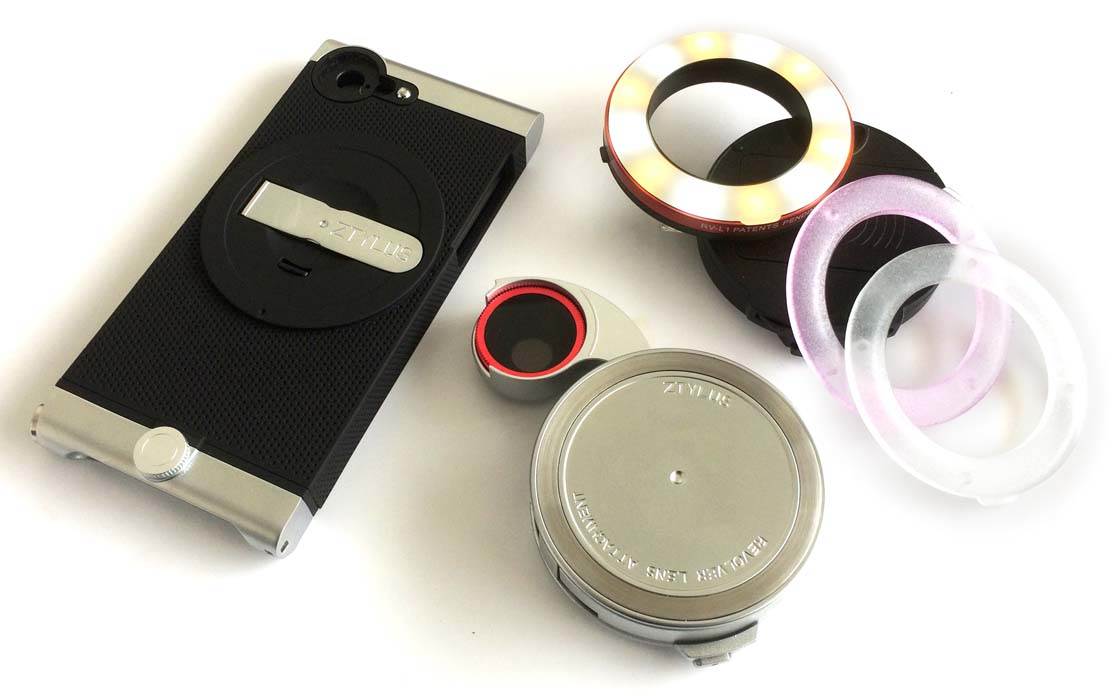 The advantage of this approach, as described by the Ztylus team, is that the system can grow with you even as you upgrade from one iPhone to another. If you upgrade to a new iPhone, you need only purchase a new case and your existing lenses and ring light will continue to work as expected with your new iPhone.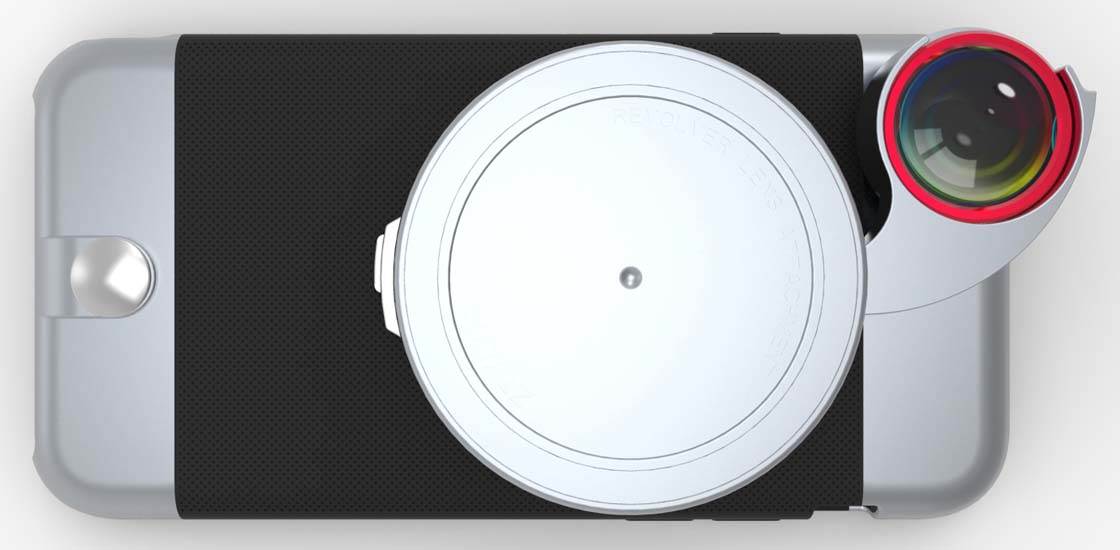 With new iPhones coming out every year, and with many of us upgrading every couple of years, the ability to stick with one set of accessories that you like is very appealing.
The Case
Like many folks, I'm very particular about the case I choose to put on my iPhone. The selection of a case is often a very personal choice as it's one thing that helps set your iPhone apart from everyone else's. Therefore, I'm usually very cautious about any accessory that requires changing my iPhone case.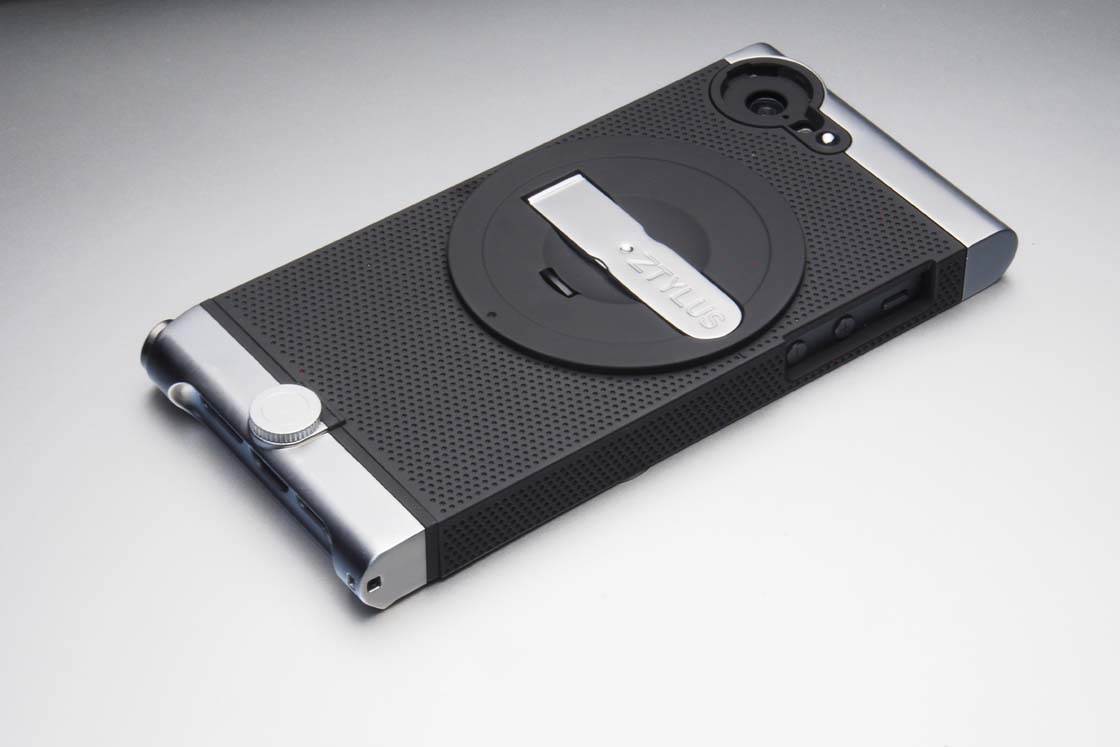 That said, the Ztylus case is actually quite good. Not only is it solid and very protective of your iPhone, but it's actually rather stylish (in my opinion anyway).
It offers full coverage of your iPhone and is still very slim and easy to fit in your pocket. In fact, even with the revolving lens attachment installed, it still fit comfortably in my pants pocket (full disclosure: I don't wear "skinny" jeans!).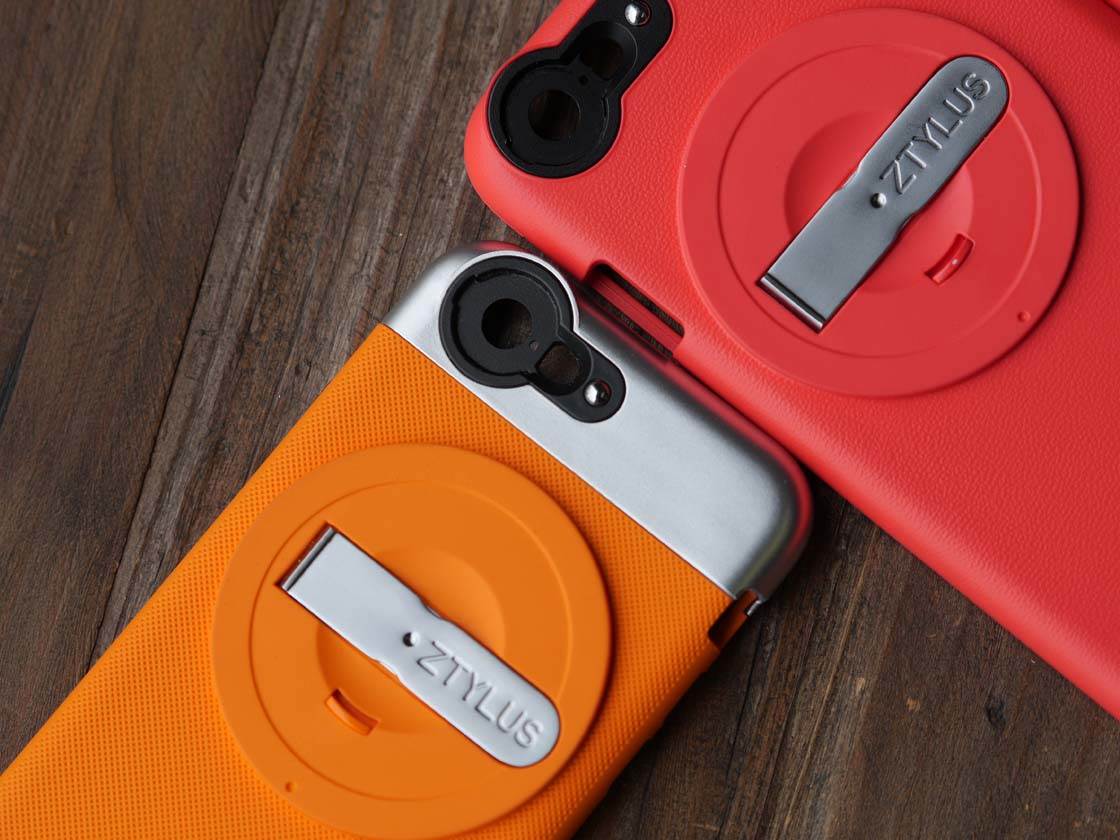 The cases for the iPhone 6 and 6 Plus come in a great range of colors including black, orange, watermelon and rose gold.
The Revolving Lens Attachment
The revolving lens attachment is easily attached to the case by means of a rotating lock mount similar to that of a DSLR lens. Once attached, you simply rotate it to the appropriate lens. The lens is flipped out with your finger so that it easily and quickly aligns with your iPhone's camera lens.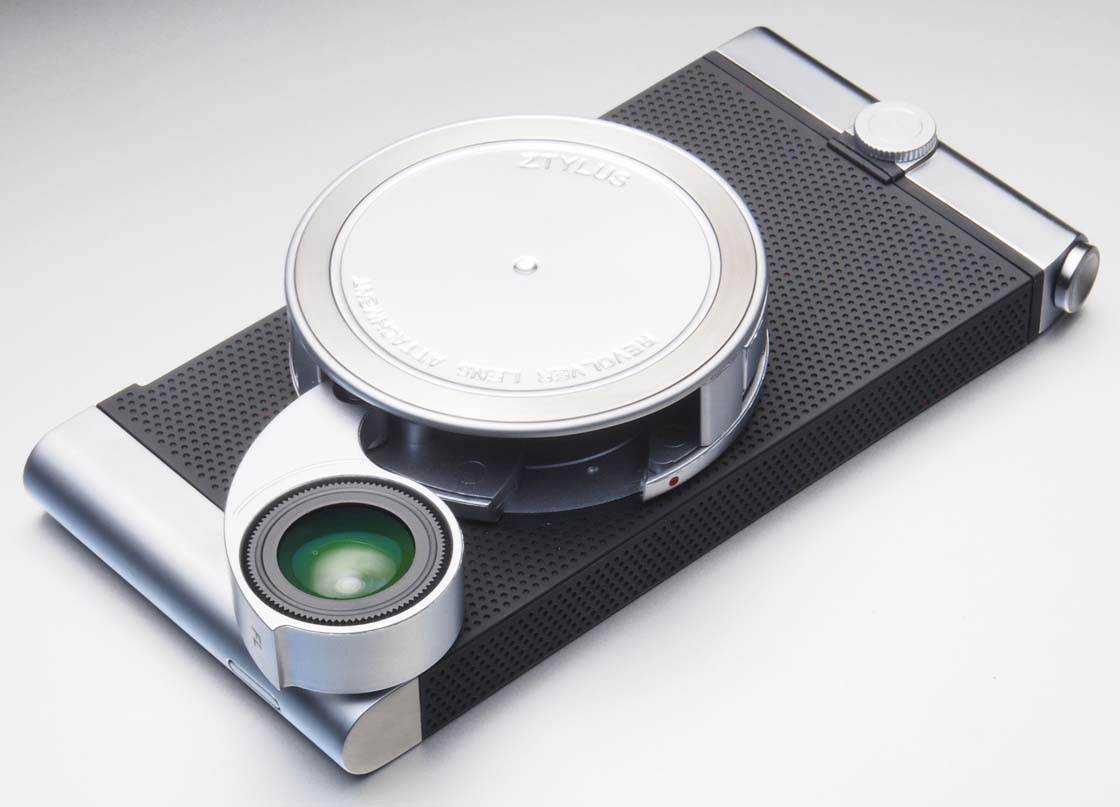 The best part of this approach is that it's very easy to remove a lens when you're done with it, yet the whole system is still right there on your phone and ready to deploy when another situation warrants it.
I kept the lens attachment on my phone for two entire days while on vacation with my family and it never bothered me once. I certainly wouldn't keep it attached 24/7, but for a day of shooting (and other activities), I can attach it once and essentially forget about it until I need to use it.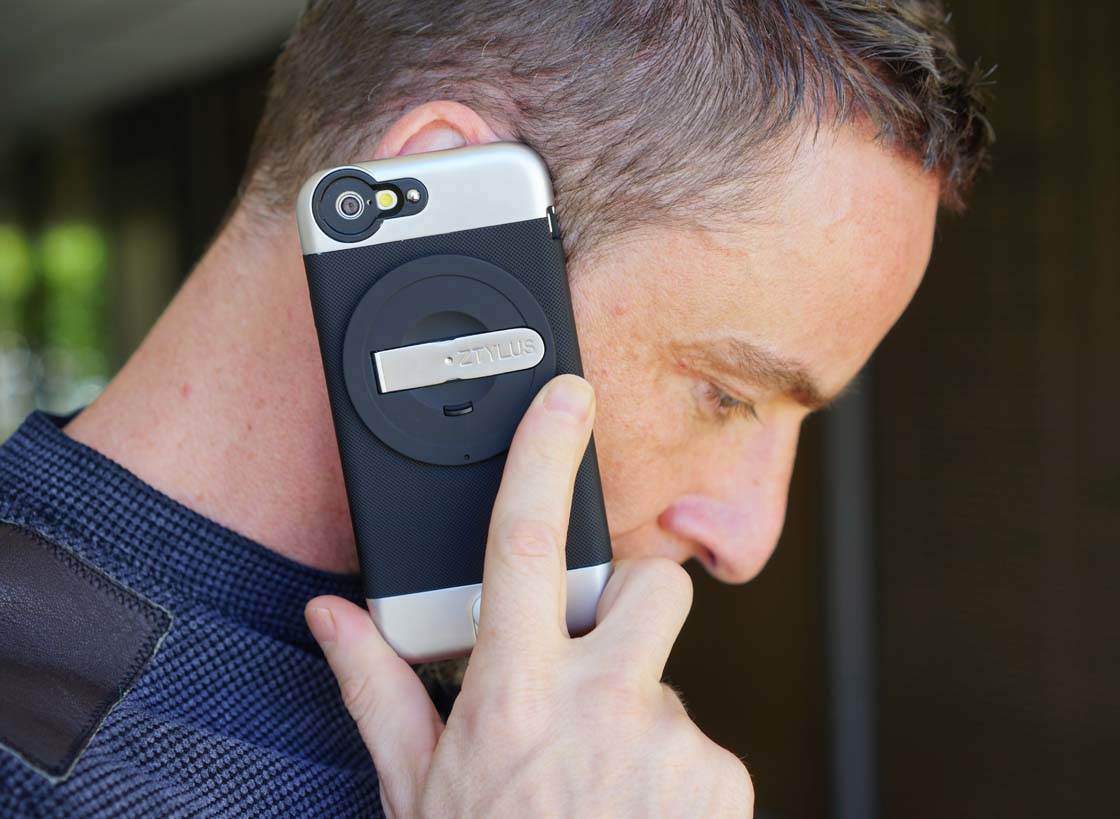 Of course, if you need to remove the lens attachment for a bit, it can be done in seconds and stashed in your pocket for later use.

Wide Angle & Macro Lens
The iPhone's built-in camera lens is already a wide angle lens by most standards, so why would anyone want a lens that widens the field of view even further? Well, that all depends on your needs.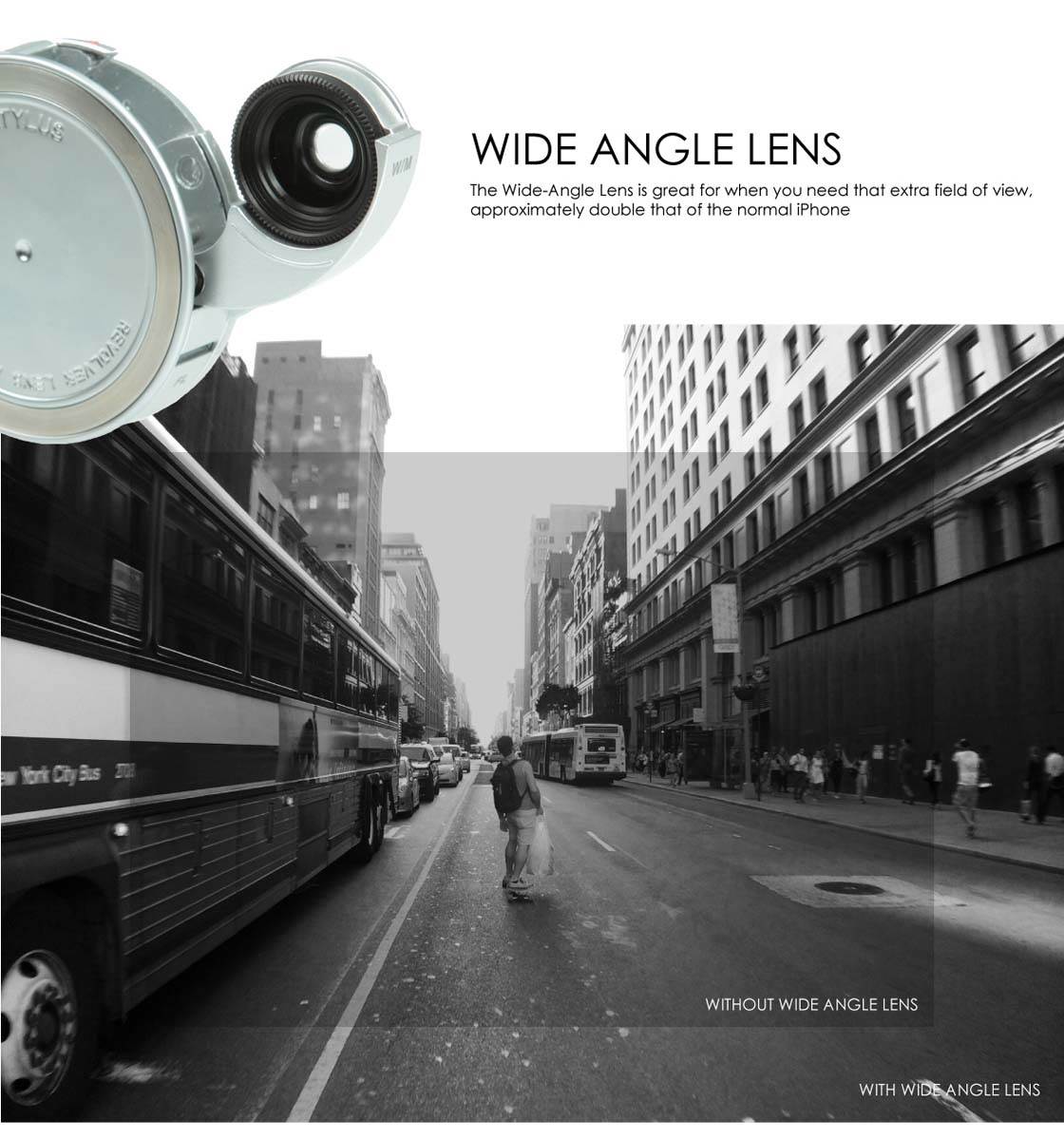 If you often find that you can't fit everything into the scene, whether you're shooting landscapes, street scenes or interiors of buildings, then the wide angle lens will help you get more into the frame.
Where the wide angle lens really shines though is when you remove the outer lens element to utilize the built-in macro lens. The wide angle lens is held in place by a magnet, so it's easy to remove to access the macro lens, yet stays firmly in place when attached.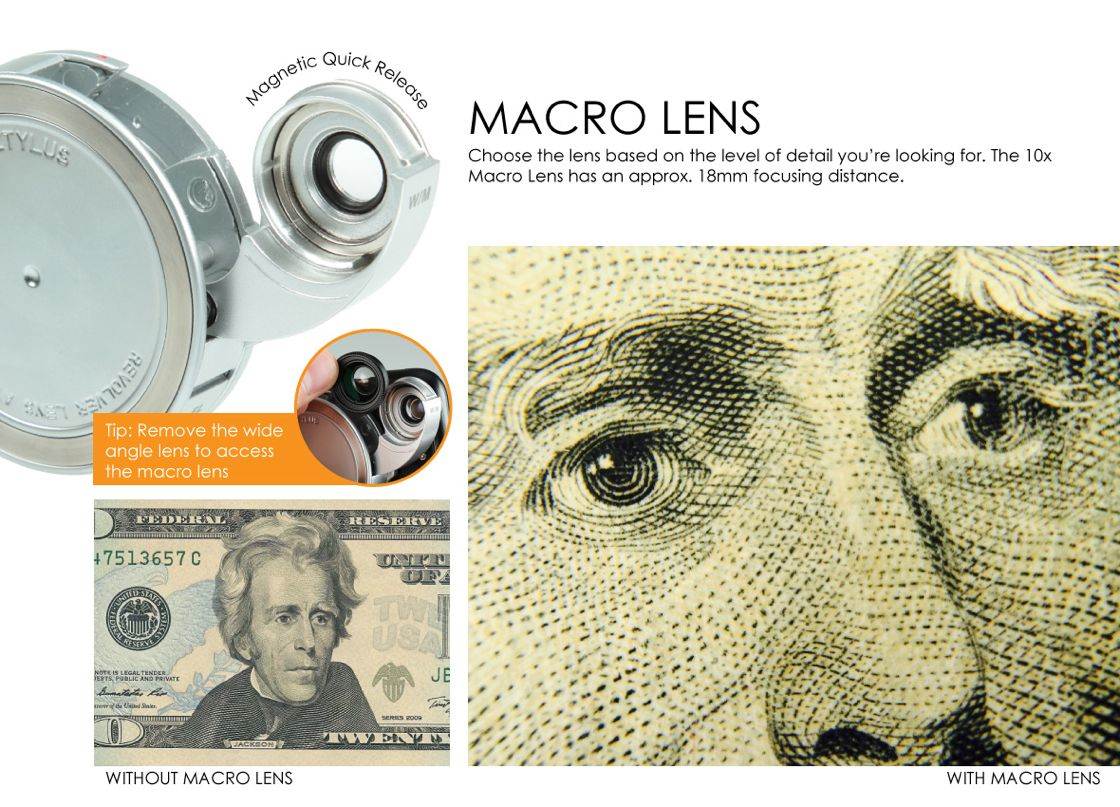 Macro lenses are fantastic for taking extreme close-up photos of flowers, leaves, and other subjects with intricate detail. The iPhone's built-in lens won't focus if it's too close to the subject, but with a macro lens you can get super close.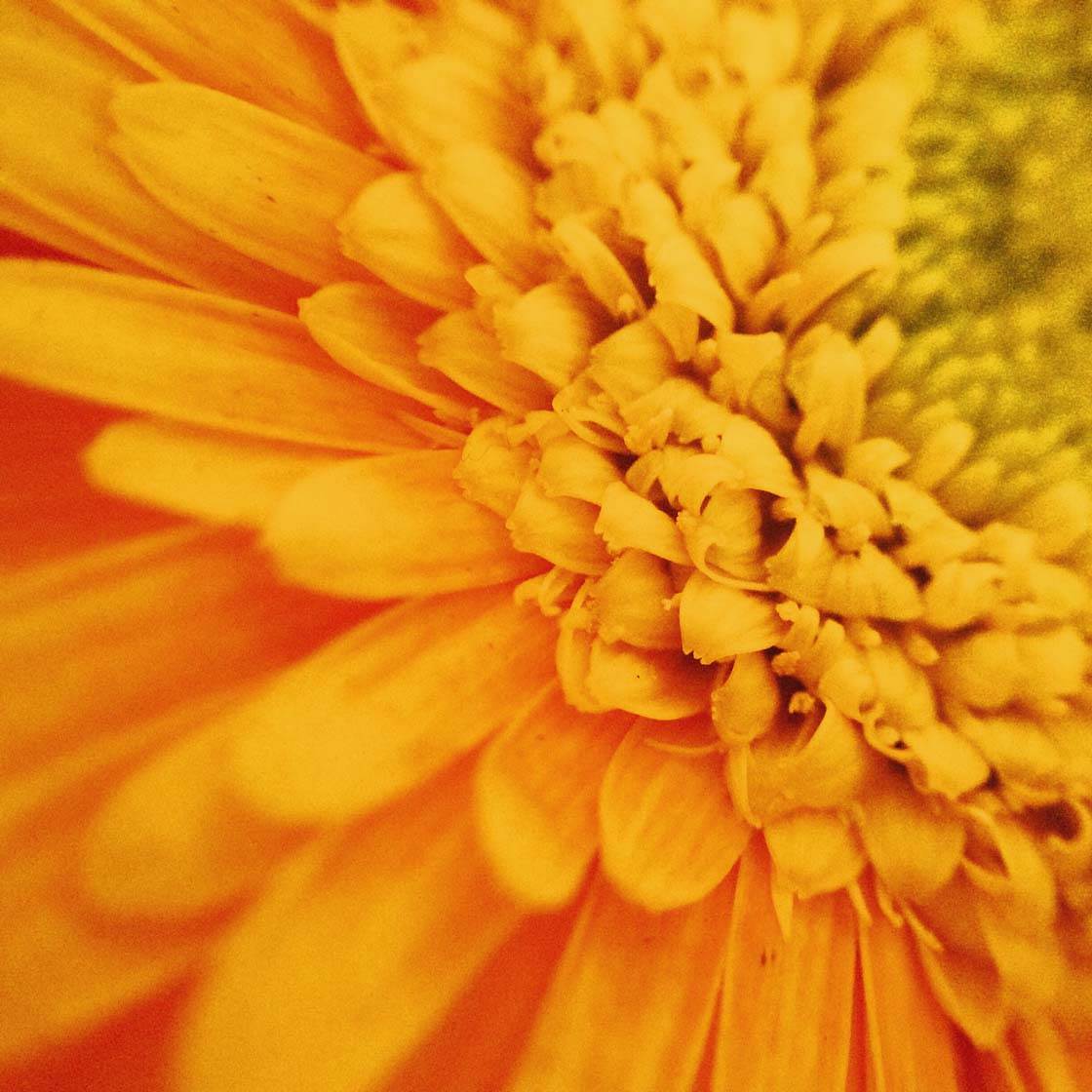 The Ztylus macro lens has 10x magnification and the focussing distance is 18mm. As with all macro lenses, the depth of field is very shallow which means that only a small portion of the image from front to back will be in focus. It's therefore important to set focus on the correct area by tapping the screen.
Make sure you don't move the iPhone after setting focus as even the smallest change in distance between the lens and subject will result in the camera focusing on the wrong area. You'll get better results if you use an iPhone tripod to keep the camera perfectly still.
Fisheye Lens
A fisheye lens, for those unfamiliar with the concept, is an extreme wide angle lens that mimics the shape and field of view of an actual "fish eye." These types of lenses are rather limited in their applications, but they can produce a very dramatic effect in certain situations.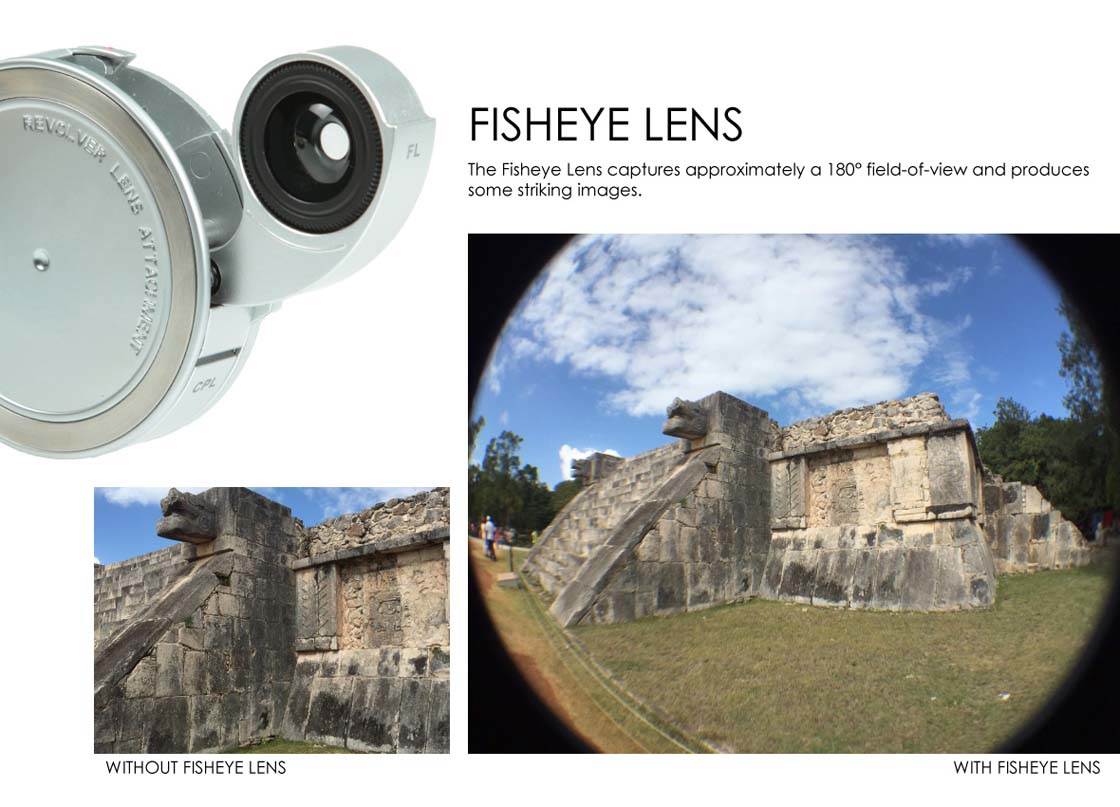 I used the Ztylus fisheye lens to capture this image of my son on a carousel. The extreme wide angle allowed me to fit the entire horse into the frame.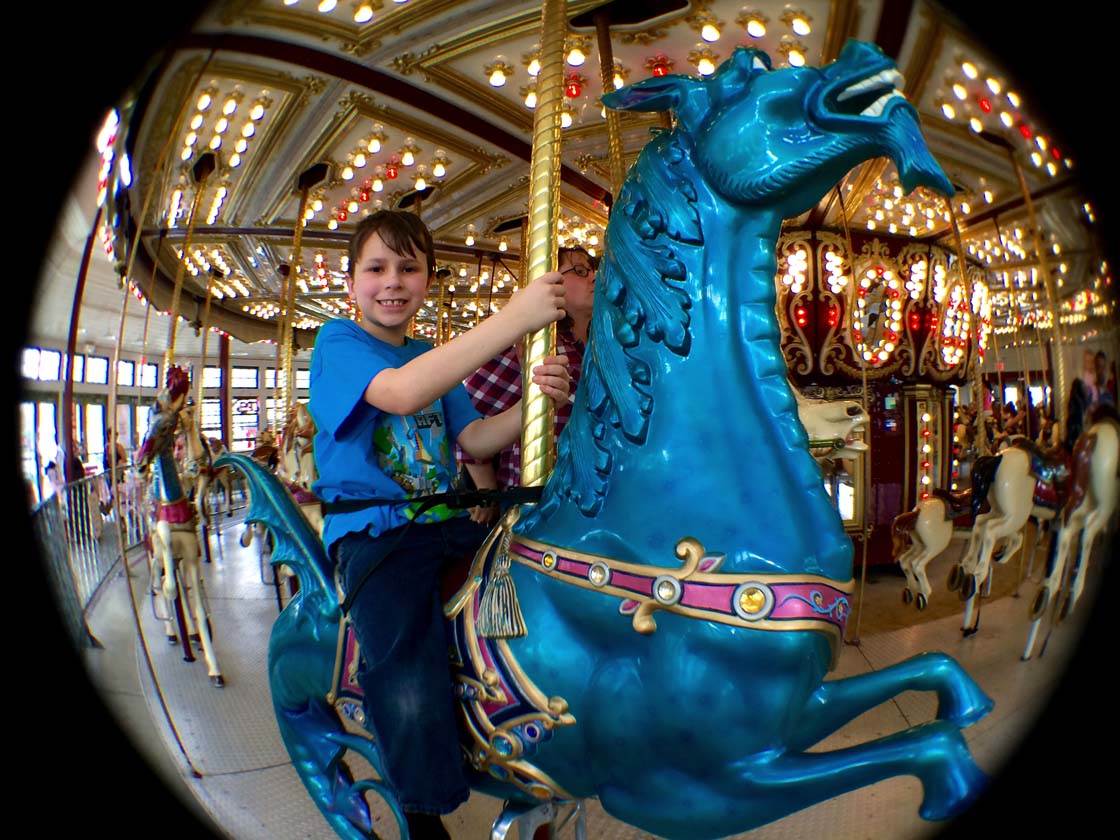 Of course, if you don't like circular frames created by the fisheye lens, you'll have to crop the image square in post-processing, but this goes for any fisheye lens attachment that you can buy.
Circular Polarizer Lens
This is the feature that I was most excited to test. I've long been a fan of polarizer lenses/filters for the way that they can darken a sky and remove unwanted reflections from photos of water and other reflective surfaces.
The Ztylus polarizer worked like a charm. Below are two photos that I took. The first example is without the polarizer lens, and the second one is with the polarizer. Look how the polarizer lens has darkened the sky in the second photo.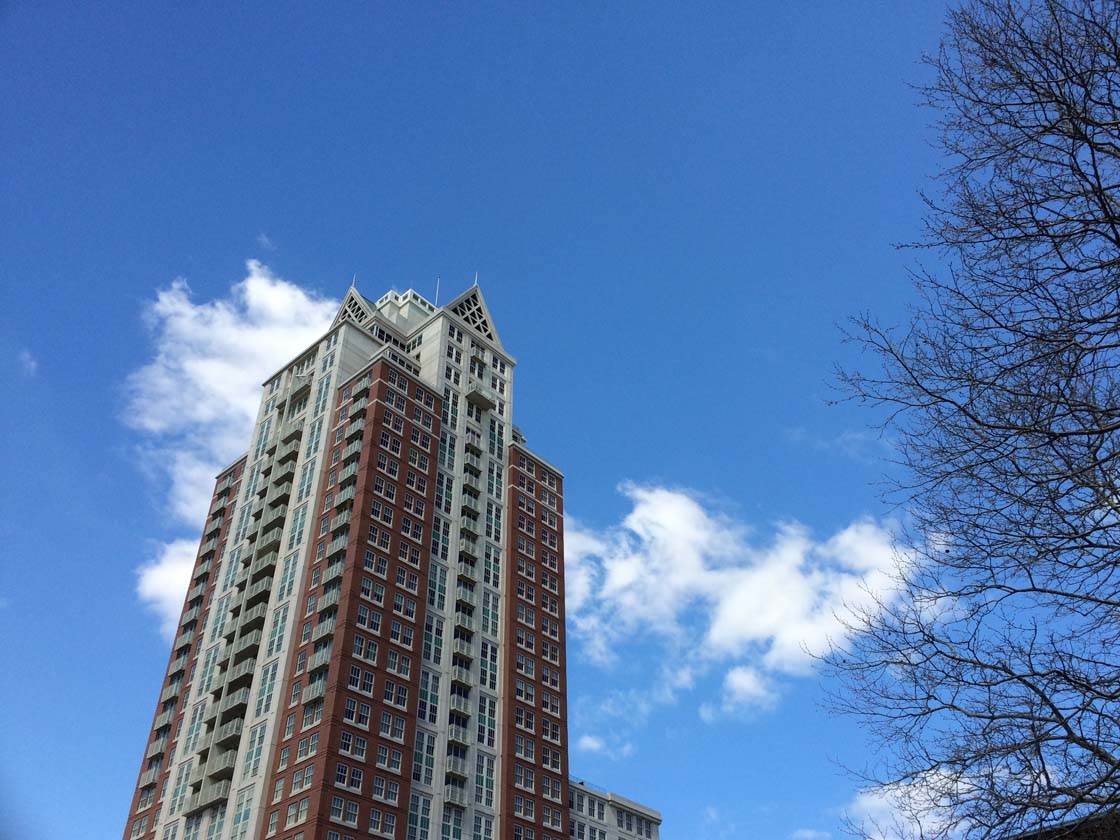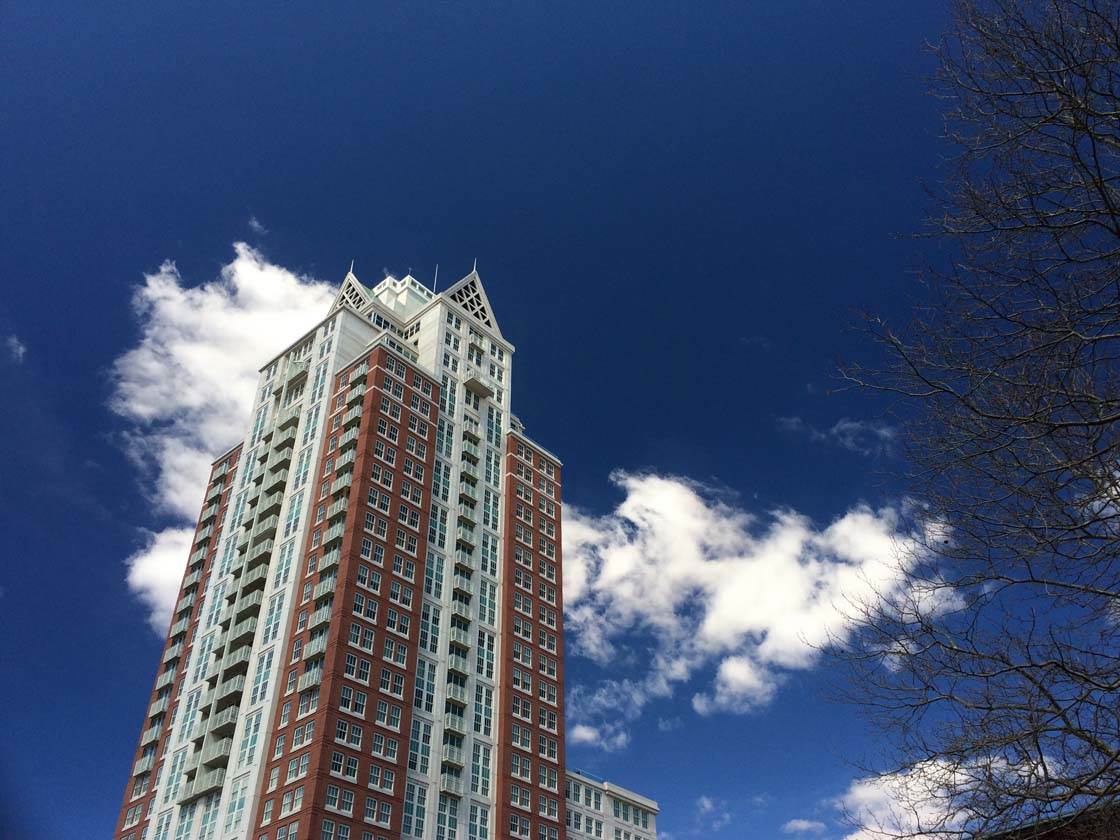 After selecting the polarizer lens, simply rotate the ring around the lens to adjust it until you achieve the look you want. Like any polarizer, it works best when your light source (sun, etc.) is at a 90 degree angle to your subject.
LED Ring Light
One limitation of the iPhone when it comes to photography is the built-in flash. While the quality of the flash has improved dramatically with the last couple of models starting with the 5s, it's still a bit harsh for most applications. The LED ring light from Ztylus is a great alternative to the iPhone's built-in flash.
The LED ring light attaches to the Ztylus case in the same manner as the revolving lens attachment. Once attached, the light simply flips out to position itself around the lens of the iPhone.

As it's powered by its own batteries (not your iPhone), it can also be used without attaching it to your iPhone, which is great for adjusting the angle of your light source to achieve more dramatic effects.
The ring light is comprised of two sets of LED lights. Half of the lights produce a warmer light while the other half produce a cooler light. Both are activated when the light is turned on, but you can adjust the brightness of each by means of two small wheels on the side of the light.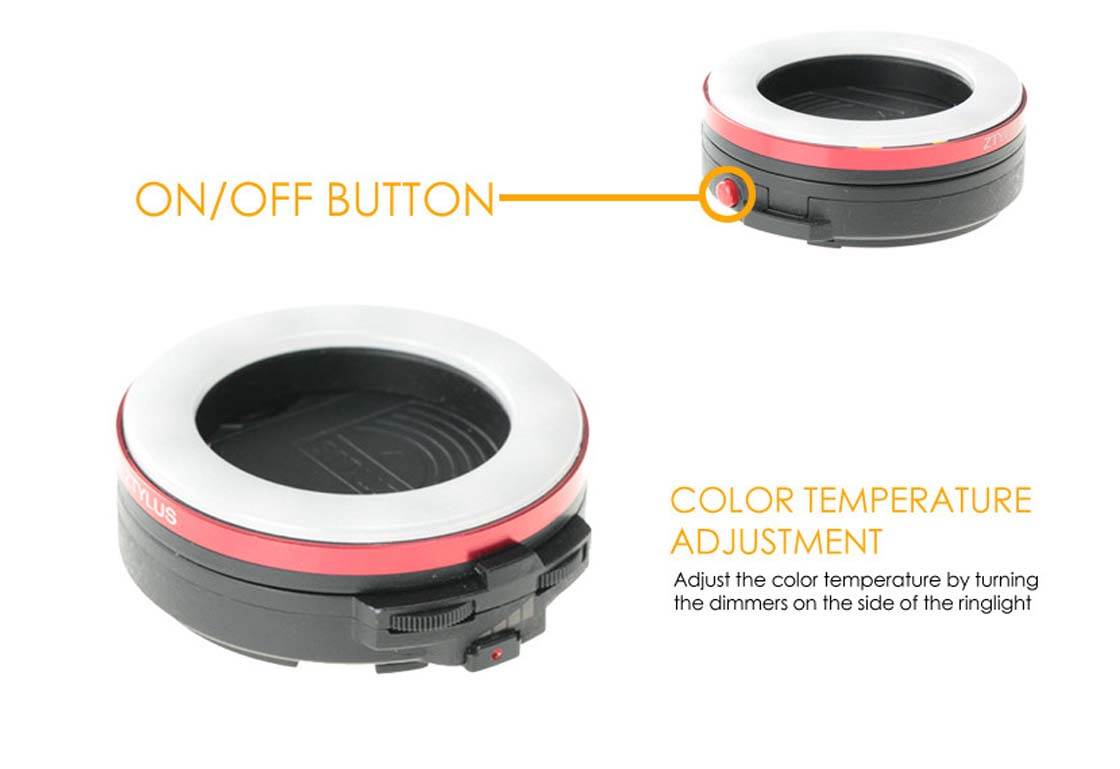 With both sets of lights at full power, the ring light throws off a powerful beam of light capable of lighting a subject up to a few short feet away. The light also comes with three different snap-on diffusers to further adjust the quality of the light it gives off.
The only issue I had with the ring light is that the power button is easily bumped into the "on" position when carrying it in your pocket or in a bag. This resulted in my discovering the light already turned on when I went to use it, but luckily LED lights use very little power, so it didn't cause any premature battery drain.
If the developer changed the power switch to a sliding one, I think this would no longer be an issue. Other than that though, the light worked amazingly well for its size.
Conclusion
I've tried a number of different lens attachments for my iPhone over the past few years, and I can say with complete sincerity that the Ztylus system is my favorite of all of them.
Some may argue that other lenses offer better glass and image quality (and they may), but I found the Ztylus lenses to be of top quality with no noticeable lens distortion beyond that expected with very wide angle lenses.
In addition, the ease-of-use and convenience of the Ztylus system allows you to focus on taking great photos and not waste time fumbling with more complicated lens attachments.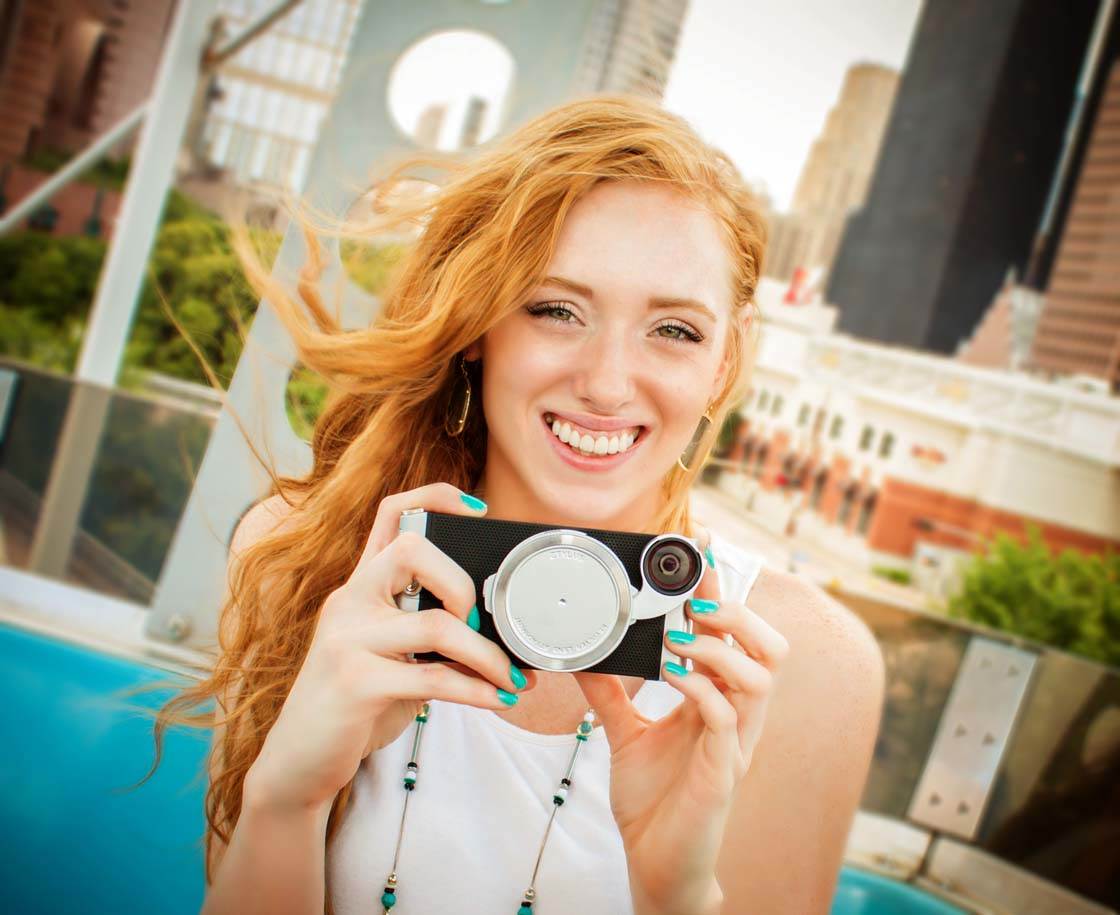 If I had to offer up any real constructive criticism, it would be that I would love to see Ztylus include a telephoto lens attachment as part of the kit. As I mentioned above, the iPhone's native camera lens is already a wide angle lens in its own right, so I would be happy if that one were to be replaced with a telephoto lens to make it easier to capture images without having to get quite as close.
If you're in the market for an add-on lens attachment, and you want a quality option that allows you to take great photos without slowing you down, then I highly recommend checking out the Ztylus system.
It's available in a number of configurations from the Ztylus website. The Revolver 4-in-1 lens attachment costs $69.95 and the LED Ring Light is $59.95, but if you follow this link you'll get a voucher code giving you an amazing 25% off these prices!
For a great visual overview of the quality and convenience of the Ztylus system, check out the video below.