Do you want to create incredible urban photos with your iPhone? Urban photography can be extremely rewarding, once you know how to do it! In this article, you'll discover how to take outstanding urban photographs. You'll come away with the know-how to take amazing urban photos wherever you go!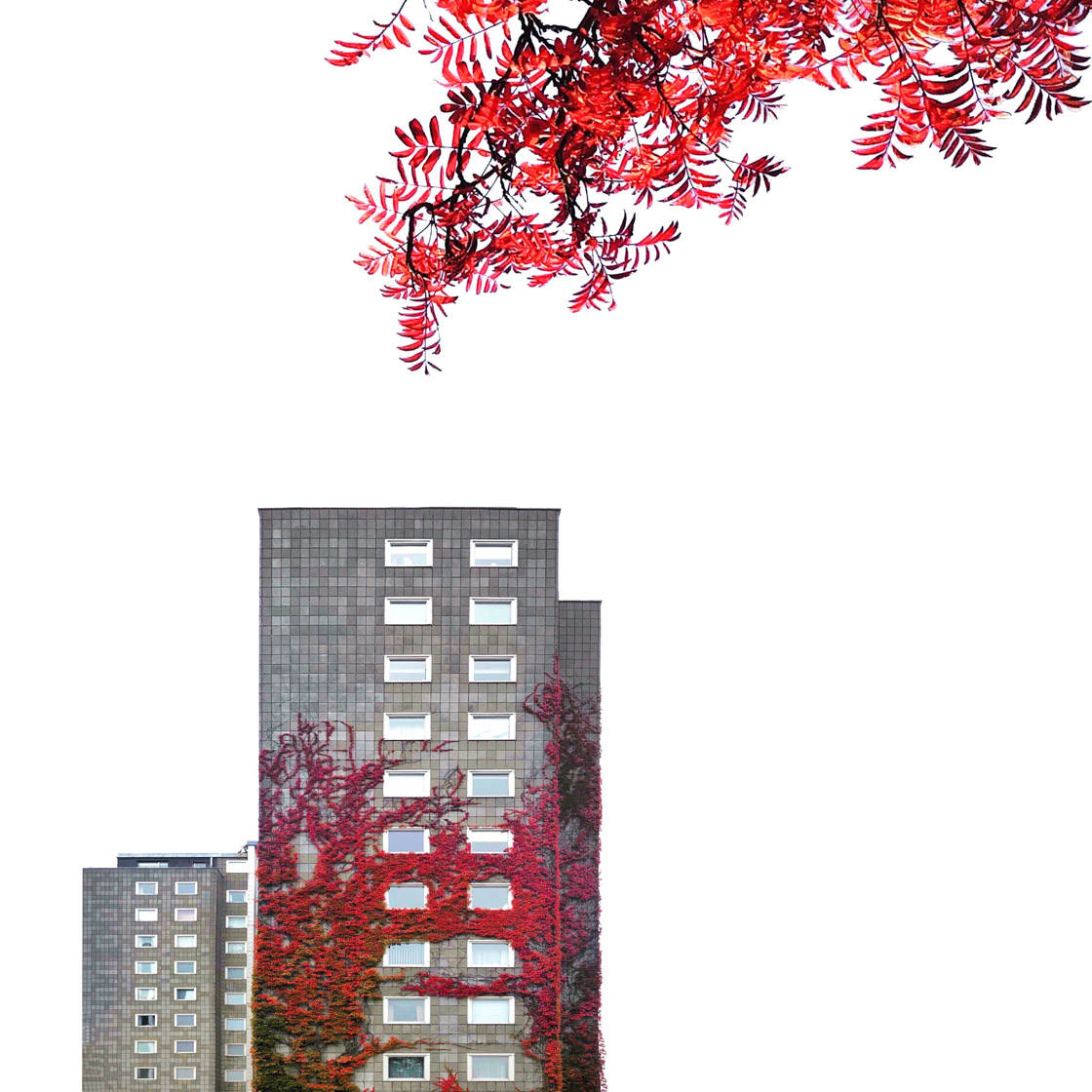 1. Explore The City Constantly For Beautiful Urban Subjects
Do you want to find the best subjects for urban photography?
If so, then I have good news for you: You can find amazing photo opportunities close by. Just head to the nearest city.
Then walk around.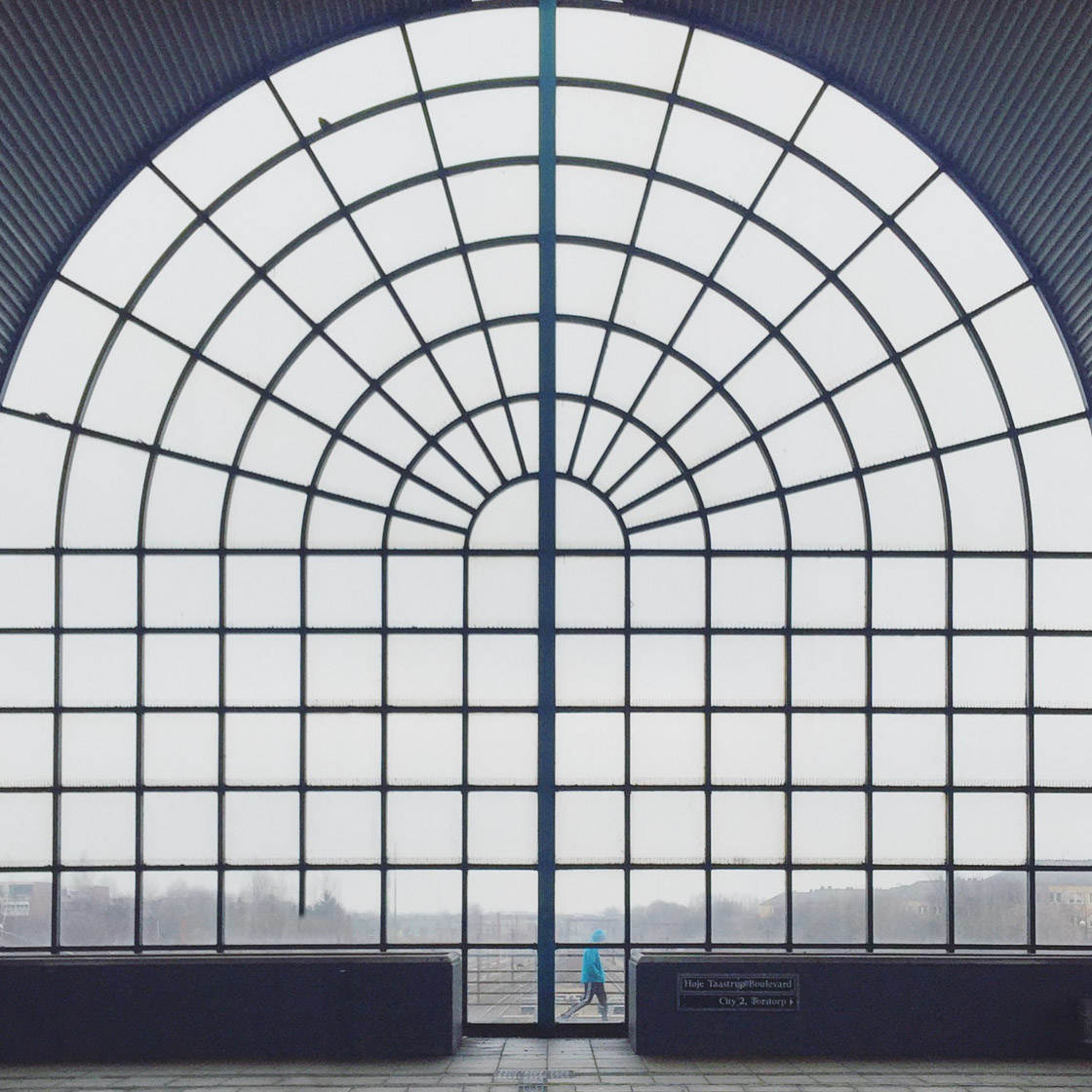 Does this sound simple? It is.
Here's the thing: Urban photography is not about living in an extraordinarily beautiful city.
It's about finding beauty, no matter the city you live in.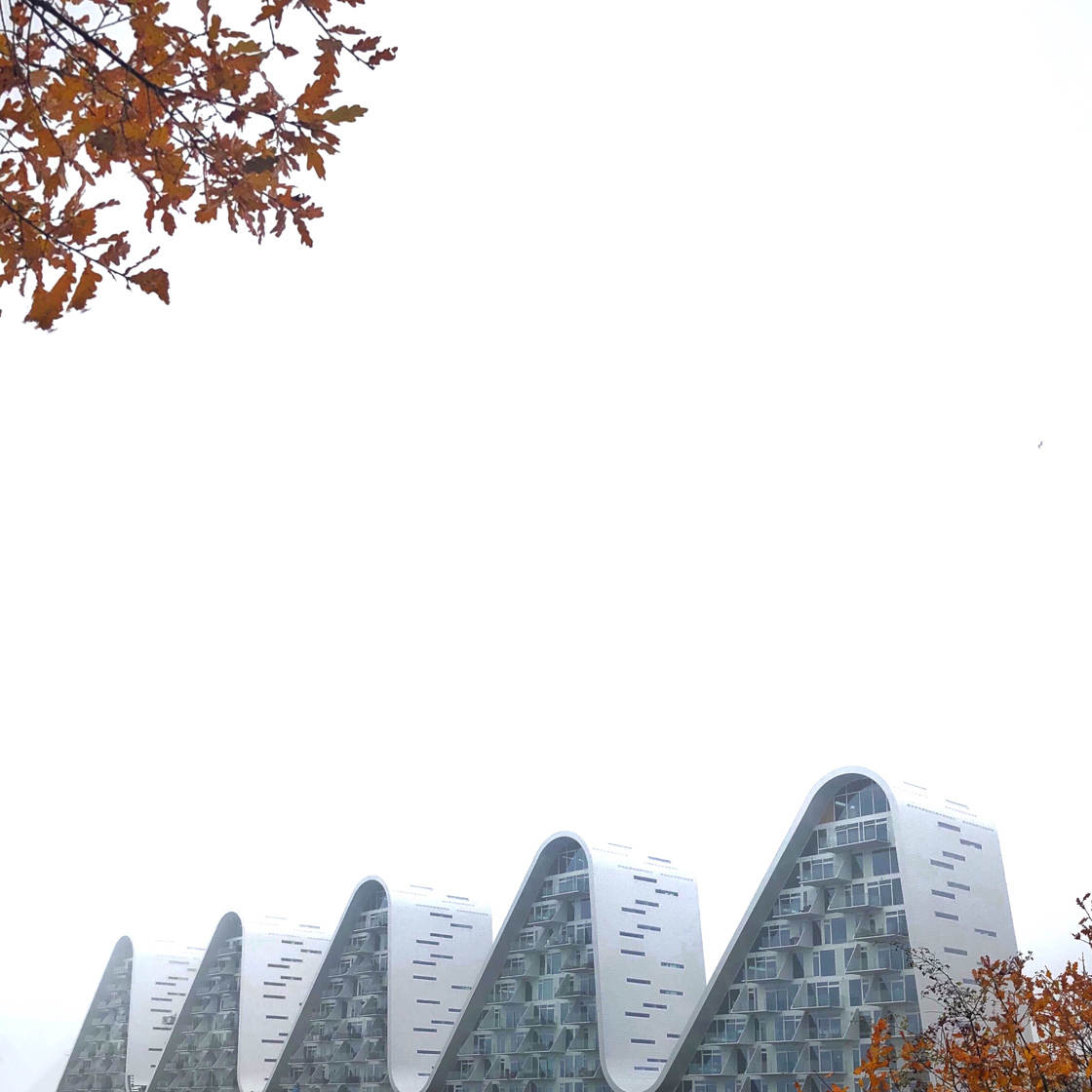 Here's a tip: All cities have beauty. You just have to find it!
When I go out to do urban photography, I don't plan my photos. Instead, I just walk around and explore new areas of the city. I take photos constantly–of many different things.
And you should do the same. Walk. Take buses. Take trains. Take photos.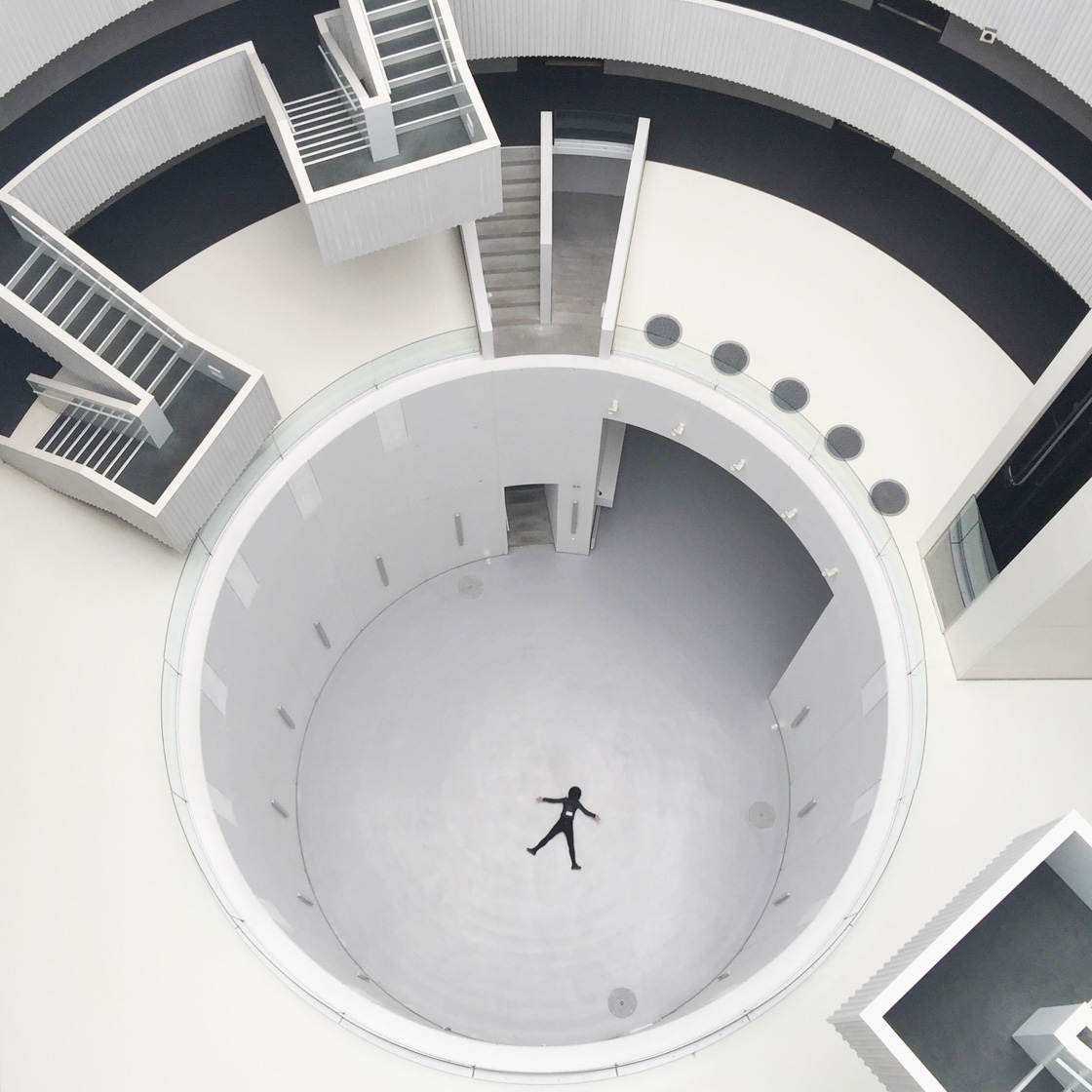 Remember: Don't just stay in the same place. Go to new places.
And continue to look for beauty.
Beauty can be small: a shadow on the wall, or a bicycle resting by a shop. If you explore enough, you're bound to find something!
For example, you can find scenes like the one below in any city. You just have to look carefully!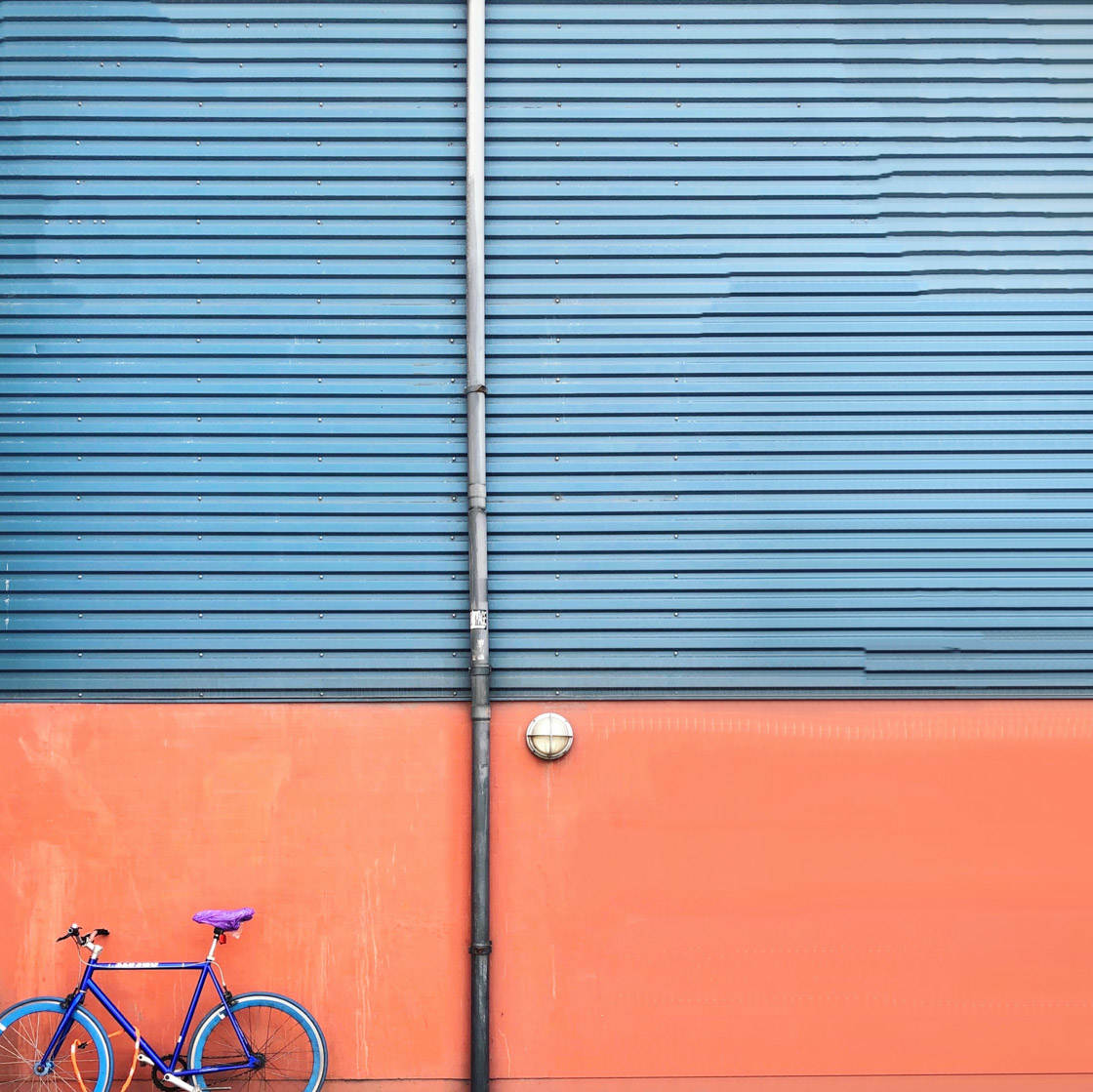 That's how you'll find the best urban shots. Not by living in a beautiful city, but by walking constantly–and by looking for beauty all around you.
2. Look For Lines And Shapes To Get The Best City Photography Compositions
Once you've discovered a beautiful urban subject, how do you make it into a stunning photograph?
You find a beautiful composition.
That is, you frame the elements of the photo in a pleasing way.
Yet this can be a bit intimidating. After all, there are so many ways to photograph a single scene.
So what should you do?
Here's my favorite composition technique: Once you've found a broad scene that you like, look for lines and shapes within it. Then home in on these elements.
Lines can be poles or the edges of buildings. For the photo below, I was drawn to the straight edges of the building. I composed with them in mind.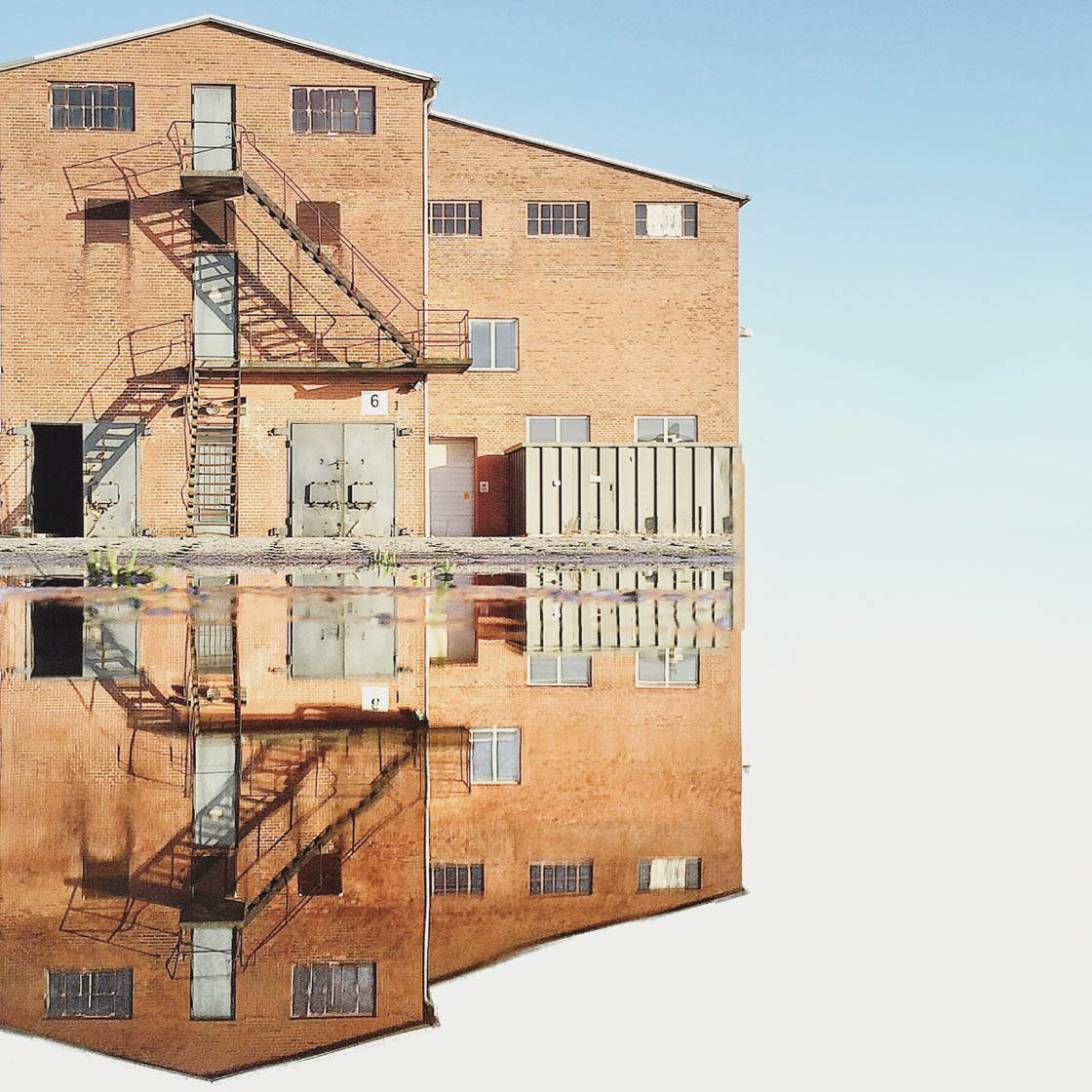 Shapes can be windows (square) or bicycle wheels (circular). For the photo below, I chose a wider composition–one that emphasizes the circular shape of the building.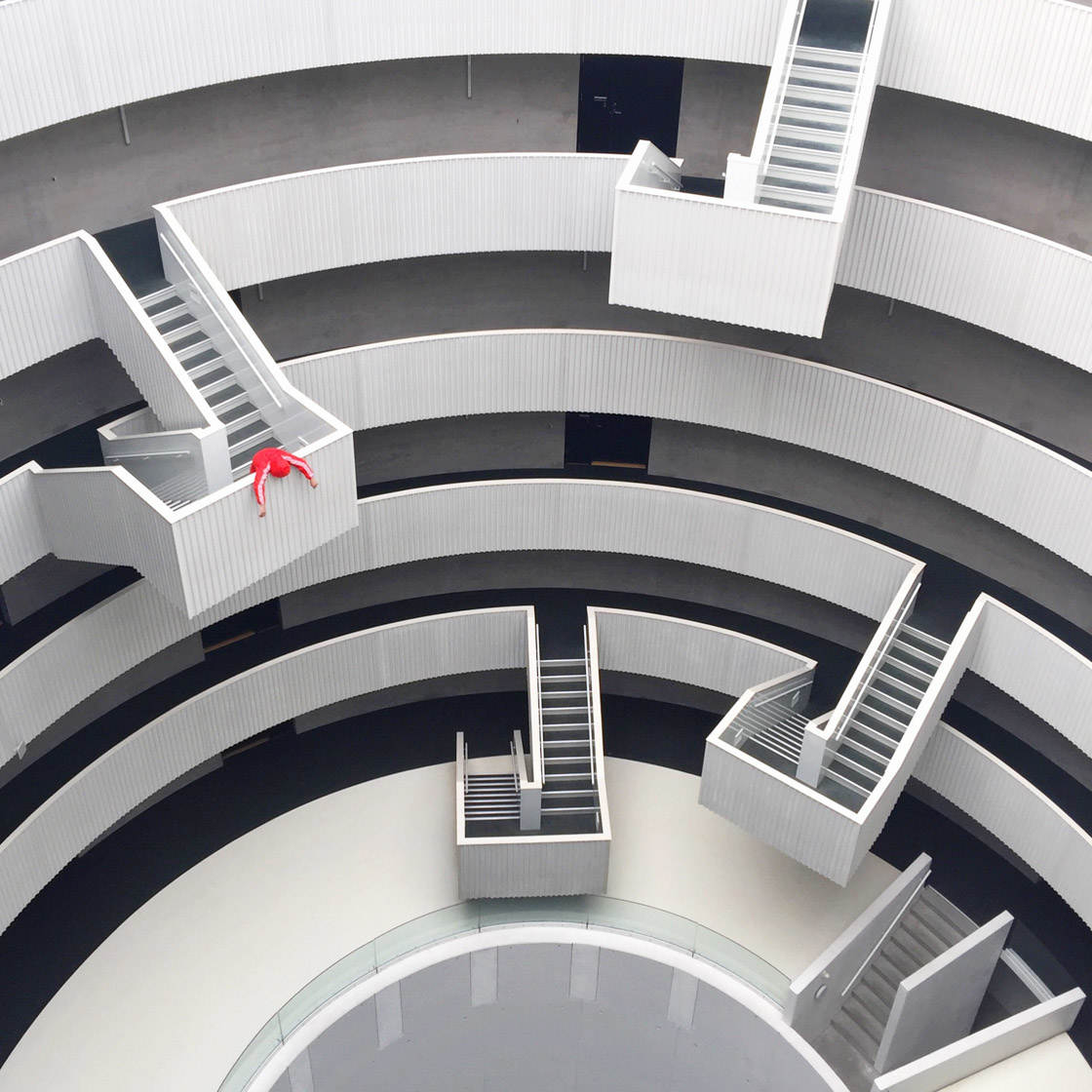 There are plenty of lines and shapes to include in any scene–you just have to find them!
And when you do, make sure you incorporate them into your composition.
One of my favorite things to shoot is a building with lots of windows. Why is this?
Because windows offer such beautiful shapes. They really add to my compositions!
Here's a trick: If you find a shape within your scene, try to isolate that single shape. Move your iPhone around until you find a way to emphasize just that shape.
If you can do this, you'll manage to capture a stunning photo!
So, once you've found a great scene, look for lines and shapes. Your urban photography will immediately improve!
3. Use Burst Mode To Capture The Perfect Urban Photography Pose
Another way to get incredible urban images is to find a beautiful scene, then wait for a single person to move through it.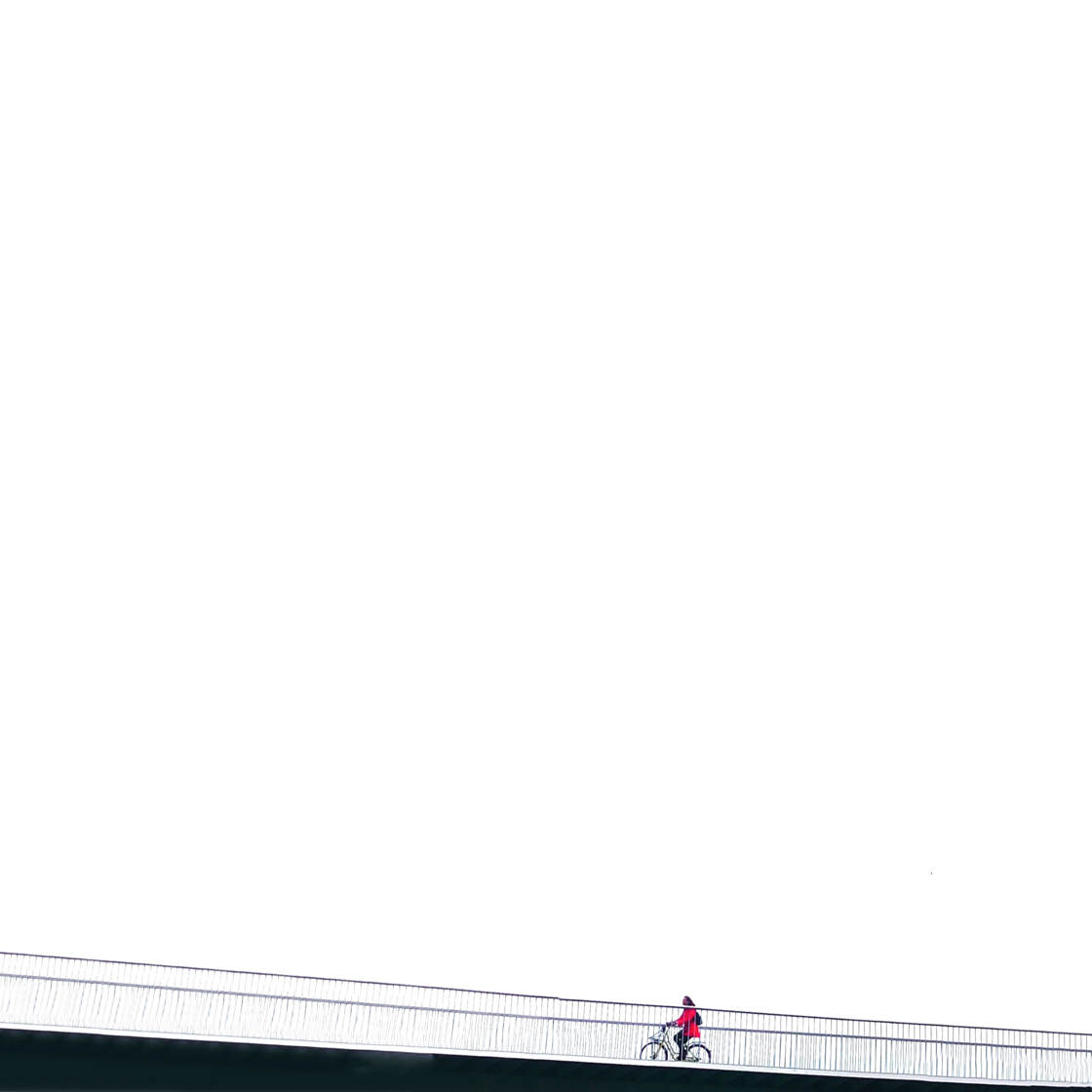 Why is this?
A single person acts as a focal point for the scene. They give the viewer something to rest their eyes on.
Basically, a lone individual with urban surroundings makes for incredible photographs.
But it can be tough to capture an individual moving through the scene. People move quickly. And you want to make sure you capture a gorgeous pose: One with the person in full stride, like in the photo below.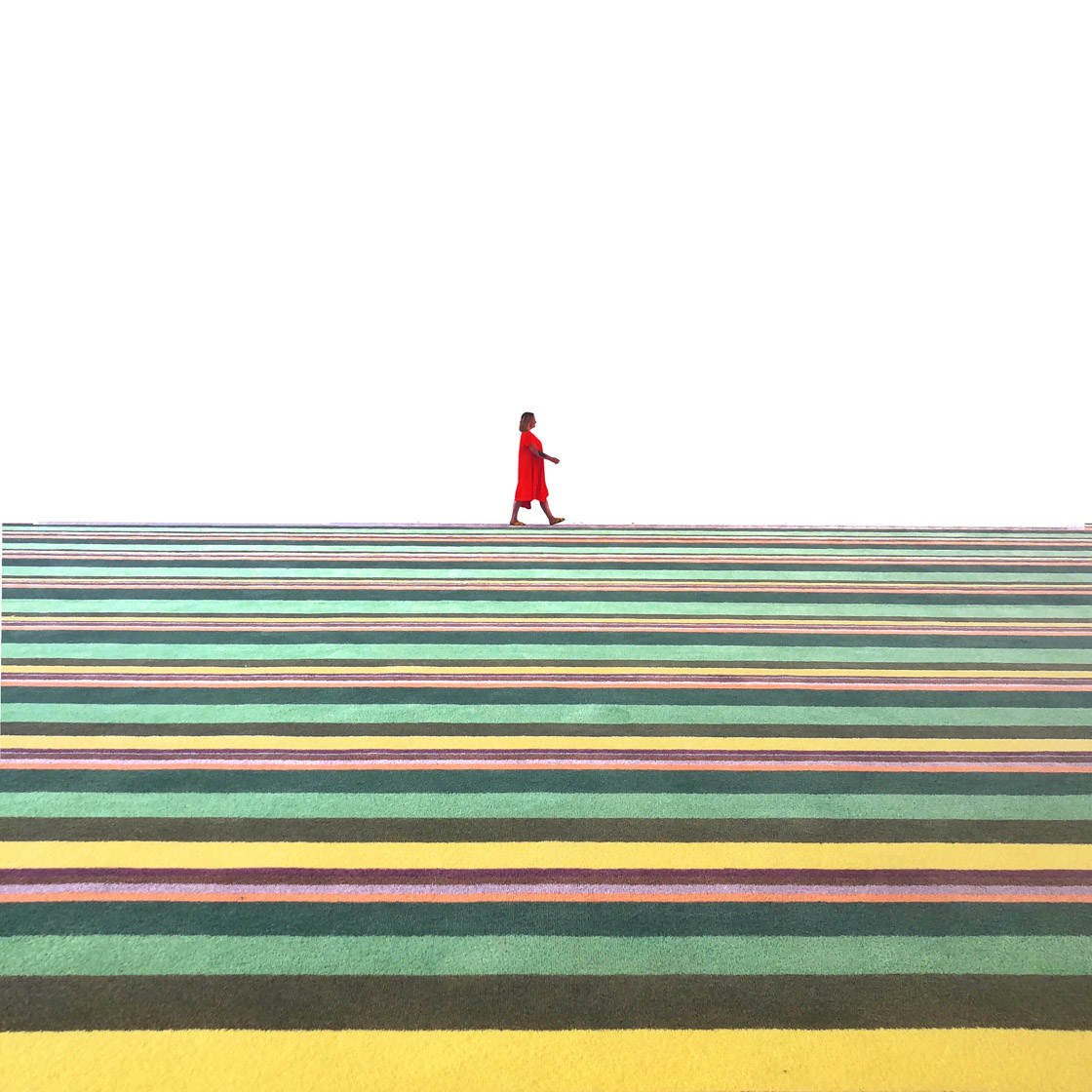 So what do you do?
Use burst mode!
Burst mode is an amazing iPhone camera feature. It allows you to take over 10 photos a second–which is key for capturing a perfect pose!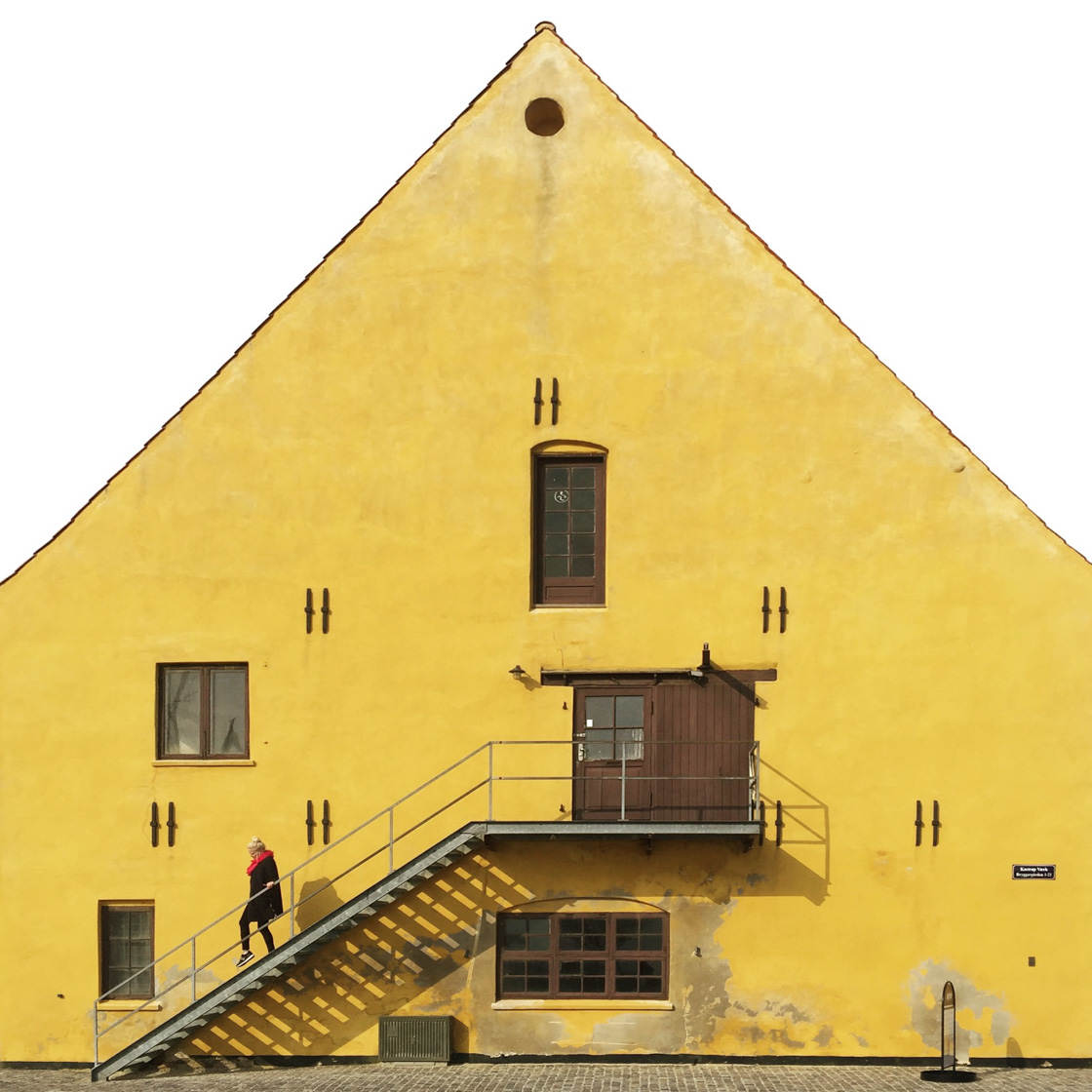 Here's how you use burst mode:
Open your iPhone camera. Then wait for a subject to walk into the frame.
As soon as they do, press the shutter button–and don't let go.
Your iPhone will take a series of pictures (using burst mode!).
Once the person has left the frame, you can stop holding down the shutter button.
And when you go to look in your photo library, you'll see lots of photos–some of which will have unbelievable poses!
Note: You can easily delete burst mode photo from your photo library. So don't worry about your iPhone filling up with photos.
To delete your unwanted burst mode photos, open a burst mode image in your photo library. Tap Select. Then choose the photos you want to keep, and discard the rest.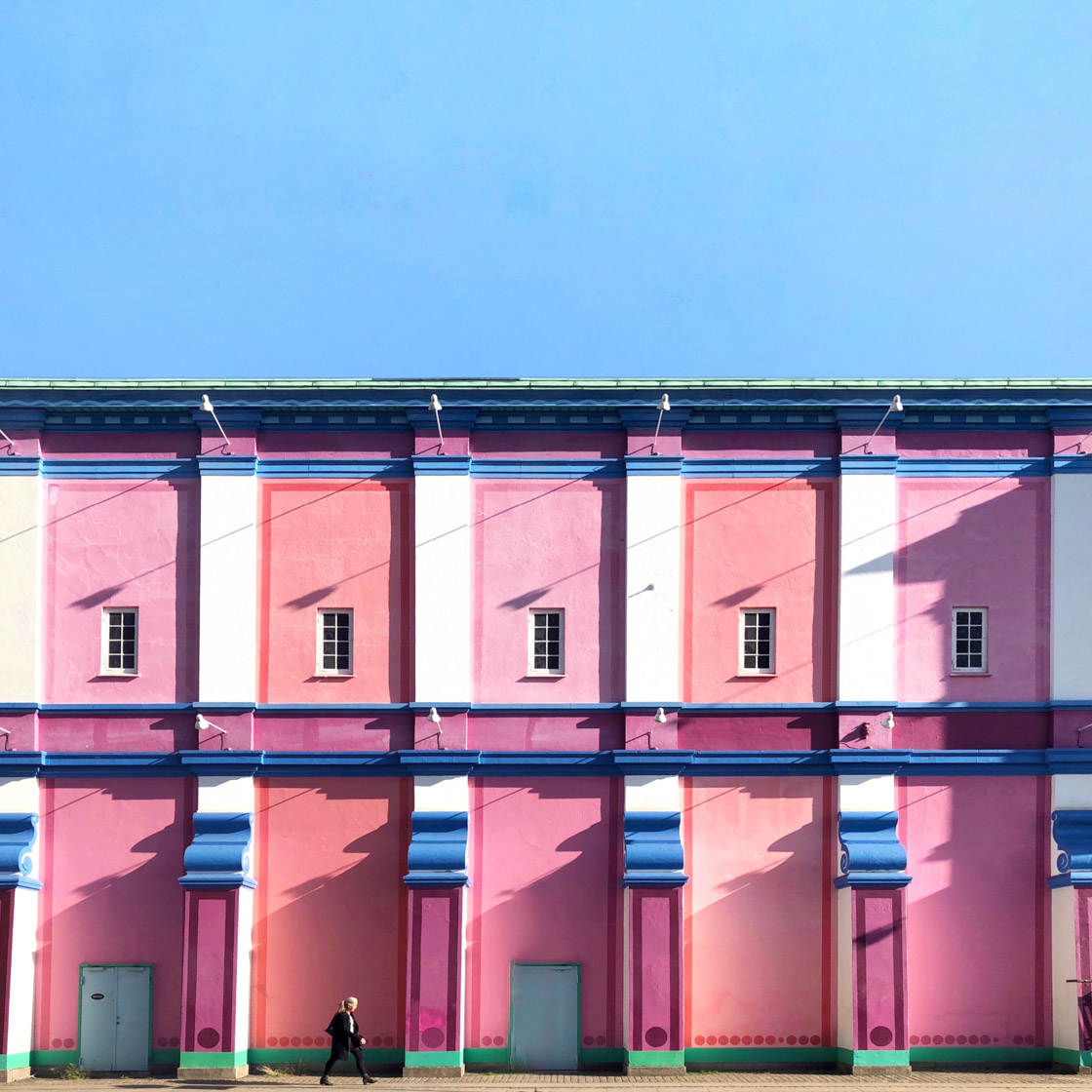 Remember: Burst mode is perfect for getting amazing urban shots.
So make sure you use it.
4. Add Interest To Your Urban Street Photography With Color
Do you want to capture urban photos that really pop?
Here's an easy technique to do just that:
Include some bold color in your images.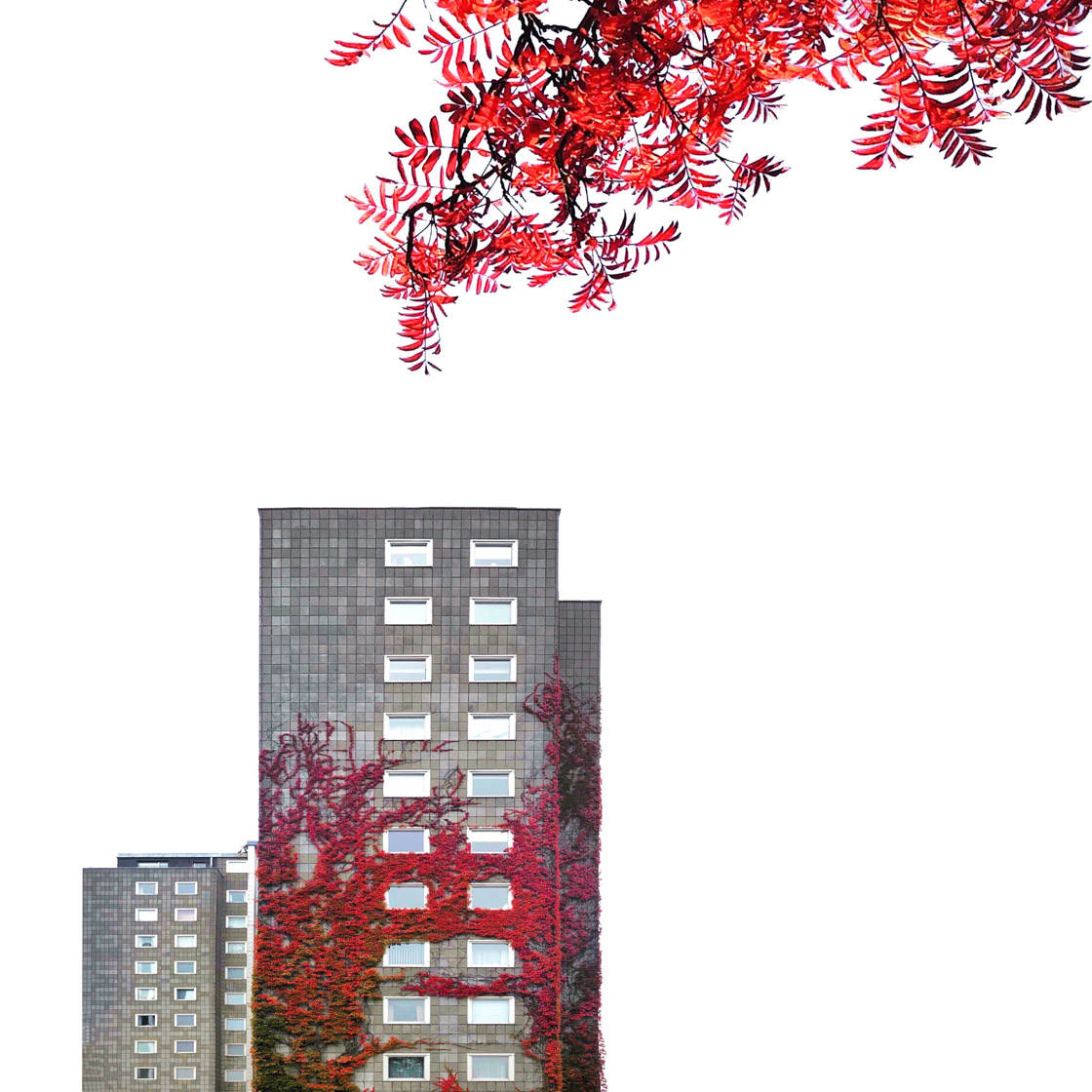 A bit of color really draws the eye. It'll make your photos stand out.
It's perfect for adding that extra bit of pop to an otherwise mediocre photo.
But how do you find color to add to your photos?
I like to look for a few things when I'm out walking. First, I look for colorful walls–because then I can include them in the urban scene.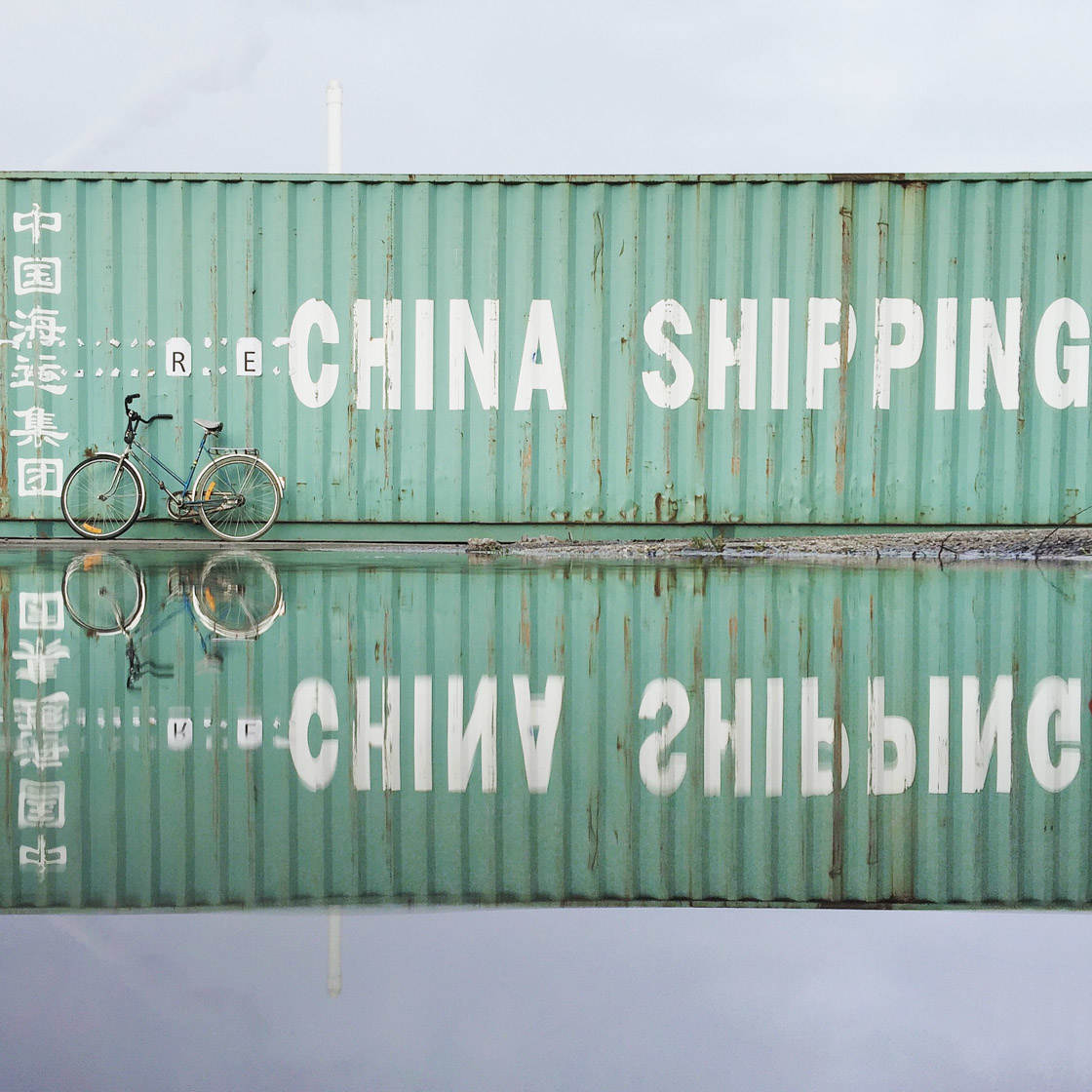 But I also like to look for smaller splashes of color. For instance, I love colorful bikes against bland walls. These make for fantastic photos.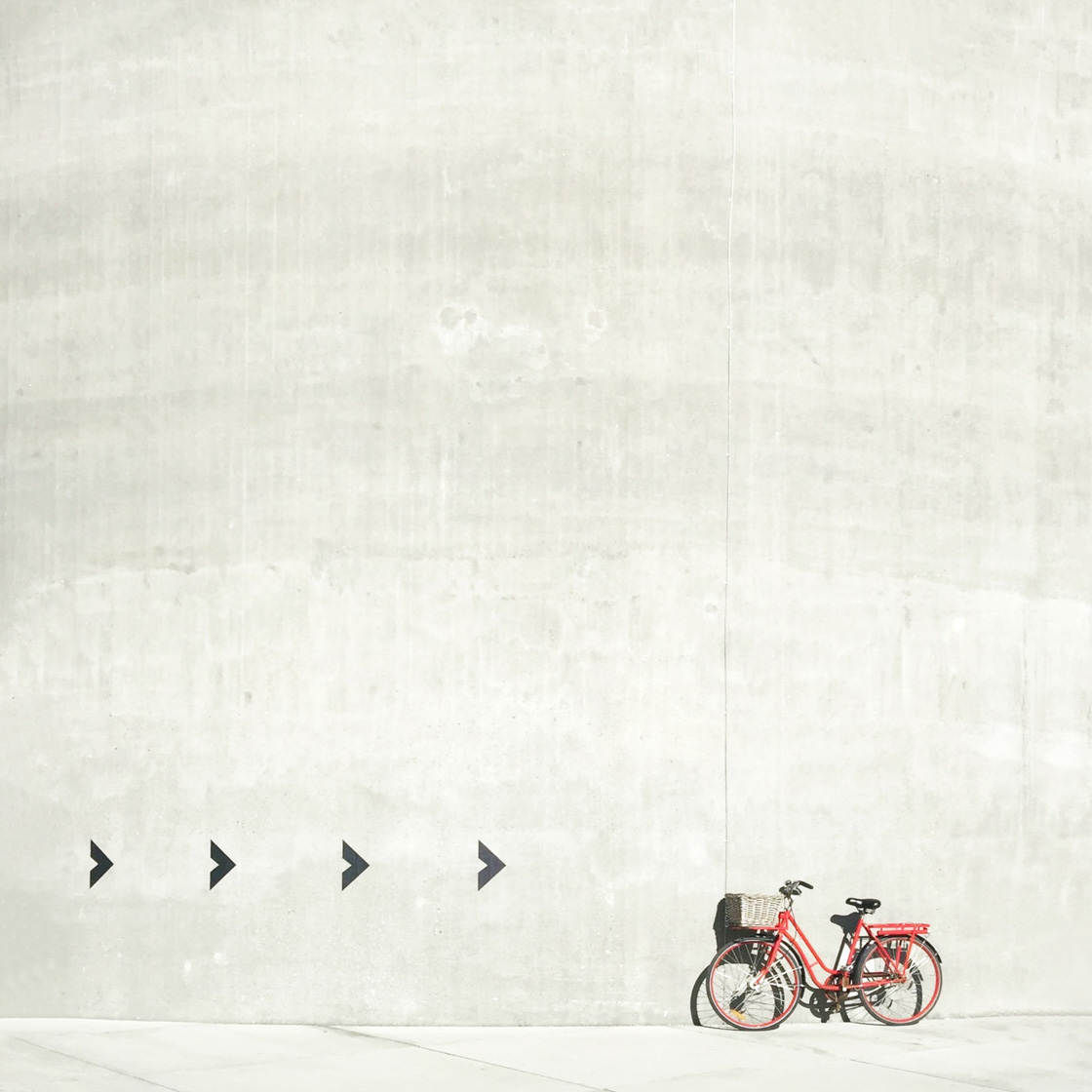 The key is to use that tiny bit of color as the focal point of the scene. Try to compose the picture around that splash of color.
Use it to draw the eye and stun the viewer.
If you want incredible urban photos, try adding a bit of color. Your photos will immediately improve.
5. Simplify Your Compositions For The Most Powerful Urban Minimalist Photography
If you want to create unbelievable urban photos, then pay careful attention to this tip.
Because it can make or break your urban photography.
To get amazing photos, you must simplify your compositions.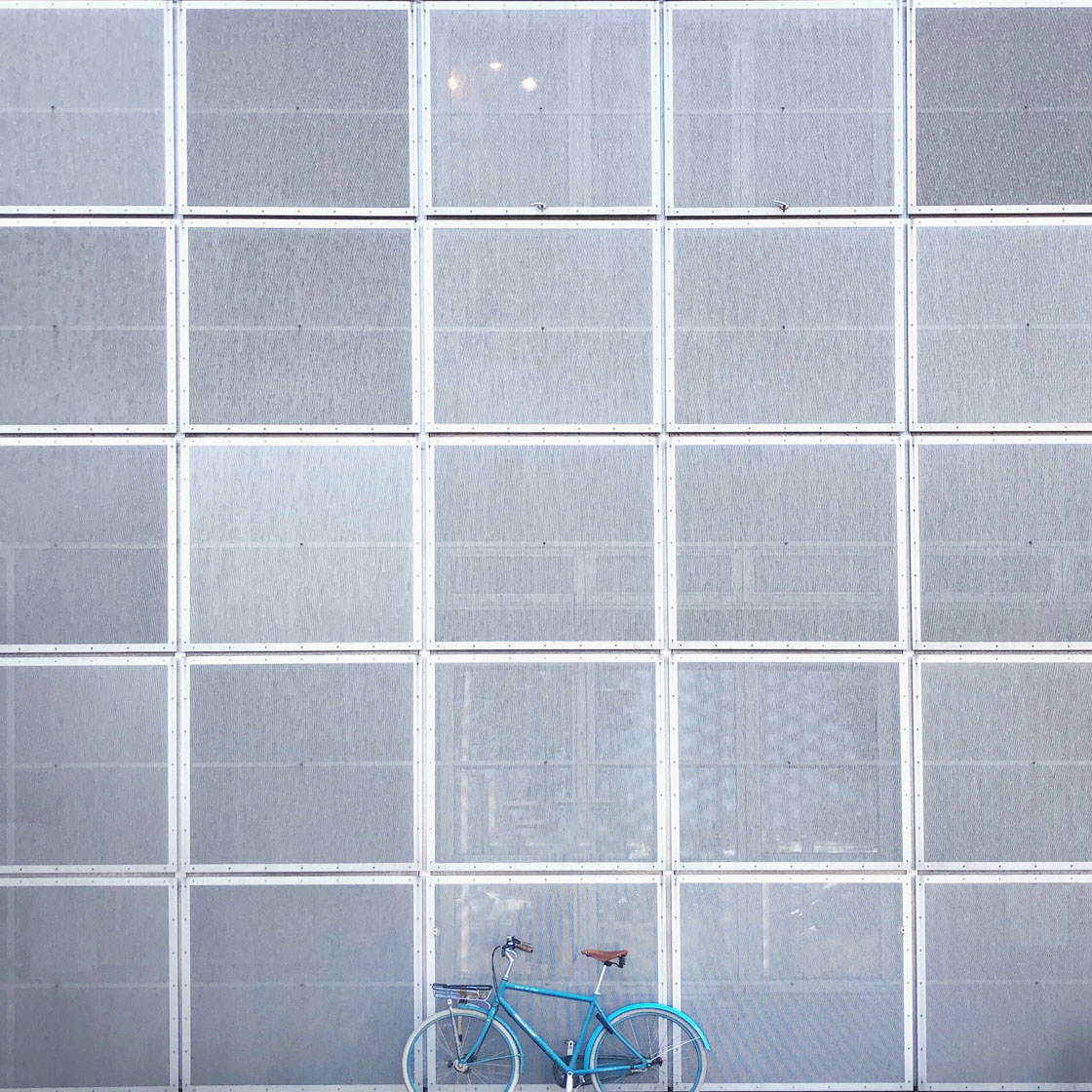 Remove all unnecessary elements.
Make sure that you distill the photo down to the fewest things possible: a subject and a background.
Because the best urban photos are simple. They're minimalist. They have no distractions.
Remember: Simple is beautiful.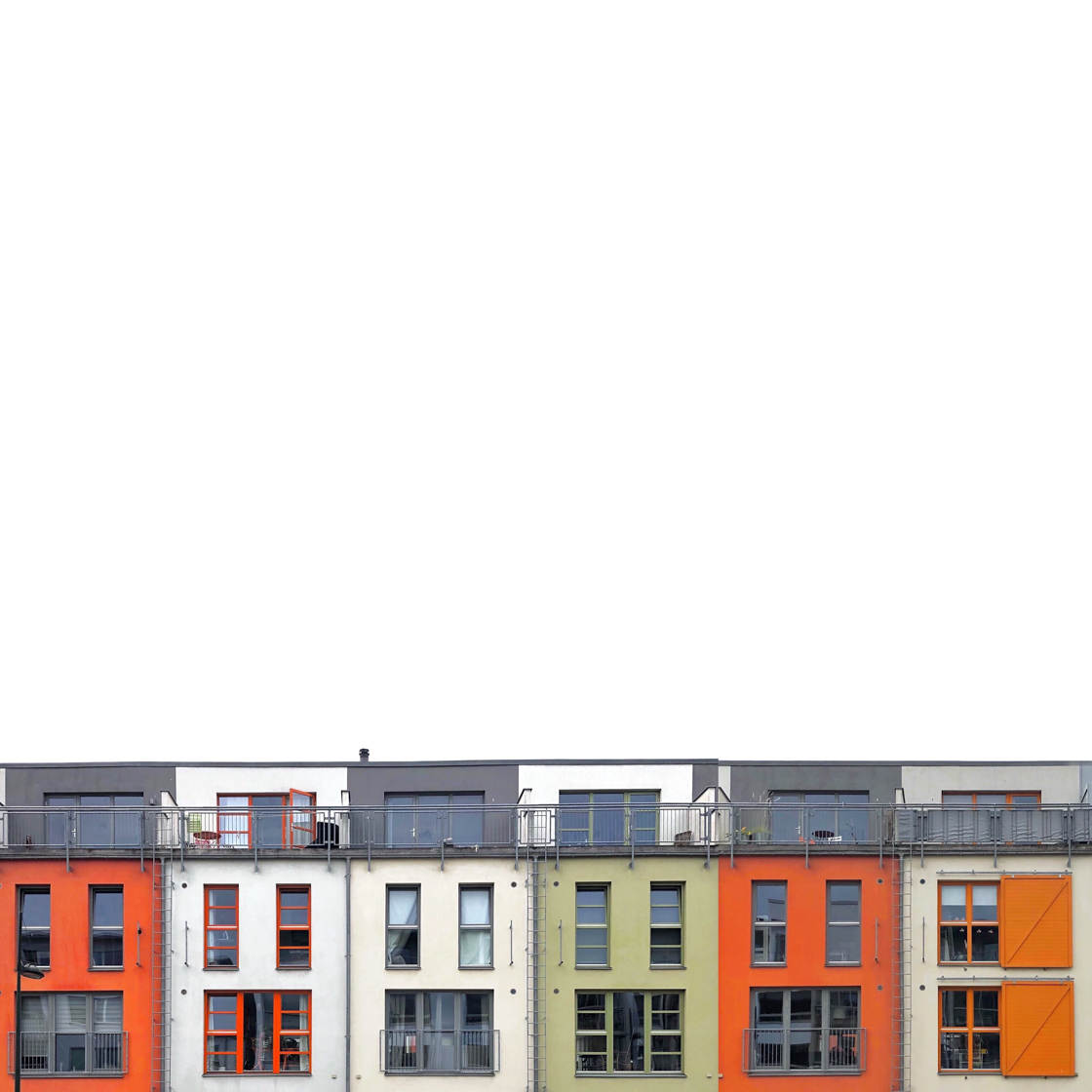 But how do you do minimal photography? How do you simplify your compositions?
When you're composing your photo, don't immediately take the shot.
Instead, look carefully at the iPhone screen. Gaze around the entire composition. Check if there are any distracting elements–poles, cars, splashes of unwanted color, etc.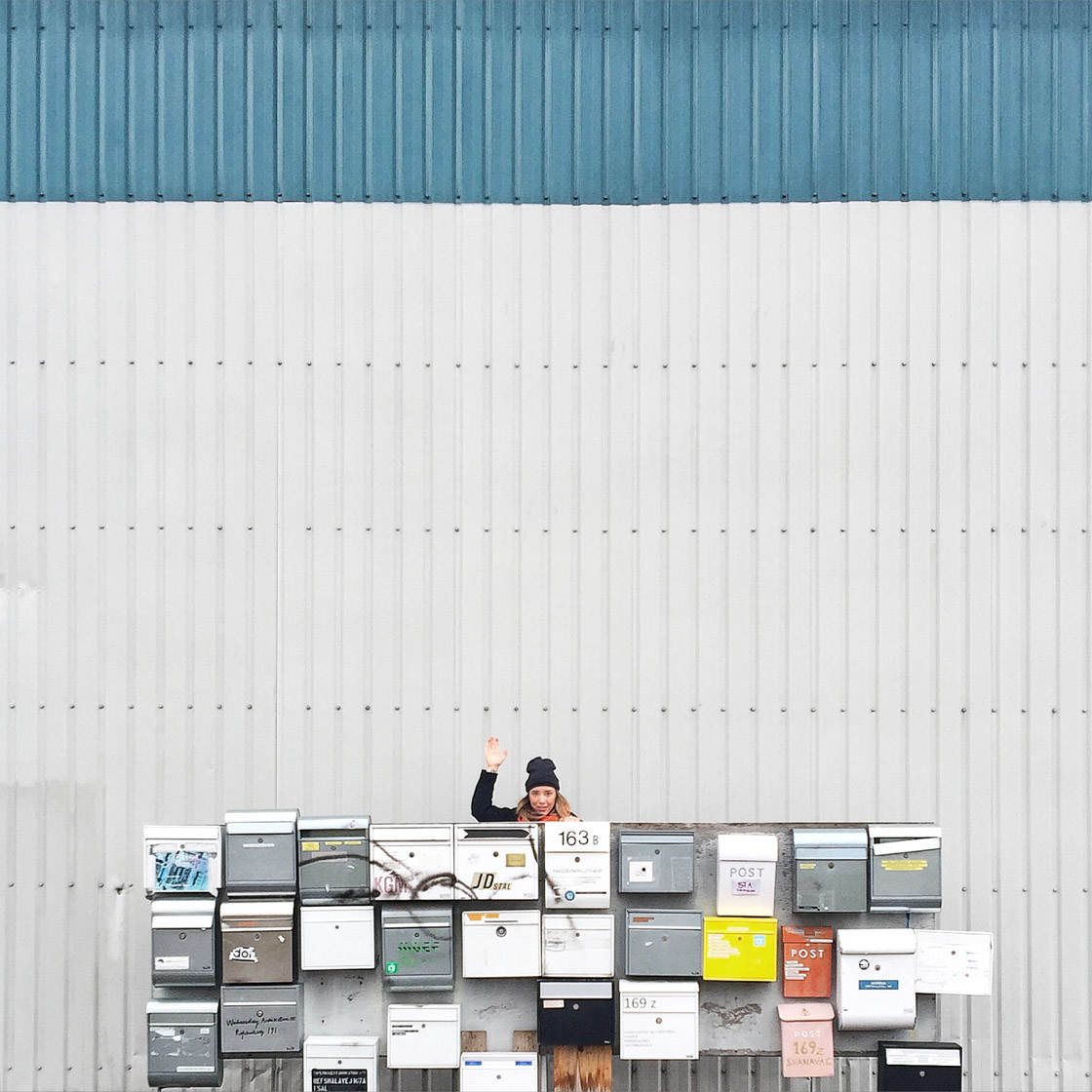 If there are, then reframe the shot so that you eliminate them.
This doesn't have to be difficult. You can take a few steps to the right or left. You can find a vantage point so as to shoot from up high. Or you can crouch down low.
Just do what you can to eliminate any extraneous elements.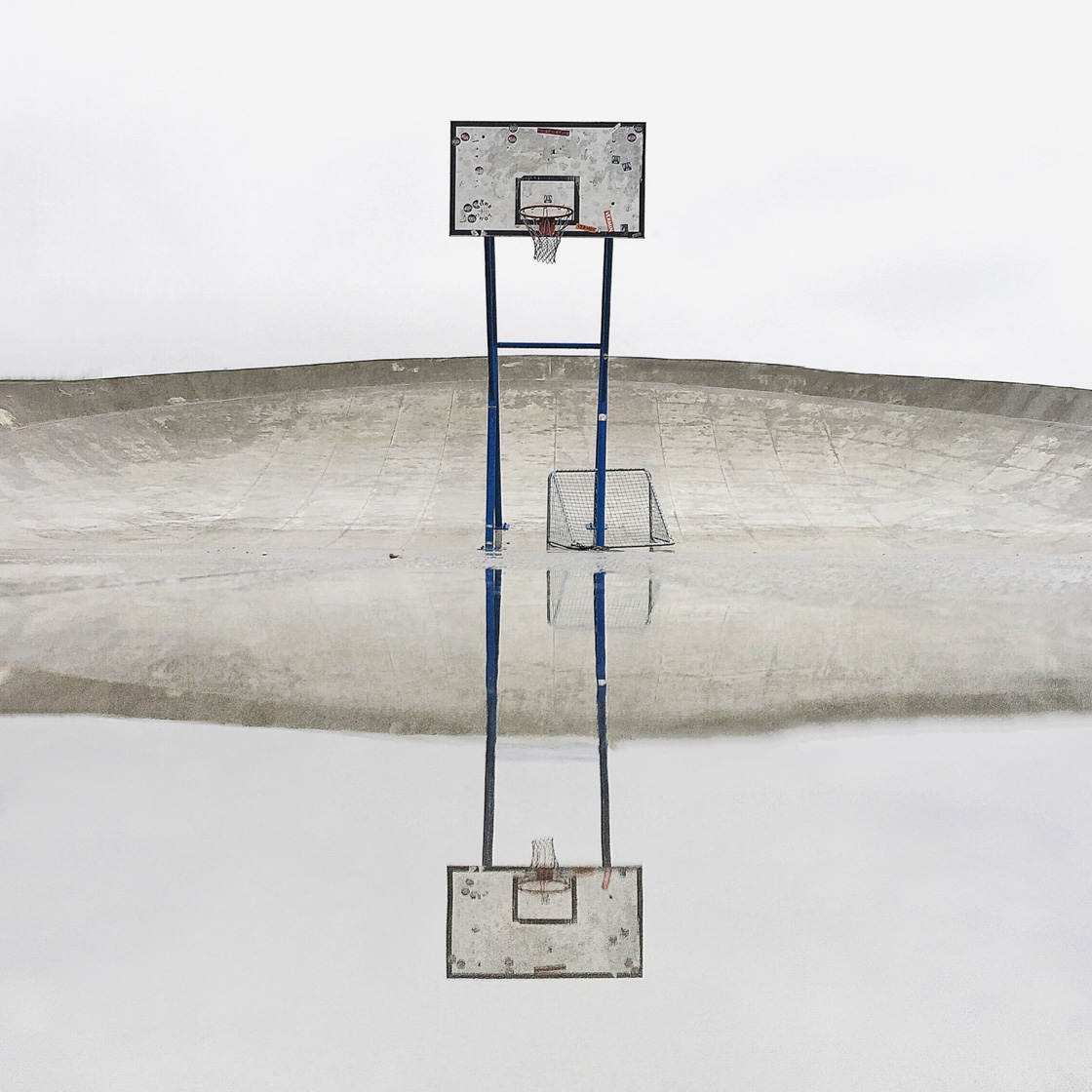 Notice how the simplicity of this photo makes it all the more powerful. The eye is immediately drawn to the single subject: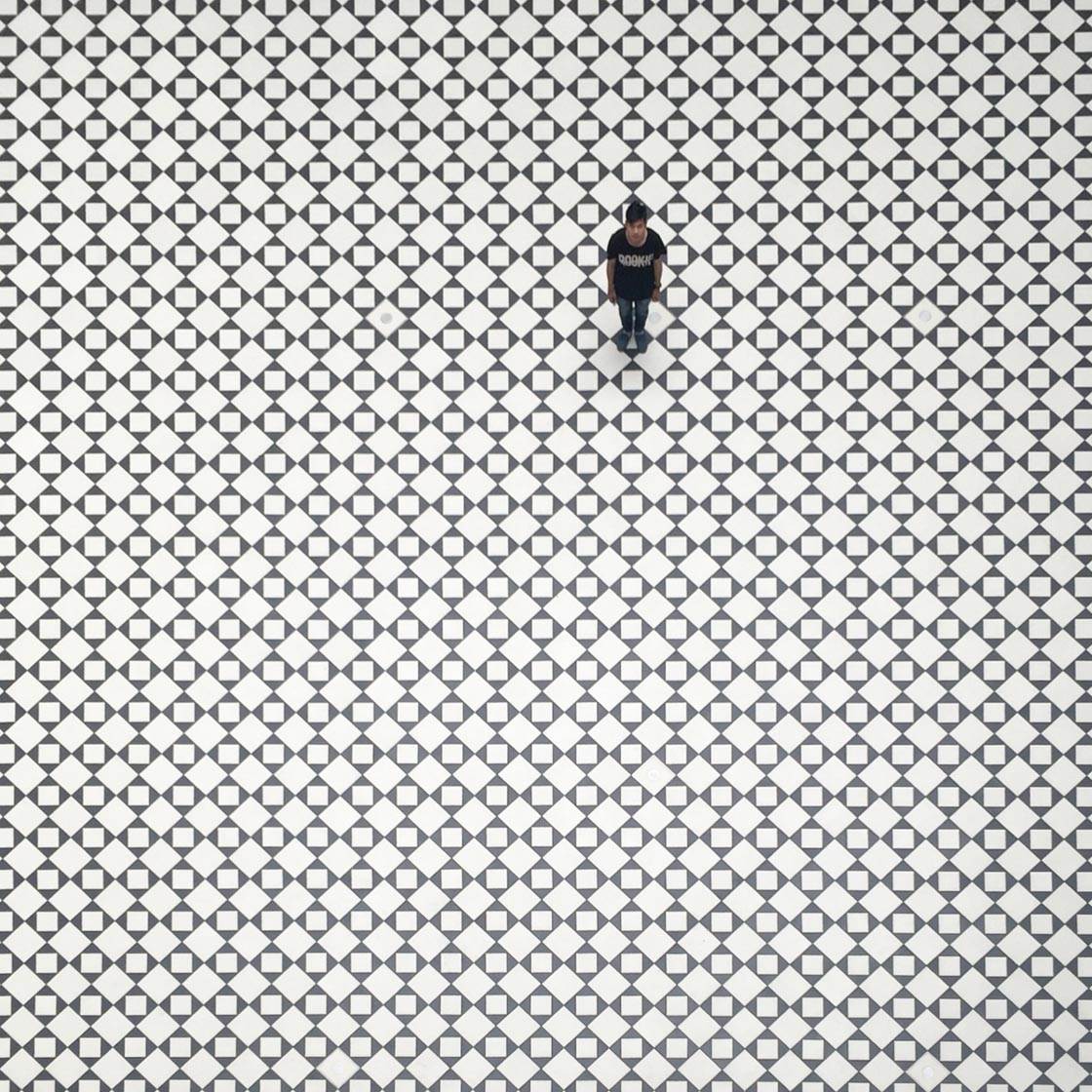 Because simple photos are the best photos.
6. Use Negative Space For The Most Beautiful Compositions
If you're looking to create incredible urban photos, then I have one more composition tip for you.
Here it is:
Make sure to include lots of negative space in your photos.
(Negative space is just emptiness–the parts of the photo that have nothing at all).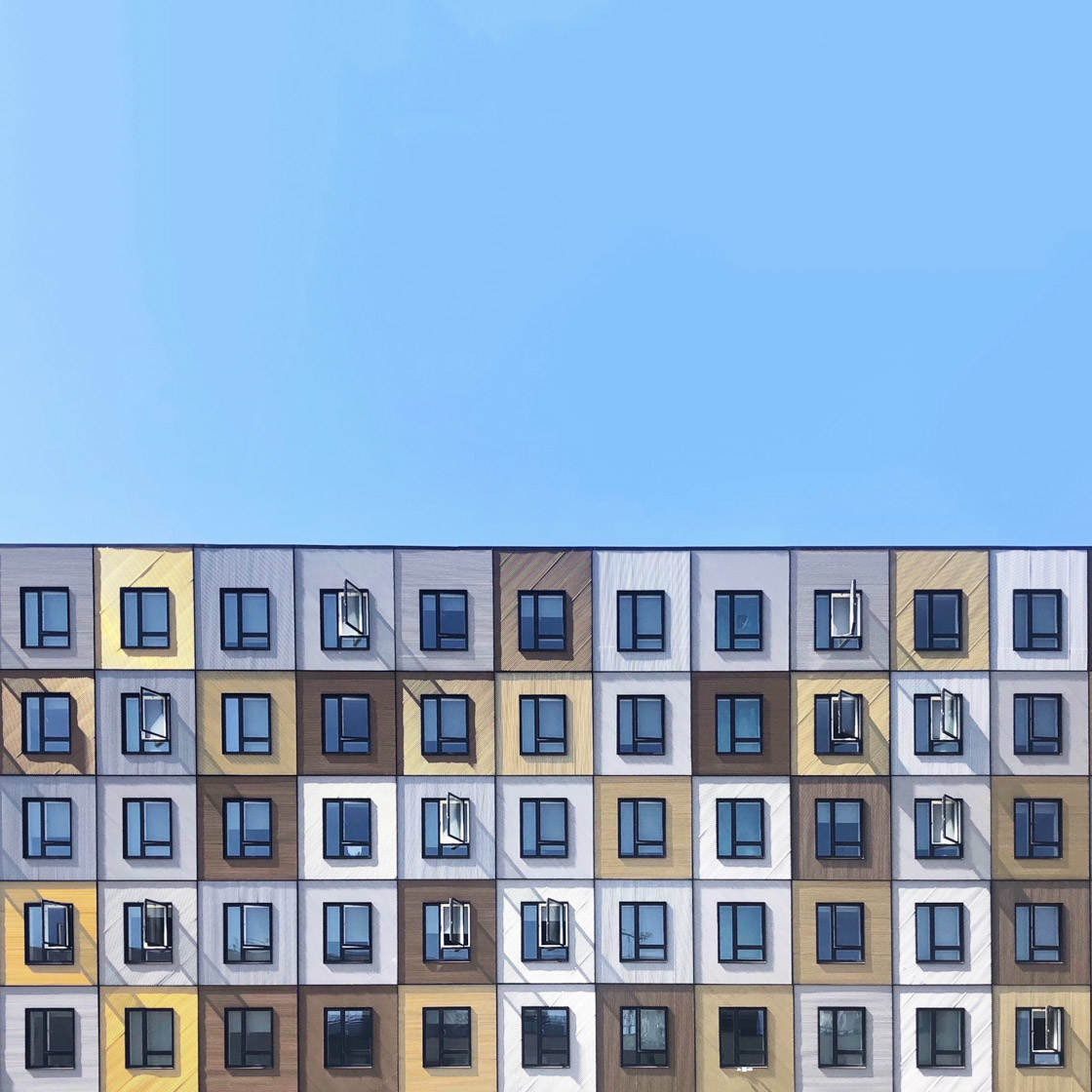 One way to include negative space is to add lots of sky to your photos. I'm an especially big fan of white sky. I used the white sky to capture negative space in the photo below: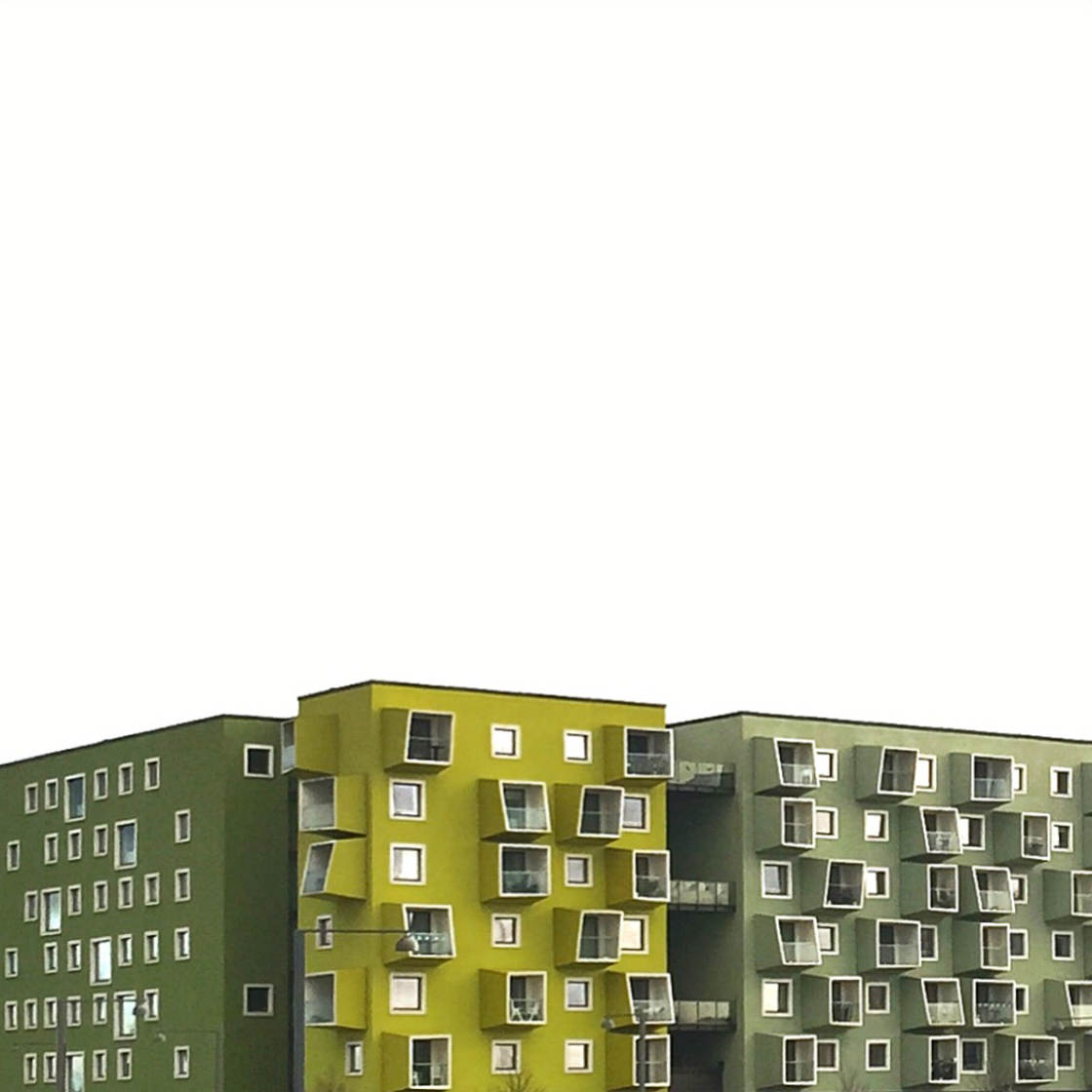 But what's so important about negative space?
Negative space is great for a few reasons.
First, negative space helps to balance your photos. If you have your subject on one side of the photo, try to include some negative space on the other.
Second, negative space allows your photos to breathe. It prevents them from becoming too chaotic.
Finally, negative space can add a certain special something to your photos. It can create very peaceful compositions–compositions that really touch the viewer.
These compositions are sometimes referred to as minimalist photography.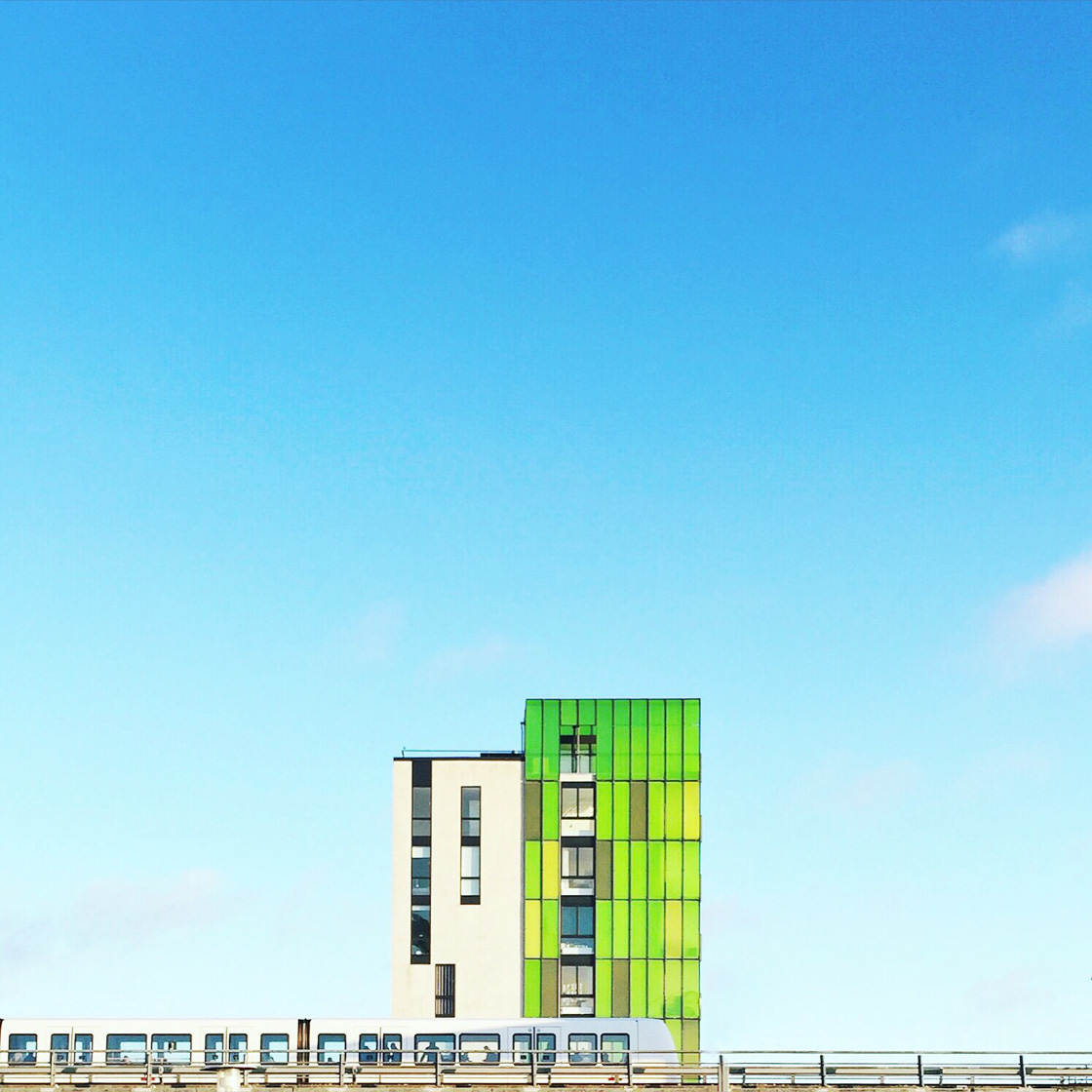 Do you see all the negative space in the photo above? Doesn't the scene feel extremely peaceful?
So when you can, add negative space.
You're going to love the effect this gives.
7. Shoot During Golden Hours For The Best Light And Shadows
You know how to find urban photography subjects. You know how to create beautiful compositions.
But what about light? Is there an ideal light for urban photography?
While it's possible to get stunning urban photos in any light, there are certain types of light that make for especially powerful images.
And my absolute favorite light…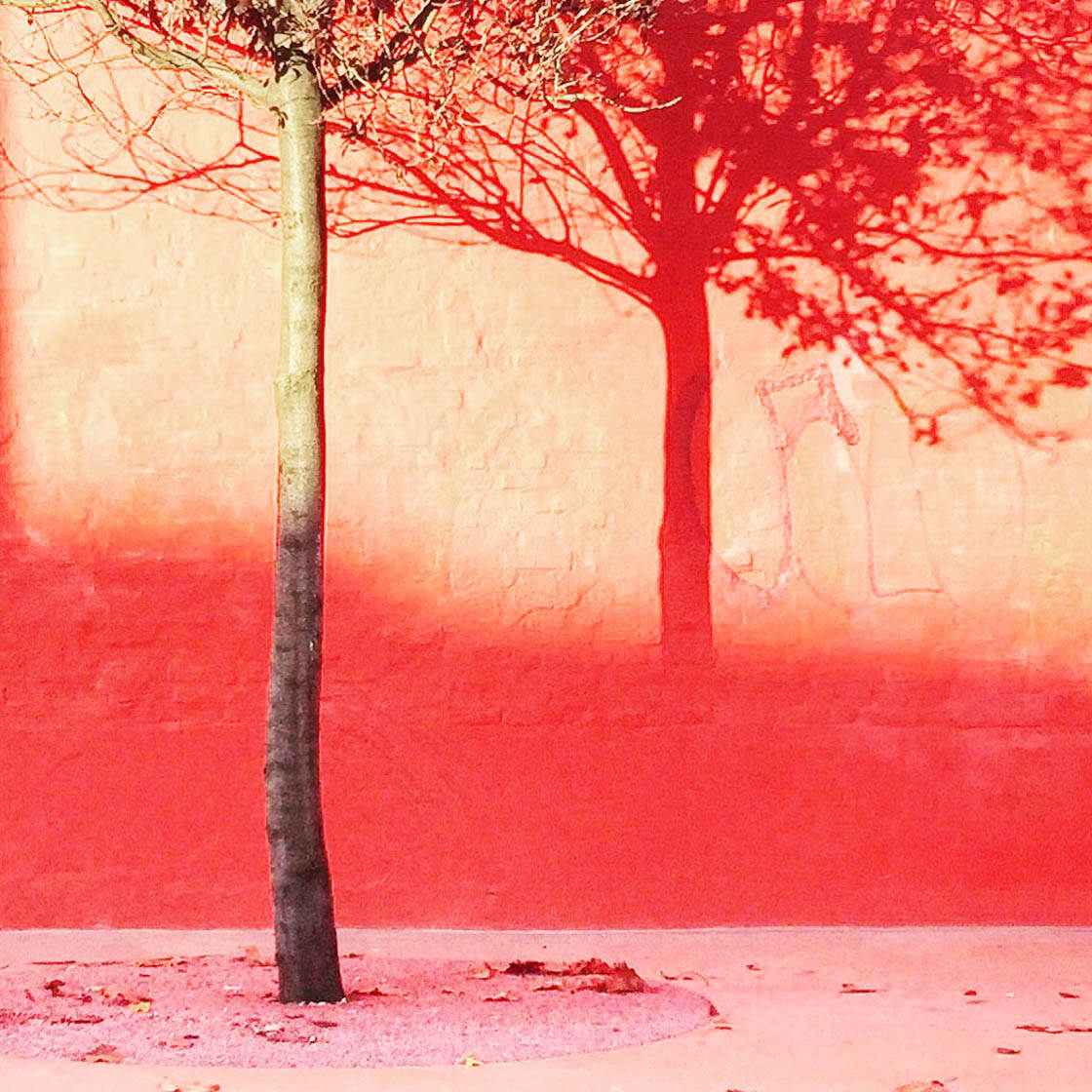 …is the golden light of sunrise and sunset.
This golden light is lovely and warm. It's soft and beautiful. And it casts a golden hue over your photos–making for stunning captures.
Plus, because the sun is low on the horizon in the morning and evening, golden light creates lots of shadows.
And you can use these shadows in your compositions!
Here's a tip: Look for interesting shadows on building walls. Then compose your photos around these shadows.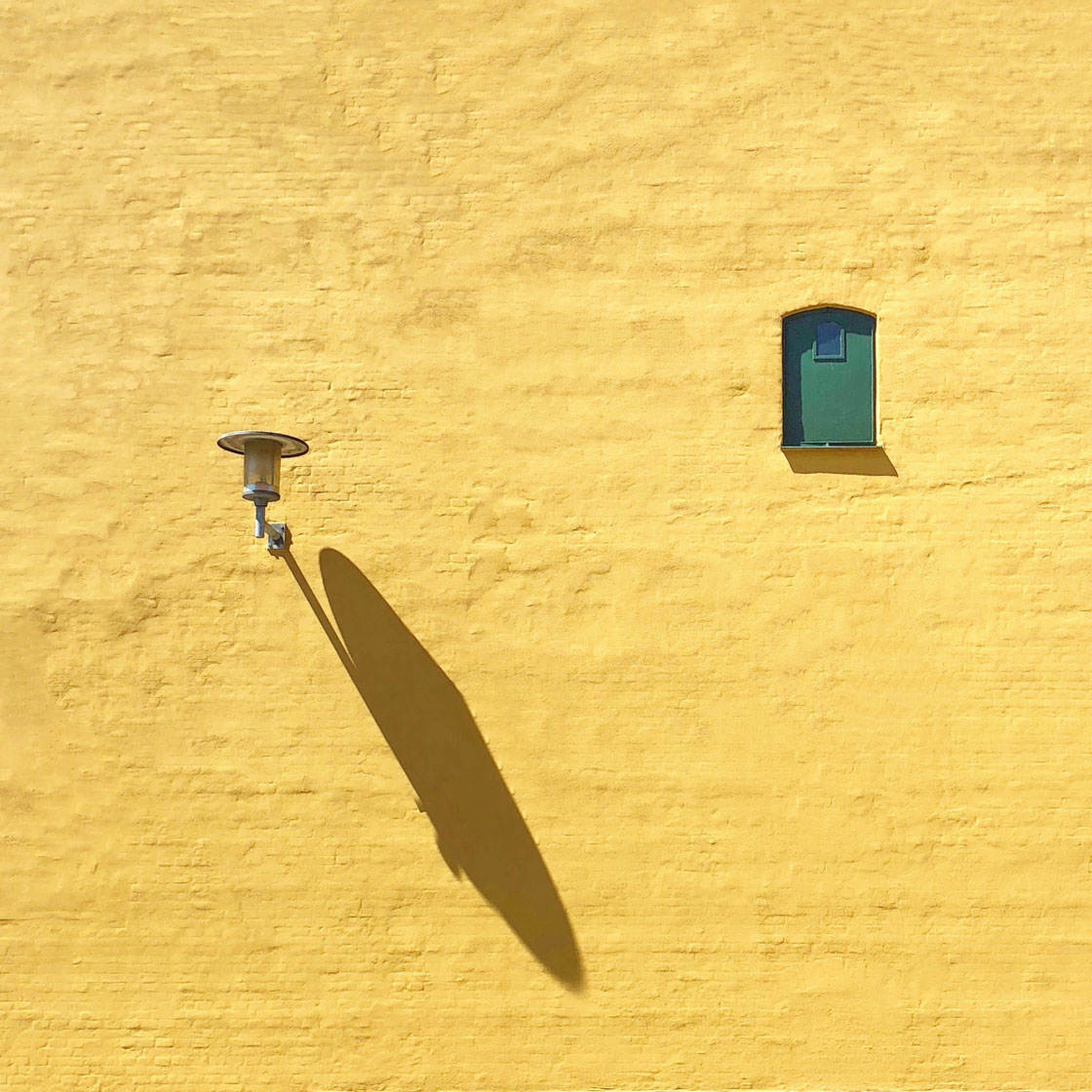 The resulting photos will be truly eye-catching!
So try to get out in the morning and evening. That's when you'll find the best light!