Do you want to take gorgeous urban landscape photos with your iPhone? Urban landscape photography can be extremely rewarding. And, once you know a few simple tricks, your urban landscape photography will blow everyone away. So read on to discover 8 tips for stunning urban landscape images…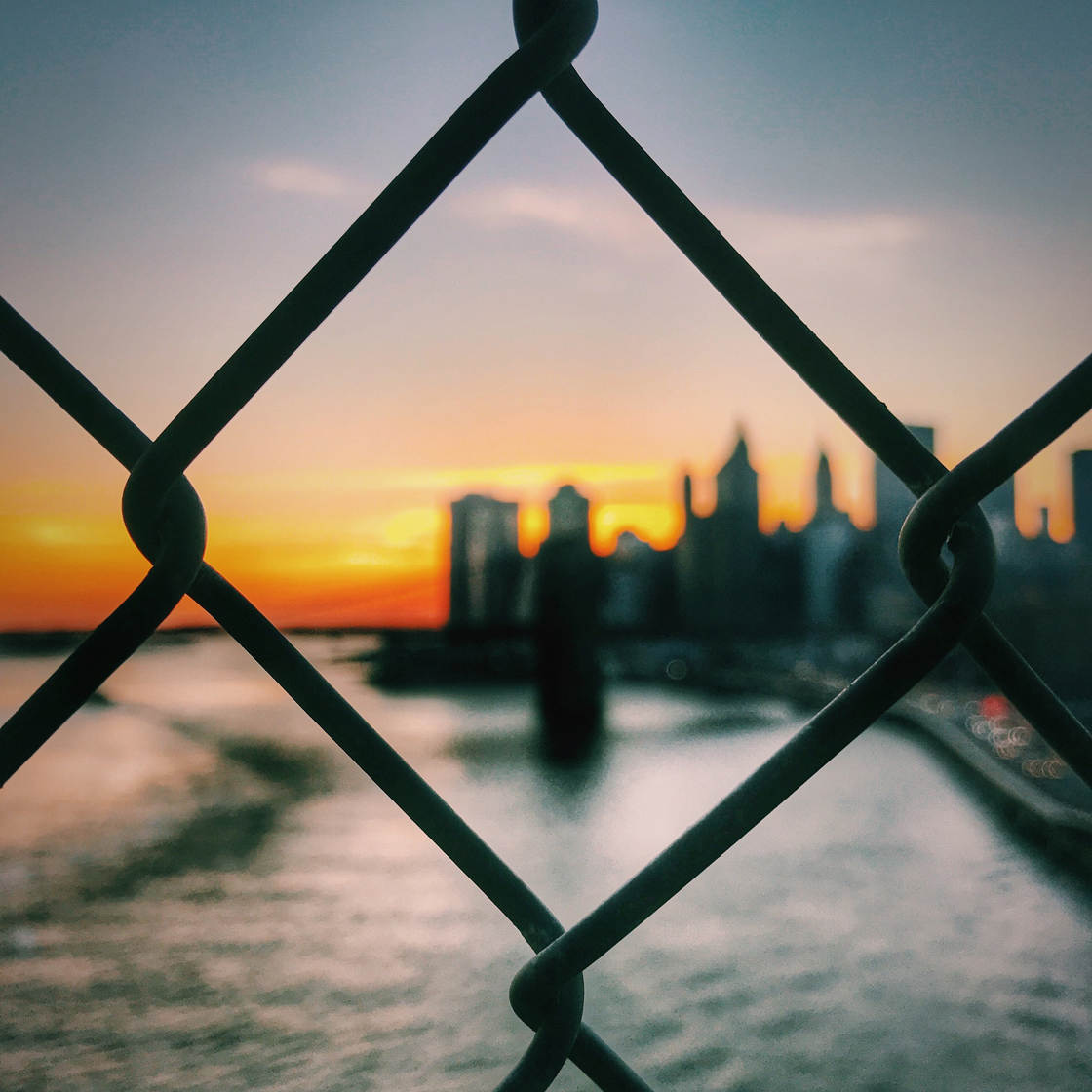 1. Shoot In Areas With Lots of Depth For Powerful Compositions
If you want to capture stunning urban landscapes, where do you even start?
That is, what should you look for in an urban scene?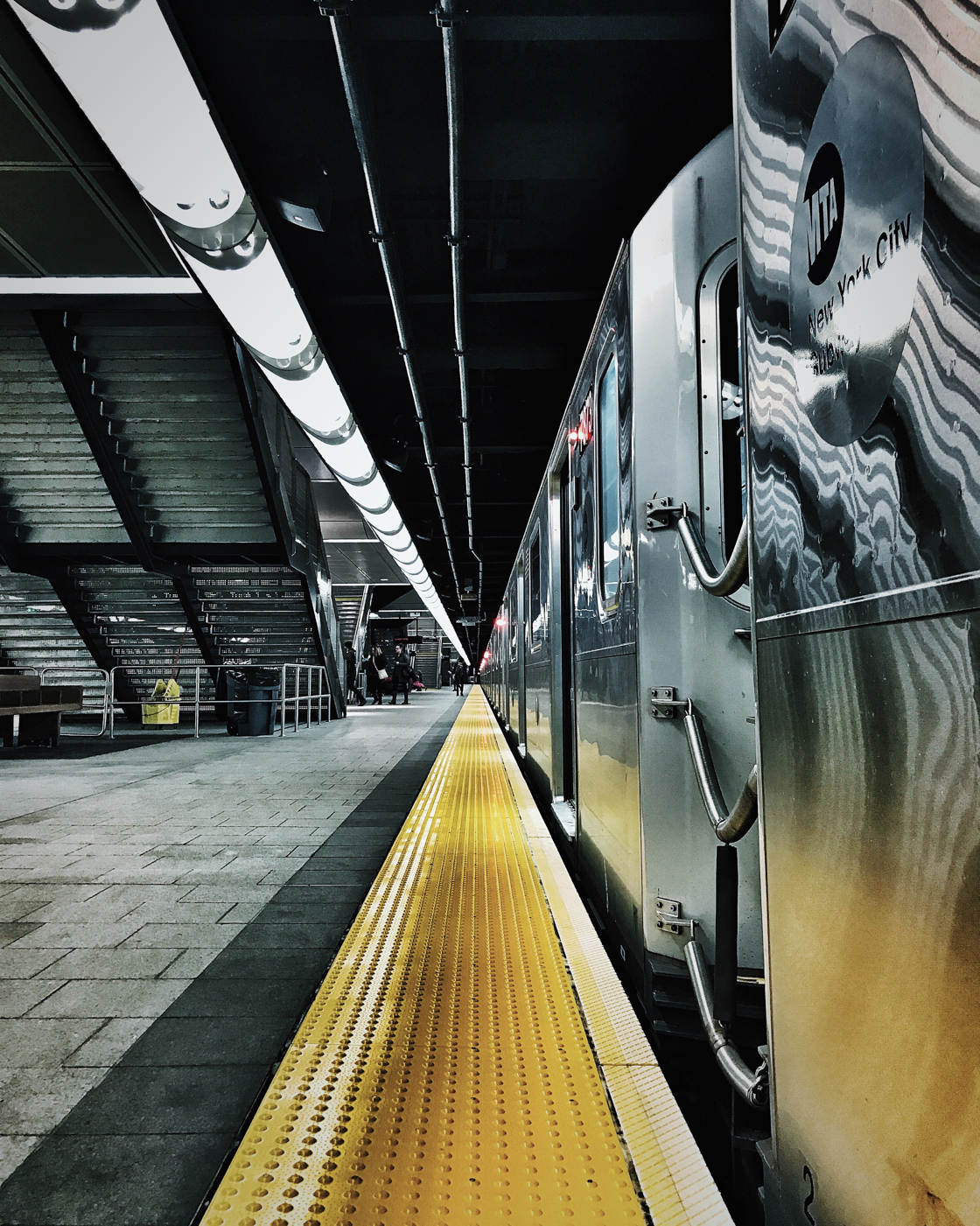 Here's what I suggest:
Start by walking the streets. Move around a lot. See what you can find.
And search out areas with lots of depth.
By this, I'm referring to areas that really draw a viewer into the scene.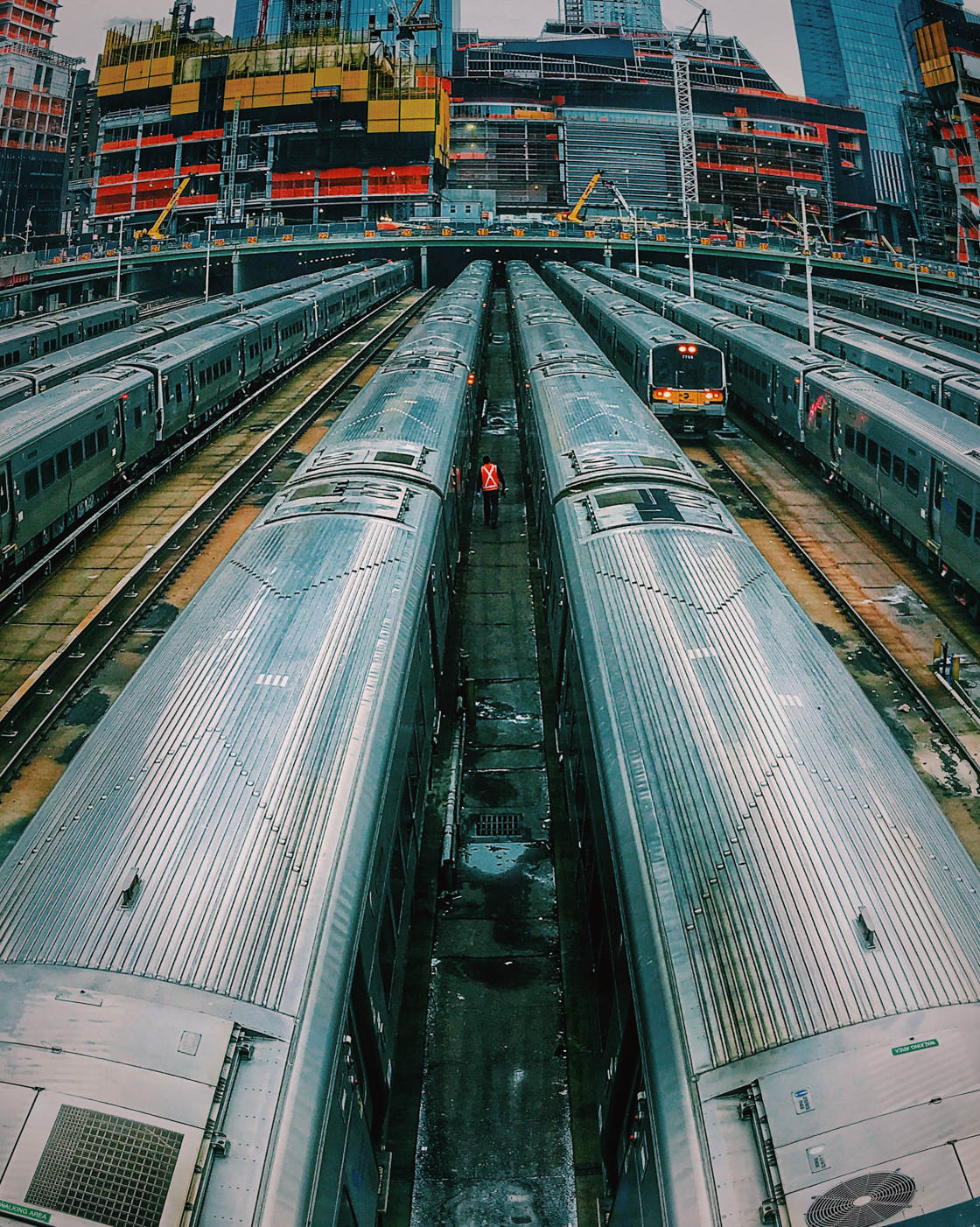 For instance, long corridors tend to give a feeling of depth. Train and subway stations are great at creating depth, as well—because the long hallways pull the viewer straight into the scene.
More broadly, areas with leading lines stretching off into the distance create depth. So this is definitely something you should look for when out shooting.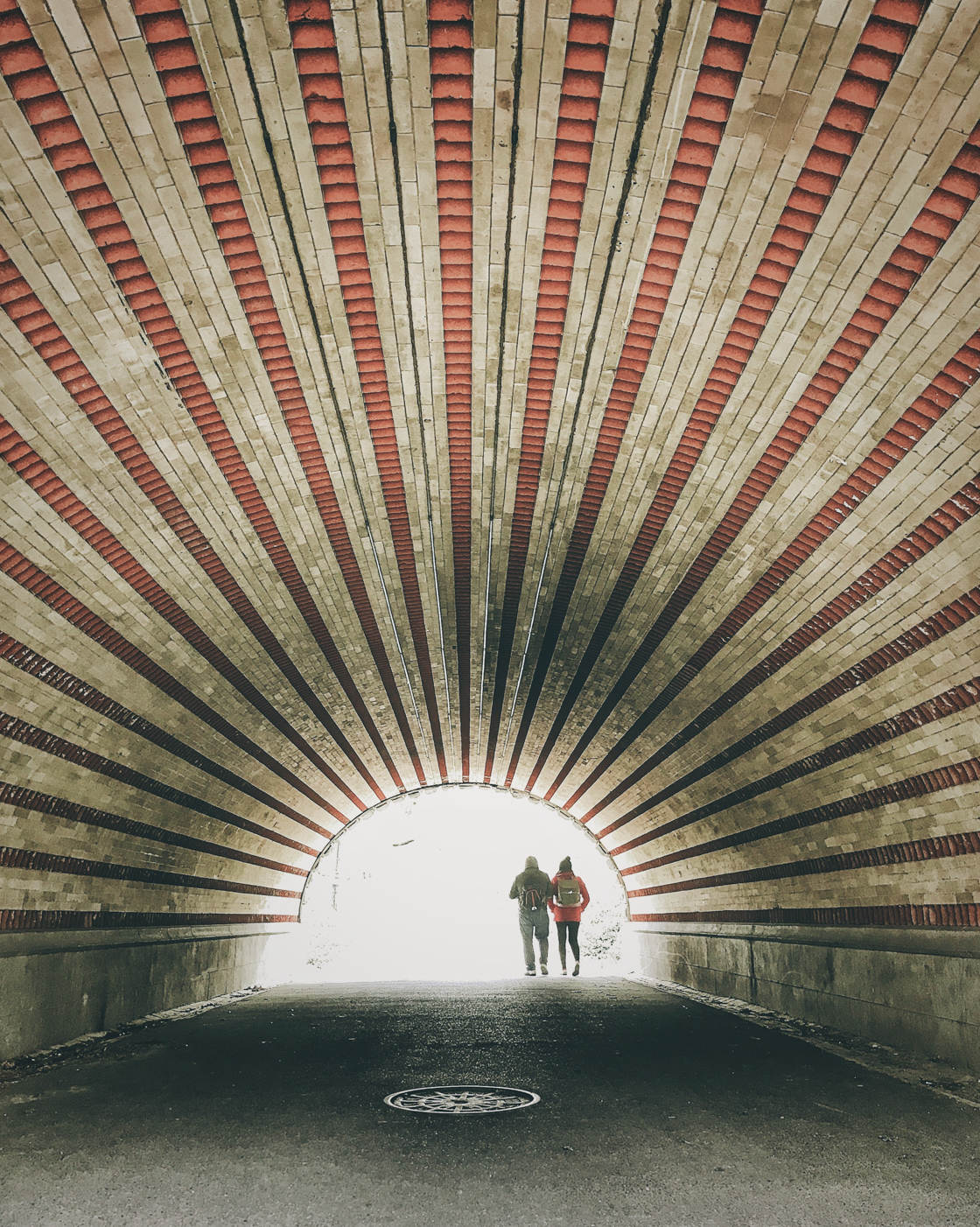 Another way to create depth is to find places with a beautiful foreground—and a beautiful background.
For instance, you might find a gorgeous bicycle in the foreground and an imposing building the background.
Then position yourself so that the foreground subject is an important part of your photo. That way, the viewer will see the foreground subject—and then be drawn toward the stunning background.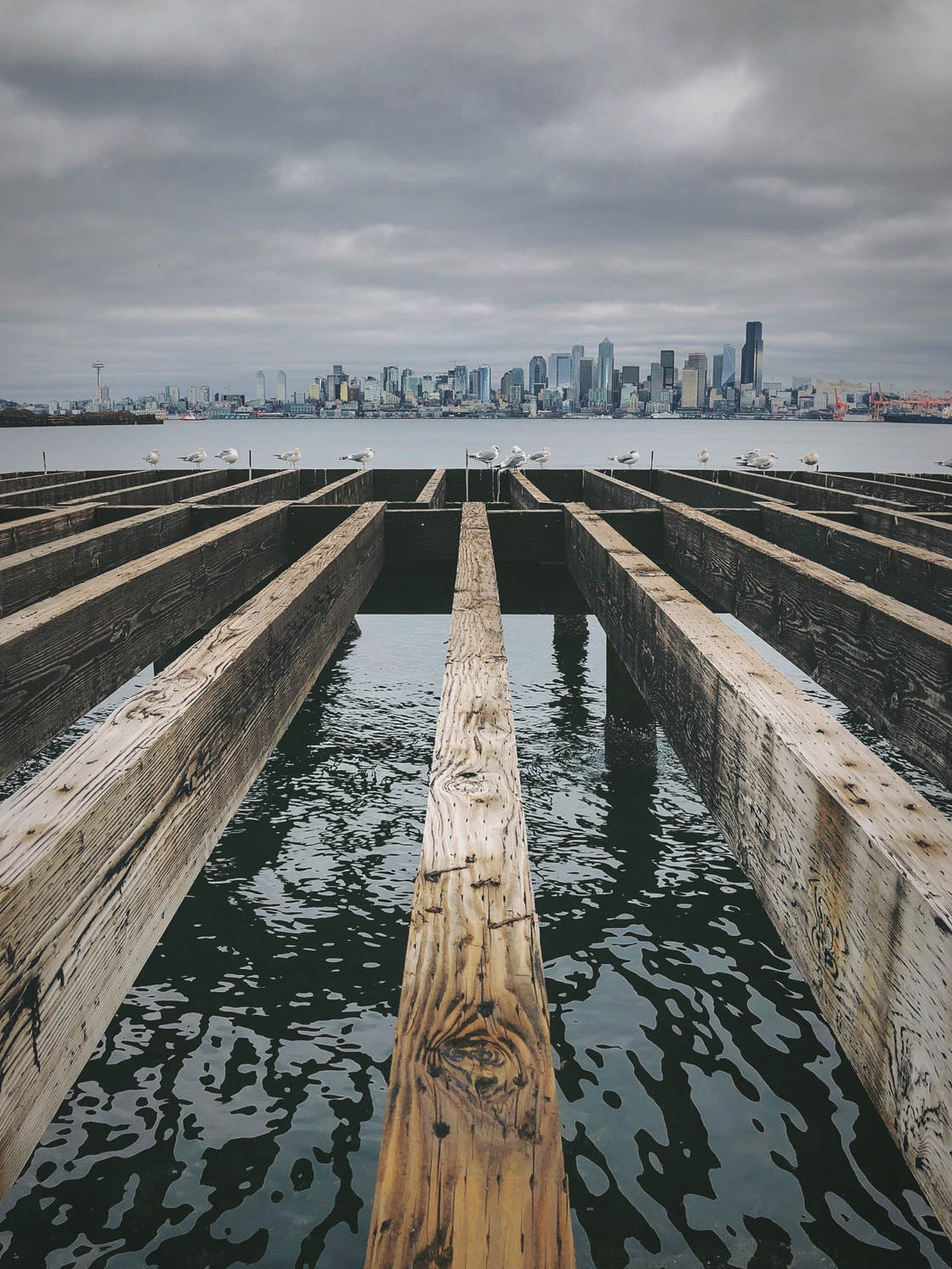 Here's the bottom line: If you want to take gorgeous urban landscapes, try to find scenes with lots of depth.
They will really stun the viewers!
2. Include A Figure In The Distance For Mysterious Urban Scenes
You know which urban landscapes to search out: The ones full of depth.
But is there anything else that you need for a gorgeous urban photo?
One of the most powerful elements you can have in an urban landscape is a single, solitary figure.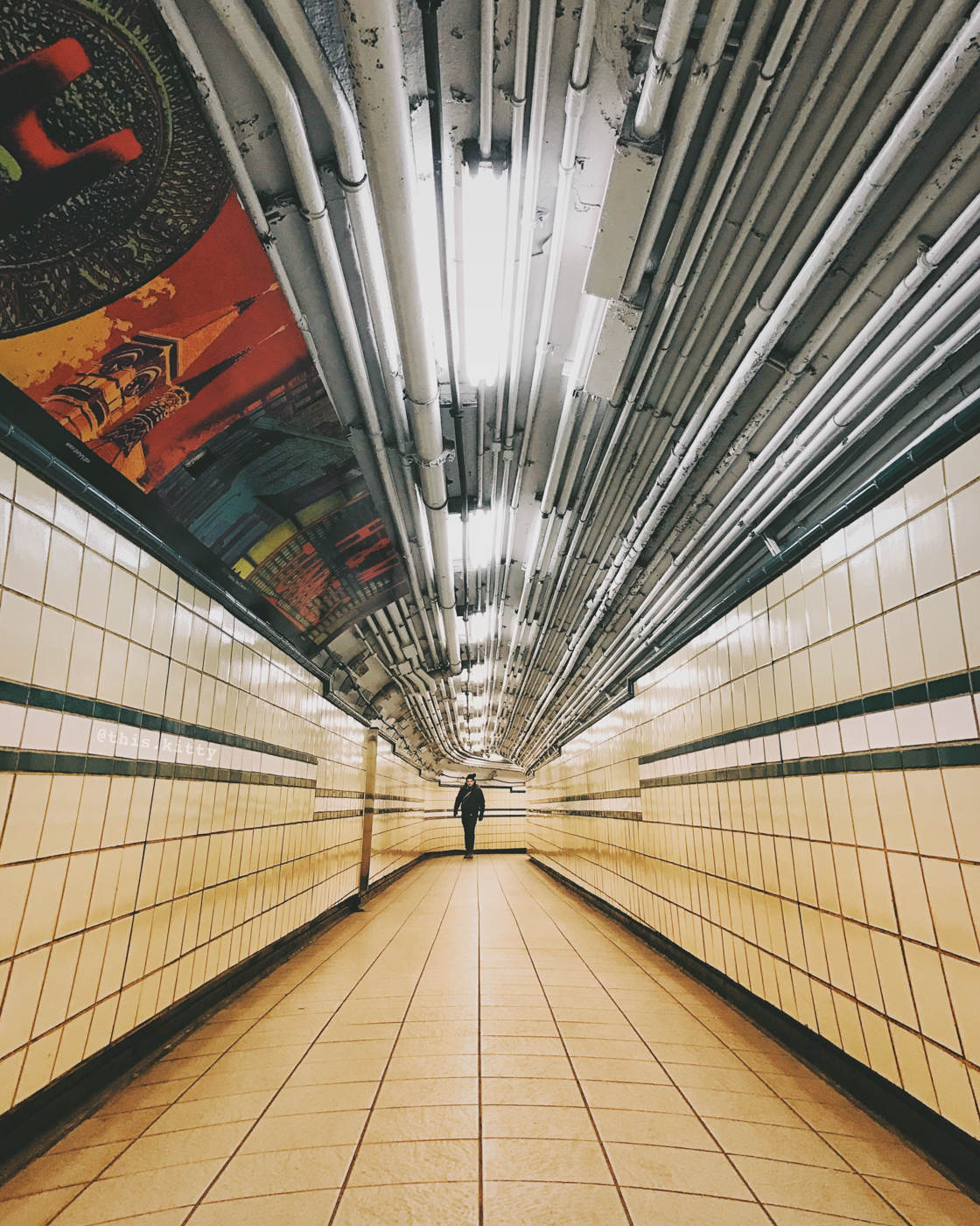 Ideally, the person is off in the distance. You don't have to be able to make out many details.
Because a single figure adds lots of mystery to your urban landscape.
And mystery helps you tell a story.
Photos full of mystery really engage the viewer. They make the viewer ask lots of questions about the people in the scene.
Basically, if you can tell a story with your photos, you should.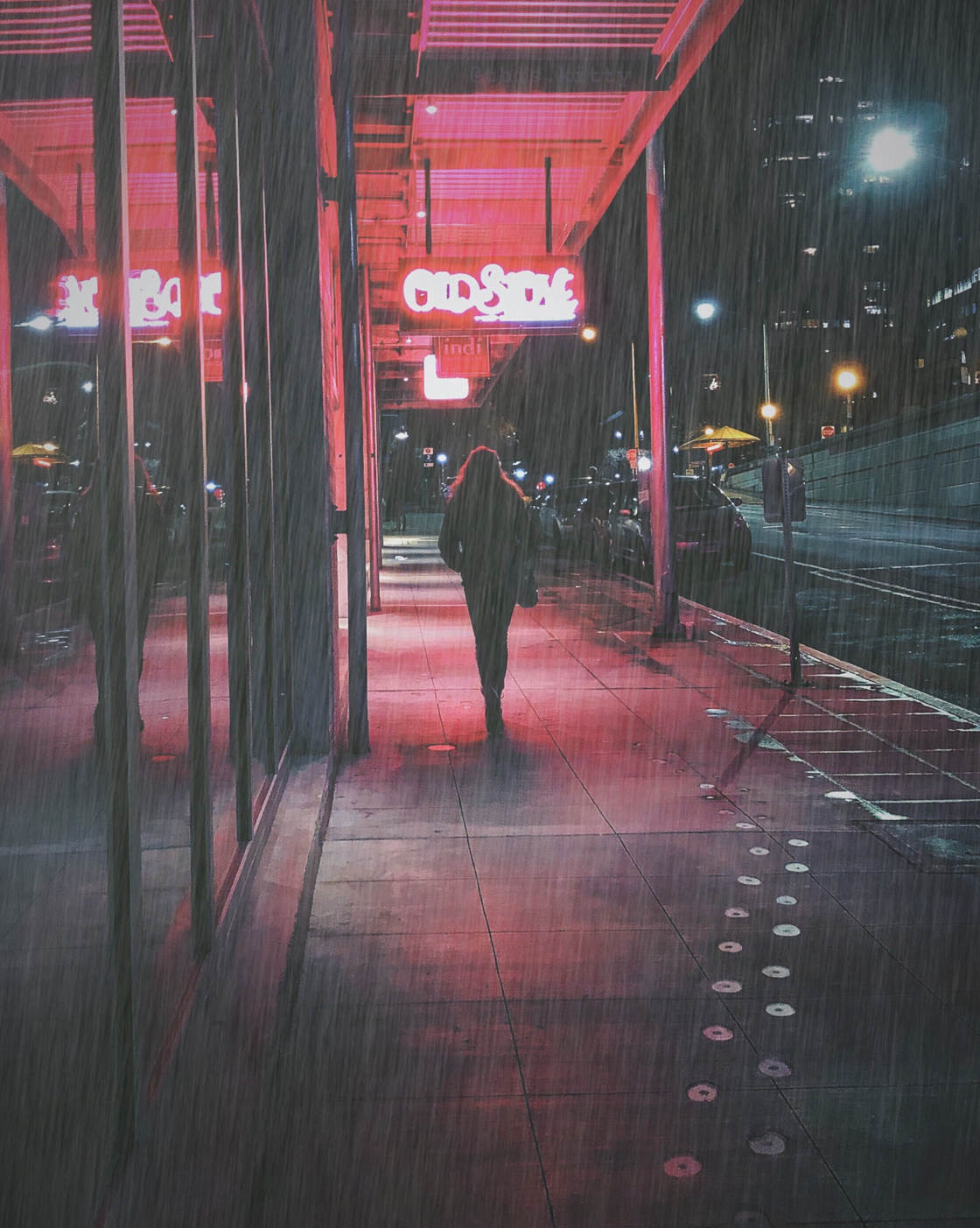 But how do you ensure you get a lone figure in your photos?
Start by finding a beautiful urban background. Ideally, this is a place with lots of depth.
Get out your iPhone, and prepare yourself to take a photo.
And then, just…wait.
Wait for someone to walk through.
It might take a while, but someone will walk through (like in the photo below!).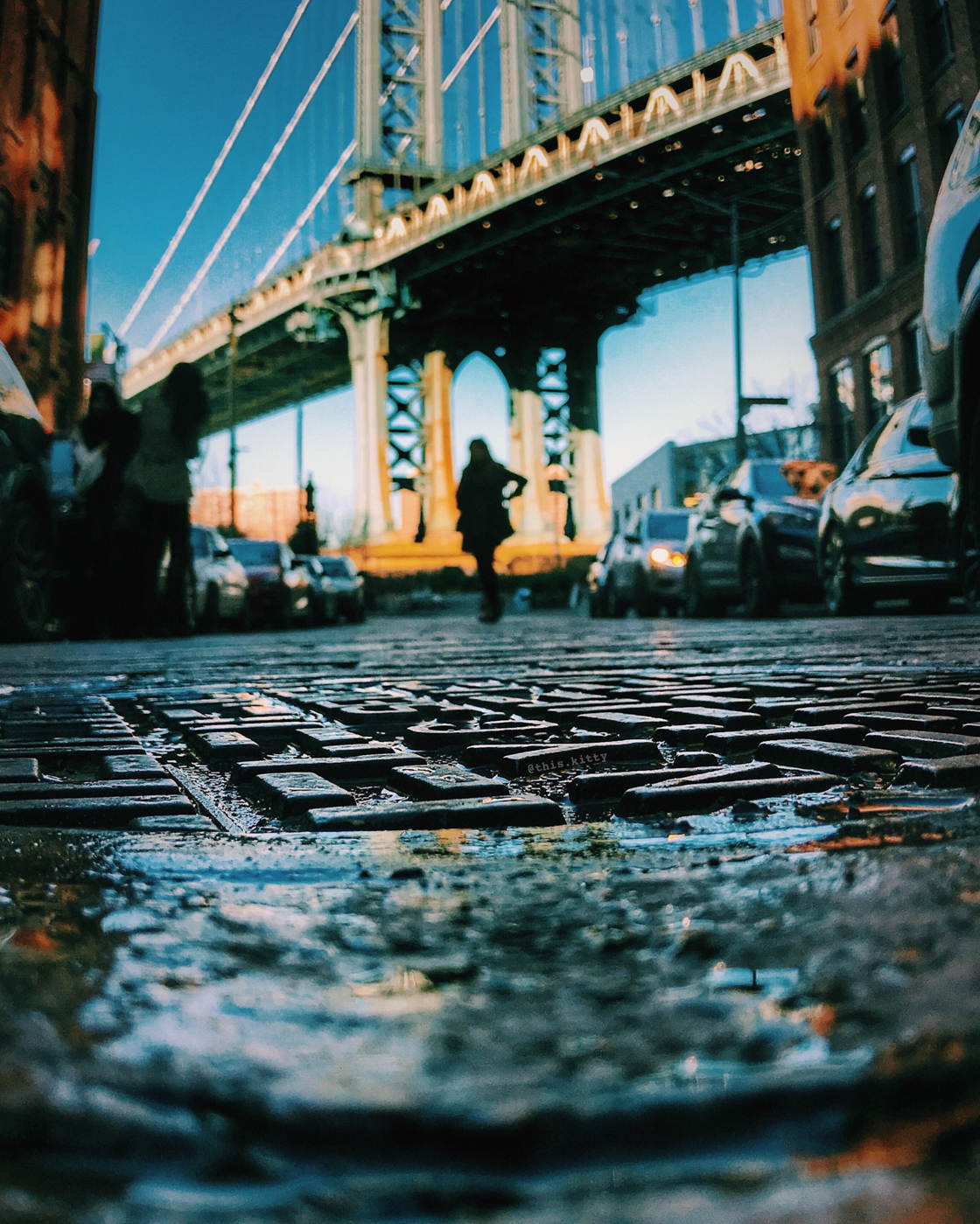 And that's when you take your gorgeous, storytelling urban landscape!
3. Shoot On Cloudy Days To Add Mood To Your City Photography
Tell me if you've had this problem before:
You went out to take photos. And you had some great moments—moments that you were sure would turn into great shots.
Yet, when you got home, you found that your shots just looked lifeless and boring.
What happened?
You probably shot in the wrong light!
Because light can make or break a photo.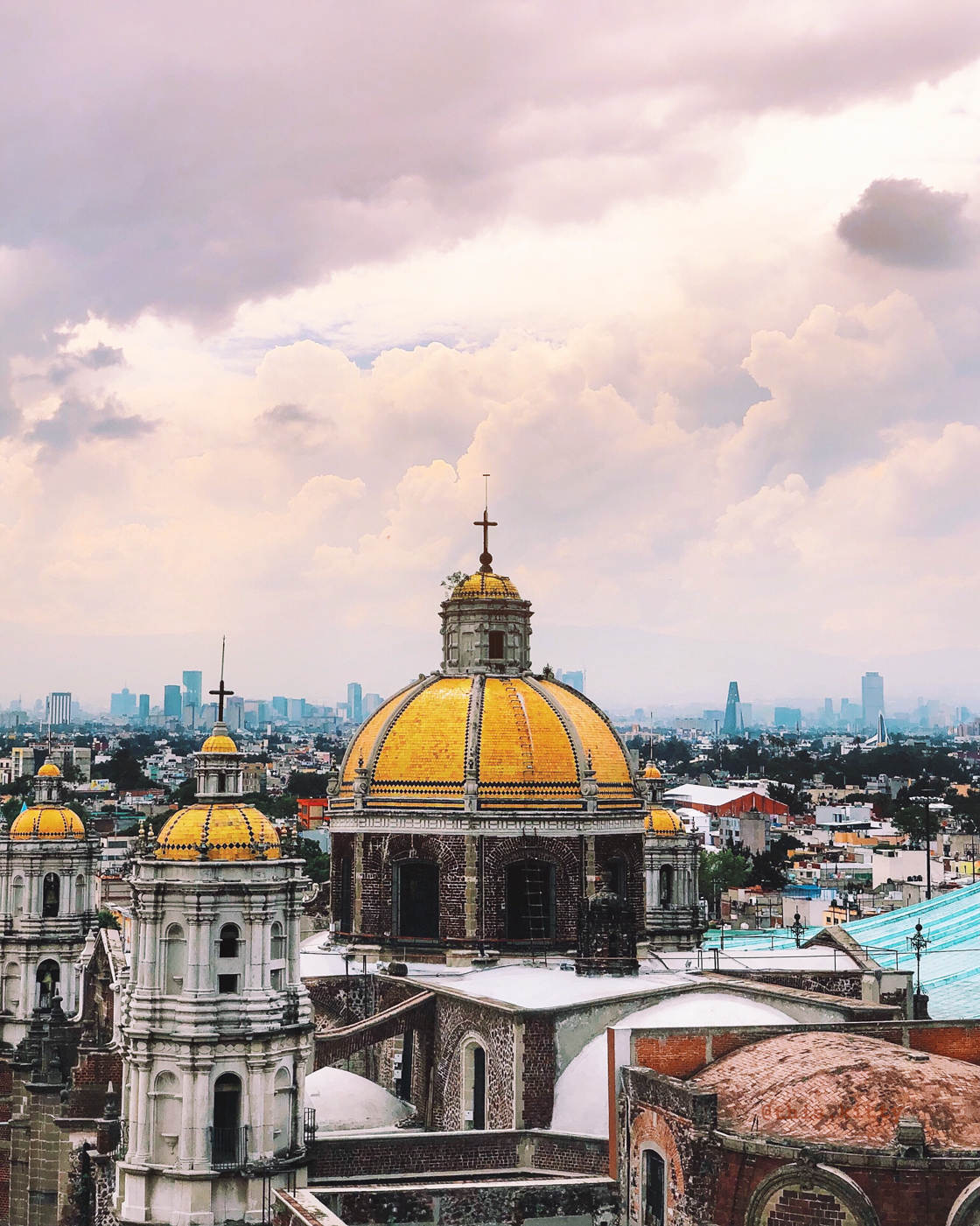 Here's the bottom line: If you want gorgeous urban landscapes, you should only shoot in certain types of light.
Cloudy light is great for urban landscapes. This is because a cloudy sky lights a scene very evenly. And it adds lots of mood.
Notice the value of the cloudy sky in the photo below.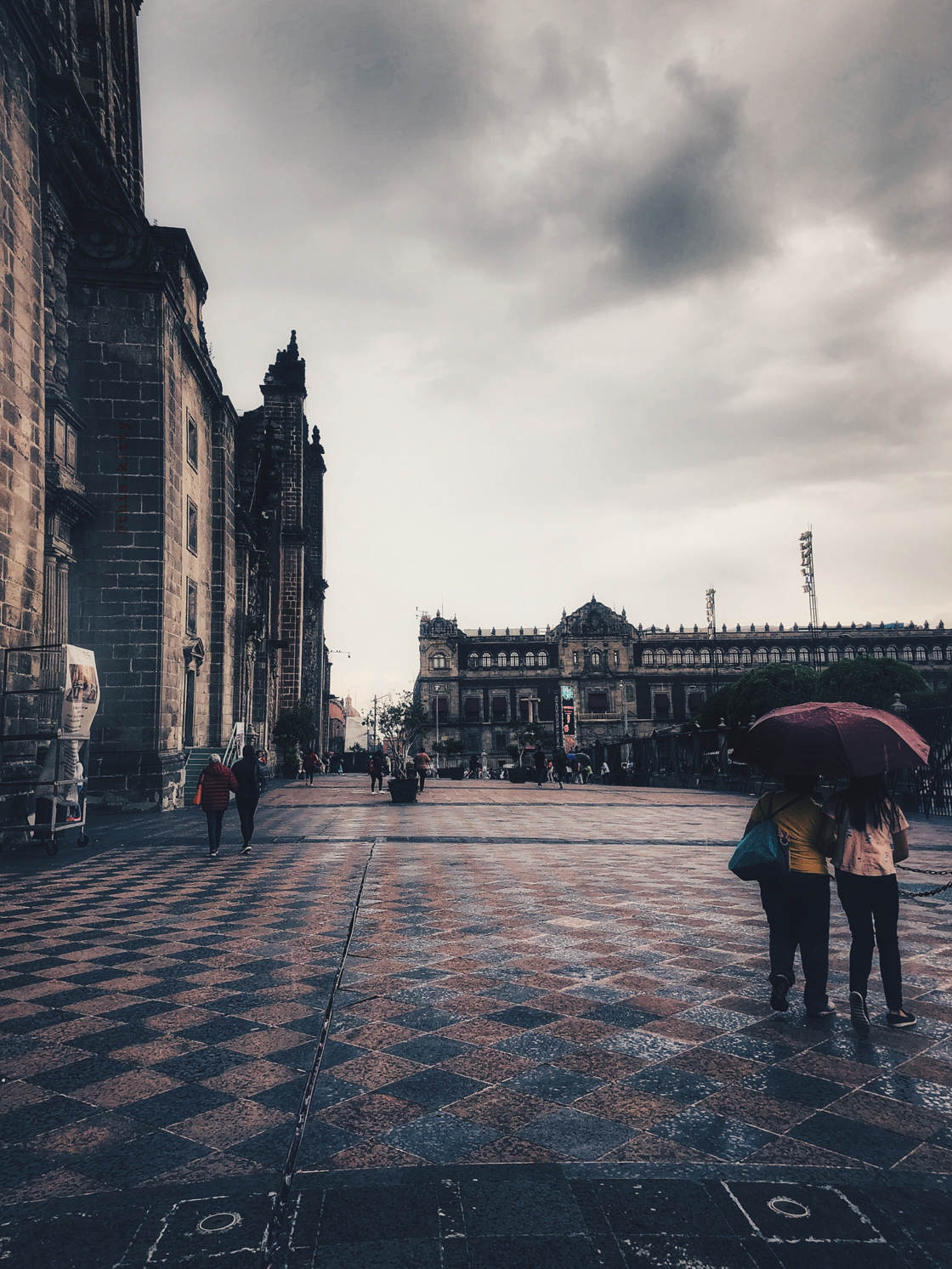 The cloudy sky created a dark, ominous scene!
Late afternoon or early morning light (the golden hours) is good, too. They offer beautiful, golden light that can really enhance your urban landscapes.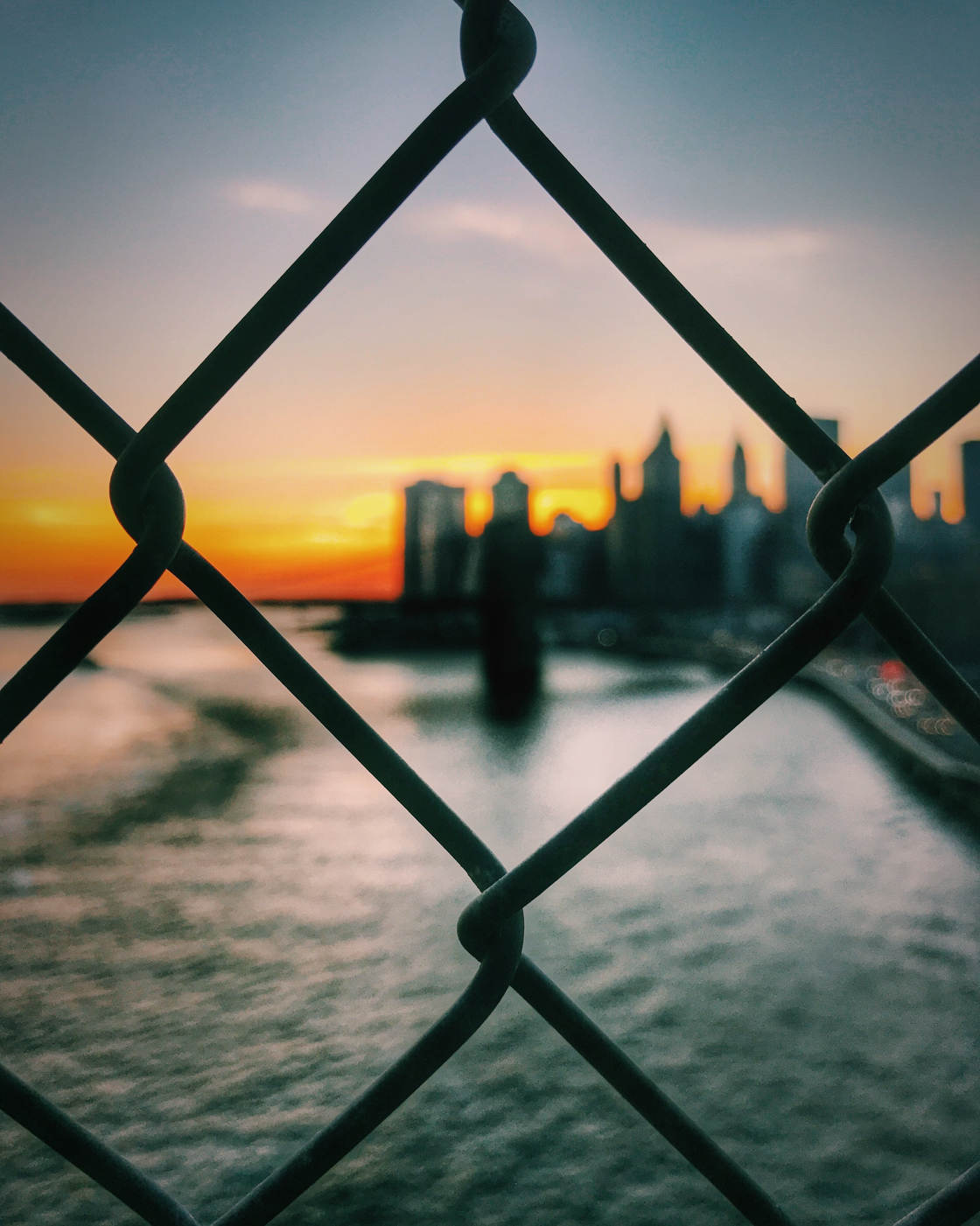 But you should definitely avoid high-contrast light—the light you get on a bright, sunny day.
This just doesn't work for creating urban landscapes.
So shoot when the sky is cloudy. You won't regret it.
4. Shoot At Night To Capture The Feel Of The City
Shooting under cloudy skies is great for urban landscapes.
But there's another wonderful time to shoot. And if you shoot during this time, you'll get original shots…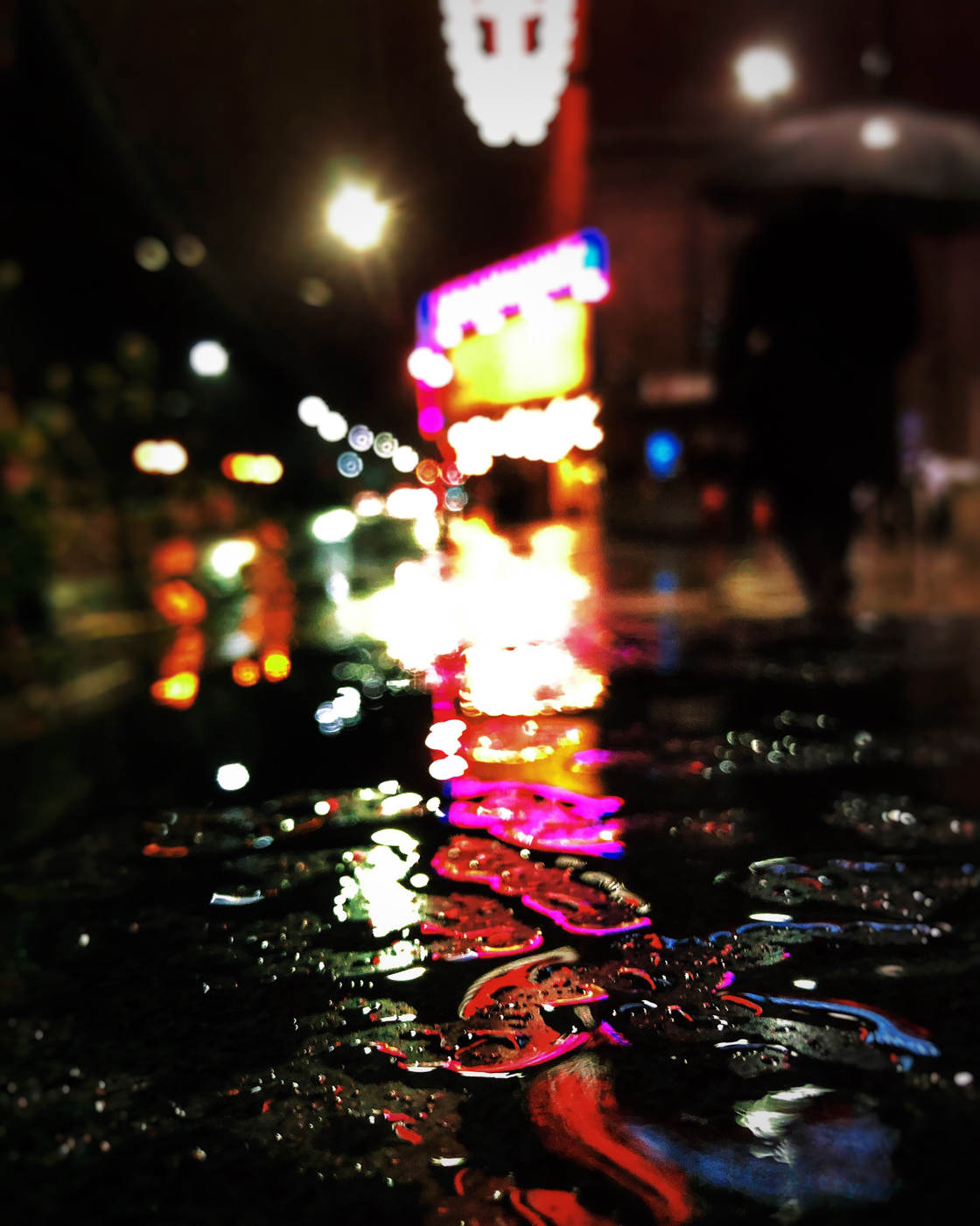 …shots that really capture the feeling of the city.
I'm talking about shooting at night.
Because urban landscapes come alive at night.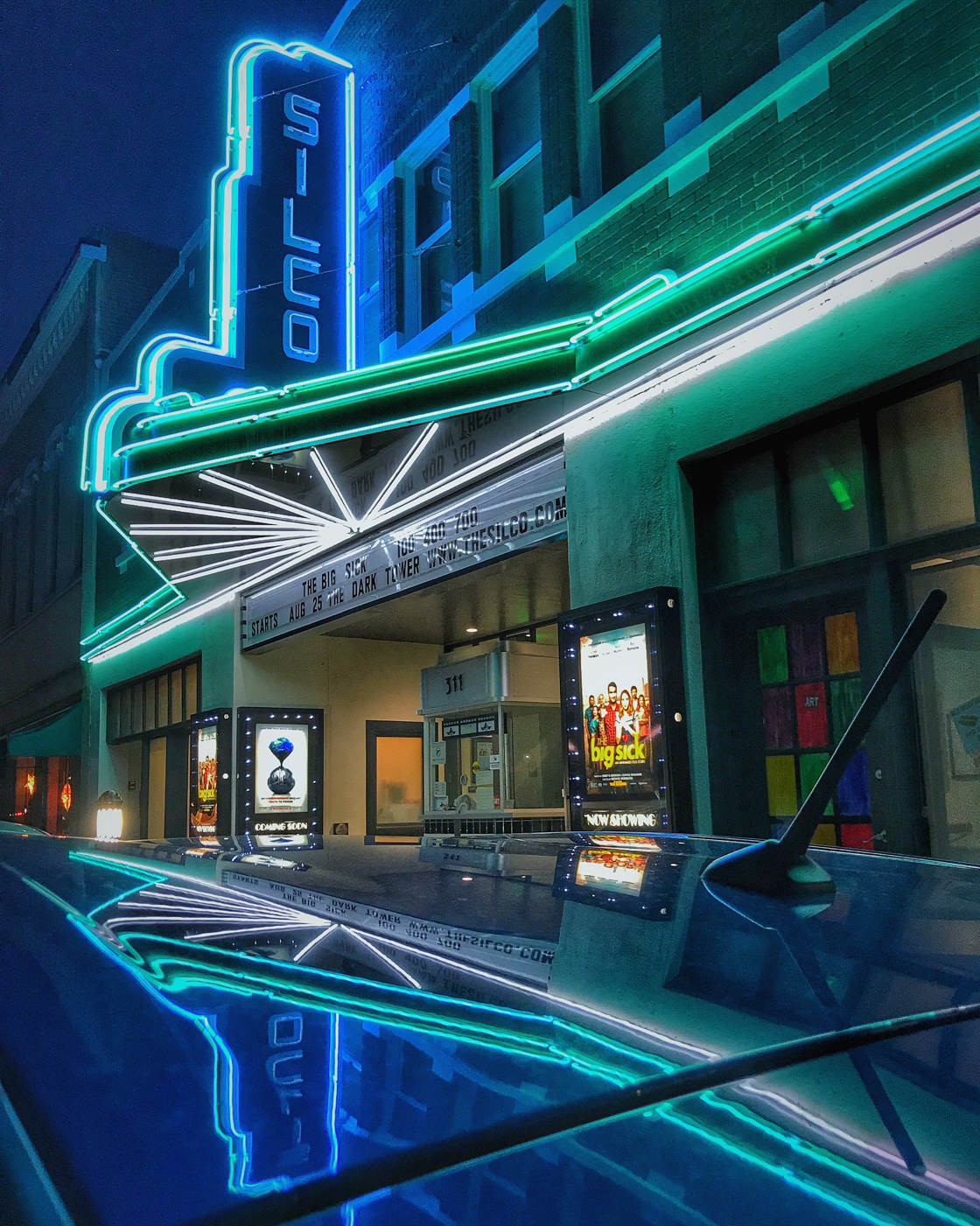 There's lots of activity, which can lend your shots a sense of excitement.
Plus, the darkness adds a lot of mystery to your photos, which is great for storytelling.
Look at the photo below. Does the darkness add to the shot?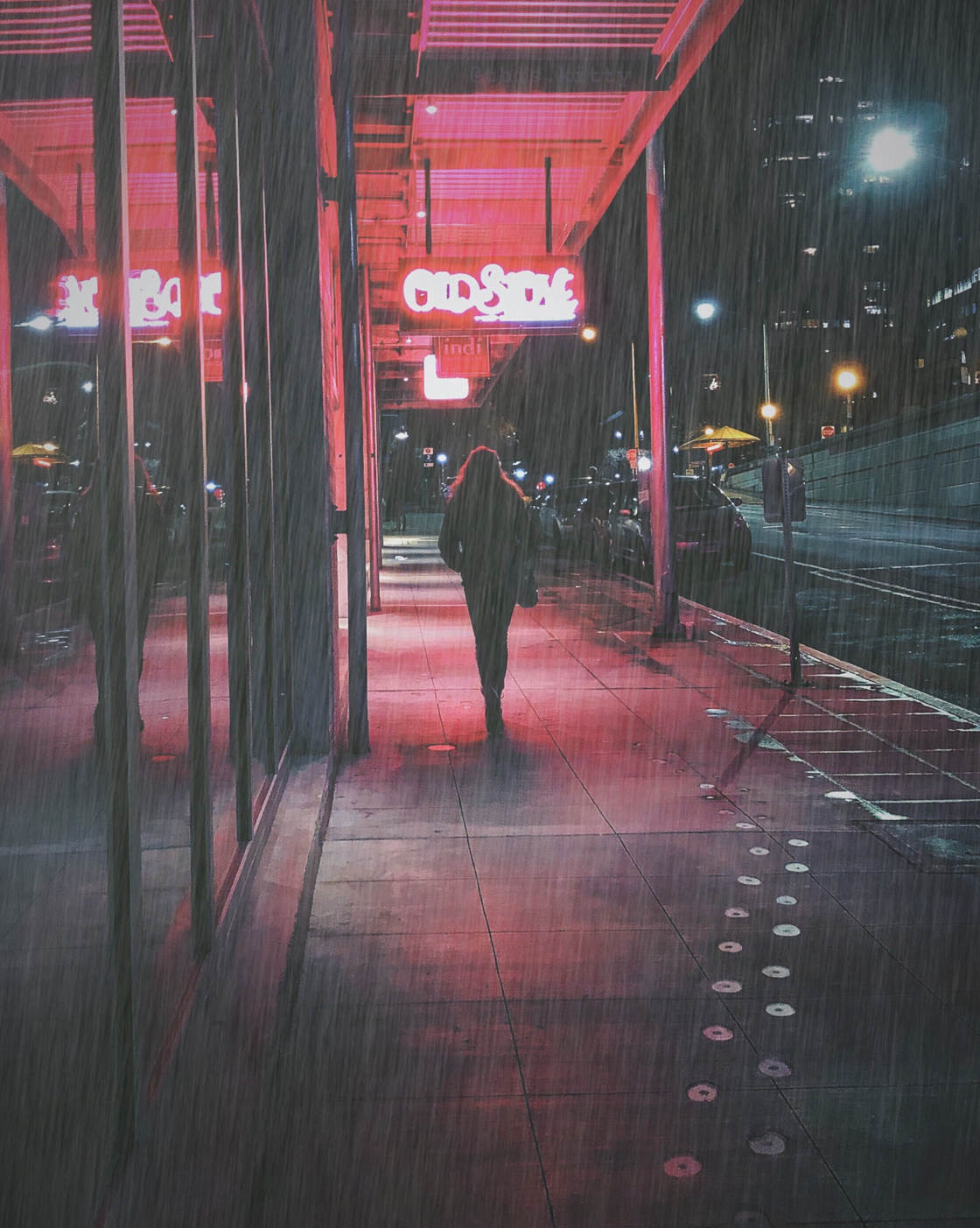 That said, you have to be careful when shooting at night. The amount of light is very minimal. So you have to hold your iPhone extremely steady in order to get sharp photos.
Try leaning against something sturdy (a wall works great) while taking your shots. Or, in a pinch, tuck in your elbows and hold the phone close to your chest.
This way, you'll be able to get sharp shots even in low light.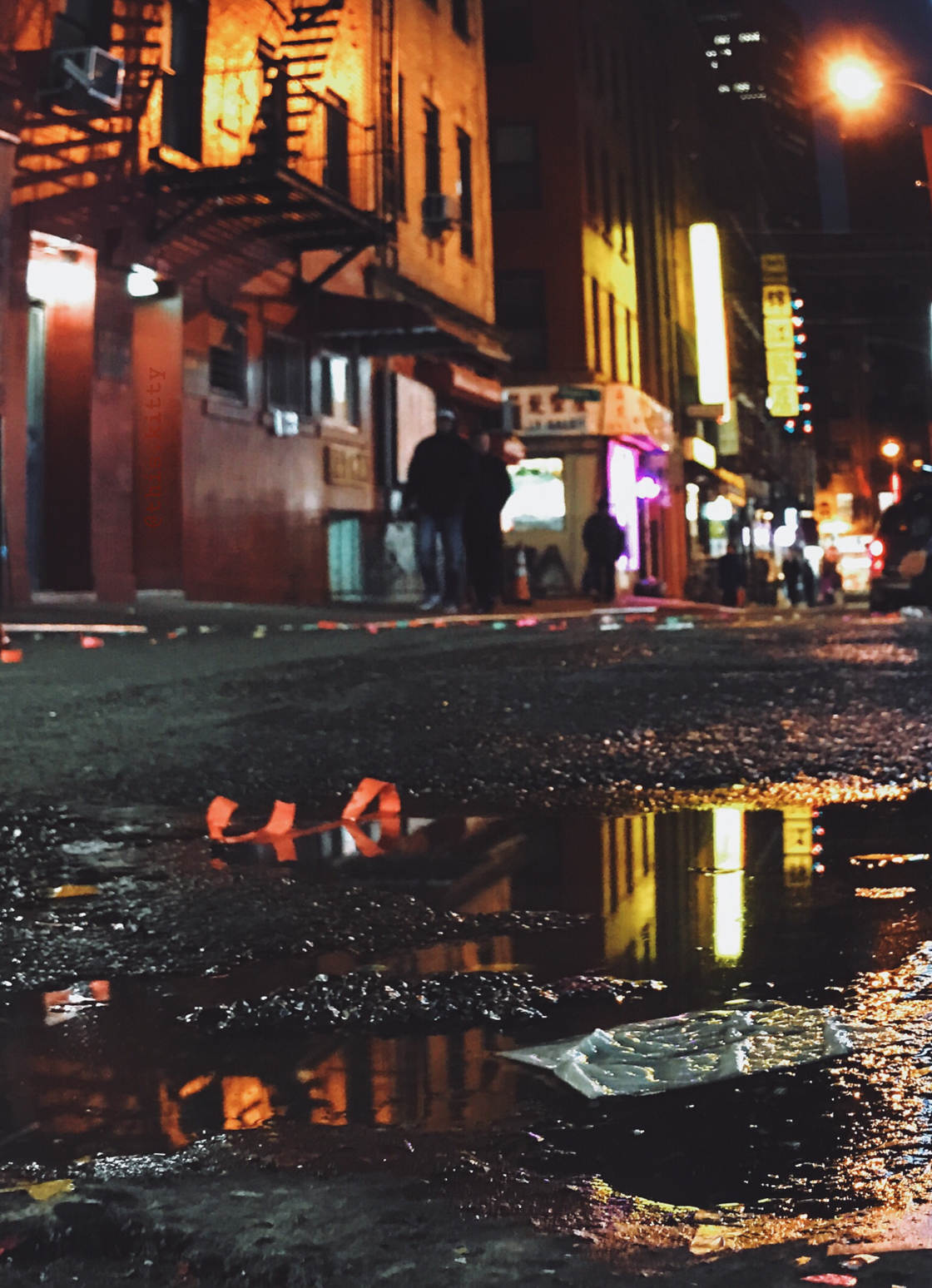 5. Experiment With Different Angles For Unique Urban Landscape Photography
When you're shooting urban landscapes, it can be tempting to take your photos from chest height.
And you can get some stunning shots this way.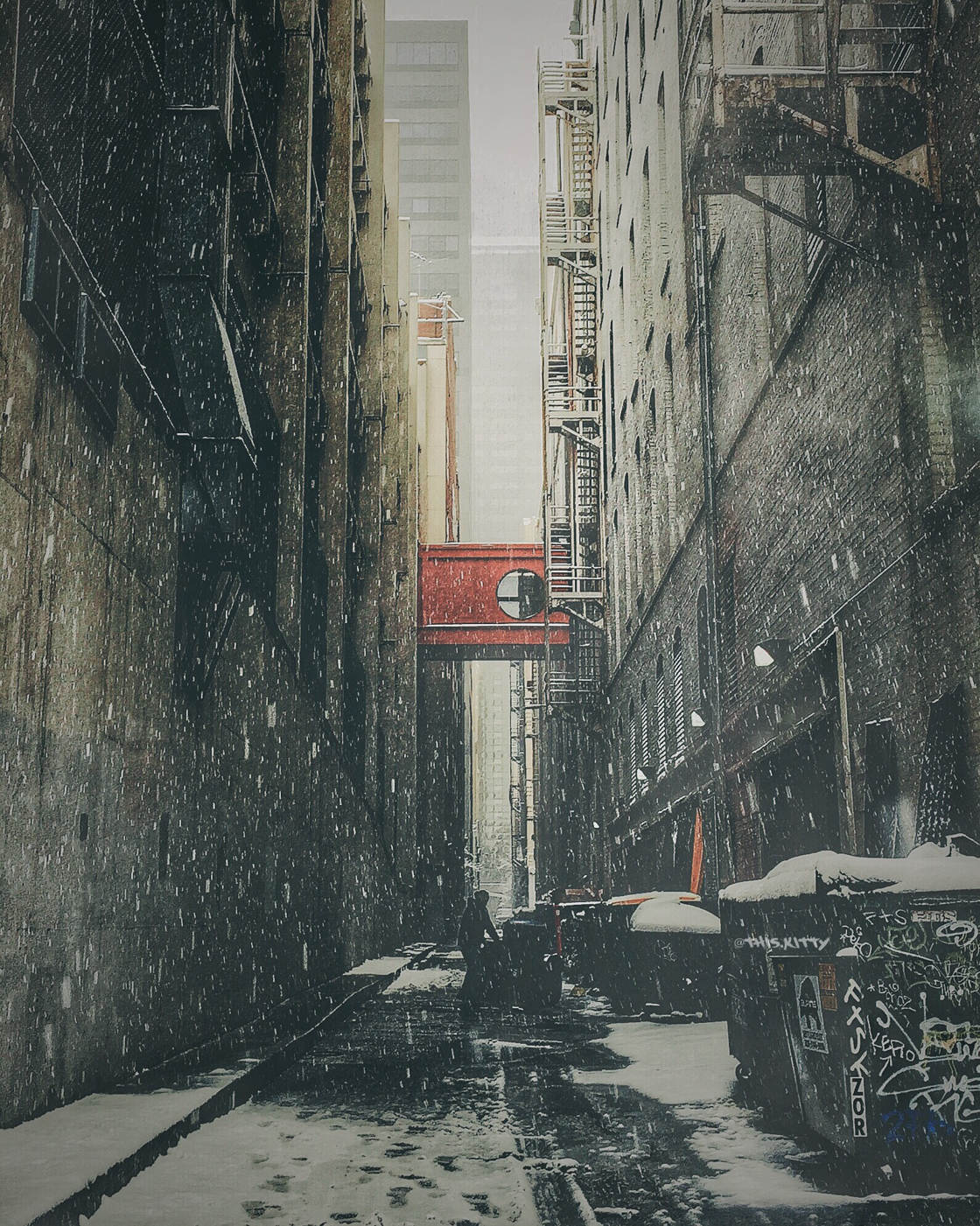 But the best shots often involve unique angles.
So, once you've found a nice scene, don't just settle for the standard shot.
Instead, move around. Take shots from as many different angles as possible.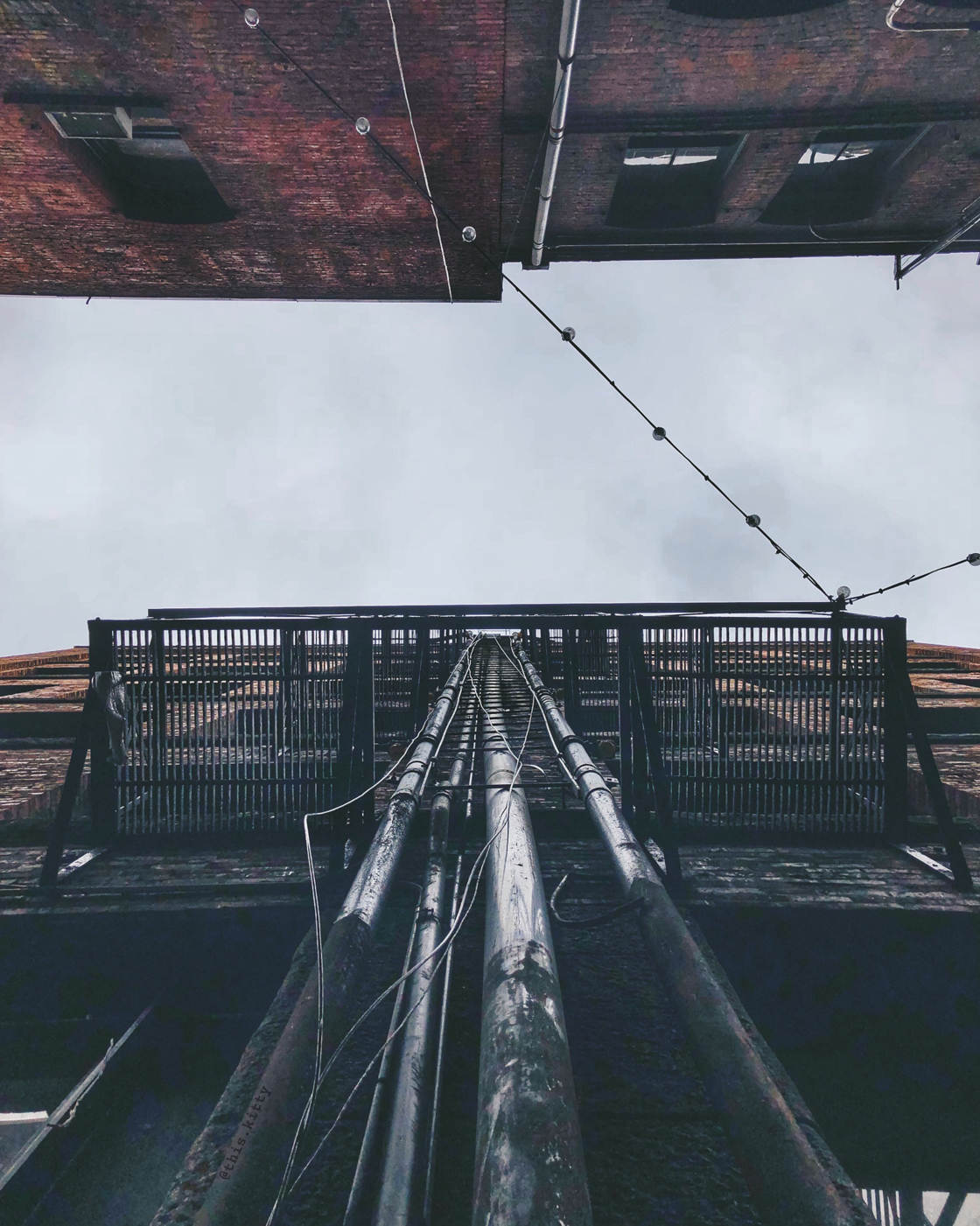 You can start simple: Move a few steps to the right and a few steps to the left.
But I'd also recommend taking it further. For instance, you can capture some of the best shots by shooting from a very low angle.
Crouch down low, then place your iPhone as close to the ground as it can go—and take the shot!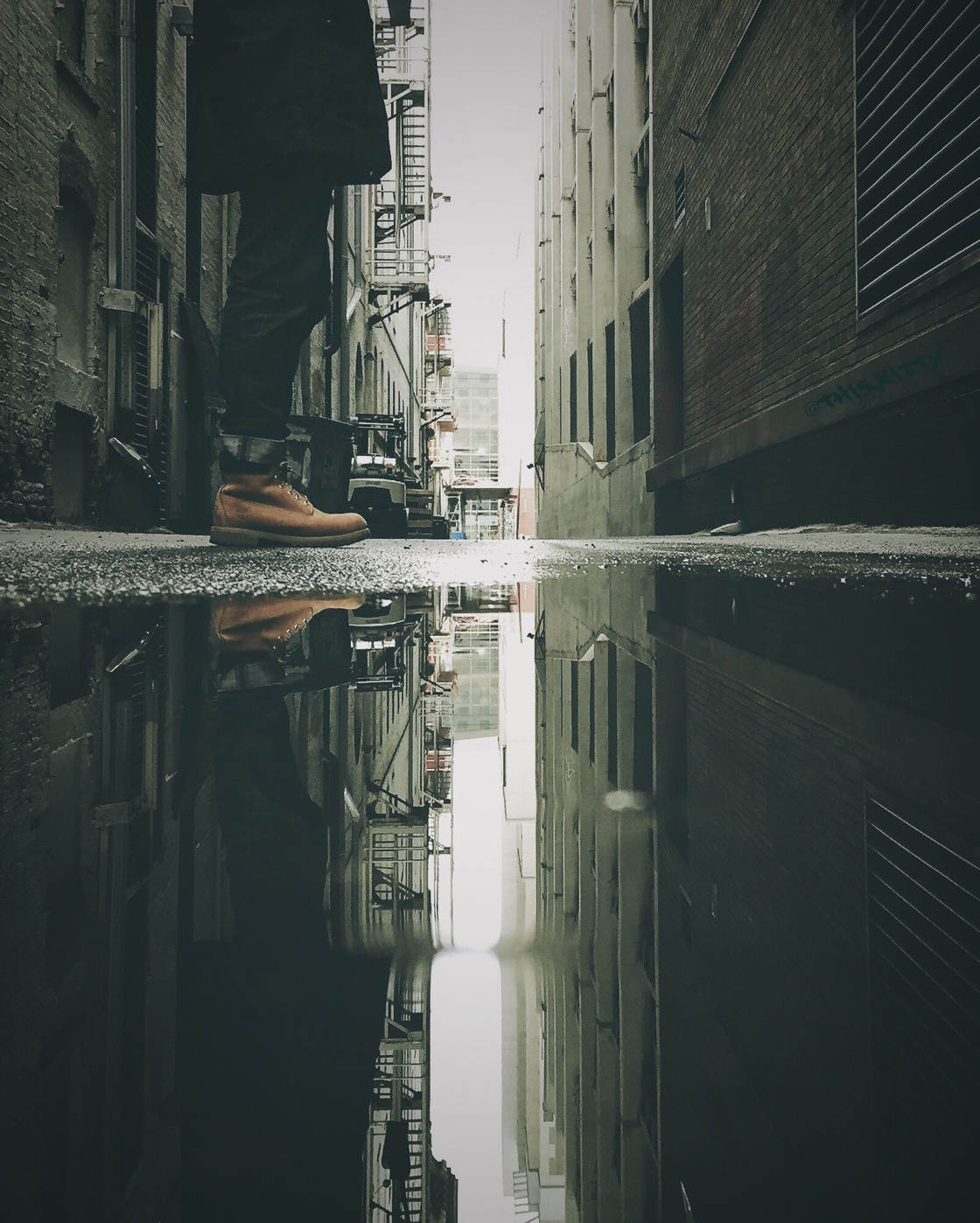 This will give a unique perspective, one that people don't often see.
I'd also recommend getting up high if you can. That way, you can shoot scenes from above. Again, this lends a unique perspective to the scene.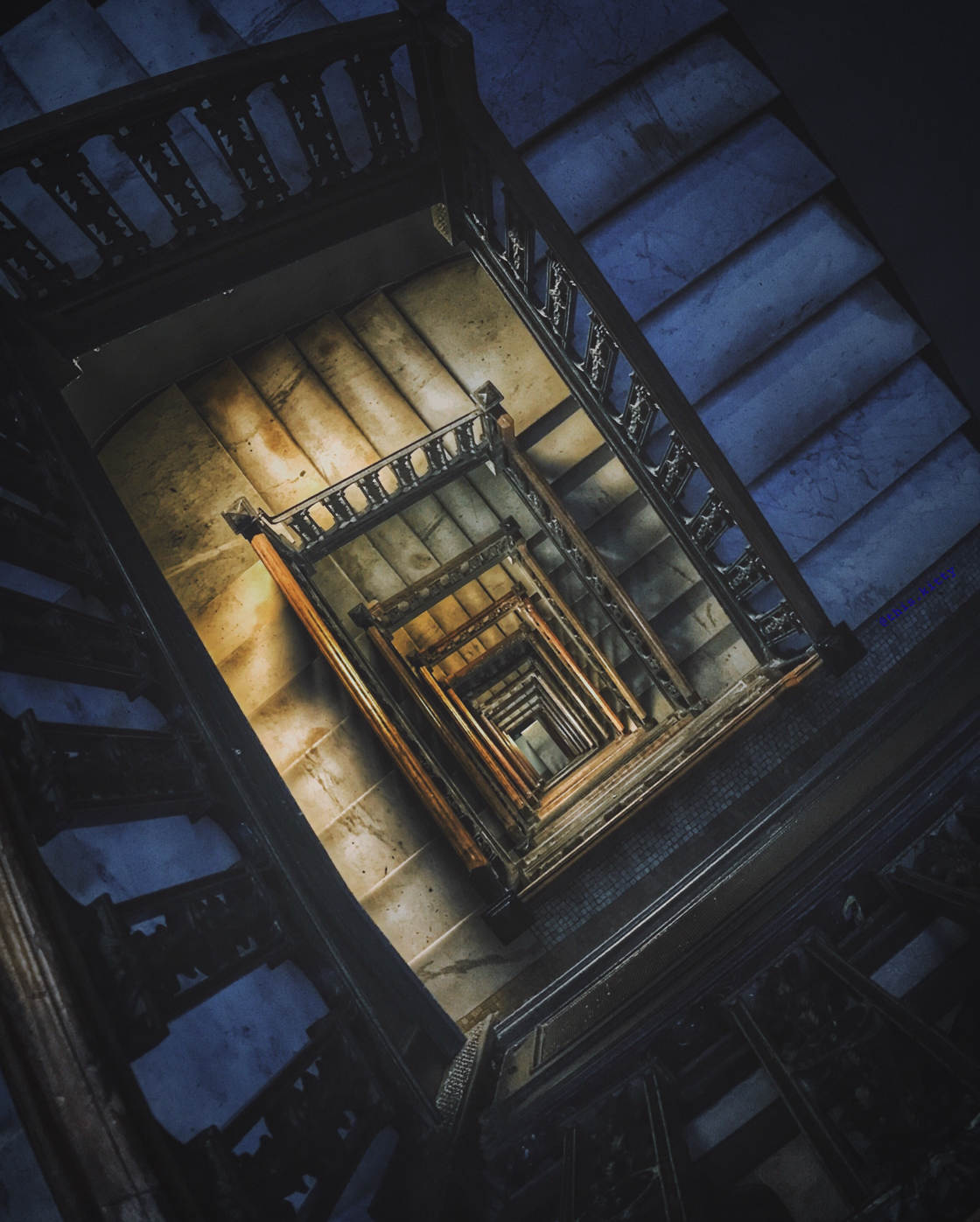 Do you want unique urban landscape photography? Then experiment with different shooting angles.
You'll come away with some gorgeous photos.
6. Use Symmetry For Stunning Urban Landscapes
Here's another way to really enhance your urban landscape photography: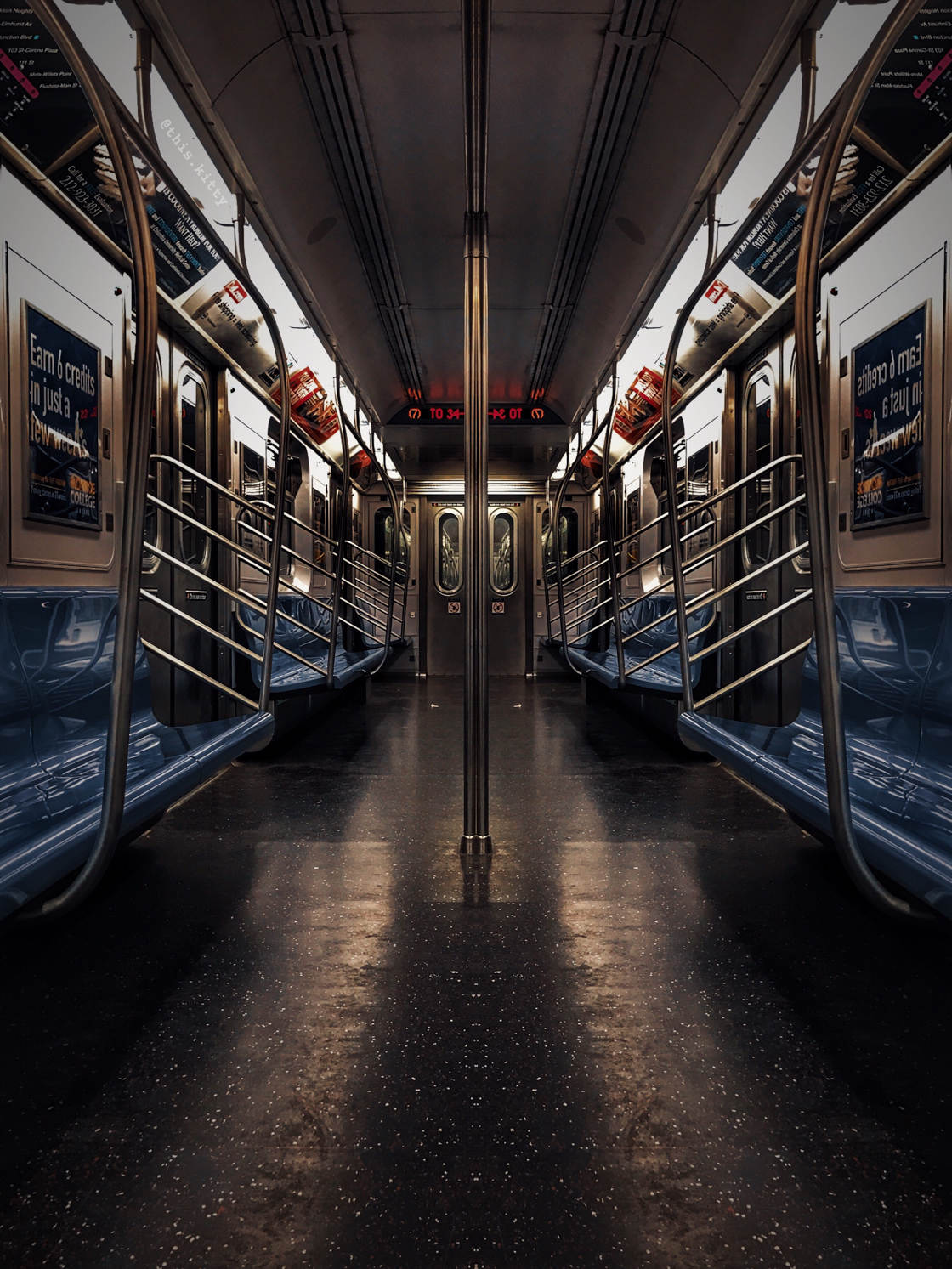 That is, when you find scenes with symmetry, make sure to emphasize it! Put the line of symmetry down the middle of the frame.
Symmetry can make for extremely striking photos. The final image tends to feel very powerful. And this is a great look for urban landscape photos.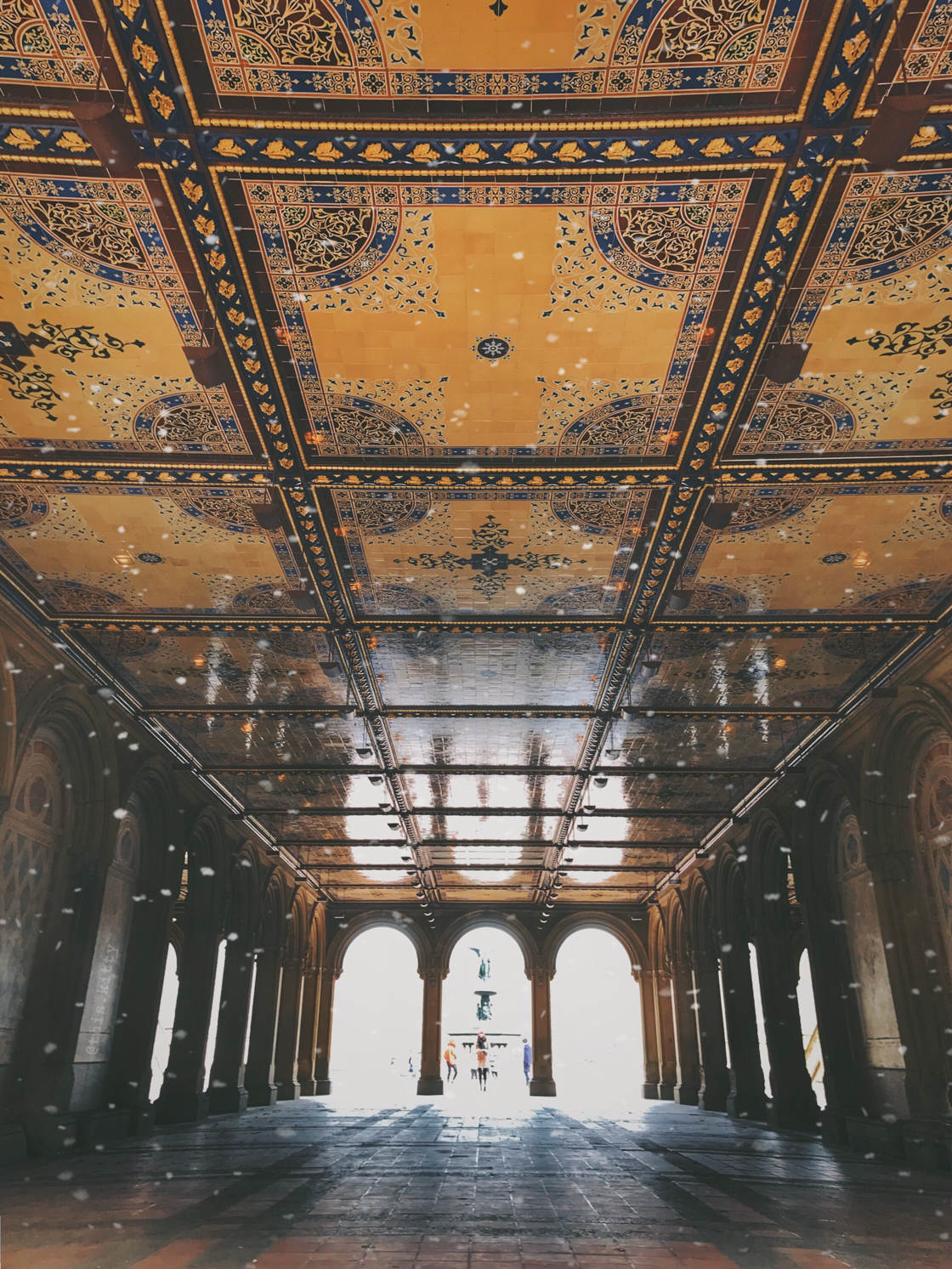 But how do you find symmetrical scenes?
Roads are a great place to start as they naturally have symmetry (the buildings on either side, the lines in the center).
Get out into the middle of a road (as long as it's safe to do so!). Get down low, and take a few photos. See how the shots turn out.
That's what I did for the photo below. Do you think it worked?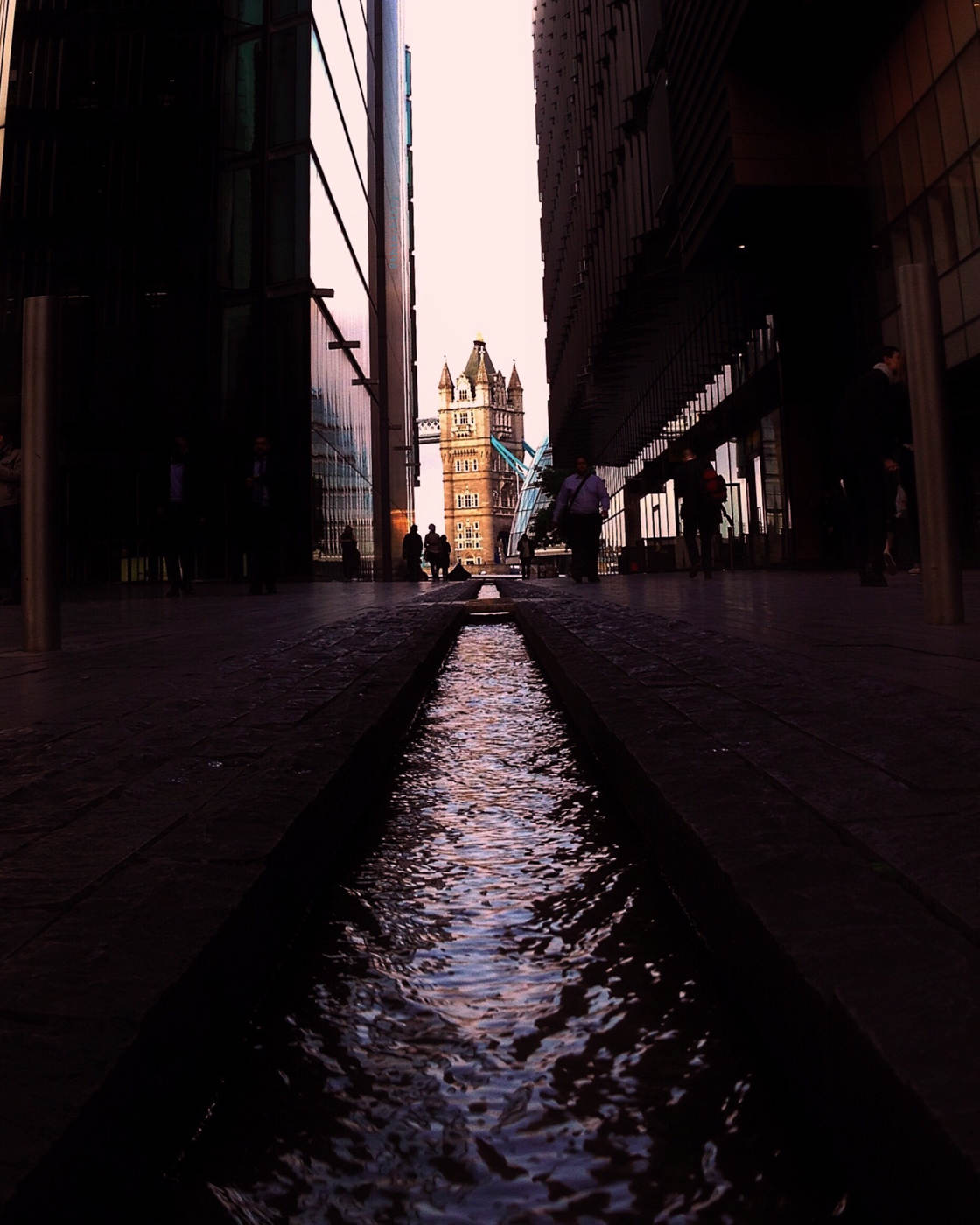 Then, when you're out and about, look for further possibilities for symmetrical photos.
It'll get easier over time. Just keep at it, and your photos will be incredible.
7. Shoot With Puddles For Unique Urban Landscape Photography
One of my favorite tricks when shooting urban landscapes…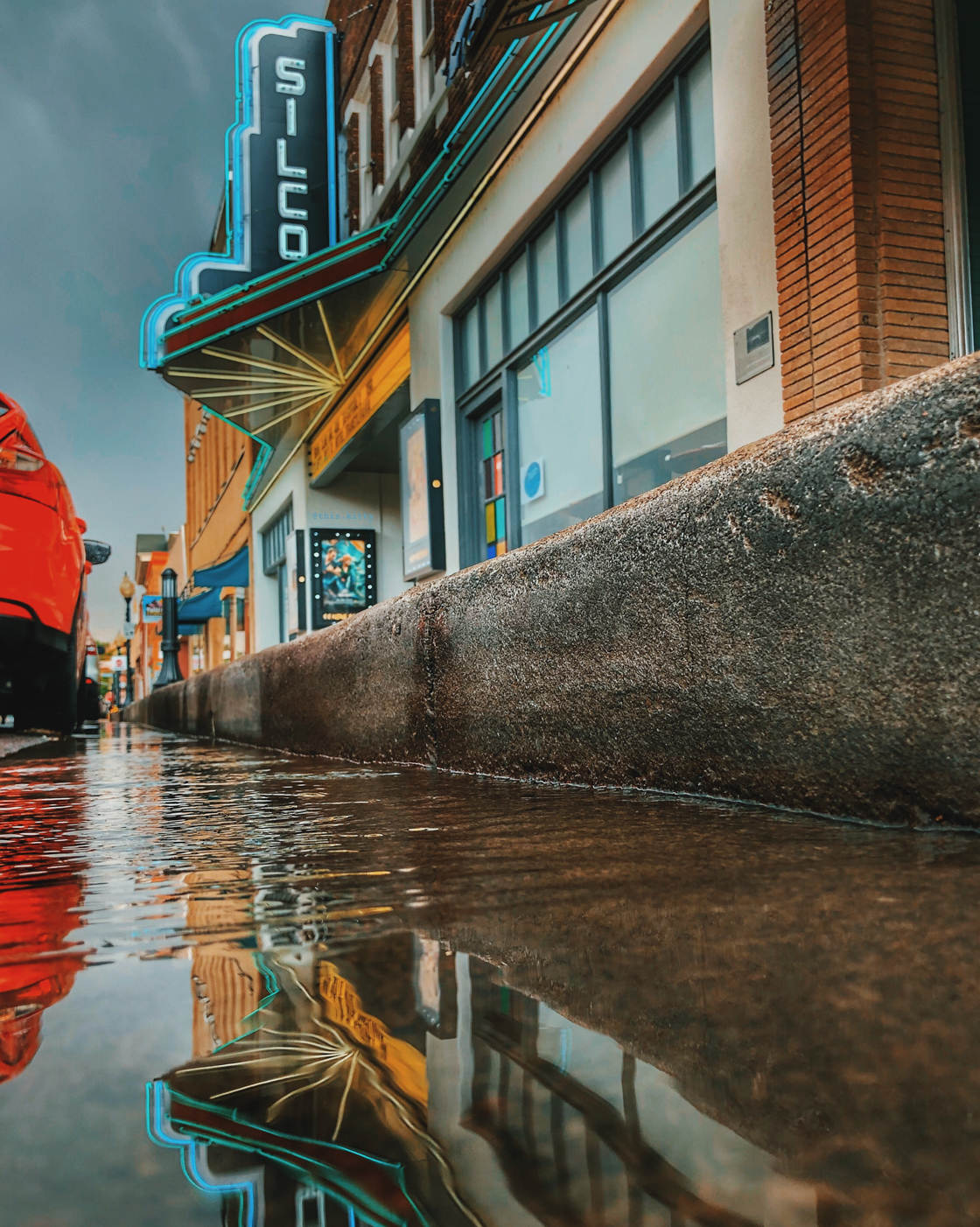 …is using puddles!
I absolutely love to take photos that include puddles. These photos are beautiful and striking. But above all, they're unique.
Here's how you take the best puddle photos:
Go out after it rains. Find a puddle.
(The streets and gutters should have a few.)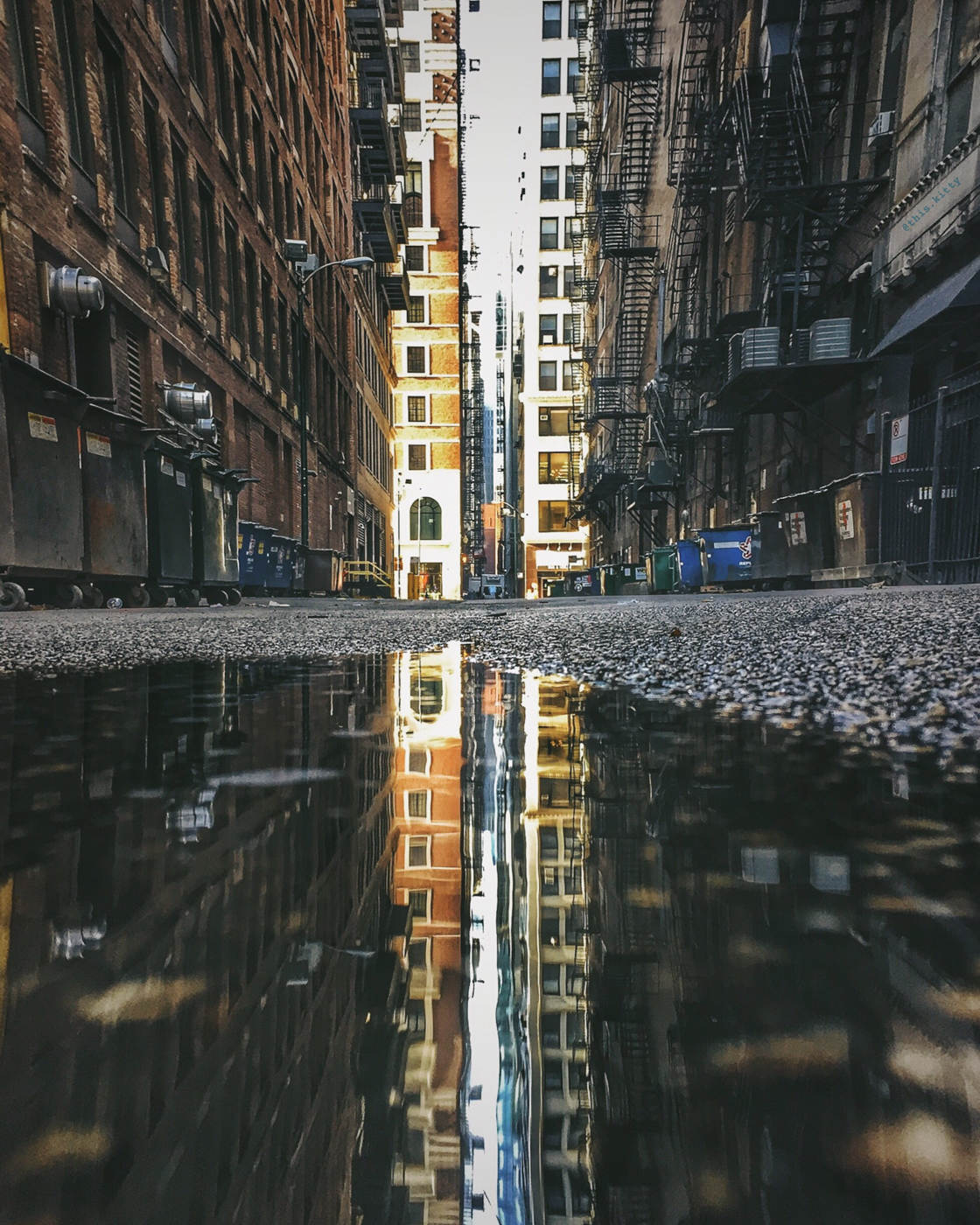 Walk around the puddle until you find an exciting background—one that really adds to the shot.
Then get down low over the puddle. Put your iPhone as close to the water as possible.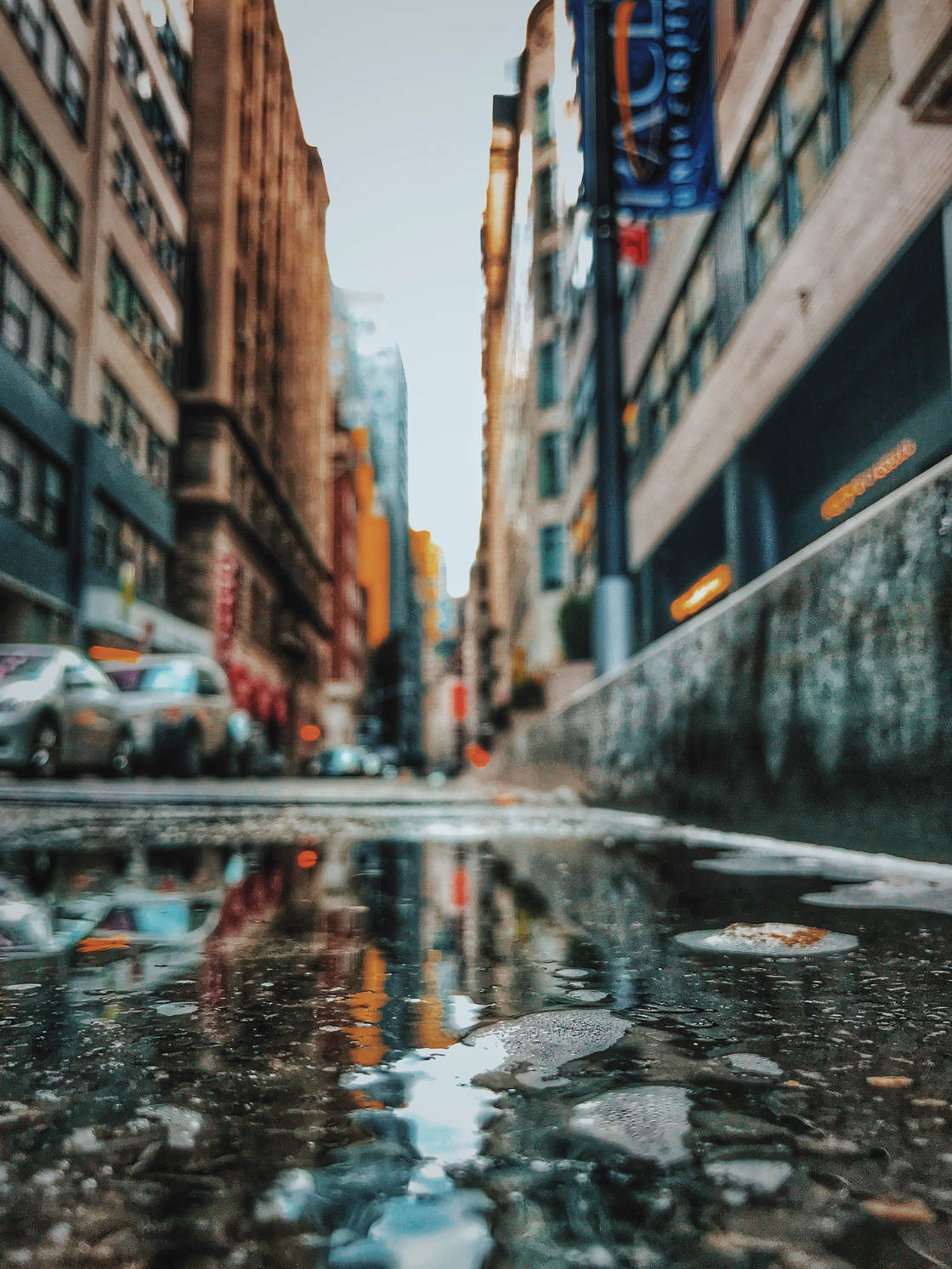 If you want to get your iPhone really close, you can turn it so the camera lens is just above the water.
(Just be careful not to get your iPhone wet!)
Notice how the background is reflected in the puddle. These urban reflections will really add to your shot.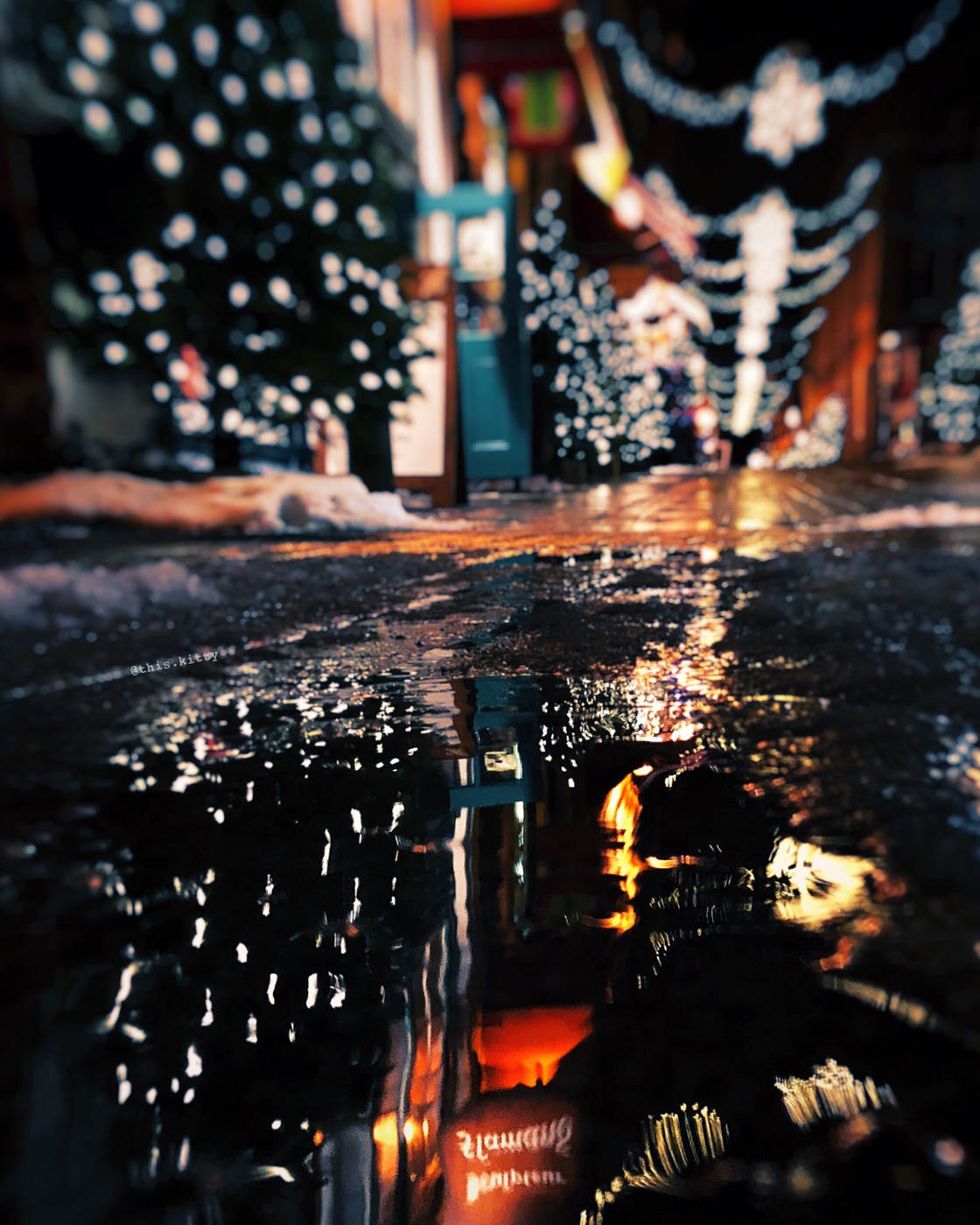 Now take a photo—one with the puddle in the foreground and the beautiful scene in the background.
You'll love the result!
8. Use Color To Communicate The Excitement Of The City
The urban landscape is full of energy. It's full of excitement.
And you should communicate that in your urban photos.
One of the best ways to incorporate the energy of the city into your photos is by using color.
When you're out shooting, look around for bright, vibrant colors. If you're shooting at night, neon lights work great. You can often find these in the windows of stores and restaurants.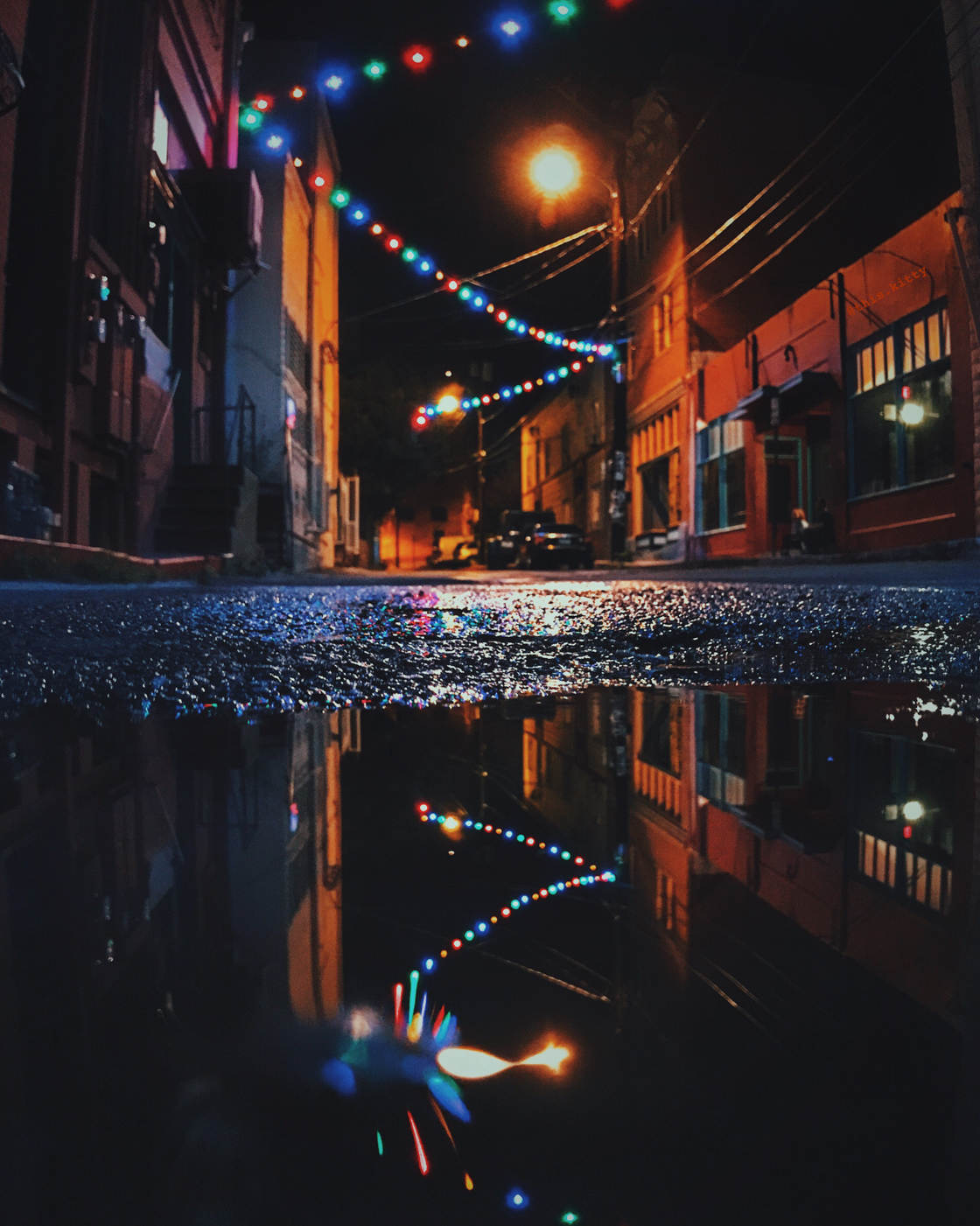 Then position yourself near the vibrant colors. You don't have to include the lights in the shot. Instead, let the neon light be reflected over the entire scene.
If you're shooting during the day, brightly colored walls or pillars are another possibility. Change your angle to incorporate them into your photos.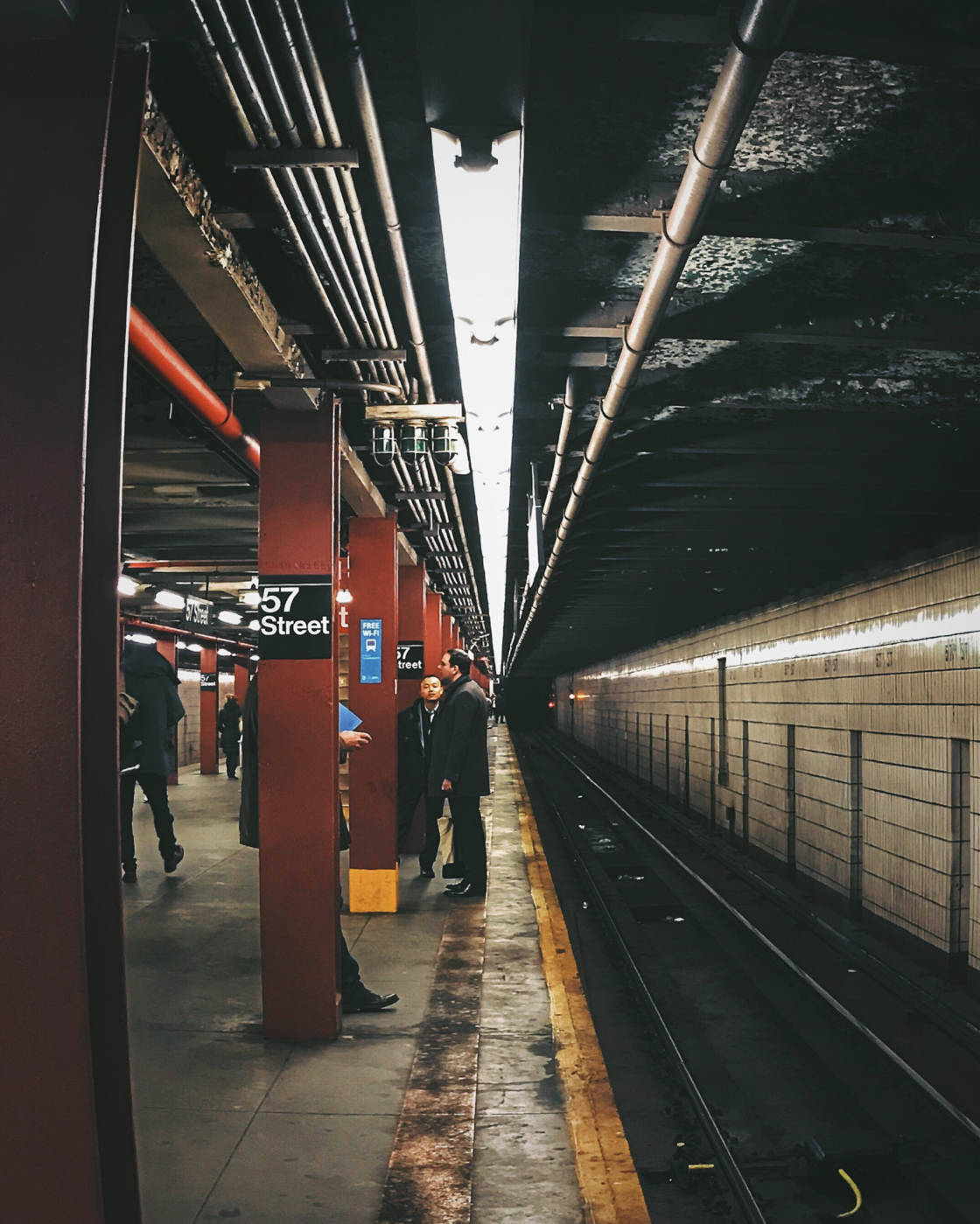 A little color goes a long way. It can easily take your urban landscapes to the next level.
So add color whenever you can!