SANDMARC are best known for their GoPro and DJI camera accessories. But they've been creating lenses for iPhones for several years and are fast becoming a household name. Based in California, their focus is on action photography, but they offer a range of iPhone lenses for landscape and macro photography too. In this article, you'll discover four different SANDMARC lenses for the iPhone X camera. And we'll help you decide if they're right for you and your iPhone photography.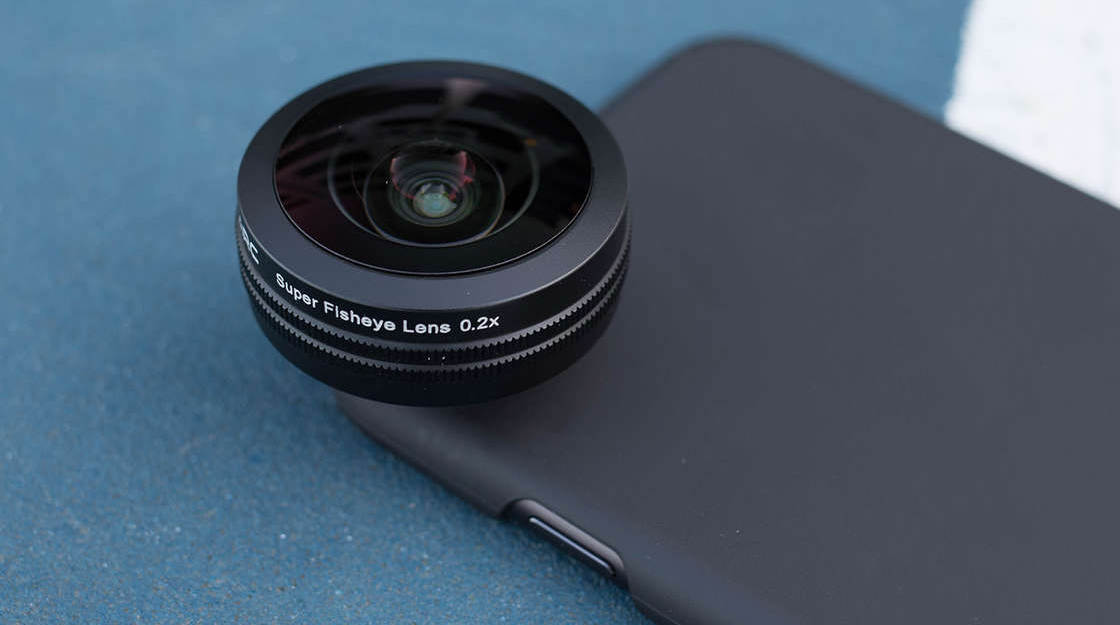 The Lenses
SANDMARC lenses for iPhone X are well designed, look great, and feel like high-end photography equipment in the hand. Their noticeable weight is due to the amount of glass in each lens, and the use of metal rather than plastic in the construction.
They'll certainly turn heads and mark you out as someone who's serious about their iPhone photography.

Each lens comes with a plastic cover for both the front and rear lens openings to keep dust out. It's advisable to use these as once dust gets inside a lens it can affect image quality.
The lenses all boast multi-coated glass. While I'm not sure exactly what the coatings are, or what purpose they serve, it does at least show SANDMARC are serious about getting the best performance out of their lenses.
Next, let's look at each of the four lenses in turn. Then we'll examine the attachments common to all four lenses.
Wide Angle Lens
SANDMARC call their wide angle lens product Wide Lens Edition. Its 16mm focal length lets you capture much more of the scene than the native 28mm iPhone lens.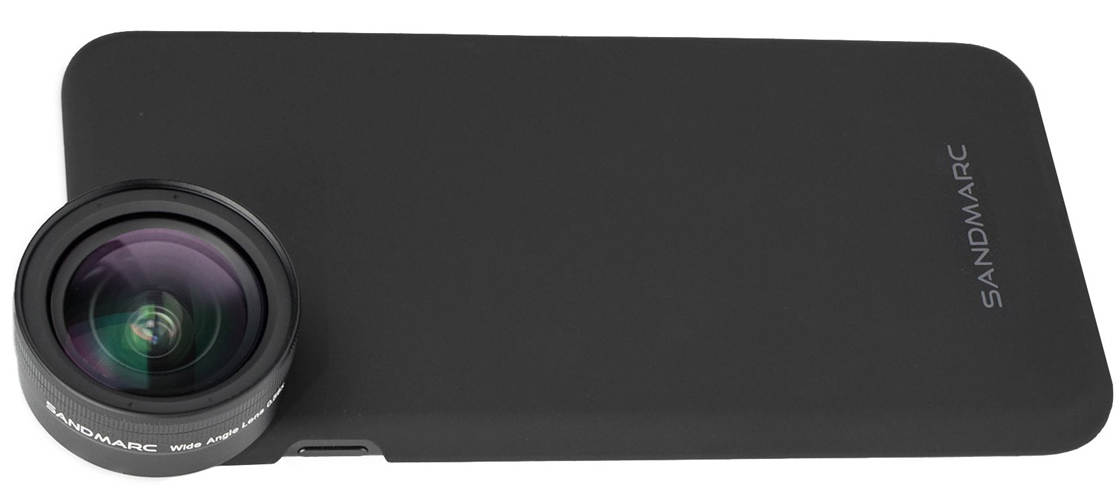 An impressively big lens, this one weighs in at 71 grams (2.5 ounces). However, its weight does make the iPhone feel a little unbalanced in the hand. It's not a big problem, but it can make holding the iPhone in one hand a little challenging.
In terms of image quality, it's very impressive. There's very little image distortion and minimal softness in the corners or along the edges. It's the perfect lens for landscape photography, or social events where you want to capture more of the available scene.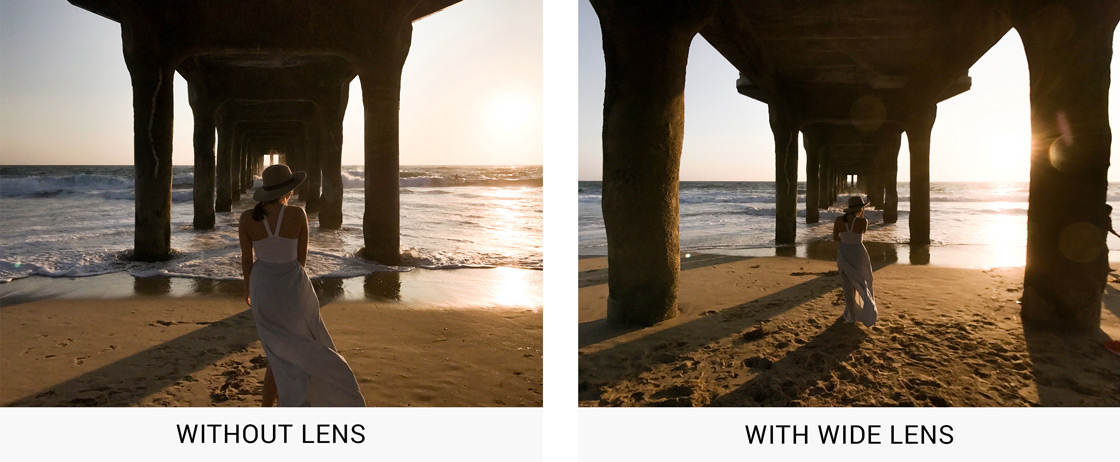 Wide Lens Edition – $99.99
Fisheye Lens
Called Fisheye Lens Edition by SANDMARC, this is a 10mm fisheye lens. It'll capture even more of the scene than either the SANDMARC Wide Edition Lens, or the native 28mm iPhone lens.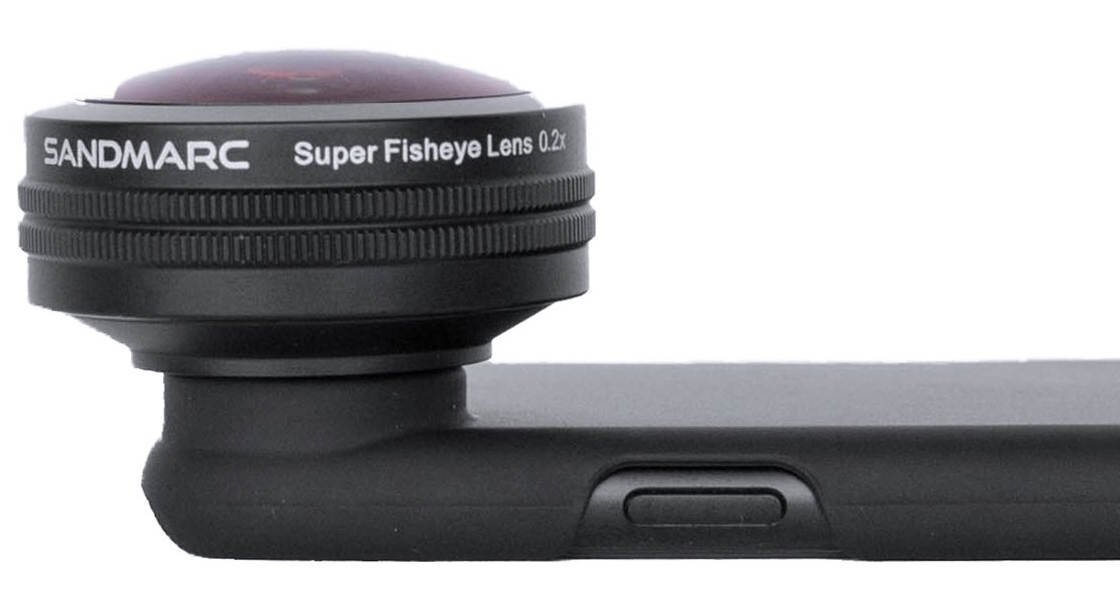 The lens is fairly bulky and weighs 55 grams (just under 2 ounces). However, it's a little smaller than the SANDMARC Wide Edition Lens, so not too large or obtrusive.
As with all fisheye lenses, there's a significant amount of lens distortion. This is part of the appeal of a fisheye lens, so don't let this put you off.
The image quality is very good, but in the corners and, to a lesser extent, the edges of the frame, you'll get some softening of the image. Therefore, it's important to keep your primary subject near to the center of the frame.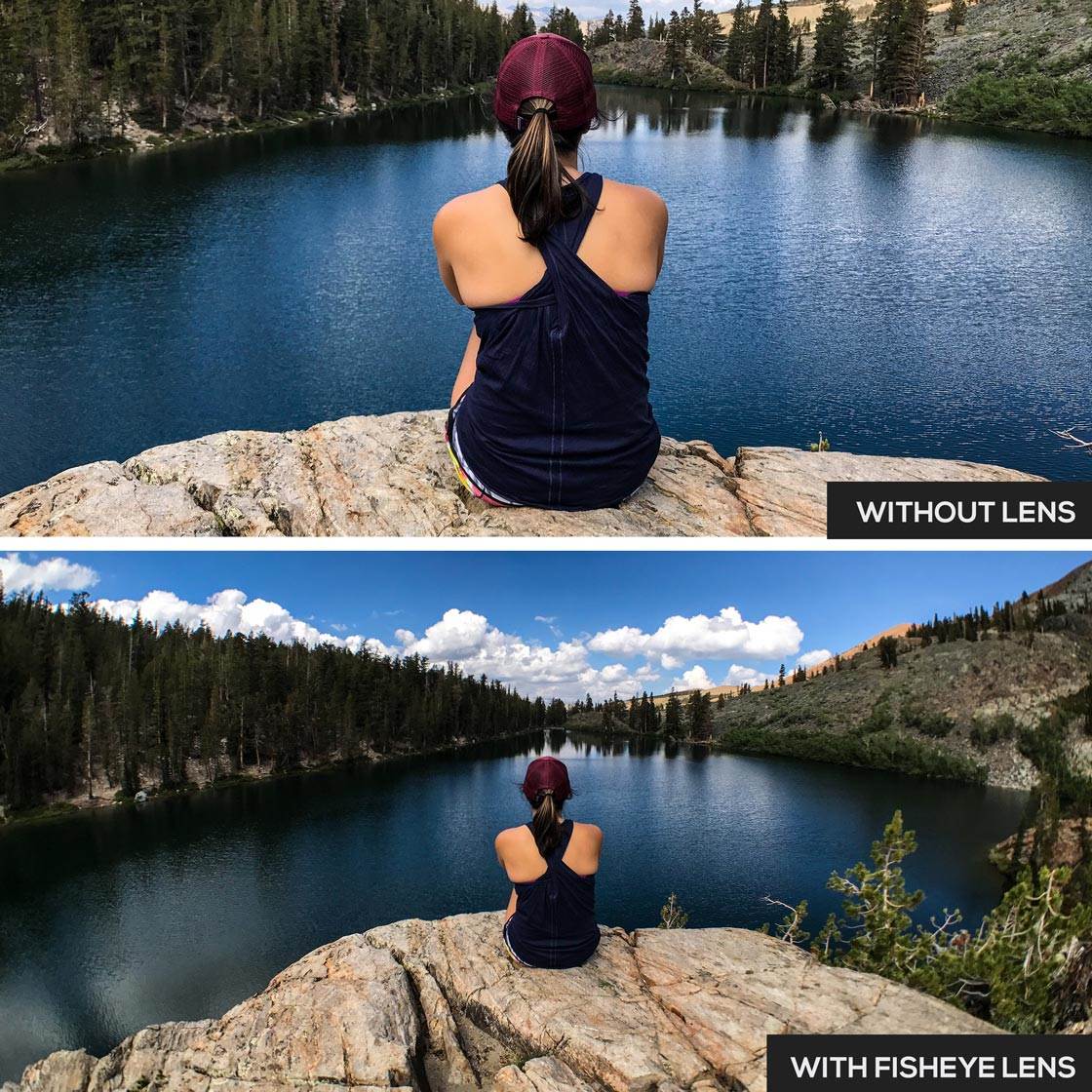 Fisheye Lens Edition – $89.99
Macro Lens
This lens is referred to as the Macro Lens Edition by the manufacturer. Macro lenses are a personal favorite of mine so I was especially keen to try this one out.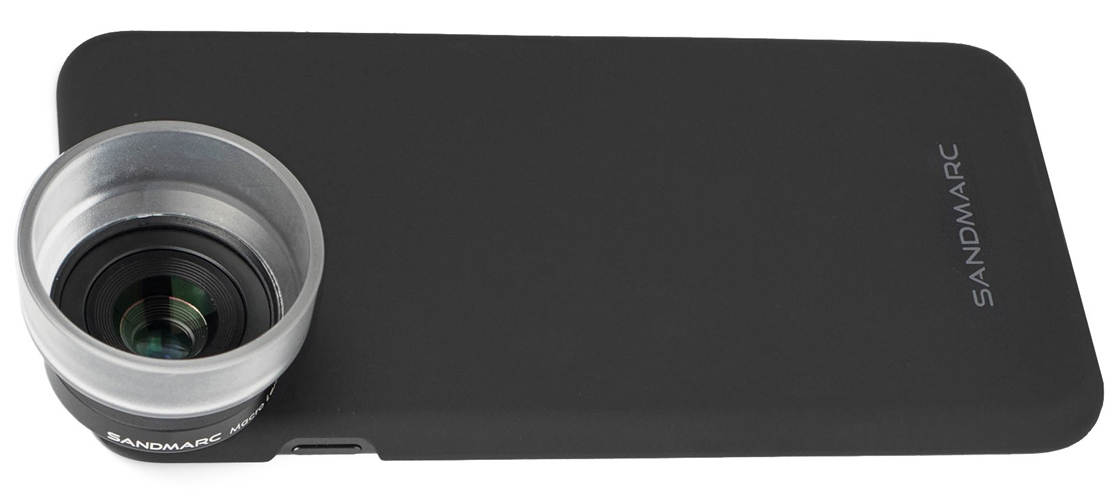 A macro lens allows you to capture incredible close-up photos of tiny subjects. It's perfect for flower macro photography and insect macro photography.
It's a bulky lens, but this is mainly due to the removable plastic hood supplied with the lens. The actual macro lens itself is relatively small, and can be used without the plastic hood or the heavy threaded ring which connects the macro lens to the hood, making it much more compact the shown above.
The plastic hood is incredibly useful, as you can press it against your intended subject to ensure the iPhone's camera and the subject are the optimal distance apart. This helps you to have at least part of your subject in focus.
Without the hood, you'll find it difficult to use the macro lens hand-held. Even the smallest movement of the iPhone can cause the focal point to change.
The image quality is as good, if not better, than other macro lenses I've used. There's a little softening in the corners and along the edges of the frame, but it's not too distracting. Besides, with macro photography you would most likely have your subject centrally positioned.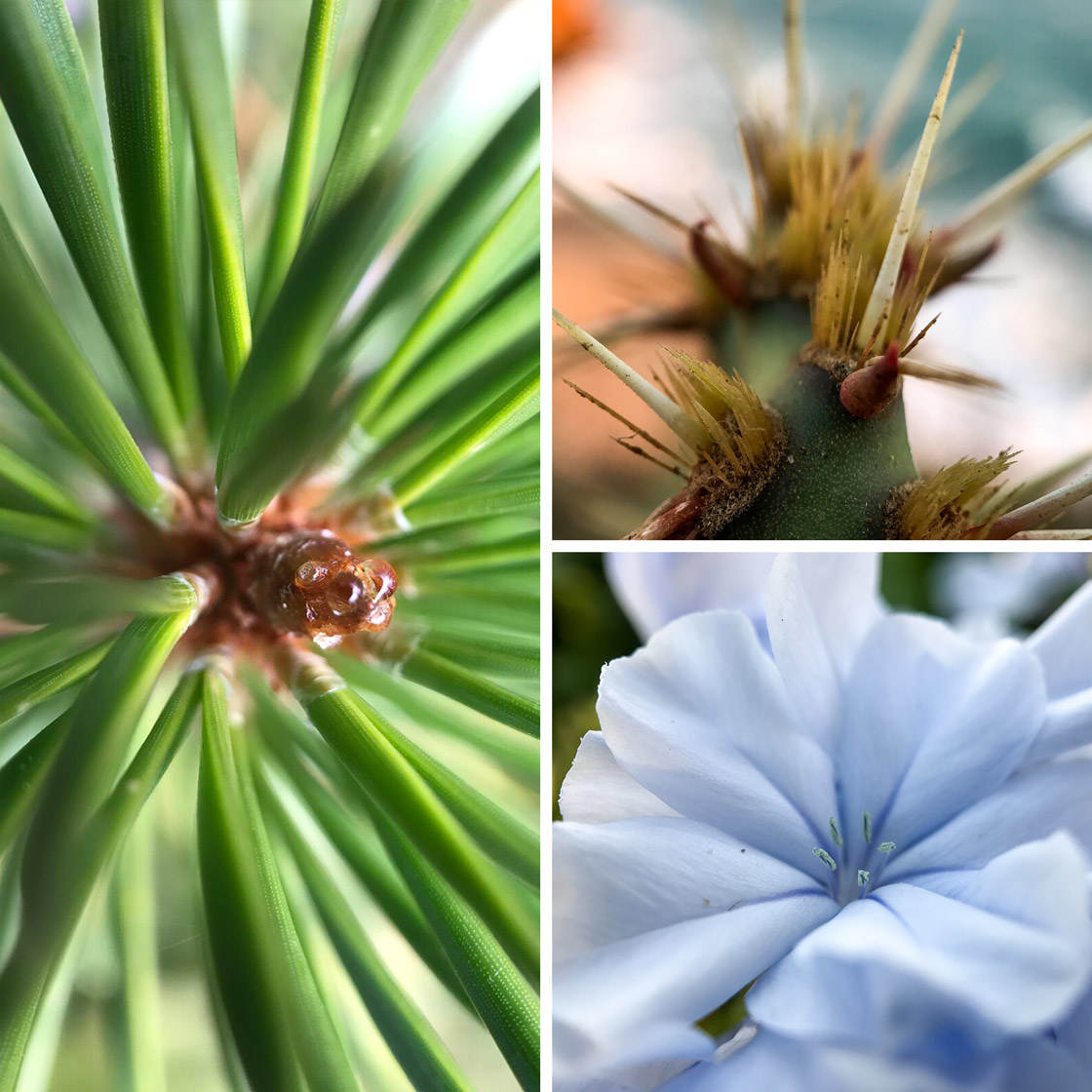 Macro Lens Edition – $89.99
Telephoto Lens
SANDMARC call this the Telephoto Lens Edition. It's another solid, well-built, lens which provides 3x optical zoom when positioned over the iPhone X's standard lens, either using the case provided, or the Clip-On attachment.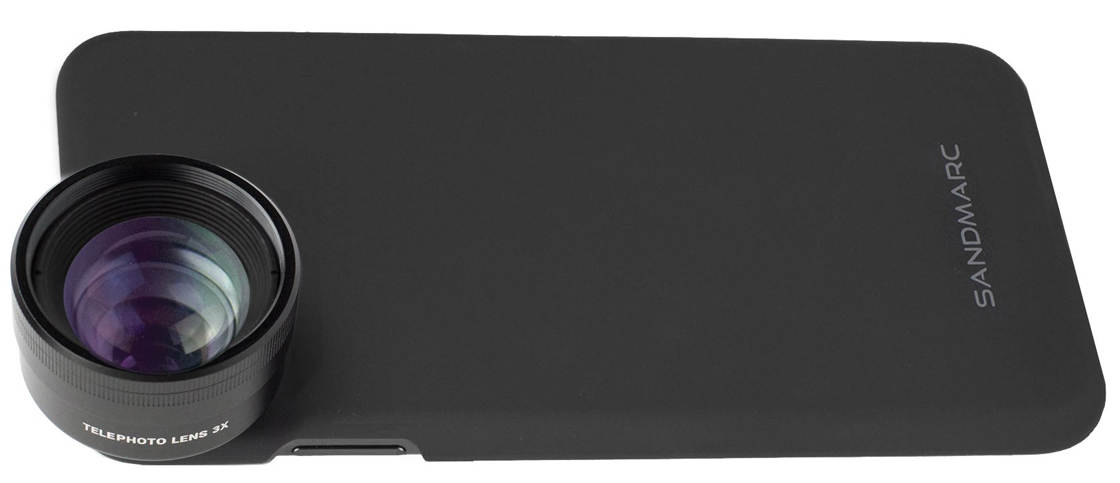 The 3x optical zoom is an increase over the iPhone X's 2x telephoto lens, but even better than that, if you position the lens over the iPhone X's telephoto lens using the Clip-On attachment, you get a huge 6x optical zoom!
Unfortunately we didn't receive a sample of this lens so I can't comment on the image quality, however, if the other lenses are anything to go by, the image quality should be fine.
Telephoto Lens Edition – $99.99
What Comes In The Box?
All four SANDMARC lenses for iPhone X come bundled with useful accessories. Let's look at each of these accessories in turn, in order of their importance.
Slimline Case
A dedicated, iPhone-specific case is the most effective way of attaching lenses to your iPhone, especially when it comes to accurately aligning the lens with the iPhone's built-in lens.
The SANDMARC case is a super snug fit, which I really like, however it's tricky to remove. And because the case is so thin and stiff, I suspect that it won't survive frequent attachment and removal.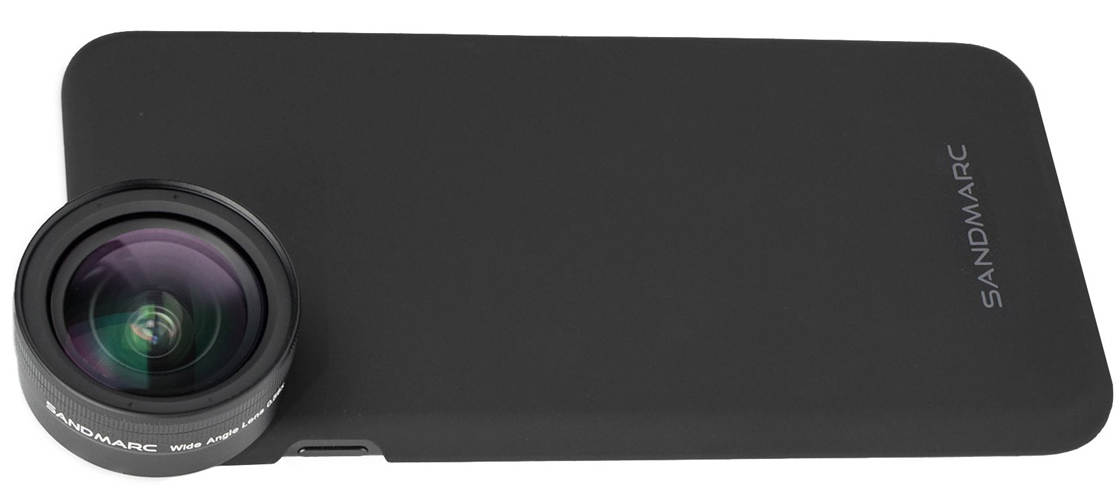 One other concern I have is that the case partially covers the iPhone's built-in flash. With a SANDMARC lens attached, this is to be expected, because the lenses are fairly large, and would obscure the flash anyway.
However, when taking photos with the SANDMARC case attached but no lens attached some of the flash bounces off the case and enters the iPhone's lens. Unfortunately, this means the case can't be left on permanently unless you never use your iPhone's flash!
Clip-On Attachment
Each lens comes with a spring-loaded Clip-On clip which grips your iPhone, holding the attached lens in position, as shown below.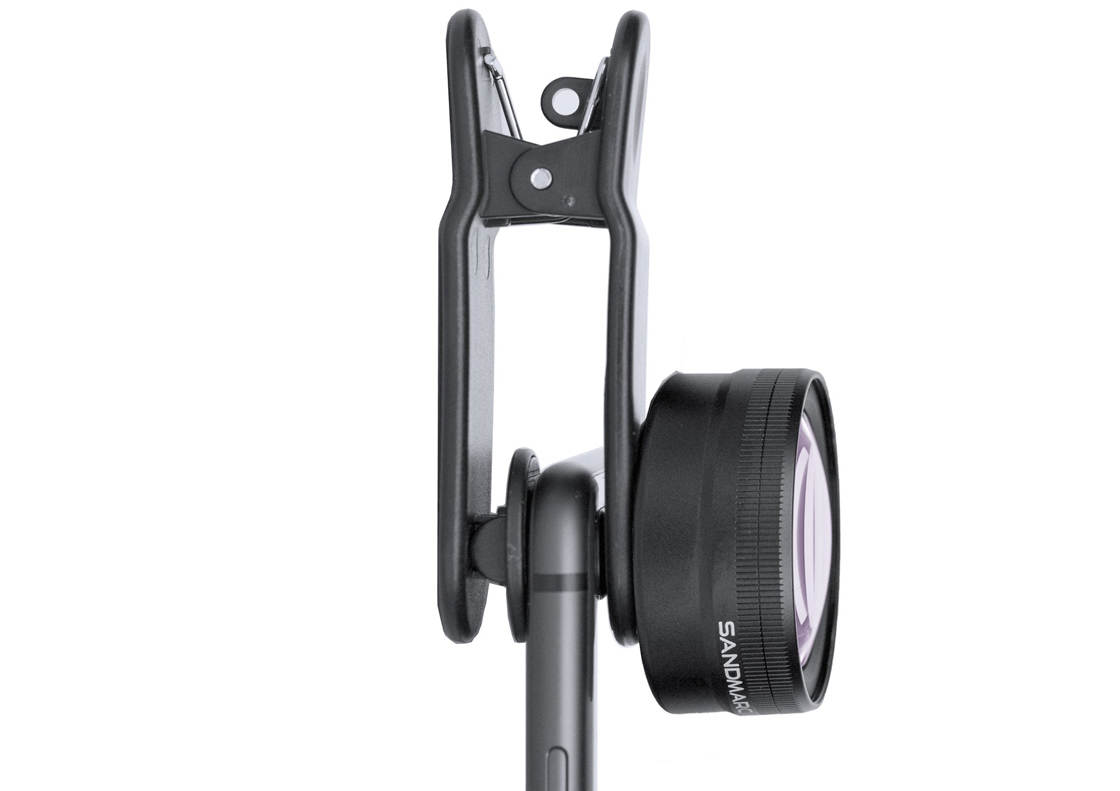 The clip has a threaded metal insert for connecting to the lens. This is a nice touch as it's very easy to damage the threads when one of the threads is metal and the other is plastic.
Aligning a SANDMARC lens with your iPhone's native lens using the Clip-On is a bit tricky, so I'd recommend using the supplied case for optimal alignment and the very best image results.
Drawstring Bag & Cleaning Cloth
SANDMARC include a drawstring bag and cleaning cloth. It's an important reminder to protect your photography equipment to ensure the longest lifespan.
Where To Buy SANDMARC Lenses For iPhone X
All four lenses featured in this article are available individually from SANDMARC's online shop.
Wide Lens Edition – $99.99
Fisheye Lens Edition – $89.99
Macro Lens Edition – $89.99
Telephoto Lens Edition – $99.99
You can buy the Photography Edition – iPhone X package from SANDMARC for $239.99.
This package includes the Wide, Fisheye and Macro lenses and represents a saving of $39.98 when compared to purchasing the three included lenses individually.
SANDMARC Lenses For iPhone X: Conclusion
The four lenses we've reviewed in this article are optically very good, so you'll be able to take fantastic photos with them. SANDMARC lenses for iPhone X provide a highly desirable flexibility to your iPhone photography, and will allow you to take photos not possible with the native iPhone lenses.