Do you want to capture incredible rural landscape photos with only your iPhone? Rural landscape photography can be extremely easy–if you know what to do! In this article, you'll discover 8 tips for gorgeous rural landscapes (even in more featureless areas). And you'll learn how to take your rural landscape pictures to the next level.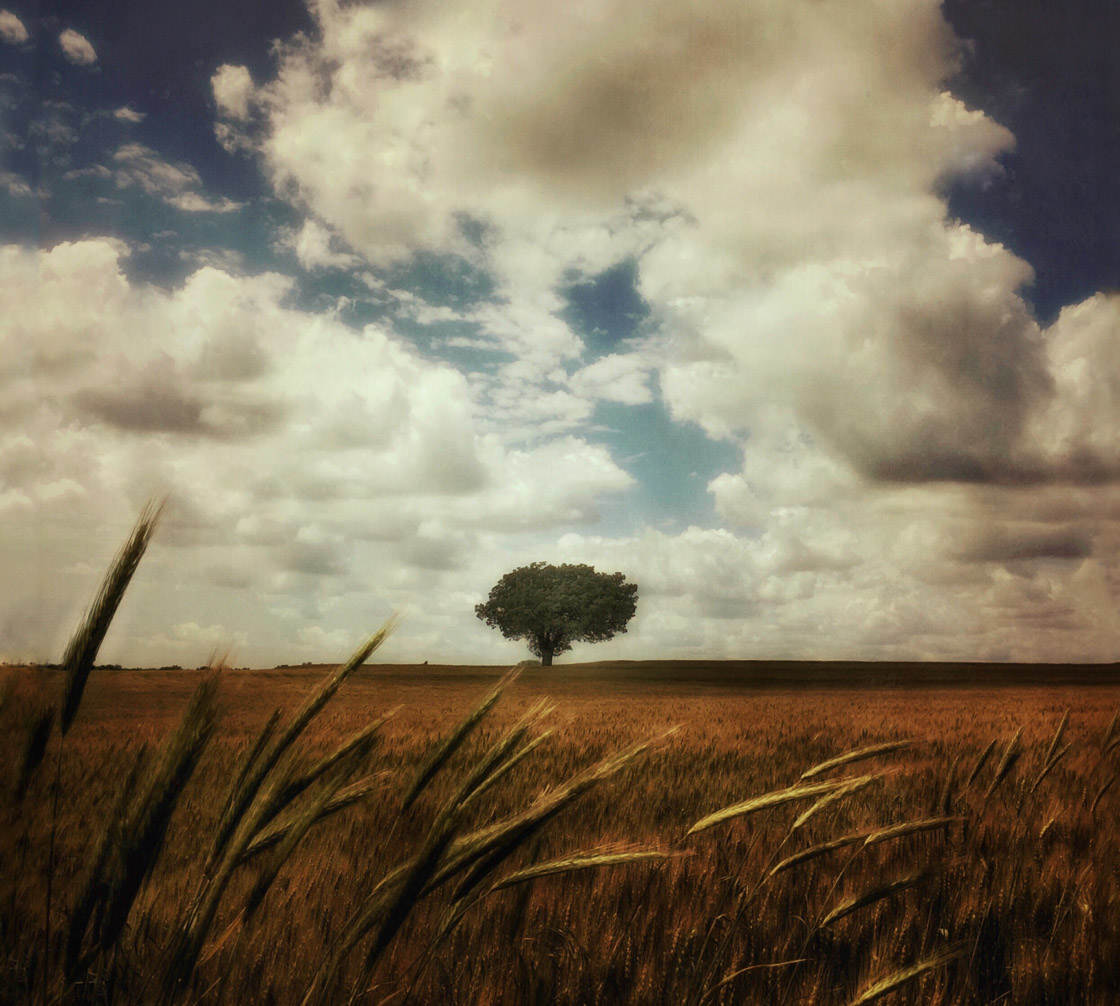 1. Look For Subjects That Create A Mood For Gorgeous Rural Photos
If you want to photograph beautiful rural landscapes…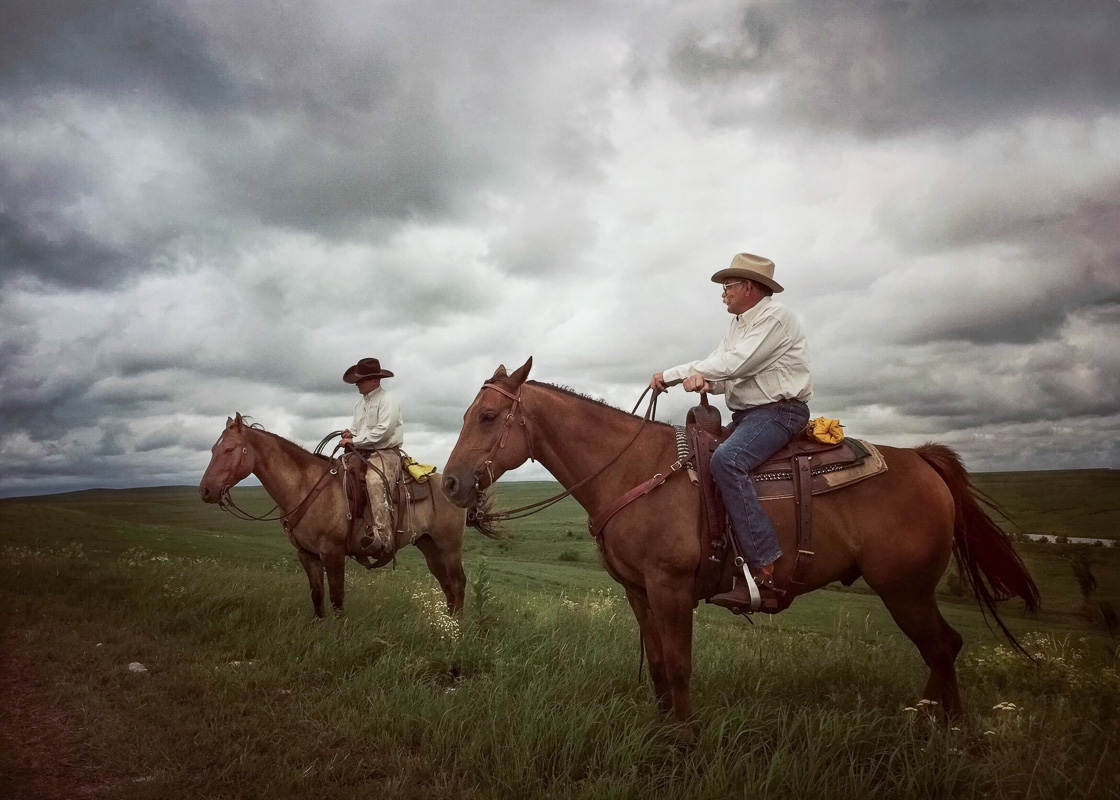 …you can't rely on dramatic scenery. Because in rural areas, dramatic scenery doesn't exist.
There are no soaring mountains. There are no redwood forests.
Instead, the beauty is more subtle. It's tougher to capture.
So here's what I recommend: Find subjects that create a mood.
And make them the centerpiece of your photographs.
In fact, the rural landscape has all kinds of moody subjects.
By 'moody subjects,' I'm referring to things like old farmhouses, broken-down tractors, and rusty fences. Anything that gives a sense of sadness, loneliness, or age works great.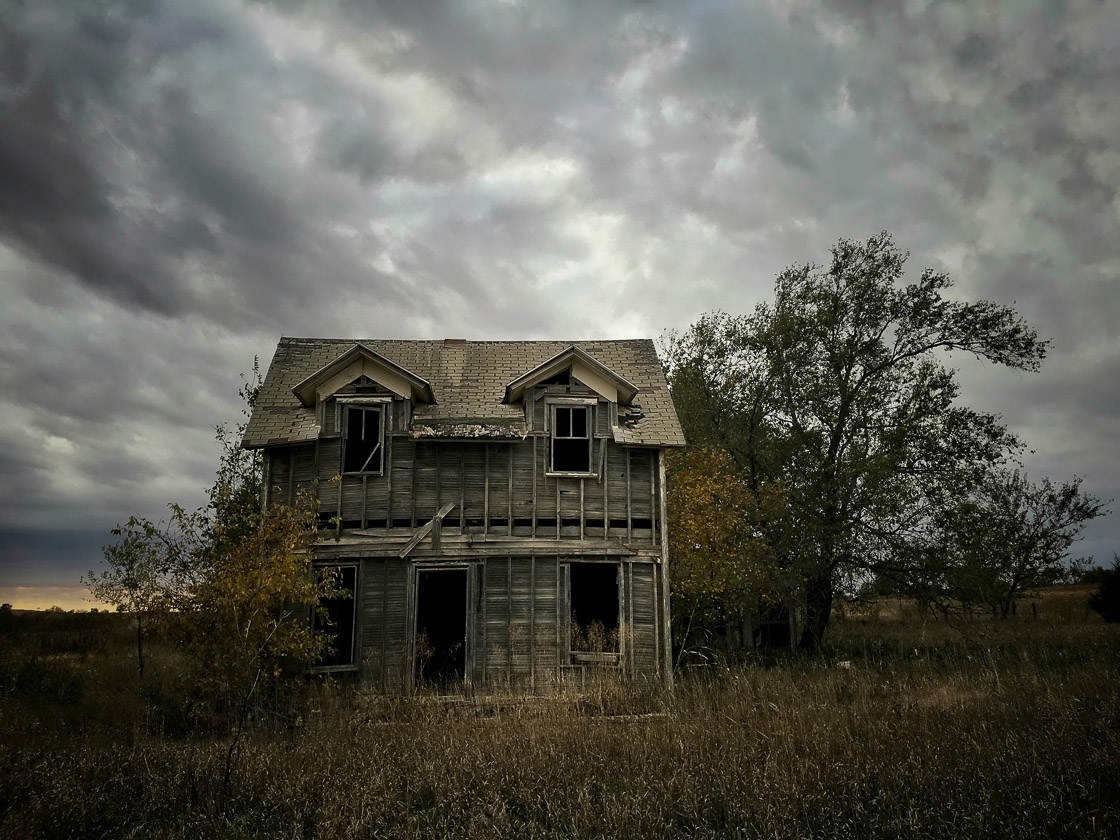 Notice the dilapidated condition of the farmhouse above. Does this produce a moodier photo?
If you can find moody subjects like these, you're on your way to creating great rural landscape images.
2. Include A Clear Subject For A Compelling Rural Shot
Once you've found a nice subject for your rural, moody photography, you need to decide how to capture it.
(That is, you need to choose a composition.)
Here's rule number one for rural landscape compositions:
Focus on your subject. In other words, focus on whatever it was that drew you to the scene in the first place.
And isolate that subject as much as you can.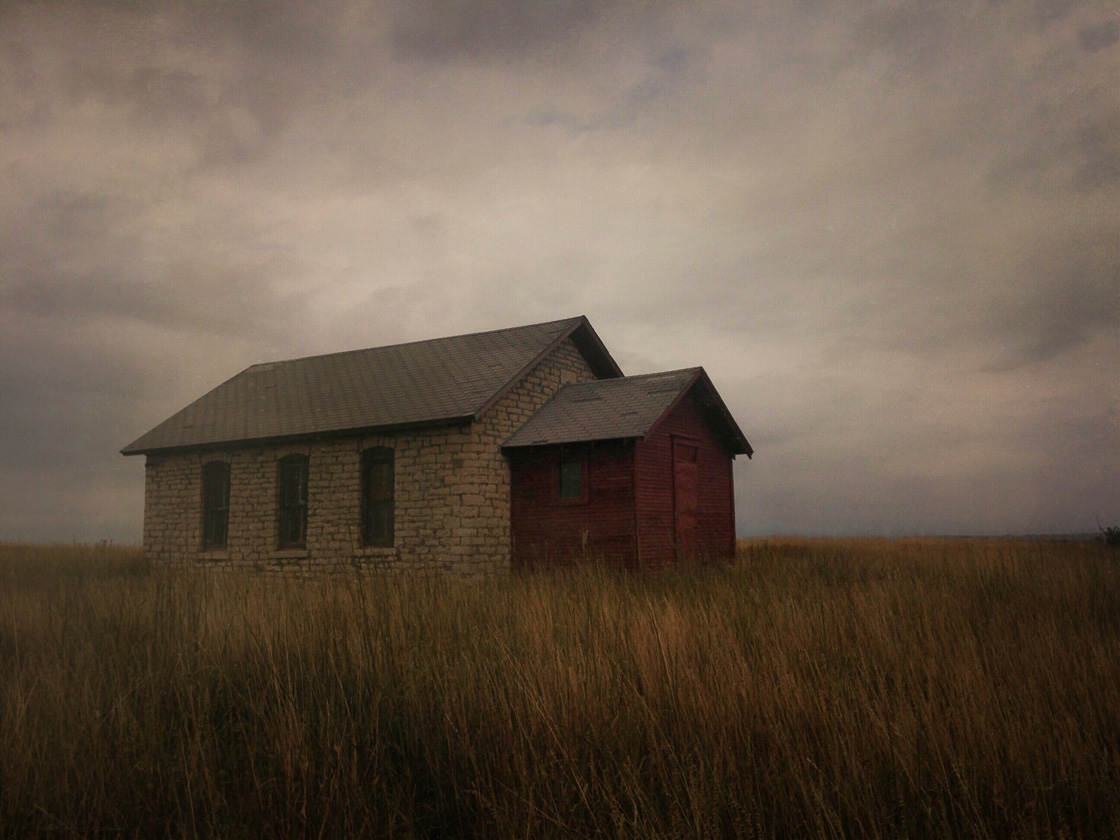 After all, if you've found a subject that creates mood, it's a good idea to emphasize it!
If there are distractions around your subject, get rid of them. You can do this by changing the angle of your shot, or by taking a tighter photo.
Just make sure to highlight your subject. That's how you'll get compelling rural landscape images.
3. Experiment With Many Angles To Capture The Best Rural Landscape Photography
You know how to highlight your subject. But then what? Do you simply take the photo and be done?
Here's what I recommend:
Start by taking the obvious shot. This probably involves taking a photo at chest height while standing in front of your subject.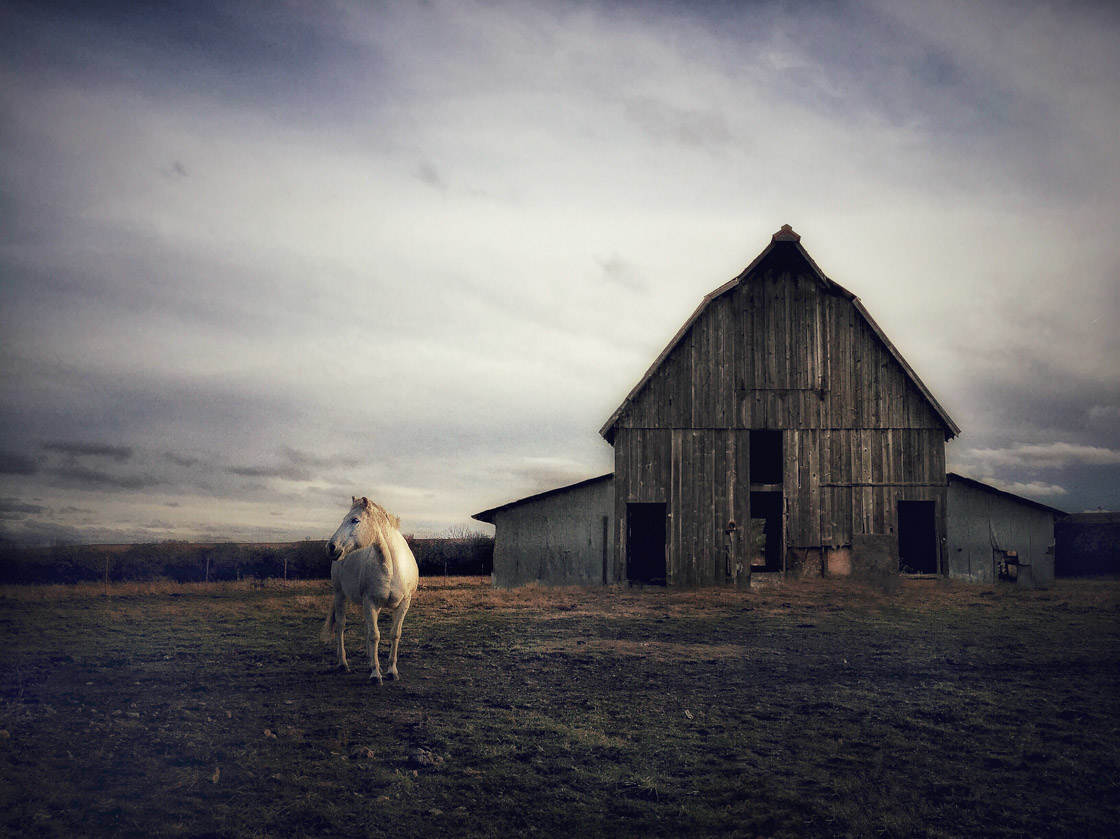 Then walk a few feet to your right. Take a shot.
Get down low, so that you're crouching or lying on the ground. Take another shot.
Then keep experimenting. Keep shooting from different angles.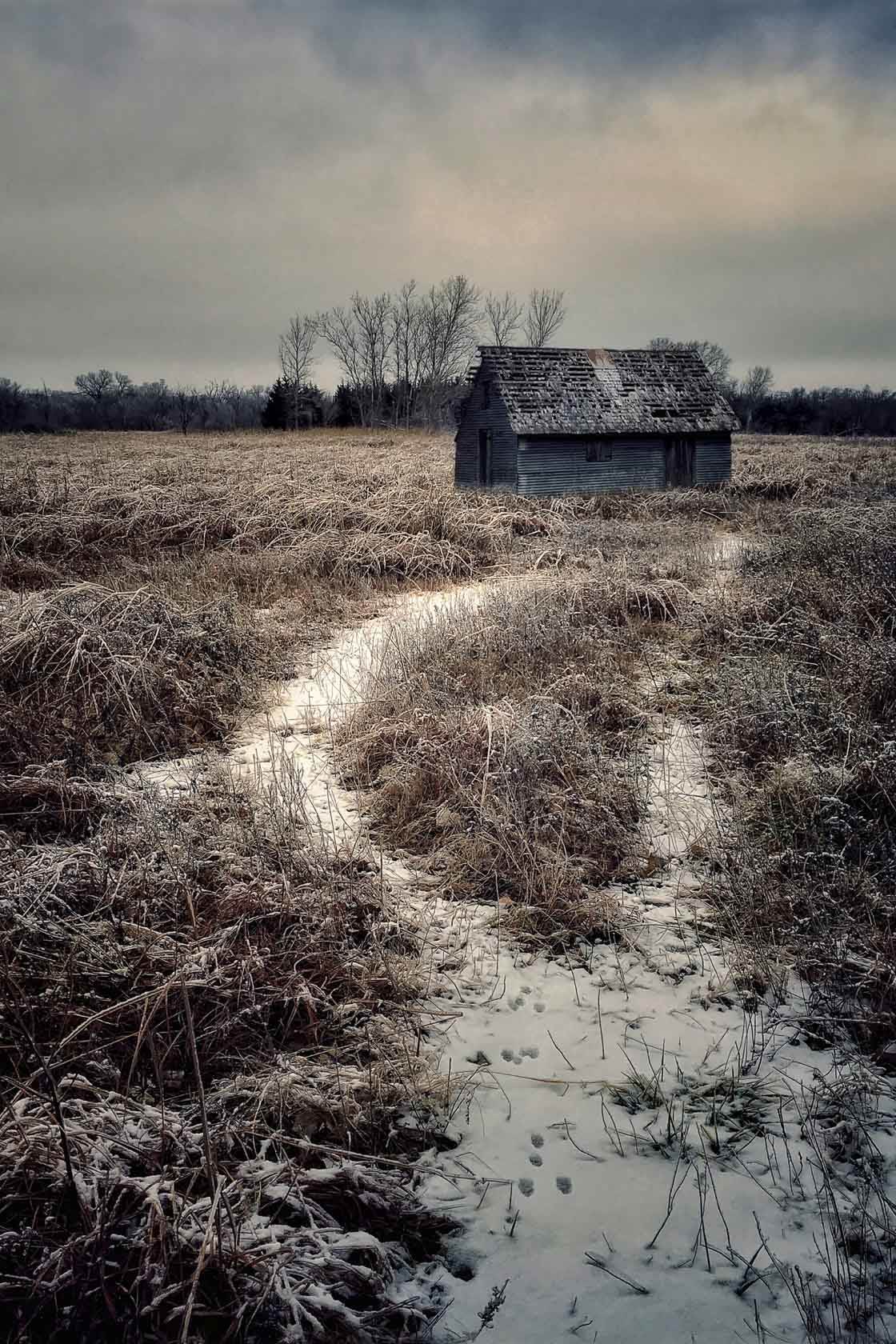 Why should you do this?
Because the first shot you take is rarely the best! I often take many photos. And it's sometimes the very last shot that I like most.
Plus, the more you experiment, the more you'll see things that you might have previously missed. You'll find more original compositions.
That's why it's important to experiment with different angles.
4. Use The Rule Of Thirds For The Best Rural Landscape Compositions
The rule of thirds is a powerful composition technique. It states that the best compositions are the ones that put the main elements of a photo off-center.
More specifically, you should place your subject along one of the gridlines in the photo below. If you do this, your photos will look amazing.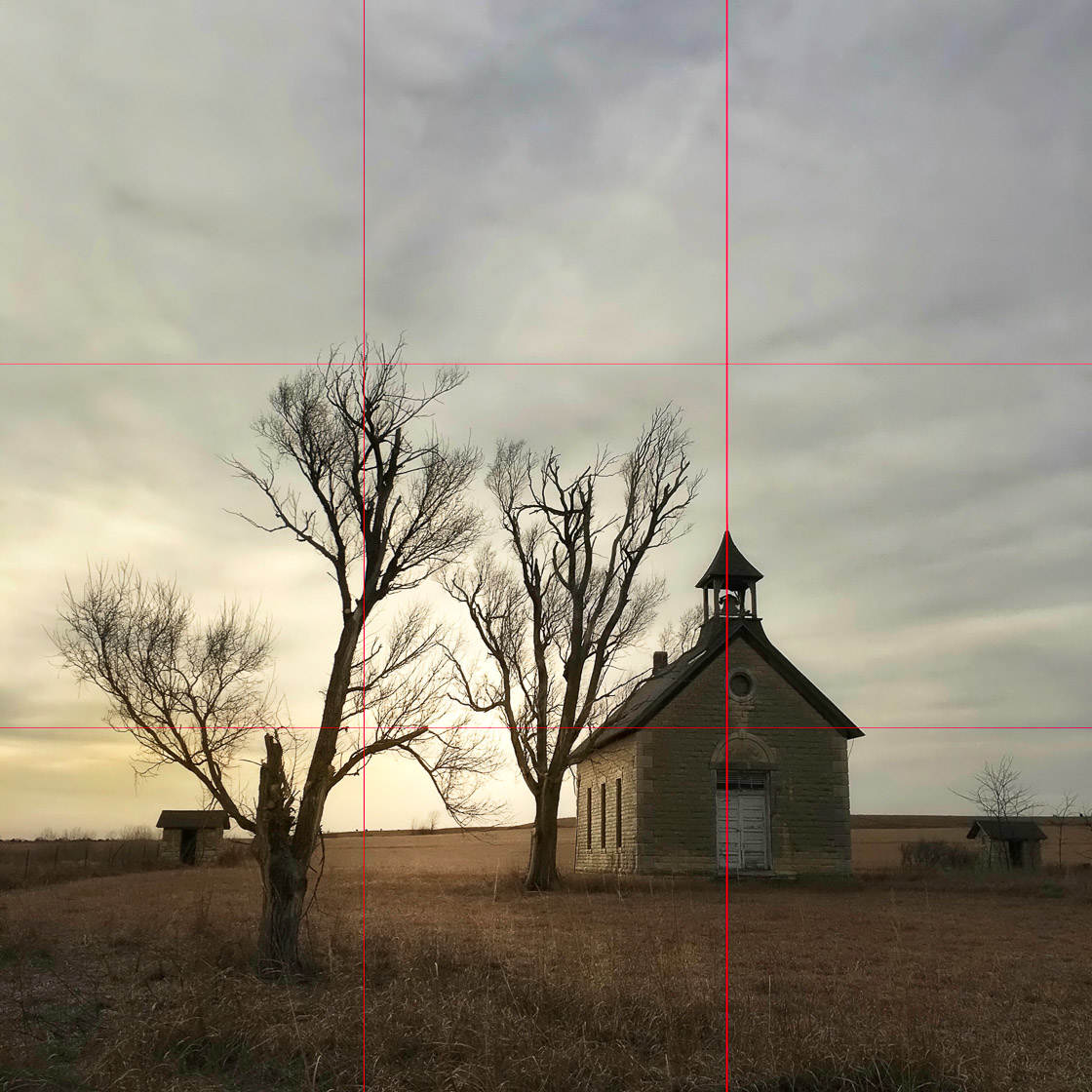 Here's a bonus tip: Place your subject along one of the points where the gridlines cross. Notice how the building in the photo above sits at the intersection of two gridlines. This makes for an especially pleasing composition.
So when you shoot a rural landscape, identify the focal point of your shot. If you've followed the previous tips, it'll be a moody subject.
Then put this focal point somewhere along the rule of thirds grid.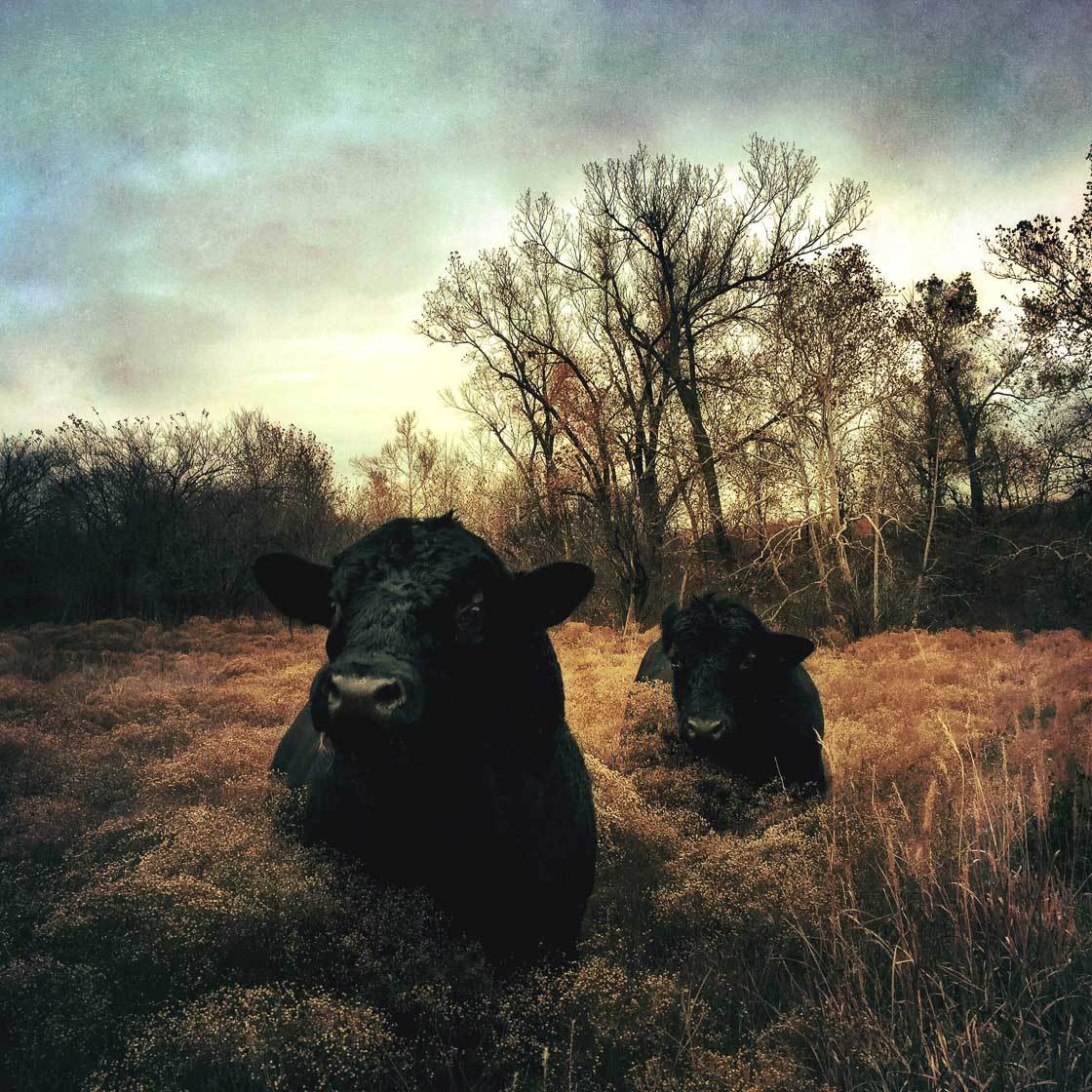 To make this easier, you can turn on the grid on your iPhone camera.
Go to the home screen. Then tap Settings, then Camera. Switch the Grid on.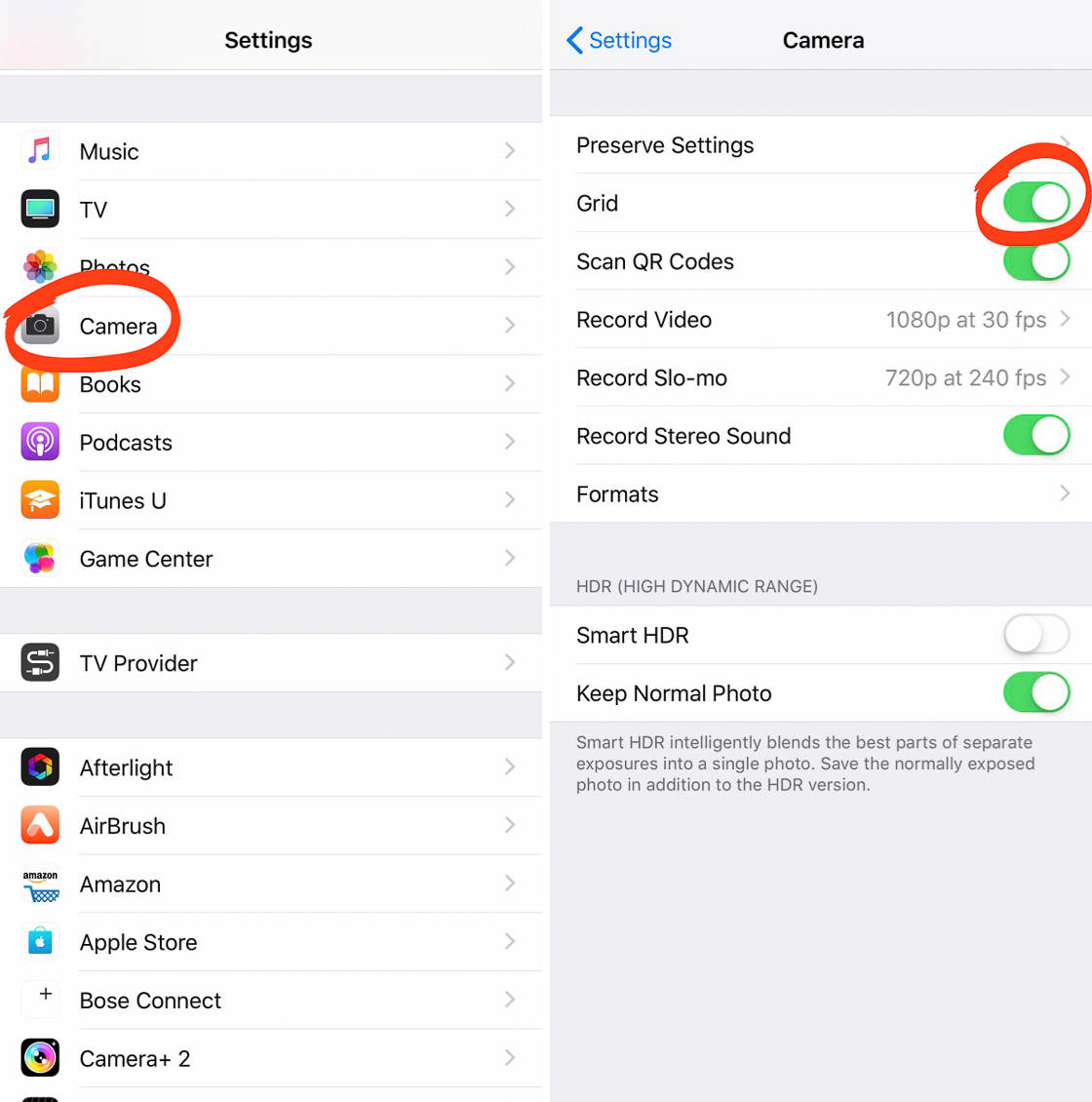 Now, when you open the Camera app, you'll see the gridlines running across the screen. This is super useful for making sure you follow the rule of thirds.
So don't forget to turn on the grid–and make sure you follow the rule of thirds in the future!
5. Shoot In Bad Weather For The Most Powerful Rural Landscape Images
If you want really beautiful rural landscapes, then you need to embrace an isolated, moody feeling.
And one of the best ways to do that is to shoot in bad weather!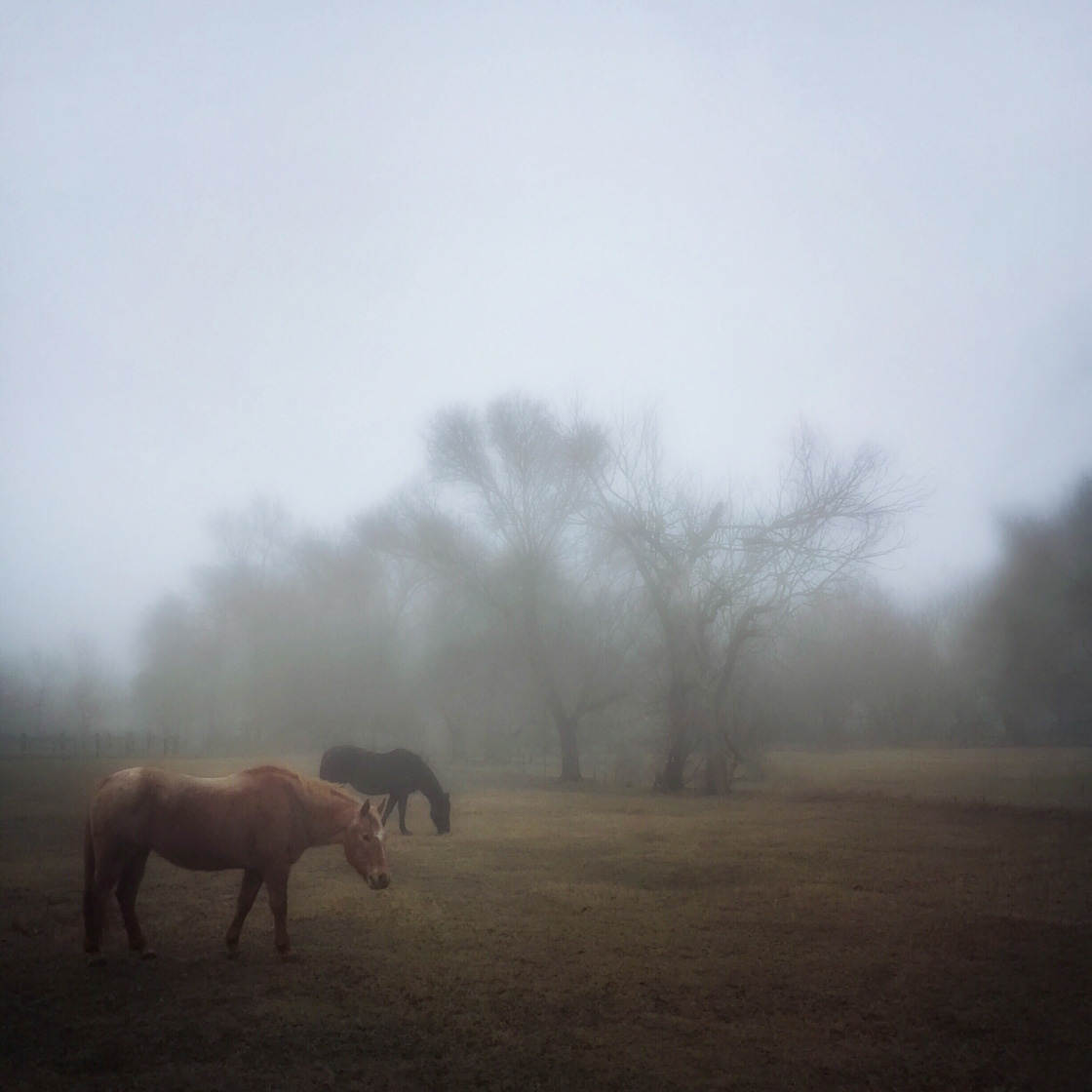 I love to go out in the rain. The dark storm clouds and hazy atmosphere add a lot of drama to my photos. And it goes perfectly with the moody rural features I talked about earlier!
I'm especially fond of going out when it's foggy. The fog gives a wonderful sense of loneliness. It adds so much to the photo.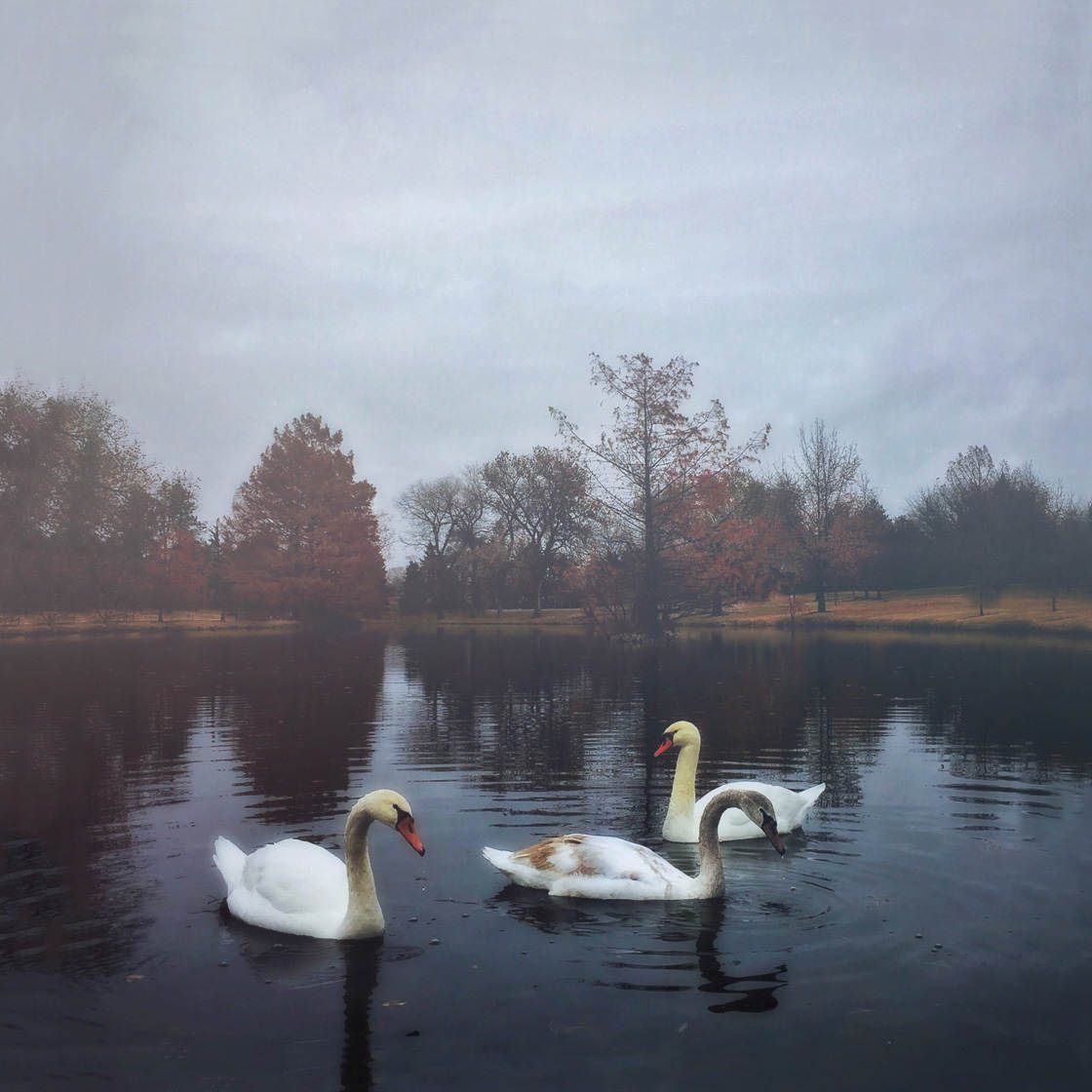 I even like going out when the sky is covered in clouds. I love the darkness that the clouds bring. And I'm very happy with the photos that I get.
(I know you will be, too!)
Plus, cloudy days bring a wonderful diffused lighting–which makes it much easier to capture your subject. You won't have to deal with extreme contrast in your images.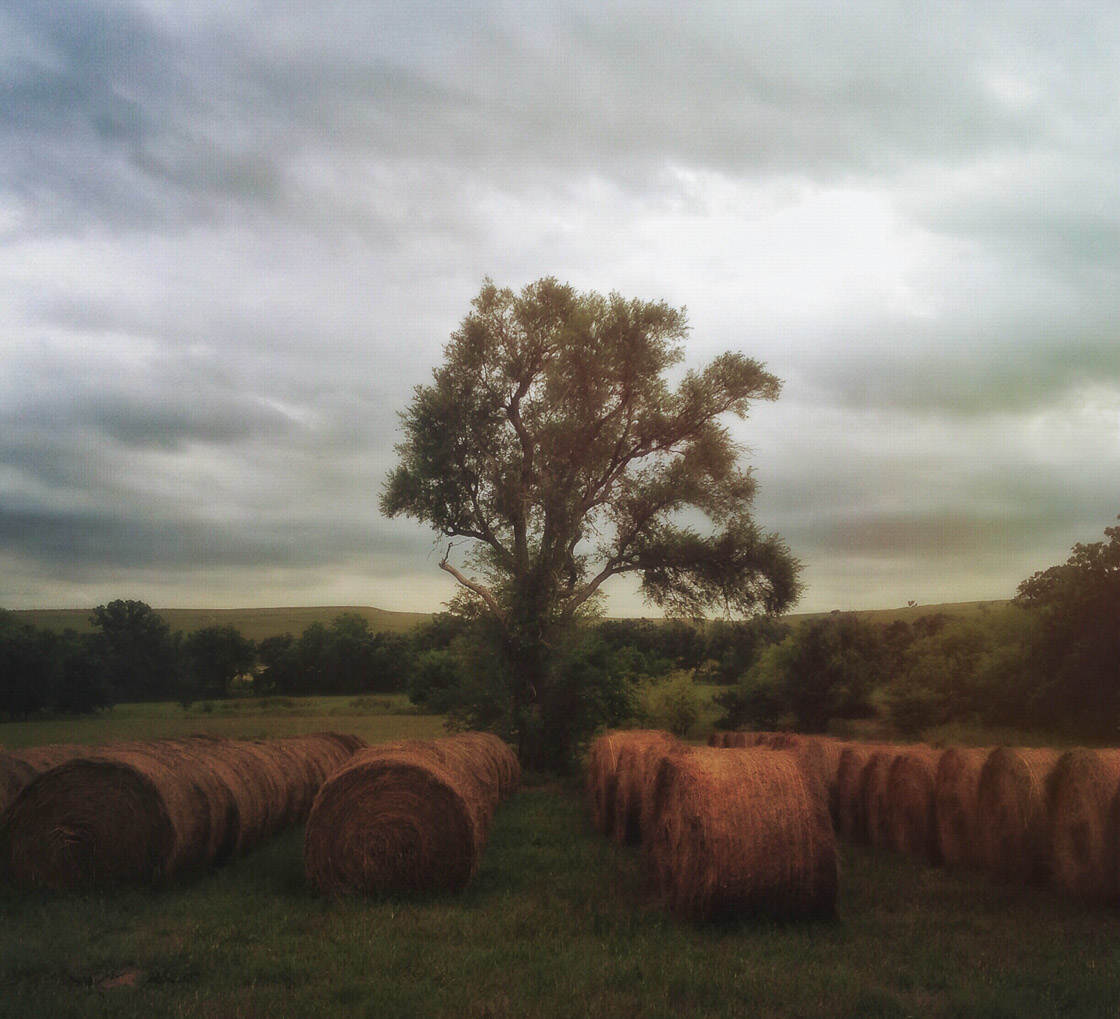 So shoot when the weather is dark and moody. That's when you'll get the absolute best shots.
6. Shoot In Black And White If It's A Sunny Day
In the previous tip, you learned to shoot on dark, moody days.
But what if the weather is nice? How do you best capture the rural landscape?
I'm all about capturing the mood of a scene. And bright, sunny days don't seem like they'd offer much in the way of mood.
So here's a trick for you (so that you can still take photos on sunny days):
Shoot in black and white.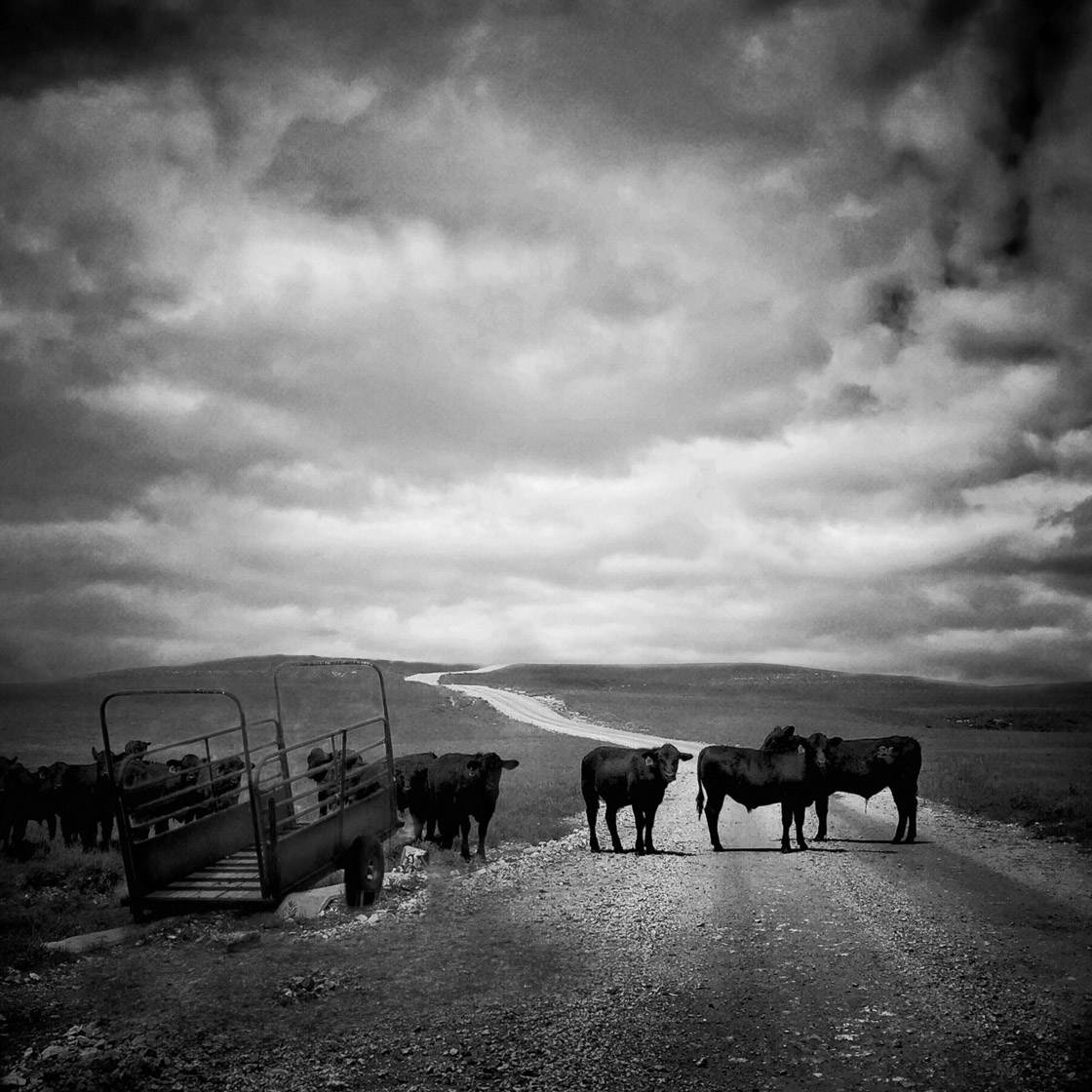 Black and white can give a very moody feel to your images–especially when the photos are taken in high-contrast conditions.
And sunny days offer lots of contrast. This is because the bright sun illuminates parts of your subjects very heavily, and leaves parts of them covered in shadow.
Normally, this would result in very bright, contrast-heavy photos.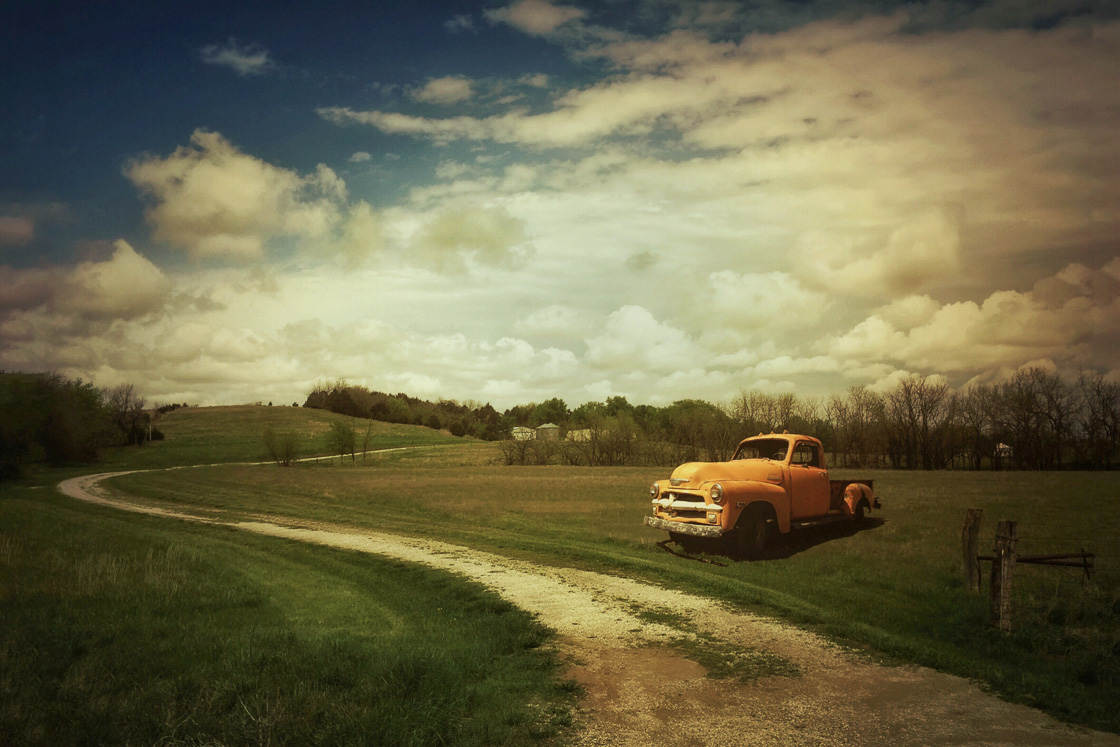 But when you turn this to black and white, you can get some really gorgeous, moody shots.
To convert a photo to black and white, open it in Snapseed (a free photo editing app). Tap Open, then find your photo.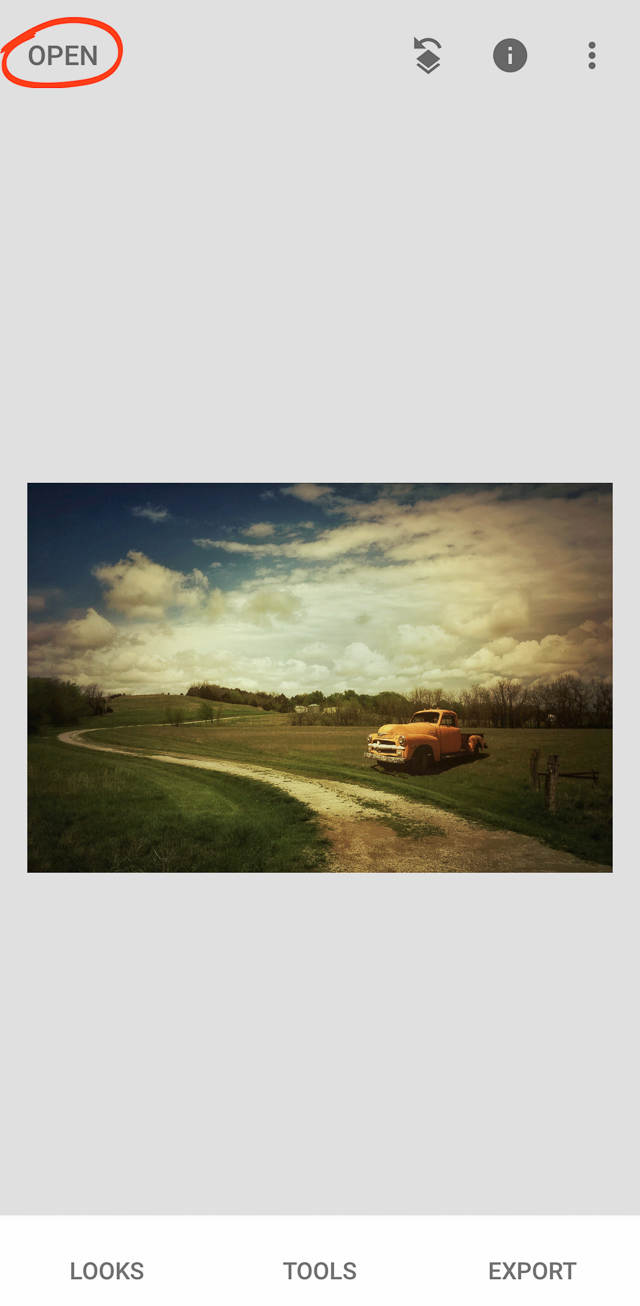 Next, tap on Tools (at the bottom of the screen), then Tune Image.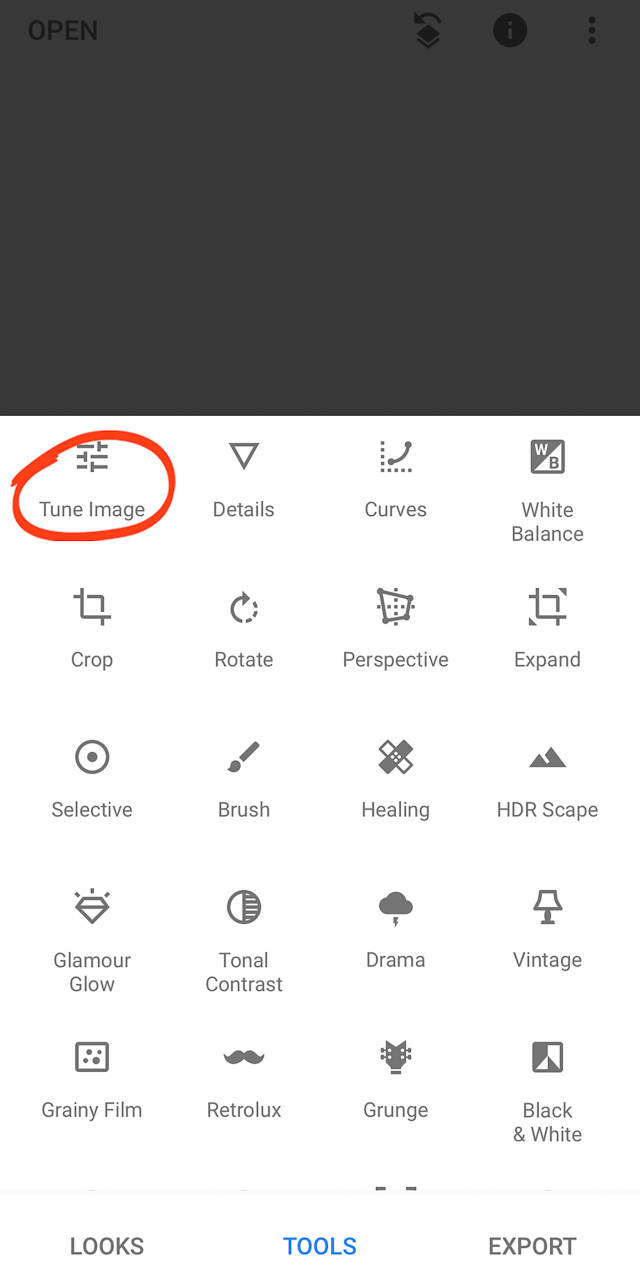 Then swipe up to access the Adjustment menu. Find Saturation, and swipe left to decrease it to -100.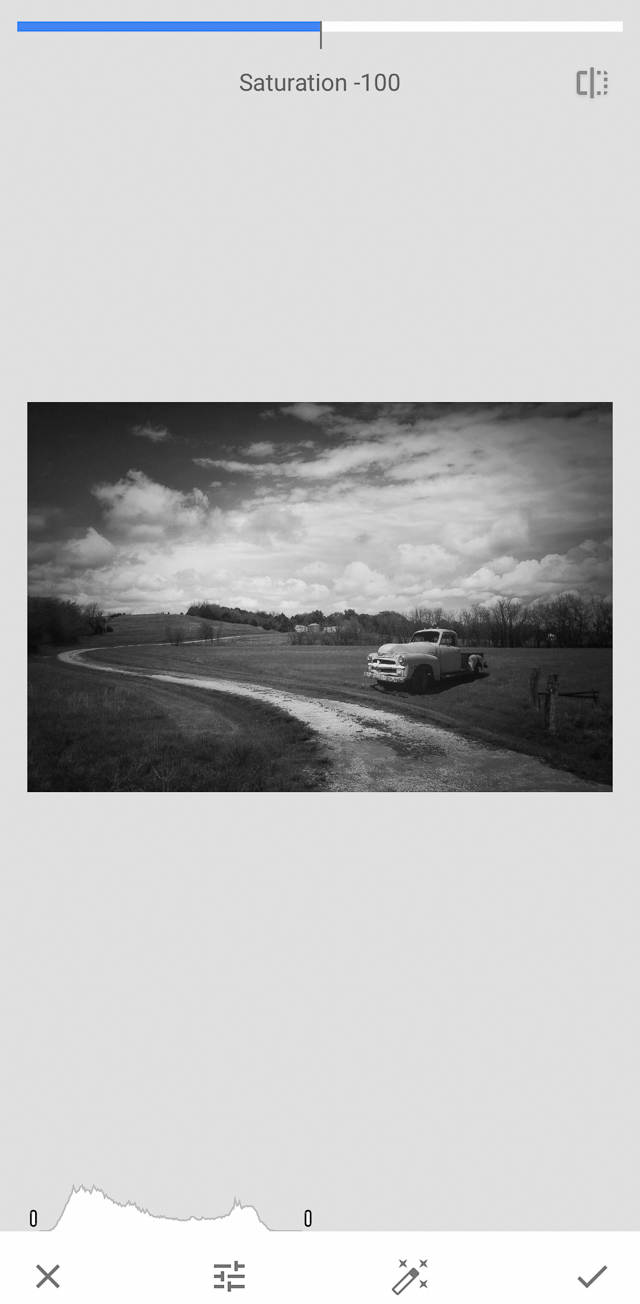 And that's it! Your photo will now be in black and white. And it should look sufficiently moody!
So don't be afraid to go out in bright sunlight–as long as you turn your photos black and white.
7. Include Leading Lines To Captivate The Viewer
You've learned about the best light for rural landscape photography. And you've discovered several tricks for creating gorgeous compositions.
But do you want to know another tip for stunning rural landscape compositions?
If you want to create incredible rural landscape compositions…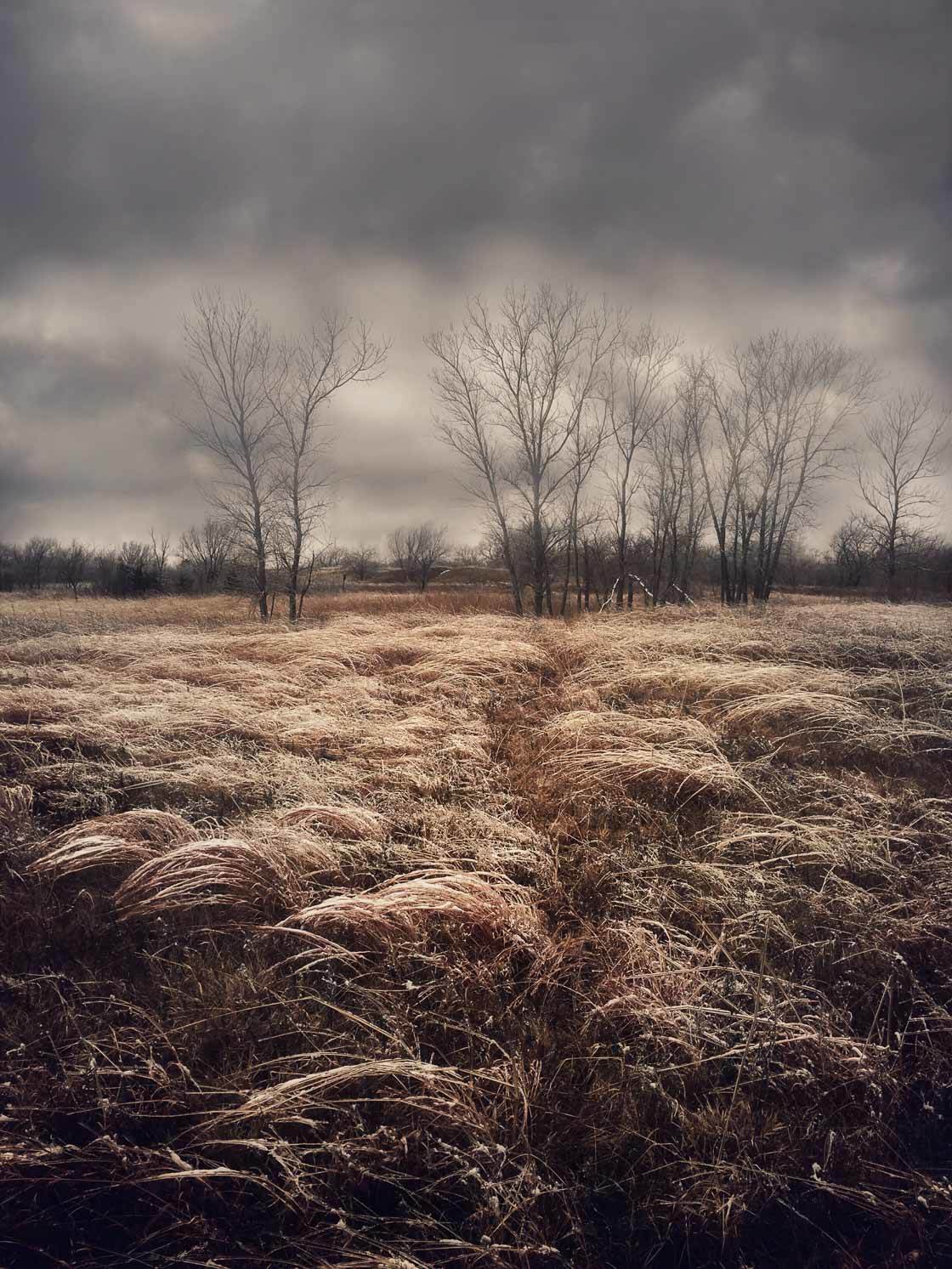 …then use leading lines.
Leading lines are lines that start at the bottom of the frame, then lead the viewer into the photo. They can be anything: a fence, a river, or a gravel road.
Leading lines add to the scene–and make the viewer feel like they're actually there. Notice how the stone wall in the photo above leads your eye into the frame.
Fortunately, finding leading lines isn't difficult.
Once you've found a subject, scan the landscape for nearby lines. Ideally, the line will move the eye directly to the subject of the photo.
Once you've found a leading line, get close to it. Position your iPhone so that the leading lines come up from the bottom of the frame.
Notice how the water in the photo below brings the eye up to the old barn. That's what you want to do with your leading line!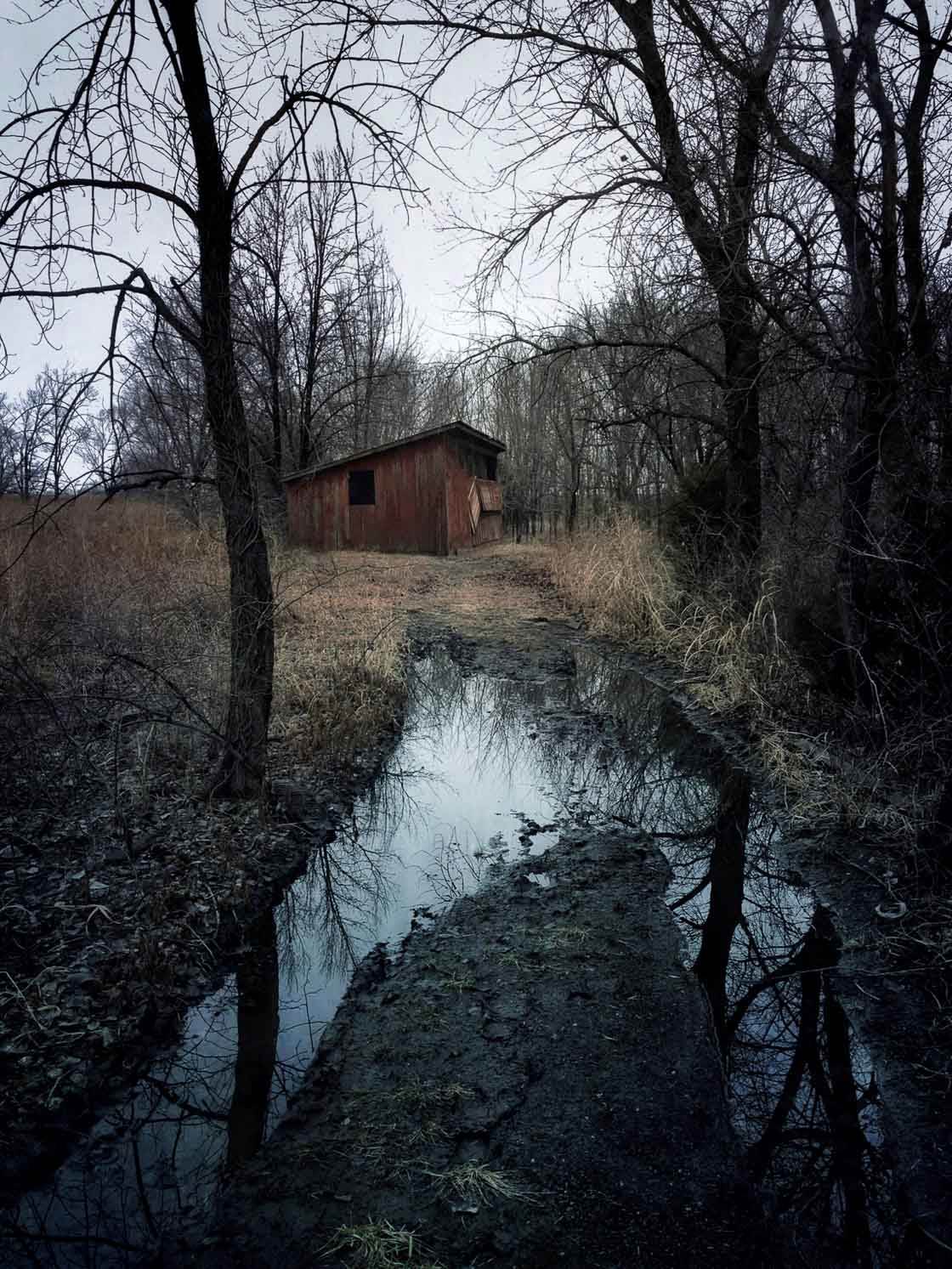 Then take your photo.
To reiterate: Leading lines can really enhance your rural compositions. So use them at every opportunity!
8. Use Minimalism For The Moodiest Rural Moments
Here's another way to capture moody rural landscapes:
Use minimalism.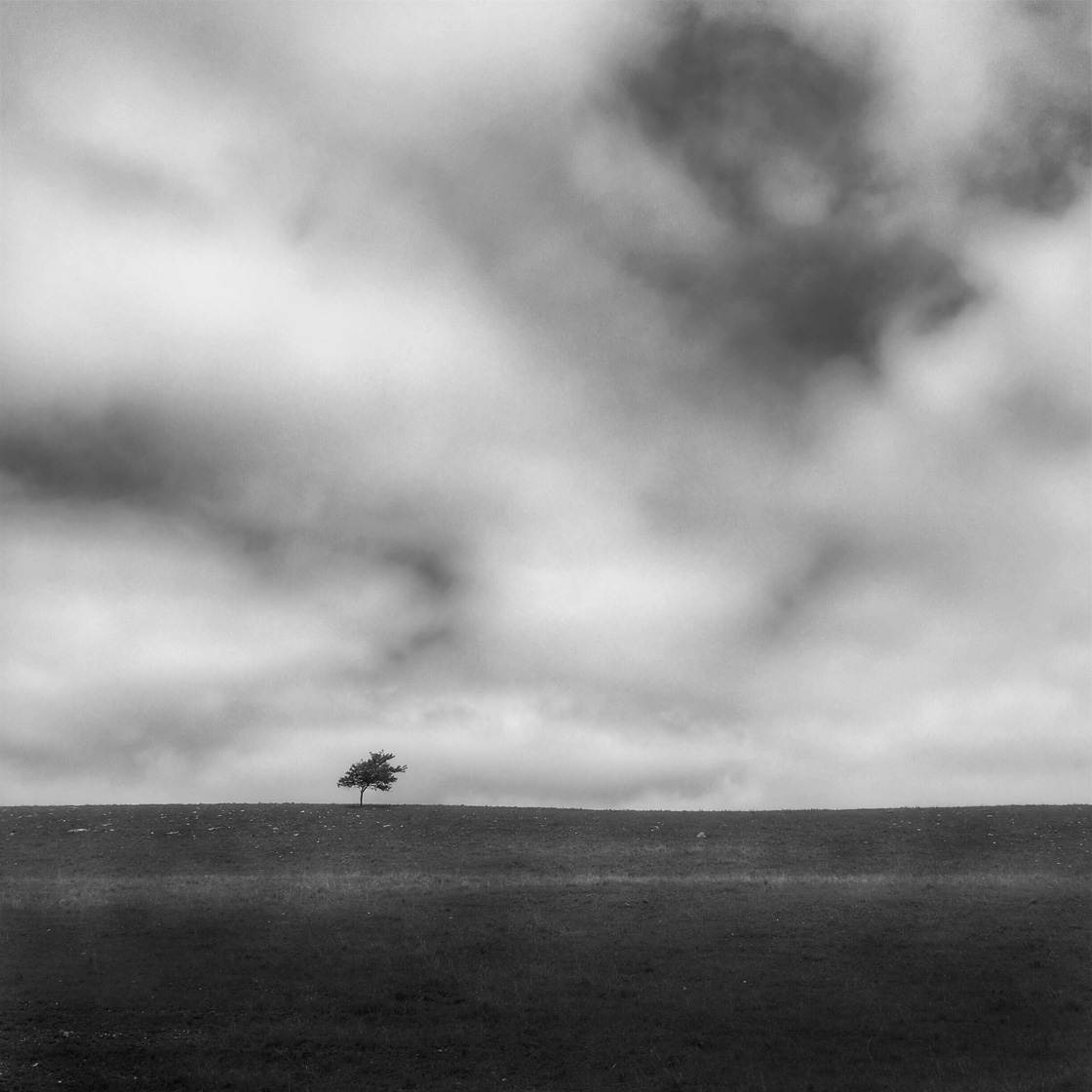 Minimalism refers to compositions that have lots of empty space.
(This is often referred to as 'negative space.')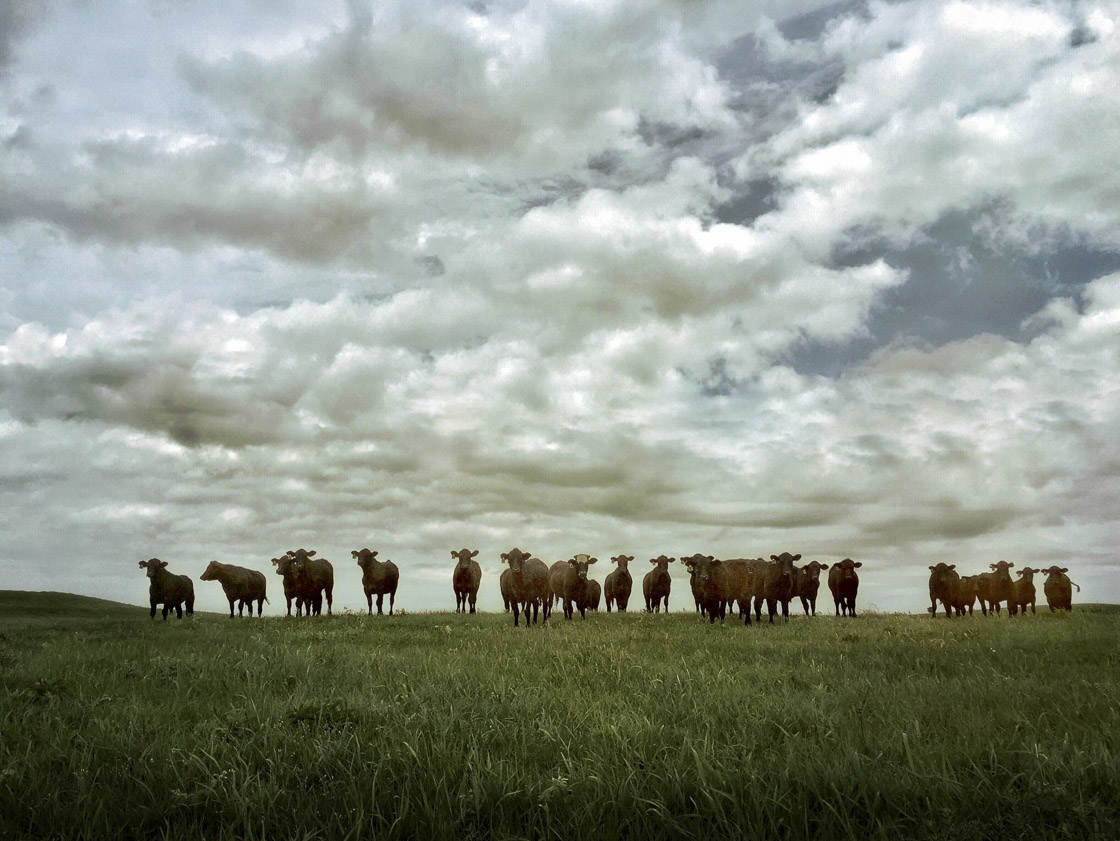 And minimalism looks fantastic when used to capture rural landscapes. It lends a sense of loneliness and isolation to the photo–a sense of rural mood.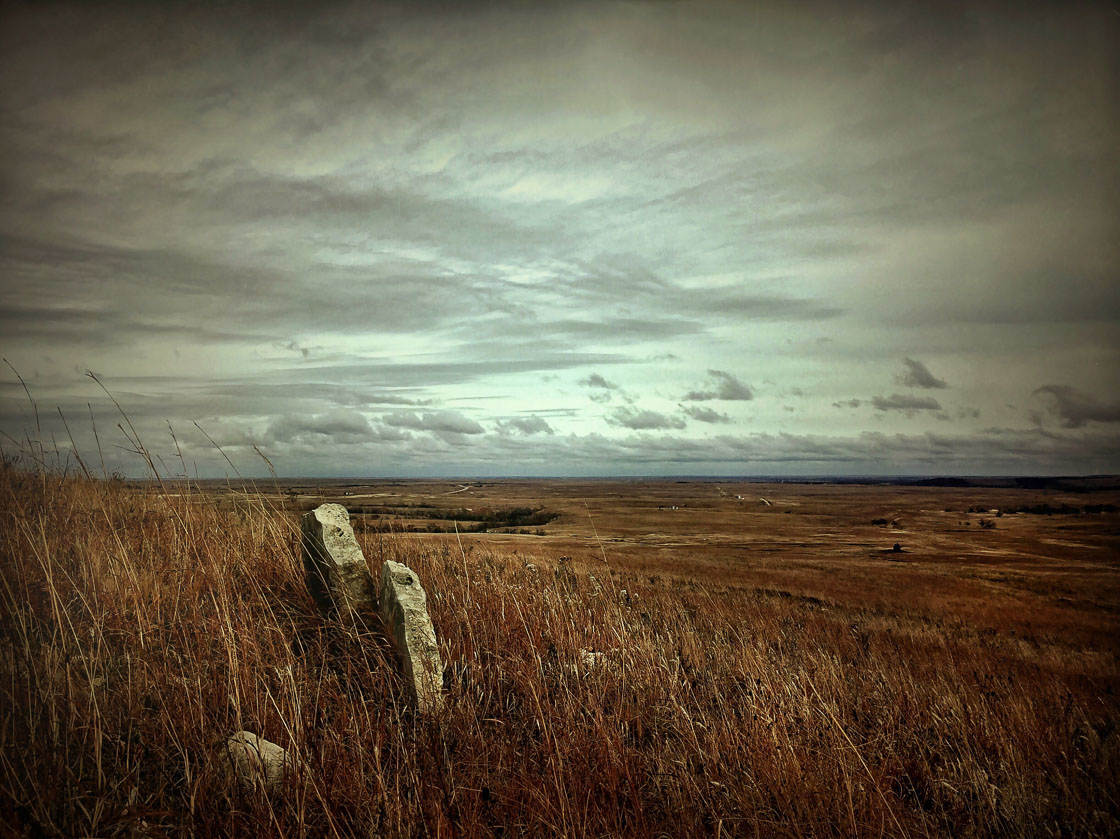 And this is precisely what you want!
Plus, rural areas offer a gorgeous minimalist landscape.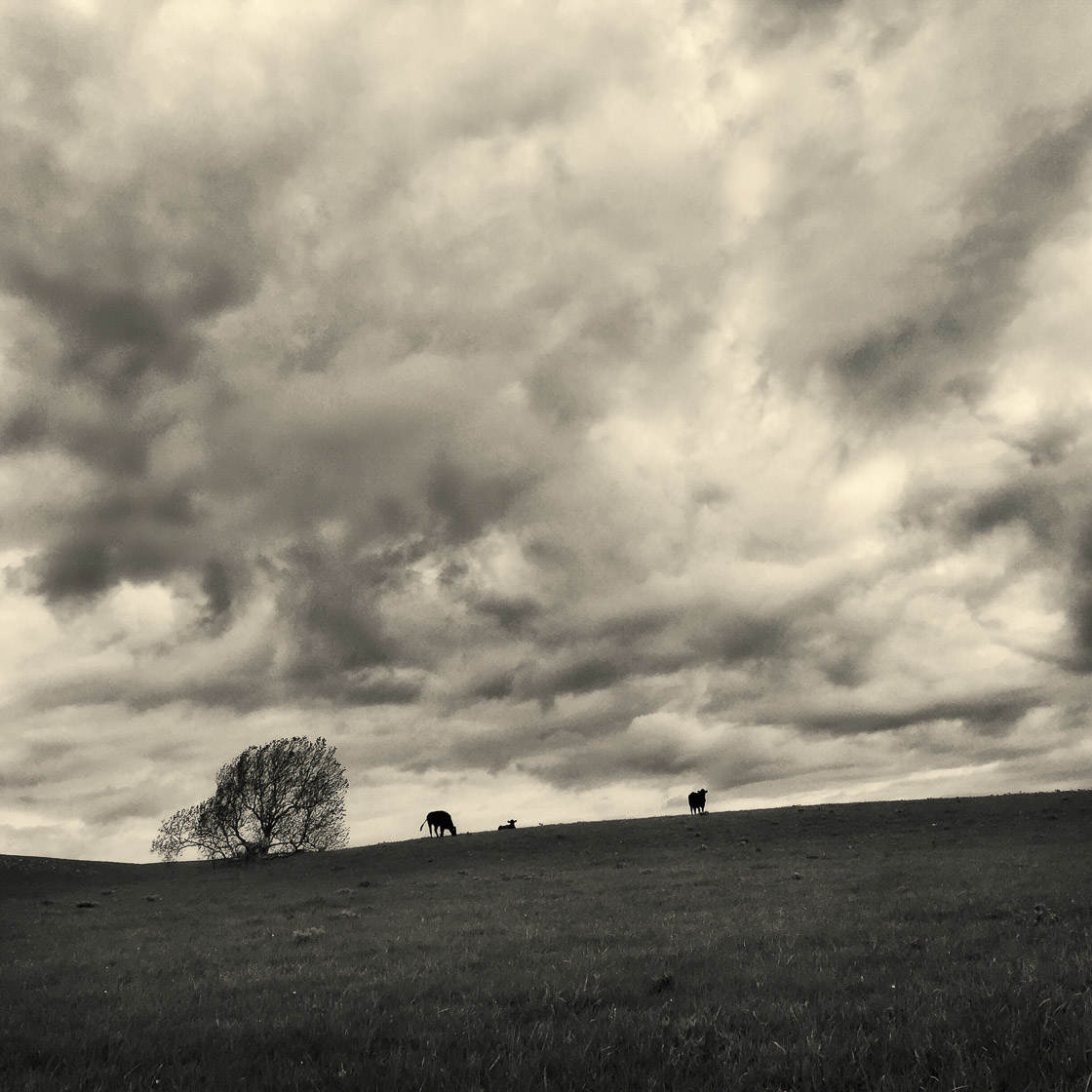 Here's how you use minimalism:
Find a scene with a single subject–and nothing else. For instance, find a lone tree. Or find a single cow in a field.
Use the rule of thirds to position that single subject toward the bottom of the photo. That way, the sky will dominate the frame.
And simply embrace the emptiness of the landscape.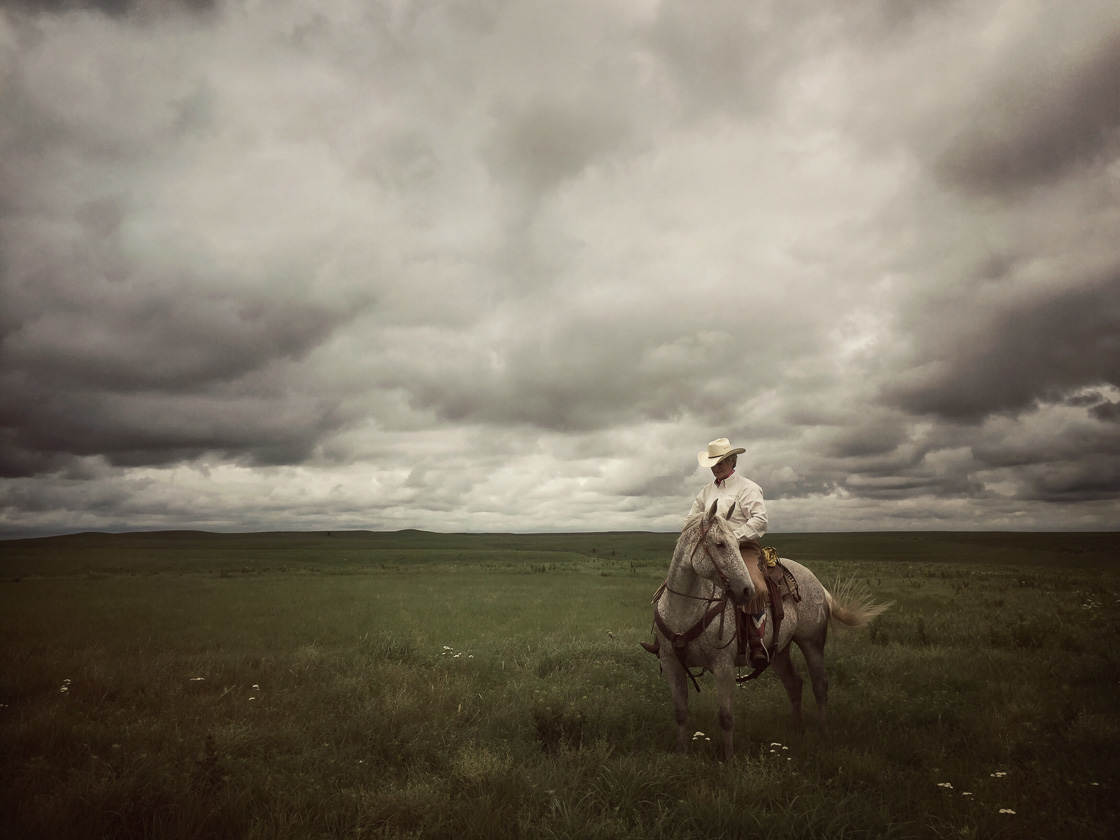 If you can do this, you'll create gorgeous minimalistic photos. And this will give you that rural, moody feel that you want!