olloclip lenses are amongst the most popular add-on lenses for the iPhone, and they're now developing an exciting new mobile camera accessory. Their current Kickstarter campaign introduces the new olloclip Studio – a protective case with mountable accessory solutions. In this article you'll learn more about the olloclip Studio and how you can be the first to get your hands on this new iPhone accessory.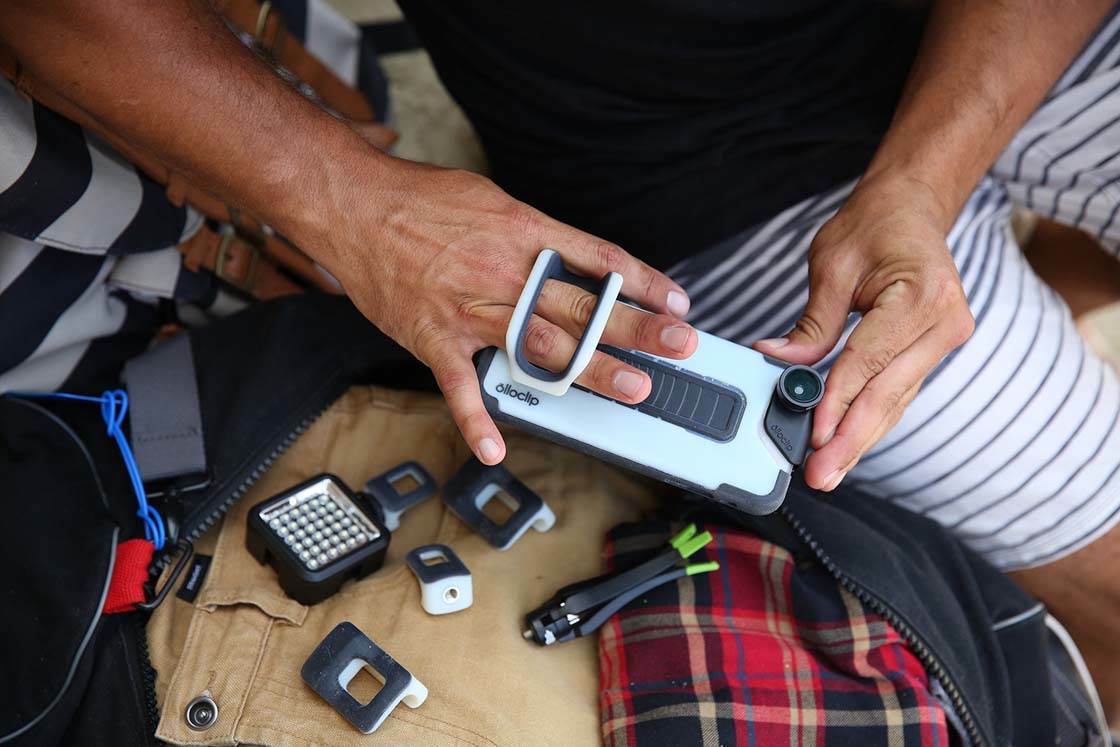 About olloclip
When olloclip launched their first Kickstarter campaign four years ago, mobile photography was still in its early stages of development.
Since then, the company has put over a million of their add-on lenses in the hands of mobile photographers worldwide. olloclip products are now available in every Apple store as well as other top retailers around the world.
Just as mobile photography continues to evolve at a rapid pace, so does the development process at olloclip. The company strives to support the evolution of mobile photography through their ongoing product development.

That attitude has led to the design and development of a new olloclip "Studio" kit. Just like their first product launch four years ago, the company is again seeking funding for this new endeavor via Kickstarter.
Not only is this a great approach to speed up development, but it helps to quickly put the new product directly into the hands of the mobile photographers that will benefit most from it.
What Is olloclip Studio?
According to the developer, the new olloclip Studio system combines an all-new case design that's even more protective than the last olloclip case.
It also features an integrated mounting solution (patent pending) and comes with an additional set of accessories that are all designed to enhance the mobile photography/videography experience.
Both the case and accessories are designed to work together in an intuitive manner. The idea is that users shouldn't have to think too much about the case system. It should just do its job well so that you can focus on taking great photos.
"When we first introduced olloclip to the world on Kickstarter four years ago, the concept of mobile photography was just starting to take shape, and a photographic revolution was born," said Patrick O'Neil, CEO of olloclip.
"Today, our products are available in every Apple Store worldwide, and people are using olloclip lenses to capture everything from a baby's first steps to broadcasting world events in real time.
"It's this same evolution that prompted us to take the next step and share our latest innovation with the same community that helped us successfully launch a completely new category four years ago."
All-New Case Design
Core to olloclip Studio is the new Studio case. Most iPhone users are very particular about what case they use, so this is always a touchy subject. That being said, most of us tend to be happy with any case that isn't too bulky, protects the iPhone and generally feels good to carry.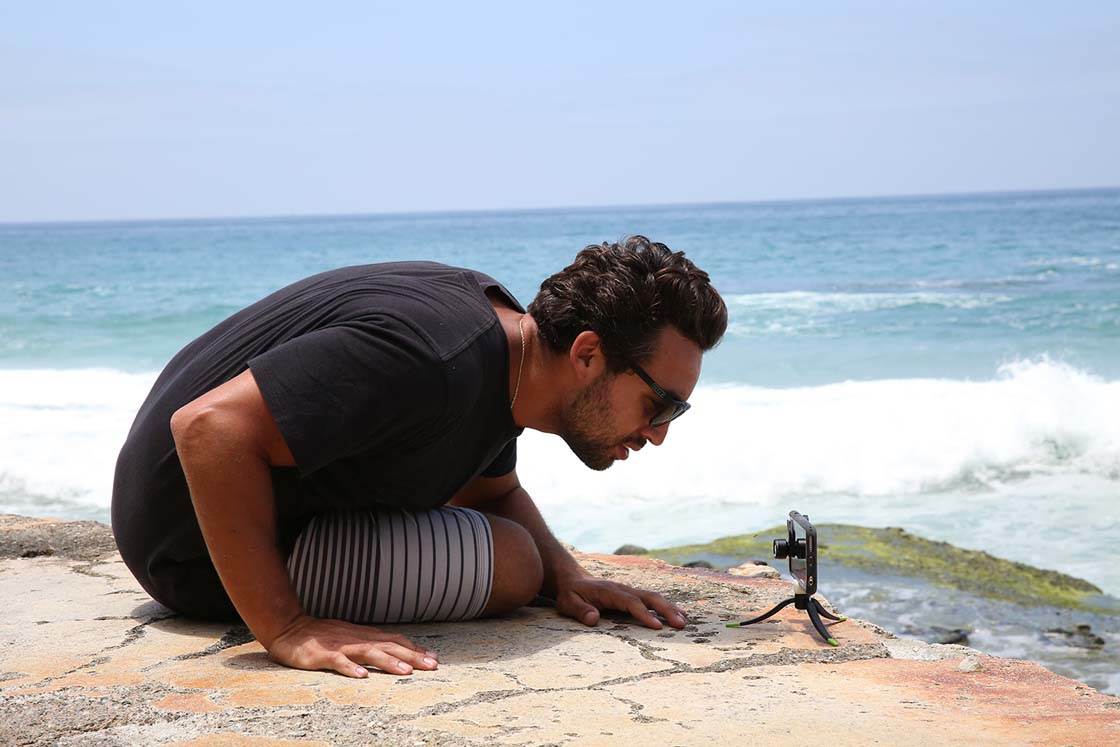 While the last aspect is hard to tell until we can try one out first-hand, the new Studio case appears to be very well-designed. In addition, assuming that it meets all of the above requirements, it also goes several steps further in offering a number of improvements that are all designed to serve the needs of iPhone photographers.
Through an innovative mounting system, the Studio case allows for a variety of modular configurations using the entire line of available Studio accessories. And this is where the whole Studio system really shines.
Accessories Designed For Mobile Photographers
All of the new accessories offered with the Studio kit have been thoughtfully designed with an active lifestyle in mind. In addition, the accessories are also great for use with new broadcasting apps like Twitter's Periscope and social media favorites such as Instagram, Facebook and Snapchat.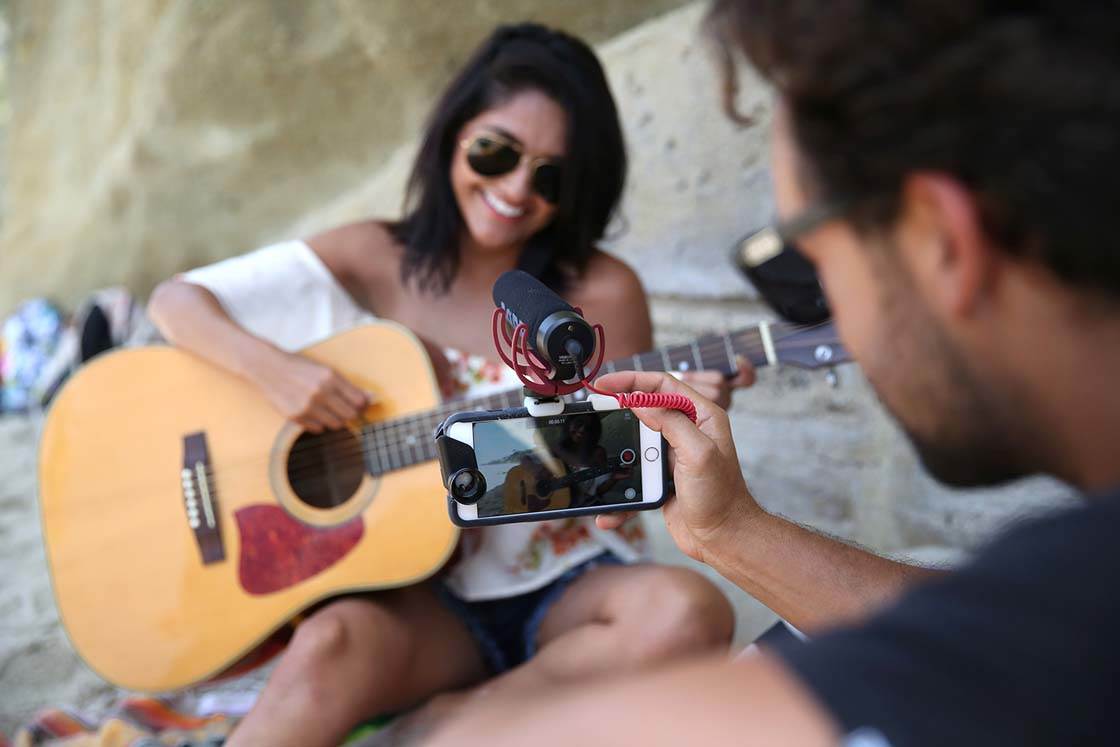 "When we set out to design the integrated accessories, we went back to the basics and looked at the variety of ways people hold their phones," said Chong Pak, director of design at olloclip.
"From this research, we created the simplest and most intuitive way to grip your phone, enabling you to be more immersed in the capture process than ever before."
Complete List Of Included Accessories
The first iteration of the olloclip Studio kit includes the following components:
Studio Case – available for iPhone 6 and 6 Plus.
Finger Grip – a versatile and ingenious two-finger universal grip. It's great for increased stability while taking photos, filming video or broadcasting with apps like Periscope. It enables the photographer to quickly change from portrait to landscape orientation without even thinking about it.
2 x 1/4-20 Clips ‑ to attach a tripod, grip or handles. Includes mounts for both landscape and portrait orientation.
2 x Cold-Shoe Adapters ‑ to attach lightweight accessories to the iPhone in a snap, such as a microphone or light. The shoe was designed to offset the center of gravity of the accessory, so it's directly in line with the iPhone's centerline thus creating a more balanced experience when attaching multiple accessories.
Kickstand ‑ a new stand attachment for watching a movie or reading your favorite book or blog on your iPhone.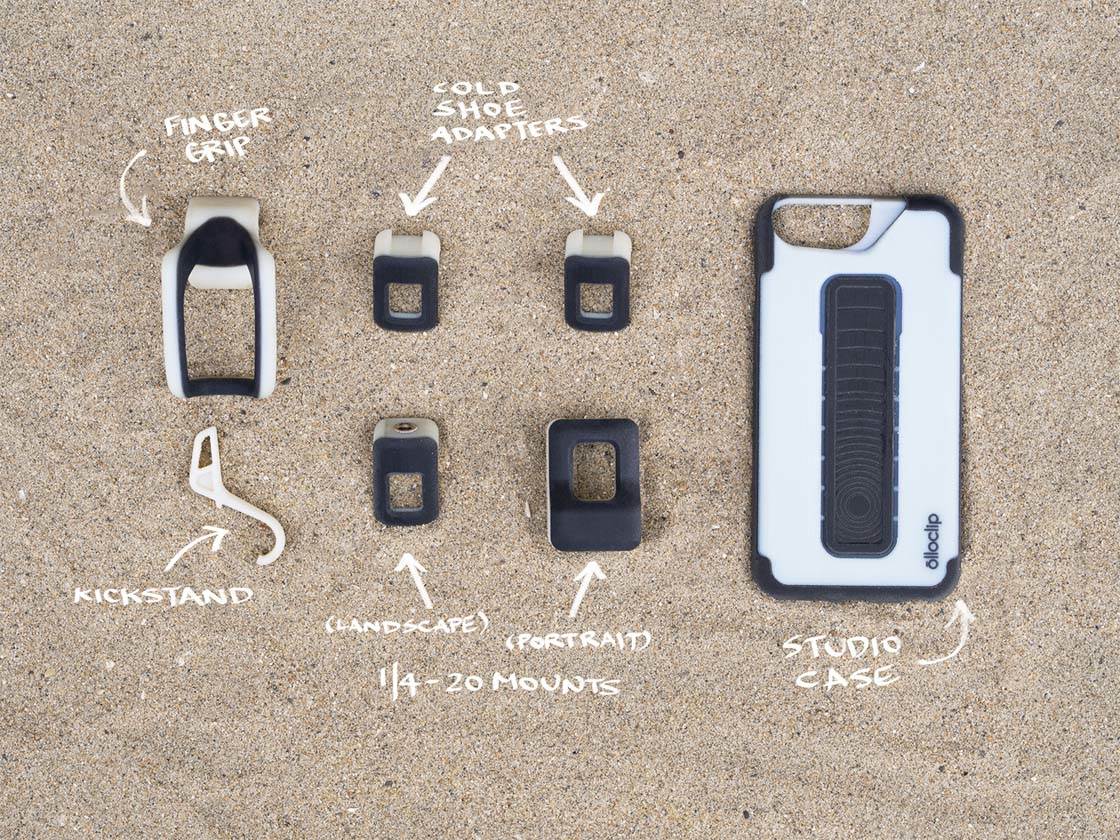 According to the developer, all of this is just the beginning of what the olloclip Studio will be capable of doing. Through the current Kickstarter Campaign, olloclip will be able to continue developing their line of mobile photography accessories that utilize the integrated central rail-mount system of the new Studio case.
How To Pre-Order Your olloclip Studio
olloclip is aiming to provide a great deal of value to those willing to back this new endeavor on Kickstarter. Seven reward levels are being offered, which represent up to 40% savings off of the anticipated retail costs of the products.
Available rewards range from the Studio Case only (handy if you already own the olloclip lenses), to the complete olloclip Studio with lenses.
They even have an option of a once-in-a-lifetime opportunity to join the olloclip team in Southern California for a mobile photography "expedition" (using olloclip products, of course).

olloclip Studio will be available for both iPhone 6 and iPhone 6 Plus. The Studio case and accessory kit is estimated to retail for $89.99, but you can get it for $60 if you make a pledge on Kickstarter. Delivery is estimated for late September 2015.
The olloclip Studio Kickstarter campaign ends on August 1, 2015. So if you're interested in being one of the first to own this new piece of kit for a reduced price, there's still plenty of time to make a pledge and get your olloclip accessories on pre-order.
UPDATE: Since the launch of the iPhone 7 and 7 Plus, olloclip have created another case and lens kit specifically for it.