I'm really excited to share this interview with Julie Vinding, a primary school teacher from Denmark who loves to explore the city taking photos with her iPhone. With a passion for capturing interesting light, silhouettes and shadows, she produces striking street photos that really catch the eye. In this interview you'll learn more about Julie, and how she tells wonderful stories through her iPhone street photography.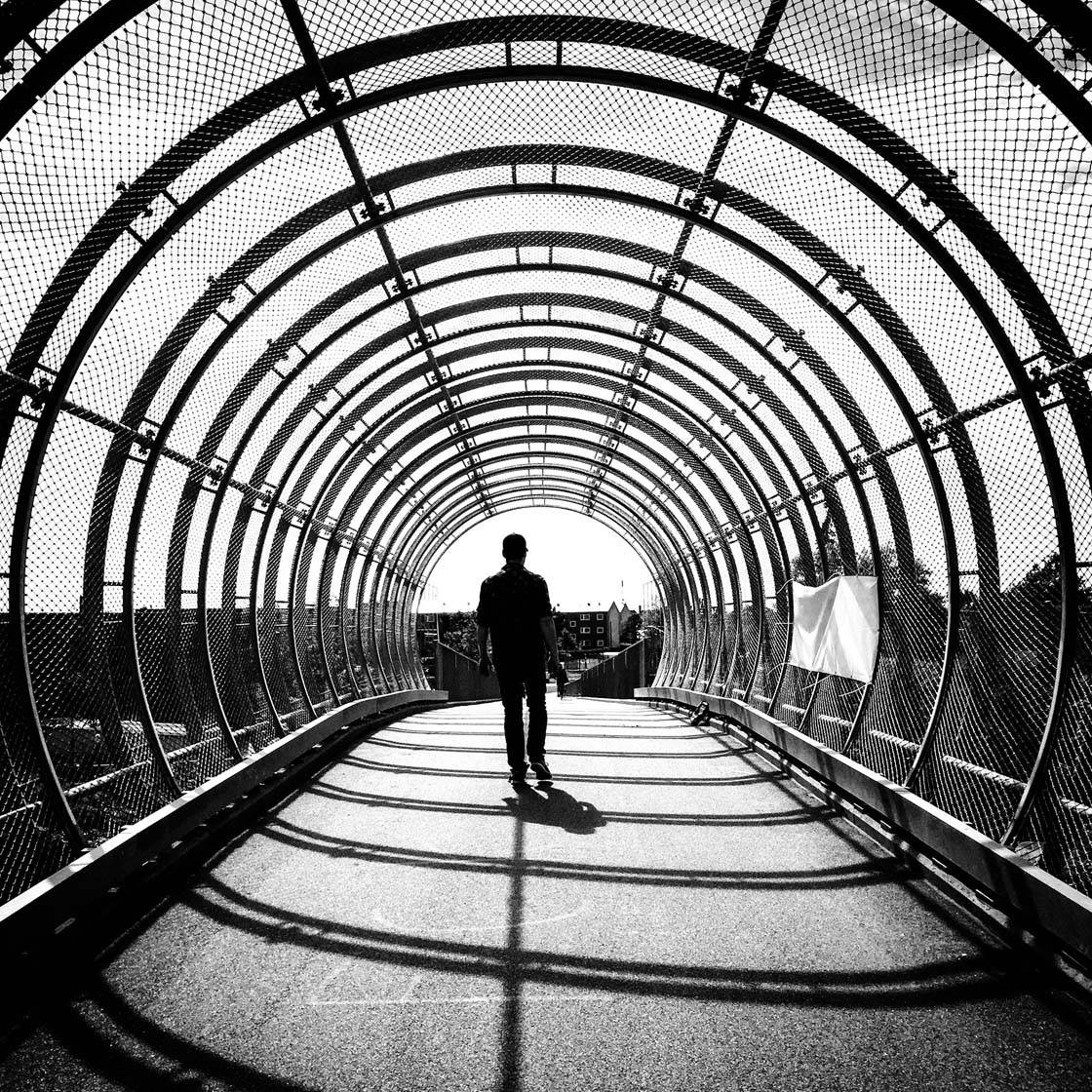 Tell us a little bit about yourself.
I'm 34 years old and live in Copenhagen, Denmark. I work as a language and art teacher in a Danish primary school, teaching 2nd and 6th grade.
I studied art during my teaching education and I've always been a creative person. I believe my interest in photography is a natural result of this. I wasn't schooled as such in photography and I didn't take any courses.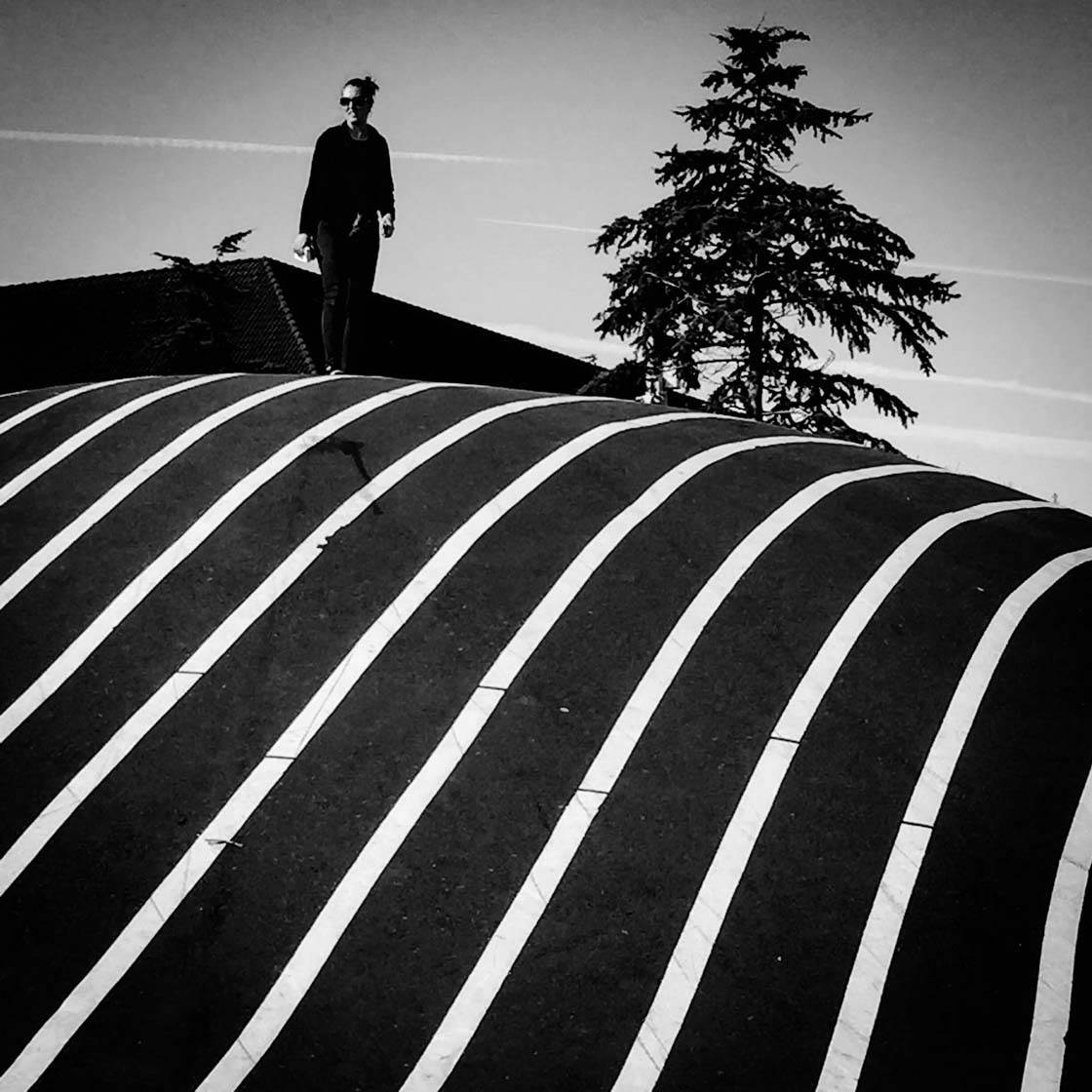 I use photography in my art lessons at work. I like having my pupils taking photos (most of them have an iPhone) and I try to teach them a little bit of what I know from my own experience as a hobby iPhone photographer.
They occasionally present their work in class and we talk about compositions, editing tools and so on. It's such a great thing to experience some of them getting really into it.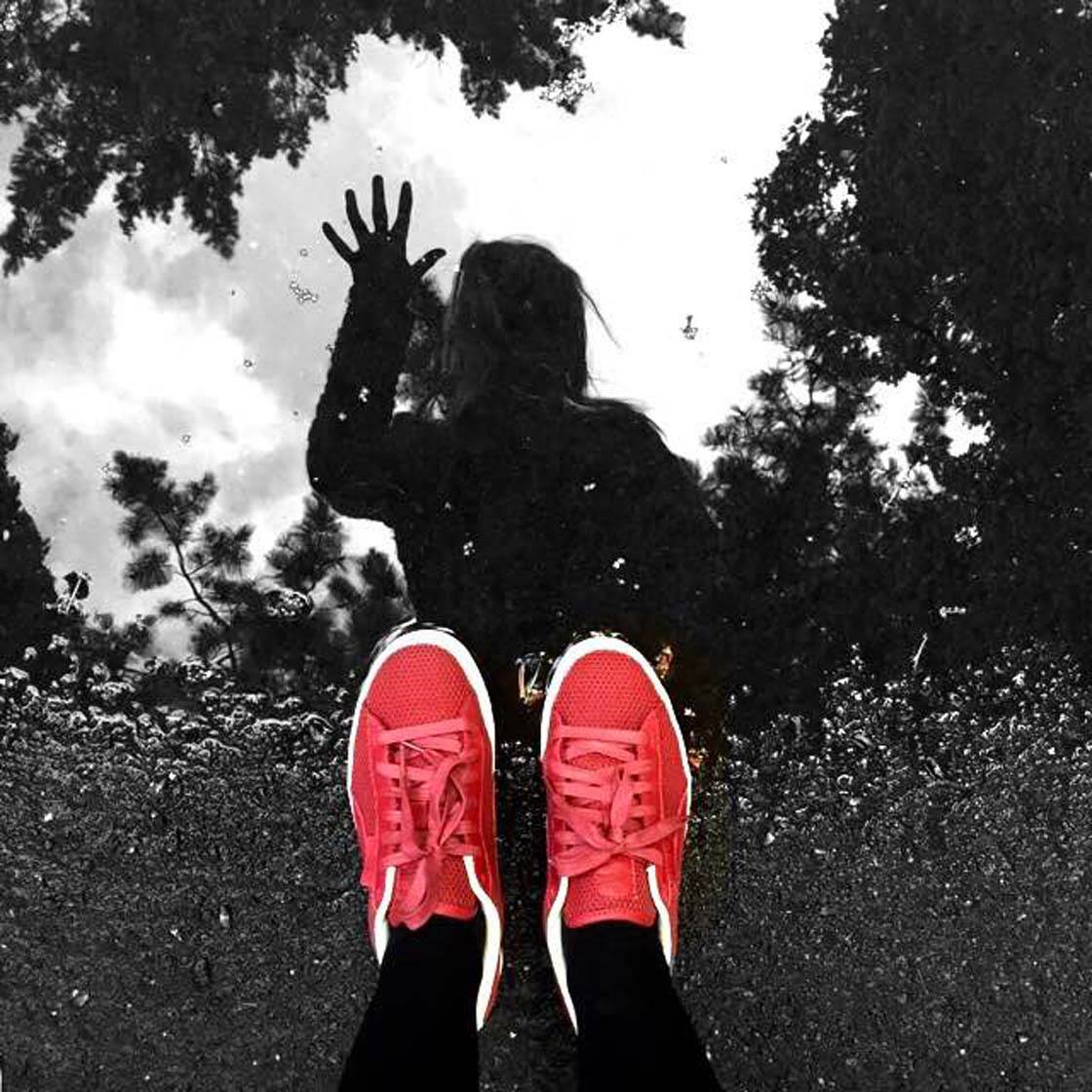 How did your iPhone photography journey begin?
I started my mobile photography adventure when I bought my very first smart phone (which wasn't an iPhone) some years ago. Later on I got my first iPhone (4s) and I quickly grew very fond of it. Now I work with my new iPhone 6.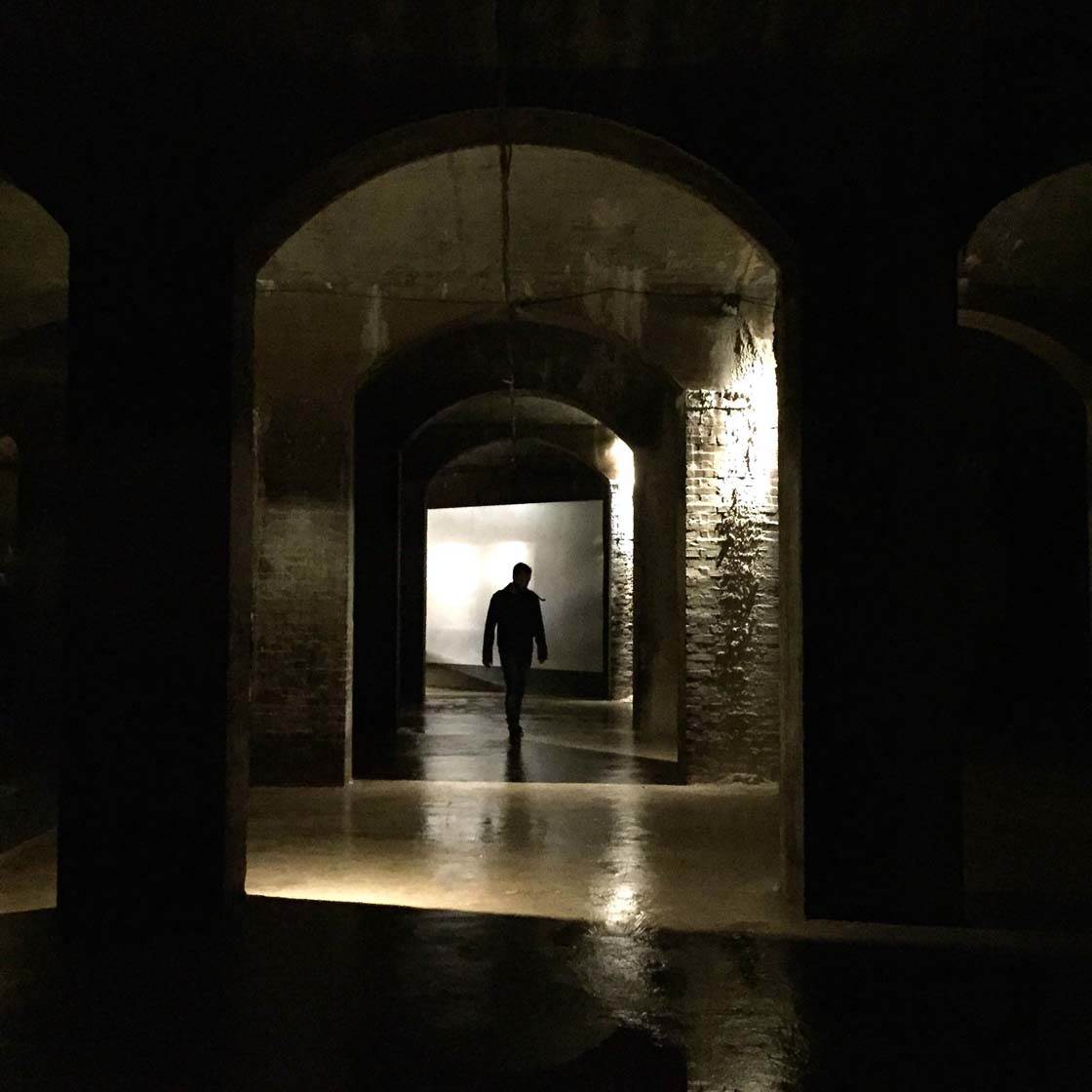 iPhone photography quickly became of very big interest for me, especially for taking pictures on the run – that's what's so great about mobile photography, I think. And I was particularly fascinated by light and shadows to begin with.
What inspires you to take photos with the iPhone?
The city! The city is my photography playground – it offers so many great images and opportunities. Using my iPhone allows me to be very flexible, and to take a quick snapshot of something I see on my way.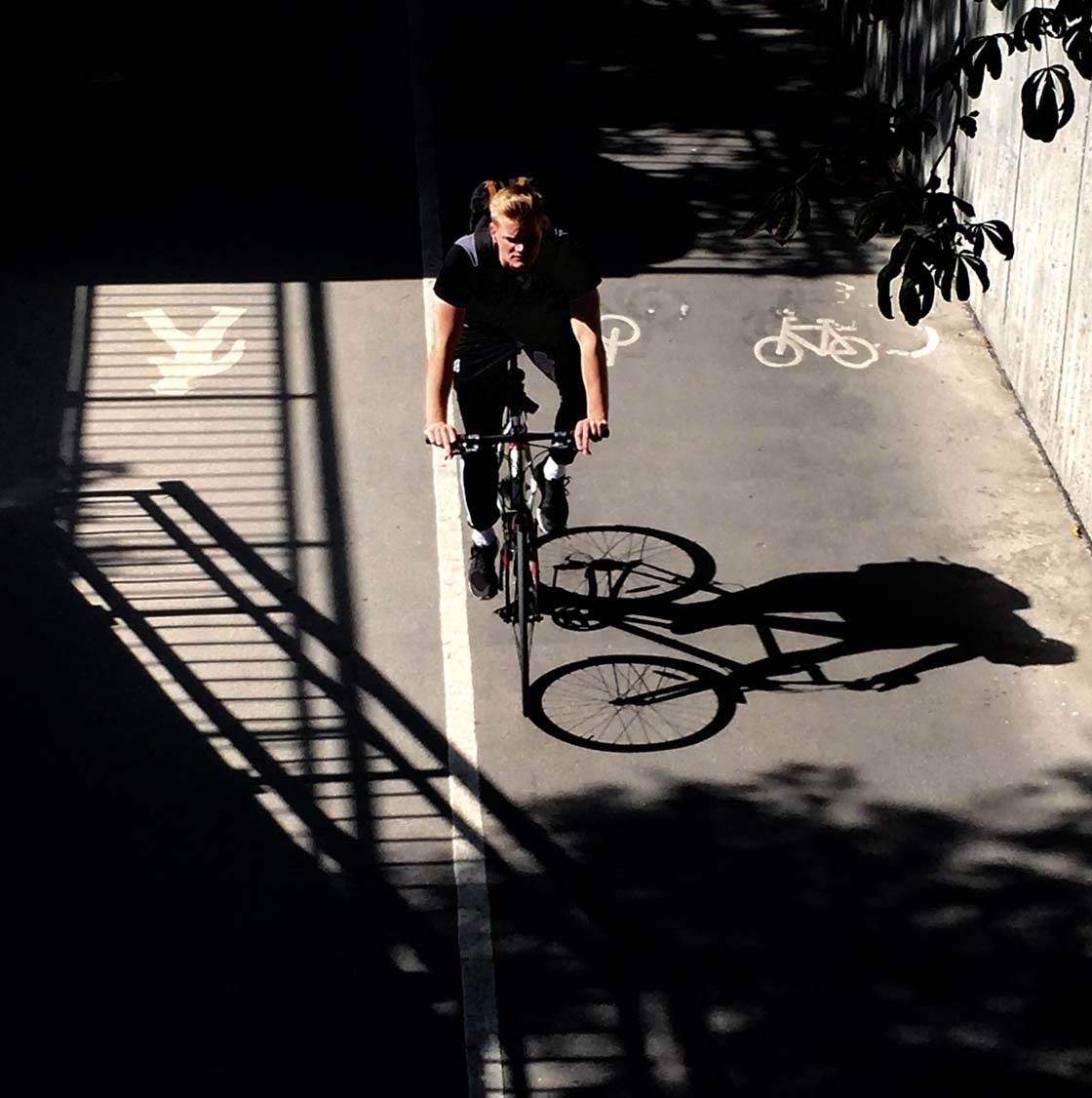 Furthermore, it enables you to be somewhat discreet compared to using a bigger camera, which can attract so much attention and take out the magic of the scene.
My number one inspiration that the city has to offer is the people in the streets and the surroundings they move in. My eye is always searching for a fantastic silhouette.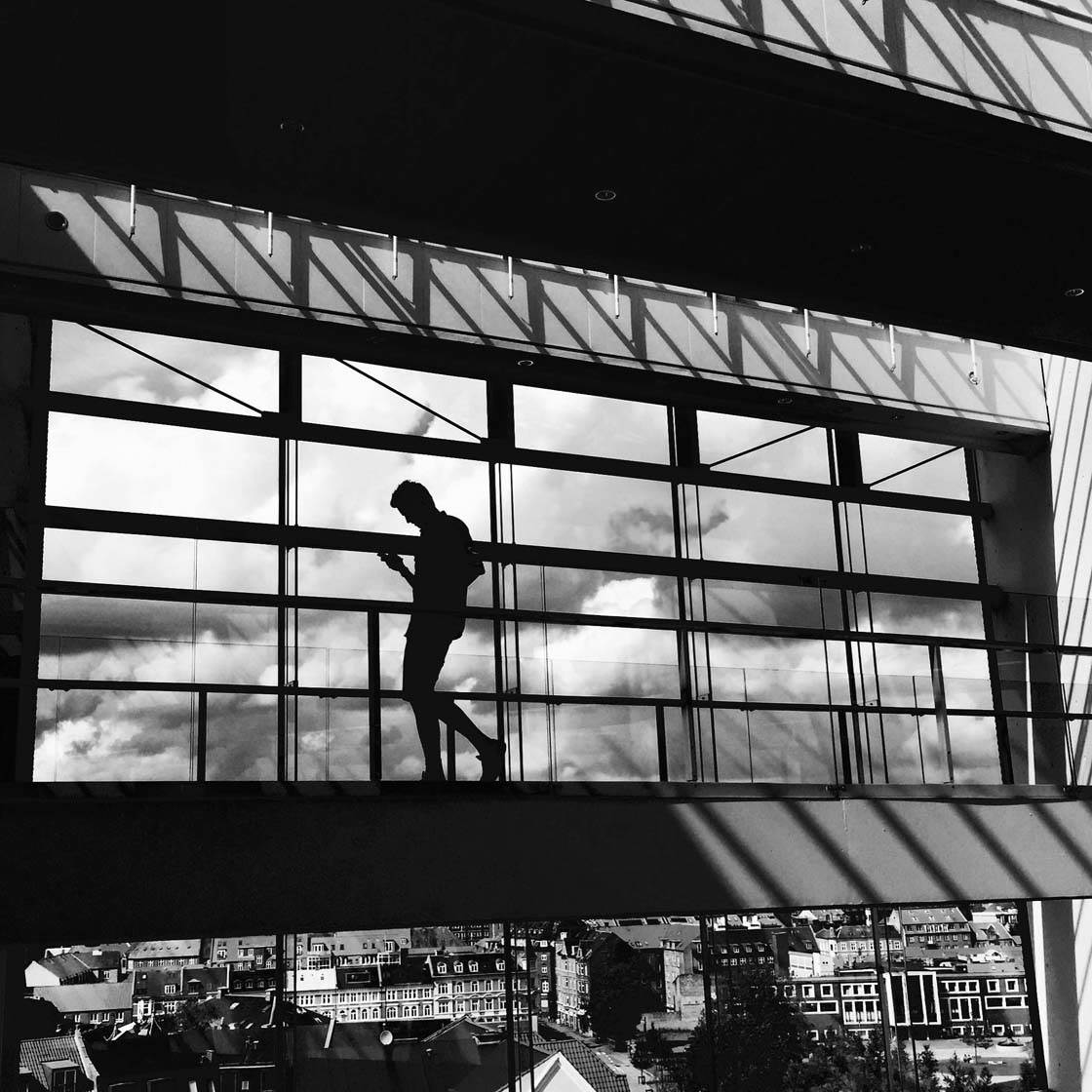 You primarily shoot street photos with your iPhone. What draws you to this kind of photography?
Yes, that's true. First of all, I live in the city – so the streets and places I portray in my pictures are the surroundings I move around in myself, whether I'm going out for a photo walk or I'm just transporting myself from one place to another.
Second of all, I couldn't imagine not taking photos in this kind of scenery. In general, the city life, its people, contrasts, culture, architecture and so on appeal to me very strongly.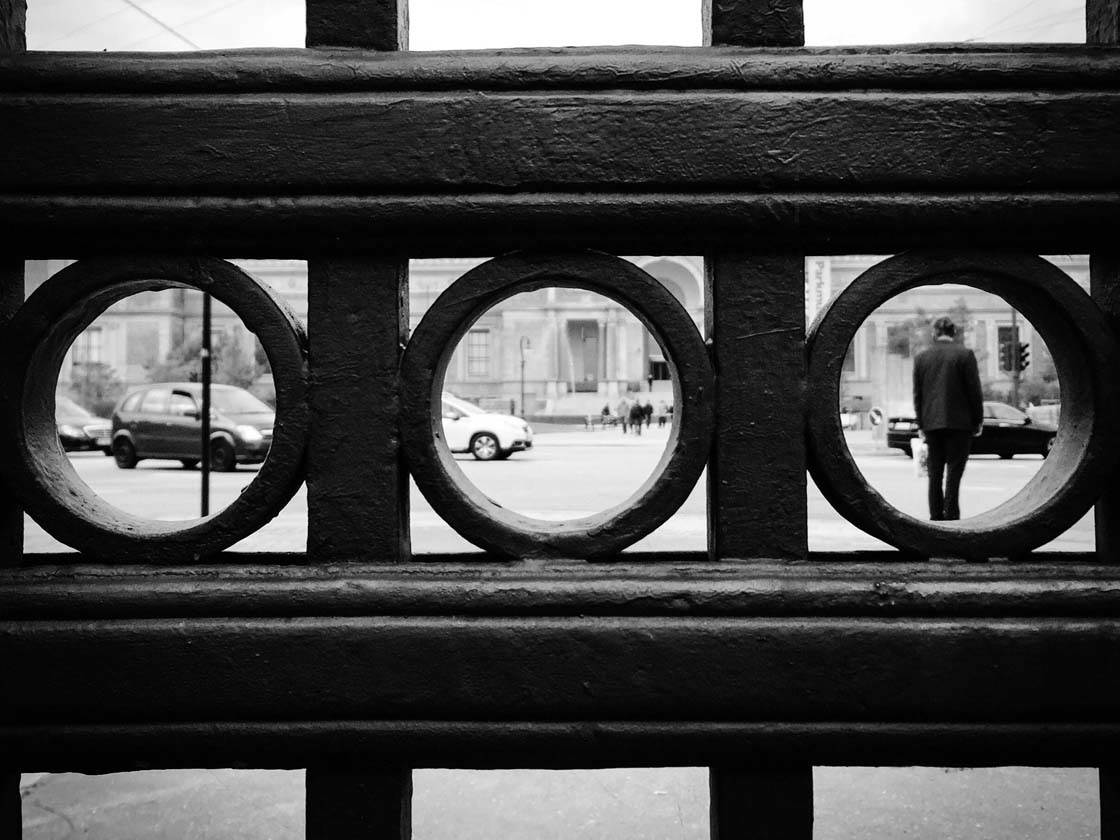 I like the thought that our everyday surroundings (which are often taken for granted, and perhaps not really noticed and appreciated) become a fantastic and unique object in every shot we make.
I often make use of puddles in the street to create very natural reflection shots that can look really amazing.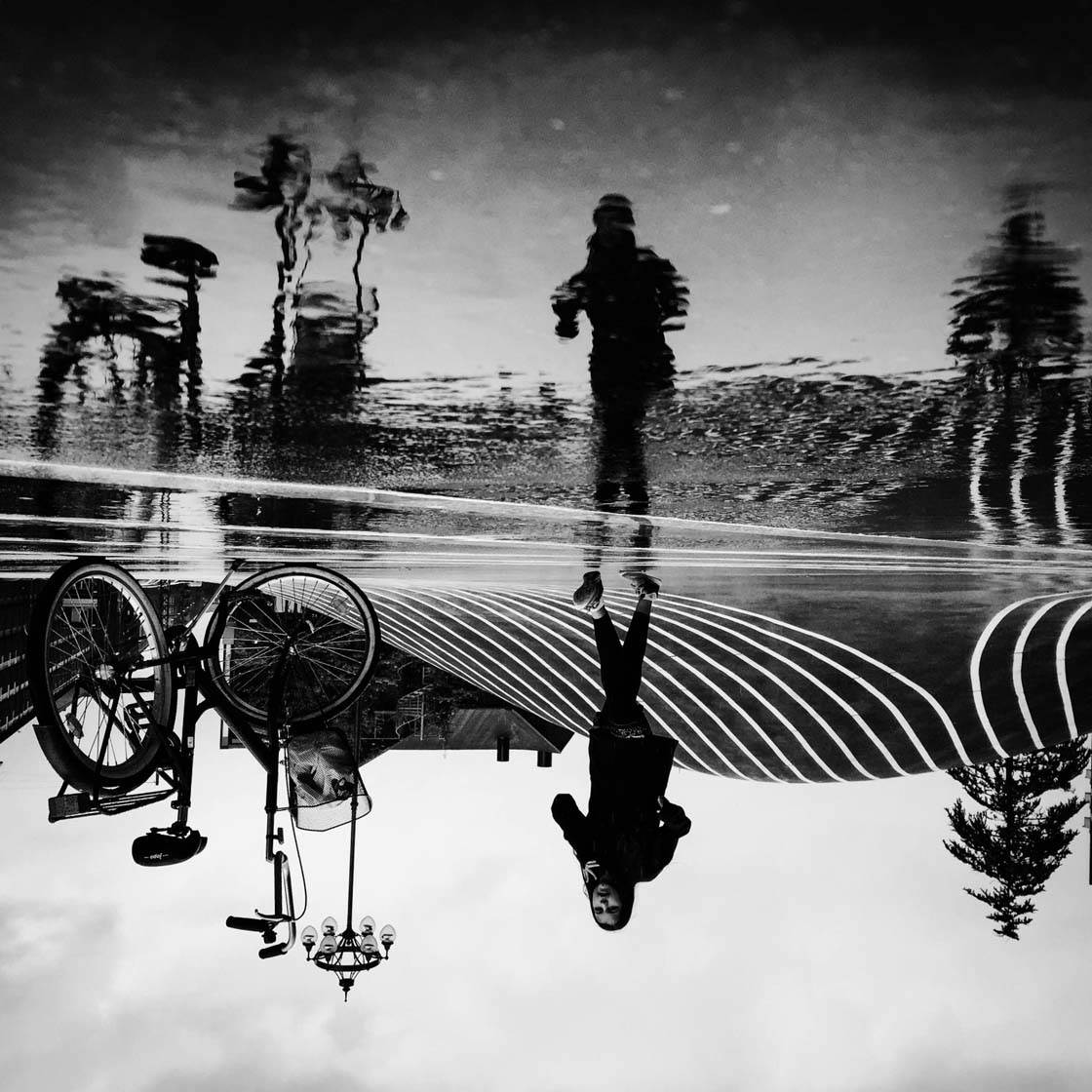 Puddles often annoy people in the street, but I think it's quite amazing to have gained a whole new perspective on a rainy day. I don't see bad weather – I see great photo opportunities just around the corner.
Apart from the streets, I often make use of railway stations. They offer great photo opportunities and composition challenges with their fantastic lines, shapes, bridges and great architectural details.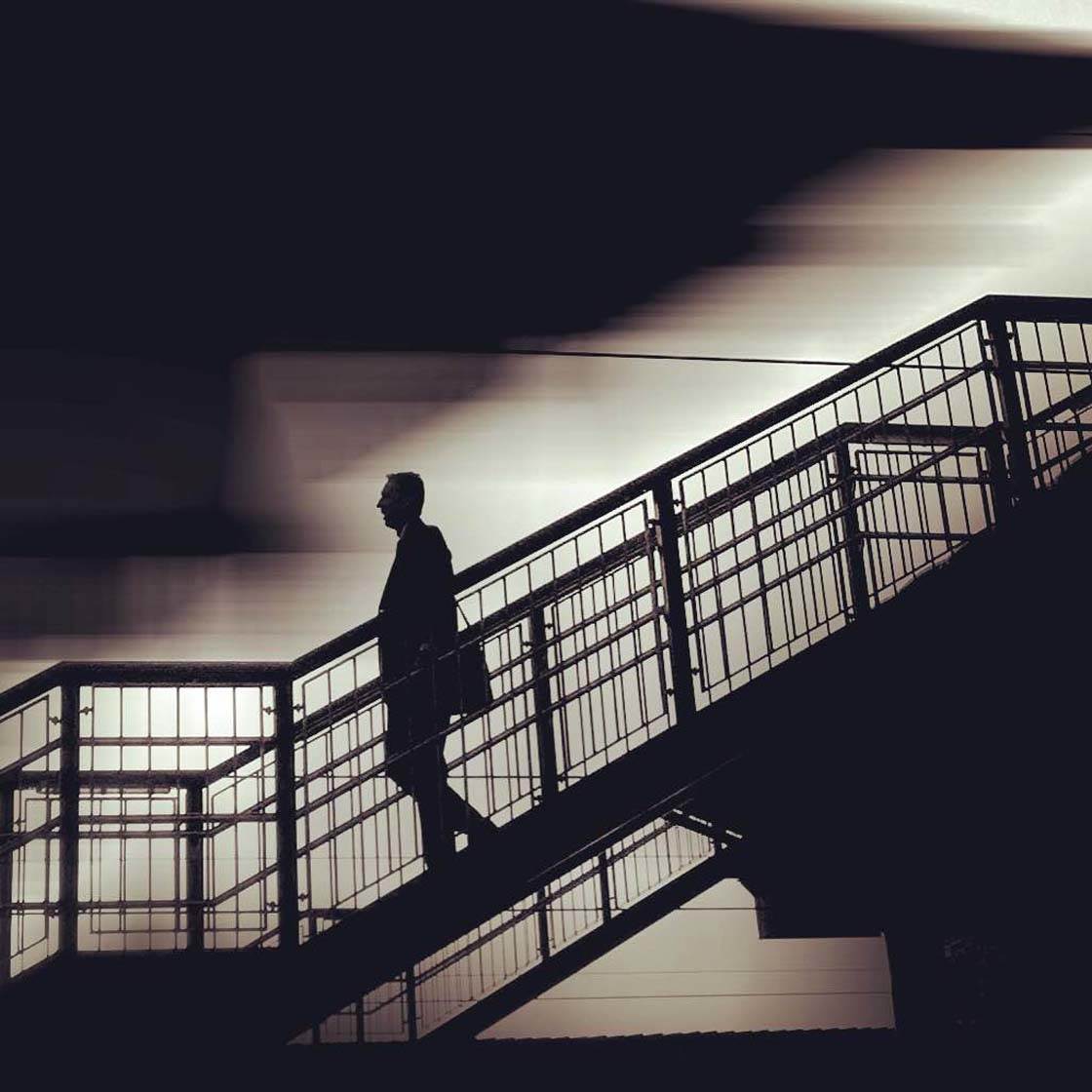 I love capturing the station buildings mixed up with the dynamic movement of the travelers, and the trains arriving and departing.
A railway station also offers various opportunities for storytelling. It can be very empty and silent, or during rush hour it's noisy and very busy.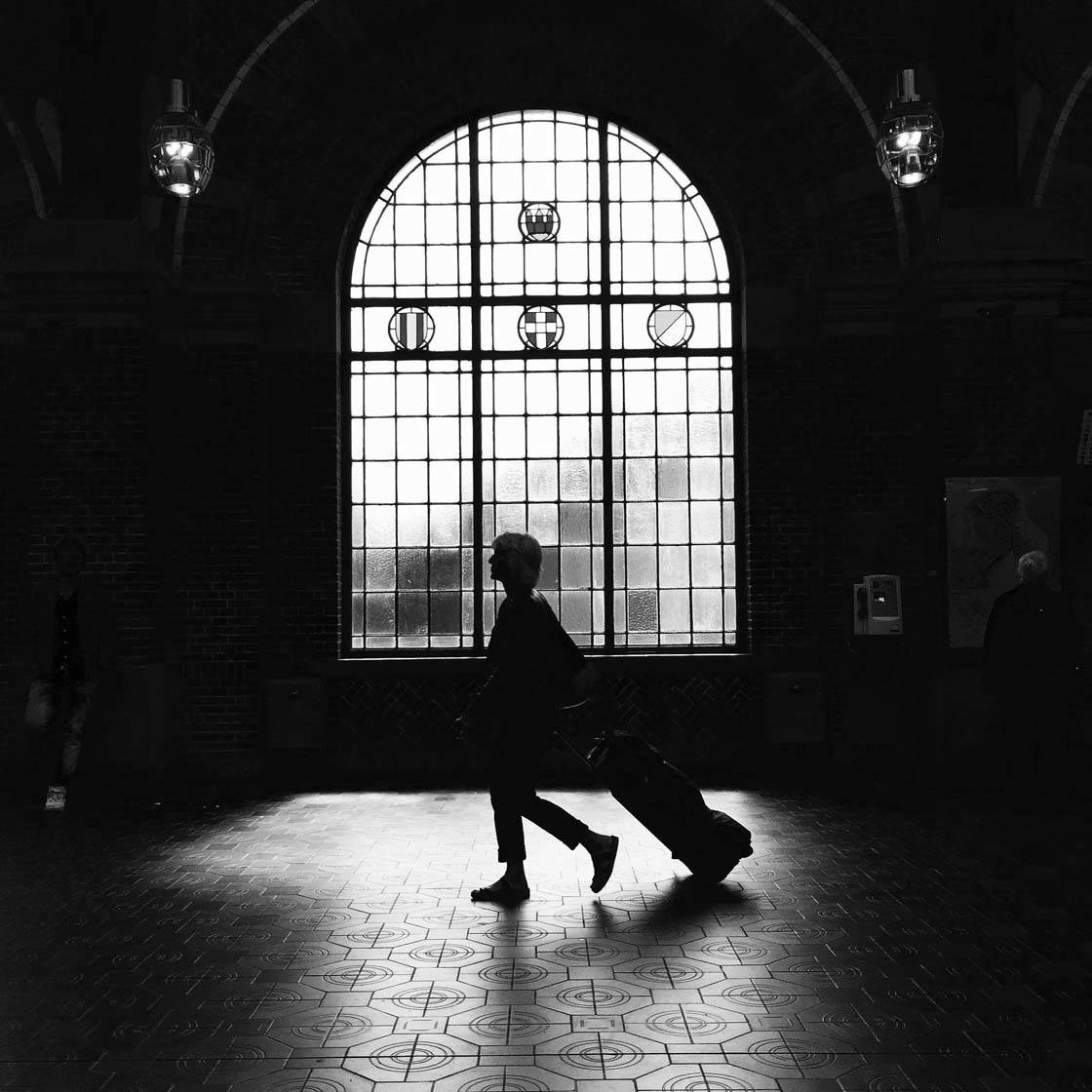 Street photography is all about storytelling, capturing a moment in time in the lives of strangers. What tips do you have for telling interesting stories through photography?
Yes, that's true. That's a very great thing about street photography. I believe sometimes the trick is actually not to think too much, but to be a great observer, take chances, and be daring. Sometimes it depends on whether you take the time you need.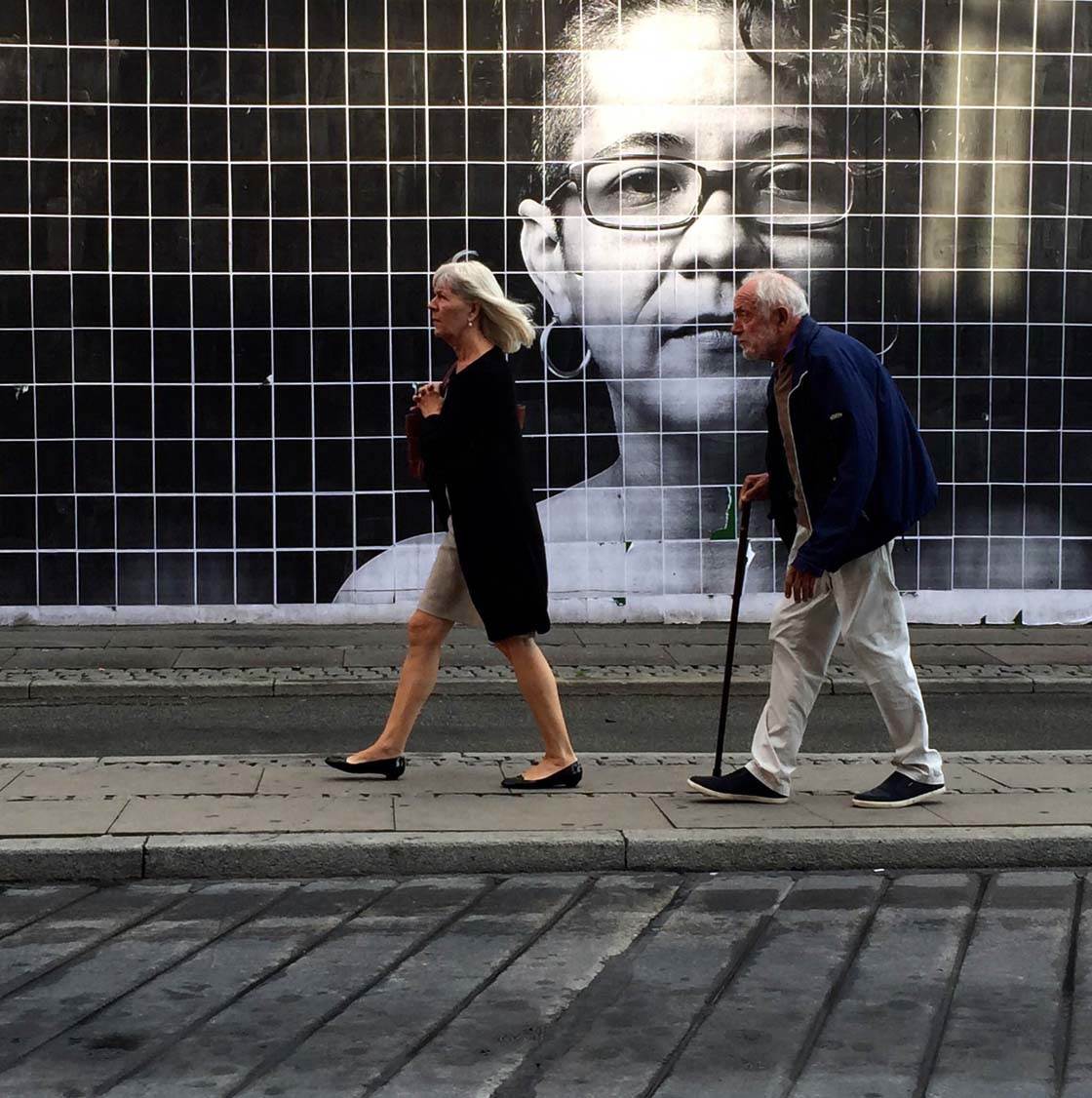 When you see something on your way that could potentially make a great storytelling image (whether it's an object or a person), just try to photograph it. Of course, objects are much easier to capture and more approachable than humans.
I often find that some of my best pictures occur from this kind of approach. You can always delete the image afterwards if it doesn't work out.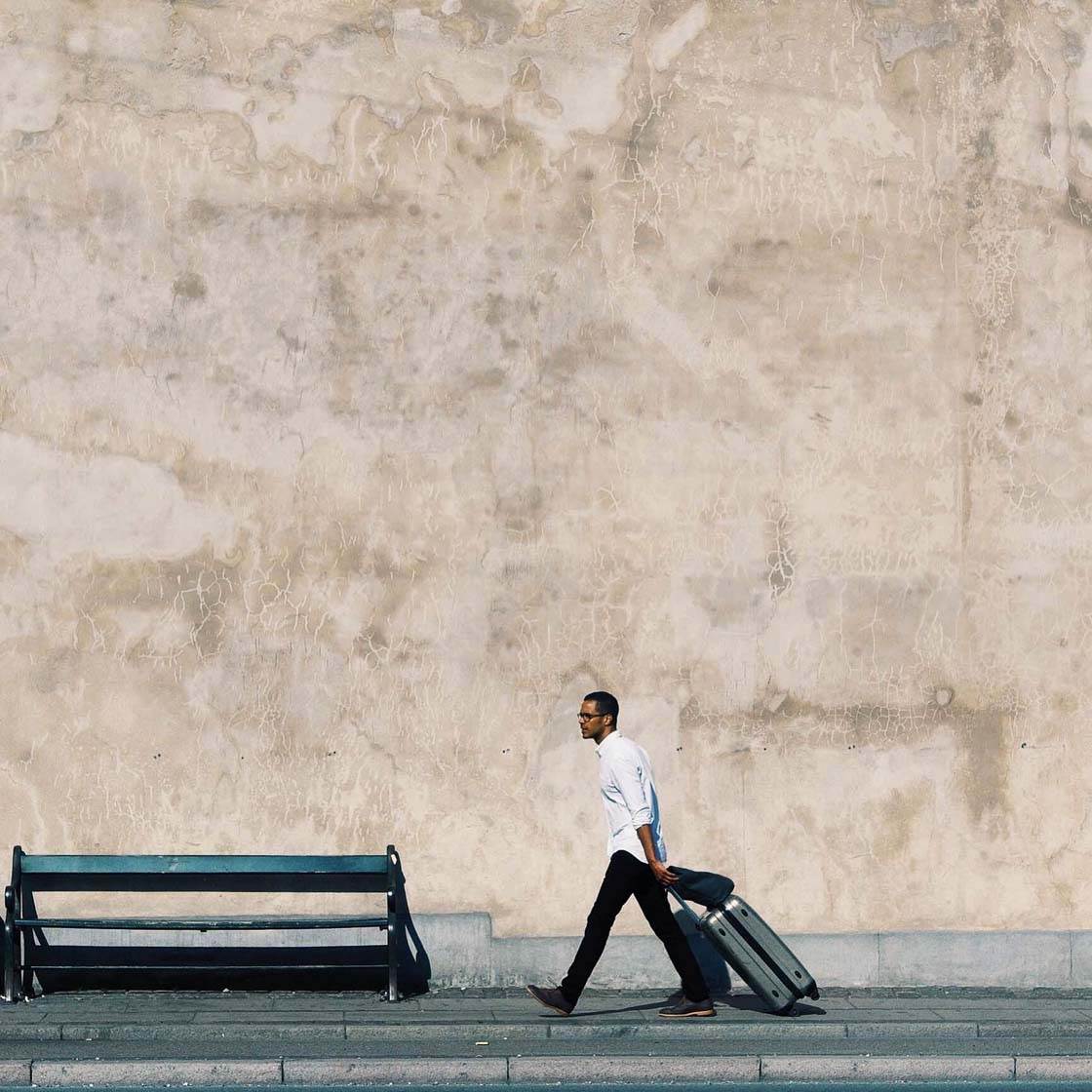 Sometimes the shots don't turn out that good, and in those cases my method is to return to that setting (if I still think there's something great hidden there) and do it all over again.
This gives you some time to think a bit more about important things such as composition, viewpoint and so on.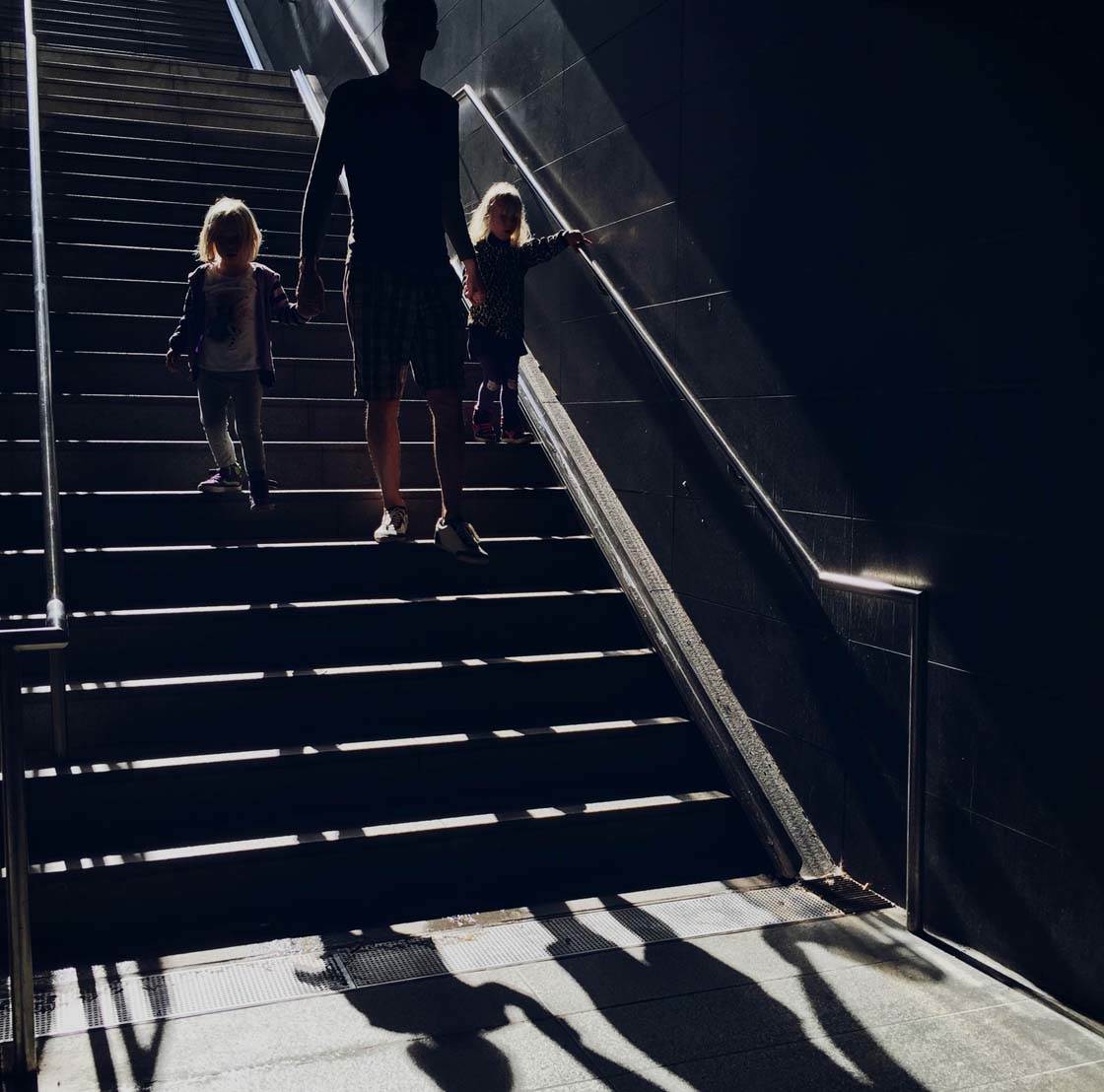 You might also have had some thoughts on exactly where it would be great to capture a person with regards to light and shadow – something I believe is an essential factor in the storytelling aspect of street photography.
It can also be a very good thing to shoot the same places again and again, even if you already have great images from that location that you were satisfied with in the first place.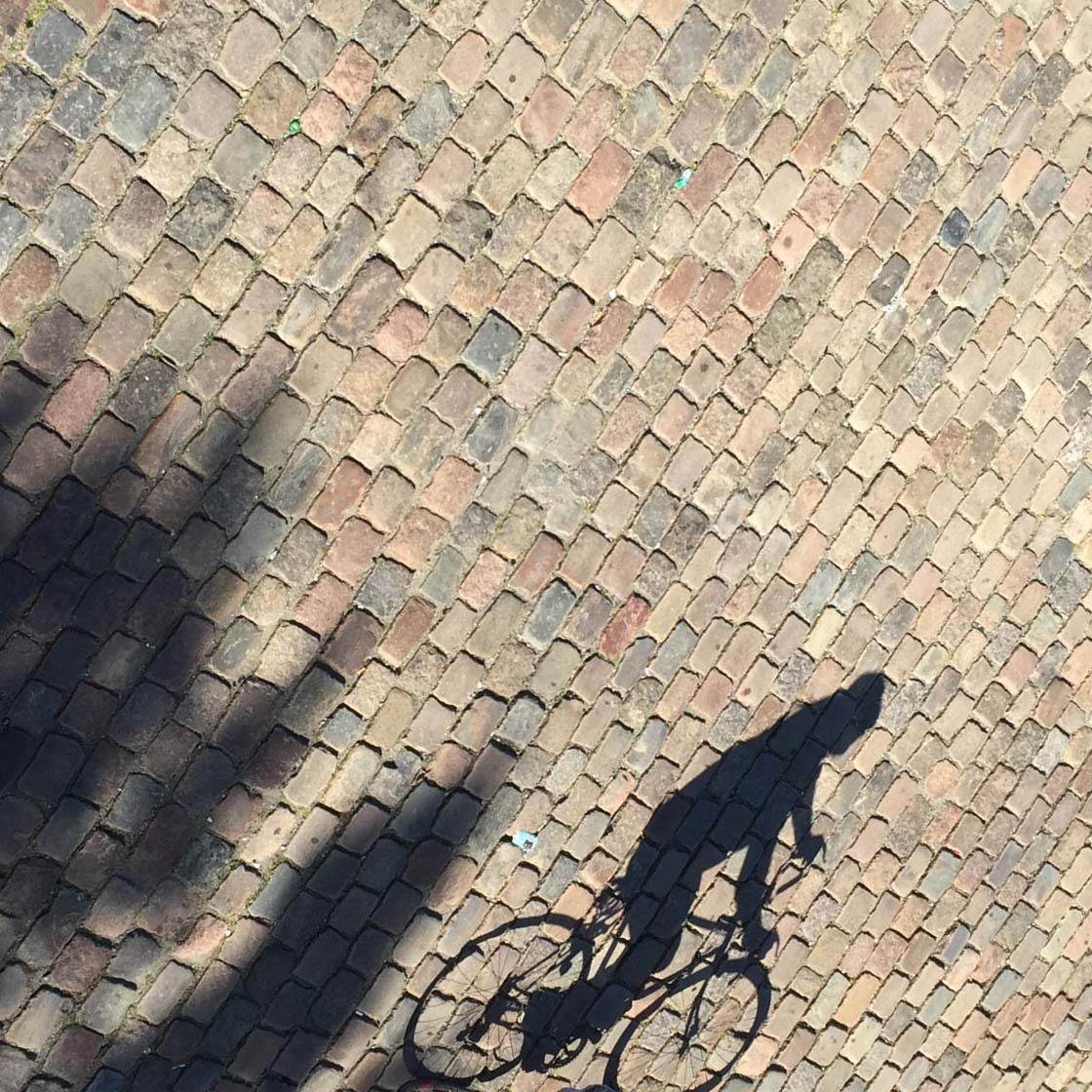 It forces you to think differently – to see the place, objects and people moving around from another perspective and in another light.
You could do something different with the composition. You could shoot from another angle or viewpoint. Allow yourself to experiment a bit more and to have fun with it.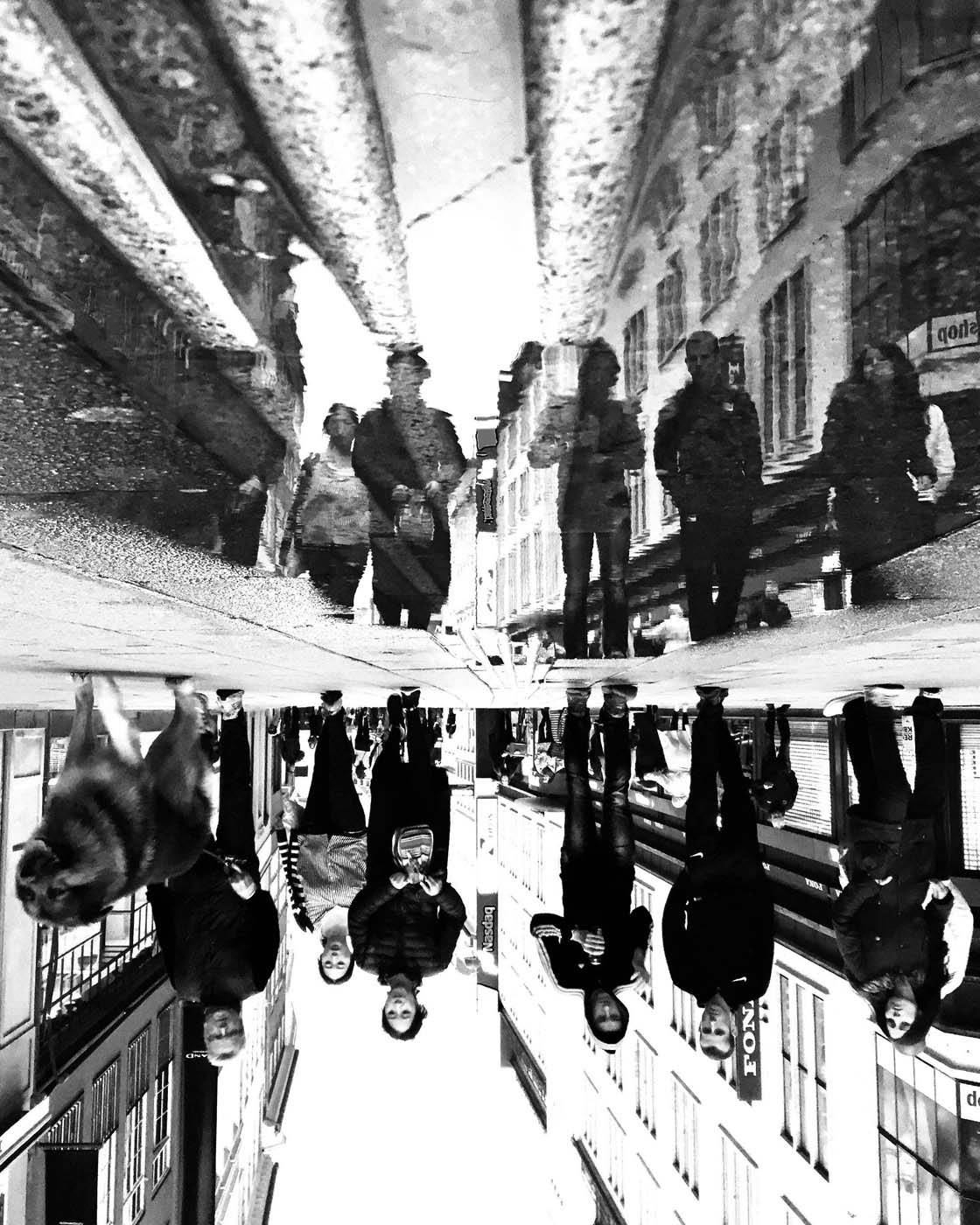 It's my experience that being a good street photographer demands some investment of time and practice. The more you do it, the sharper your eye becomes.
You become more observant. You become more aware of what you like in your pictures, and what works great in a photo in general. Therefore, you'll be more and more able to locate and spot your subjects and sceneries.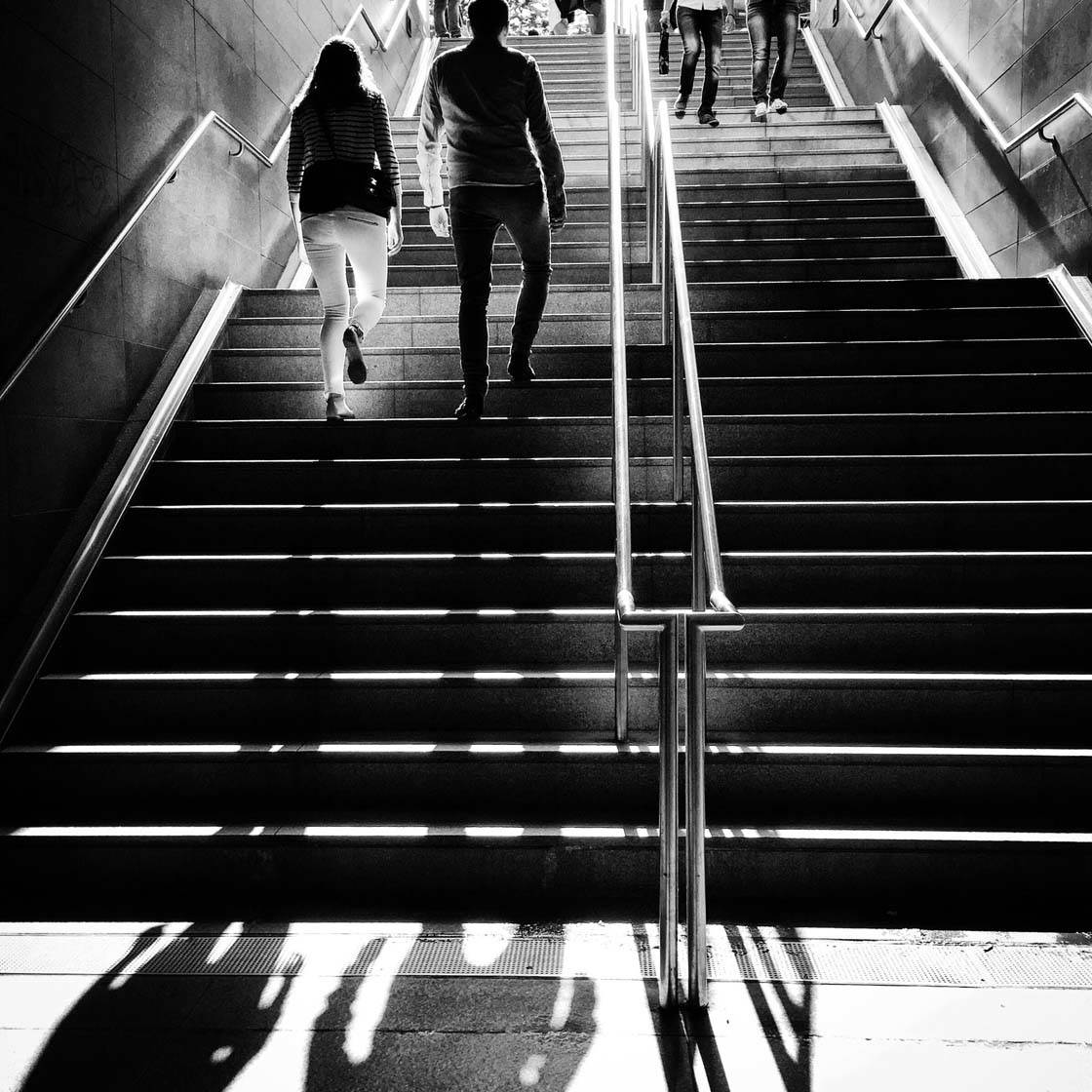 One of the main challenges with street photography is photographing people you don't know. How do you deal with this, and do you ever encounter problems when photographing strangers?
Yes, that's right – it can be an obstacle when shooting in the streets. In the beginning I actually found it very difficult to do. I had trouble with the fact that you do attract some amount of attention.
I also felt I had to cross some boundaries when I photographed strangers without asking for permission.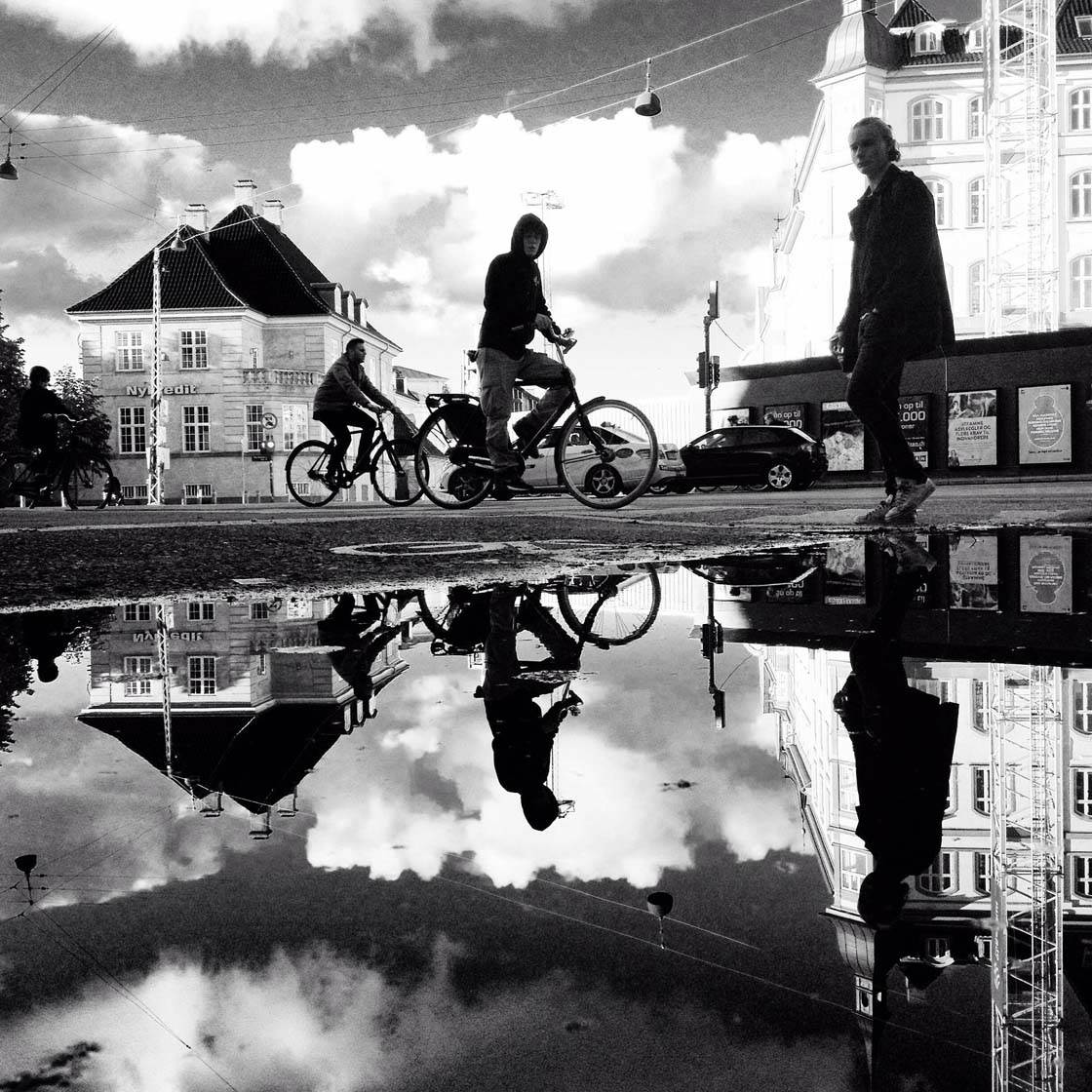 Now I feel more at ease. You get used to people looking at you – probably wondering what on earth you're doing – down in that puddle, for example!
And I rarely photograph people's faces. I merely focus on using people as silhouettes in my pictures, or I like to capture them when they're not really looking directly at me.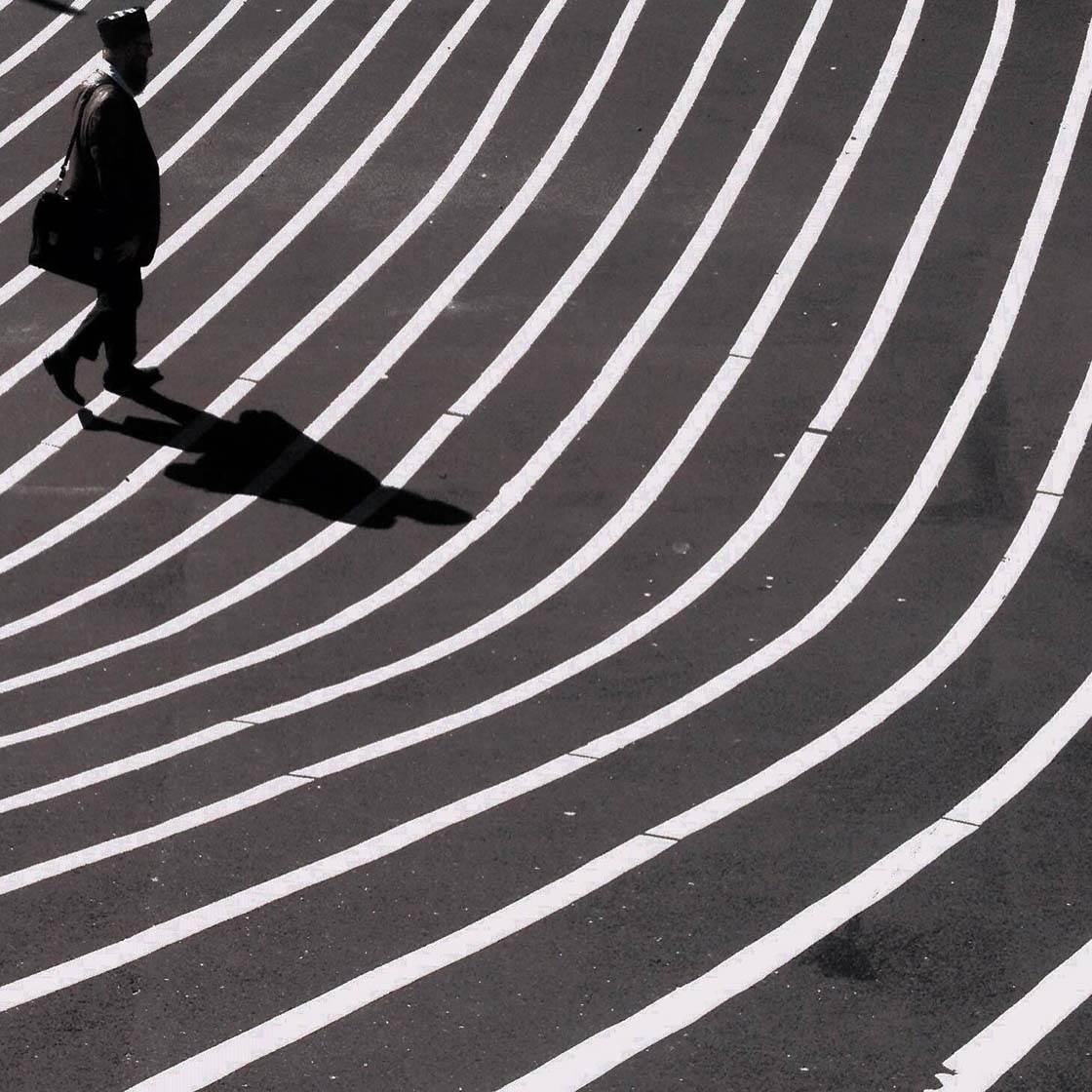 I try to remain discreet. You can always pretend to check your messages or something while you're waiting for a certain person to pass by.
I shoot a lot of "stridebys" – finding great walls and backgrounds where you want the perfect stranger to walk by. These kind of photos can tell amazing stories in my opinion.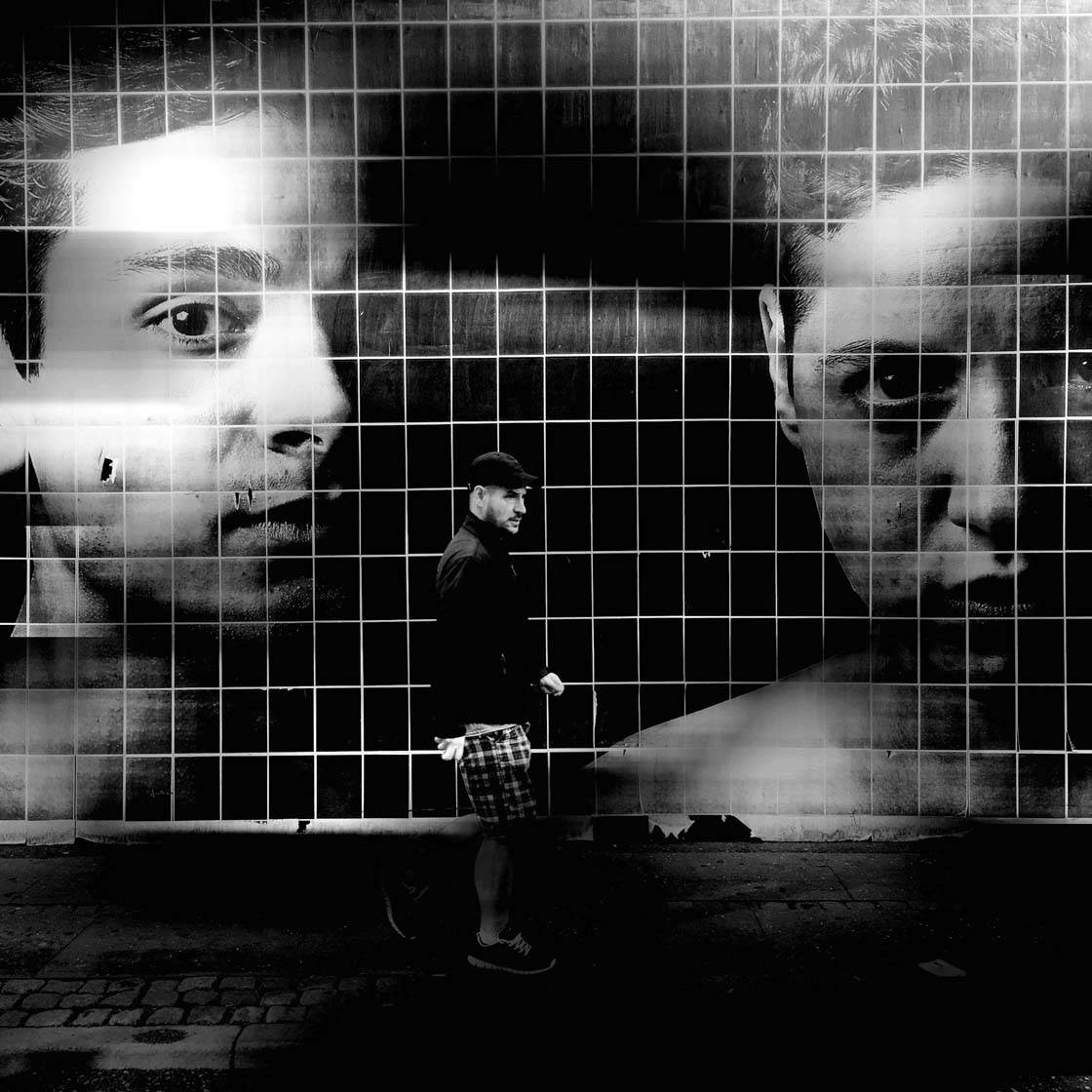 If you can manage to make the object passing by interact with the background (without them knowing it) it can be the most perfect street photo, giving the place and background a whole new meaning.
I like to play and experiment with backgrounds such as urban mural art, other kinds of street art, commercial walls/billboards, and of course the architecture – old as well as new, which the city offers.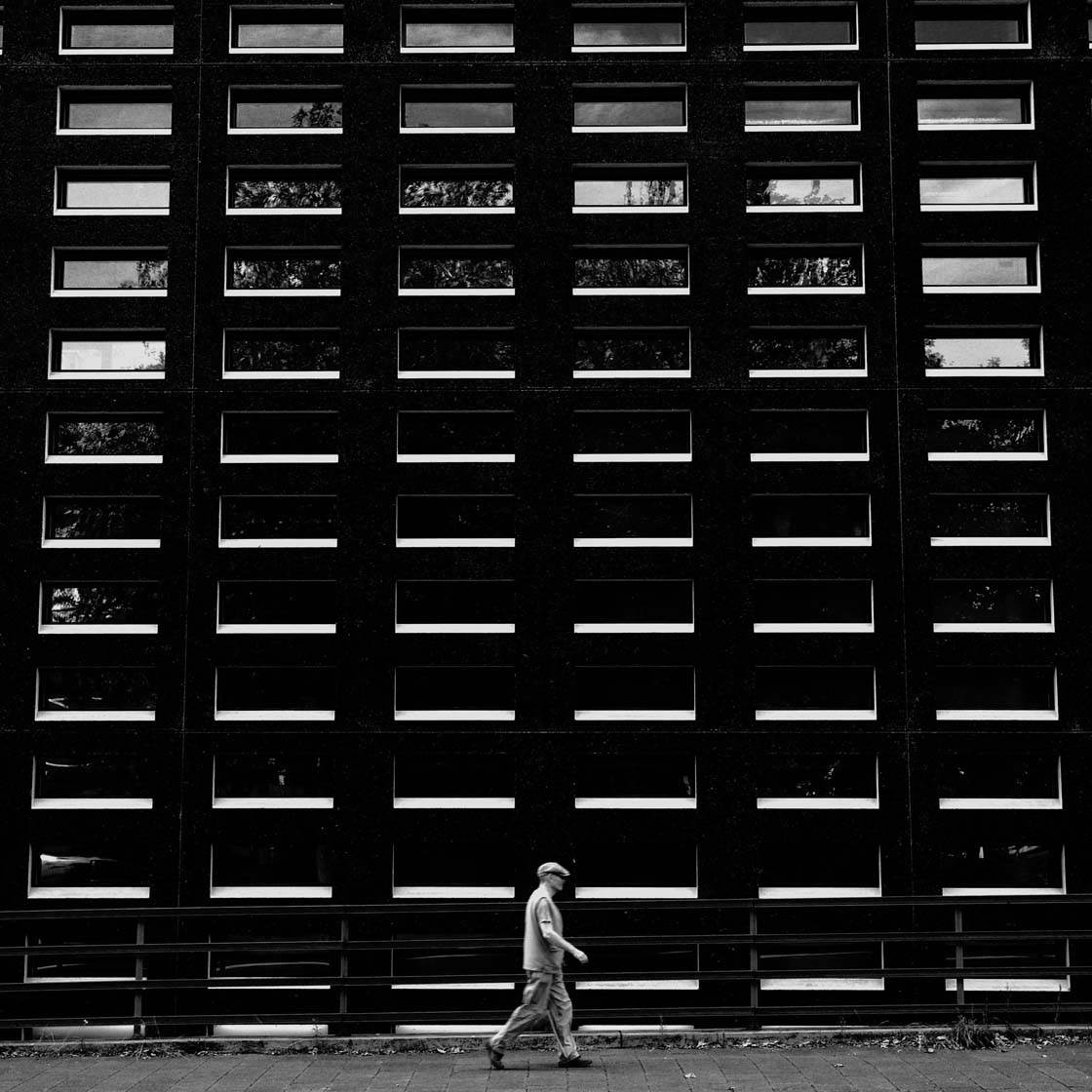 You make use of incredible light in your photography, often capturing wonderful silhouettes and shadows. What tips do you have for capturing these kinds of images?
Thank you! Yes, I really love a silhouette and a beautiful shadow. I especially adore black and white photos with these elements.
I think a silhouette can express a million different stories. You're not really seeing a person's facial expression, so it's up to you or the background scenery to tell the story.
Shadows often seem like an extension of people or objects – sometimes living their own lives. I find that very appealing and very beautiful, and they often add some mystery to the picture.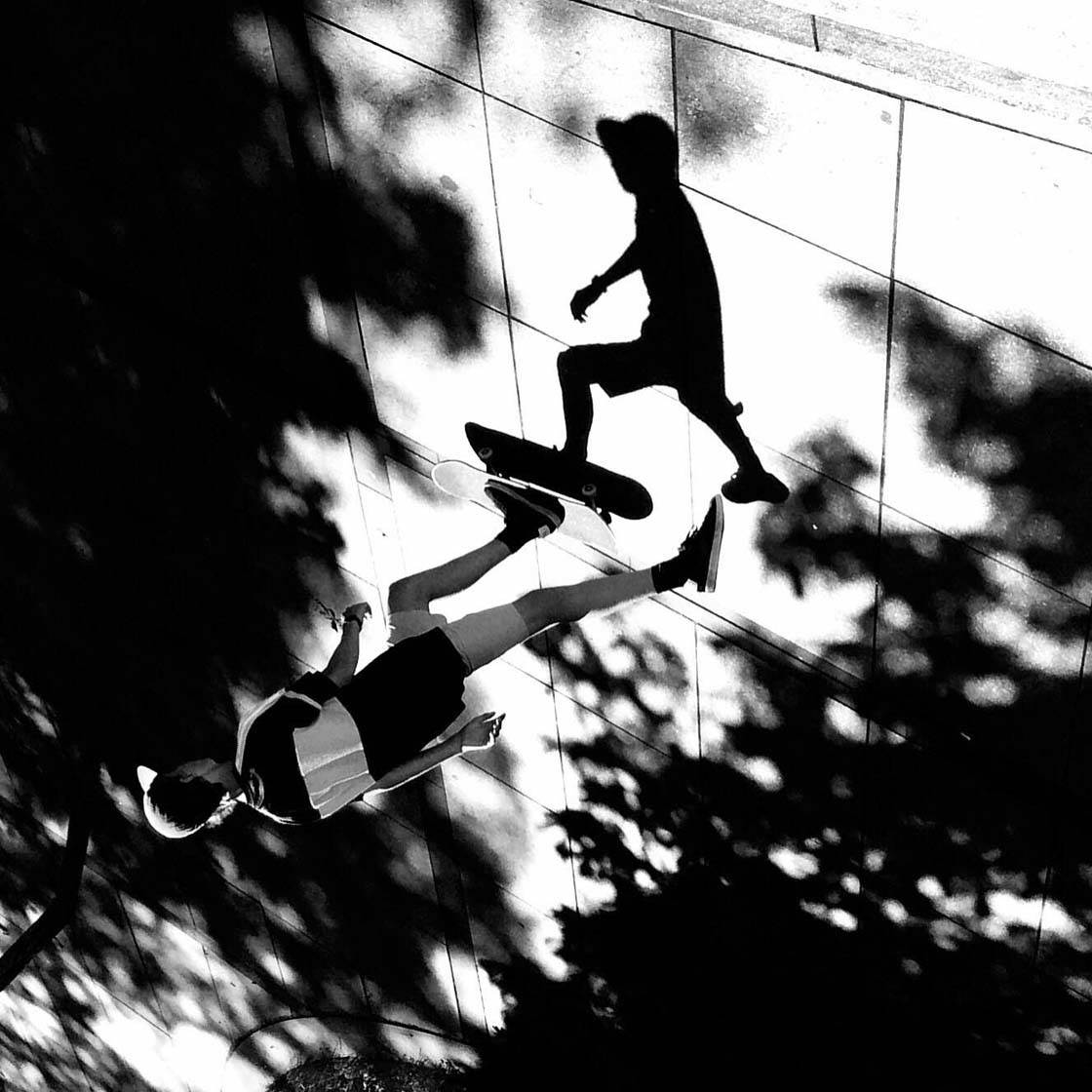 I don't have any specific rules or time a day that I photograph the most. But I really like to chase that harsh light in the middle of day, where the sunlight is very direct and creates those amazing distinct shadows.
I love it when the light models the shadows into different shapes. It's a fantastic thing if you can capture an object or silhouette moving (or standing still) right between light and shadow.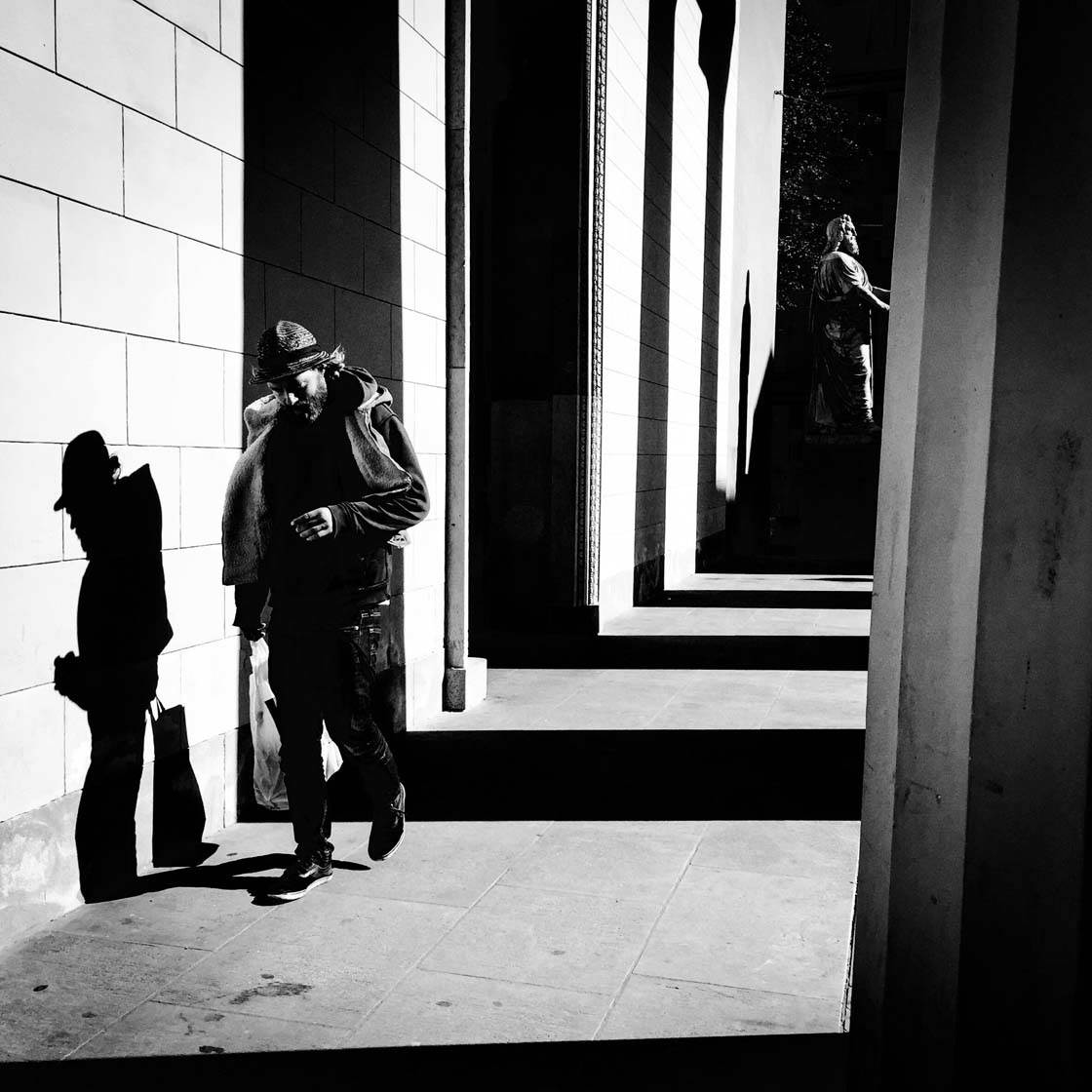 I'm also a big fan of backlight, which can help create those great silhouettes that I love.
With street photography your subjects are constantly on the move. What tips do you have for taking great iPhone photos of moving subjects?
Yes, that's right, and that can obviously be a challenge. However, I haven't really experienced it being a problem, as long as you make sure you take more than one shot of your moving subject.
If I take several photos, I'll mostly find a couple of pictures that work. I think the iPhone is easier to shoot moving subjects than other cameras I sometimes use.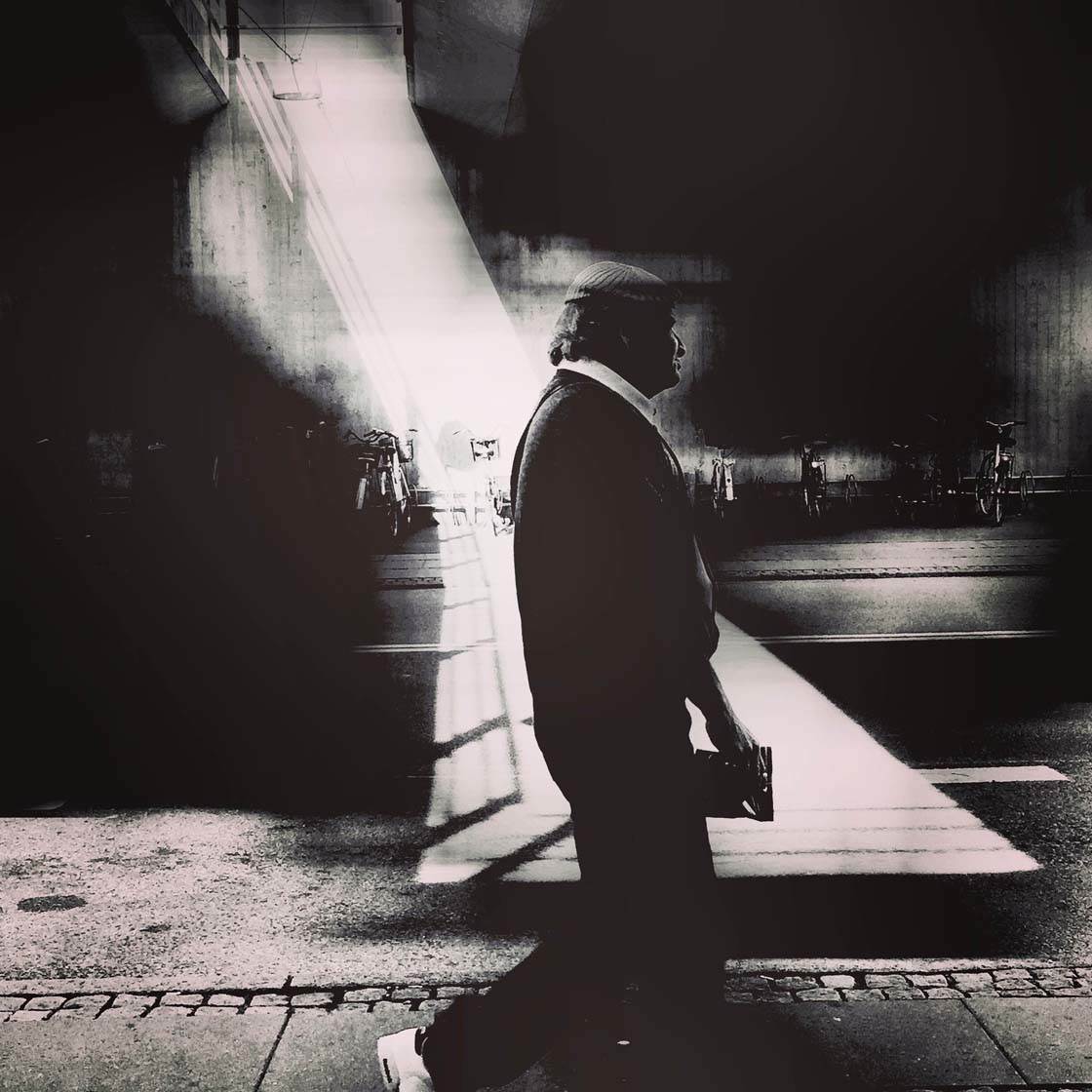 I always delete a lot – that's part of the process. There will often be some pictures where the subject was so fast that it's not even in the picture or it's just turned out really blurred.
With pedestrians I don't find it difficult to shoot their movement, but it can be harder with people on bicycles. Therefore I tend to avoid the really fast ones.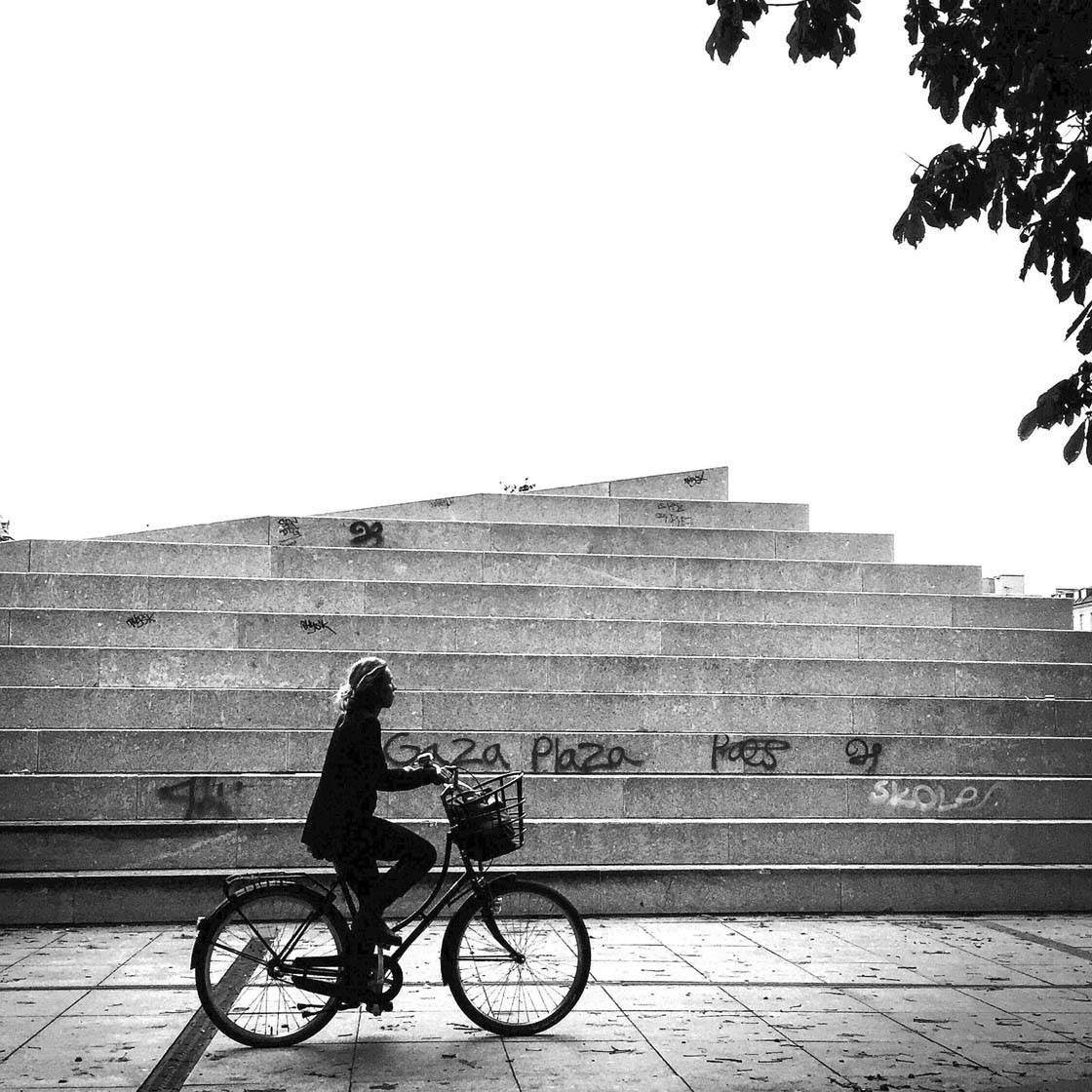 I haven't really gotten into using the burst mode function yet, but perhaps I should try that some more. When I shoot "stridebys" and "cyclebys" I wait for the subject and try to anticipate their movement.
This ensures I can shoot them just at the right moment. It's actually a demanding and difficult kind of photography, which you have to try more than once to master.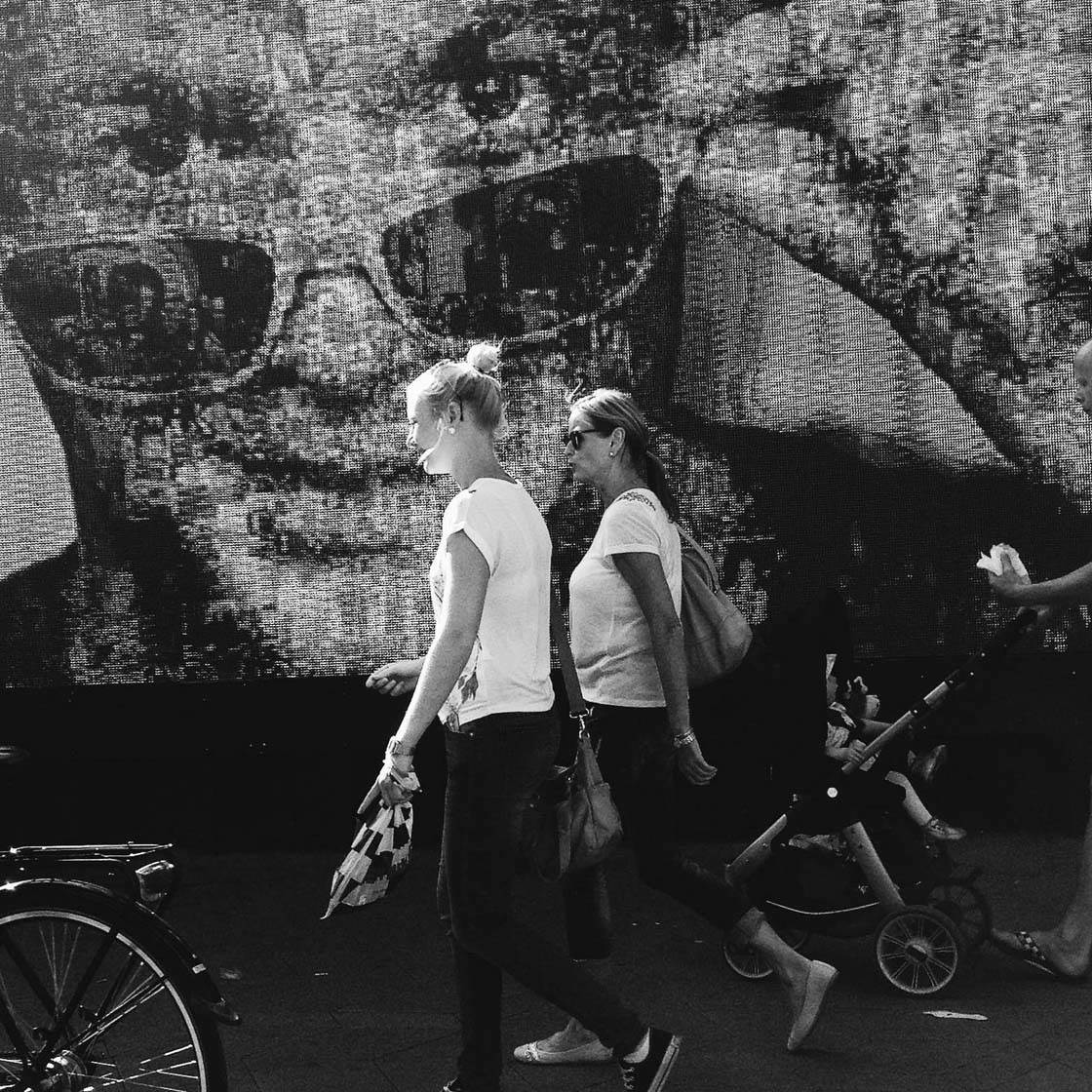 In addition to the moving subject, it's important to remember to focus on holding your camera still, and having the objects you want in your picture inside the frame.
Keep the horizontal line straight, and think about other details in the background such as lines, structure, composition, etc.
You can do a lot of things in the editing process afterwards, but it's difficult to correct all those details if they're not right to begin with.
Your photography is a mix of color and black and white photos. What makes you choose a black and white edit over color? Do you find that certain kinds of scene that look better in black and white?
Yes, I can't deny that I'm a big fan of black and white photos. I think a black and white edit adds something exclusive and really nice to a picture.
In a way I feel that it makes a picture more timeless and long lasting, and even more open for interpretation by the viewer.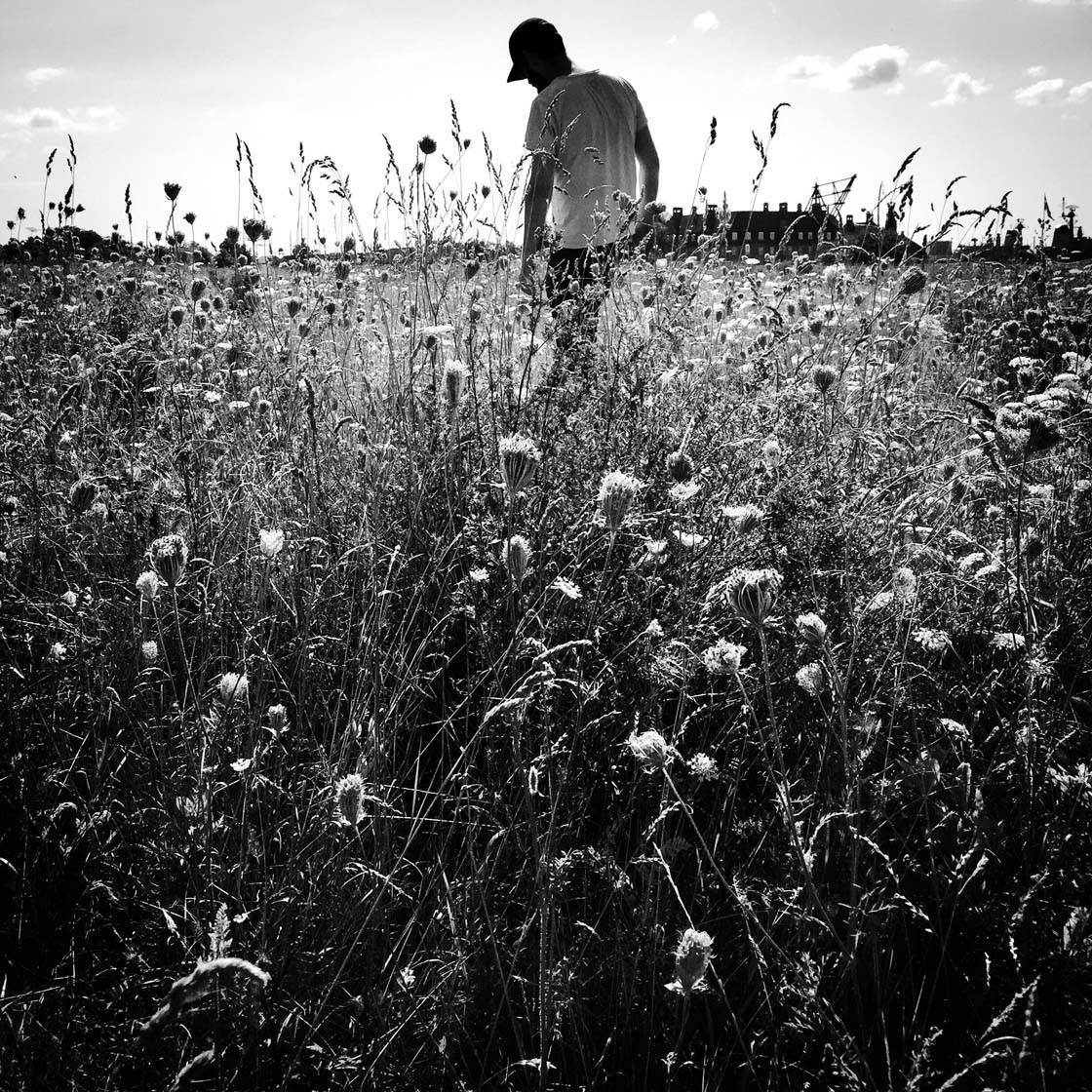 Sometimes a color edit works better for certain photos, although I really think it's very rare that a black and white edit doesn't fit a picture.
I tend to go for pictures in a certain tone (I also really like monotone colored pictures). I know certain places, buildings, etc. which offer that.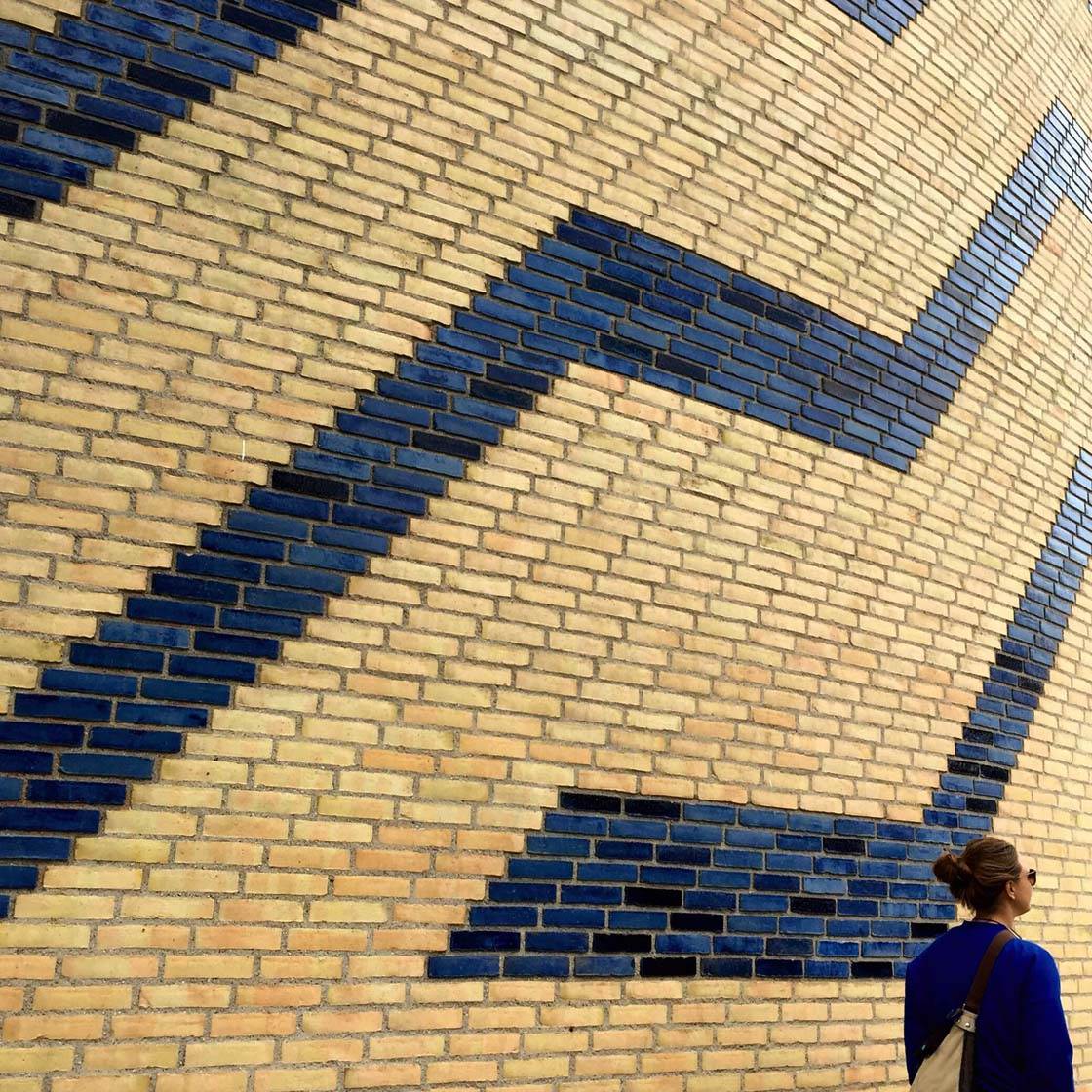 And then I think about things such as the color on the clothes of potential moving subjects I want photograph. I want them to fit my background tone.
Let's talk about photo apps. Are there any apps that you use for taking photos besides the native camera app?
No, I actually only use the native camera app. I think it's the best one to use. I think the camera in some other apps is often not of very high quality.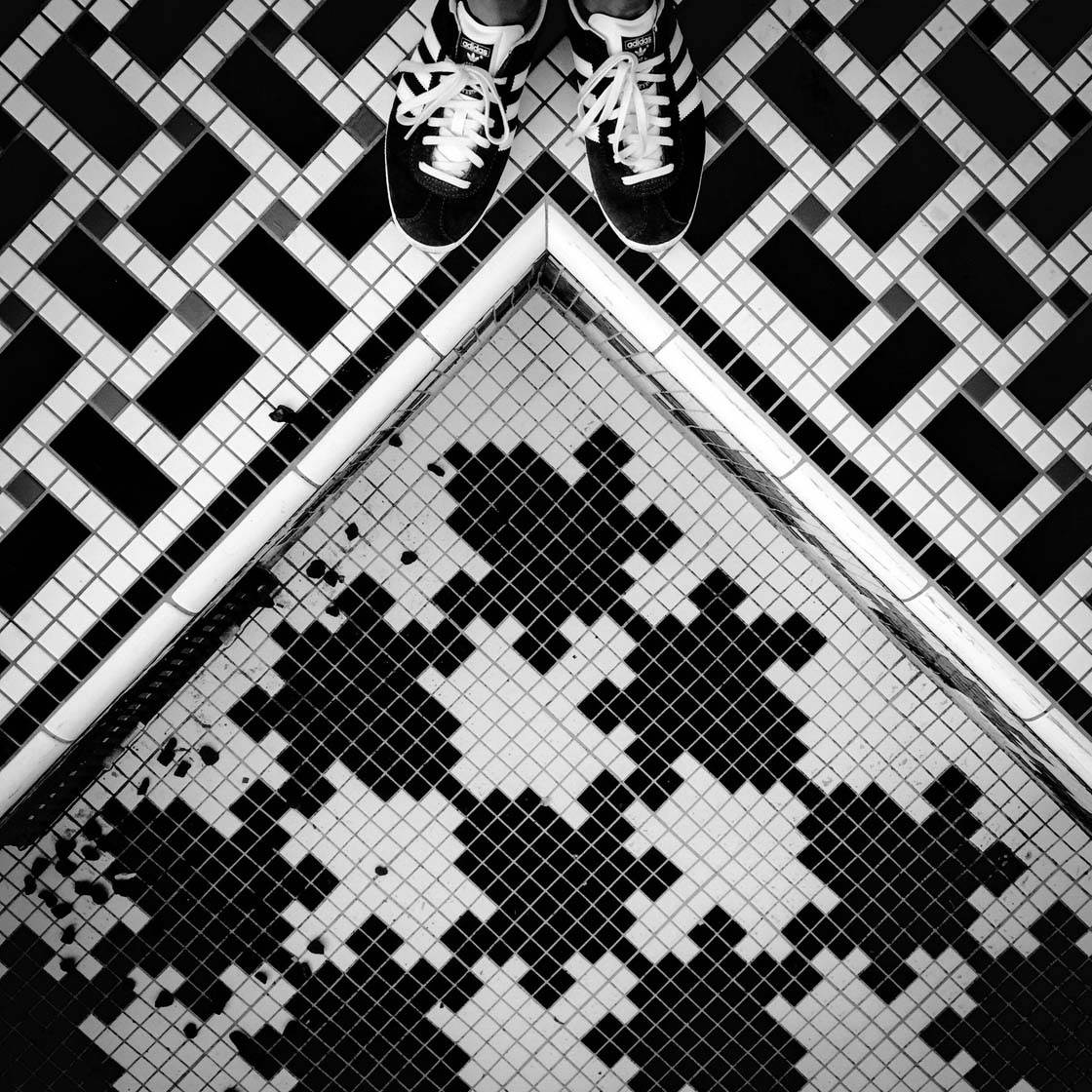 What are your favorite apps for post-processing?
I mostly use the editing tools in the iPhone's native camera app. I find this is perfectly fine for what I need. I use it for cropping, adjustment of color, light, exposure, shadows, contrast, highlights, etc.
I rarely use any filters, apart from the black and white filters. I'm very fond of the Noir filter in the camera app.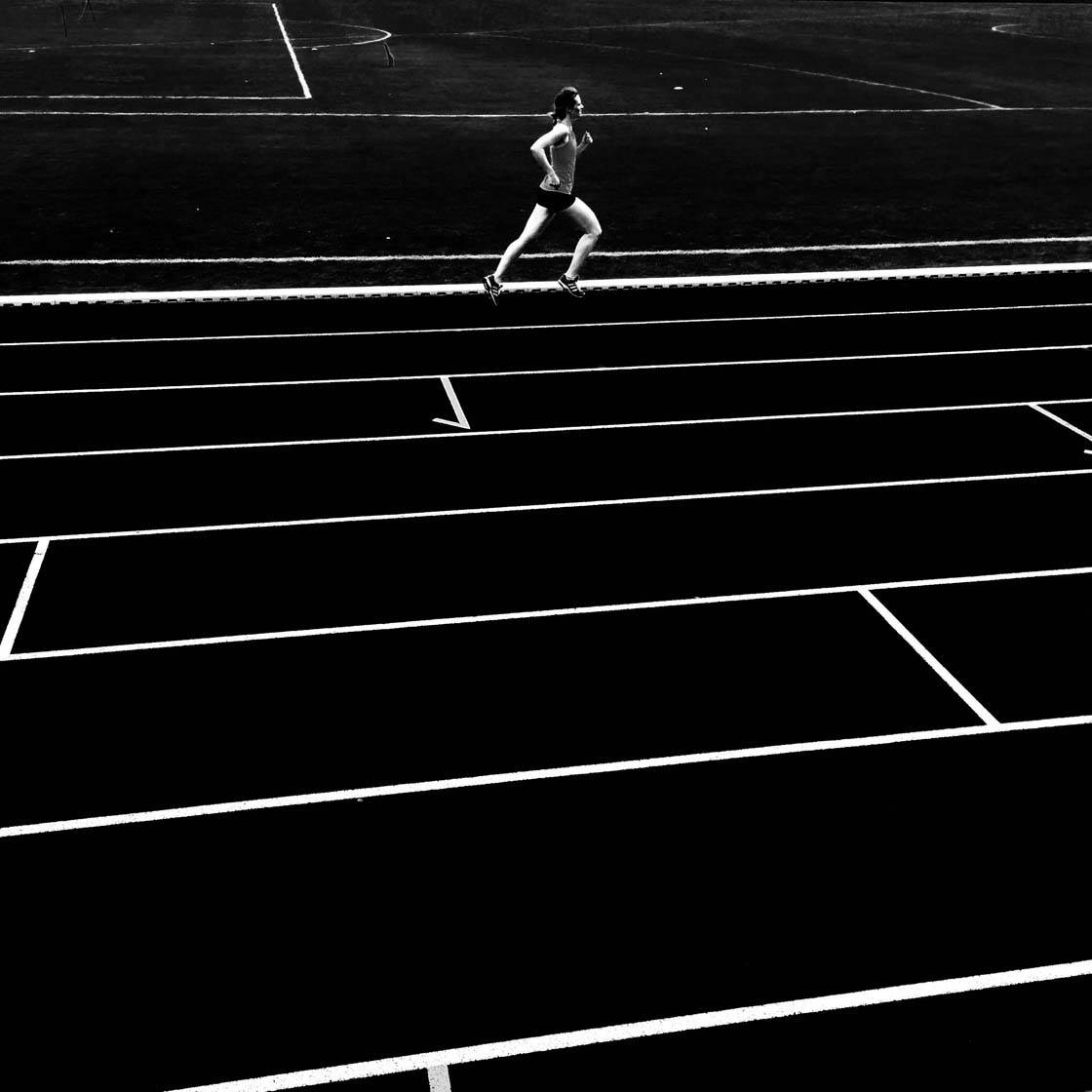 Sometimes I like to use the Photoshop Express app. It contains a certain black and white filter called "Silvered" that I like. Other apps that I occasionally use are VSCO Cam and PicsArt.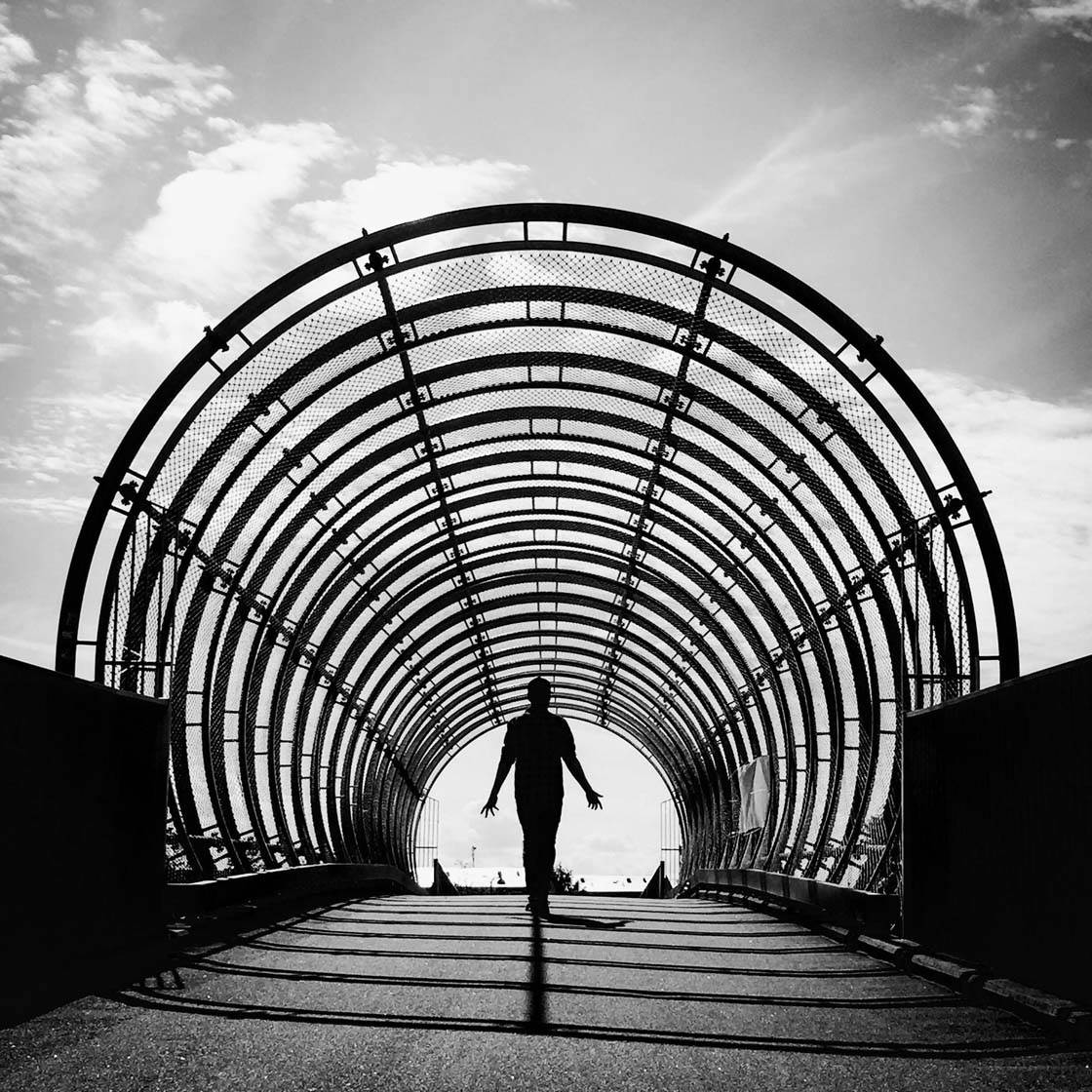 Do you use any iPhone photography accessories?
No, I don't use any accessories.
Can you briefly explain the story and editing process behind your three favorite iPhone photos?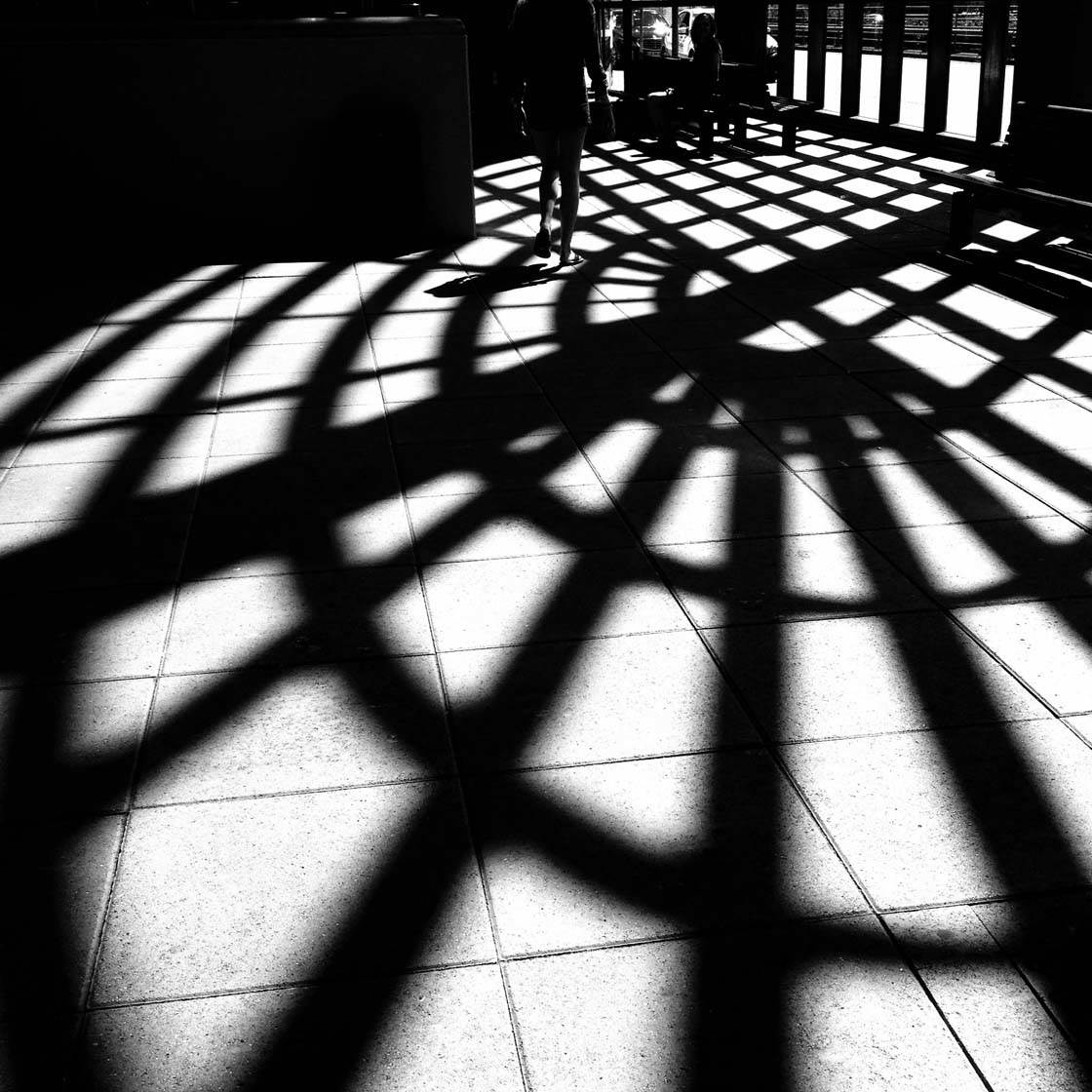 This photo was taken at a railway station just outside Copenhagen. The building has this very big window which casts these amazing shadows on the floor.
I wanted to compose it with a moving silhouette in the middle of it, so I waited for quite some time before someone who looked right walked through the scene.
It was taken with my old iPhone 4s and edited with the iPhone's native camera app. I used the Noir filter to convert it to black and white, then adjusted the light, shadows and exposure a bit.
It's one of my favorite photos, and the Danish railway company actually featured it in their Instagram feed recently. This is one of those places that I think I'll return to and try to make some new and interesting shots.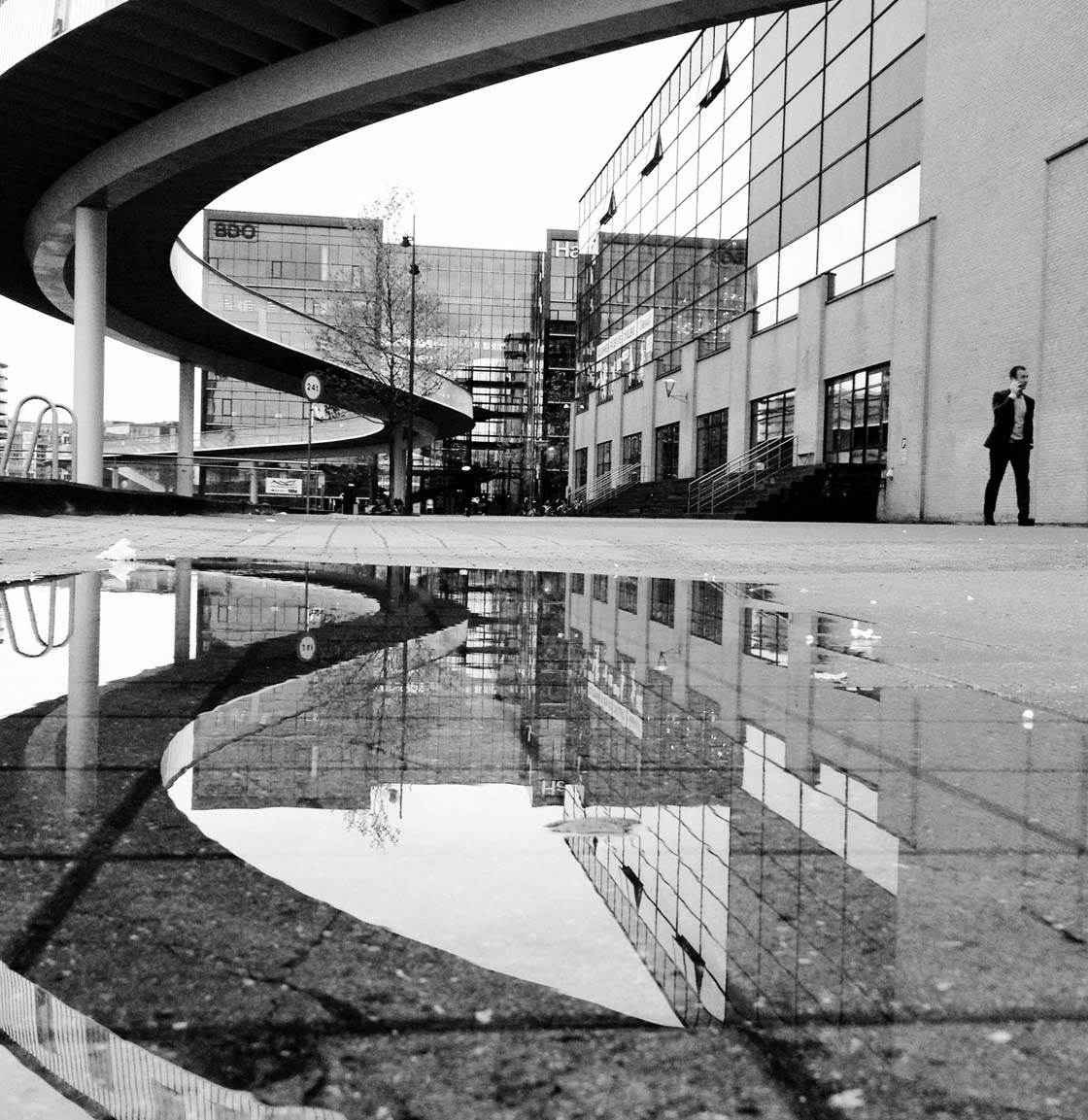 This reflection photo was taken in Copenhagen. The reflected object in the puddle is a very popular bridge which is only meant for bicycles. It's called "The Bicycle Snake" because it looks like a snake.
I happened to be at this spot on a very rainy day, so I waited until the rain stopped and started working in the big puddles. I've photographed the snake lots of times, but this one is my first reflection pictures of it, and I was very happy with the result.
When you're making puddle reflection pictures, it's important to get down really low so that you're almost placing your phone in the water – without getting it wet!
I especially like the detail with the man in the suit who's busy on his phone. I also like the perspective and depth that the snake and building add to the picture.
This photo was also taken with my old iPhone 4s, and has been edited in the same way as the picture above, but with an ordinary black and white filter.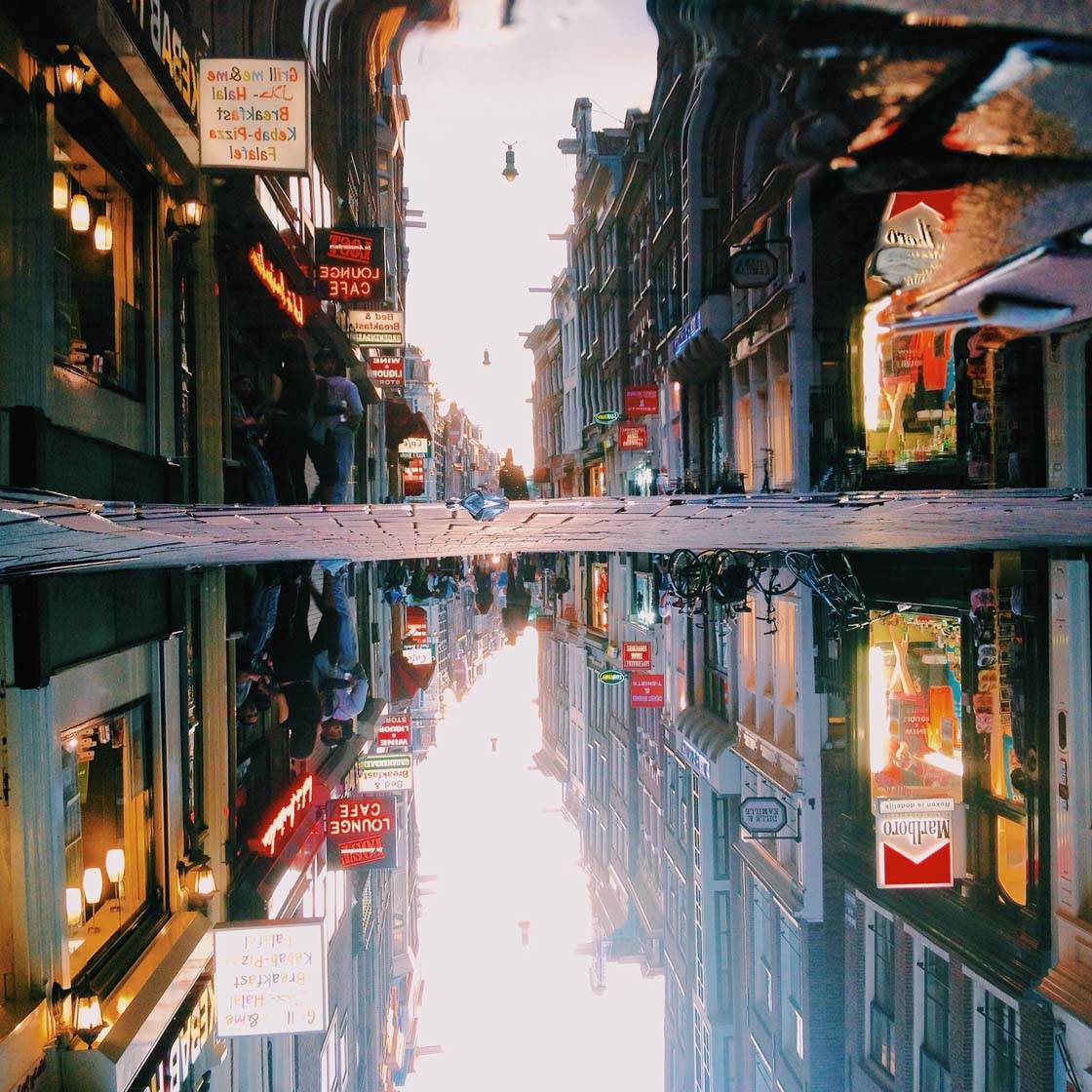 This picture was taken this summer in Amsterdam City, The Netherlands. I chose this photo in order to show you one of my pictures in color. I also chose it to show you something else I love to do when I edit reflection pictures.
I often flip the picture upside down, which I've done with this one. I think it adds a little something extra to the picture.
I've often had people telling me that they have trouble working out what's up and down – and that means they look at it a little longer, which is what I want them to do.
Furthermore, if there are people in the picture, you can make it look like they're walking through water (see some of my other reflection shots). In this photo there aren't any visible people or moving subjects.
I used the VSCO editing tools to make adjustments to the light, exposure, color and sharpness.
Do you shoot with any other cameras, and if so, when do you prefer to use the iPhone?
Yes, I have another camera – a Samsung NX1000, which is a smart camera (connects with WiFi). Even though it's not that big, it's still not as easy to carry around as an iPhone and not so flexible to use.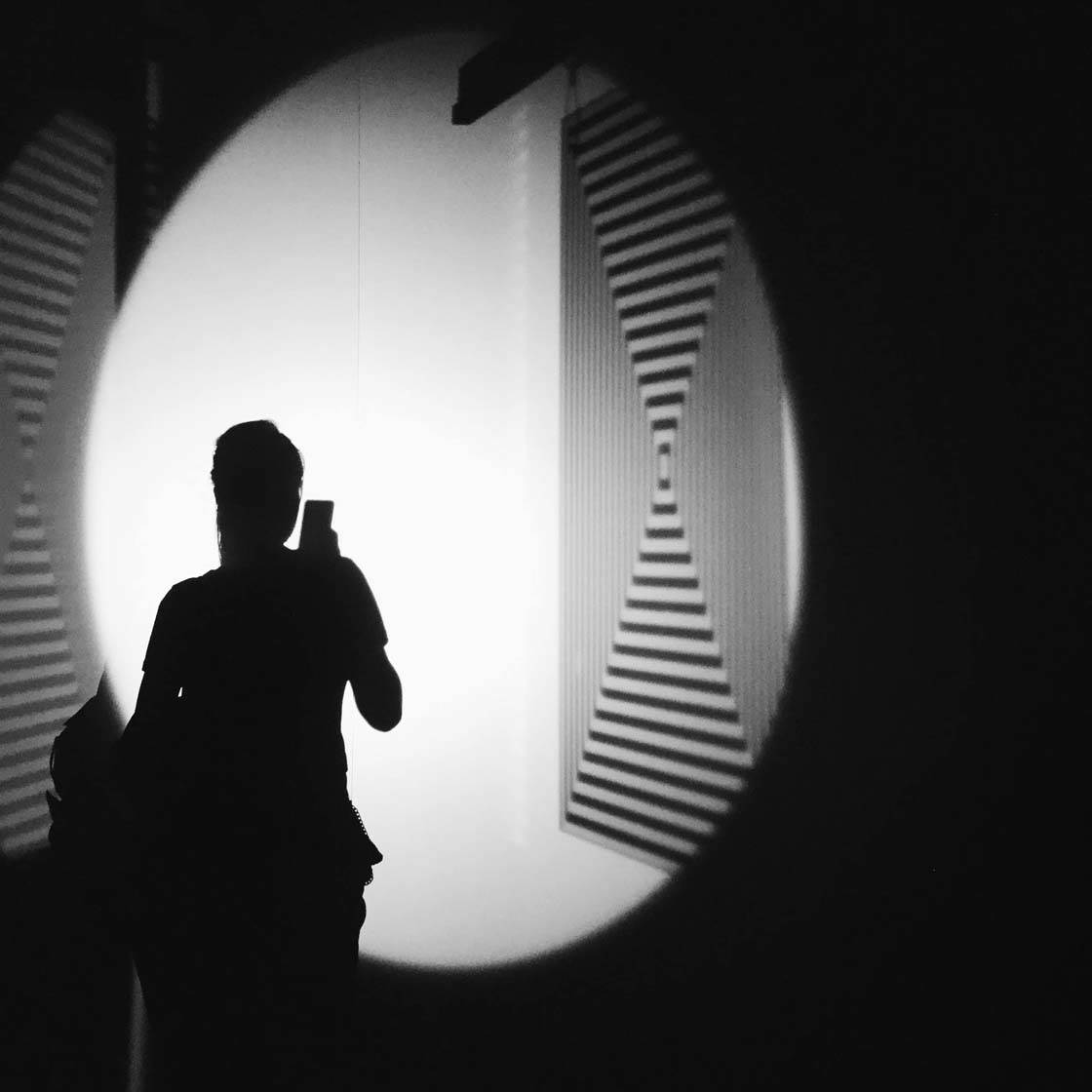 I used this camera much more when I had an iPhone 4s. After I got the new iPhone 6 I tend to use the phone a lot more.
I definitely prefer to use the iPhone when shooting street photos with strangers as the focal point (e.g. stridebys and cyclebys). It has a lot to do with that aspect of discretion that I talked about earlier.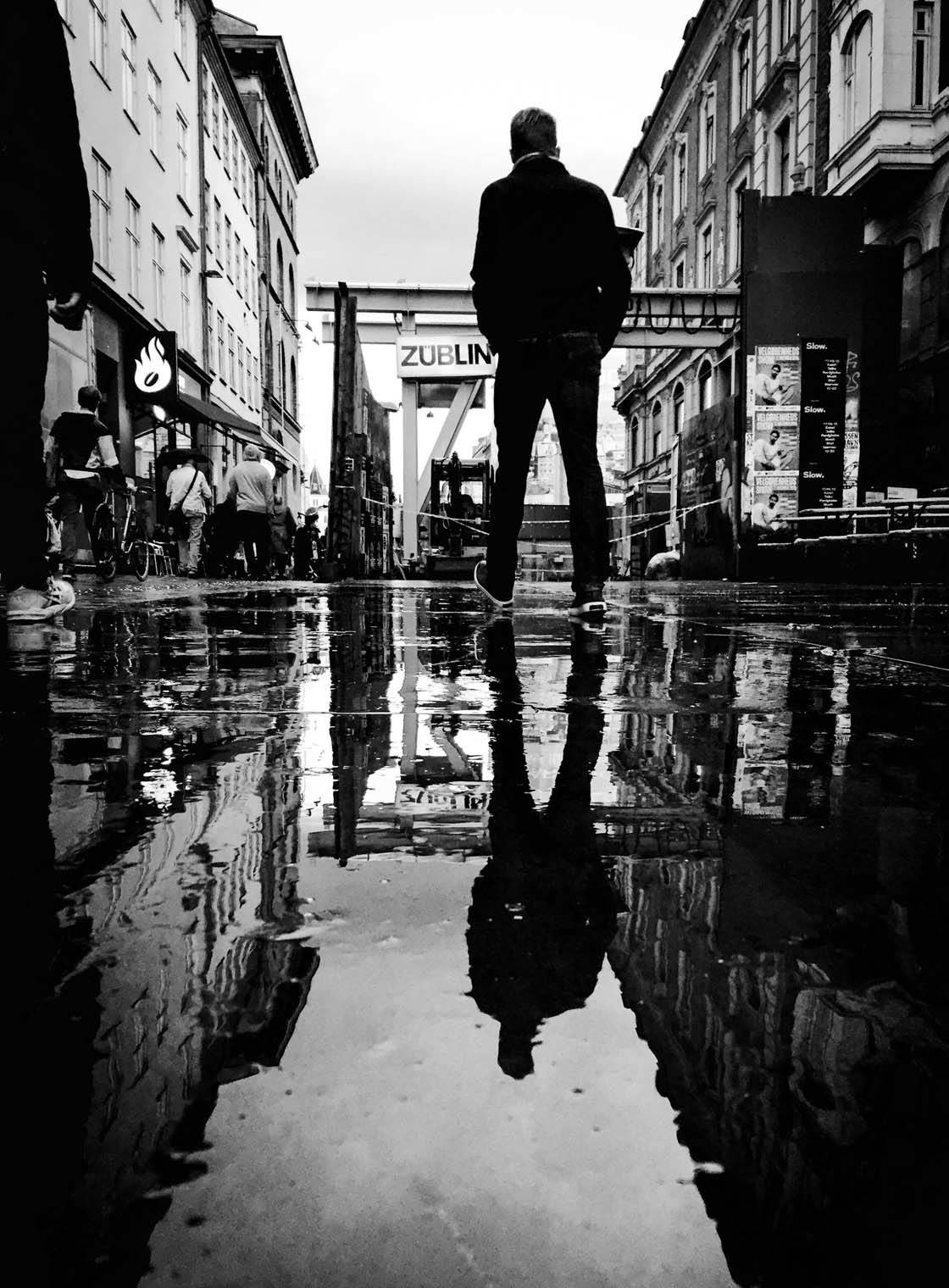 It's much easier to be discreet with my iPhone than with my Samsung camera. The iPhone is also much more handy and flexible to pull out and shoot a quick snap of something interesting I see on my way.
I find the other camera is better when I need to zoom in on details or objects from a distance. I don't think that works so well with the iPhone camera without the pictures getting grainy.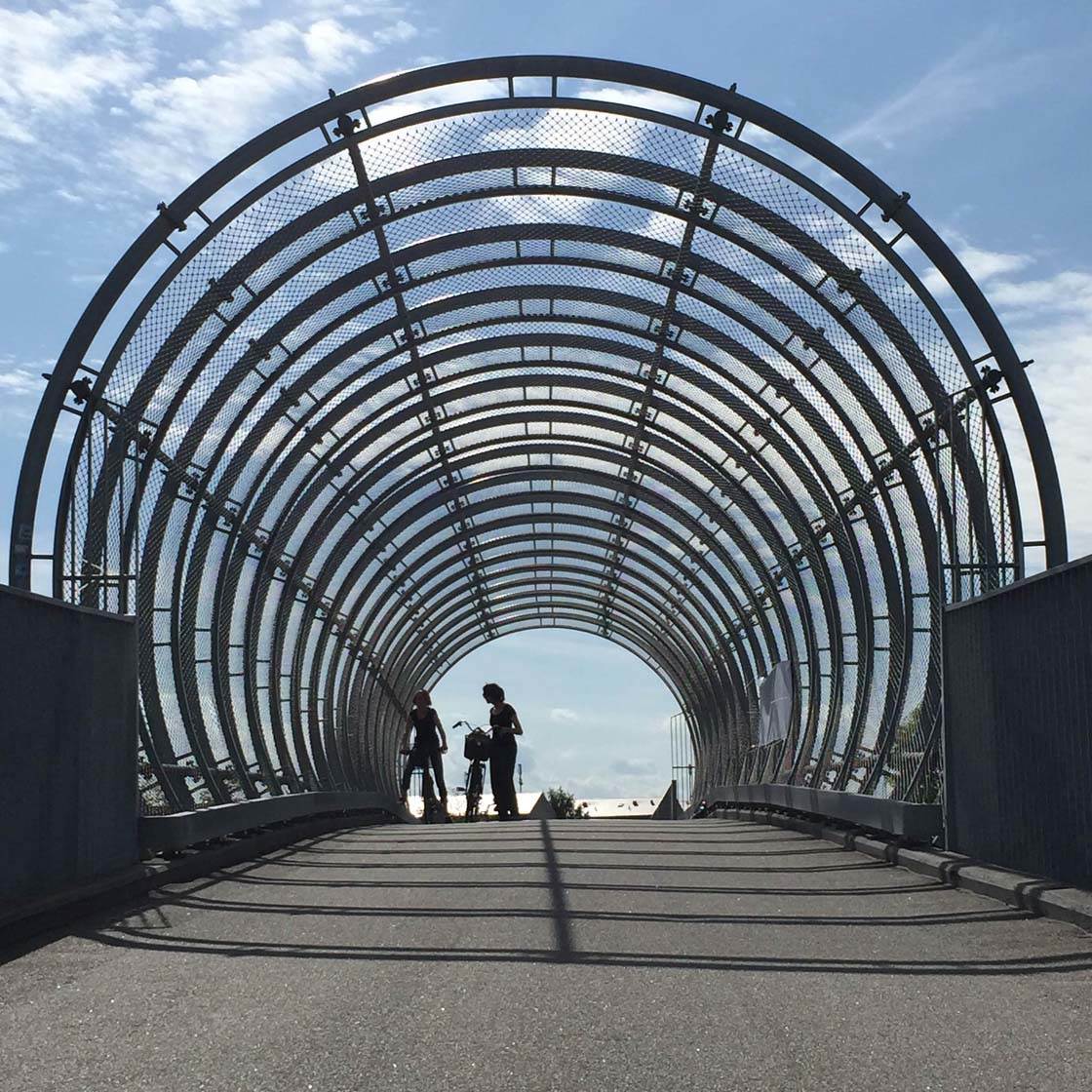 What tips do you have for beginner iPhone photographers who want to start taking more creative photos with their iPhone?
I think the most important thing is to get out there, so that you can get some experience and a take a lot of photos. Practice makes perfect, especially when it comes to photography.
Of course some knowledge about iPhone photography and photography in general is a very good idea. So if you combine the two things, I think you're well on your way.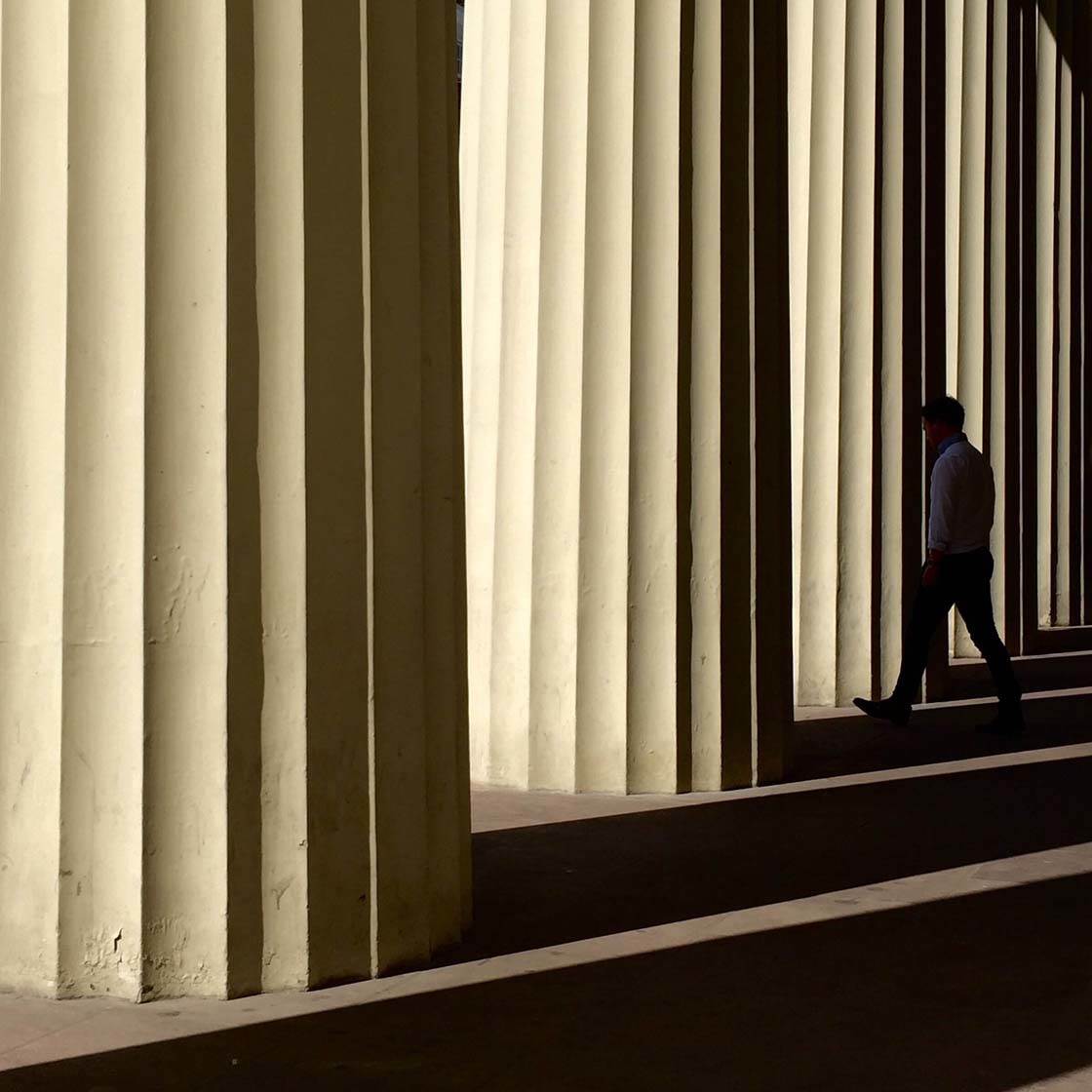 Another thing you can do is to get some inspiration from other photographers. There are plenty of opportunities too see other iPhone photographers' pictures and get some new ideas.
I personally love doing this, and I love getting feedback and to give feedback on other people's photos. For this I use Instagram where you can find so many talented and very different iPhone photographers.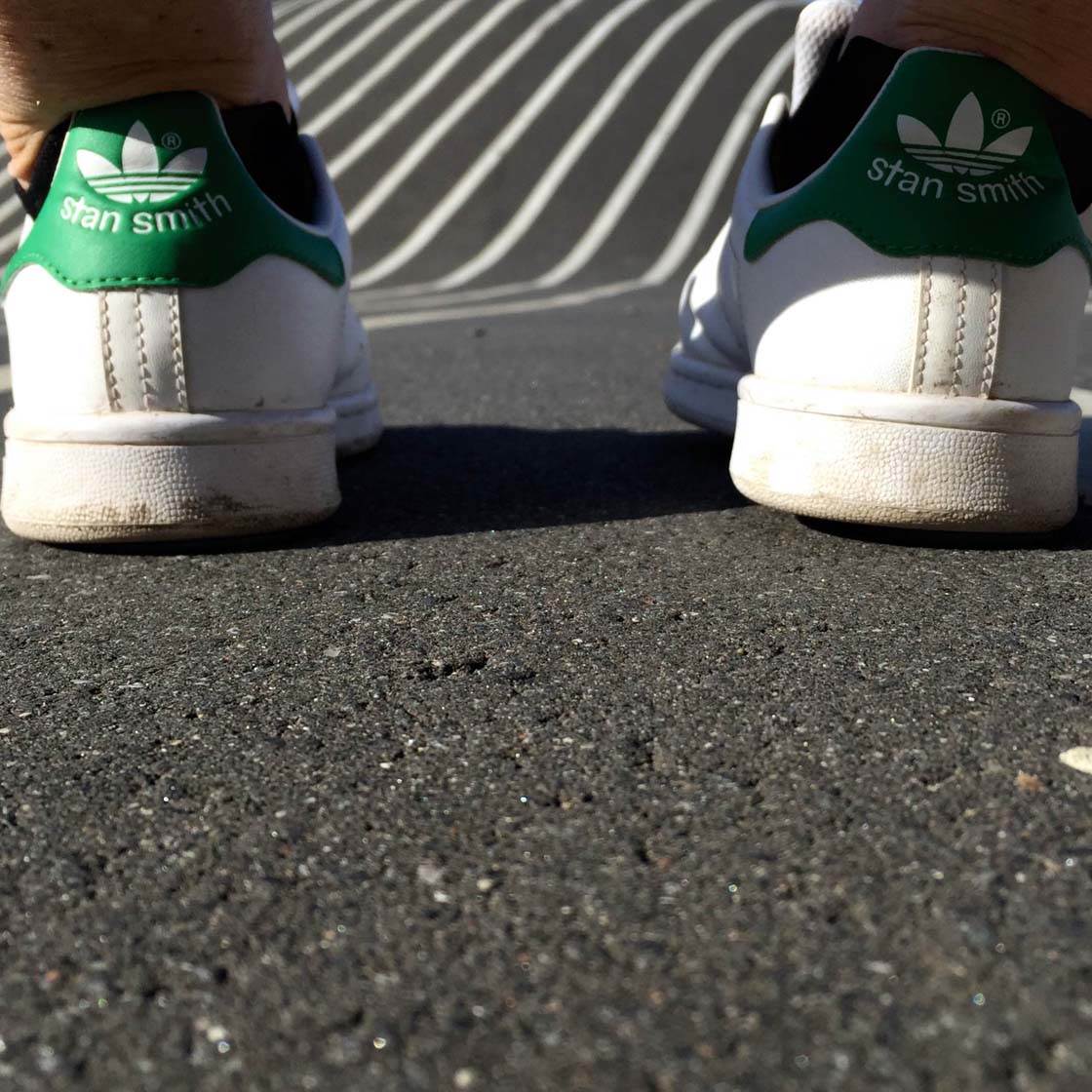 Invest some time in finding some photographers' profiles that interest you. That's something I've really grown from as an iPhone photographer.
When you're out shooting, I recommend that you snap a lot without thinking too much, as well as do the more planned shots where you've given some thought to composition, etc.
I think you can learn a lot from both approaches, and you can end up with interesting and creative images doing both.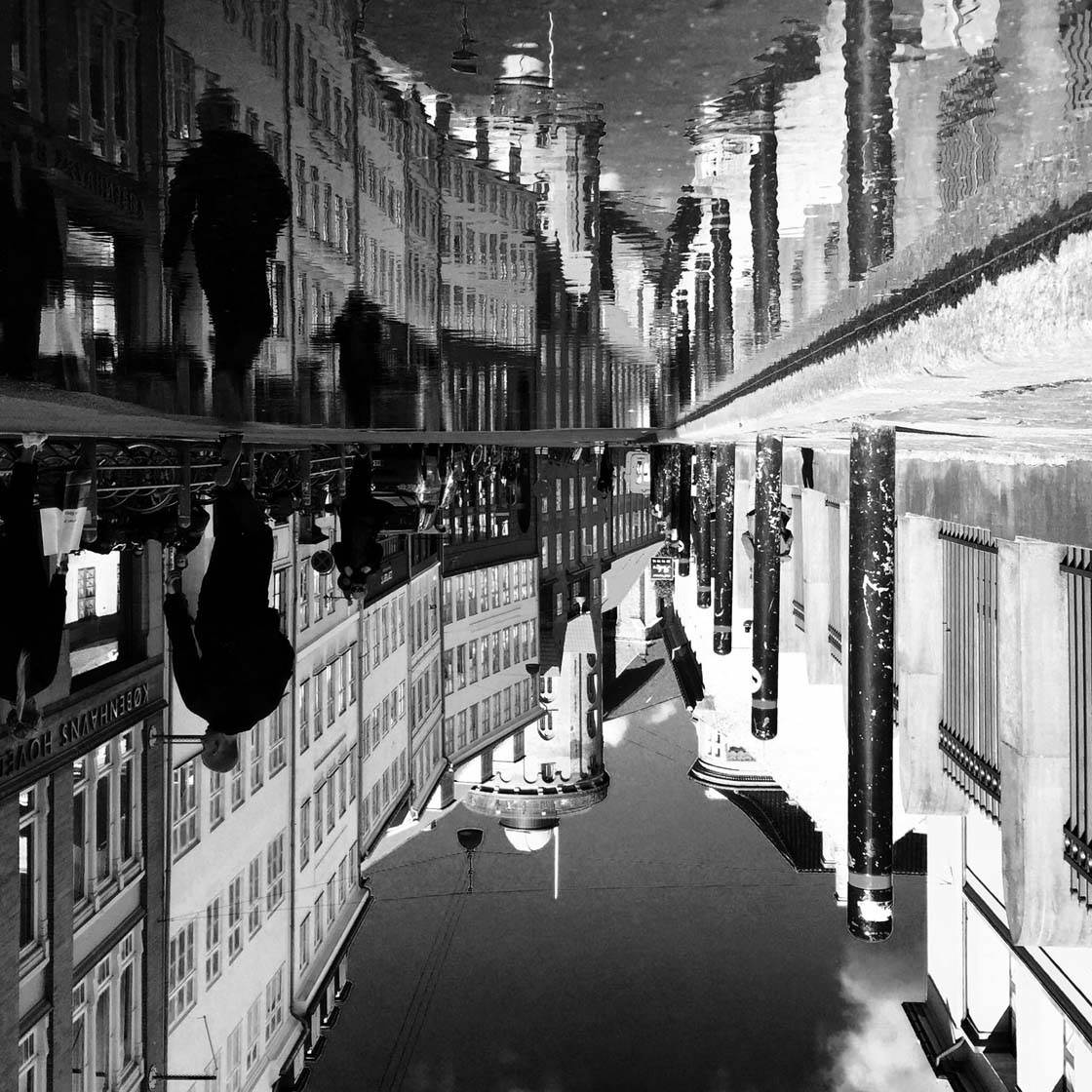 You can also challenge yourself with regards to choosing a new viewpoint on places you've already shot lots of times. That's also how I think I develop, and it's a great way to come home with lots of creative pictures on your phone.
Which iPhone photographers do you admire the most?
It's difficult to answer because there are so many great ones that I follow on Instagram. But below are a few that I'd like to mention.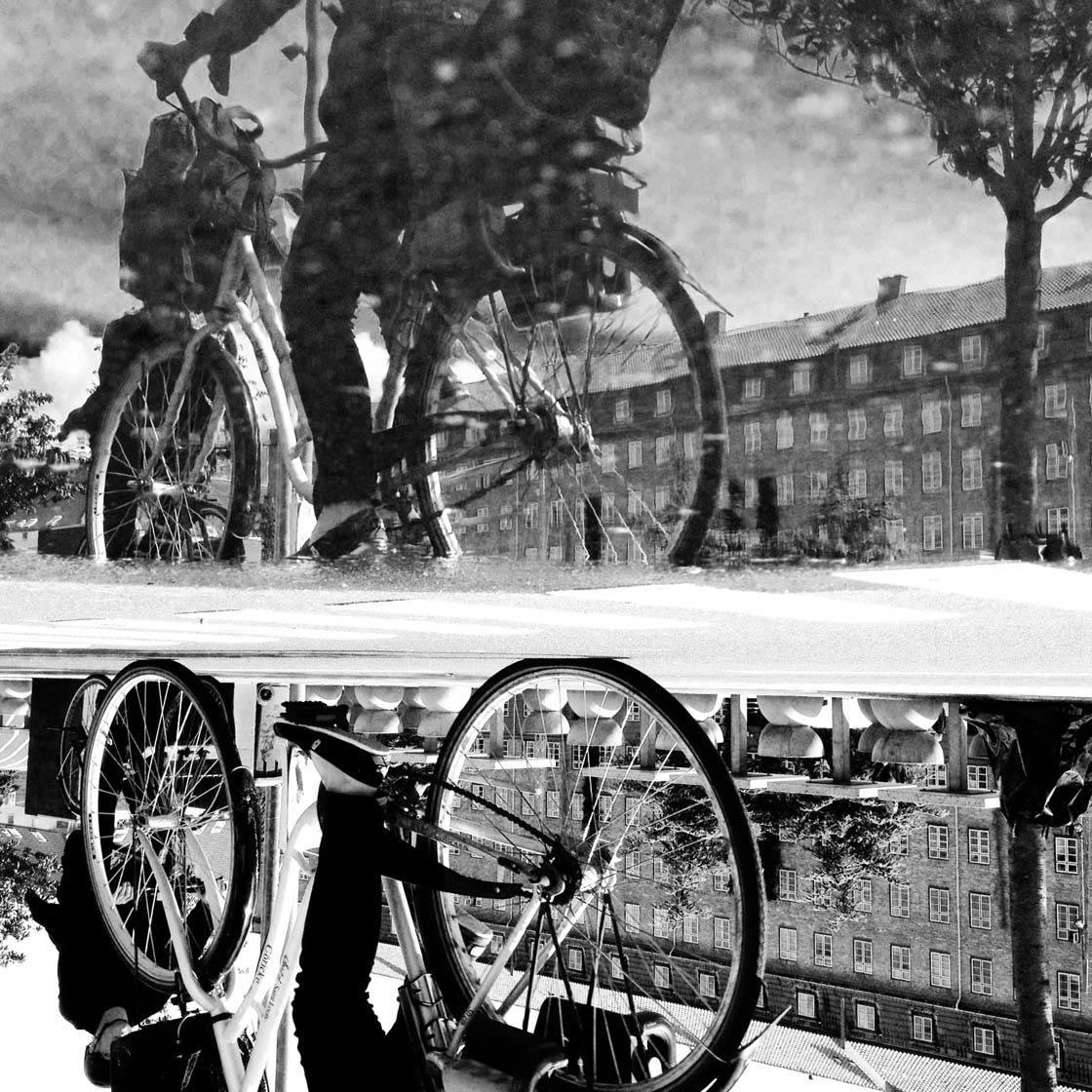 @jystala – Amazing street and reflection shots.
@copenhagenbykat – Beautiful street and reflection photos.
@miamia_cph – Street shots and her own unique view on the city of Copenhagen. She also uses very interesting editing methods and has a very graphic expression in her pictures.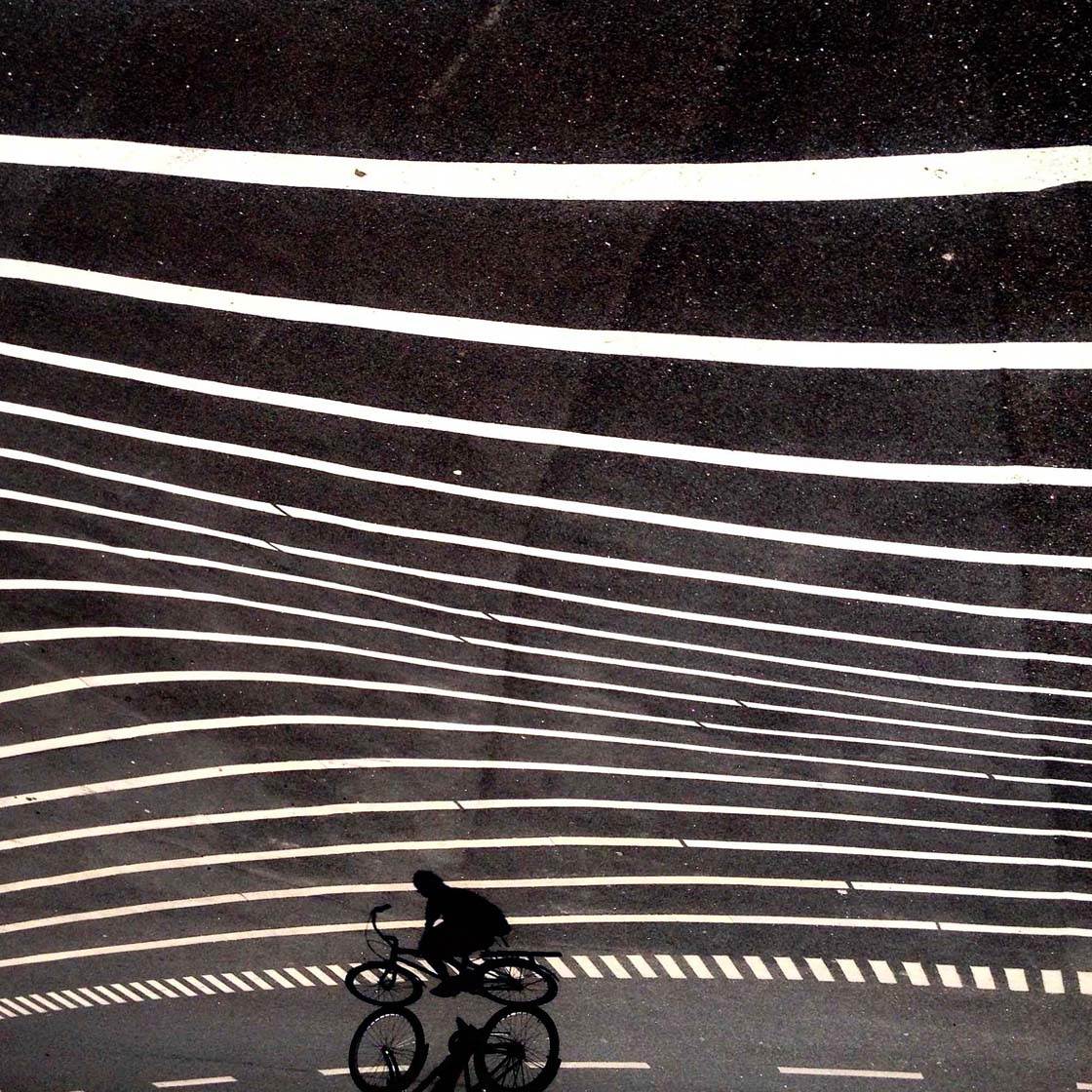 @__hoff__ – Offers a very clever, unique and different view of the city and streets. A good inspiration for finding creativity and new ideas.
@geheet – Incredibly beautiful pictures of both architecture and street.
@innsen78 – Incredibly beautiful silhouette pictures.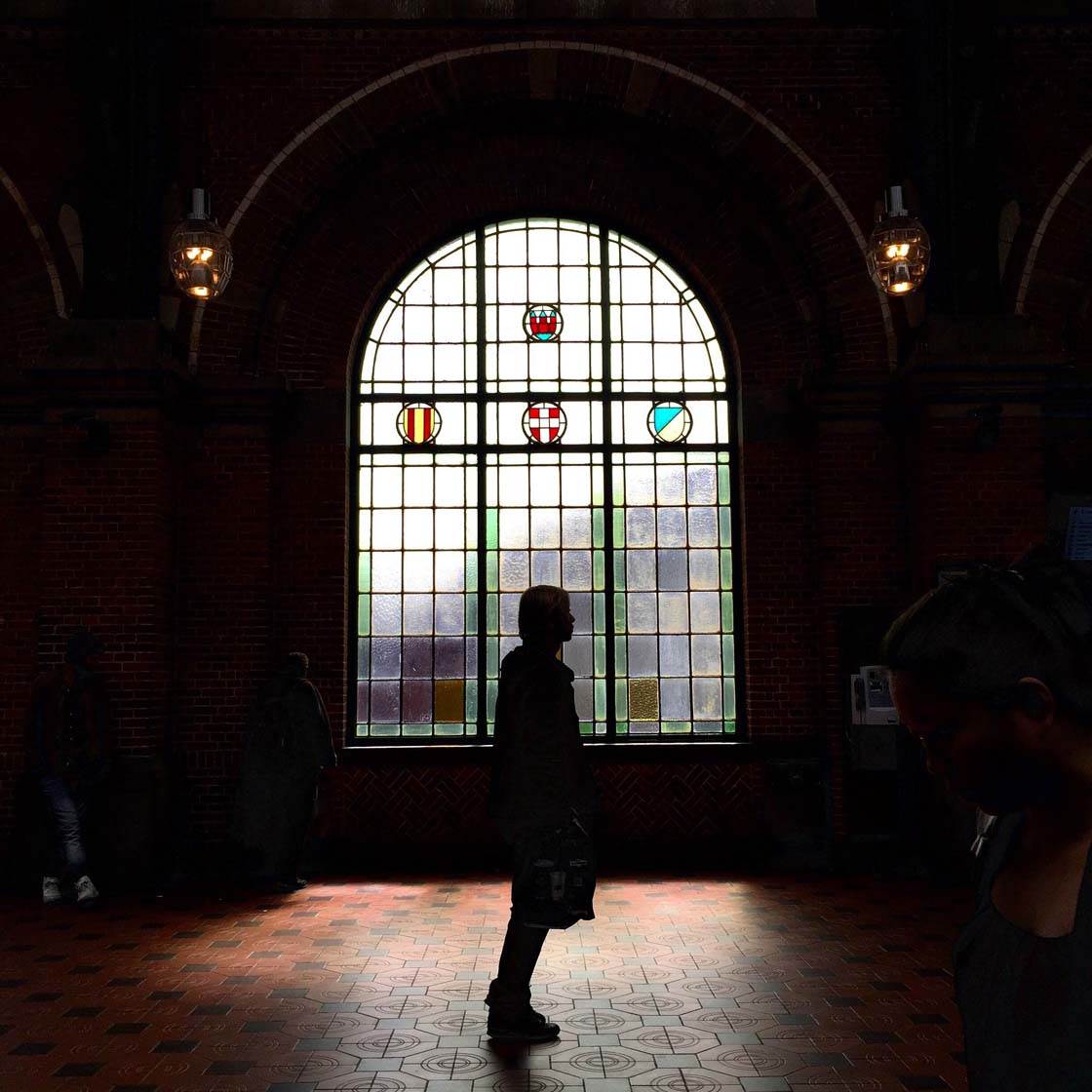 @nostalgia_kid – Street, street, street! Unique captures of street moments and sceneries.
@themiguelleal – Fantastic street and architecture photography.
@eriksteijling – Cool reflection shots from the heart of Amsterdam City.
@wewidwiw – Makes the most cool strideby photos I know of.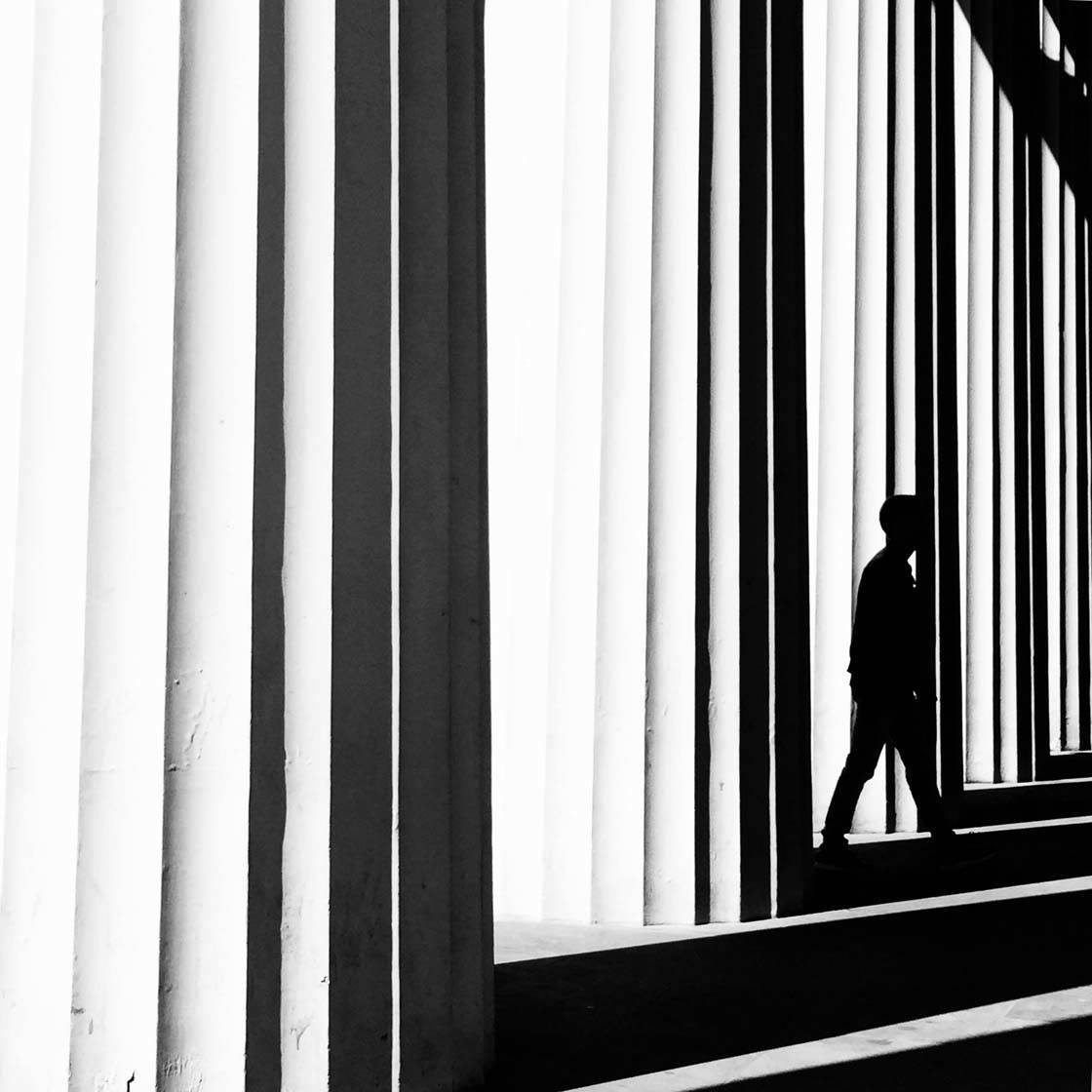 @jimmimichelsen, @rikkeravnfaber and @olivertcb are tremendously talented photographers who I really admire and would really like to mention here.
I'm not sure they use the iPhone that much, but people who are seeking inspiration should really visit their galleries.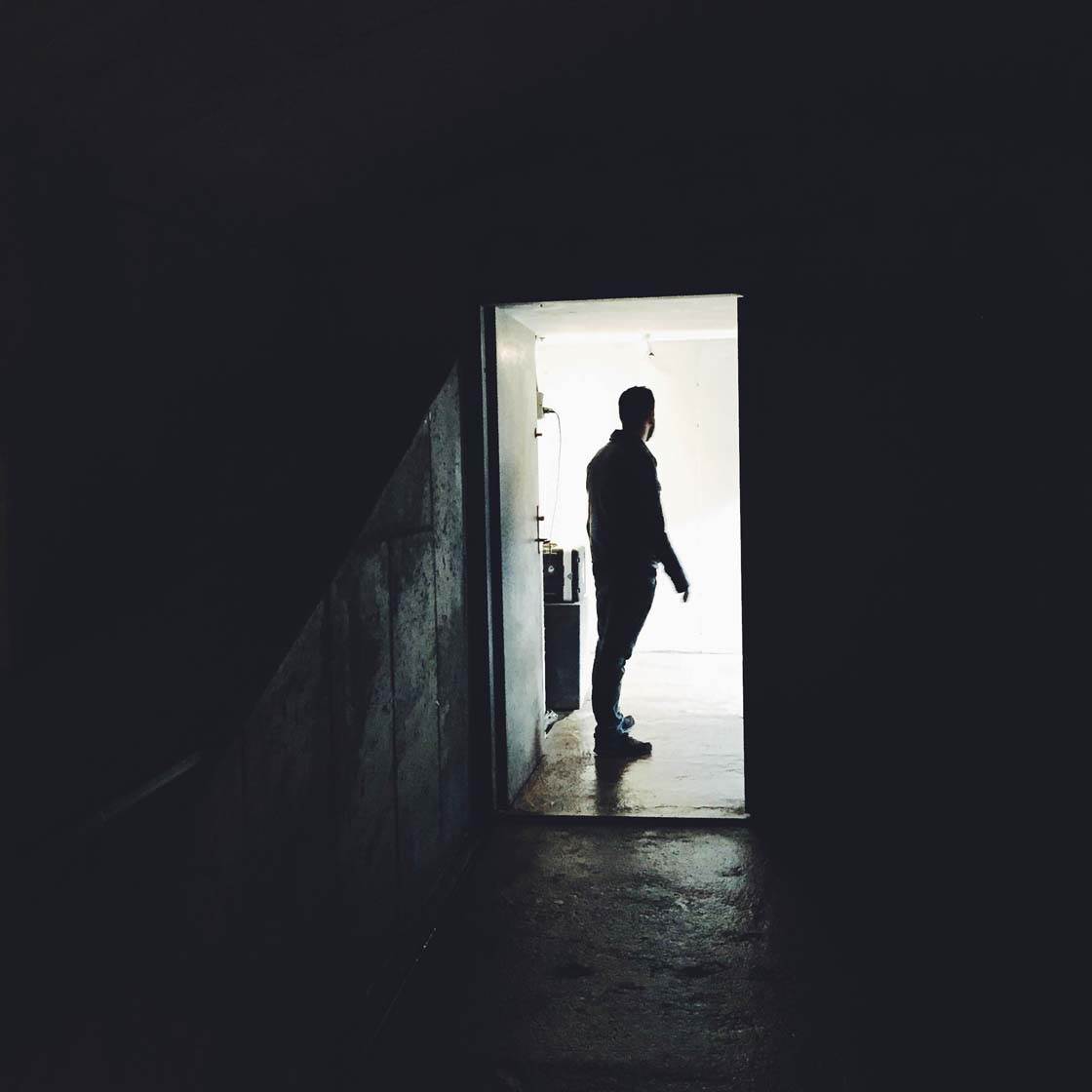 Where can we see your iPhone photography?
You can visit my gallery on Instagram @julie_v_cph.