Have you been disappointed by the image quality of add-on iPhone lenses? Are you looking for a high-end, reasonably-priced lens system that produces the sharpest photos possible? If so, you should definitely check out the new iPhone lens and filter kits from Inmacus. We've been reviewing their 18mm HD Wide Angle Kit and HD Macro Filter Kit – and we're super impressed! In this article you'll discover how each of these Inmacus accessory kits can be used to improve your iPhone photography with high quality results.
Who Are Inmacus?
While you've probably heard of leading iPhone lens manufacturers such as Moment, olloclip and Manfrotto, you may not be familiar with Inmacus… yet!
Inmacus was only introduced in 2014, but they're certainly going to give the competition a run for their money. Inmacus was launched to focus extensively on high quality and reasonably priced digital photography accessory products for smartphones and tablets.
Their goal is to improve the overall photography experience on smartphones and tablets, attaining the highest quality digital images that could be used for printing as well as social media sharing.
I've been testing out the two Inmacus iPhone lens and filter systems, and I'm certainly impressed. So let's take a look at what these accessories have to offer, and what kind of images you can create with them.
Lens & Filter Kits
Inmacus offer two different lens/filter kits for the iPhone 6 and 6 Plus: an 18mm HD Wide Angle Lens Kit and a HD Macro Filter Kit. These kits are currently selling for half the normal price, but the offer ends on July 31, 2015.

The Wide Angle Kit costs $29.95 with the 50% discount (regular price $59.90) and the Macro Filter Kit is selling for $24.95 (regular price $49.90).
So let's take a detailed look at what's included in each of these accessory kits, and how they performed when I tested them out with my iPhone 6.
Rapid Grip Adaptor (Lens 
Mount)
The lenses and filters attach to the iPhone using the Rapid Grip Adaptor which is included with both accessory kits. Pinching the buttons on either side of the adaptor causes it to open so that it can be slipped over the iPhone's lens. I found this simple to do and was pleased to find it didn't want to slip off the camera once in place.

This is purely down to Inmacus cleverly taking advantage of the protruding lens of the iPhone 6. The adaptor sits securely around the lens, ensuring the kit is attached safely and securely without any risk of it falling off.
The adaptor itself is plastic, but the threaded lens mounts are made of metal which should mean the thread won't loosen or wear with use over time. It should be noted that you can't fit the adaptor onto your phone if it has a protective case.
18mm HD Wide Angle Lens Kit
Despite its name, the Inmacus Wide Angle Lens Kit doesn't just include a wide angle lens. It also includes a close-up filter and a circular polarizer (CPL) filter.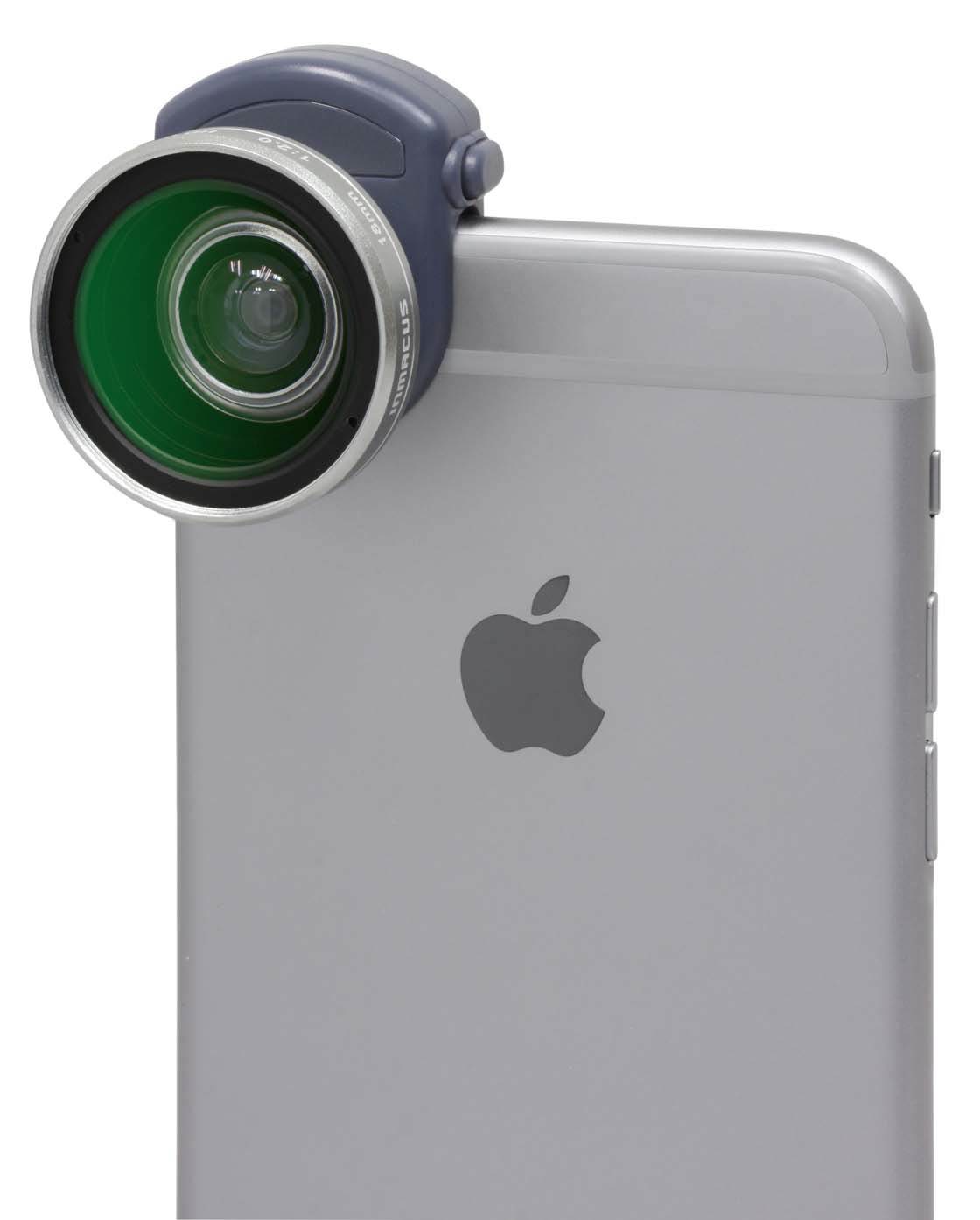 All of the Inmacus lenses have a metal body, and the lens itself is glass rather than plastic which means better optical quality. Below we'll take a look at each of the three lens/filter components included in this Wide Angle Lens Kit.
18mm HD Wide Lens
The feature lens in this kit is the 18mm wide angle lens. Inmacus claim that it extends the field of view by more than 50%.
While the iPhone's built-in lens is already fairly wide angle, sometimes you just can't get everything that you want into the frame. Wide angle lenses allow you to capture more of the scene without having to move any further back.
They're especially useful in landscape photography, but they're also great for group shots of people and for shooting indoors where you often physically can't stand any further back.
In the photo examples below, you can see how much more of the scene I've managed to get into the frame using the Inmacus wide angle lens.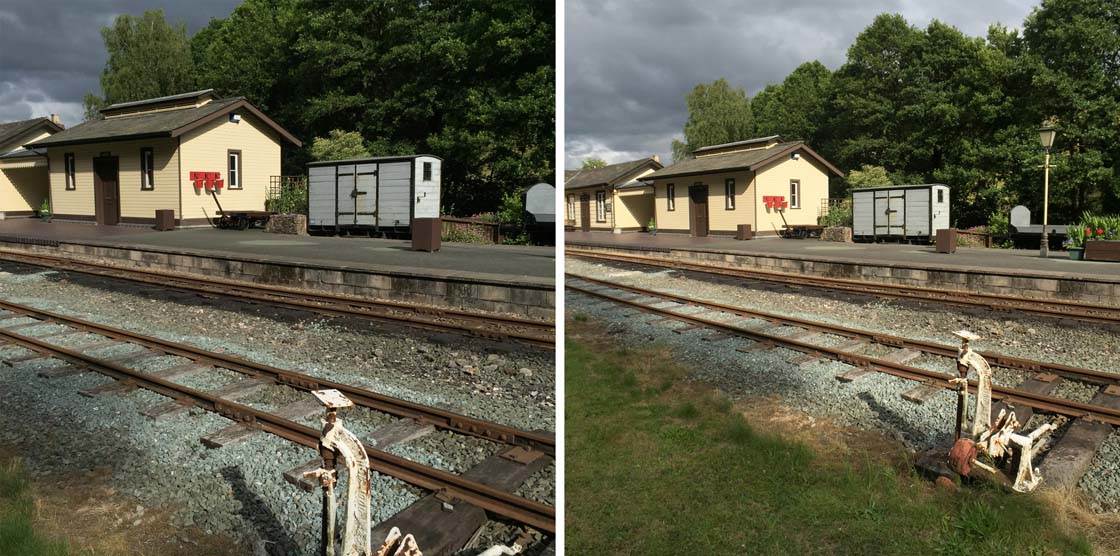 The photo on the left was taken without the lens attached, and the photo on the right was shot using the Inmacus wide angle lens. I took both shots from exactly the same position.
There are many wide angle lenses available for the iPhone, but the problem with most of them is that they suffer with distortion and edge-blurring.
While the image might be sharp in the center, the edges and corners of the photo often appear blurred when using these lenses. This degrades the image quality and you often end up cropping out the blurred edges, essentially defeating the object of the wide angle lens.
However, the quality of the Inmacus wide angle lens is superb. The images that I took were very sharp throughout, which is a huge plus point for this lens system.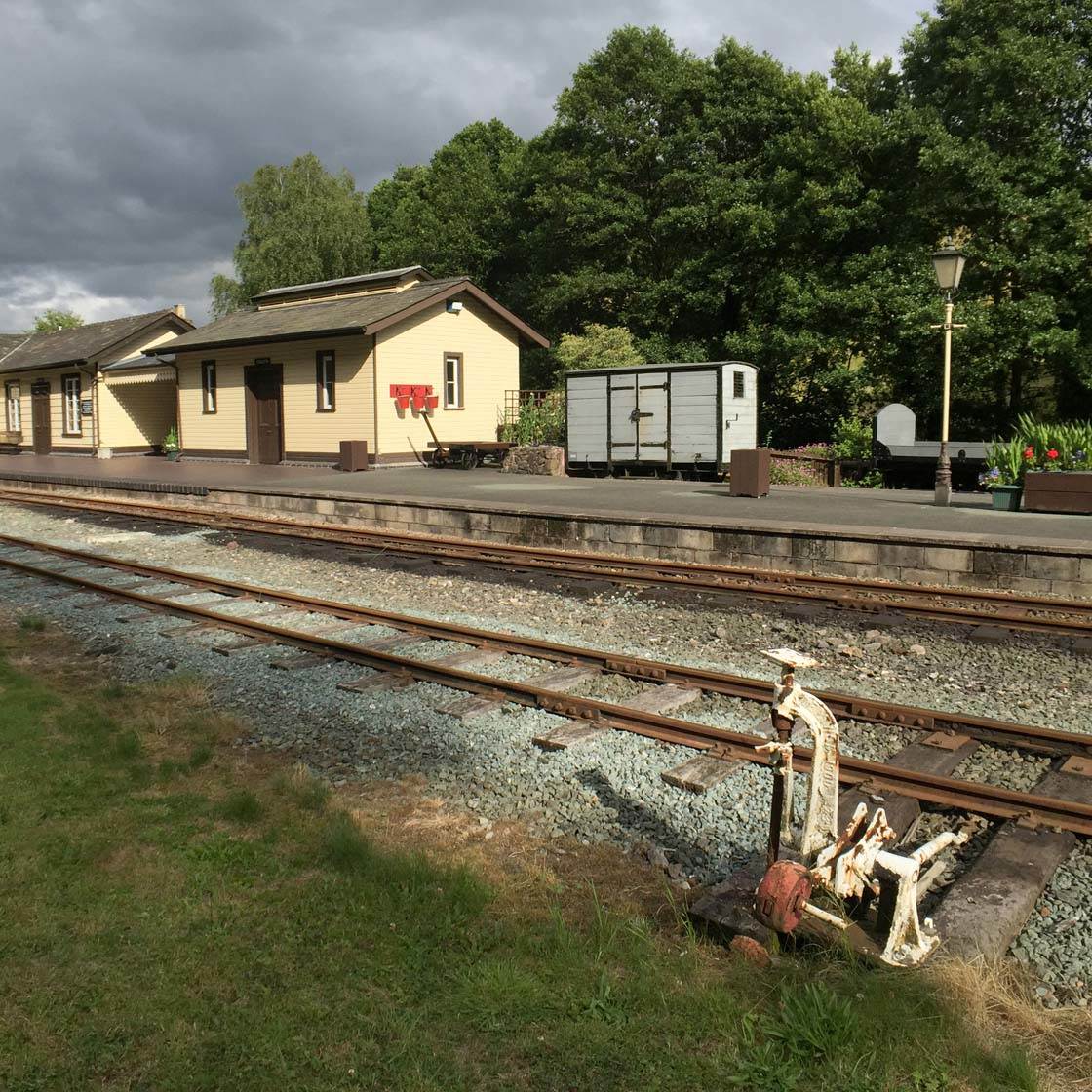 The photo above shows a larger view of the scene that was shot using the Inmacus wide angle lens. This gives you a better idea of the sharpness you can achieve when shooting with this lens.
As an added bonus, this wide angle lens comes with front and rear lens caps for extra protection.
HD Closeup +5 Filter
This HD Closeup +5 Filter allows you to focus on subjects as close as 5cm (2in) compared to 9cm (3.5in) with the built-in iPhone 6 lens.
This results in your subject appearing larger in the frame, which is perfect for photographing small subjects and fine detail such as flowers, leaves, insects and textures.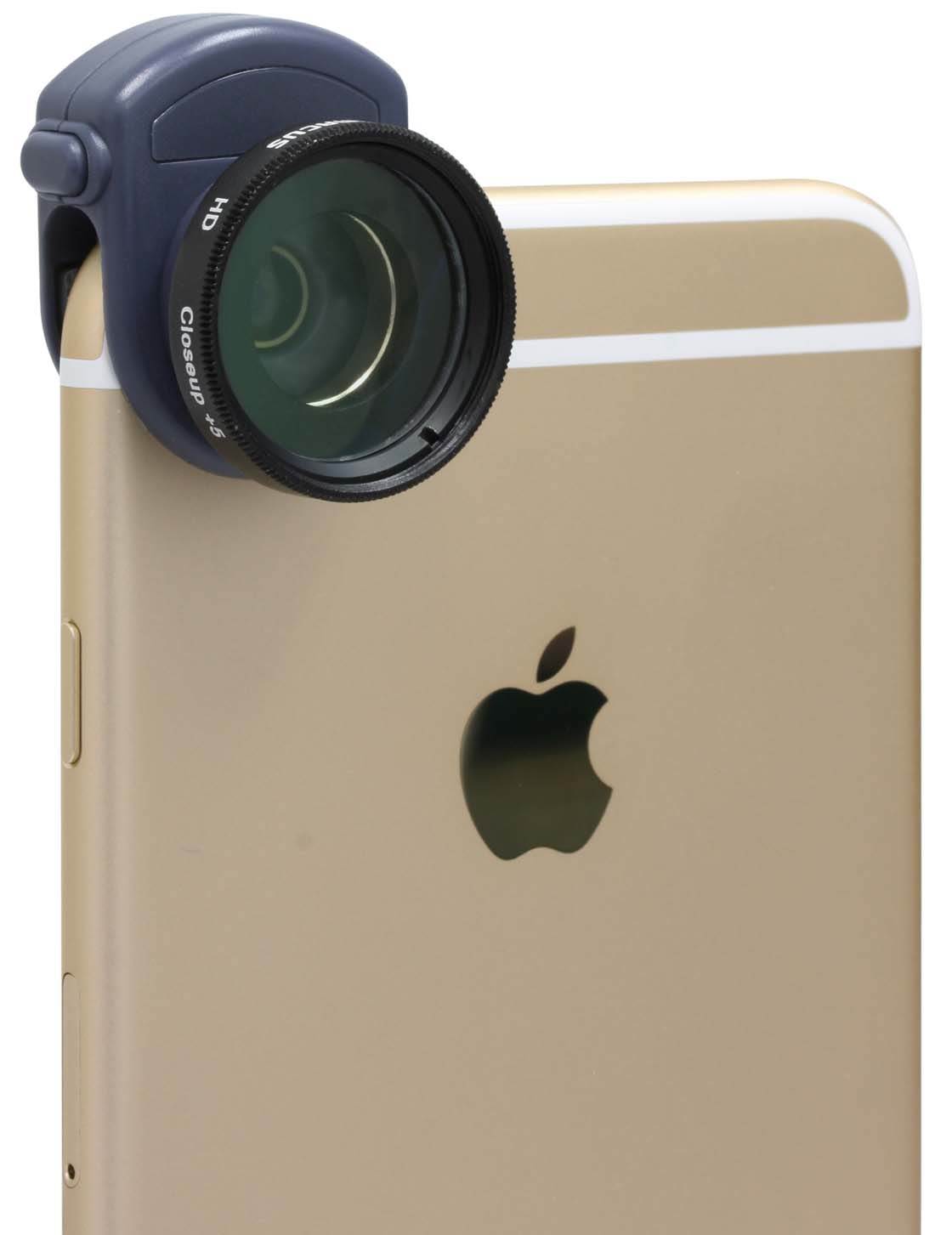 It's worth noting that Inmacus refer to their macro lenses as filters rather than lenses. Their reasoning for this is that it doesn't contain two or more optical glass elements. However, don't get confused by this terminology – it does exactly the same thing as other iPhone macro lenses, i.e. lets you focus closer on your subject.
Below you can see two photos of a blueberry plant. The left-hand image was taken using the iPhone's built-in lens. I had to shoot from at least 9cm away in order to get the subject in focus.

The right-hand photo was shot using the +5 Closeup Filter which allowed me to get closer to the subject (5cm away) while still maintaining sharp focus. What impresses me most about this lens, when compared with others that I've reviewed in the past (olloclip, Manfrotto, SNAP! 6) is the lack of image distortion.
Sure, you get the usual shallow depth of field that's normal with macro lenses, resulting in only a small part of your subject being in focus, but there's no issue with unsightly edge-distortion or blurring when using this lens.
HD Circular Polarizer
A Circular Polarizer Lens (CPL) is actually a filter rather than a lens. The CPL basically prevents light with a certain polarity from being captured. That probably sounds complicated and not very exciting! But when you discover this kind of light includes reflections and glare, you can see how beneficial it could be in your iPhone photography.
Circular polarizers are great for removing glare from reflective surfaces such as water, glass and other shiny objects. They can also boost color saturation and darken blue skies.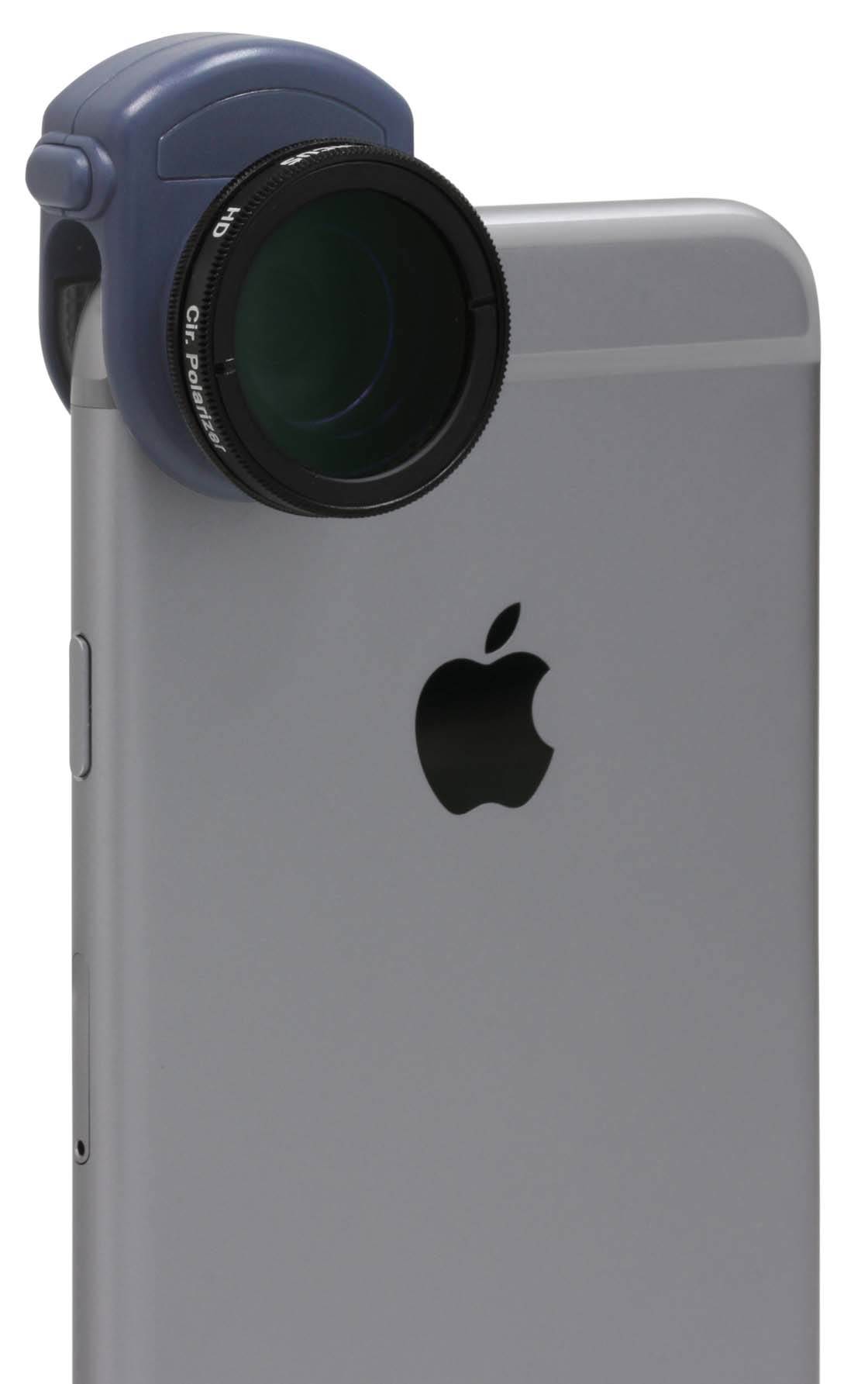 Using the polarizing filter is simple. All you have to do is point the iPhone at your subject and rotate the filter's outer ring until you achieve the result you want. You'll get the best results if you shoot perpendicular to the sun, i.e. with the sun at 90 degrees to where you're pointing the iPhone.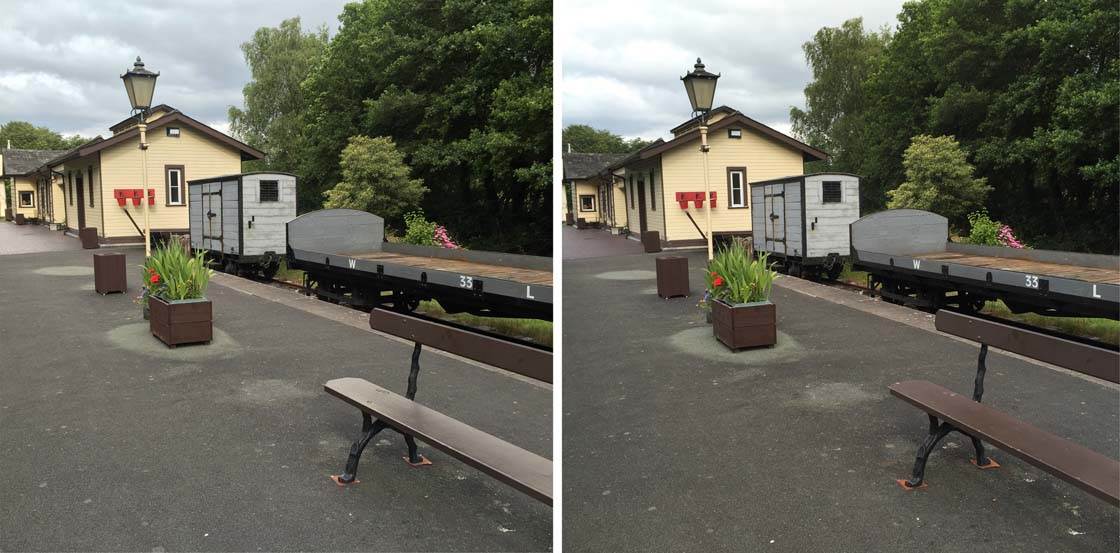 In the examples above, you can see the picture on the left has a reflective, glossy sheen on the bench in the foreground. With the polarizing filter attached and rotated by 90 degrees, the picture on the right shows how this sheen has been removed.
In the next pair of examples, the left-hand photo shows some glare on a metal bridge. There's no color and very little detail in this over-exposed area, and the background is dark with little color saturation.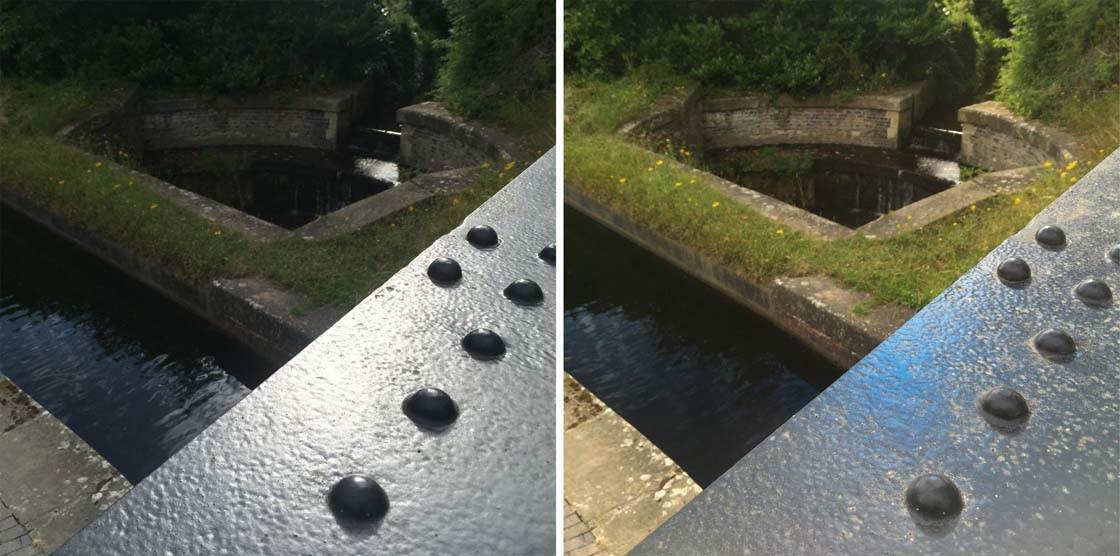 The photo on the right shows how effective the polarizing filter is at removing glare. Color and detail is clearly visible and the shot is much more evenly exposed. Remember you can dial in the strength of the effect simply by rotating the outer ring of the filter.
The main disadvantage of a polarizing filter is that the stronger the effect, the less light reaches your iPhone's camera sensor, which results in longer exposure times (slower shutter speeds). This means you'll need to take extra care to keep the iPhone steady, otherwise you might introduce some blur due to camera shake.
That said, like the other polarizing filters we've reviewed before, I'm a big fan of this filter. It doesn't distort the image in any way and it allows you to capture a punchy, more color-saturated image with less glare and fewer unwanted reflections.
All-in-all this Wide Angle Lens Kit offers an excellent range of lenses and filters that allow you to widen your angle of view, capture better close-up photos, and eliminate glare from reflective surfaces.
HD Macro Filter Kit
If you enjoy photographing small subjects or capturing close-up details and textures, you've probably found that the iPhone's built-in lens is somewhat limiting. Its minimum focusing distance is 9cm, so getting any closer to your subject will result in out-of-focus photos.
The Inmacus HD Macro Filter Kit is designed specifically for macro or close-up photography, allowing you to shoot as close as 1.5cm from your subject.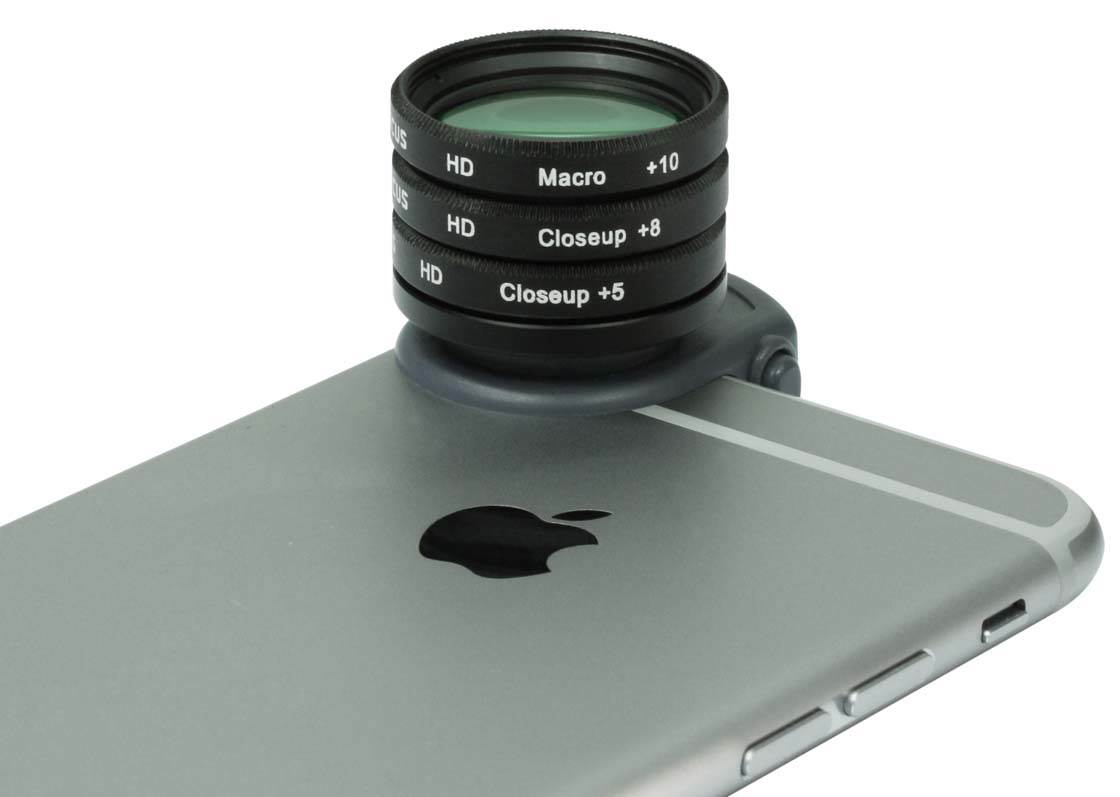 The Macro Filter Kit comprises three closeup lenses of different magnifications: +5, +8 and +10. But if you stack them all together you get a combined magnification factor of +23! So let's take a look at how each of them performed with the iPhone 6.
+5 HD Closeup Filter
This is essentially the same +5 Closeup Filter that you get with the Wide Angle Lens Kit that we've just looked at. The +5 filter allows you to focus on subjects as close as 5cm (2in).
The example below shows some blueberries that I photographed with the standard built-in iPhone lens. I got as close as possible (9cm away) while still maintaining focus.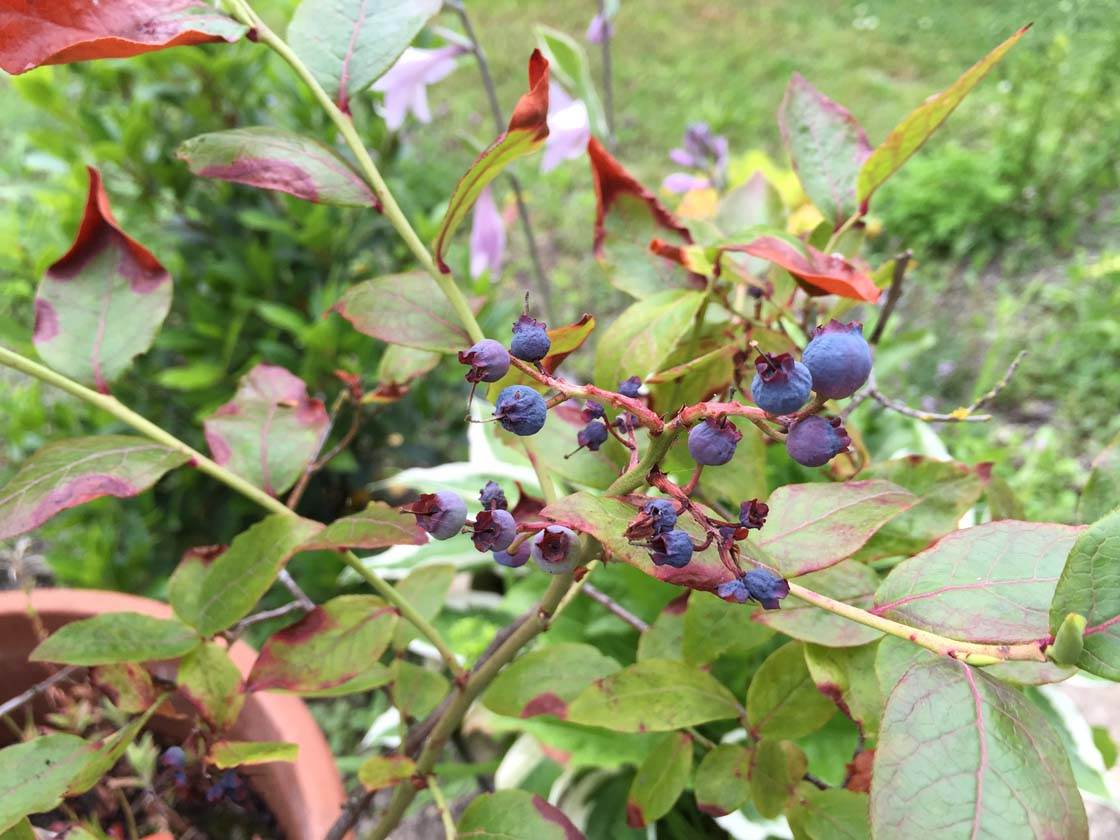 And next is the same subject photographed with the +5 filter attached. This lens allowed me to shoot the photo with the iPhone held closer to the subject.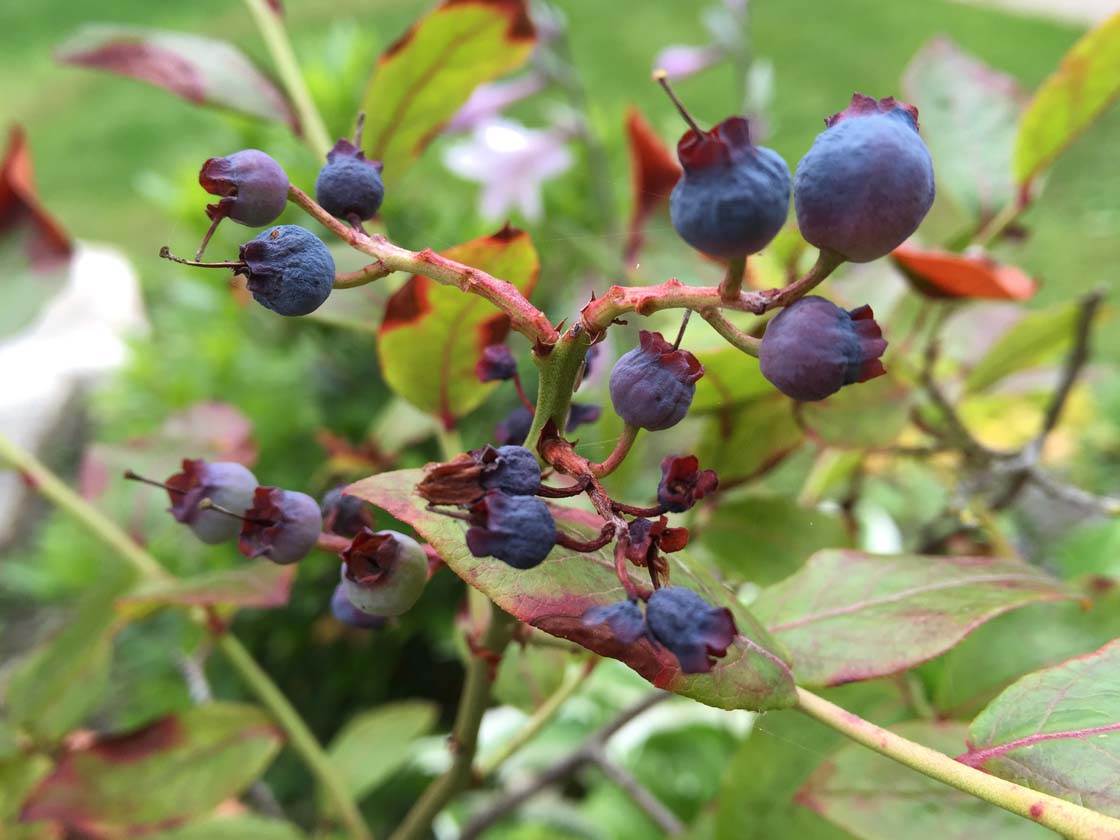 The subject now fills most of the frame and more detail is captured. However, you can get even closer with the other Inmacus Filters!
+8 HD Closeup Filter
The +8 Closeup Filter provides a slightly higher magnification than the +5, letting you focus from a distance of 4cm (1.57in).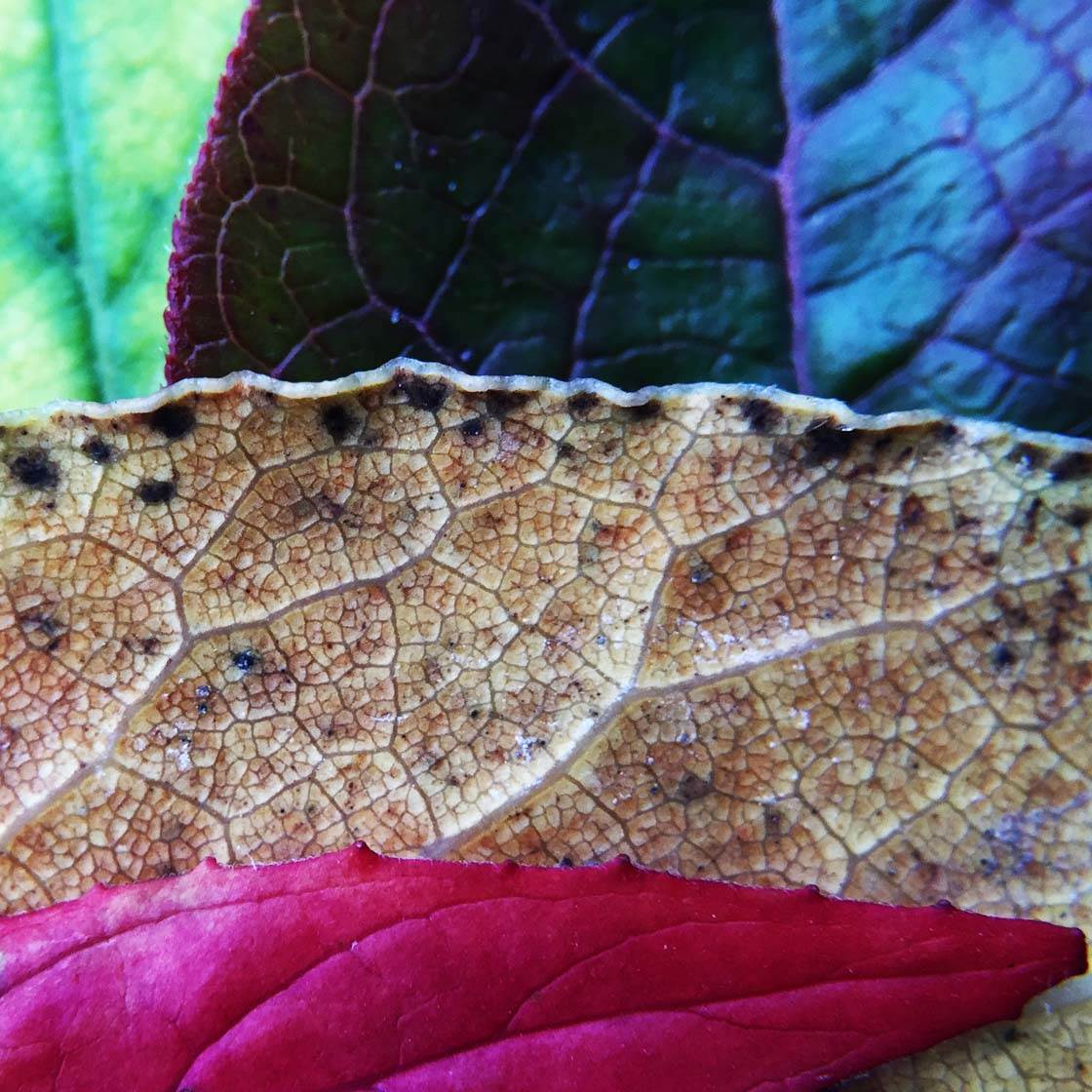 Above and below are a couple of shots of leaves that I took using the +8 filter. It allowed me to capture the intricate detail and texture of these leaves.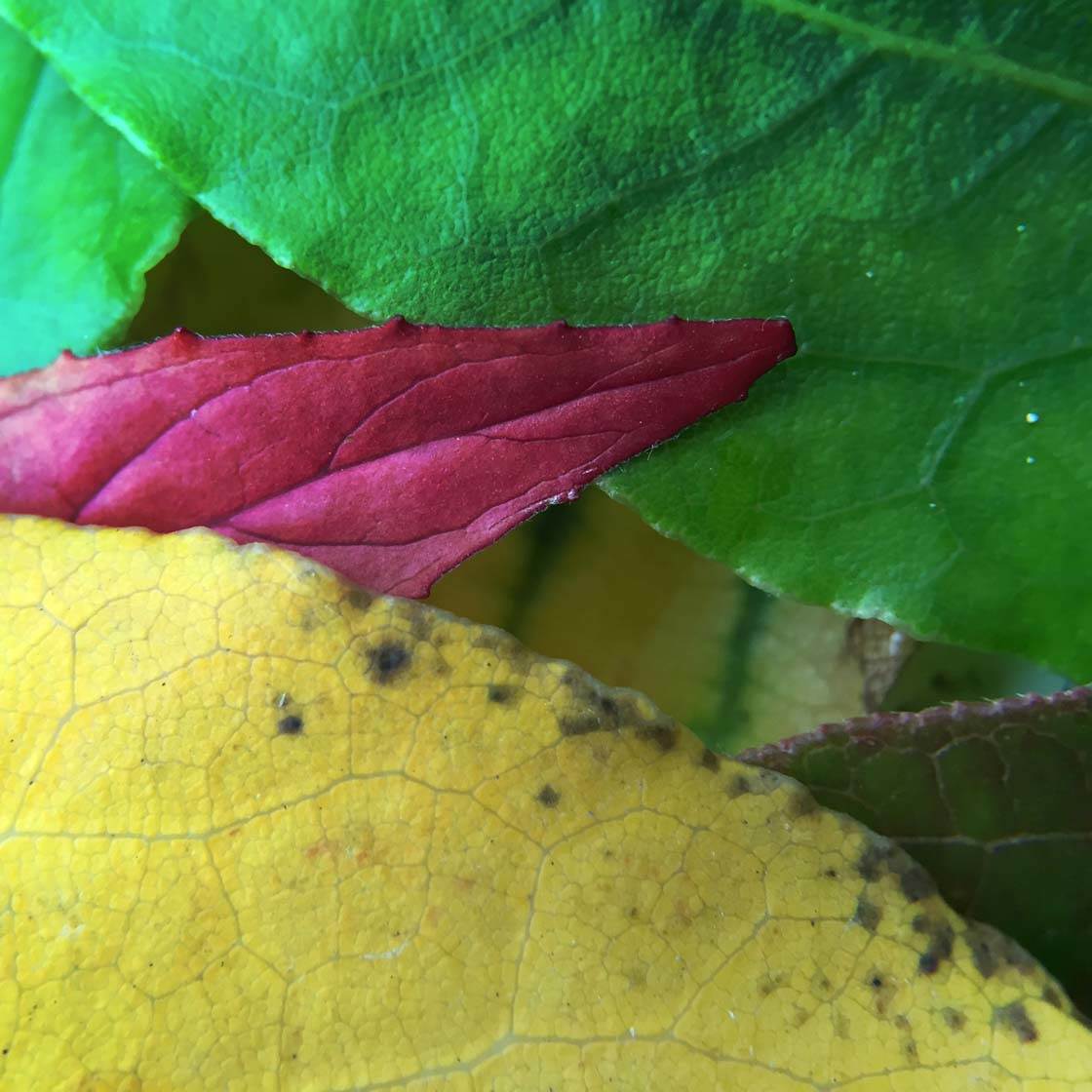 +10 HD Macro Filter
The +10 Macro Filter lets you shoot as close as 3cm (1.18in) away from your subject. When shooting very close to your subject, you need to bear in mind that the depth of field will be very shallow.
This means that only a small part of the scene from front to back will be in focus, as you can see in the photo below. It's therefore essential that you set your focus point very carefully to ensure the most important part of the scene is in sharp focus.
After tapping to set focus on your chosen area, it's vital that you don't move the camera forwards or backwards as this will change the point that's in focus.
The same is true when photographing moving subjects. If the subject moves, the focus will end up on a different part of that subject. This can be particularly challenging when photographing insects as they don't stay still for long!
+23 Macro Filter Combination
The best thing about the Macro Filter Kit is that you can attach all three closeup/macro filters (+5 first, then +8, then +10) to get a +23 magnification. Using this combination of lenses you can shoot from just 1.5cm (0.59in) from your subject, which is super close!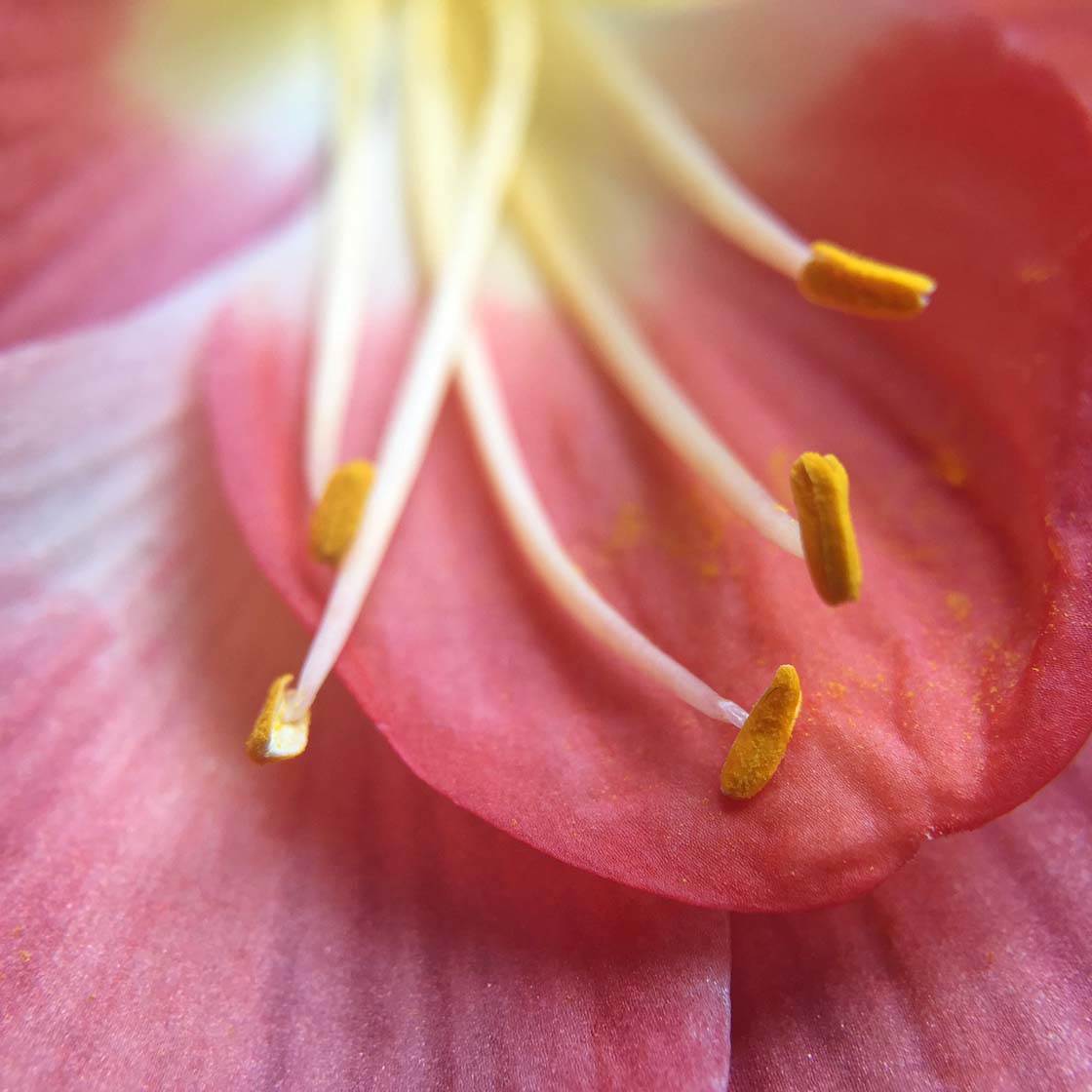 It's worth noting that the closer you are to your subject, the more likely it is that you'll cast a shadow on it, blocking precious light from reaching your subject.
At the incredibly close focal distances these macro lenses offer, it won't just be you that blocks the light – it'll be the body of the iPhone itself! So be prepared to bounce some available light in from the sides, or use a pair of artificial light sources to provide extra light from the sides.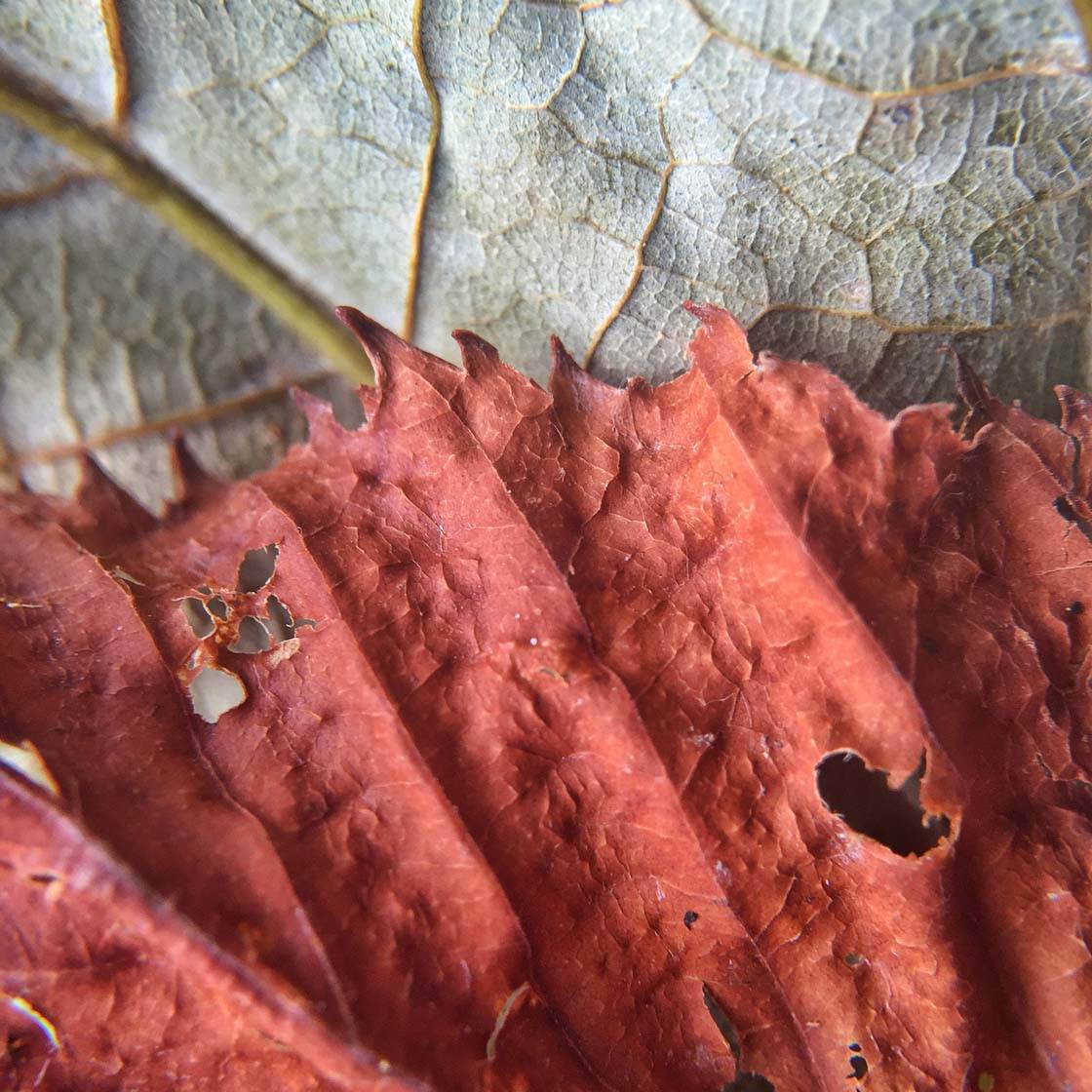 As you can see from the photos that I took using these macro filters, the quality is superb and captures fine detail and texture at very close distances.
Just like the Wide Angle Lens Kit, I'm really impressed with the lack of distortion and edge-blurring when shooting with the Inmacus Macro Filters.
Of course, you still have to contend with an increasingly shallow depth of field, but this is true of all macro lenses, and with careful focusing this can be used to great effect.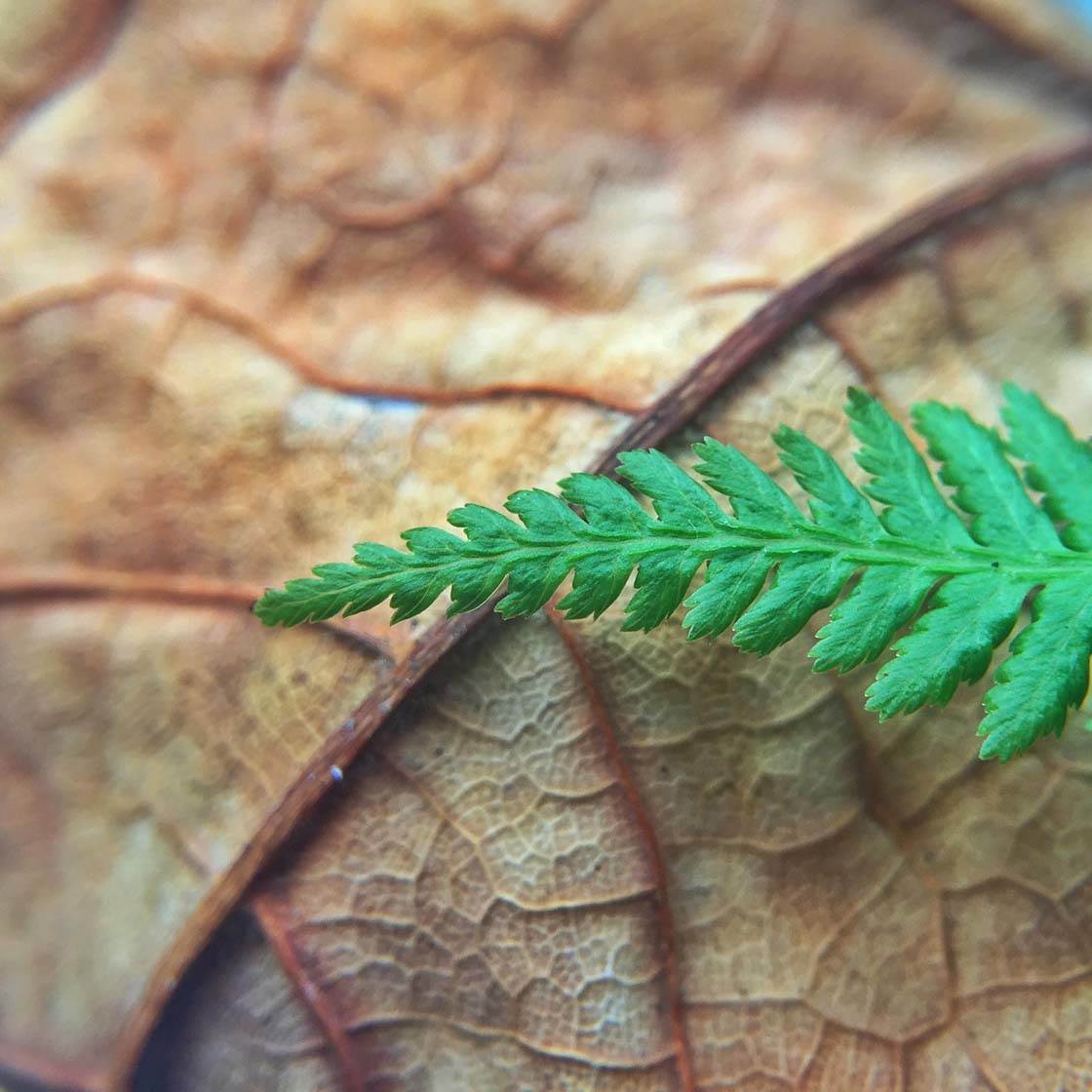 Extras Accessories Included
With each lens kit, Inmacus provide a soft drawstring pouch to store the lenses and adaptor in when you're not using them. They also include a high quality microfibre lens cloth which you should definitely make use of to ensure your lenses are clean and streak-free!
Conclusion
These lenses and filters are by far the best quality that I've reviewed so far. To summarize, these lens kits constitute an excellent, well designed, well-engineered offering from Inmacus – all at a bargain price.
I would definitely recommend purchasing one or both of these kits if you're currently looking for a high quality lens system for your iPhone.
The only addition I would like to see is the ability to use the lenses and filters while having a protective case on my iPhone. Maybe that's something they'll think about offering in the future.
If you purchase before July 31, 2015 you'll get a 50% discount on both kits. During this discount period, the Wide Angle Kit costs $29.95 (regular price $59.90) and the Macro Filter Kit is $24.95 (regular price $49.90).