Do you want to take unbelievable photos of children with your iPhone? Doing incredible children photography may seem difficult. But you can take stunning photos of children! Read on to discover 9 tips for wonderful child photography.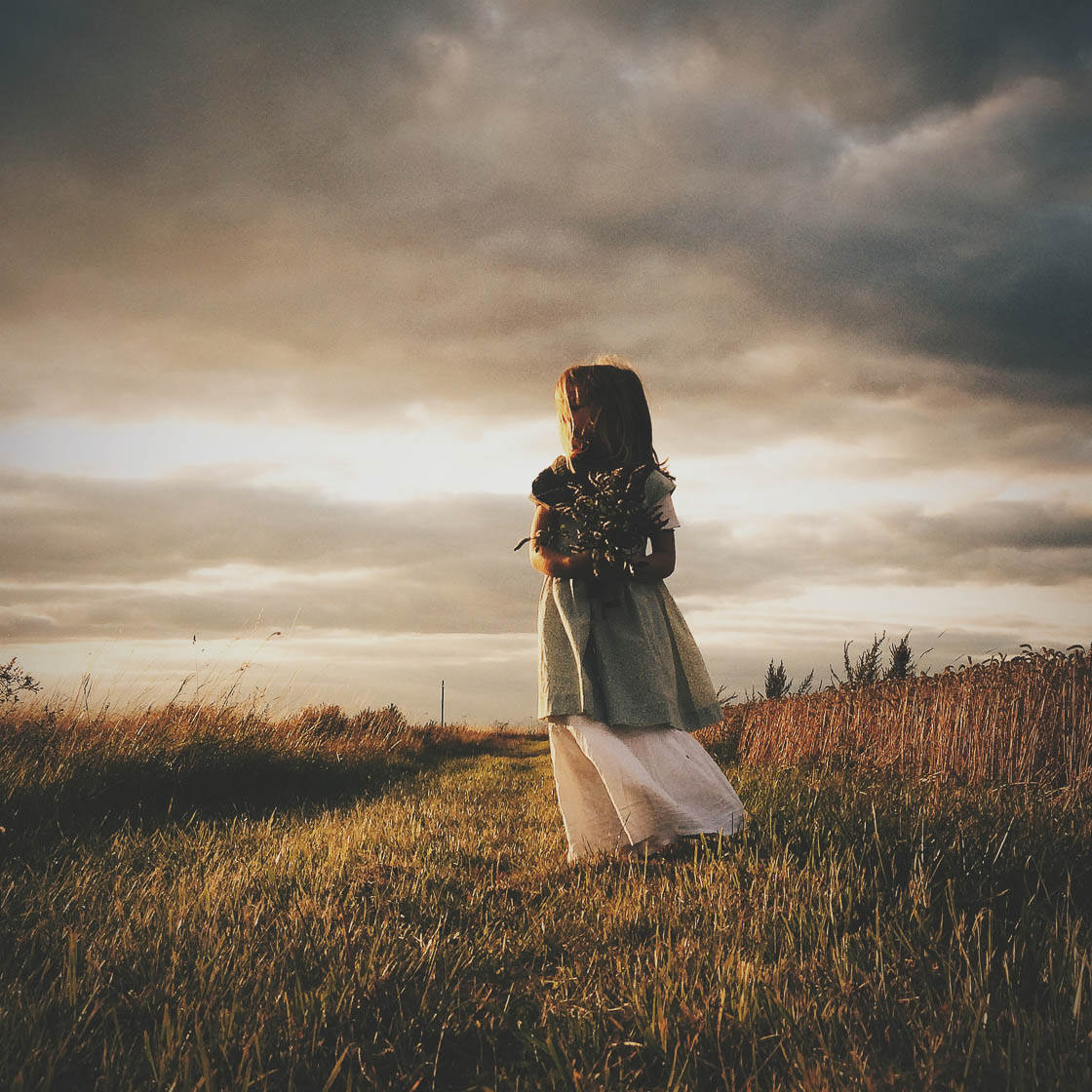 1. Empathize With Your Subject For The Most Natural Photos
Here's one of the most important children photography tips I can give:
When photographing children, empathize with them.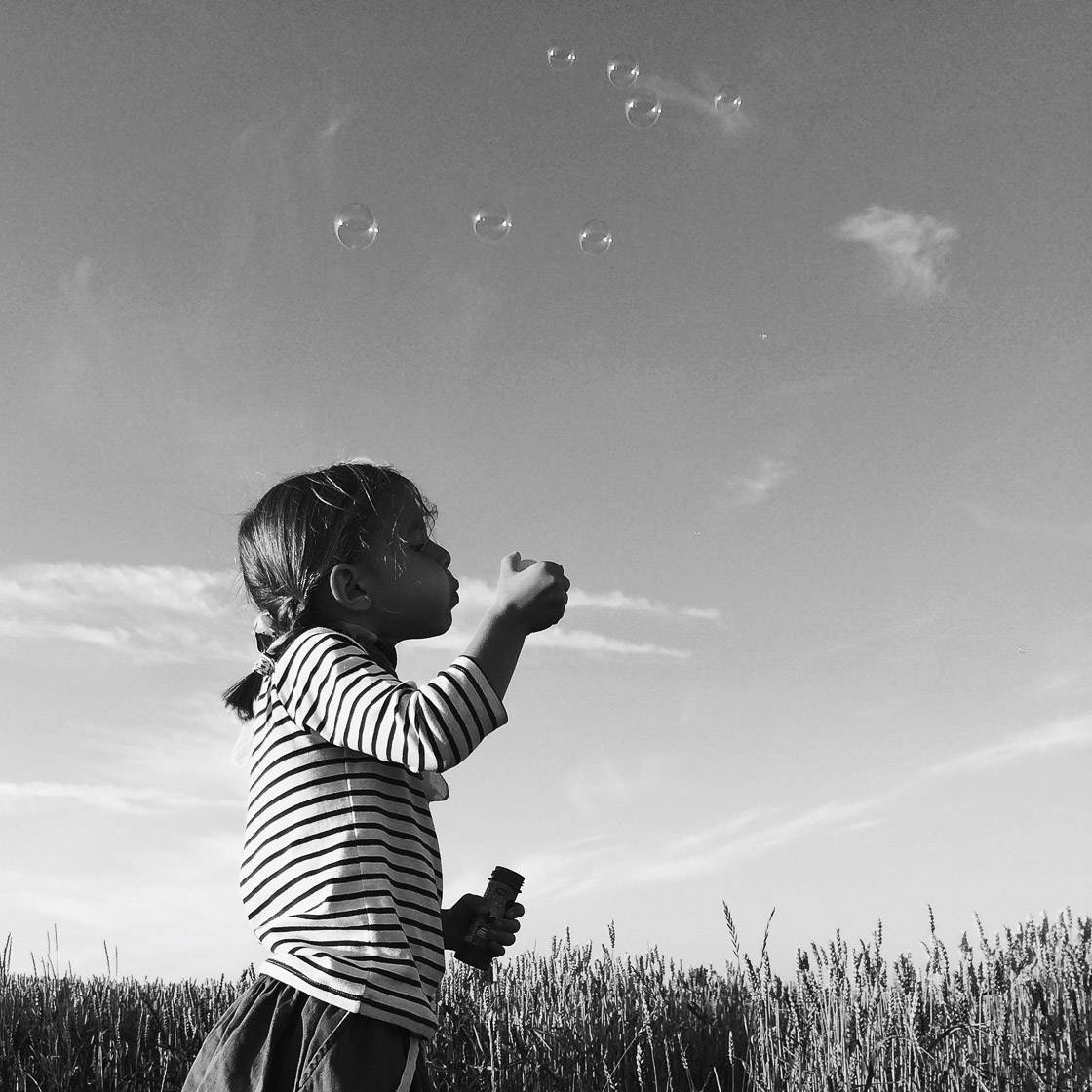 Before you start shooting, you need to be able to put yourself in your subject's shoes.
Remember what it was like to be a kid. Laugh. Make funny faces. Try to channel your inner child, if only for a few minutes.
Only then should you turn on your camera.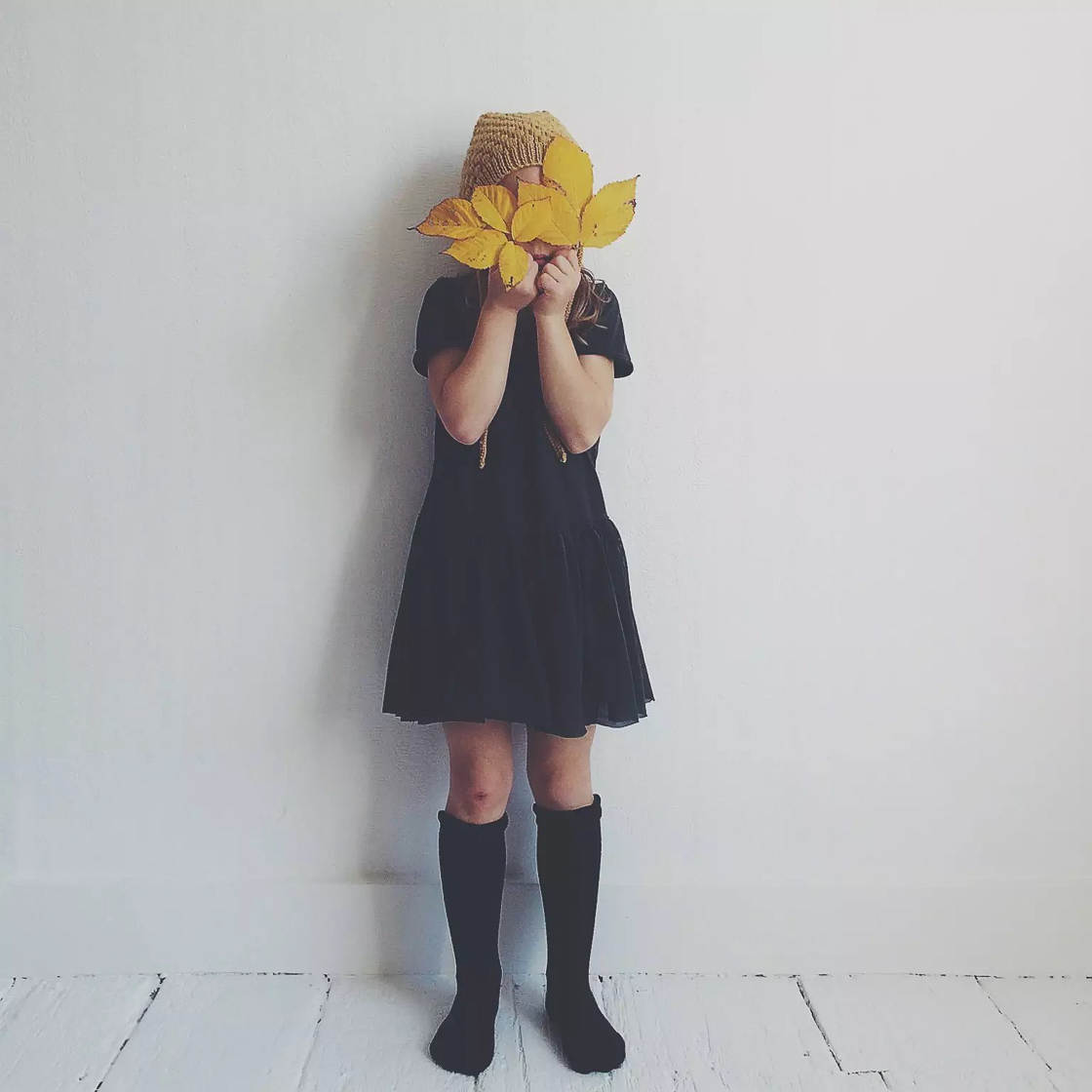 Why is this so important?
Children are young and carefree. They laugh, they play, and they run about. In many ways, children live in their own little world.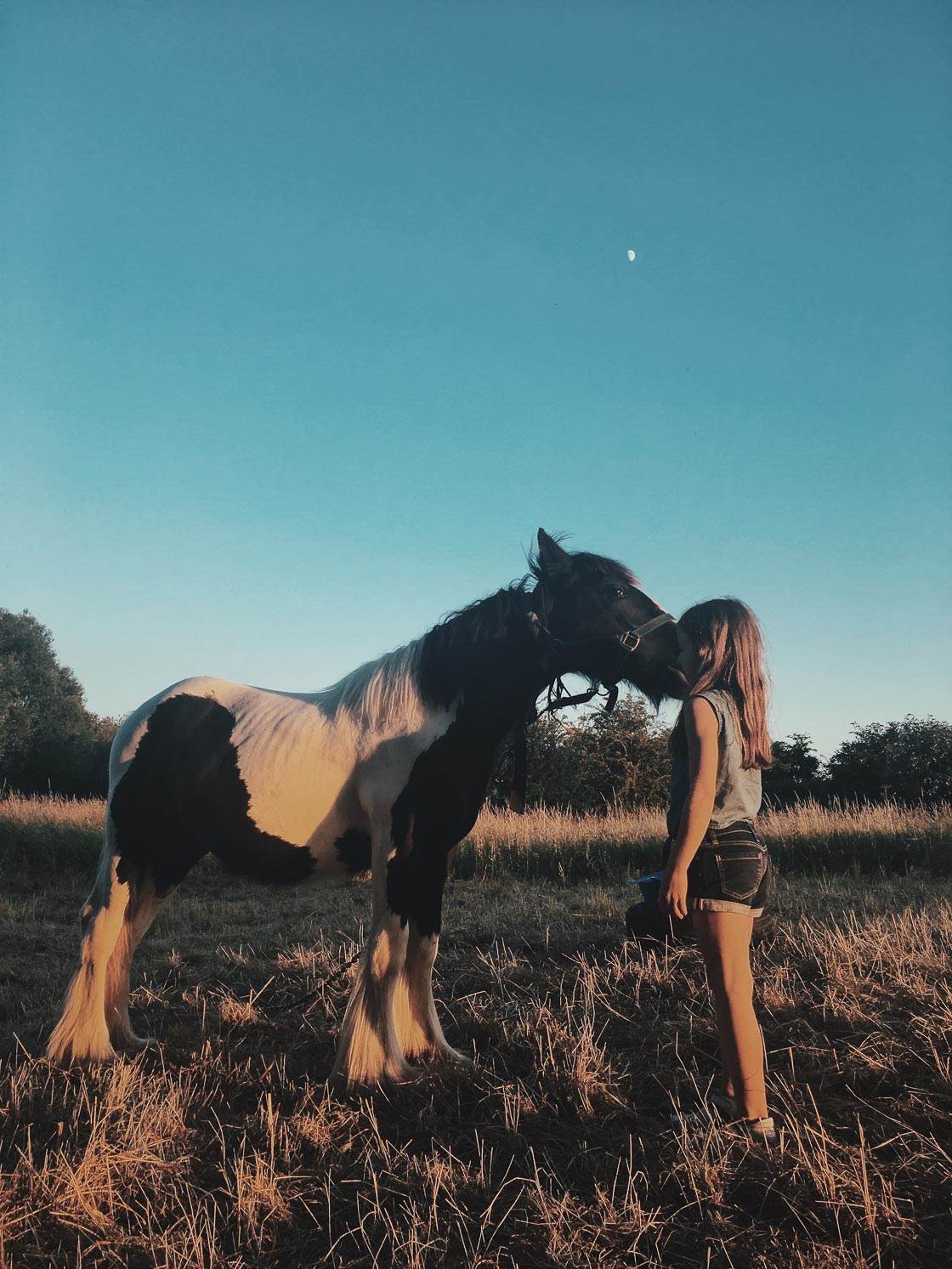 And, as a photographer, you have the opportunity to capture something beautiful. You can show children as they really are.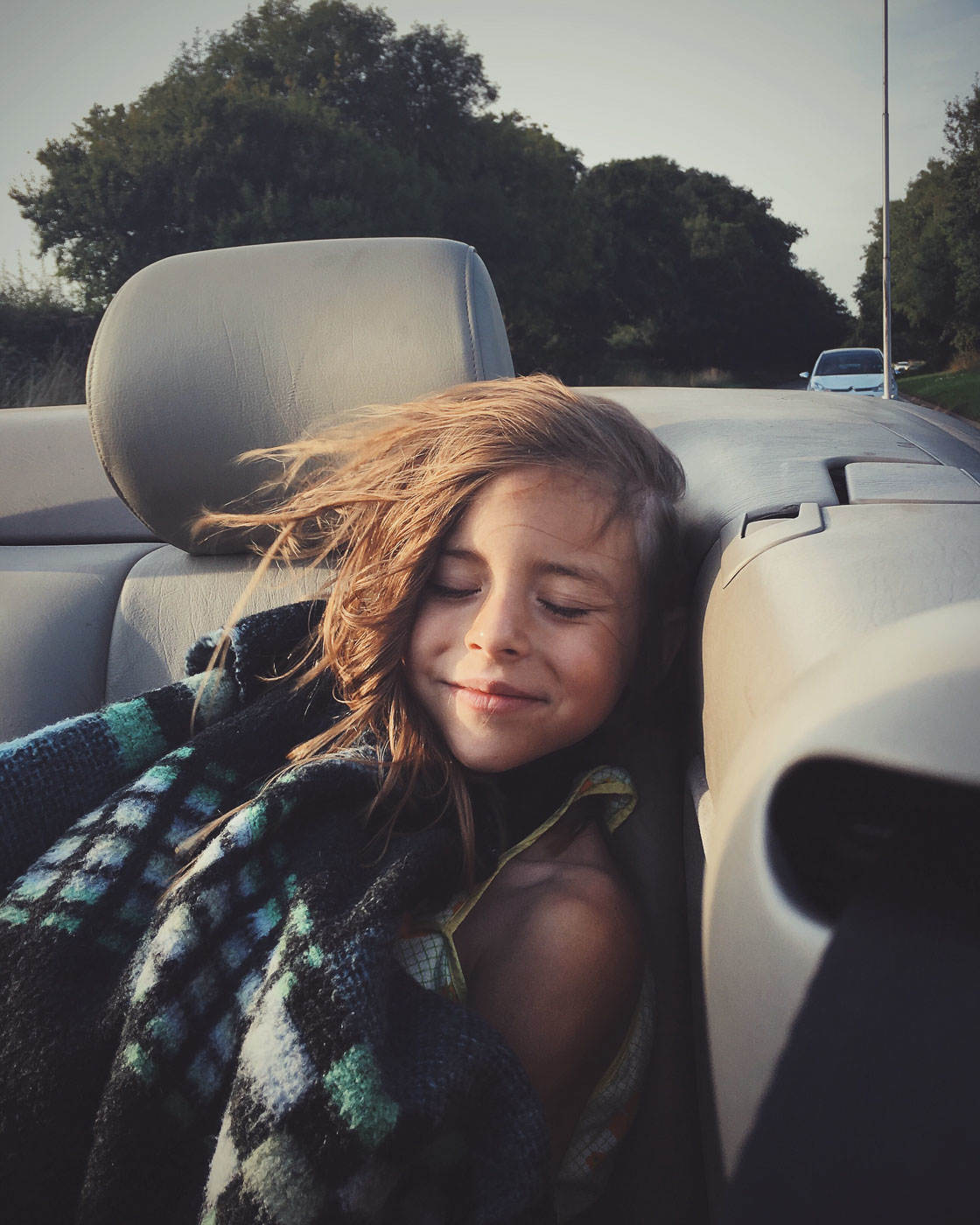 For instance, look at the photo below. By empathizing with my subject, I was able to capture something natural and beautiful. The expression on her face feels genuinely childlike…because it is.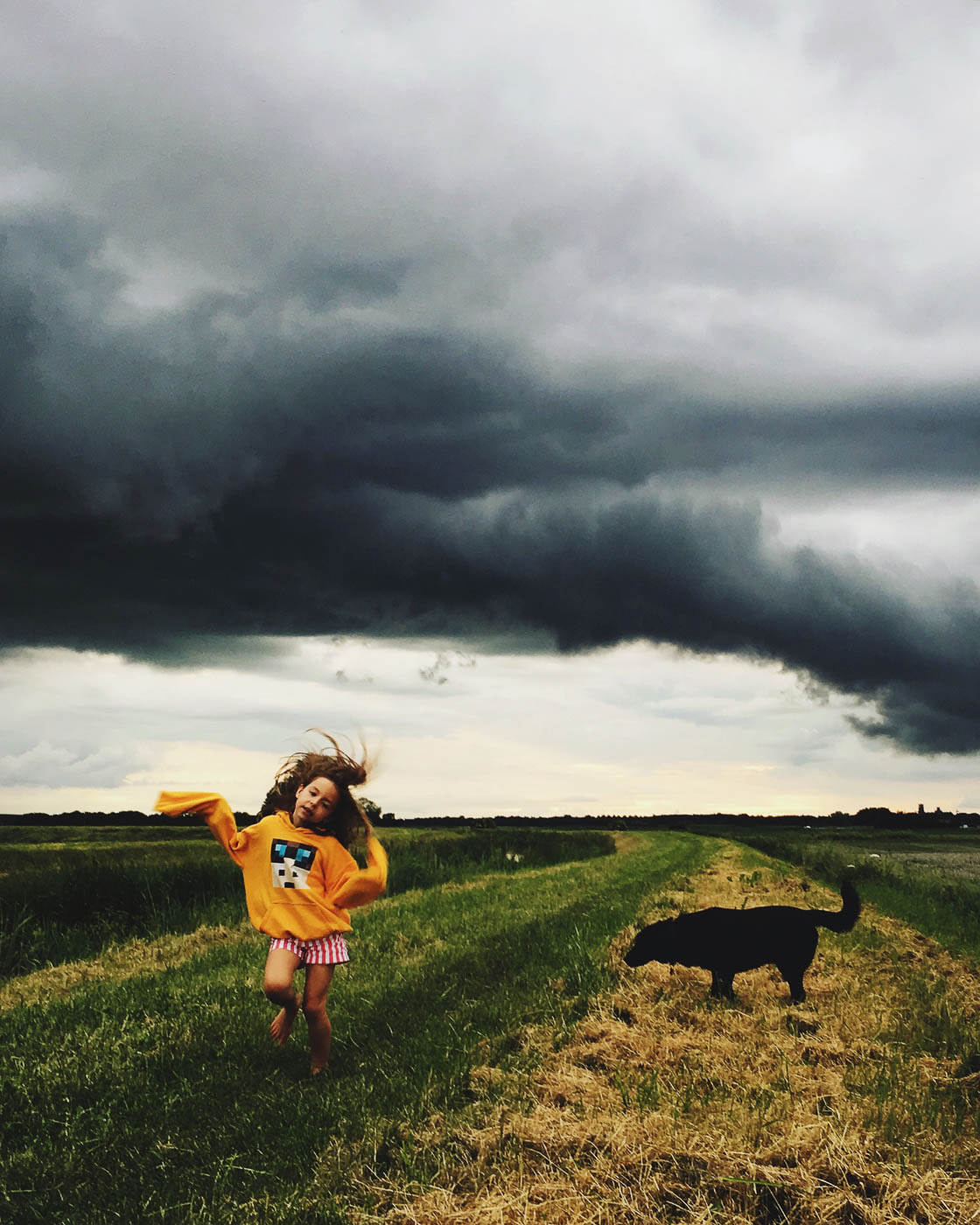 But you can't do this unless you empathize with your subject. Otherwise, you'll end up making your subject feel uncomfortable. Their poses will become static and boring. Your pictures will suffer.
Plus, if you can't empathize with your subject, you won't understand them. You won't connect with them. You'll even lose the ability to see beautiful moments worth capturing.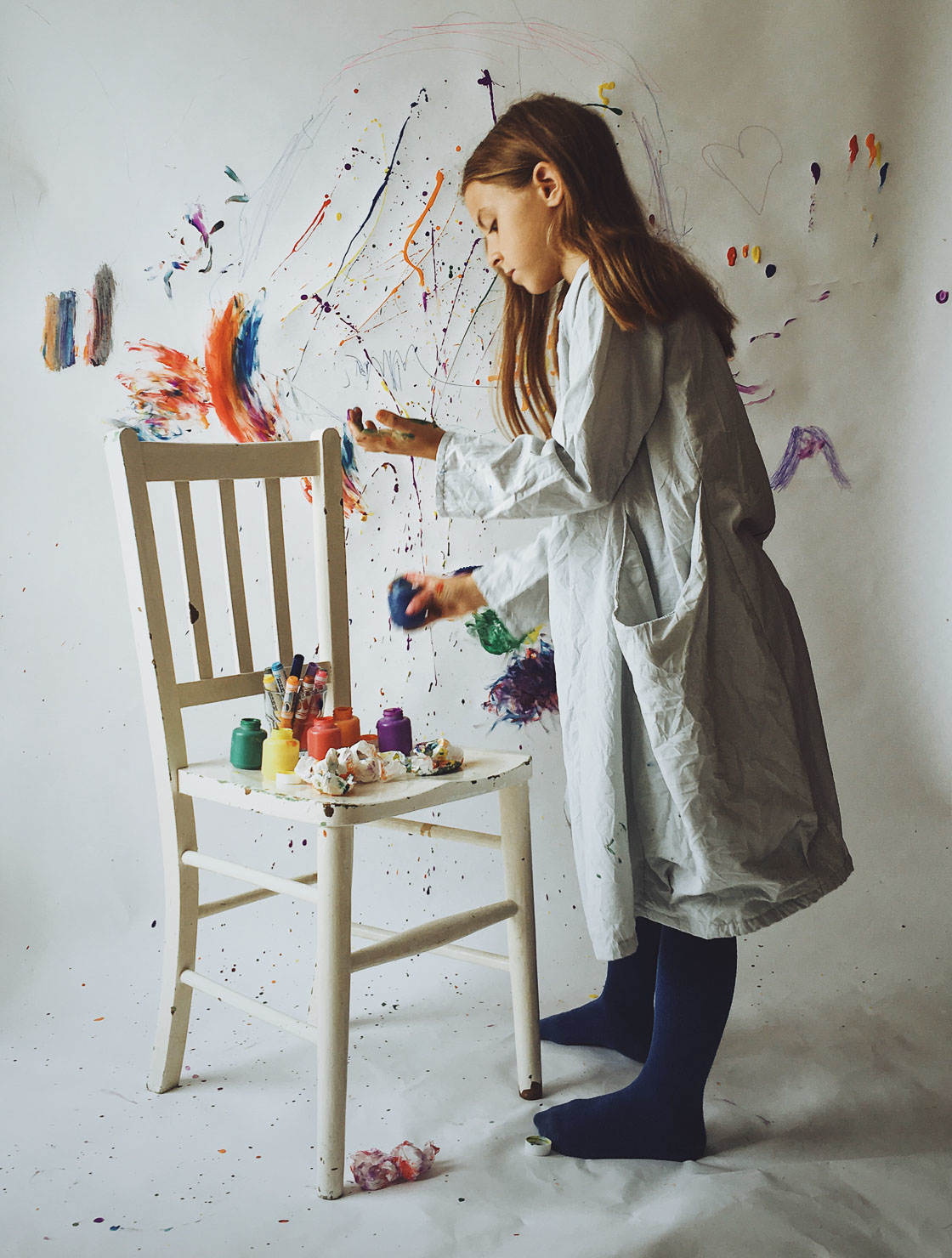 However, if you empathize with your subject, you'll have a connection. You'll be able to capture natural, authentic, beautiful photos.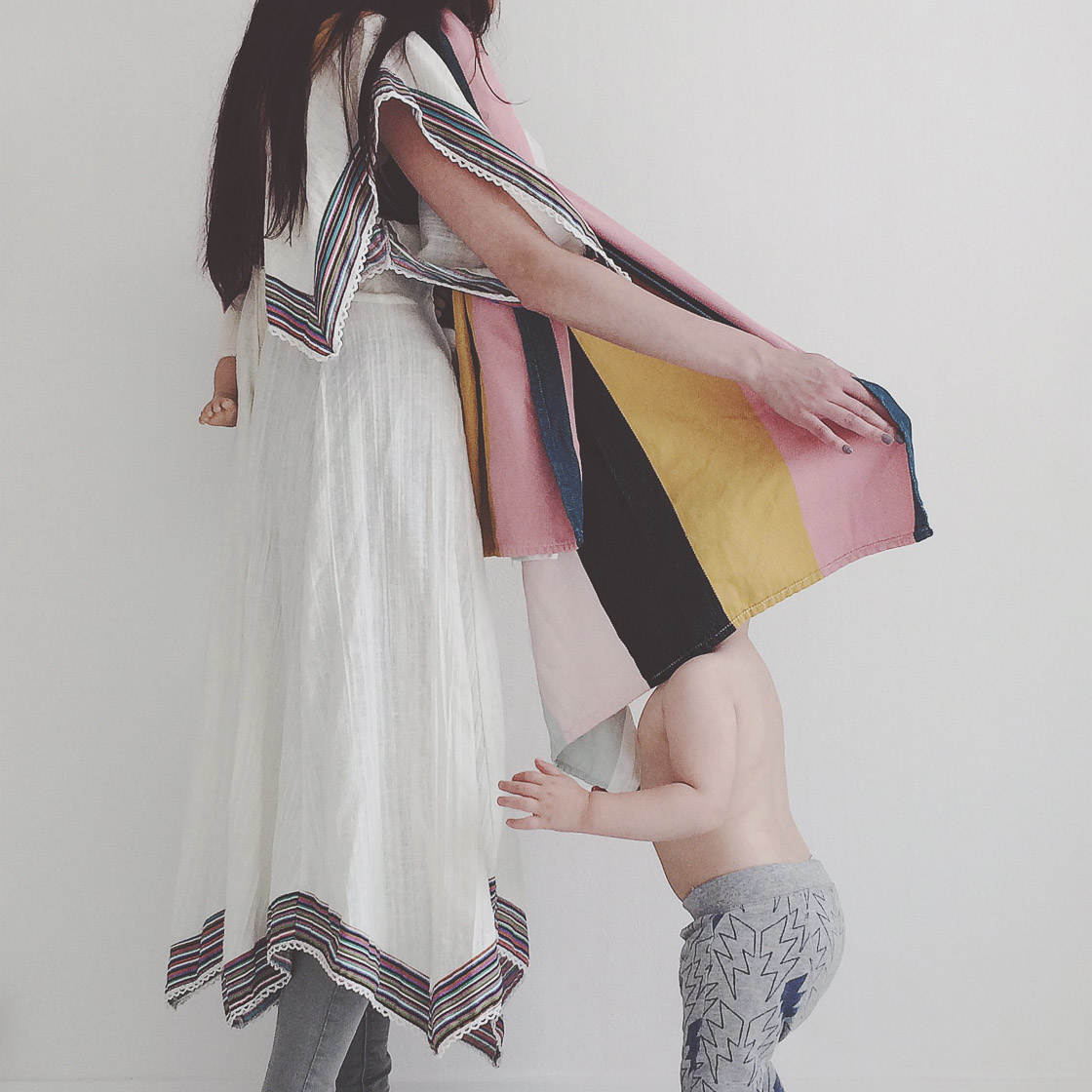 2. Choose Subtle Clothing For Beautiful Images of Children
Choosing a subject's clothes can be one of the most difficult parts of child photography.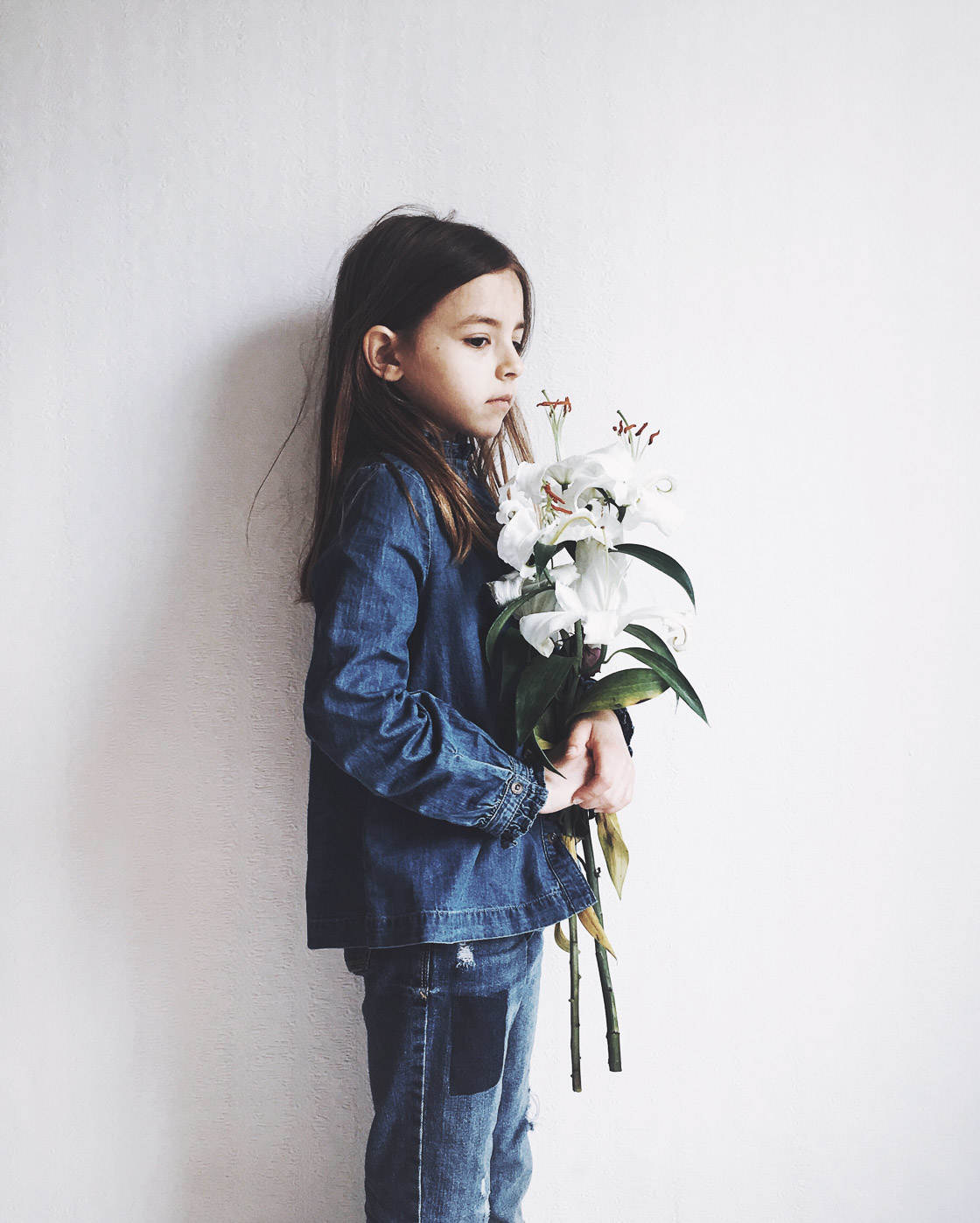 Of course, it really comes down to the preferences of the photographer. But here are a few clothing guidelines that will enhance your child photography.
First, choose subtle colors. Avoid neon yellows, angry reds, and hot pinks. Instead, keep your clothing choices low-key: sky blues and autumn oranges, for instance.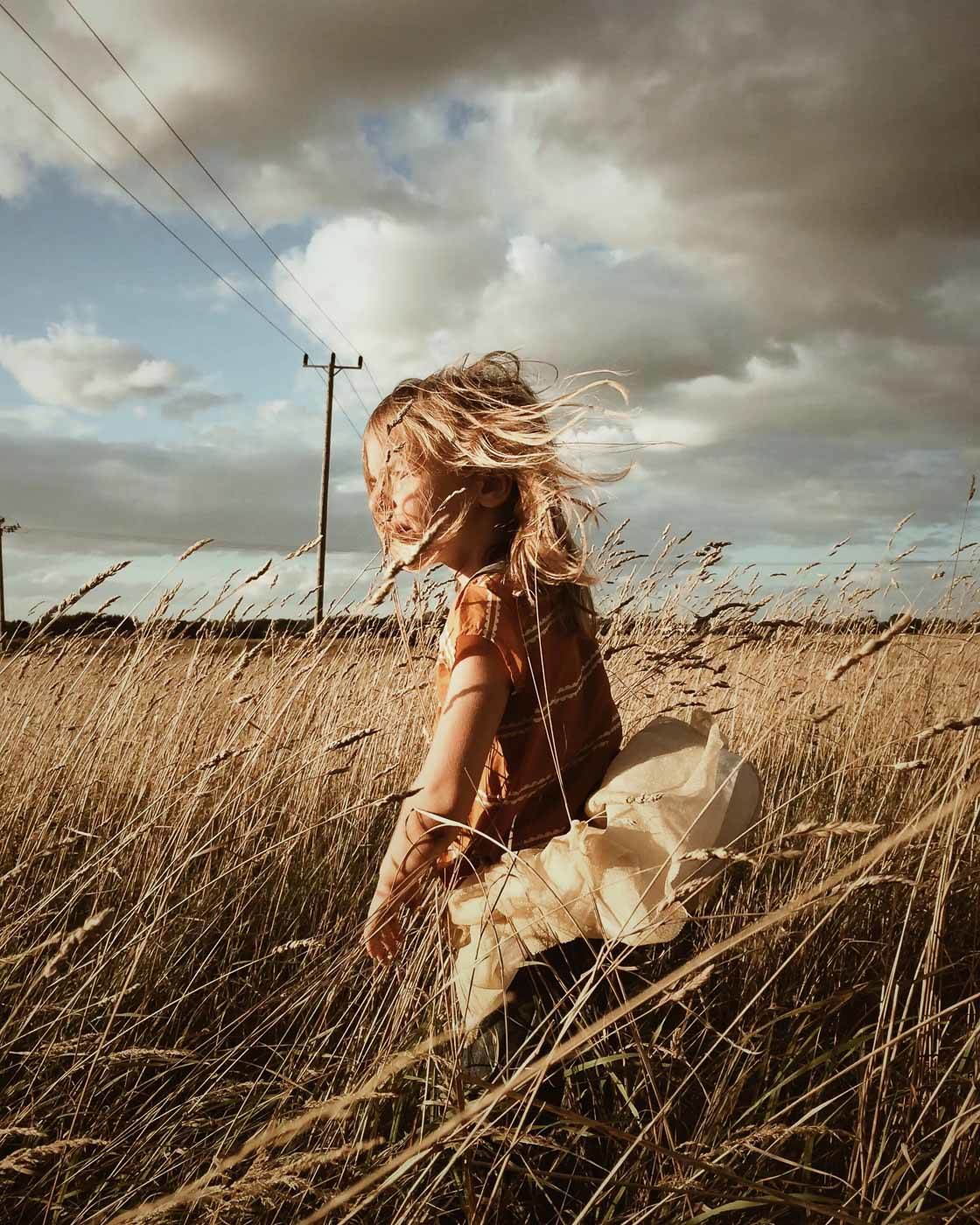 These colors will complement your subject without overpowering them.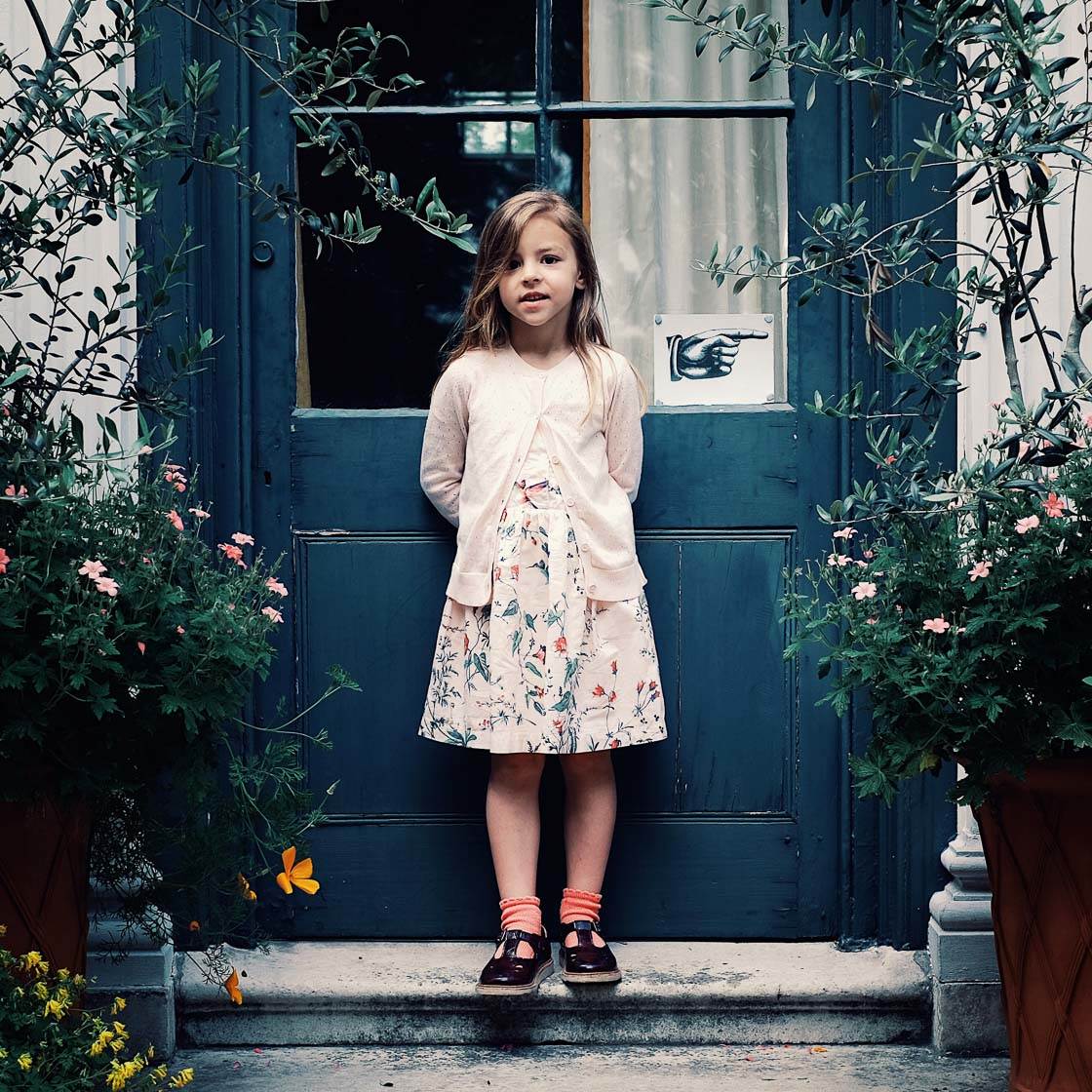 For the photo above, my subject wore subtle, creamy colors. These work well with colors in the background. The creamy colors don't dominate the frame. Instead, they become a part of it.
There are exceptions to the 'subtle colors' rule. If you're shooting in bright sunlight, bolder colors can work better.
For the shot below, the light was very bright and harsh—and the bolder clothes added to the shot.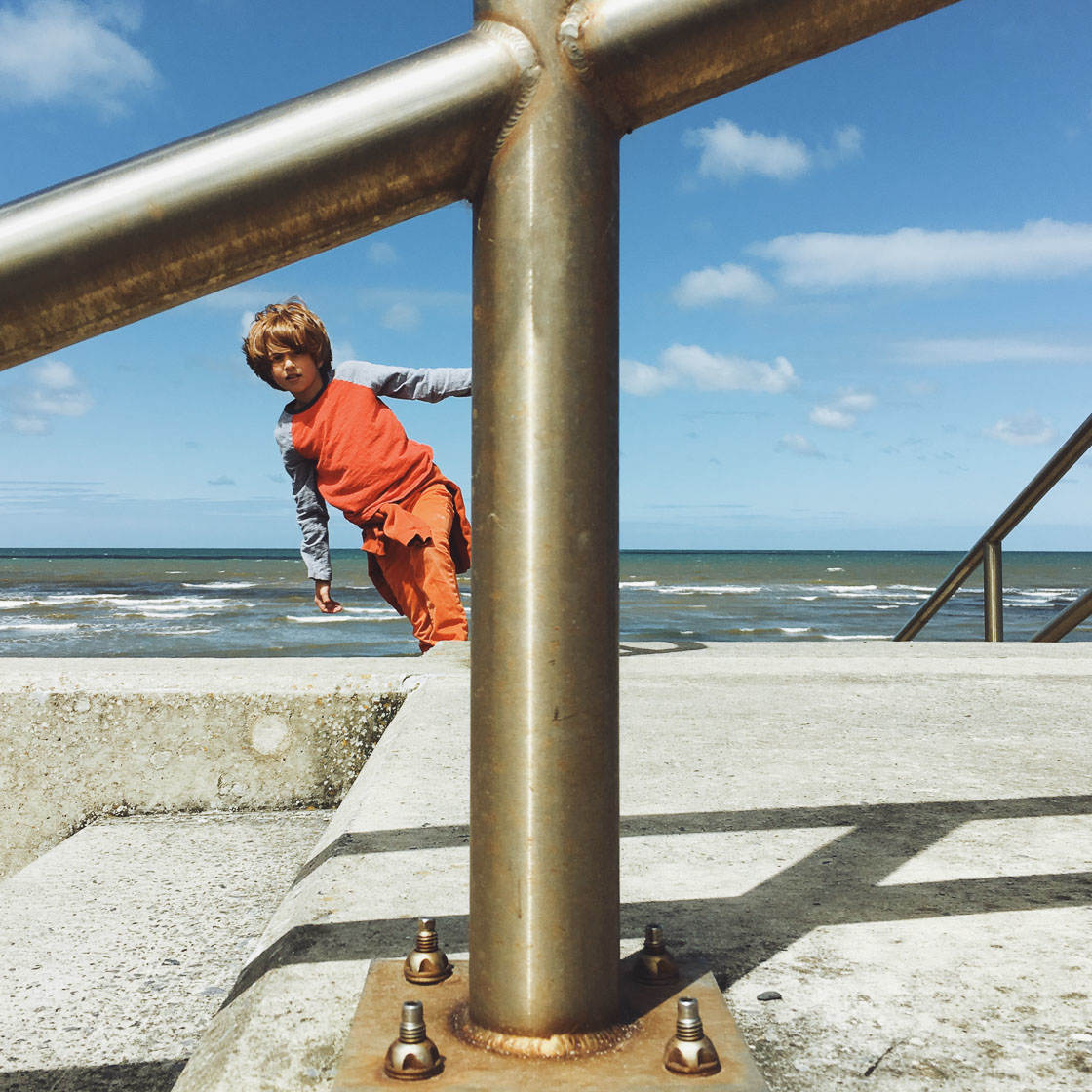 In general, however, it's best to stick to more subtle colors. Because the bolder your colors, the more they take away from the subject. If you photograph a child wearing a blazing red top, the photo isn't about the child. It's about the clothing.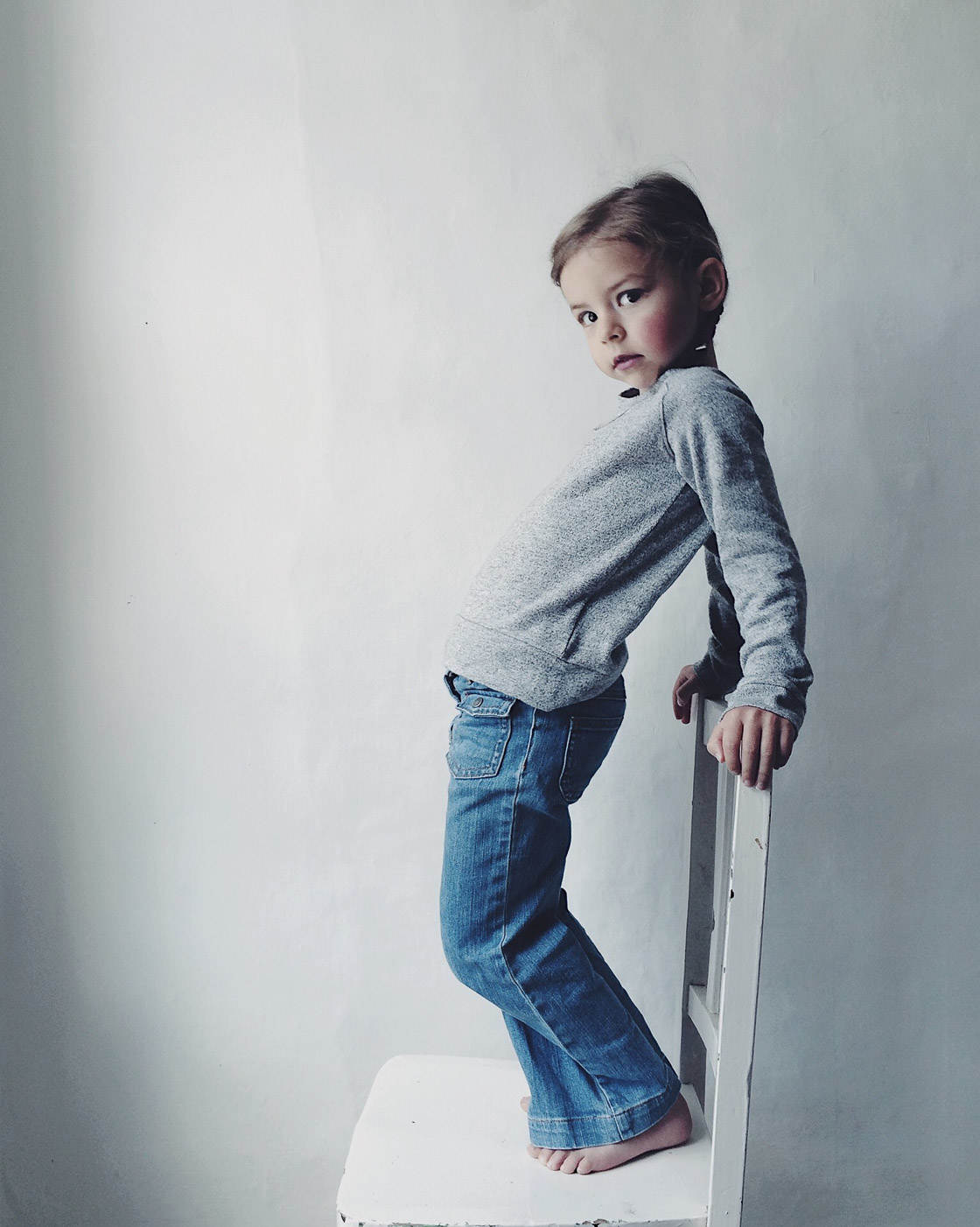 For the most beautiful images, choose more subtle clothing. That way, you'll be able to take photos that emphasize your subject—rather than their clothes!
3. Learn To Read Light To Get The Most Incredible Children Photography
Here's my favorite technique for getting amazing photos of children:
Learn to read the light.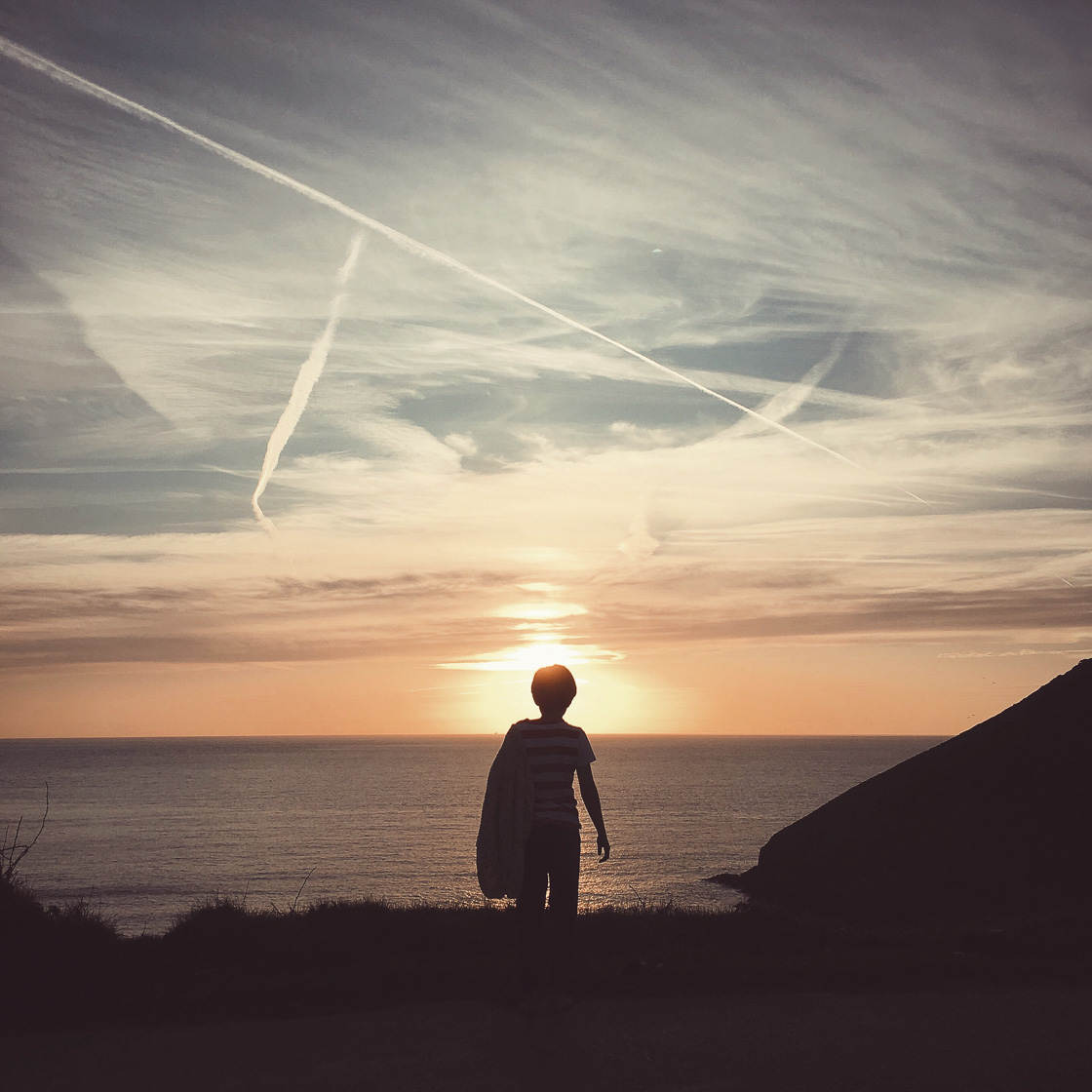 That is, observe the light. Watch how it changes depending on the weather and the time. Watch how the temperature of the light goes from cold (when cloudy) to warm (when sunny). Learn to predict how the light is going to change.
The more you understand light, the better your photos will be.
For instance, I like to go out to shoot an hour before sunset. This is when the light is warm and golden. I shoot from the second I go out until it's pretty much dark.

But do you know my favorite time to shoot? It's the moment when the sun clings to the edge of the horizon. It's the moment when the sun barely exists. That's the moment I always wait for. The light turns a beautiful red. And it makes for incredible photos.
I took the photo below just as the sun sank below the horizon.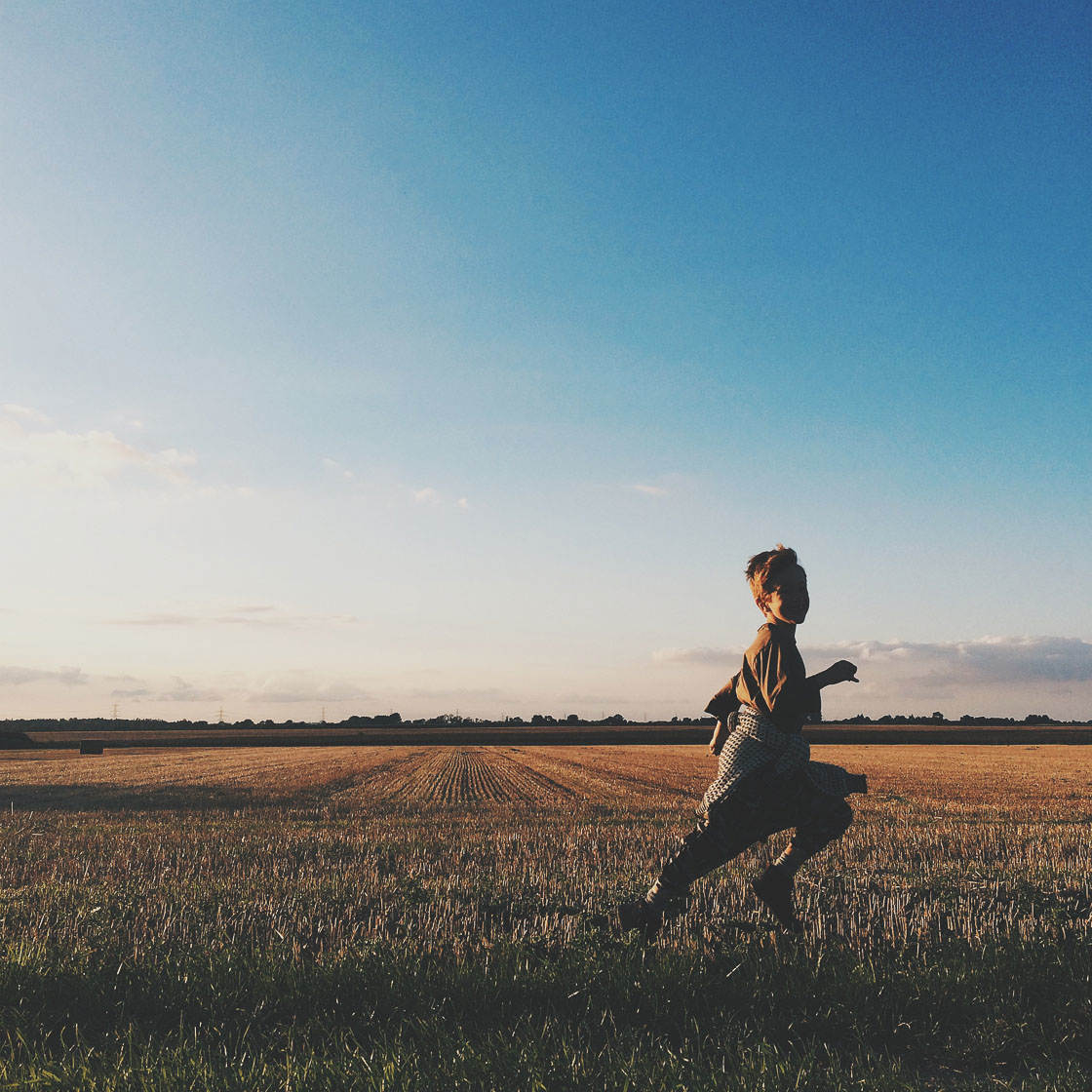 Why am I telling you this?
I'm telling you this because that beautiful red glow only lasts for a few moments. And if you don't know how to read the light—if you don't know what's going to happen—you'll miss that moment! And you'll miss all of the photos you could've taken.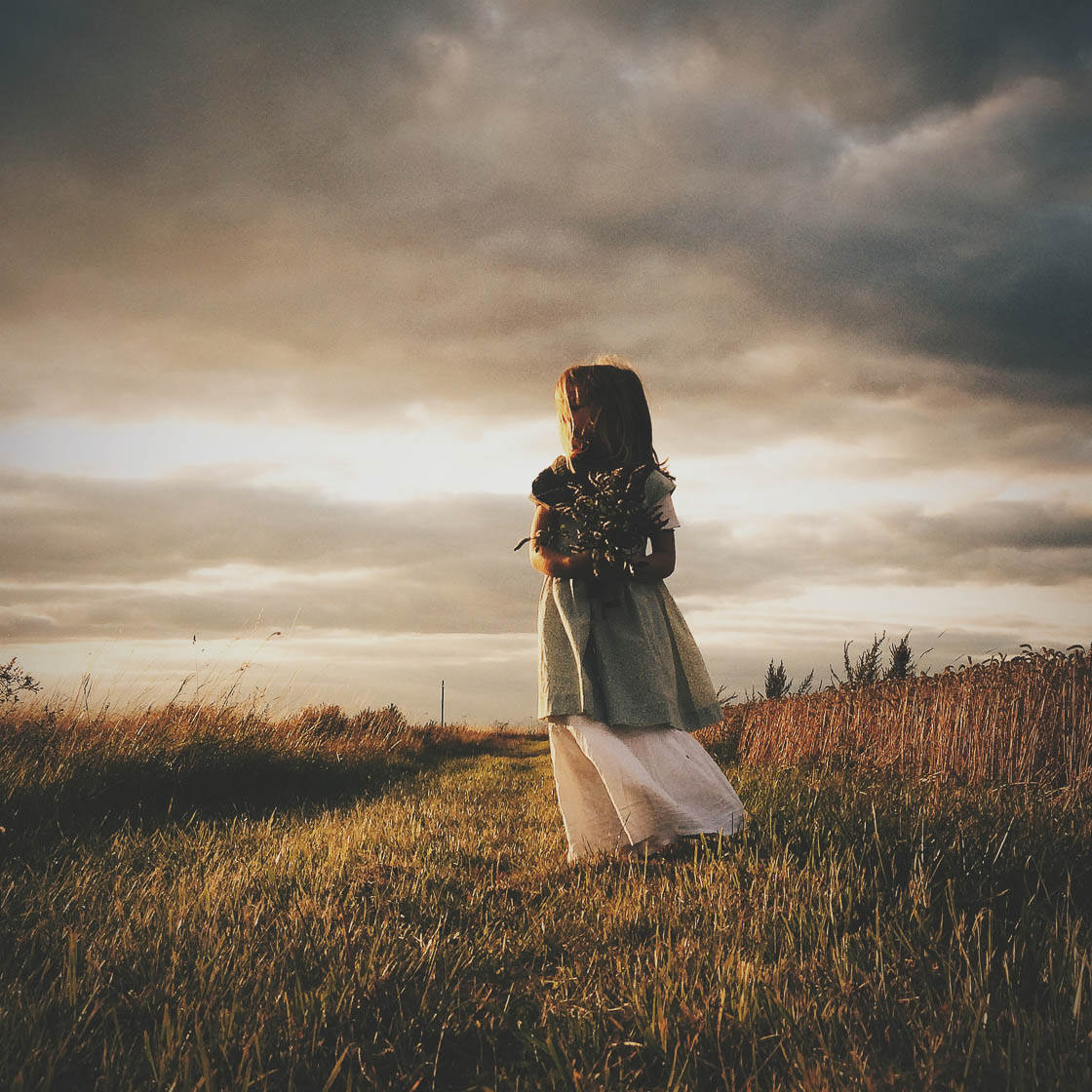 So learn to read the light.
Because the more you read the light, the better your photos will be.
4. Use Window Light For Dramatic Portraits
Do you want to use light to take dramatic images of children?
One way to capture stunning images is to use window light.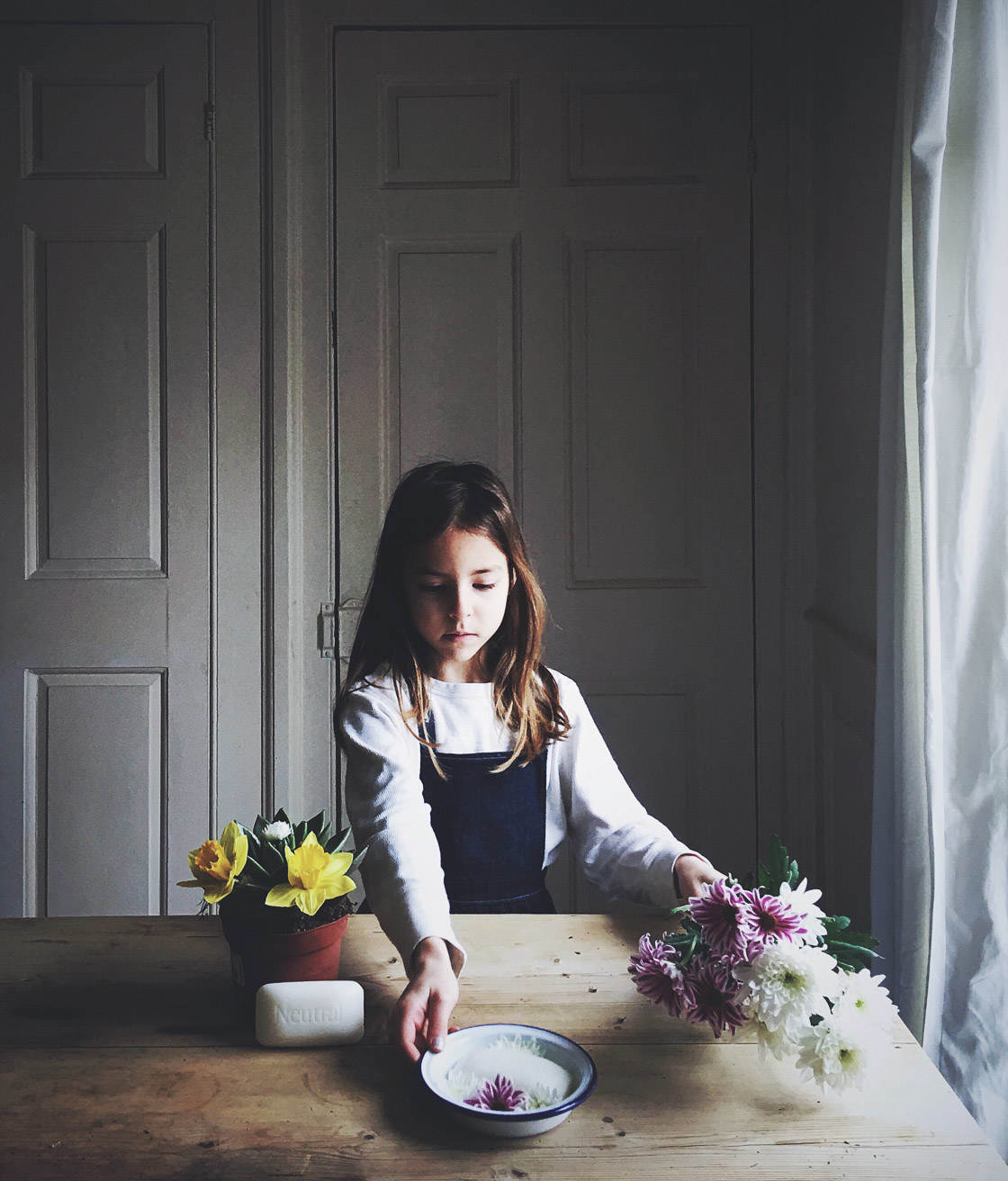 How do you do this?
First, something to note: It's possible to take photos using window light under most outdoor lighting conditions. However, different types of natural light will result in different photos. You'll learn more about this in a moment.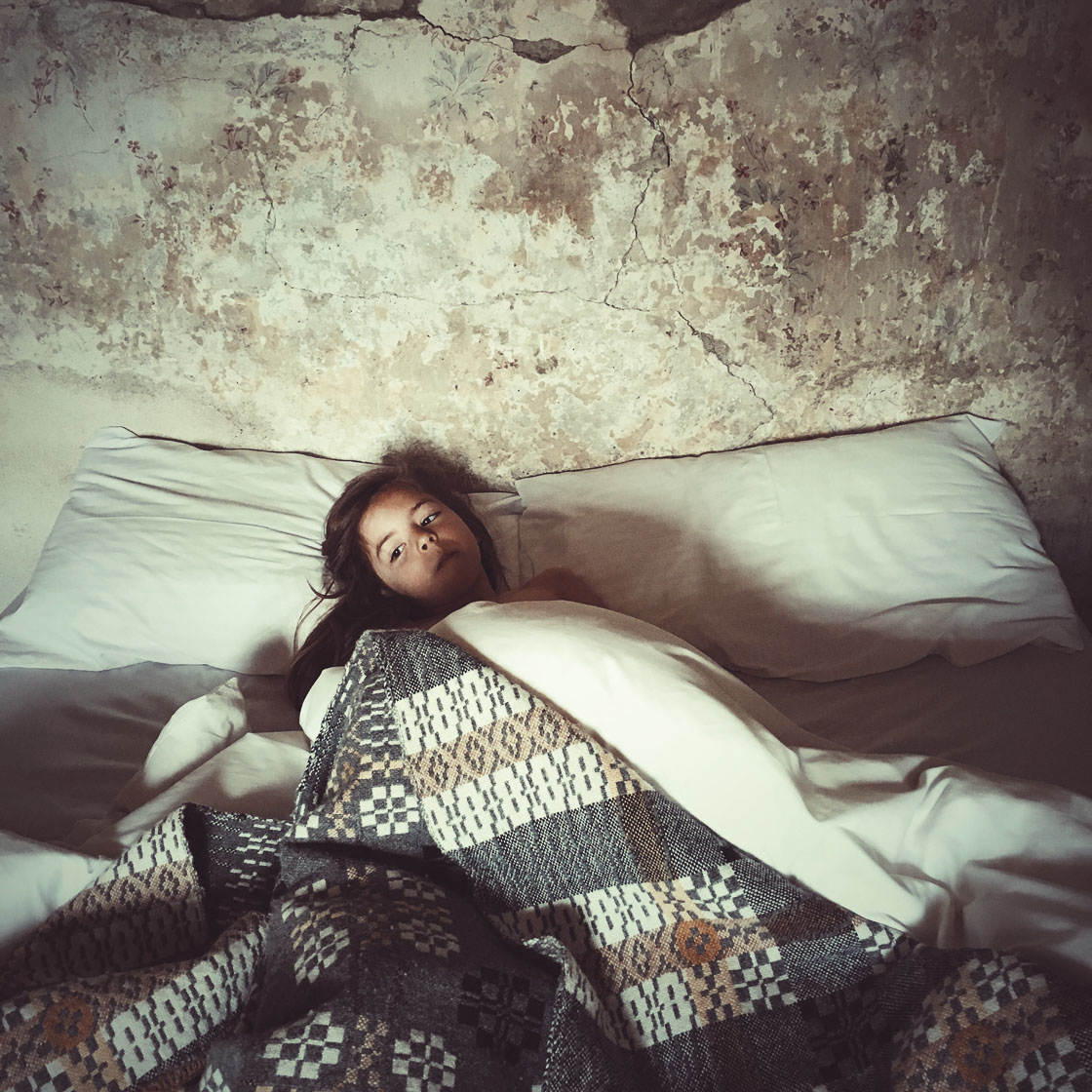 To get dramatic portraits, have your subject stand near the window. Make sure that they're not too close to the glass—you want the light to gradually decline before it reaches their face.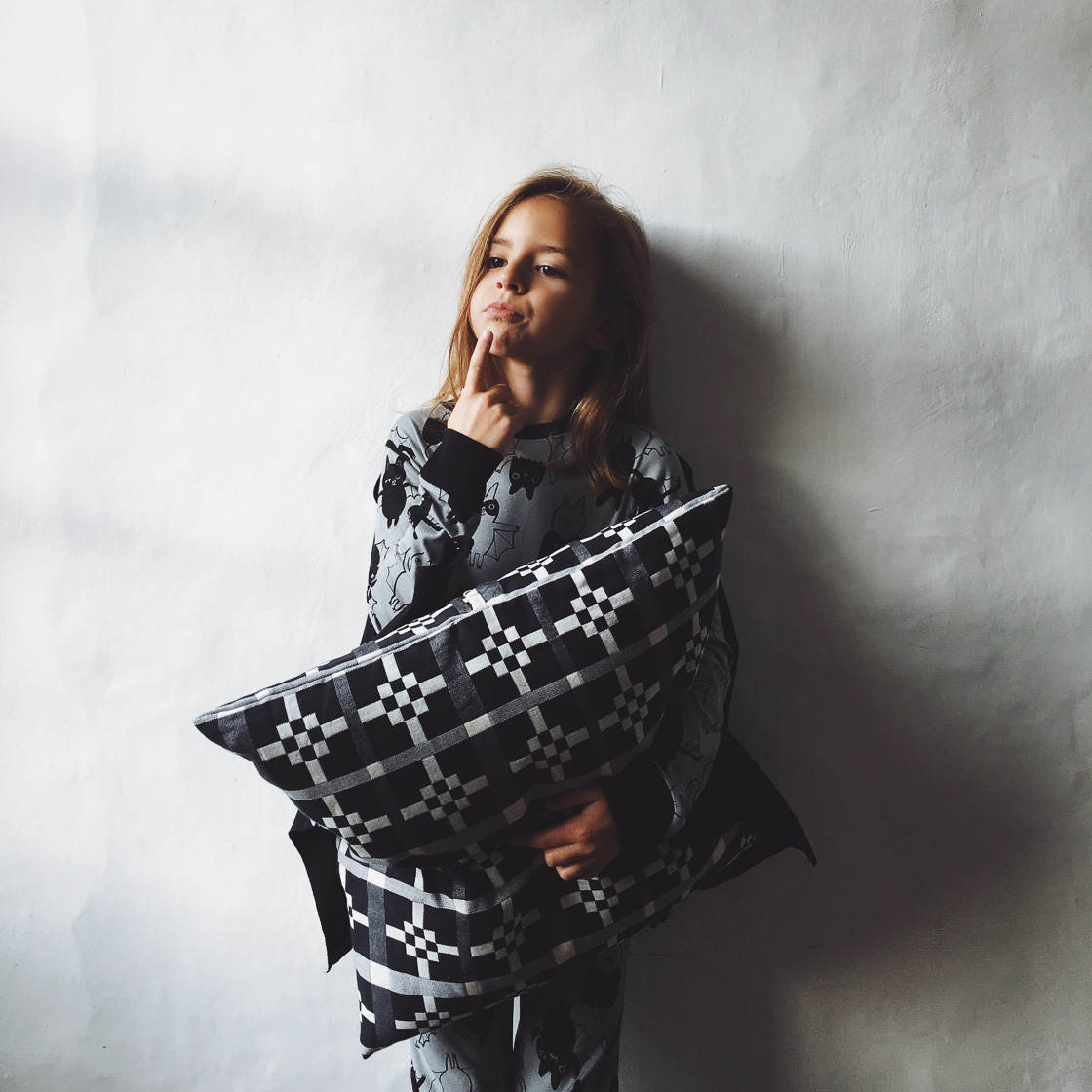 This works especially well when the light isn't shining directly through the window.
For instance, if the sun is high in the sky (e.g., at midday), you'll get a gorgeous effect. And if the sky is cloudy, you'll come away with a subtle, moodier shot.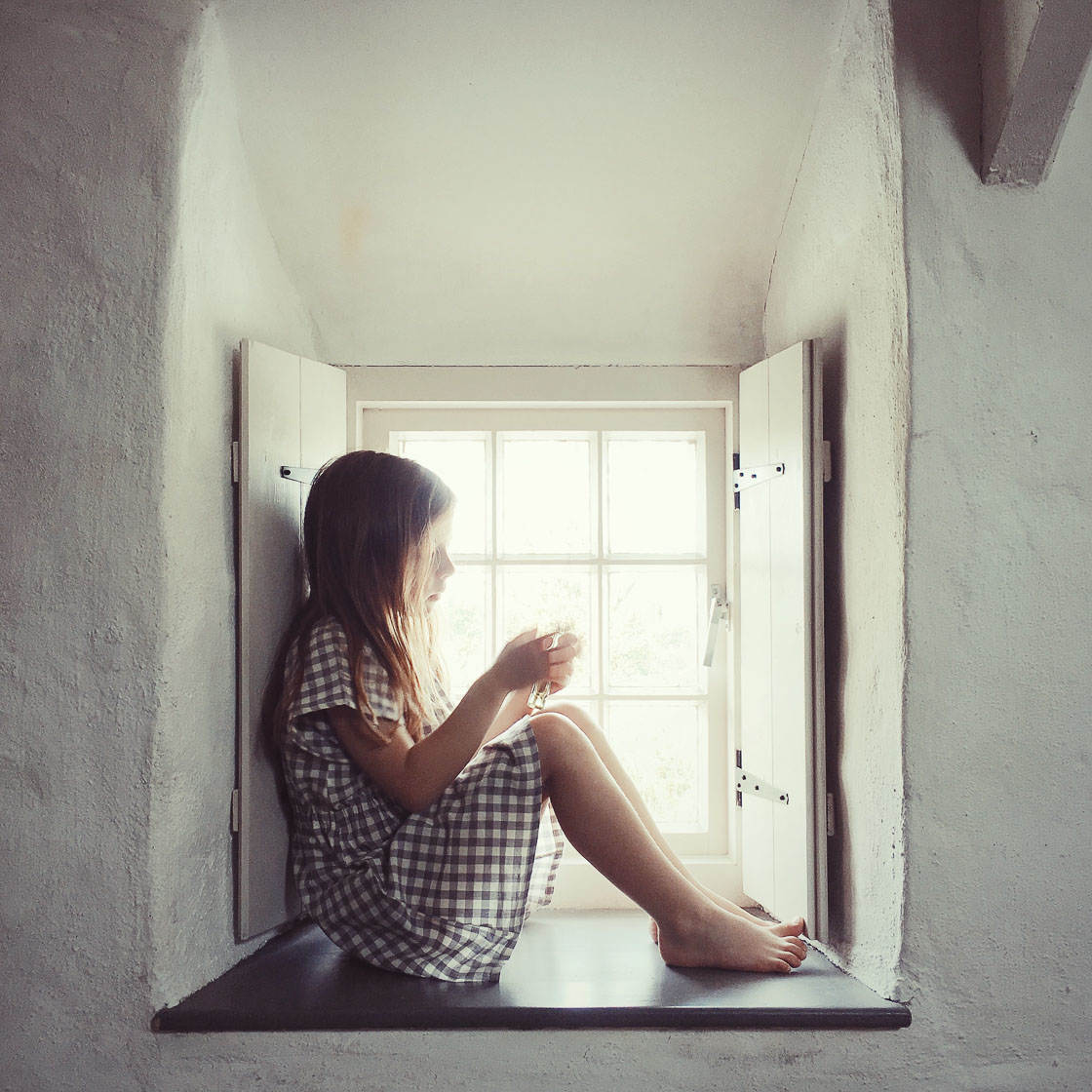 But what if the sun is shining directly through the window?
Try positioning your subject so that they're in the path of the sunlight. Ideally, the sun will fall on part of their face. Then the rest of their face will be shrouded in shadow. That's how I positioned my subject below.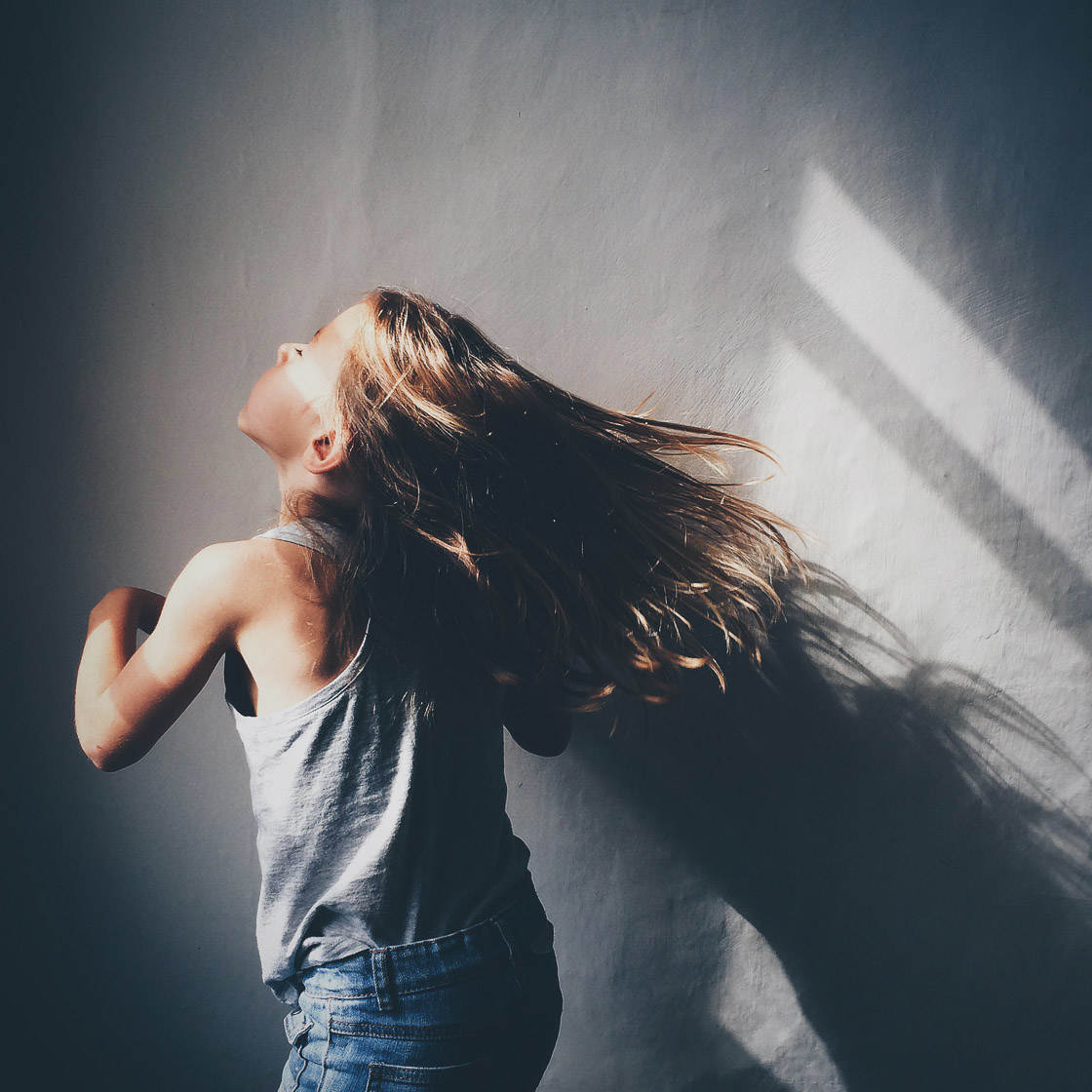 This will create a stunning, dramatic portrait!
Make sure you take some photos using window light! You'll come away with truly impressive children photography.
5. Use The Rule Of Thirds For Compelling Compositions
When you take photos of children, it's easy to take a snapshot. But how do you take photos that stun the viewer? How do you take photos that pull the viewer in?
You can start by using the rule of thirds.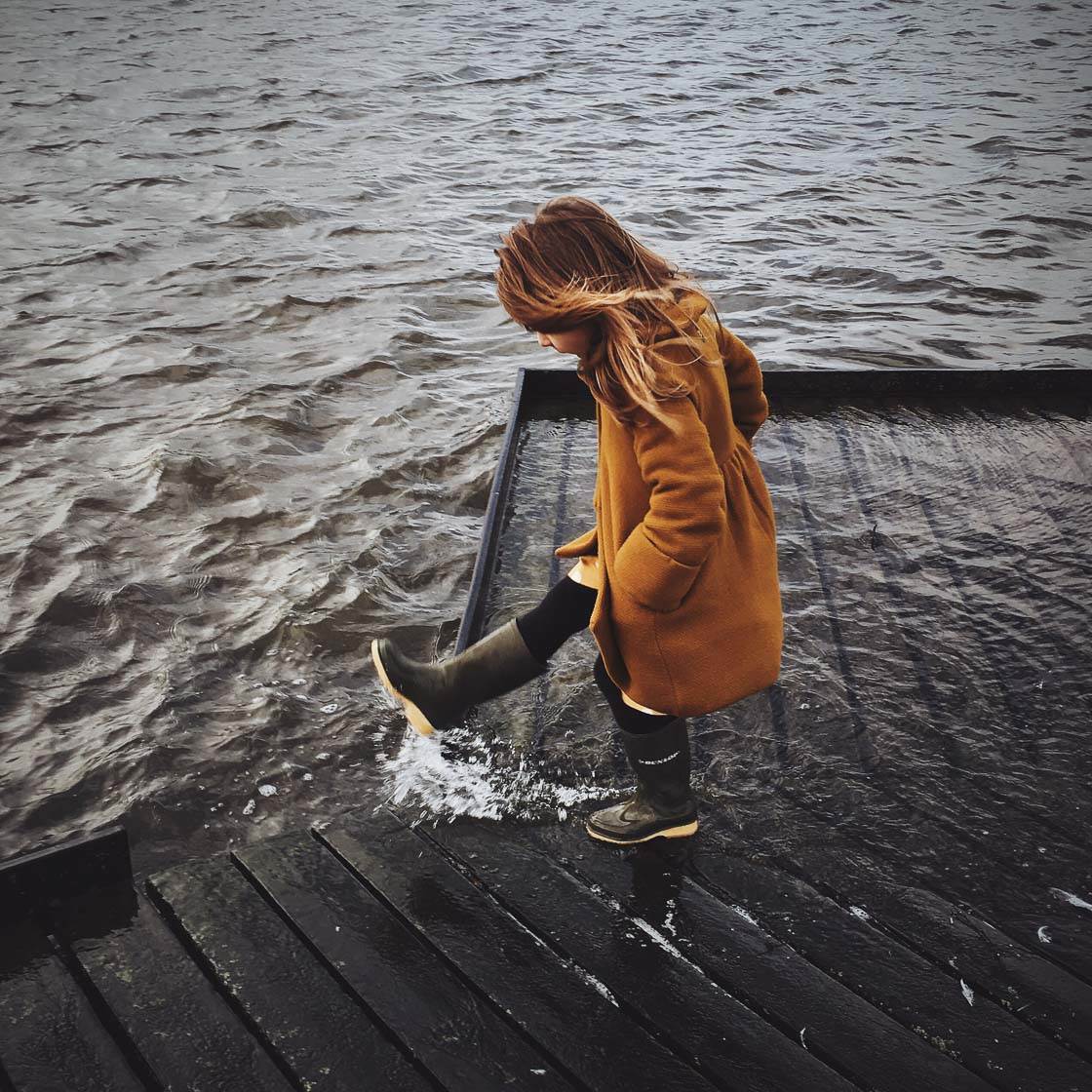 What is the rule of thirds?
Here it is (in simplified form): Put your subject a third of the way into the frame. And put your horizon a third of the way into the frame, as well.
In other words, you should place the main elements of your photo along the gridlines shown below:
If you do this, your images will be far more powerful. Notice how my subject's head is positioned where two gridlines cross (below).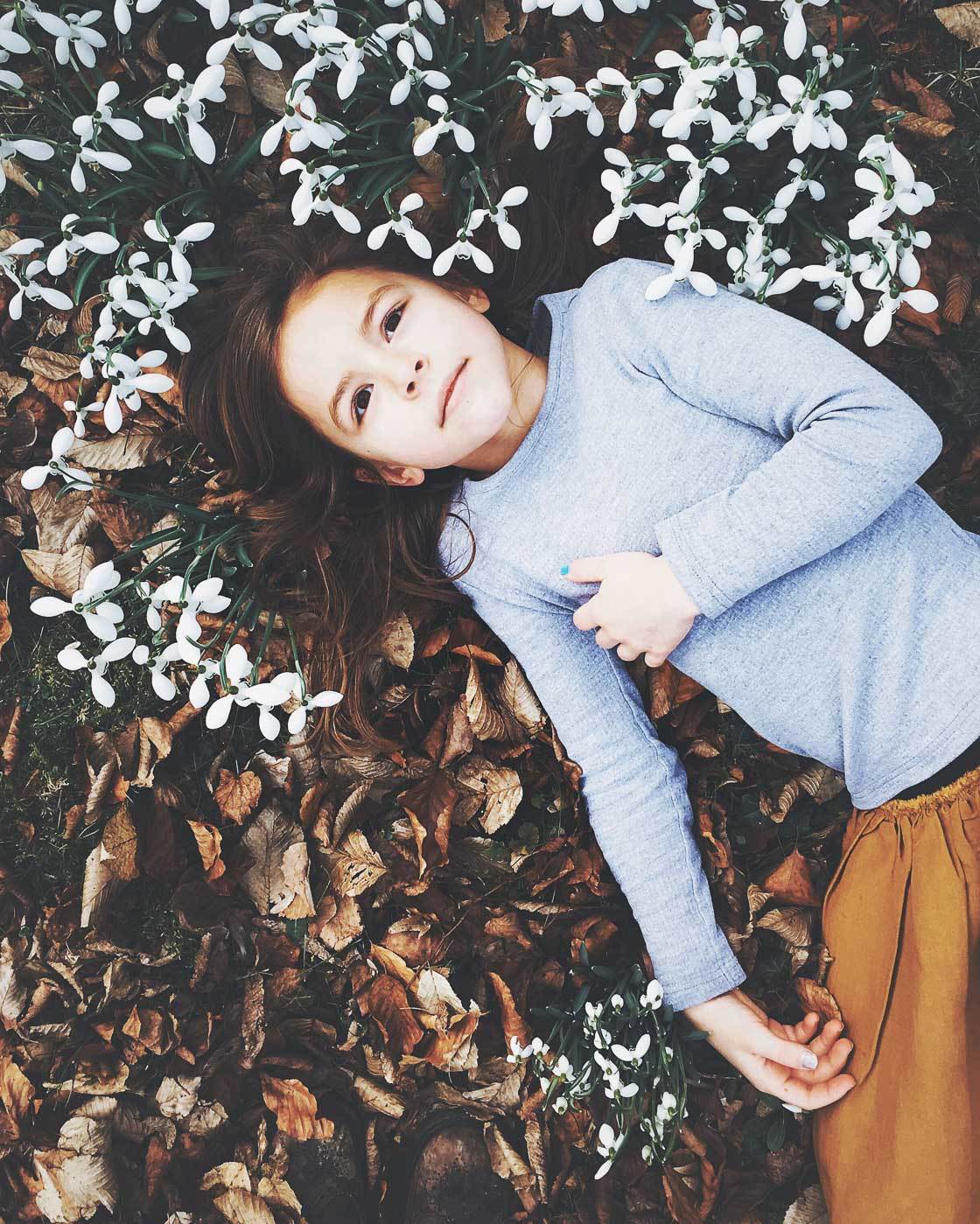 One way to better understand the rule of thirds is by turning on your camera grid. Tap Settings, then Camera, then select Grid.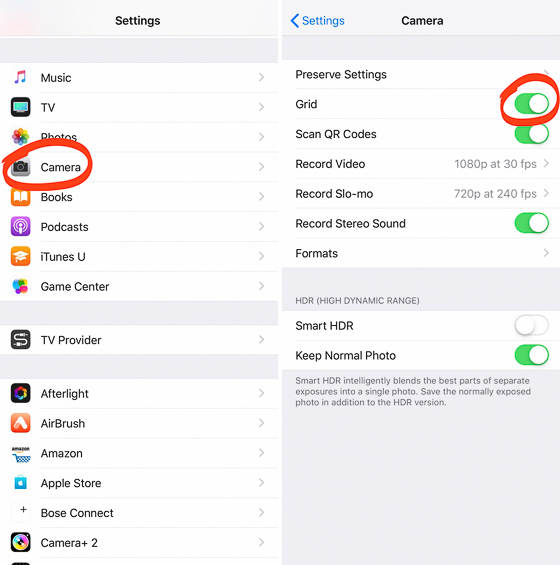 Now go to your Camera app. Look at the screen. Do you see the gridlines?
These gridlines will help you compose your images.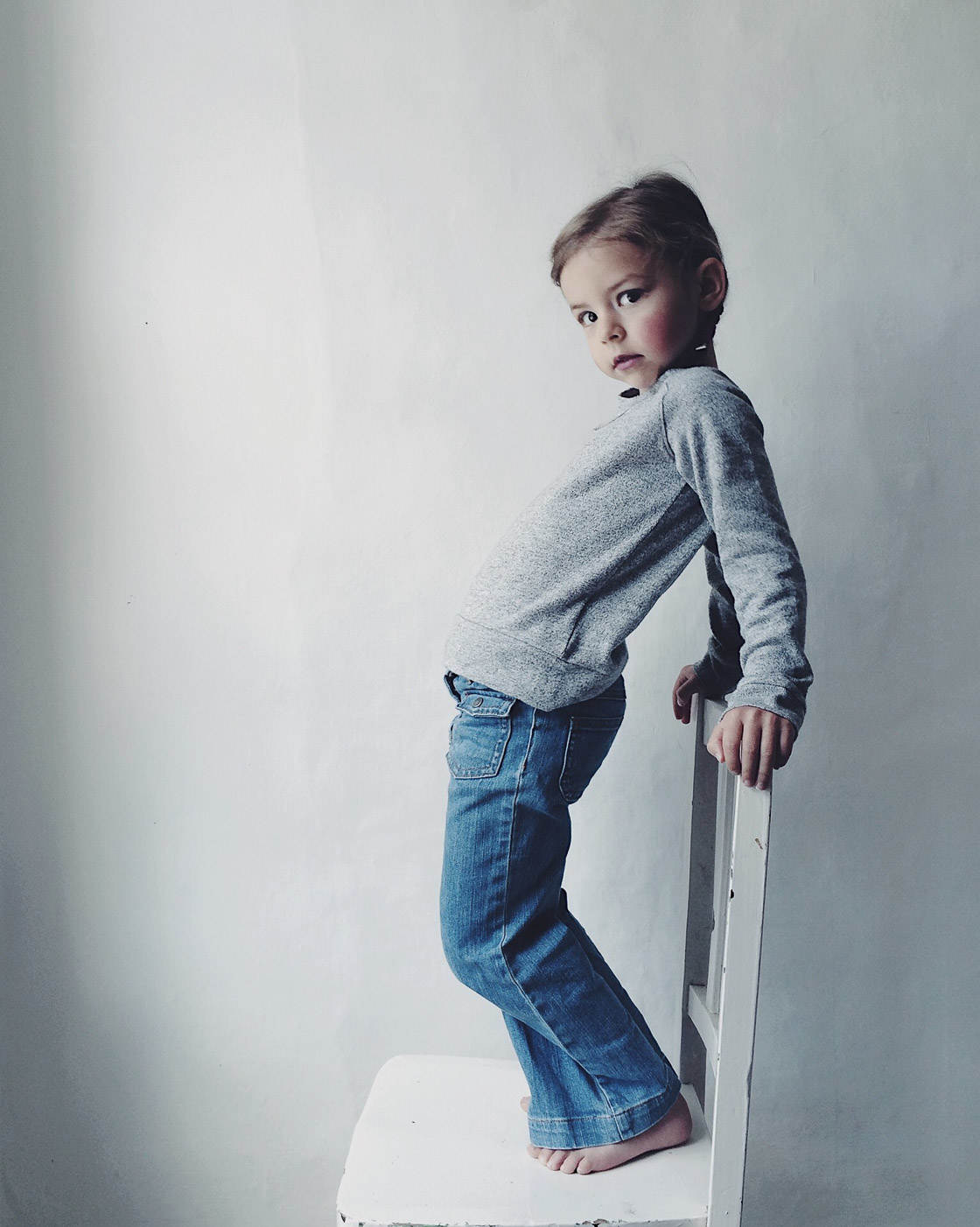 When you're actually shooting, think about the rule of thirds. Think about how you can position the child along the rule of thirds grid.
Try aligning the top gridline with the child's head. Or you can make sure the top gridline goes across the child's eyes. And have the horizon line running along the bottom gridline.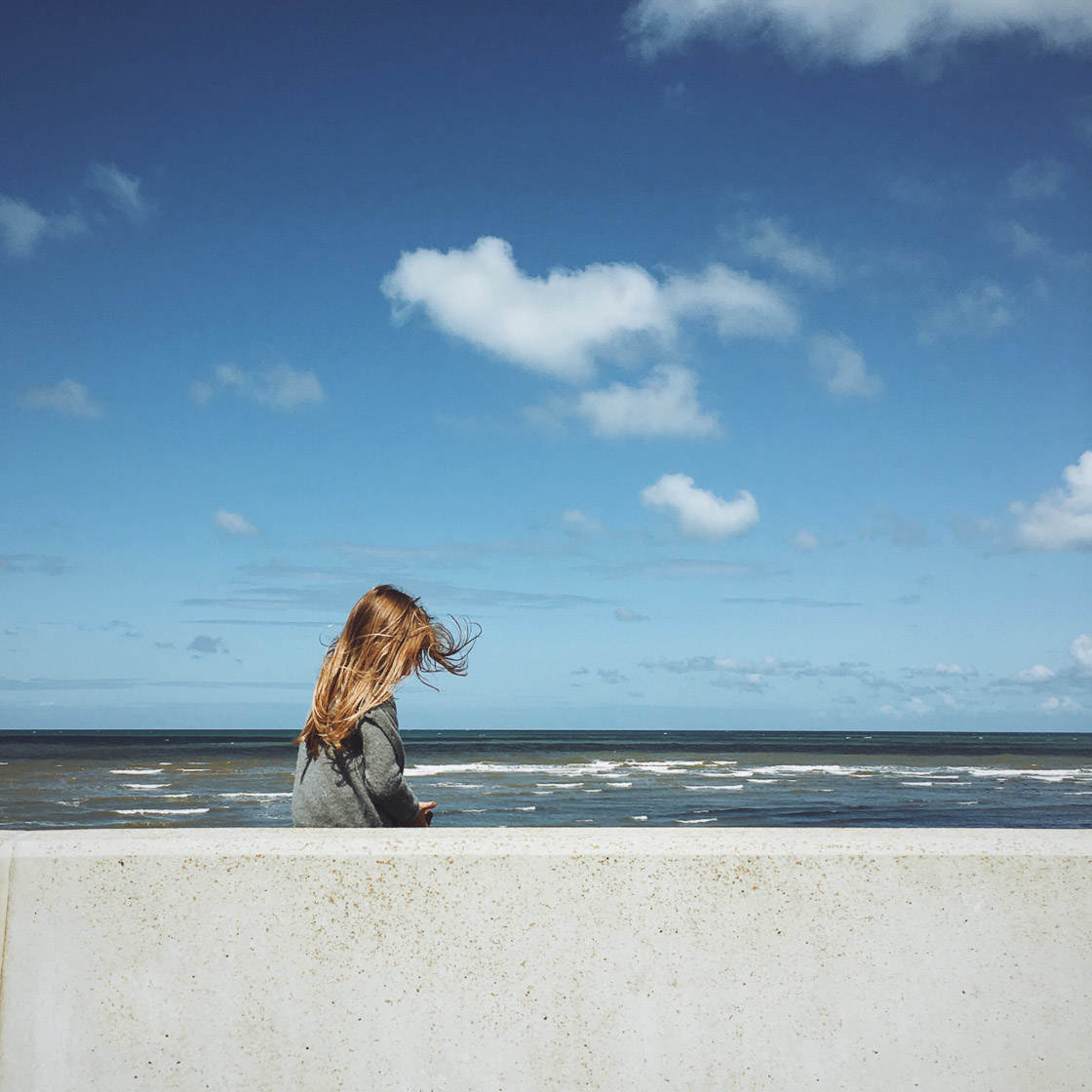 For the photo above, I made sure to place the horizon on the bottom gridline. This makes for a pleasing composition.
By following the rule of thirds, your compositions will immediately improve.
6. Simplify The Background For Child Photography That Pops
Here's another essential composition rule:
Simplify the background.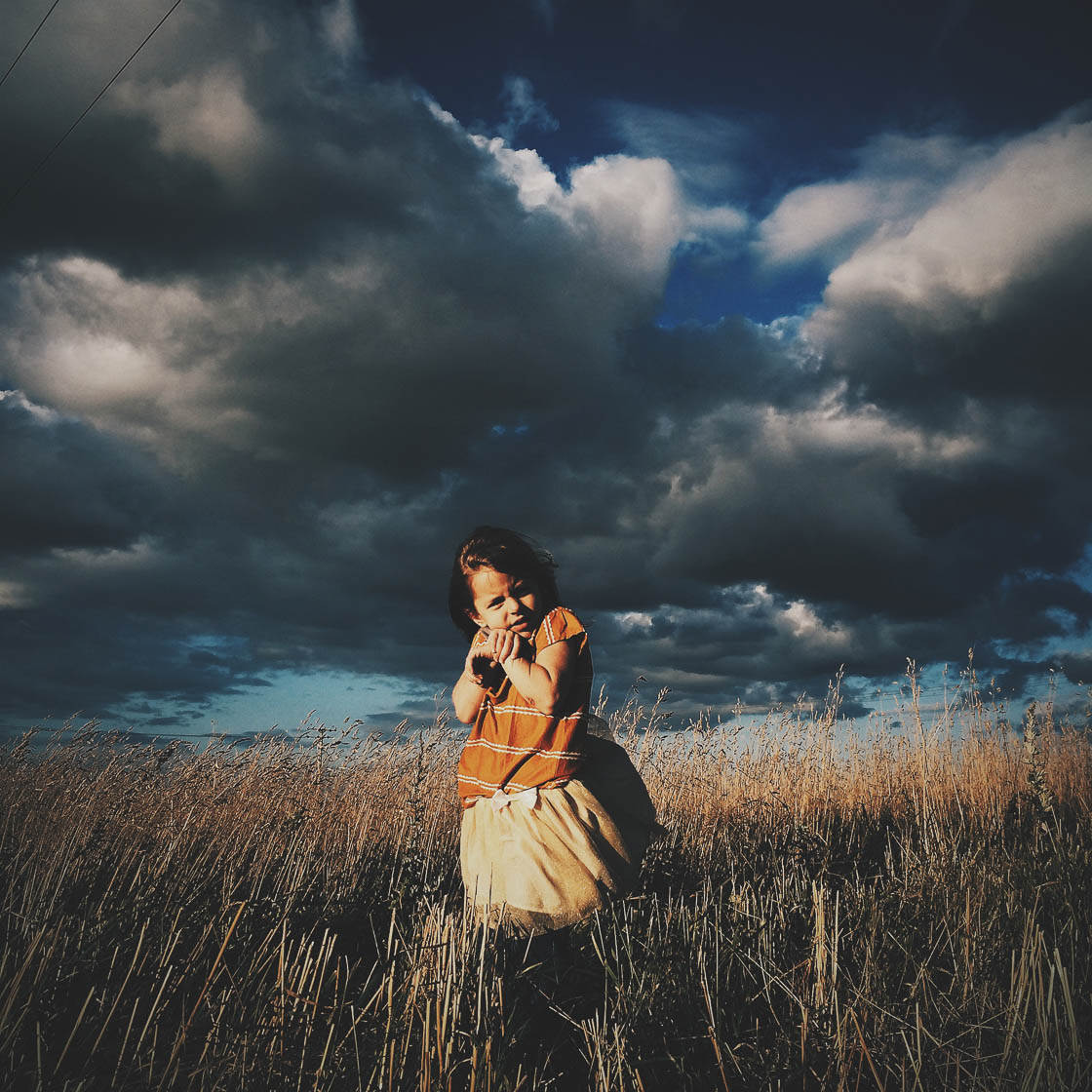 It's easy to skip this step. When you're out shooting, you become so focused on capturing your subject.
But the background matters, too. In fact, good photography isn't about just having a good foreground or a good background. It's about capturing a beautiful image as a whole.
And simplifying the background will help you do that.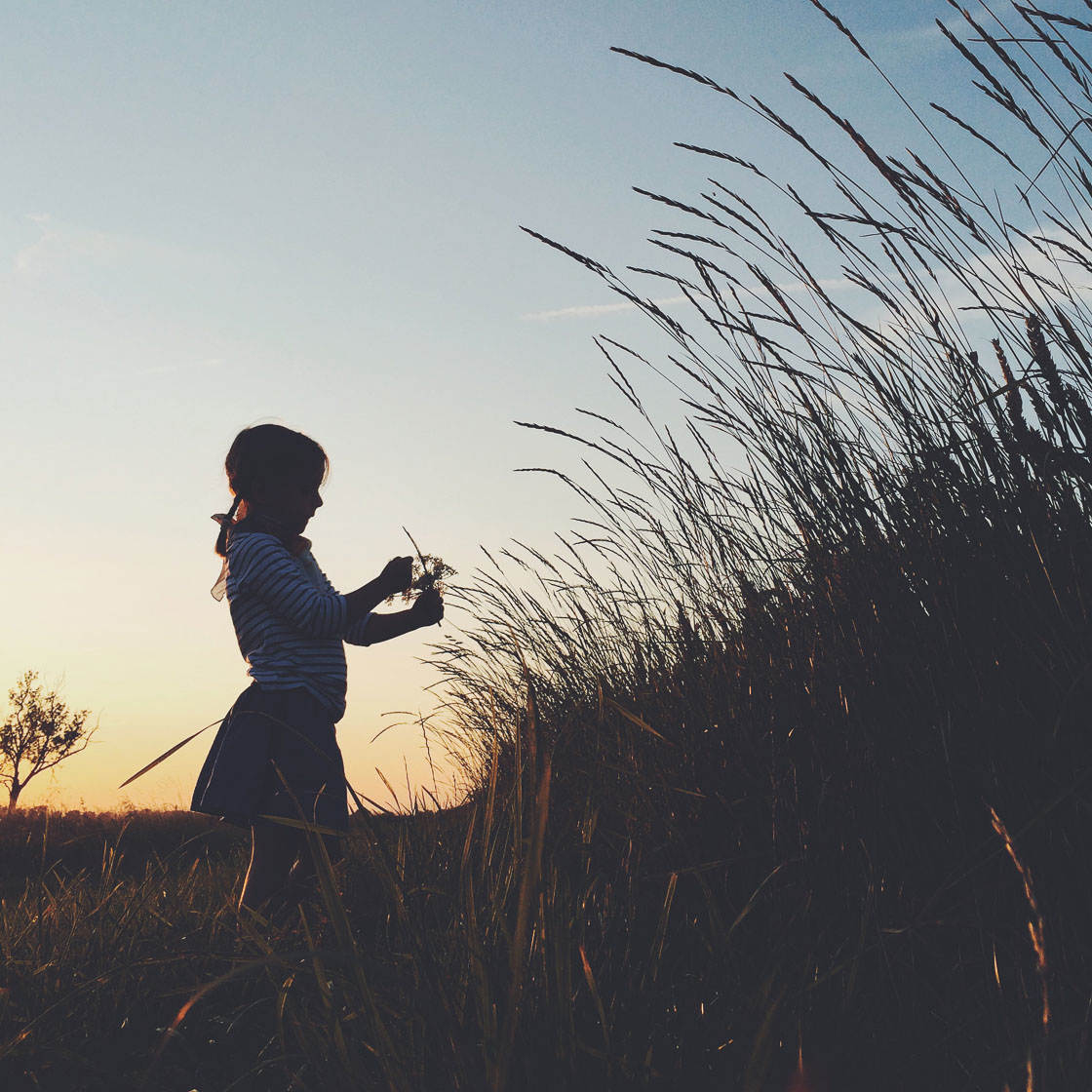 How do you simplify the background?
First, make sure that it contains no distracting objects. Avoid all street signs and cars. Basically, you want to make sure that there's only one thing that pops off the page: the child!
Second, make sure that there are no distracting colors. You want the background colors to complement the child. For instance, it's generally a bad idea to pose a child in front of a bright red firetruck. The red will steal the scene, and the child will be lost.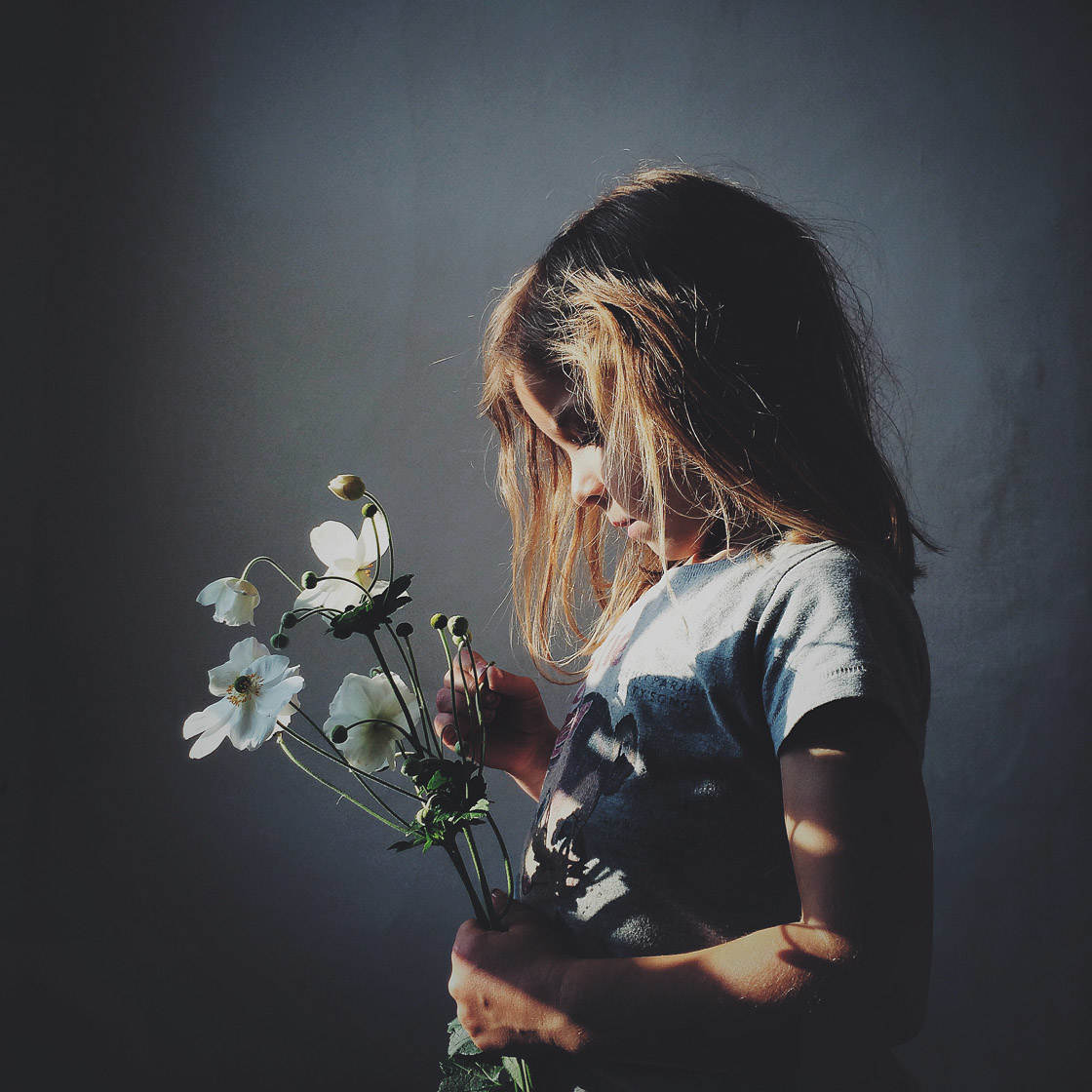 The background may seem like an unimportant thing. But you can't forget about it! You should always check the background before you press the shutter button.
7. Take Photos Of Multiple Children Interacting For Unique Images
One of the most beautiful things about children is the world in which they live.
Because children live in a world that is very much their own.
In a sense, children live apart from society. They haven't started to stress about jobs and finances. They haven't yet lost their imaginations.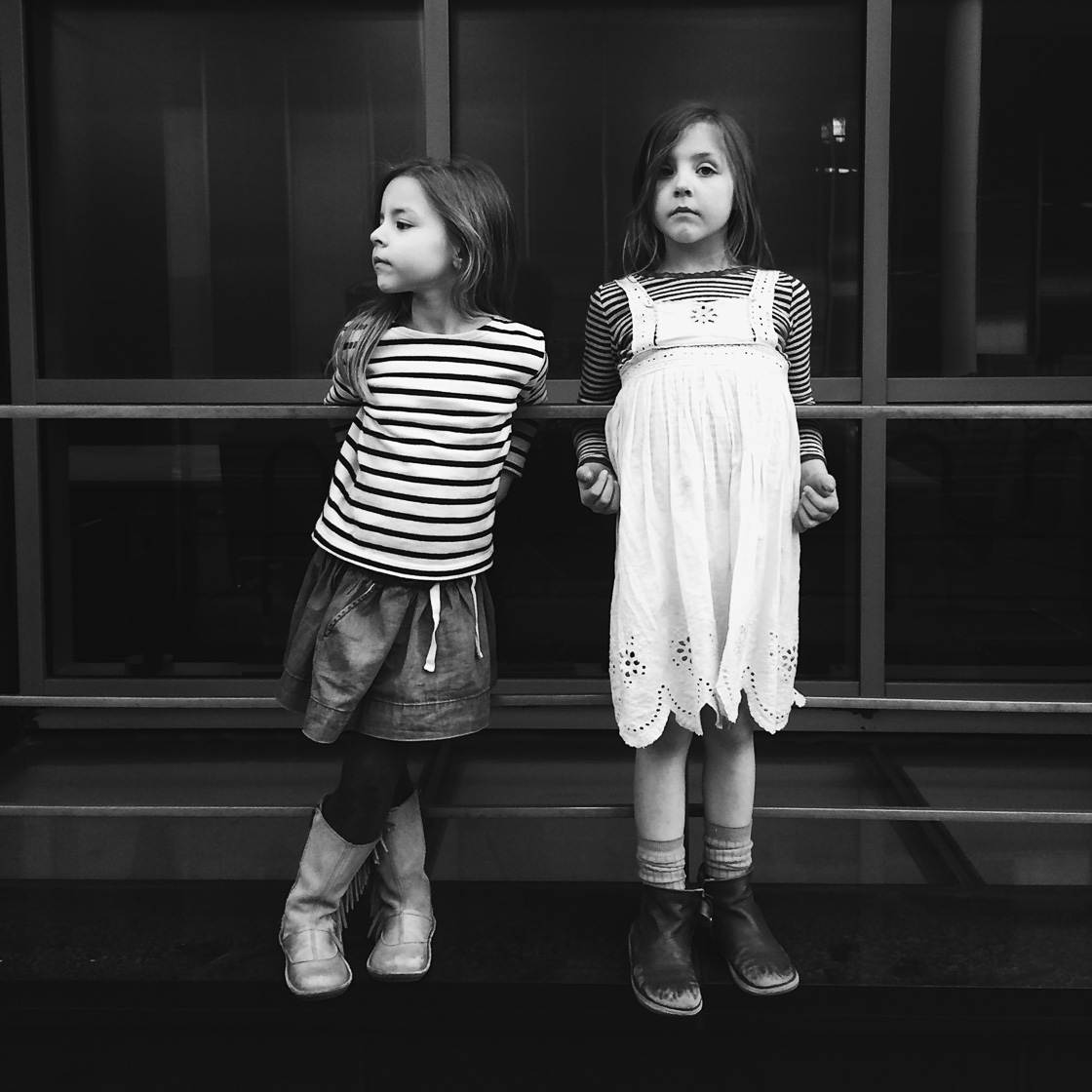 How do you capture children in their own little world?
Photograph them interacting with other children.
By photographing several children together, you're able to portray that little world. The viewer will feel like they're peering through a window into childhood.
Look at the photo below. Doesn't it feel like you're peering into a child's life?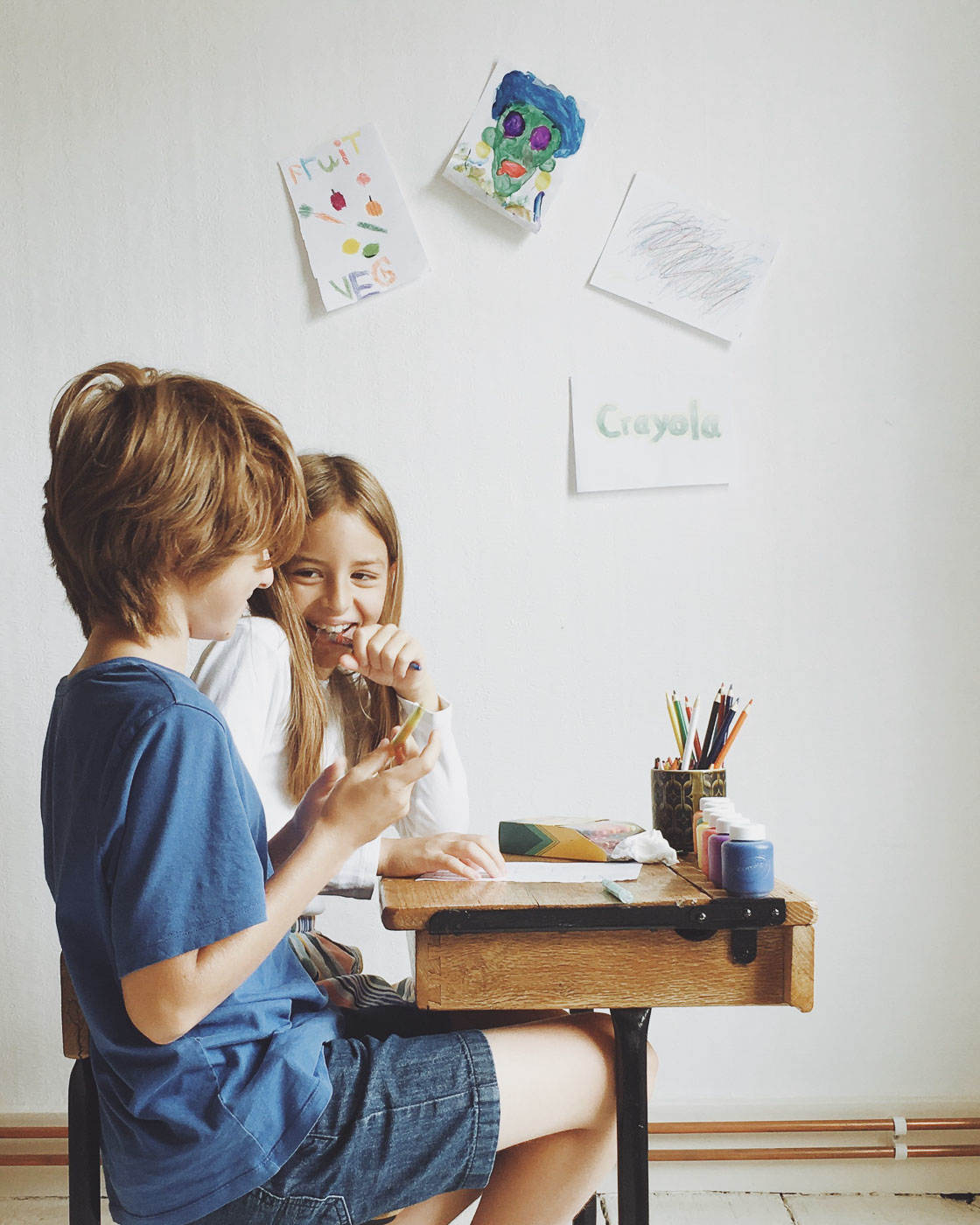 So, next time you're doing a photo shoot, have your subject bring a friend! Then step back. Let them interact. Let them play. Let them do what children do.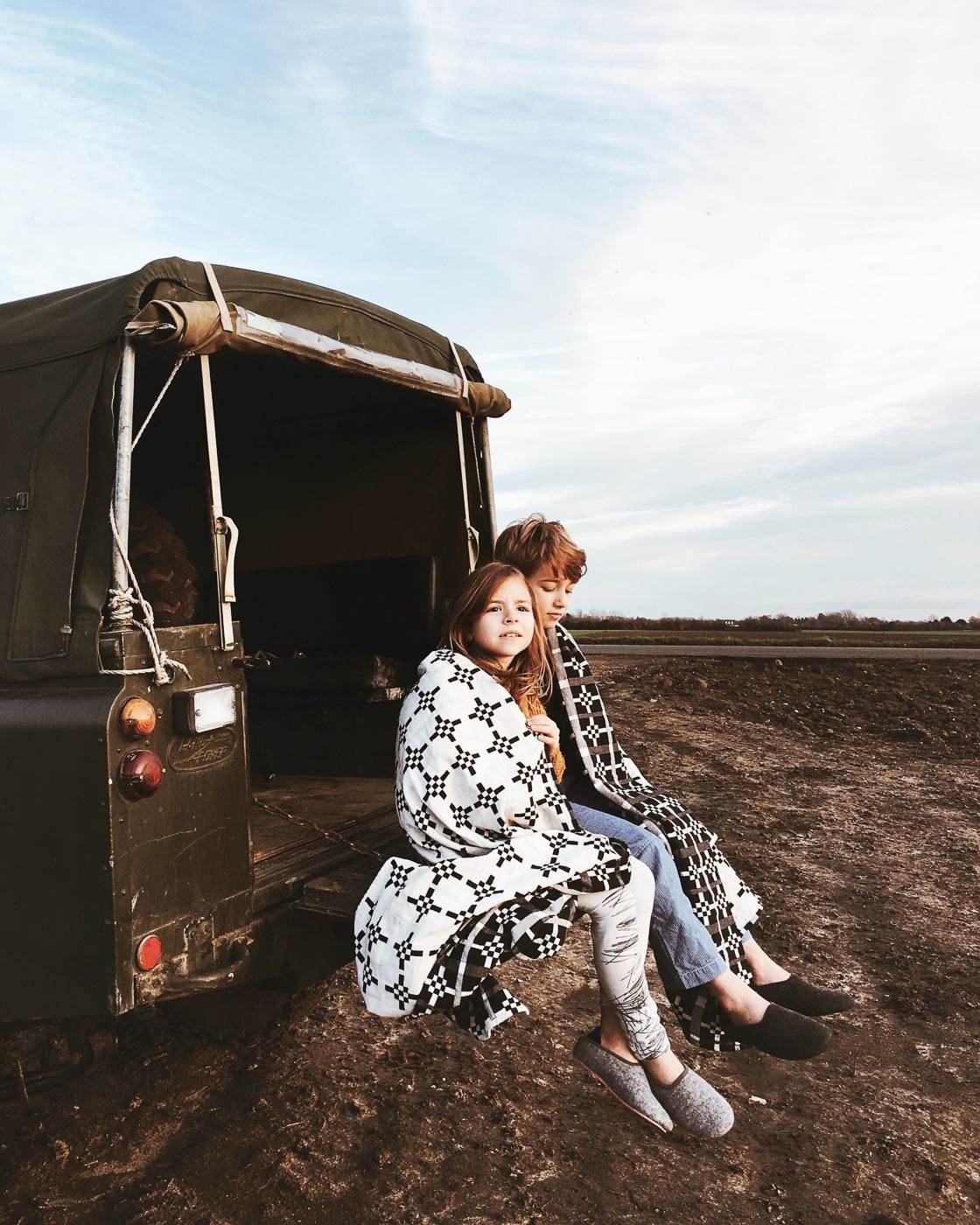 That way, you'll be able to capture images that are powerful—and are truly one of a kind.
8. Show Movement For Lively Images Of Children
Do you want to create truly dynamic photos of children? Do you want to create photos that are full of life and energy?
If so, then you should include movement in your images.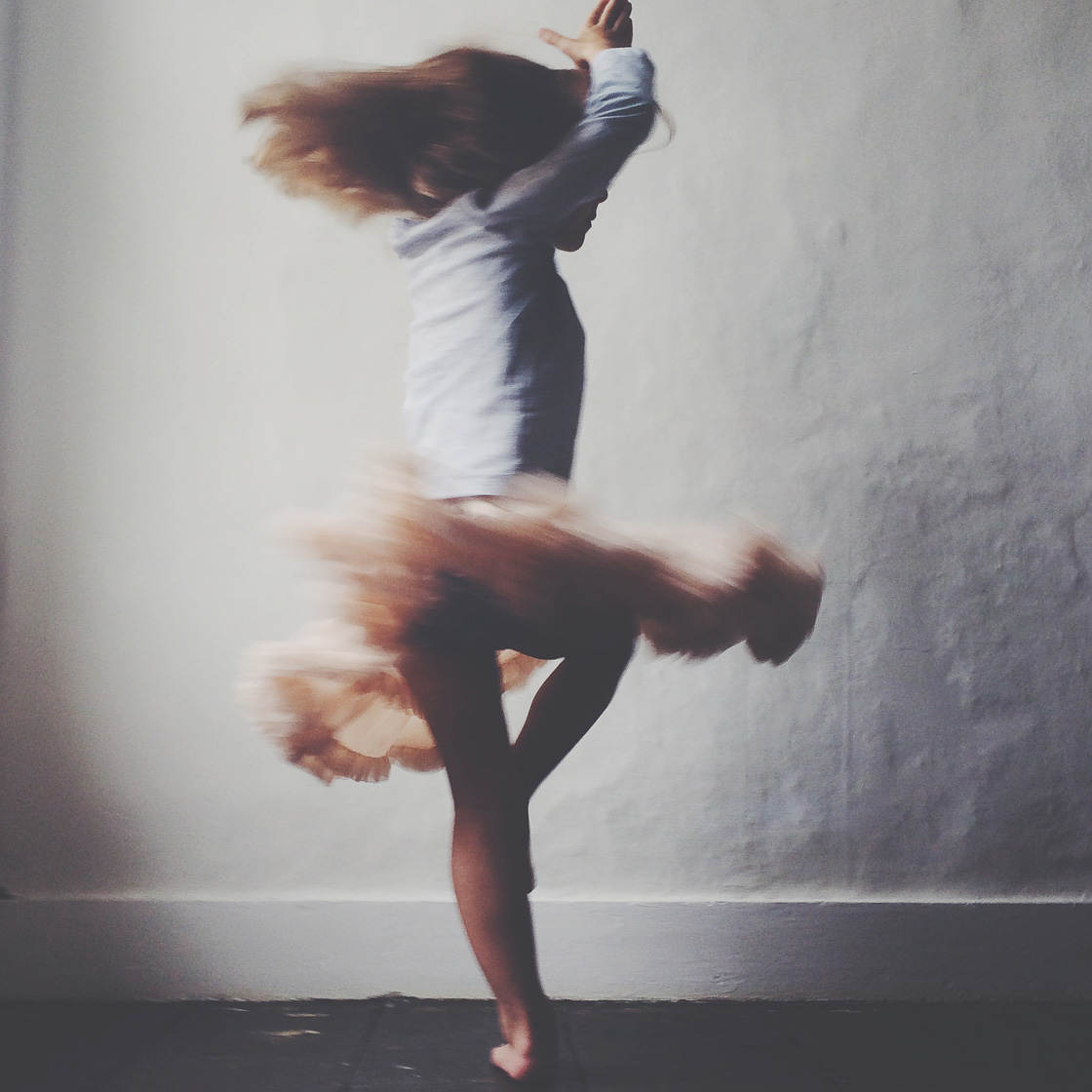 Fortunately, when it comes to children, showing movement isn't hard! Ask your subject to jump up and down. Ask them to run about in a field.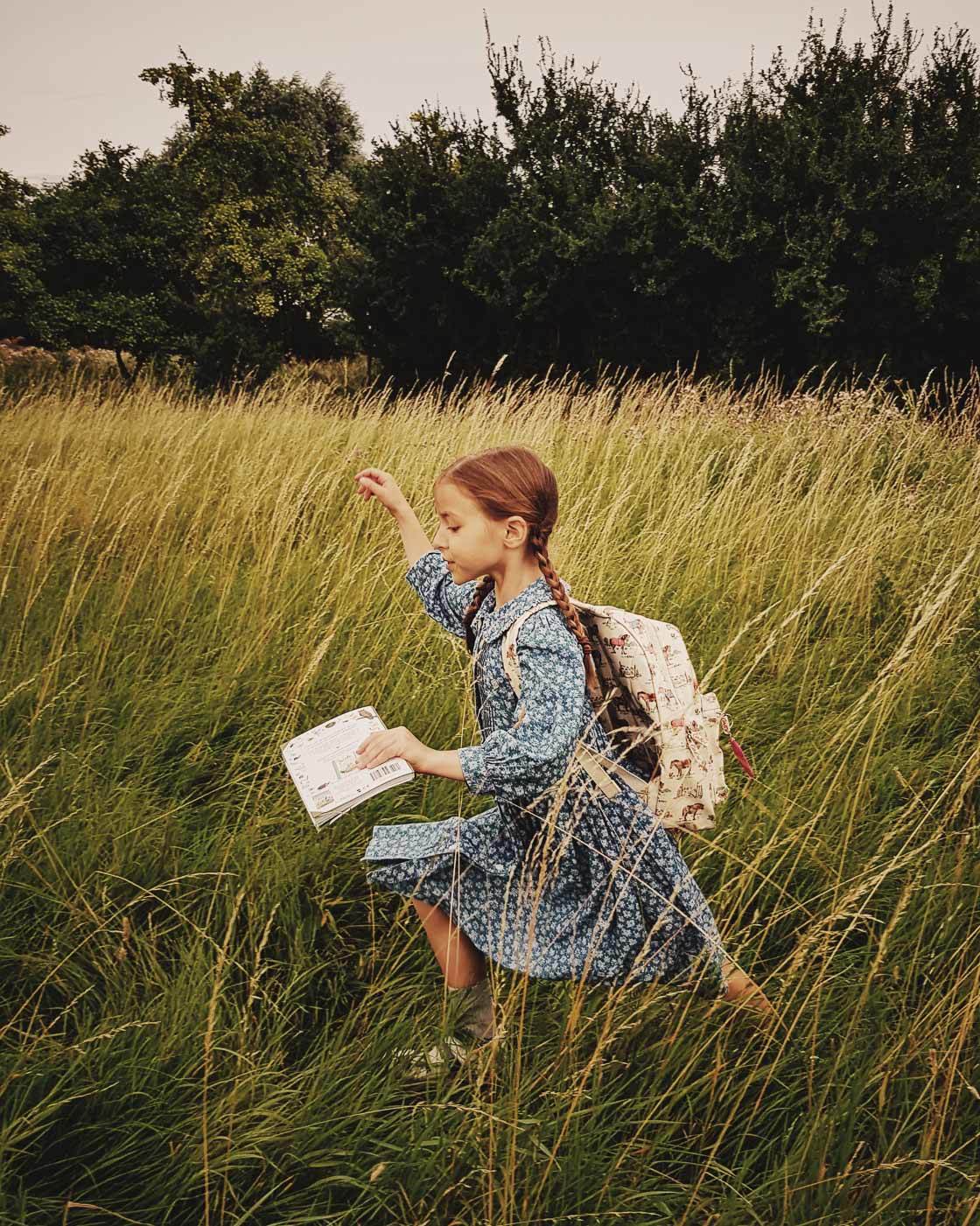 Try having your subject wear long, flowing clothes. That way, when they move, the clothing billows out behind them. This will add a wonderful sense of dynamism to the photo.
For photos with movement, burst mode is your friend.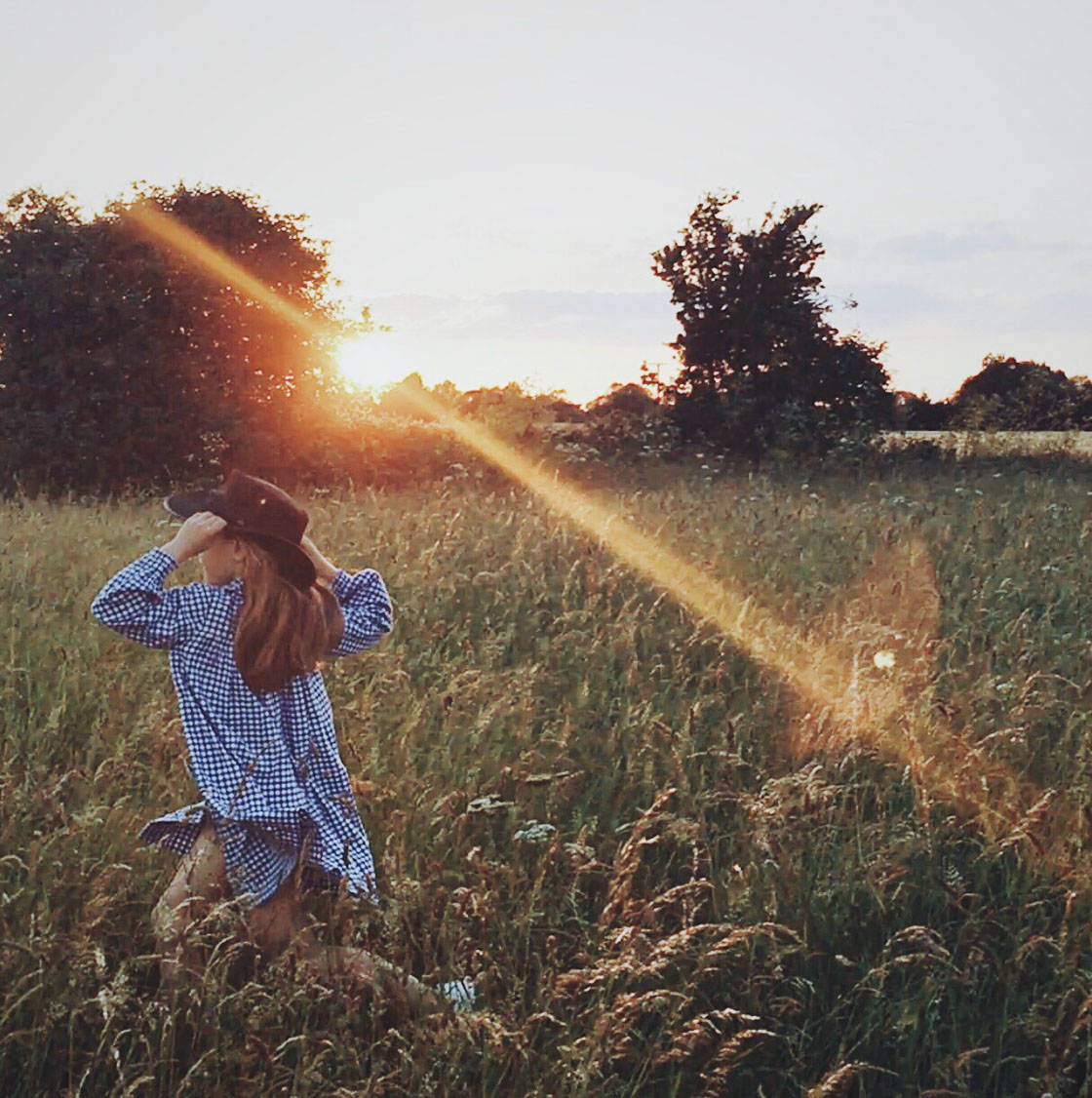 What is burst mode?
Burst mode is an iPhone camera feature that allows you to take more than ten photos per second. You can activate burst mode by dragging the shutter button left towards the photo thumbnail at the bottom left of the screen. Or on older iPhones, simply hold down the shutter button. Your iPhone will keep taking photos until you remove your finger from the button.
Burst mode is fantastic for getting pictures of moving children.
As soon as your subject starts to move, drag the shutter button to the left (towards the photo thumbnail). Or on older iPhones, hold down the shutter button. Don't let go until the movement stops.
I can almost guarantee that you'll get an incredible shot!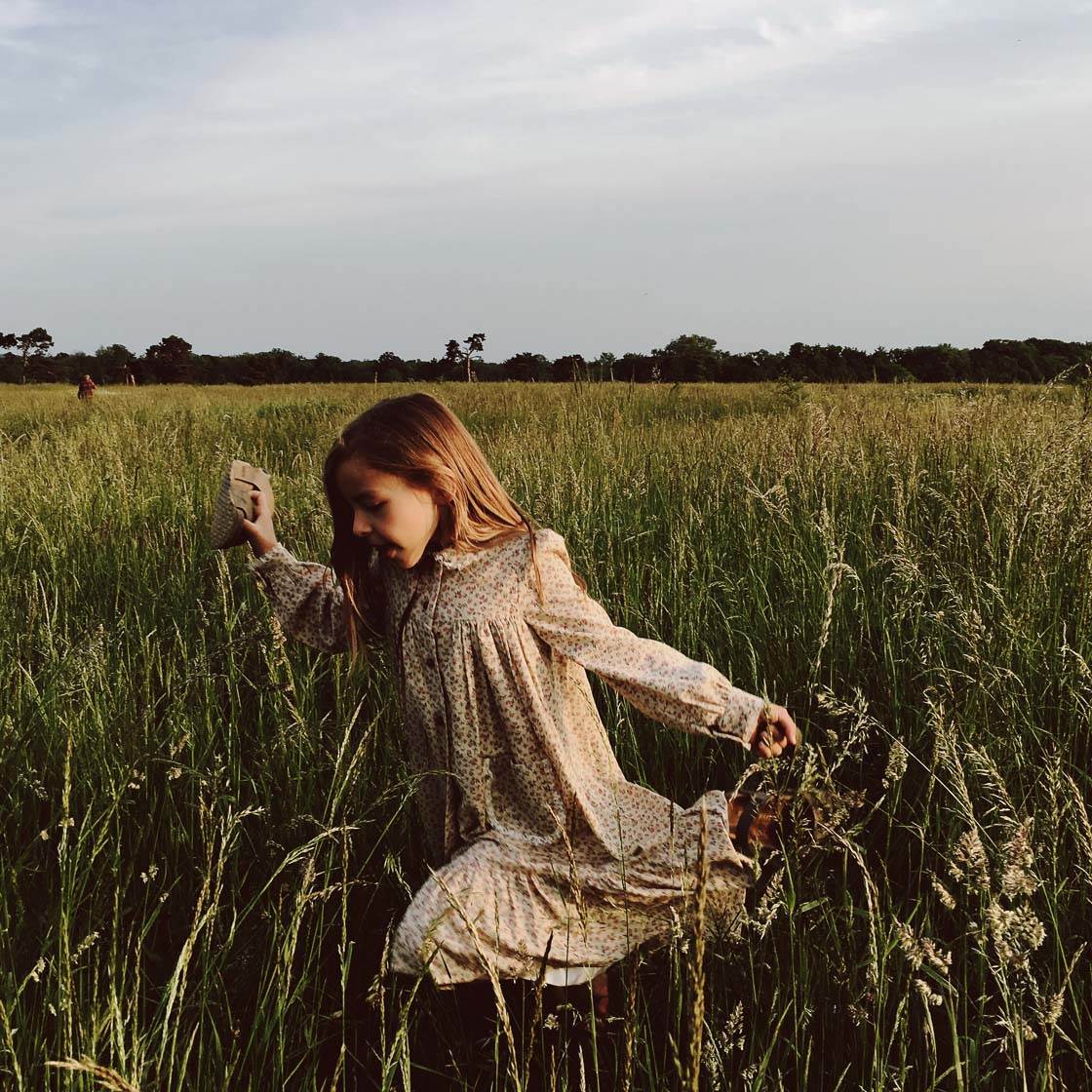 If you want to create images that are full of life, make sure you portray movement. This will take your photos of children to the next level.
9. Get Low For Powerful Children Photography
Do you want to know one more composition tip? Do you want to take powerful, in-your-face child portraits?
If so, you should try getting low. Then take your photo.
When I say to get low, I mean really low. For instance, you can crouch down so that you're far below your subject's line of sight. Or you can lie on the ground and shoot up toward your subject.
You can also use natural features (hills, stairs, or windows) to put your subject above you. That's how I managed to capture this photo (below).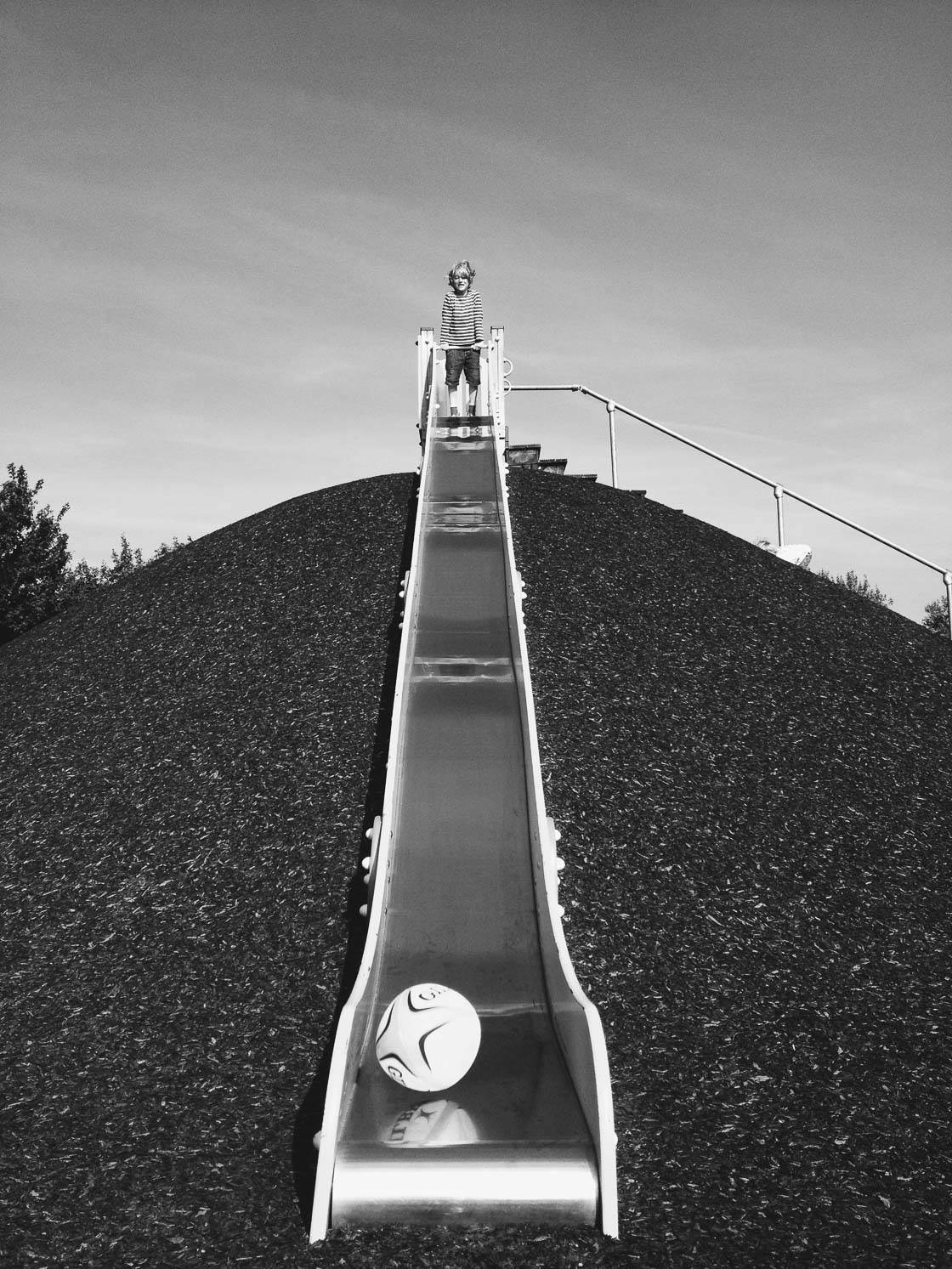 If you get low, you'll capture an image in which your subject is looking down at you—and this angle can make for some powerful shots.
For the photo below, I made sure to get close to the ground. This ensured that my subject appeared taller and more powerful.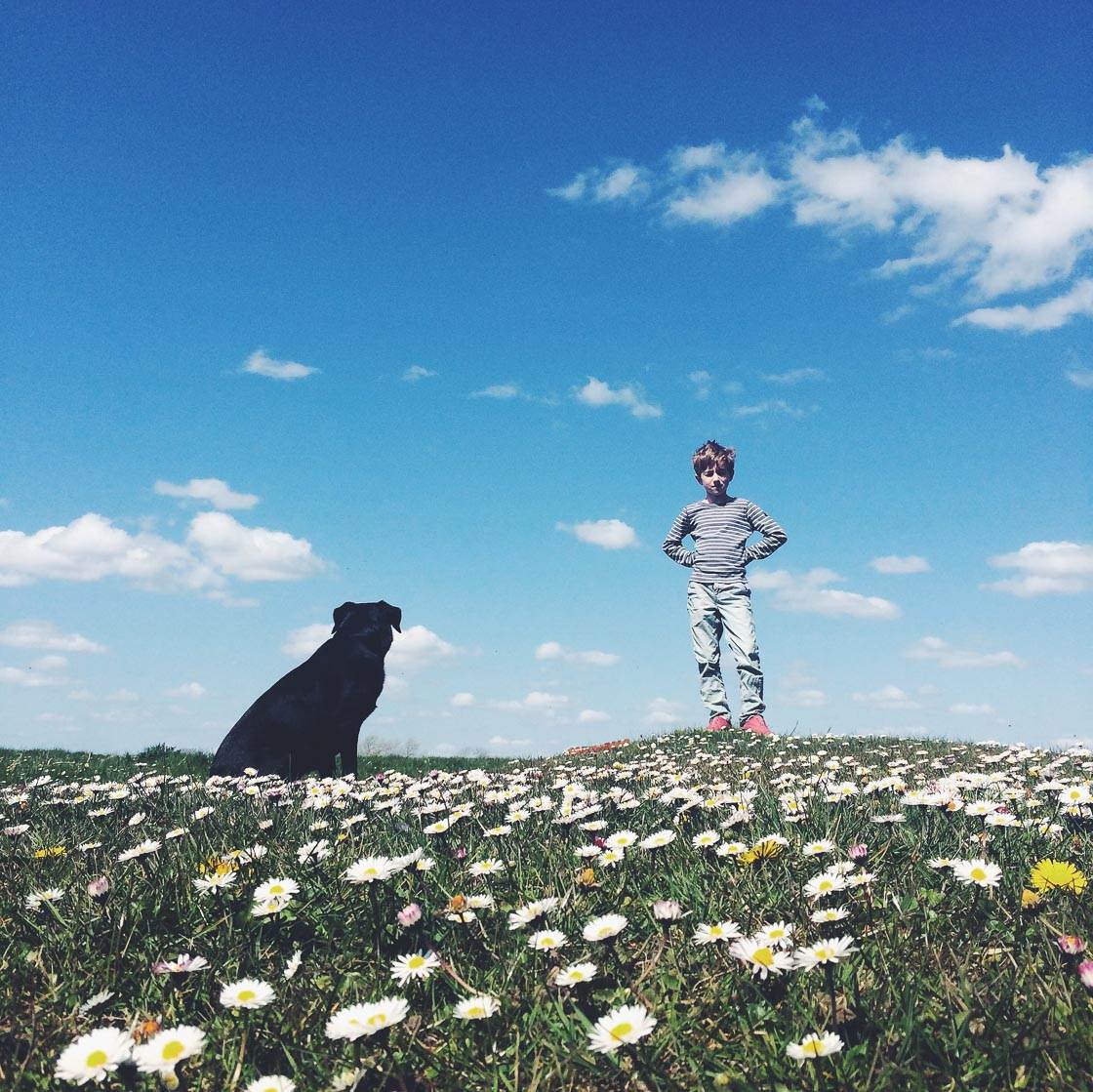 The child appears to loom. The angle gives them a sense of strength.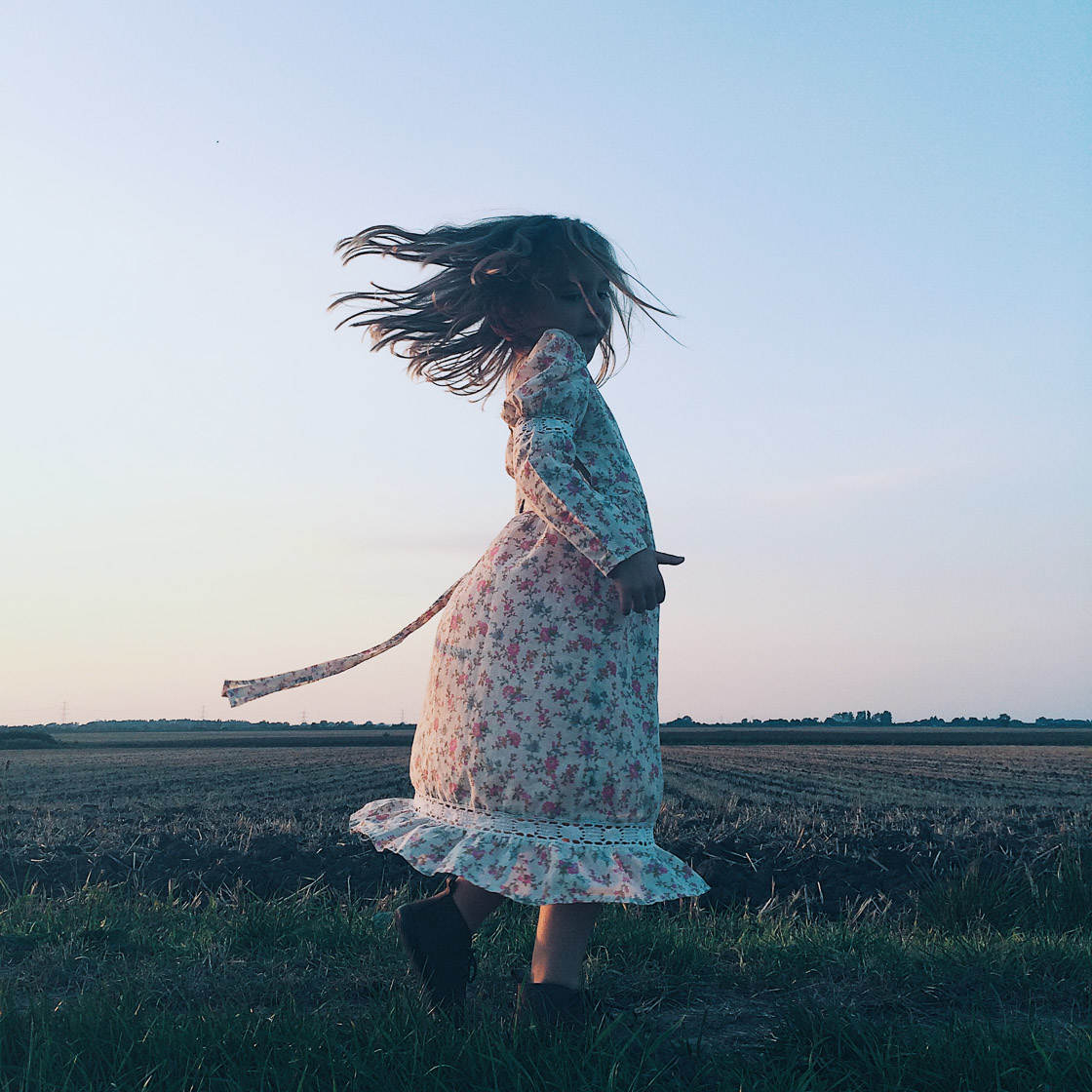 I love this composition trick, and I urge you to try it. You'll get wonderful images—images that feel powerful and bold.