I'm really excited to share this interview with Lee Atwell who takes incredible street photos with her iPhone. She has an amazing ability to capture unique pictures that tell stories of strangers on the street. Her use of contrast, light, and shadow, combined with black and edits, creates incredibly powerful and dramatic images. In this interview, you'll learn more about Lee, and how she shoots such creative street photography with her iPhone.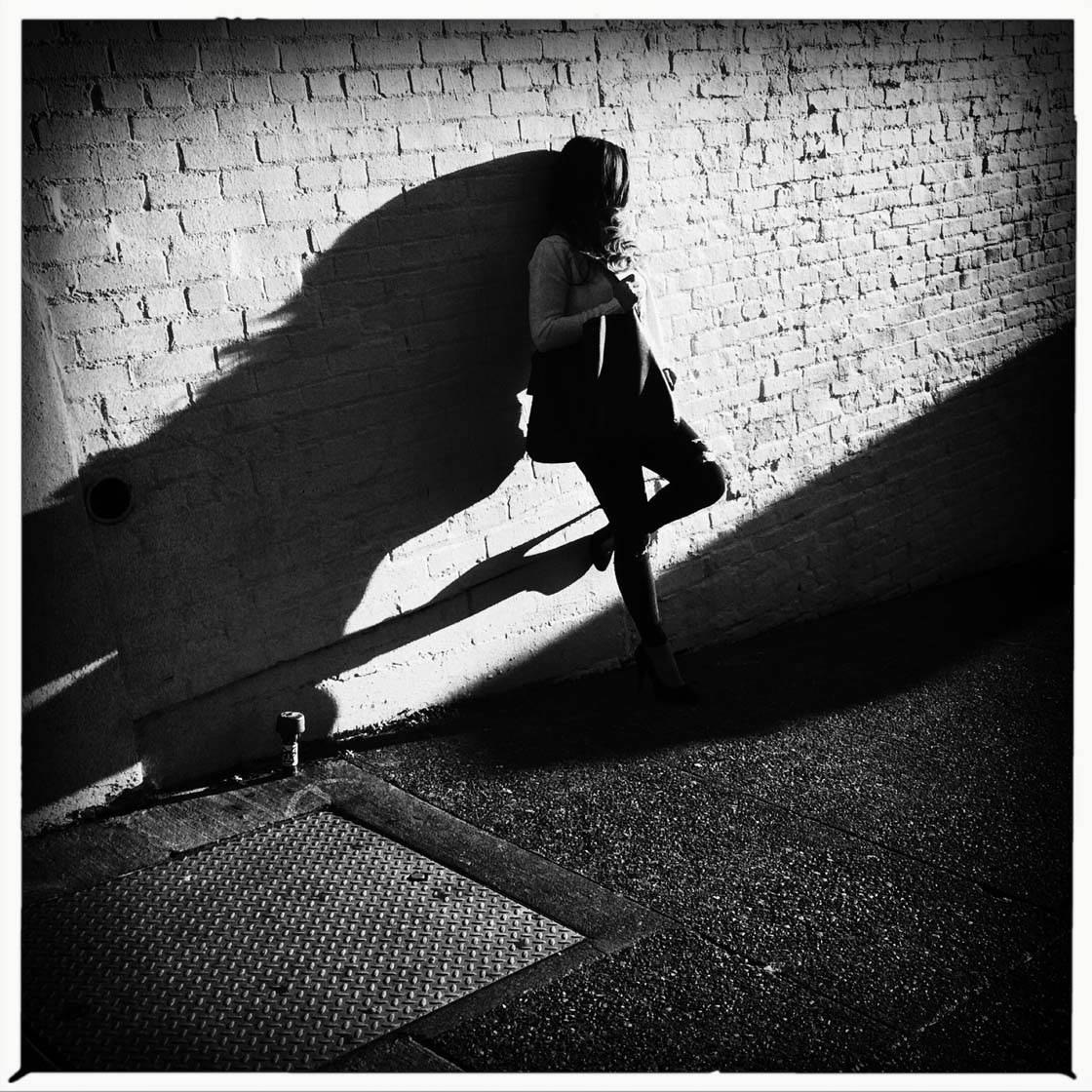 Tell us a little bit about yourself.
I live in Seattle, Washington. My husband and I own a yoga studio, and I'm a yoga instructor, teaching classes, workshops and international retreats.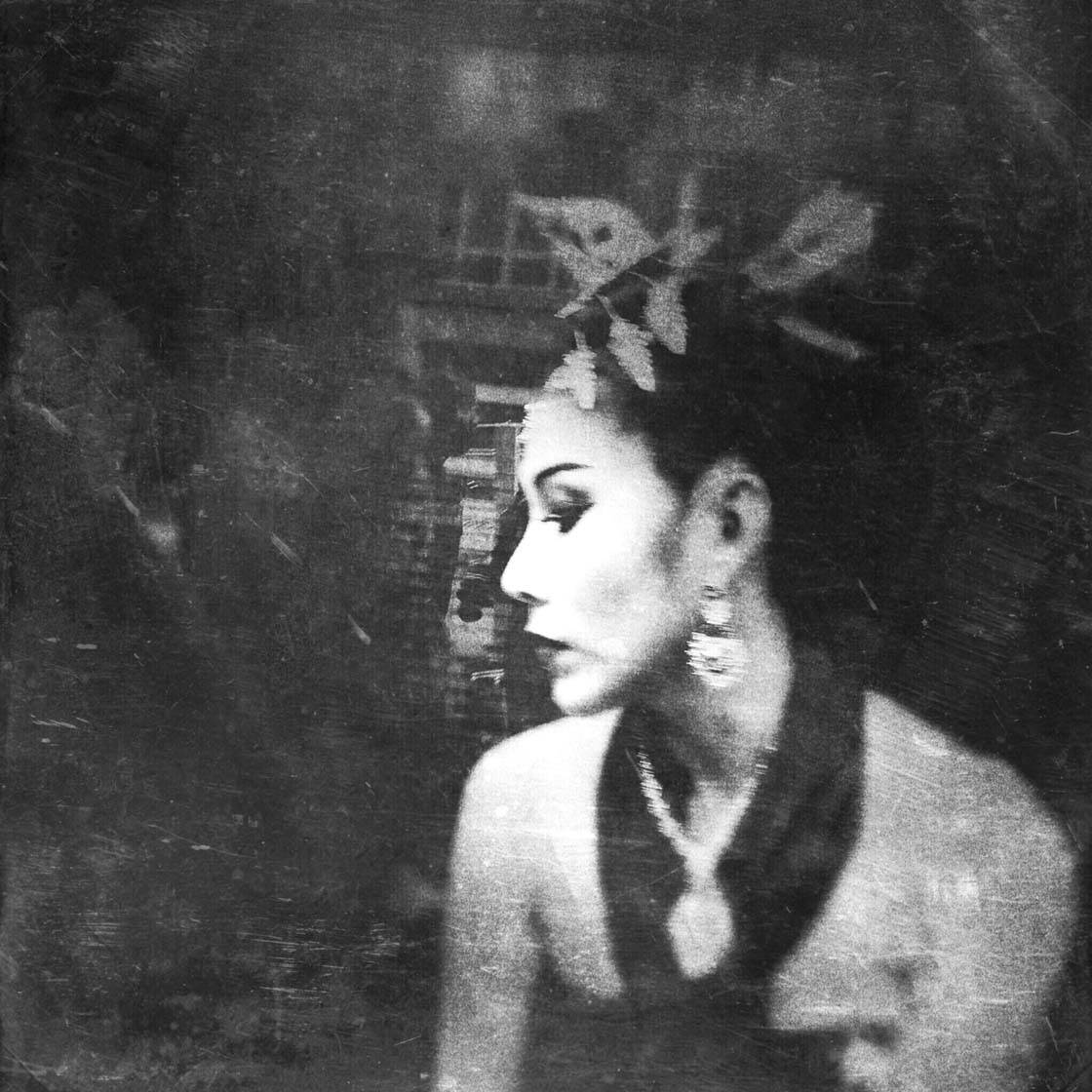 How did your iPhone photography journey begin?
I was first introduced to iPhone photography when my husband gave me an iPhone to replace my "flip" cell phone about four years ago.
I remember thinking it was the last thing I wanted – to have a "mini computer" in the palm of my hand that I could take with me everywhere. However, when I discovered the quality of its camera, I soon became addicted to iPhoneography.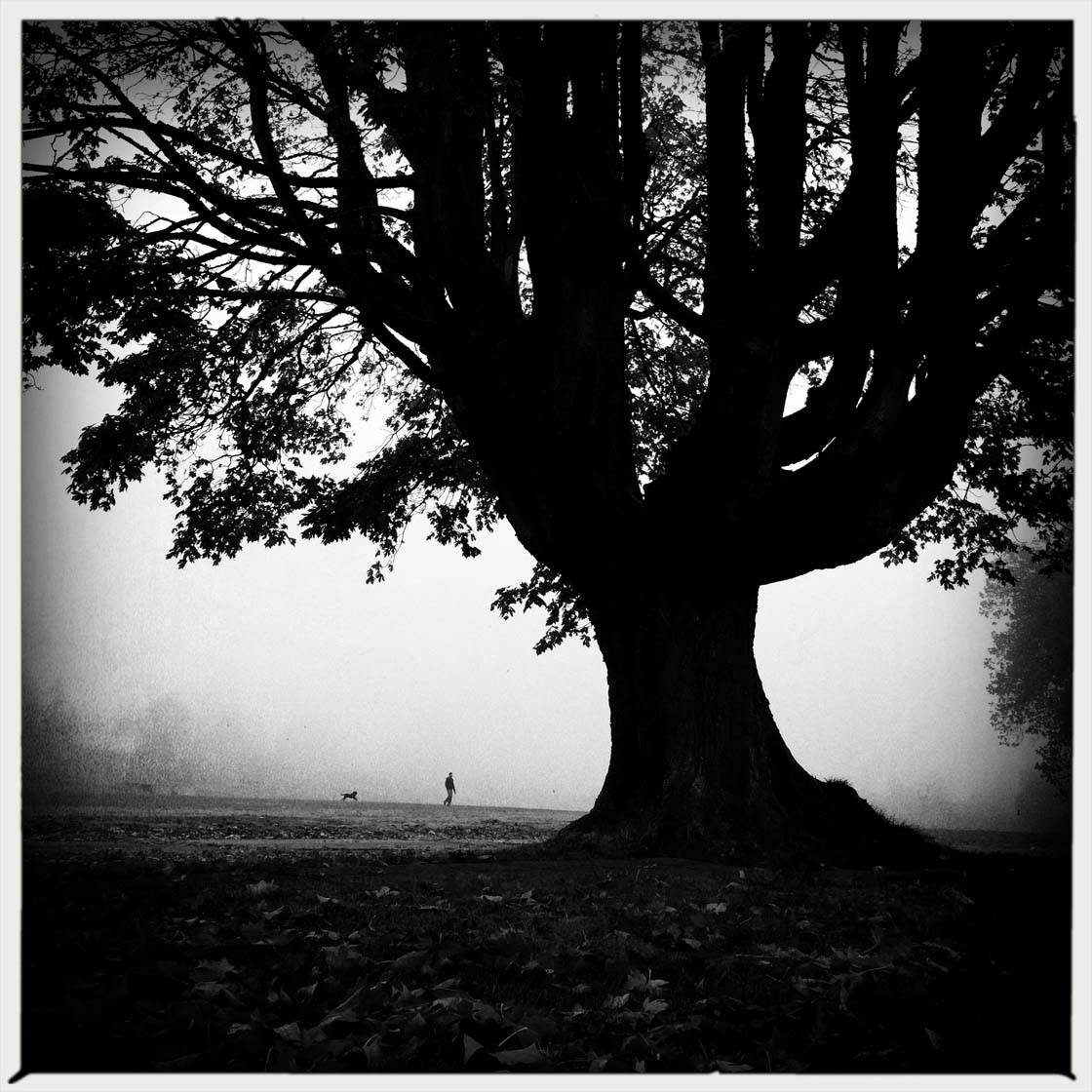 What inspires you to take photos with the iPhone?
The accessibility of the iPhone and the fact that it's always on me is one thing that inspires me to take photos with it. There's always an opportunity to see the world around me in a creative way.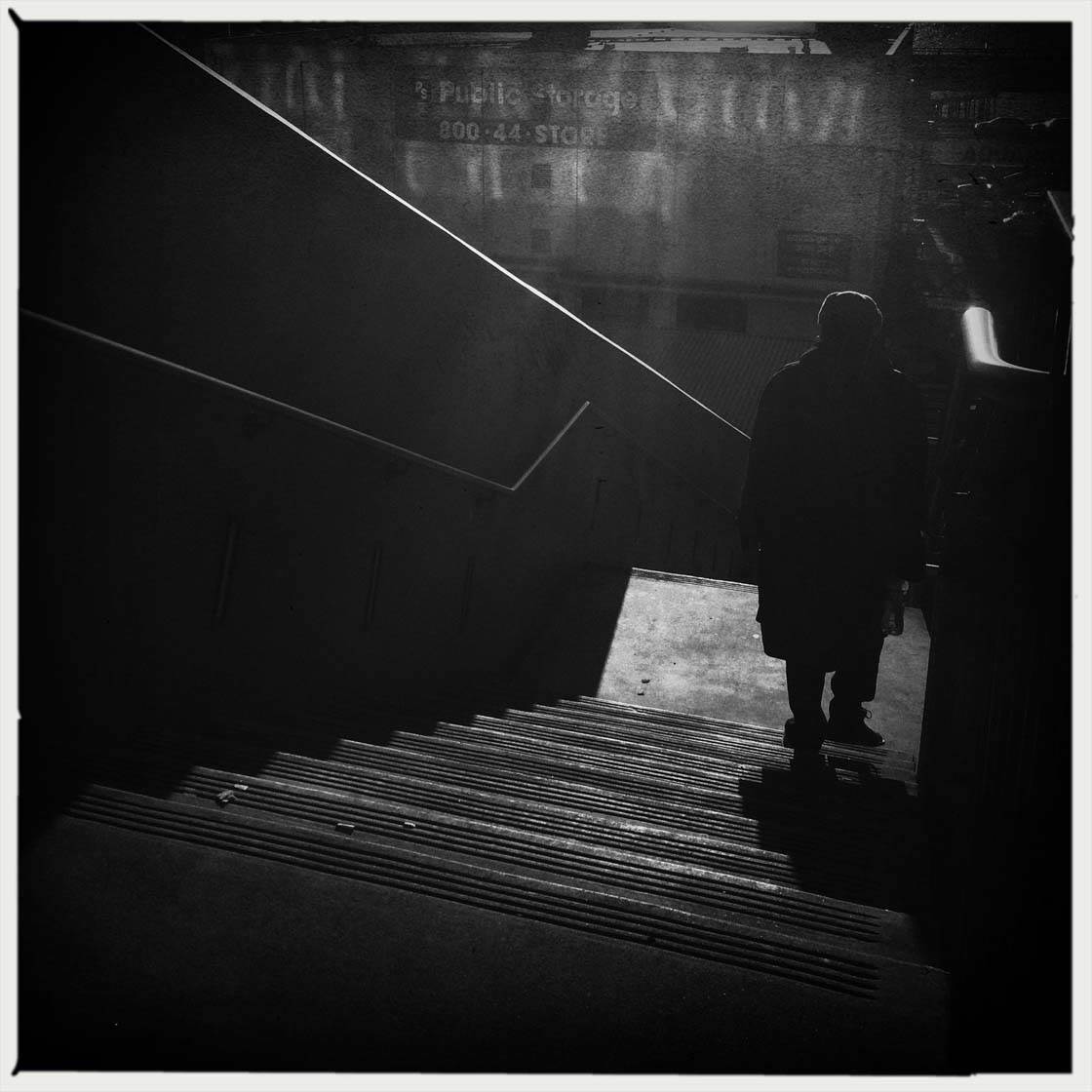 Also, social media groups that have themes or challenges keep me motivated. I like to be challenged, but even more so I enjoy connecting with others working on a common theme.
The inspiration I receive from friends on social media and online photography sites also encourages me to be creative and take photos on a regular basis. It feeds my deeper desire to be artistic and creative every day.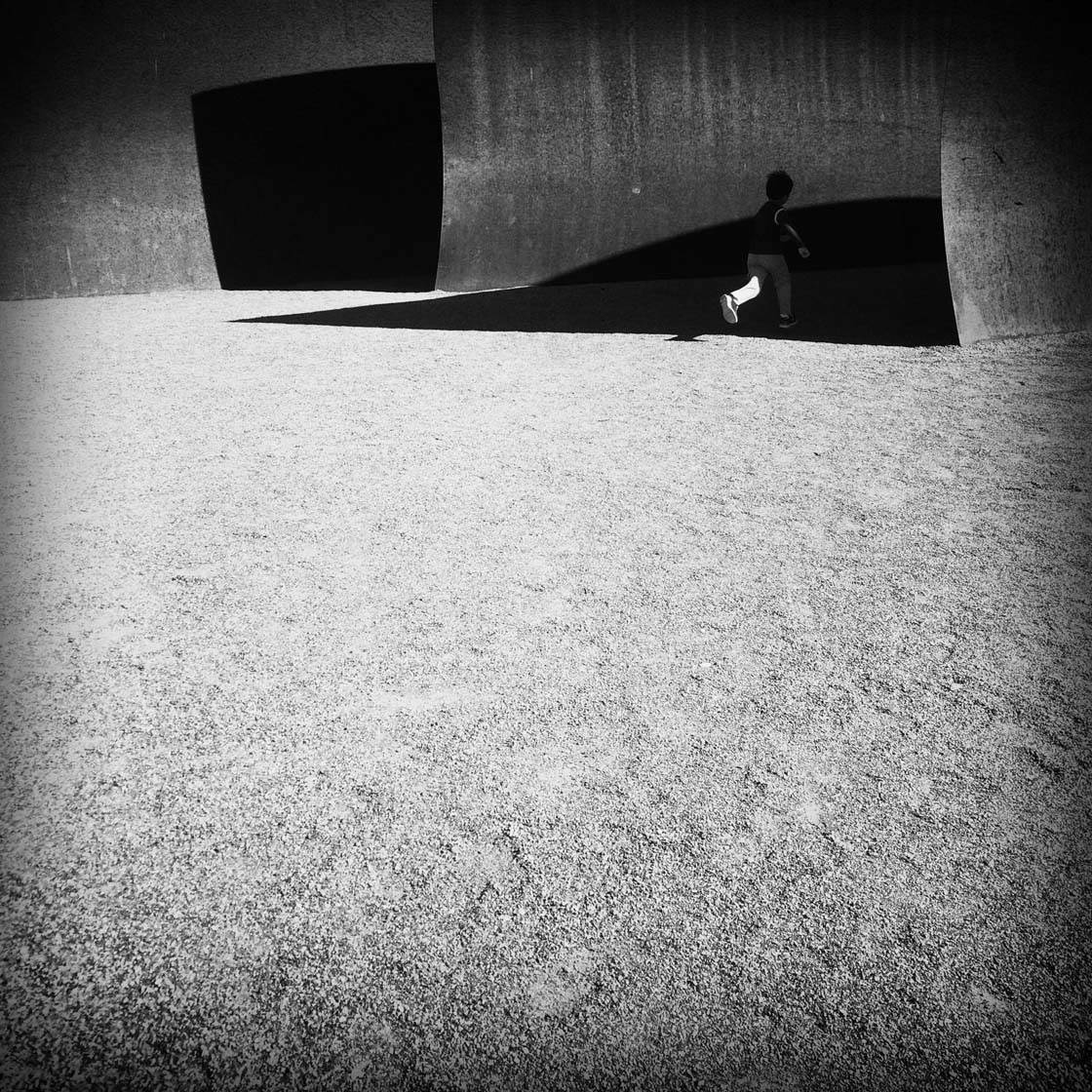 You primarily shoot street photos with your iPhone. What draws you to this genre of photography?
I'm fascinated by how you must be present moment to moment with your surroundings. You must always be open to what shows up and know that no moment can ever be repeated again. It often feels like a mindfulness meditation to me.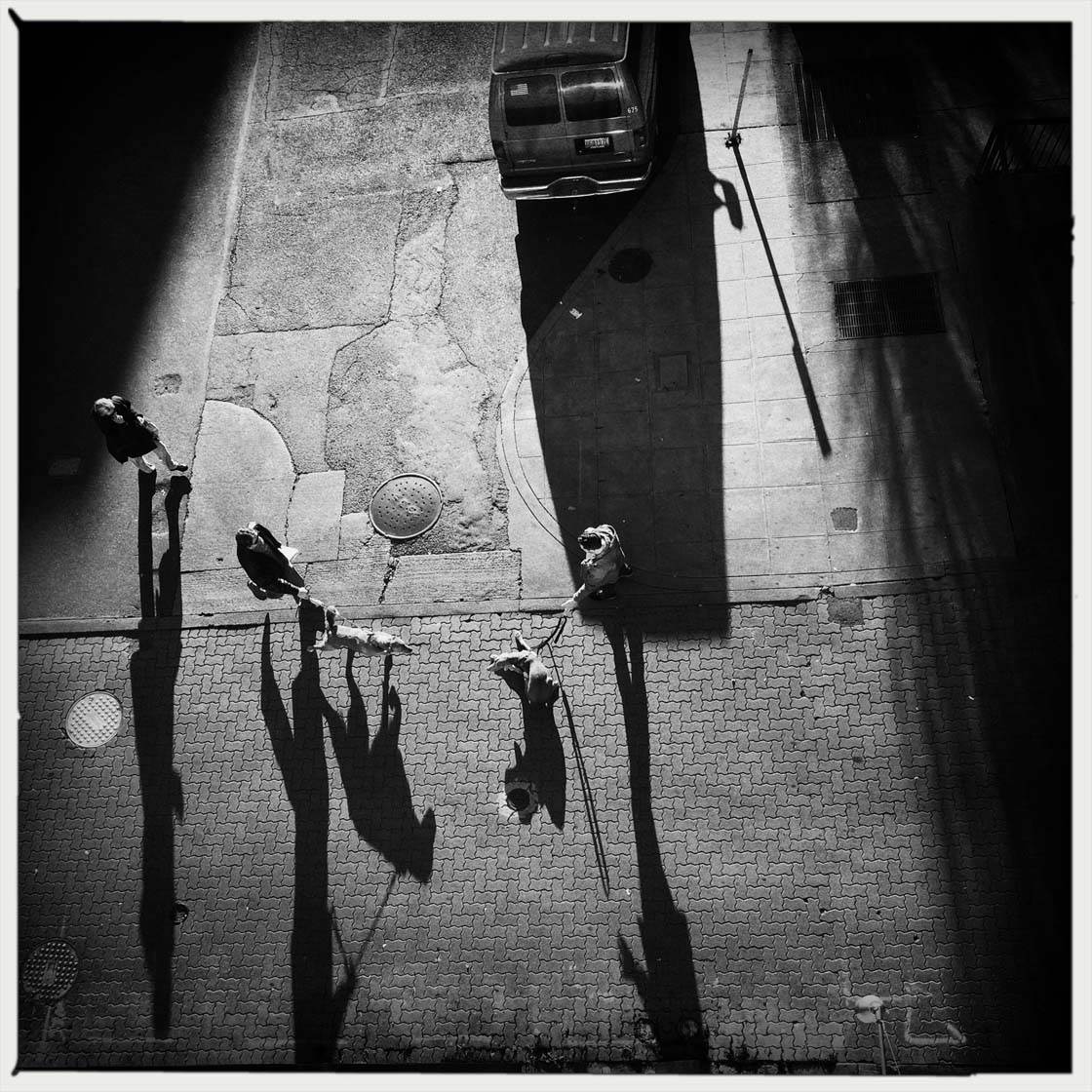 When people are in the photo, you're capturing a precise moment in time – and if you miss the capture, it can never be recreated.
So many of my photos aren't successful, so there's the continual need to let go of expectations and any feelings of controlling the situation, too.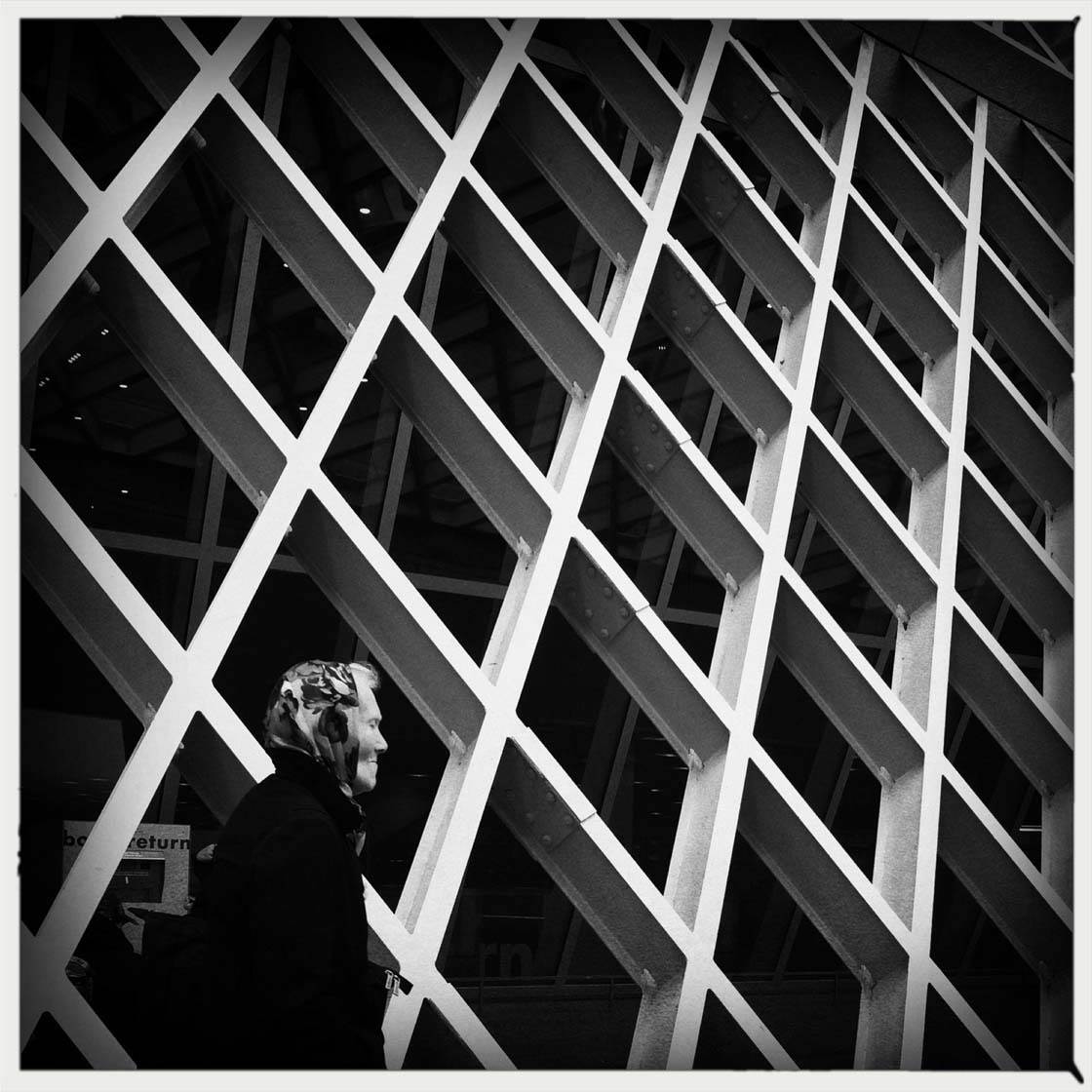 I'm drawn to how street photos, representing an instant in time, can capture incredible and often soulful stories.
I'm also intrigued by how capturing moments in time now are recording a little bit of our history, and that the photos taken today will be viewed as vintage 50+ years from now.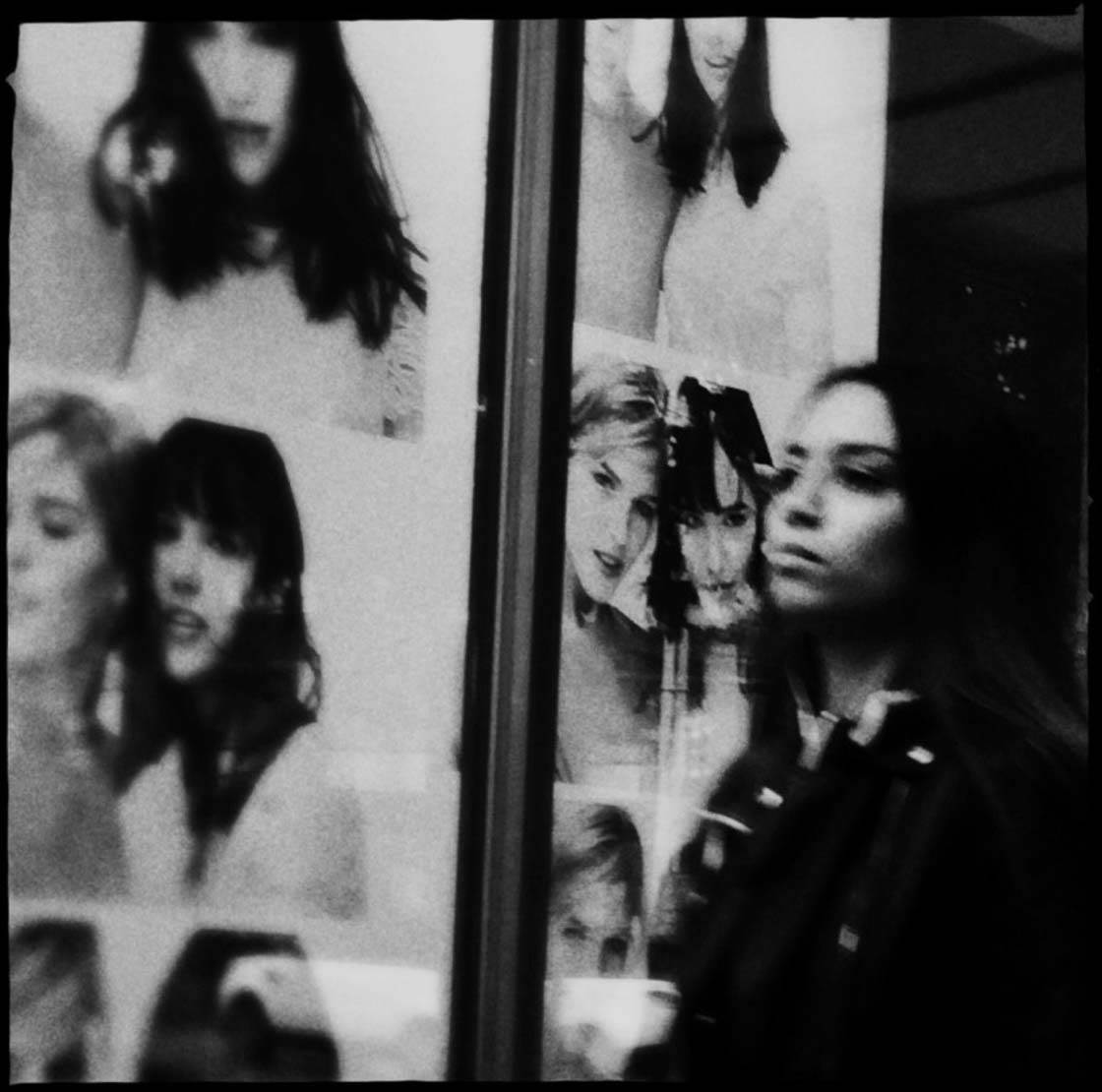 Street photography is all about storytelling, capturing a moment in time in the lives of strangers. What tips do you have for telling interesting stories through photography?
I think the best story storytelling in street photography is when an unexpected moment is captured.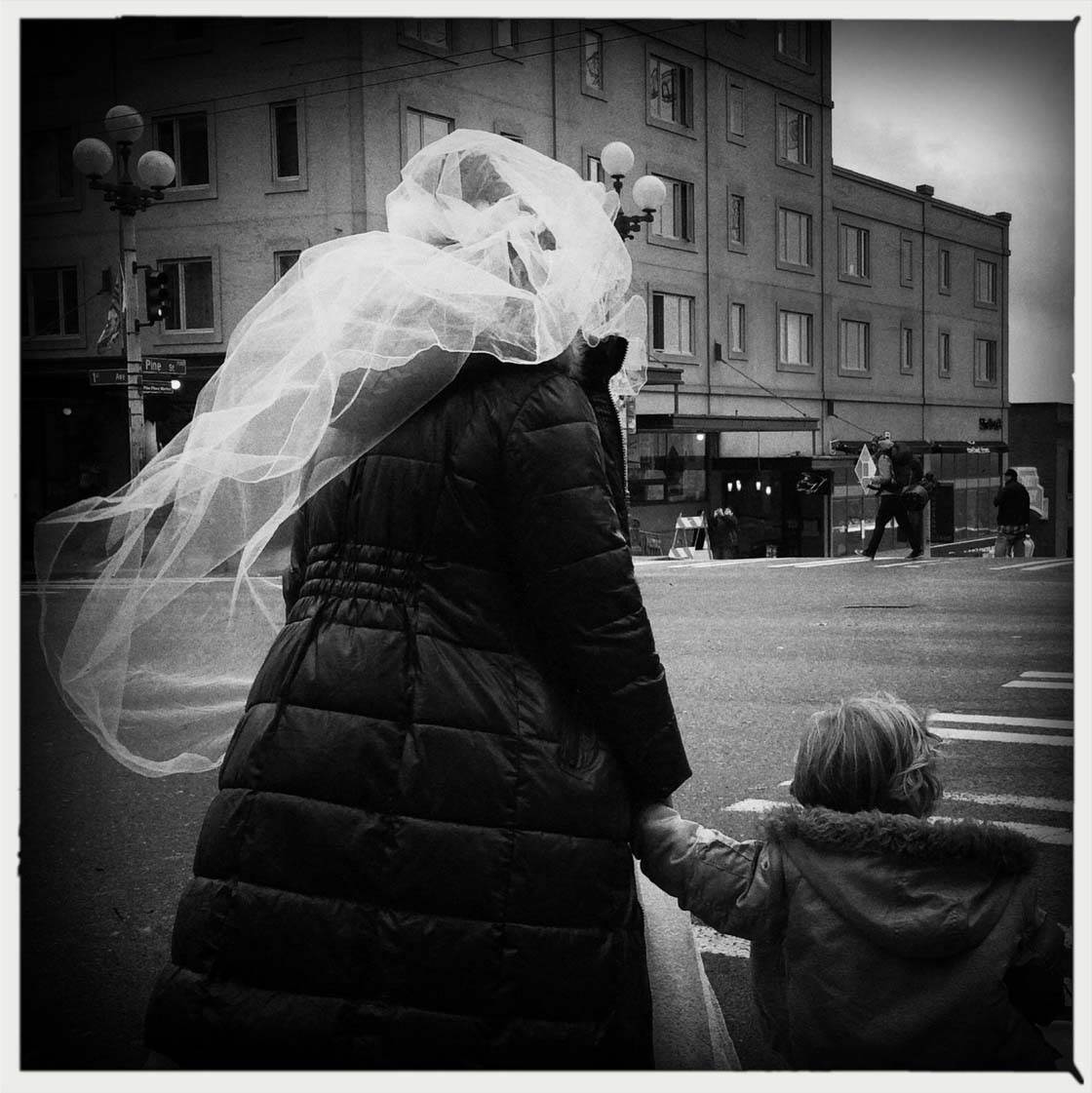 For example, a photograph that captures a moment that's not premeditated or planned – that takes the photographer off guard to capture such a moment.
When these moments are shared, the viewer has the seem feeling as well. That's when magic occurs in street photography, and it's what I'm continually striving to attain in my street photography adventures.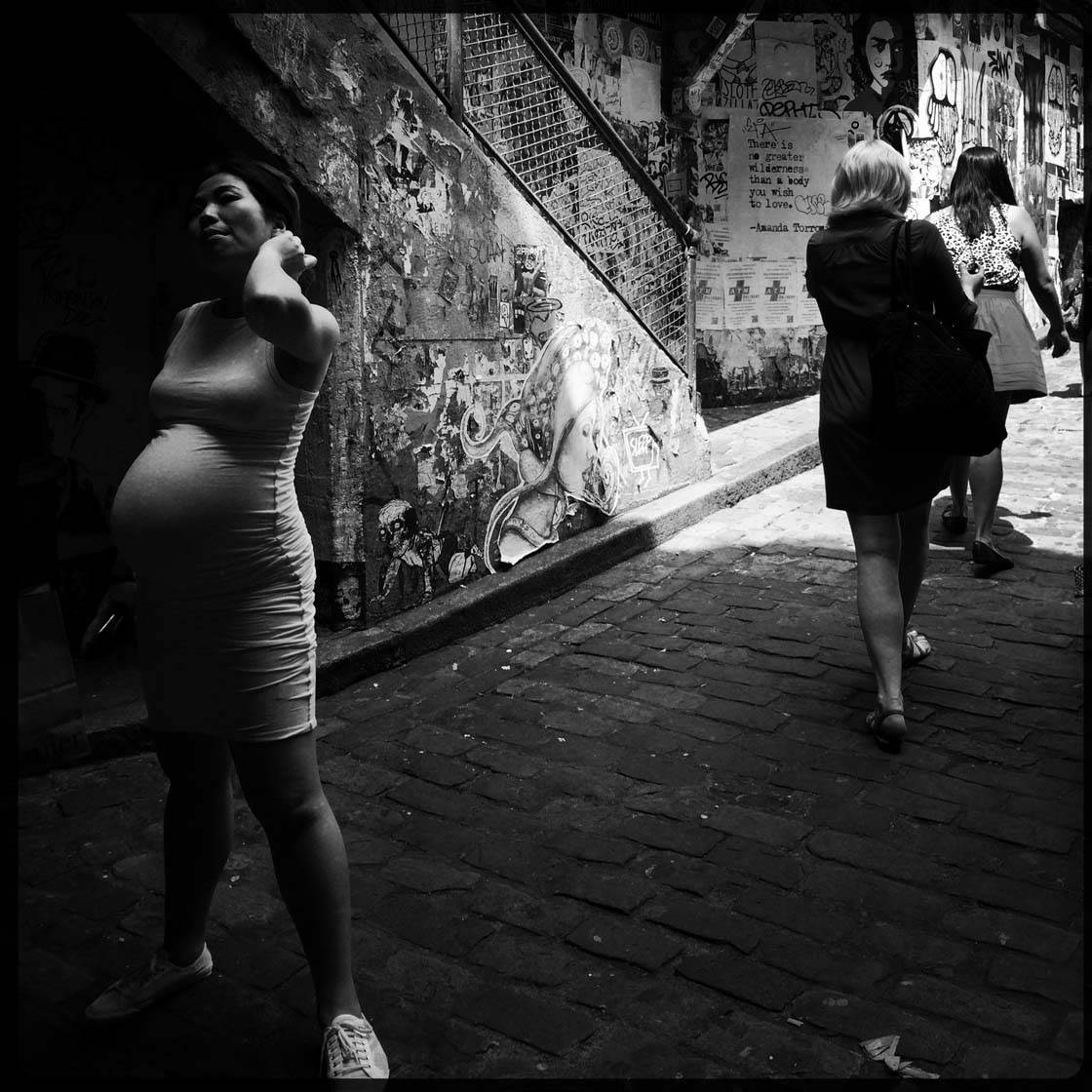 One of the main challenges with street photography is photographing people you don't know. How do you deal with this?
I always try to remain discreet. I find the iPhone allows that to be possible more easily than a big camera.
I'll often hold my iPhone at heart level and not look through the viewfinder, especially if I'm taking a photo of someone close up.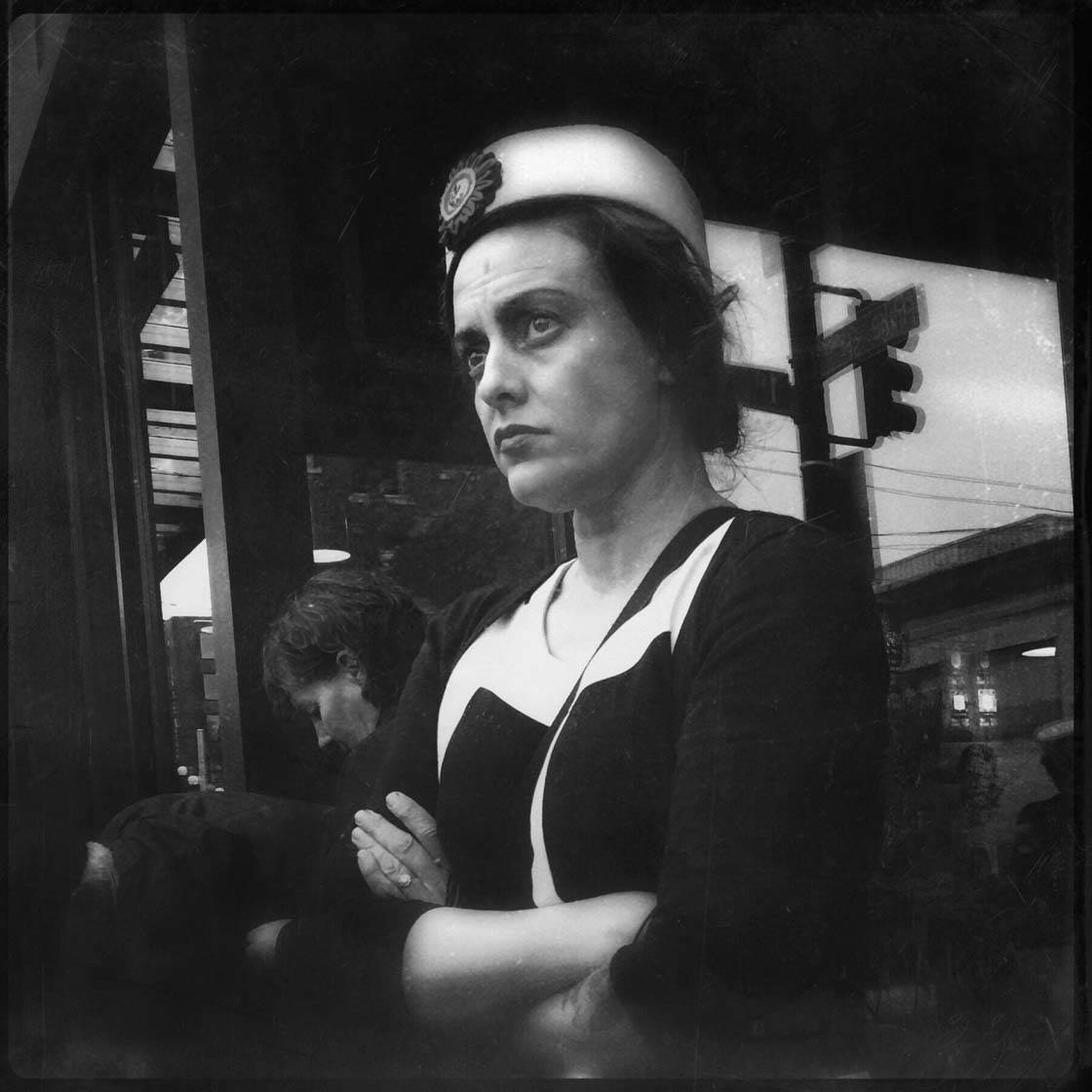 With street photography your subjects are constantly on the move. How do you take such great iPhone photos of moving subjects?
I usually try to "float" about the streets. I try not to stay still in any one place, to avoid being obvious that I'm taking photos, and to flow with the movement of the streets. This can also create interesting blurred captures.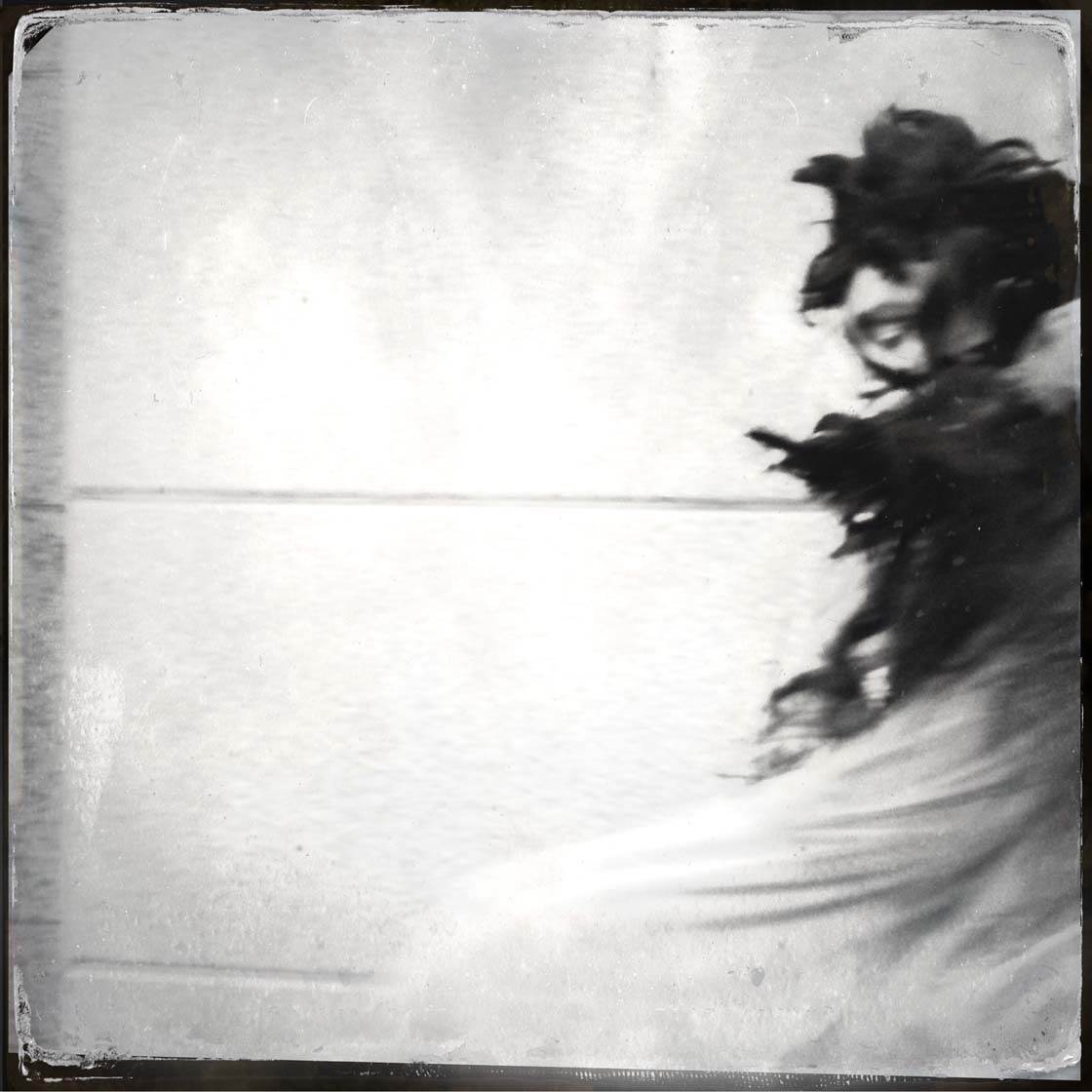 I don't use the burst mode feature in the camera app. I just try to anticipate the movement, and hope for the best.
I have so many photos that aren't successful. Before every photography journey I go on, I always think that I'll be happy if I have one good photo out of the 100 or so I may take in a couple of hours in the city.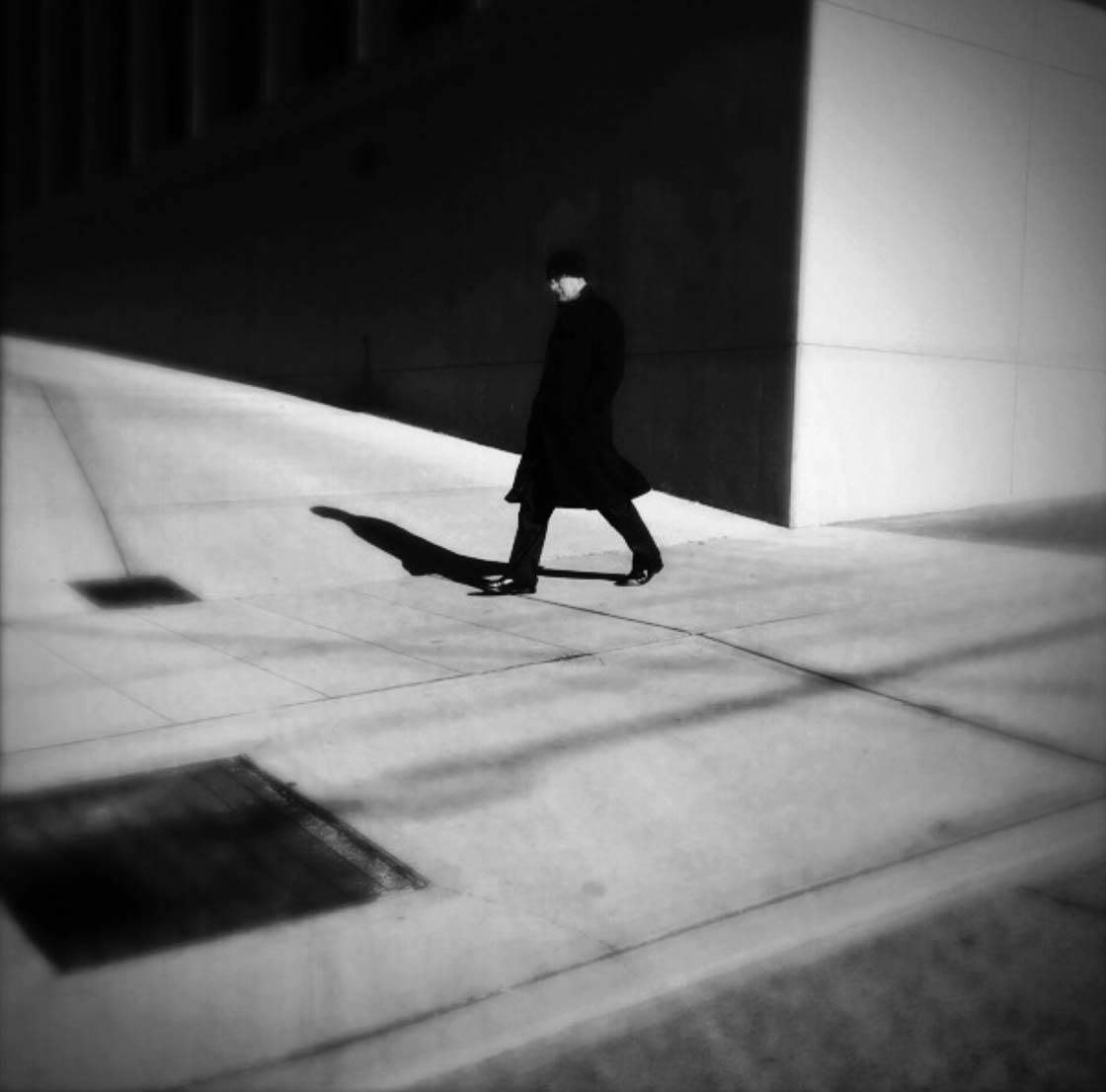 Most of your photos are black and white. Why do you prefer black and white over color?
My parents were avid photographers in the 1950s, and when I was a child my dad converted a small bathroom into a darkroom.
This is where I came to love the art, science and magic of black and white photography. Because I grew up with this experience and influence, I find I'm most drawn to it today.
Also, I love seeing in black and white when I'm the city – looking for dramatic light and shadow, and strong contrasts.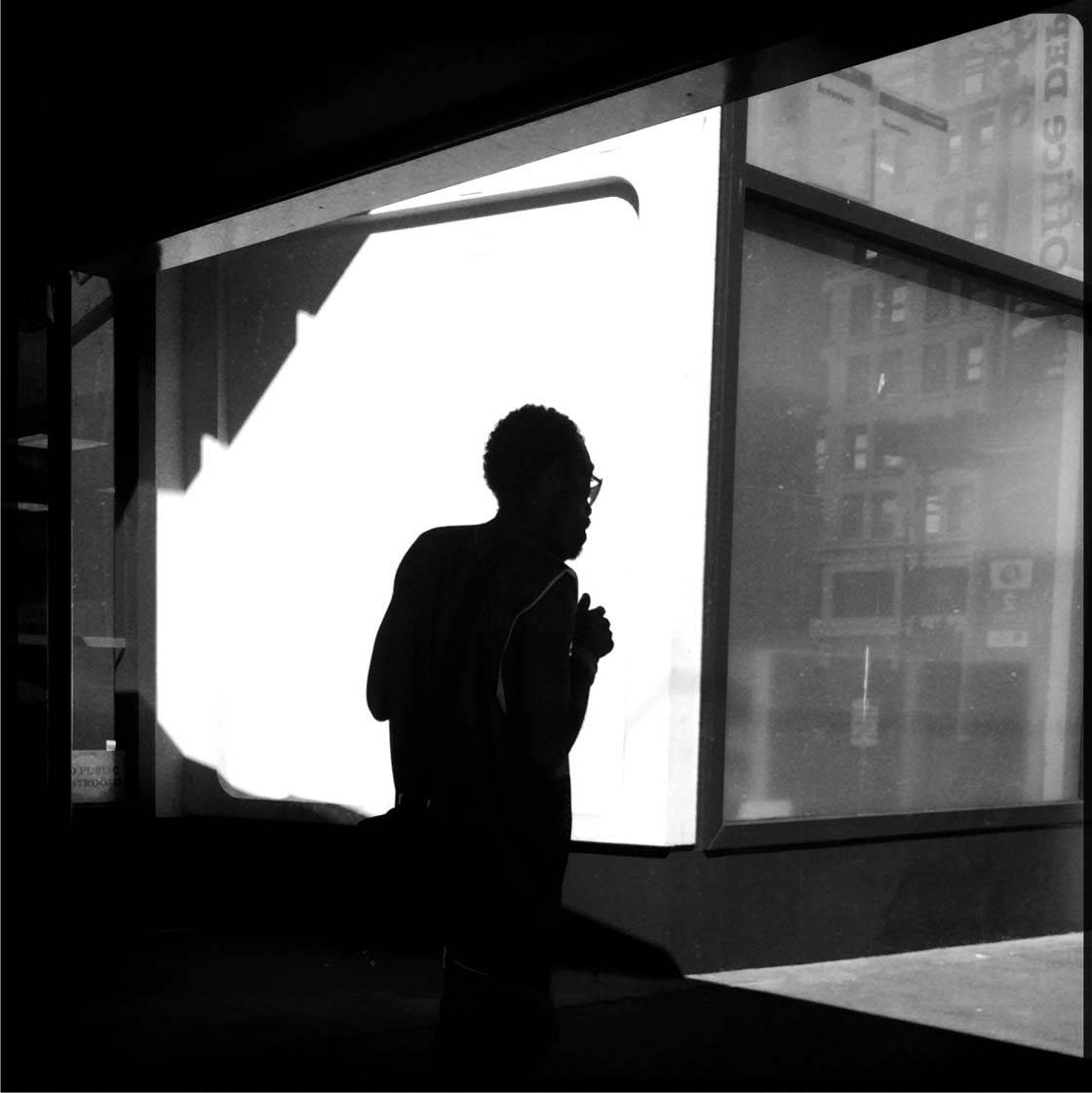 Apart from street photography, what else do you like to shoot with your iPhone?
I also have an affinity to spending time in rural settings connecting to the natural world. It's in those environments I feel most connected to my soul and where I like to capture the beauty of our earth.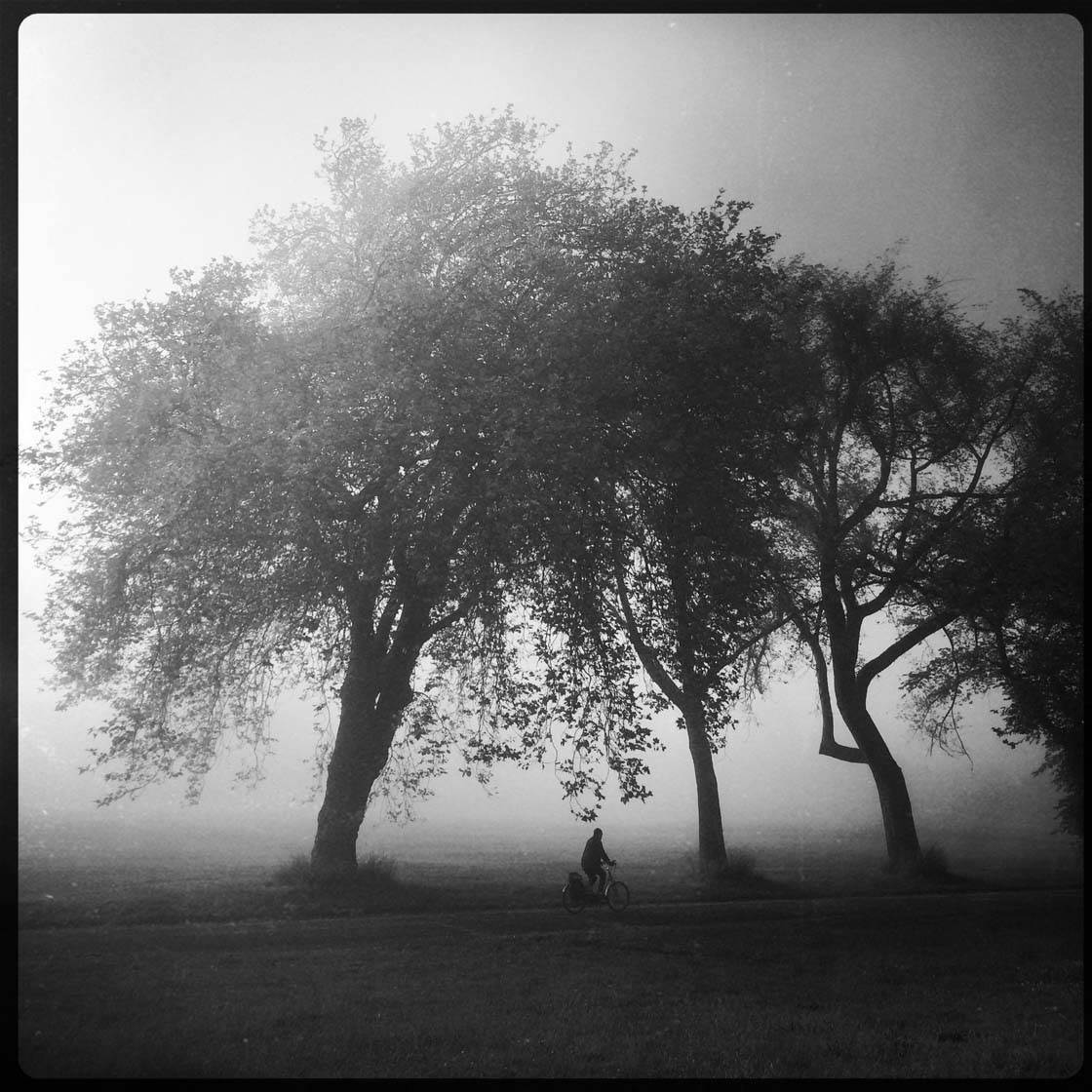 Let's talk about photo apps. Are there any apps that you use for taking photos besides the native camera app?
I usually always start with the Hipstamatic app as the black and white film and lens options are phenomenal.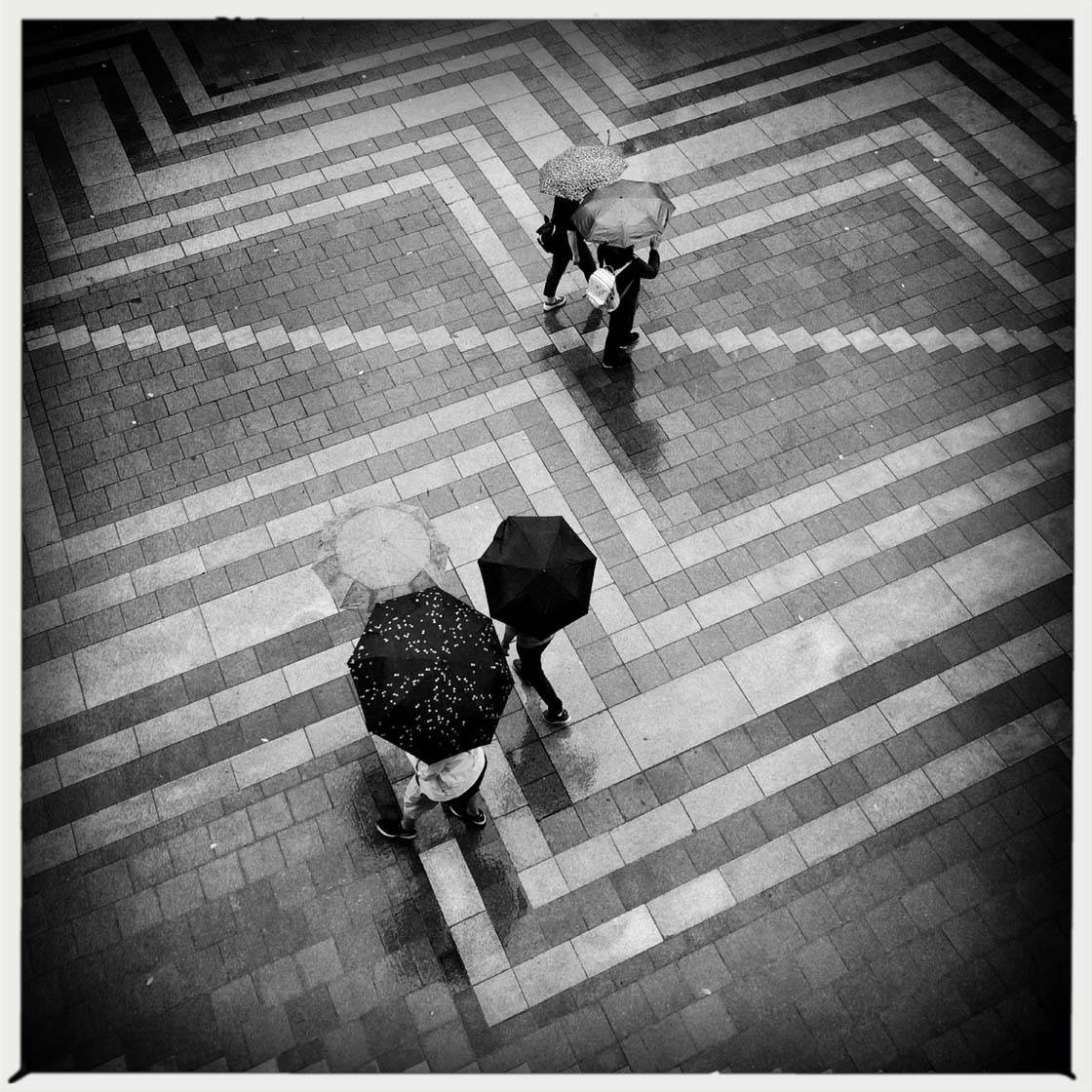 What are your favorite apps for post-processing?
For post processing, Snapseed is my go-to app. It feels like I have access to a small darkroom in the palm of my hand.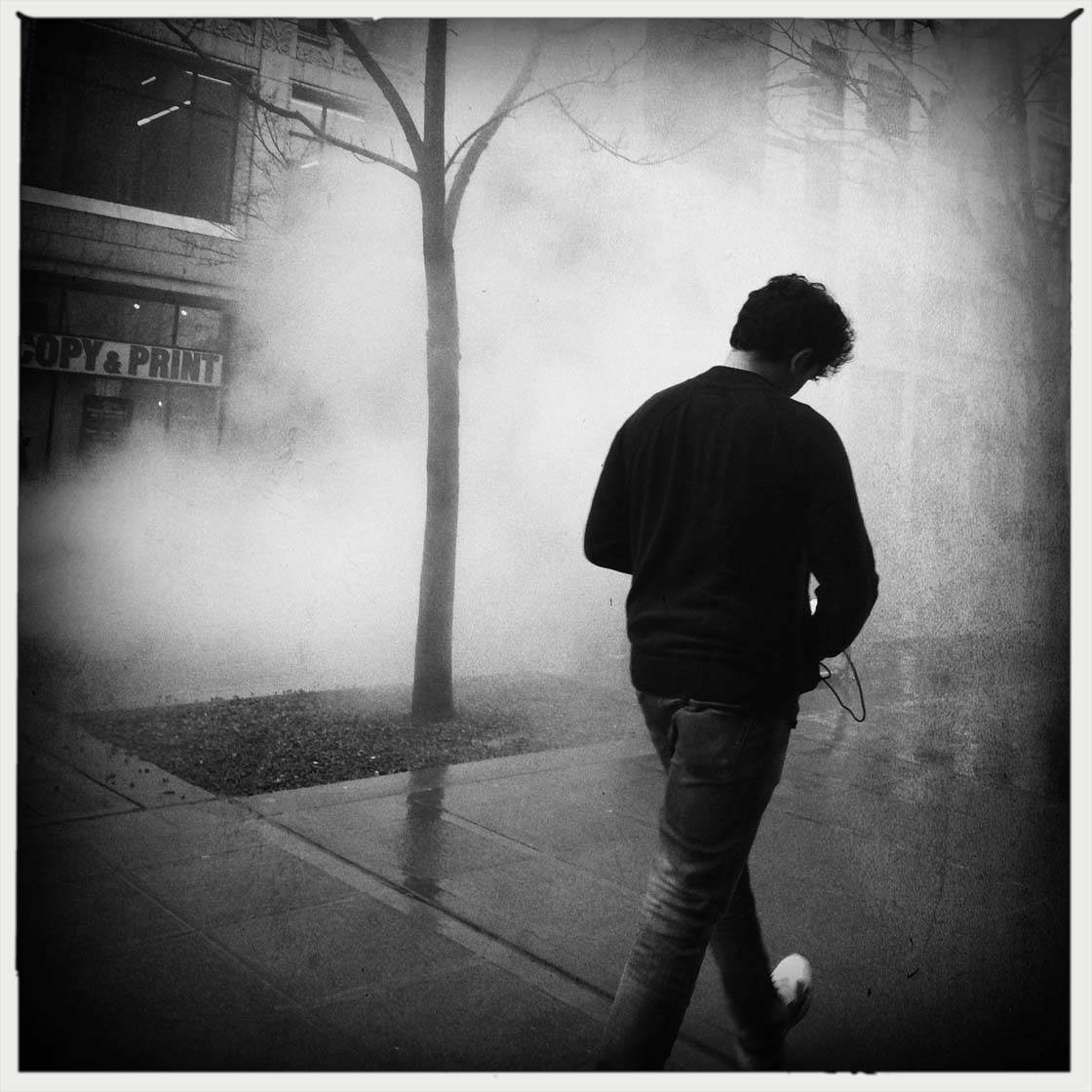 Some of your photos have texture and grain applied to them. What makes you choose this effect for certain photos, and which app/s do you use to apply them?
I often add texture and grain to my black and white street images, especially the ones that have a simpler composition and that I may not be that happy with (perhaps areas that are too light, dark or blurred).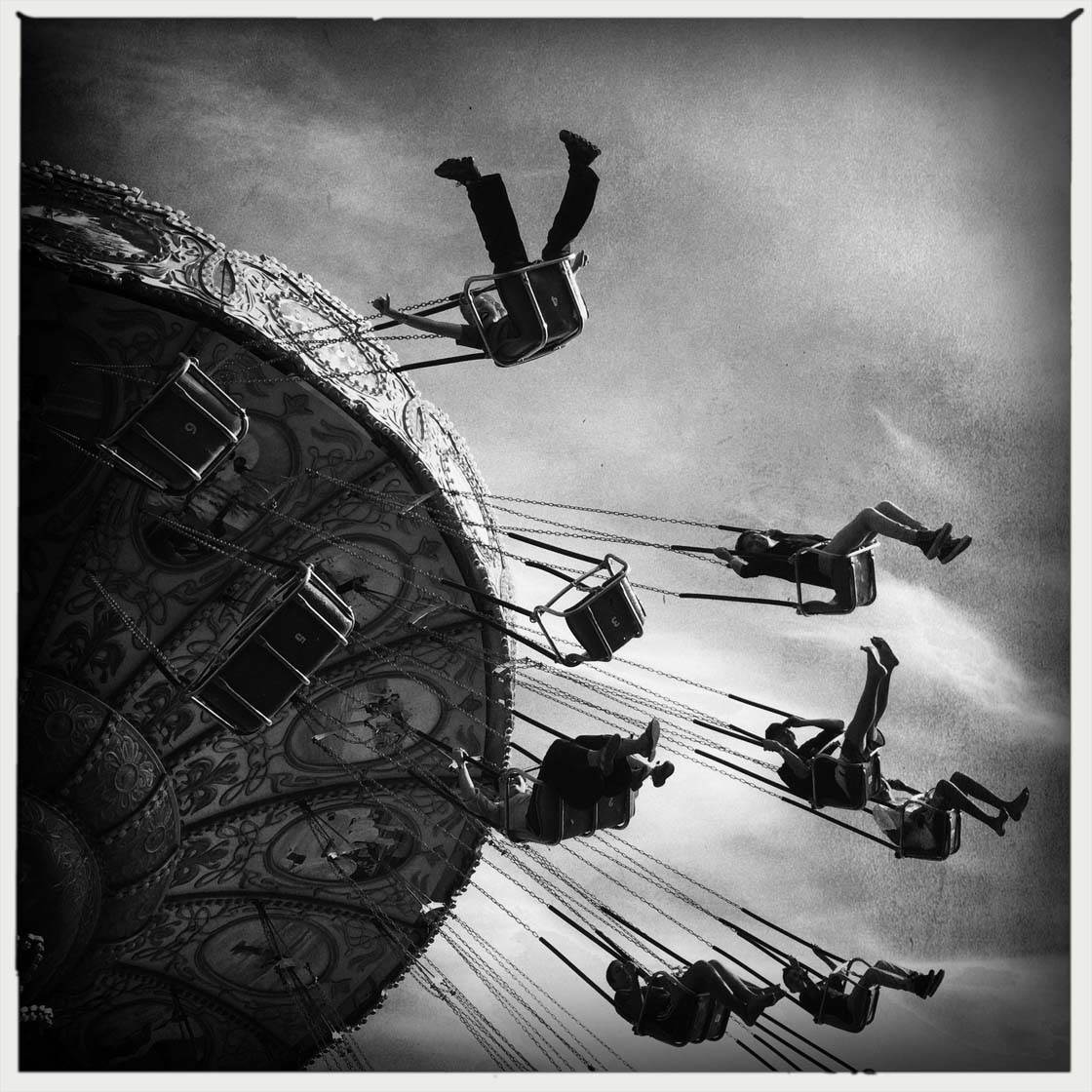 I mainly use the Mextures and Stackables apps to apply these effects to my images.
Because of my connection to vintage photos, I also like to add textures to give the photos a more vintage look.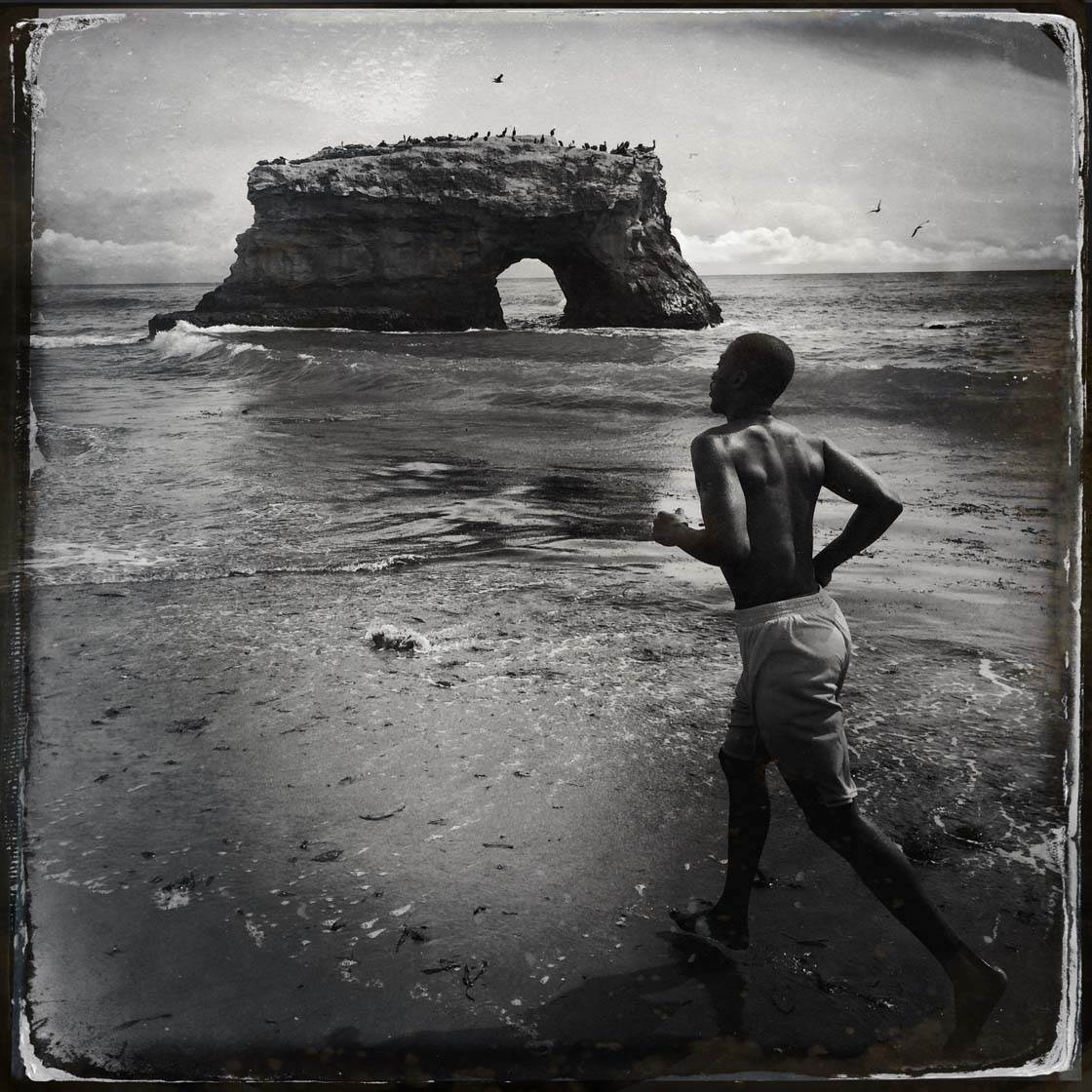 Do you use any iPhone photography accessories?
I've used an iPhone tripod and remote shutter for taking a series of self portraits that I took where I was honoring my mother's life. I was wearing her vintage coat in beautiful locations in nature that I know she would have loved.
Can you briefly explain the story and editing process behind your three favorite iPhone photos?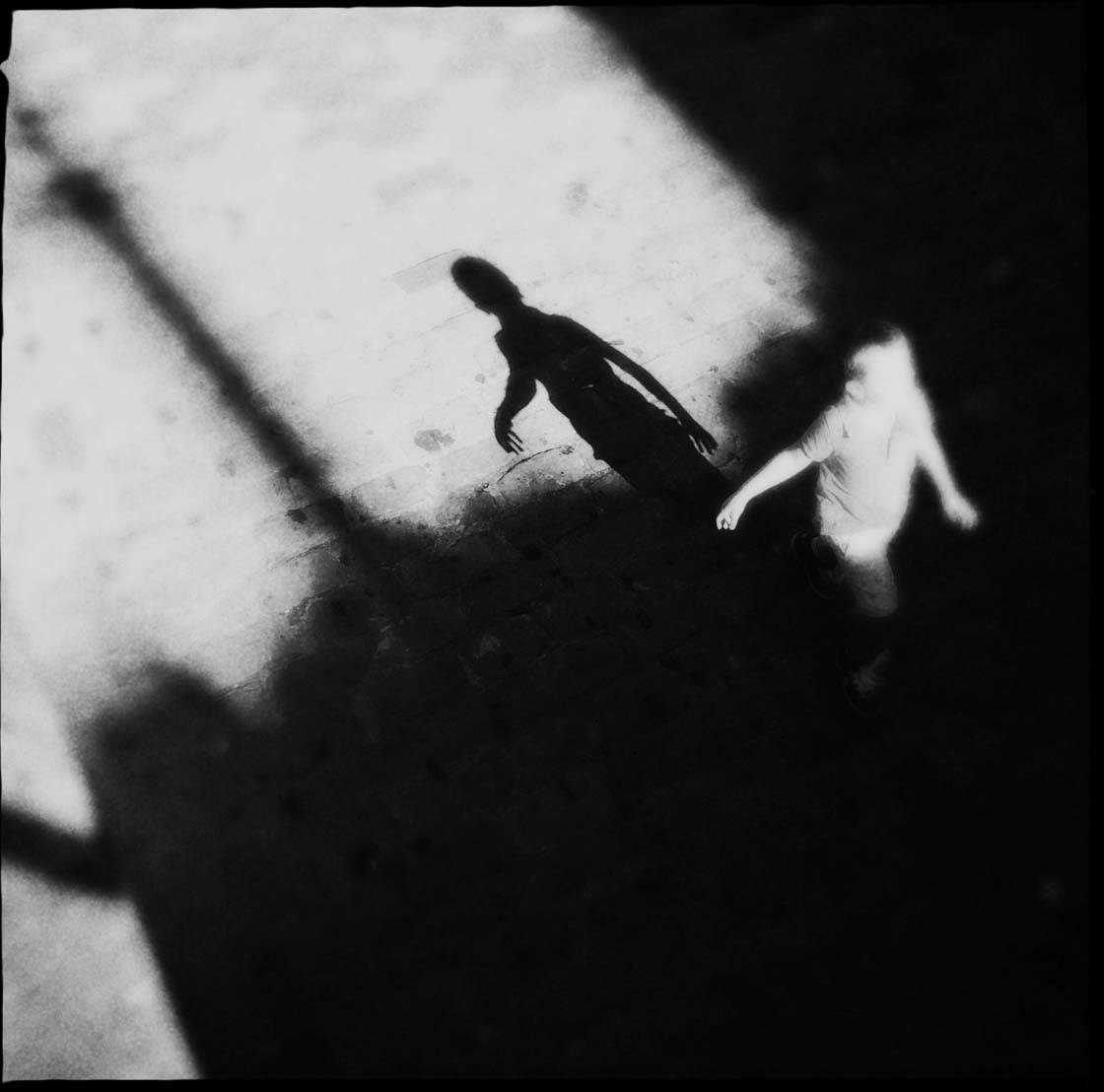 The Intensity Of Light
I'm always looking for different perspectives for my street photos. I was drawn to this place for the ability to look down onto the scene below. I also liked the strong shadow shape and the cobbled street textured background.
The young boy ran into the photo, and his movement, the intensity of the sunlight, as well as the Hipstamatic app's Tinto Lens and Rock BW Filter, helped to create the blurred and focussed shadow effect.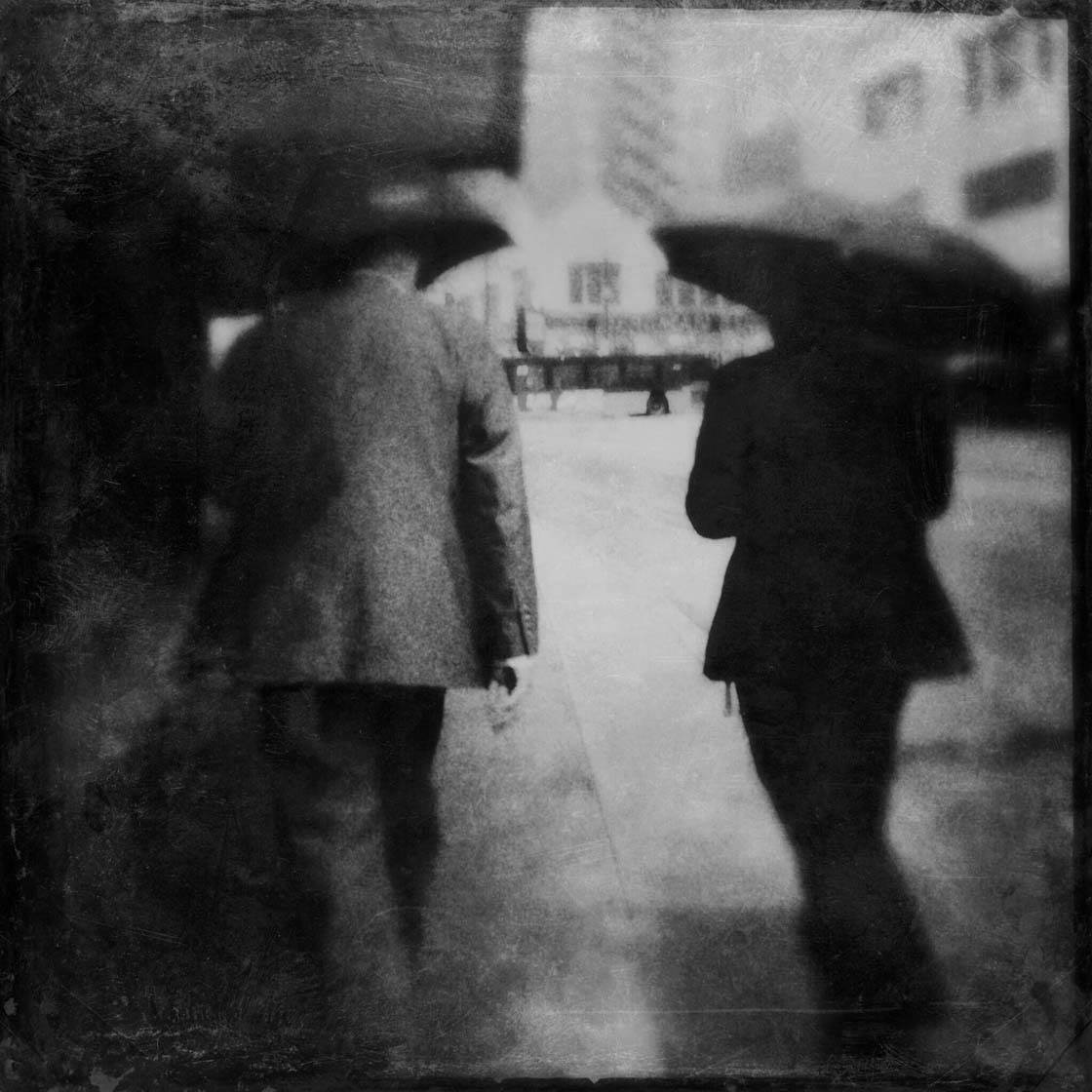 Virginia Street
I was drawn to the city this day to capture the stormy weather. These two gentlemen stepped out of a store as I was approaching, and I captured this photo after they'd put up their umbrellas and walked past.
This is a street photo that I chose to edit with texture as it was quite blurry. I liked the shapes and silhouettes created by the two figures against the rainy city background.
I used Hipstamatic to shoot the photo, and then edited it with Stackables, Mextures and Snapseed.
The Landing
The strong shadows captured my attention at this location, and then I saw a woman walking up the stairs. As I lined up the shadows, I wasn't sure what the outcome of this photo would be until I viewed it later.
I only used the Hipstamatic app to create this photo. I used the G2 Lens and BlacKeys XF Film which creates a very strong contrast effect.
Do you shoot with any other cameras?
Although I have a Canon Rebel DSLR, I strictly use an iPhone at the moment.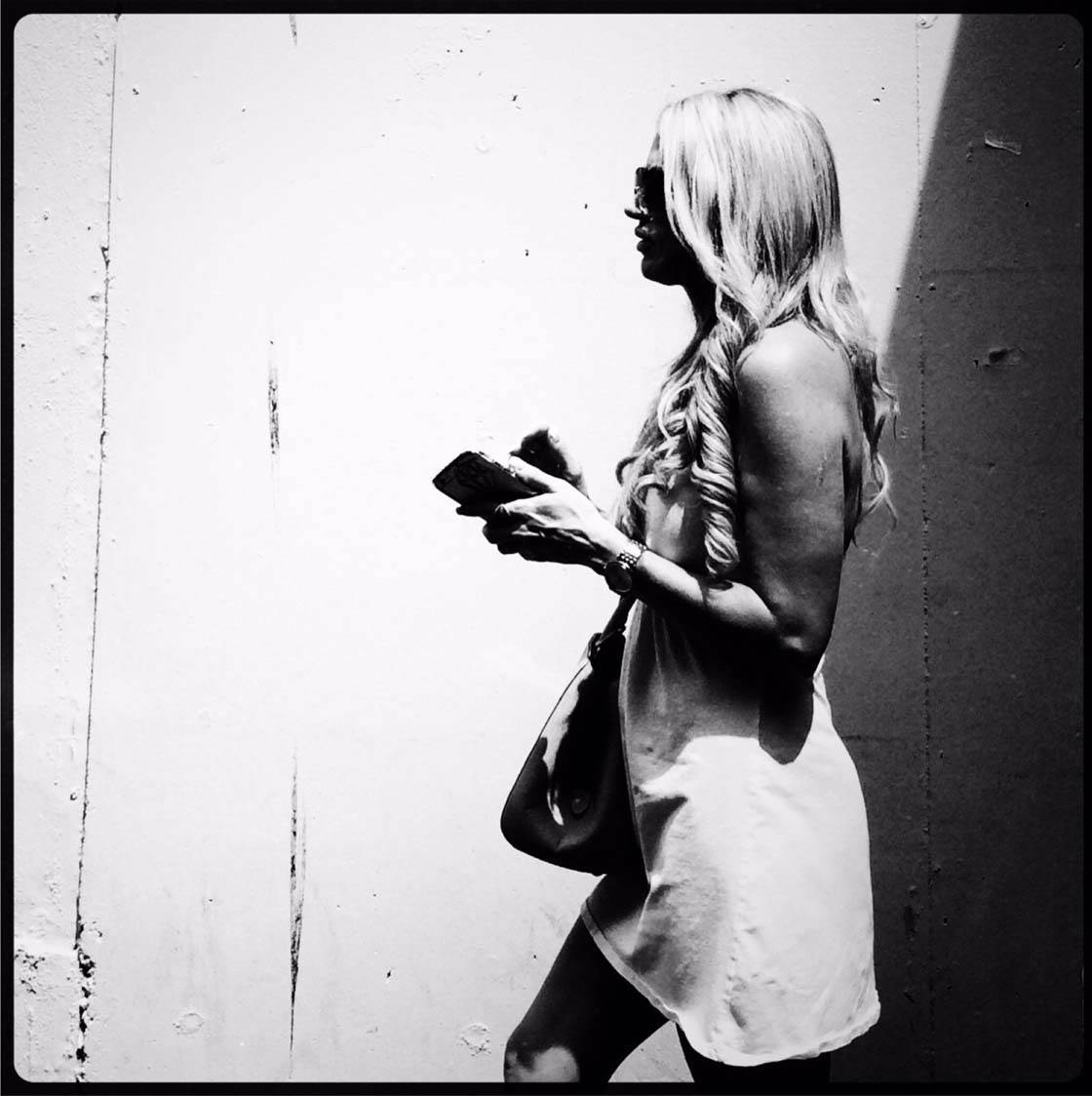 What tips do you have for beginner iPhone photographers who want to start taking more creative photos with their iPhone?
There's a quote from the street photographer Henri Cartier-Bresson… "Your first 10,000 photographs are your worst."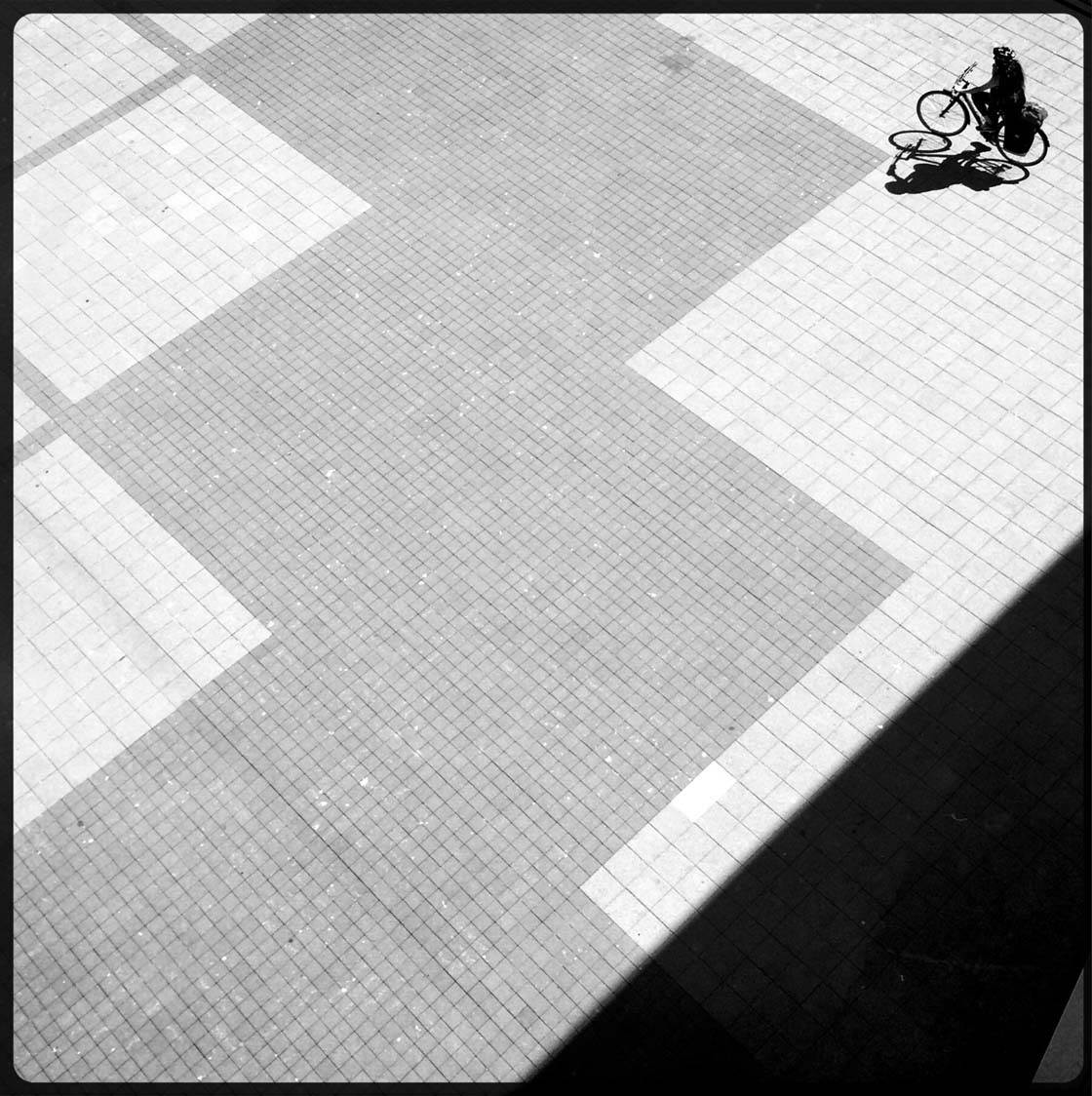 I think this is important to keep in mind. Don't be attached to the outcome of your photos initially.
Be playful, take tons of photos, experiment with different apps, and most importantly, enjoy the process.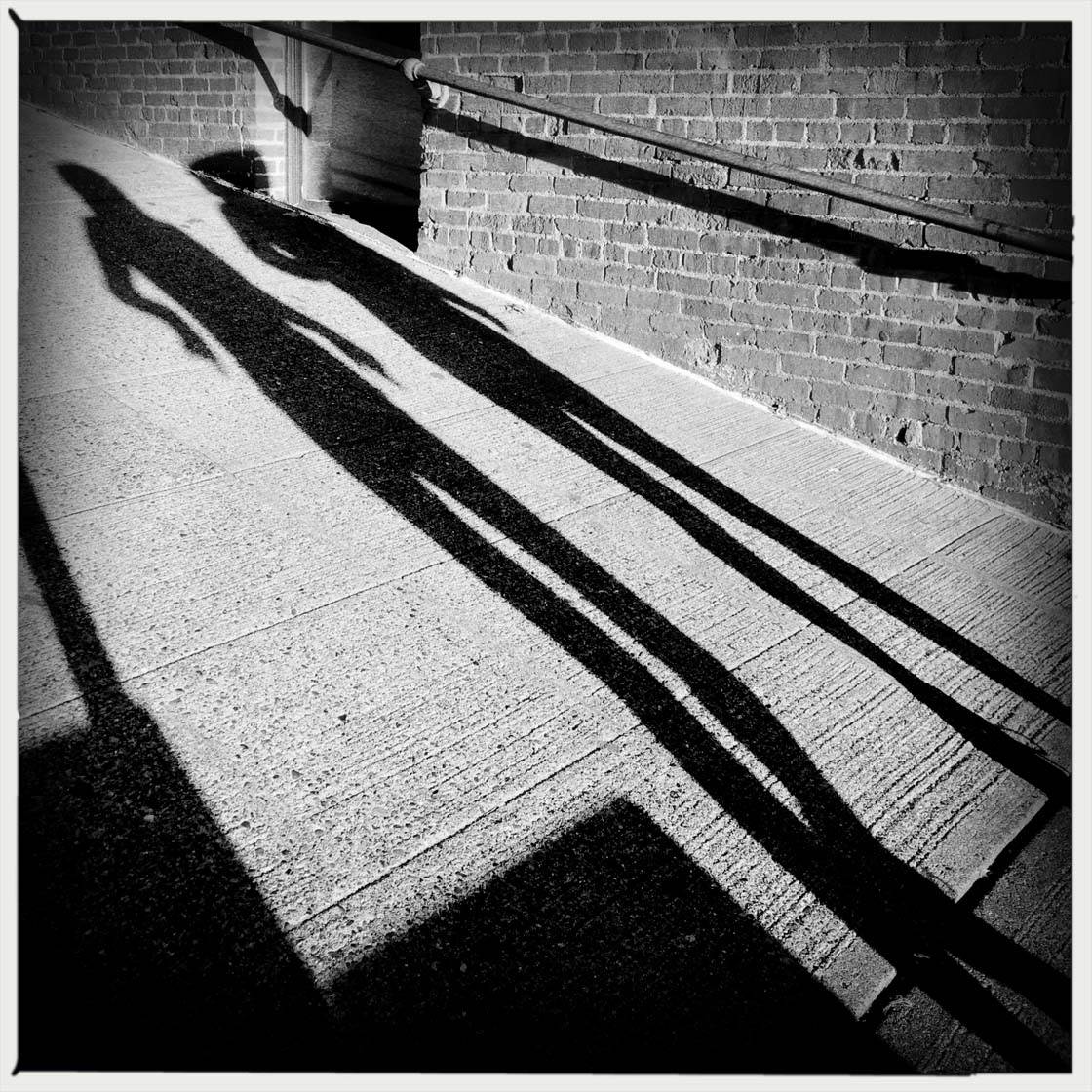 Which iPhone photographers do you admire the most?
There are so many friends and iPhone photographers that I admire who specialize in street photography. I hate to only mention some, as I don't want to leave anyone out. Here are some of many more:
Valeria @_soulkitchen_, Myrna Weinrich @myrnaphotography, Magda @mdjm_ibiza, Bredun Edwards @bredun_e, Roy Savoy @roy.nyc, Sheldon Serkin @shelserkin.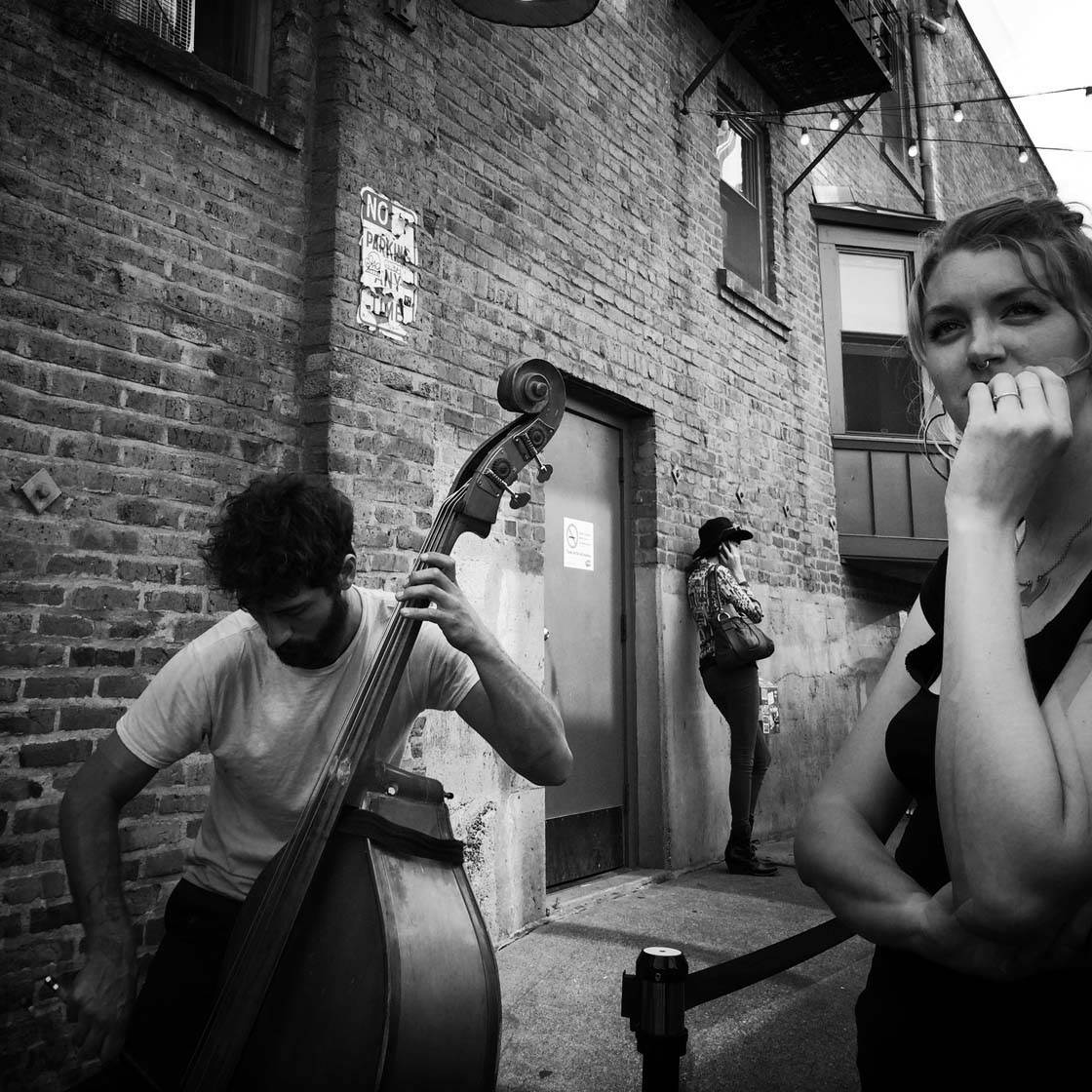 Matthew Wylie @m_mateos, Albion Harrison-Naish @albionsamson, Brendan Ó Sé @iphunography, Markus Anderson @markusxandersen, Mark Fearnley @mark.fearnley.
Grace Brignolle @icstreets_nyc, Cara Gallardo Weil @caragallardoweil, Ilana Buch Akoundi @ilanaakoundi, T @t.n____, Angela Gordon @angelagordonphotographer.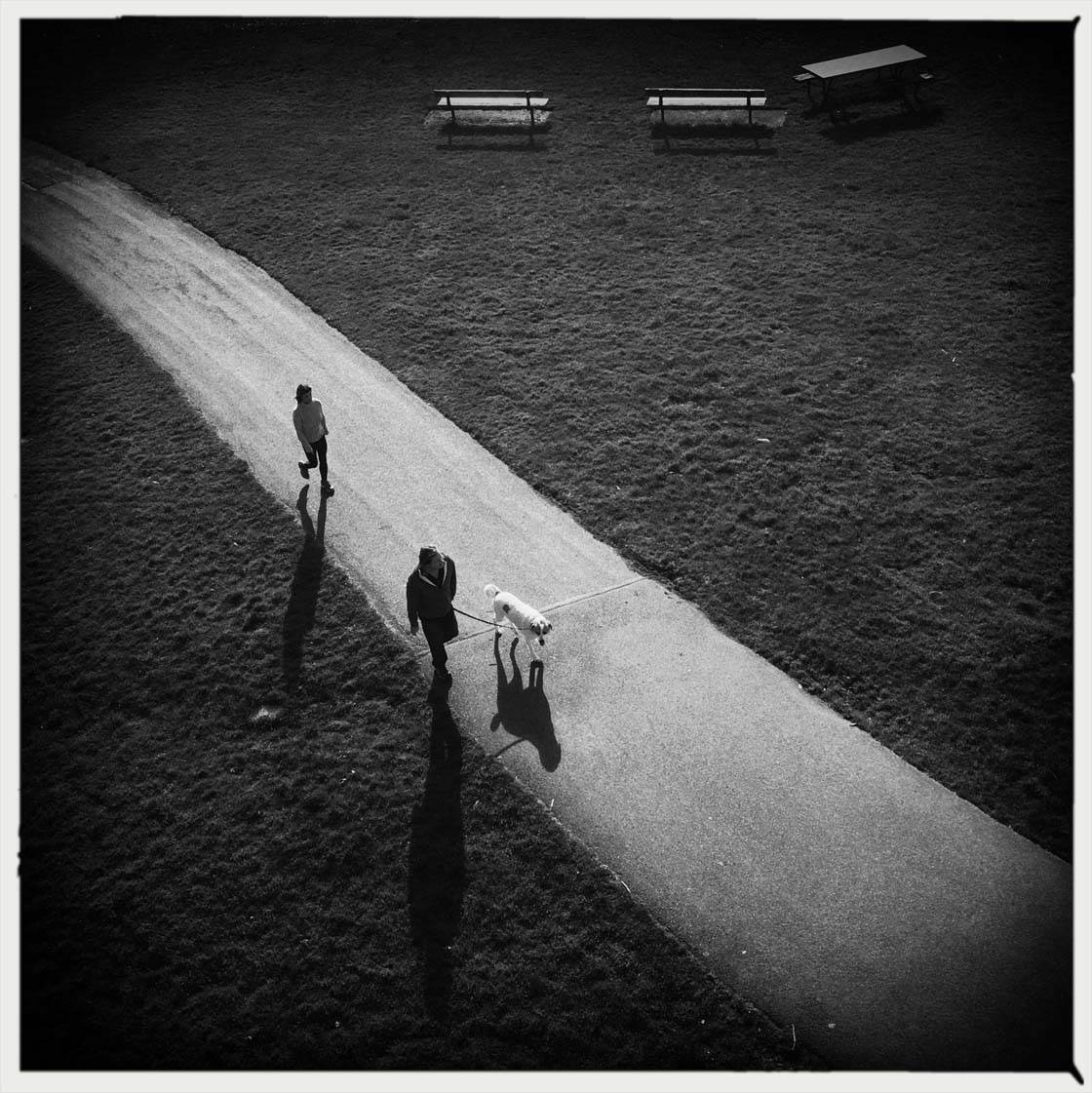 Where can we see your iPhone photography?
You can find me on LensCulture @lee-atwell, on Instagram @lee_atwell, and also on Flickr.