Jason Peterson is a master of black and white street photography. Influenced by photographers of the past, he manages to capture amazing light and shade in his iPhone images. Jason has an innate ability to create powerful compositions that tell a story of the urban landscape and the people within it. I'm really excited to share this interview, where you can learn more about Jason and how he creates his incredible iPhone photos.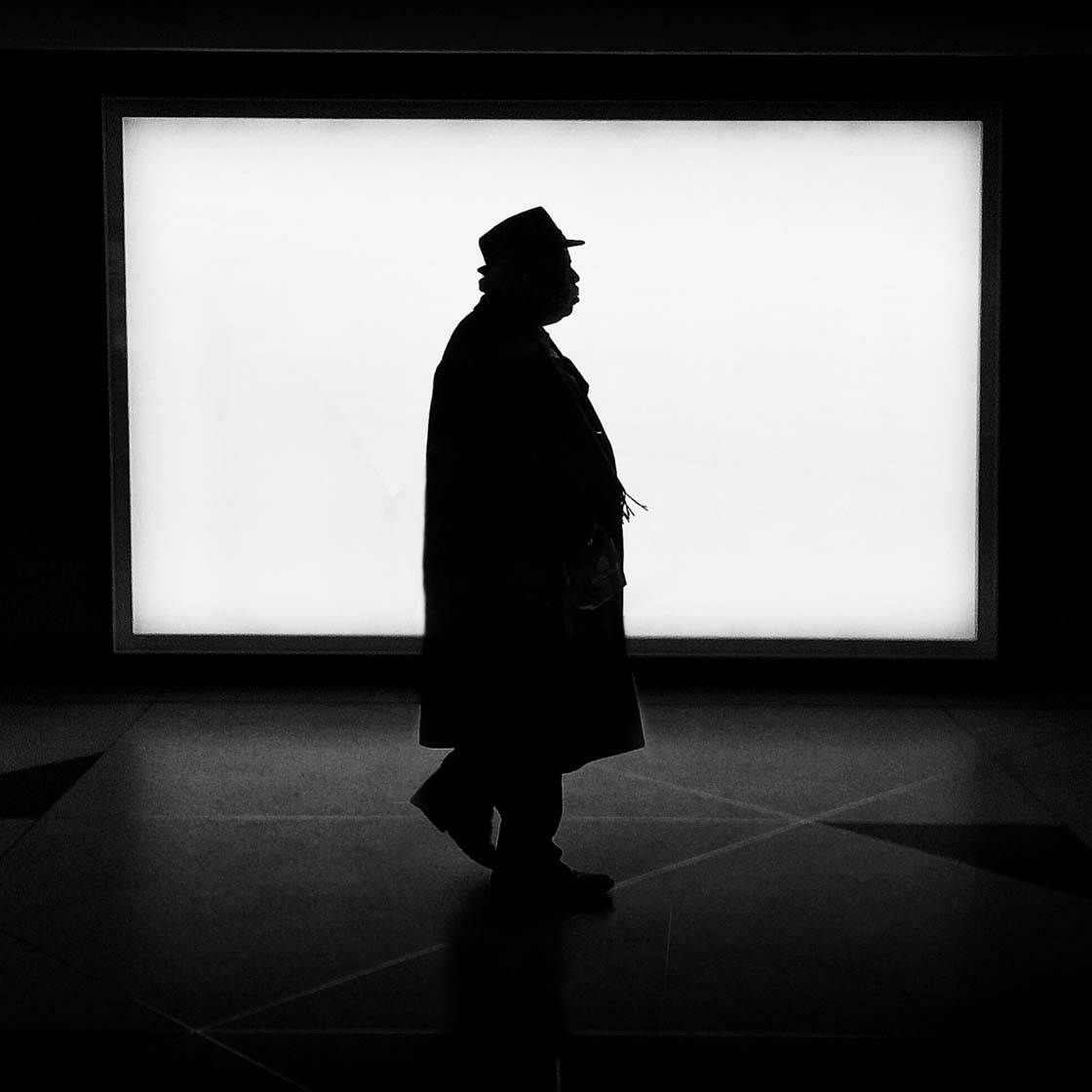 Tell us a little bit about yourself.
I grew up in Phoenix Arizona. I was deep into the American Hardcore scene, and the punk DIY ethos has always stuck with me. I currently live in downtown Chicago.
I'm the chief creative officer of Havas North America, a full service branding agency. I have two kids, Ford and Felix, and I have two big black F's tattooed on my wrists for them. They're the most rad kids in the world.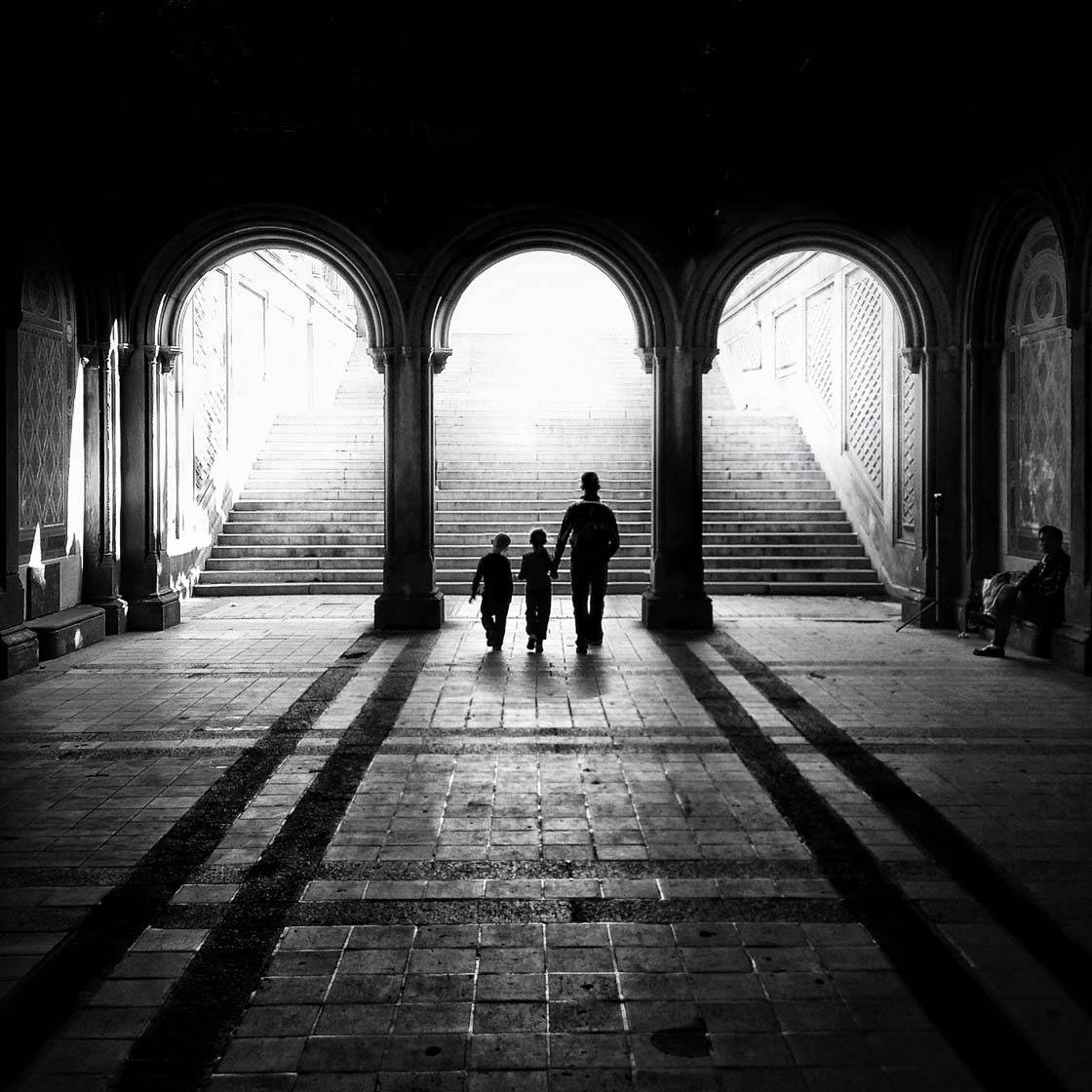 I studied photo history and design in college, and I have a vast knowledge and love of classic fashion and street photography. I have a photo library of thousands of books!
I don't consider myself a photographer, but an Art Director with an iPhone. I'm not creating images… I'm just documenting what happens around me.
How did your iPhone photography journey begin?
It began almost three years ago when a friend at work told me to check out the Instagram app. I never liked digital photography and I thought Instagram was just another Hipstamatic filter pack.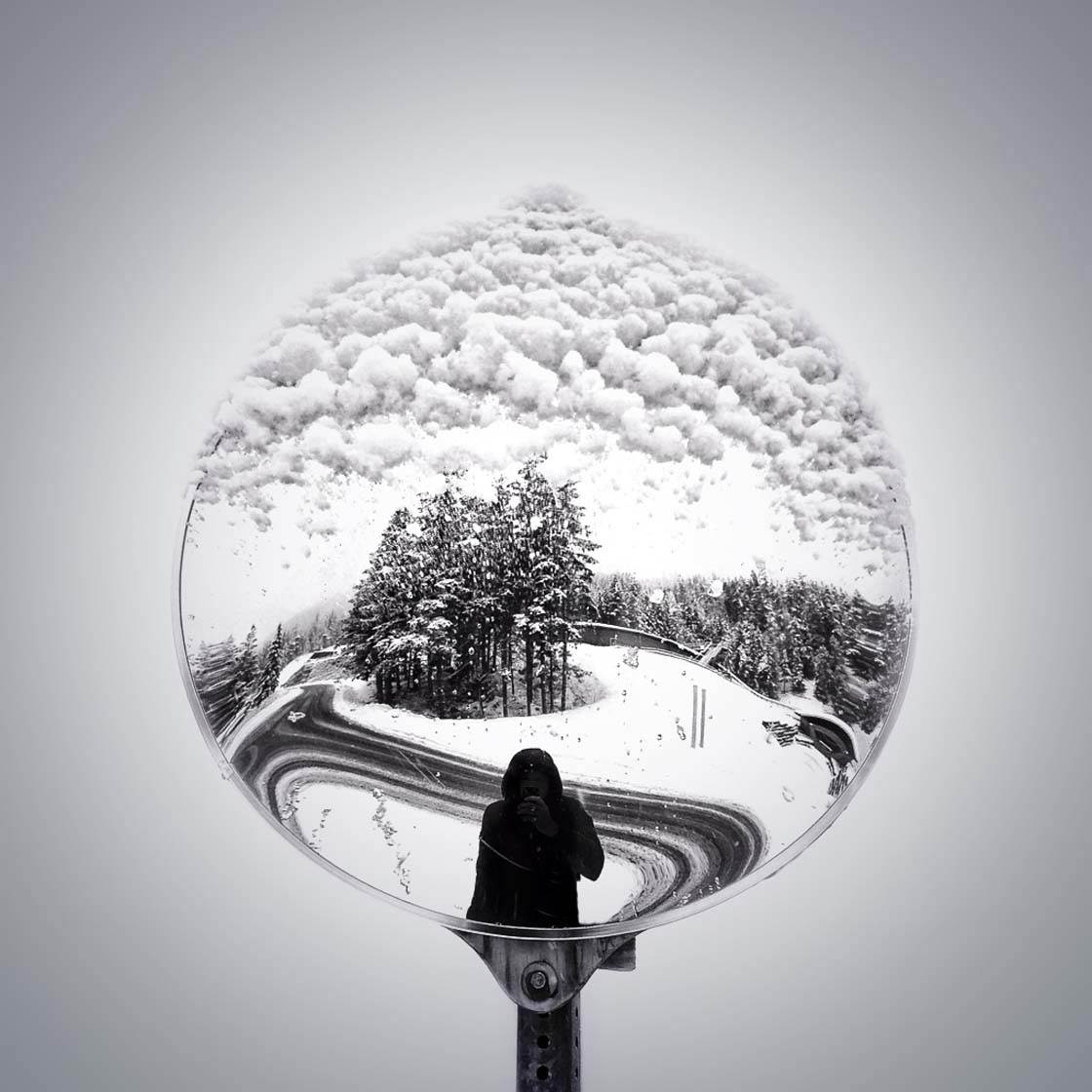 But I got hooked in on a challenge to see who could get 1000 followers, and it went on from there.
What inspires you to take photos with the iPhone?
I love the scale of urban landscape versus the human condition. I love capturing the moments that constantly happen and go by unnoticed.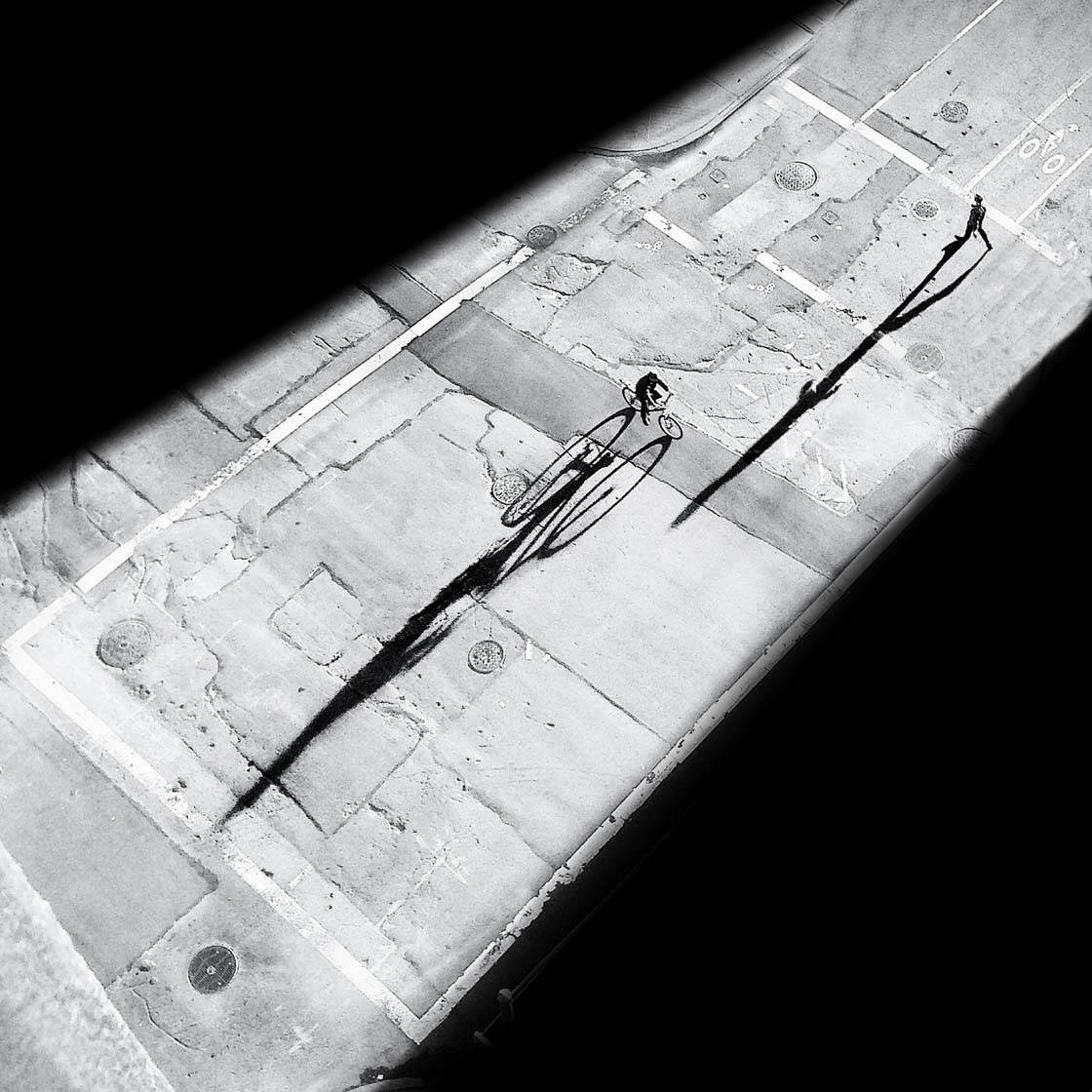 What kind of subjects or scenes do you tend to photograph the most and what draws you to them?
First and foremost, I always look for light. I'll return to the same location over and over looking for when the light is just right.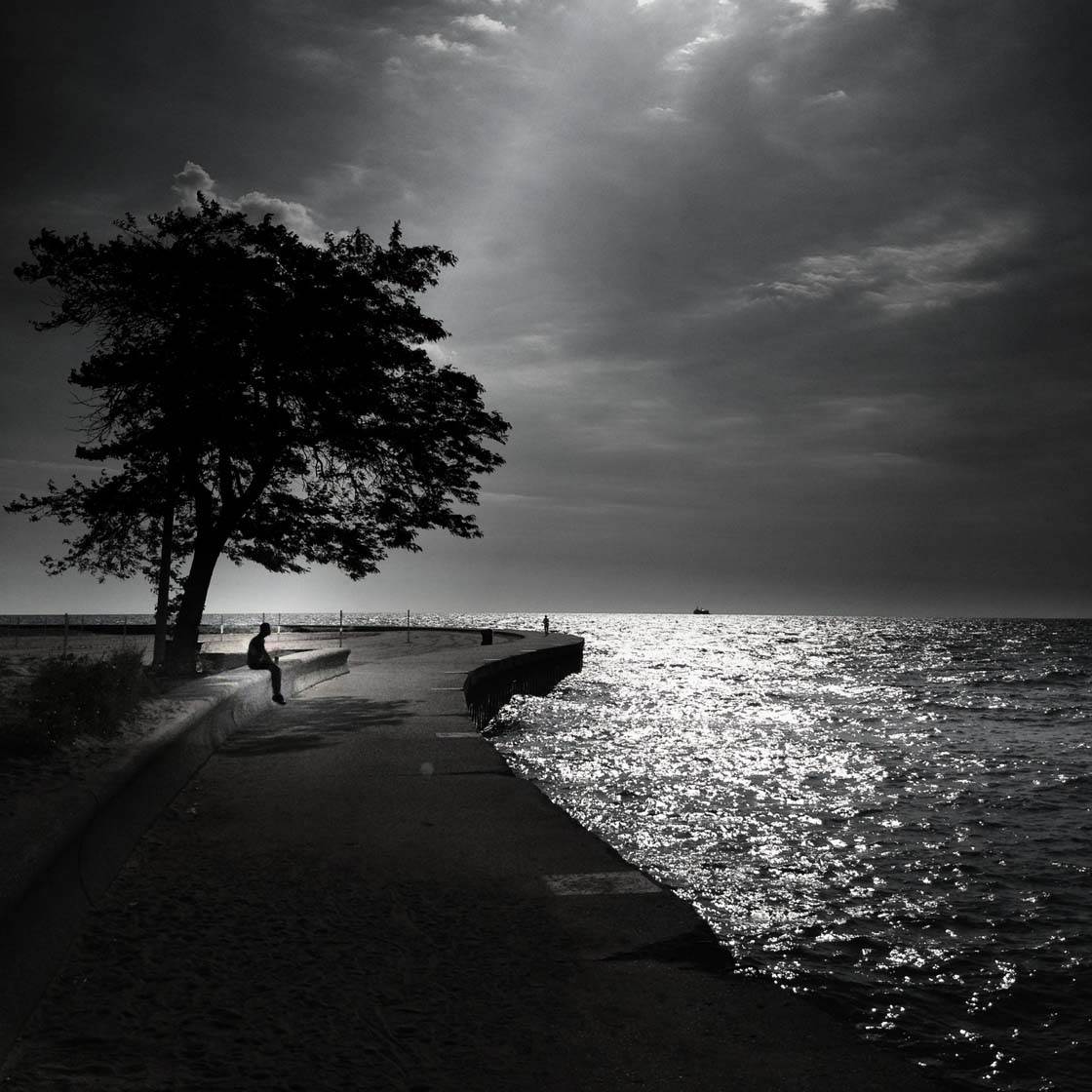 Do you shoot with any other camera, or just your iPhone?
I also shoot with a Canon 5D Mark iii for night photography and some of my helicopter stuff.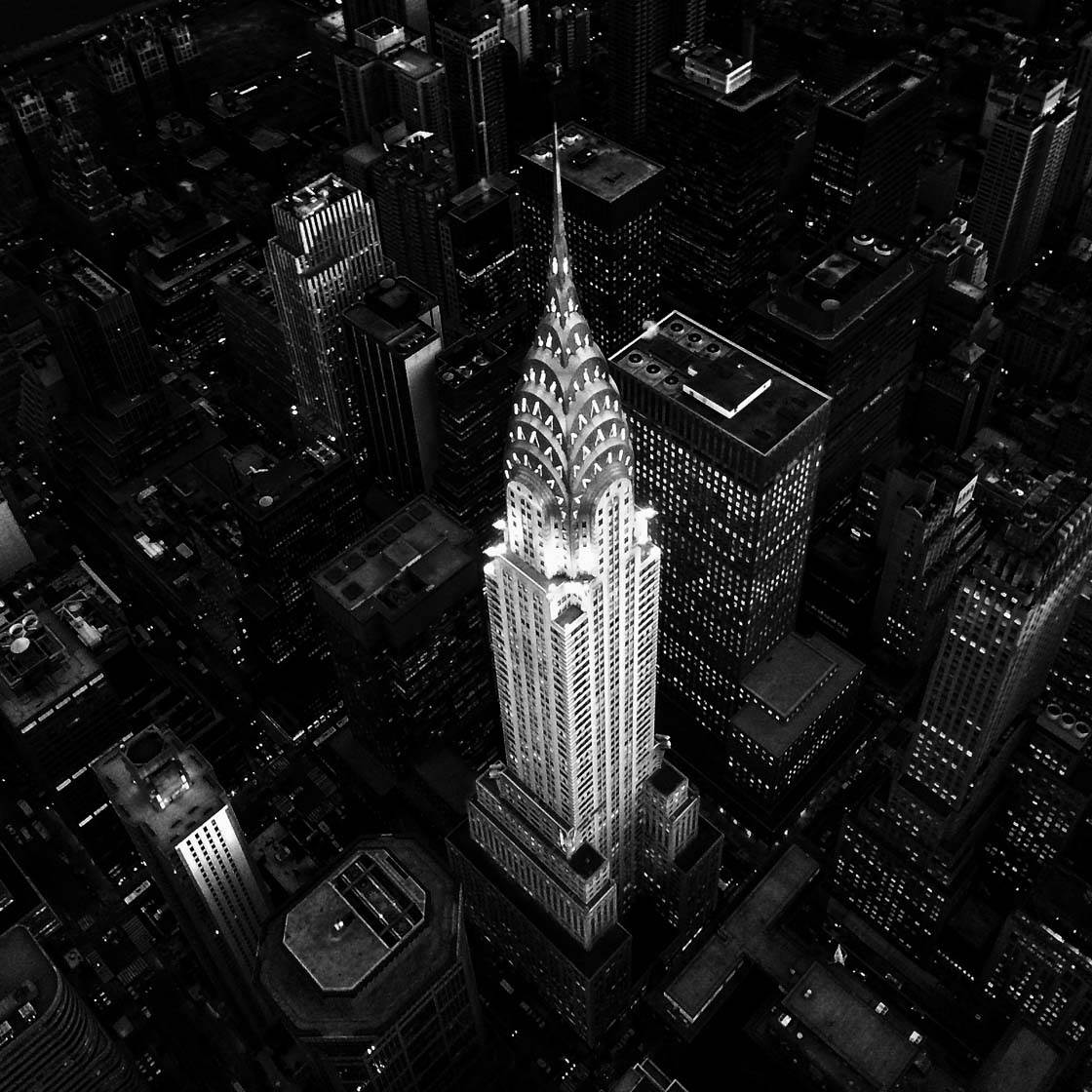 But I still shoot 90% of my photos with an iPhone, including this aerial shot of the city. And I edit completely on the iPhone.
Most of your photos on social media are black & white. What inspired you to choose this medium?
I love classic black and white photography and I'm influenced greatly by the ability of the masters to create a style and look that stands up over a career. Harry Callahan is a huge influence on me.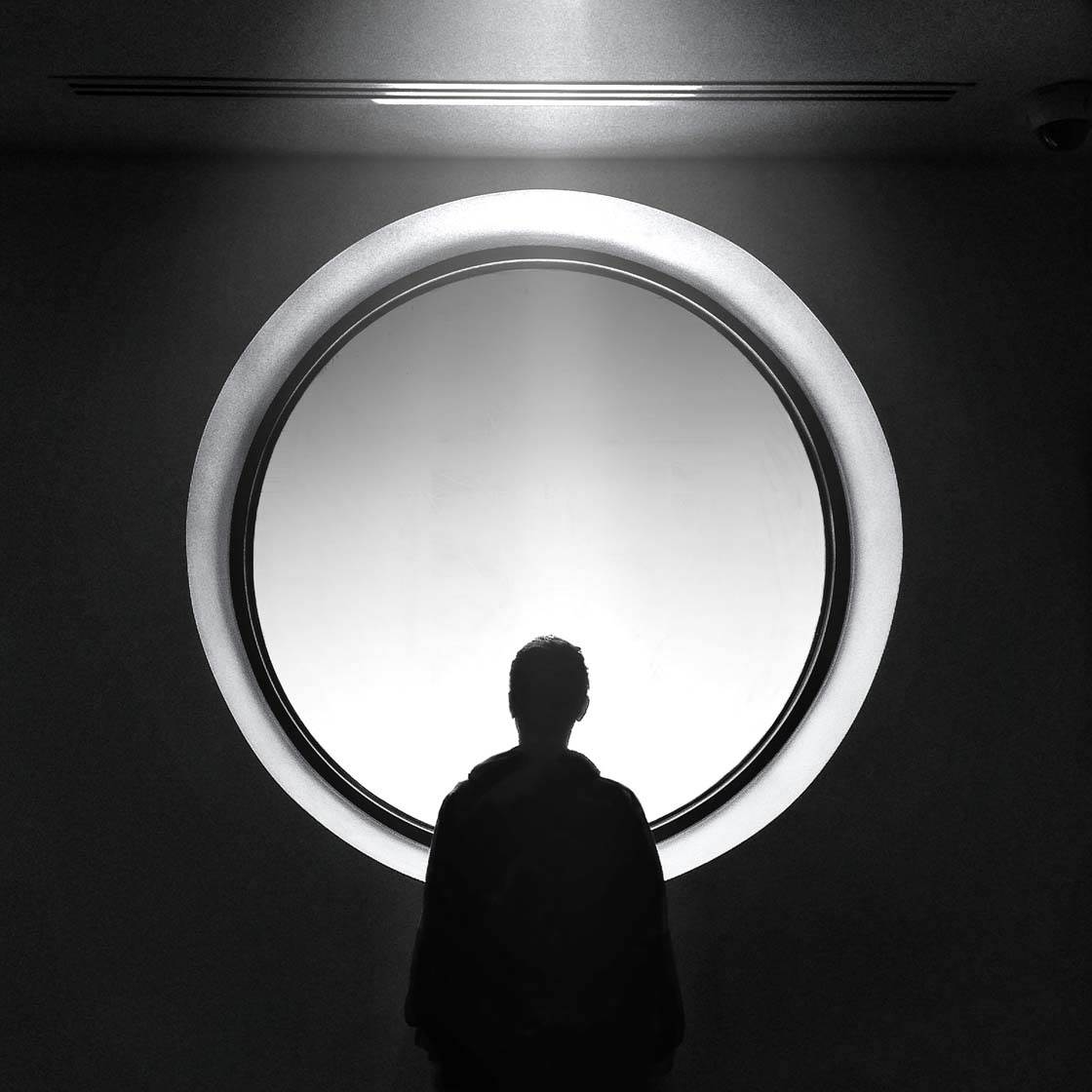 How do you go about creating such amazingly sharp and dynamic black and white photos with your iPhone?
I shoot hard light. Bright day light. Backlit. The harsh light keeps iPhone images crisp. I also shoot a lot of "day for night."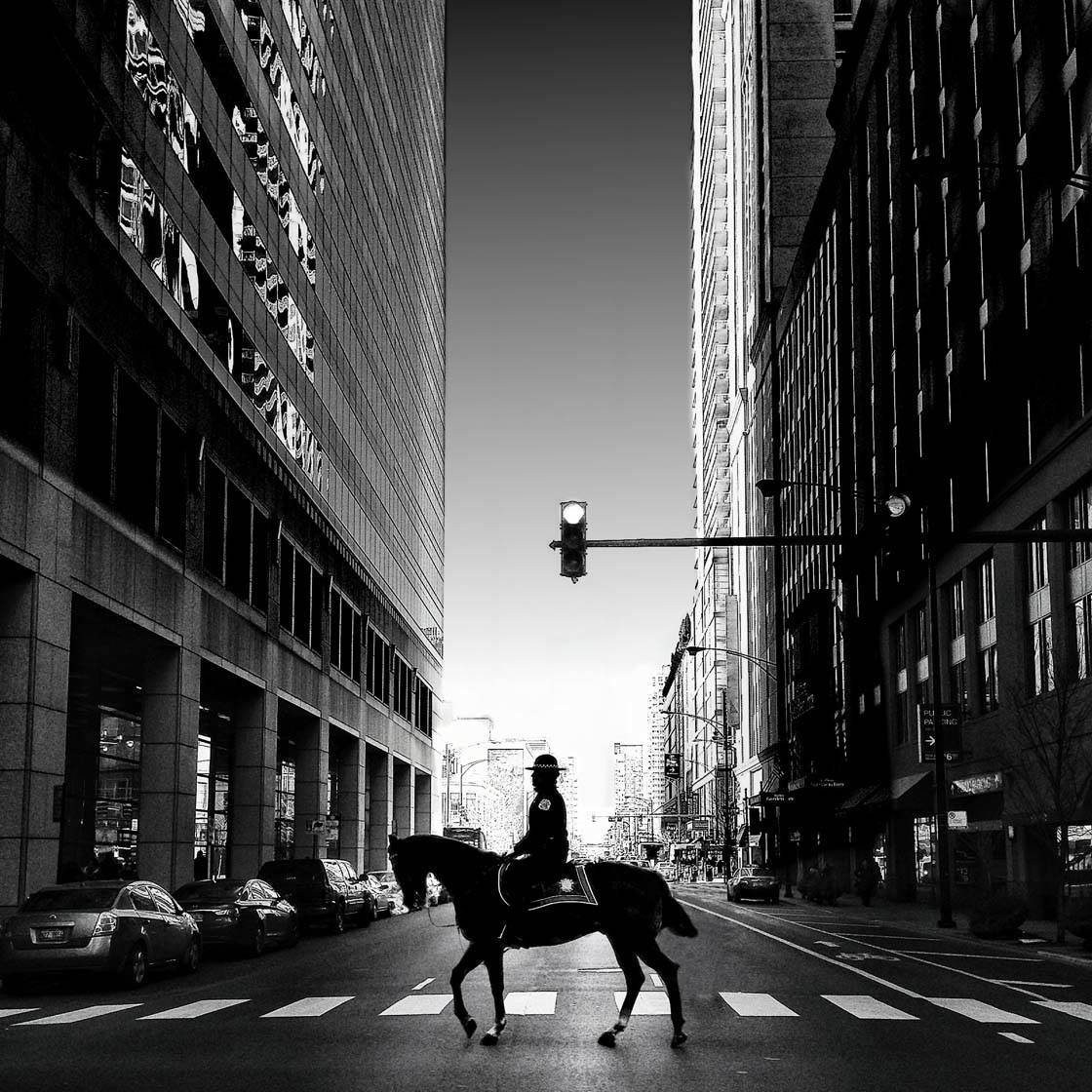 Some of my favorite French cinematographers have used this day for night technique of shooting in bright day light, underexposing, and then bringing the sky down to a crushed black.
I always loved the almost too perfect look of day for night photography. And I have a few tricks that I use to mess with scale.  A wider angle really changes the scale of giant objects versus small human figures.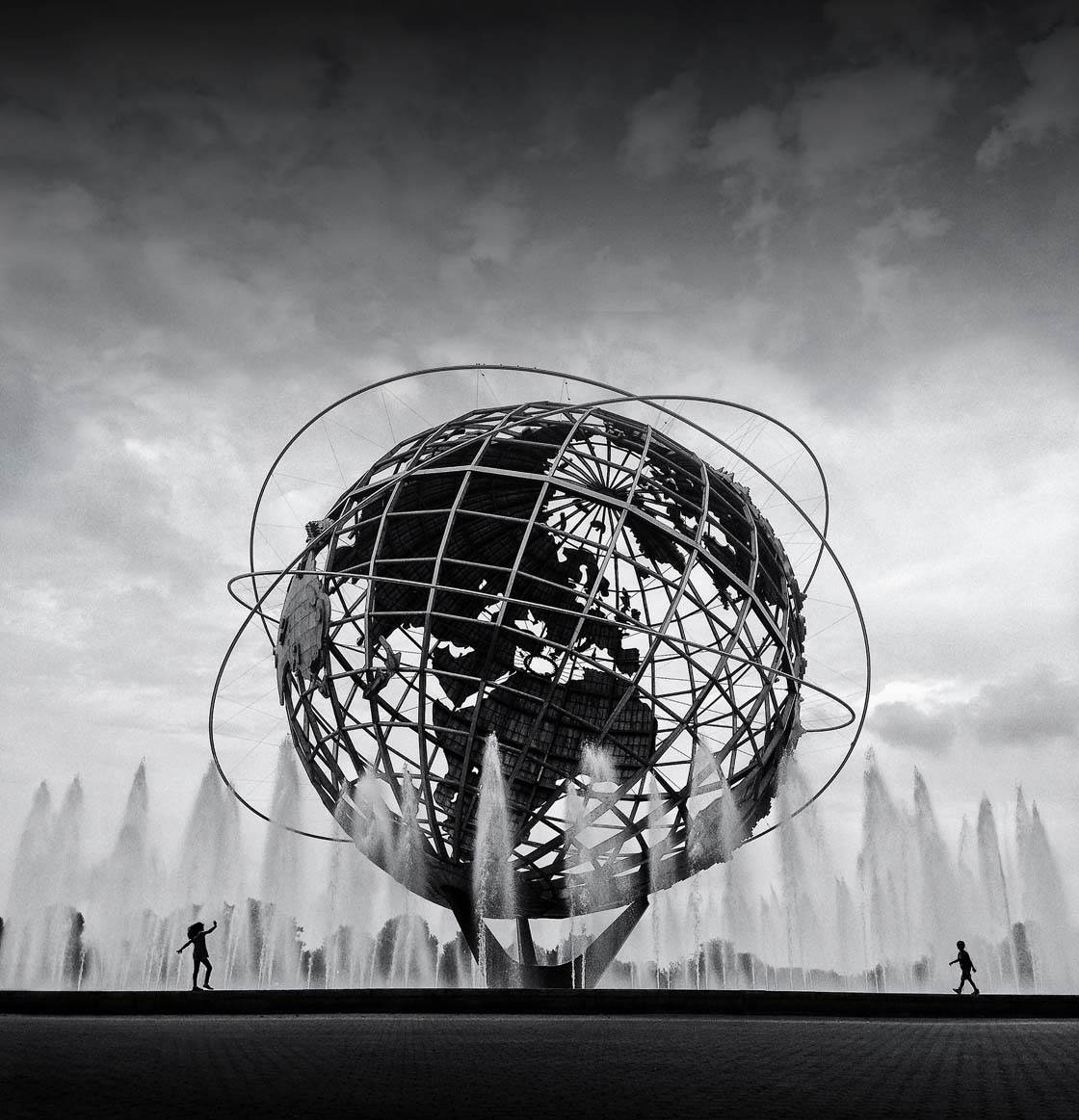 I actually don't edit my photos that much. A lot of people find that hard to believe looking at my work. But most of it is in the original shot – it's the lighting that I shoot in that creates this look.
Let's talk about photo apps. Are there any apps that you use for taking photos besides the native camera app?
I only shoot with the native camera app. I love using burst mode! It makes sure I have the people in the right pose.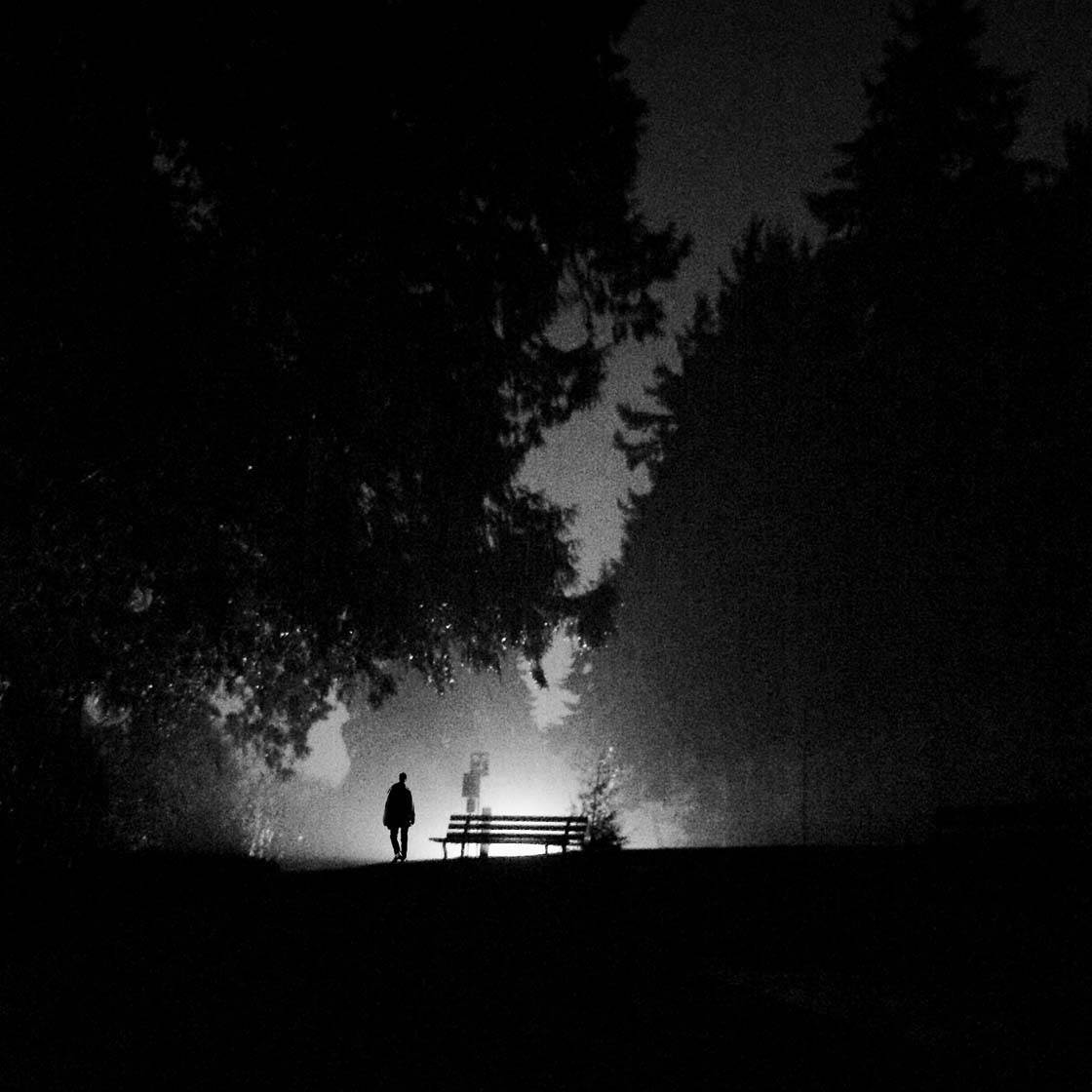 What are your favorite apps for post-processing?
I only use two apps to edit my photos. Snapseed has a great sharpening tool (check out our Snapseed tutorial). And I like to adjust image contrast in Filterstorm.

Do you use any iPhone photography accessories?
I use an iPhone tripod for long exposure shots. I use a Slow Shutter app to capture long exposures.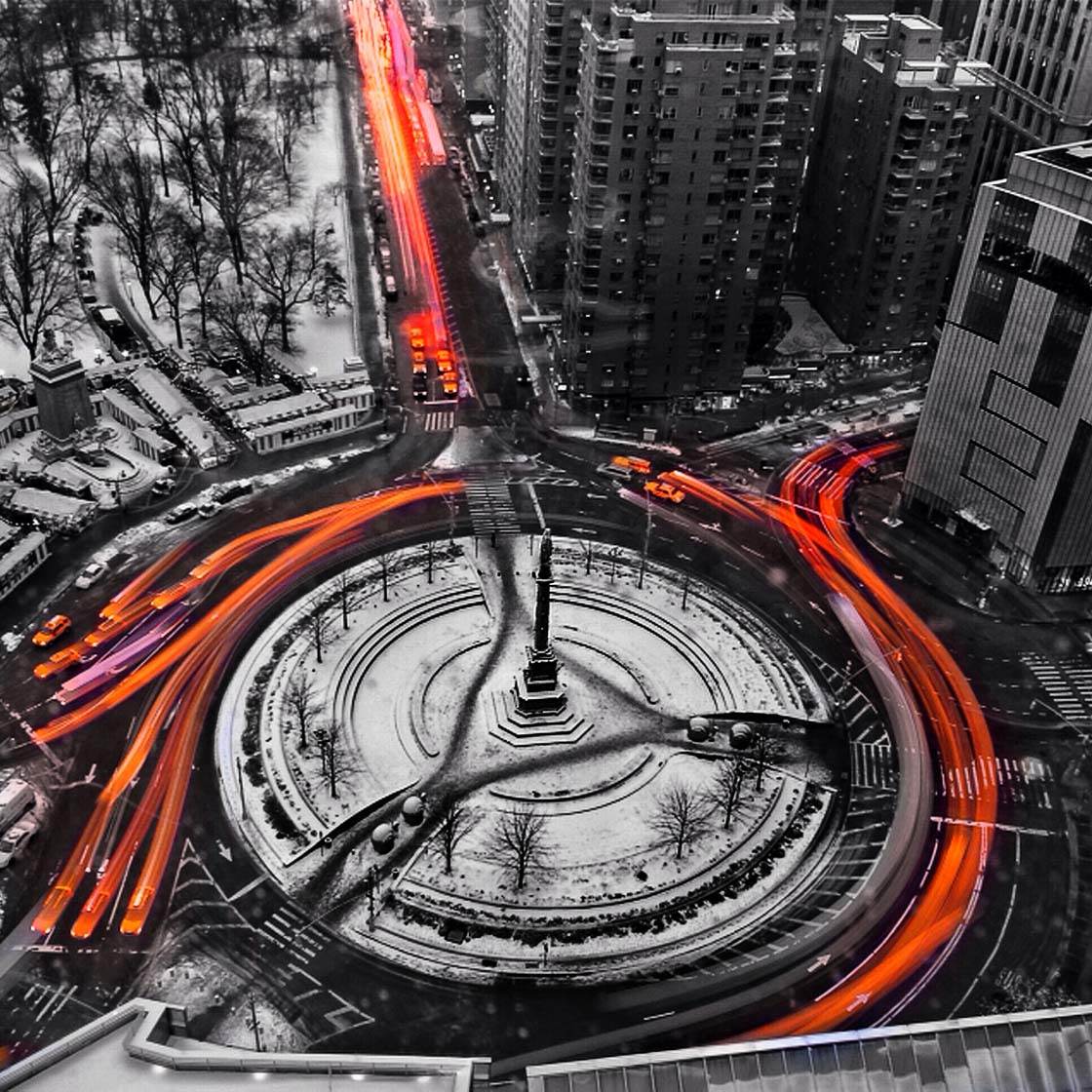 Can you briefly explain the story and editing behind your three favorite iPhone photos?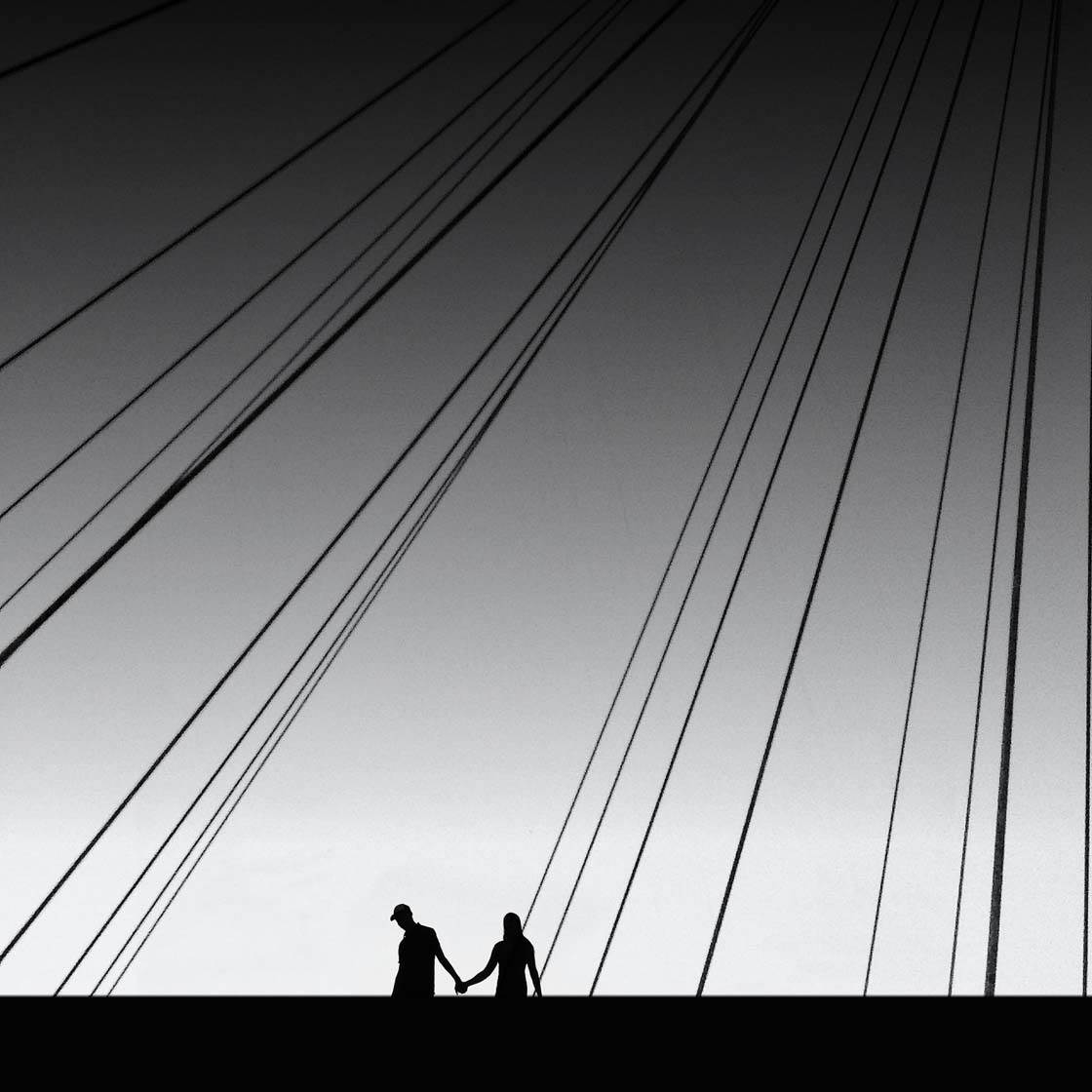 This was shot in Denver at sunset. I love this bridge downtown. I waited around for about 45 minutes, listening to Elliot Smith on my headphones, waiting for people to clear out and for this moment to happen.
The figures' body language says so much more than what happened. This is one of those split second images that I'm always looking for. I cropped the bottom of the shot and smoothed out the gradient of the sky in Filterstorm.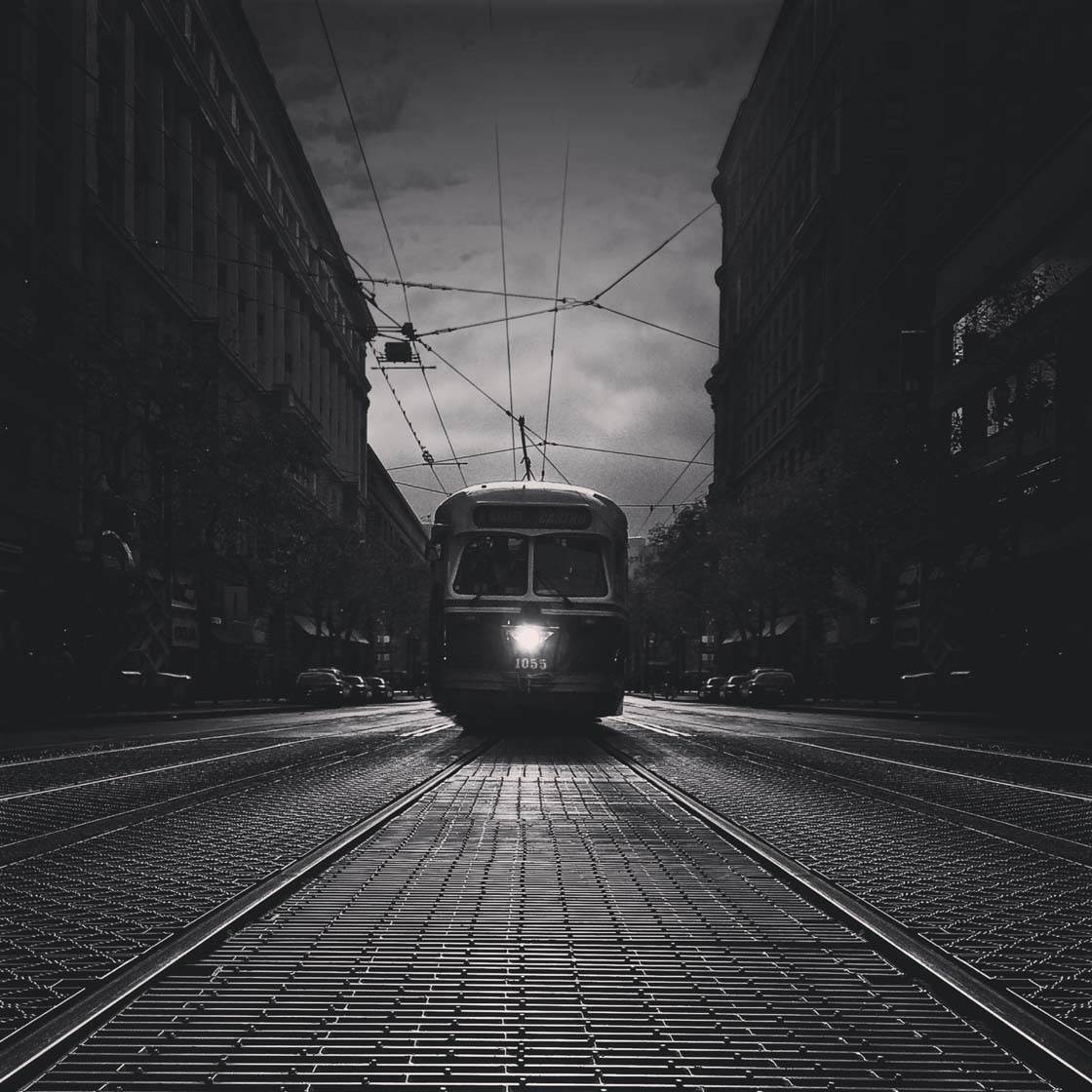 This is a trolley car in San Francisco. I was walking with my wife and dog across the street going to get a coffee when I saw the last person get on the trolley and the sun hit directly behind the train.
I knelt down in the street and snapped one shot, and time stopped for a second. I added some gradient to the sky in Filterstorm.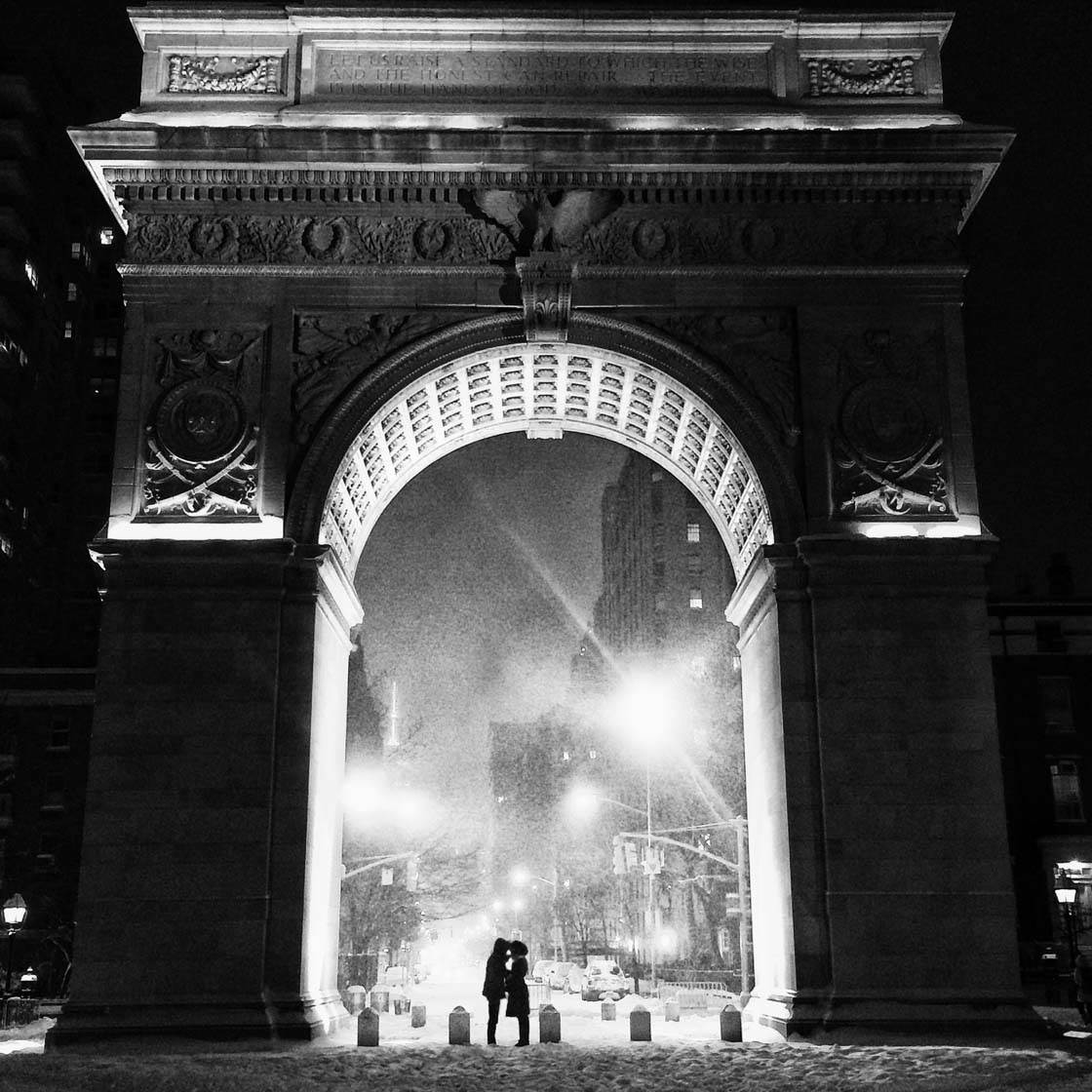 This was during a blizzard last winter in Washington Square in NYC. I'd just borrowed a pair of boots from my friend Vin.
I walked to the park and was shooting the arch because the backlight from the street and snow had a crazy glow to it. As I shot, a man walked into the frame and was met by a woman. They kissed and walked away almost instantly.
I edited the arch to be darker in Filterstorm, and also brightened the backlight from the street.
A lot of your photographs contain silhouettes of people in wide open urban or rural landscapes. Do you spend a lot of time waiting for these photographic opportunities to present themselves to you?
Yes! Always listening to music. All of my photo titles come from whatever track I was listening to at the time.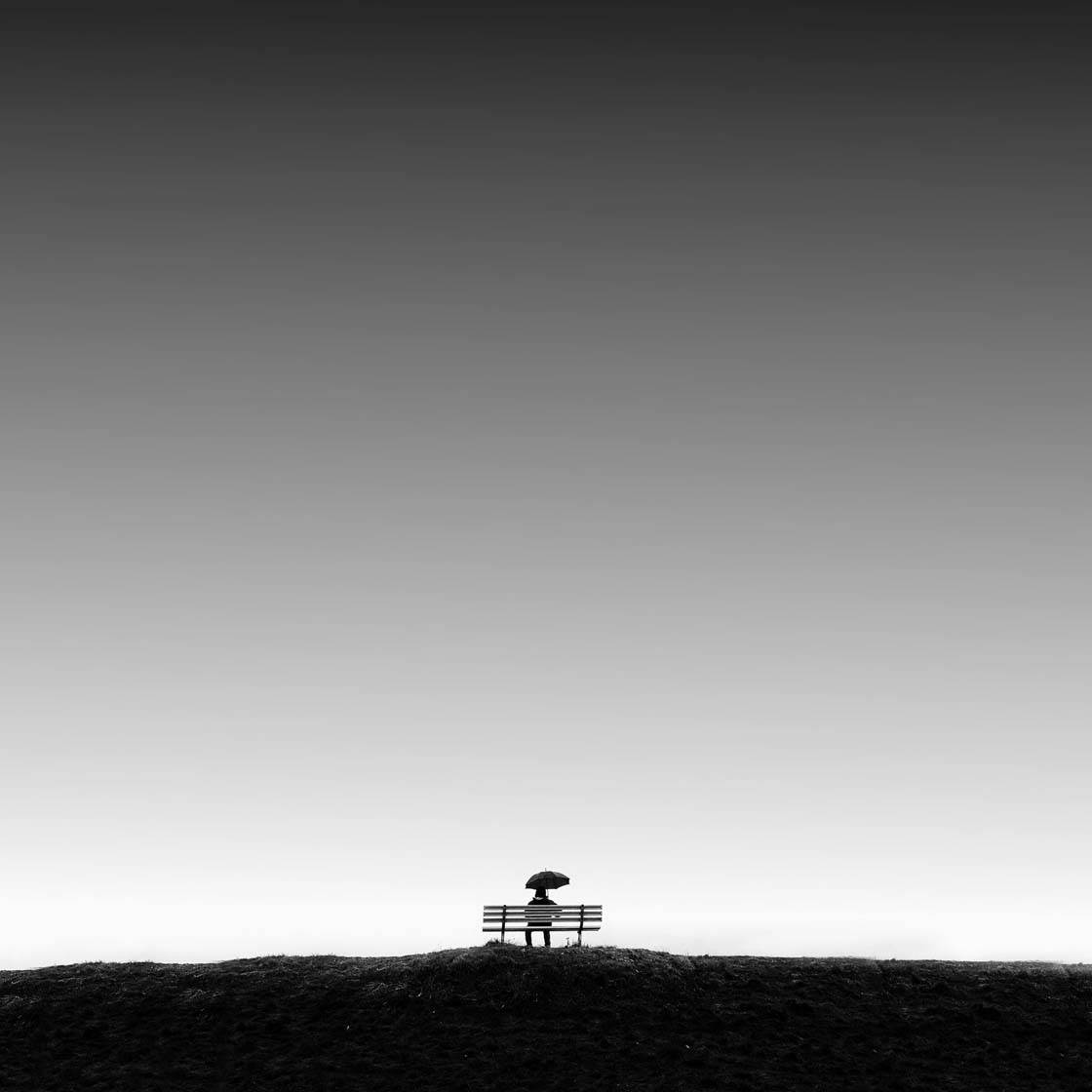 A lot of people struggle with the idea of photographing people they don't know. How do you deal with this?
I don't care. It's my photo – they just happen to walk into it.
You have a huge following on Instagram, with over 275,000 followers. How has Instagram influenced your photography and what do you like most about the Instagram community?
I love the community and the encouragement you get from people. I'm always driven to constantly improve and make each image better than the last.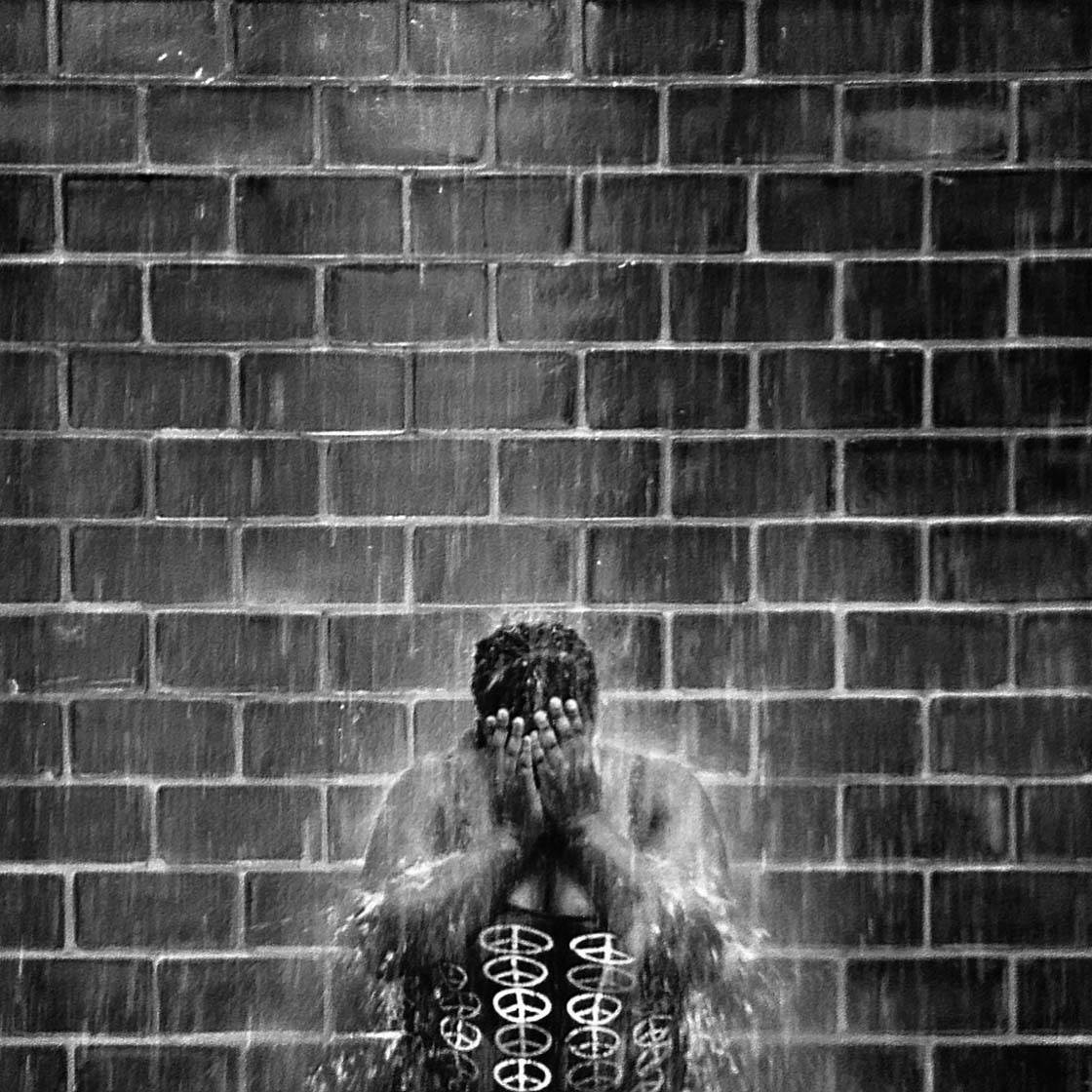 I also travel a lot and have met hundreds of amazing people because of it.
What tips do you have for beginner iPhone photographers who want to start taking creative photos with the iPhone?
Shoot, shoot and shoot some more. My best images haven't happened yet. I'm hunting for them.
Which iPhone photographers do you admire the most?
I really admire the work of the following photographers on Instagram:
@evidence, @tonydetroit, @13thwitness, @katia_mi and @novess.
Where can we see your iPhone photography?
I post my iPhone photos to Instagram, and you can also view my work on Tumblr.