Are you wondering whether to upgrade to the new iPhone 6s? I've recently upgraded and it's made quite an impression on me, particularly with regards to photography. In this article you'll discover what the new iPhone 6s has to offer, including an improved 12-megapixel camera, 3D Touch and Live Photos. So if you're not sure whether to upgrade, read on to see how the new features of the iPhone 6s will improve your iPhone photography experience.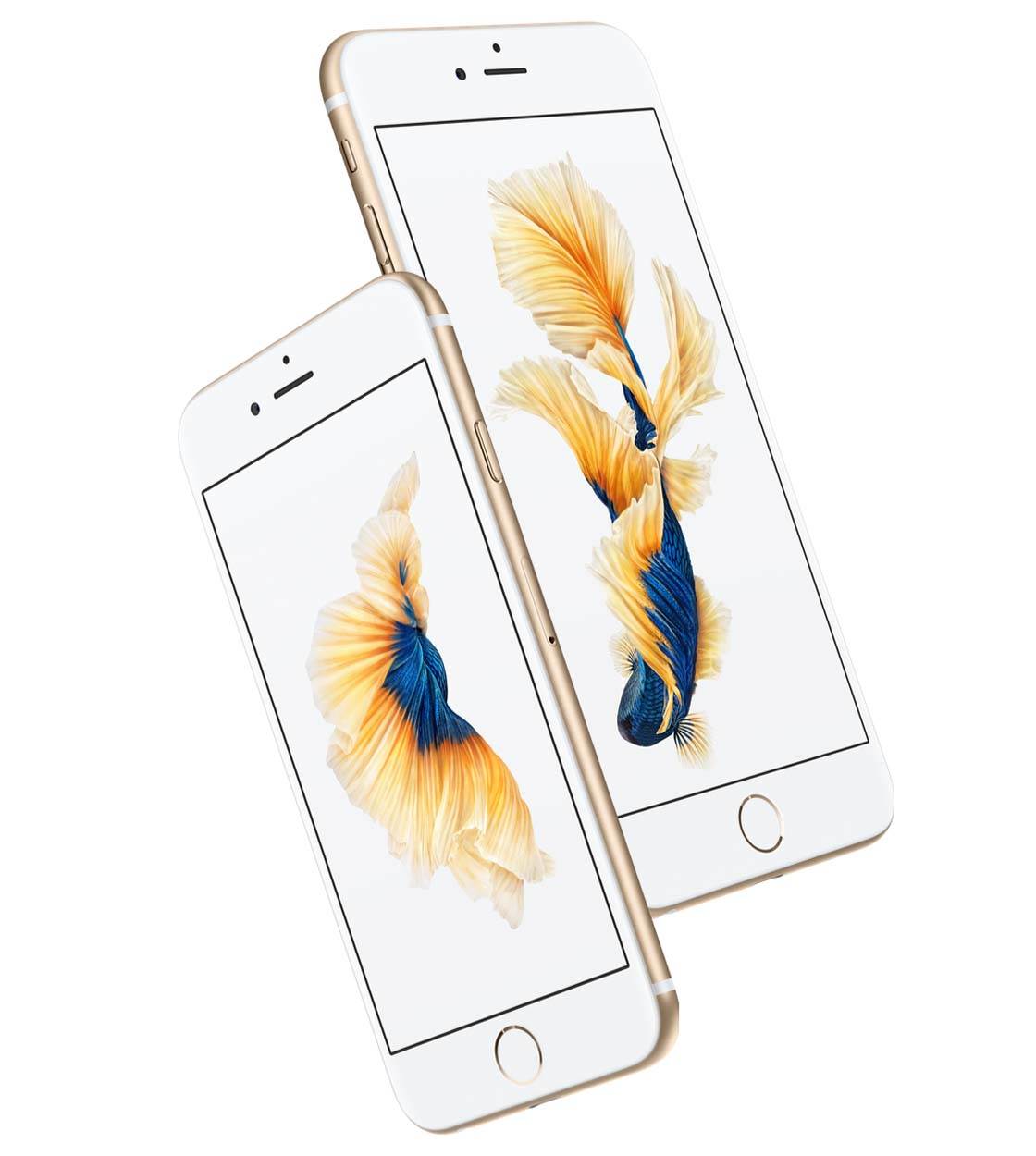 iPhone 6s vs. iPhone 6
First of all, let's take a quick look at how the new iPhone 6s differs from its immediate predecessor, the iPhone 6. To start, the new 6s looks exactly like last year's iPhone 6.
This isn't all that surprising considering how Apple's "S" upgrades are generally meant to be incremental updates and not major re-designs.
However, while this may be an "S" year for the iPhone, it in no way means that there haven't been some significant improvements "under the hood."
In fact, in nearly every measurable area where performance is concerned, the iPhone 6s isn't just better than the iPhone 6 – it blows it away!
My own experience is in upgrading from an iPhone 5s to the 6s, so the differences are even more pronounced than upgrading from the iPhone 6.
However, even if you're considering upgrading from an iPhone 6 model, you'll definitely find a whole range of noticeable improvements. So, let's take a look at these improvements with particular reference to the camera and photography.
Much Improved Cameras
We're going to focus on the features of the iPhone that give you an improved photography experience, so let's first explore the new camera specs.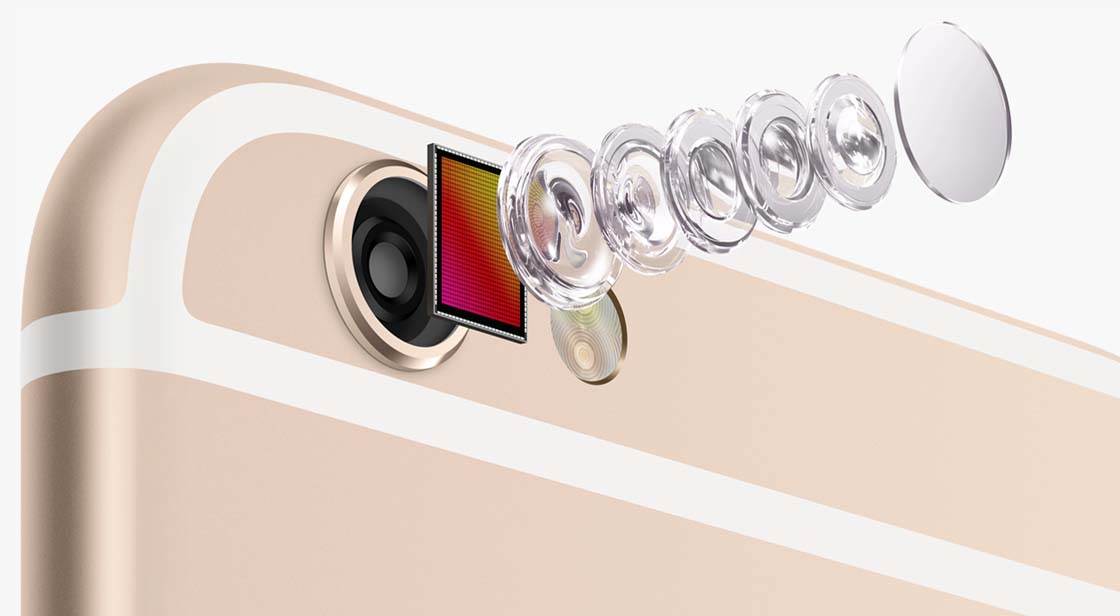 12-Megapixel Back (iSight) Camera
Most importantly, the back camera (also known as the iSight camera) has been upgraded significantly to a 12-megapixel sensor with a five-element lens, f/2.2 aperture, sapphire lens cover and true tone dual-LED flash.
The 12-megapixel sensor is a 50% increase in pixels when compared to the 8-megapixel camera of the iPhone 6s. More pixels generally mean higher (better) image resolution, so you get sharper images at larger sizes.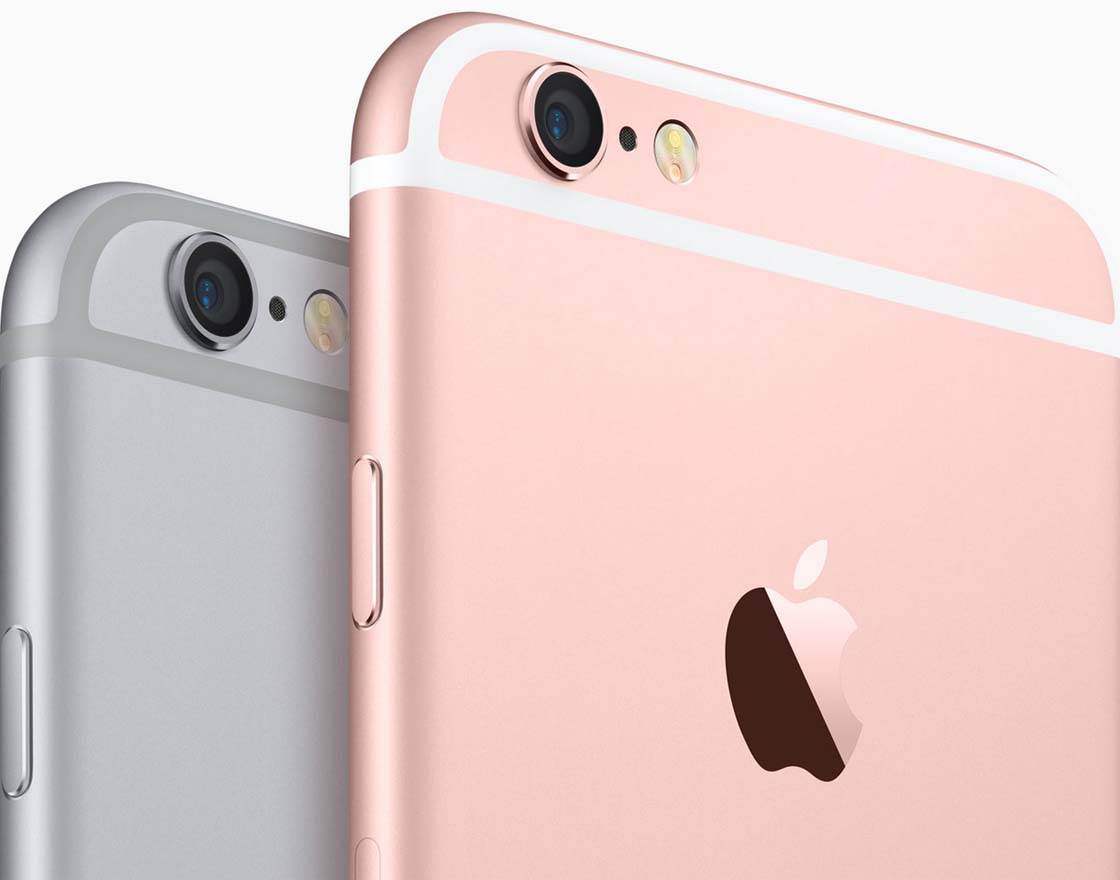 Apple has also improved the nature of the pixels on the sensor to reduce light "bleed." This is a problem that's more pronounced in smaller sensors (such as on smartphone cameras).
Without getting too technical, this issue occurs when the light that hits one pixel spills over to the surrounding pixels, affecting the image quality in a negative manner. Apple has rectified this issue by better insulating the pixels from one another to minimize the negative effects.
According to Apple, this is also one of the reasons that the iPhone 6s camera works even better in low light situations, and offers better tonal/color representation and improved noise reduction when compared to preceding models.
5-Megapixel Front (FaceTime) Camera With Flash
While most of us will choose the back camera for our mobile photography, the iPhone 6s also boasts an upgraded 5-megapixel sensor in the front (screen side) camera.
This is a huge increase from the previous 1.2-megapixel camera. Even if you only use the backside camera for selfies, you'll notice a remarkable improvement in the image quality.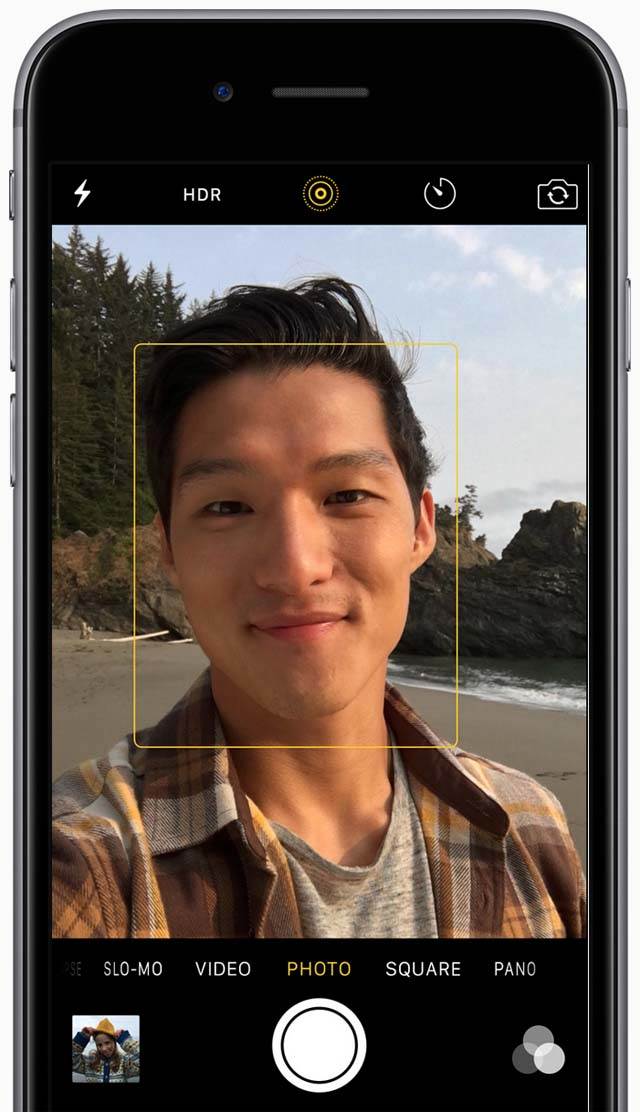 For comparison, the iPhone 4 models featured a 5-megapixel back camera. Therefore, the front side camera of the 6s is now on par with the primary camera that many of us were using with the iPhone 4 models. It's funny what just a few years can do to technology, isn't it?
The front camera of the 6s also incorporates a flash… well, sort of. If you're using the front camera to take a selfie, you can enable the phone's new "Retina Flash" to help illuminate your face.
The Retina Flash is actually the iPhone's Retina screen amplified to many times brighter than normal. While this sort of "flash" won't be very effective at a distance, it does work well for adding additional lighting to selfies and similar close-range photos.
The photos below demonstrate the difference between the back LED flash (left-hand image) and the front "Retina Flash" (right-hand image), along with the relative difference in sensor quality and a rare casual "selfie" on my part!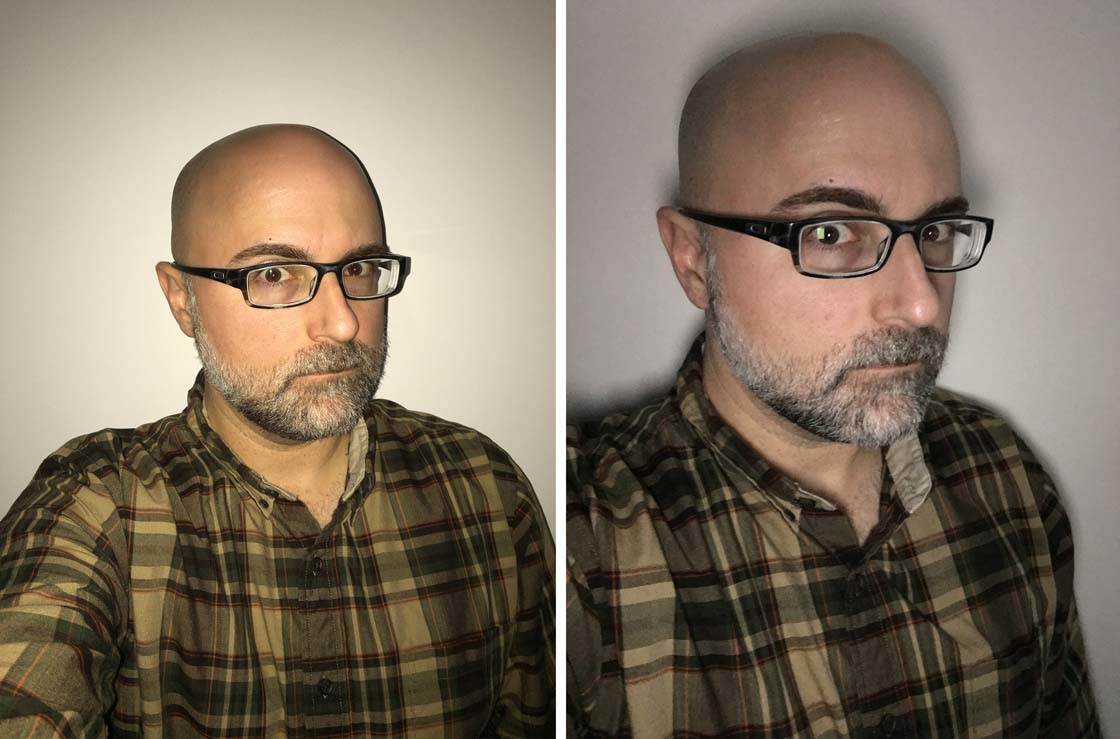 As you can see, the LED flash is much brighter and provides better color representation, although the latter is also due to the better image sensor of the back camera.
However, for quick selfies, the new Retina Flash feature is quite good, and the somewhat softer light is arguably more pleasing for illuminating skin tones.

Live Photos – Bring Your Images To Life
Much has been said of Apple's new Live Photos feature as being "groundbreaking," but many have simply dismissed it as gimmicky. So which is it? It really depends on your own perspective and how you might use this new feature.
First of all, let's look at how the new Live Photos feature actually works. If you have the Live Photos option switched on (yellow circle icon) in the native camera app, it will constantly record (behind the scenes) at 15 frames per second while in standard photo mode.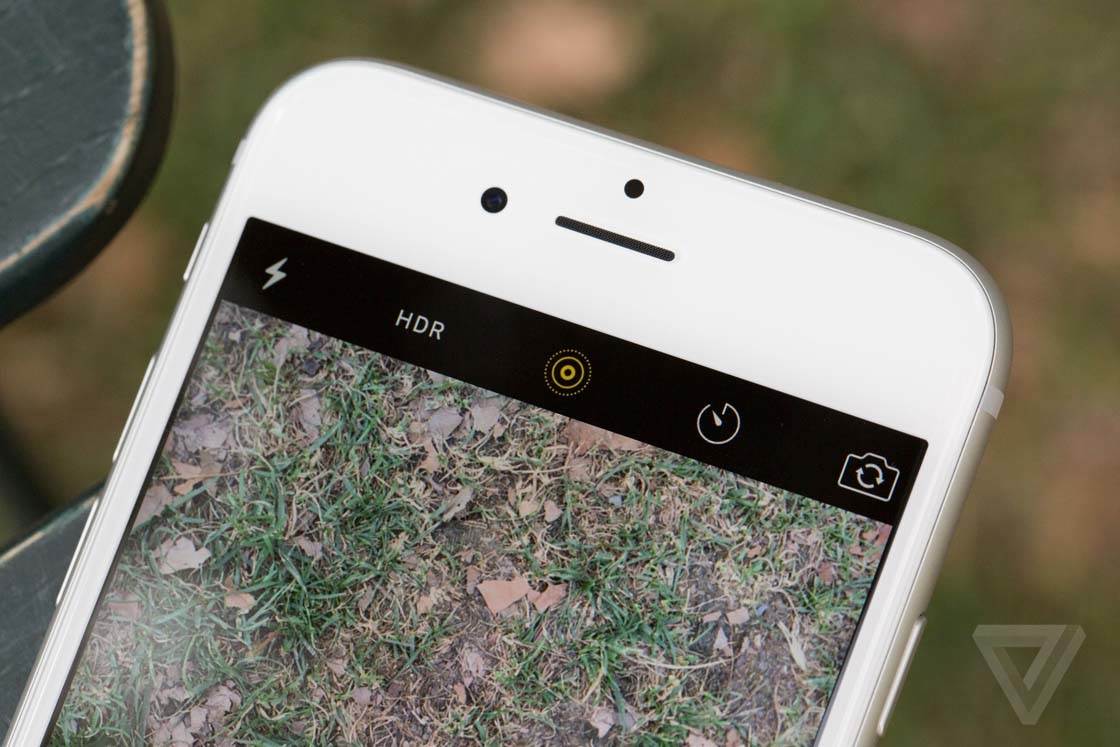 When the shutter button is pressed to take a still image, the iPhone 6s also saves a 3-second video (1.5 seconds from before the shutter button was pressed through to 1.5 seconds after it was pressed) along with the still photo.
The resulting video is saved with audio/sound, and can also be viewed at any time with a firm press on the image in the Photos app.
It should also be noted that the still image that the camera takes is a full-resolution photo and not just a still from the video capture. The iPhone 6s is able to capture both the high resolution still image along with the 3 second video for each Live Photo.
This is certainly an innovative new feature, but it's not one that I find particularly useful for anything but fun snapshots and other candid images.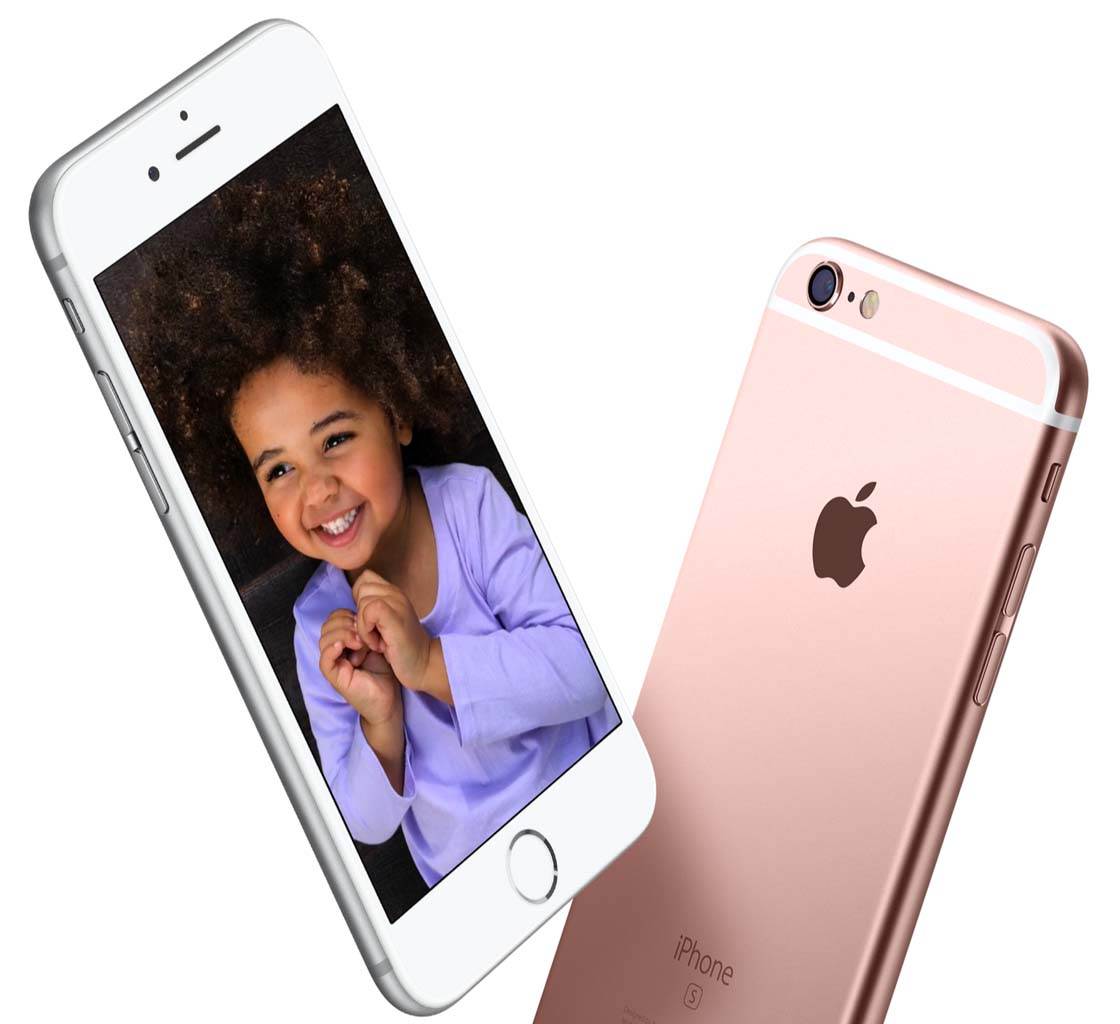 That being said, I do see the potential with Live Photos for creating more unique animations/gifs and I'm sure that many iPhone photographers will find creative new ways for making use of this feature.
What if you want to share a Live Photo? You'll want to convert your Live Photo to video, first. Then you'll be able to share it on many different platforms.
We'd love to hear your thoughts on Live Photos if you've been using this new feature on your iPhone 6s.
3D Touch – Quick Access To Features
Another new feature that's certainly worth mentioning is the new 3D Touch technology. While not directly tied to mobile photography, 3D touch does have beneficial implications for us in our day-to-day photo endeavors.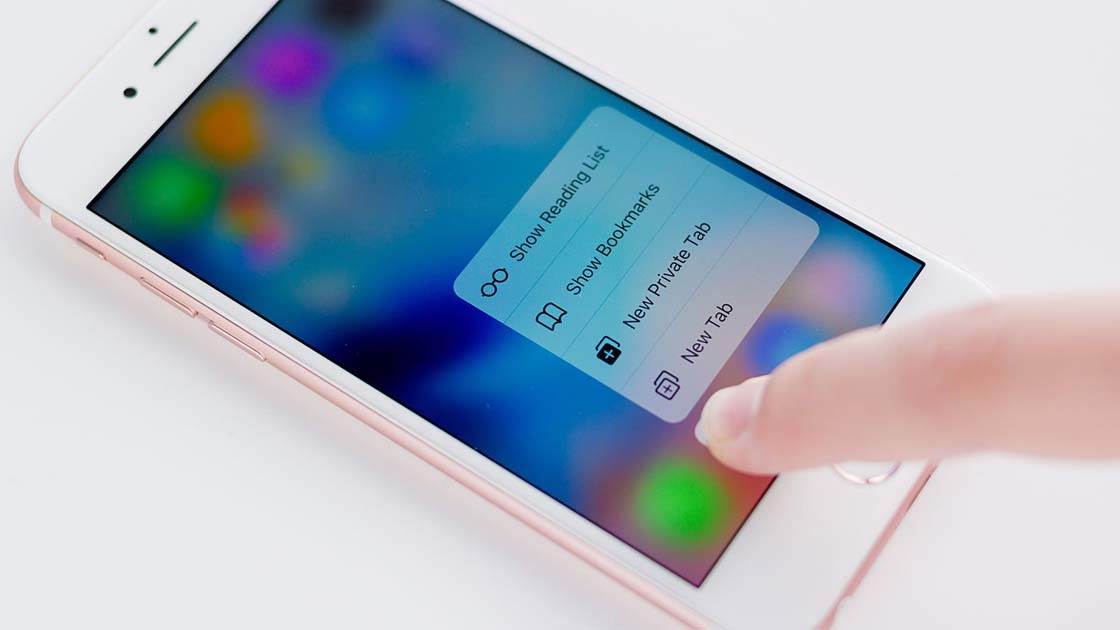 3D Touch works through a combination of software and hardware, including a reinvented vibration mechanism, or "taptic engine," that's far more precise than the vibrate motors in other phones.
All of these elements combine to create a system that measures the amount of pressure applied when you tap or press on the iPhone's screen.
Depending on the level of pressure, you can trigger different actions without having to go through multiple steps like you would have done before.
The iPhone gives precise taptic vibration feedback in conjunction with 3D Touch to help you tell the difference between different touch pressures.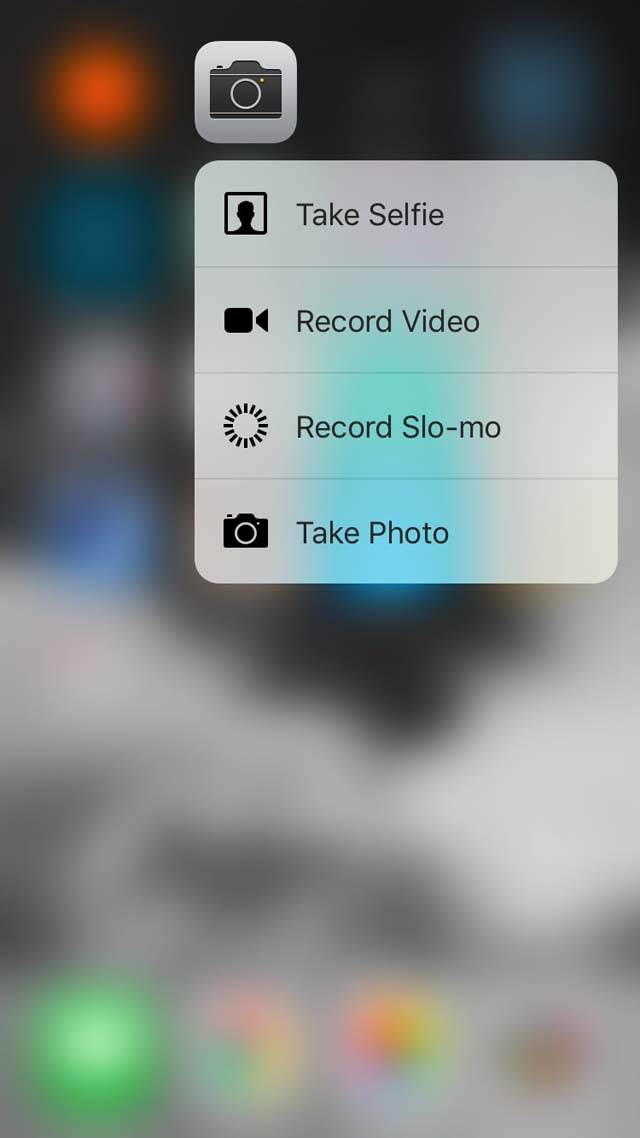 An example of how the new 3D Touch can impact mobile photography is that you can use a long firm press on the native camera icon to quickly select the camera mode you want to use, e.g. take a selfie, record a video, record a slo-mo video, or capture a standard photo.
In the native Photos app, you can use a firm press to "peek" at a larger version of photo from the list of image thumbnails. Then if you want to fully open it, just press a bit harder to "pop" it open.
Other photography apps from third-party developers, such as Snapseed, ProCamera and Instagram, are also starting to make use of 3D Touch "shortcuts" like this.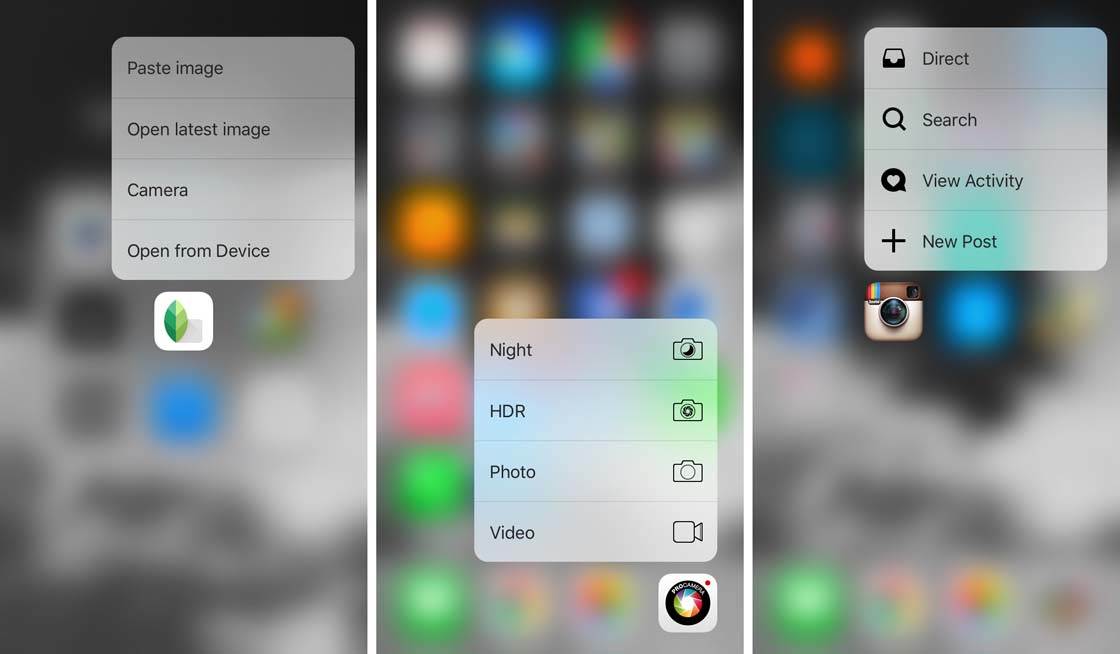 It allows you to skip menus and go right to specific app features before you even open the app itself. Talk about a timesaver!
It can be hard to know which apps offer 3D Touch functionality without actually testing them with a long press on the app's icon on your home screen. But it doesn't take long to figure it out.
If you keep an eye on all the app updates through the App Store and read the list of updates, you can stay abreast of all the apps that are starting to include 3D Touch technology.
3D Touch is one of the features that I'm most excited about (next to the improved camera sensor of course!) as it just makes the whole user experience that much more intuitive and organic feeling.
Do any of us want to waste time navigating different menus when using apps? 3D Touch shortcuts are just what we need to make quick work of so many photo-related tasks.
Faster Processor
The new A9 processor, when combined with the built-in 2GB of RAM and the new optimizations available in iOS 9, provides an exceptionally fast and powerful user experience. The A9 processor is said to be 70% faster than the A8 processor found in the iPhone 6.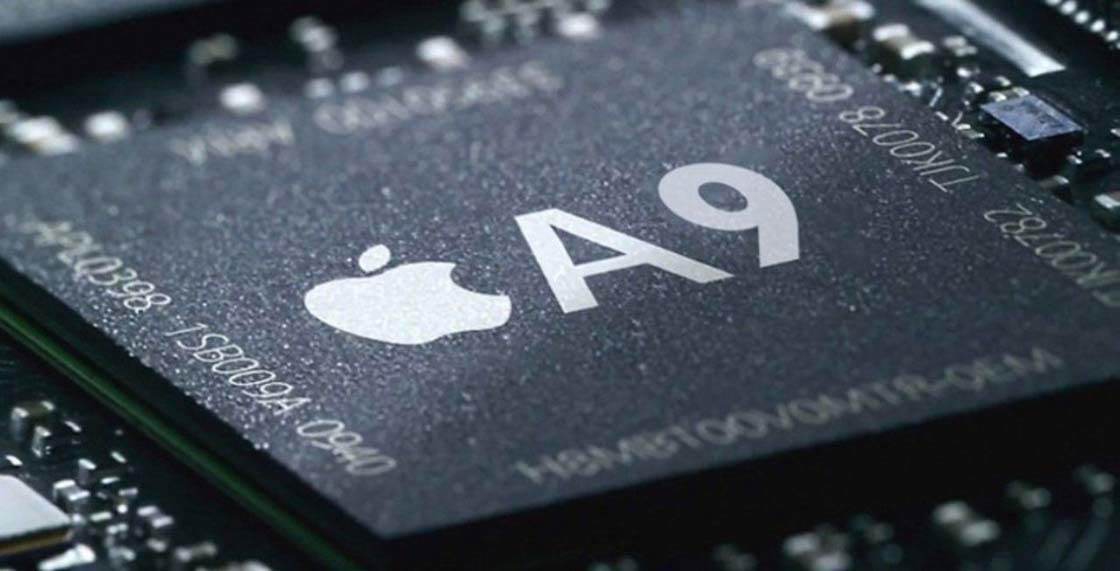 Having upgraded from an iPhone 5s, I can testify that the difference in speed is incredible. The speed difference between my 5s and my new 6s has to be well over a 100% increase in speed for most apps.
Apps open quickly and transition animations are silky smooth. There's no noticeable lag time with any feature or operation of the iPhone. Any frustrations I had with slow-ish performance on my old 5s have completely evaporated now that I have my 6s.
Of course, as apps evolve to use more and more processing power (as they always do), I'm certain that my 6s will start to feel a bit slower in a year or two, but that's just the nature of technology.
Faster Data Transfer for Uploading Photos
The iPhone 6s features a faster data transfer rate, whether you're on Wi-Fi or cellular. This means that uploading photos to your cloud service of choice is noticeably faster and with less chance of failure due to time-outs. This should be particularly beneficial if you employ an auto-backup system for your photos.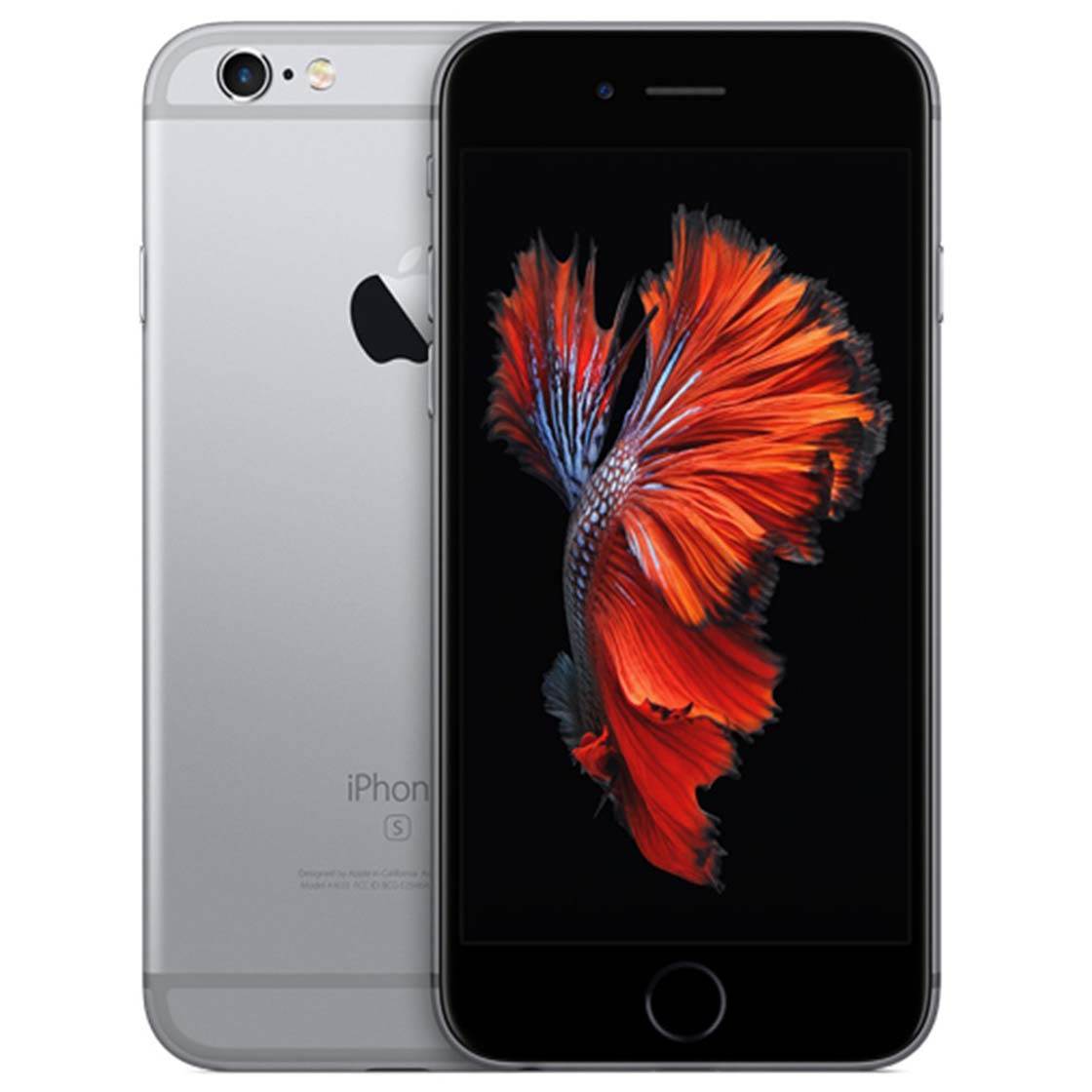 Battery Life
Battery life is a constant issue for us iPhone photographers. The 6s models may be some of the most cutting-edge and innovative smartphones available today, but they still lack extended-life batteries.
Users have indicated that the battery life of the 6s is just about on par with the 6 models. For those of us upgrading from older phone models (a 5s in my case), then the battery life of the 6s is actually a noted improvement.
Where I used to have to charge my 5s nearly every afternoon to keep it running for the evening hours, the new 6s has a big enough and powerful enough battery to keep me going just about all day.
I still find it necessary to carry an external battery/charger with me when taking my iPhone out for a full-day of shooting, but that's likely to be the case for all mobile photographers until battery technology makes a giant leap forward.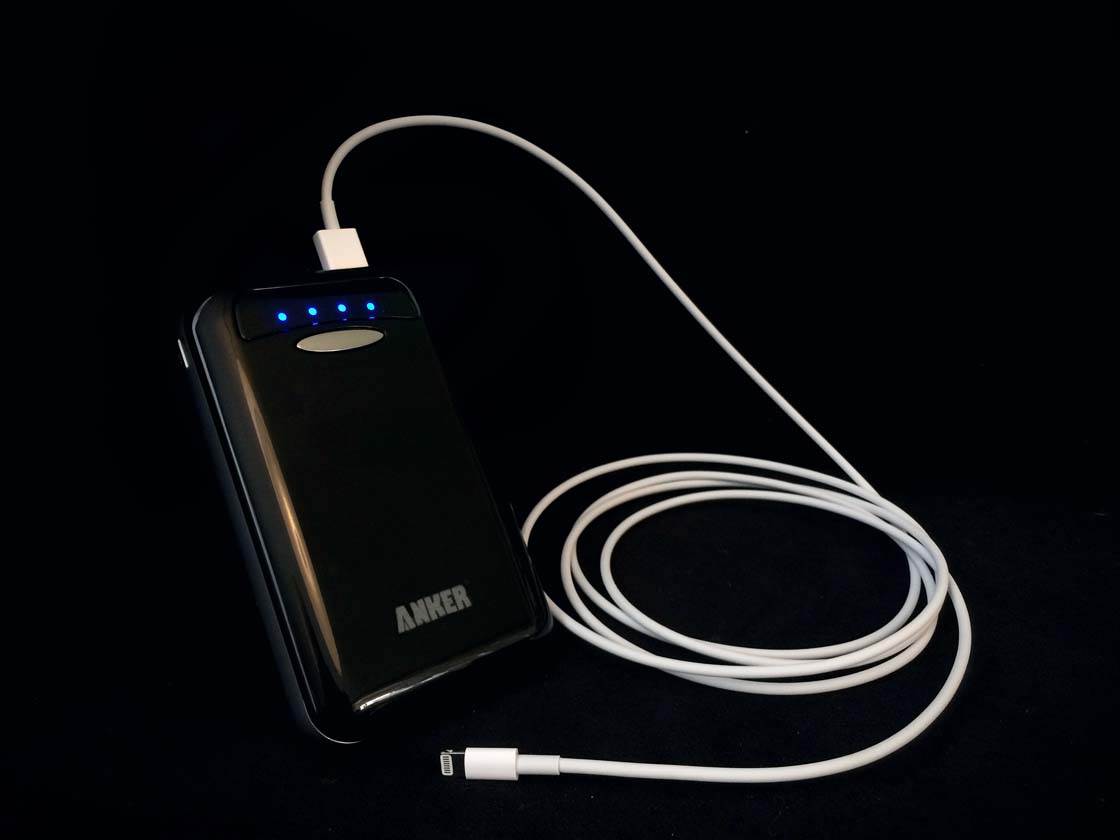 Of course, Apple's seeming obsession with creating the slimmest possible phones has prevented them from including larger batteries. Personally, I would have preferred a slightly thicker phone if it equalled a longer battery life.
Incidentally, Apple have just launched the Smart Battery Case for iPhone 6s which costs $99. Just like other iPhone battery cases, this silicone iPhone case contains a built-in battery to give you extra power when you need it.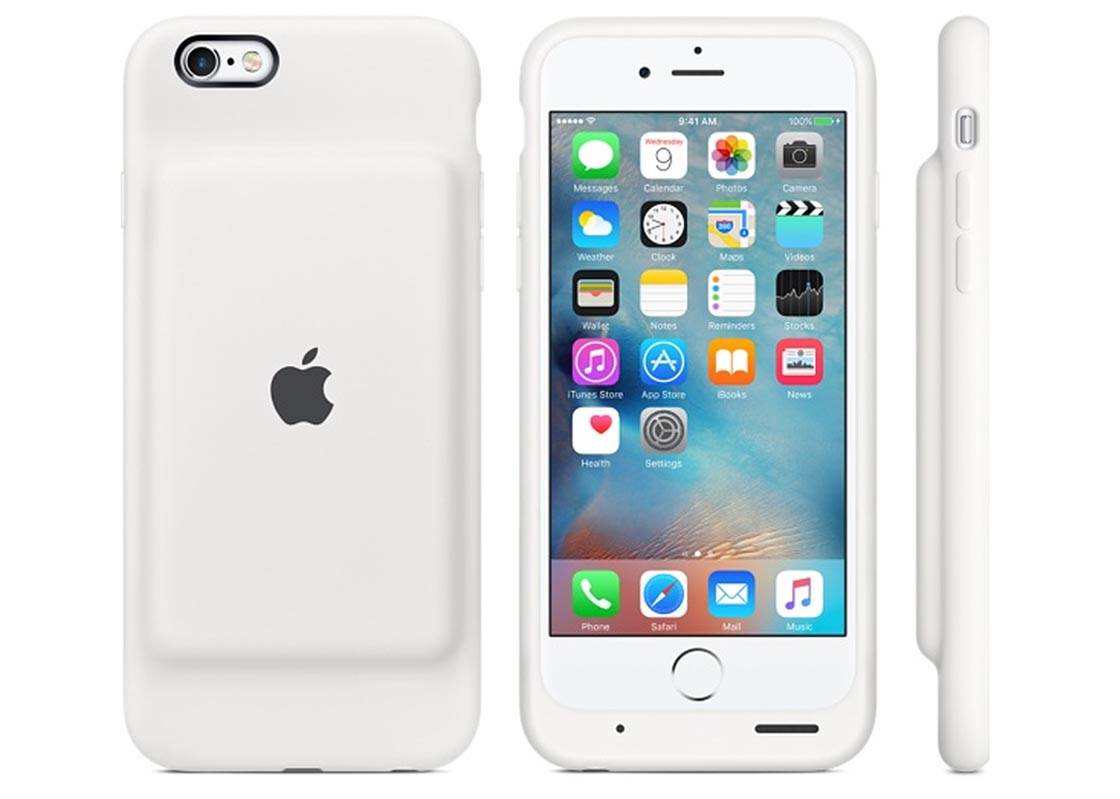 Final Thoughts – Should You Upgrade?
While we've really only skimmed the surface of the upgrades and improvements that the iPhone 6s offers, we've covered all of the key changes that have a direct bearing on mobile photography.
If you're eligible to upgrade your iPhone, even if you have last year's iPhone 6 model, you can't go wrong with an upgrade to the 6s models.
By doing so you'll enjoy Apple's most powerful camera sensor yet, innovative new 3D Touch functionality, and the fun Live Photos feature. You'll also be taking advantage of faster processing power and improved battery life (especially if upgrading from 5s or older).
The new iPhone 6s models are available in a variety of memory options (16, 64, and 128GB), multiple colors including the new Rose Gold, and two sizes – the standard 6s and the much larger 6s Plus.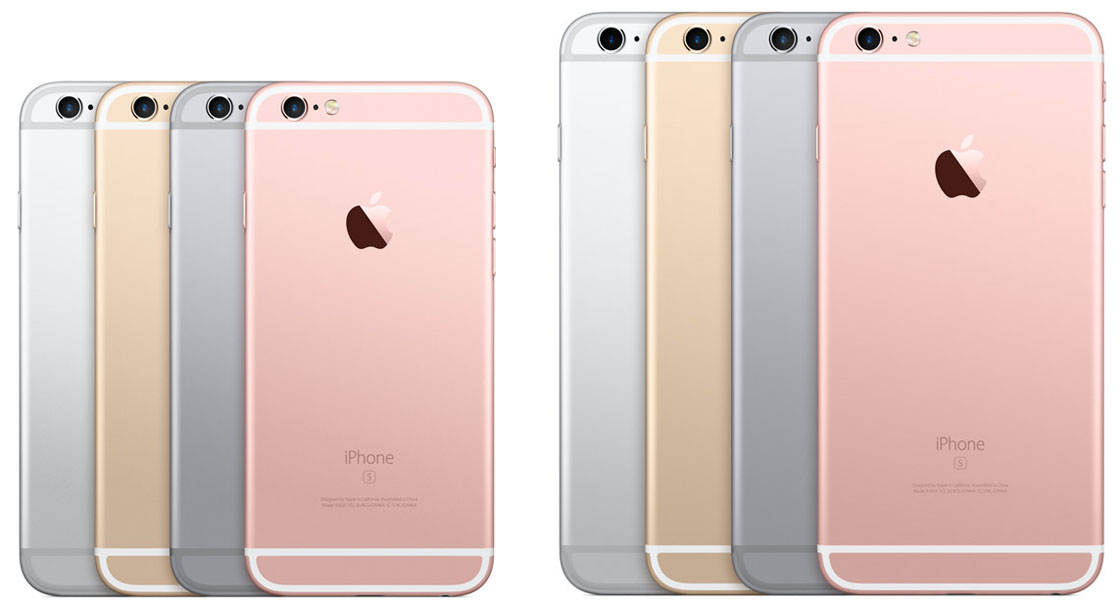 This variety, combined with the varying nature of carrier options, means that prices can vary a bit as well. Check the Apple website for some basic information regarding pricing, and check with your cellular provider for even more details about what options and prices are available to you.
We'd love to hear whether you've upgraded to the iPhone 6s or 6s Plus, and how you're getting on with its new photography features!