I'm pleased to share this interview with David Maialetti, a photojournalist from Philadelphia who captures unique moments and interesting stories with his iPhone. Inspired by people and light, he explores the city looking for opportunities to photograph people interacting with the urban environment. In this interview you'll learn more about David, and how he captures such great iPhone street photos.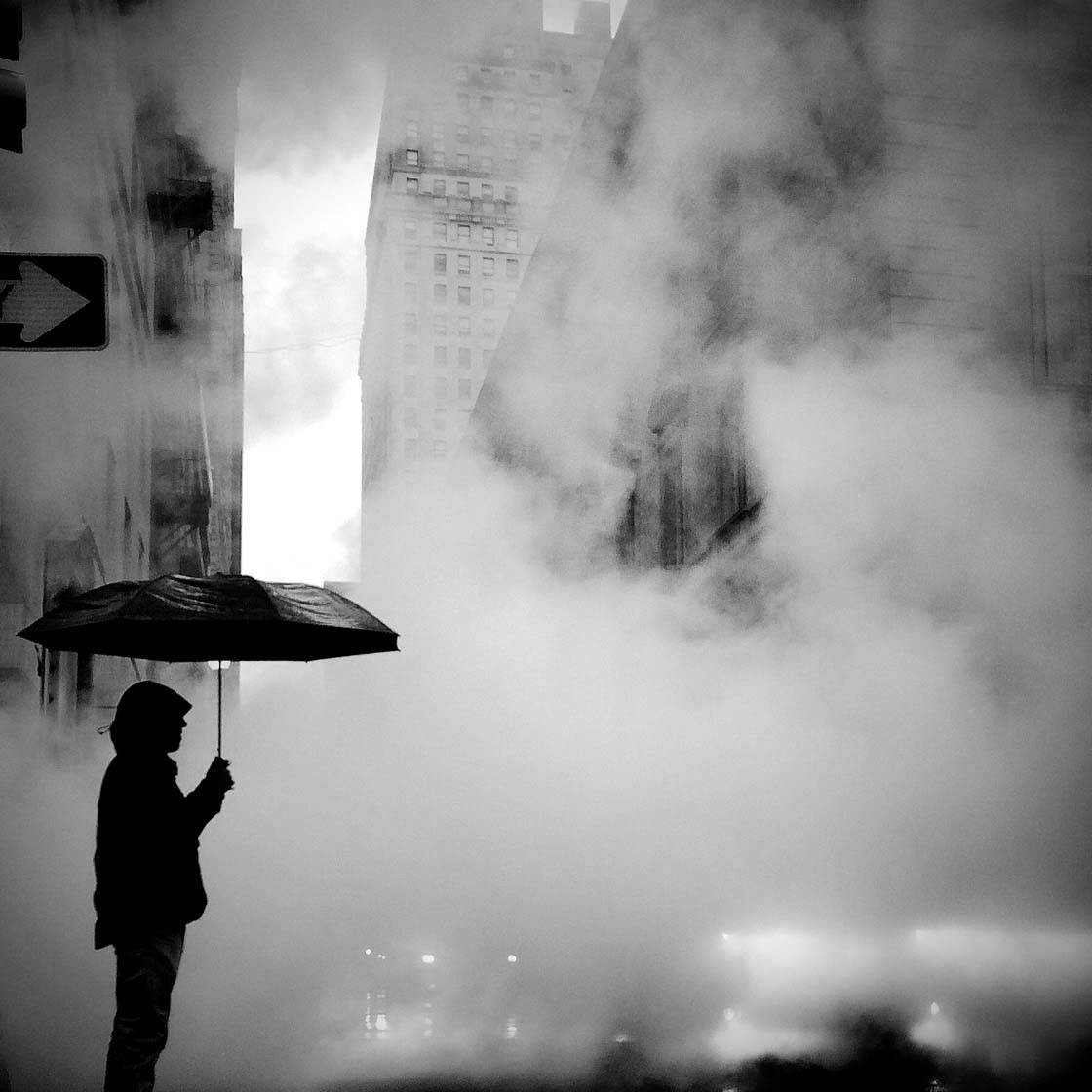 Tell us a little bit about yourself.
Philadelphia, Pennsylvania is my home – I was born and raised here. My addiction to photography is fueled by my passion for making and drinking espresso, or vice versa.
Five days a week I explore Philly as staff photographer with The Philadelphia Inquirer and Philadelphia Daily News.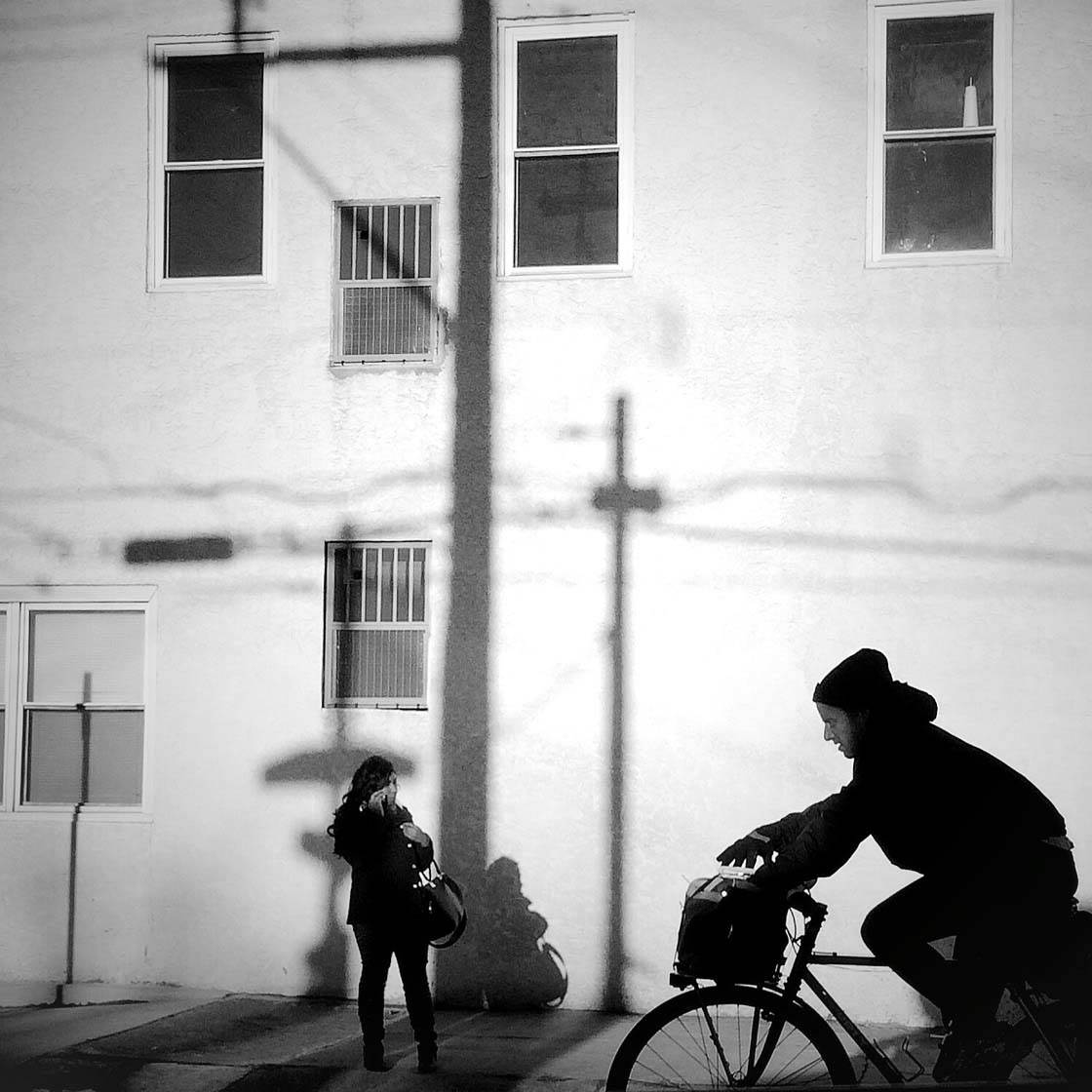 Did you study photography or are you self-taught?
We should study photography every day. When I'm not making pictures, I'm looking at old photo books, scrolling though the work of others on Instagram, or talking about the craft with anyone who will listen.
In college, I wanted to be the next great filmmaker, but my instructors at Temple University didn't my share vision.
They steered me out of the filmmaking curriculum toward still photography. I consoled myself in the school's library, paging through old issues of Life magazine.
One photojournalism course led to another. That led to an internship. That led to a full-time staff job. This made my parents very happy until they saw my starting salary.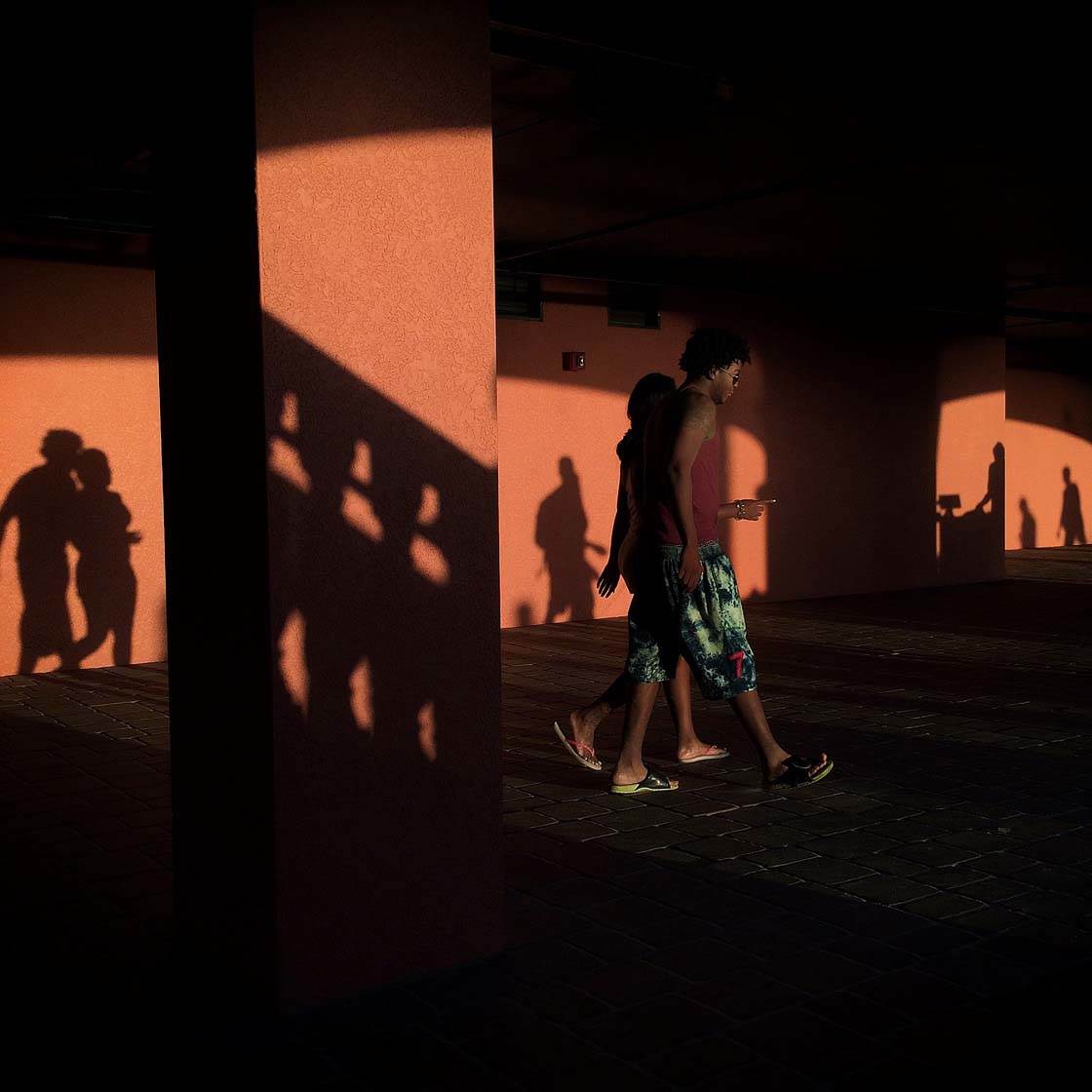 How did your iPhone photography journey begin?
My iPhone photography journey began in earnest when I got my first iPhone (things didn't go so well when I tried commandeering the iPhones of strangers whenever I saw nice light!).
Luckily the newspaper had a bright idea to give reporters smart phones in an effort to make everyone in the newsroom photographers. This was only mildly successful, so they gave the extra iPhones to staff photographers.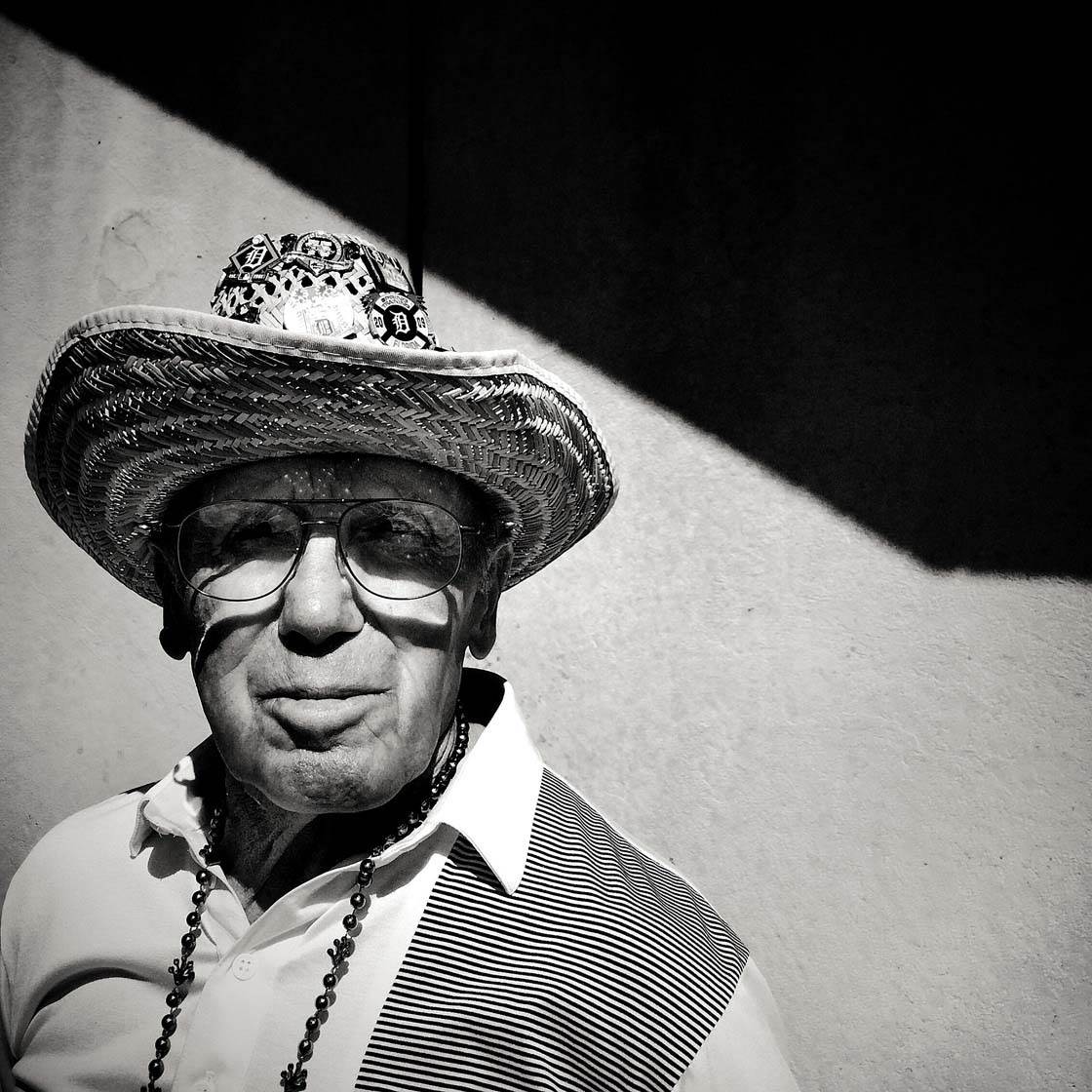 Many professional photographers look down on mobile photography, but you use your iPhone to shoot photos for the publications you work for. Do you ever encounter criticism for your choice of camera?
It's only fair… I look down on pros that still work with daguerreotypes, calotypes and dry plates. Try fitting those in your back pocket!
Really, there's no time to worry about what people think because photography is constantly evolving. Adapt or be left behind.
Cameras are tools and nothing more. Except for my Leicia M6 – I love that camera so much that I never want to use it! Seriously, embracing change is important.
Before smart phones, we only competed against other photographers to get the images out the fastest. Now anyone with a phone can make a picture and share it with the world in seconds. It might not be the best, but sometimes being first is better in my business.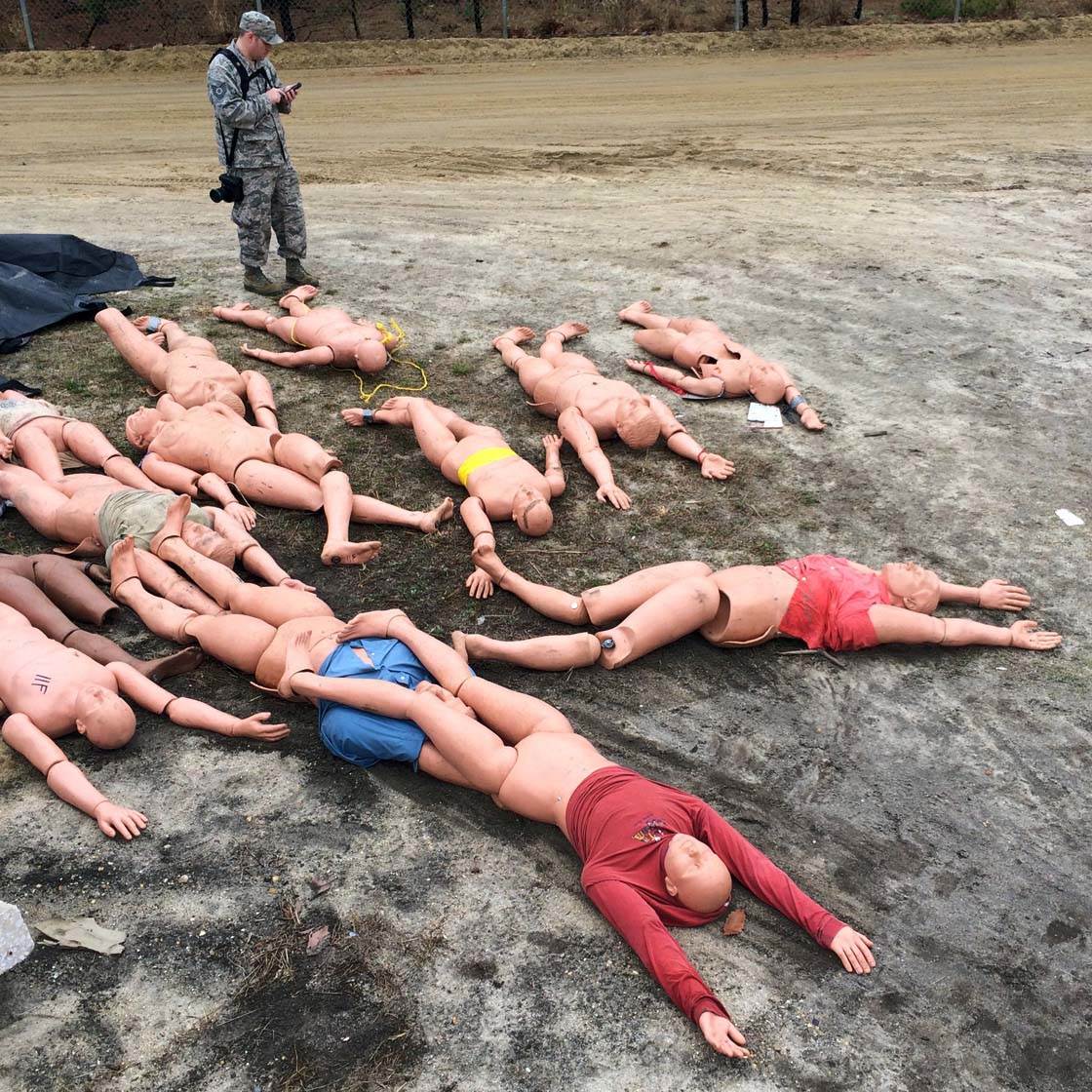 I imagine it's sometimes necessary to use a larger format camera for certain shooting situations, but when do you prefer to use the iPhone?
This is a difficult question to answer. It's just whatever feels right in the moment. I can have two DSLR cameras on my shoulders and I'll still dig into my pocket for the phone.
I've had people on the street ask me why am I using the phone and not the other cameras. I forget they are there sometimes, or they just don't seem right for how I'm looking at something.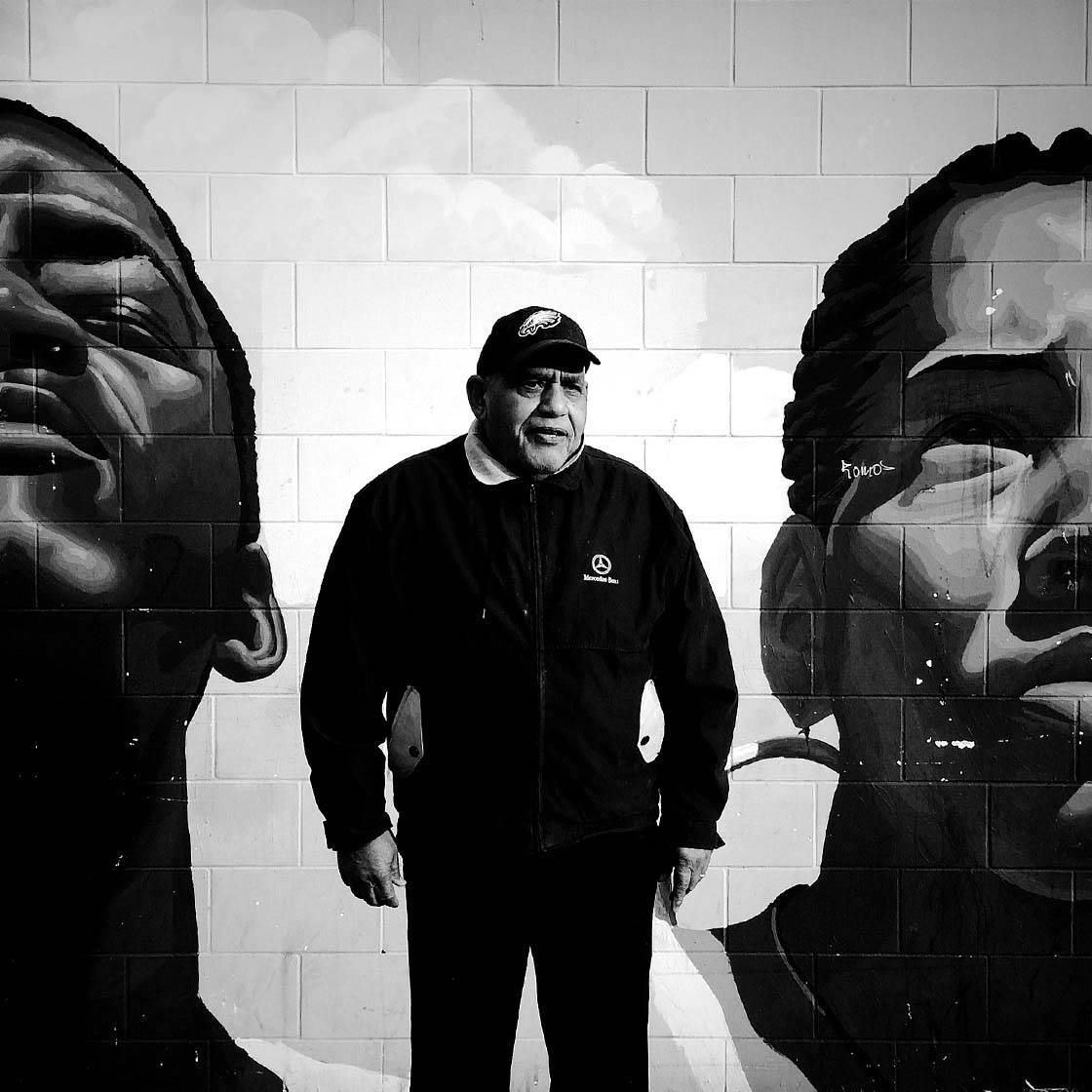 You mainly shoot street photos with your iPhone. What draws you to this genre of photography?
My work with the phone is actually a mix. The work I share on Instagram is mainly street photography. I enjoy seeing interesting people in interesting places, and capturing how they relate to the space they're in.
But I also like to make images with the phone that go beyond street. Light motivates me. People motivate me. I walk a lot and I see things that interest me along the way, so I stop, wait, and make pictures.
The work I do for the paper is usually tied to a story and is serious. My approach with the phone is normally pure visual fun – no stress. It's like the world of video games and photography merging, or something like that.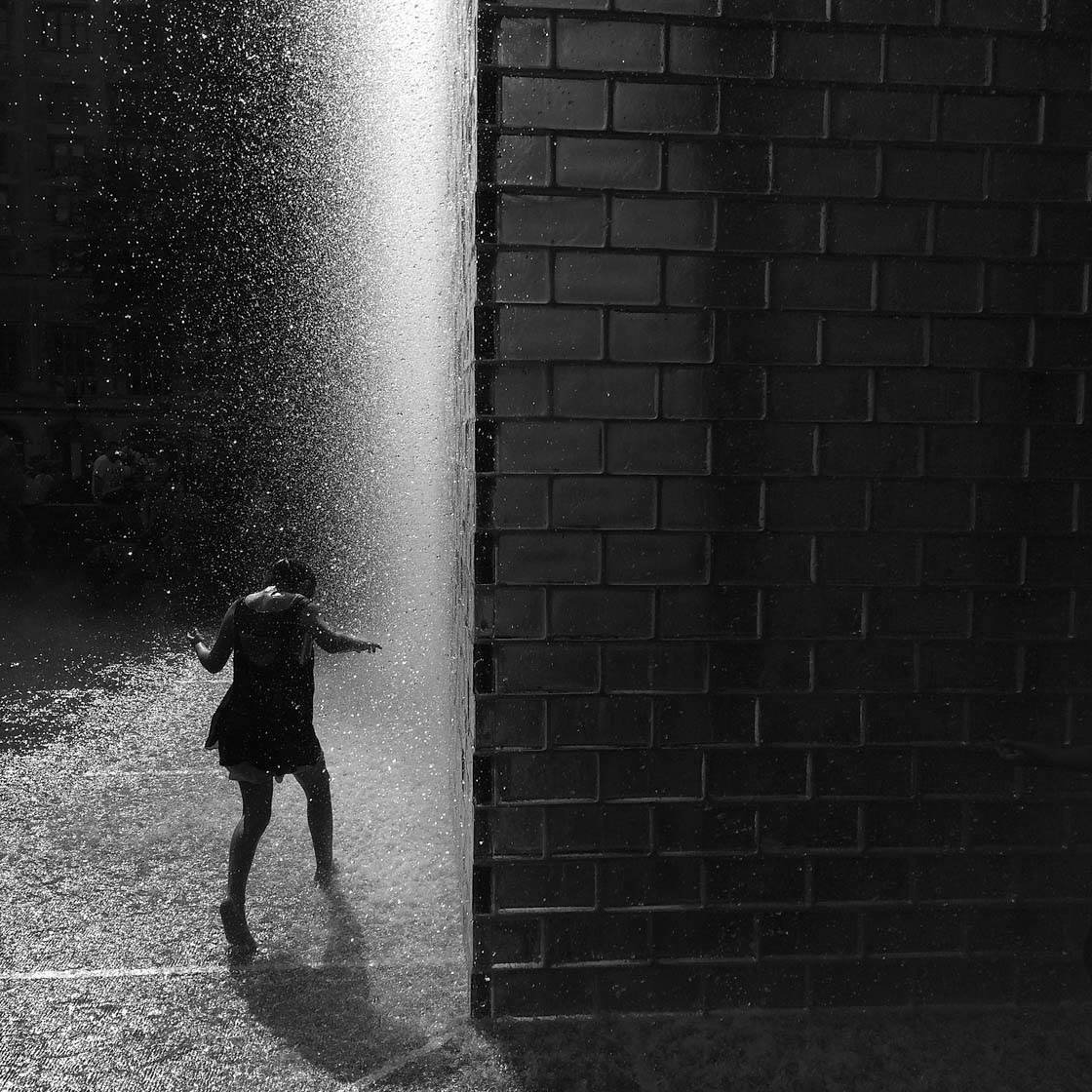 What tips do you have for telling powerful stories through photography?
If you want to be a good storyteller, get close to people. I think that's the general rule for all good photography – get closer to your subject. Be patient and wait for things to happen.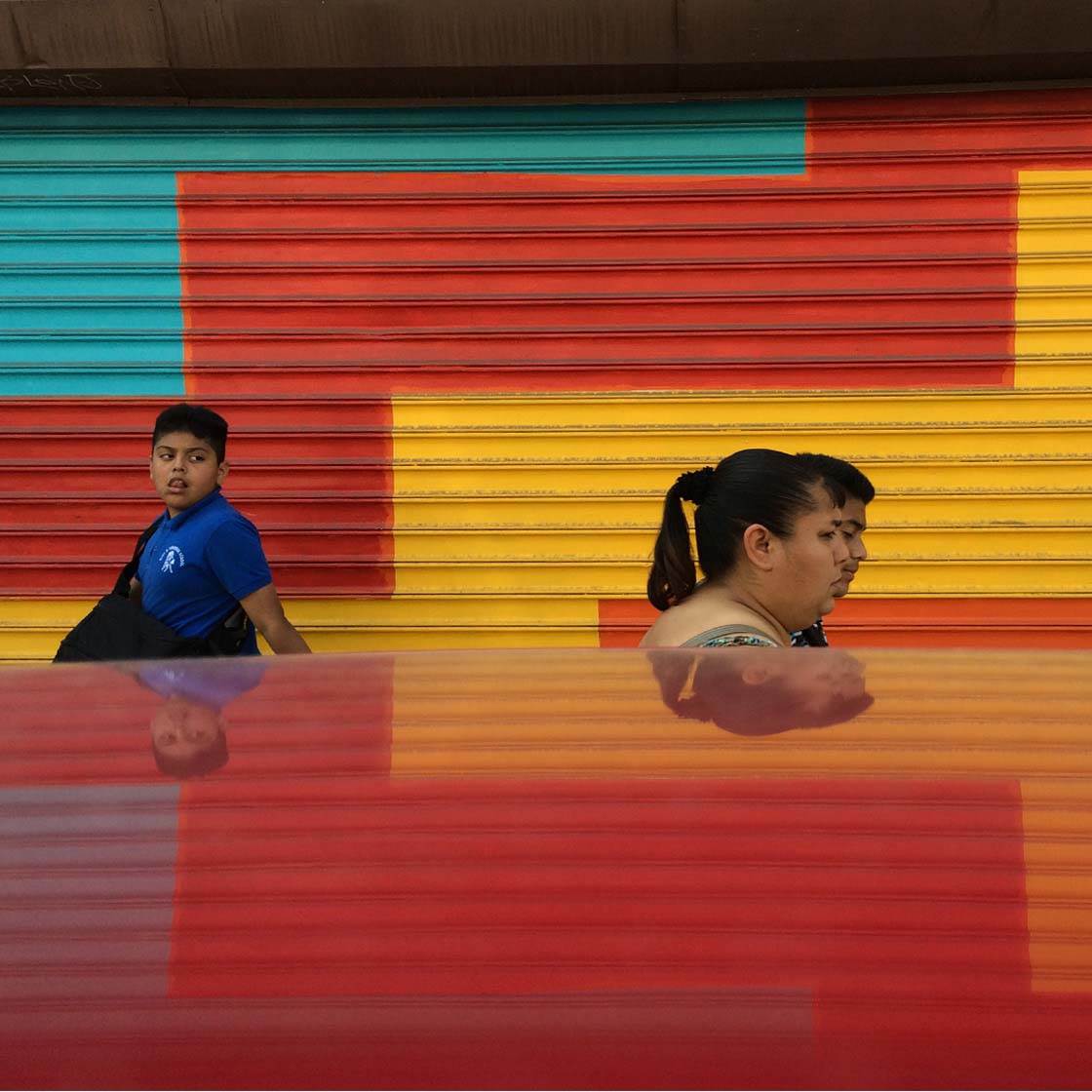 One of the main challenges with street photography is taking photos of people you don't know. How do you deal with this, and have you ever had any problems when photographing strangers?
There's no telling how people will react to the camera. I've given up guessing. Make pictures first and ask after. If people become upset, try to explain or show them what you're trying to do.
Be honest. Be fair. If things get too ugly be prepared to get the heck out of there. Running with a phone is easier than running with a heavy camera!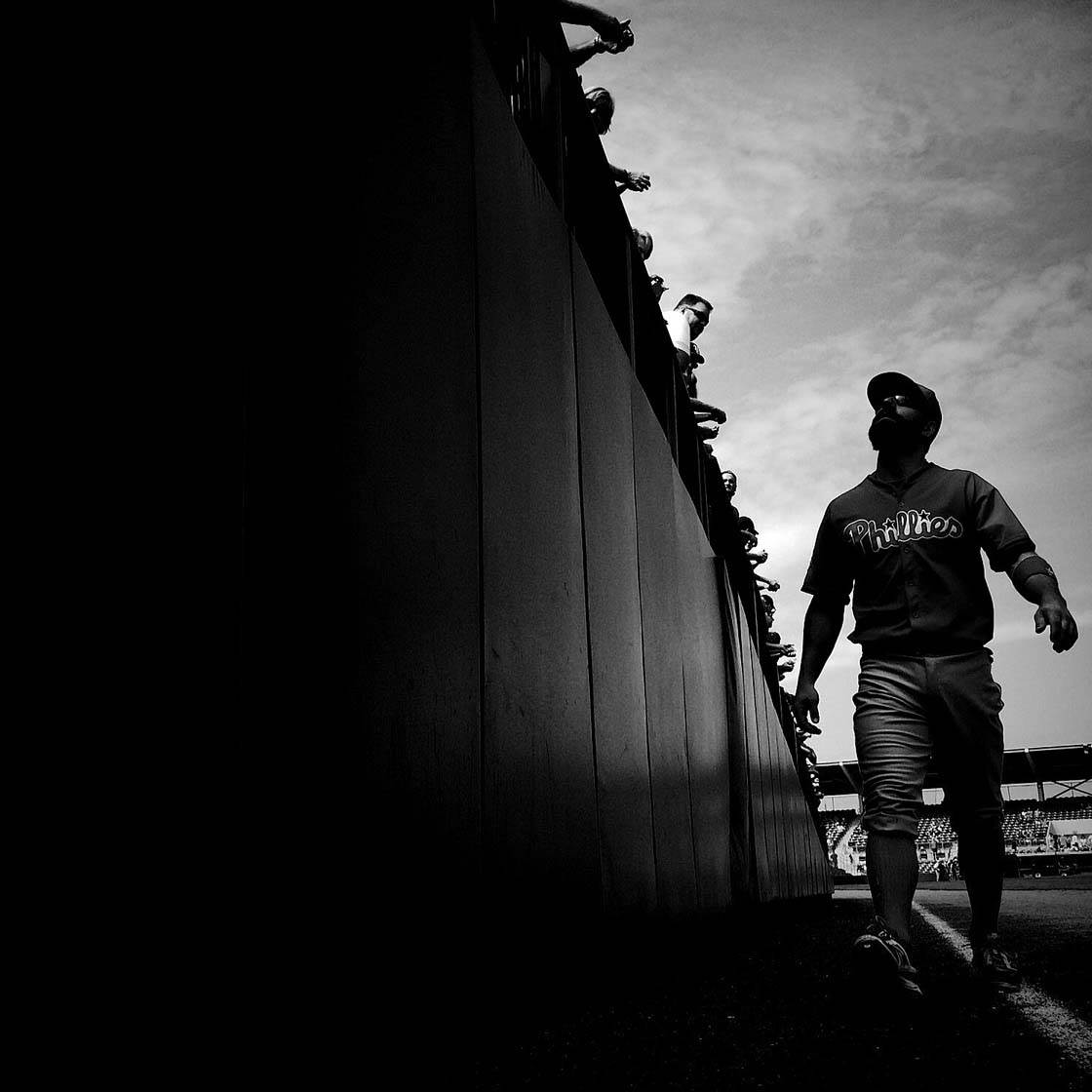 With street photography your subjects are constantly on the move. How do you take such great iPhone photos of moving subjects?
You have to know the limitation of the camera you're using. Low light and movement with a camera phone doesn't work so well. Most of my street work is in the daytime. I love the challenge of using harsh light.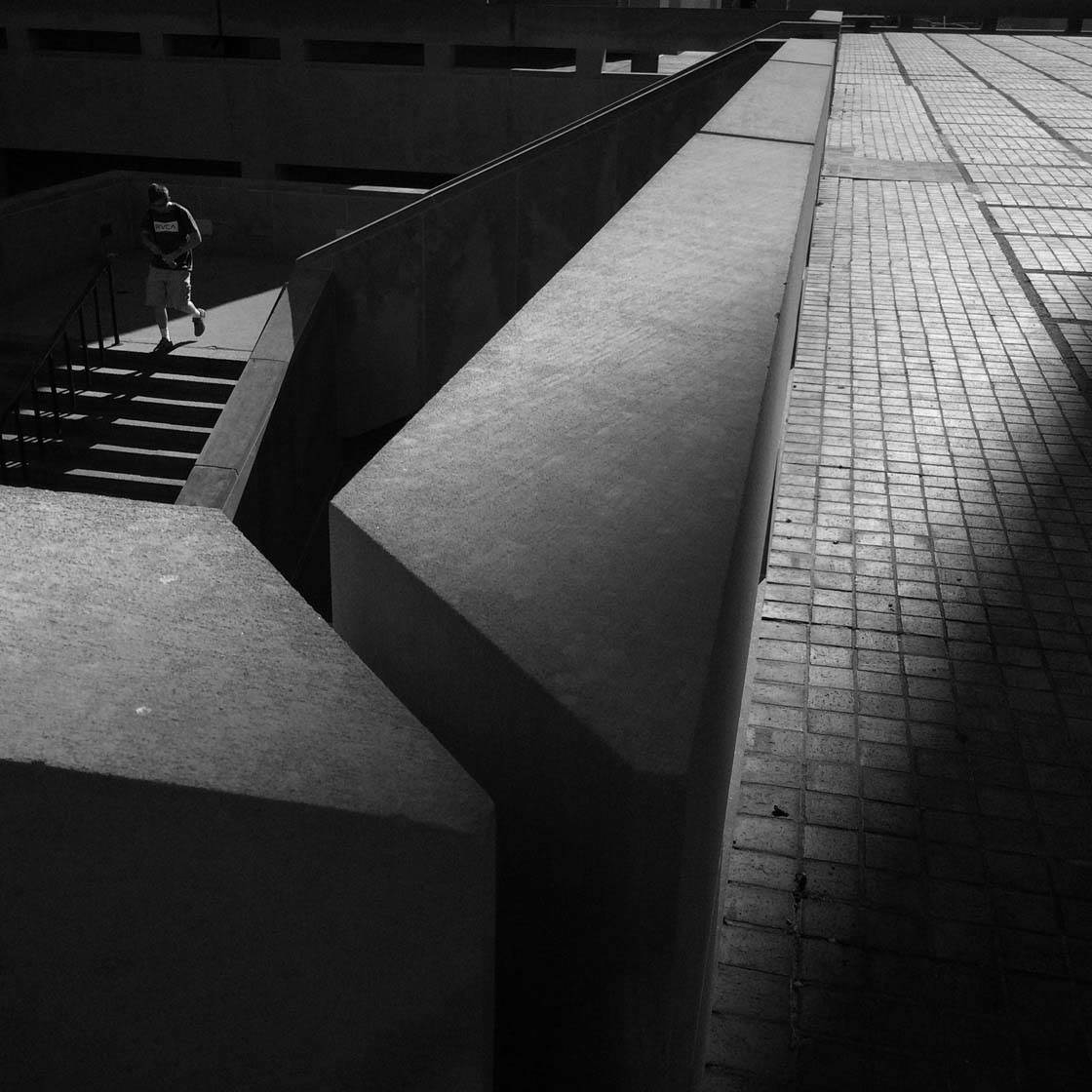 Do you have a favorite time of day and light that you like to shoot in?
I'm a morning person. I like to get out as the city is waking up. It's not just for the light, but I also like to see how something starts and follow it. The pace is more relaxed. It makes me slow down and helps me let the scene develop.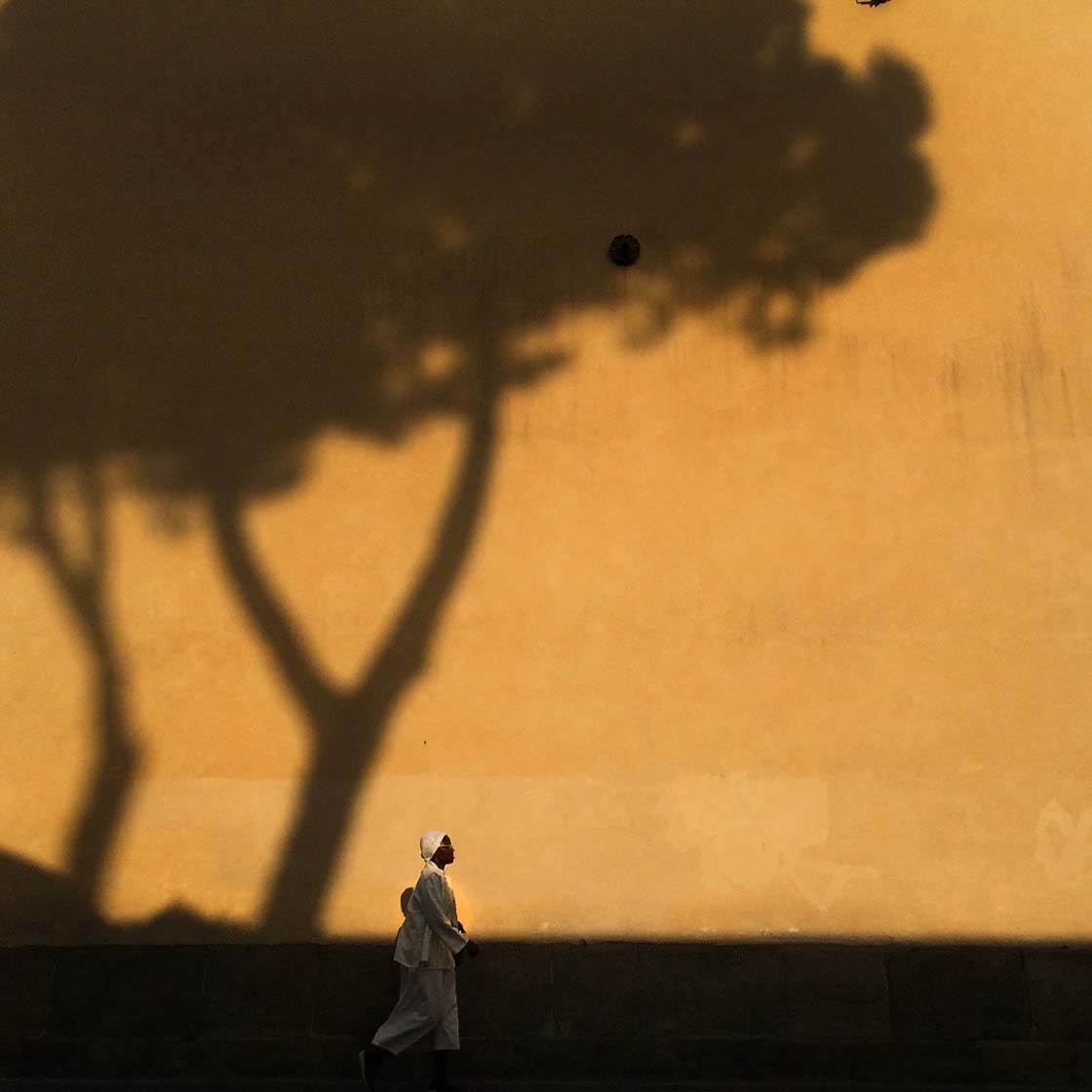 Your photography is a mix of color and black and white photos. What makes you choose a black and white edit over color? Are there certain scenes that look better in black and white?
Doesn't everything looks better in black and white? There's something about having a deep black tone to give the image weight.
The journalist in me tries to incorporate a mix of color images in my Instagram feed.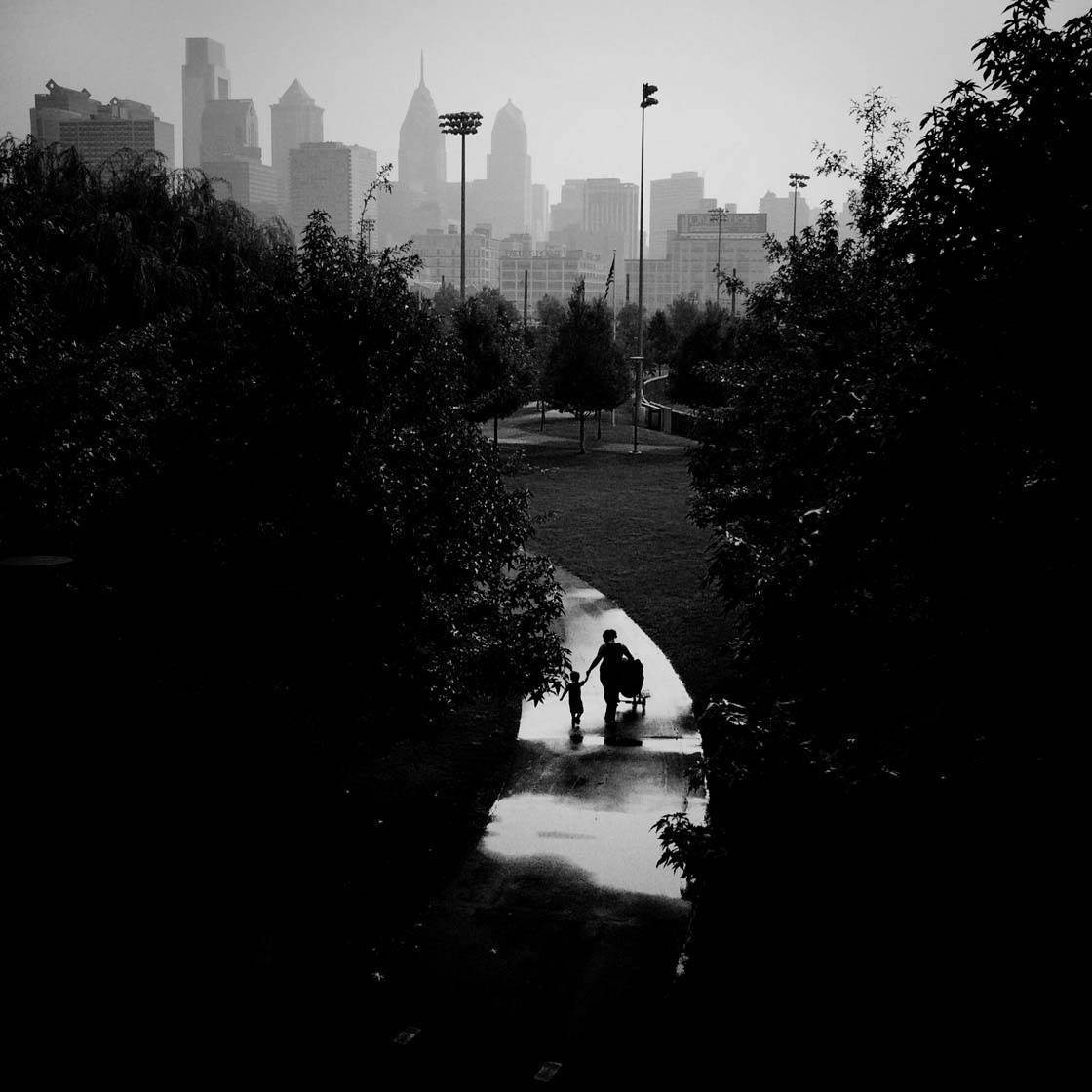 Let's talk about photo apps. Are there any apps that you use for taking photos besides the native camera app?
I hardly ever use the native camera. It doesn't offer enough control. It's great in a pinch since you can get to it without unlocking the phone, but I prefer to have separate focus and exposure control.
I use Squara, 6×6, and 645 Pro on a regular basis. There's nothing wrong with other photo apps. These just work best for me at this time.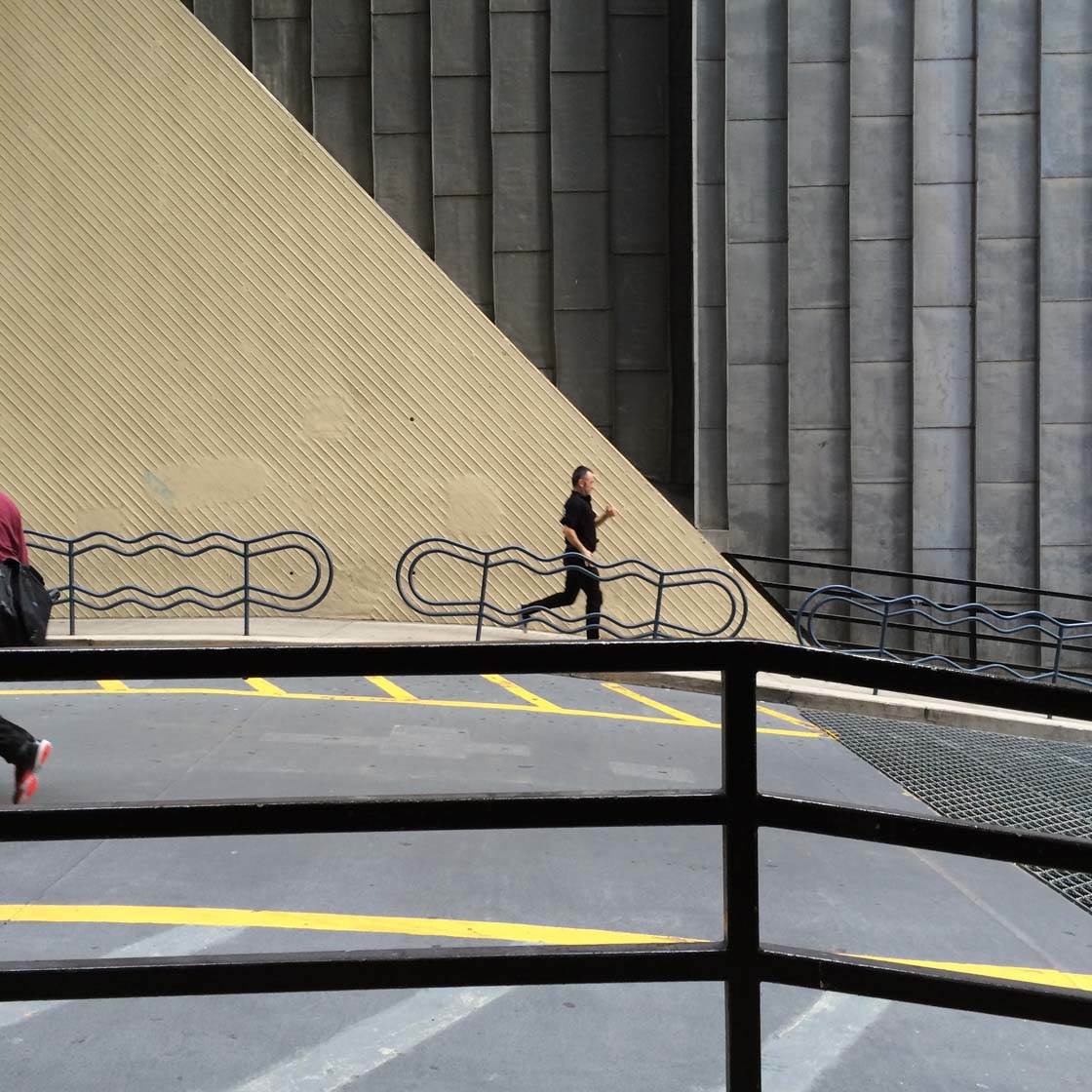 What are your favorite apps for post-processing?
I use the Snapseed app for minor adjustments – just a slight dodge and burn, sharpen, or crop if needed.
Do you use any iPhone photography accessories?
No, I don't use any accessories for the phone – not that I haven't bought any before. Save your money for the next phone. Carry a charger or spare battery if you must. In the past, I've carried two phones, but lately I think less is more.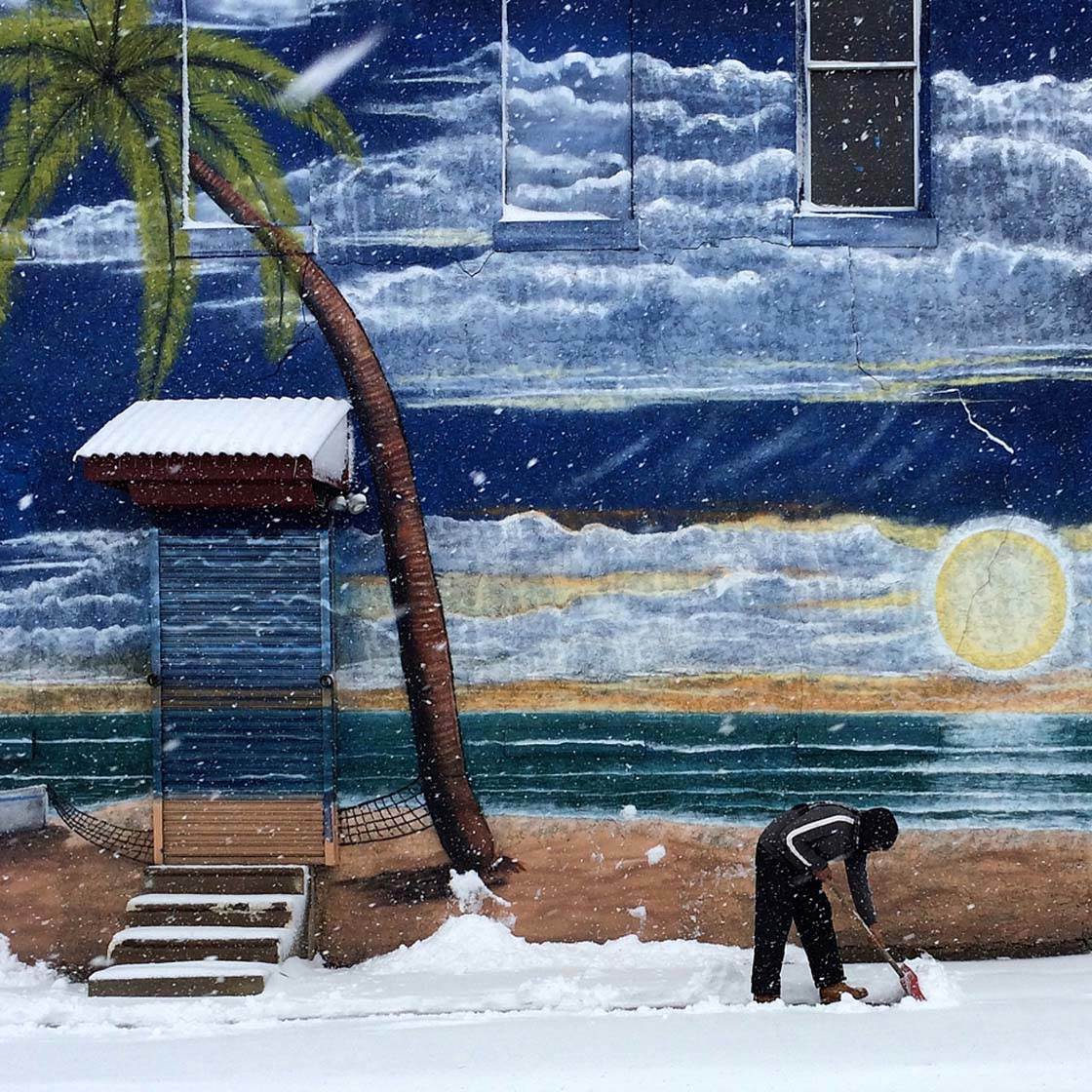 Can you briefly explain the story and editing process behind your three favorite iPhone photos? 
I have a hard time with the word favorite. I don't think about my images after I make them. I'm always moving on to the next thing. I like them in the moment, but not so much after. These three images represent a mix of what I like to do with my phone.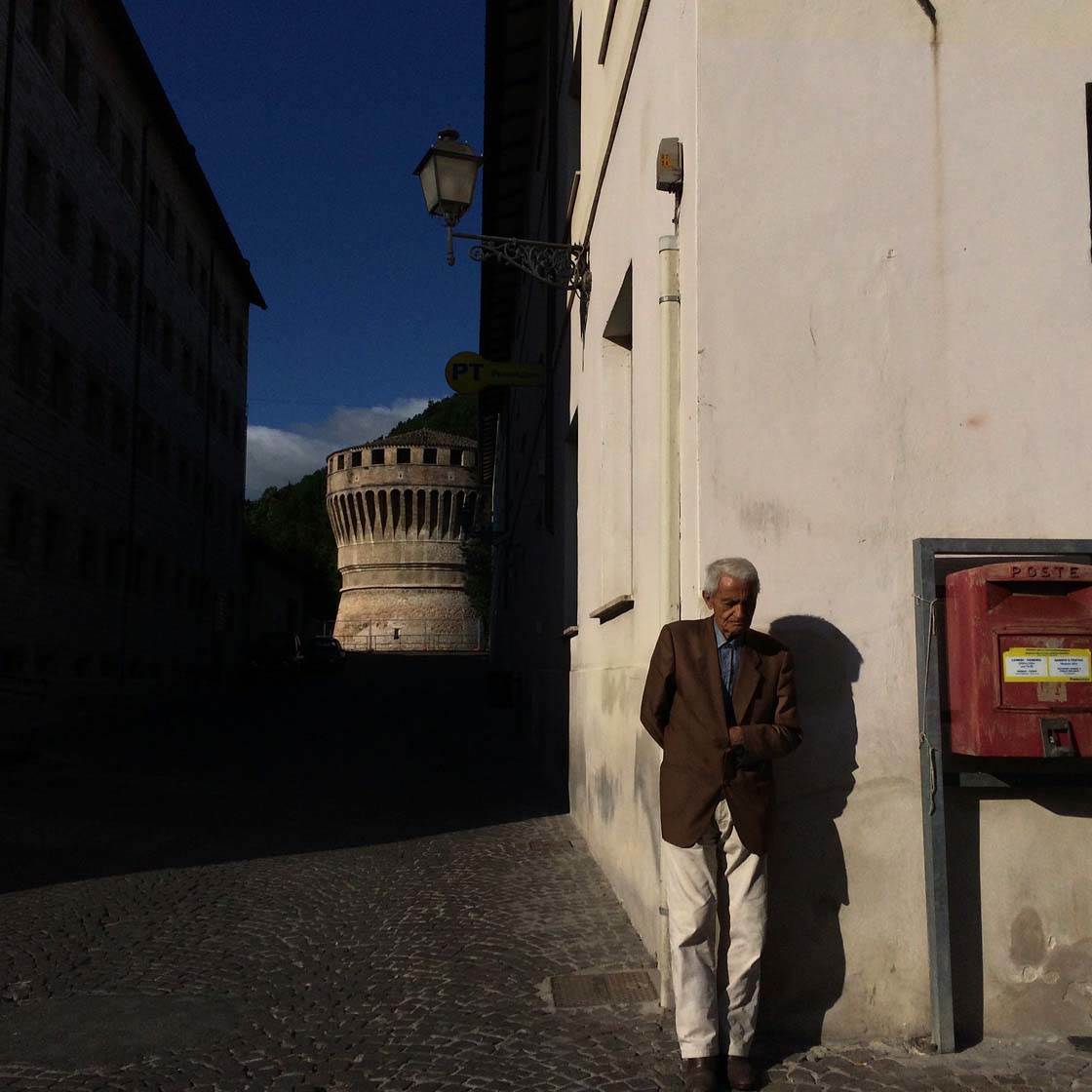 This man resting against a wall in Cagli, Italy is waiting for the post office to open. The early morning light is coming from the left side of the frame. I exposed for the white wall on the right.
In post-processing, I used the dodge tool to slightly brighten up the man's sleeve near where his arm is tucked into his jacket.
Cagli is a small town where I'm very fortunate to visit every summer to teach photography to American college students.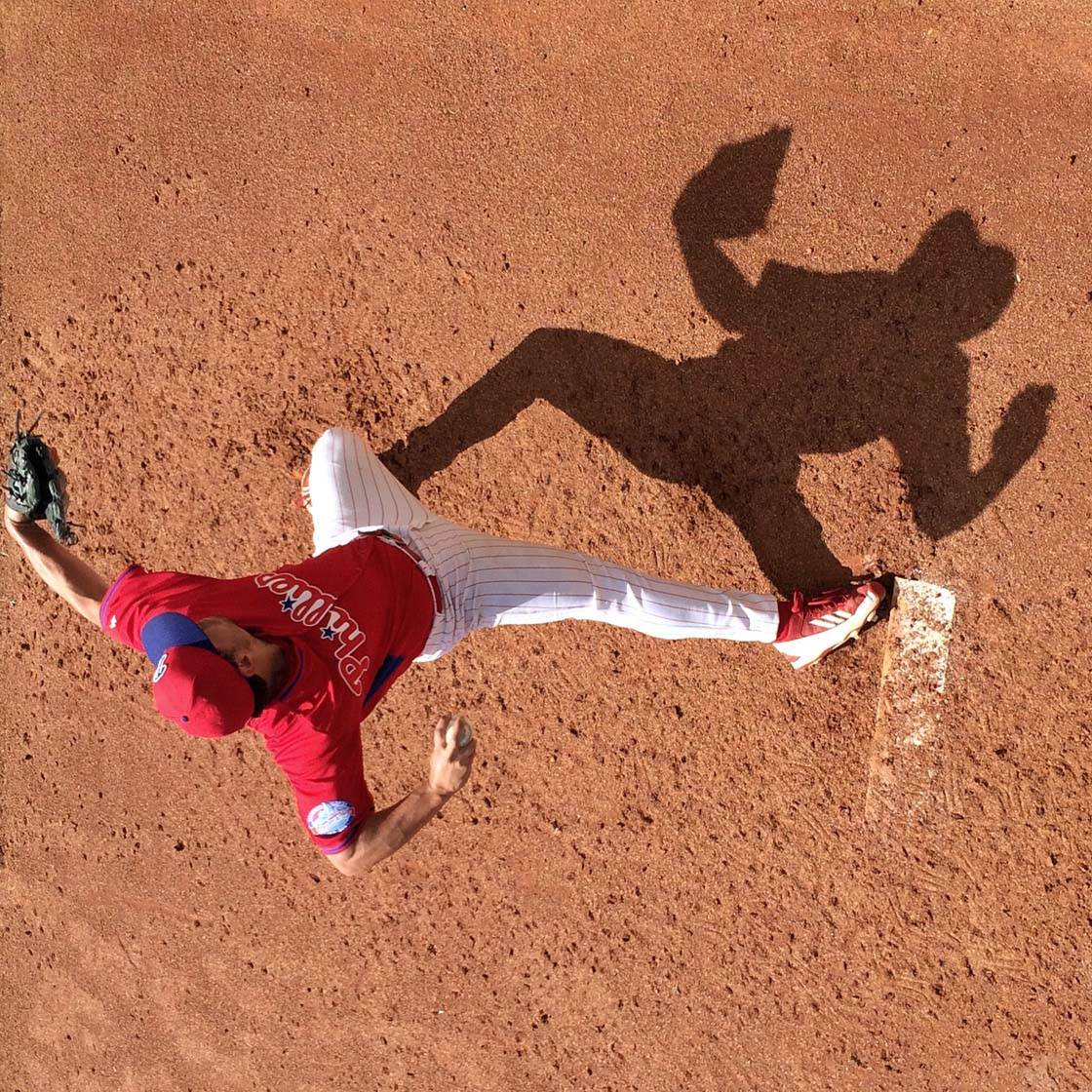 This Phillies pitcher is warming up in the bullpen during a Spring Training game in Clearwater, Florida. There's a walkway above, so I was interested in the shadow on the mound.
Timing this was tricky as the delay on the Squara app is a lot longer than on a DSLR. In editing I just slightly cropped on the left and bottom.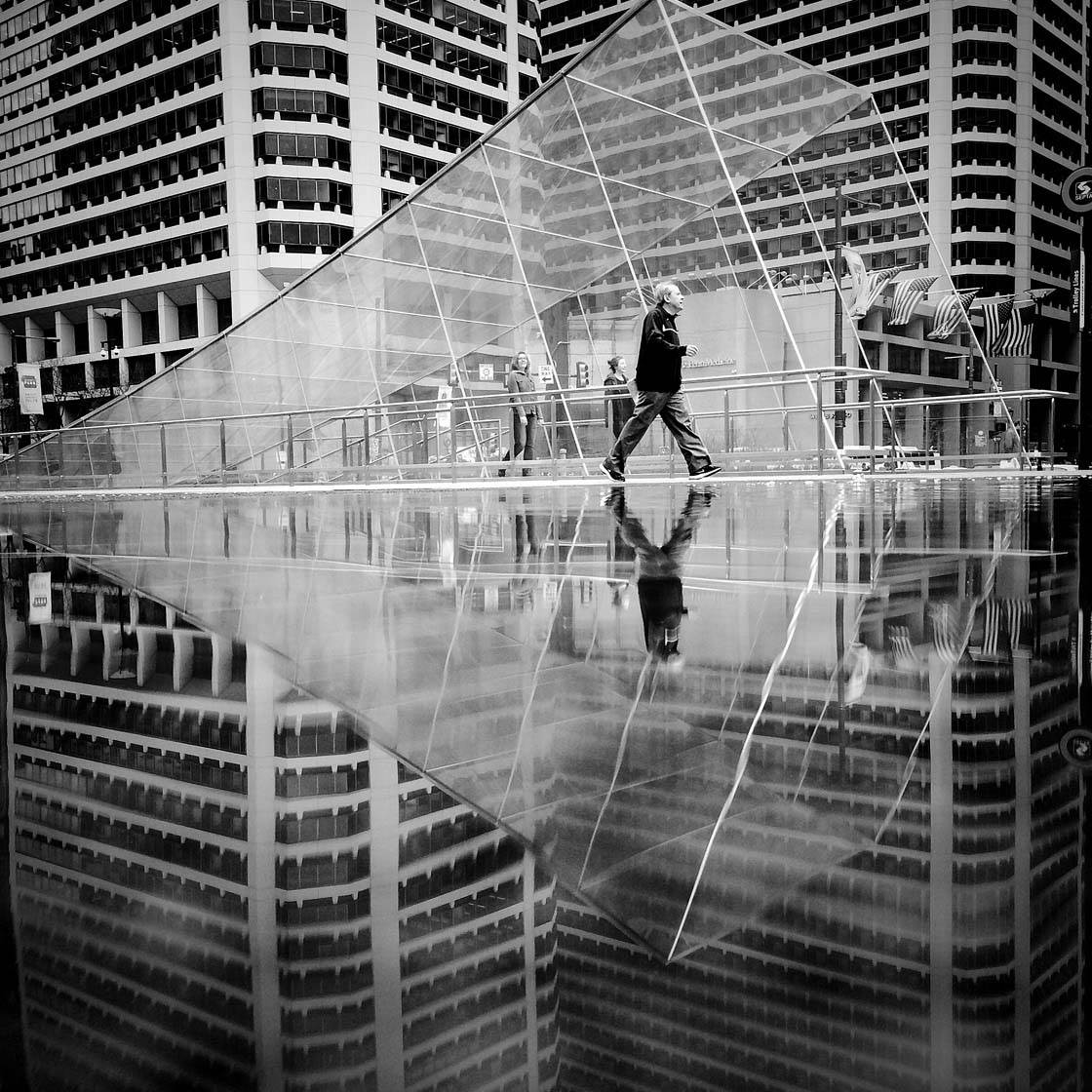 This is Dilworth Park in Philadelphia, Pennsylvania. The reflection kept me here, watching as people walked by. I love architecture. I'm drawn to shapes and how light plays off of them.
I didn't perform any editing, but the shot was taken with the Squara app set to Black and Chrome. The blacks are really deep on this setting, and it also darkens the edges of the frame.
What tips do you have for beginner iPhone photographers who want to start taking more creative photos with their iPhone?
Learn the basic principles of photography. Study the work of great photographers and painters from the past and present. Practice, practice and practice some more.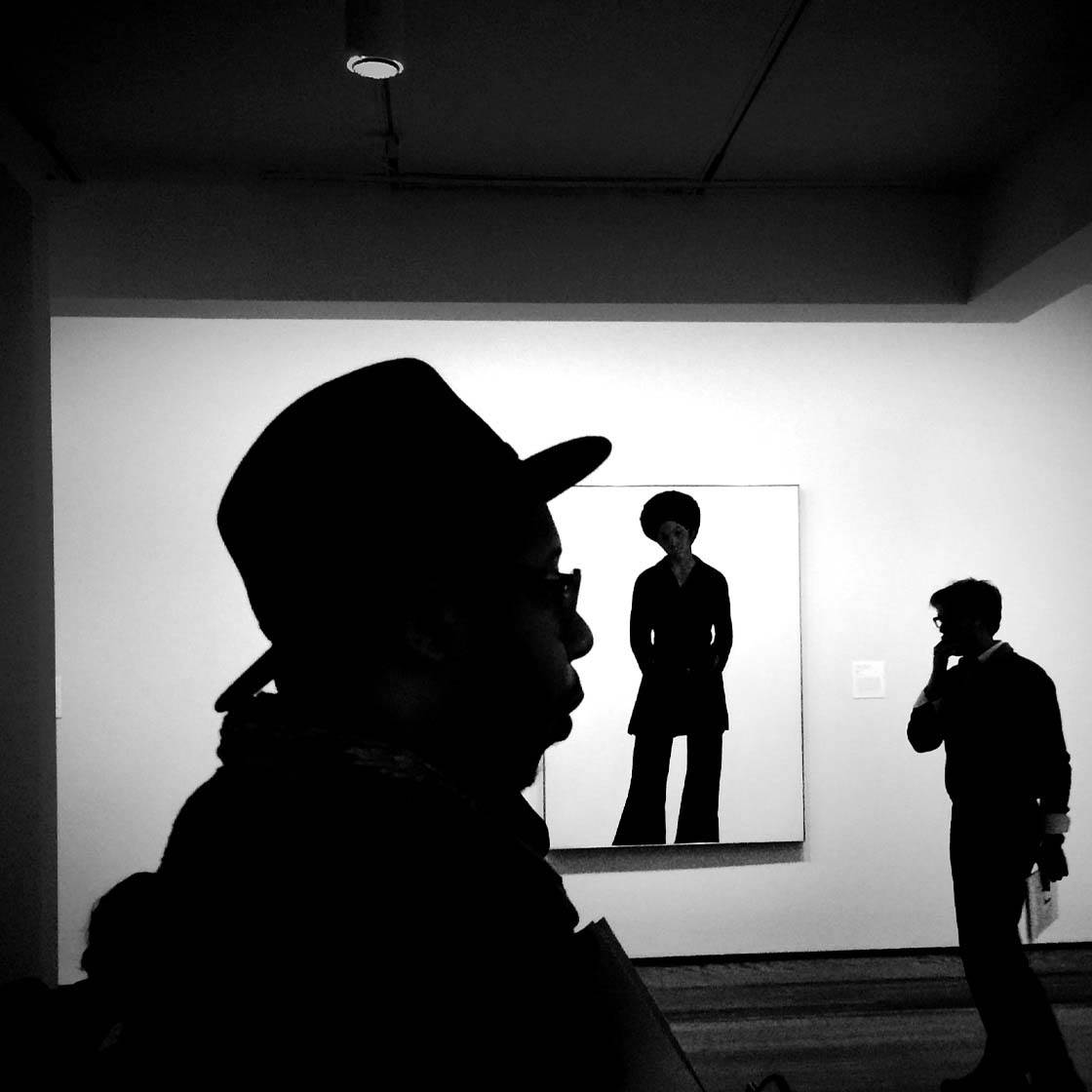 Which iPhone photographers do you admire the most?
I admire the work of many photographers. Visit my Instagram feed and check out the 550 people I follow. If you like them, follow them.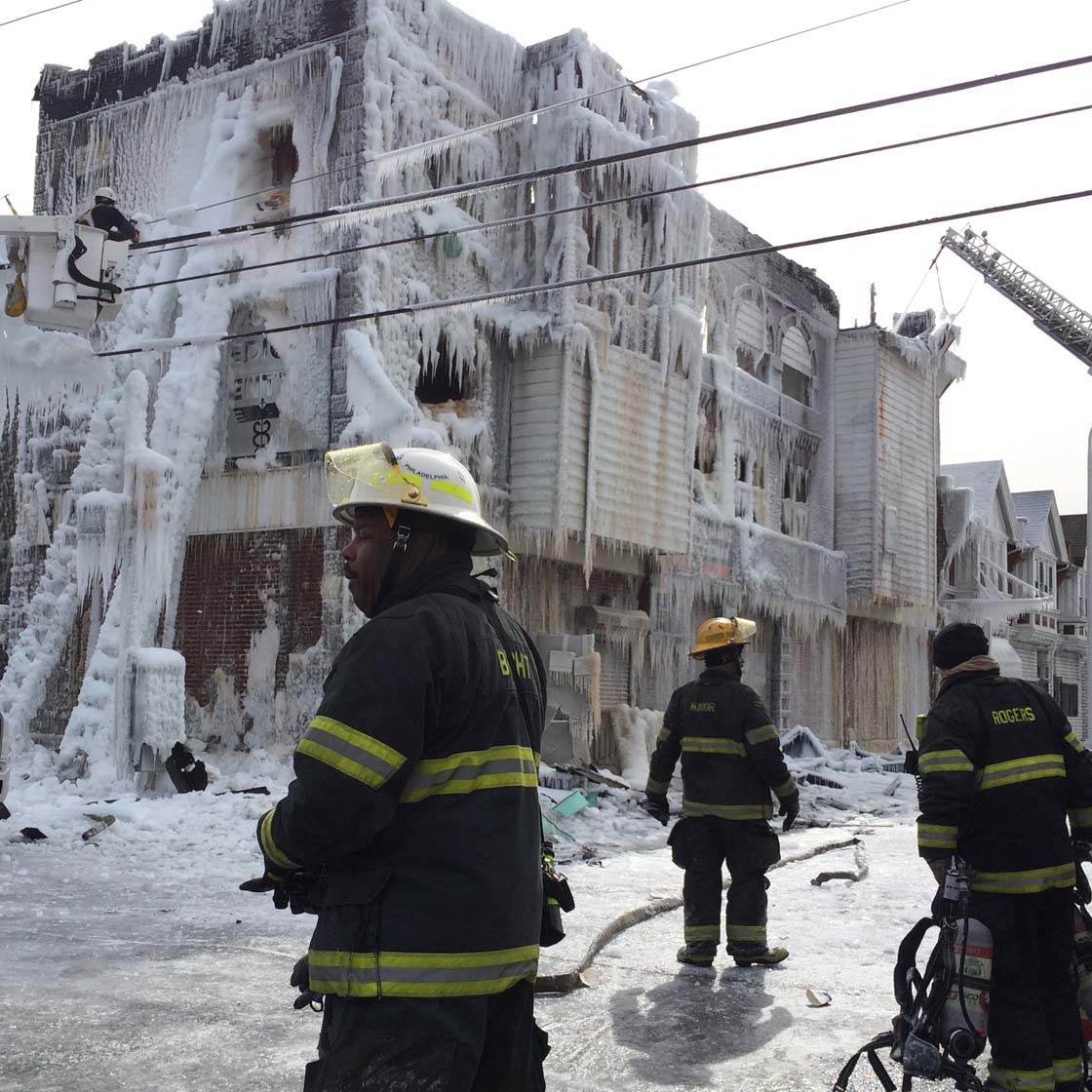 Where can we see your iPhone photography?
Only on Instagram for now @maialetti.