A few months ago we reviewed the new Darkroom photo editing app, which proved to be a very powerful app for editing and enhancing your iPhone photos. Now, with the release of Darkroom 2.0, the updated app offers more than a dozen new features for taking full control of your photo editing. In this article you'll discover how these new updates provide you with an even better set of iPhone image editing tools.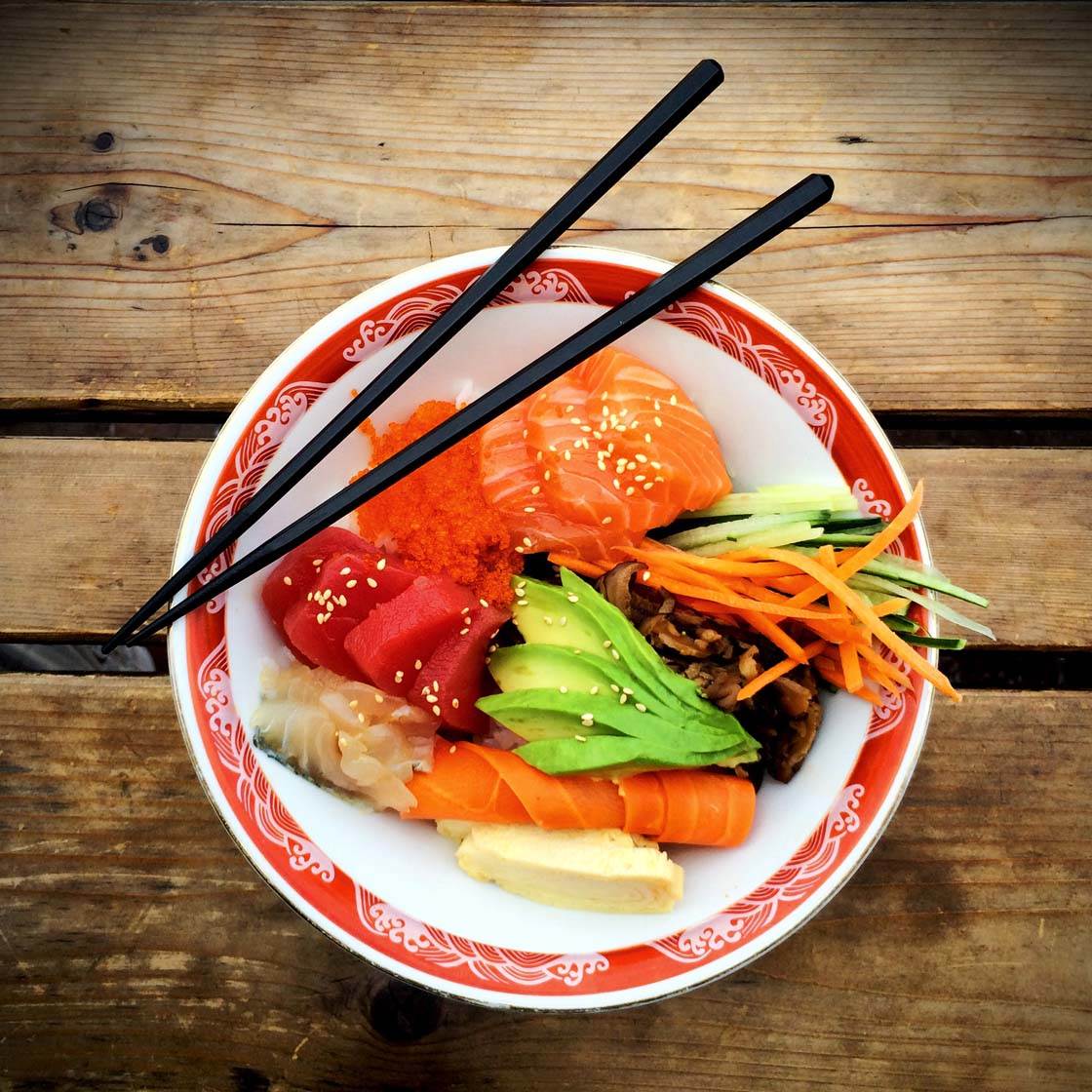 Recap Of Darkroom App
In case you missed our earlier review of Darkroom 1.0, it's an editing app that includes many of the basic features you'd expect from any other post-processing app, while also including a variation on the standard "Curves" tool for further refining your exposure levels.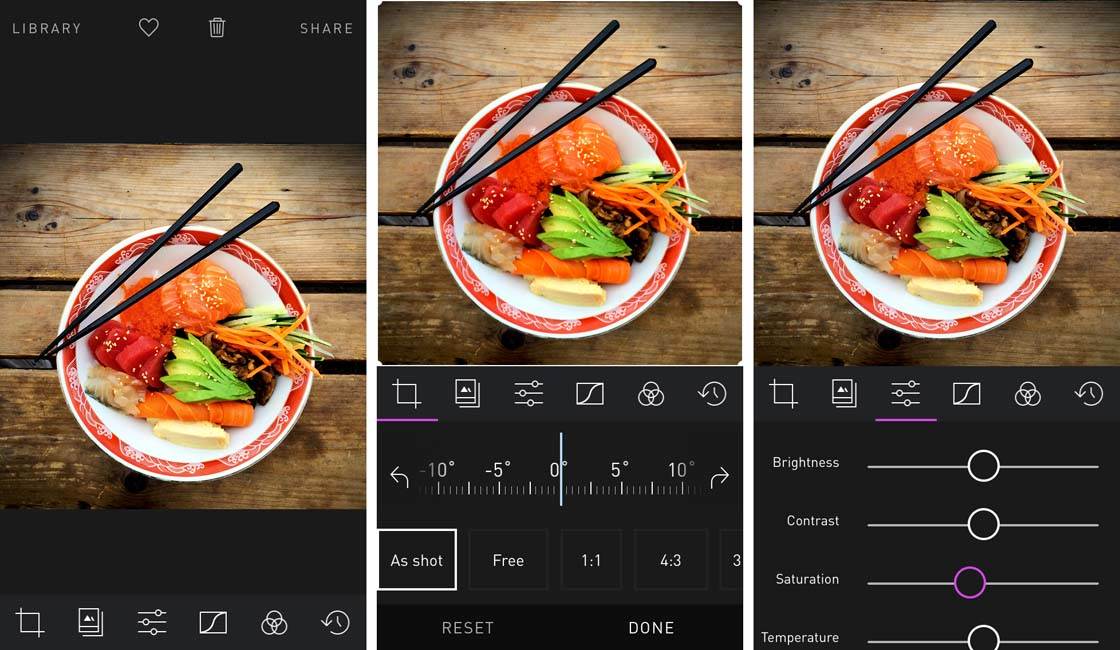 In that earlier review, I referred to Darkroom as an "intermediate-level" editing app as it offered a bit more than just the bare essentials, yet still kept its functionality simple and easy-to-use.
However, with the latest major upgrade (version 2.0), Darkroom has become more of a full-featured editing app through several key additions and refinements.
What's New?
The biggest update offered by the new version of Darkroom is that the developer took the Curves tool (which was offered as an in-app purchase with version 1.0) and expanded it into a larger "Pro Kit."
The Pro Kit is composed of the existing Curves tool along with the new Color and Tone tools. The combination of all three of these adjustment tools offers an incredible range of fine control over your edits.
As a courtesy to early supporters, users who already purchased Curves in the original version of Darkroom will now get the Pro Kit as an automatic and free upgrade.
Here's a short video that shows some of the new features in action:
Curves Adjustment Tool
The Curves adjustment tool is typically only found in more advanced photo editing software such as Lightroom and Photoshop, although some high-end iOS apps include a version of Curves adjustment as well.
Curves is a powerful feature for making exposure adjustments from very subtle to extreme. To adjust the values, you simply slide your finger up or down in the different columns to move the indicator line or "curve" and change the relevant value range.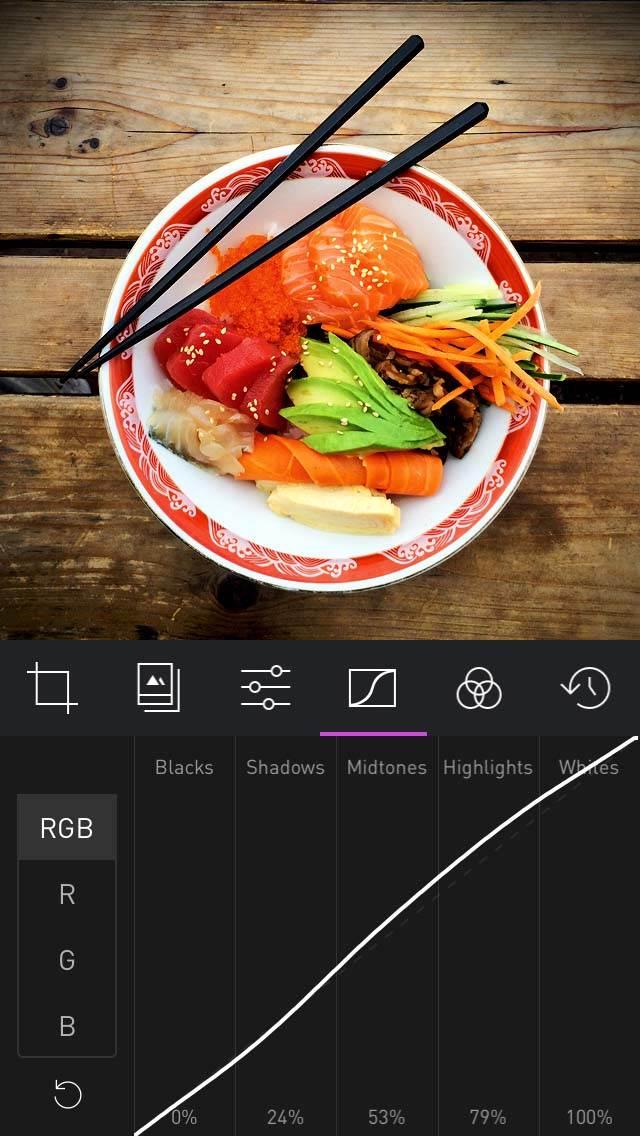 This works a bit differently than the Curves tool found in other apps where you adjust the "curve" at any point along the line. But it's still more than effective and actually serves as a great way to learn how to use a Curves tool if you're new to this type of editing.
You'll notice options on the left-hand side where you can choose to adjust levels for different color values. R, G, and B stand for Red, Green and Blue respectively, and they allow you to adjust the level of each of those color values.
Color Adjustment Tool
The Color tool provides the ability to adjust the hue, saturation and luminance of individual colors in your image.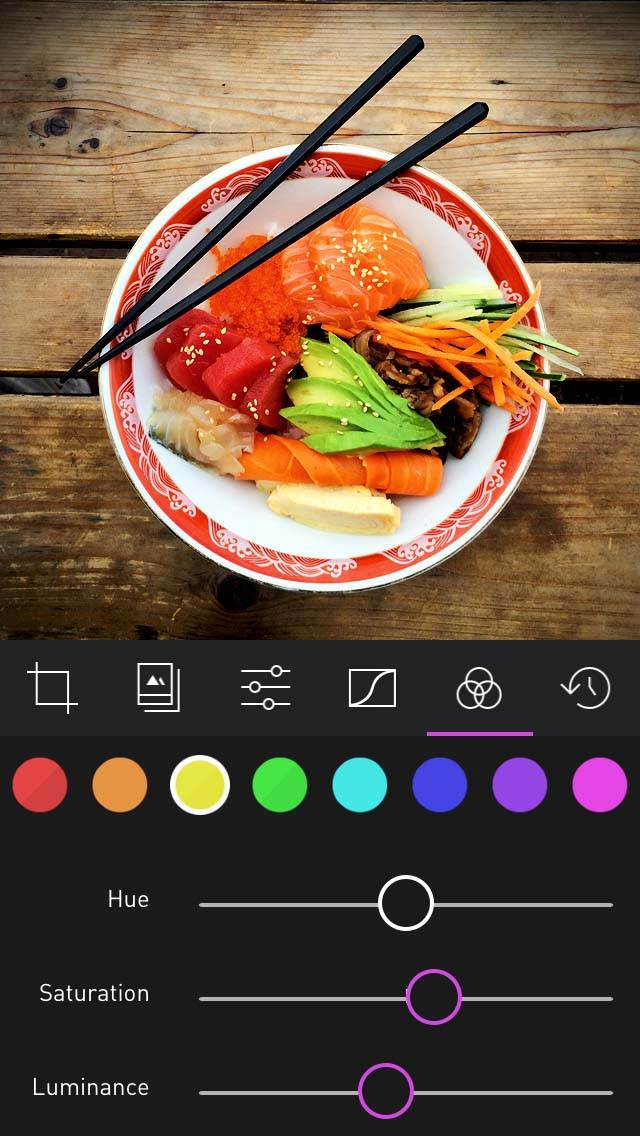 Is the sky too blue? Desaturate just the blue tones. Is the grass too yellow? Increase the level of the green hue to add vibrance to the grass.
This type of adjustment feature is typically found in more extensive desktop applications like Lightroom. To have this control in an iOS app is a huge step forward for mobile photography.
Tone Adjustment Tool
The new Tone tool is what's typically referred to as a Split-tone adjustment tool in other desktop applications. This allows you to select the highlights and/or shadows of a photo and add a color tone to just those regions of the image.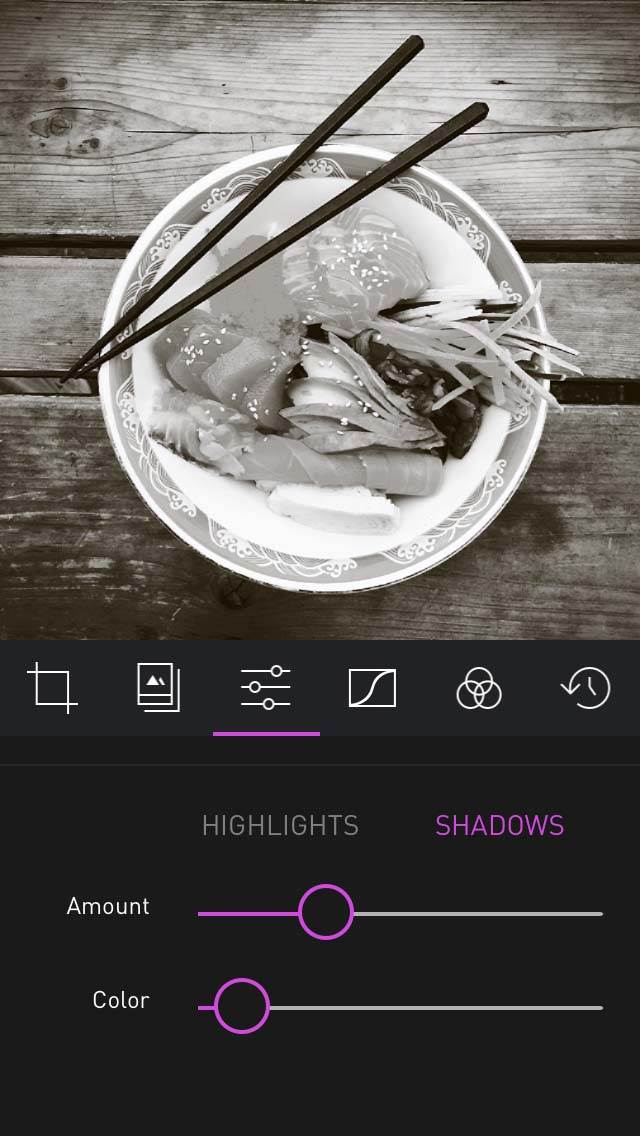 While this can be fun to experiment with in all sorts of photos, I find it particularly well-suited to taking black and white photos and adding a sepia, cyan, or other color tone to the otherwise monochromatic image.
My preference is to add the color tone to the shadow regions of the photo and only in small doses. For example, a very slight brown/orange tone, when added to a black and white photo can help to "warm up" the image slightly while still looking like a black and white image.
Filter Sharing
As part of the Pro Kit in-app purchase, you can now share your custom iPhone filters publicly using the app's unique "one-step install mechanism."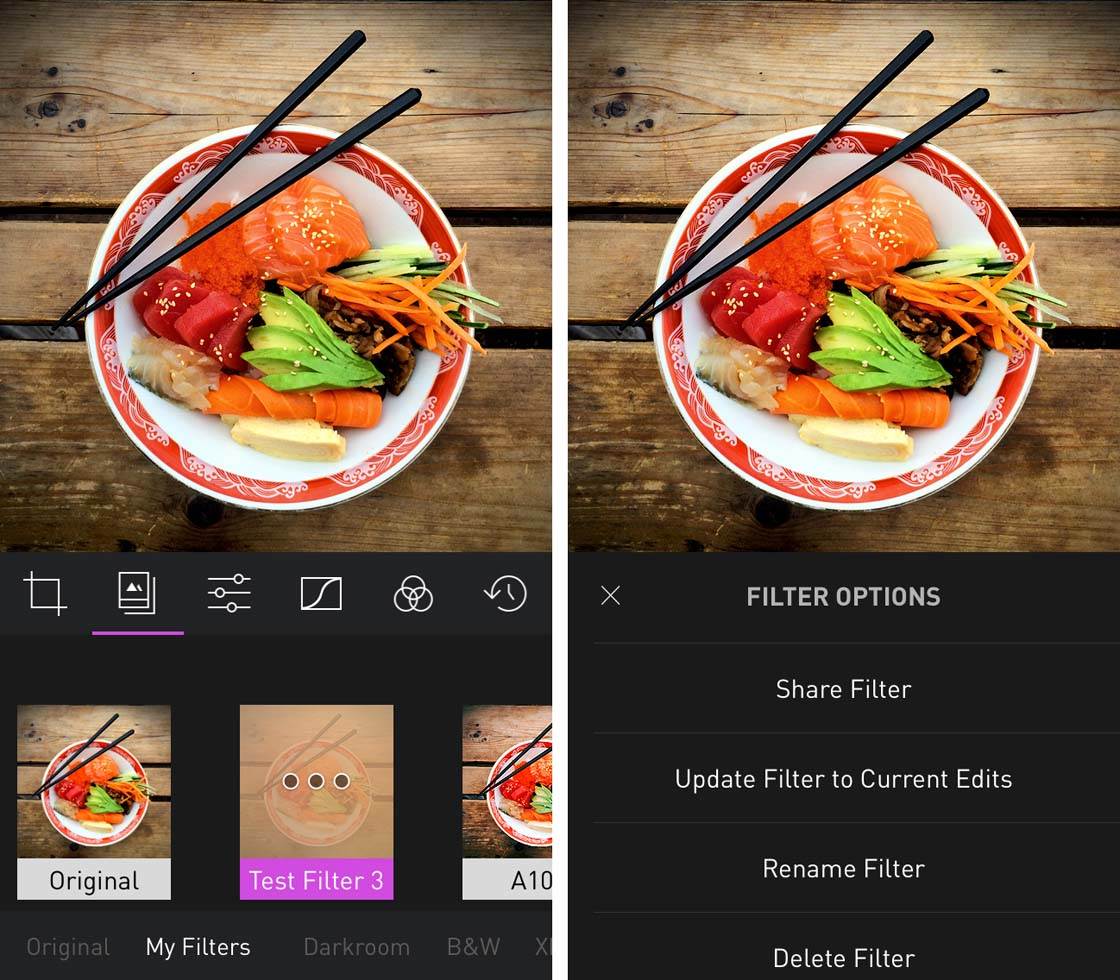 Using an on-image QR code, you can share your filters to your friends and followers on Instagram, and they can install them right from within their feed by taking a screenshot and then opening that screenshot in Darkroom.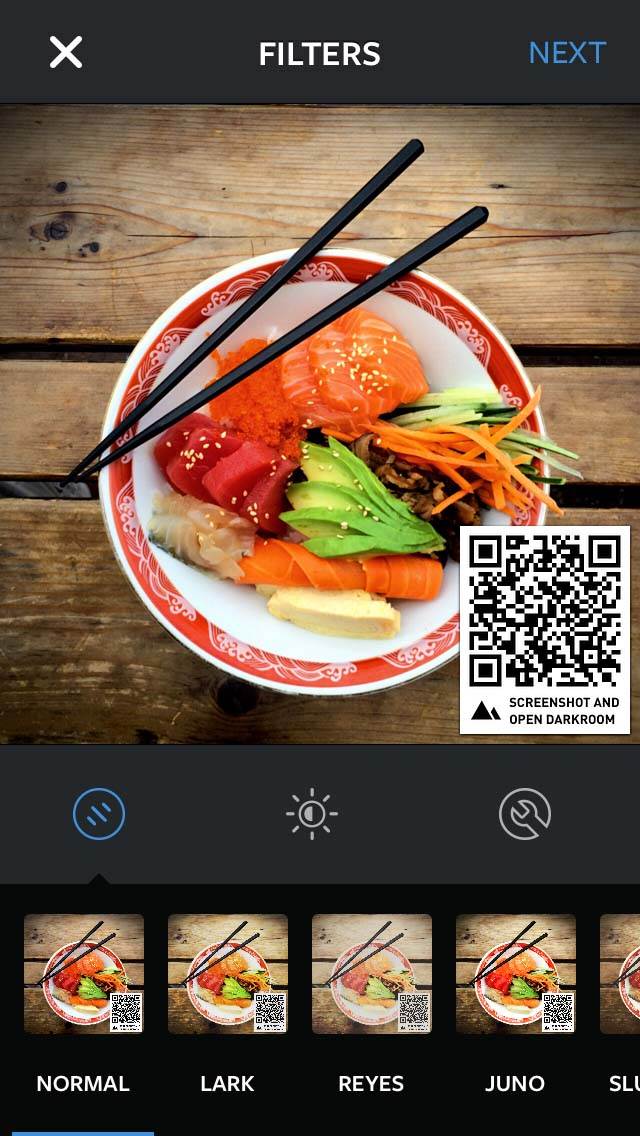 As your filters spread through online sharing, other photographers will have a link back to your Instagram profile, helping to build your own audience and following.
While the presence of the code on your shared images may seem a bit odd, it does also serve as a watermark in that it's unique to your image and can include your Instagram link as mentioned above.
Additional Exciting Updates
In addition to the new filter sharing feature and Pro Kit tool, a number of smaller, yet equally exciting updates have also been added to the app including, but not limited to, the following list:
Additional new Premium Filter Packs – many to choose from
Copy & Paste Edit – you can now copy your edits from one photo and apply them to another photo for quick editing of multiple, yet similar images
Full management of your filters – rename, reset, update and more
Thanks to the tight integration with your iPhone's Camera Roll, you can now favorite and delete photos right from within Darkroom
Control the width of the white border when saving as a square image for posting to Instagram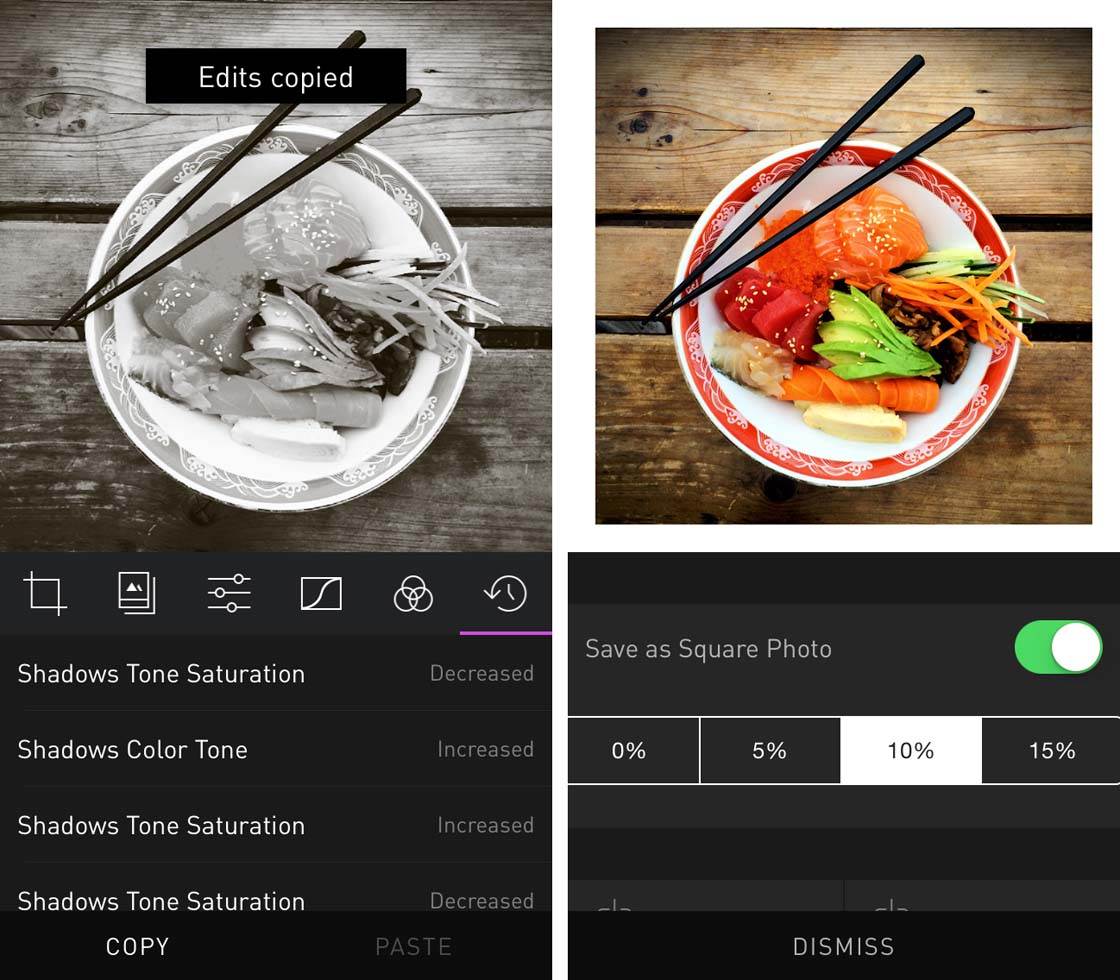 Final Thoughts
With all of the new updates, Darkroom has evolved from a great app into an excellent one. If you've yet to try it out for yourself, now is the perfect time to do so!
Darkroom can be downloaded for FREE on the App Store, but the Pro Kit is available as a separate in-app purchase for only $5.99 – and it's worth every penny.