I've recently had the pleasure of speaking to Cinzia Bolognesi, a talented photographer and artist from Italy. As well as shooting beautiful landscapes, she creates unique still life images that combine her illustrations with everyday objects such as food, coffee, flowers and leaves. In this interview you'll learn more about Cinzia, and how she combines her artwork and photography to create these wonderfully imaginative images.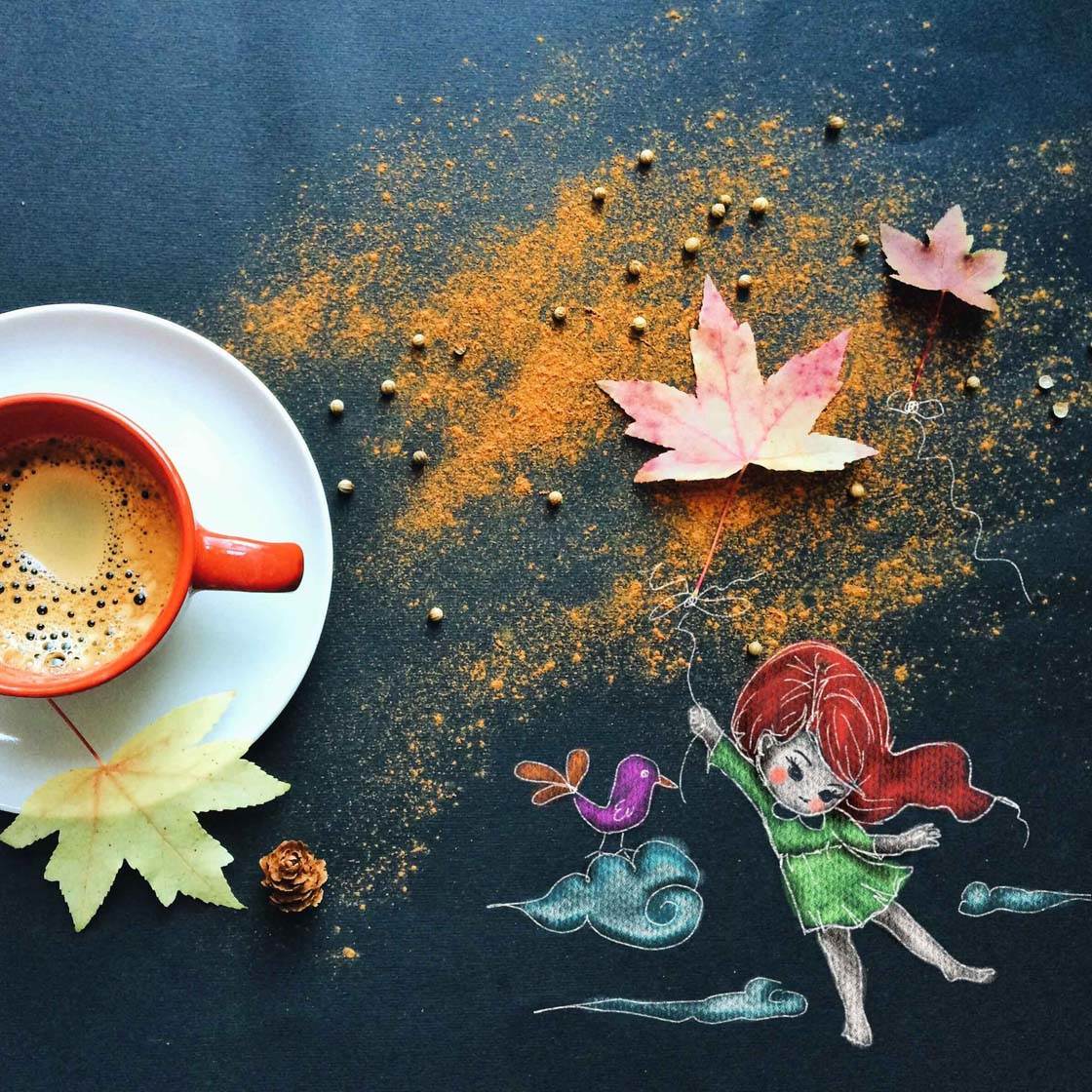 Tell us a little bit about yourself.
I was born in Ferrara, Italy, but I've been living in Bologna for 15 years.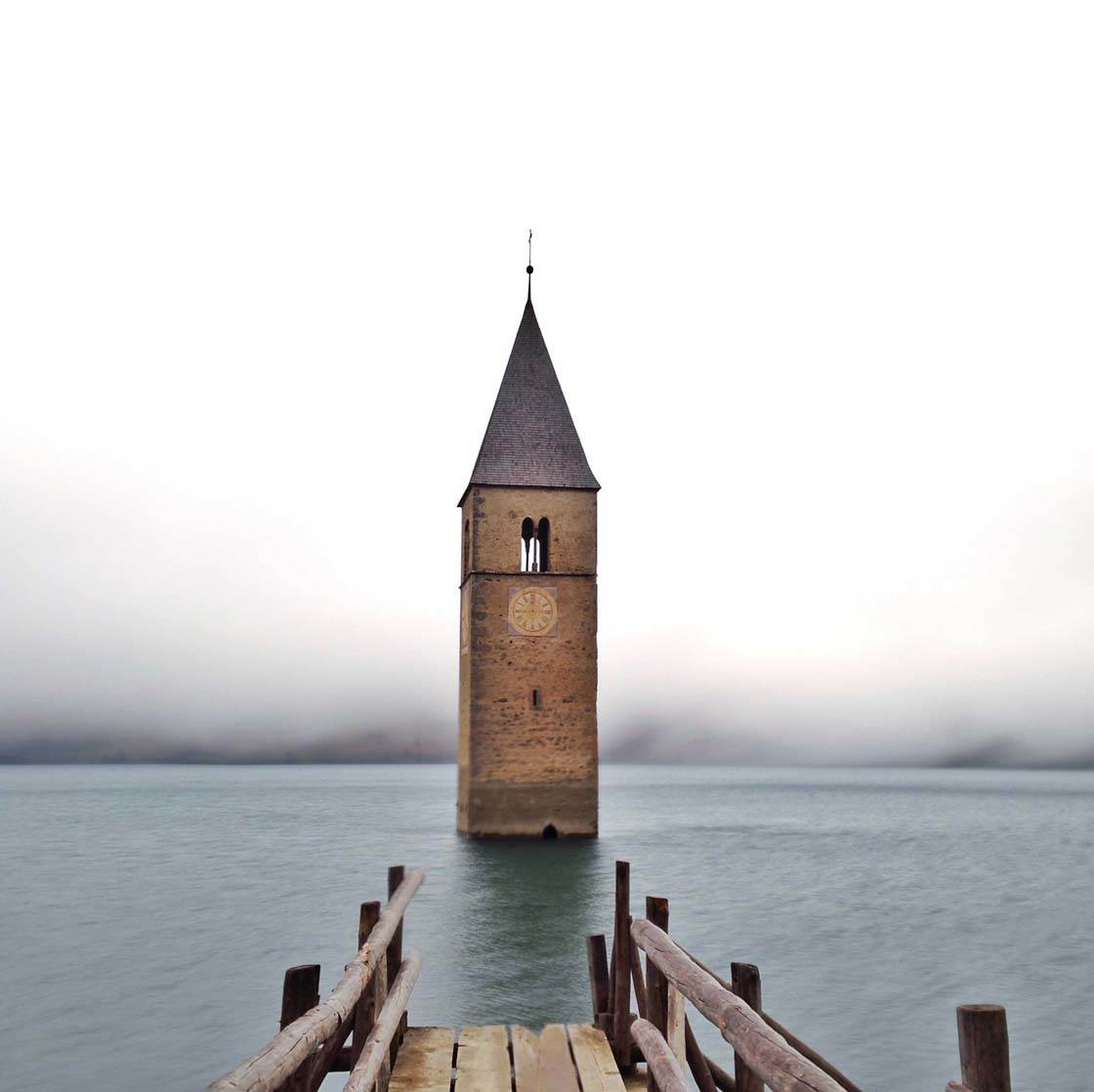 I graduated at the academy of Fine Arts. Illustration is my passion and now my job. I refined my skills in digital drawing techniques, and this allowed me to grow up as a Graphic Designer and Digital Illustrator.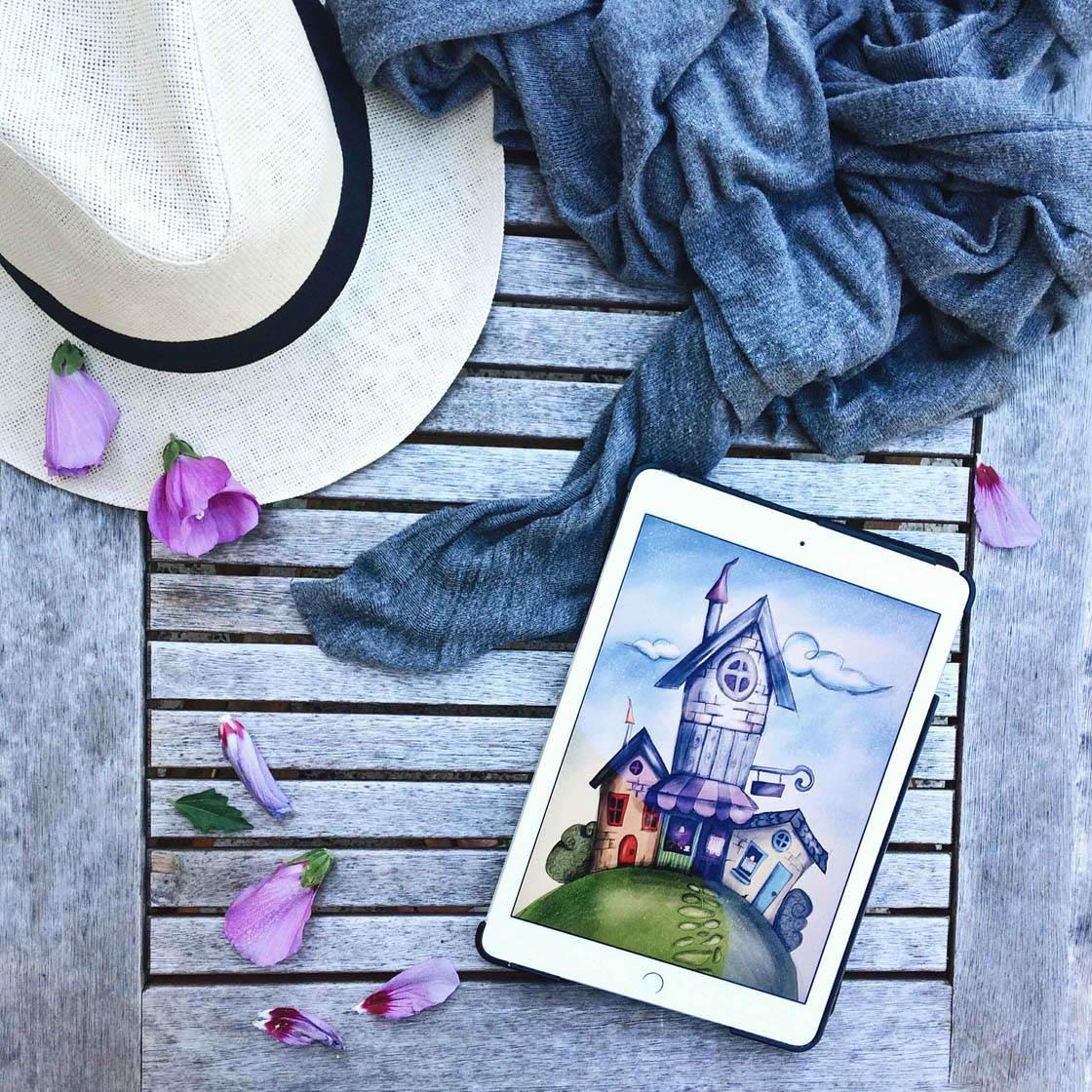 I have 15 years experience in visual communication. I'm specialized in graphic design, branding and new media design.
My professional experience includes corporate identities design, trade marks and logotypes on all kinds of medium and packaging design.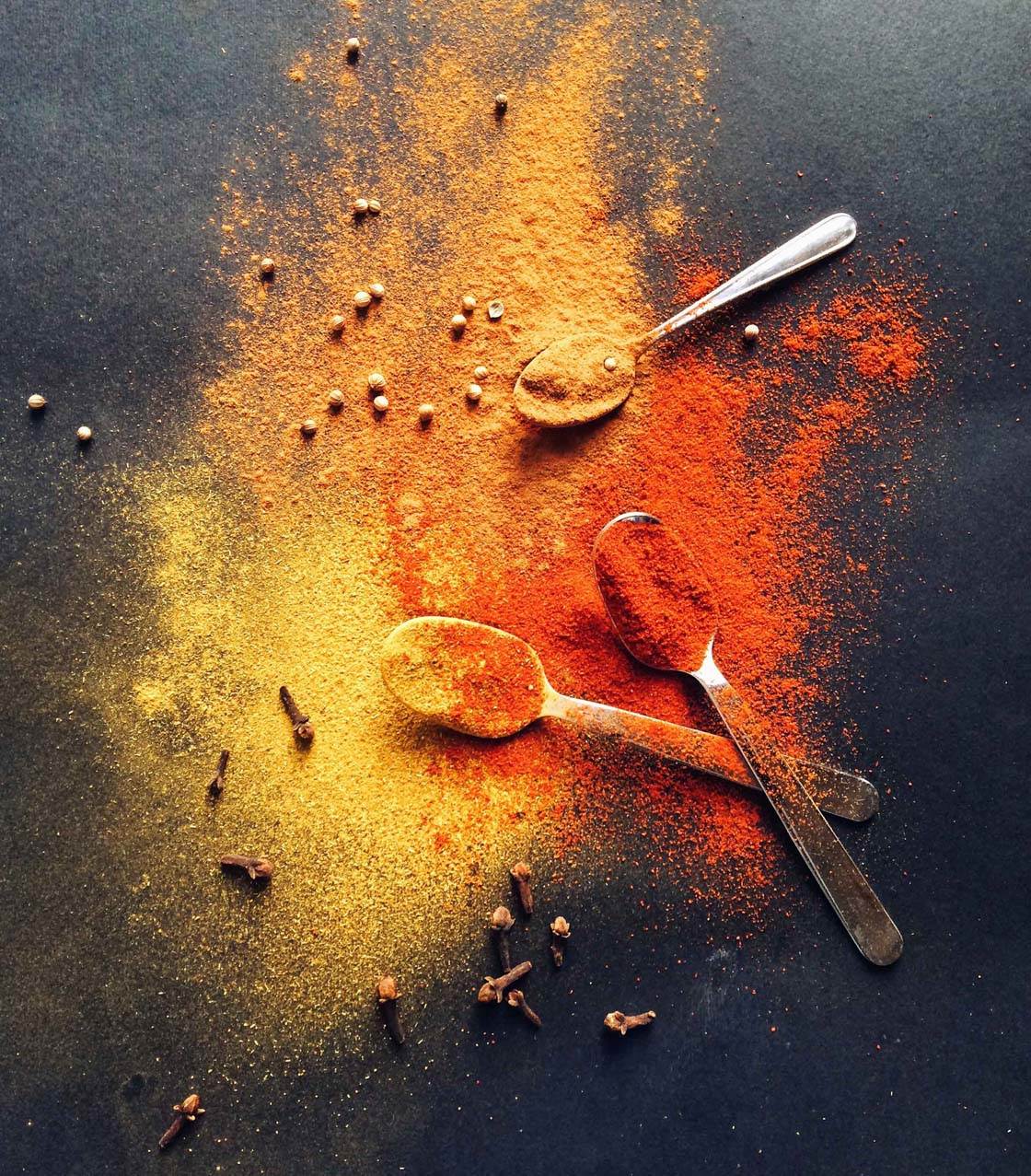 How did your iPhone photography journey begin?
When I started using Instagram I took pictures of everything! I had no idea how to integrate my passion in this new kind of medium.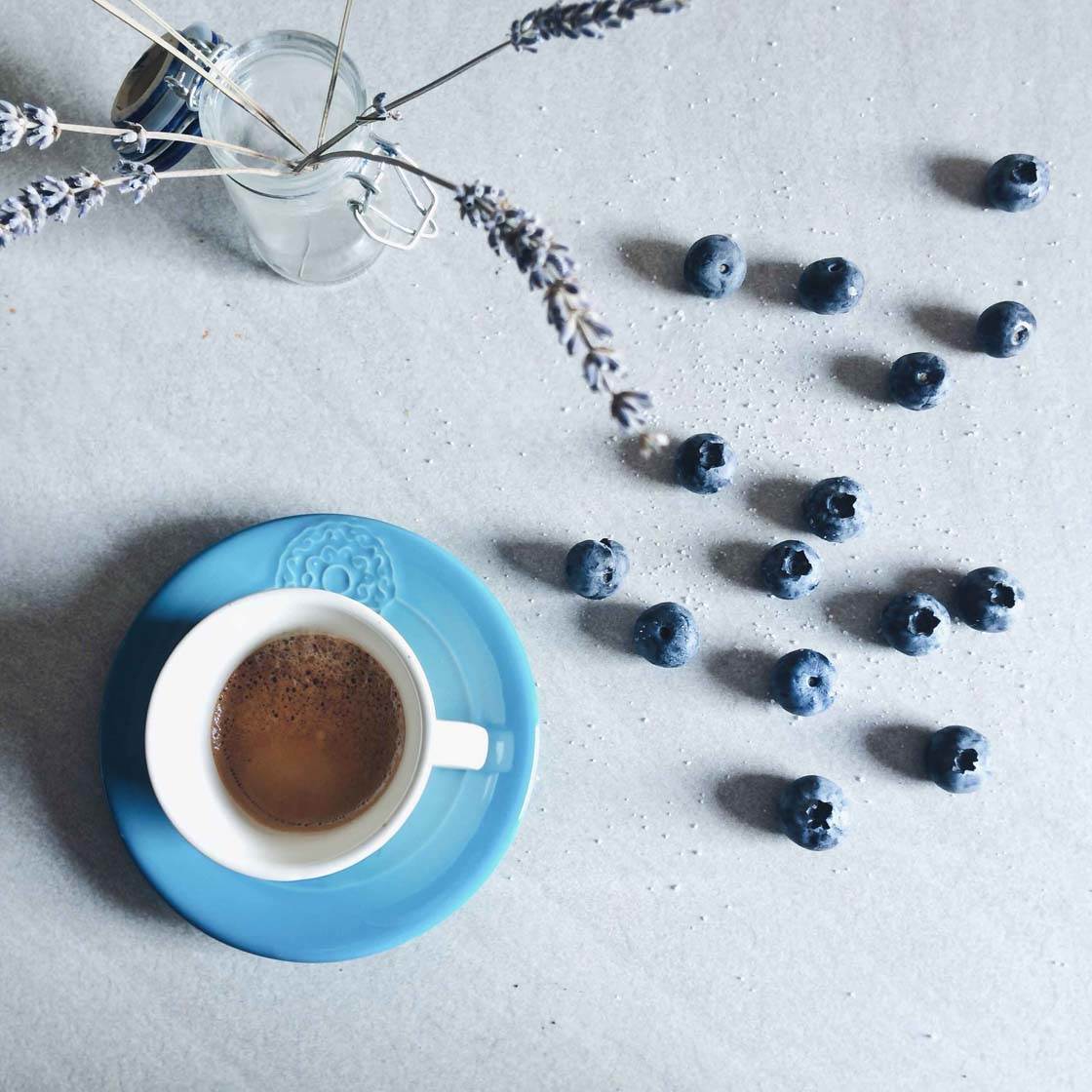 Then I started photographing a few drawings, but the result didn't satisfy me at all. My journey didn't begin very well!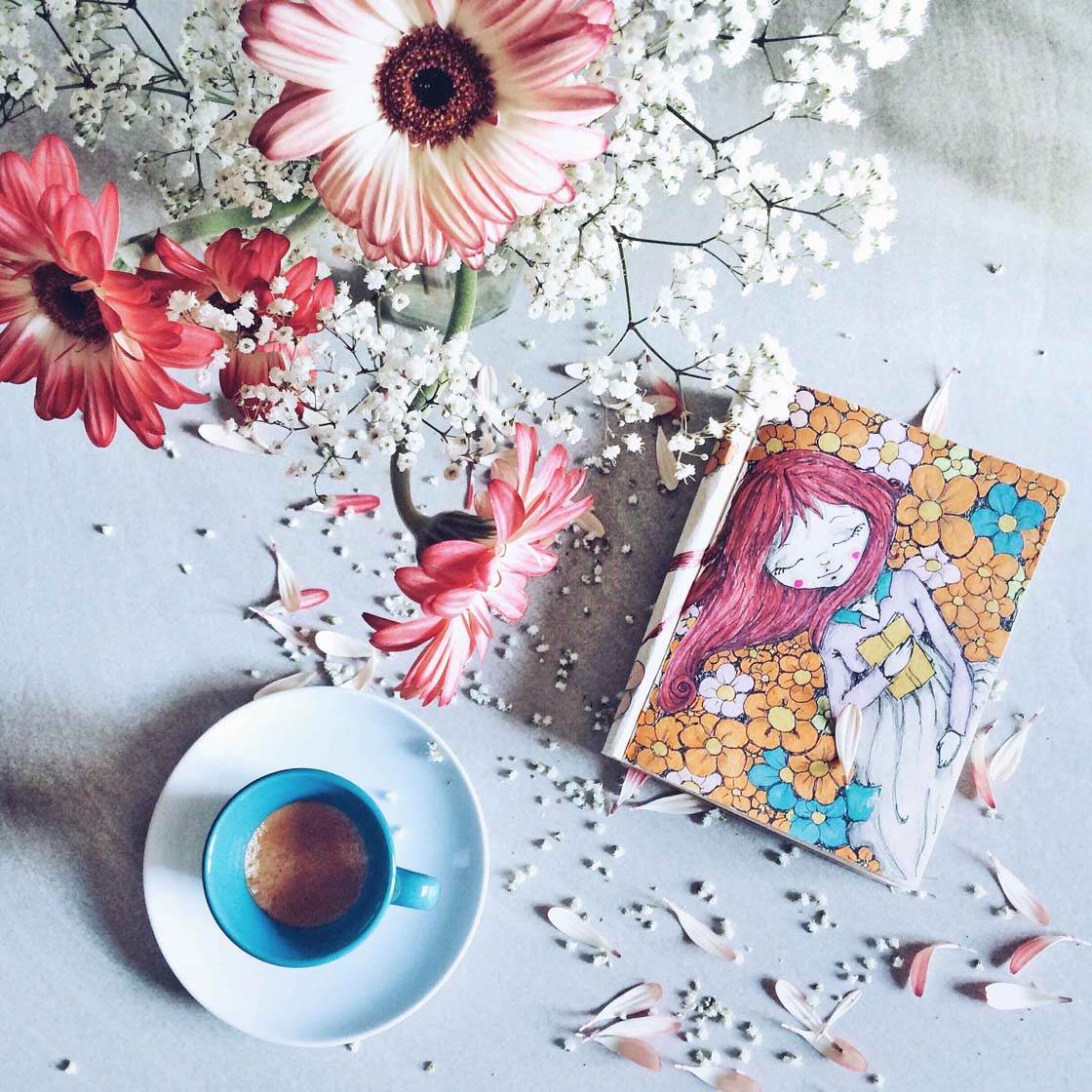 What inspires you to take photos with the iPhone?
I find inspiration in the little things of everyday life, and I transform those things into fairytales. I started doing it for my son.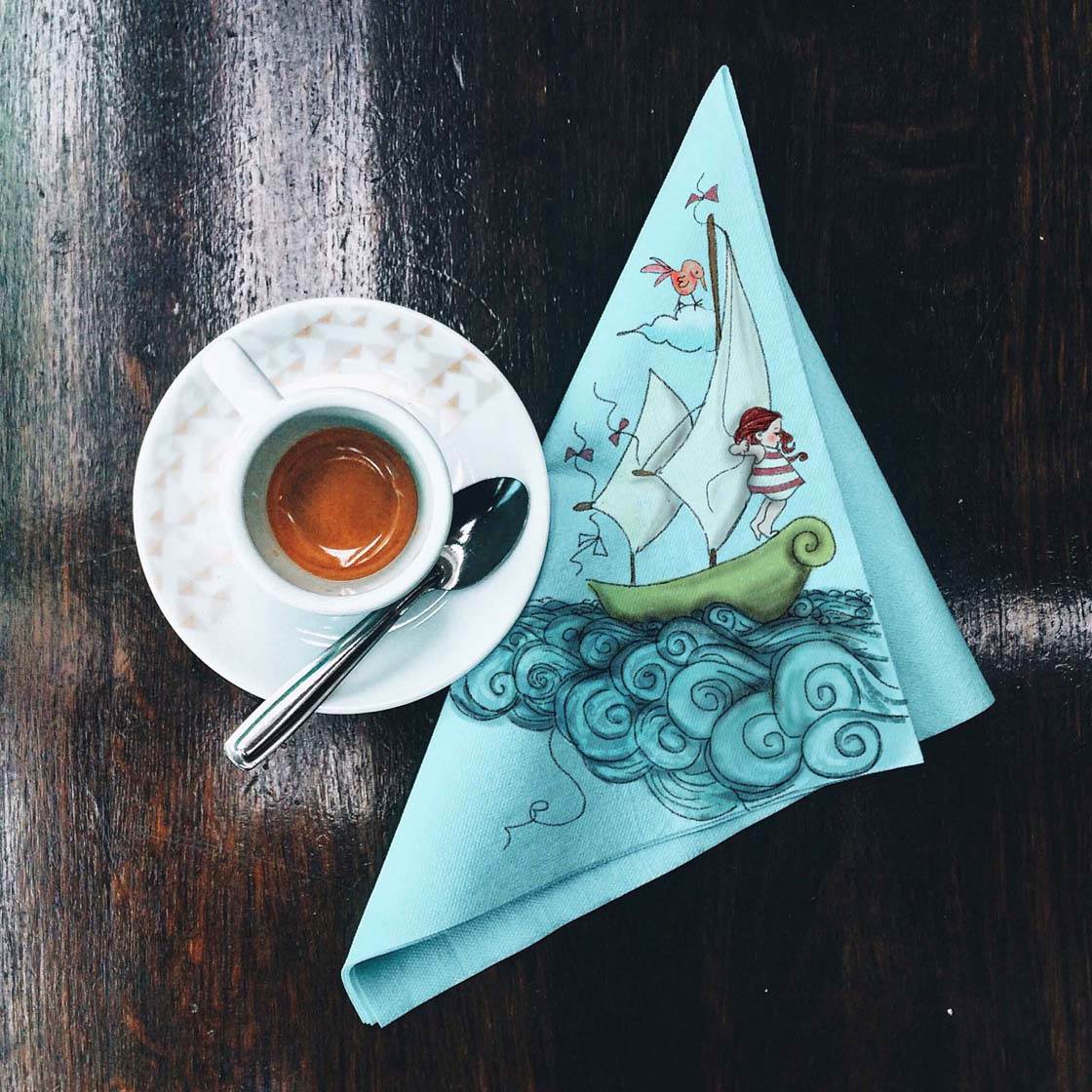 For my coffee series, it was random. One morning, some time ago, I was having breakfast on a black sheet that I normally use for work. Looking at that sheet with cookies on it, I just started drawing some stories subconsciously.
You shoot a lot of still life photos with your iPhone. What draws you to this genre of photography?
Besides being an illustrator, I've worked for many years in the communications field, especially for the food industry.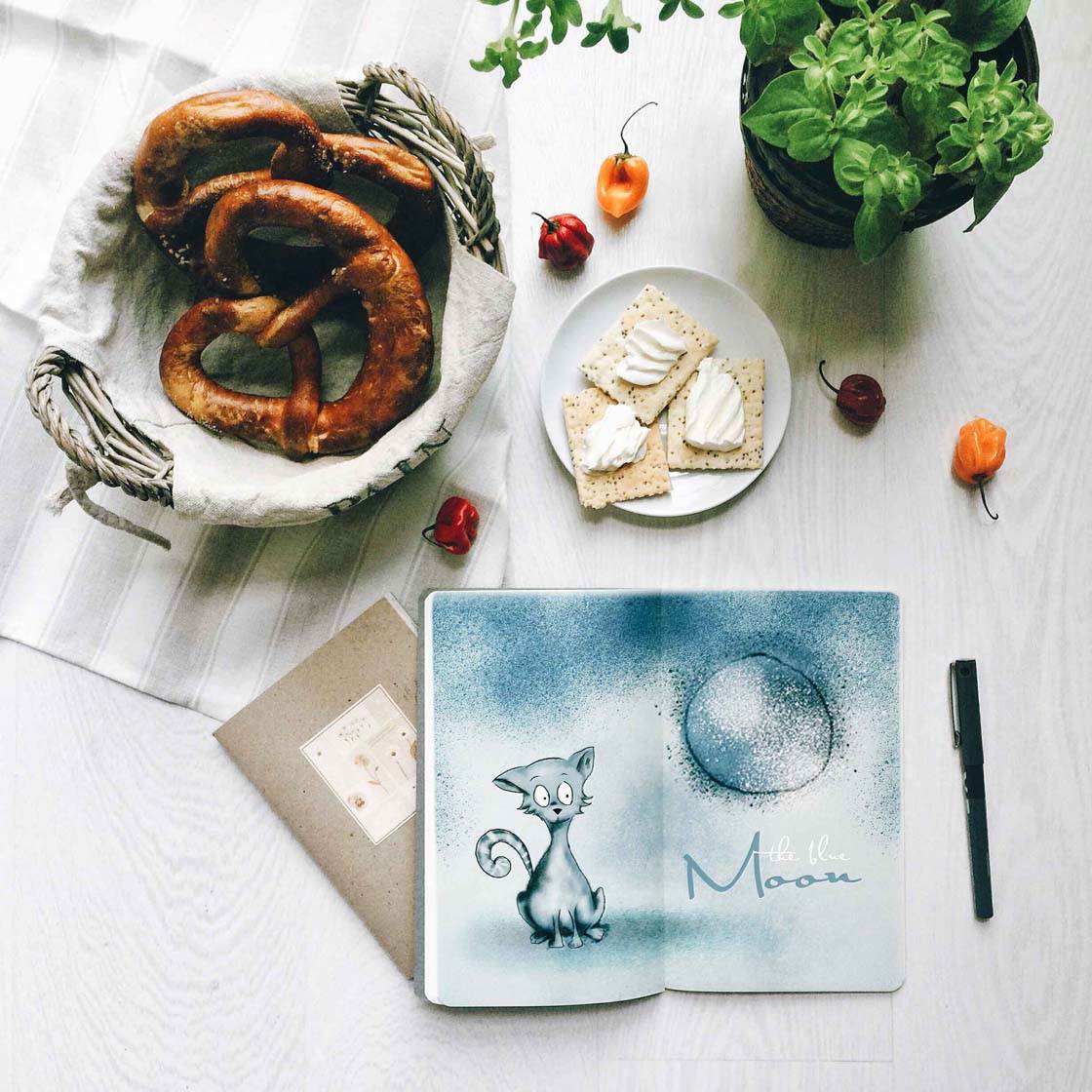 I'd been working side by side with many photographers for creating advertising and packaging, and still life photography was pretty much everyday practice. I'm definitely not at that level, but I still have the passion.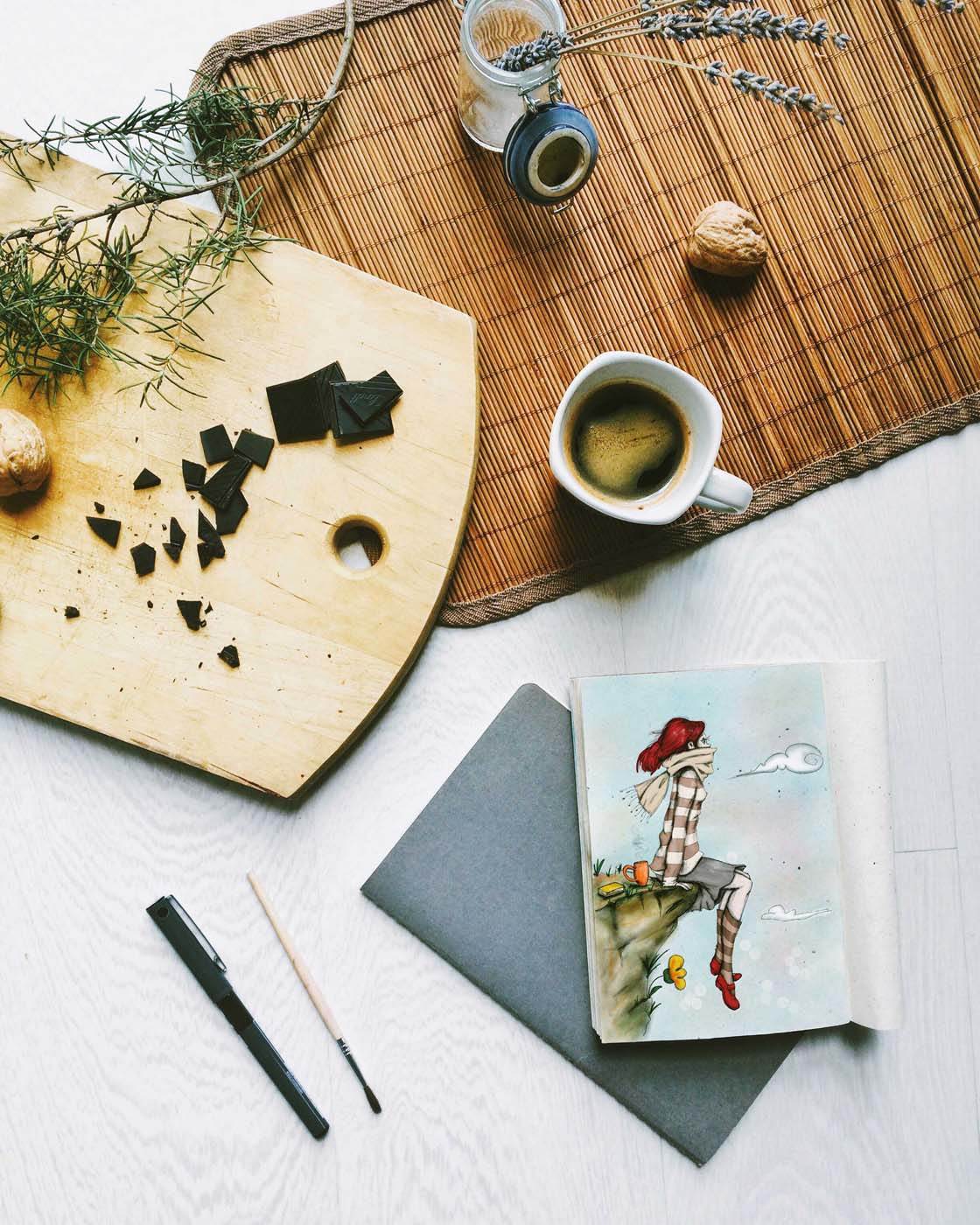 Many of your still life photos incorporate your artwork in various forms, and I love the way you use objects such as flowers and food to interact with your illustrations. What inspired you to use this technique?
I started drawing my characters by making them interact with real objects because I didn't like the way I photographed them.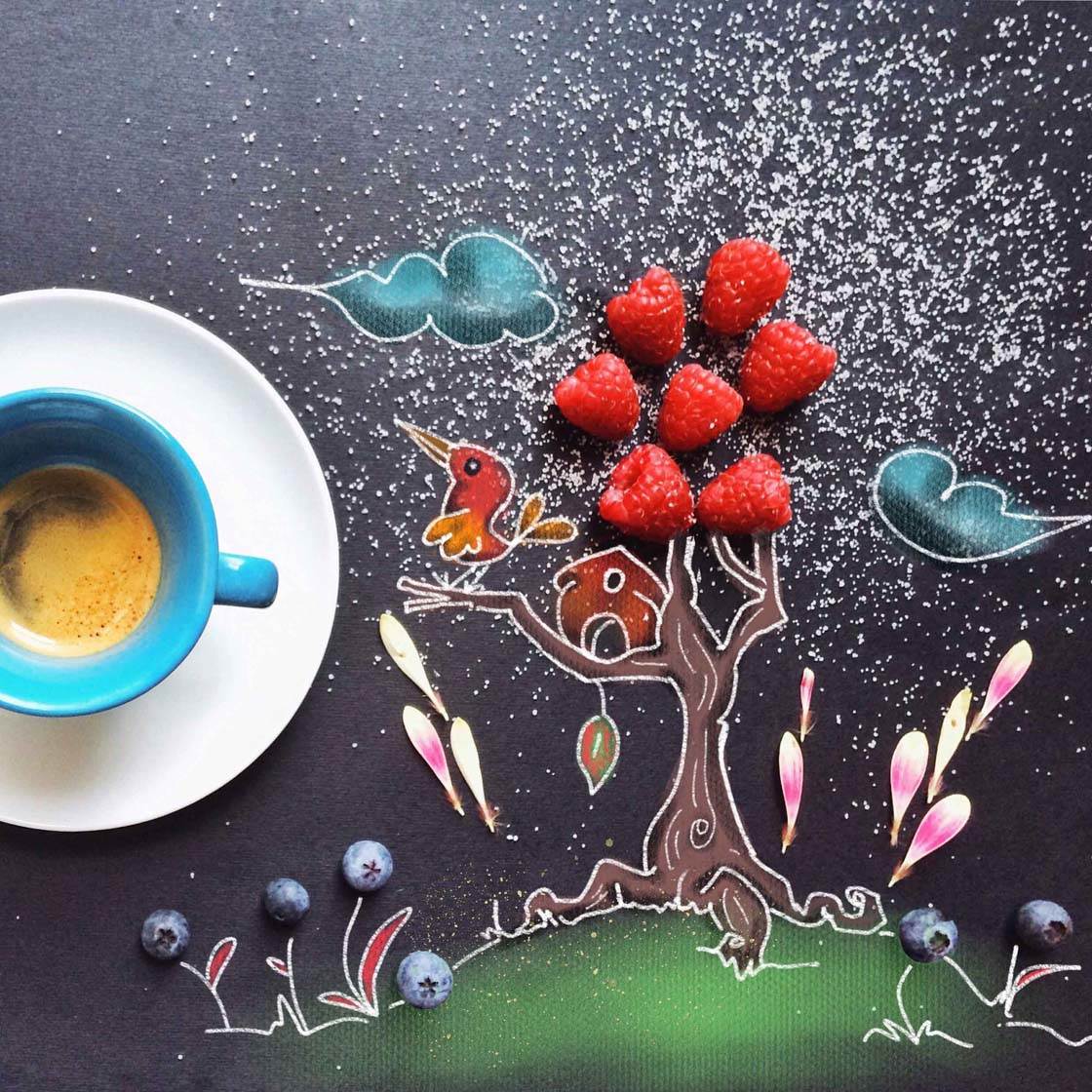 The object brought life to my character, and my drawing changed the meaning of the object itself. I soon found that I could tell tales and stories to the people who looked at my sketches with very few elements.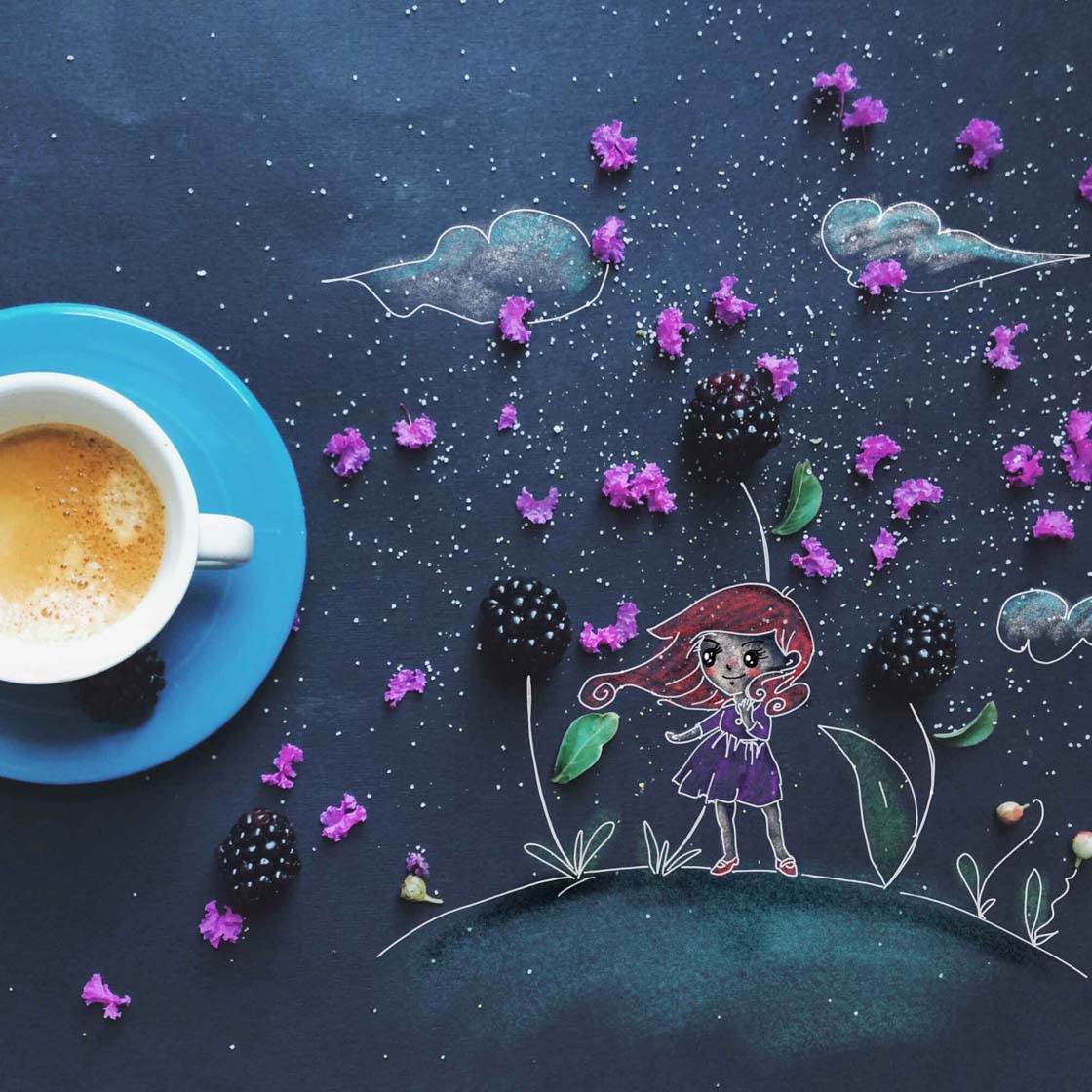 Can you tell us about your creative process? Do you draw your illustrations first and then experiment with adding different objects, or do you have a final vision in mind before you start drawing?
The picture arrives first, flowing from my pencil. Then the story continues with Indian ink, and finishes with color. It's at this point that it starts to tell a story in words.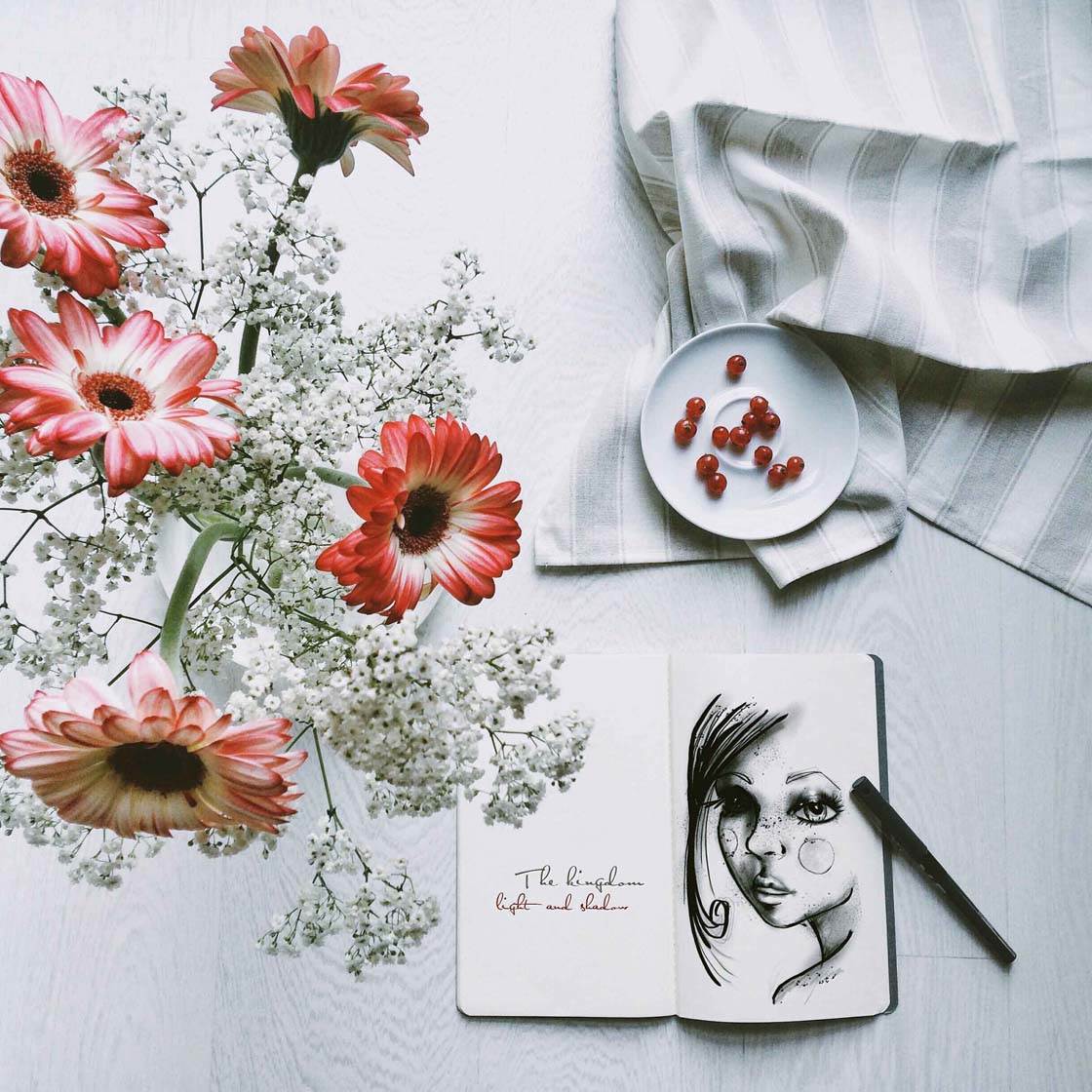 You could say that I've written whole books, only all in my head. What I draw is the illustration of this silent storytelling. I've been doing it forever. I've filled entire notebooks with more or less completed stories.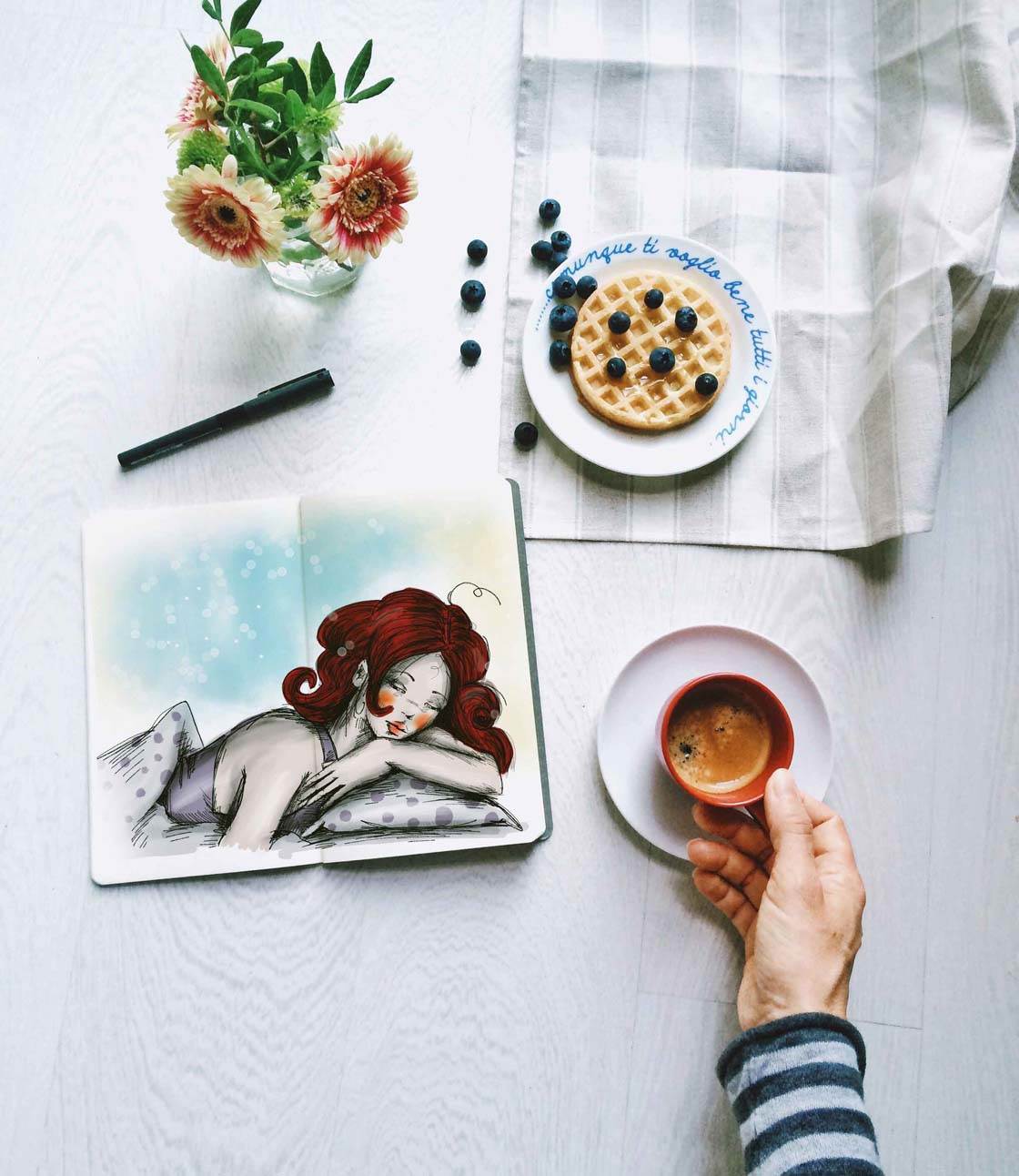 This storytelling process changed when I started using Instagram and incorporated photography in my creations. The more I got into photography, the more I felt the need to use it in my illustrated world.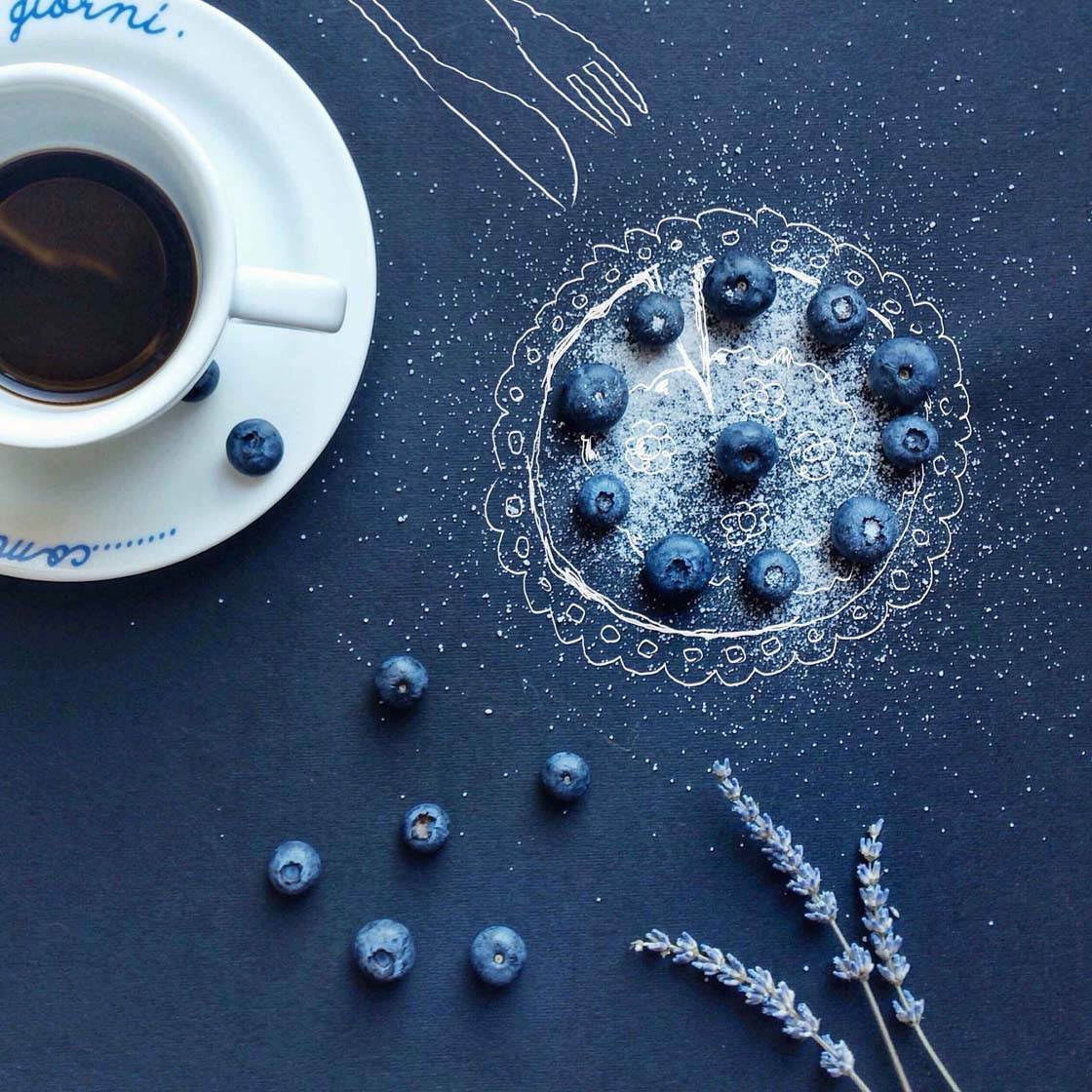 One of the most important aspects of still life photography is getting the lighting right. What tips do you have for achieving good lighting in still life photography?
I always shoot near an open window. I like natural light better than artificial light. If I shoot in well-known places, I always do it at the same hour of the day, when I know that the shadows will be softer.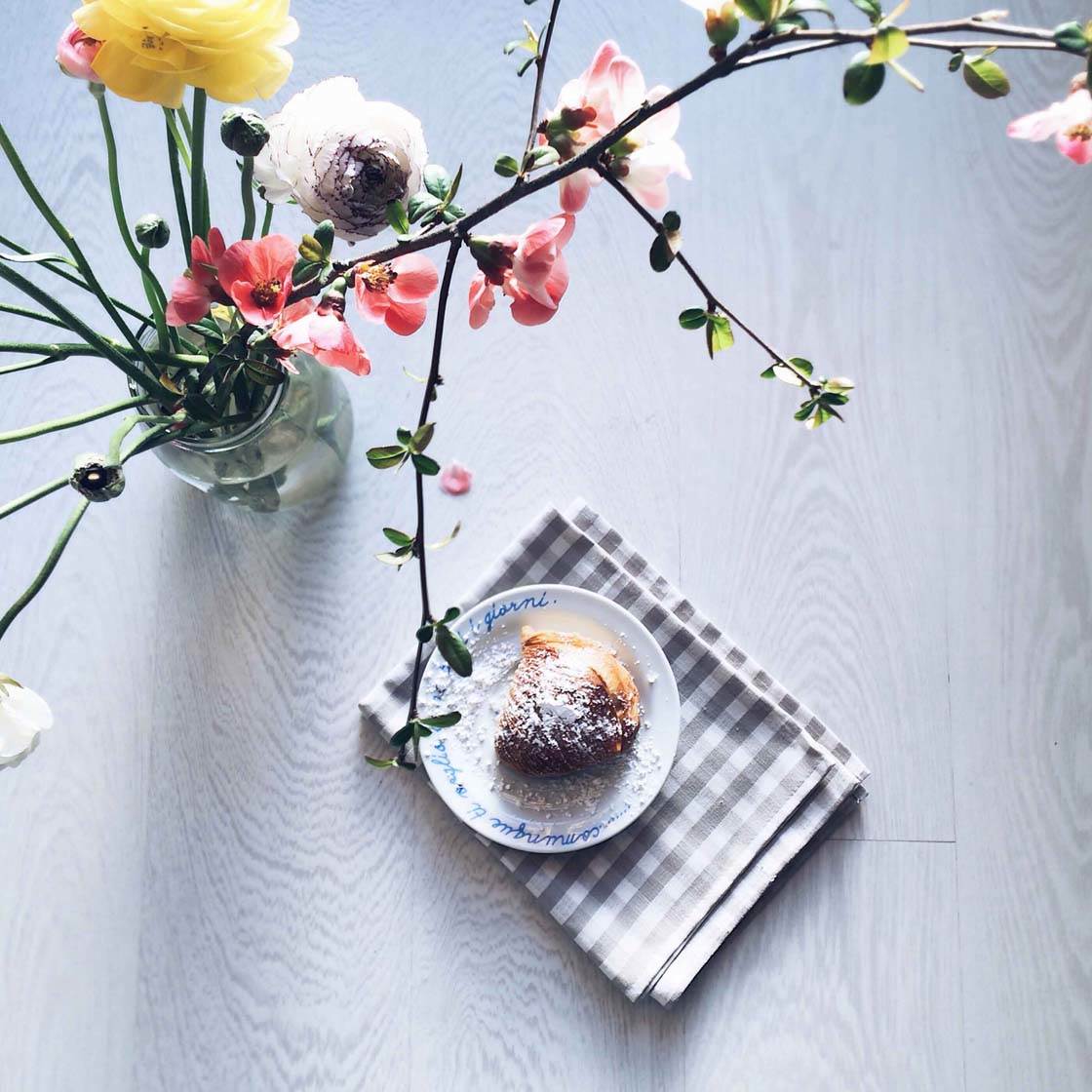 What else do you enjoy photographing with your iPhone?
I love taking pictures of landscapes, especially when I'm traveling for work or holiday. In the past I've taken many pictures of the hills close to home too.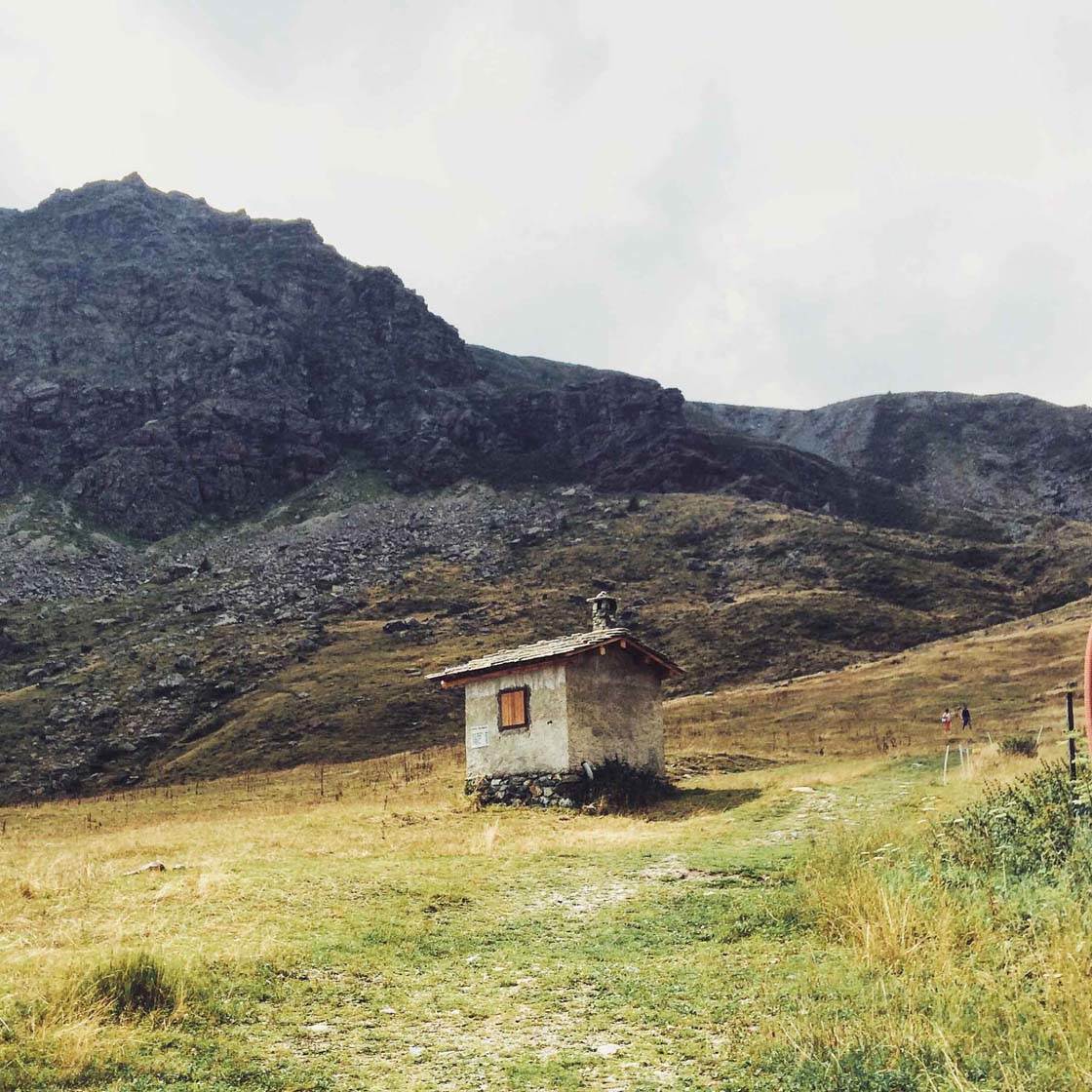 Let's talk about photo apps. Are there any apps that you use for taking photos besides the native camera app?
Sometimes I use Cortex Cam, especially for long exposures or if the light in a place is particularly low.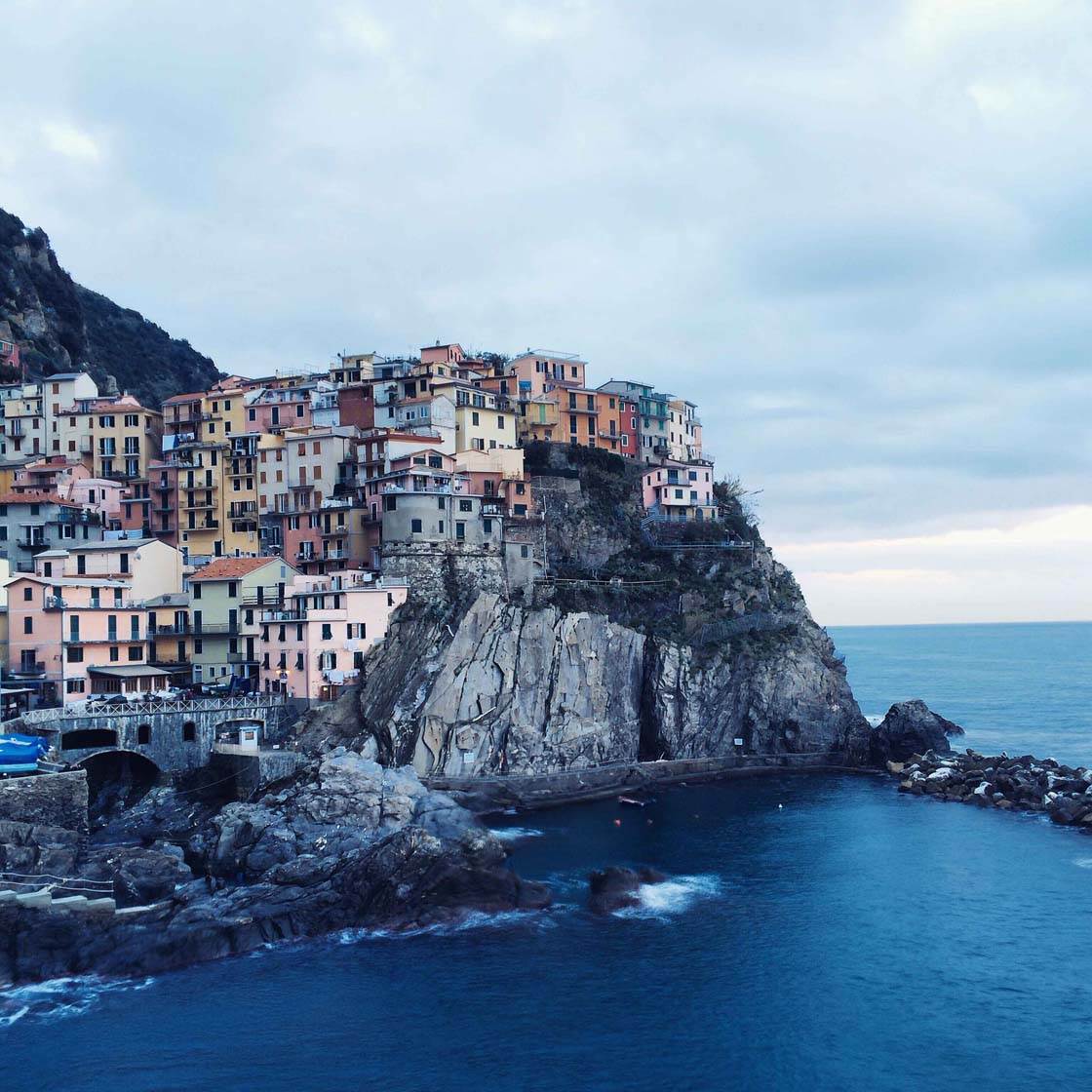 What are your favorite apps for post-processing?
Right now, besides VSCO, I'm totally in love with Snapseed!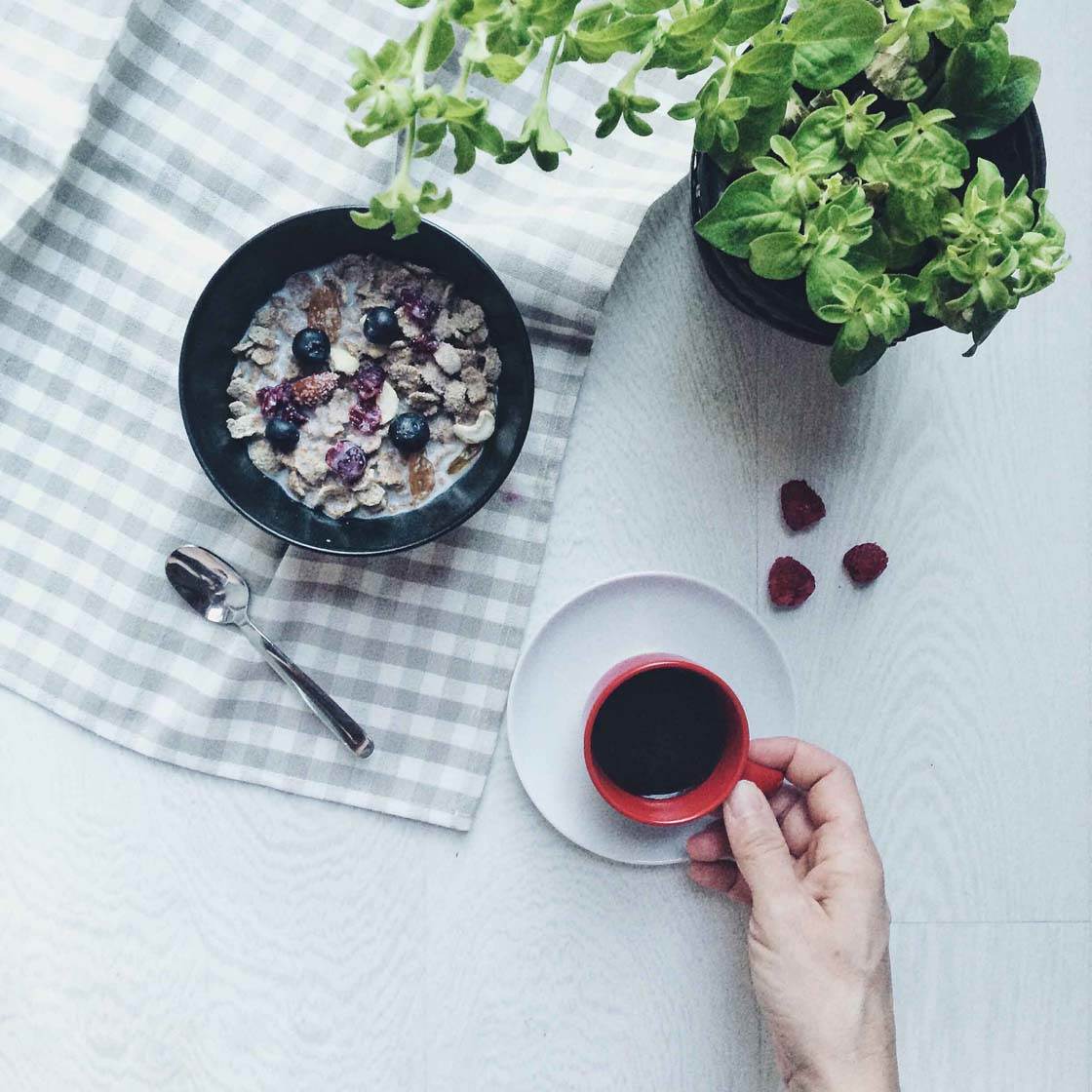 Do you use any iPhone photography accessories?
I sometimes use an iPhone tripod, but it's extremely rare.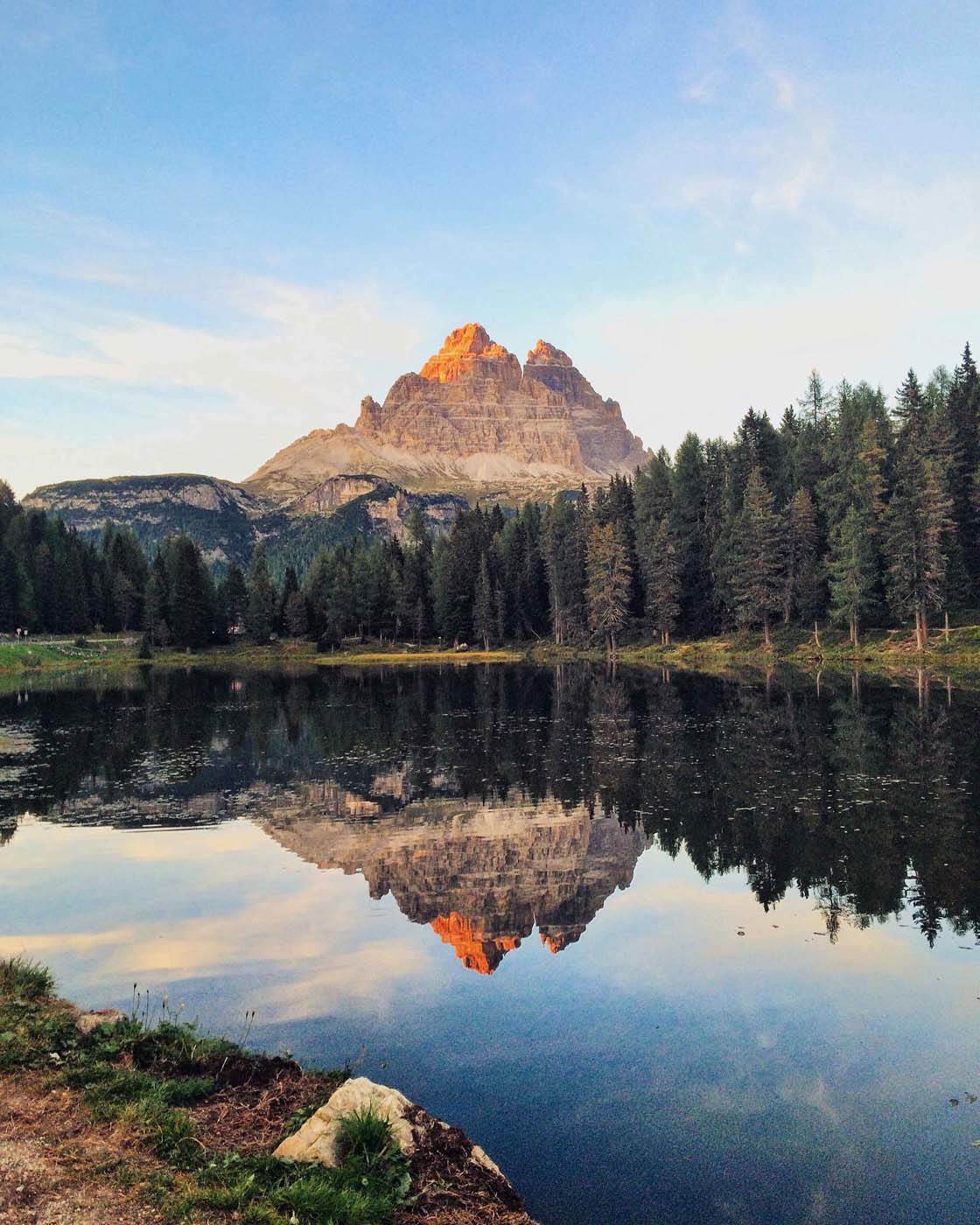 Can you briefly explain the story and editing behind your three favorite iPhone photos?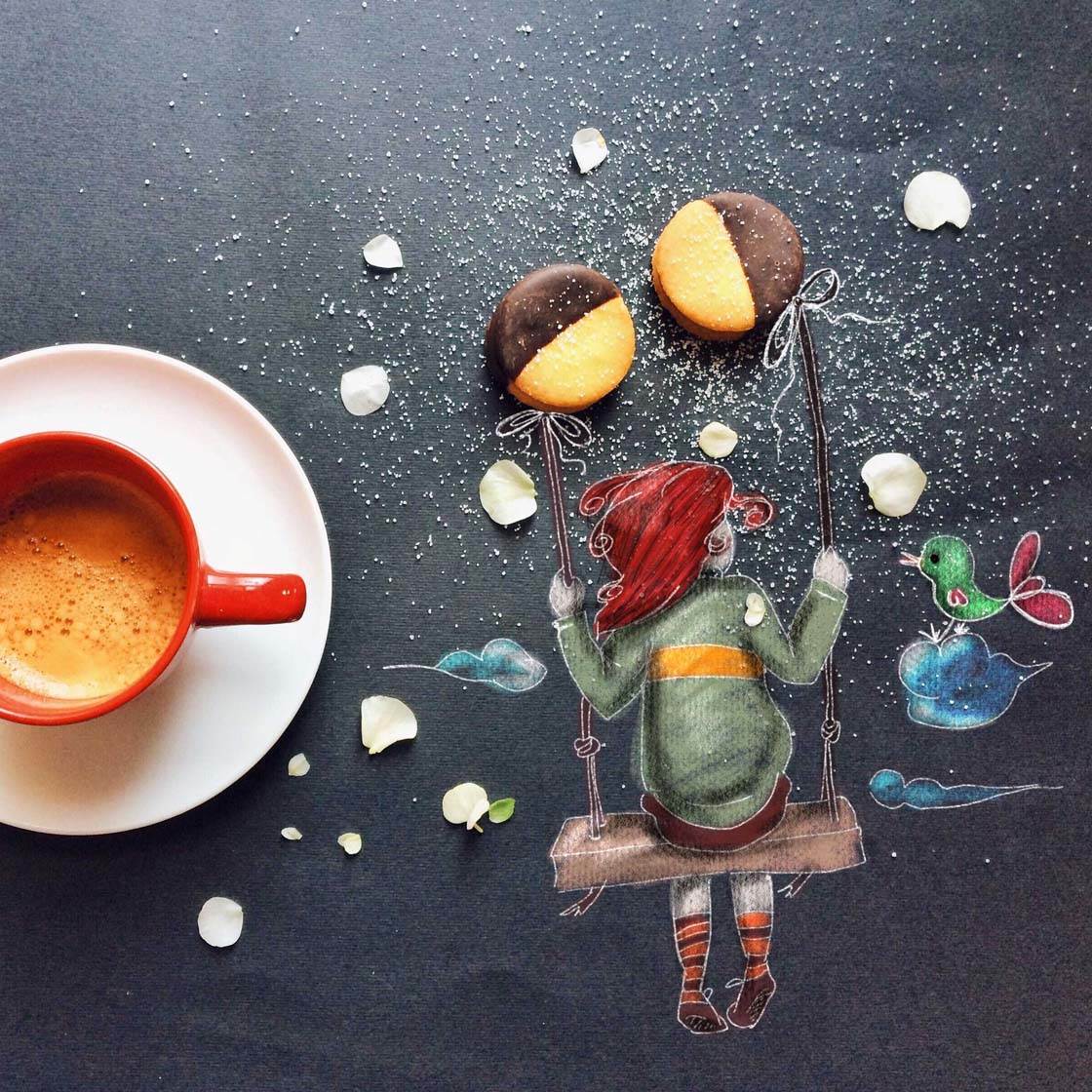 This is one of the coffee series. I shoot these images in my kitchen while eating breakfast. After taking the picture, I settle the light and the shadow in Snapseed. With the same app I emphasize some points of light, and then as the last step I give it a VSCO filter.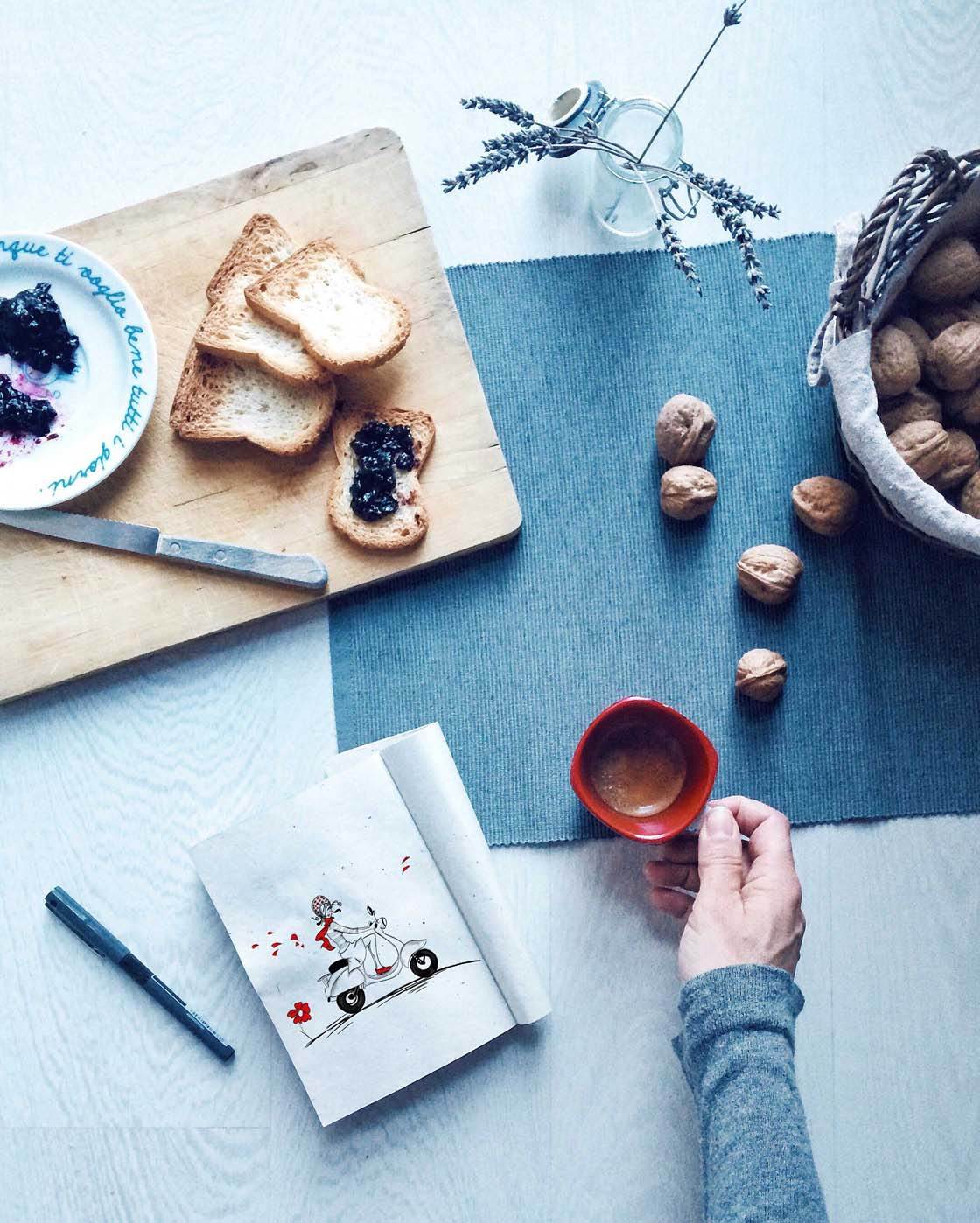 This is one of the photos I shoot when I finish a drawing – usually one I've done for work. When I'm engaged in a longer project, I do it at home so I can prepare snacks to be immortalized with the drawing. Editing is the same as the previous photo.
Here I was in the Dolomites. I'm very fond of this picture because the place was magnificent and it was quite a challenge to capture that light at sunset.
For the editing I used the same steps as the previous photos, but I also used VSCO editing tools to enhance the light that looked like an oil painting.
You share your photos with a large following on Instagram. How important is this online community to you, and what effect has it had on your art and photography?
Some of those who follow me have been commenting on my photos since the beginning. Their comments encouraged me to continue what I'm doing.
They gave me the incentive and the enthusiasm to continue my research. And for that I thank them a lot.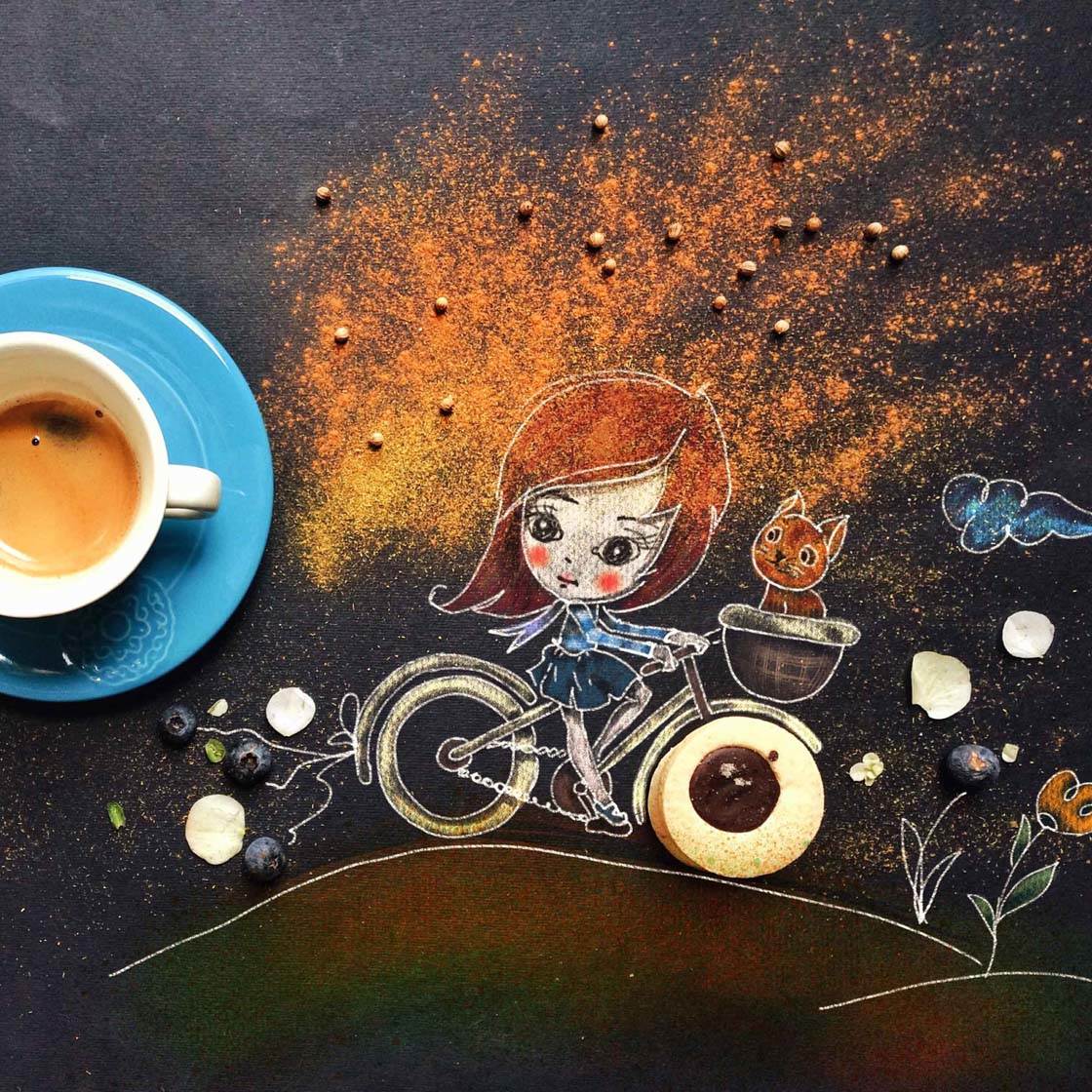 What tips do you have for beginner iPhone photographers who want to start taking more creative photos with the iPhone?
Always keep in mind that light is extremely important. It's the thing with which you can create this type of artwork.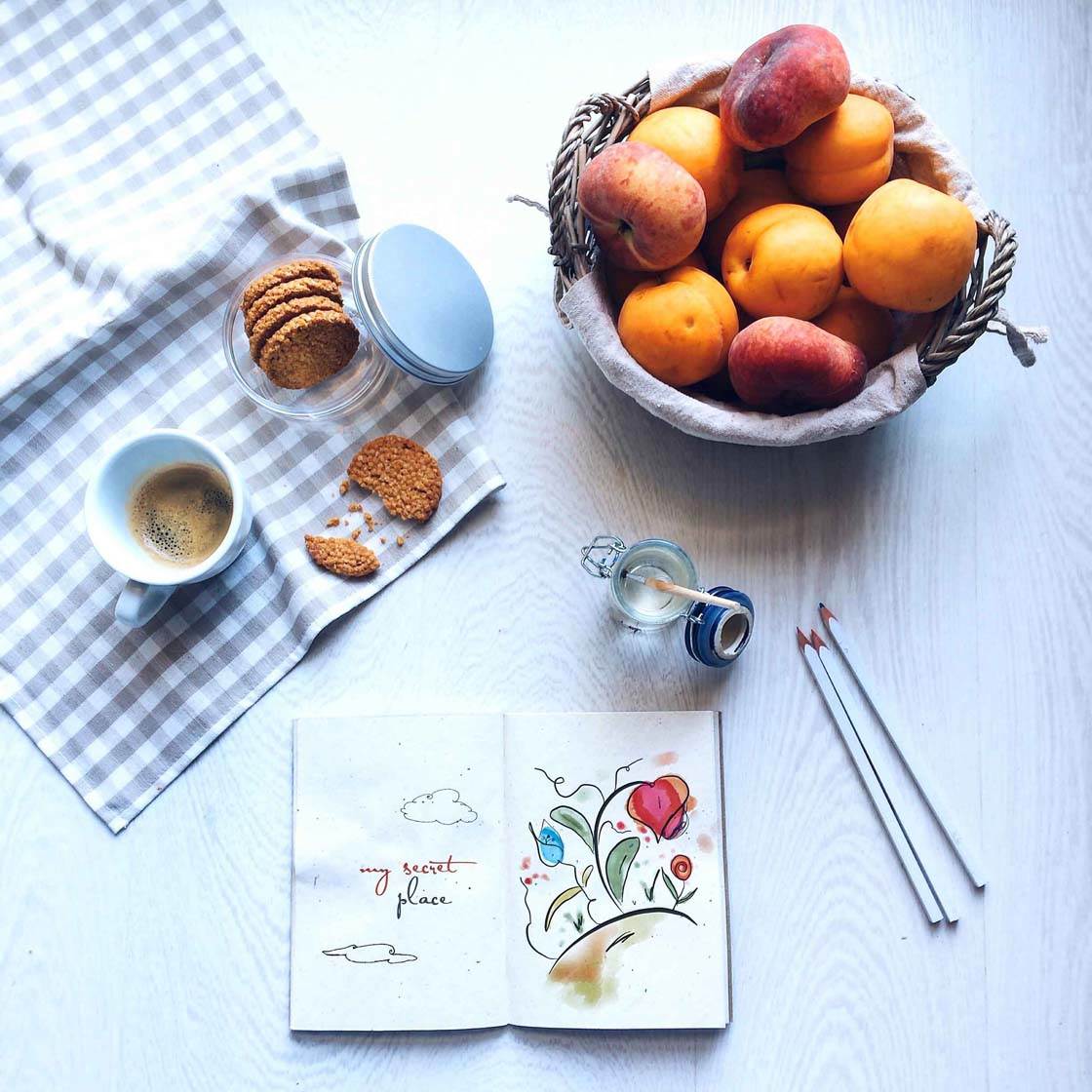 Which iPhone photographers do you admire the most?
Besides my husband Simone (@brahmino), I really love the work of Konsta Punkka (@kpunkka).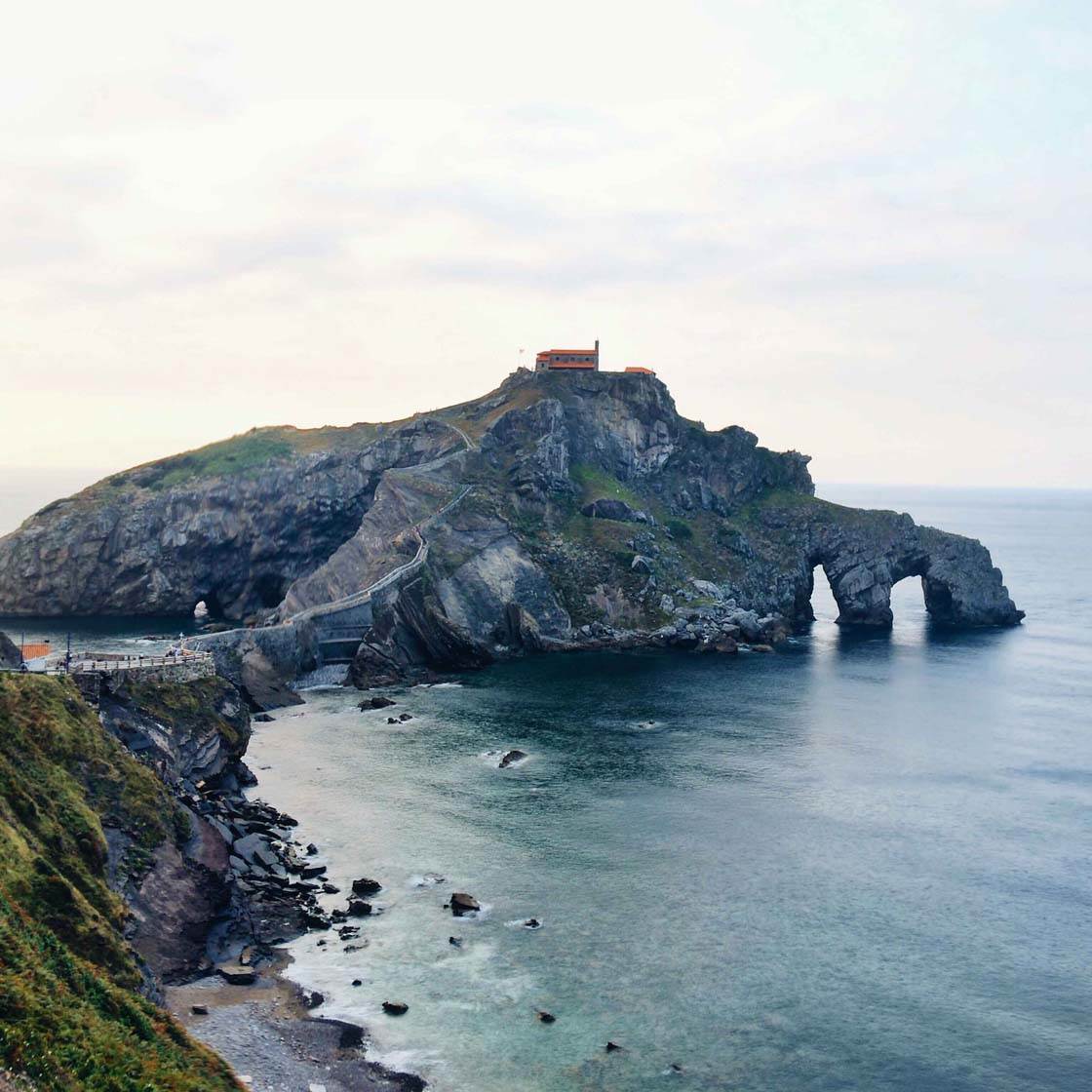 Where can we see your iPhone photography?
You can see my images on Instagram @cuordicarciofo. I have also a Facebook page and a blog: www.ninibilu.com