I really love how once a year all your old iOS devices suddenly become a lot more functional and just cooler in general. It almost feels like getting a new gadget, except this doesn't cost you anything. Yes, I'm talking about updating to iOS 6, the latest and greatest version of Apple's mobile operating system that was released yesterday.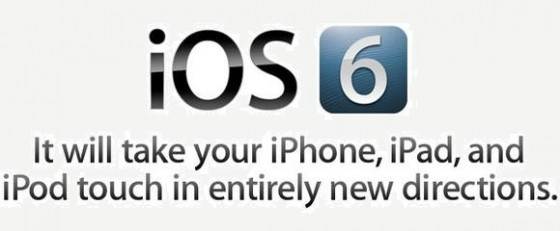 iOS 6 is a free update for all users of a  recent iPhone, iPad or iPod Touch (see below), even though some features are only available on the latest generation devices. It comes with over 200 new features and it would be useless to list them all here since Apple does a great job at introducing them on their website.
My personal favorite so far is FaceTime over 3G, which I had a chance to test today. It felt somewhat unreal to have a free high-quality video call with my family while I was riding my bike through the city. Yep, the future is already here.
Other new features that caught my attention include system-wide Facebook integration (including calendar and contact syncing), full-screen web browsing on iPhone, turn-by-turn directions in the new Maps app, and Siri support for the new iPad.
iPhone photography enthusiasts will be especially excited about the new photo features. First I have to mention the new Panorama mode (requires iPhone 4S or 5) that allows users to capture beautiful widescreen panorama photos. Sure, there were many apps that could do this before, but from what I've seen so far the built-in panorama feature appears to process images better and is easier to use.
To activate the panorama mode simply tap the Options button inside the camera app and choose Panorama. Your iPhone will guide you through the rest of the process. Unfortunately I don't have a great panorama that I could share with you right now, but I can promise that I will work on it this weekend when I'm visiting Copenhagen.
The next big photo feature is called Shared Photo Streams. This feature allows you to easily share multiple photos with your friends and family using another Apple product. If they aren't using any, they can also view your photos on the web. When you share new photos, your friends will get a notification. And if they are subscribed to your album, the photos will be downloaded automatically.
Moreover, your friends can also like and comment individual photos. Doesn't this sound a lot like Instagram and Facebook? Now that everyone is confused about Facebook's privacy settings and Instagram is just full of random food pictures, Shared Photo Streams could easily become a popular platform for sharing your photos with your closest people. It's really convenient and there's no confusion about who will get to see your photos.
You might be wondering if there are any downsides to upgrading. Unfortunately there is one: the new Apple-built Maps app. It replaces the good old mapping service that was provided by Google ever since the iPhone was first introduced. The new Maps app comes with great turn-by-turn navigation and cool 3D views of some big cities, but the public transit directions are just gone.
Moreover, there are some map accuracy issues outside the US. It's understandable that Apple cannot immediately beat the accuracy of maps that Google has been perfecting for many years, and Apple maps will obviously become more accurate over time. However, if you're someone who relies on Google Maps extensively, you should be very cautious about updating.
If you're currently using iOS 5 you can update to iOS 6 without even turning on your computer. Simply go to Settings –> General –> Software Update and your iPhone will do the rest for you. If you have an older version of iOS, you have to contact your device to iTunes and do the update using your computer. Note that updating takes about 30 minutes or more, depending on the speed of your internet connection. You won't be able to use your phone while the new software is installing.
iOS 6 is compatible with iPhone 3GS, iPhone 4, iPhone 4S, iPhone 5, iPod touch (4th & 5th generation), iPad 2 and the new iPad.