My iPhoneography journey started about two years ago when I came across iPhoneography tutorials by Justin Balog. It was through his tutorials that I learned to think of the iPhone as a creative tool and started paying attention to photo opportunities around me.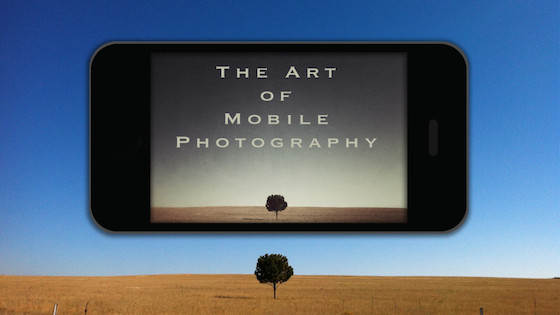 Now Justin has released The Art of Mobile Photography, a brand new video course dedicated to unleashing your creative potential on the iPhone or any other mobile device. In this review you're going to learn what's covered inside this course and whether it lives up to its promises.
Course Contents
The Art of Mobile Photography has 13 sections, which includes 11 content sections besides the introduction and conclusion. Most sections have a field lesson where Justin shows you how to do certain iPhoneography technique in field, followed by an Ideas & Inspiration lecture where Justin shows examples of photos that were shot with the same technique.
Let me go though the sections one by one explaining what you will learn in each one of them.
Section 2: The Camera
Here Justin explains the basics of any photo camera, including exposure, aperture, shutter speed, dynamic range, focal length and so on. This section is great for beginners, but less interesting for experienced photographers.
Section 3: Get To Know Your iPhone
This section starts with Justin showing his mobile photography equipment. He then shows how to set and lock focus and exposure in the native camera app, how to separate focus and exposure in Camera+ and how to control shutter speed using Slow Shutter Cam. After that he explains how to take HDR and panorama photos in the native camera app, and shows how to take panoramas with Photosynth app.
Section 4: Creative Composition
This section starts with four texts on composition starting from the basics such a the rule of thirds and moving into more advanced topics such as leading lines and static vs. dynamic compositions. These concepts are then demonstrated in a video using Justin's iPhone photos as an example.
Section 5: Creative Lens
In this section Justin takes you to a field lesson using a 500mm iPhone telephoto lens and wide angle lens for landscape photography. I have to say that I wouldn't have thought of shooting landscapes with the 500mm lens, but it seems to work well in the video.
Section 6: Panoramas – The Big Picture
Here Justin gives 5 essential tips for improving your panorama photos.
Section 7: Creativity In Motion
This section focuses on panning and intentional camera movement as creative tools for iPhone photography. I was particularly impressed with how well panning worked so I want to try it out myself when I have a chance.
Section 8: The Sharper Image
In this section Justin shows how to take sharper photos using an iPhone tripod, remote shutter release and focus lock. The second video applies these tips for macro photography in particular.
Section 9: Creative Exposure – Silhouette
Here Justin explains and gives tips for one of my favorite photography techniques, and also explains why some of his silhouette photos work particularly well.
Section 10: Creative Exposure – High Key
This section focuses on high key shots, which are essentially the opposite of silhouette photos. This section made me realize that I've taken hundreds of silhouettes and practically no high key shots. Definitely something I'm going to change in the future.
Section 11: Creative Exposure – HDR
In this section Justin does a more thorough explanation of dynamic range and HDR photography. After explaining the basics, Justin also gives some great tips for landscape photography in general.
Section 12: Quick Tips
Section 12 is a collection of three short articles covering travel photography, landscape photography and concert photography.
So that's everything you'll learn from The Art of Mobile Photography. One notable omission is post-processing, which is not covered at all in this course. Justin does offer a course on photo editing in Snapseed, but you have to buy that separately.
In case you're wondering, all demonstrations in this course are done with iPhone, which unfortunately is still running iOS 6 in the videos. However, this is not a big issue since the course focuses on creativity rather than software.
Course Format
The Art of Mobile Photography is published on Udemy, the world's leading online learning platform. Udemy is a great platform with modern user interface and great apps for iPhone and iPad. You can save the videos for offline viewing if you're using the iOS app.
Udemy offers lifetime access to all your purchases. You can go trough the course at your own pace and always come back to the old lectures when you need to refresh your memory. All customers also get a chance to ask Justin any questions about the course or iPhone photography in general.
The course contains a total of 36 lectures, including 26 HD videos and 11 text lectures. Personally I would prefer less text and more videos, but I also enjoyed the text lectures. All text lectures are supported with really great photos whenever appropriate.
The lectures are short and to the point, but overall the course could be a bit longer. There are a little over 1.5 hours of video and 11 text lectures, which you could go through in an evening if you were in a rush. However, Justin promises to keep updating the course monthly with more tips and photography lessons.
Udemy offers a 30-day no questions asked refund policy, so there's no risk in case the course doesn't live up to your expectations.
The Good
Many great tips to improve your creativity
Justin is a talented photographer
Analysis of some really great iPhone photos
More lectures will be added in the future
30-day money back guarantee
The Bad
The course is short (a little over 1.5 hours of video and 11 text lectures)
Post-processing is covered in a separate course
Videos are filmed in iOS 6
Verdict
The Art of Mobile Photography offers a great collection of tips and techniques for expanding a your creative potential with the iPhone. Despite being an experienced iPhoneographer, there were quite a few things that I learned from this course. If you're a beginner or intermediate iPhoneographer, there's definitely a lot to learn a lot from this course.
On the other hand, this course is rather short and post-processing is covered in a separate course. Also, I would expect the videos to be filmed in iOS 7 since that is the operating system that almost everyone is using now. However, that is not a major deal-breaker since the course focuses on the creative process rather than software.
Special 45% Discount
The regular price of The Art of Mobile Photography is $35. However, if you buy it through this discount link you can get it for just $25, which is about half of what everyone else is paying. Please note that you will only get the discount if you go directly through the link above.