I recently had a chance to talk to Patrick O'Neill, the founder and CEO of olloclip. Patrick was recently named the entrepreneur of the year by the Entrepreneur magazine, and the growth of his company has been truly phenomenal. In this interview you're going to find out how Patrick started olloclip and where mobile photography is headed in the future.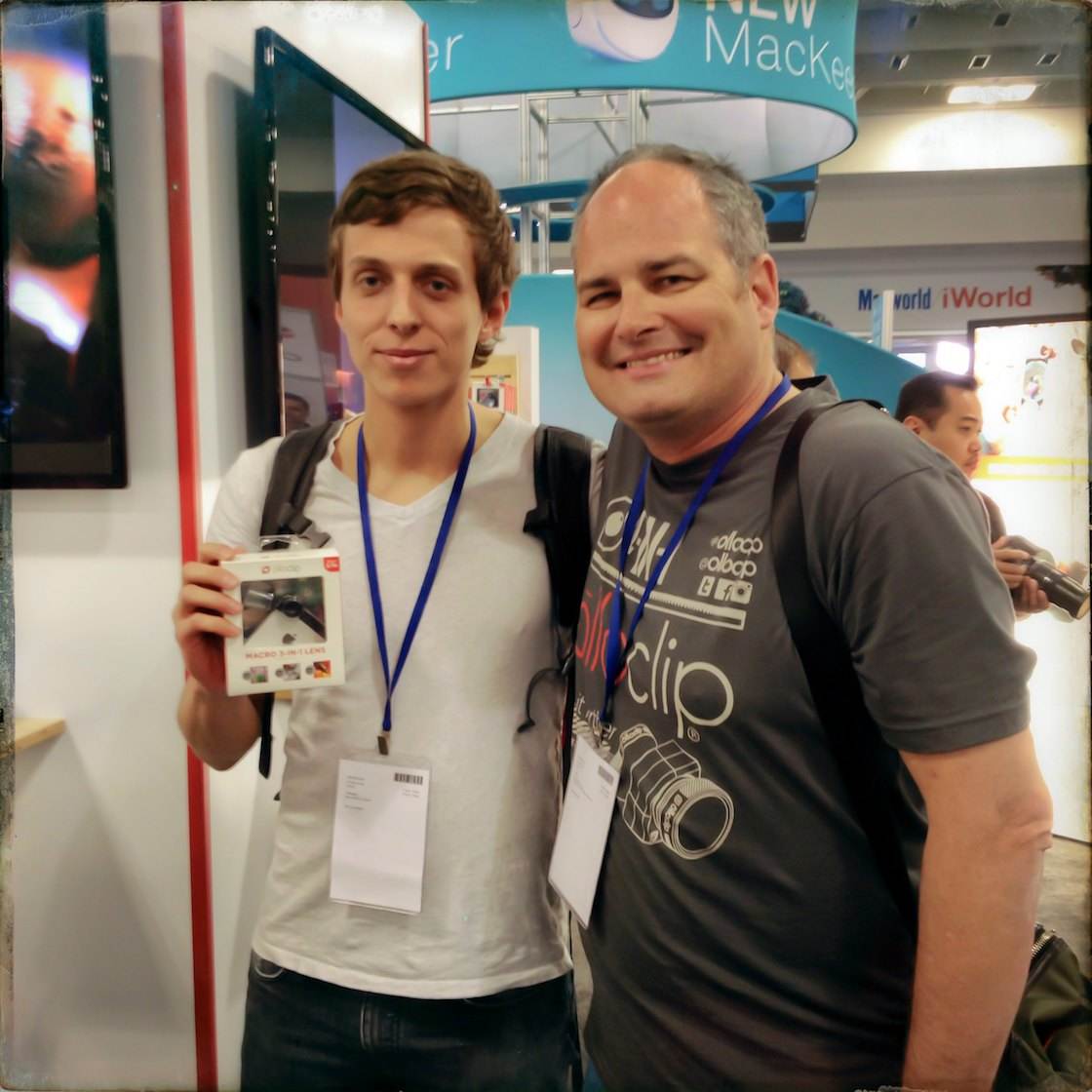 Emil and Patrick at MacWorld (photo by Egmont van Dyck)
You can use the player above to listen to the audio version of the interview, or simply read the transcript below.
If one company has done a lot to promote mobile photography and iPhone photography in particular, I think olloclip is the company that has done the most (well, besides Apple), which is why I'm really excited to be talking to Patrick who is the founder of olloclip.
Thank you for having me, and I would agree with you that Apple has done a lot more than we have to promote mobile photography
You're the number two I have to say.
Well, thank you very much. I'm very happy to be number two.
Just in case somebody hasn't heard about your company, what is it that you do? What is olloclip?
At olloclip we make lens systems for the iPhone. We do a fisheye, wide angle and macro in one little product that fits in your pocket that weighs less than an ounce (less than 18 grams) and it's also smaller than a car key, so you just put it in your pocket – creative options in your pocket.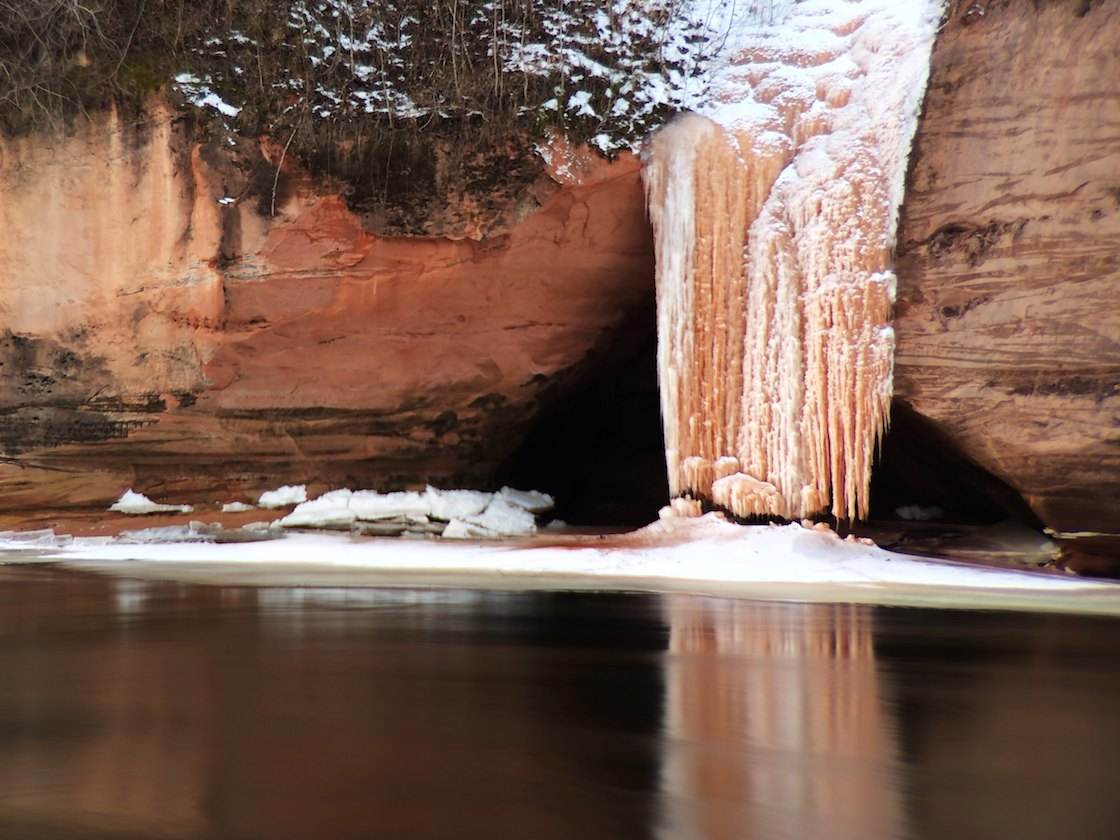 Shot with Olloclip telephoto lens
So the idea is that it's very small, very easy to carry around wherever you go, and when you need it you put it on.
That's right, it just slides on the corner of your phone and you get one lens – like, say fisheye – and then you just flip it over, it takes like one second, and you get wide angle. And if you unscrew the lenses you have macro underneath.
Tell us a little bit about your background. What were you doing before olloclip?
I've been in the technology industry my whole life. I've been in computer work for a company making IBM-compatible PCs, worked in the storage business doing hard drives, and for the last 15 years I've been developing mobile accessories for other companies that they could sell under their brands.
So you had experience in mobile before you started olloclip.
Absolutely, yes. Everything I've done in my life has lead me to this point. It's the skills I learned developing products, getting products made that enabled us to launch olloclip so quickly from my kitchen less than three years ago to every Apple Store in the world now.
I just have to say that your growth has been phenomenal. Just thinking that you didn't exist three years ago and now everyone knows what olloclip is… that's fantastic!
It has really been a fantastic ride. We're over 50 employees now in our location at Huntington Beach, California, and we're having loads of fun.
So how did you first get the idea that you should attach a lens to the iPhone?
When smartphones first came out and they had cameras, I'd already been developing accessories for PDAs and other things before smartphones even existed. When the smartphones came with the camera, I thought, "Wouldn't it be cool if we put lenses on that like we do on the big cameras?"
I come from a family of photographers. I've been taking pictures my whole life and I really love photography, so this was a natural thing for me to want to make happen. But the problem was – how do you elegantly mount the lens to the device?
And so I just kind of let that sit in my head for a few years. Then I finally figured out the solution to that elegant mounting problem and I was super happy with the solution we came up with. We think it's pretty fantastic.
Out of all the products I've tried olloclip is the easiest to put on and take off because for everything else you need a case or some other attachment to the phone, whereas with olloclip you just have the naked phone, you just put it on, and that's it – which I think is great!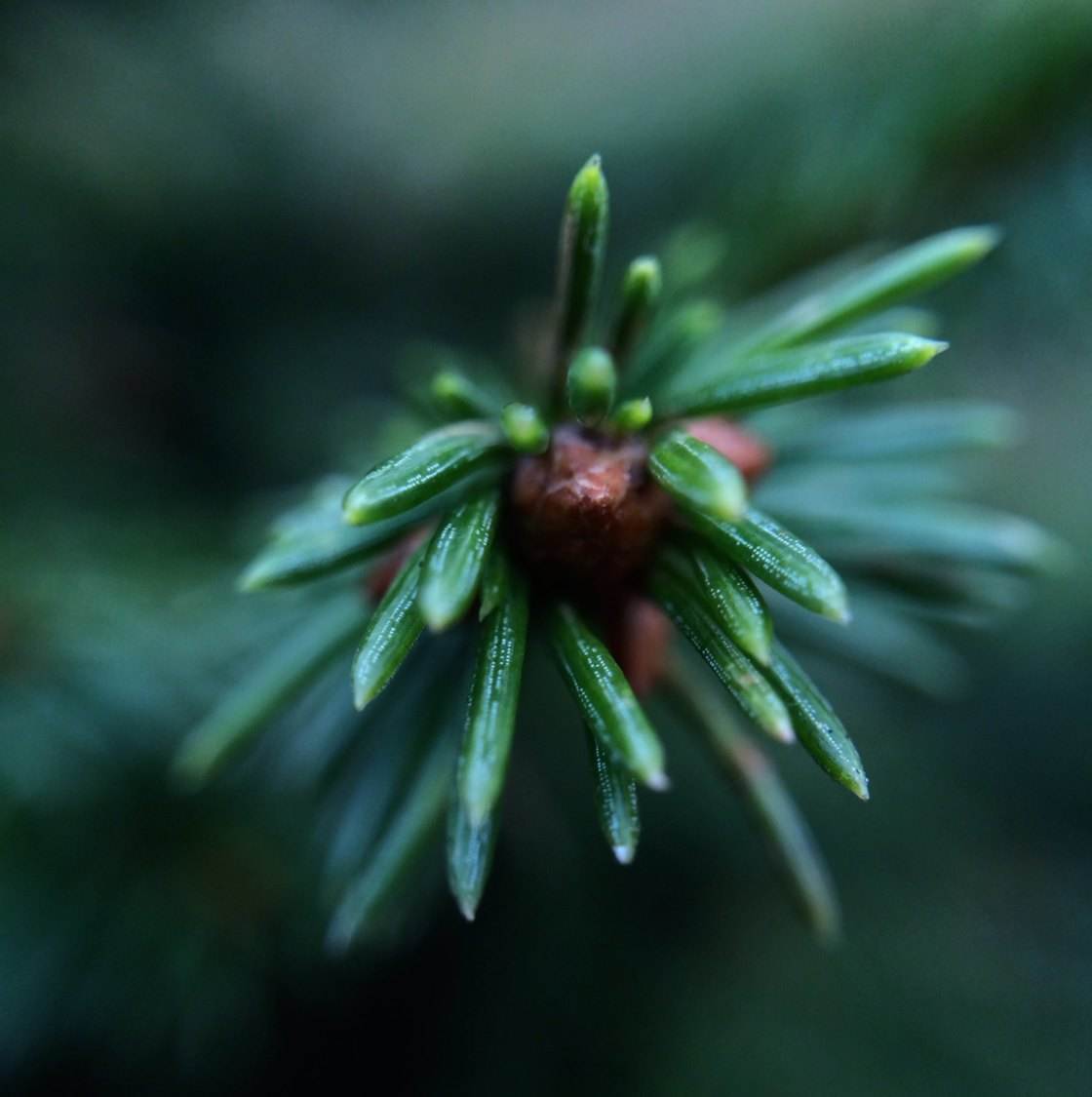 Shot with olloclip 4-in-1
What were some of the crucial steps from when you first had the idea that you want to make these lenses to actually making it happen and getting them into the hands of photographers?
Well, we had to do the development process. I had the concept in my head of how to do it, and then I had a friend who's an industrial designer and we worked together for a year – making hundreds of prototypes – to find the exact best way to do this. We used 3D printing and we printed all these prototypes and just tested and tried to dial it down and get to the essence of what's the best way to do this.
The other thing that we did was we worked with a legal team to get intellectual property patents. If you want to protect your invention, you have to do that before you publicly disclose it.
Did you also have a Kickstarter campaign?
Yes, we did, after a year of development. We always planned to launch it on Kickstarter, and Kickstarter was very young at this point. It was a new platform and the projects were very small so we only asked for $15,000. Actually I'd already spent $200,000 developing the product, but we needed not so much the money but the customers to go out and use the product, take amazing pictures and tell the world.
So we got 1300 backers in 50 countries from our Kickstarter campaign, and got five times the money we asked for, so that was fantastic. That launched us, and then people started using the product and telling their friends about it.
Inspired by your success, a lot of other companies have gotten into the lens business, and now there are dozens of companies doing similar lenses. What is it that sets olloclip apart in this marketplace?
The things that make us different are our ease of use, our simplicity, our design, and we deliver a beautiful product that works fantastically and lets people take amazing pictures at a really incredible price. Our product is only $70, it's sold in every Apple Store in the world. Apple only sells our product, and Apple will only sell the best.
Can you tell a bit about the different products that you have and what are the best uses for each one of them?
Our most popular product is the 4-in-1 lens, which is a fisheye, wide-angle and two macro lenses. There are so many different ways to use our product: they're great for video, they're great for photos, they're great with panorama. There are just so many things!
The 4-in-1 lens is quite versatile, so you can go from the fisheye, to the wide-angle to the different macros. I think what we're seeing too is a lot of kids using it and they're really discovering the love of photography and film-making and we think that's amazing.
Shot with olloclip 4-in-1
We also have the telephoto that also includes the circular polarizer, and then we have the newest lens system which is our macro 3-in-1, which has three different macro lenses (7X, 14X and 21X) and they also have our instafocus hood, which sets your focus distance on the macro automatically for you, collects and diffuses the light, and makes it very simple. These lenses are three elements on each side. Our original macro lenses had only single element basic lens design. These are very sophisticated lens designs and you get a lot more clarity in your image and, you know, it's pretty amazing.
I can only confirm that. I just had a chance to test the 3-in-1 macro and the quality of the macro photos is really great. What I also like is that you have the hood because with macro photos it's often very hard to get the exact focal distance because if it's one millimeter wrong your picture isn't sharp anymore, but thanks to the hood it's much, much easier to get the picture sharp.
And the other thing that's really cool is macro video in slo-mo. We've seen so many people doing pictures of insects, and insects tend to go very fast, but when you have the slo-mo and you slow it down to one quarter speed, it almost looks like a dance as they go across.
I can imagine that looking scary…
One of our fans took a picture of a spider squaring around and then it jumped into the lens. That's the thing that we love so much – to see the creativity of our users. It just blows us away to see the amazing pictures and videos they crete with our product.
Which one of these lenses do you use the most yourself?
I probably use the 4-in-1 the most myself. I think when somebody buys, say, the 4-in-1 lens they probably buy it for one of the lenses – either the macro or the fisheye or the wide angle – and then since they have them all in their pocket they think, why not try some of the other ones, and they start to see the difference, the other things they can do with these different lenses. You know, people go through this discovery process.
One of the issues with add-on lenses is that there's typically some optical distortion and loss of sharpness towards the corners of the image. Do you have any plans to address these issues in the future?
We're always making our products better. We went from our original 3-in-1 lenses to our 4-in-1. The 4-in-1 was a huge improvement over the 3-in-1, a lot less barrel distortion. We also have our app that can adjust the barrel distortion, it's a free app and it's quite good.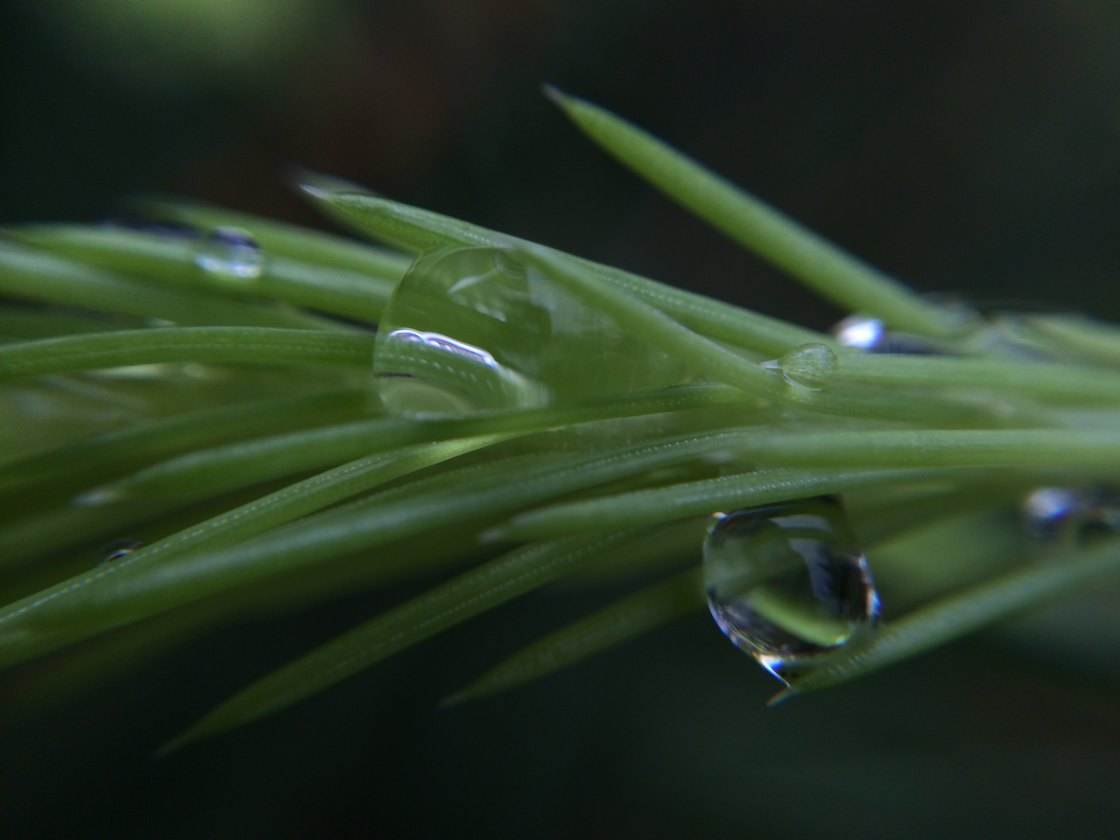 Shot with olloclip 4-in-1
Now the problem with the app is that once you start moving pixels around artificially you are inevitably going to lose some of the quality. Of course, an optical solution would be better.
Oh yeah, absolutely. We're always working on improving and we'll continue to push and make our products better, so you'll be seeing more stuff coming from us.
Currently you only make products for Apple devices. Do you have any plans to launch into other platforms like Android or Samsung phones?
The problem is that there's like 500 different devices and we'd have to make a different product for each one, so we're obviously not going to be able to cover all of them. Since we are a small company, growing fast, we have to be careful with our resources and plan where we should launch products. You know, we're always looking at it, and at some point I would think we will.
Also we just launched the iPad product too. I don't know if I mentioned that too or not…
No, you didn't mention that actually…
Actually I've got one right here. That will be shipping at the end of April.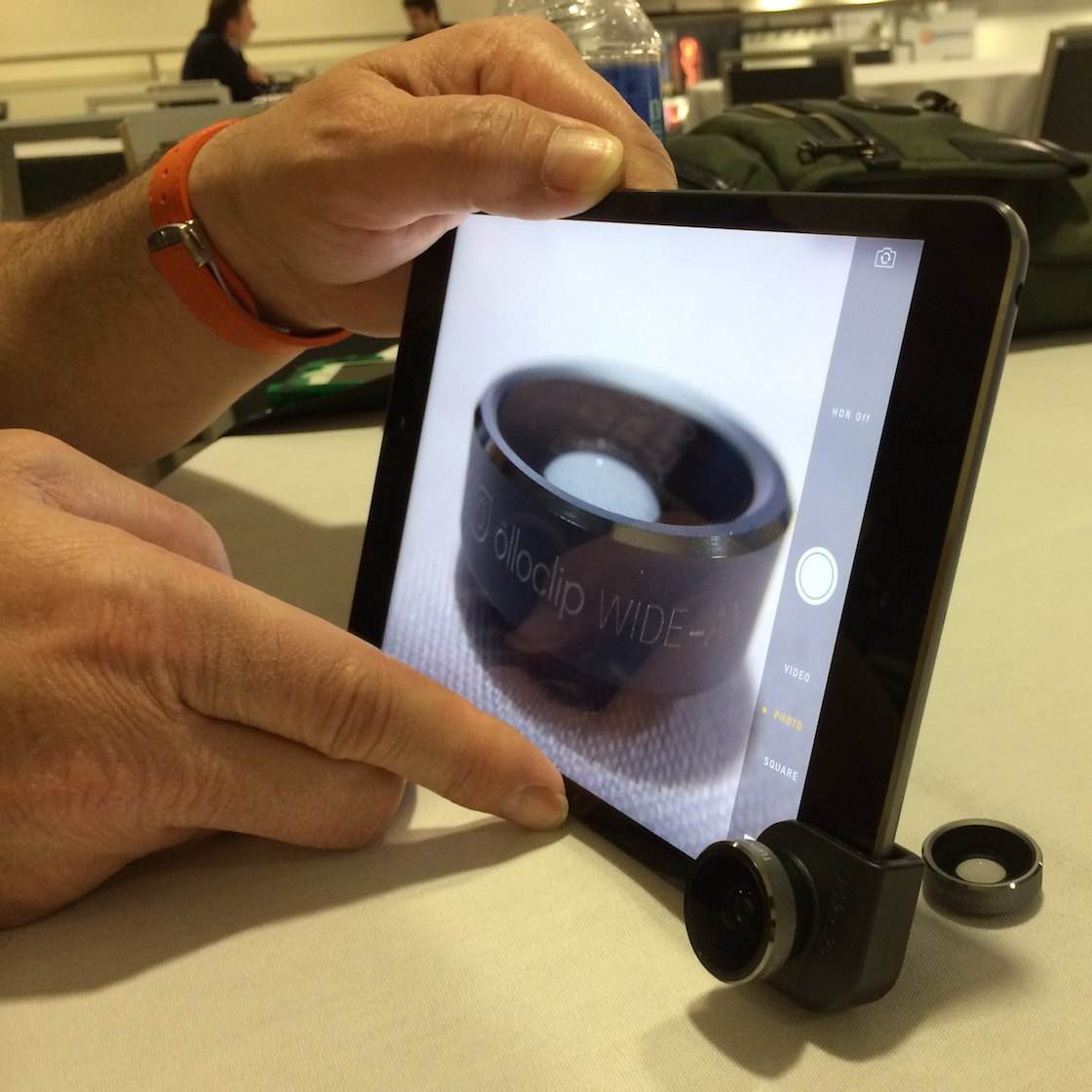 Olloclip for iPad
So is it 3-in-1 or 4-in-1?
It's the same 4-in-1 lens adapted for the iPad.
Is it just as easy to put it on?
Oh yeah, absolutely. It stays exactly the same. This works on the iPad Air, the iPad Mini, and the iPad Mini Retina.
Does the same lens work on all iPads?
This works on the Mini, the Mini Retina and the Air, because the other ones are completely different form factor. And also we're going to do a combo that includes a clip for the iPad and iPhone and one set of lenses.
Can you explain that again? You use the same lens on two different devices…
Exactly. We're going to do a combo. The iPad lens is the same price as the iPhone ($70) but we're going to do a set that's $100 that includes a clip for the iPhone with the macro lenses in it, a clip for the iPad with the macro lenses in it, and one set of the wide angle and the fisheye.
Then the users can decide, "I'm going to put the wide angle on the iPad and the fisheye on the iPhone." They can decide which device they want to put them on, or maybe they just want to use the iPhone for now. This gives the users more flexibility.
So essentially for $100 you can get a 4-in-1 both for iPhone and iPad.
Right, except you only get one set of the top lenses.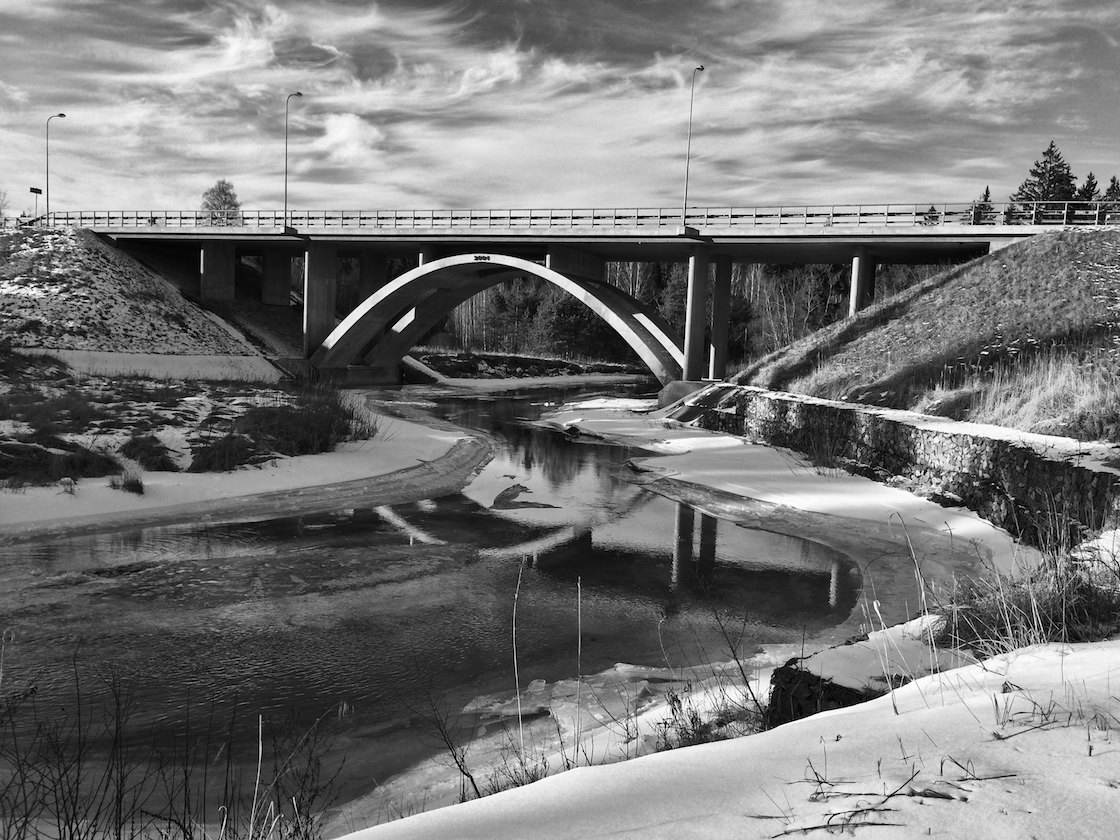 Shot with Olloclip circular polarizing filter
Looking back at the last few years, it amazes me how far iPhone photography has gone and where we are today. Just a few years ago there was no such thing as mobile photography at all, and here we are at MacWorld talking about mobile photography. Where do you think this medium is headed in the future?
People only want to carry one device. They don't want to carry a point-and-shoot camera. I mean, a point and shoot camera probably won't even be something that's manufactured within a few years from now I would imagine. The cameras on the phones are amazing!
And there's another cool thing that we're seeing happen. Believe it or not, there are people out there who don't take pictures, they're not photographers and they've never had a camera.
There are people like that?
Believe it or not there are people like that.
But now thanks to the phone they have a camera…
Exactly. So now those people are discovering that they have an amazing camera in their pocket, and now they're starting to explore photography and starting to get a love for creating beautiful pictures, so I think we're going to get even more mobile photographers exploring their creative side, which I think is really cool.
I think it's really cool you mentioned that, because the way I got started was that I bought the iPhone 4S, and I was so impressed by the quality of pictures that I just could not help myself and take pictures all the time. Before that, I was not a photographer, I was not an artistic kid and I never had a DSLR camera (and I probably never will). I think my story is proof for what you just said.
Absolutely! That's fantastic, I didn't know that about you.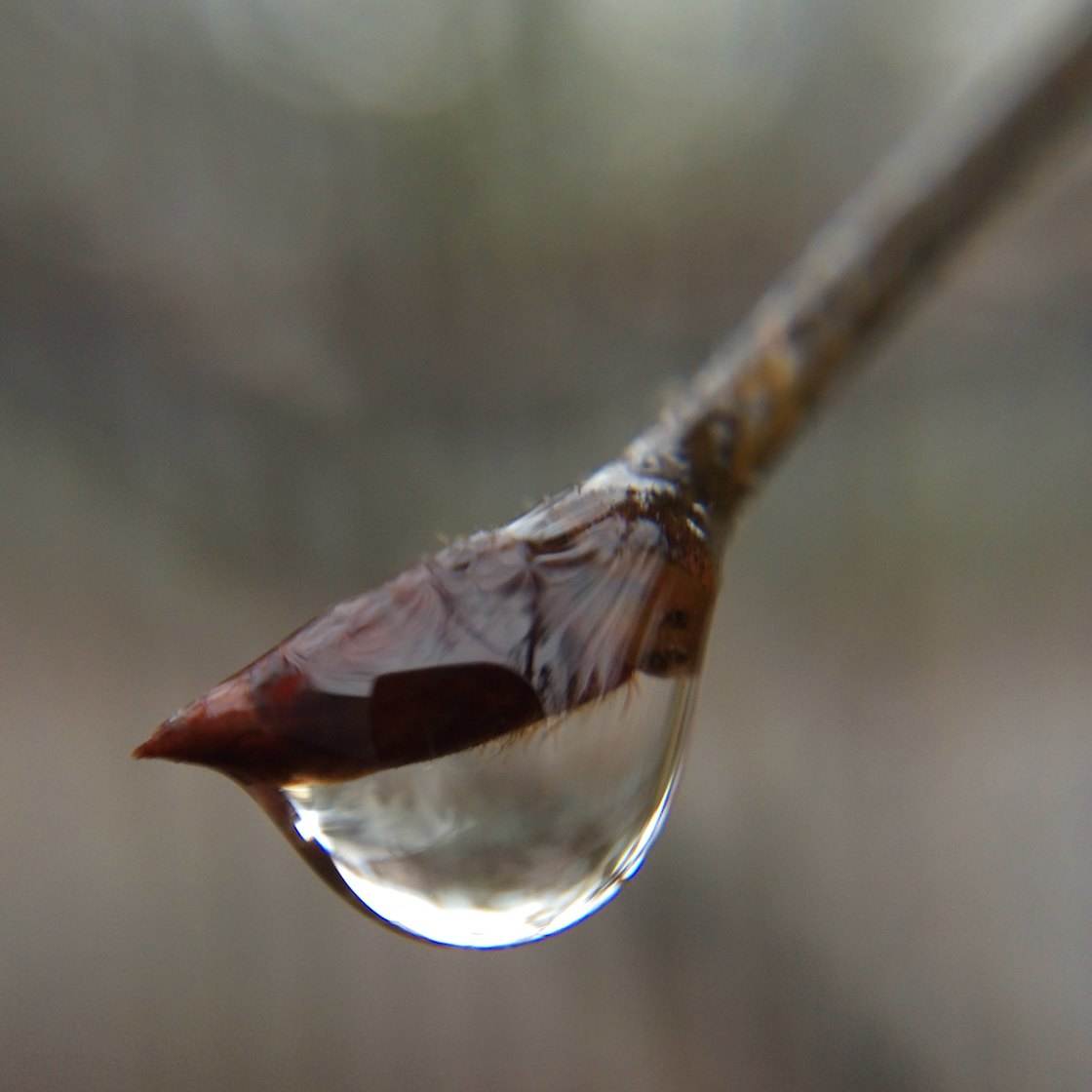 Shot with olloclip 4-in-1
Do you think Apple could introduce optical zoom to the iPhone at some point, and if they do, how does that change your product line or what you can offer to customers?
The better the camera gets on the iPhone, the better our products will get. We're just going to keep making great products, we're going to enhance the devices, and it really doesn't matter what things Apple does. We're going to keep making things around their ecosystem that are great tools for the photographers.
The thing is – Apple is not going to increase the physical size of the device. People don't want a bigger device. Apple doesn't want to make a bigger device.
They don't want to make a Samsung phablet?
Well, I don't know what will happen there. They'll make a larger screen, but they don't want to make a thicker device. A larger screen device – there's a speculation that that's coming, but a thicker device – that's not the trend.
But do you think they could find a way to introduce optical zoom?
In this thin device?
In a thin device like this, is it physically possible to put in optical zoom?
I don't think so.
And before we wrap up, what is the best way for people to get an olloclip?
Well, you can go to your local Apple Store, every Apple Store in the world has it, you can go to olloclip.com, and we have resellers all over the world. You can find an olloclip very easily!