A design Studio from Barcelona has created a prototype for what could potentially be two killer iPhone accessories, Mobbo and Handdo. Mobbo is a smartphone holder, handle and a tripod mount, and Handdo is a universal handle that can be attached to Mobbo or a digital camera. There are a lot of smartphone holders on the market already, but it looks like Mobbo could beat the competition for several reasons. Read on to find out more.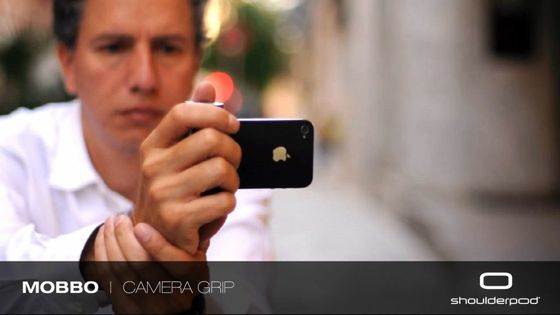 First, Mobbo fits any smartphone, even the big ones like Galaxy Note. It means that you'll be able to use your smartphone holder even if you get a very different phone in the future. It also works well with most iPhone cases, which is a problem for many other smartphone holders on the market.
Second, Mobbo fits your smartphone very securely thanks to the screw-supported design. This provides you the opportunity to use it in situations where you could not trust other smartphone holders (for example, during sports activities or near water).
Third, Mobbo is designed to work together with Handdo, which is a really nice handle for your smartphone. Handdo is made from sturdy aluminum, which makes the iPhone more stable and reduces camera shake, which is crucial while shooting video.
Finally, Mobbo also works as an iPhone stand and holder. Do you ever miss that secure grip that you get by holding the right side of a DSLR? By placing Mobbo on the side of the iPhone, you can get that same secure  feel by holding the bulky part of it in one hand. That should make it a lot easier to keep the iPhone steady, which is essential in low-light conditions.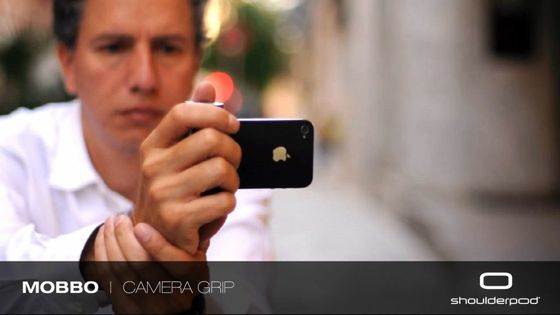 I actually had a chance to talk to Shoulderpod designers over Skype, and I can confirm that the prototypes work as advertised. At this point they have completed the design and built a few prototypes, buy they need your help to begin mass production of these products.
The plastic moulds that are needed for production are expensive, which is why they are trying to raise money through the crowdfunding platform Indiegogo. It works just like Kickstarter, but unlike Kickstarter Indiegogo also accepts international projects.
If you'd like to contribute to this project, go to their Indiegogo page and preorder your Mobbo and Handdo. The price is €29 ($38) for each or €39 ($51) for both, which is clearly a better deal. The expected shipping date is November 2013. If the funding goal is not met, the product won't be produced and you won't be charged.