This is one of the most important posts you'll find on iPhone Photography School. Seriously. Because in this post I list the 10 most common iPhone photography mistakes. I've made some of these mistakes myself, I see other people making them all the time, and yes, the chances are that you are making them too.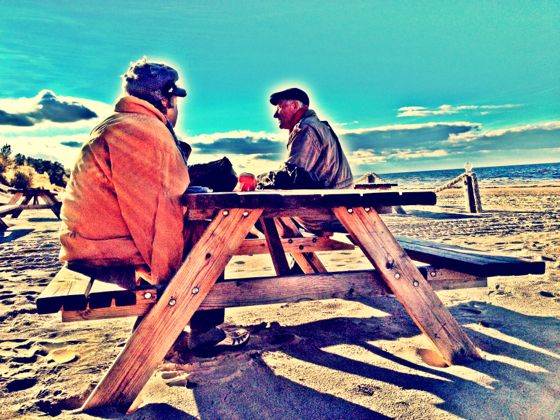 Many of you will disagree with me, and some might even get offended by this post. And that's fine. However, I hope this post will make you reexamine your iPhone photography habits so you can decide for yourself if there's anything you should be doing differently.
1. Lack Of A Distinct Photo Subject
No amount of editing can turn a bad photo into a good one, so I want to cover shooting mistakes first. So first and foremost, I have to mention lack of clear subject(s) in your photo. In this sense of the word, a photo subject is anything that stands out in the photo, that makes it interesting and that the human eye will see first.
You subject could be a person, a building, a tree or a mountain, but you have to have something that stands out, that the eye will see first. If nothing stands out, the photo is empty, and there is no point in taking it. It's a common rookie mistake to take a photo of a sunset that has just the sky and the sea. Even if the sunset is really amazing, that photo won't look good unless there's a good subject in it.
2. Poor Composition
Next I have to mention poor composition, and more generally, not taking the time and effort to compose photos properly. Some people have the idea that the iPhone is only good for quick snapshots, so they don't think about composition as much as they would on a DSLR.
If you even remotely care about the quality of your photos, you should always take a second to consider composition. Indeed, the easiest way to improve your iPhone photography is to improve your composition, so make sure you don't neglect it. Just paying attention to how the different elements in the scene relate to each other and what angle you're shooting from will help you tremendously.
If you want to learn more about composition, check out my article on iPhone composition tips, but remember that composition is an art rather than a science. For beginners it can be easier to learn composition in cropping, though you should also pay attention to it while taking photos.
3. Using Flash
While I haven't had a chance to test the new True Tone Flash in iPhone 5S, the flash in all other iPhones is just useless. I always keep it off. In fact, the flash will often ruin your low-light photos by adding a flat, ugly glare to the central parts of the image while at the same time making colors cold and unnatural.
The only time you should use the iPhone's flash is in complete darkness when nothing is seen without the flash, and you should only use it for subjects within one meter from the iPhone.
4. Using Digital Zoom
Nobody should ever use the zoom on the iPhone. Period. And yet I see people using it all the time. What these people don't know is that the iPhone doesn't have an optical zoom, so whatever zoom you use is digital. That means that your photos will have less and less pixels as you keep zooming in.
In other words, the iPhone's zoom works just like cropping, except that you crop the scene before taking a photo. You should always do cropping rather than zoom, because that way you have full control over what stays in and out of the frame, and you also capture all the surrounding detail that could end up being useful.
5. Over-Editing Photos
Now, this one is huge. Time and time again I see people over-editing photos to the extent that they just look really bad. Just because you have powerful photo editing options at a tap of the finger doesn't mean that you should always use them. This is especially true for filter apps as many of them have such strong adjustments that they almost always look bad.
I think a major reason why so many people over-edit relates to two first two mistakes. As I said before, no editing can turn a bad photo into a good one, but if you try to do that anyway, you'll probably end up with a badly over-edited photo.
You should instead try to take the best photos possible, and only edit them to enhance the composition, draw attention to the main subject(s), and add the right feel for that particular photo. And that's it. If you do anything else, the chances are you'll over-edit.
6. Mindlessly Applying Vintage Filters
This of course relates back to the previous mistake. Many people use vintage filters, hoping to make their average photos look better by adding a vintage look to them. Now, how is an average fake-vintage photo better than just an average photo? And of course, these filters are often so strong that they lead to over-editing.
With that said, there is a time and place for vintage look, but only if it's consistent with the message of the photo. When used correctly, vintage effects can add a sense of timelessness to the photo and enhance its message. Richard Koci Hernandez has many examples of how vintage effects can be used to enhance the message of the photo.
7. Ignoring The Size Of The Medium
Let's face it: The iPhone has a tiny screen. Photos look different on a 3.5 or 4 inch screen than they do in a larger format. This often leads to disappointment when photos that look great on the iPhone are transferred to a larger medium such as the Internet or print. This problem applies to both shooting and post-processing.
If you want your photos to look good on the iPhone, you should aim for large subjects taking up a lot of screen real estate. Forget about small details and fine textures. You might not even see them on the iPhone, and they certainly won't stand out on the tiny screen. On the other hand, photos with large subjects might seem out of proportion when viewed on a larger screen, and tiny details become much more prominent when the photo is enlarged.
The same ideas also apply for post-processing. In general, the more editing you do, the more detail you lose and the grainier the photo becomes. While this may not be a problem on the iPhone where you don't see the grain or loss of detail, when you view your photo in a larger format, any such issues will immediately become apparent.
You also have to be careful with effects such as vignetting, tilt-shift, textures, filters and color correction. An adjustment that looks mild on the small screen will become much stronger when the image is enlarged. Be mindful of that if you plan to use your iPhone photos in a larger medium.
8. Adding Text On Images
There is a saying that a good picture is worth a thousand words. If so, why would you try to add a few more to the photo? That just looks bad, and the human eye will automatically start reading the text and thus get distracted from the photo. Whatever you want to say with a photo should be expressed visually, or if that's not possible, through words in the description. But never inside the frame.
It's also a bad idea to post text images and screenshots on Instagram and other image sharing platforms. These platforms are for visual communication, not for the kind of things that you should rather share on Facebook or Twitter.
9. Using Watermarks
Do you know what's the number one reason why I have to reject otherwise good photos in my weekly iPhone photo contest? That's right, it's watermarks. They are distracting, they are ugly, and they are useless. Throughout the history painters had to put their name on the canvas to gain recognition, but on social media your username is always displayed next to your photos.
"But I need watermarks so that people don't steal my photos…"
Really? You are worried about someone stealing your photos when famous iPhoneographers with 100,000+ followers don't have a problem with that? I'm not a photography genius, but nobody has ever stolen my work. If you're just starting out, there's absolutely no reason to think that someone will steal your photos.
Besides, how would a watermark stop someone who was going to steal them? You can always crop a watermark out unless it covers the entire photo, in which case the photo is obviously ruined for everyone. And the fact that you shared the photo first and have a copy of the original would be enough to solve any legitimate issues with photography theft.
10. Hashtag Spam
This is one of the most common mistakes people make when sharing photos on Instagram. Rather than adding a relevant description under the photo, they just fill up the description with 30 popular hashtags, hoping that it will help them get more exposure. Well, the truth is that Instagram doesn't like hashtag spam, and adding just a few tags will get you as much exposure as tagging your photo with all the popular hashtags in the world.
Of course, it's OK to use relevant hashtags within reason (5 or less for each photo) so that people who are interested in that tag can see your image. However, adding a long list of irrelevant tags looks spammy and many people understandably don't like it.