The iPhone's camera has seen many improvements over the years, a trend that's likely going to continue in the future. However, there are some people who think that the iPhone's built-in camera is simply not good enough.
Today I had a conversation with one such person. Adam Latip is currently working on an add-on iPhone camera that promises to bring professional quality portraits right to your iPhone. While the product is currently in early development stages, you can already preorder a ladibird with a substantial discount by supporting their indiegogo campaign.
In this interview your going to learn more about this interesting iPhone accessory as Adam Latip, the founder of ladibird, answers challenging questions about the product his team is working on. 
In a nutshell, what is ladibird?
ladibird is essentially a camera with a larger-than-average sensor and a prime lens. An iPhone user slides in their iPhone into the ladibird and shoots with our ladibird app. The resulting photos are then saved into the iPhone's photo roll.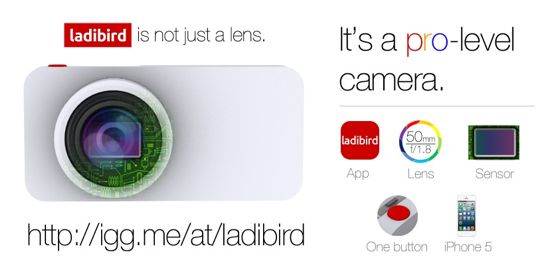 Who should be using ladibird? 
Any iPhone user who wishes to take great, classical portraits of 1 or 2 people in a photo should use the ladibird. We believe most of the people who fall in this category are DSLR owners (whether they pursue photography as a hobby or professionally as a career). This group of people can truly understand image quality that's better than smartphone primarily because they have experienced or at least attempted to achieve it.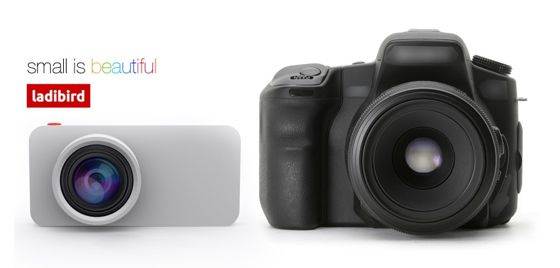 If looked at from traditional genres of photography, then our key users will be portrait shooters, street photography shooters, concert shooters, macro/insect shooters, sports shooters and possibly astrophotography shooters. However, we believe there are new breeds of photographers out there such as fashion bloggers, food bloggers, cosplayers, Instagramers and of course, iPhoneographers. We think ladibird is a good fit for them too!
How is ladibird going to increase the quality of iPhone photos?
Our lens & sensor combination gives shallow depth-of-field, or 'bokeh', the Japanese term used to describe the out-of-focus background. We believe that the easiest way to understand this is to actually Google "50mm portraits" and click on image results. In general, this level of image quality is what we wish to give to our users.
ladibird inevitably adds a lot of bulk to the iPhone. Will it still be comfortable to use the iPhone for other purposes with ladibird on?
Based on usage, we expect that people will not attach the ladibird to their iPhone all the time. What we believe is that ladibird will stay in the handbag, backpack or car and only be attached to the iPhone when the user is socializing, to take portraits.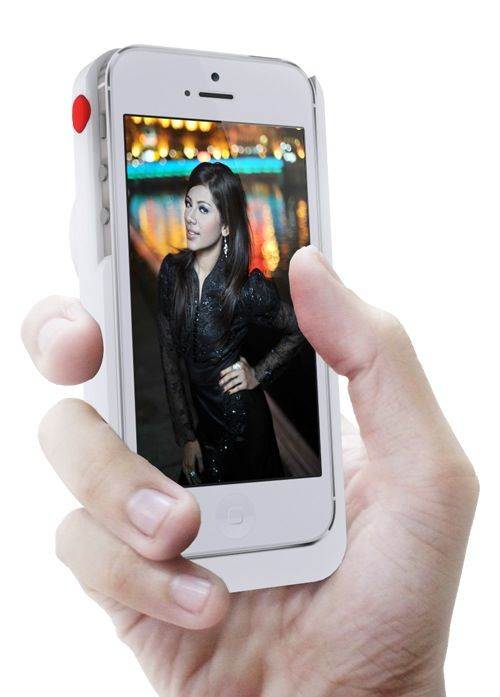 So a ladibird user takes the trade-off of adding weight & bulk to the iPhone with the added value of excellent hi-res photography that is instantly shareable, only when they need it. We don't expect that ladibird users will attach the ladibird to their iPhone all the time – only a small number will do so. We expect that these will be bloggers, publishers, journalists or photographers, due to the nature of their jobs (or photo enthusiasts, YouTubers, bloggers, etc).
There is still one added benefit of the ladibird that we have not revealed. We believe this feature will further offset the bulk & weight concern.
The design of ladibird has a lot in common with a traditional digital camera. Why should people get ladibird as opposed to a traditional digital camera?
The first reason is image quality. In short, there are likely over 100 compact camera models out in the market that look the same but none of them use the same specs we are using, especially our prime lens.
The second reason is the ability to share. Many cameras have the feature to connect to your smartphone. However, we feel that this feature has always been added as an afterthought. In order to share your pictures instantly, we think the camera has to be connected directly to the phone during the photo-taking process itself.
The third reason is simplicity. Cameras are really intimidating devices. Even compact cameras have buttons all over, and each camera operates differently. Our aim is to keep the ladibird as simple as possible and that's why we only have one button.
One final reason is that we believe the traditional digital camera has reached the end of its product life cycle, similar to how film cameras and cassette players were phased out. There is now a new evolution of cameras. Other offerings such as Sony QX100/QX10 also prove this track is coming. We know that at least one other country is also taking this route.
Could you describe your current indiegogo campaign? What are the funds needed for, and what are the benefits of preordering now?
The funds are for manufacturing the first batch. We have our own separate working capital and we will only use the Indiegogo pledge money once mass manufacturing begins.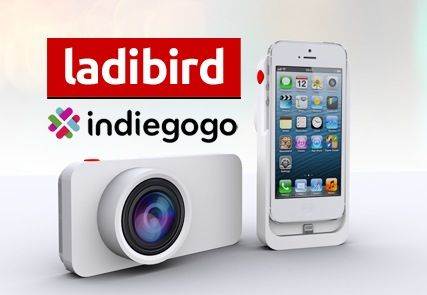 In reality the money is not the issue. The main problem was justifying that people would want such a camera. Nobody knew how people would react to such an idea. Would there be a market for such a device? Would DSLR owners swear by their camera brands instead? Who in the world would be interested in such a class of camera? Who would want to plug in their iPhone into a camera? Being ineligible for Kickstarter as non-US/UK citizens, would this campaign be a success on Indiegogo, which is largely seen as second fiddle to Kickstarter?
All those questions were successfully answered in the Indiegogo campaign. We successfully completed US$20,000 worth of pre-orders with only the product sold individually and no other perks, or sales tactics such as selling multiple units. As of now, Singapore, USA & Hong Kong show the most interest.
Our Facebook page serves as a two-way channel to interact directly with the people who are interested. This is crucial. Most manufacturers build without knowing if customers truly want or need their product. In our case, we'd like to think that we are building along with the needs of our consumers.
We will start asking for customer opinions (such as wanting a black ladibird) through SurveyMonkey once the campaign ends. The campaign has produced a statistically sizable, global pool of users who are keen to let us know what they want. This is invaluable beyond measure in the manufacturing industry.
The Indiegogo campaign is also very touching as we have had support pour in from all over the world. As of writing, there are 145 backers from 18 locations globally. Each one that came along propelled us to go further, with some users even helping out along the way. There were so many people who objected to this idea, saying that it was impossible, saying that it goes against tradition or tech industry giants. Now, they have been proven wrong 145 times.
Do you already have working prototypes of the product?
We are still working on the early prototypes. We can't say more than that, unfortunately. Camera tech is not open-source, we have to respect the industry practices of the other camera companies such as Sony, Nikon, Canon etc. Only our outreach differs, primarily because we don't have the big budgets of those companies!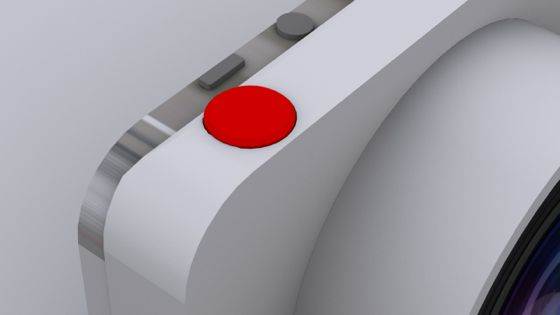 It will take about a year until the first ladibirds are shipped, and there will certainly be new iPhones at that time. How do you plan to deal with that issue?
This is our current solution, as stated on our Indiegogo page:
You pre-order a ladibird now
We deliver on June 30, 2014
If Apple releases iPhone 5S/5C at the end of 2013
And you buy an iPhone 5S/5C
Please inform us immediately
We will ship you a ladibird that fits your iPhone 5S by June 30, 2014 (or Sept 30, 2014, if you buy a middle or late bird)
However we are still looking into this issue. We will only release more details once we are ready.
Do you have any other iPhone photography projects in the works?
For now, the ladibird is enough to occupy us for quite a while! Think of the ladibird as this century's rangefinder camera. A small, compact camera that can be expanded with added functionality. And we're not done with ladibird. Good photographers know that a camera is only one part of photography. We're also working on the rest.