I recently had a chance to go through iPhone Camera Essentials, a video course that teaches you how to take and edit great photos on your iPhone. This course is created by Guy Yang, a passionate iPhone photographer and technology expert from Paris. iPhone Camera Essentials promises to quickly turn your iPhone Photography into a fun and fulfilling passion. But does the course live up to this promise? Read this review to find out.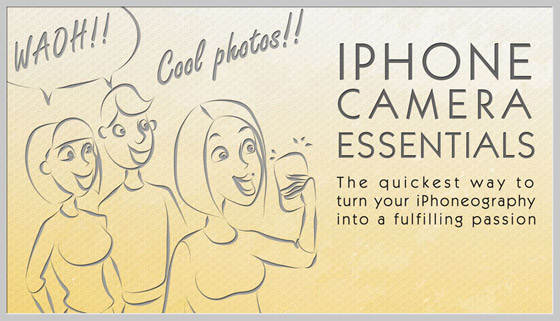 Course Contents
iPhone Camera Essentials is a video course containing over 5 hours of video lectures. The lectures are structured in many different sections, each covering a particular aspect of iPhone photography. You can see the overview of all sections at the bottom of the course page.
The first section focuses on the very basics of taking photos, and introduces you to the strengths and limitations of the iPhone camera. I was initially tempted to skip these lessons, but I was pleasantly surprised to see that they were covered very professionally.
Unlike other iPhoneography materials, this course really goes deep into the underlying principles of photography, paying attention to such essential concepts as light, aperture, shutter speed, sensitivity and white balance. If you're struggling with these concepts, these videos should make them crystal clear for you.
The next part of the course, which focuses on composition, was probably my favorite. And no, it's not just about the rule of thirds. Once again, I was initially rather skeptical since I already know all the basics of composition, but Guy didn't stop at that.
Instead he explains the rule of thirds in terms of lines, junction points, bands and quadrants, showing many examples of how to position your subjects in a way that keeps the composition in balance. This was probably the best tutorial of composition I have ever come across. And trust me, I have seen many.
The third section is an in-depth coverage of HDR iPhone photography, explaining the common problem of high dynamic range and showing different ways to deal with it. In addition to using the iPhone's built-in HDR (which really isn't that good), you'll also learn how to use ProHDR and iCamera, and how to do HDR on your own. Unfortunately the layout of ProHDR app has changed since the videos were shot, but the basic functionality is still the same.
In this section you'll also learn how to edit photos using curves. Don't worry if you are not familiar with curves or if you find them confusing. Guy explains curves using interactive diagrams that are very easy to understand. In later videos you'll also learn how to deal with some common side-effects of HDR such as halos and ghosts.
The section on editing starts off with a really good coverage of black and white photos, explaining how and why you should treat them differently than your color photos. You'll also learn how to do some pretty crazy things like making your photos bigger through anti-cropping in a way that doesn't introduce any weird artifacts.
Then there are two sections of more advanced photo editing techniques using PhotoForge 2, which is one of the most powerful iOS photo apps. PhotoForge 2 is one of those apps that can be overwhelming at first, but once you learn how to use it properly, you'll be blown away by how much you can do with it. Update: PhotoForge 2 is no longer available on the App Store. 
If you want to create digital compositions using powerful tools such as layers and masks right on your iPhone, then these videos will be perfect for you. Again, don't worry if you know nothing about masks and layers. Guy makes sure to introduce them gradually, carefully explaining everything that you may find confusing.
Finally, effective photo managing is covered. If you love iPhone photography, you probably have thousands of photos in your archive. In these videos you'll learn how to effectively manage such a large collection so that you can always find the photos you need and reduce the risk of losing all your work due to hardware failure.
Course Format
iPhone Camera Essentials is hosted on Udemy online learning platform, which makes it very easy to access all materials wherever you are. All videos are available in SD as well as 720p HD, so you can easily see exactly what Guy is doing on his iPhone. The videos are well-prepared, fast-paced, and use helpful visuals to explain all the difficult concepts.
Udemy has an app for both iPhone and iPad, so you can follow the course on the go. You can even save the videos for offline viewing inside the app, so you can also follow the course when WiFi is not available. However, you should keep your iPhone free so that you can easily try out the things you learn throughout the course
The course has short quizzes at the end of each section to test how well you have mastered the material. However, I generally found the questions a bit too easy as they only focused on the very basics of each section.
All Udemy courses are protected by a 30-day no questions asked refund policy. I don't think you'll be disappointed by this course, but it's good to know that you don't risk anything if you want to buy this course.
The Competition
iPhone Camera Essentials is not the only iPhoneography video course out there. Another course you may like is iPhone Photography Secrets by Chet Davis, which is also hosted on Udemy.
iPhone Photography Secrets has more lectures, covers more apps, and is slightly cheaper, but it does not go in depth as much as iPhone Camera Essentials. I personally learned a lot more from iPhone Camera Essentials, particularly from lectures on composition and advanced photo editing using masks and layers.
In general, iPhone Photography Secrets is more appropriate for beginners. Those who already have some experience will learn more from iPhone Camera Essentials. It really seems like the two courses should swap their names!
Verdict
iPhone Camera Essentials is a great course that covers a lot of interesting material that even experienced iPhone photographers can learn from. Even easy topics such as composition can be seen in a new light after taking this course, and you'll also learn many new tricks that will considerably improve your photo editing.
Special 50% Discount
The regular price of iPhone Camera Essentials is $49. However, if you buy it through this discount link you can get it for just $25, which is half of what everyone else is paying. Please note that you will only get the discount if you go directly through the link above.