Today was the day that many tech geeks had long been waiting for. Among other cool products, Apple announced their latest and greatest smartphone, the iPhone 5. The new iPhone is significantly redesigned both internally and externally, and it also offers some welcome additions for iPhone Photography.
On the outside, iPhone 5 has a taller 4-inch display at the resolution of 1136×640. The pixel density remains the same (326ppi), but the display is now widescreen with a 16-to-9 aspect ratio. This means that there will now be more space for your apps on the home screen (five rows instead of four) and that it will be a lot nicer to watch widescreen video.
While the design of iPhone 5 is not radically different from the previous generations, the new iPhone has become considerably thinner and lighter. With a thickness of 7.6mm and a weight of 112g, it is 18% thinner and 20% lighter than iPhone 4/4S. According to Apple, that makes iPhone 5 the thinnest smartphone in the world.
This is a remarkable achievement, but honestly I would have preferred a longer battery life rather than the ultra-slim profile. In comparison to 4/4S, the battery life has not been significantly improved. I often run out of battery on my most creative photo days and it looks like that's not going to change with the new version of the iPhone.
Internally the device is promised to be 2x faster on pretty much all possible measures thanks to its new A6 processor. This means that apps will launch even faster and that CPU-intensive tasks such as photo processing will be a lot quicker. This is surely a welcome change, even though iPhone 4S is already really, really fast.
Perhaps more importantly, the new iPhone will also support LTE worldwide, which offers considerably faster wireless internet in areas where it is already available (mostly large metropolitan areas). Even if you don't live in an LTE-covered area, you can be sure that it will become much more widespread in the future (much like 3G today).
iPhone 5 and iPhoneography
Of course there is one aspect of the new iPhone that I especially care about, and that is the new camera. Generally speaking, slimmer phone designs almost always lead to lower quality cameras, but Apple designers have made an exception here.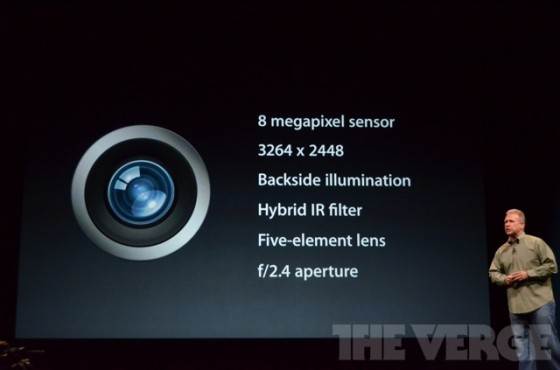 The new camera still has an 8-megapixel backside-illuminated sensor, f2.4 five-element lens and a hybrid infrared filter. The aspect ratio of the photos is still 4:3. In other words, the specifications appear to match the excellent camera of iPhone 4S.
However, it wouldn't be Apple if they didn't make it even better. So they have made the new iPhone's lens from sapphire crystal, which is thinner, more durable and should provide even sharper shots.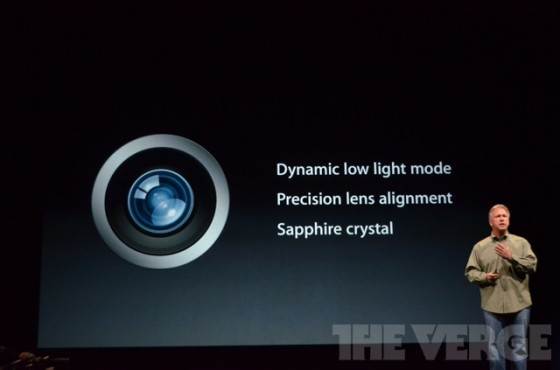 Apple also promises better low-light performance, which is still one of the weak points of the iPhone's camera. Furthermore, capturing photos will now be 40% faster, making the iPhone considerably faster than the now-obsolete point-and-shoot digital cameras.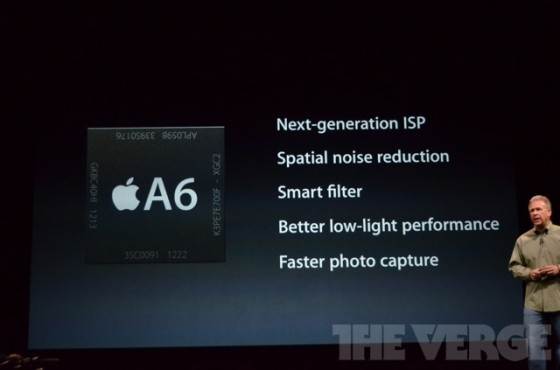 Whether the new camera takes significantly better photos remains to be seen yet, but from what we know so far it appears that the quality difference between iPhone 4S and iPhone 5 photos won't be easily noticeable.
Another great new feature for iPhoneography is the new and improved display. While it remains at the same pixel density as the previous-generation iPhone, the new display has 44% higher color saturation. Additionally, Apple has removed the touch-sensor layer from the screen and built it right into the display, which should make the new display even sharper than before.
One of my greatest frustrations after getting the new iPad was that the same pictures that looked magnificent on the iPad's Retina display were no longer impressive on the iPhone. As a result, I even stopped editing my Instagrams on the iPad because they wouldn't look great on the iPhone's less-saturated screen afterwards. I really hope that the improved colors and saturation will solve this issue, and that photos on iPhone 5 will look as lively as on the new iPad.
Verdict
There are many more technical and design innovations in the new iPhone, and I couldn't possibly list them all here. Go to Apple website, and you will easily find out more. However, I can assure you that this is indeed a significant update in comparison to some of the iPhone updates we've seen in the past.If you are thinking about buying an iPhone, think no longer. Now is the time to do it.
However, the question becomes a little harder if you already own an iPhone. If you have 3GS or older, you should definitely upgrade. If you have an iPhone 4 and you care about photo quality a lot, I also recommend that you upgrade as the new camera will be significantly better.
For those of you with a 4S (including me) it doesn't make too much sense to upgrade unless you live in an area where LTE is readily available. However, if you do have access to LTE, it's certainly worth upgrading for the improved connection speeds. The internet you get through LTE is faster than most broadband connections.
However, for the rest of us I do not see an urgent need to upgrade just now. While the new iPhone is surely a lot faster, cooler, more stylish, etc., iPhone 4S is still an excellent and very powerful smartphone that does its job perfectly. So despite being a complete Apple fanboy, I will resist my temptation to purchase the next big thing from Apple. Will you do the same?