While this blog is all about iPhone photography, there's no way we can ignore what Samsung announced this week. They presented Galaxy S4, their latest flagship smartphone, which is likely to become the main competitor for iPhone this year.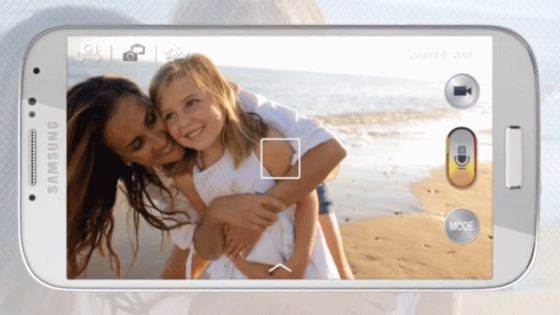 There's been a lot of discussion about whether Galaxy S4 is an iPhone killer, and the short answer is no. iPhone 5 is still the leader in terms of build quality, app ecosystem and ease of use, but Galaxy S4 could probably lure away a few iPhone costumers.
Samsung Galaxy S4 is an impressive phone. I won't go into all the details here, but Galaxy S4 beats iPhone 5 in almost all possible specifications. However, most users really don't care about how much RAM their phone has as long it performs well, and some of Galaxy's new features such as waving at the phone to scroll are nothing but gimmicks.
With that said, the camera of Galaxy S4 has also been significantly improved, thus making this device particularly interesting to mobile photographers. Should we all sell our iPhones and get Samsung Galaxy S4 instead? Read this article to find out.
Camera Improvements
One of  the biggest improvements of Galaxy S4 is the new camera sensor. It has a 13-megapixel backside-illuminated sensor. In comparison, iPhone 5 and 4S have only an 8 megapixel sensor. Of course, photo quality is not just about megapixels. In low light the size of the sensor is far more important. However, in good light Galaxy's 13-megapixel camera will probably outperform iPhone 5.
We still don't know if Samsung has increased the size of the sensor or aperture of Galaxy S4. Speculations suggest that Galaxy S4 has a fairly standard F2.2 aperture. Of course, we still have to wait for the first reviews to see how well the camera actually performs.
In general, the 13-megapixel sensor is a very significant improvement that I'd love to see on the next iPhone as well. Indeed, multiple rumors suggest that iPhone 5S, which is likely to come out in late summer, will also have a 13-megapixel camera.
New Software Features
Galaxy's new camera sensor is indeed a great improvement, but I was even more impressed by some of the innovative software features that Samsung has added to its new flagship smartphone.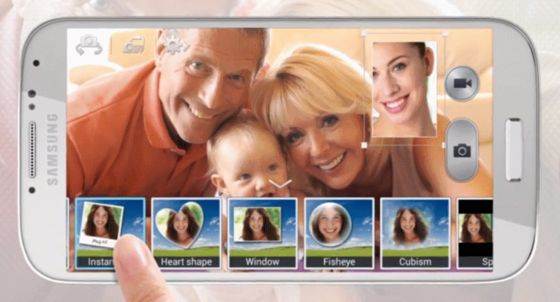 First, I must mention Dual Camera mode. In essence, it allows you take photos or videos using both cameras simultaneously, with photos recombined into a single frame. While some may call this a gimmick, it has a great potential for photo storytelling.
Dual Camera also solves a big problem all of us have experienced: The photographer no longer has to be left out of the scene in group photos. It also means that you can record videos in which the shooter is talking to the people who are in the frame.
Drama Shot is another interesting new feature of Galaxy S4. Drama Shot quickly captures multiple photos, which are automatically recombined into a single frame, thus making it possible to capture movement. The static parts of the photo are left untouched, and the moving objects are morphed. This should work especially well for photos of movement, like the snowboarding example below.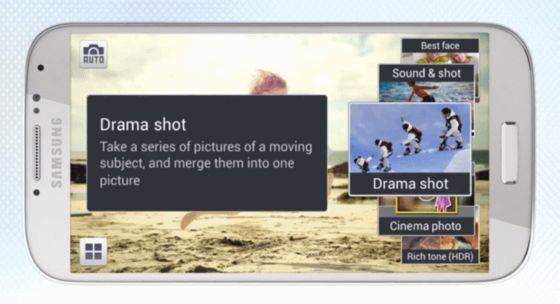 Did you notice how the different shooting modes are displayed in the screenshot above? That interface has been adopted from Galaxy Camera, which is Samsung's attempt to create a market for a smart camera.
Finally, I was impressed by Galaxy's Eraser feature. Eraser takes multiple photos in burst mode, and allows you to remove parts of the image that only appear in some shots. For example, if you shoot a perfect smile of your friend, but a random passerby has just walked into the frame, you can recombine photos to remove the person who shouldn't be there. This feature could be good for crowded places such as tourist destinations, where getting others out of the frame is nearly impossible.
Should You Sell Your iPhone?
Well, not exactly, I would wait for a while before making any upgrades. It's still too early to tell how well the new features of Galaxy S4 work, and how good the camera itself is. Once the reviews come out, they'll surely pay a lot of attention to the new camera.
But more importantly, remember that Apple isn't standing still either.  You can be sure that they'll be respond with a much better iPhone later this year, and it's likely to have a 13-megapixel camera as well. Apple certainly won't try to beat Samsung in all specifications, but I'm quite sure they'll release a well-designed and easy-to-use smartphone with an excellent camera.
If you're considering an upgrade this year, Samsung Galaxy S4 is certainly a good choice. However, I wouldn't buy any other smartphone until I see what Apple has prepared for us this year. We only have to wait a few more months until we find out.