If you're looking for a photo sharing network where photography is still valued higher than teen pop stars, you should definitely check out EyeEm, which I think is the best social network for sharing your iPhone photos. Today I'm really excited to learn more about Florian Meissner, the founder of EyeEm, and his vision for the future of this photo sharing network.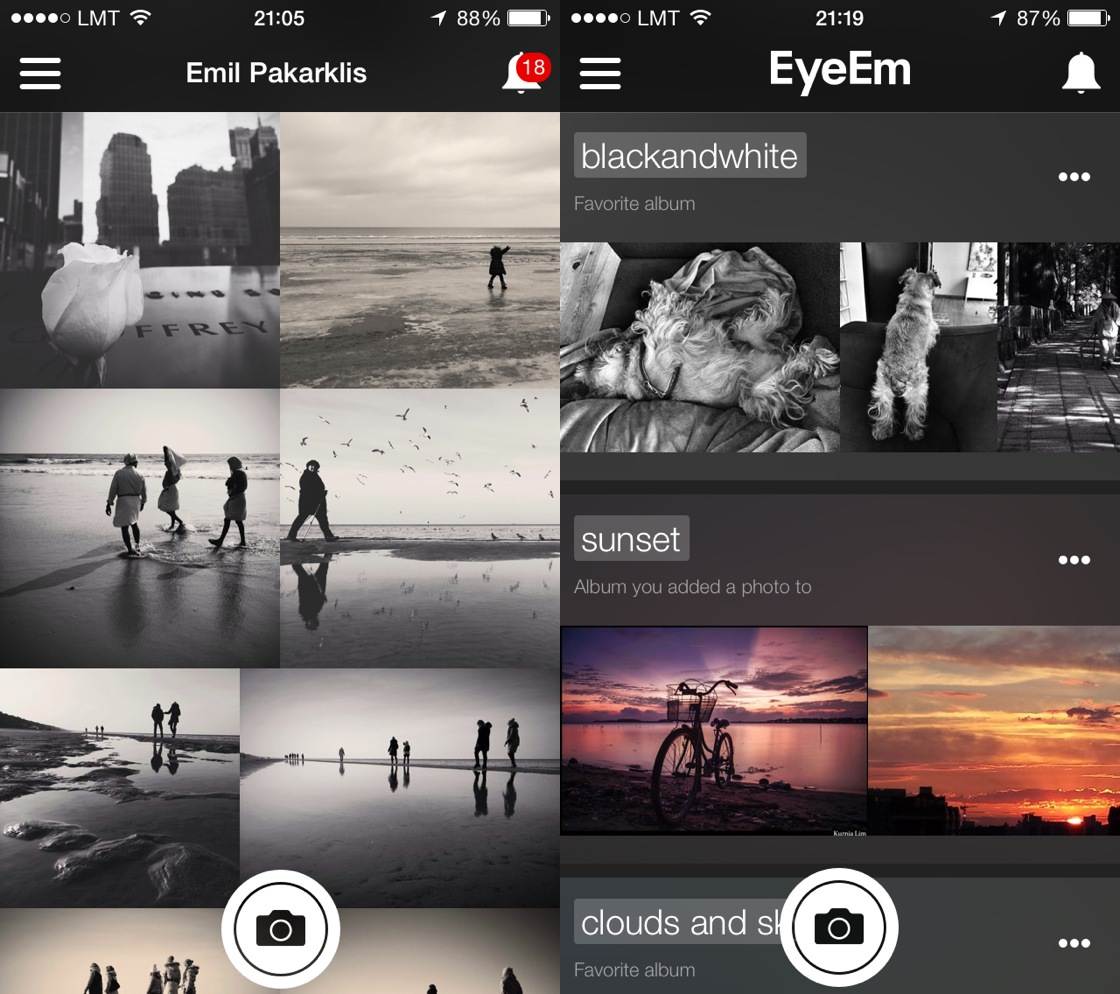 In a nutshell, what is EyeEm and who should be using it?
With EyeEm you enter a thriving global photography community where you not only shoot and share your images or get creative with unique filters, but also discover awesome photos and photographers covering topics and places you're interested in, you meet like-minded people and improve your photography skills. Furthermore, at the future EyeEm Market you even will be able to make money with your images.
Our objective has always been to build the best community for mobile photography and to enable a new generation of photographers to take their passion to the next level. So everybody who enjoys photography, who likes to share their visual angle on the world, discover new, fascinating imagery every day and connect with new friends will have fun with EyeEm, no matter if you're shooting with a smartphone or a DSLR.
What where you doing before you started EyeEm?
Florian Meissner
I studied business management in Berlin, London and Vienna, as well as photography in Vienna. Originally, I set out to work as a professional photographer. This didn't quite work out, as you can see.
How did you decide to create a new photo sharing network?
Shortly after I started working as a photographer in New York City in 2009 I had the misfortune of having my DSLR equipment stolen. So a friend lent me a used iPhone and I started taking pictures with it. And what really impressed me was this amazing, growing scene of mobile photographers – this was really like a revelation.
Together with friends Lorenz Aschoff, Ramzi Rizk and Gen Sadakane we felt there is a need for a new platform to enable this new generation of photographers to connect and let them do more than just sharing images. We decided to build this platform and together we founded EyeEm.
We organized mobile photography exhibitions in Berlin and New York City, published a book about it and began to build the community before the actual EyeEm app launched.
What sets EyeEm apart from Instagram and other competitors?
The important photography platforms all have different ways to appeal to their users. Some are just social networks, providing messaging and connecting people who share photo albums of their daily lives, like images of their breakfast, their pets or just selfies.
In contrast, EyeEm is a place where we match a passion for photography with a strong community, we connect people way beyond their social networks. Here, photographers not just shoot and share, but they like to meet inspiring people, they want to improve their craft, and some of them aim to earn money by selling their images at the future EyeEm Market.
And regarding content and technology: whereas the online photo market is full of low quality snapshots of mundane life events getting lost on social networks and sinking into a digital oblivion, EyeEm is, in contrast, all about authentic, intelligently searchable imagery.
One of the things I like about EyeEm is that it attracts more serious photographers and the average photo quality is higher than on Instagram. What enables you to maintain such a high-quality community?
Photographers see EyeEm as a place where they can capture, enhance, share and discover images in a highly-creative and inspired community. And I think people are well aware that we care as much about photography as about our community. Photographers come to EyeEm for the fun, yes – but also because they are passionate about images and they want to be part of this new world of photography made possible by all this evolving technology.
Just as important, at EyeEm you really get recognized for your work, collecting praise and followers on the way which in turn inspires you to aim even higher, to get even better. At the same time you can immerse yourself in the works of other photographers and have a learning experience. We support this by publishing tutorials and interviews with well-known photographers on our blog.
We keep on empowering our community – that's in our DNA.
As EyeEm continues to grow, it will also attract more casual users, and the average photo quality will suffer. Do you see that as a problem and are there any ways to solve it?
With already more than 10 million photographers enjoying our platform, there are all kind of reasons why people like being around EyeEm. They want to share their visual angle on the world, present their projects or discover great imagery.
But we don't judge photo quality as such, we don't throw out photos as long as they comply with the Terms of Service. If we look at the future EyeEm Market, there of course we will have to take care of content. So if photographers decide they want to contribute to our marketplace we will check the images as well as the legal requirements, like model releases.
On a personal level, by following people whose style or projects you like you will always enjoy amazing content in your friends feed. And by viewing your favorite albums you will discover different takes on the topics that you're interested in – and thereby get great content by photographers you don't even know yet.
You're in the process of launching EyeEm Marketplace. Can you tell us more about this project?
At the EyeEm Market, companies, agencies and image buyers in general will be able to license fresh, authentic, current imagery by our community for commercial and editorial use. We will create a photography marketplace for the generation smartphone.
Mobile devices are able to deliver relevant content from everywhere anytime, and transfer speeds and the resolution of images are increasing. For image buyers this means having access to places, topics and events which were hardly available before or not available at all.
Additionally, why should marketers have to live with some generic stock image for their campaign when they can create a "mission" and ask our photographers for specific images, shot at a certain place and a certain time.
Or think of editorial photography: our community lives in 130 countries, so there's a huge potential for up-to-date images covering recent events in real-time, be it protests in the Ukraine or natural disasters in the United States.
Some users are concerned about the new marketplace since they don't want their photos to go on sale. Is there anything they should be worried about?
As a photographer you always decide which images you want to put up for sale. If your works are deemed sellable they will be put on the Market as soon as it launches where image buyers will be able to license them. You always retain the copyright to your works and get a fair share of the revenue. But if you don't want this – fair enough. You don't have to do it, and we will never force you to give away your copyright or to sell your images at all.
Besides the marketplace, do you plan to introduce any other new features to EyeEm?
EyeEm is also a very technology-driven company. That's why besides all those features already out there we´re investing heavily in developing a powerful visual search engine around technologies like smart tagging and image indexing. In the end, all those beautiful photos need to be found. This will change the way we discover the images we want.
Where do you think mobile photography is headed in the future?
Technologies and gadgets are constantly evolving, think smartphone cameras, lenses for mobile, but also wifi-enabled DSLRs, or wearable tech. Whereas smartphone photography is enhanced by added-on equipment and apps, standard cameras are getting connected to the internet, and borders between devices are getting blurred. With this development we all have the same potential, there's a photographer inside all of us waiting to be unleashed.
So if we talk about photography it's certainly going to be less and less about which tool we use to take images. And maybe nobody will talk about sharing photos that much because it is taken for granted by automatically saving them to the cloud.
Regarding the craft, no matter what kind of camera you use, it will always be about light, composition, aperture setting, exposure time and having an eye for that special moment – plus being able to catch it.
***