I'm really excited to share this interview with Benedetto Demaio, an artist from Italy who shoots beautifully creative images with his iPhone. When I first discovered Benedetto's photos, I was taken aback by the simplicity and beauty of his photos. His Instagram feed is a stunning array of artistic, minimalist images that all adhere to the same wonderful turquoise color scheme. In this interview you'll learn more about Benedetto, and where he gets his inspiration for these amazing iPhone photos.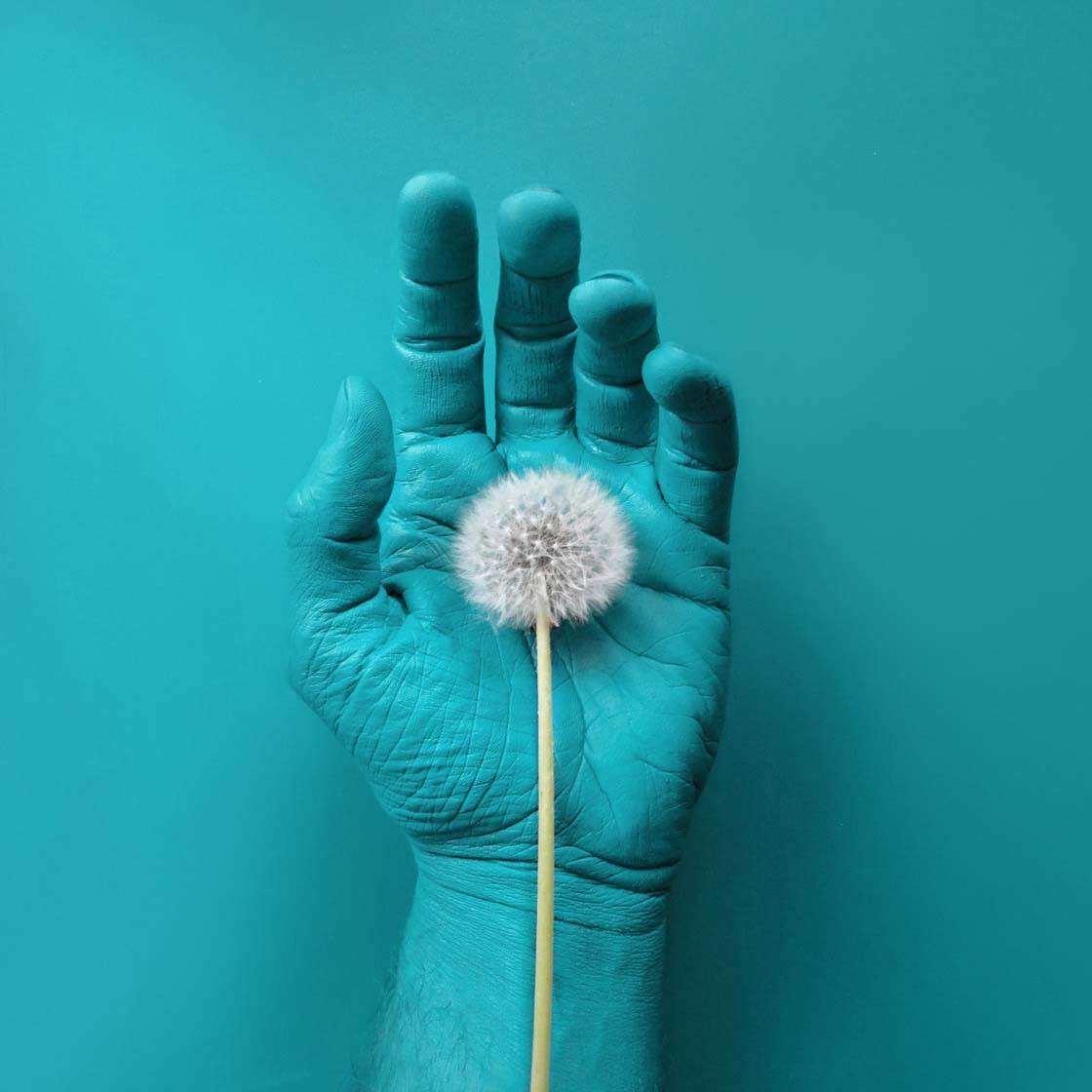 Tell us a little bit about yourself.
I'm 37 years old and have lived in a studio apartment in Milan since 2005. But I'm from Bagnara Calabra, a small town in southern Italy, where my parent are.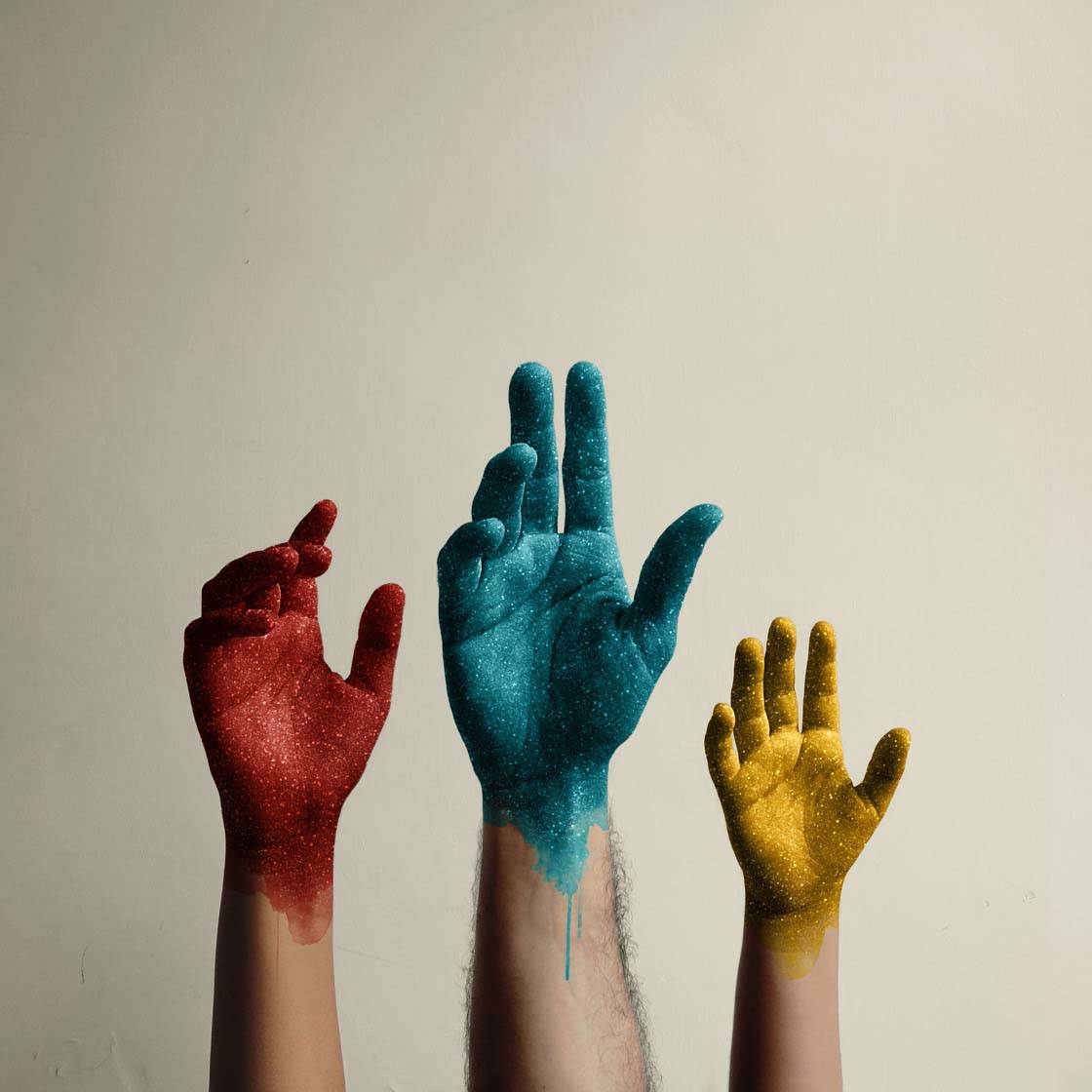 I work as an art teacher. I spend the morning in the classroom teaching my students the techniques of painting and the history of art.
I'm also an illustrator and a painter. I draw book illustrations, CD covers, posters and whatever else requires artwork. I define myself first and foremost as an image craftsman.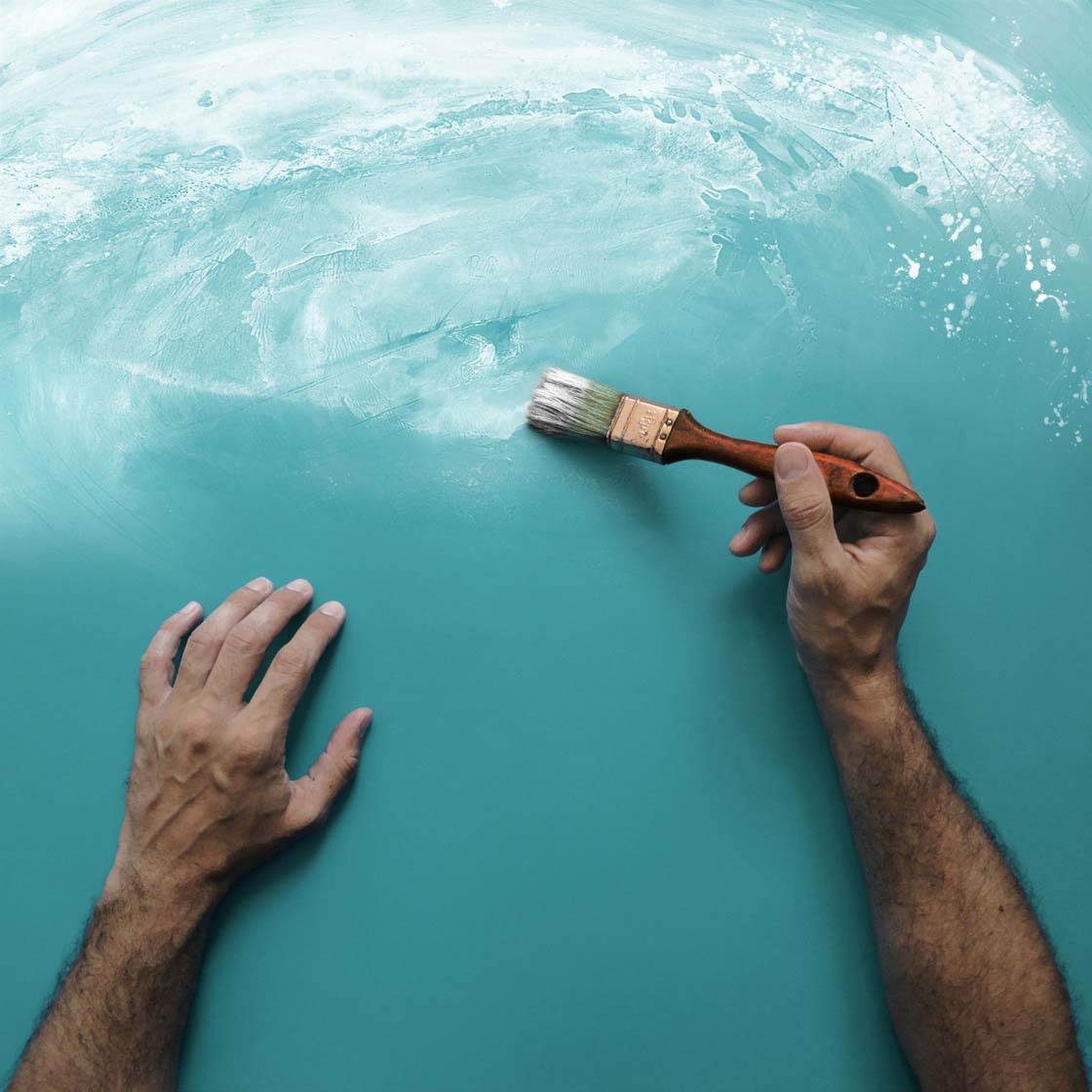 How did your iPhone photography journey begin?
My passion for mobile photography began when I got my first iPhone 3G. I was really happy to always have the perfect tool to capture the world around me.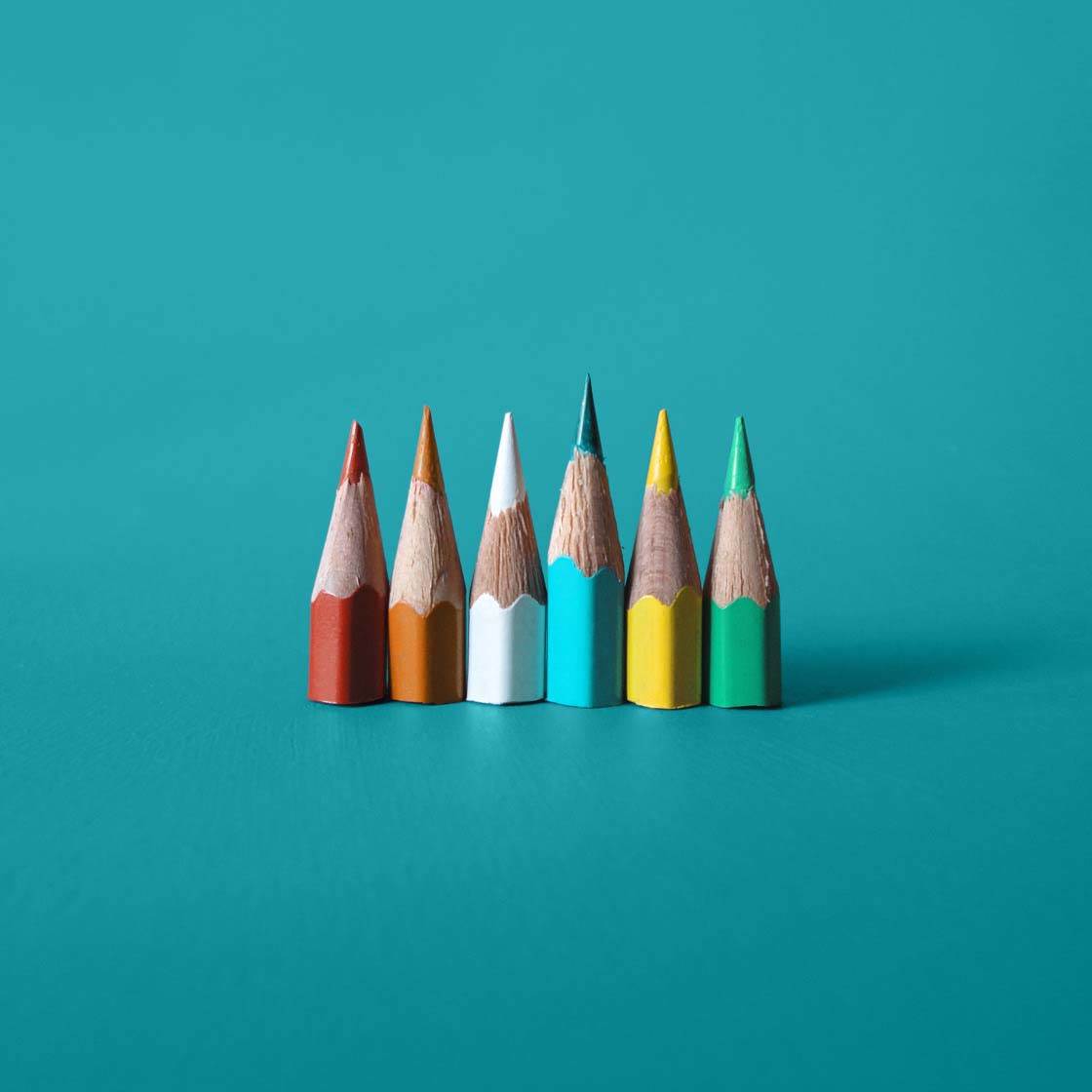 But my love has definitely grown since I bought an iPhone 5 and started using Instagram. So I began taking artistic and conceptual photos, and the feedback I received was very encouraging!
What inspires you to take photos with the iPhone?
I'm very surprised at how easy it is to take high quality photos at any time. I'm also impressed by the possibility of sharing my photos quickly with a lot of people in the world.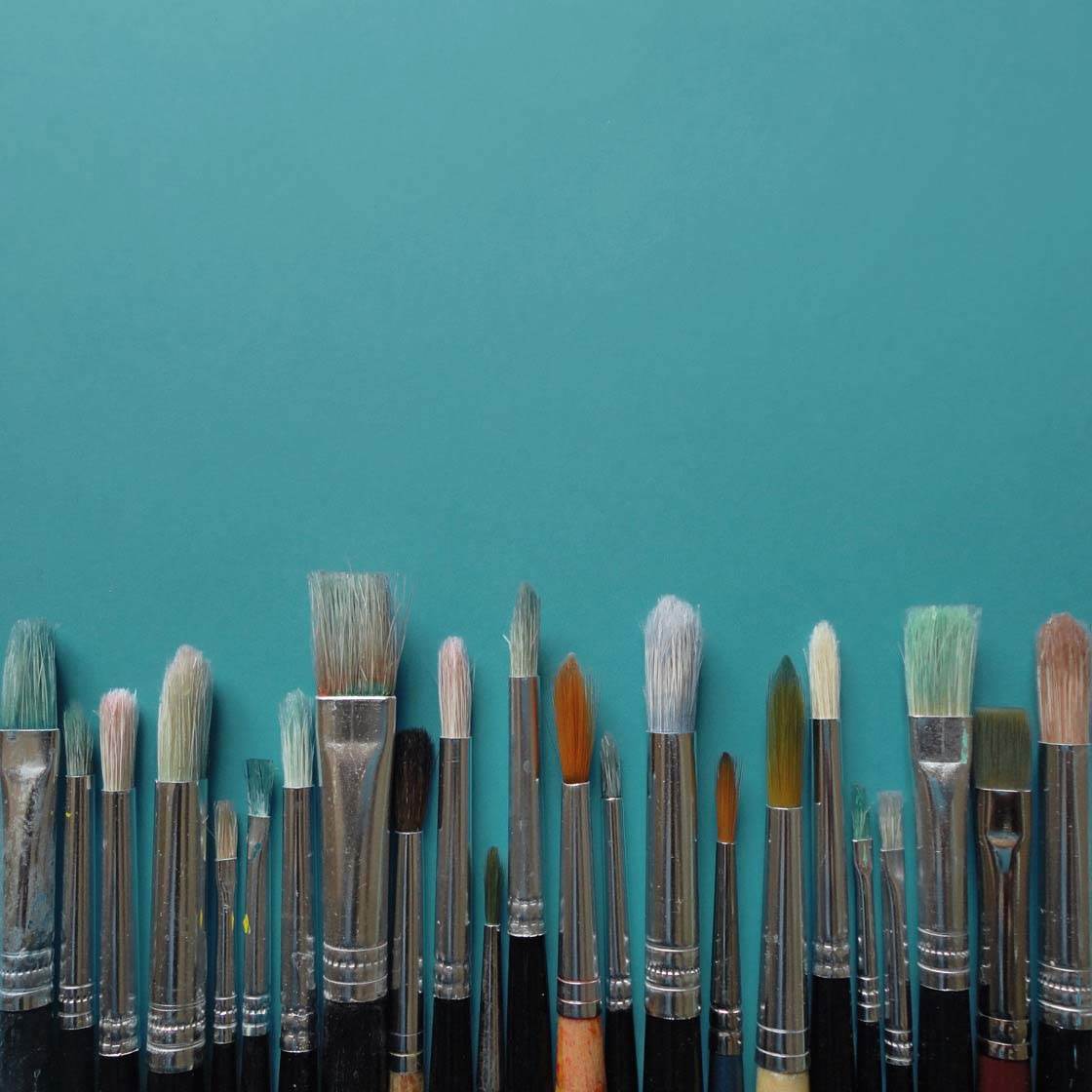 I look for inspiration everywhere. Anything can be a source of inspiration when viewed from the right point of view. I'm always looking for something surprising and curious that makes my pictures unique, original, and most of all happy.
Your Instagram feed is a fabulous array of beautiful colored minimalist and abstract images. What draws you to this kind of photography?
I love clean, minimal, essential compositions. I like the simplicity, with just a few elements. It's not necessary to overfill the space to communicate a thought or express a concept in the best possible way. I believe in the power of ideas and I try to let them speak for me and about me.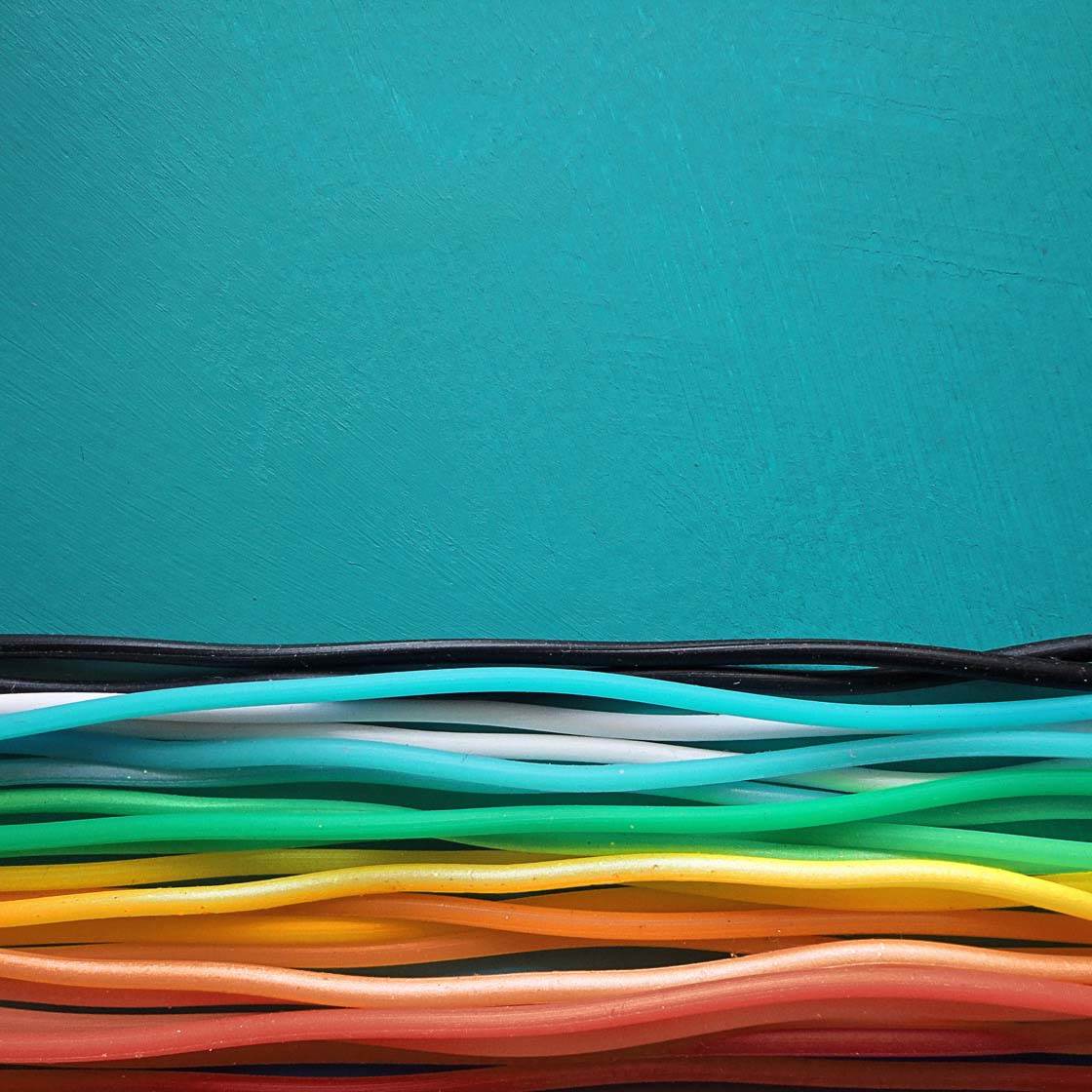 I prefer cool colors – pure tones. But my palette also includes all of the primary colors, and I like to play with arranging texture and color combinations.
I love the way you use the same color scheme in all of your images. What inspired you to do this, and do you think you'll ever change the color scheme that you use?
I chose a color to tell my world – and that color is turquoise. Now I live in a city, but I was born in a town in southern Italy overlooking the Tyrrhenian Sea.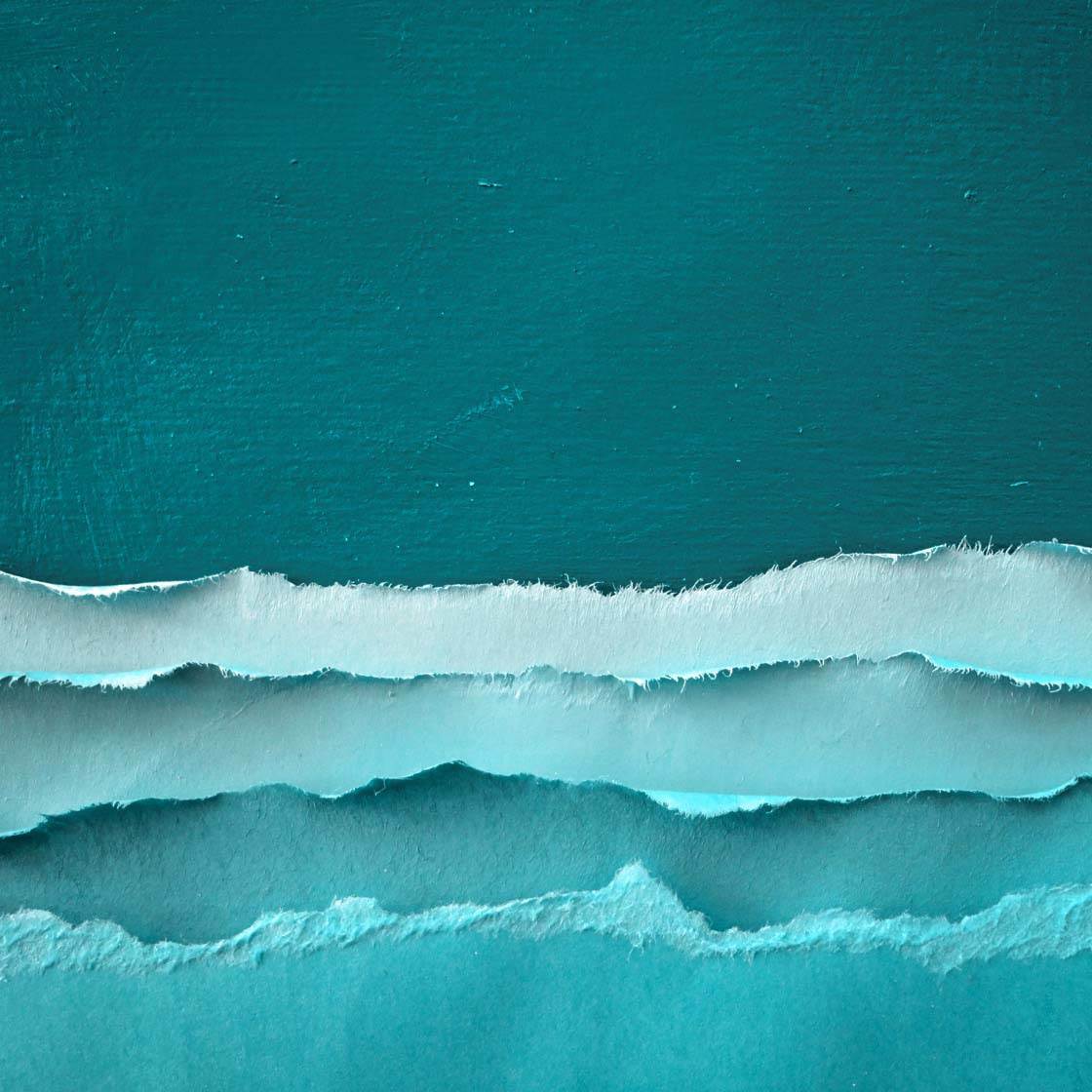 The turquoise that characterizes my works is an evocation of my origins. It depicts the colors of the place where I grew up – the gradients of the rough sea and the shades of the bottom of the sea.
This color evokes the feeling of belonging to a wonderful land, a place that formed me – my home. Inserting a touch of that tone into my work reassures me.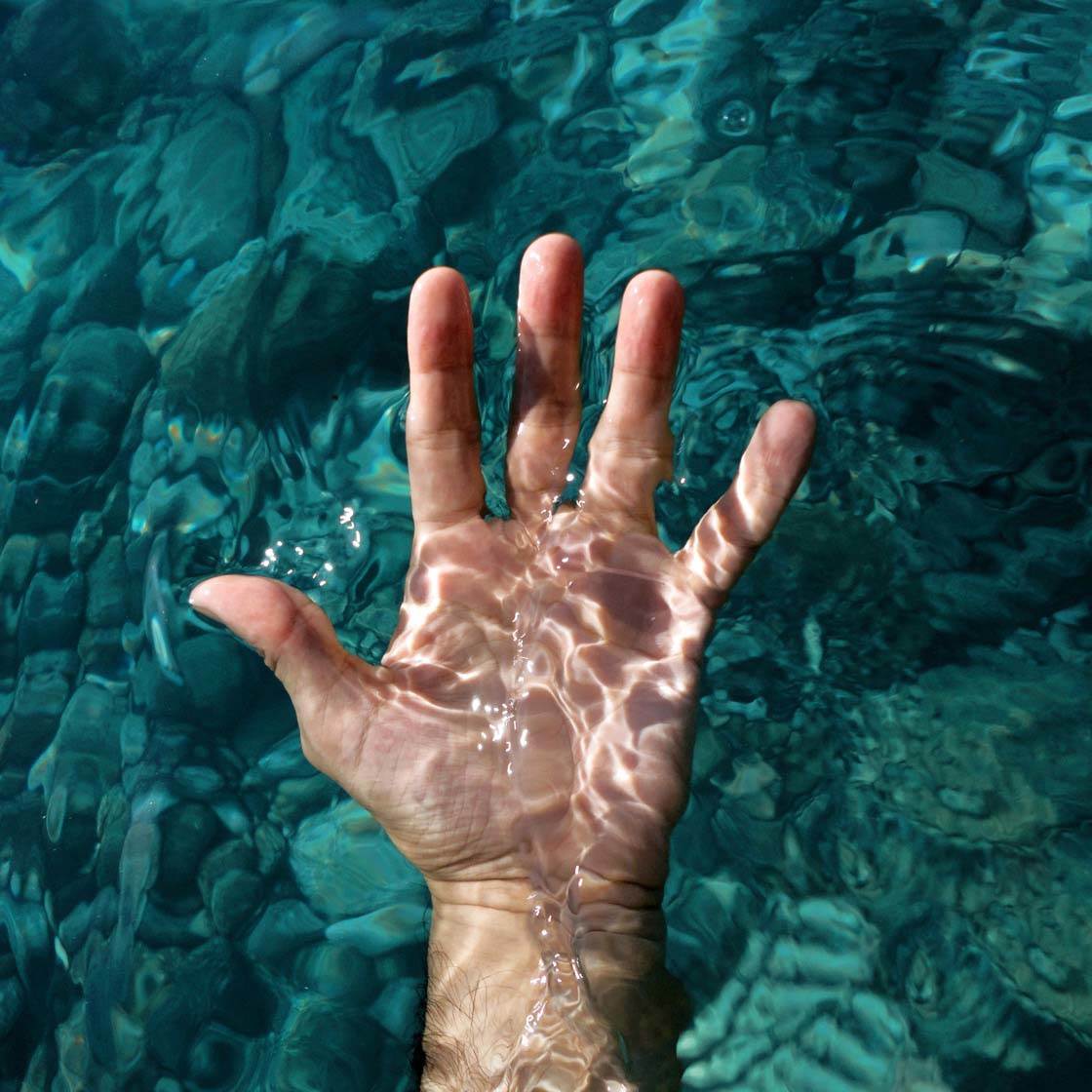 I don't know if one day I'll change this color (everything is possible when you want to experiment and evolve), but certainly this particular shade will always be a part of my soul.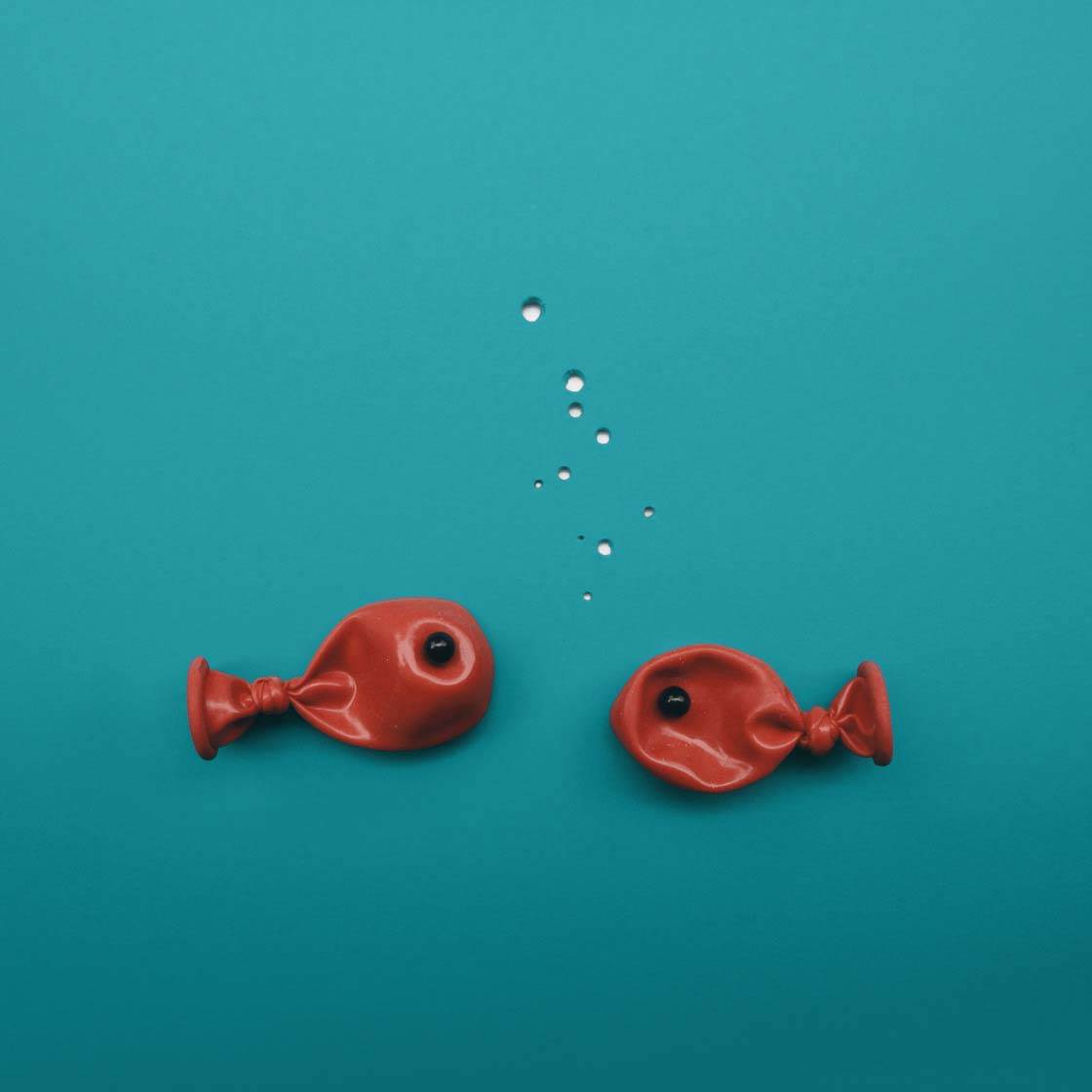 Many of your images are created using everyday household objects. Can you tell us a bit about your creative process? Do you have a vision before you start creating, or do you just experiment with different objects and medium until you come up with something that works?
I don't have a preference for subjects, but it's the basic concept that always strikes me – the idea behind the shot, the creative structure.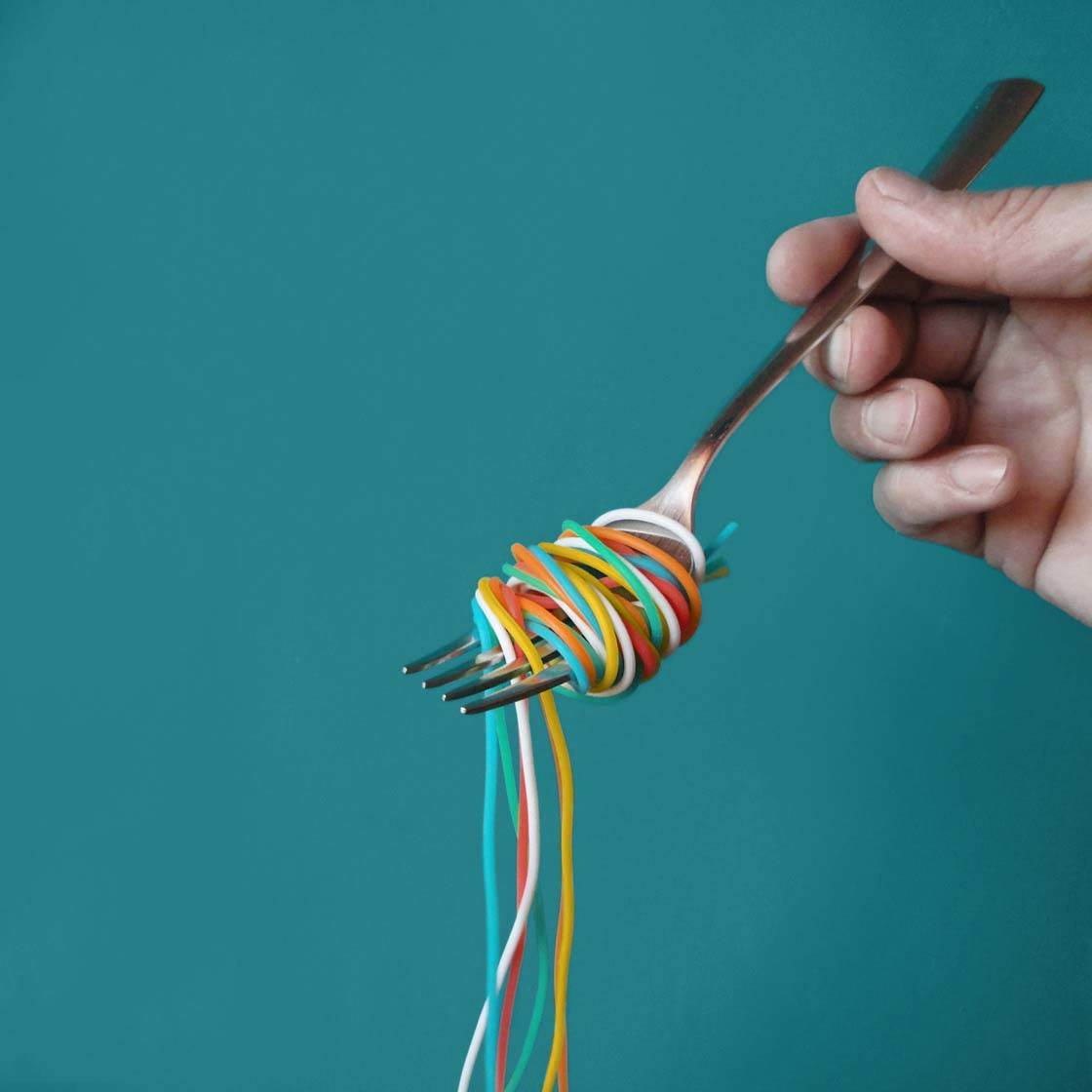 I try to highlight objects that tell of feelings through the beauty, the unusual, the simplicity – creating images that express diverse emotions and enclose original concepts.
Before taking a photograph, I imagine it. Sometimes I dream about it. Every work is conceived from an idea which shapes itself through a step-by-step process, up to the point where the image materializes.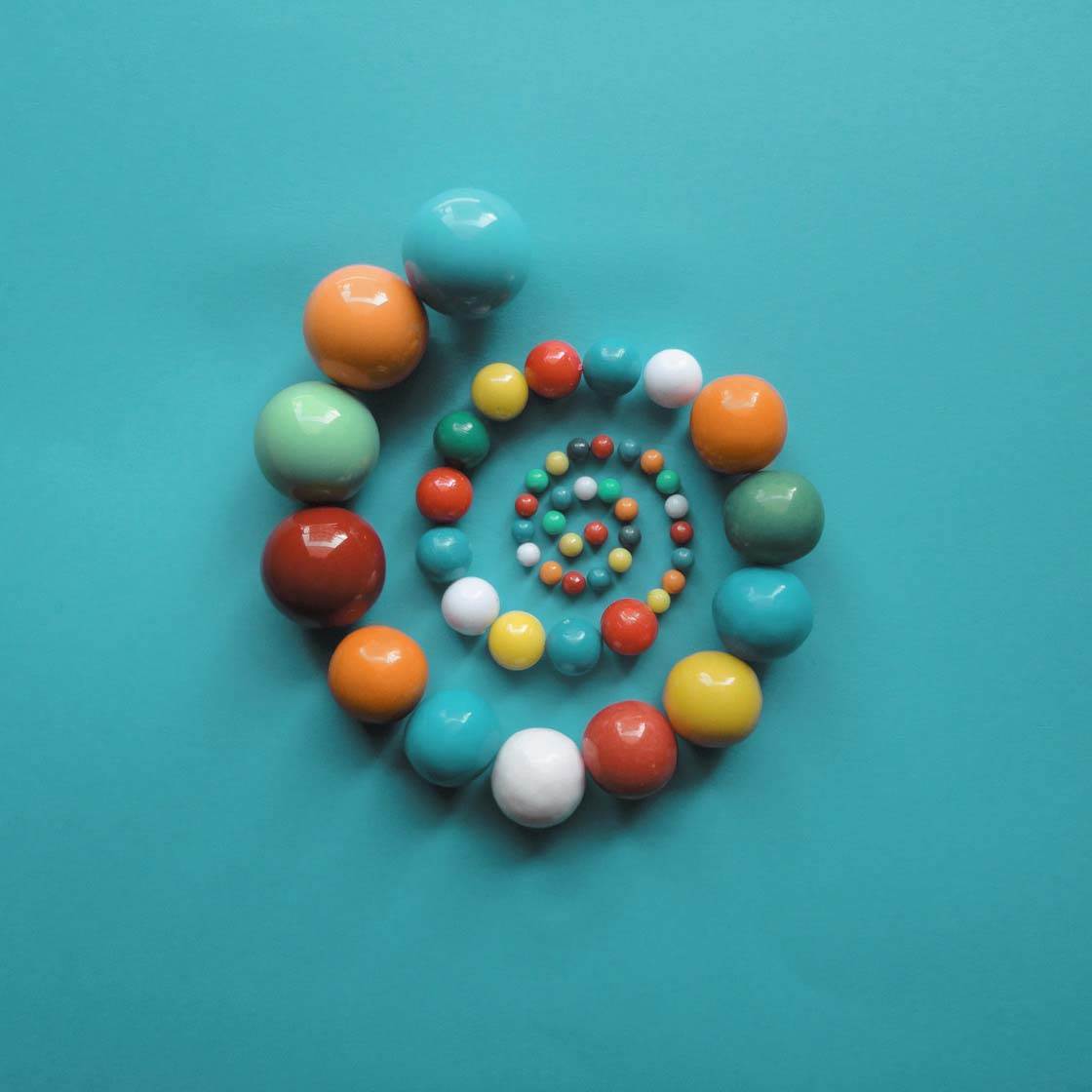 It's a process that I love. It fulfills me and makes me feel alive. It rarely happens, but occasionally there's a bit of healthy and enjoyable improvisation – spontaneous strokes of genius.
Can you explain how you take your still life shots? What kind of lighting do you use, and do you shoot hand-held or with a tripod?
I simply use a hand-painted background with my favorite color, and the natural light flowing through my window at 45 degrees. I always shoot hand-held because I like to choose the angle of the frame and try different positions.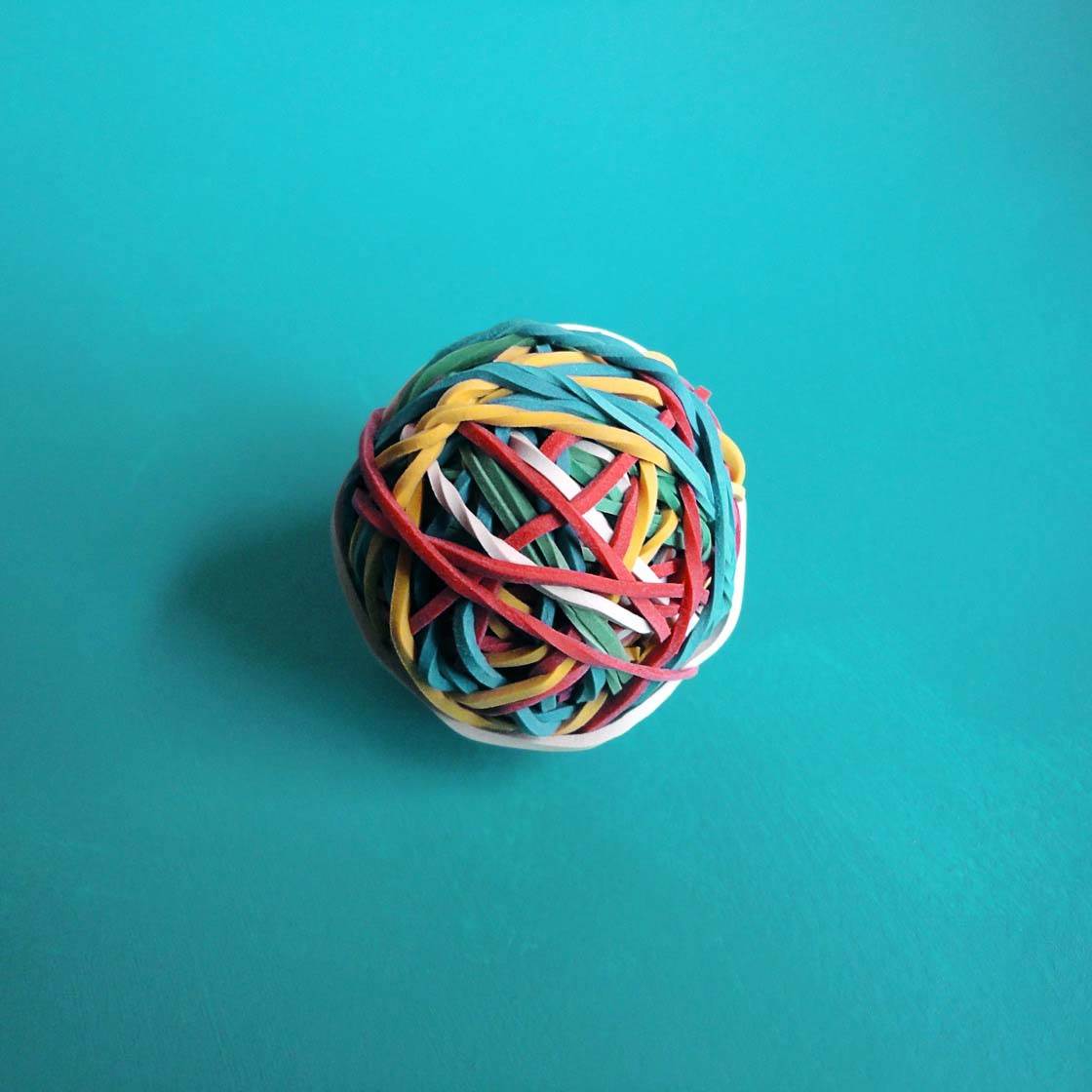 What other kinds of subjects do you like to photograph, apart from household objects and still life?
I love photographing hands. They're the instruments with which I express myself. I work with my own hands – they're the authors and main characters of my works.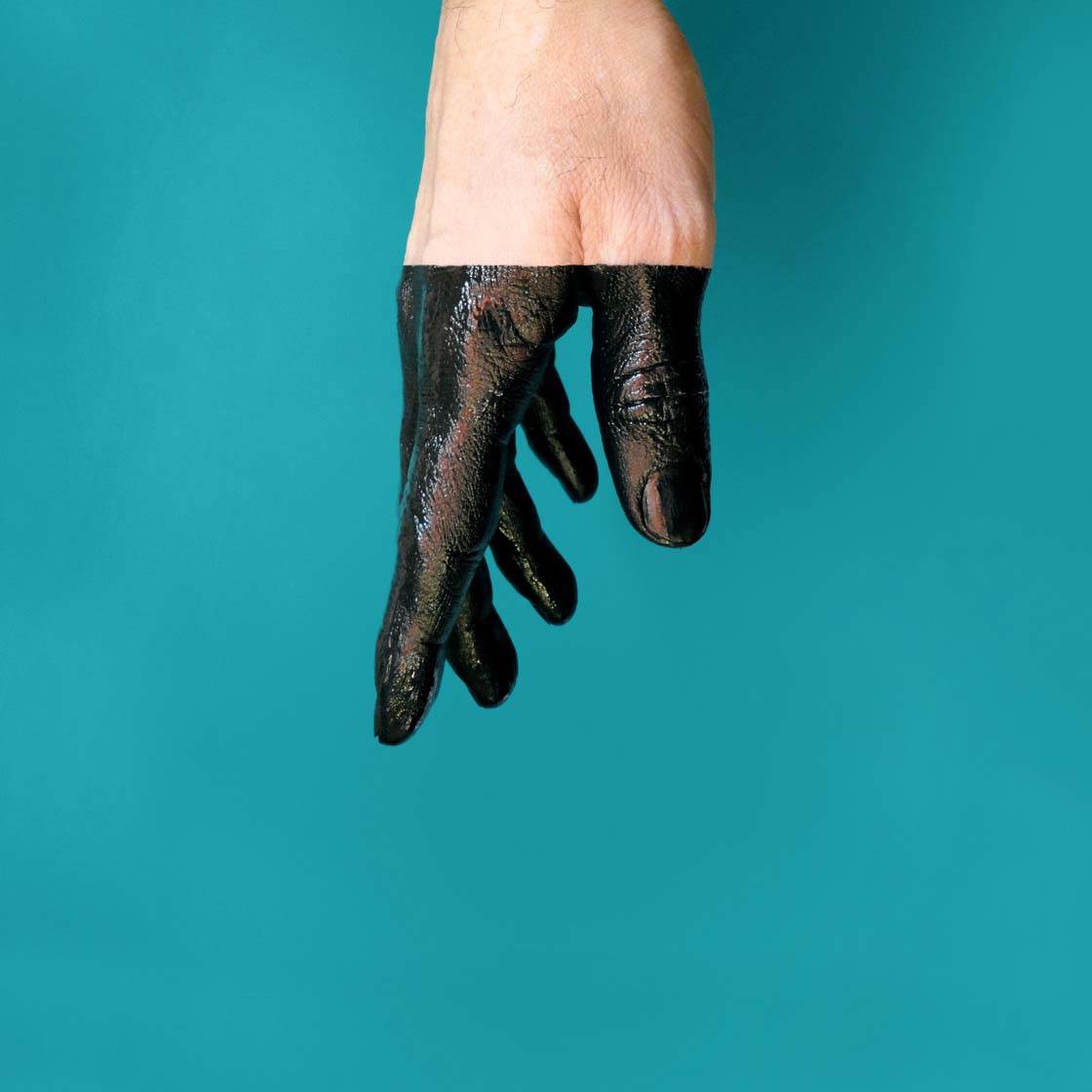 They interpret my daily life. They express my feelings and emotions. They trace my thoughts with simple gestures. They play with the objects that surround me. They caress the colors. They live!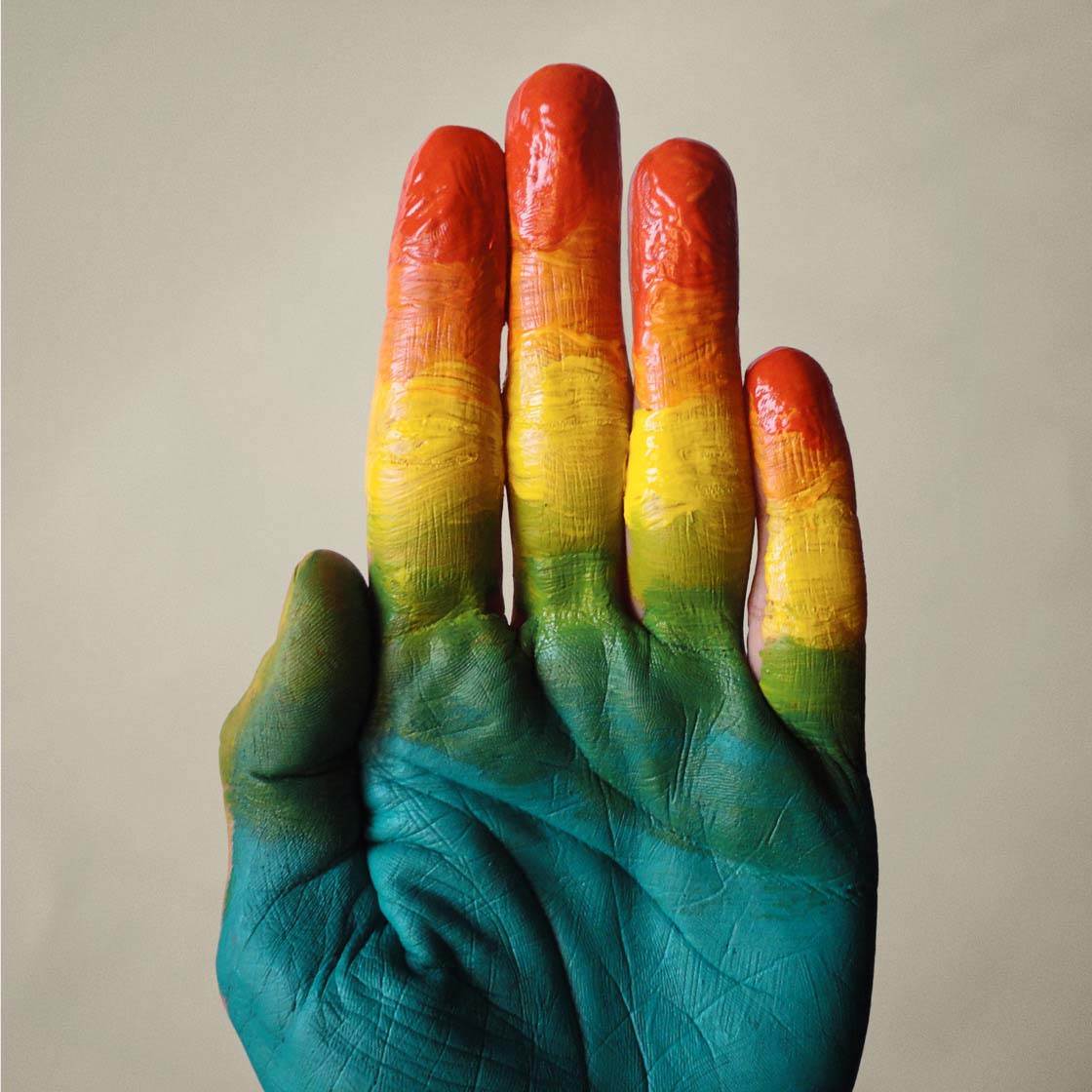 I entrust all of my senses to them. Through my hands I explore my reality, I experience new visual languages, and I give life to my creativity.
I also really love the sea. It's my favorite landscape subject and absolutely one of the most beautiful things in nature. Water is surely my primary element.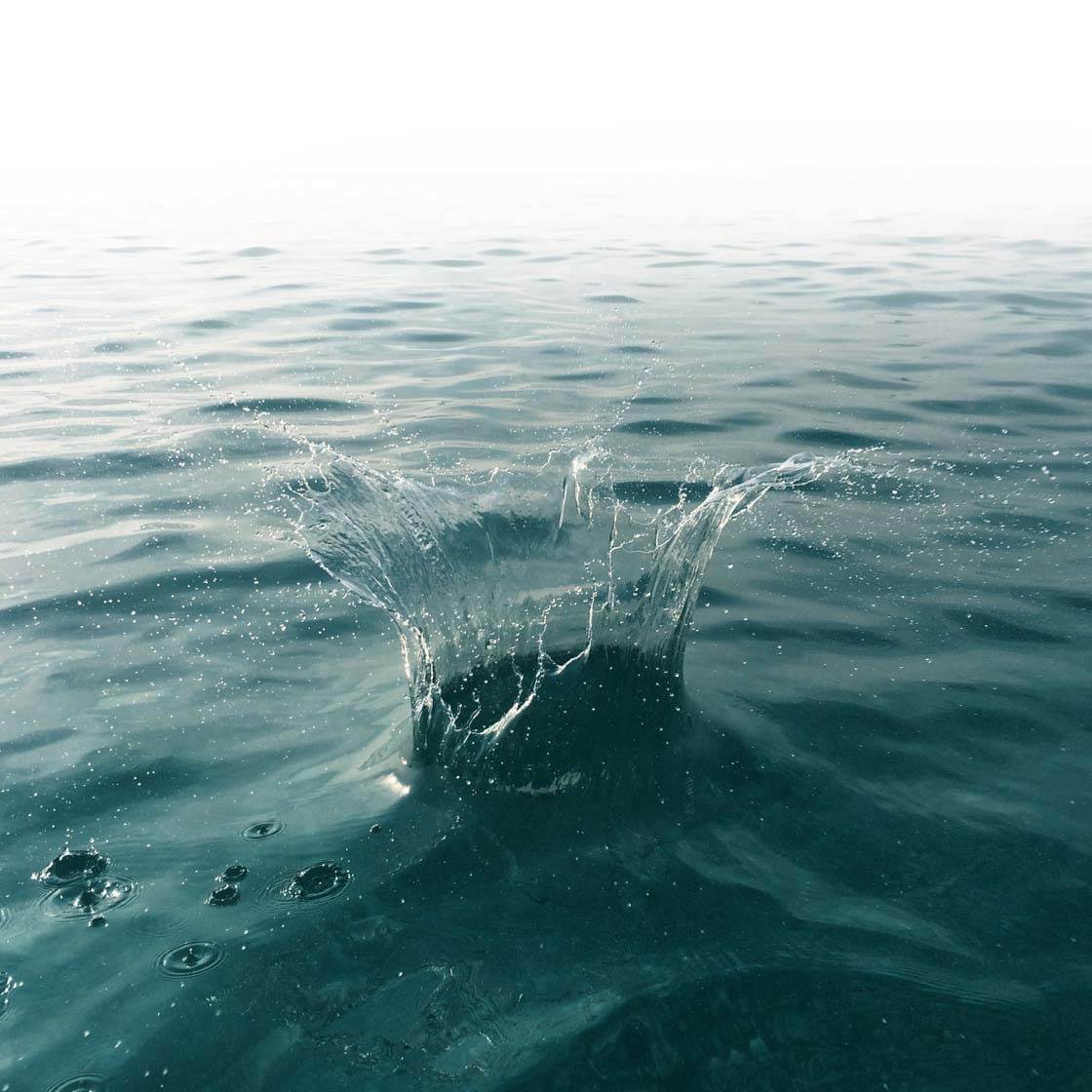 What would be your advice to anyone who wants to get started with taking amazing minimalist and abstract photos with their iPhone? What are the main elements that you need to look out for?
There's no essential main elements, but you need a lot of imagination. Let your creativity have the upper hand on everything.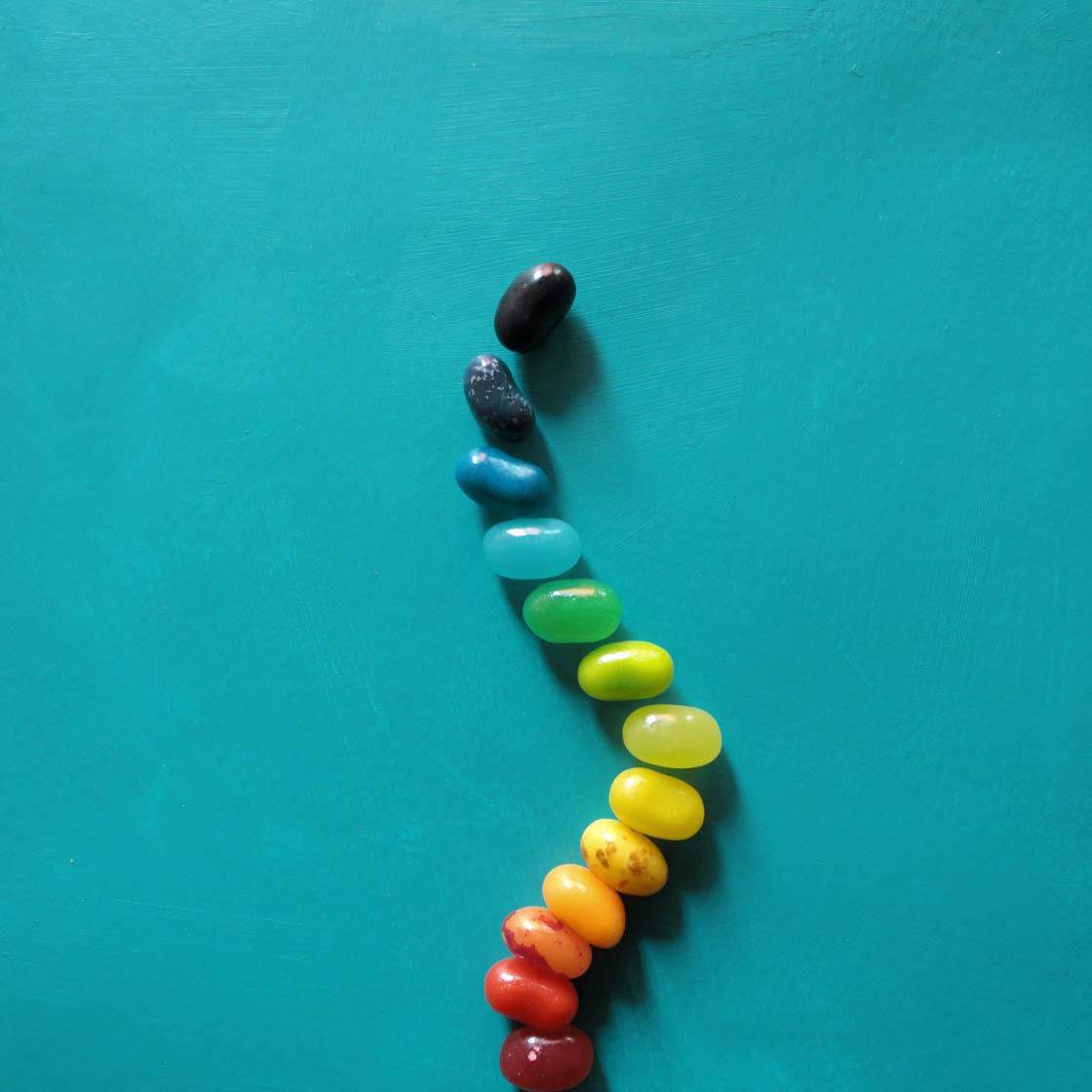 Have fun, play with objects, and this will inspire invention. That's the only rule. You have to experiment and have a credible story to tell in the funniest possible way.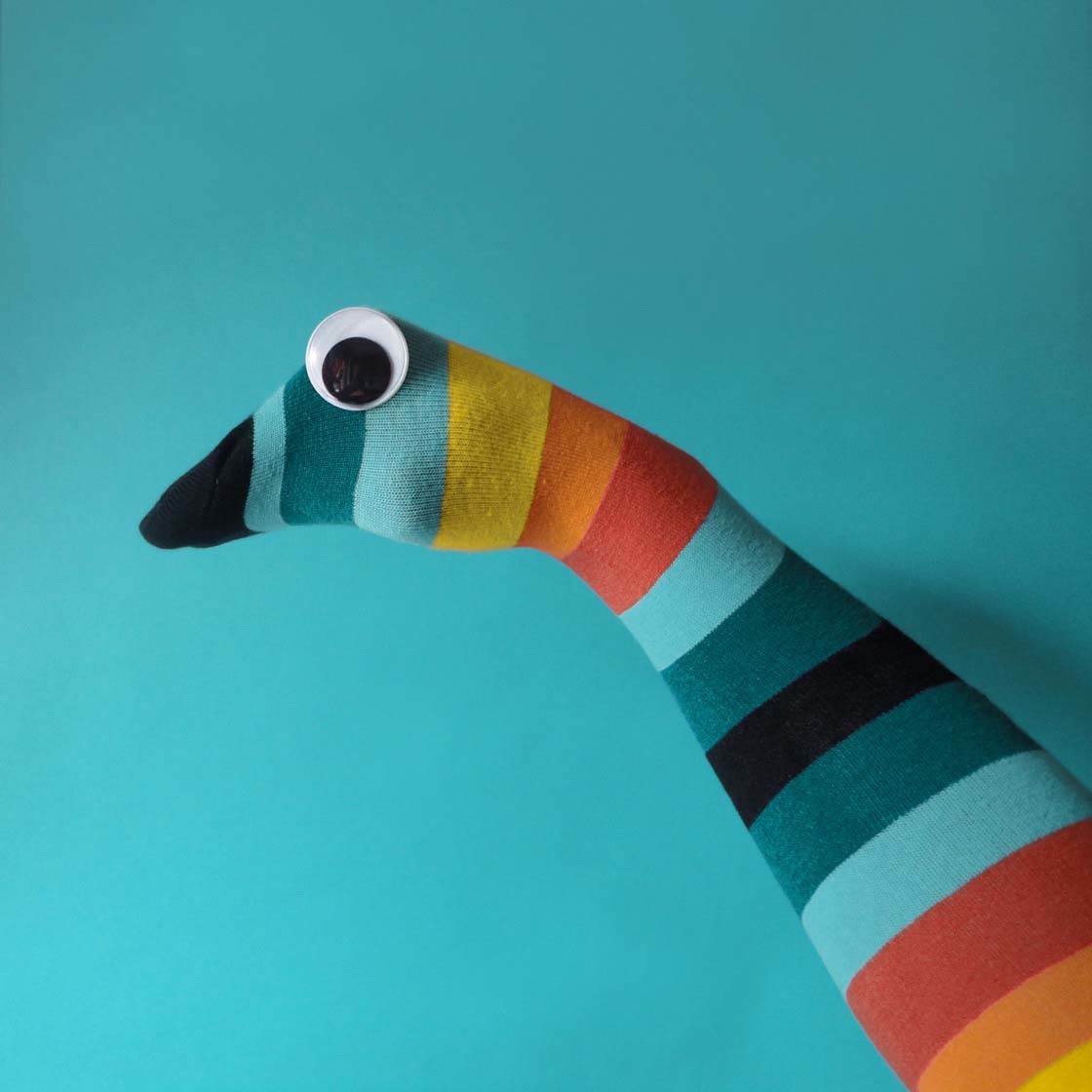 Let's talk about photo apps. Are there any apps that you use for taking photos besides the native camera app?
No, I only use the native camera app.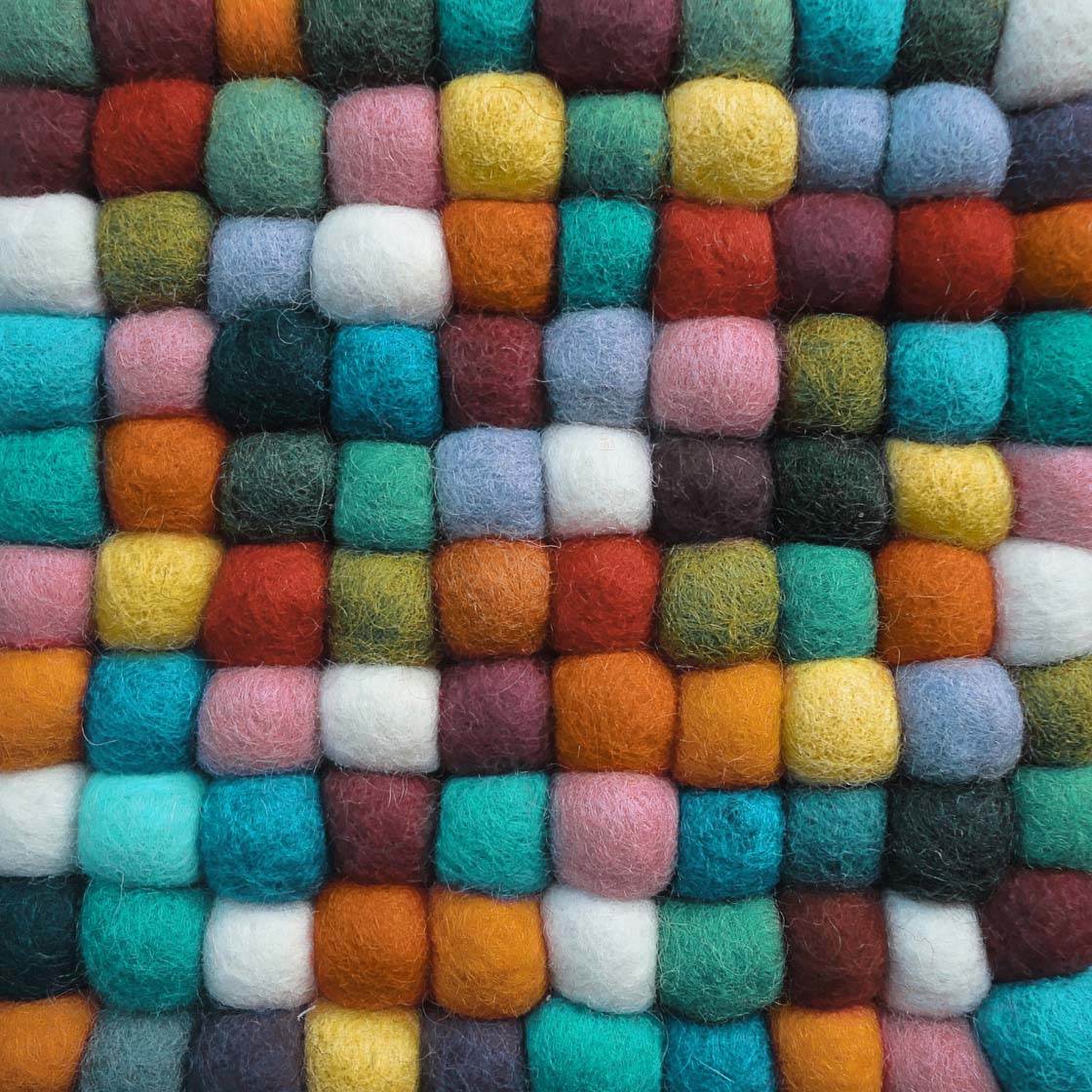 What are your favorite apps for post-processing?
I love to use Snapseed with its simple and intuitive interface. I also use PS Touch (no longer available on the App Store). I always set brightness, shadows and colors before posting a picture on Instagram.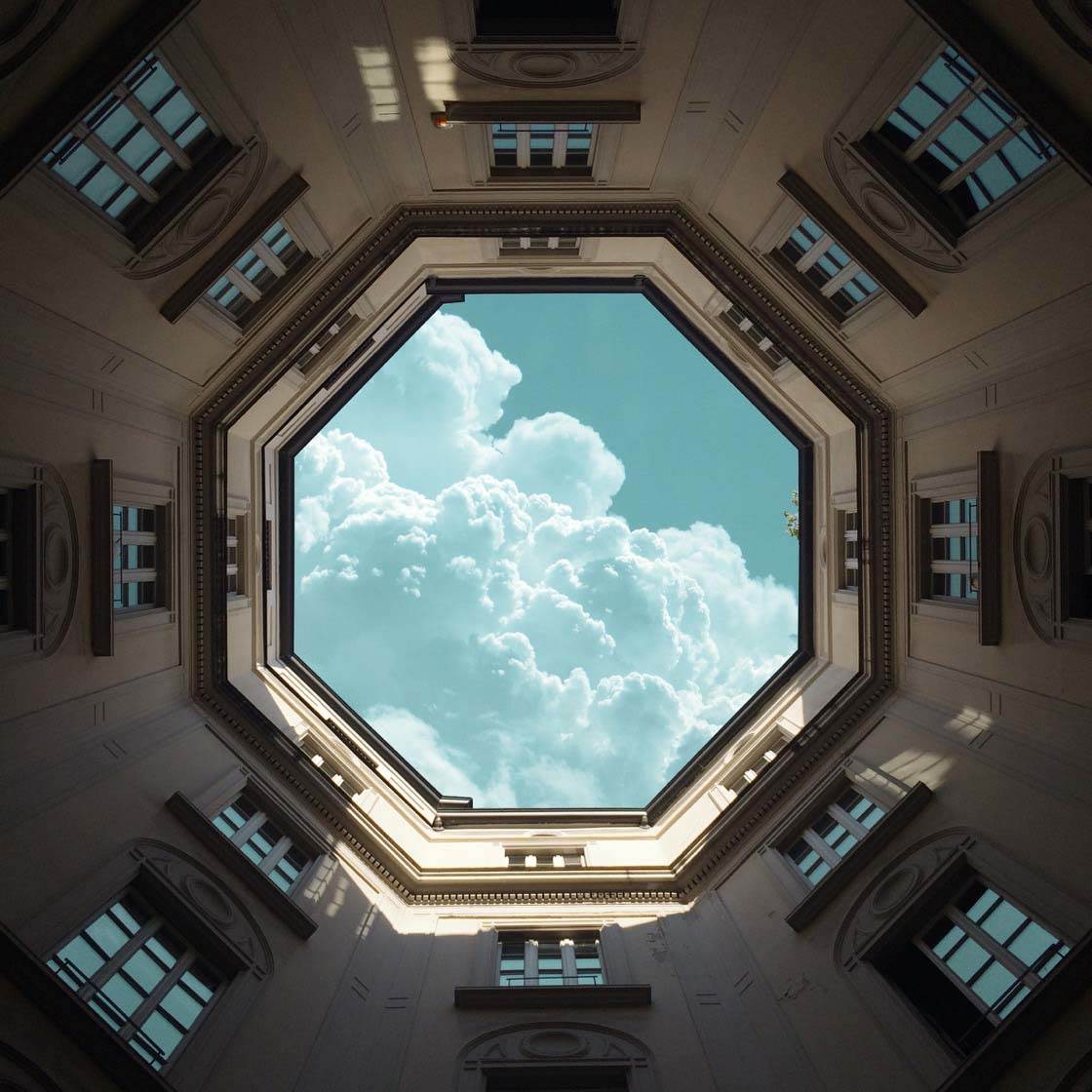 Do you use any iPhone photography accessories?
No, I don't use any accessories.
Can you briefly explain the story and editing process behind your three favorite iPhone photos?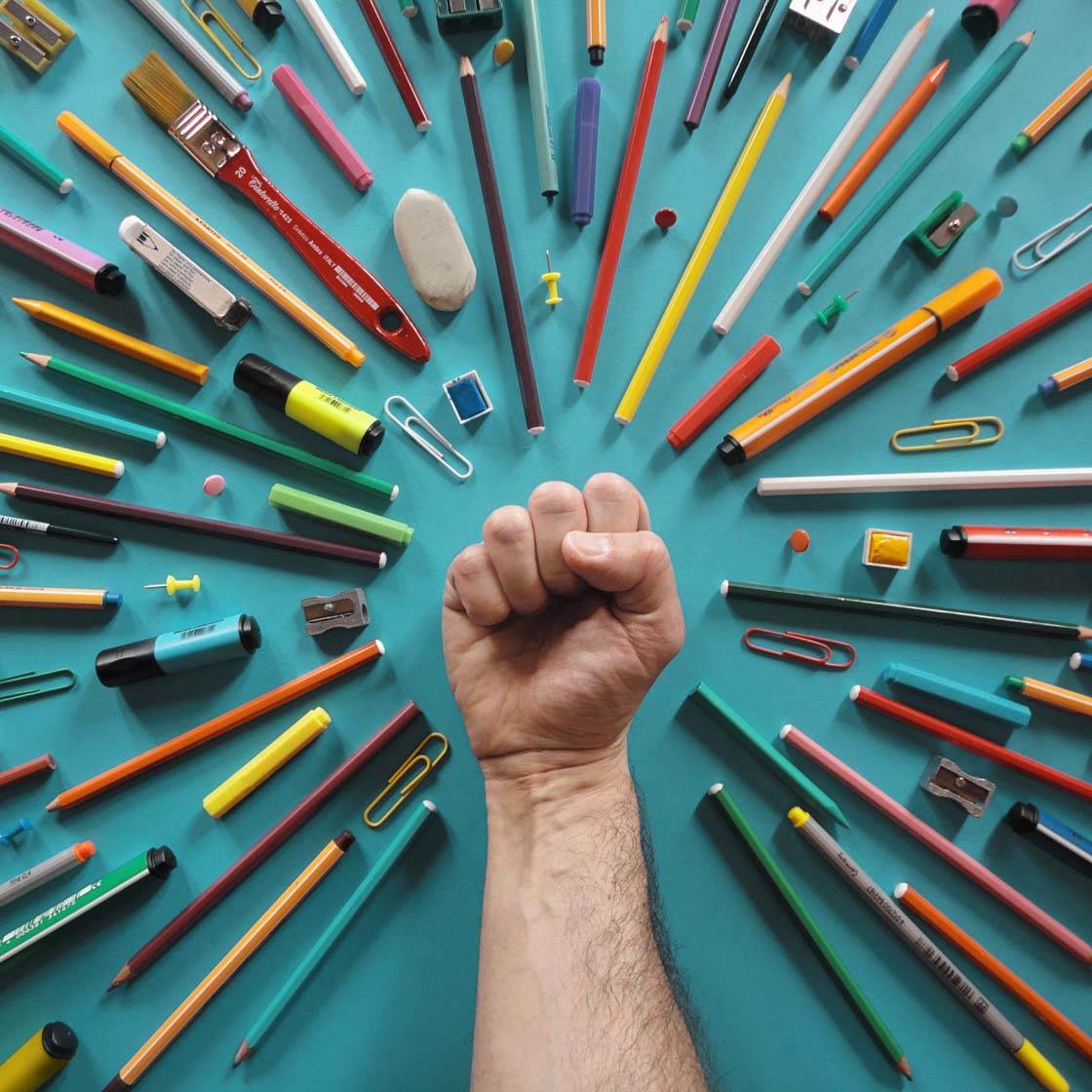 Art Attack
This photo is one of my favorites ever, and it's perhaps the best picture that represents me and my work. It's an accurate composition of objects.
The difficulty wasn't to line up pencils and crayons, but it was to shoot the photo with my left hand, trying to hold the iPhone as much as possible perpendicular to the table where I placed all the objects. I had to take more than 30 shots to get the perfect one that wasn't blurred!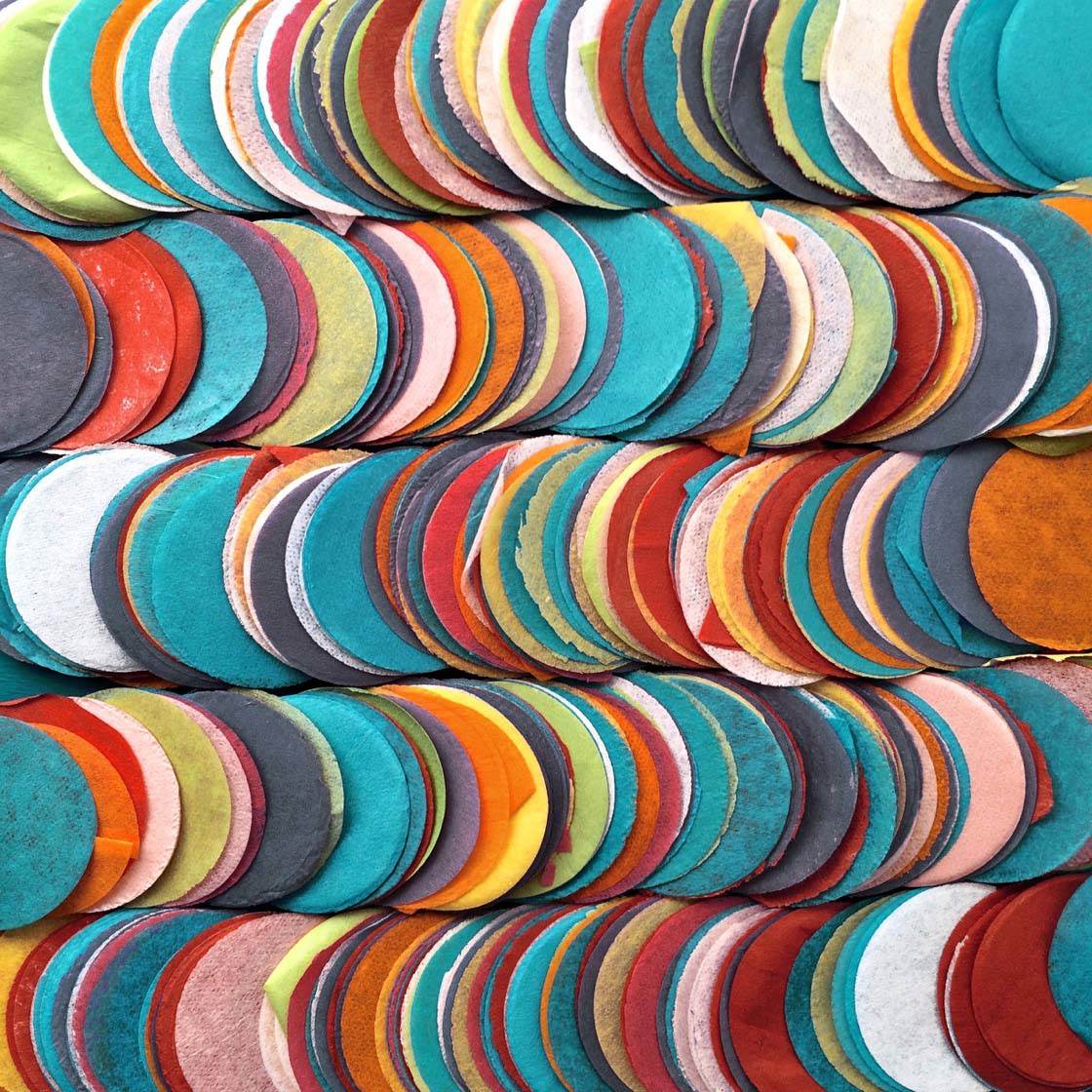 Optical Time
This one is just a simple composition… of confetti. These were very small and fragile objects, and I had to fix them one by one using some eyebrow tweezers.
I wanted to create an optical effect that seemed in motion, like a stream of colorful waves. I think it has a hypnotic effect. My editing process for this one was just to set the brightness and lower the color saturation.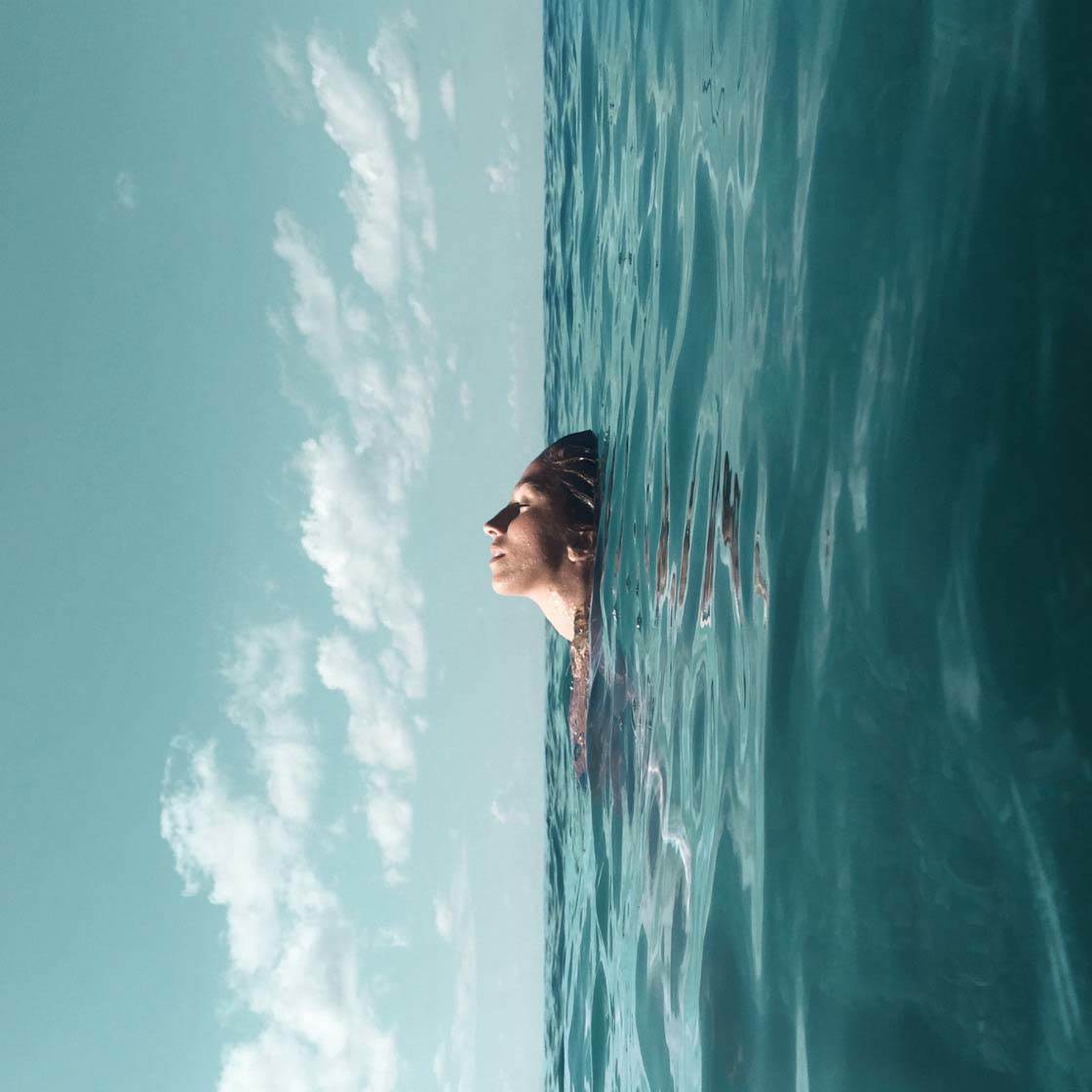 Vertically
I often try to take part in Instagram's Weekend Hashtag Project. This photo was for #WHPmyoasis. I liked the idea of creating a new way of escape, simply by rotating the picture and changing the perspective of the image.
It wasn't easy taking this picture because the iPhone was almost underwater, and it was in danger of getting wet many times. But it was a funny moment and my dear friend was happy to pose afloat as my model. My editing for this one was to set the color values with PS Touch.
You have a large and loyal following on Instagram. What does this online community mean to you, and what effect has it had on your creativity and photography?
The Instagram community is very important to me. I've made some real friends and met extraordinary people. I definitely love Instagram!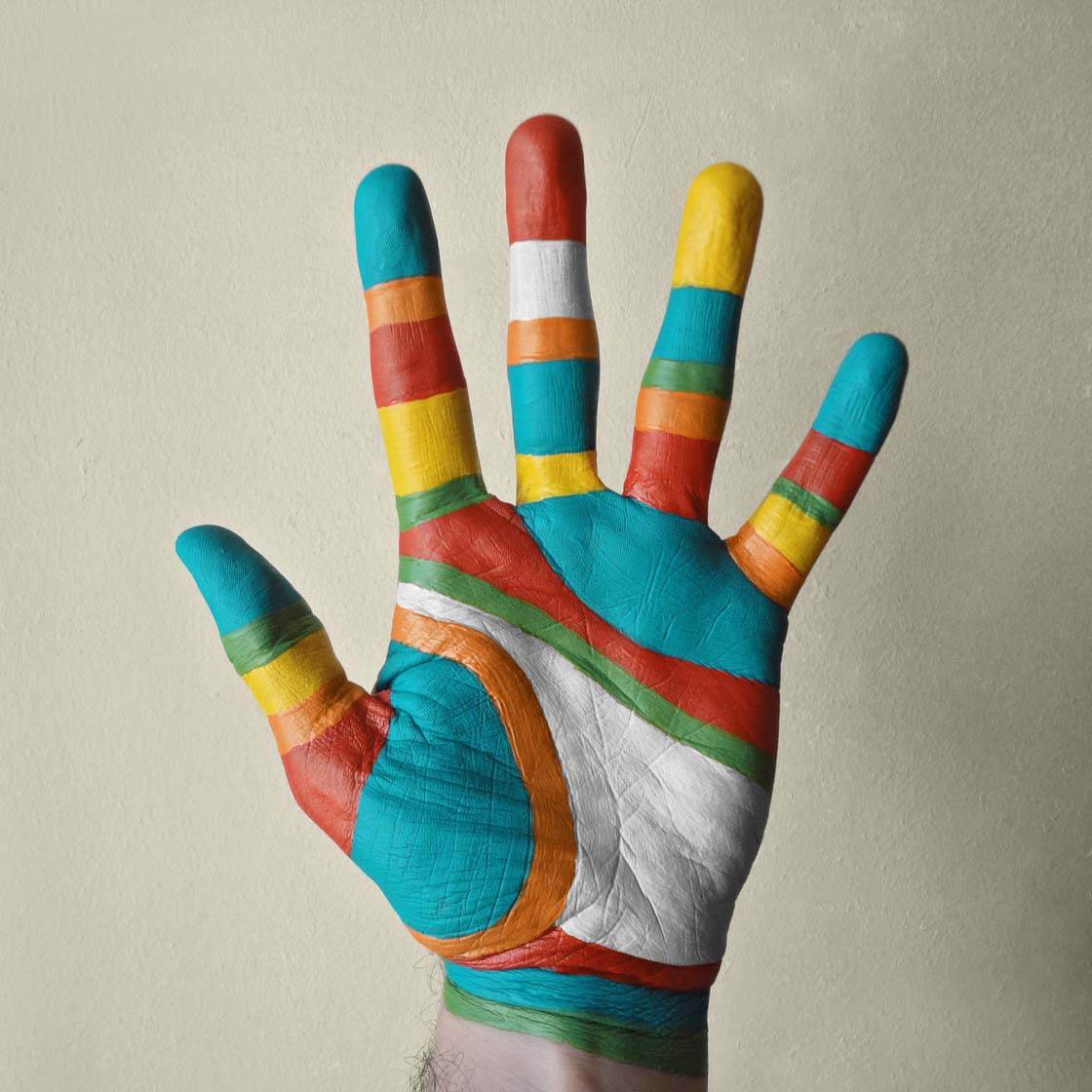 It's my favorite social network. It's a place that gives me the opportunity to get to know others, establish personal contacts, forge closer links, exchange experiences and share passions.
It's a precious place – a space where the magic of the meeting happens. Every moment spent on Instagram is a good moment.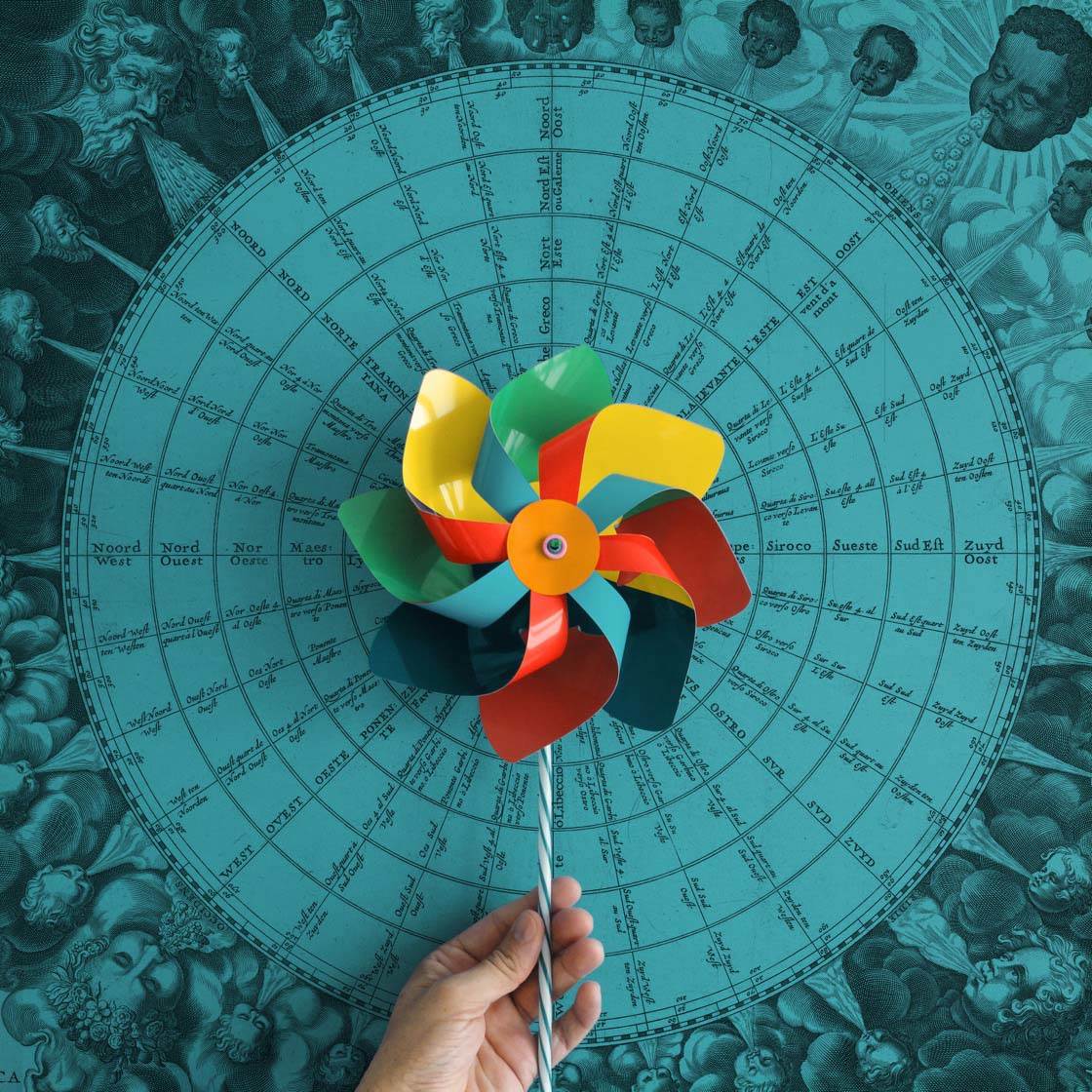 What tips do you have for beginner iPhone photographers who want to start taking more creative photos with their iPhone?
I would like to give some advice more than a tip. Don't abuse your photos with post-production. Maintain a realistic effect. Simplicity wins. Be original and creative. Don't be afraid to experiment with new visual languages.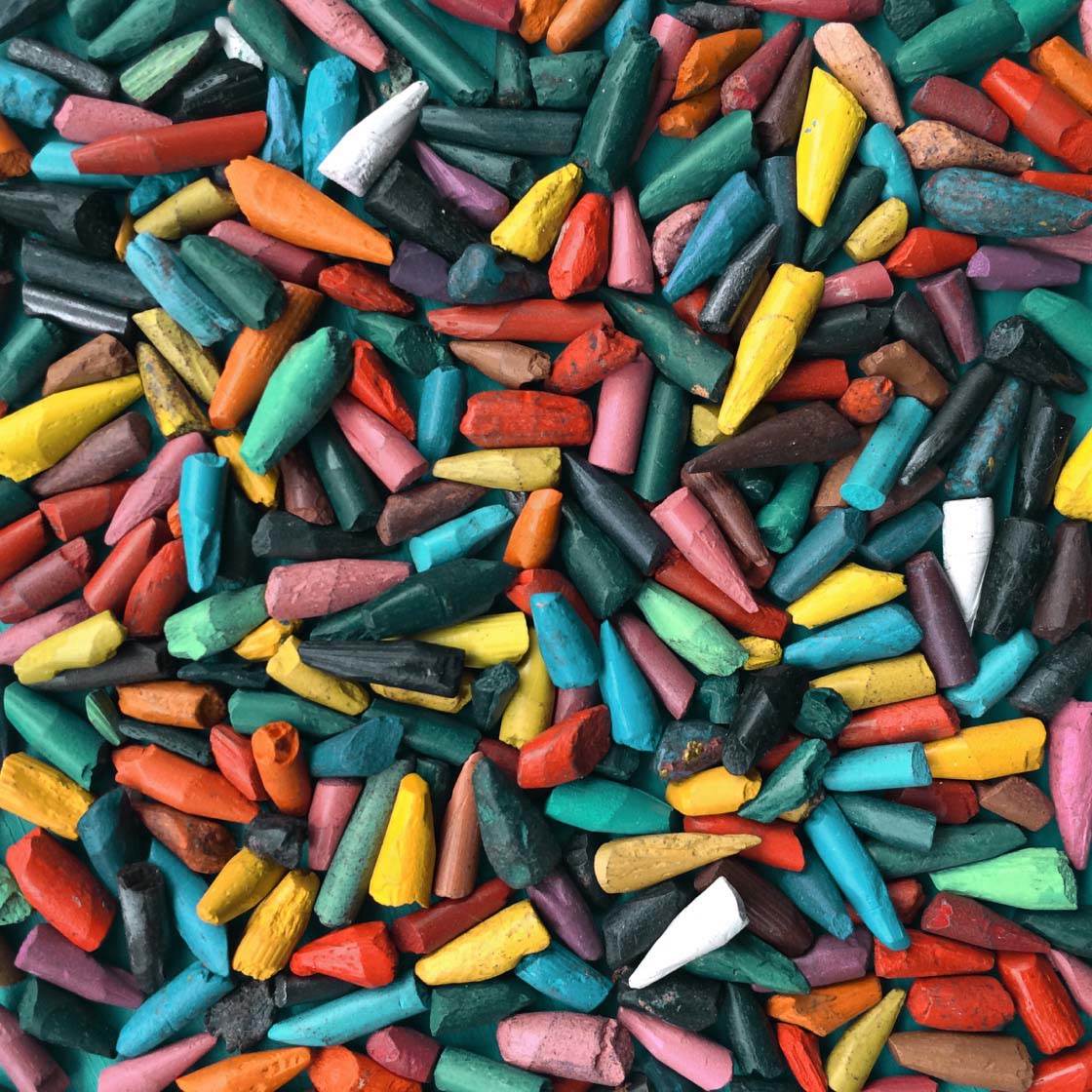 Which iPhone photographers do you admire the most?
I like so much the work of three Instagramers (who are very different from me). They are Carlo Alberto Giardina (@finnanofenno), Sandro Giordano (@__remmidemmi) and Andrew Zonzini (@perrycolante).
I think they're among the most creative and original photographers on Instagram.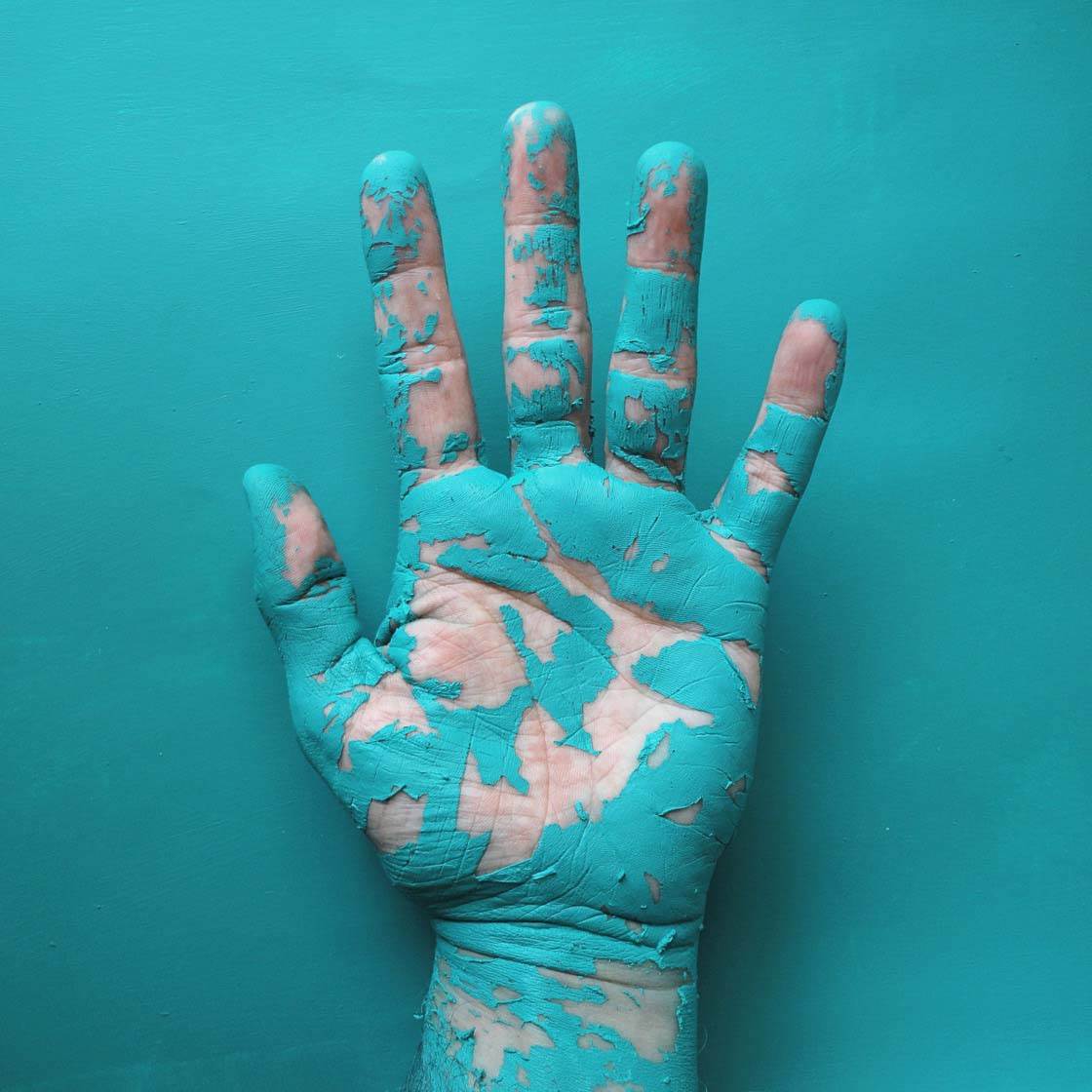 Where can we see your iPhone photography?
You can see my photography on Instagram @benedettodemaio, and also on Facebook and Tumblr.